Searching for quality Doberman breeders in Texas was a pleasant task indeed. It seems to me that Texans are very fond of this graceful guard dog. I am not surprised. This dog is one heck of a dog after all. Dobermans are smart, attentive, and utterly loyal. They can even be intimidating and aggressive if necessary
It is a dog with many nicknames. They call them Dobies, Dobermanns, etc. You will notice the double 'n' at the end of Doberman Pinscher. This is common in Europe, to be precise.
This original name, Dobermann, is of European origin. This dog was actually named after a tax collector who used to live in Germany. You can tell by his name that this dog has German ancestors.
This tax collector's name was Louis Dobermann, and he bred this dog in the 1890's. Well, to be honest, being a tax collector is not a pleasant job, so Louis needed a loyal bodyguard to keep his back while he was on his rounds.
A Doberman has a specific appearance. He looks kind of sharp. At least, I have that impression. That is maybe because of his long mug and slender body. In some countries, owners crop their ears and dock their tail to make them look even sharper. But, this is a practice that is trying to be banned as it is unethical.
If you live in Texas, and you are a fan of Doberman Pinscher puppies, take a scroll through our list with me and take a look at some of the best Doberman Pinscher breeders out there.
Doberman Puppies For Sale In Texas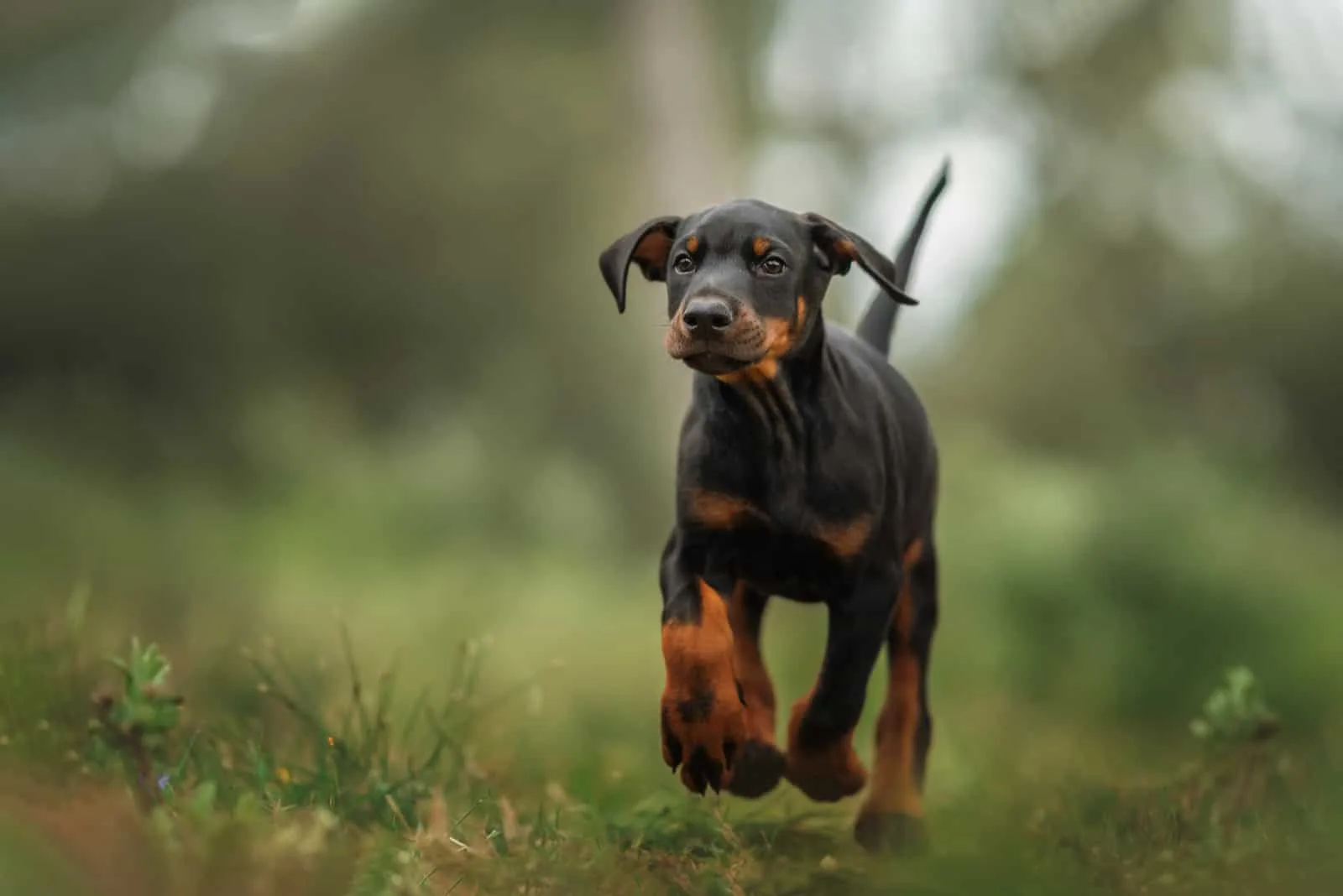 When looking for a reputable Doberman breeder in Texas, or elsewhere, it is good to make yourself a list of several good breeder traits. This reminder can help you distinguish good from not so good breeders.
What does a good breeder have?
Reputation: A good breeder is consistent, has a tradition, and has good feedback from his customers. He is also part of reputable canine organizations, such as the American Kennel Club.
Informative and transparent sites: Good breeders are usually very happy to share their success on their website or social media sites. Their sites are up to date and informative.
Good breeders are willing to respond to your questions and solve all your dilemmas. They actually like when customers are involved and interested in the process because the communication is easier.
Health checkups: Breeding a high-quality, purebred dog is not an easy task at all. Dogs should pass various tests and health checkups for genetic issues and viral and bacterial diseases. Good breeders will invest in such testing.
1. Birkline Dobermans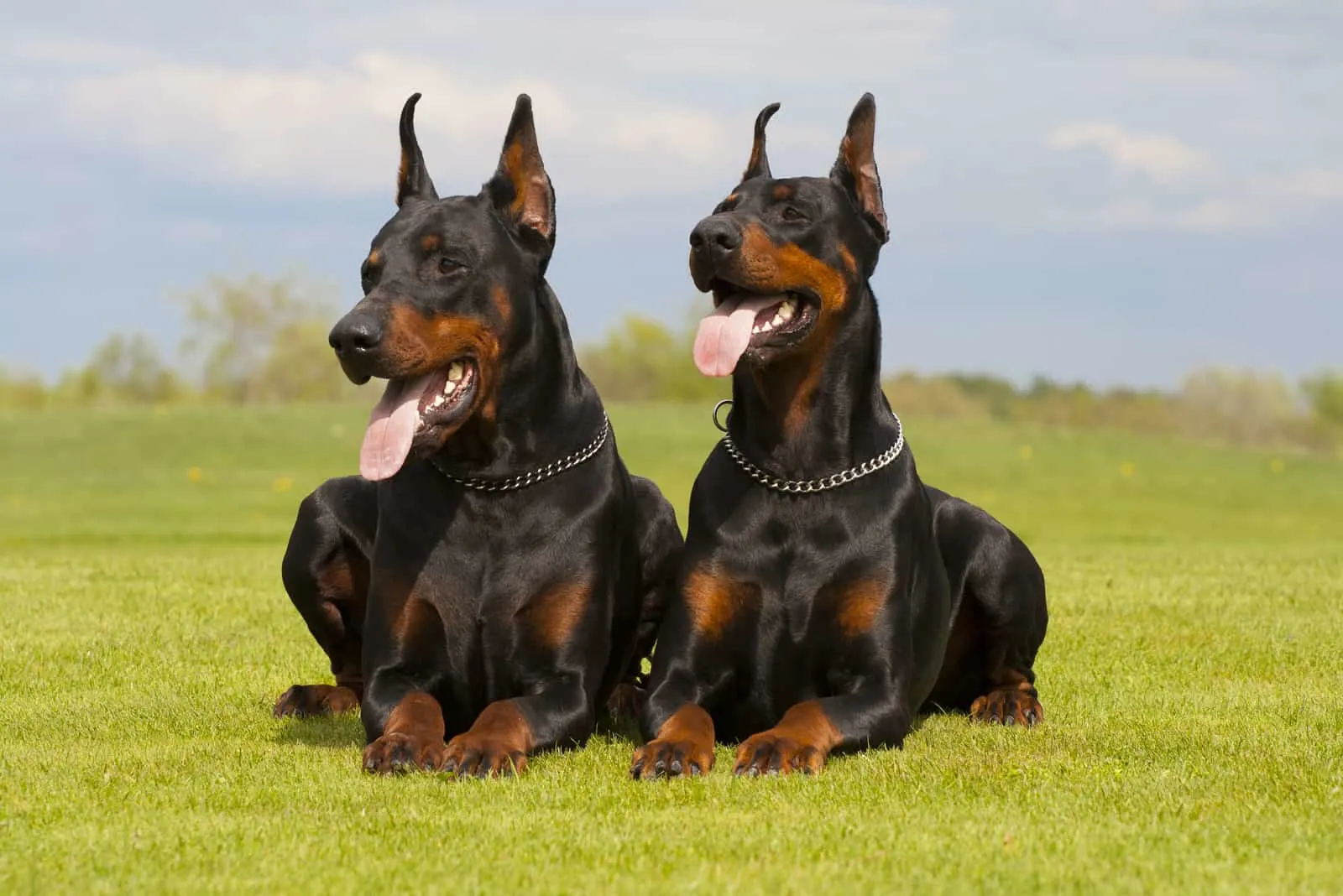 First on our list of reputable Doberman breeders in Texas is The Kennel, Birkline LLC – named Birkline Dobermans. Let's take a look at what they are offering.
A Few Words About A Breeder
Birkline Dobermans is a Kennel that is committed to the well-being of every pup. That is why they have only two to three litters every year. You know the well-known motto, quality over quantity.
They are truly committed to achieving excellence. So, this goal is achieved one testing at a time, with the idea that there is always room for improvement. You can see a feminine touch in this process as this is a kennel governed only by women.
These dogs are raised at home, within a loving family. Their breeding program relies on ESI and ENS programs. This means structure and training for a dog. ESI means Early Scent Introduction, while ENS means Early Neurological Stimulation.
Their Breeding Process
Becoming a dam or a stud in this Kennel is quite a task for one dog. Before it is decided that a dog is ready to take his breeding role, he must pass quite a lot of tests and training as well. Dogs must be healthy and well-mannered, too.
You know they say that you should marry and have kids only when you are mature enough on an emotional level. Well, something like that is required from the Birkline Dobermans. These Dobermans do not marry, but they do have kids.
And, they are not allowed to have kids until their owners have estimated that they are ready on an emotional and physical level. This does not happen before their second birthday. Also, at the age of seven, these dogs are not used for breeding new puppies for sale.
They have done their job as they should, and it is time for them to enjoy life. Maybe a little traveling or a honeymoon. I bet that after all the good work they have done, their pension is high. Just kidding.
Dogs for breeding are selected cum grano salis, which means males and females are carefully paired together in order to avoid possible hereditary diseases. The final goal is to exterminate carrier genes and end the transfer of diseases. That is the reason why these dogs go through many, many tests.
What Is In The Package
A price of $3000 includes the ESI and ENS program, an Embark profile, early training and socialization, and a puppy aptitude test. Dogs are fully groomed, have microchips, all health procedures completed, and 30 days of pet insurance.
You should pay extra for transport if you can't come to pick up your dog personally. The puppy will arrive in his new home with his food, chewy toys, paw towel, and literature.
With the desire that their clients become completely satisfied, their dogs get a genetic profile with all the necessary information. This profile is made by Embark.
Birkline Dobermans Breeder Details:
Address: Humble. Texas
Phone number: (713) 303-7390
Email: [email protected]
Website: Birkline Dobermans
Facebook: Birkline Dobermans
2. Double J Dobermans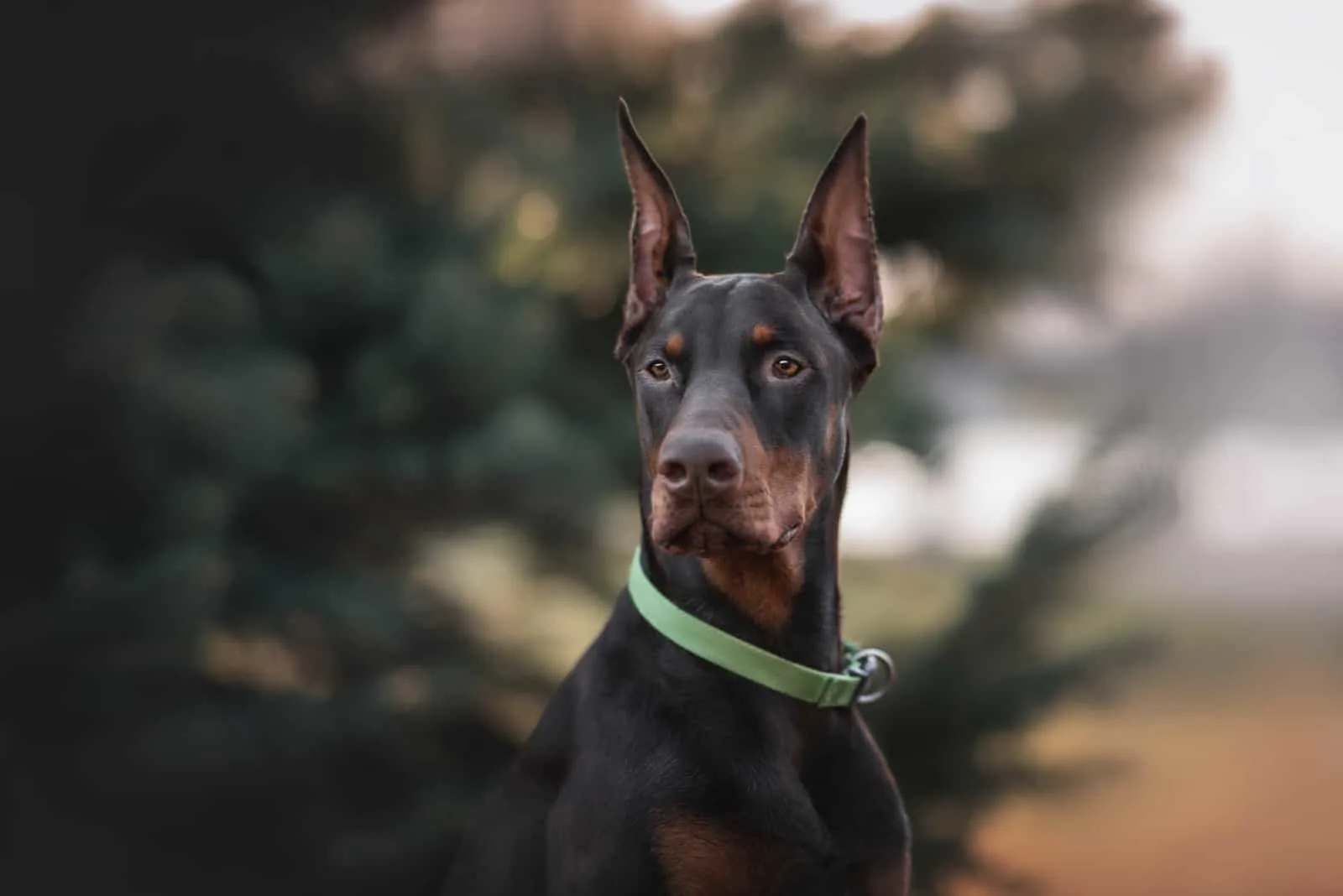 Second on our list is Double J Dobermans, of selected European Dobermans brought to Texas to thrive and prosper. Check them out.
A Few Words About The Breeder
Located in Central Texas, these breeders are importing dogs of high-quality European bloodlines. Their love for Dobermans is 30 years long, while they have been into breeding for a quarter of a century. This is years and years of accumulated knowledge put into practice.
Do not hesitate to ask any question. These breeders will be more than happy if you show interest in their work. They are willing to answer your questions and discuss any related topic. They will help you as much as they can to find the perfect solution for yourself.
Their Breeding Process
They strive for healthy dogs with excellent temperament and behavior. Do not ask them for Z-factor dogs or dilute colors as they do not produce those.
They start breeding after the second year of the dog's life, when the dog is mature. When breeding, special attention is placed on finding the perfect dog match. Thus, the pedigree is a crucial factor for matching.
Their puppies are raised indoors, but they are also provided with a lot of outdoor play. They are used to a home environment, so they make perfect family dogs. These puppies know what a TV, a radio, carpet, and other stuff are, and they also know what grooming is.
What Is In The Package
Depending on the litter, prices for these dogs are about $2500. This includes AKC registration. Besides that, these dogs have passed all health checkups, and they have already seen a veterinarian. Therefore, deworming and vaccines are taken care of.
These breeders remove the pup's dewclaws and dock their tail. Microchipping is available if you feel like you need it. If something happens, and it is no longer possible for you to take care of your dog, do not leave him on the street. Call these breeders and return it back to them.
There is also 30 days of insurance, and a starter pack that includes a blanket with the mother's scent, a toy, a sample of his favorite food, and all his health records and literature.
Double J Dobermans Breeder Details:
Address: Central Texas
Phone number: 512-217-4080
Email: [email protected]
Website: Double J Dobermans
Facebook: Double J Dobermans
3. Cambria Dobermans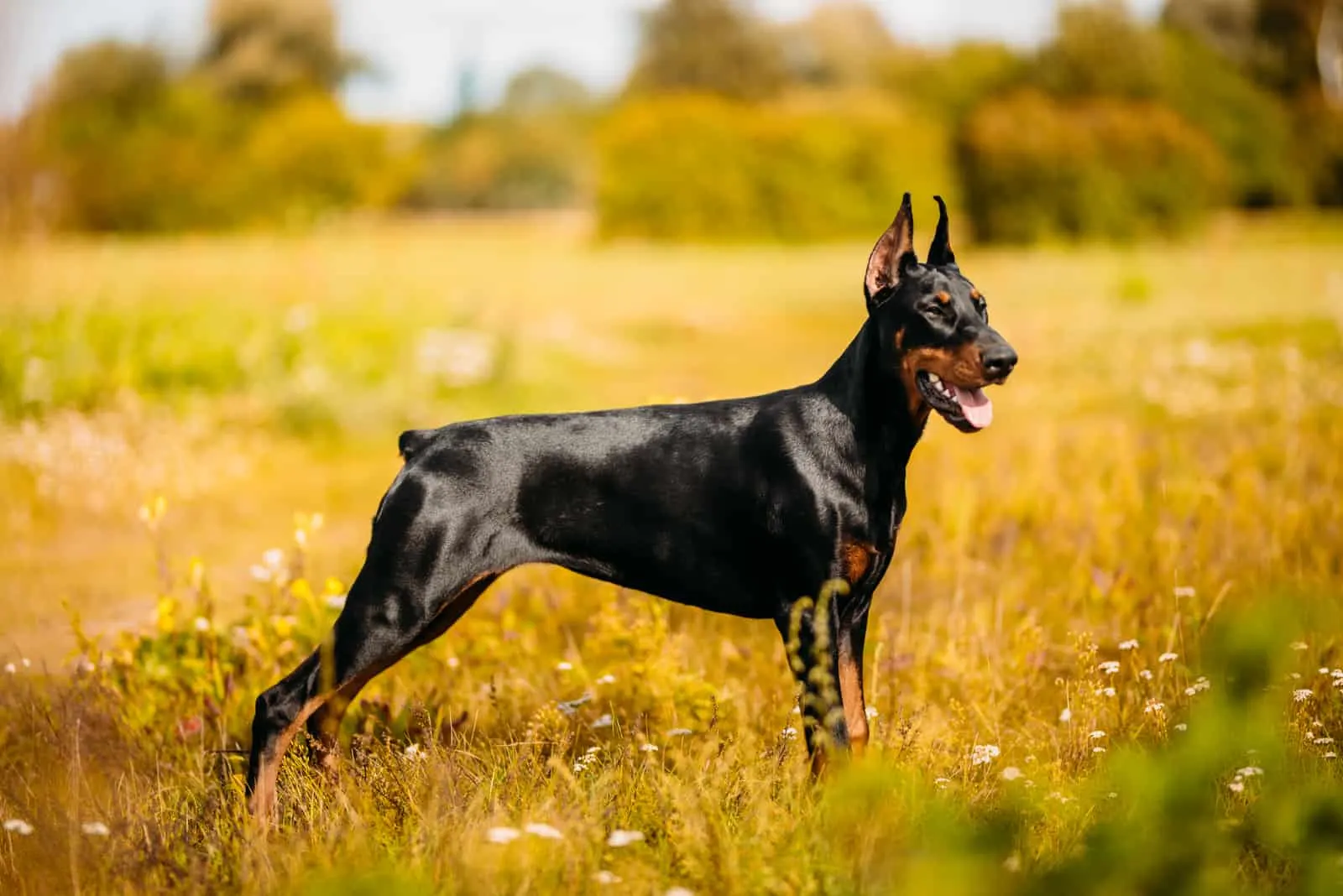 Next in the line of Doberman breeders in Texas is Cambria Dobermans.
A Few Words About The Breeder
The love for Dobermans at Cambria Dobermans is double because there is a husband and wife who share the same passion for breeding. It is a rather romantic story where Dobermans connected these two people and made them fall in love with each other.
If you add their experience with Dobermas together, you get 90 years of work. They do conformation and performance for dog shows, and they are known as reputable breeders.
Their Breeding Process
When it comes to Doberman breeding, it is both body- and soul-focused. They thrive for dogs that will be both mentally and physically strong. By focusing on the preservation of their dogs' main qualities, they are also producing magnificent individuals in appearance.
Their dogs are within the standard of the Doberman Pinscher Club of America (DPCA), within the AKC. This means elegance, power, muscles, compact size, speed, endurance, optimal temperament, energy, attentiveness, loyalty, boldness, smartness, and obedience.
What Is In The Package
If you want to find out how much you will pay for a dog, or what you get with the price, you will have to contact these breeders. There is an application form on their website, or you can call them directly.
If you want to purchase a dog, there is also an application for their waiting list. All other information is on their website, and you can enjoy watching videos and pictures on their Facebook page.
Cambria Dobermans Breeder Details:
Address: 466 Hereford Lane, Millsap, Texas
Phone number: 940 682-1246
Email: [email protected]
Website: Cambria Dobermans
Facebook: Cambria Dobermans
4. Stellar Dobermans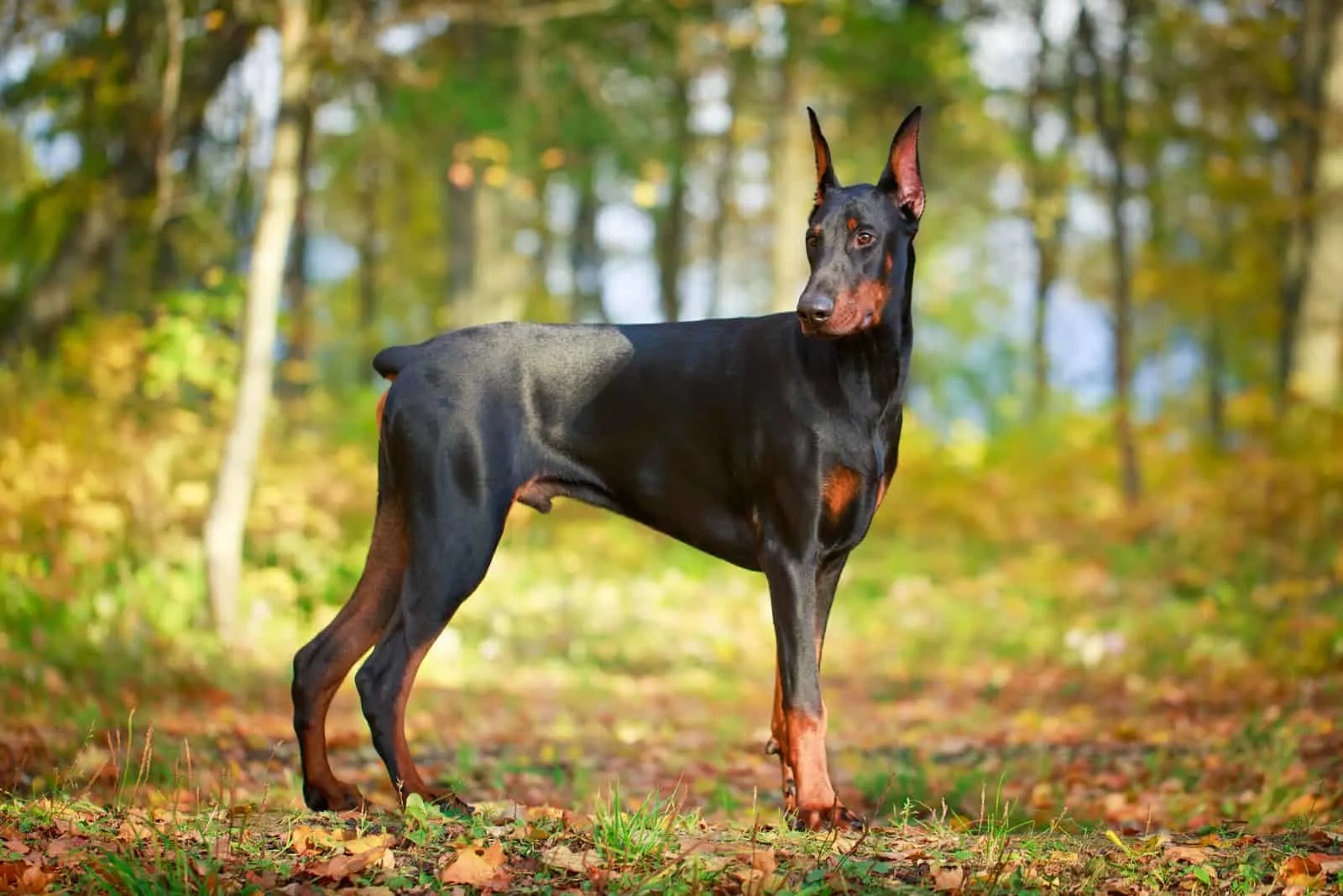 This is a star among Doberman breeders in Texas. Stellar Dobermans is the next breeder I am going to introduce you to. Say hi!
A Few Words About The Breeder
The priorities at Stellar Dobermans are health and temperament. These dogs can easily be service and/or rescue dogs. The breed standard that these breeders follow is that of the Federation Cynologique Internationale (FCI).
The bloodlines that these dogs originate from are purely European. That is why these breeders follow European breeding standards for Dobermans, and they are among the best European Doberman breeders in Texas.
Their Breeding Process
Their dogs are raised at home with children, other small dogs, and other family members. They grow up to be good dogs that have good manners. They are used to the home environment and living in a household.
When they are sleeping, there are video monitors on guard if something happens. These dogs are not left alone, for if the owners are absent, there are babysitters to watch after them.
At the end of the breeding process, there is a perfectly-sized European Doberman available for you.
What Is In The Package
With a price of $3500, you will get a dog with professional ear cropping performed as well as its tail docked. Dogs will also go through all the necessary health testings such as vaccinations, deworming, and microchipping.
This also includes American Kennel Club registration, along with an insurance kit, and a Pro Plan Puppy kit. For the shipping option, you will have to contact the owner and make arrangements.
Stellar Dobermans Breeder Details:
Address: Waco, Texas
Email: [email protected]
Website: Stellar Dobermans
Facebook: Stellar Dobermans
5. Dayna's Dobermans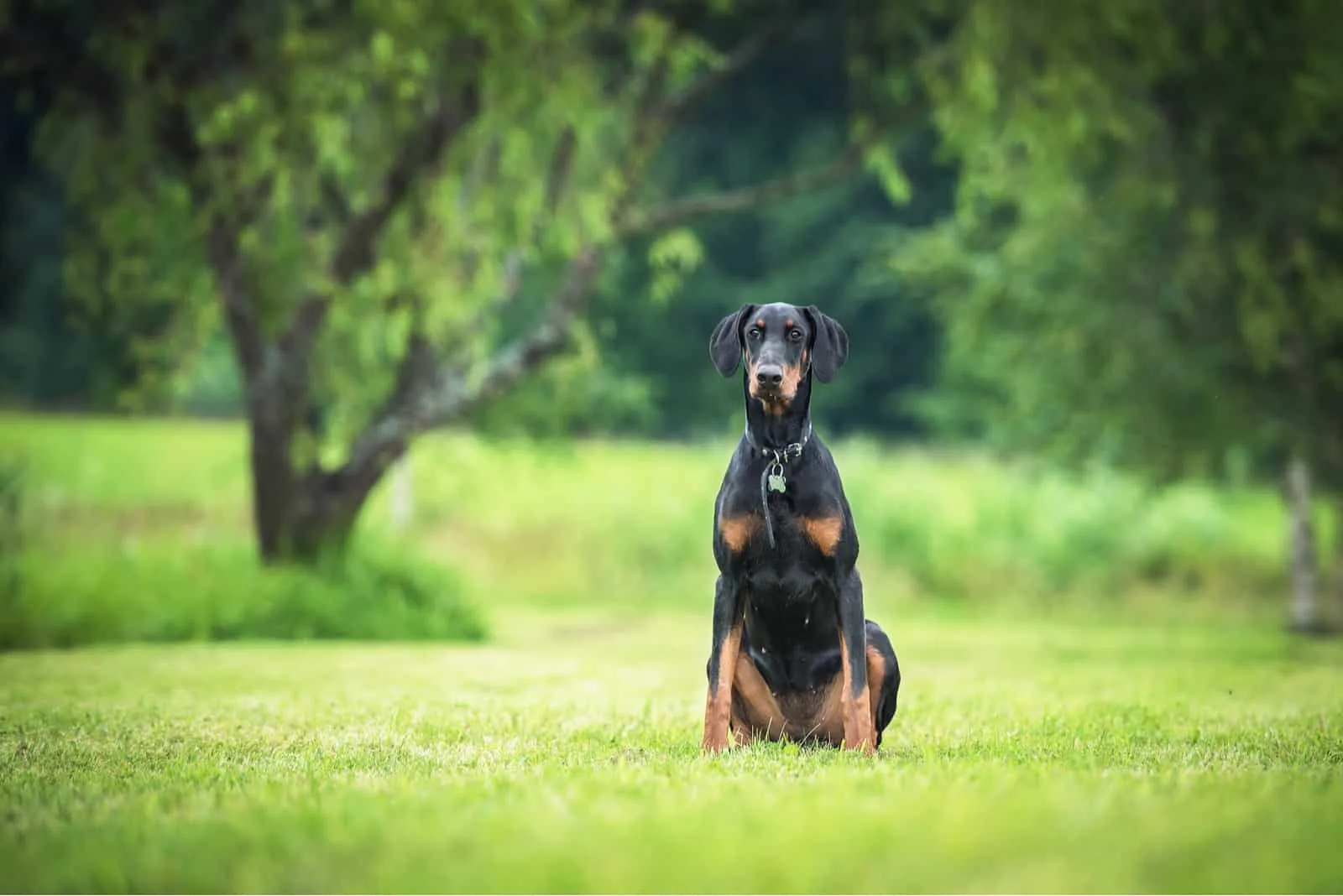 We are almost at the half of our list, and we are about to meet some cool breeders from Dayna's Dobermans.
A Few Words About The Breeder
Dayna's Dobermans covers the area of North Houston. Even though there is an address noted on their website, they are not open for visitors. They had a few nasty experiences with people with bad intentions.
There is a lot of information on their website as well as a lot of positive feedback. But, if you want more information, then you should ask directly. They urge you to read all the information on their website before sending them questions.
Their Breeding Process
At Dayna's Dobermans, they raise loving and loyal dogs. Their dogs have all the best qualities that this dog breed is known for. Their dogs are full of energy, fierce, protective, and attentive. They are excellent family dogs.
The Doberman breed raised at Dayna's Dobermans is a magnificent mix of European and American Dobermans. This means their dogs have the best of both continents. Such an adorable mix.
What Is In The Package
Total price for Dayna's Doberman puppies will cost you $2000. If you want a dog that was bred there, then you have to be the fastest among many others who are interested. They go by the rule – who asks first gets the puppy first.
Your puppy will come with his tail docked, but they come with uncropped ears. They will also be used to a crate. All health guarantees are included, and they are also microchipped.
Dayna's Dobermans Breeder Details:
Address: Idle Glen Roadway, New Caney, Texas
Phone number: (281) 745-6606
Email: [email protected] or [email protected]
Website: Dayna's Dobermans
6. Elitehaus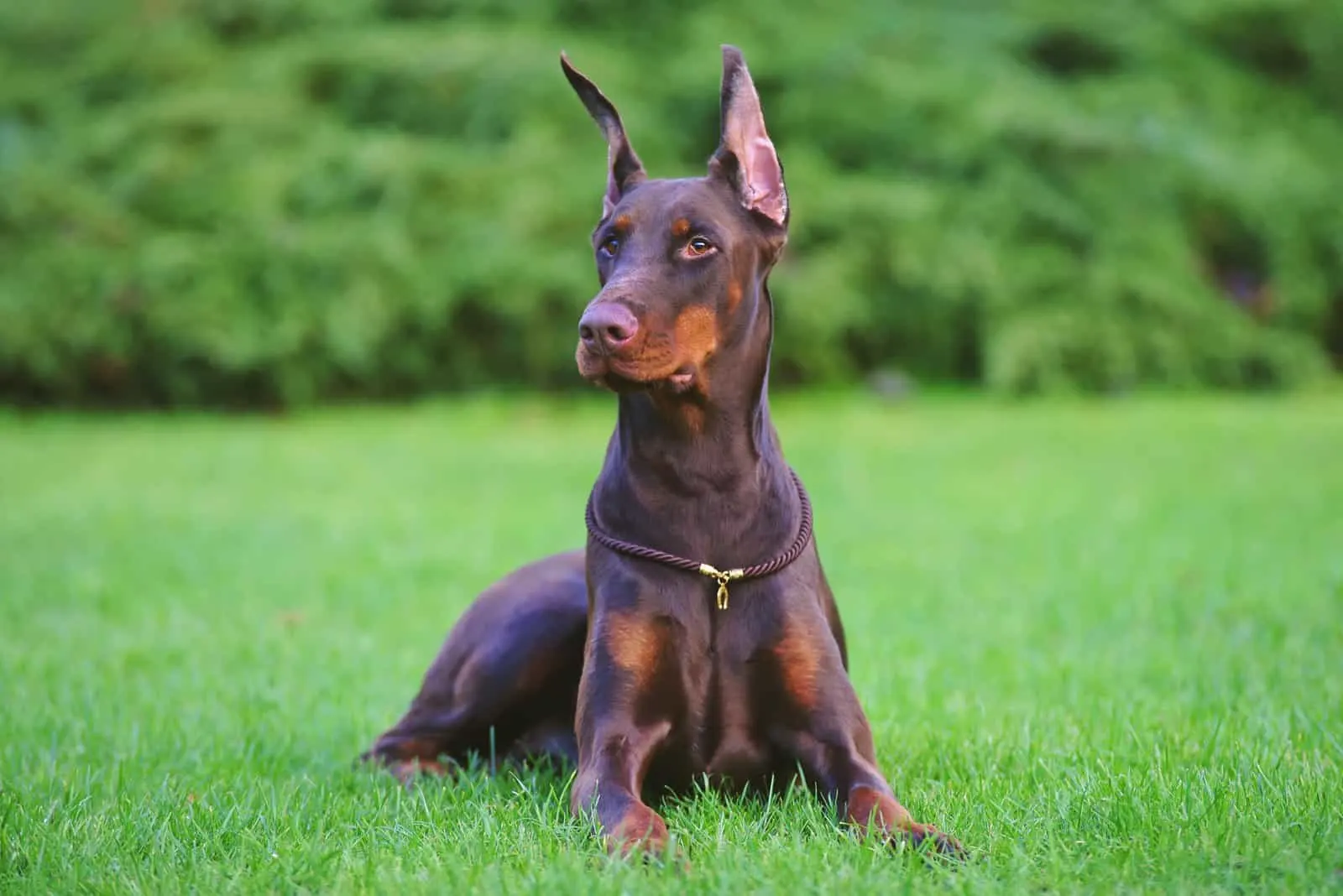 We are heading to visit truly elite dogs at Elitehaus. Let's find out more.
A Few Words About The Breeder
The friendly looking owner, Ashely Allstun, has 20 years of experience with raising this noble breed. Her goal is to raise a Total Doberman, which means a top-quality dog for conformation, with great health and an amazing work ethic.
These dogs are really enjoying themselves. There are five acres of free space around the farm on which they live. And, they are not the only animals there, which means that with daily encounters from other animals and children, these Dobermans are well socialized dogs.
Their Breeding Process
Ashely has working lines and show lines., and with all her experience, she does the magic. She creates amazing individuals with extraordinary traits.
Do not be fooled. She is very attentive when it comes to choosing the right dog. Before a dog is chosen, it has to pass a DNA test and other tests. A possible breeding candidate has to have good health, great temperament, and a sharp mind.
What Is In The Package
If you want to know the price of these puppies, you will have to ask about it yourself. There is no information about costs on their website – not even a price range.
But, there are a few hints about the package. Their dogs should come with all the necessary health tests and health guarantees. Their socialization program ensures a well-behaved dog. And, at the end, these dogs should be officially registered with prominent canine organizations.
Elitehaus Breeder Details:
Address: 135 Shady Creek Lane, Rockwall, Texas
Phone number: 573-624-0614
Email: [email protected]
Website: Elitehaus
Facebook: Elitehaus
Instagram: Elitehaus
7. Akila Doberman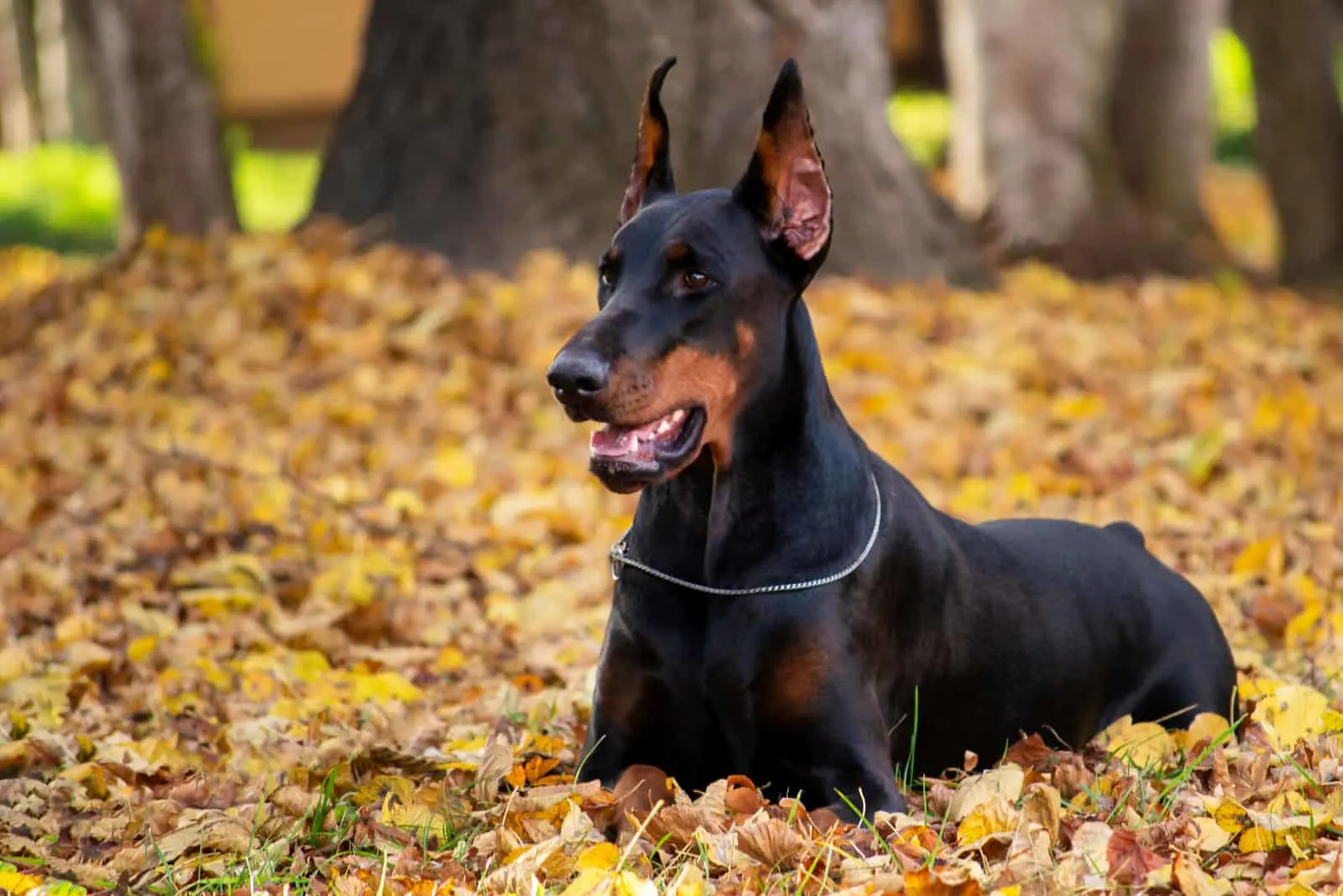 Next in line are the Akila Doberman breeders. If you are near Midland, Texas, then you have probably heard about them. If not, then let's get to know them.
A Few Words About The Breeder
They have named their business Akila because it means intelligent beauty. And, that is what Dobermans are all about. They are strong, elegant, and beautiful. At the same time, these dogs are outstandingly smart.
At Akila Doberman, it all started 10 years ago when their daughter asked for a Doberman dog. And, one puppy captured all their hearts, but they did not stop with that purchase. They decided to breed this noble dog.
Their Breeding Process
With a lot of learning, and now, significant experience, these breeders are raising high-quality dogs. They want only the best for their clients, so they are educating, educating, and educating.
Besides breeding, they are also good at training. Dogs live within the family. This means they are well socialized. All the energy is put into raising an amazing puppy with the best conformation, optimal temperament, and great health.
What Is In The Package
There is not much information on how much a dog costs here, or what their package includes. But, you can contact them via the form on their website or via email.
It is noted that all puppies have been AKC-registered. Also, these dogs are specially trained to be obedient and to guard their home and family.
Akila Doberman Breeder Details:
Address: Midland, Texas, US 79706
Phone number: (575) 799-9033
Email: [email protected]
Website: Akila Doberman
Facebook: Akila Doberman
8. Taillac Dobermans, Texas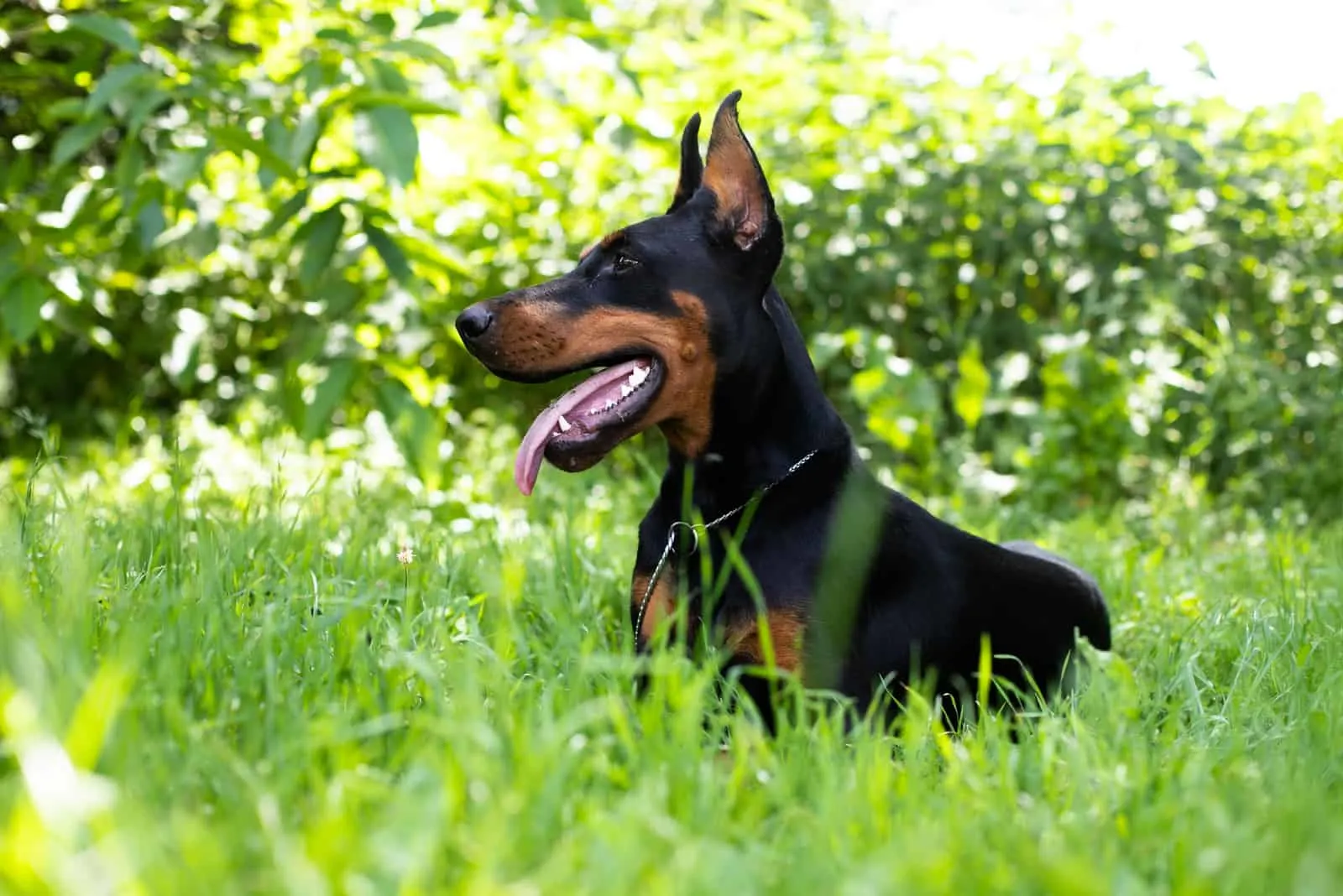 Near the end of our list is Taillac Dobermans, located in Dallas – one among many quality Doberman breeders in Texas.
A Few Words About The Breeder
Taillac Dobermans wishes to give you the full Doberman experience. Having a dog is a big decision, and it should be done properly. When you get a dog from these breeders, you are not only getting a Doberman as a pal, but also these people will become your friends.
They are doing their best in finding the right family for their dogs. And, when they do, they give them a lifetime of support.
Their Breeding Process
Taillac Dobermans are well mannered dogs. They get the best socialization program, which is one of their main goals. That is why these dogs grow well within a family.
Another goal is to raise a dog that is healthy and will remain healthy throughout its entire life. This means they plan their breeding carefully. Their dogs are a blend of American and European origins.
They do not breed within the same family bloodlines.
What Is In The Package
When you agree on the terms of adoption, and take all the necessary steps towards purchasing a new puppy, you have to make a deposit of $500. For the full price, you will have to ask.
All puppies go through necessary health checkups. Therefore, you get a purebred, healthy dog, with great temperament and conformation. You also get lifetime support from these breeders. If you are no longer able to take care of the dog, they are willing to take it back.
Taillac Dobermans Texas Breeder Details:
Address: Dallas, Texas
Phone number: 214-709-3467
Email: [email protected]
Website: Taillac Dobermans
Instagram: Taillac Dobermans
9. Texas Size Dobes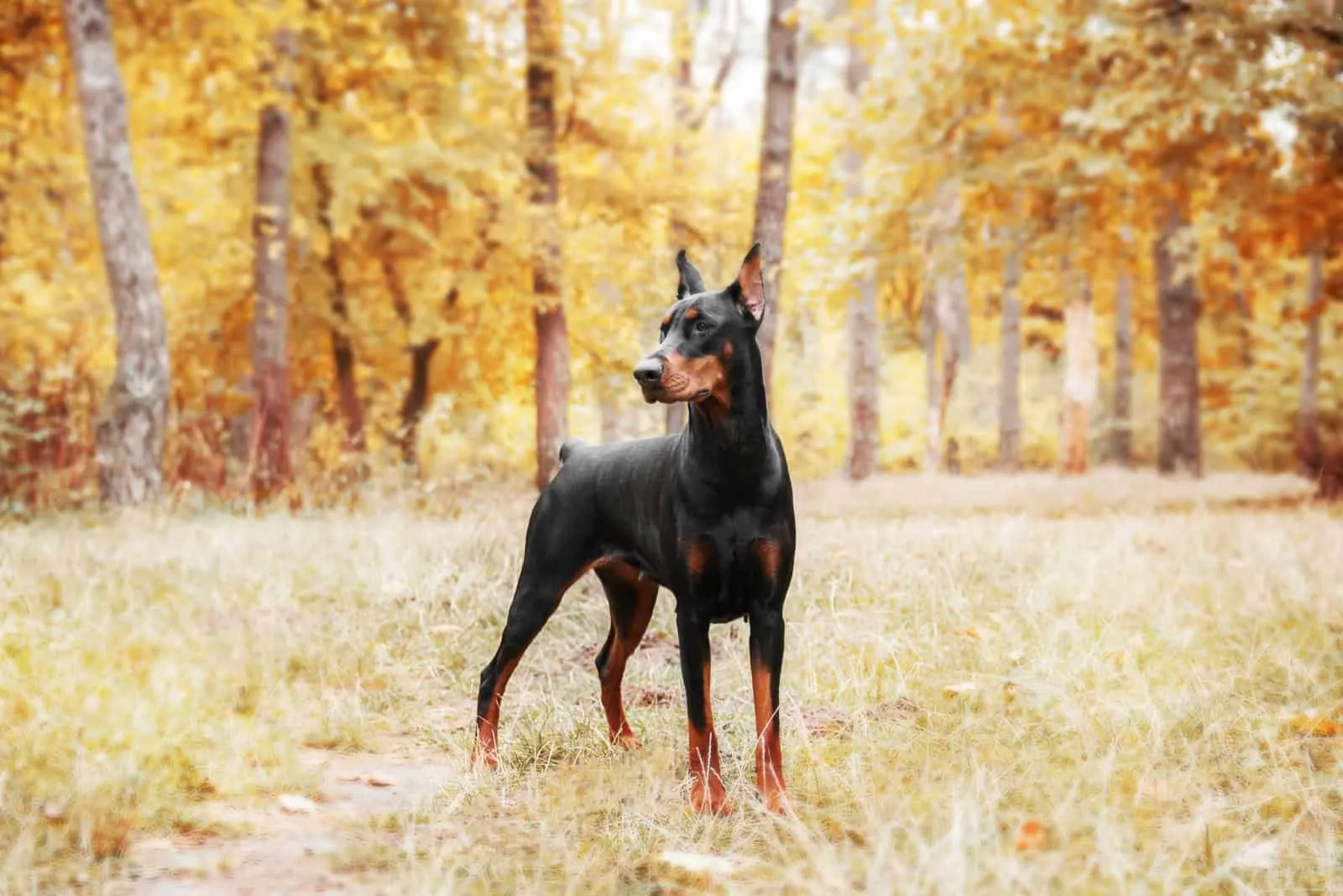 We are near the end of our list of Doberman breeders in Texas, and here is Texas Size Dobes. Let's get introduced.
A Few Words About The Breeder
Texas Size Dobes is led by a husband and wife. It is their hobby, not their main business, and they do not have many litters a year. This way, they can commit to every puppy individually.
The love for these dogs is a lifetime affair for both spouses. Each of them had a Doberman during their childhood, and that love never passed. Besides Dobermans, there are other farm animals that they take care of.
Their Breeding Process
These dogs are of European and American bloodlines. They are bred by European standards, so there are very high demands of health, temperament, and conformation quality.
Inbreeding is a no no here. European genes are more dominant in these dogs. This means that Texas Size Dobes are slightly bigger than the average American Doberman. You can look at the Doberman size chart if you'd like to see if your Dobie is of the average height and weight.
What Is In The Package
If you purchase your dog for $1600, you will get limited registration. There is also a neuter/spay agreement included as well as vaccines and deworming.
If you purchase your dog for $2500, you will get full registration, and you can choose your pup. All other health checkups are included.
Texas Size Dobes Breeder Details:
Address: Beasley, Texas
Phone number: 281-733-7319
Email: [email protected]
Website: Texas Size Dobes
10. Touchstone Dobermans, Texas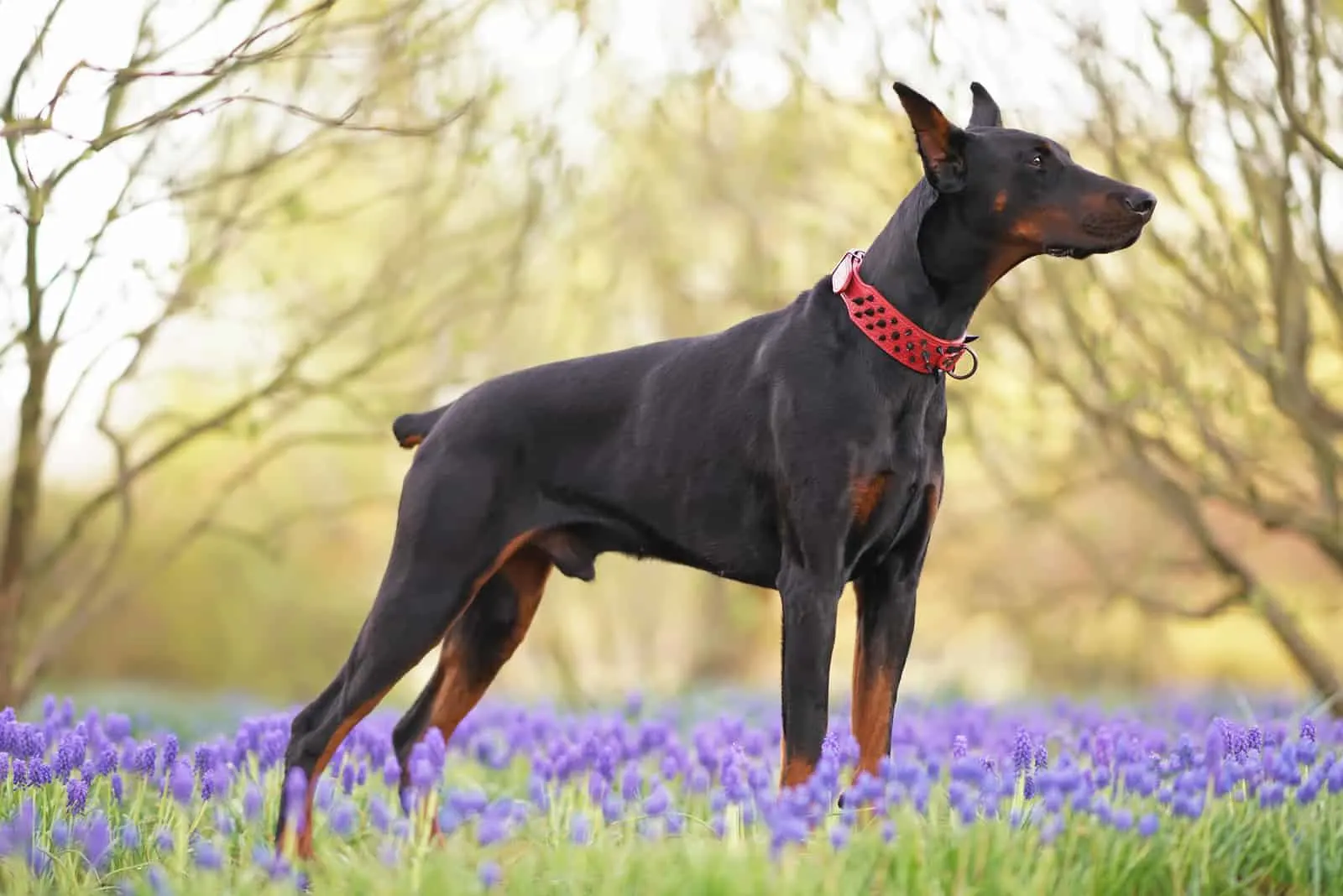 Last, but not least on our list is Touchstone Dobermans, placed in picturesque Magnolia, Texas. Here they are.
A Few Words About The Breeder
This kennel is led by an enthusiast who fell in love with Dobermans back in 1976, when she was 19 years old. Touchstone Dobermans are winners, and many prizes will testify to this.
Alisa does the best job, and she is recognized by the American Kennel Club as an AKC Breeder of Merit. Her dogs look good and behave good.
Their Breeding Process
There is not much information about the way these dogs are bred, but their long-term tradition and their many prizes say something. This breeder is recognized by many official organizations.
These dogs are recognised by the DPCA, and they have been champions in many conformation shows. With 65 champions, she is among the most prominent breeders in Texas.
What Is In The Package
There is no information about the price or what you get for the price. If you are interested in purchasing a dog from this breeder, then I recommend you ask.
There is a phone number you can call. You can also send an email or ask via the form on their website. I am sure you will get all the needed information. Good luck.
Touchstone Dobermans Breeder Details:
Address: 19556 Alford Rd, Magnolia, Texas 77355
Phone number: 281-989-3130
Email: [email protected]
Website: Touchstone Dobermans
All In All
When looking for a reputable Doberman breeder in Texas or elsewhere, it is good to have in mind what a good breeder's traits are. Health checkups are a must, along with transparency, up-to-date sites, connections with official kennel organizations such as the AKC, and available information about the breeding process.
Dobermans are awesome dogs. If they are bred well, they will have high energy levels, and be utterly smart and highly attentive. I should not forget that they are reliable guard dogs, and loyal to the bone. They also have impressive appearances.
There are many Doberman breeders in Texas that you can choose from. When there is a lot of competition, quality often increases. This means it will be easier for you to find a high-quality puppy for yourself and your family.
I hope this list will help you navigate through the available supply of Doberman breeders in Texas. Take an informative look at all of them, and choose wisely in order to avoid puppy mills. I wish you good luck on your Doberman puppy search. Best regards.