This post contains affiliate links, and I will be compensated if you make a purchase after clicking on my links.
There is no dog that can match a Doberman Pinscher when it comes to guardian skills and tough looks. This is a loyal four-legged companion that requires only the best dog food for a Doberman to stay in his best shape.
Dobermans are prone to many health problems that can be caused by a bad diet. This is why it's important to do all you can to make sure they are healthy.
The best way to ensure that your Doberman is in the best health possible is to provide him with all the necessary nutrients. This includes just the right amount of protein, carbs, healthy fats, minerals, and vitamins.
To help you achieve just that, we have compared dozens of brands and types of canine food. This helped us decide on the top 15 best dog foods for a Doberman. Below, you can see what we've found and choose the right food for your brave and strong pooch!
Best Dog Food For A Doberman: Quick Overview
15 Best Dog Foods for Dobermans Reviewed
Merrick Grain-Free Dry Dog Food is one of the best dog foods for large breeds. It has the perfect combination of protein, fiber, and healthy fats while remaining grain-free. It's also rich in omega-6 and omega-3 fatty acids.
This makes it amazing for your pooch's immune system and for improving your dog's overall health. At the same time, it can improve the appearance of his coat and reduce shedding, making your Doberman look glorious and mighty while providing him with good nutrition.
Other beneficial ingredients that this food contains are glucosamine and chondroitin. Both are known to help with muscle and joint pain, so if your dog is at high risk of developing arthritis or hip dysplasia, this is a good food to consider.
This dog food contains real deboned buffalo meat that is enriched with other products, such as sweet potatoes. Most dogs won't be able to resist its taste no matter how picky they are.
Since this product doesn't contain wheat, corn, soy, or any ingredient containing gluten, it's the perfect choice for dogs with sensitive stomachs or grain allergies. It's easy to digest, and it is highly palatable.
As Merrick makes its food in the USA, they guarantee the quality of all their products.
This dry dog food is suitable for all Doberman life stages. In fact, it's a great choice for large breed puppies, adults, and senior dogs alike.
This is a multi-protein dog food formula, meaning it contains meat from lamb, chicken, turkey, and fish, providing the optimum amount of protein for proper muscle development. It's formulated by vets, so it doesn't contain wheat, soy, or corn, making it the perfect choice for canines with grain allergies.
Also, while it contains chicken, it doesn't have any chicken by-products. All protein sources are real meat as well as wholesome ingredients, such as brown and white rice.
The food is enriched with minerals, vitamins, and probiotics. It contains chondroitin and glucosamine, which is excellent for cartilage and bone health. It also contains omega-3 and omega-6 fatty acids, ensuring your pooch's coat stays shiny and healthy.
Castor & Pollux is the go-to brand for organic dog food. This product contains chicken meat as its first ingredient, as well as sweet potatoes and other organic foods such as blueberries, coconut oil, and flaxseed. This is a food that all doggies will love!
As this is an organic food, don't expect to see any artificial preservatives, colors, or flavors. There are no added growth hormones, pesticides, or antibiotics – this is an all-natural product that will bring health to your pup.
On the other hand, it does contain lots of healthy fatty acids and fiber, as well as additional minerals and vitamins that will boost your puppy's immune system. Just like many other foods from our list, it contains chondroitin sulfate and glucosamine – great news for your Doberman's muscles and bones.
This dog food is created in a certified kitchen from the USA, so the quality is ensured.
If you're looking for the best dog food for your Doberman with a high protein count, this might be the choice for you. It's very rich in protein as it contains chicken, turkey, spinach, and flaxseed. At the same time, it doesn't contain any grains, so it's great for dogs with sensitive stomachs.
This is a good choice for people who want to improve the health of their Doberman's digestive system. Also, if your pup has food allergies, he'll likely be okay eating this dog food.
Other than grains, this dog food doesn't contain any meat by-products, artificial preservatives, or artificial flavors. It also has chondroitin and glucosamine, so it's amazing for pups with bone issues, such as hip dysplasia.
The food is shaped into large kibbles, making it easy for dogs to eat it. This can also prevent fast eating, as dogs have to chew on it a bit rather than simply devouring it as they do with smaller kibbles.
This is great Doberman dog food for pups that need to be kept on a low-protein diet, such as pups suffering from kidney disease. As Newman's Own Organics has been making organic dog food for several decades, you can be certain of the quality of the product.
In fact, by buying any product from this brand, you're helping a specific cause. The proceeds of the sale go towards various charities, as is the brand's practice since 1982.
This dog food is made from 70% organic ingredients, and the first one is organic chicken meat. It's suitable for all life stages, although if you choose to give it to your Doberman puppy, we'd advise you to get another protein source since puppies require more proteins than adults.
The product doesn't contain any artificial colors, flavors, or preservatives, nor does it contain corn or wheat. This makes it a good choice for pups with sensitive stomachs.
The brand manufactures its food in the USA, and it carefully chooses all the ingredients. Everything is designed to ensure that your pet is as healthy as possible, even if he has certain genetic problems, such as food allergies.
This is a healthy kibble that most Dobermans will love eating, even if they are somewhat picky. It contains chicken as the main protein source, as well as brown rice, flaxseed, oatmeal, and somewhat rare California avocados. This will ensure the optimum fat content.
This dog food is suitable for adult dogs, and its nutrients are adapted for them. It also contains many healthy omega-3 and omega-6 fatty acids, so it's good for the dog's skin and coat, and also the immune system.
The AvoDerm Natural Chicken Recipe dog food is free of wheat, soy, and corn by-product meals, as well as any artificial flavor and color, so it's great for dogs with sensitive stomachs.
Also, it's filled with essential vitamins, minerals, and antioxidants. This will further boost your pup's health and ensure that he gets balanced nutrition.
If you're looking for the best dog food for Doberman puppies, you might want to check this one out. It contains 38% of proteins, making it great for growing puppies that need that extra boost of energy and strength.
Orijen did all it could to create biologically appropriate dog food by using only fresh, regional ingredients. These include free-run chicken and turkey – both of which were deboned before being added to the formula.
Another protein source is wild-caught fish, which also ensures that the food has the right amount of healthy fats, which are great for not just the skin and the coat, but the bones as well.
Orijen considers dogs carnivores more than omnivores, and states that eating meat is in their nature. Because of this, even domestic dogs require a diet that is rich in animal products. The brand does its best to create food that is similar to raw feeding.
Overall, this product contains 15 various raw or fresh animal-based ingredients, ensuring that your puppy has proper development from an early age.
If you're looking for the best dog food for your Doberman that is also affordable – Taste of the Wild might have you covered. This brand has many budget-friendly options, and this is one of them.
This dog food has fish as its main protein source, making it a rather healthy option. Keep in mind, though, that some dogs dislike the taste of fish – but the brand has done all it can to ensure that this canine food tastes delicious.
The product is supplemented with various fruits and veggies, and because it has fish as the first ingredient, it's extremely rich in beneficial fatty acids, so it will make your Dobbie's coat silky and shiny. It also contains many antioxidants, boosting his immune system.
Other ingredients include sweet potatoes, peas, blueberries, raspberries, and tomatoes. Everything is enriched with vitamins, minerals, and probiotics, as well as chicory root, which will increase the fiber content. All of this makes this a highly-digestible dog food.
At the same time, this is grain-free dry dog food, so it's suitable for dogs with food allergies.
This is another great dog food that is suitable for large breed puppies. It contains a nutritious formula that satisfies all your Doberman puppy needs, so that it can grow into a strong, well-developed guard dog.
It contains just the right amount of protein, carbs, and healthy fats, as well as plenty of probiotics and prebiotics. This is great for your puppy's development.
It uses chicken meal and lamb as the main protein sources, as well as salmon oil. It also contains many whole grains, such as brown rice, oatmeal, and barley. Other ingredients include flaxseed, blueberries, apples, papayas, pomegranates, and others.
All of this also makes this Holistic Select's formula enriched with many minerals and vitamins, as well as natural fibers, botanicals, and digestive enzymes. Your puppy won't have any tummy issues after eating it.
The food is also free of fillers, such as artificial colors and flavors. It also doesn't contain any wheat, making it as healthy as a dog food can get.
This dog food is suitable for large breed dogs that are older than 6 years of age – which is already considered senior for bigger dogs.
It uses chicken as the number-one ingredient and the main protein source, but it also has lots of brown rice. This is easily digestable for older pups, enabling them to enjoy eating tasty foods even as they grow older.
The food is free of filler ingredients, such as chicken by-product meal, wheat, soy, and corn. There is nothing that will take space in this wholesome recipe. In fact, all of the ingredients are free of GMO, making this dog food as natural as it can be.
Plenty of natural fibers also help with digestion, while many other ingredients, such as chondroitin and glucosamine, are added to ensure that the dog's cartilage and joints are strong. This is an amazing choice for dogs at risk of developing hip dysplasia or other orthopedic health problems.
Even if your senior dog is already suffering from joint aches, you can give him this food as it will strengthen him and help with his uncomfortable condition.
This dog food is also rich in many essential antioxidants and vitamins, boosting your older dog's immune system and prolonging his lifespan.
Wellness is among the most popular dog food brands, and this is one of their most popular dog food series. The formula is designed for large dog breeds, ensuring their good health and longevity.
This dog food contains a natural formula, and uses high-quality ingredients free of GMO. This way, you'll know exactly what type of food you're giving your pooch.
Also, the food is rich in high-quality proteins and healthy cereals, as well as omega-3 and omega-6 fatty acids, glucosamine, antioxidants, probiotics, and taurine. This way, your Doberman will have a strong immune system, as well as a shiny coat and healthy skin.
Other than GMO, this food also doesn't contain any meat by-products, artificial preservatives, or any type of additive or filler. This way, you can be certain that your adult Doberman is always getting the best food possible, filled with natural ingredients.
Does your dog struggle to lose weight? If this is the case, consider getting him Purina Pro Plan Weight Management (previously known as FOCUS Management Large Breed Formula). As Purina is a household name, you've likely heard of their dog food before.
Dobermans are prone to obesity, especially if they aren't as active as they should be. They have high levels of energy, and they can become overweight if they eat the same food as always while they aren't exercising regularly.
This dog food contains an optimum protein-to-fat ratio specifically designed for chubby doggies that tend to overeat. In fact, it contains 15% less fat than other Purina Pro Plan formulas for adult dogs.
Not just that, but this dog food is designed to help your pup maintain its muscle mass while it loses fat. This means they won't get weaker as they become slimmer.
This kibble food is also rich in natural fiber, probiotics, and prebiotics, making it easily digestible. Not just that, but it will ensure that your pup keeps his good stomach health without holding on to the calories.
The main protein source is chicken, making it tasty for most dogs. As many diet dog foods are made with fish (a type of meat that not all dogs like), this makes it a great choice for dog owners whose pups aren't fond of seafood.
Hill's is a known pet food manufacturer that has more than seven decades of experience in the business. It's no surprise that they created what might be the best dog food for Dobermans with sensitive stomach and digestive issues.
This dog food contains the optimal nutrient supply and high digestibility, thanks to the high amount of prebiotic fibers. At the same time, it contains a large amount of omega-6 fatty acids, making it the perfect choice for healthy skin and coat.
At the same time, the added vitamins (most notably, vitamin E) and minerals ensure that your dog is in the best health possible. Natural prebiotic fibers will ensure that your pup has enough beneficial gut bacteria, as well as a balanced microbiome. All of this is amazing for dogs suffering from some stomach problems.
As the main animal protein comes from chicken, most Dobermans will like its flavor. As we've mentioned, many dogs have an issue with beef or fish meal, so chicken can often be the optimal choice.
All of the healthy proteins and ingredients in this food will also ensure that your dog's heart is in its best possible condition, further supporting his good health.
Yet another grain-free recipe from our list, Blue Buffalo Wilderness is an amazing dry dog food with the purpose of ensuring that your Doberman gets as natural of food as possible. The brand believes that the dog's diet shouldn't differentiate much from its wild cousins – wolves – and that's what they base their recipes on.
This grain-free dog food contains duck meat as its main protein source, but it also contains turkey meal and chicken meal. This ensures that the food has that delicious flavor most dogs will adore. Some other ingredients include antioxidant-rich veggies and fruits such as cranberries, blueberries, potatoes, sweet potatoes, peas, and carrots.
As Dobermans have high activity levels, they also need a good protein-to-fat ratio, and this high-quality dog food offers precisely that. It's rich in omega-3 and omega-6 fatty acids, ensuring that your pup's skin and coat are in optimal condition.
In fact, due to the optimal nutrition level and the addition of glucosamine, this large-breed dog food is great for dogs suffering from cardiac and thyroid issues, but it will also improve the dog's joint health.
This is an excellent choice if you're looking for the best dog food for your Doberman, which is also great for your pup's immune system and healthy digestion.
It contains nutrient-rich organic chicken meal as the main protein source, and it's formulated to provide your Doberman with both flavor and balanced nutrition. This will provide your pooch with all the energy he needs to be his active self.
At the same time, it is free of any artificial colors, flavors, and preservatives, and it doesn't contain corn, soy, or wheat. If your adult Doberman has problems digesting food, this product might be what you need to help calm his stomach down.
Also, as it contains natural sources of chondroitin and glucosamine, it will help support healthy joints and strong bones… something that can be the Achilles heel of all large dog breeds.
Guide To Buying The Best Dog Food For A Doberman
It's challenging to find the best dog food for a Doberman if you don't know what you're looking for and why some products are better than others. Just like humans, dogs have their own nutrition needs, and feeding them the wrong kind of food can have harmful consequences.
While all 15 foods we've reviewed are good for your Doberman, you should always know what boxes to tick when it comes to the specific needs of your pup.
This guide will help you pick the right food for the needs of your pup, no matter if you're looking at your local pet store or online on sites, such as Amazon or Chewy.
What Ingredients Do You Look For?
When looking for good dog food, you need to look for dog food consisting of natural, real nutritious ingredients. This includes real meat, fish, healthy fats, and whole grains (as long as your puppy isn't intolerant).
Also, good dog food needs to contain a balanced nutritional profile, such as minerals, vitamins, and antioxidants. In fact, many of the best dog foods for Dobermans are packed with additional minerals and vitamins, such as vitamins A, B, C, and D3, along with zinc, magnesium, calcium, manganese, and many others.
Good food also has to have real meat as the first ingredient. This can be either whole meat, such as chicken or beef, or a meat meal. Both of these have the right amount of important amino acids and protein.
Healthy fats are another essential ingredient of every good dog diet. One of the best sources of healthy fats is salmon oil, which is an amazing choice for a shiny and healthy Doberman's coat.
Other great choices include flaxseed oil, coconut oil, avocados, beef fat, and chicken fat. All of them are rich in omega-3 and omega-6 fatty acids.
Fish is another good addition to a dog's diet. Even if your Doberman's food doesn't contain it, you might want to consider adding fish sticks or tuna as an occasional snack. Fish is a great choice for boosting a dog's immune system as well as improving the quality and shine of the coat.
Some fish ingredients you can include are whole salmon, smoked salmon, walleye, and herring, as well as other short-lived species. You'd want to look for fish that don't contain many heavy metals.
Many Dobermans have grain intolerance. However, grains are a great addition to dog food for those pups that don't have an issue with it. They are rich in fiber, and they can improve digestion. Good grain sources are brown rice, millet, oats, and barley, as well as other whole grains.
Dogs are omnivores, and the best dog food for Dobermans needs to contain fruits and veggies. Plant-based foods contain fiber, minerals, and vitamins, as well as antioxidants. As a result, they reduce the chances of diabetes and cardiovascular diseases, as well as cancer.
Good fruits and vegetables are carrots, peas, chickpeas, sweet potatoes, tomatoes, blueberries, raspberries, zucchini, and apples.
Doberman Nutritional Needs
Dobermans are large, energetic, and active dogs. Because of this, the best dog food for Dobermans needs to have enough calories to help them maintain their energy levels. In other words, their food needs to have a somewhat higher number of calories compared to regular dog food.
Proper nutrition is the key to keeping your Doberman healthy. However, you need to be very careful not to go overboard as they should always stay slim. Overweight Dobermans are at a huge risk of developing some severe health problems.
Here is what's necessary to make sure that the best dog food for your Doberman has:
• Proteins – While Dobermans need lots of protein, proper food shouldn't contain too much of it. Adult dogs require between 15% and 30% of protein, while puppies need a bit more (22% to 32%). Still, keep in mind that Dobermans are prone to kidney diseases, and protein is known to worsen this condition. Consult with your vet just in case.
• Fat – While fat usually sounds like a big no-no, Dobermans actually need some healthy fats in their food, especially if you want to ensure the healthiness of their coat. Look for foods rich in omega-3 and omega-6 fatty acids.
• Carbs – Dobermans are prone to hypothyroidism and hypoglycemia, so they require some complex carbohydrates in their diet. This can be found in whole grains or, if your pup is allergic, in slow-burning veggies and fruits.
On the other hand, nutrients you should avoid include:
• Meat by-products – Despite their seemingly strong build, Dobermans are sensitive dogs that shouldn't be fed meat by-products. While some meat by-products might be okay, it's better not to risk it. Most such ingredients contain remains from the slaughterhouse, such as intestines, blood, chicken feet, and others – nothing of which is beneficial.
• Artificial preservatives – Sure, you want your dog food to stay fresh for as long as possible, but artificial preservatives are always a bad choice. The best dog food for your Doberman should never include Ethoxyquin and BHT as these can irritate a canine's stomach, and are bad for the immune system.
• Artificial colors and flavors – Dog owners of picky Dobermans might choose foods with artificial flavors as these can be more appealing to their pets. However, all of these can cause allergies and health issues, so it's best to avoid them. Nature food is the best.
• Low-quality fillers – Gluten fillers are never a good idea for Doberman food. They add no value to the dog food, except empty calories. They can also increase symptoms of gluten allergies.
Doberman Feeding Schedule
Other than knowing how to pick the best dog food for your Doberman, you should also know when to feed your beloved companion.
Overall, there isn't a specific set of rules on when and how often to feed your dog. Still, some guidelines should be followed.
First off, puppies should eat more often than adult dogs. They cannot regulate their blood sugar levels as well as adults, so they should eat frequent, small meals. This way, you'll ensure that they constantly have enough energy for their daily endeavors.
Most veterinarians and animal experts would advise you to feed your young puppies up to four times a day. This should last until they are six months old. After this, they should eat two to three times a day. Adult Dobermans should eat once or twice daily.
You can give your Doberman treats between meals. However, treats shouldn't make more than 10% of your Doberman's diet, even if they are healthy. To avoid obesity, you have to carefully track their calorie intake, and count these treats the same way as you would if they were part of a regular meal.
Doberman Health Problems
Dobermans are prone to many health issues, most of which can be triggered by an inappropriate diet. They are sensitive animals that require lots of taking care of, and good nutrition is among the most important things.
If you don't feed your Doberman with some of the best dog food out there, you are risking many health conditions. These include:
• Dilated cardiomyopathy (DCM) – A condition that causes an enlarged, weakened heart.
• Wobblers syndrome – A neurological disorder caused when the intervertebral disk in the dog's neck becomes unstable. It's characterized by a wobbly gait and neck pain.
• Chronic active hepatitis – A liver disease that makes Dobermans unable to metabolize copper, which can be found in both whole foods and packaged dog foods.
• Hypothyroidism – Dogs, just like humans, can suffer from an underactive thyroid gland, and most of the symptoms and health consequences are the same.
• Gastric volvulus syndrome (bloat) – A life-threatening health condition that occurs when a dog eats his food too fast, or if his diet is bad.
• Hip dysplasia – A malformation of the hip joint, causing it to drop out of its socket. While it's hereditary, a bad diet can worsen the symptoms.
• Elbow dysplasia – similar to hip dysplasia, elbow dysplasia is the malformation of the elbow joint.
Bloat is the most severe health problem for many large breed dogs, including Dobermans. It can cause death in a matter of hours. Proper diet can lower the chances of your Doberman suffering from bloat, and keeping your dog at a regular weight reduces the chances of other issues.
In fact, obesity can lead to all of the diseases we've mentioned, even if your Doberman appeared healthy before. While most of these conditions are hereditary, they can be avoided if your dog remains at a healthy weight.
FAQ
What Do You Feed A Doberman Puppy?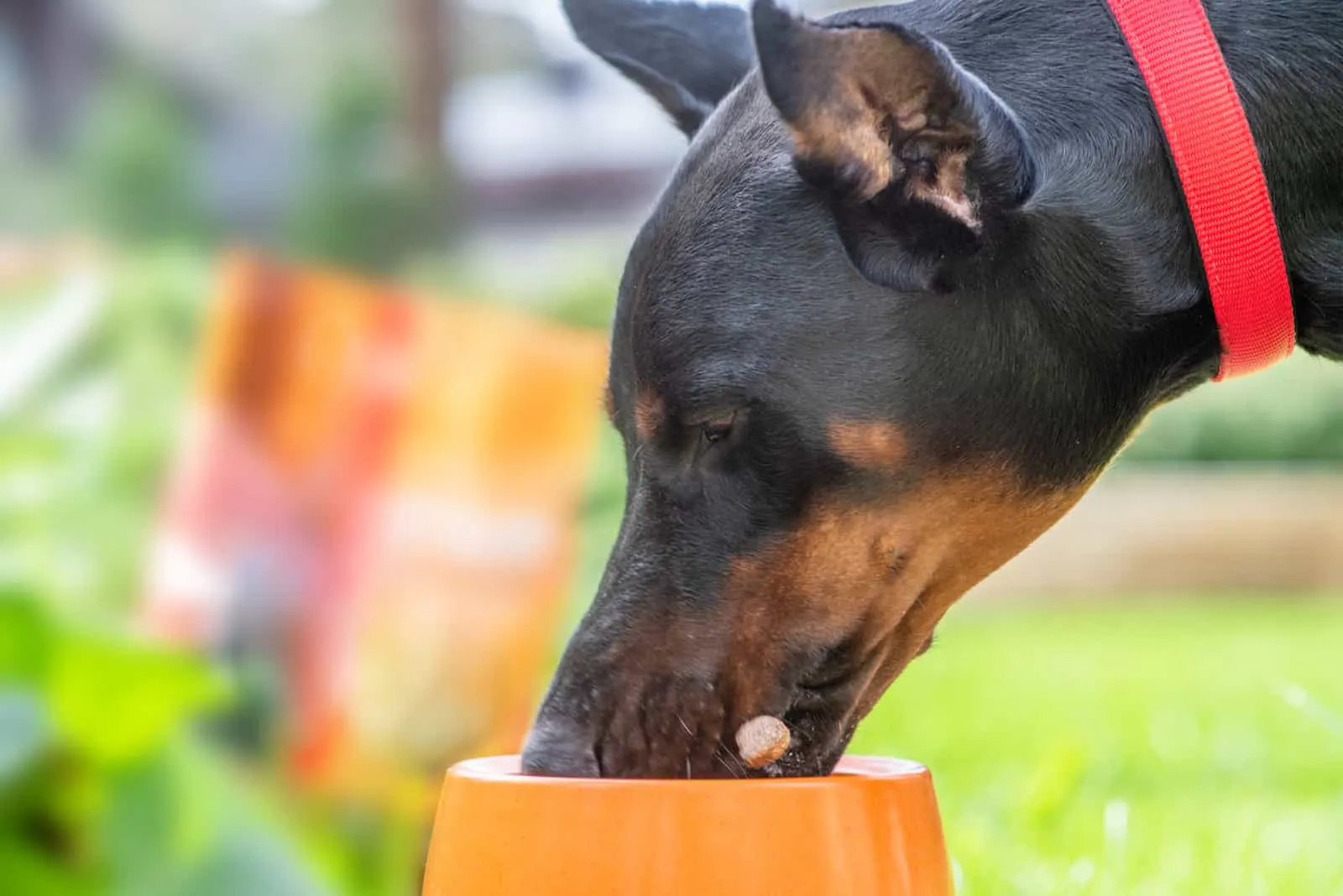 No matter the breed, puppies shouldn't eat the same type of food as adult dogs. The best dog food for Doberman puppies should have a larger amount of meat proteins compared to dog food for adults. Also, it is extremely important to avoid additives such as soy, wheat, and corn.
At the same time, dog food for puppies should have more calories than adult dog food, so don't worry if the numbers seem too high. Puppies need more energy than adults, so they need more calories to burn.
Don't worry about adding supplements to your Doberman puppy's diet. As long as you provide him with a balanced diet, he should be just fine.
How Often Should I Feed My Doberman Puppy?
This largely depends on the type of dog food you're giving him. Usually, it's advised to give him four meals per day.
Take the amount of food recommended (most of the time, this will be written on the package, but you can also consult with your vet) and divide it into four bowls at the beginning of the day. This way, you'll know just how much food you should give him.
If you're feeding your pup dry food, consider giving him a few kibbles from time to time as positive reinforcement. We wouldn't advise giving him any fruits or vegetables until he is older. Once again, you might talk to your vet about adding brussels sprouts, peppers, or other healthy treats into his diet.
Is Grain-Free Good For Dobermans?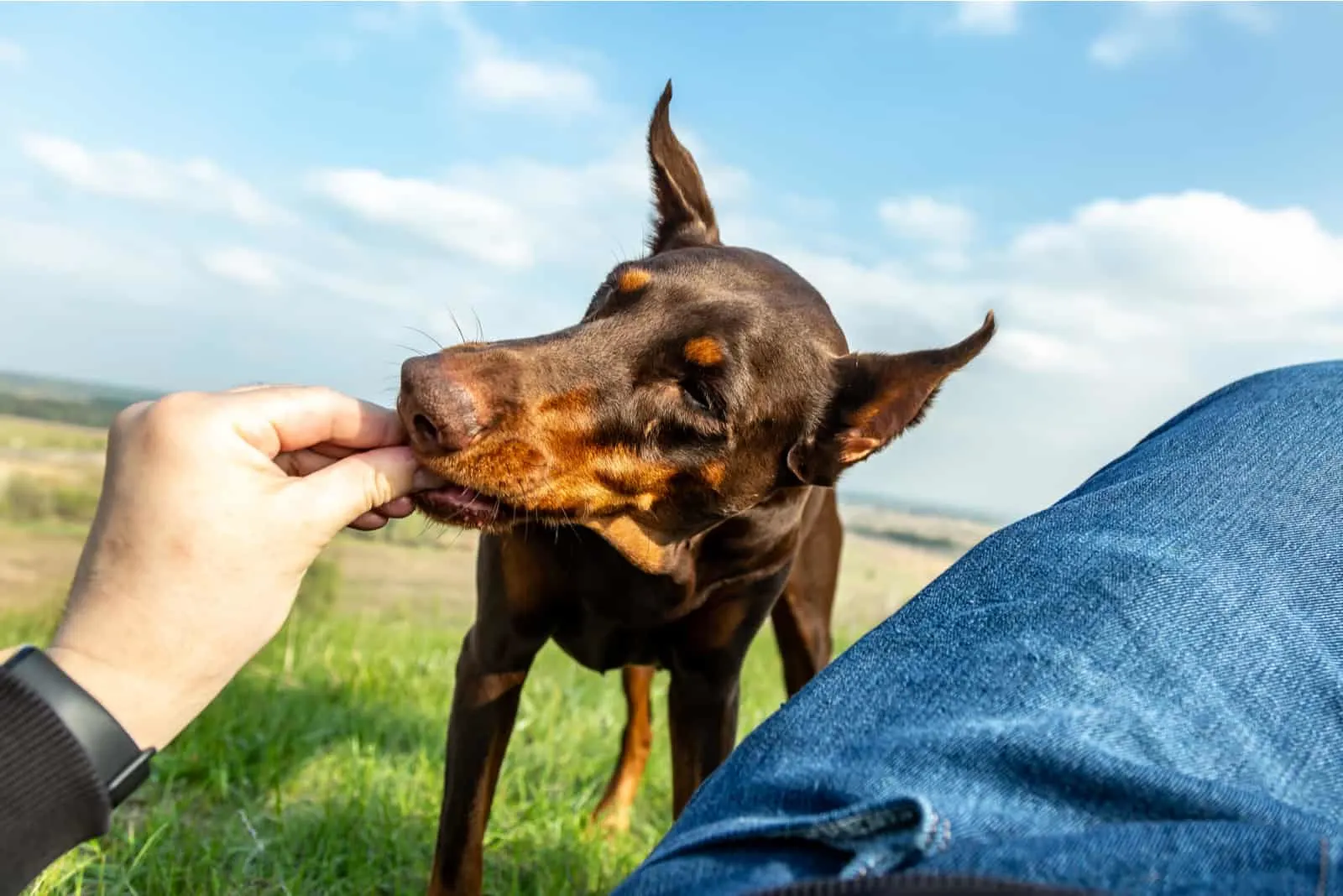 Grain-free food is a good choice for all Doberman Pinschers, not just for those with a gluten allergy. Giving them grain-free food is a good choice in order to avoid obesity and other digestive issues. Of course, you have to ensure that the food contains enough proteins and carbs to keep your Dobbie energetic and active.
What About Raw Food?
Many dog owners have started feeding their dogs raw food because of the carnivorous nature of canines. Not even the best dog food for Dobermans can replace the quality of raw food – but there are some limitations.
Meat isn't enough for dogs, and if you decide to feed raw, you'll need to add some vegetables, fruit, and bones to their diet. This is the only way to ensure that your dog gets all the nutrients it needs.
What Dog Food Is Best For A Sensitive Stomach?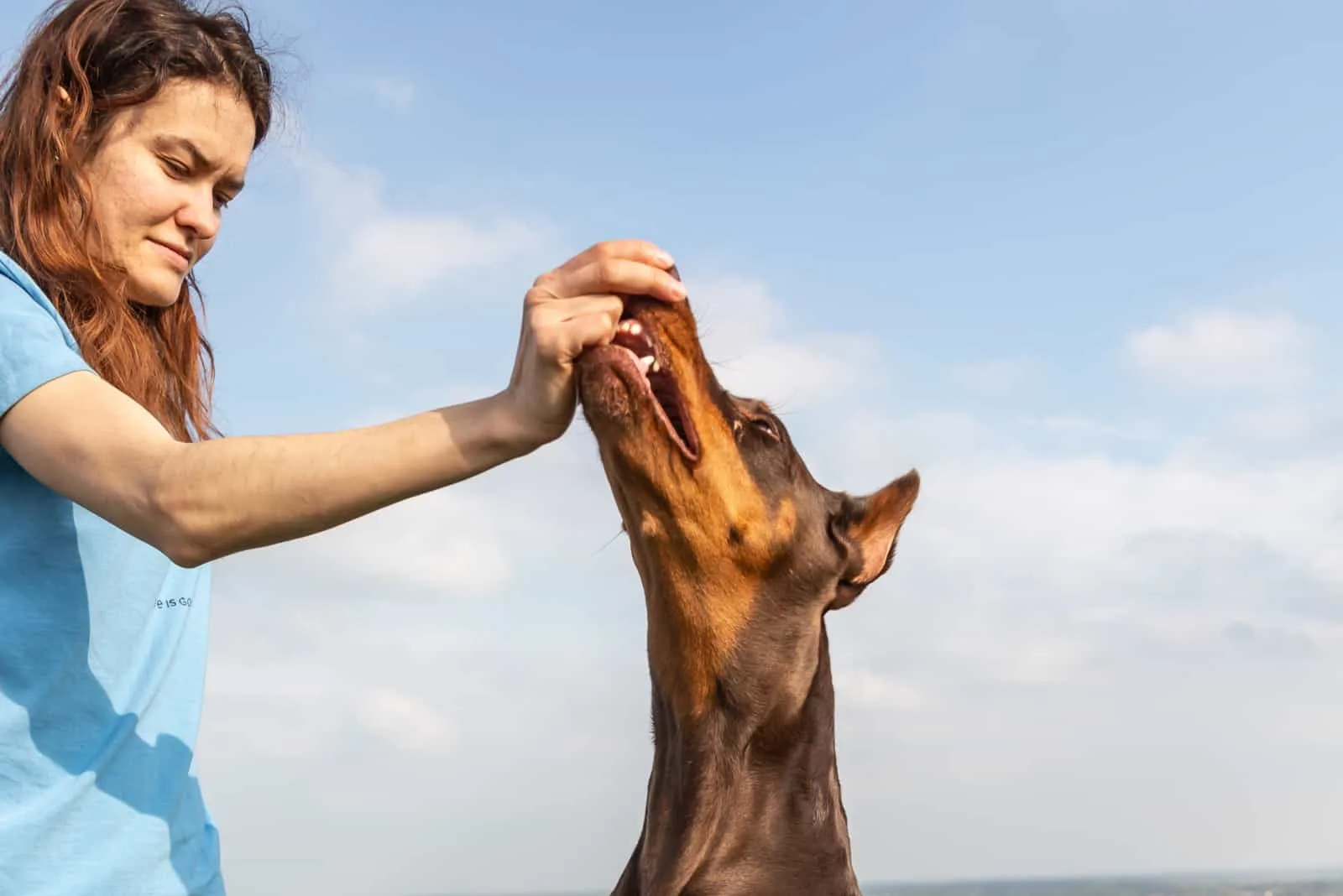 Despite their mighty appearances, Dobermans have sensitive stomachs. However, some Dobbies have it worse than others.
These dogs require high-quality carbohydrates that can be found in leafy greens or fruits inside their dog food. Avoid foods with grain as these can increase stomach issues.
Many Dobermans also have food allergies. Lactose is a huge no-no for any pet owner whose dog suffers from any type of food intolerance. Gluten-free food might also help.
What Can I Give My Doberman To Gain Weight?
While most dog owners struggle with making their dogs lose weight, some struggle with helping them gain it. This is especially the case with owners of young Dobermans.
Of course, if your Dobbie suddenly loses weight, you absolutely have to take him to the vet. This way, you'll rule out any medical condition or intestinal parasites.
If you're certain that there isn't a health-related reason behind their low weight, there are a few things you can do, such as:
• Increase calorie intake – Some dogs simply have a faster metabolism, just like humans. Increasing calorie intake might help with that.
• Change their feeding schedule – Don't change the amount of food you're giving your Doberman, but try dividing it into several smaller meals. Also, make sure not to feed them right before their bed time.
• Modify their exercise – Exercise can help increase a Doberman's appetite, not to mention that most of a Dobbie's body weight should be muscles. Don't cut their activity levels just because you think they are burning too much fat.
• Add supplements – If nothing else helps, consider adding supplements to your dog's diet. However, consult with your vet before doing this.
What Vegetables Are Healthy For Dobermans?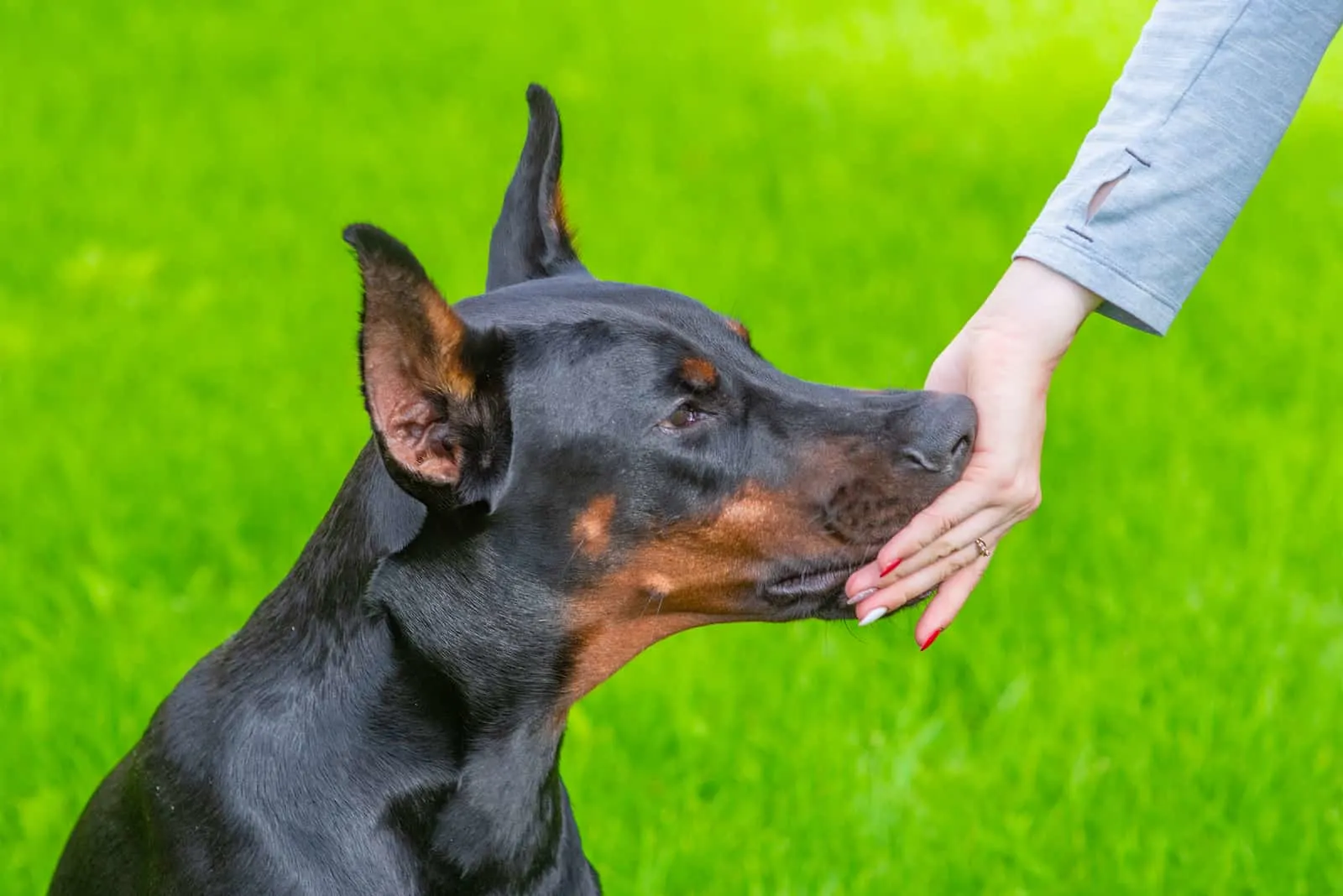 While canines are mostly carnivores, they only need about 35% of protein and 30% of fats. The rest should consist of quality fiber sources or – you've guessed it – vegetables.
Some healthy veggies for your Doberman include carrots, broccoli, beets, spinach, and squash.
What Human Foods Are Unhealthy For Dobermans?
Overall, you should avoid feeding your Doberman human food. There is a reason why dog foods exist, and why they aren't the same as the food you have at your dining table.
Some common toxic foods include onions, garlic, grapes, chocolate, spicy foods, and raisins. Despite what the cartoons say, you should also avoid giving bones to your dog, especially cooked bones, as they are a huge choking hazard.
How Do I Transition My Doberman To A New Food?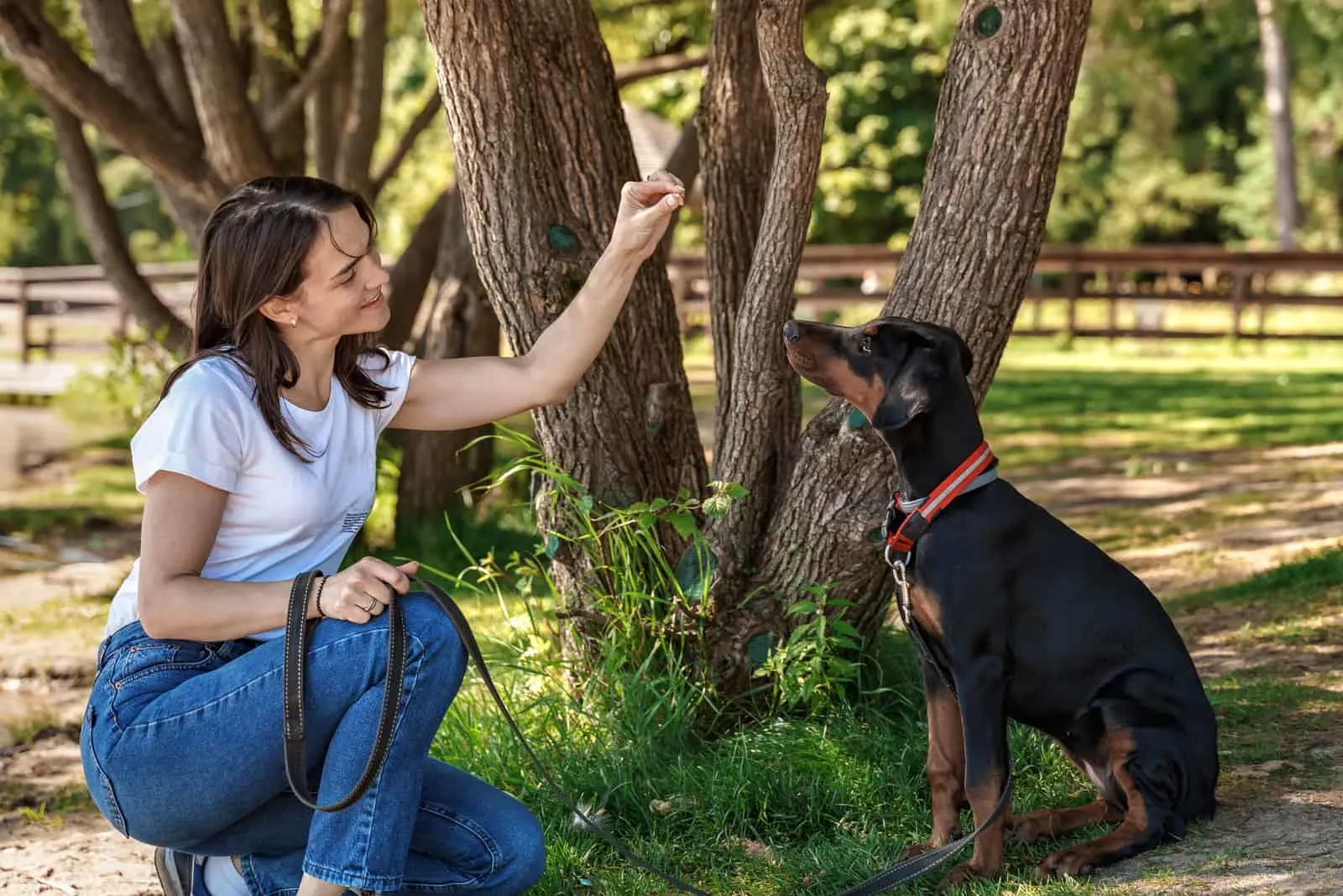 You should never change a dog's diet suddenly. Instead, try mixing both dog foods together and slowly reduce the amount of old food in the mix. It should take you up to a week until you can start giving your Doberman the new food in its entirety.
If this new dog food contains some ingredients that your dog isn't used to eating, make sure to monitor him carefully. It might also be a good idea to consult with your vet just to rule out any food allergies.
Stomach upset is entirely normal when transitioning to new food, so don't be scared if your Dobie seems more gassy than usual. However, if he vomits, rush him to the vet as this isn't a normal reaction.
Should I Worry About High Fat Content?
While obesity is a huge health problem for many dog breeds, including Doberman Pinschers, don't worry too much if you see high fat content on a brand of Doberman dog food you like.
Dobermans are active dogs, and they need higher amounts of fats than most other dog breeds. Just make sure that the fat is coming from healthy, natural sources.