When you hear the word ''Doberman,'' the first thing that probably pops into your mind is 'aggression.' This is a popular stereotype all over the world. However, Doberman Pinscher puppies are not as militant as you might think.
This is a loyal, family dog that shows affection towards family members. It was naturally bred as a war dog and a guardian dog but, over time, this trend has dropped significantly.
Nowadays, Doberman canines can be found to be big, spoiled athletes who love spending time indoors.
The term 'Doberman' was first coined in the late 19th century by Karl Friedrich Louis Dobermann from Germany. It is believed that the puppy was originally designed as a mix of Rottweiler, German Pinscher, and several other breeds.
Throughout the years, the term ''Pinscher'' was added to the name and it still remains as part of the official Doberman name in the United States and Canada. In Europe, the dog is just referred to as 'Doberman.'
This is the AKC registered purebred, popular among breeders in the U.S. In the next part of this article, learn more about the best Doberman breeders in Arizona!
Doberman Puppies For Sale In Arizona
A Doberman breed is quite popular in the state of Arizona. There are several quality breeders that qualify as the most reputable, but there are also the ones that you want to stay away from.
The breeding program is the first thing you should look into when finding a breeder. Furthermore, make sure the puppy is provided with a health guarantee. Health tested doberman pinschers should be the only choice for a future owner.
This is due to potential health problems that can be detected at an early stage of life.
Reputable breeders will act accordingly, and they won't allow the luxury of selling unreliable puppies. Puppies of several weeks old are always health tested and their bloodline is guaranteed. This is a fact any reputable breeder will disclose.
Top Arizona breeders sell the finest Doberman Pinscher puppies that are members of the American Kennel Club. Dogs are provided with birth certificates, bloodline, and vet exam documentations, as well as with regular vaccines and deworming.
Additionally, make sure your future Dobie buddy is socialized from an early age. This is, by default, an aggressive dog breed, but properly socialized puppies will be excellent family dogs and won't harm you in any way!
Now let's meet the breeders, one by one!
1. Freddy Romero's Dobermans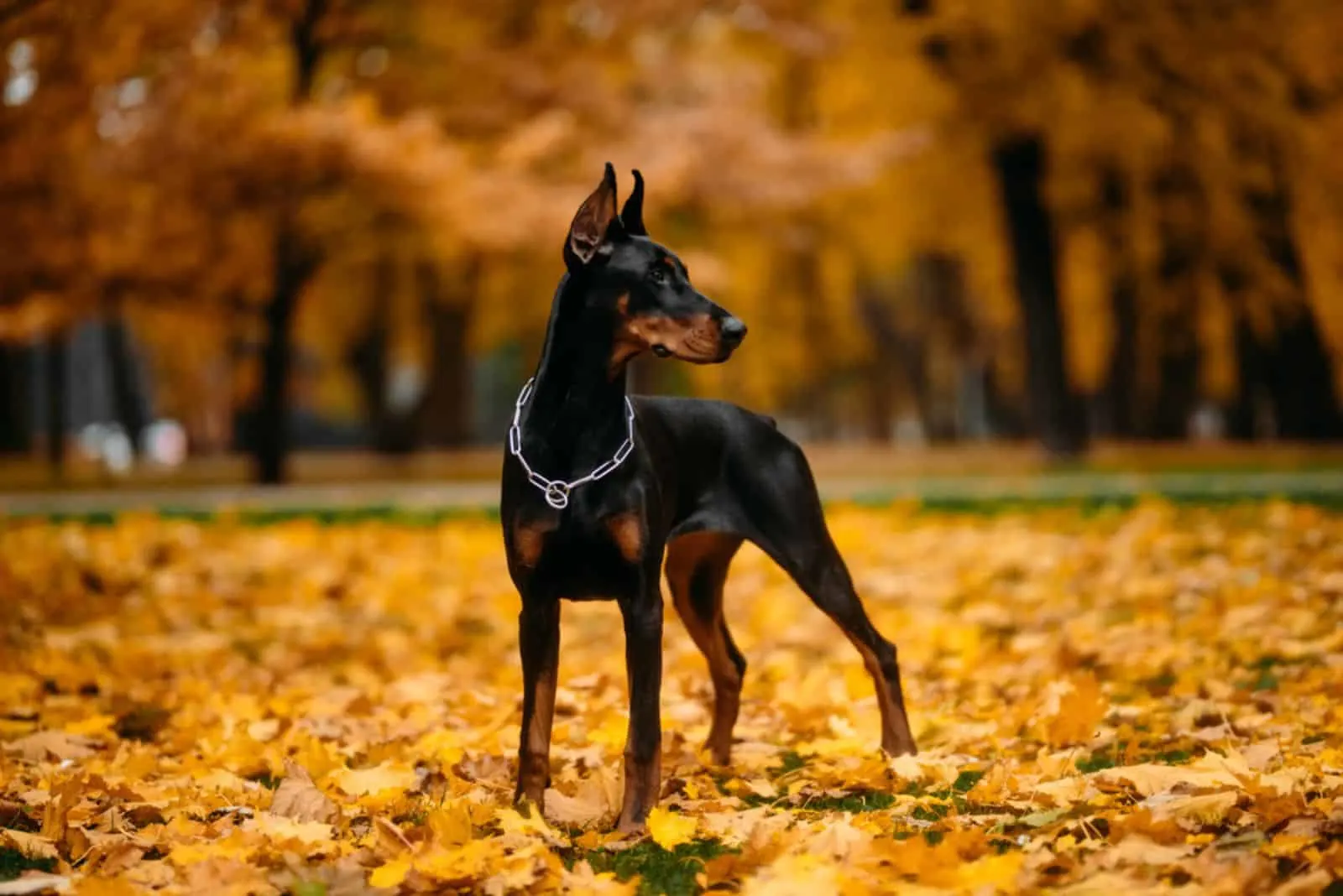 Freddy Romero has been breeding Doberman Pinschers since 2005, and he is one of the best in business in Arizona state.
All puppies in this kennel are AKC registered and provided with proper documentation. Romero's Dobermans are black and rust and resemble a royal look with good conformation.
The breeder does not have an official website, but you can see the details and pictures of dobie puppies on the AKC-Freddy Romero's page.
This is an excellent choice if you live in Tolleson and are looking for a reliable breeder that will provide a healthy puppy with a good bloodline!
The dobie breed at this kennel does not compete in AKC events. They are exclusively family dogs that also serve as watchdogs.
Location: Tolleson, Arizona
Phone number: (323) 399-0495
2. Von Reisig Kennel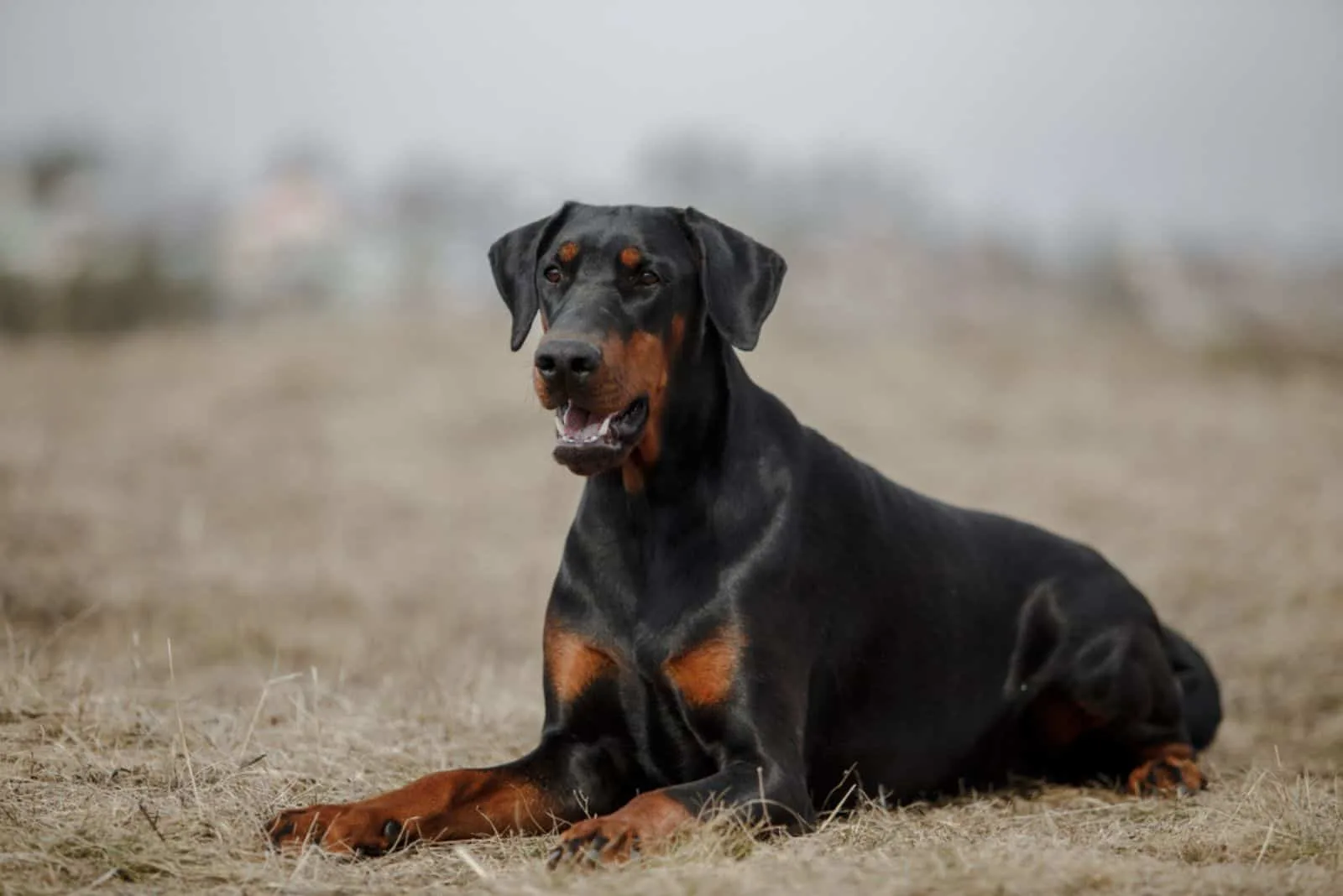 Von Reisig is a kennel that breeds multi-purpose Doberman pinschers. The dogs are trained as guardians, service dogs, working dogs, and family dogs too. The breeder has different training strategies for each purpose.
The emphasis is on protection dogs, though. This is one of the most popular doberman breeders in Arizona when it comes to protection training, as puppies are trained to be on alert all the time. However, the price varies on the training type you choose.
The basic package implies a family dog that has been taught basic commands. These obedience trained puppies are easily adapted to your home and have no trouble following commands. The puppy is excellent with kids too, and it can also serve as a nanny.
Other packages that are more expensive include protection training and the process is more complex. This breeder invests their time and patience to build a puppy's strong personality, vigilant traits, and a loving companion too!
All dogs in this kennel come with the 2 year hip and genetic warranty.
The breeder offers a six months loan from Lending USA. The interest rate and overall arrangement are set by the affiliating organization. The idea is to help a future owner close the deal easier, as the price itself is quite high.
Aside from the standard black and rust coloring, the breeder offers fawn Dobermans, too! This is one of best Doberman breeders in Arizona and perfect if you live in Scottsdale or Maricopa County.
Location: Maricopa, Arizona
Phone number: (520) 840-4345
Website: Von Reisig Kennel
3. K-9 Dobermans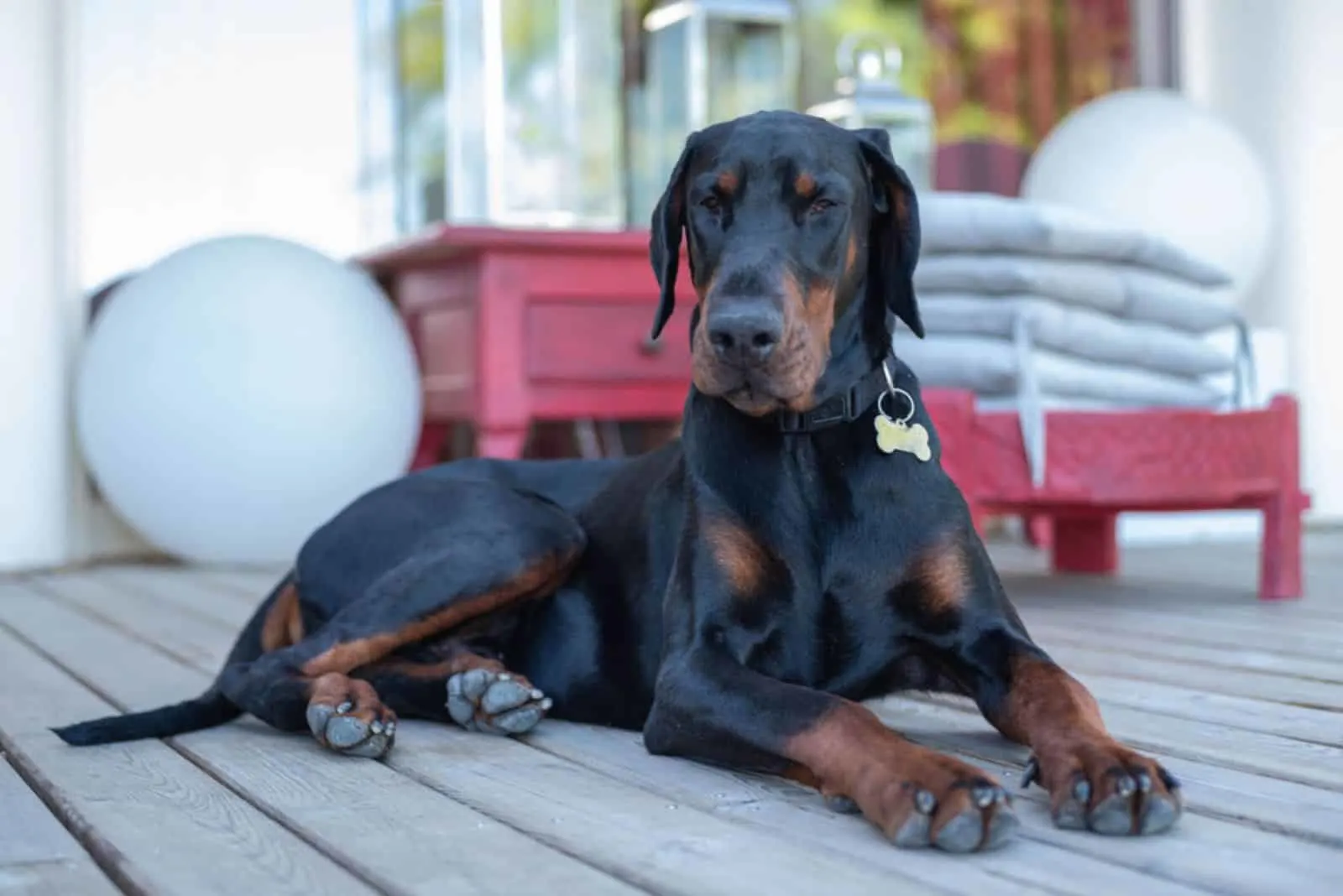 K-9 Dobermans is an excellent choice for Glendale-based clients. This breeder has been in the Doberman business for 15 years, and qualifies as being among the most reputable Doberman breeders in Arizona.
The puppies are sold at 8 weeks of age, and the breeder offers a shipping option. The cost is around $280.
The application process requires a deposit as a prerequisite. Bear in mind that the wait lists are long: check the website to see when the next litter is expected. The deposit is non-refundable, but transferable to other litters.
The breeder is available over the phone and throughout the website at all times. Aside from selling the puppy, the kennel offers other services too. This includes advertising and education.
Dobie puppies are bred with love and deep commitment. All of them make excellent family dogs with high activity levels. Make sure you find new, creative ways to entertain your puppy. Toys for Doberman Pinschers are an excellent choice!
Location: Glendale, Arizona
Phone number: (602) 908-8393
Website: K-9 Dobermans
4. Vicaral Doberman Kennel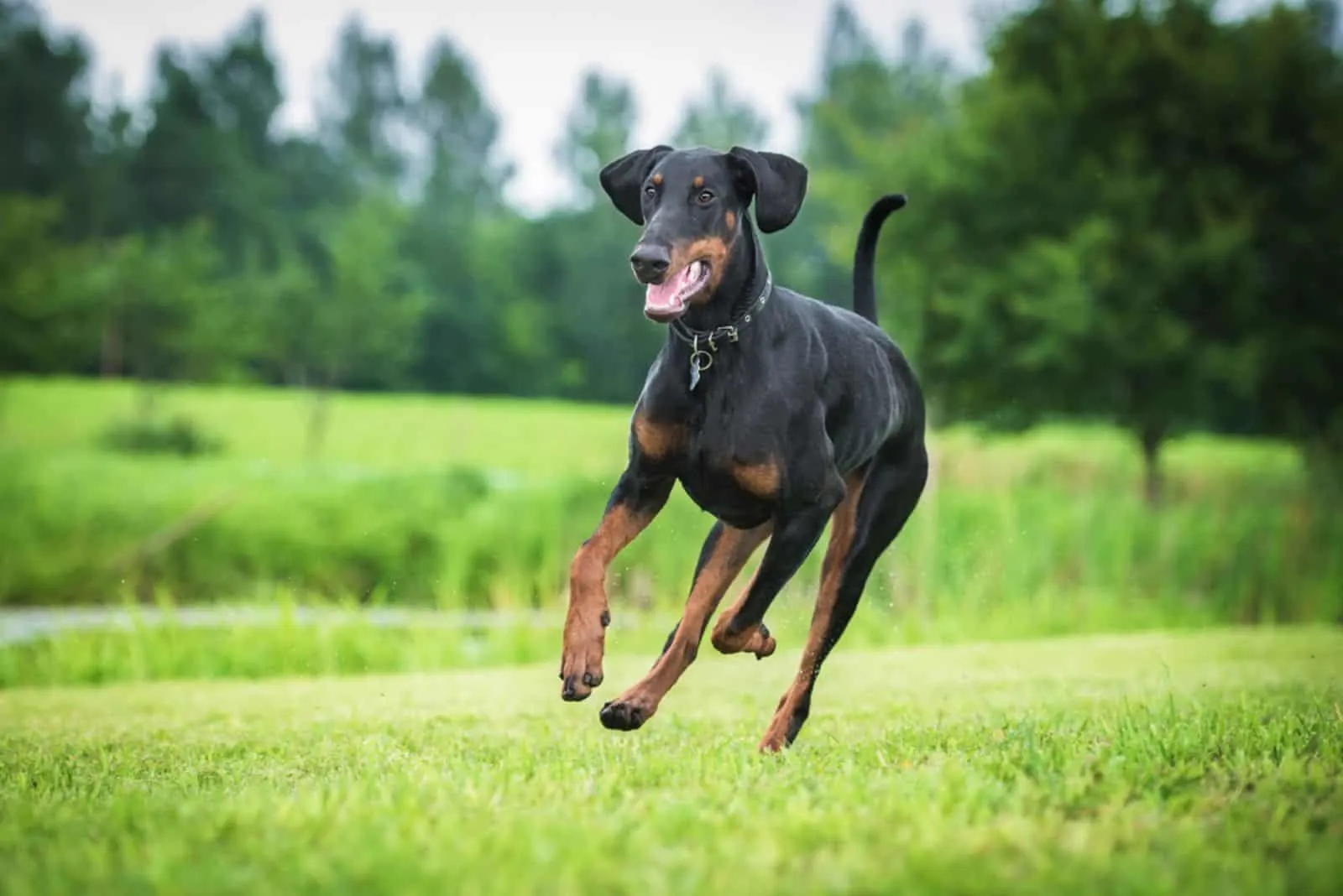 The breeder is located between Tucson and Phoenix, in Casa Grande. The puppies are bred in a big backyard that contains a schutzhund (IPO) adapted playground. This means the dog breeder puts a lot of effort into the physical training of Doberman puppies.
The breeder measures the working abilities of the dog, as well as its obedience qualities. Vicaral Doberman Kennel's owner has been the director of Arizona Schutzhund Club for years.
This is one of the greatest Doberman breeders in Arizona due to the fact that puppies in this kennel are competitive, agile, and true champions.
Aside from selling the Doberman pooch, the breeder is engaged in many other activities, such as conformation shows and education of children in canine behavior.
Dobermans are taught various tricks, such as barn hunting and dock diving.
Vicaral Doberman Kennel has been in business more than 30 years. They have a long-term tradition and experience in breeding Dobermans, which makes them successful and reputable at the same time.
The focus is on quality, not quantity, as dogs are health tested and their bloodline is researched daily.
The puppies sold in this kennel are standard, of black and rust coats. The breeder emphasizes the fact that albino Dobermans are not the standard of the kennel, as they are considered genetically mutated.
Location: Casa Grande, Arizona
Phone number: (520) 723-4135
Website: Vicaral Doberman Kennel
5. European Dobermans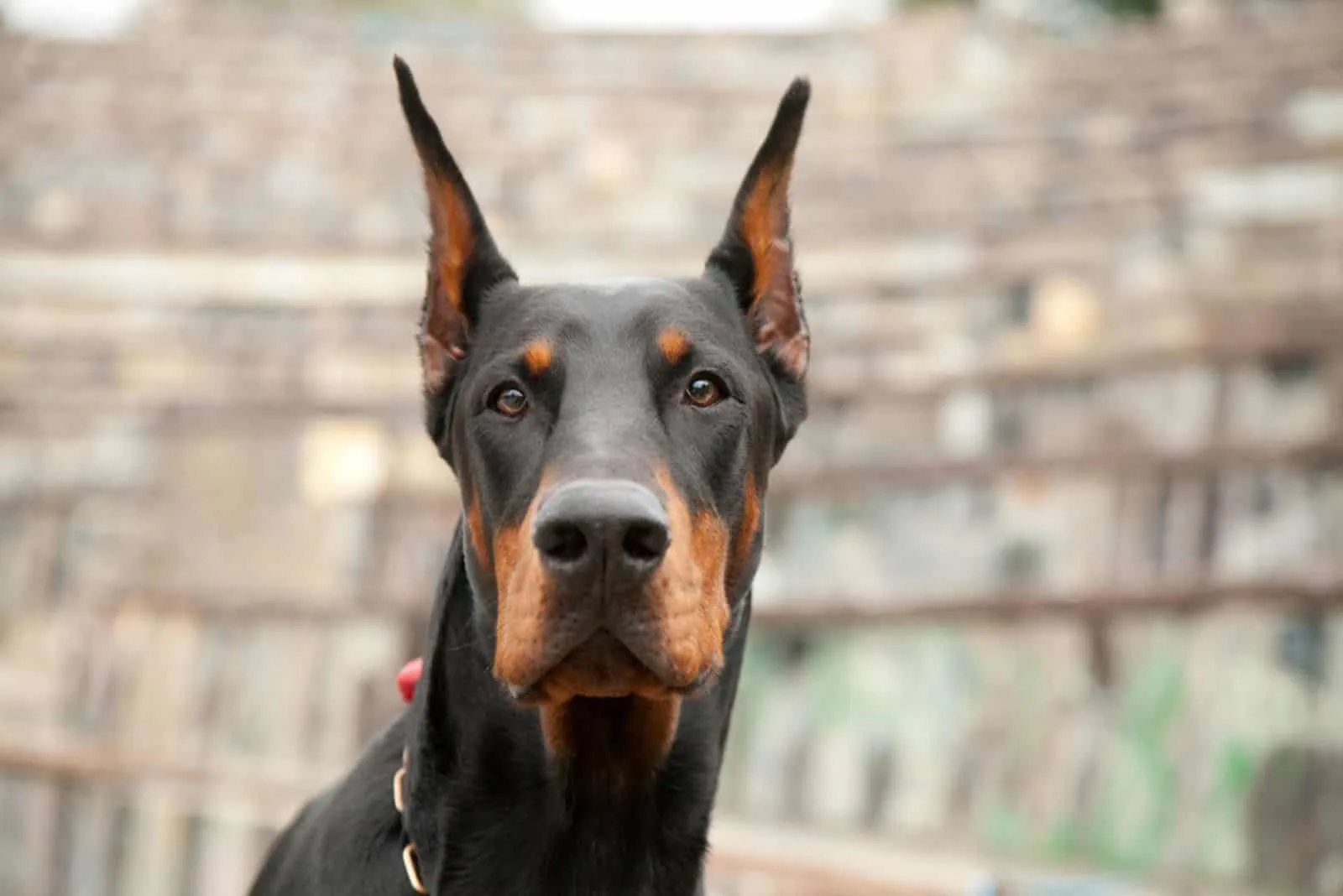 Natalia Peter is the breeder behind European Dobermans. Her loving home and AKC certificates for being one of the most reputable Doberman breeders in Arizona are reasons for considering this kennel!
Puppies are socialized and obedience trained from an early age and the early neurological stimulation process has been established as a training standard.
The Doberman feeding chart is regulated by imposing a strict feeding schedule and quality food. The puppies are bred for an indoor life, but at the same time their training environment has multi-disciplinary elements.
The next litter of puppies is expected in October 2022, which means puppies will be ready for a new home in December, so the recommendation is to hurry up and reserve your spot!
The average price of the puppy positively correlates with quality breeding. It goes for between $4500 and $5000, which is not cheap! The breeder sells European Dobermans exclusively.
The breeder also requires a short introduction about a new owner and basic information of the home environment the puppies are about to enter for the first time.
This is a must before the pick up, as Natalia wants to make sure the puppies go to a safe, nurturing home.
Socialization training, a health guarantee, and a bloodline guarantee are included in the price.
Location: Payson, Arizona
Phone number: (928) 600-4325
Website: European Dobermans
6. Colonial Dobermans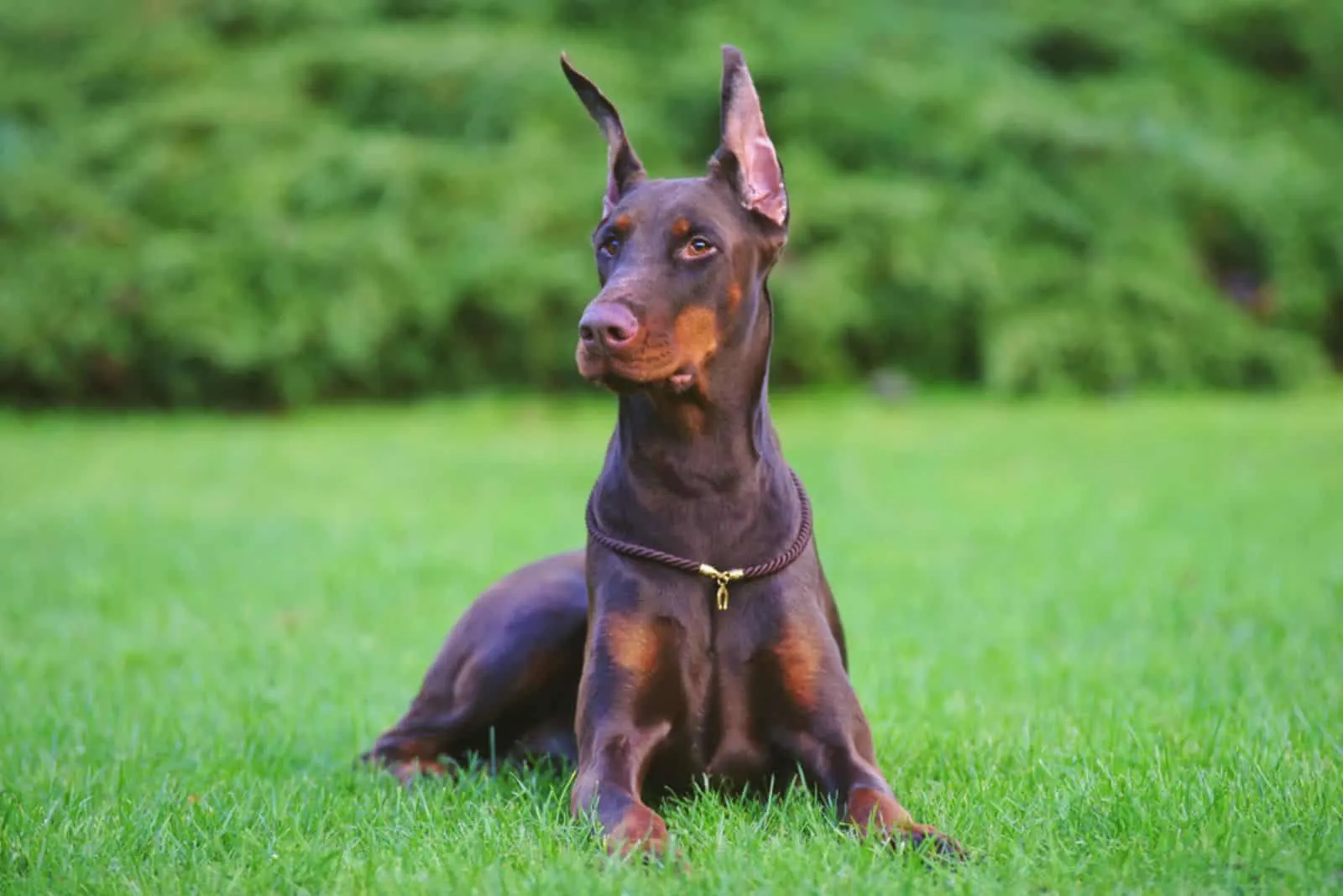 Colonial Dobermans is another reputable Doberman Pinscher breeder in Arizona. If you are Chandler-based, this kennel is the perfect solution for you!
The deposit required for being put on the waiting list is $500. Once the puppies are born another $500 is needed. The deposit is non-refundable and included in the overall price, which is $3000.
The breeder requests the completion of an application form, which can be downloaded from their official website.
Colonial Dobermans' puppies are categorized among the AKC champion bloodline puppies, which makes the kennel's owner one of the best Doberman Pinscher breeders in this state.
As this is a breed that sheds a lot, despite their short-haired coat, consider purchasing one of the dog beds for Doberman Pinschers. It saves you from cleaning the entire house and makes the puppy comfortable!
Dobermans sold at this puppy house are black and rust, and brown and rust.
The new litter is expected in April 2023, and the reservation spots are open. Waiting lists are usually long, so don't wait to reserve your puppy!
Location: Chandler, Arizona
Phone number: (480) 747-5951
Email: [email protected]
Website: Colonial Dobermans
7. Desert Harbor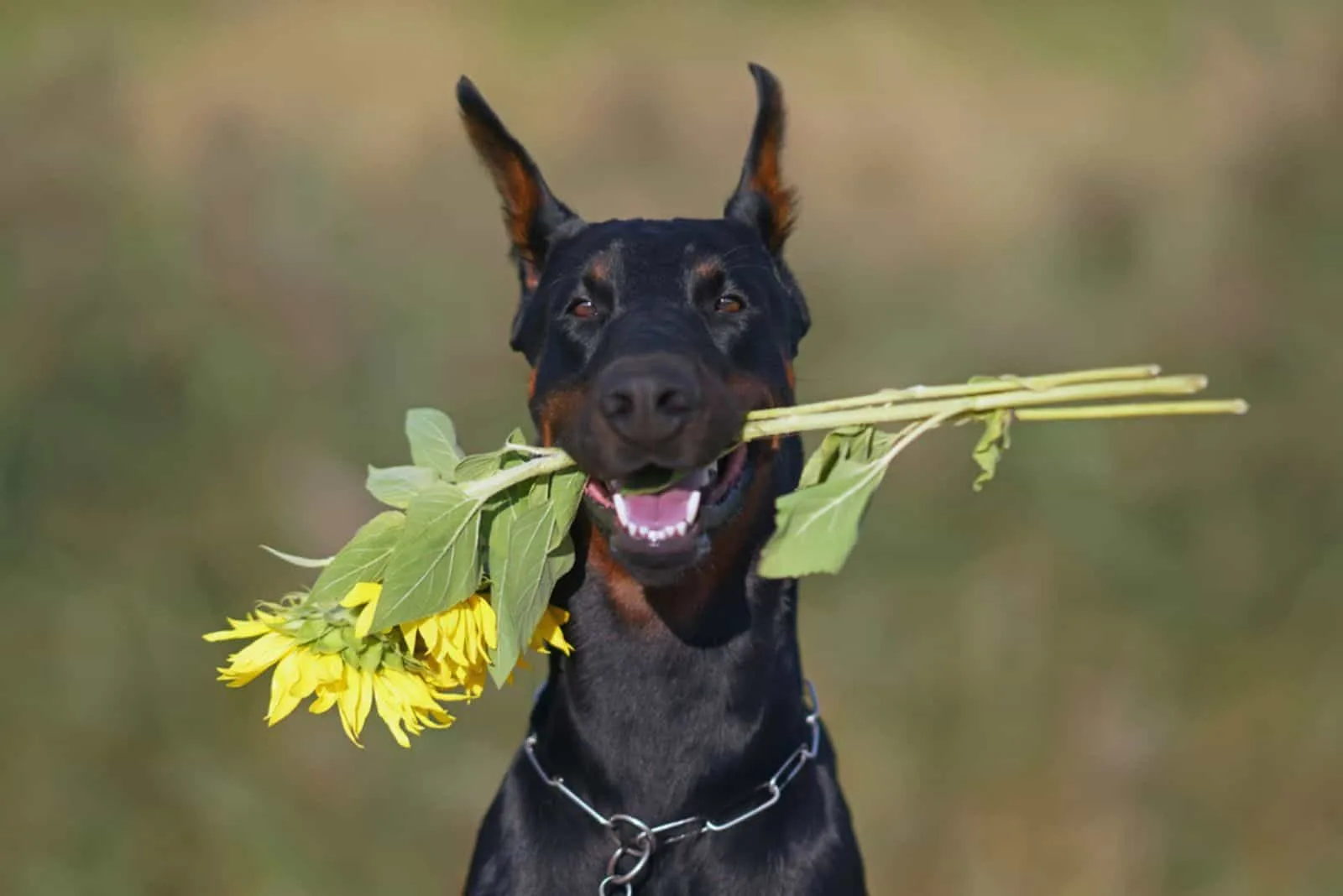 If you're on a limited budget, you should consider this Doberman rescue in Phoenix! The facility offers quality Doberman puppies too, and the price is symbolic. It goes somewhere between $150-$450. The facility operates through donations potential puppy parents make.
However, the Desert Harbor team offers quality dobies of good conformation and strong physical abilities. Dogs are trained and socialized from an early age, so the adaptation process should not be a problem.
Dogs prefer outside training, so consider buying only the best shampoos for Doberman in order to maintain the pure look of your puppy for after they've gotten dirty.
The downside is that there is a whole list of things you need to check out before qualifying for adoption. This implies that the owner must be over 18 years of age.
Additionally, all your family members need to be above 8 years old.
In order to purchase the puppy from Desert Harbor, the breeders need to make sure you have a fenced yard and that you puppy-proof the property.
Desert Harbor is an excellent choice, despite being a Doberman rescue, as it consists of more than 200 volunteers, who also happen to be enthusiast breeders and veterinarians. Health and bloodline are guaranteed.
Location: Phoenix, Arizona
Phone number: (602) 492-8139
Email: [email protected]
Website: Desert Harbor
8. Daily Dobermans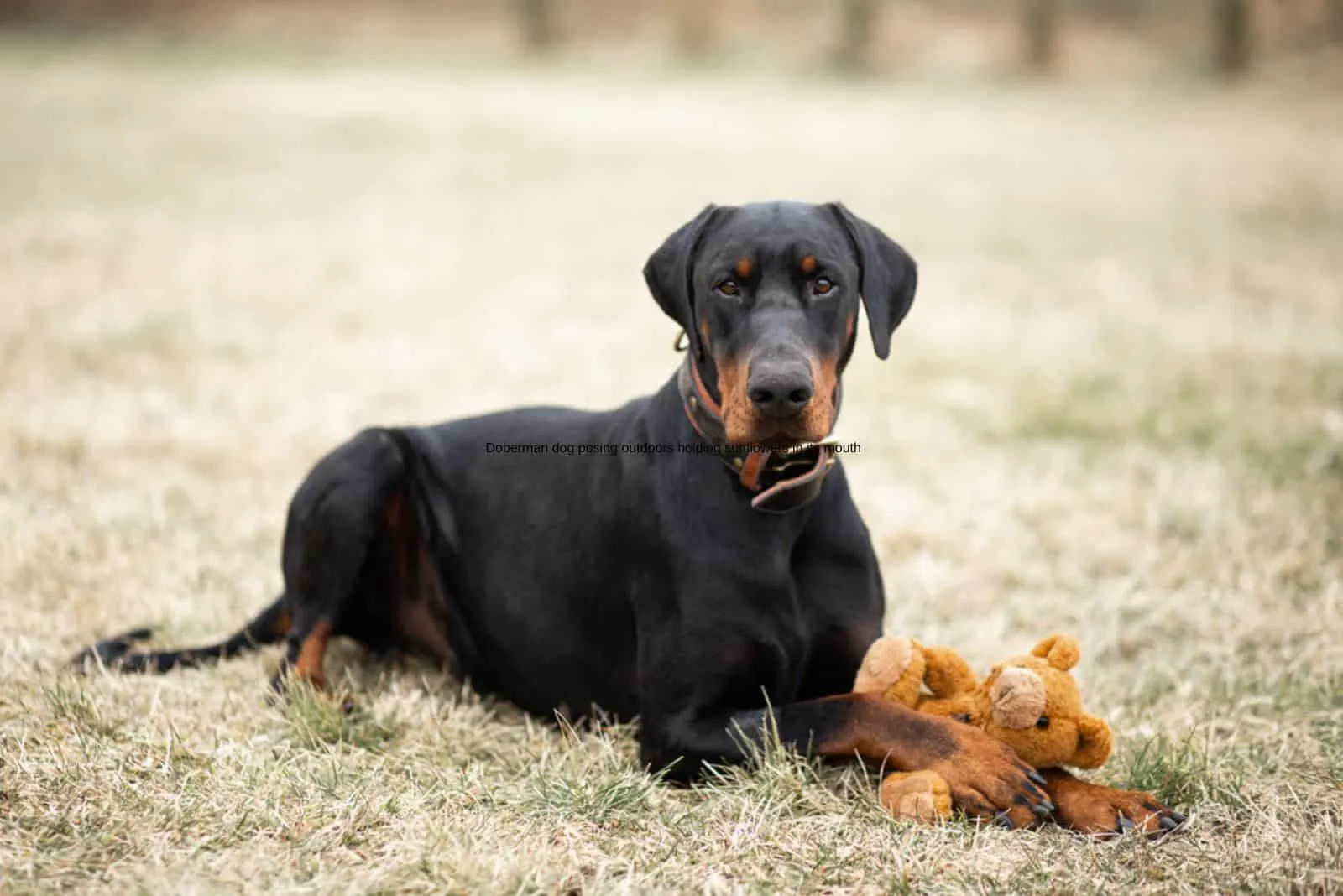 The last on the list is Daily Dobermans from Sonoita, a small town in the southeast. The breeding program in this kennel is based on AKC norms, and the puppies are categorized among the best in conformation and physical appearance.
Doberman Pinschers are bred for a family life, but need extensive training activities. This implies outside training, as the breed cannot be trained in small spaces. In order to remain healthy and physically dominant, puppies need at least 1-2 hours of high-intensity training.
Socialization training is implied in Daily Dobermans, as all the puppies show friendliness, and exquisite social traits.
The breeder follows recommendations from the Doberman Pinscher Club of America, which includes regular health tests and a special breeding program.
The Daily Dobermans breeder offers a one-year health guarantee and provides food, collars, and other supplies alongside the puppy!
Location: Sonoita, Arizona
Email: [email protected]
Website: Daily Dobermans
FAQs
1. How Much Should I Pay For A Doberman?
The average price of a Doberman puppy is $1500-$2500. However, the cost can go up by a few thousand, give or take. This is relative and depends on several factors: color, age, Doberman growth chart, health guarantee, bloodline guarantee and the overall quality of a breeder.
Many Doberman breeders in Arizona sell a puppy for $3000-$4000. However, the price they offer includes at least a year of health guarantee, all AKC documentation, DNA and vet tests, as well as additional supplies, such as dog food, toys, and collars.
Shipping is usually not included in the initial price.
Additionally, reputable breeders that offer their Doberman Pinschers at a high price are available seven days a week for any sort of information and additional questions from a client.
2. Can I Use A Doberman As A Guard Dog?
Doberman Pinschers are, by default, guard dogs. They were initially bred to be military dogs, but nowadays people mostly use them as watchdogs and family dogs.
Also, Doberman puppies are used by the police as K-9 police dogs. This is due to their agility, physical dominance, acrobatic potential, and light legs. Dobermans are an extremely fast and tireless breed, perfect for performing complex tasks.
Basically, you can use a Doberman puppy as a guard dog, but make sure the puppy is socialized from an early age. This is not easy, as it takes a lot of time and patience, and you need to be consistent.
However, the puppy shares the intelligence trait with similar breeds like German shepherds and Belgian Malinois, and easily adapts to a new lifestyle.
3. What Is The Difference Between A Doberman And A Rottweiler?
If we look at this question from a historic perspective, we can say that Dobermans share many Rottweiler traits. This is due to the fact that the puppies were initially designed in the 19th century by mixing several different dog breeds, including the Rottweiler.
However, the Doberman puppy adapted to new circumstances over time and became more of a guard dog and K-9 police dog. In comparison to Rottweilers, Doberman is more agile and has higher durability potential.
Even though the puppy does not qualify among the tallest dog breeds in the world, the Doberman Pinscher breed is much taller than Rottweilers.
In terms of their behavior, both of these dogs are categorized among the aggressive dog breeds that need an early neurological stimulation and socialization.
Conclusion
There are not so many reputable Doberman breeders in Arizona. This is due to the fact that breeders excluded from this list do not qualify among the best. They do not have enough credibility in breeding, nor do they sell AKC registered puppies.
These eight breeders were carefully chosen, as the Doberman puppy is a unique dog that requires a special breeding program and a lot of attention.
They can turn from friendly to hostile in no time, and this is something you don't want in your dog.
Of course, this is not the case for dogs that are socialized from an early age, so be at ease! Reputable breeders will make sure you get a solid, reliable puppy that is also a loyal, lifetime companion!
Read next: Doberman Husky Mix: Portrait Of A Dobsky