This post contains affiliate links, and I will be compensated if you make a purchase after clicking on my links.
Doberman Pinschers, despite their intimidating appearance, are a playful bunch.
But, beefy dogs with powerful jaws need something a bit more durable to pass as a good toy for this dog's teeth, which is why today's topic is about trying to find the best toys for Doberman dogs.
A sign of an adequate big-dog chew toy is that it is sturdy, durable rubber or any other tough material that can contend with these extra large power chewers.
It also helps to have more than one toy.
Dobermans love variety just as much as humans do, and they need something to keep them busy in case their dear dog owner isn't around to play with them – if you want to keep your furniture safe from getting shredded.
I've made sure to look through the depths of internet marketplaces like Chewy and Amazon in order to find the best that they have to offer in terms of Doberman toys for your lovely Dobe boy.
This way, you don't have to spend hours of your time doing the tedious work – you can just have it all neatly laid out here. Let's begin.
11 Best Toys For Doberman Pinschers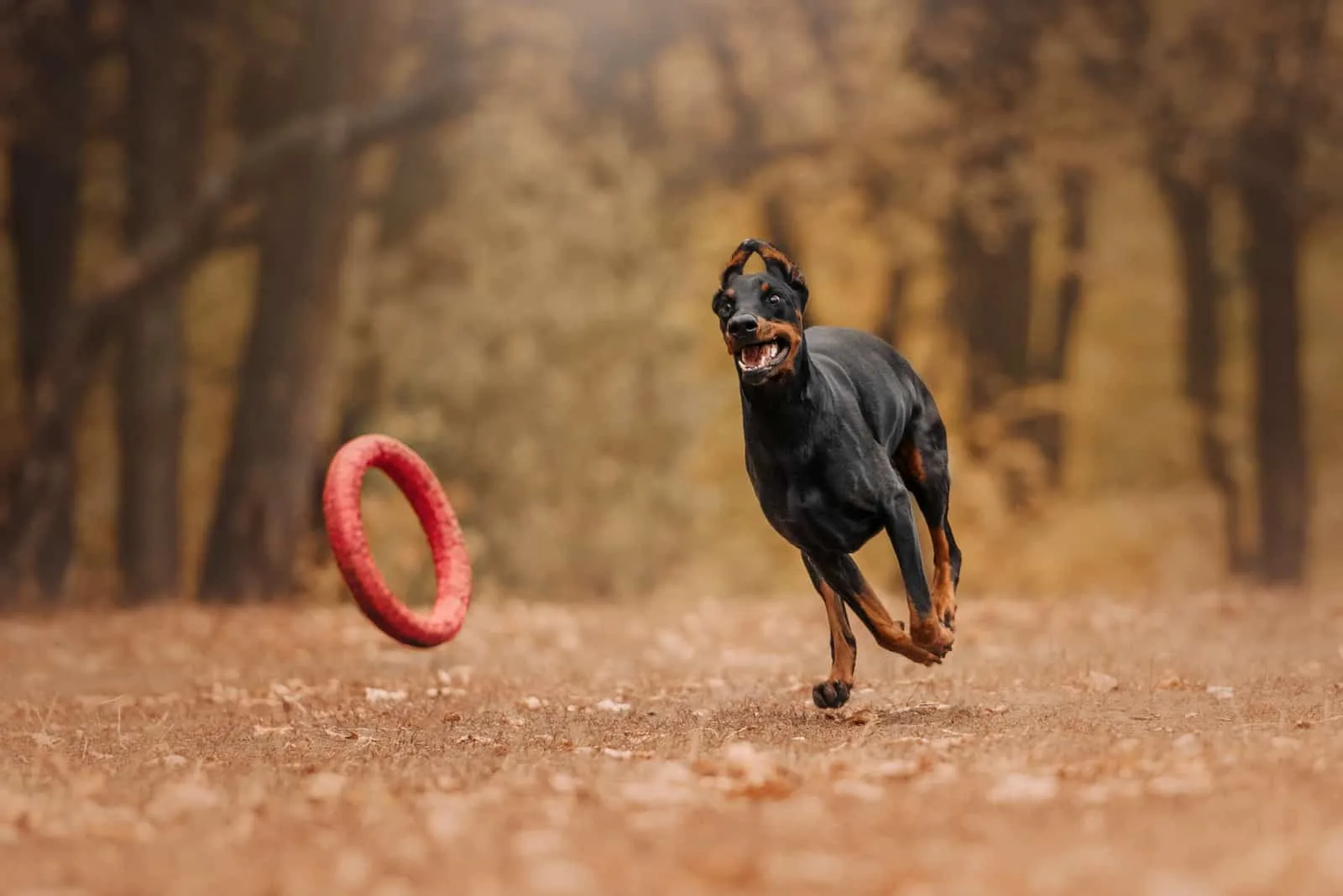 Frisco Hide and Seek Plush Volcano Puzzle Dog Toy
Key Benefits:
A puzzle toy to stimulate your dog with

Six durable, squeaky dinos and a large volcano to play with

Good bonding exercise with lots of variety

Safe for your dog's teeth

Budget-friendly toy
Cons:
Durable, but susceptible to getting torn by aggressive chewers, leading to a potential choking hazard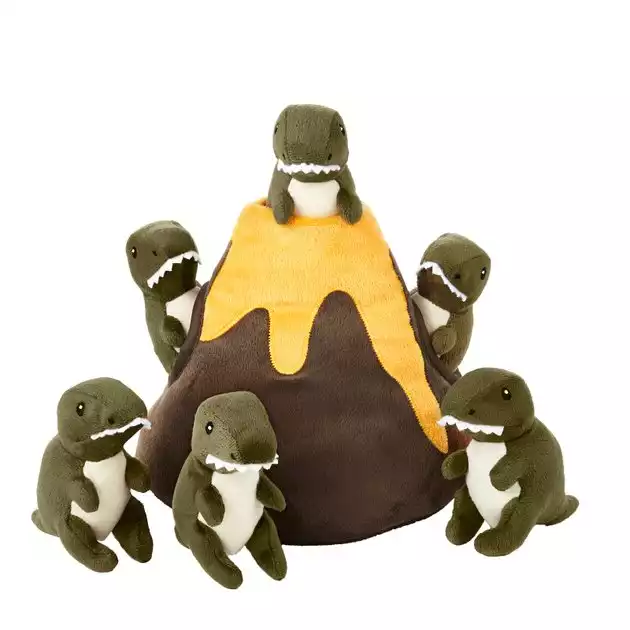 A fun, colorful, and engaging experience to start the list off is a plush volcano toy paired with dinosaurs!
While it may seem more like a child's toy, the volcano set is surprisingly quite durable, and an entertaining puzzle for dogs.
Putting the squeaky dinosaurs in the volcano after giving them a few squeezes will get your dog's attention and have him trying to pull the little squeakers out.
It comes with a great bit of training, and it is an excellent bonding exercise between you and your dog. You can even give him one of the toys as a comfy stuffed animal when he sleeps.
The plush toys aren't too rough with your dog's teeth, and they should endure quite a bit of wear. However, they're not indestructible, and heavy chewers could tear right through them.
Luckily, you can order replacement dinos cheaply should that happen.
And, because they still have that odd chance of getting torn, you should be present during playtime so your Dobe doesn't end up swallowing some of the stuffing.
If he does, it could lead to problems with digestion and an actual blockage, not to mention that both the stuffing and the squeaker are real choking hazards.
Finally, the toy is really affordable considering what you get, so you won't end up breaking the bank just to have a new activity to indulge in with your furry friend.
Chuckit! Classic Launcher Dog Toy
Key Benefits:
Made of durable, lightweight plastic

Helps extend the length of your ball throws by a large margin

Prevents slobber stains and slobbery hands in general

Comes with its own ball that perfectly fits the throwing arm

Affordable pricing

Access to various balls in order to customize your dog's fetch gameplay
Cons:
Doesn't innovate on much outside of the balls, so it won't really make much of a difference to your dog as much as it will to you

A simple, but fun toy to make the game of fetch a lot more entertaining.
This neat little contraption helps you launch balls a lot farther than a regular human would with his hand alone, giving your dog a real good workout.
It also has the bonus effect of keeping doggy slobber away from your hands so you don't have to carry a towel around to interact with other people after you're done playing with your Doberman.
It is an ideal toy for dog owners who have access to large, open spaces where your doggo can be let loose.
It comes in a variety of sizes, too, whether it's ball or handle size in order to customize till your heart's content until you figure out the ideal measurements that fit both you and your doggo.
While the toy itself doesn't feel innovative, the balls that you can get do as you can purchase bouncier balls, or even glow-in-the-dark ones to make fetch that much more exciting for your canine companion.
The product was made entirely in the United States from the lightweight and flexible plastic materials to the manufacturing process.
It's also incredibly cheap, though it doesn't offer too much innovation. That said, if you have a very active Doberman Pinscher at home, he'll get excited regardless.
KONG Jumbler Ball Dog Toy
Key Benefits:
Jumbler made out of durable material for even heavy chewers

Inner tennis KONG ball squeaks when hitting the inner walls to keep your dog's attention

Comes in a variety of shapes, sizes, and colors to personalize your dog's experience with it

Relatively affordable pricing
Cons:
Somewhat bulky, which might pose some difficulty when carrying it around, especially if the dog ends up slobbering on all the handles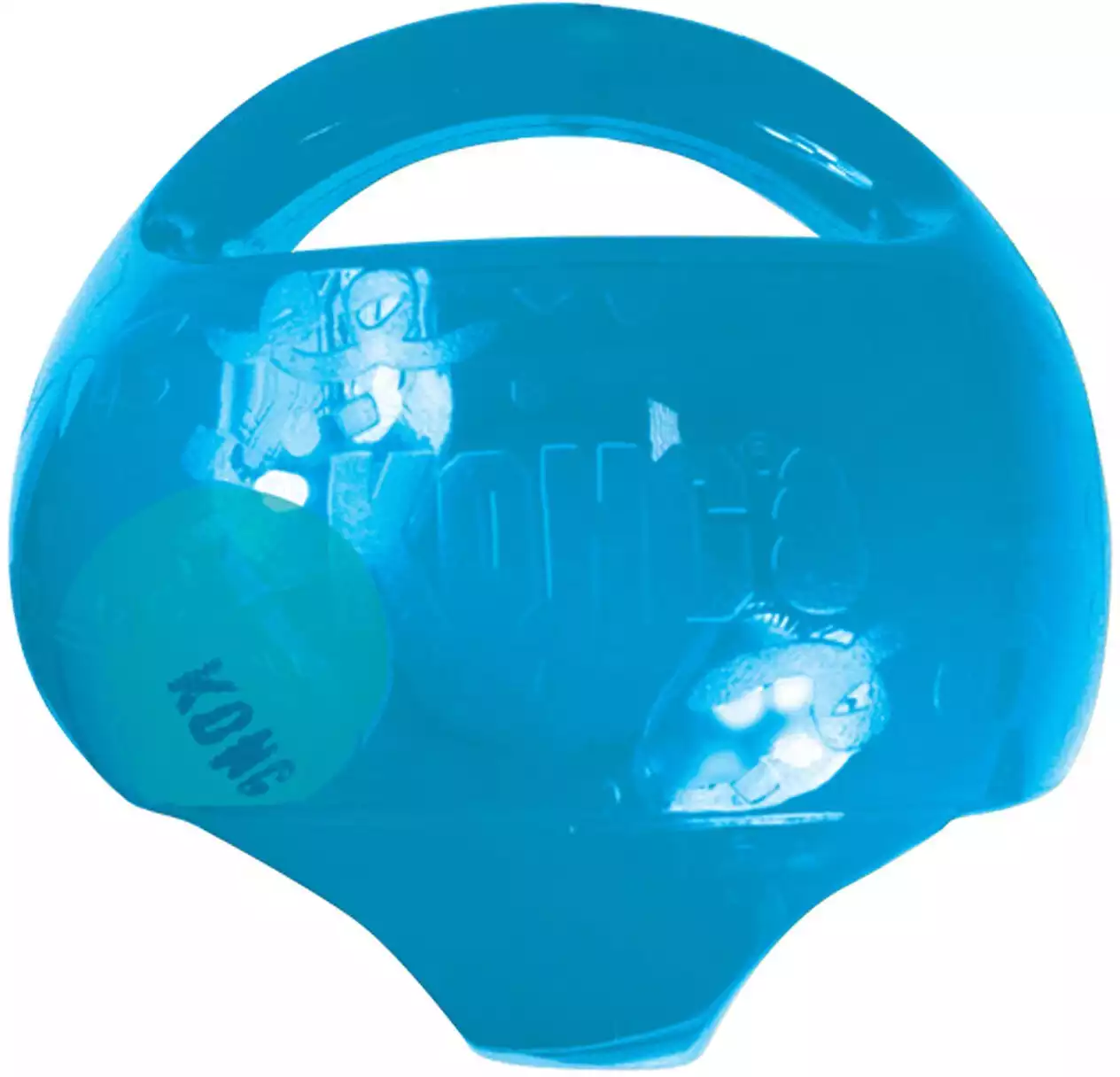 A real treat for persistent and active large dogs is the KONG jumbler toy.
With a squeaky tennis ball on the inside of the jumbler that always keeps your Dobes attention to it, this thing is sure to occupy him for a good chunk of time.
And, don't worry… the Jumbler is quite durable and will withstand even the most aggressive chewers.
There are even handles on the sides that make it a decent tug toy for playing tug o war with your doggo.
The Jumbler comes in a few different shapes, colors, and sizes depending on the type you feel is the most suitable for your canine companion (or if you want to get more than one in order to mix things up from time to time.)
The price isn't that steep either considering the high-quality product you'd be getting, and it's definitely worth it with how much fun an outward hound is going to get out of it.
Mammoth Tirebiter II Rope Toy
Key Benefits:
Sturdy and flexible rubber and thick cotton fiber materials that can withstand even the strongest of jaws

Incredible levels of interactivity and fun in a simple toy

Offered in various sizes

Great for tug o war and other various strength exercises
Cons:
Too simple. It is something that can be made in your own household with slightly poorer-quality materials if you aren't bothered with the quality too much.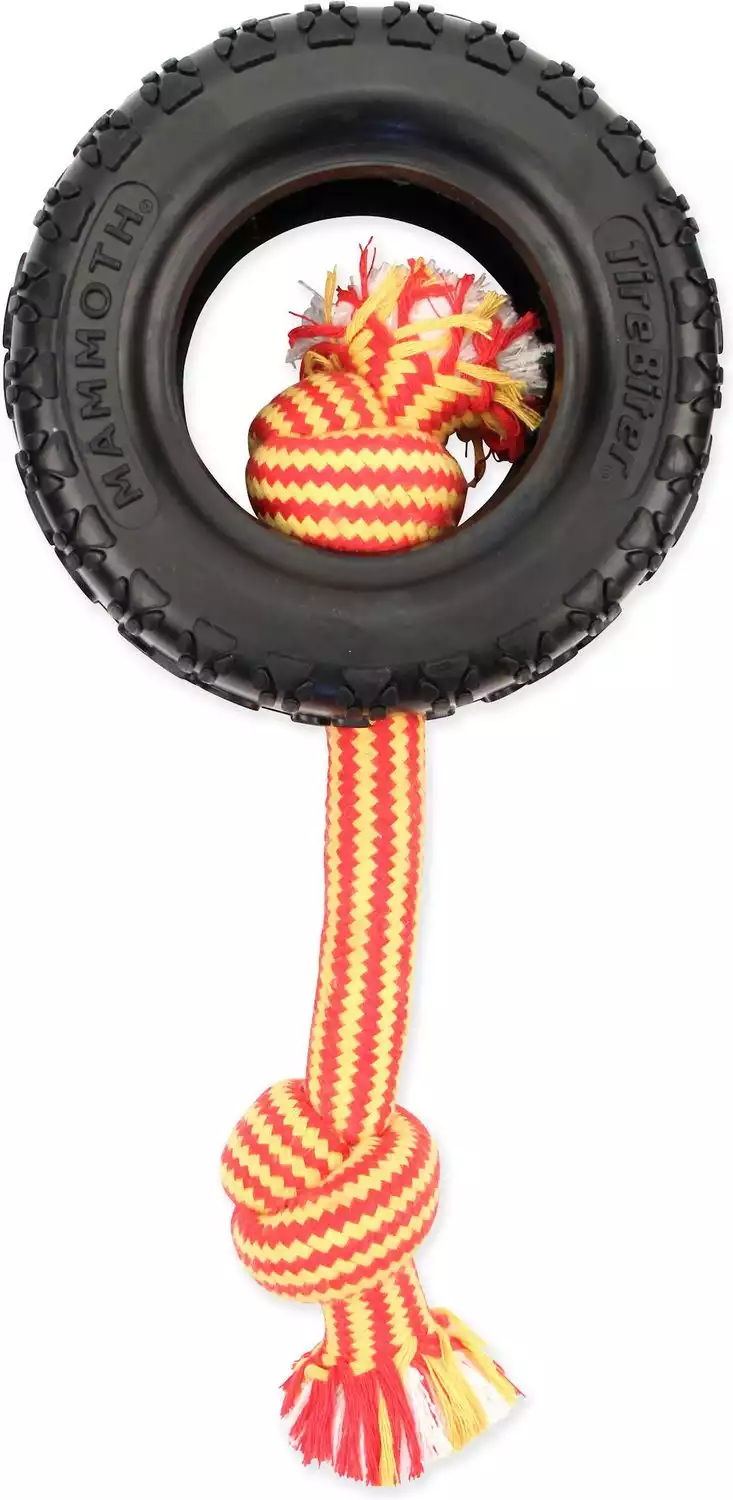 Another durable toy to add to the best toys for Doberman Pinschers list is the Mammoth Tirebiter.
It may seem deceptively simple, and it is, as it's just a small tire on a length of rope.
However, the secret lies in the durability of both elements. The tire itself is made out of extra durable rubber and the rope is a thick, knotted mesh of cotton fiber – both of which can withstand the pulling power of large dog breeds like the Doberman Pinscher.
It's an ideal tool for teething pups, or something to be used in a game of tug o war against your furry friend, regardless of who gets which end.
It's offered in a few different sizes, though the manufacturers recommend the large size for large dog breeds, while keeping the small ones for pups and smaller breeds.
For those with a patriotic spirit, you'll be glad to know that the product is fully manufactured in the U.S., with materials sourced entirely from our country as well, likely why it's so cheap to begin with without losing out on quality.
Starmark Treat Dispensing Chew Ball
Key Benefits:
Made of bouncy, durable plastic

Good even for the heaviest chewers

Entertaining "work for a reward" design

Good for training a hunting dogs' hunting and foraging instincts

Made to be used with Interlocking Treats, but works with other appropriately sized kibble as well

Safe to wash in dishwashers

No latex, phthalates, parabens, or vinyl

Buy 2, get 1 free
Cons:
Price may not be worth it for some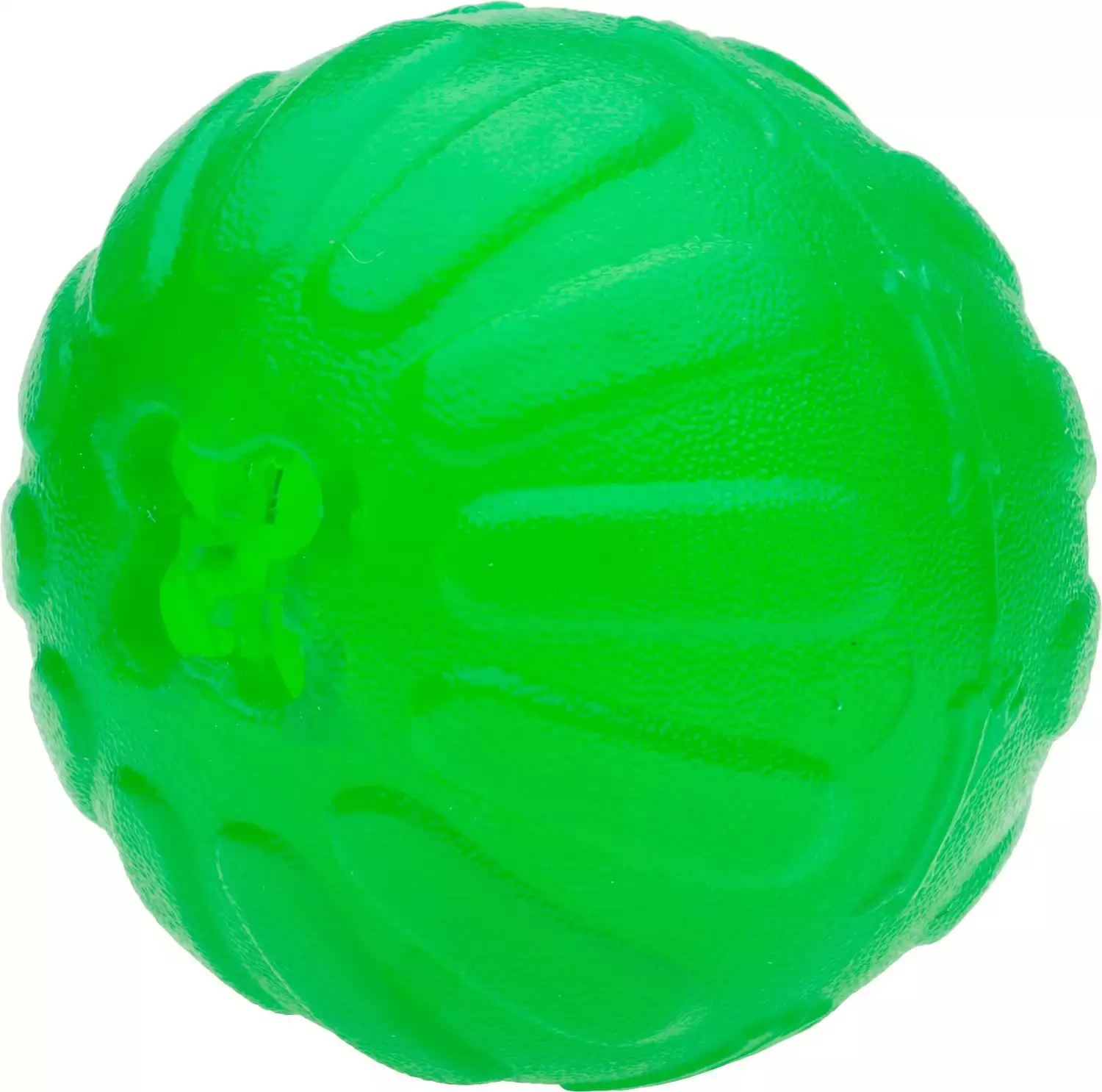 Here's a new toy… one that doesn't require you to be present for your dog to enjoy himself – the Starmark Treat Dispensing ball.
This tough ball is made of high-quality plastic with openings on each side, which are part of the innovation as you slot treats inside that get pushed out as your dog is playing, automatically rewarding him for his hard work.
It is initially designed to be used with the Interlocking Treats brand; however, you can use any treat from your dog's standard kibble if they're small enough to fit in.
This treat-dispensing toy is a great way for your dog to keep himself occupied and entertained while you're not around.
Not only are treats a solid reward system, but gnawing on the ball itself can help de-stress him so he doesn't go tearing up the place as a cry for attention. It can also help make him less aggressive.
The toy is completely dishwasher-safe for when you need to clean it up, and it doesn't contain any harmful chemicals or ingredients like phthalates, parabens, vinyl, or latex.
KONG Classic Dog Toy
Key Benefits:
Made out of strong and durable material

Hollowed out to be filled with treats or other dog food if need be

Various size options

Comes in a nice red color, with a black Kong Extreme option
Cons:
A bit too simple and pricey for a simple chew toy

The Kong Extreme option is known to be too tough for some dog breeds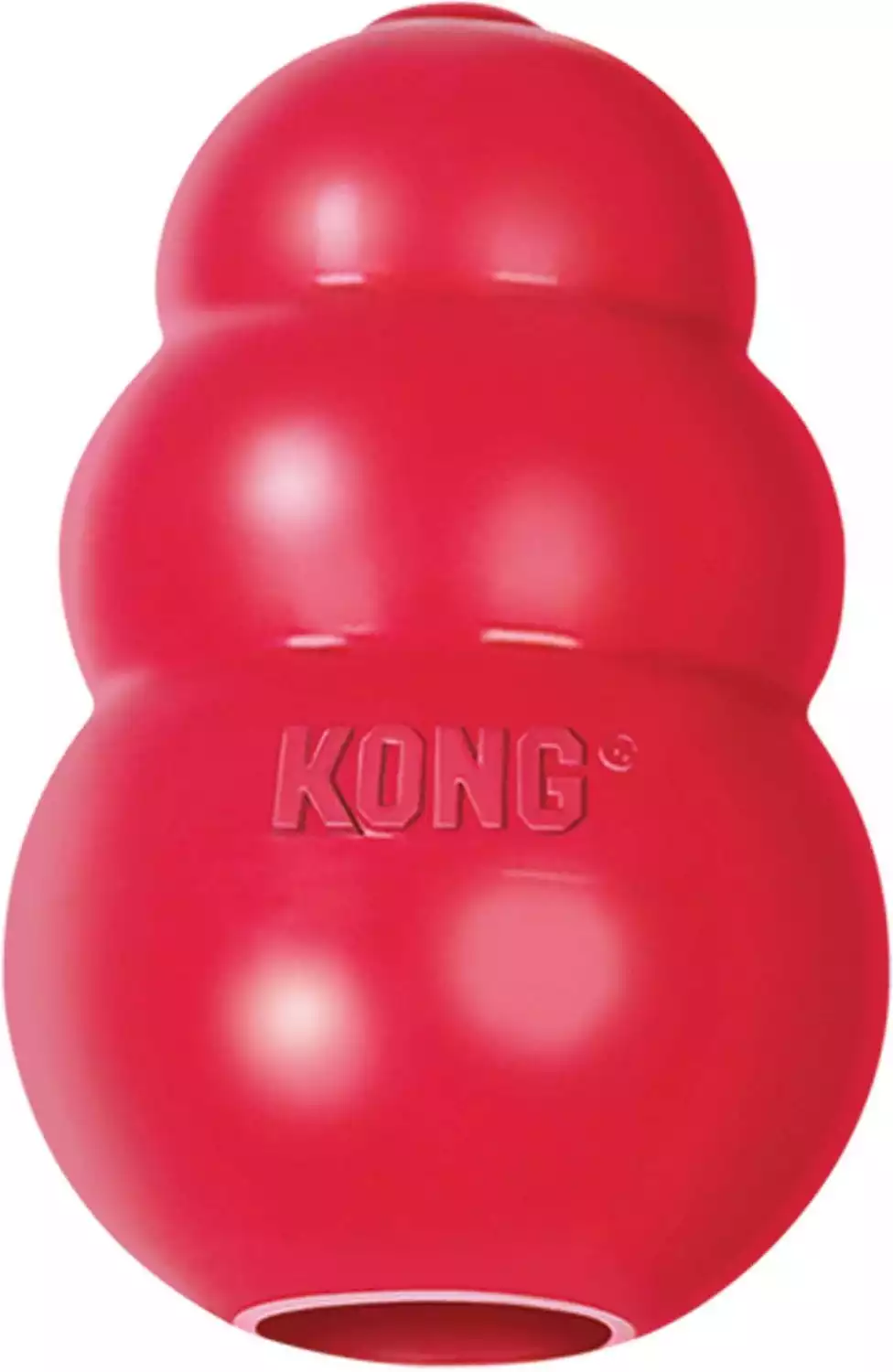 This is a simple and durable toy designed for powerful dogs like the Doberman Pinscher.
It is a hollowed out rubber toy that comes in a cone shape, ideal for gnawing on for hours, and it is made out of quality, durable material.
It can even be filled with treats or any other of your dog's favorite snacks in order to keep his interest in it. The manufacturers recommend their Stuff'N Easy Treat option, but any Doberman dog food that can fit inside works just fine.
The vibrant red is also likely to catch his eye, but food is the doorway to any dog's heart. Just make sure to keep it in moderation.
The product comes in six different sizes, though the latter three are recommended for Doberman dogs.
The KONG Extreme version is the black one, though, full disclaimer – that one has been reported to be too tough for some canine jaws, so do keep that in mind.
It comes in the shape of a bone, dubbed the Kong Goodie Bone, with the extreme option also present, so you have plenty of choices to get what your doggo likes best.
JW Pet Hol-ee Roller Dog Toy
Key Benefits:
Made from non-toxic, durable rubber

Honeycomb pattern makes the ball shape last longer

Hollowed out center makes for good treat space

Comes in three different colors

Extremely affordable
Cons:
Doesn't last long with really aggressive chewers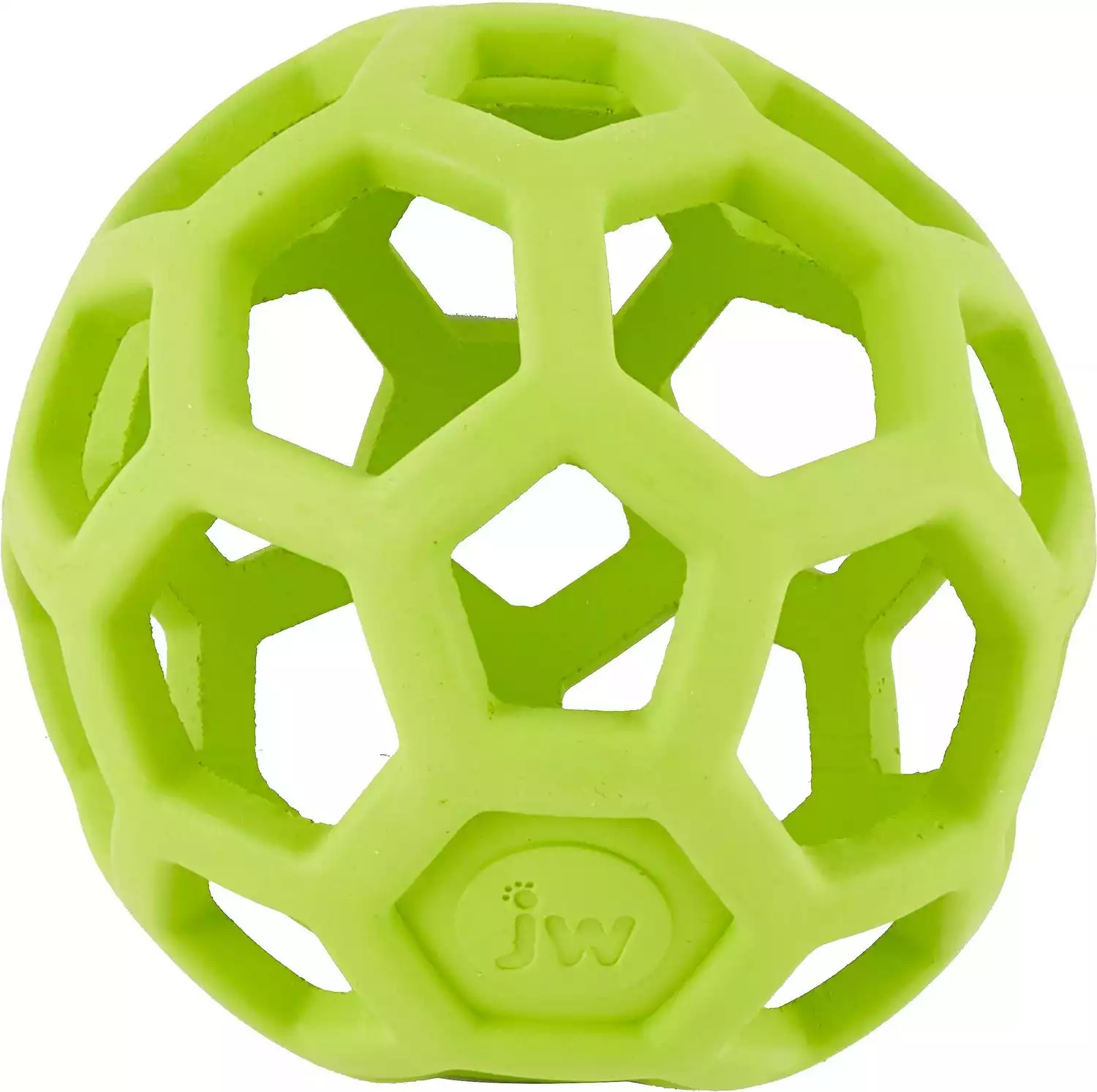 This is a simple, but incredibly entertaining toy to watch your Dobie mess around with.
The sturdy, yet durable rubber material withstands a lot of punishment with little worry of breaking and, in turn, provides an incredible amount of fun and entertainment for both you and your dog. All non-toxic and canine safe, of course.
The honeycomb pattern of construction helps reinforce the already durable ball toy, and because it's hollowed out, it can serve as a nest for a few treats every now and then in order to give your doggo a real challenge to obtain.
Slather some peanut butter on a few bits of kibble, put them inside of the rubber ball, and watch just how clever your Doberman can be when food is up for grabs. You're likely to be surprised yourself.
The toy comes in a variety of different colors, so you can choose your canine companion's favorite one of the bunch. Regardless, I'm sure he'll be thrilled when you get the ball rolling.
And, compared to a few other products on this list, it's incredibly cheap for the given purpose, so you won't really have to harm your savings account to ensure your doggo has a wonderful time.
Chuckit! Kick Fetch Ball
Key Benefits:
Made from durable polyester, rubber, and EVA foam

Soft materials that won't hurt your dog's teeth or mouth in general

Its unique shape makes it easy to pick up for both you and your dog

It bounces unpredictably, keeping your dog entertained for hours

Vibrant colors make the ball easier to spot and more entertaining for your canine companion

Great for playing on the ground and in the water
Cons:
A bit too expensive compared to other products of the same kind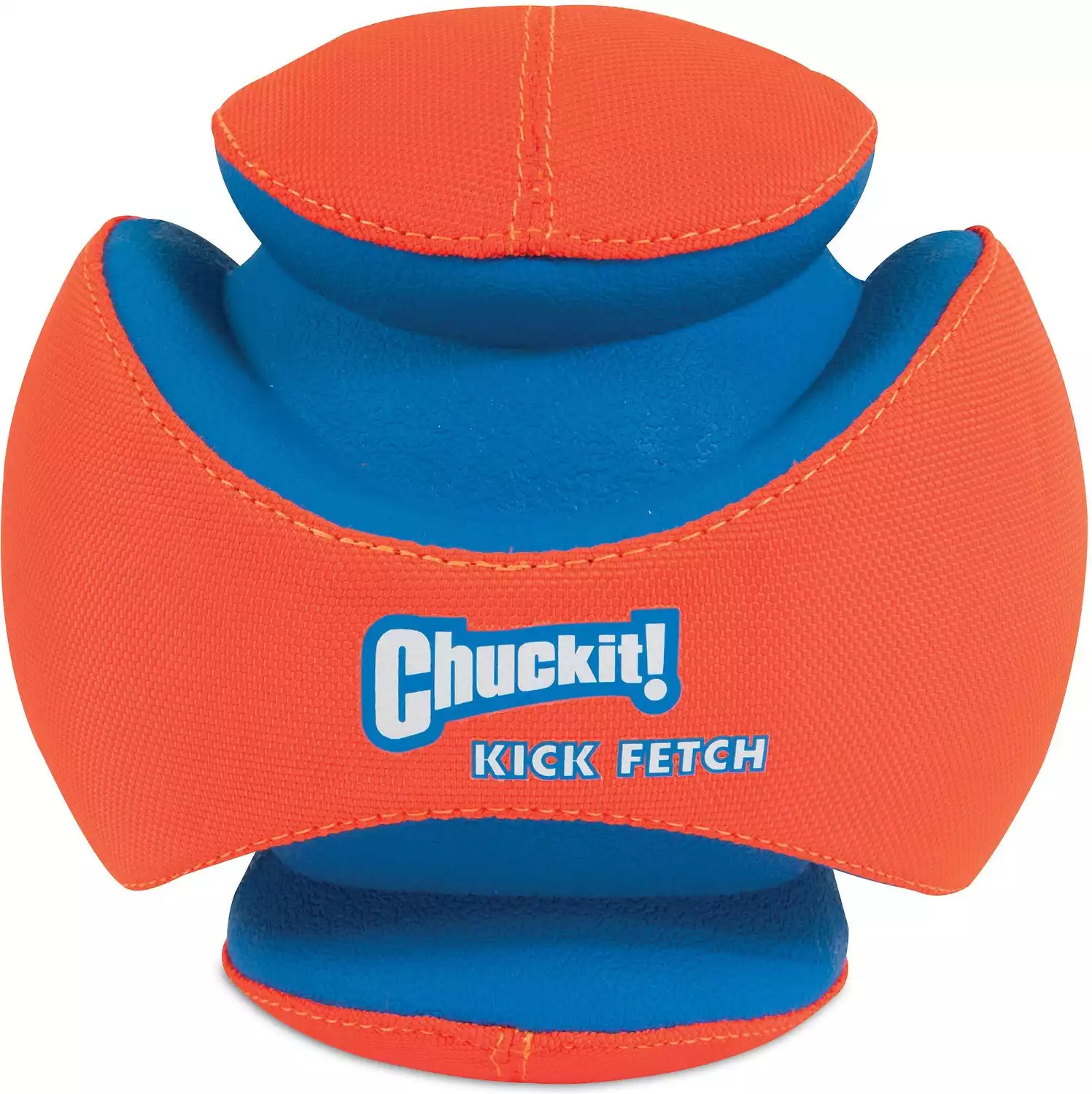 This is a ball that's not just great for outdoor play in parks and the like, but pools and water in general!
Made out of a mix of polyester, durable dubber, and EVA foam, this floating ball is sure to entice your doggo into playing a lot more and getting his exercise in.
If the softness of it doesn't reel him in, the vibrant colors and odd shape will.
Speaking of which, the shape was designed so that dogs could bite into the ball with ease and maintain a good grip while also providing good surfaces for you to grip onto when wanting to play a bit of tug o war with him, or to carry it around with ease.
The said shape also makes sure to add an element of unpredictability to the ball as it bounces around erratically, keeping your dog guessing at every bounce.
It's not going to hold out too long against dogs with aggressive chewing tendencies, but it's more than good enough for the levels of fun provided.
Although it may be a bit too pricey, I'd argue that it gives you enough bang for your buck.
Jolly Pets Tug-n-Toss Jolly Ball
Key Benefits:
Weight-like shape makes it easier to carry and gives good grip for tug o war games

Made out of non-toxic, low-density polyethylene that's soft on your dog's teeth

Functions well, and doesn't deflate even when pierced by canine fangs multiple times

Comes in several different sizes and colors

Floats on water

Made in the U.S.
Cons:
On the more expensive side compared to other products of its kind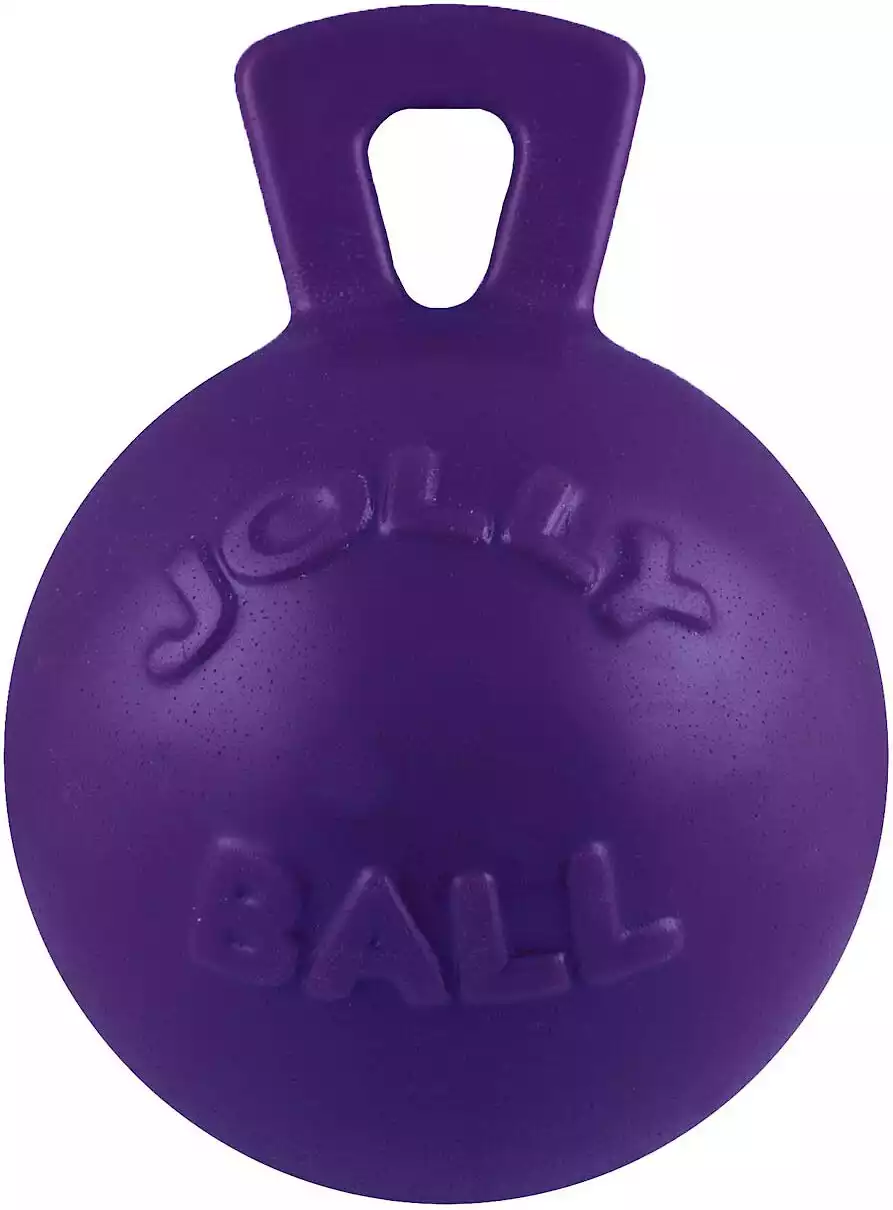 Another fun little floating toy that your Dobie will love to play with is the Jolly Ball.
Shaped like a weight, the ball is made out of non-toxic, low-density polyethylene in such a way that even if your furry friend is a heavy chewer and punctures it, it won't deflate, and will be good to play with for a good while regardless of damage.
The shape of it also allows you to carry it around with ease without feeling too unwieldy.
Great for fetch or for games of tug o war with your doggo.
It also comes in a variety of different sizes and colors, though I recommend the larger ones for a Doberman Pinscher to have the most fun with because the others will likely just get obliterated.
For those who like to support the local economy, you'll be glad to know that the ball is made entirely out of U.S.-supplied material and built in U.S. factories.
Nylabone Teething Rings
Key Benefits:
Made with smaller dogs in mind

Built out of durable thermoplastic polymer that's soft on the pupper's jaws, and it allows for dogs to sharpen their teeth and quell teething pain

Can be used to play gentle tug o war with the pupper

Veterinarian-recommended product

Helps build positive chewing habits
Cons:
Only good for dogs up to 15 lbs., after which, it becomes a slight choking hazard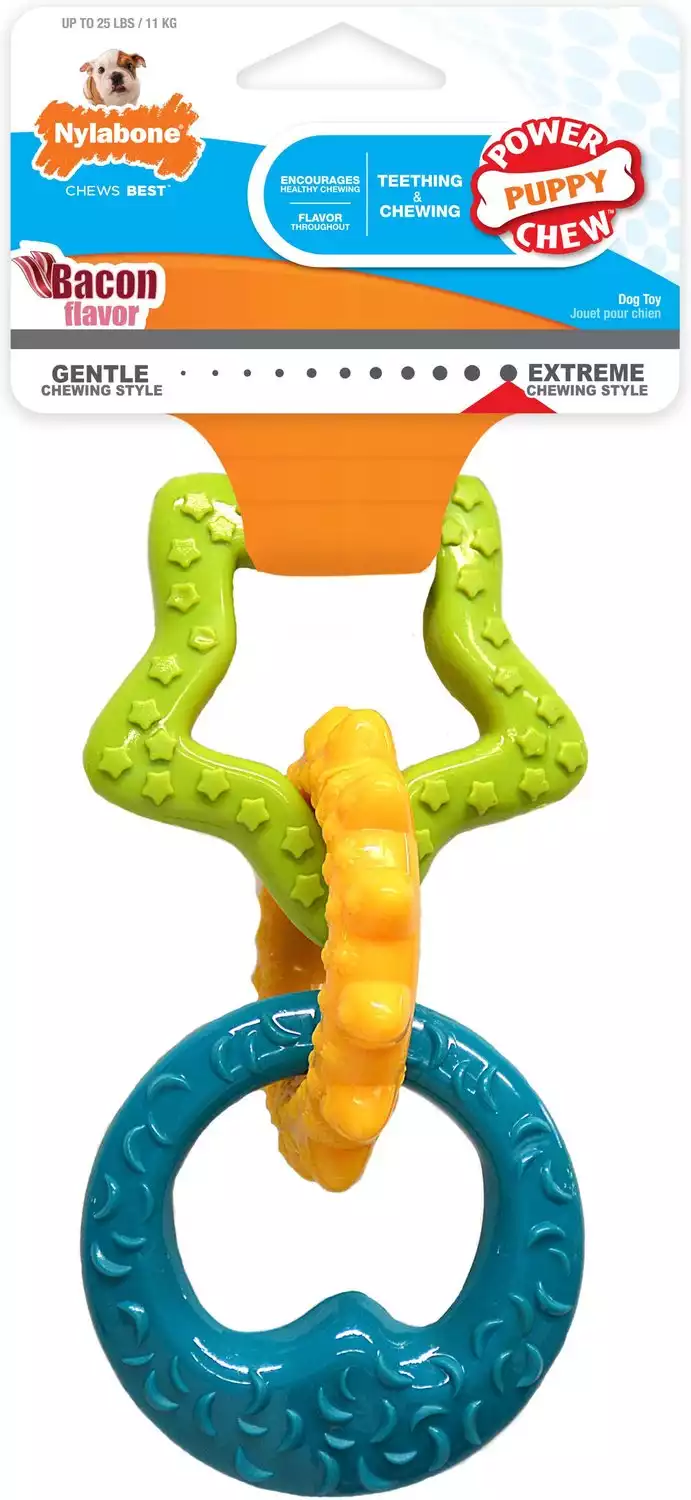 This is a neat little puppy chew toy, perfect for young Dobies up to 15 lbs that still need to train their jaw and sharpen their teeth.
These neat little rings make for a wonderful distraction for your small doggo as the rings clatter together to make a distracting sound, and if you're looking to play with him, they can always serve as a great means for a game of light tug o war.
Made out of thermoplastic polymer, the rings will withstand even the toughest little chewers out there with little to no wear over a long period of time.
The texture of the rings and the star patterns help keep teeth clean and soothe teething pain in small dogs, which will easily make it a go-to for any Doberman puppy when his teeth start coming in.
The product is even recommended by vets as a great way of building healthy chewing habits, and it helps dissuade your doggo from picking up any destructive ones.
It's quite affordable, too, and a good alternative to some of the other, similar products for pups, like the Goughnut.
KONG Classic Flyer
Key Benefits:
Made from durable rubber that's soft on your dog's teeth

Aerodynamic and light despite the material

Comes in two different sizes

Colored a nice, soothing red

On the cheaper side
Cons:
Shouldn't be chewed on too long so it doesn't break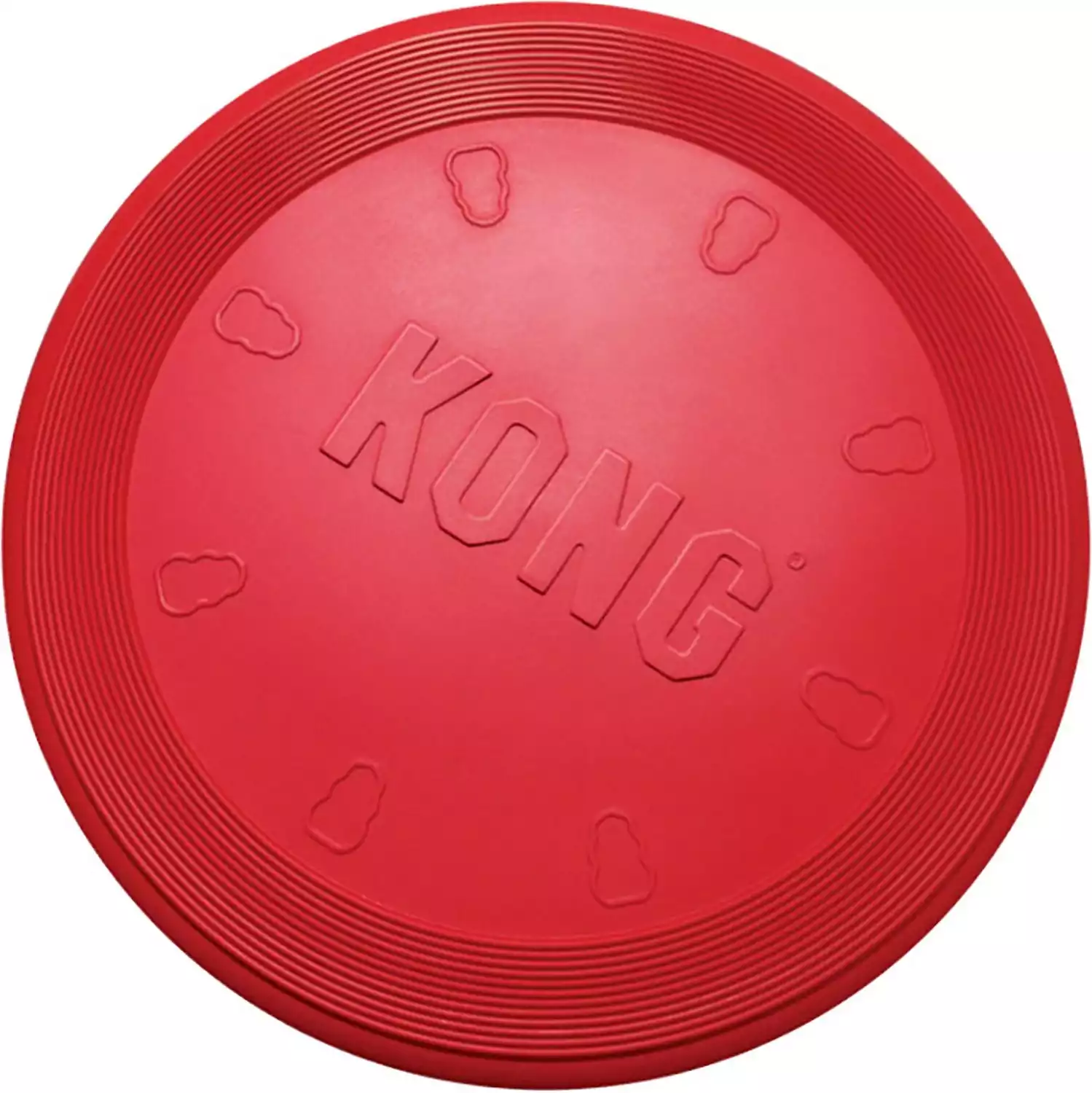 Finally, no list of dog toys would be complete without a frisbee in the lineup.
This is a durable, rubber frisbee that won't break easily like the cheap plastic ones. It is a bit harder to throw, sure, but it'll serve its purpose a lot better.
It's a great way for both you and your young or adult Doberman friend to get some good, quality exercise in.
The rubber is quite soft, so your canine companion won't injure his teeth or gums on the disk either.
It even comes in two different sizes. I recommend the larger one for adult Doberman Pinschers, and the smaller one for smaller breeds or Dobie pups.
Do note, however, that despite the durable material, it still shouldn't be treated like a chew toy given its thinness.
FAQs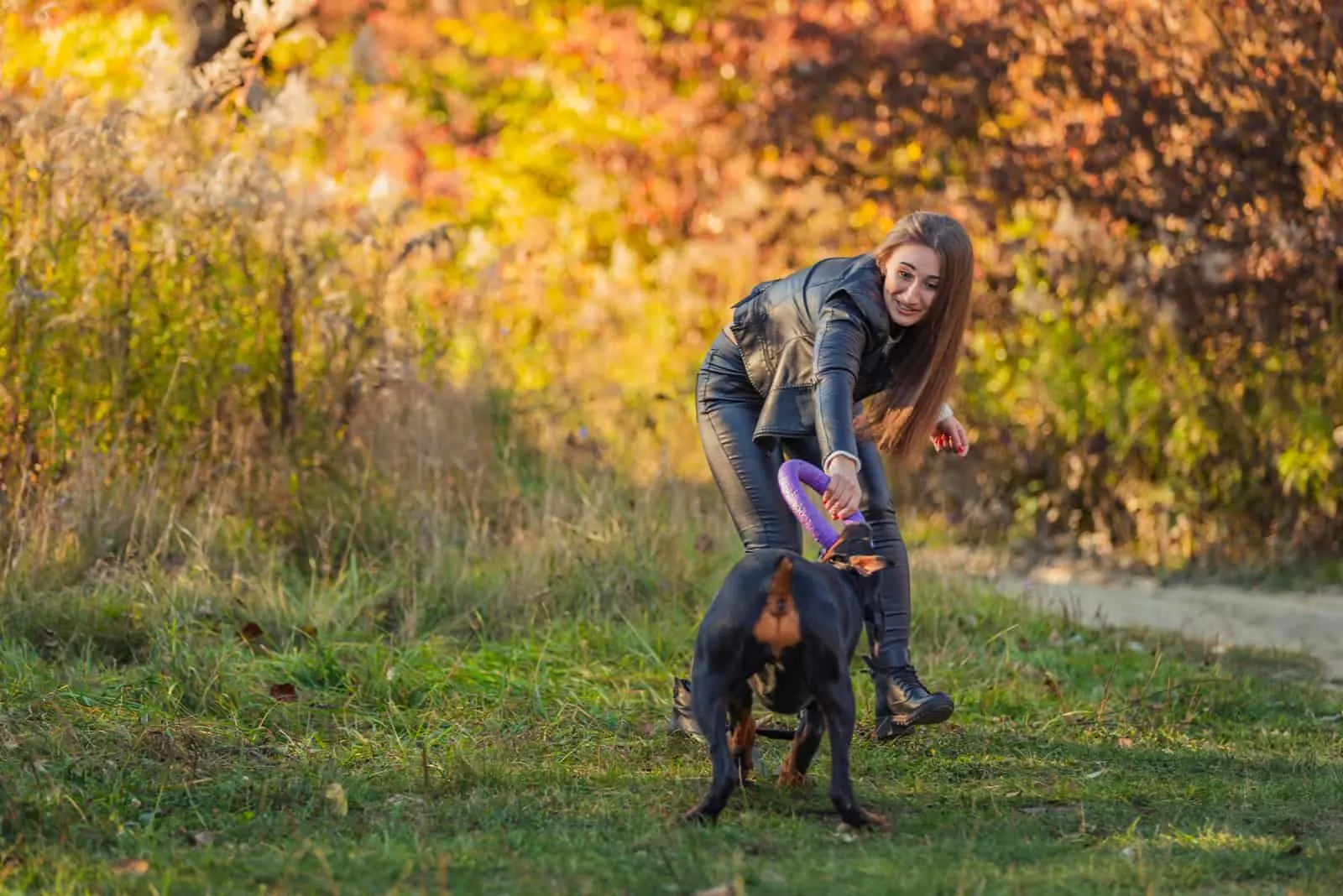 What Kind Of Toys Are Good For Dobermans?
The best toys for Doberman Pinschers, male or female, are ones that stimulate physical activity and a little bit of creative effort on their part.
Toys that work great for fetch and tug o war are excellent choices as well as any that feel rewarding to play with, e.g., the dinosaur volcano and the treat dispenser toys.
What Are The Best Toys For Dobermans?
As mentioned earlier, anything that keeps your dog active is a wonderful toy, but for Dobies, in particular, you want to make sure they're made to last and that they're entertaining.
The one I used for my dog (another large breed, similar to a Dobie) was the Chuckit Kick Fetch Ball since it was so versatile and I was part of the action. I'd recommend that one first.
What Toys Should I Avoid Giving My Doberman?
You want to avoid toys with lots of small parts that can easily be bitten or chewed off as those can quickly become choking hazards.
In the same vein, any toy that isn't durable enough will eventually pose the same problem as bits get torn off.
You also want to avoid materials that are too hard, which can end up injuring your dog's jaw or hurting his teeth and gums.
How Do I Keep My Doberman Entertained?
Dobermans are extremely friendly dogs despite people claiming them to be aggressive. They love social contact a lot, so the best way to keep your furry friend entertained is to play with him.
If you're not around for playtime often, your dog will get lonely and anxious, which makes him prone to destructive, attention-seeking behavior.
Vibrant colors and toys that constantly offer something new will get his attention and keep it for a while.
How Do You Entertain A Doberman Indoors?
On rainy days or whenever you and your Dobie need to spend some time inside, the best way to entertain him is to grab some of those more challenging toys that will reward him for his efforts and ingenuity.
The treat dispenser toys are a good option if your doggo isn't on a diet; otherwise, get him some toys that challenge him to do something without having to run around the house.
How Do You Know What Toys Are Safe For Dobermans?
To make sure that a toy is safe for your Dobie, it needs to be made out of durable material that's soft on his teeth and that won't tear off too easily and pose a choking hazard.
Dobies have powerful jaws, and they can mince some of the more conventional toys with ease, so it benefits to pay a little extra money to ensure a high-quality product, if anything, for your dog's sake.
And, anything that works for your dear Dobie also works for any Doberman mix, so you don't have to worry about needing to specialize too much.
What Else Can Be Used To Entertain My Dog?
You can always go for some chewable treats like rawhide rolls or split antlers for younger Dobies. They may not provide the physical activity that throwing a frisbee or a ball around might, but your doggo will still enjoy a tasty and healthy meal option.
They're both great to chew on, and a better alternative to some of the more caloric doggy treats anyway. Just make sure to keep them away from any furniture so that it doesn't get covered in slobber and oils.
How Do I Build Healthy Chewing Habits For My Doberman Pinscher?
The best way to keep your dog from being a destructive, aggressive chewer is to foster healthy chewing habits early.
Get him some teething toys that'll teach him to pace himself when chewing or eating, and also teach him what's bad to chew on.
They'll also help teach him patience.
A few good options outside of teething toys would be the ones mentioned above – split antlers, rawhide rolls, yak dog chew, or similar – especially since they double as a tasty, healthy, and nutritious treat.
RELATED: Doberman Growth Chart: Growing Up Healthy
How Often Should I Play With My Doberman Each Day?
Dobies are very active dogs, and they need as much exercise and physical activity as you can give them.
They'll always be anxious in an indoor setting, so make sure to take them for walks often, ideally to dog parks or open fields where you can play with them.
Be sure to bring an assortment of toys with you in order to provide them with a fun-filled day.
They're somewhat selfish, though, when it comes to other dogs, so keep them away from unknown company when not on a leash, just in case.
In Conclusion
Some of the best toys for Doberman Pinschers are also the simplest ones with a little bit of a twist.
The title of "best dog toy" mostly boils down to durability as Dobies are known for their powerful jaws, and to them, nothing is indestructible.
You may end up having to buy new toys often, but at least the ones listed here should last you enough to get your money's worth in both entertainment value and product longevity.
It's worth considering since all of the maintenance costs for dogs add up, and every penny saved on stuff like toys, food, or shampoos for your Dobie will mean a lot in the long run.
But, no matter what toy you get them, even if it's the most colorful, challenging, and durable one out there – it won't be as fun for them if you're not around to play with them.
That's why I'm sure that whatever you end up picking, the two of you will end up having loads of fun. Until next time.
Read next: The 20 Best Doberman Breeders In The U.S. You Never Knew Existed!