Dobermans are renowned for being formidable guard dogs first and foremost, but also loyal and loving companions, so it is easy to see why they are getting more popular with each passing year.
So, if you're searching for the perfect guard dog with a soft spot for its loved ones, and you've got your heart set on the powerful Doberman, you're probably on the lookout for reliable and reputable Doberman breeders near you.
Breeders who are trustworthy and ethical must adhere to the Doberman Pinscher breed standard, and do everything in their power to ensure that the puppies they breed are as healthy as possible.
On the other hand, unethical breeders are just the opposite. They don't take proper care of their breeding stock, and are mostly in it for a quick profit.
That said, reputable breeders of the Doberman breed can be hard to find when just starting out your search… or, you might have just begun your search in the wrong places.
But, that's where we come in!
In this article, we've compiled the twenty most reliable Doberman Pinscher breeders in the U.S. for you to choose from!
We'll start off by first listing the best American Doberman Pinscher-type breeders in the U.S.
American Doberman Puppies For Sale In The U.S.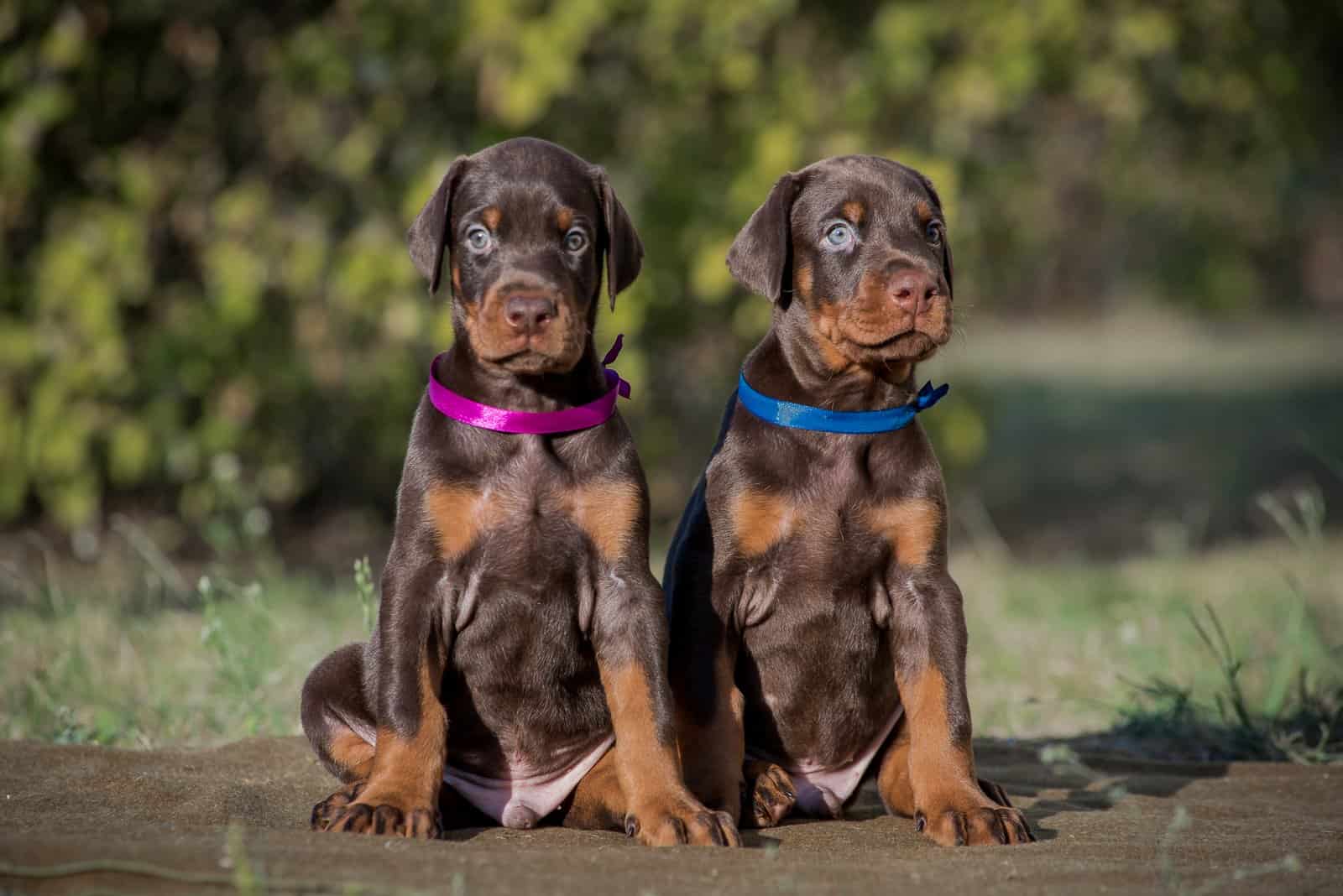 Keep in mind that all the breeders that have been chosen for this list meet all the criteria to be deemed trustworthy.
They are reliable and ethical, have good word-of-mouth references, and have transparent breeding practices.
So, you don't need to worry whether or not your new Dobie pup will be healthy, or if it was raised in good conditions.
So, with that out of the way, let's check out the best of the best when it comes to Doberman breeders in the U.S. and help you find your new family companion.
1. Zane Dobermans – Missouri
Our first pick of the litter for the best American Doberman breeders in the U.S. is Zane Dobermans, located in Missouri.
Zane Dobermans is a reputable breeder with over twenty years of experience in producing top-quality Doberman puppies.
From the year 2000 up until now, Zane Dobermans has done nothing but improve their breeding facilities and breeding program to the point that they are now an AKC-registered breeder of merit.
The team at Zane Dobermans stands firmly against improper breeding practices and genetic mutations in the Doberman Pinscher breed.
They are also as far from a puppy mill as a breeding kennel can get, given that they only breed selectively handpicked pedigree bloodlines that will improve their already impeccable generational lines.
All of their Doberman puppies are frequently health tested, as well as properly dewormed, vaccinated, socialized, and microchipped.
Once you take a look at the wonderful Dobies they produce, you will quickly see why this kennel has earned an endorsement from the Doberman Pinscher Club of America (DPCA) itself!
If you are interested in buying a Dobie pup from their facility, the first thing you will be required to do is fill out a puppy adoption form and leave your contact information.
The team and Zane Dobermans will then get back to you and answer any questions you might have regarding pricing, shipping, or picking up your new furry bestie!
Zane Dobermans details
Location: Missouri, USA
Website: Zane Dobermans
Contact: 816 719 4155
Email: [email protected]
2. Jaladeck Dobermans – New York
If you live in New York or in the surrounding area, Jaladeck Dobermans is the perfect breeding kennel for you to check out.
They are aware that they are not the biggest or most famous name in the Doberman breeding business, but they are still one of the best Doberman breeders in the U.S. due to the quality of the Doberman pups they produce.
Breeders at the Jaladeck Dobermans breeding outfit have more than thirty years of experience in breeding Dobermans for even temperament, excellent health, and longevity.
They are also strictly against unethical breeding practices, such as miniaturization and albinism.
They take pride in breeding quality dogs of the Doberman breed that have been tested for elbow, heart, eyes, thyroid, hips, and Von Willebrand's Disease, and they have an average lifespan of eleven years.
Not to mention that many of the pups that came out of their breeding program have gone on to compete in both Canadian- and United States-based dog shows.
Each puppy they produce is quite adept in rally, agility, dock diving, obedience, tracking, as well as search and rescue.
If you're interested in buying one of their Dobies, check out their website to see what they have in store for you!
Jaladeck Dobermans details
Location: Bainbridge, New York, USA
Website: Jaladeck Dobermans
Contact: 607 967 4078
Email: [email protected].com
3. Foxfire Dobermans – Oregon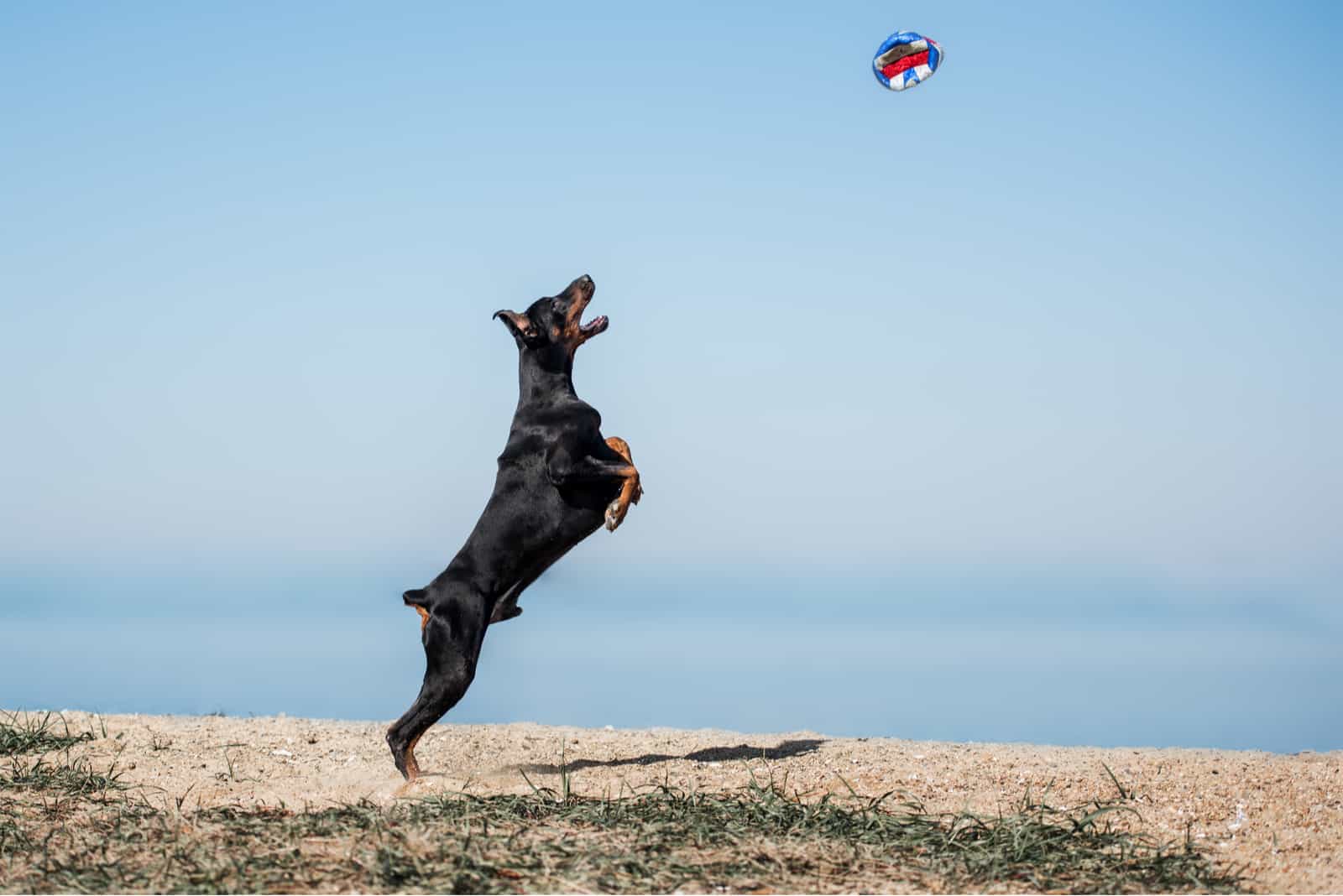 The Foxfire Dobermans breeding operation was established back in 1979.
In the past forty years of breeding, the kennel has managed to produce more than eight generations of high-quality, healthy Doberman pups.
Due to their unmatched seniority in breeding high-quality Dobermans, they have created some of the most accomplished specimens of the breed in their respective time.
The earliest record of titles on their website dates back to 1998, followed by numerous awards, including the coveted Best of Breed title.
They were also awarded the APEX Legacy Award in 2015 by the Doberman Pinscher Club Of America for their efforts in improving awareness and public perception of this incredible dog breed.
In addition to that, the main breeder of the Foxfire Dobermans breeding program, Michelle Santana, has been awarded the APEX Gold Level Outstanding Breeder title.
It's worth mentioning that her work and dedication extend well beyond her own breeding facility.
She was the president of the DPCA from 2014 to 2015, and has served as a DPCA Exhibitor Education Chairman from 2001 to 2006.
If you want your new furry friend to come from a kennel that houses numerous award-winning pups and state-renowned breeders, you should consider giving Foxfire a shot.
Foxfire Dobermans details
Location: Oregon, USA
Website: Foxfire Dobermans
Facebook: Foxfire Dobermans
Contact: 541 441 2952
Email: [email protected]
4. Melrae Dobermans – Michigan
Even though the Melrae Dobermans breeding outfit has a relatively short history, it should not be underestimated in any way.
It was founded in 2010 and has since made a name for itself as being one of the best Doberman breeders around.
In fact, in the span of just ten years, the Melrae kennel has created several AKC Champions and grand champions!
Their Dobermans excel as show dogs in a multitude of fields such as barn hunting, agility, trick dog, canine good citizen, coursing ability, and many more.
However, that's not all that their puppies are capable of. Over the years, the Melrea breeding program has also created wonderful therapy dogs and regular old family pets.
On their website, you can find pictures of former champions – the ones that are still alive, the retired ones, and the ones that have passed into memory and are no longer with us.
Pictures from several AKC conformation events are also available for you to browse through.
Check out the Melrae Dobermans website for more information about available puppies and upcoming Doberman litters.
Melrae Dobermans details
Location: Michigan, USA
Website: Melrae Dobermans
Contact: 616 218 8454
Email: [email protected]
5. Kani & Wilken Dobermans – Kansas
Kani & Wilken Dobermans are breeders of merit registered with the AKC, and are located in Wichita, Kansas.
The Kani & Wilken breeding program started back in 2003 and has ever since been dedicated to producing high-quality Dobies that are adept in conformation shows.
The facility is owned and operated by Scott Norlin and Shelby Williams, who have owned four consecutive generations of champions in conformation events.
Among those Doberman bloodlines, the respective co-owners have personally bred three generations.
Not only do they ensure that all of their puppies are healthy through extensive health testing, but they also push for ethical breeding practices that adhere to the breed standards set by the American Kennel Club (AKC).
Kani & Wilken Dobermans also follow the DPCA's Code of Ethics, and adamantly oppose the breeding and selling of Albino Dobermans.
On their website, you can find numerous photos of their purebred Dobe breeding dogs, as well as their champion bloodlines and available puppies.
For any questions regarding pricing and purchasing options, feel free to contact Kani & Wilken Dobermans via phone or email provided below.
Kani & Wilken Dobermans details
Location: Witchita, Kansas, USA
Website: Kani & Wilken Dobermans
Facebook: Kani & Wilken Dobermans
Contact: 316 200 0979
Email: [email protected]\
6. Alpha Dobermans – Florida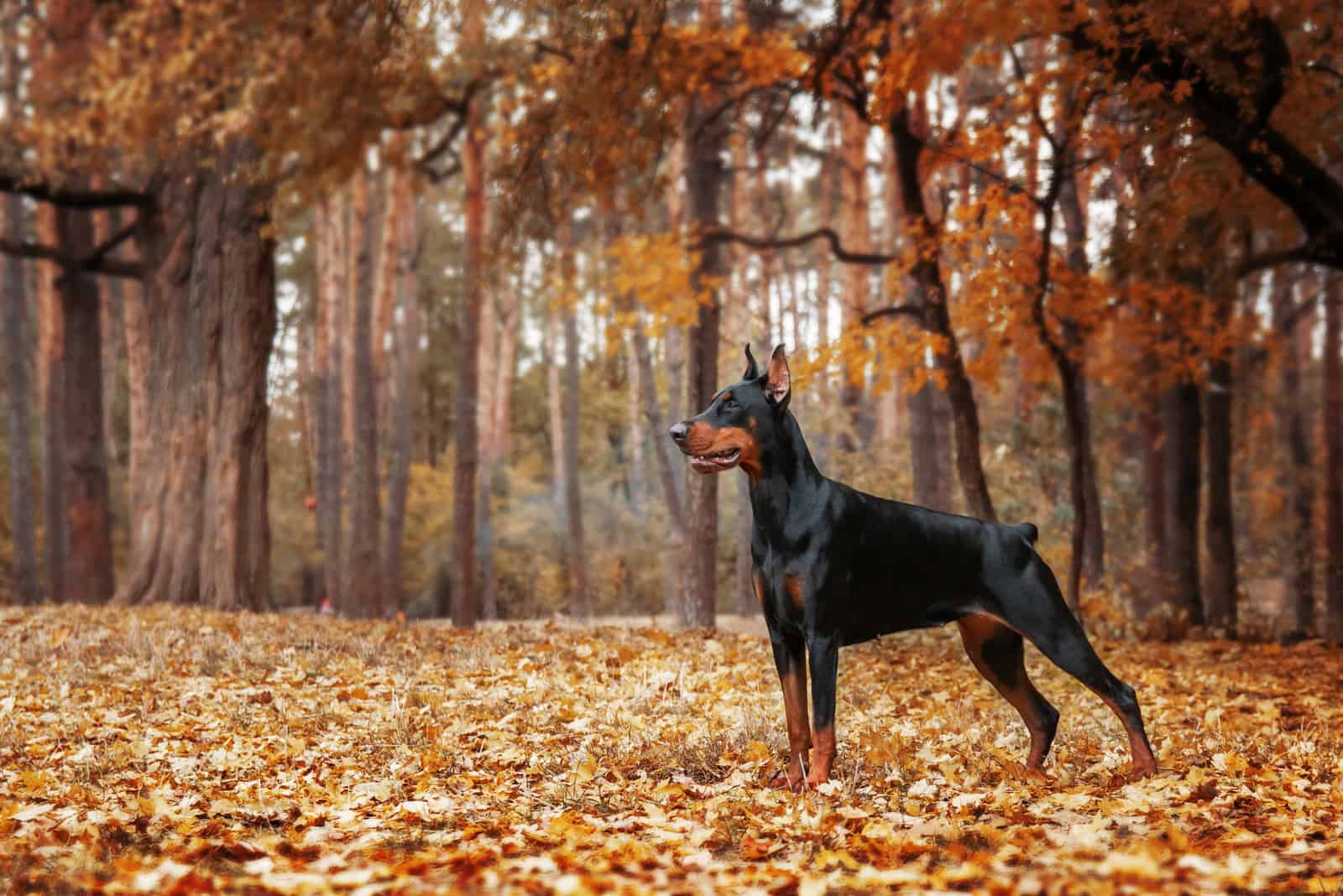 Our next pick on the list of the most reliable Doberman breeders in the U.S. is Alpha Dobermans, located in Ocala, Florida.
Alpha Dobermans are acknowledged as one of the best Doberman breeders in the U.S.
Breeders at the Alpha Dobermans breeding kennel are fully dedicated to breeding and raising Doberman doggies with excellent pedigrees that come from both American and European Doberman champion bloodlines.
Although they are considered to be among the best Doberman breeders in the USA, their breeding venture is fairly new.
They started their operation in 2020, but despite their novelty, Alpha Dobermans has proven that they are a reliable Doberman breeder whose primary focus is breeding for excellent conformation, temperament, and health.
They have highlighted that a great deal of hard work and experience has been put into creating each of their Doberman Pinscher puppies in order to ensure that they produce prime examples of this beautiful breed.
Moreover, the breeders dedicate careful planning and tedious research to ensure the highest possible quality of each litter.
Because of their hands-on approach to breeding the best dogs they can, Alpha Dobermans is able to produce excellent obedience and show Dobermans that can also double as affectionate and loyal family members.
Alpha Dobermans details
Location: Ocala, Florida, USA
Website: Alpha Dobermans
Contact: 351 812 6644
Email: [email protected]
7. Kalora Dobermans – New York
Another kennel on our best Doberman breeders list that comes from New York, Kalora Dobermans, was established in 1990 and prides itself on producing top-of-the-line Doberman Pinschers with excellent longevity, temperament, conformation, and health.
As a reputable and AKC-registered kennel, Kalora Dobermans' breeding program has produced over forty champions throughout its thirty years in the dog breeding business.
Many Kalora-bred Dobes have gone on to win multiple dog show categories such as nose work, agility, obedience, barn hunt, lure coursing, trick dog, and many more.
Some of their Dobermans have also been awarded champion titles such as Best of Breed, Best in Show, Best of Opposite Sex, Best Puppy Winner, etc.
If that's not enough accomplishments in shows hosted by the DPCA, their Dobes have also competed internationally in events hosted by the Westminster Kennel Club in the UK.
If you want to own a high-quality protection dog that is also versatile in many other fields, then Kalora Dobermans is the place to go!
Check out their website for more information on currently available Doberman puppies.
Kalora Dobermans details
Location: New York, USA
Website: Kalora Dobermans
Contact: 631 451 7337
Email: [email protected]
8. Poesia Dobermans – Idaho
Founded and operated by avid dog lover, Alexandria Bullock, the Poesia Dobermans breeding facility mainly produces Dobermans that are bred to be excellent family companions.
With that said, you should know that the Dobies that come from Poesia don't lack the show-winning traits since the breeders have given extra attention to their pups' conformation, health, strength, temperament, and overall beauty that adheres to the breed standard.
Their non-show-companion female Dobermans are spayed. Likewise, their non-show male Dobies undergo a neuter procedure to ensure that no stud services can be offered by their future owners.
Poesia Dobermans also emphasizes the need for potential owners to learn everything there is to know about the training and exercise needs of a Doberman in order to make sure they understand the responsibility that comes with owning their first Doberman puppy.
That's why they have informational sections with FAQs and a Doberman puppy questionnaire on their website.
The breeders also take the time to guide each potential owner through the process of Doberman ownership to be sure that they are making the right decision.
If any of their customers no longer feel like they can take care of the Dobie they bought, Poesia requires them to return the pup so that the breeders can find them a new, more suitable forever home.
Given their strict rules and ethical breeding practices, you can easily see that this kennel goes the extra mile to make sure that every Dobie it produces will be loved and cared for until the end.
Poesia Dobermans details
Location: Idaho, USA
Website: Poesia Dobermans
Facebook: Poesia Dobermans
Contact: 650 4653 443
Email: [email protected]
9. Treasure Seeker Dobermans – North Carolina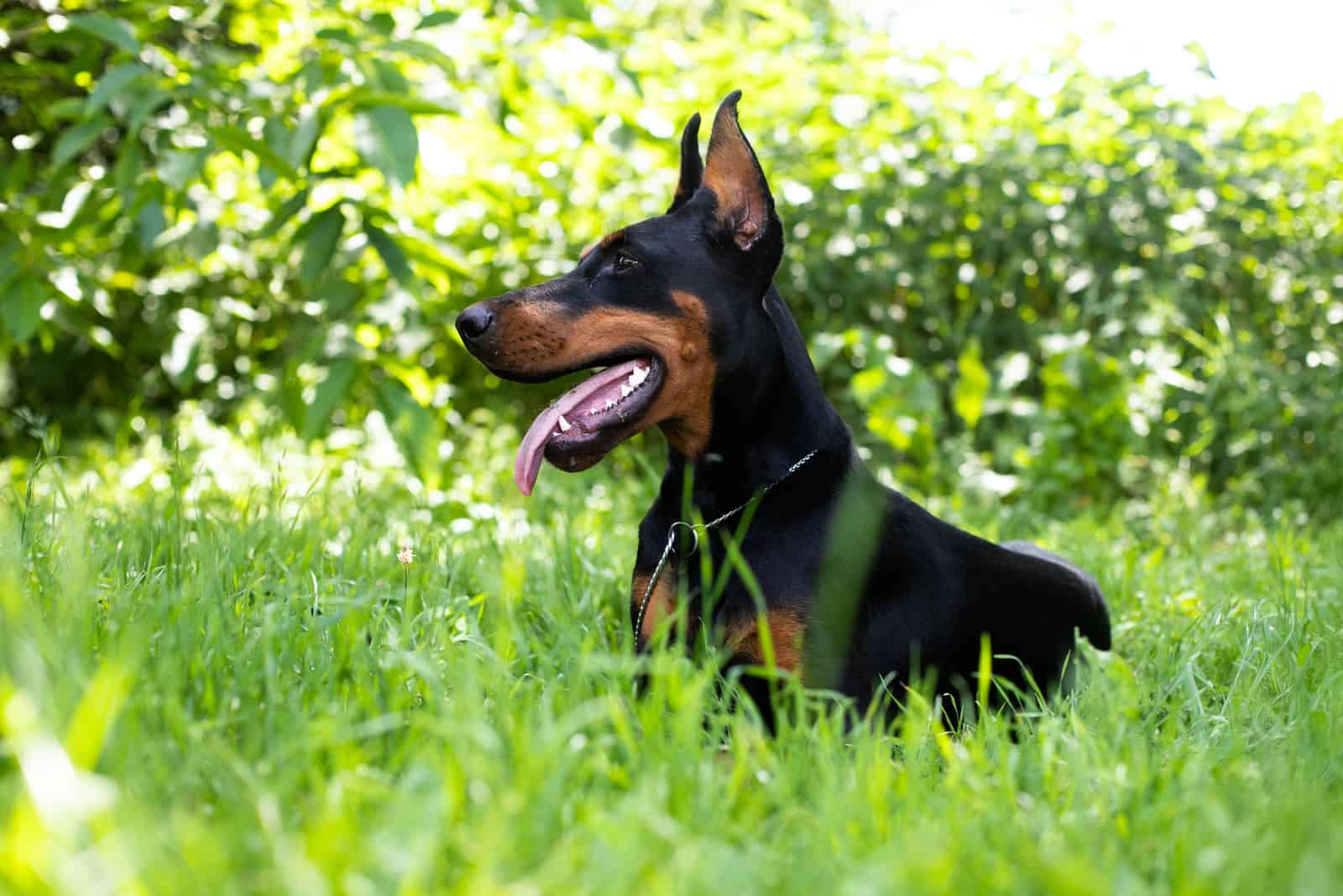 The Treasure Seeker Dobermans breeding facility is located in North Carolina, and it values show, companionship, performance, and health for its Dobermans above all else.
Although this small-scale, family-run dog breeder only produces a few Doberman litters per year, when they breed, they make sure to adhere to both the DPCA's and the United Doberman Club's Code Of Ethics.
In addition to that, they strongly oppose unethical breeding practices, such as the creation and further breeding of the albino Doberman.
Moreover, not only are they one of the best Doberman breeders in the United States, but one of the most transparent ones as well.
Each Doberman Pinscher puppy for sale comes with a detailed medical history, and their health results are available for potential customers to see.
On top of all of this, each puppy bought from Treasure Seeker Dobermans comes with up-to-date vaccinations, deworming, and a health guarantee. So, you can rest assured that you will end up with a healthy, happy, and affectionate family dog!
Treasure Seeker Dobermans details
Location: Wake Forest, North Carolina, USA
Website: Treasure Seeker Dobermans
Facebook: Treasure Seeker Dobermans
Contact: 919 556 4643
Email: [email protected]
10. Daily Dobermans – Arizona
The Daily Dobermans breeding program started merely seven years ago, but they have since made a name for themselves among the best Doberman breeders in the USA.
They have achieved this by prioritizing diversity, longevity, and health, as well as making conscious breeding choices that produce good-boned, even-tempered, and strong Doberman Pinscher puppies.
Daily Dobermans are proud members of multiple esteemed Doberman organizations such as the DPCA, Better Bred, the United Doberman Club, and the Tucson Doberman Club.
All of their Doberman puppies for sale are thoroughly tested for breed-specific health issues such as Wobblers syndrome, von Willebrand's disease, and dilated cardiomyopathy.
In addition to that, both male and female Dobies used in breeding undergo extensive genetic testing to ensure top-quality purebred litters.
Also, a clear indication for potential customers is that apart from high-quality show dogs, this facility also produces great working dogs.
If you're interested in buying one of their amazing Dobermans, check out their website for more information.
Daily Dobermans details
Location: Sonoita, Southeast Arizona, USA
Website: Daily Dobermans
Email: [email protected]
11. Andella Kennels – Michigan
Our next spot on the list of the best Doberman breeders in the U.S. goes to Andella Kennels, located in Charlotte, Michigan.
Andella Kennels is a member of the Good Dog, Good Breeder program, and it was established back in 2013. Since then, they have been strong contenders in both the AKC and KC events.
Their breeding program focuses on producing high-quality Dobermans of sound conformation and great health.
Each puppy they produce goes through proper socialization training and receives ample neurological stimulation, body handling training, and noise desensitization training.
Dogs purchased from this breeding facility will be sent off to their new homes with a food starter bag, their favorite toys, vaccination and microchipping records, a leash, a health certificate, and AKC registration papers.
However, their puppy application process is long and specific, so potential customers should be prepared to answer a lot of questions about their lifestyle, activities, and living environment.
Apart from top-quality Doberman puppies for sale, Andella Kennels also offers boarding and training services as well as breeding and selling unique breeds of dogs.
If you're interested in what they have to offer, check out their website for more information.
Andella Kennels details
Location: Charlotte, Michigan
Website: Andella Kennels
Email: There is an email form available on their website.
12. Emerald Eire Dobermanns – Illinois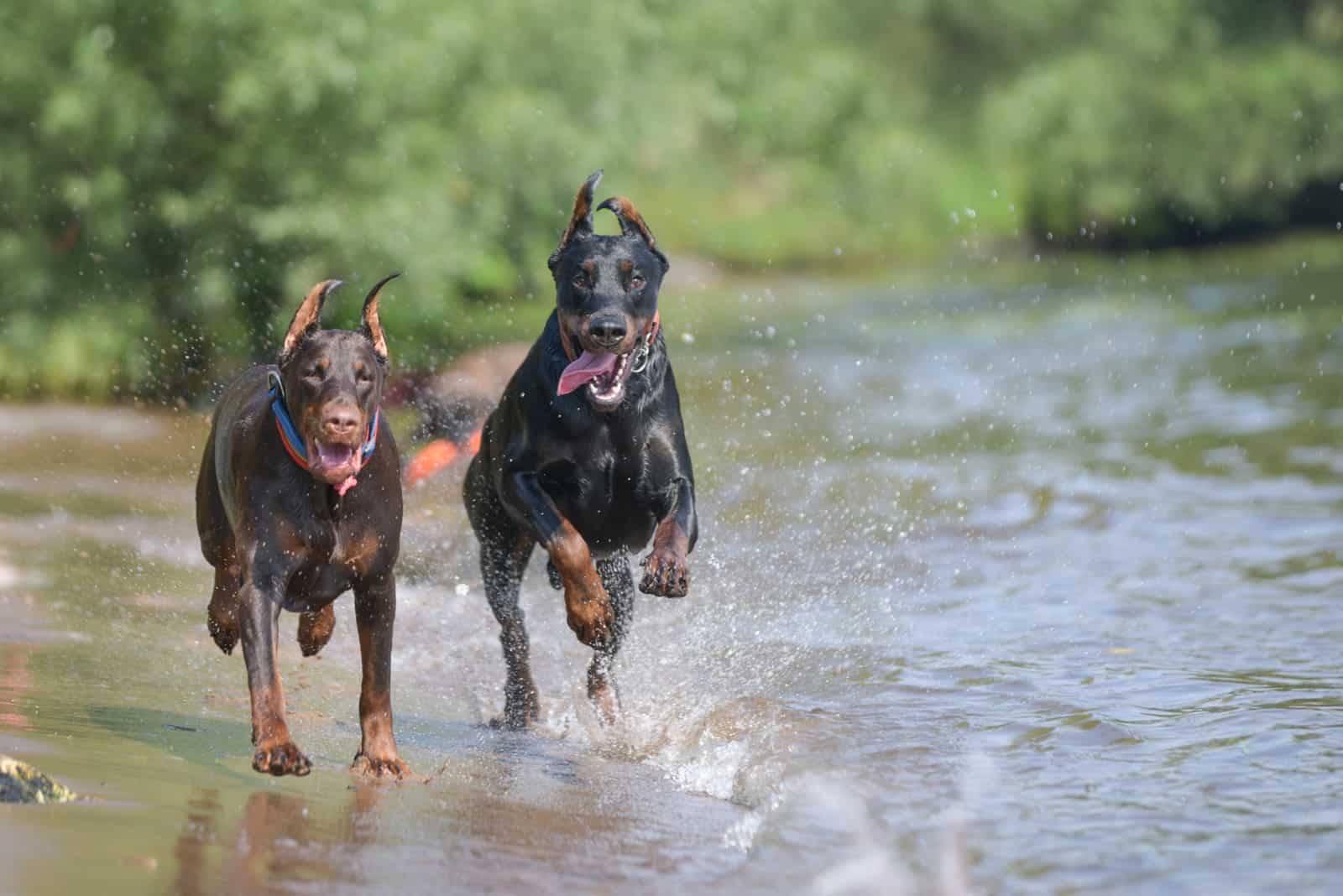 Owned by Julie Westphal, Emerald Eire Dobermans is an AKC-registered trustworthy breeder of high-quality Dobermans.
The team at Emerald Eire Dobermans utilizes early neurological stimulation protocols in their breeding program such as task training, obedience training, and noise desensitization.
Puppies can go to their new homes when they reach the age of nine to ten weeks, and they come with toys, vaccinations, health records, and a blanket with their mother's scent.
In addition to that, each puppy comes with a new puppy starter kit that includes a collar, a leash, and a bag of their favorite food!
Each Doberman puppy comes with a microchip, and undergoes extensive health testing before being released to its new owner.
For any questions you might have regarding the purchasing process, breeding protocols, breeding program, or puppy training, feel free to contact the breeder via the information provided below.
Emerald Eire Dobermanns details
Location: Decatur, Illinois
Facebook: Emerald Eire Dobermanns
Contact: +1 217-859-6696
Email: [email protected]
13. Rockhill Dobermans – Minnesota
The Rockhill Dobermans breeding program has been competing in AKC-hosted events including conformation, performance, and obedience for many years. Their dogs also excel at barn hunts, trick dog events, and therapy work.
All of the breeding dogs and puppies at Rockhill Dobermans are AKC-registered and part of the Bred with H.E.A.R.T. program.
Although there are wonderful family dogs for adoption at this breeding facility, the main focus of the Rockhill Dobermans breeders is show and performance Dobermans.
However, you should know that companion puppies do not come with breeding rights.
Each puppy bought at Rockhill Dobermans comes with a three-year health guarantee.
In addition to that, all of the puppies produced by Rockhill go through the Puppy Culture program, which includes socialization with other dogs and children, exposure to various sounds and smells, exposure to grooming, and basic potty and crate training.
On top of all of this, if you decide to get a Rockhill Doberman for your household, you can expect it to come properly dewormed, fully vaccinated, and with cropped ears. It will also come with extensive health records and a veterinary checkup.
Rockhill Dobermans details
Location: Caledonia, Minnesota, USA
Contact: +1 507 450 1715
Facebook: Rockhill Dobermans
14. Rougaroux Dobermans – Louisiana
Our next pick is Rougaroux Dobermans, located in Robert, Louisiana, and owned by Kourtney Bradshaw, who is a professional dog trainer and breeder of Dobermans.
Although Rougaroux Dobermans is certainly one of the best Doberman breeders out there, it is important to note that this breeder produces only show dogs, and has only a few litters per year.
When a litter of available puppies comes by, the breeder uses an exhaustive list of training and protocols.
Some include car training, bite inhibition, exposure to grooming, recall training, sound stimulation, crate training, and several others.
Each puppy they breed is AKC-registered and comes with a certificate of health, as well as being up to date with all vaccinations and with a two-year health guarantee.
Your new best friend will also be dewormed, cropped, docked, and microchipped with its dewclaws removed.
Although they don't always have Doberman puppies for adoption, it is worth checking out the Rougaroux Dobermans website from time to time to see if any upcoming litters are planned.
Rougaroux Dobermans details
Location: Robert, Louisiana, USA
Website: Rougaroux Dobermans
15. Viridian Dobermans – Texas
The main breeder at Viridian Dobermans, Ashley Townsend, specializes in producing top-quality show Dobermans.
Although she has been in the dog breeding business for only five years, her Dobies have made the National Owner-Handled Series for three years in a row.
Ashley strictly follows the breed standards set by the Doberman Pinscher Club of America, and is an AKC-recognized Breeder of H.E.A.R.T.
She is also a proud wearer of the Good Breeder badge, given to her by Good Dog.
If you are interested in getting a Viridian Doberman, you should know that the puppies are allowed to go to their new homes when they reach twelve weeks of age.
They will be sent to their new owners with a collar, a puppy starter kit, and AKC registration paperwork.
In addition to that, each puppy will be thoroughly examined by a licensed vet, microchipped, docked, cropped, and properly dewormed.
Ashley also puts great effort into working with her Dobermans on bite and impulse control. However, her training only goes to a certain point, and as a responsible owner, you should continue this training yourself.
The Viridian Dobermans breeding facility offers a one-year health guarantee on all of their Doberman Pinscher puppies, provided that you have your puppy examined by a licensed vet in the first 72 hours after adoption.
Viridian Dobermans details
Location: Spring, Texas
Good Dog page: Viridian Dobermans
Related: Top 10 Doberman Breeders In Texas: Best Pups In Texas!
European Doberman Puppies For Sale In The U.S.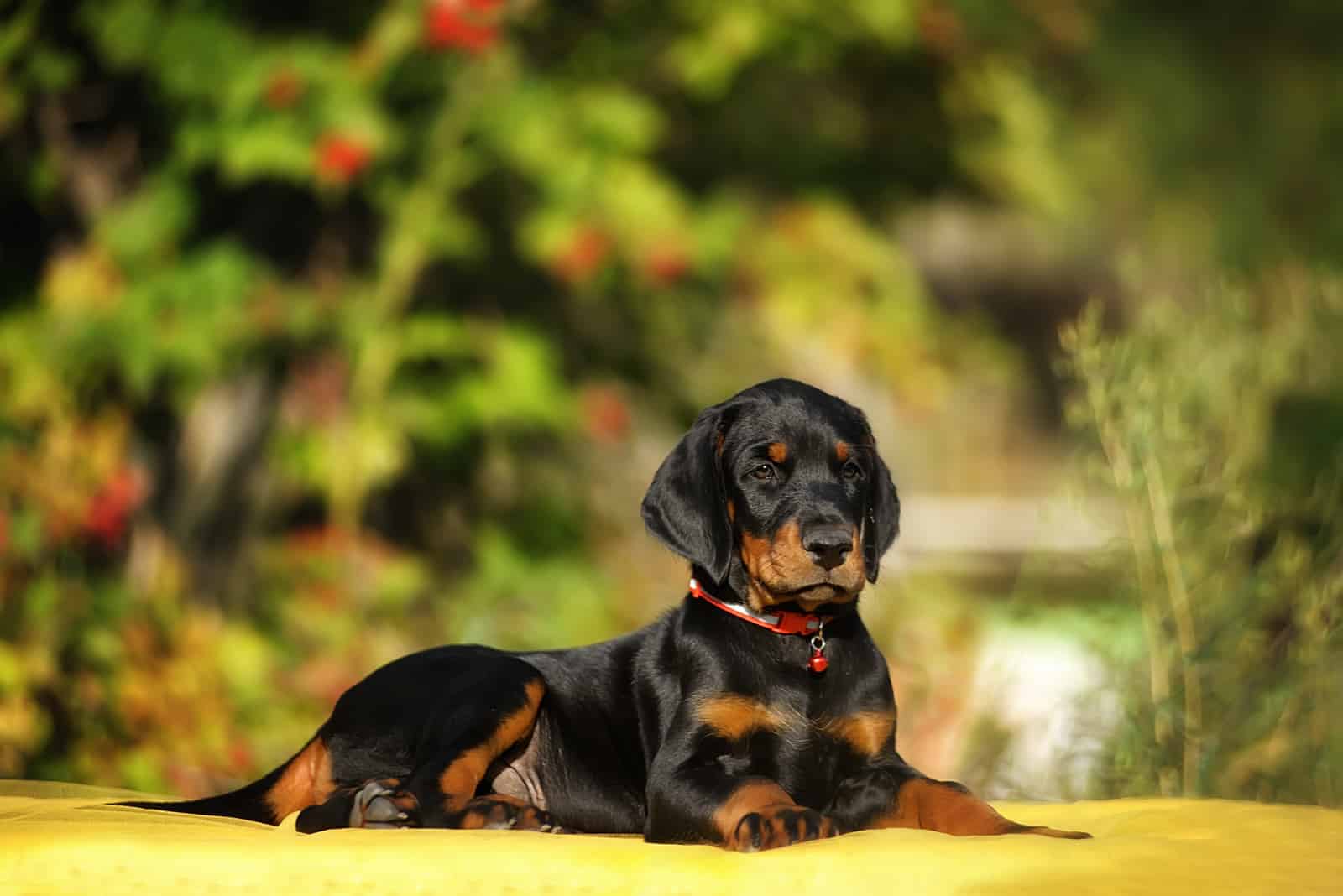 16. Wizard Dobermans – Florida
Our first pick of the litter for the best European Doberman breeders in the U.S. is Wizard Dobermans, located in Tampa, Florida.
Wizard Dobermans are trustworthy and ethical breeders who are members of the Good Dog, Good Breeder program.
The Doberman puppies for sale stay in the breeder's care until they are ten weeks old. By the time they are ready to be taken to their new forever homes, they will be vaccinated, microchipped, dewormed, docked, and will have a written certificate of health from a licensed vet.
Every one of their Doberman puppies comes with a written one-year health guarantee and a new puppy starter pack with toys and food.
The main breeder at Wizard Dobermans, Viana Mollinedo, uses the Puppy Culture method to its fullest extent, raising her Dobe puppies within the breed standards set by the DPCA.
If you are interested in owning one of the amazing Wizard European Dobermans, it is important that you read the contract and application thoroughly.
The breeder requires potential owners to have a safe outdoor space for their new furry besties. Also, the owners are required by contract to contact the breeder in case they can no longer care for their pup.
Wizard Dobermans details
Location: Tampa, Florida, USA
Website: Wizard Dobermans
Contact: +1 813 843 8683
Email: [email protected]
Top Doberman breeders: online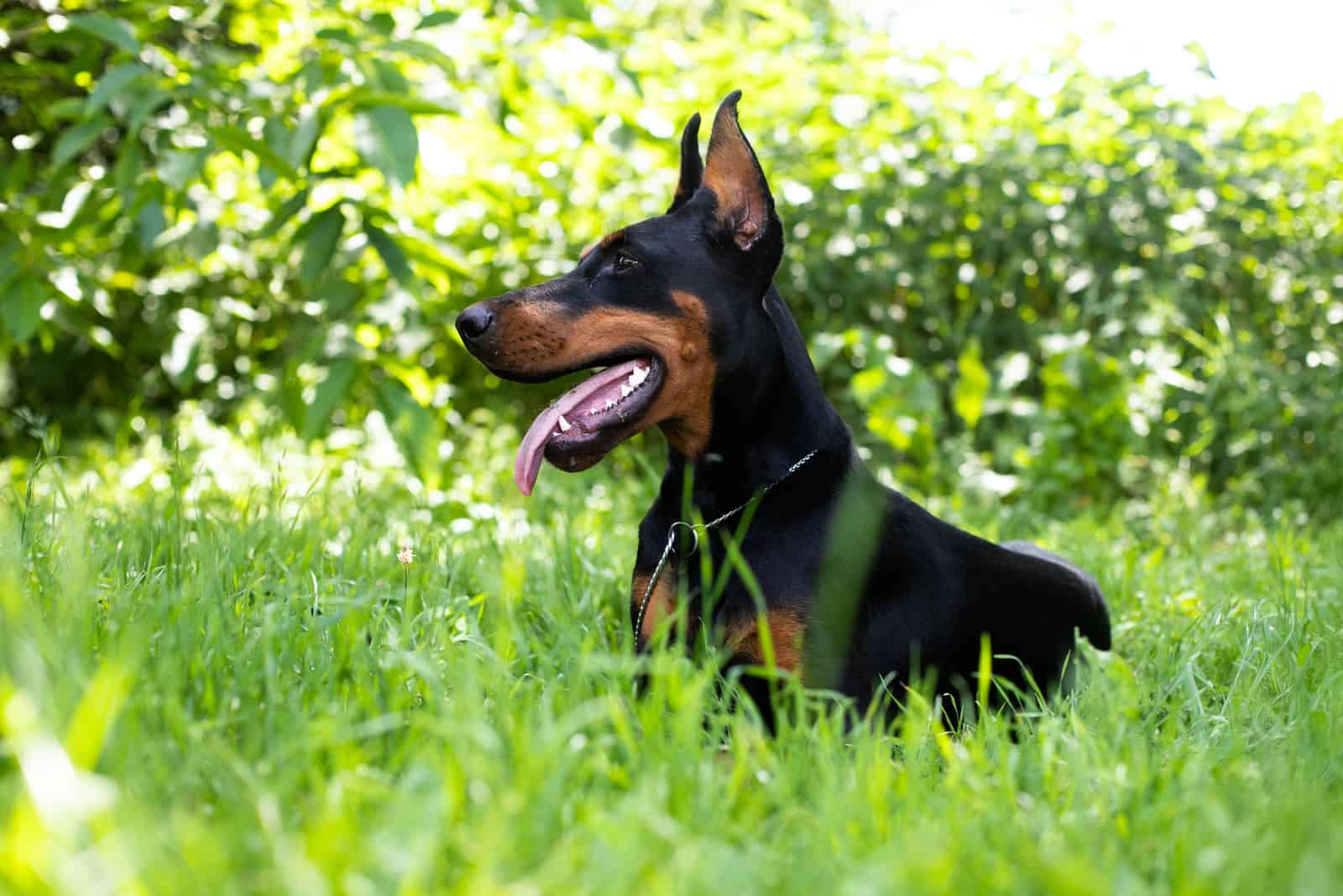 Now that you know all the best Doberman breeders you can visit in person, it is time to take a look at places where you can find Doberman puppies for sale without leaving the comfort of your own home.
Before we start, though, you should know that buying a Doberman puppy from the places we are about to explore can be somewhat riskier than buying from one of the reputable breeders listed above.
Because of this, the following breeders will be listed from low-risk ones to high-risk ones, and the risk level will be included in the breeder details.
17. American Kennel Club Marketplace
The American Kennel Club is one of the most reliable, trustworthy, and well-known kennel clubs in the United States. They have their own puppy marketplace where reputable breeders can list their litters for sale.
AKC Marketplace is one of the lowest-risk places to find a high-quality breeder of Doberman puppies.
The AKC's website offers a plethora of search options and plenty of information about puppies for sale, as well as pictures posted by the breeders themselves.
Every breeder wants to stay in good relations with the American Kennel Club so that they can continue to sell their pups on their marketplace. The AKC performs systematic and sometimes unexpected inspections of their breeders' kennels, breeding dogs, and puppies.
If you find a breeder who you potentially want to buy a new puppy from, you can even check to see if the certain breeder is still acknowledged as reliable by the AKC by contacting them.
AKC marketplace details:
Website: AKC Marketplace – Doberman Pinscher Puppies
Risk level: Low
Search Options: Gender, bloodline, available puppies, upcoming litters, distance
18. PuppySpot
PuppySpot is a platform that lists individual doggies for sale instead of just individual breeders.
They also put in more effort in making sure that only reliable and quality breeders advertise on their website than many other online puppy sources.
Although they do not have the option of filtering the search by distance, it doesn't make that much of a problem as they offer a country-wide puppy shipping service.
PuppySpot screens their breeders to ensure that no puppy mill makes its way onto their platform.
In addition, puppies must be up to date with vaccinations and deworming before being put up for sale.
Furthermore, they require new owners to get their new puppy checked within two days of its arrival in order to confirm that the puppy is healthy so it can qualify for their health guarantee.
PuppySpot states that they carefully screen each breeder who wants to advertise on their website. They also reserve the right to remove any breeder who violates any of their rules and regulations.
PuppySpot details:
Website: PuppySpot – Doberman Pinscher puppies
Risk level: Medium
Search options: Gender, color, age
19. Puppy Find
Puppy Find has hundreds and even thousands of available Doberman puppies for sale, so there are plenty of options for aspiring dog owners.
However, it comes with a very high risk. Their platform is free for anyone to post listings of their puppies, and they do not have any quality checks or screening processes.
If you decide to get your new Dobie from Puppy Find, we advise you to be extra diligent when it comes to ensuring that they are reputable and not a puppy mill or a backyard breeder.
Moreover, the "about" section of each breeder is provided by the breeders themselves, so there is no way of knowing whether the information is reliable.
Puppy Find details:
Website: Puppy Find – Doberman Pinscher Puppies for sale
Risk level: High
Search options: Gender, age, distance
20. Craigslist
Craigslist is a well-known website for advertising almost everything you can imagine.
However, since it's an online classifieds website, if you're looking for a Doberman puppy on Craigslist, you run the risk of buying from backyard breeders.
This means you have to be extremely careful if you decide to buy a Doberman puppy from Craigslist.
The only advantage of using a service like Craigslist, so to speak, is that you can usually find many listings near you, meaning you can go and take a look at the puppies and their parents for yourself.
Craigslist details:
Website: Craigslist
Risk level: Extremely high.
How much does a Doberman puppy cost?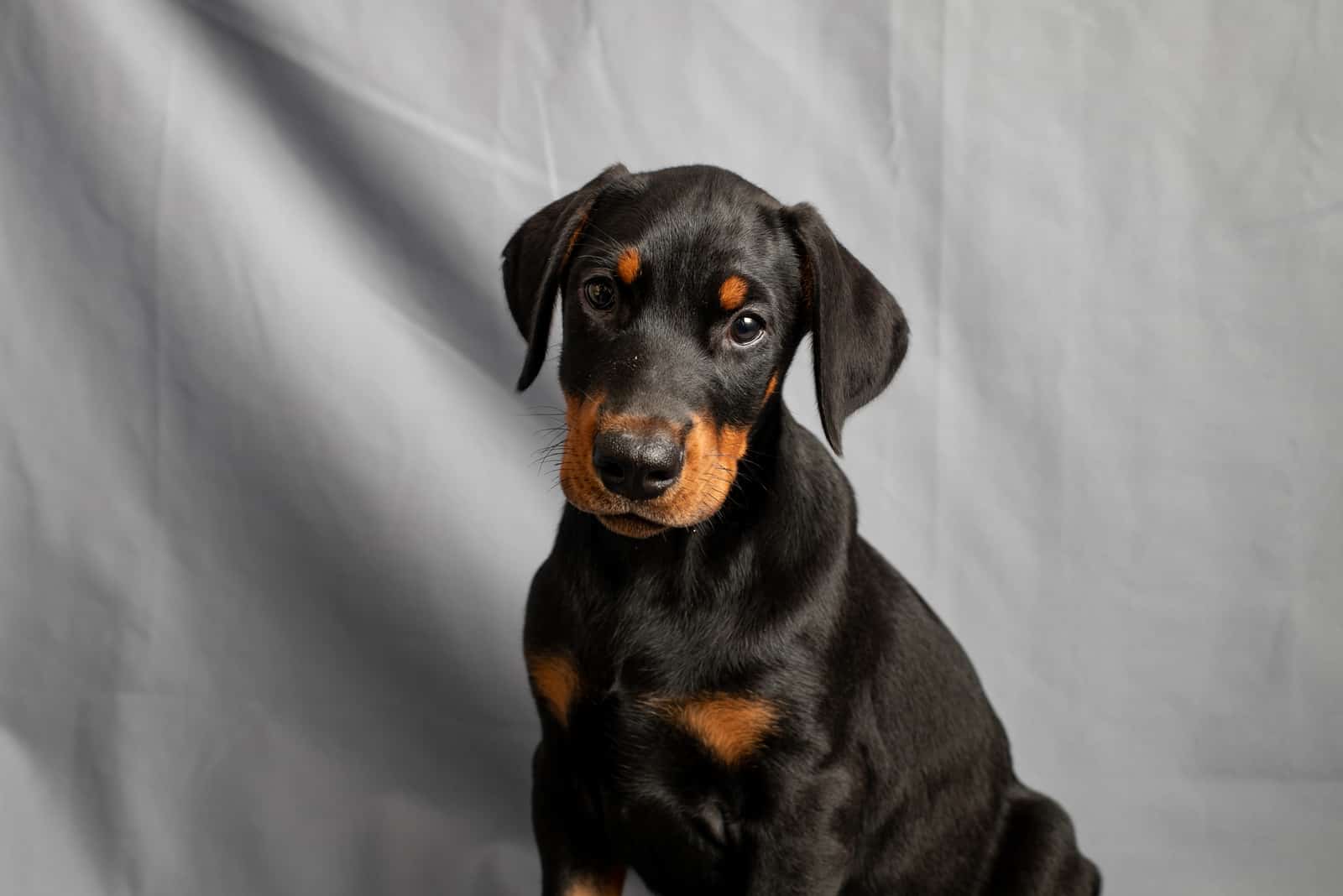 An American Doberman puppy will cost you anywhere between $1,500 and $2,500.
Companion and family dogs of this breed will usually be on the lower end of the price range while show-quality and working dogs will be closer to the higher end.
If you are looking to purchase a European Doberman from a reputable breeder, you should be prepared to pay $3,000 and upward.
With that said, you should be aware that there are both European and American Doberman puppies being sold for as low as $500.
Even though this might seem like a bargain, you should be highly cautious with breeders who sell their pups for less than $1,000.
In Conclusion
A Doberman Pinscher might not look as cuddly as a Golden Retriever, it might shed a bit more than a Labradoodle, and it might be a bit larger than a Bulldog, but rest assured that it's a highly loyal and affectionate breed.
Whether you buy a European or an American Doberman, and whether it was bred for companionship or for joining shows, the more important thing is that you fully understand the responsibilities that come with this amazing dog breed.
These include taking the time and effort it takes to provide your new pooch with the proper amount of physical and mental stimulation.
Grooming and nutrition are also vital parts of having a healthy and happy dog throughout its lifespan.
Although all of the factors you need to consider before bringing home a pup can seem daunting, keep in mind that these challenges are necessary for you to determine whether or not you are even ready to take in a Doberman Pinscher puppy.
Read Next: 4 Best Doberman Breeders In New Jersey