Disclosure: This post contains affiliate links, and I will be compensated if you make a purchase after clicking on my links.
Their mighty posture makes everyone tremble in front of them. They're strong, iconic, and absolutely stunning. They're Dobermans, one of the world's mightiest dog breeds.
With their silky shiny coat and impeccable muscle structure, Dobermans were, and still are, excellent pets as well as guard dogs. People love them for their temperament, and attractive looks. But, keeping that look at an enviable level isn't that easy.
A purebred Doberman Pinscher requires proper dog food, with all the necessary nutrients, to keep the skin healthy, and their coat lustrous. Besides good food, dogs need to have good hygiene habits. This means regular bathing, brushing, and cleaning.
Sadly, Dobermans are one of those dog breeds who hate being bathed. Their stubborn character is the one to blame.
Which shampoos to use when they finally get in the tub? How many times per month, or year, should I wash my Dobie? What kind of shampoos are there on the market? Does human shampoo make dogs clean or will it cause further problems? These and many other questions will be answered down below.
Here are our top 8 best shampoos for Doberman Pinschers!
Top 8 Best Shampoos For Doberman Pinschers
Editor's Pick
Veterinary Formula Clinical Care
Key Benefits:
hypoallergenic shampoo

no dyes, fragrances, or harsh chemicals

tearless formula

won't wash off flea and tick treatments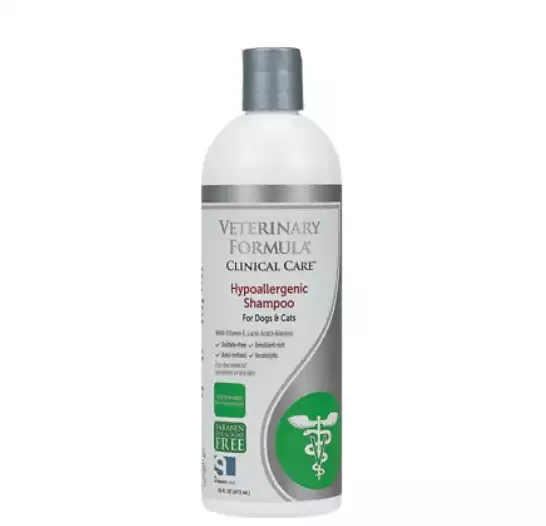 Hypoallergenic dog shampoos are a safe choice to make when you have a dog sensitive to pretty much everything. We recommend you try several ones until you find the ideal, but better start with Veterinary Formula Clinical Care. There's a huge chance you won't even make it to check out the other since this shampoo promises a lot!
Veterinary Formula guarantees their recipe for this hypoallergenic shampoo doesn't have any chemicals that might cause skin issues, as well as non toxic dyes. It's perfectly suitable for sensitive skin and dogs with allergies. In fact, one of the ingredients is lactic acid, responsible for keeping the skin's moisture intact.
If your Doberman is suffering from dry or irritated skin, a few uses of this shampoo should calm down the condition and restore pH balance.
The reason why we recommend Veterinary Formula is their tearless formula without sulfates, fragrances, dyes, or parabens. Using this dog shampoo won't wash off flea and tick treatments.
Burt's Bees Hypoallergenic Shampoo
Key Benefits:
contains shea butter for moisture

honey keeps the coat shiny

no sulfates, colorants, or essential oils

97% natural ingredients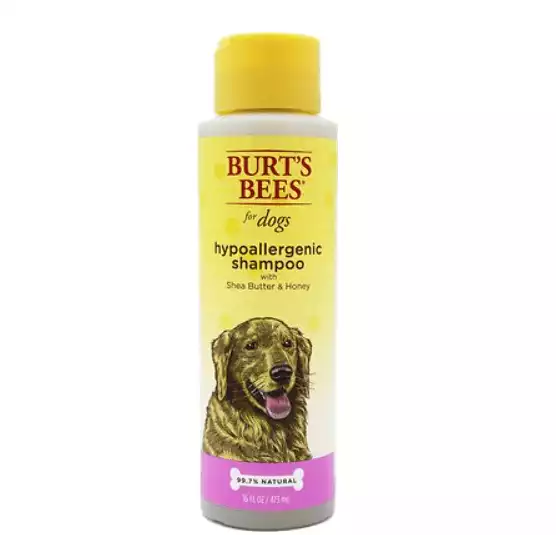 Raise your hand if you've heard of the Burt's Bees brand. Well, of course, you did! After all, it's one of the most-recognizable brands carrying all sorts of care products, even dog shampoos. Today, we're presenting their hypoallergenic dog shampoo. This is a gentle cleanser made using natural ingredients, suitable for gentle skin.
We'll always recommend a natural shampoo made with shea butter, a true gem of nature. In case you didn't know, shea butter is comfort food for the skin. It helps with rehydration and keeps the skin elastic and soft to the touch. Also, the honey used in the formula makes sure the coat remains super shiny. This is a pH-balanced formula that contains no colorants, sulfates, or essential oils.
The entire formula was created using 97% natural ingredients, making sure the dogs don't get a dose of harsh chemicals. This is a cruelty-free formula made in the USA. Support local products and choose natural ingredients. Choose Burt's Bees as the best shampoo for Doberman in your life.
4-LEGGER Hypoallergenic Shampoo
Key Benefits:
featuring lemongrass and aloe vera

100% natural ingredients

has calming and soothing properties

non-toxic, GMO-free, and free from parabens, sulfates, and chemicals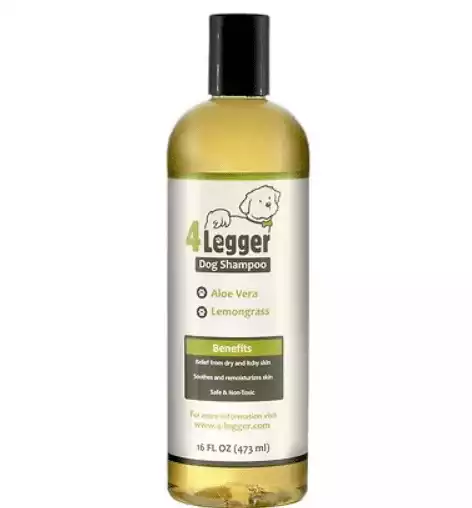 Featuring aloe vera and lemongrass, the 4-LEGGER hypoallergenic shampoo is one of the best products for soothing and calming down. Remember how we mentioned certain pet products can calm down the dog just enough so you can control it in the bathtub? 4-LEGGER is one of those shampoos!
This is a completely natural and organic shampoo, free from artificial and synthetic chemicals. Just lather it all over your dog's coat without any guilt. Rest assured you're using only what's good for your Dobie.
Lemongrass, one of the main ingredients, is a natural cleanser with its antifungal, antibacterial, and pest-deterrent properties. Aloe vera calms down the dog's skin, preventing redness, dryness, allergic reactions, and itchy skin. Also, there are organic and essential natural oils that will feed the skin and make your Doberman's coat appear shiny.
This is a concentrated formula that will last you a while. You can place an order safely, knowing you're buying a formula approved by vegans, completely free of toxins and 100% good for nature.
Nootie Coconut Lime Verbena
Key Benefits:
coconut, verbena, and lime scent

no parabens, sulfates, or soap

100% natural ingredients

numerous benefits from the grapefruit seed extract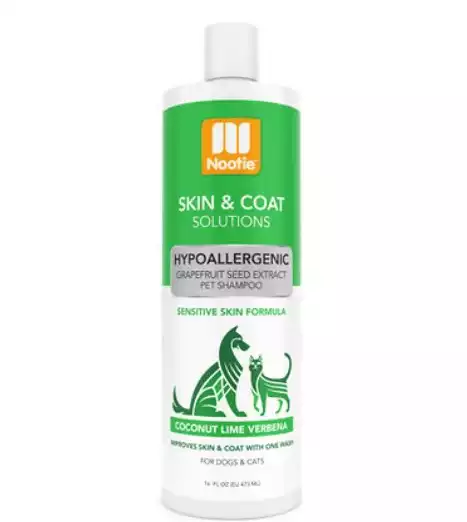 Not only does it fight germs and bacteria, but the Nootie dog shampoo is also excellent at cleaning your dog's coat and hydrating its skin. The formula features an all-natural grapefruit seed extract that prevents allergic reactions and infections.
The reason why we recommend Nootie dog shampoo is because it's a soap-free base. Soap-based shampoos can only irritate the skin and cause painful eczema. Better go with parabens and sulfates-free options like Nootie! It features all-natural ingredients making sure all your dog needs are satisfied in just one bath.
The shampoo is even suitable for cats and can be used even if your dog has some sort of flea or tick treatment.
Earthbath Shed Control Shampoo
Key Benefits:
contains natural antioxidants and moisturizers

stops excessive shedding

deodorizes the coat

leaves the coat super soft and skin moisturized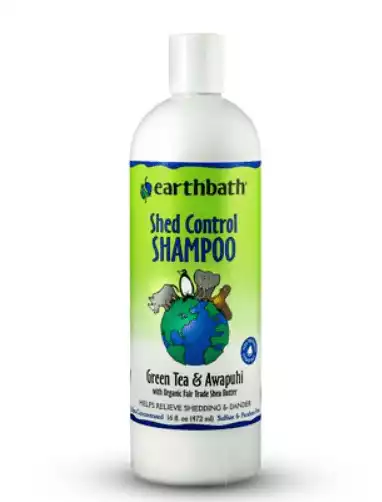 With its shed-control and deodorizing properties, the Earthbath Green Tea & Awapuhi shampoo is one of the best products you can find on Chewy and Amazon. It won't only stop the excessive shedding, but it will make your Doberman smell great too! You'll want to dig your nose in their silky soft coat.
The Earthbath Shed Control shampoo doesn't only prevent excessive shedding, it's also beneficial to put dandruff under control and stop skin irritations. Did you know that most people aren't allergic to dog hair? It's dandruff that triggers allergic reactions! The formula gently nourishes your dog's skin with a skin food combination of awapuhi, omega-6 fatty acids, shea butter, ginseng, and great tea.
The coat is left silky and shining, with restored pH balance.
SKOUT'S HONOR Probiotic Shampoo
Key Benefits:
cruelty-free, sulfate-free, paraben-free and non-GMO

enriched with avocado for a beautiful coat

features live, colony-forming probiotic kefir culture

suitable for all dog breeds, and coat styles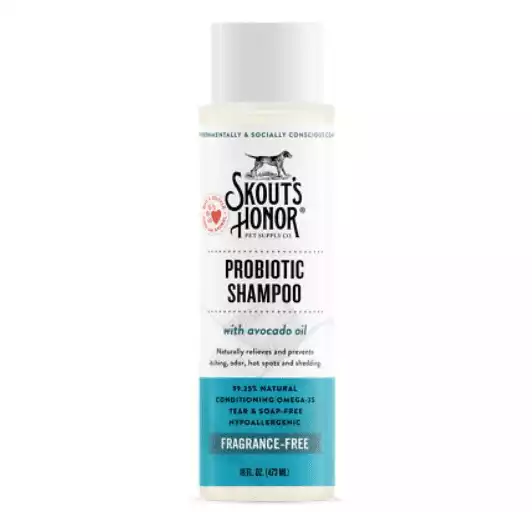 People at SKOUT'S HONOR claim you can bring out the beauty in your pup by using their Probiotic shampoo. We actually agree! This shampoo has some incredible properties you'll fall for. It's one of the rare, if not the only, dog shampoo made using probiotic kefir culture. Kefir culture is usually quite beneficial for one's digestion, but it can be used to calm down hotspots, redness, dry and patchy skin, and to control bad odor.
This is a completely cruelty-free, sulfate-free, paraben-free, and non-GMO recipe that has no colorants, or dyes. The shampoo is suitable for all dog breeds, sizes, and coat types. Enriched with avocado, the SKOUT'S HONOR will truly make your Dobie's coat look spectacular.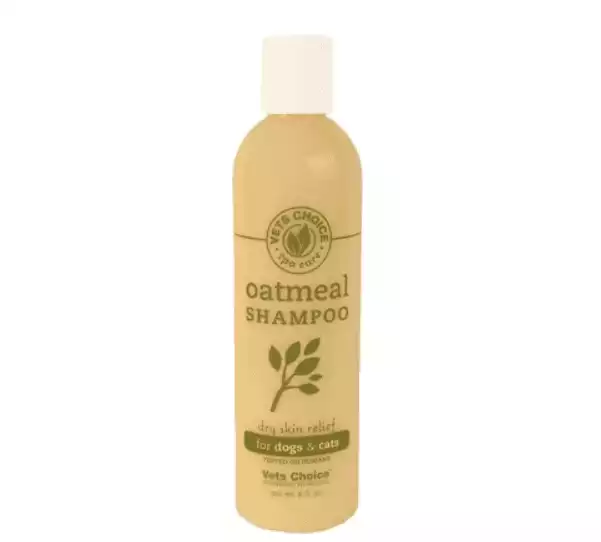 If you suffer from dry skin, you probably know that oatmeal isn't only for your tummy. The Health Extension people have recognized oatmeal's benefits and included it in their shampoo for dogs.
This shampoo calms down and moisturizes the dog's skin. If your dog is suffering from dermatitis, this shampoo will be its best friend. The shampoo leaves a subtle scent, refreshing your dog and making your cuddle sessions more enjoyable.
Paw Choice Waterless Dry Shampoo
Key Benefits:
pomegranate and mango scent

no water or rinsing are required

just massage it into your dog's coat

the dog will smell great in between baths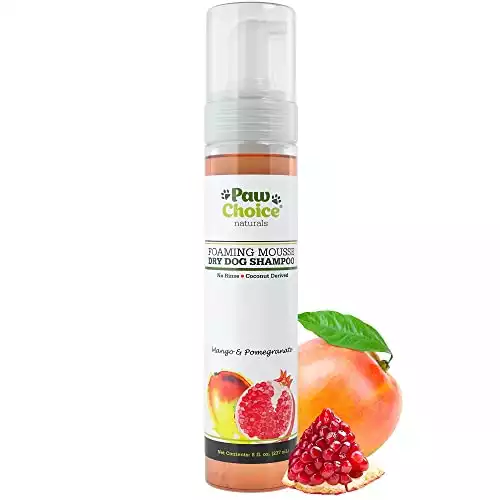 What to do if your dog gets dirty between two baths? Overbathing is a serious issue and you shouldn't do it. But, sometimes your Dobie just… stinks!
This is where Paw Choice Waterless dog dry shampoo comes to help!
This dry shampoo has a mousse texture and it's suitable for all dogs and coat conditions, including sensitive skin. You won't need any water to apply it. Rinsing isn't required either. Just pat it onto your dog's coat and let it air dry. Your Dobie will smell good up until it's time for a new bath.
The Paw Choice dry shampoo features a pleasant pomegranate and mango scent. It's really handy, especially when you can't wash your dog after surgeries, or want to keep its hygiene when traveling.
Popular Types Of Doberman Pinscher Shampoos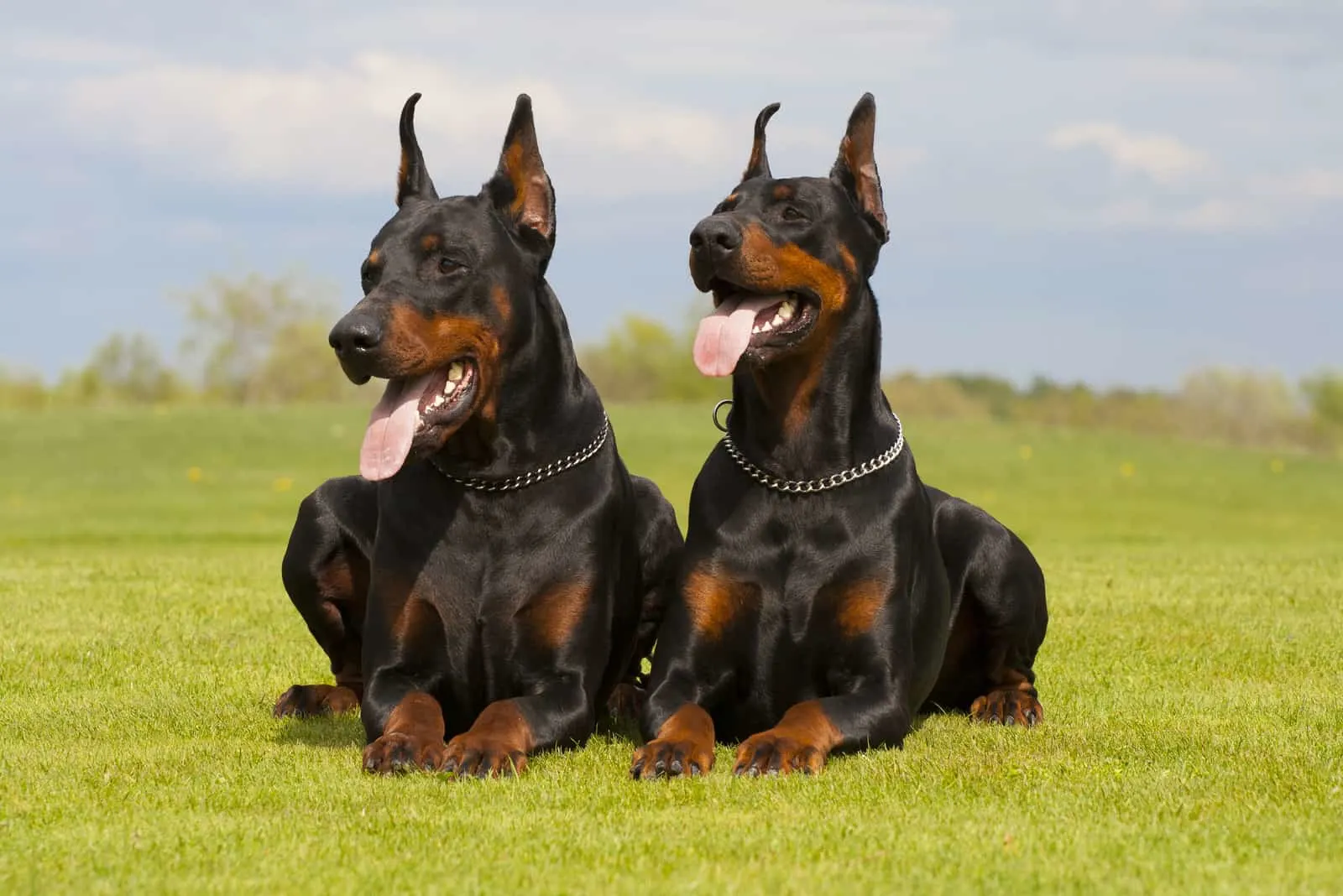 But, before we go into which dog shampoos to use and which not, we should teach you a thing or two about a Doberman's coat type, as well as possible skin issues that might occur with improper care. Every dog has sensitive skin prone to some diseases that might cause even more complications.
Some dog breeds have more sensitive skin, some have less. And it's absolutely normal. When getting a dog, you should be aware of which skin type your dog has. Only then can you buy grooming products like shampoos that will benefit your pup.
Now, let's check out the most common shampoo types on the market.
Skin Care Shampoos
Doberman Pinschers are tough, strong, and stubborn doggos. Their rough appearance does not reflect on their skin. In fact, a Doberman's skin is fairly delicate. Even though they don't have major skin problems, they still should have their skin and coat well taken care of.
Skin issues can be caused due to numerous factors, but that subject is too detailed for this occasion. What you can do is pick dog shampoos with skincare properties. Such products usually have aloe vera, chamomile, and other healthy ingredients to promote healthy skin.
However, you should research the brand and see whether the aloe vera listed will actually do some good. If you can, go with 100% natural shampoos from small brands.
Soothing Shampoos
If you own or like Dobermans, then you're aware of their personality trait which bugs most people. Yup, they're stubborn doggos! So stubborn they literally hate being washed, bathed, or sprinkled with water! An honest word, there are even dog groomers that don't take in Dobermans, as well as those who can't manage to get them in the tub.
So, getting them in the tub successfully is something you should be proud of. To help you with that, we have soothing shampoos!
Soothing shampoos are exactly what they say they are: shampoos that have a scent that makes someone, in this case, a dog, feel relaxed. Think of it as aromatherapy for dogs.
Still, they're not magical and won't make your dog love bathing, but they will make him calmer when it's time to enter the tub.
Shedding Shampoos
Even though they're short-haired, Doberman Pinschers still shed massively. It's a common misconception that short-haired dogs are generally low-maintenance. Sadly, our pal the Doberman isn't. In fact, they're pretty high-maintenance.
Their hairs will be everywhere on your furniture, but they might not be that noticeable since they're dark. Still, you will need to clean up the place and try to reduce the shedding. That's why shedding shampoos come in handy!
These shampoos won't stop shedding completely, but they will reduce it a bit and put it under control.
How To Maintain The Perfect Doberman Pinscher Coat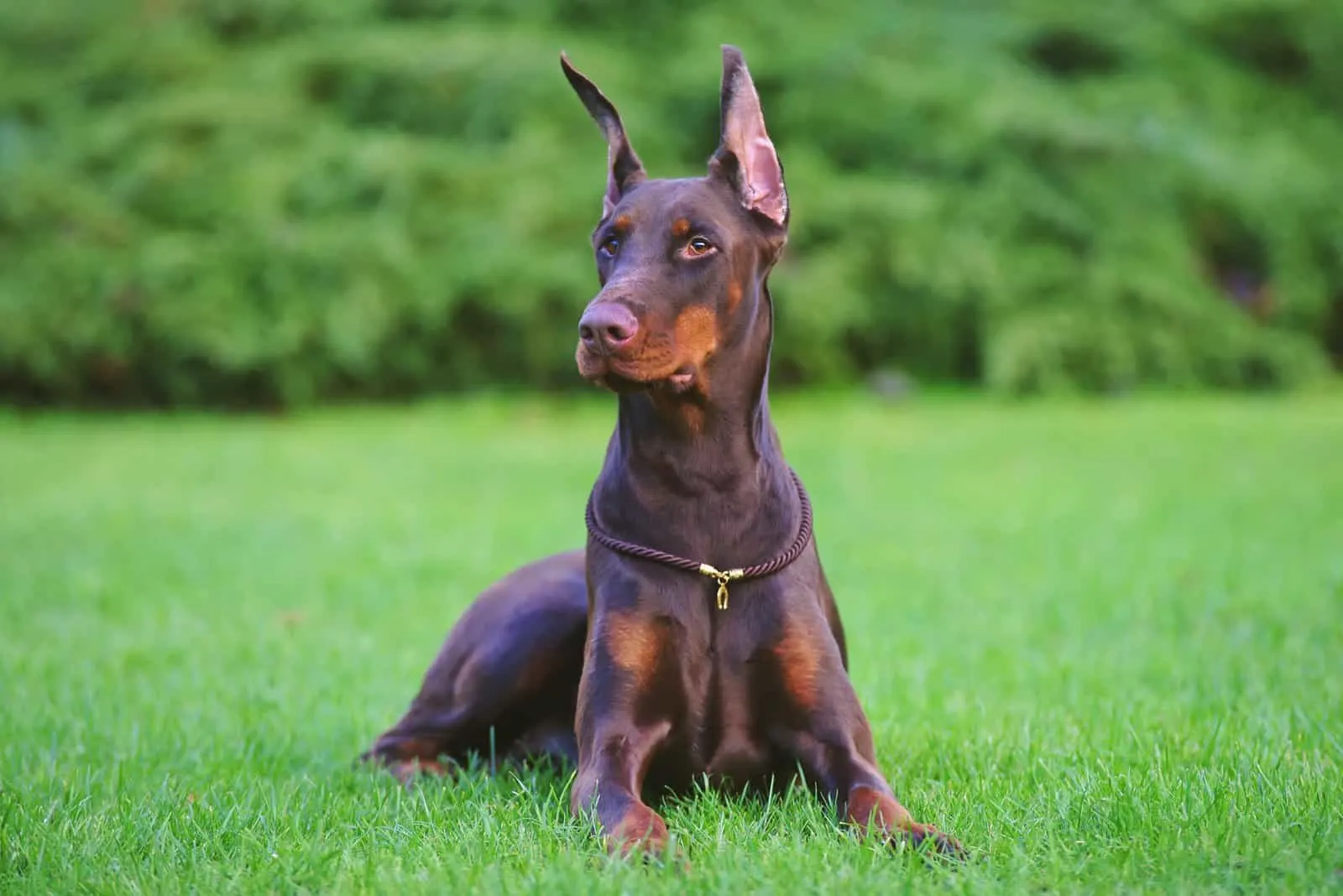 Keeping a Doberman Pinscher well-groomed isn't a big problem since these dogs are very low-maintenance. If you follow these tips, your Dobbie will have a perfectly healthy and shiny coat.
Keep A Regular Grooming Schedule
Short Haired Doberman Pinschers shed as much as any other dog breed, and thus require a regular grooming schedule.
Still, you won't need to brush them all the time, nor will you find loose hair everywhere around the place.
We recommend you brush your Dobbie with a high-quality brush once a week, so you achieve the perfect coat condition.
Look For Skin Or Coat Changes
When grooming your Doberman, you should always inspect your dog's hair and skin for any changes. Redness, irritation, or dryness of the skin is a sign there is an inflammation the vet should address.
Skin problems are often a sign of allergies. Try picking another shampoo if you suspect that's the reason for dry skin. If you're still having issues, consult your vet because sometimes the roots of the problem can be far more severe.
Disclaimer: Every Doberman owner should let his dog have high-quality dog food rich in omega-3 and other fatty acids to ensure the coat looks super shiny, and the skin stays soft and moisturized.
FAQ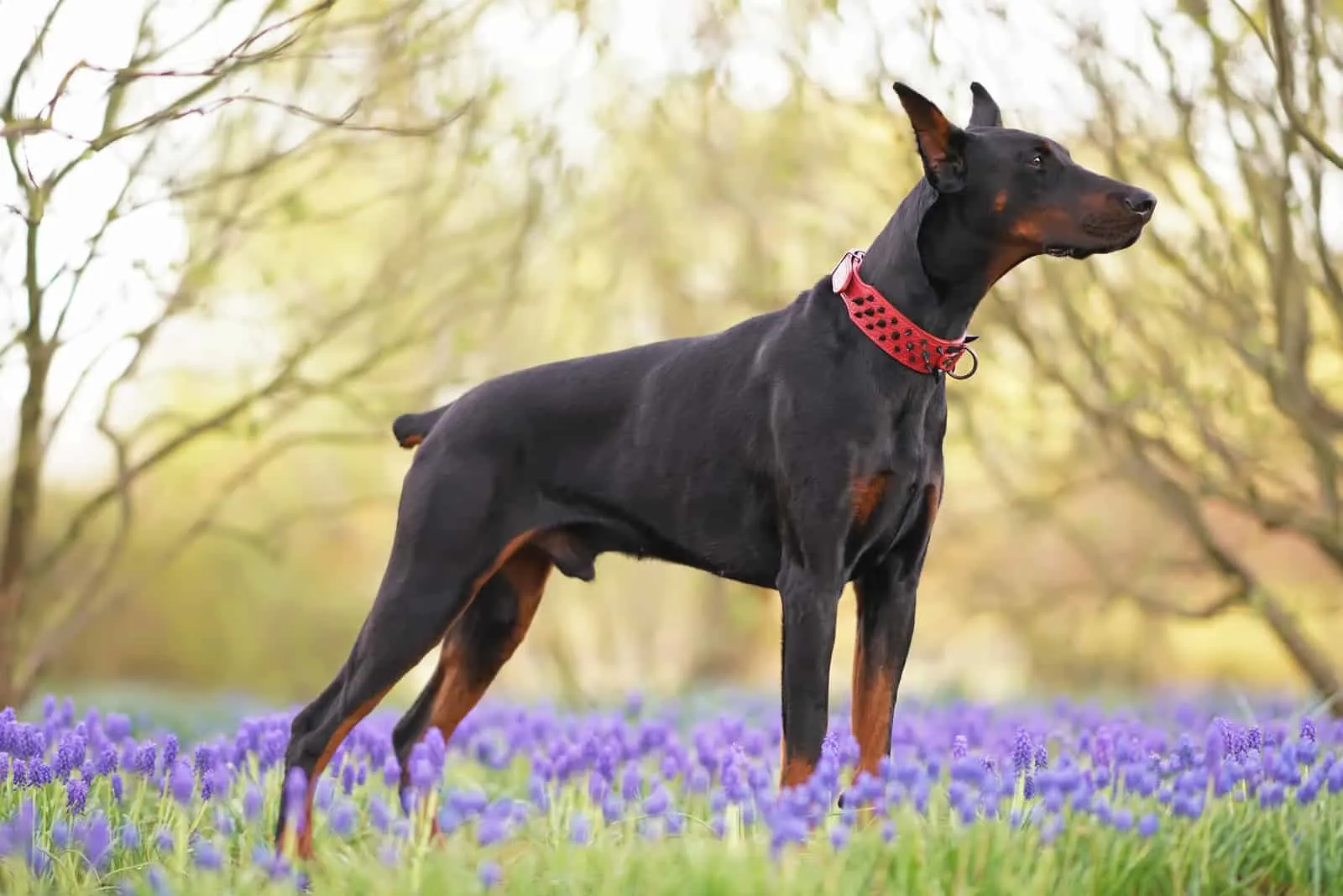 Bathing A Doberman: How Often Should I Do It?
Consider yourself a lucky dog owner, because Doberman Pinschers are dogs who aren't naturally smelly. They're clean pups, so you can have an irregular bathing schedule.
Most Dobbie owners bathe their dogs every 4 to 6 weeks. However, if your dog gets dirt on their outdoor adventures, you can bathe it outside the schedule. Just make sure you don't over bathe them and strip down their natural coat oils.
Dead Hair In The Drain? Here's How To Save Your Plumbings!
Even though their short hair isn't noticeable around the house, it can still cause major issues with blocked pipes and drains. Insert a piece of steel wool in the drain when your dog bathes. It will catch the loose hair and keep your pipes free from the Dobbie coat.
Conclusion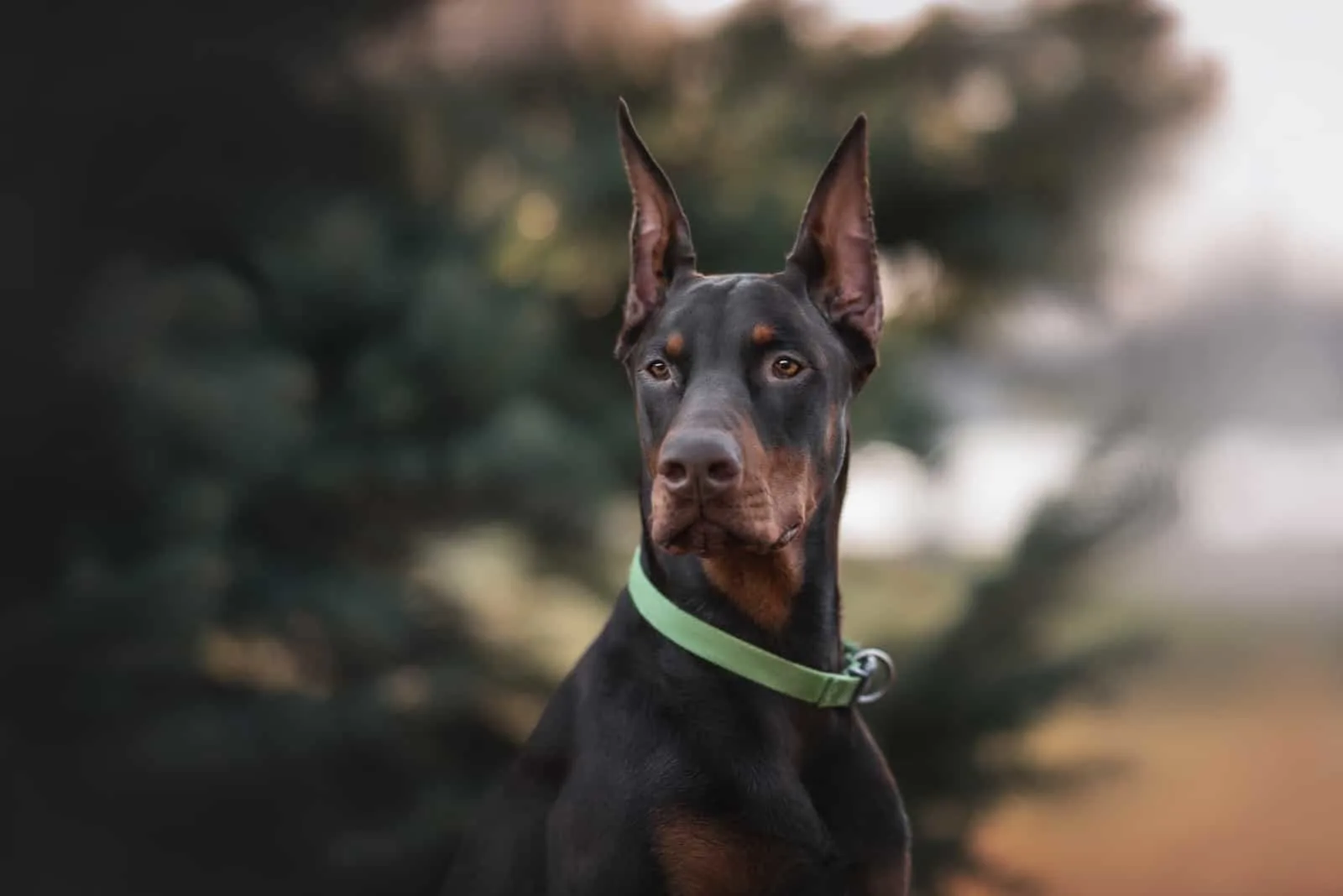 This is it. Now you know HOW to bathe your Dobie, WHEN, and WHAT to use. Did you ever think there's so much science behind bathing a dog? Neither did we! But, when you dig deep into the matter, you'll find that not everything you believe it's good for your dog actually is.
Bathing should be a routine that is supposed to bring the owner and the dog closer. Even though Dobermans are dogs that hate being washed, you can still make this experience a bit more enjoyable. Make a game out of it! Choose soothing shampoos, and be gentle.
Of the 8 best shampoos for Doberman on our list, which is the one you're trying out first?