Dobermans are known as a scary and intimidating dog breed. Unfortunately, this reputation is the cause of why many of them end up in Doberman rescues and animal shelters.
If you're looking to become a Doberman owner, you might be looking to adopt rather than shop. By doing this, you'll be saving a dog's life – and you'll save some money.
To help you out, we've listed the top 10 best Doberman rescues for adoption where you can adopt your future family pet. This can help you narrow down your search for a good adoption center, and to know what places are reputable.
Top 10 Best Doberman Rescues for Adoption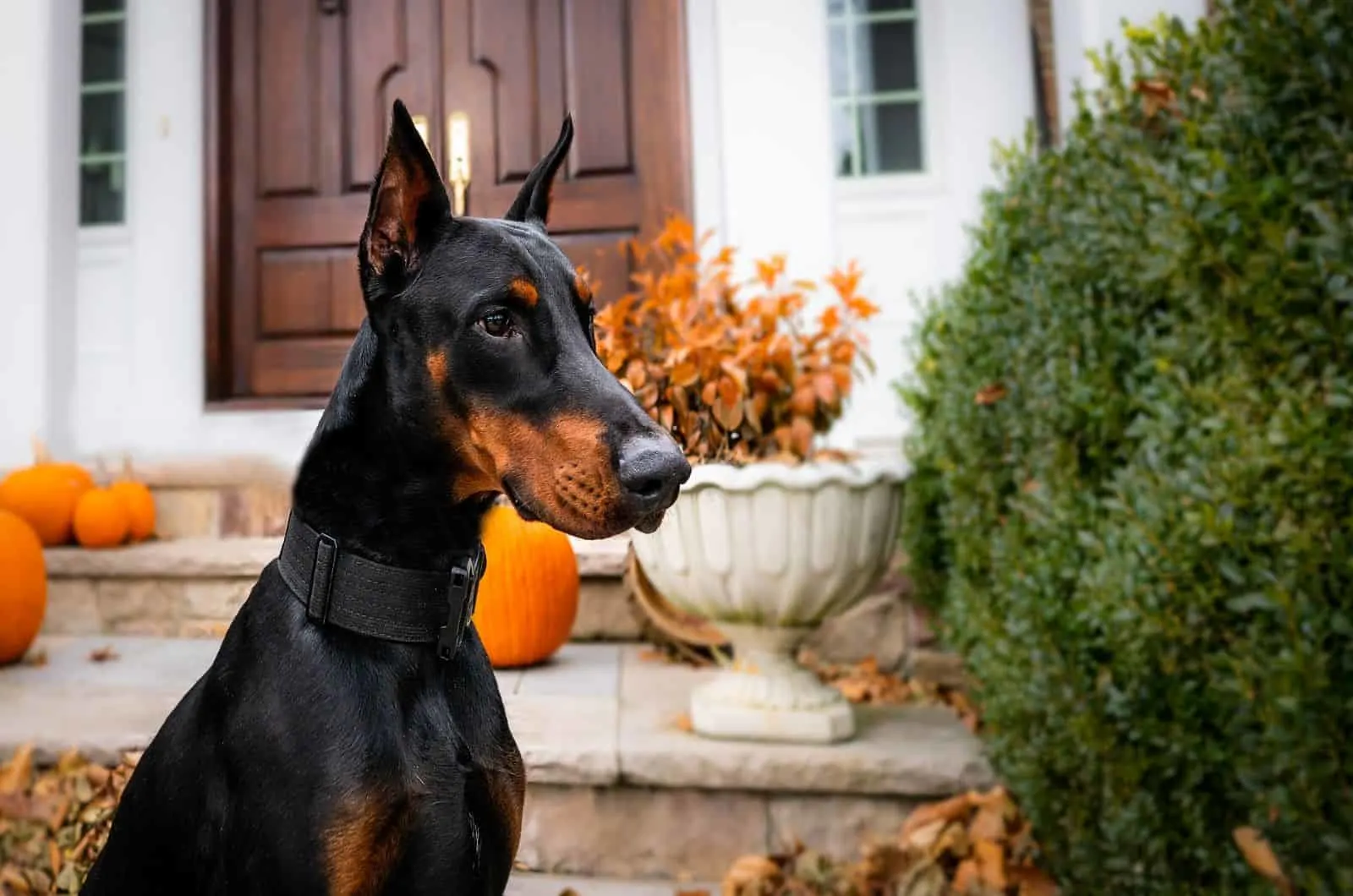 While there are many Doberman rescues in the country, not all are equally reputable and ethical. We've compiled a list to help out aspiring Dobe owners, so they'll know where to look. All of them specialize in this dog breed and help abandoned Dobermans.
Here are the top 10 best Doberman rescues for adoption in the US:
1. United Doberman Rescue and Canine Castaways of Minnesota (UDR) – Minnesota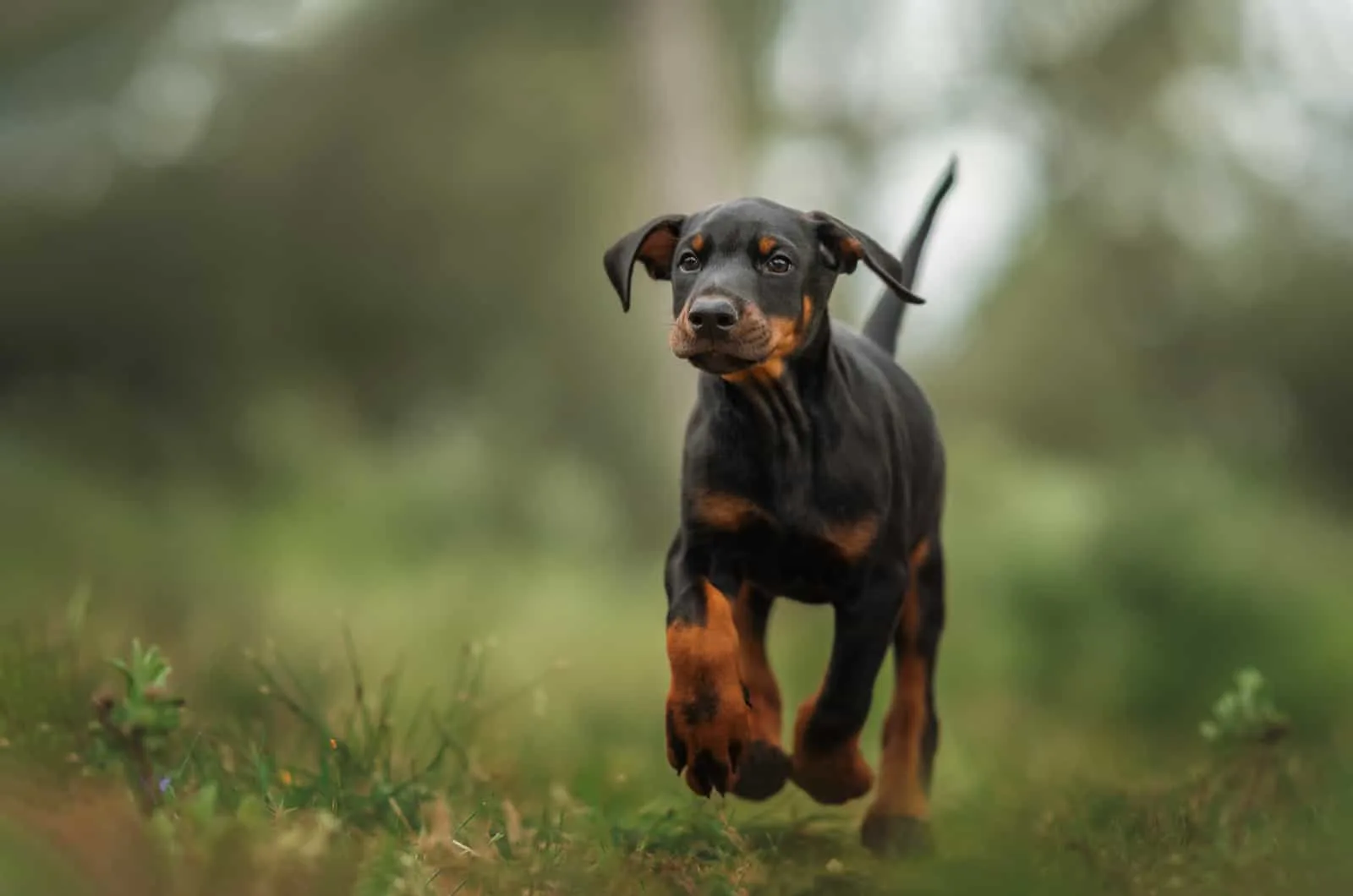 The UDR is a rescue home that all residents of the Minnesota area might consider. They have been experts in Doberman rescue for more than four decades.
They try to rescue all Dobermans, Doberman crossbreeds, and even other dog breeds they find from abandonment and certain death. They care for these dogs until they are able to find adequate foster parents.
They make sure all of their pups are fully vetted, free of intestinal parasites, vaccinated, as well as spayed or neutered. If they locate any health issue, such as heartworms or even hip dysplasia, they'll address it during adoption. You'll have the best possible insight into your pup's state of health.
This rescue is a part of the Doberman Pinscher Club of America's (DPCA) Code of Ethics. This is an important fact for anyone looking for a reputable Doberman rescue.
A fun option that UDR has is its online blog that showcases video clips and reports from many of its rescue programs. They also post many useful blogs about taking care of Dobermans, as well as adorable photos of dogs they are adopting.
On their website, you can also find many testimonials and photo evidence of successful adoptions.
2. Doberman Assistance, Rescue, and Education, Inc. (DAR&E) – Maryland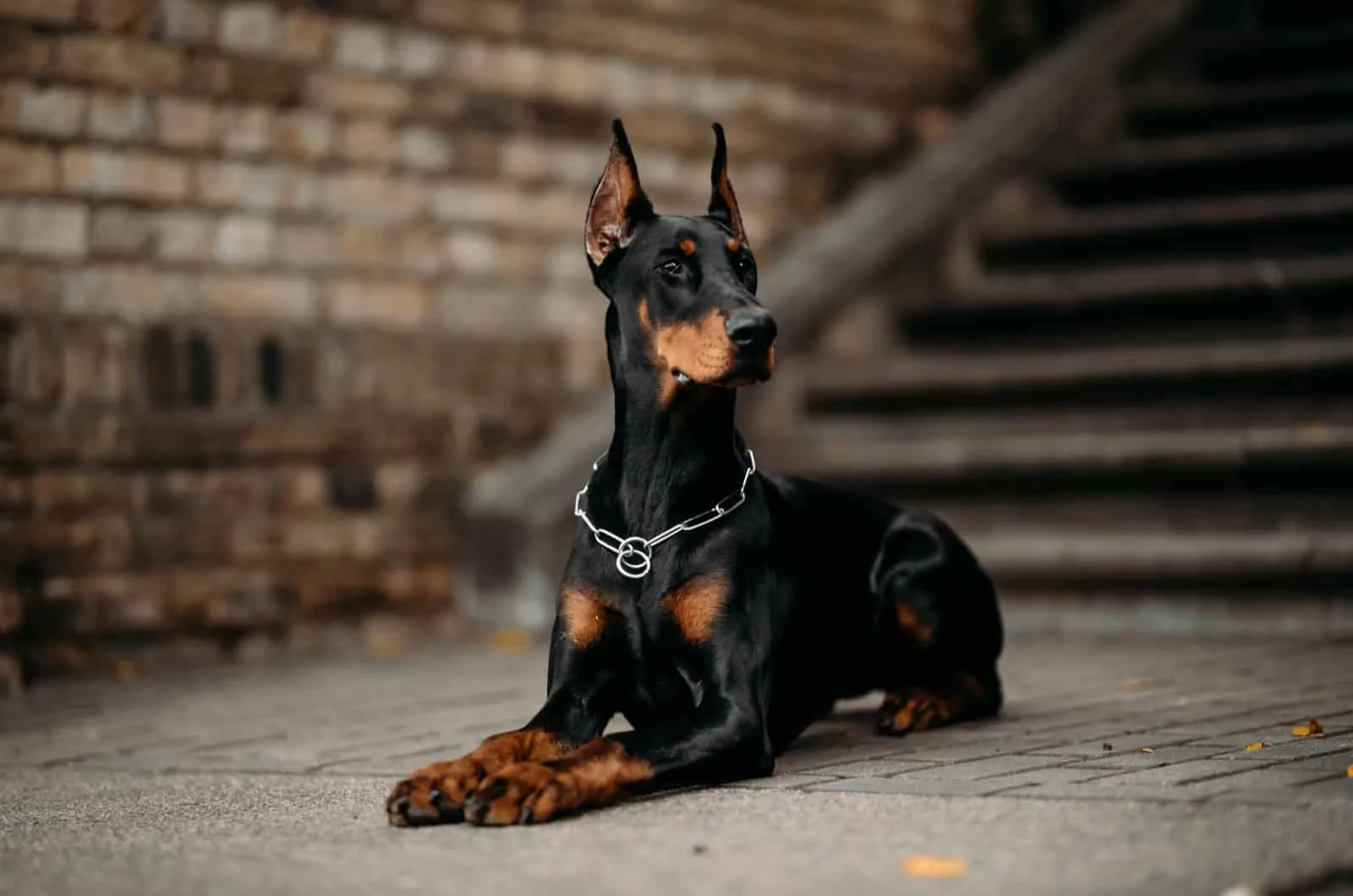 DAR&E is a well-known non-profit organization that has been in the industry since 1998. It provides pet rescue in areas of Maryland, West Virginia, and Washington DC. Throughout its two decades of operation, it has helped find new homes for more than 1800 Dobermans.
The adoption process at DAR&E is quite straightforward, but there are a few things you need to be aware of. One of them is that you cannot adopt Dobes if you have children under the age of 10 in your household. Another one is that you have to have a fully fenced yard if you want to adopt a younger Doberman.
Also, DAR&E conducts background checks on all Doberman foster parents at their organization. If you want to foster a Doberman from them, a volunteer will schedule a visit every now and then to ensure the place is suitable for Doberman dogs.
When it comes to adoption fees, their Dobermans cost $450 if they are up to two years old. Dogs aged between two and six will cost $350, and older dogs will only cost $250.
Also, they give an advantage to the people living in the area, so if you live near Maryland, this might be the perfect Doberman rescue for you.
3. Doberman Rescue Unlimited (DRU) – New Hampshire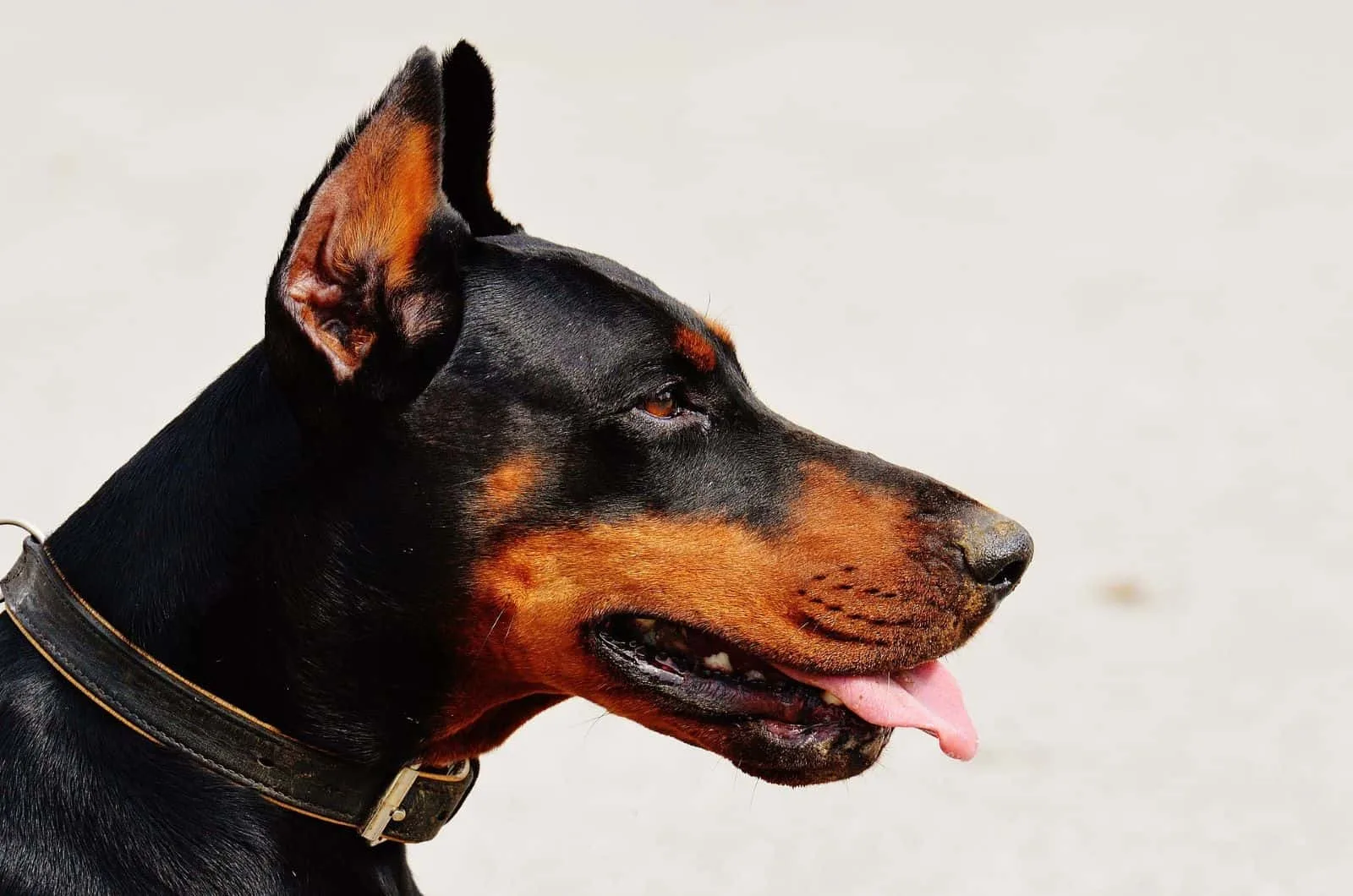 DRU is a charitable rescue organization that has been working since 1988. For more than three decades, they have rescued and provided homes for more than 3000 Dobes.
While the organization has a residence in Sandown, New Hampshire, it covers a wider area. In fact, they'll cover the entire New England region.
DRU has a team of pet lovers that work as volunteers dedicated to helping the Doberman breed. They always have several dozen Dobermans that they're taking care of. These pups come in all ages. Sometimes, they even have Doberman puppies ready for adoption!
Keep in mind that as this is a non-profit organization, they do have significant adoption fees to cover the costs of taking care of their pups, as well as microchipping. They require donations of between $250 and $500.
At the same time, they require that you've read and fully understood their one-page blog post on the Introduction of the Doberman Pinscher. This article helps people understand what it's like owning a Dobe, and what risks you're taking.
4. Illinois Doberman Rescue Plus (IDR+) – Illinois
IDR+ is committed to rescuing not just Dobermans, but other dog breeds as well. They take care of animals taken by animal control organizations and owners who no longer want their dogs. While their main area of operation is Illinois, they'll also take dogs from local areas.
Each animal that IDR+ adopts – especially Doberman Pinschers – is fully vaccinated, microchipped, and spayed or neutered. They conduct full health tests on all of their animals as well, so they can inform you if there are any health concerns.
The organization stays in contact with all adoptive families to make sure their Dobermans are taken care of, so they don't end up on the streets or abused once again.
Because of this, they only agree to give their dogs to families that live no further than four hours away from Chicago. They are against shipping their dogs, and they want their adoptive families to stay nearby.
Also, there are several more requirements if you'd like to adopt a Doberman from IDR+. For example, you cannot have kids younger than 7 years old in your household, and all other pets you might have need to be neutered or spayed. Also, none of your household members can be convicted felons, no matter the type of felony or misdemeanor.
At the same time, your entire household has to be prepared to have IDR+ volunteers conduct scheduled home visits from time to time.
5. Georgia Doberman Rescue (GDR) – Georgia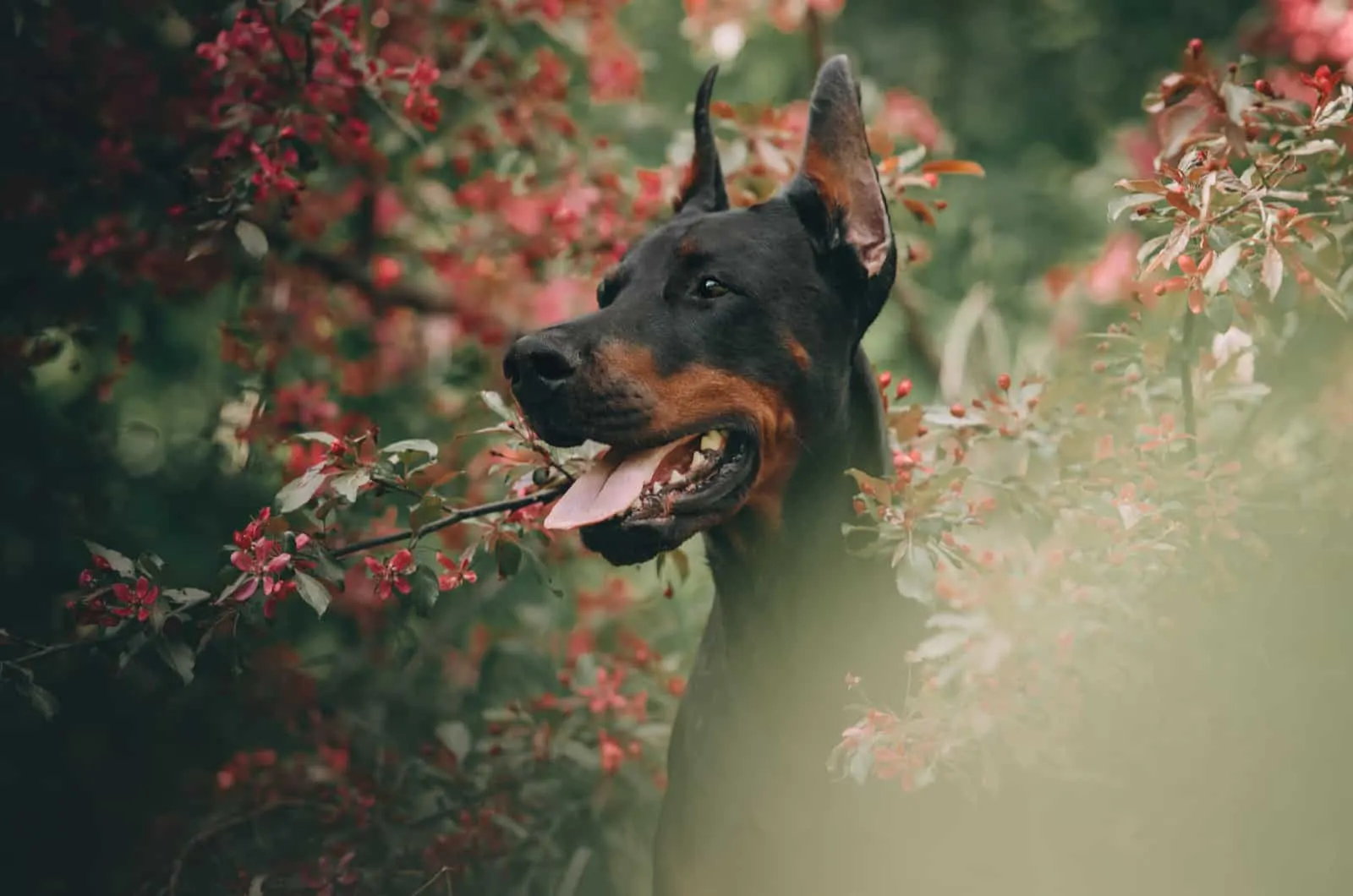 GDR is a rescue home from Georgia that tries to save the Doberman Pinscher breed and all abandoned puppies. The organization funds itself from donations that arrive at its PO box, along with adoption fees and occasional fundraisers.
GDR keeps its in-house dogs until finding them new foster families or forever homes. This is quite like most other best Doberman rescues for adoption. They provide all their dogs with necessary veterinary care such as vaccinations, microchipping, neutering, and spaying. They'll even conduct surgeries when needed.
If you opt to adopt a Doberman from GDR, you'll have to be prepared for a multi-layered background checking process. This is to ensure that their puppies find adequate homes that are well-suited for Dobermans.
The adoption fees depend on the age of their dogs. Dogs that are up to 18 months old will cost $374, dogs up to 7 years of age are $275, while older dogs will cost only $175.
6. Doberman Rescue of New Mexico (DRNM) – New Mexico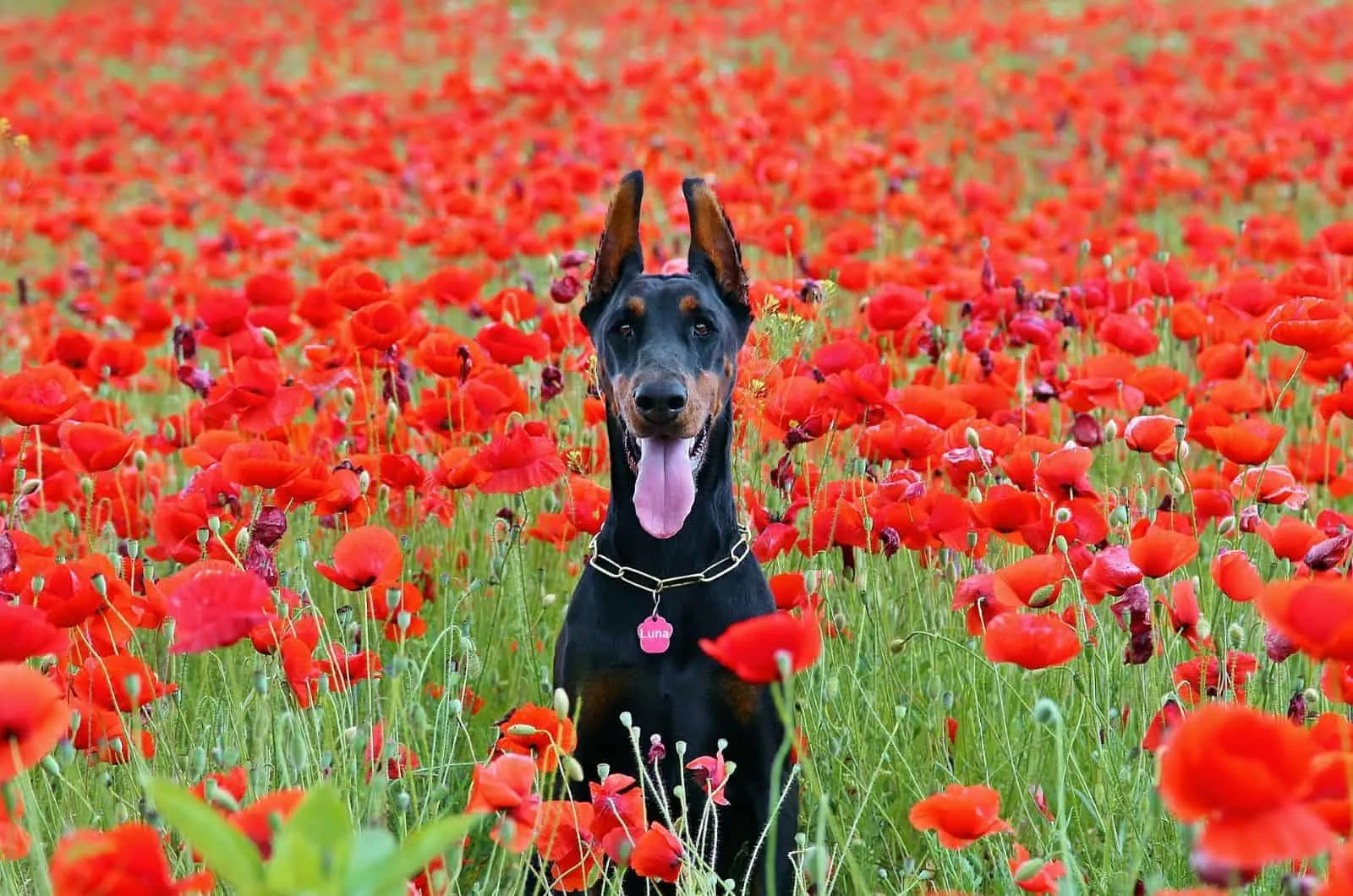 The DRNM is a great Doberman rescue for people living in the New Mexico area. This rescue organization is dedicated not only to saving Doberman Pinschers in need, but also to ensuring their future well-being. This includes even the time after they are adopted into their new homes.
Most of their Dobermans are saved from kill shelters, but some were also brought in by owners who no longer want them or could take care of them. They vary in age, and most are between 8 months and 4 years old – but they have seniors and puppies as well.
The good news is that the DRNM offers some of the lowest adoption rates in the US. Most of their young Dobermans are given away at a fee of $300, but seniors can be $150 or even less.
All of their dogs are health screened, vaccinated, and spayed or neutered, as well as tested for heartworms. They are also microchipped. Their website is always up to date, and you can apply to either adopt on it or adopt in person.
7. Doberman Pinscher Rescue of PA, Inc. (DPRPA) – Pennsylvania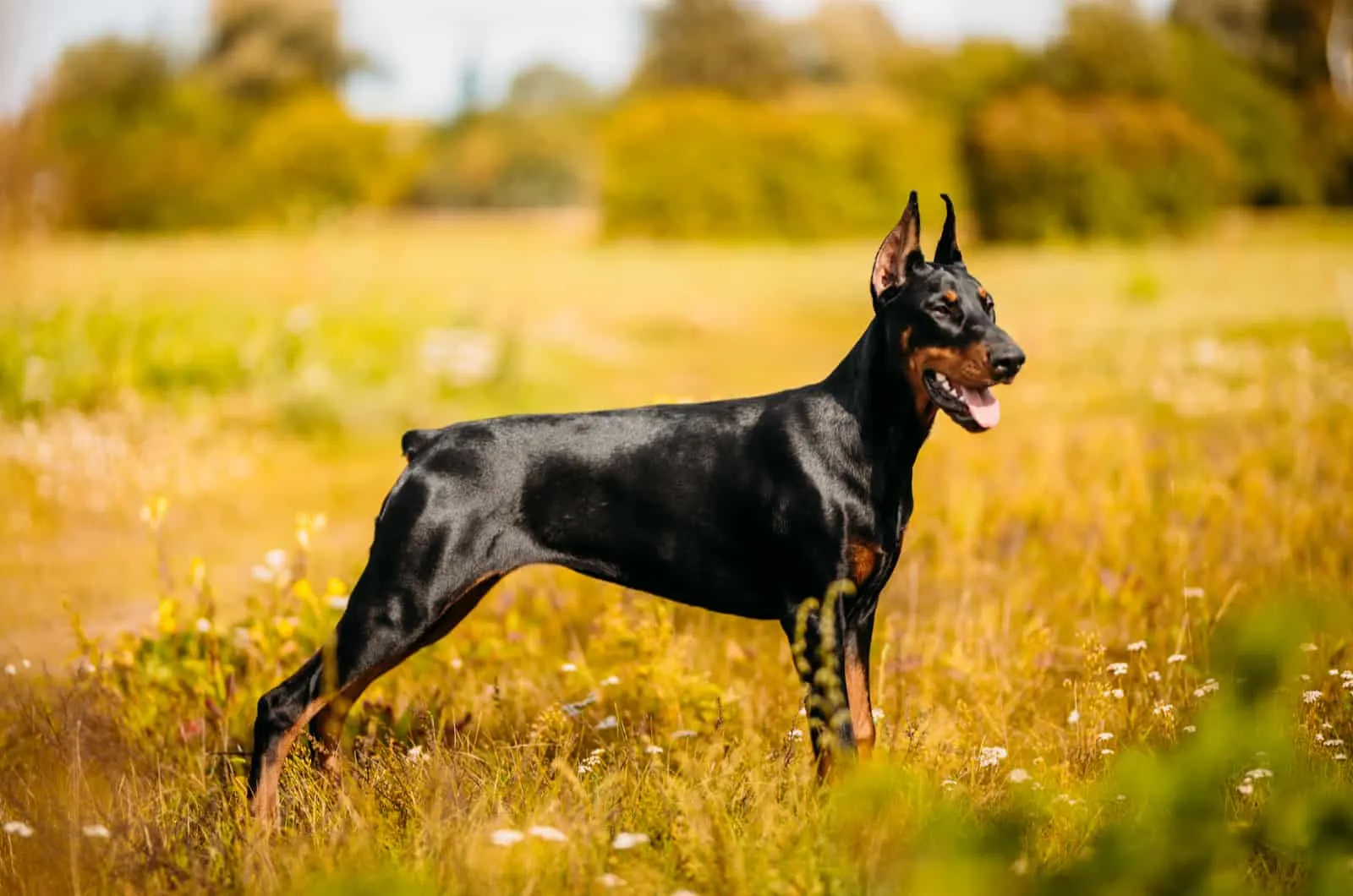 This is an amazing Doberman rescue located in the Pennsylvania area. Their goal is to rehome every Doberman that is in need of help.
DPRPA is funded by donations as well as membership fees by the members of their newsletter called Doberman Dispatch.
They have a straightforward adoption process, but if you decide to adopt from them, expect to go through a thorough screening process. You start everything by filling out their online adoption application form, which will be a preliminary background check.
After that, a caseworker will interview you and contact all of your references. This will help them determine if you're the right fit for one of their dogs.
If you are approved, they'll either call you or send you an email giving you an update. They might recommend some of their dogs over the others if they think certain Dobies are a better match for you and your living situation. You can rest assured that their team of experts will give you the best pick possible.
If you want to learn more, their website is always updated and filled with many rescue stories, adopter testimonials, referrals, and other content that can help aspiring Doberman owners.
8. Hand Me Down Dobes (HMDD) – Ohio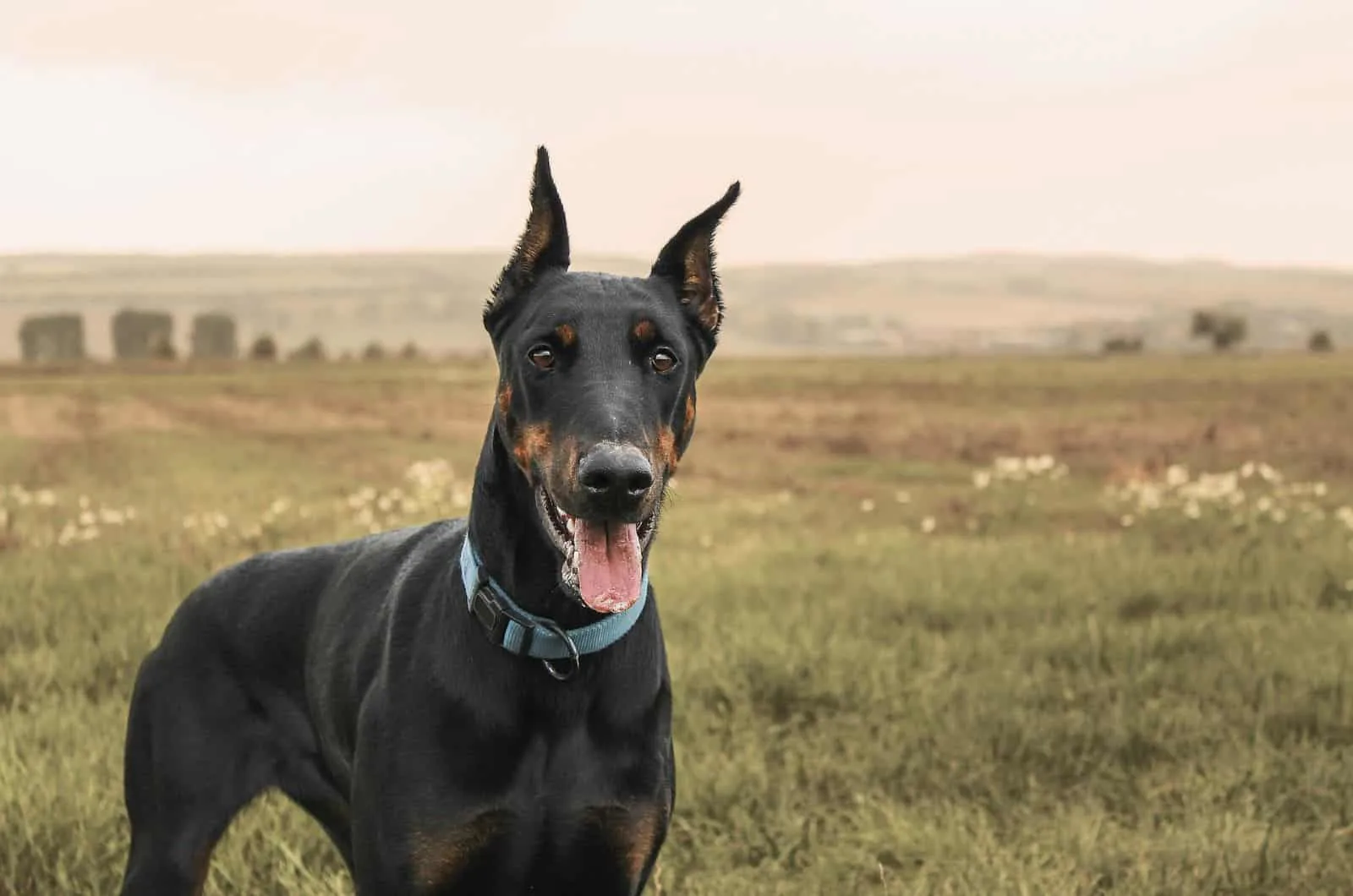 HMDD claims to be not just the oldest, but also the largest Doberman rescue in the state. They are located in Lewis Center, Ohio, and they were founded back in 1994. Their mission is to find forever homes for all of their Dobes, and this hasn't changed since their foundation date.
Just like most other best Doberman rescues for adoption from our list, HMDD is an independent non-profit rescue. Its workers – or rather, volunteers – are Doberman lovers who are willing to take care of this breed. They also have knowledge and experience when it comes to working with large dogs.
If you adopt from this Doberman rescue, be prepared to have scheduled volunteer visits. Because of this, they only accept adoptions from applicants living in Ohio, Western Pennsylvania, and Southern Michigan. Anything further than this is deemed too far.
When it comes to adoption fees, if you plan on adopting a puppy, be prepared to pay around $450. Dobermans between ages one and 8 will cost $350. Senior dogs are cheaper, and you can adopt them for $250.
If you decide to adopt from HMDD, you will have to enroll your Doberman in a positive obedience training class, and you must do that within the span of two months. This is to ensure that all of their pups are well-behaved and good ambassadors for the breed.
9. Desert Harbor Doberman Rescue (DHDR) – Arizona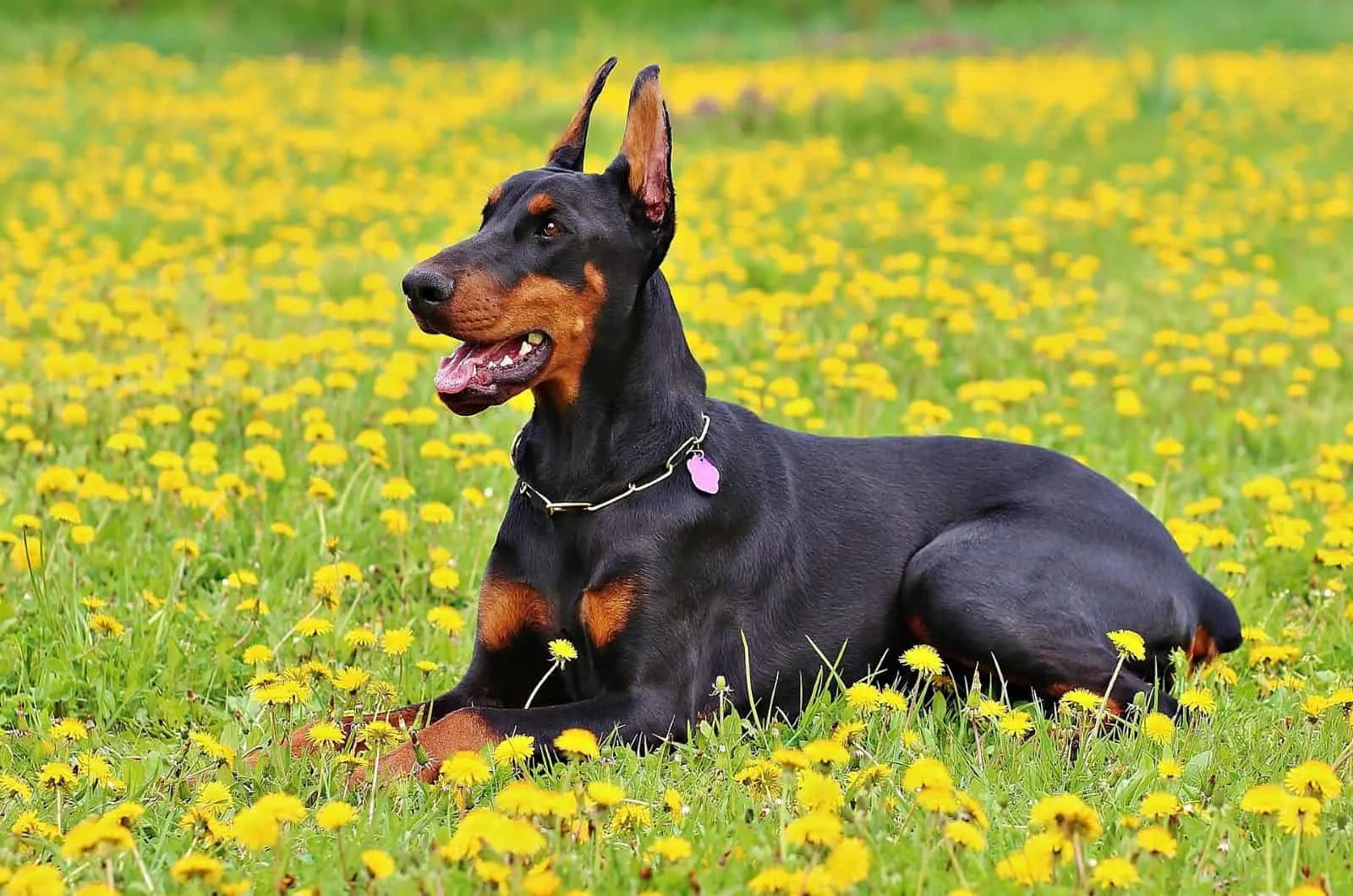 DHDR is a fairly young Doberman rescue as it was founded in 2009. Don't let this fool you, though – they are the first and the largest Doberman rescue in the area, with more than 100 members.
All of their volunteers come from various backgrounds. This includes veterinarians and experienced Doberman owners as well as adopters and foster caregivers.
They are led by a Board of Directors that lead executive-level management, which further leads the organization. Their Board consists of advisors and consultants, as well as managers. This makes them one of the better-structured Doberman rescuers in the US. All of the people on it are highly dedicated and experienced in the Doberman Pinscher breed.
They provide all of their foster parents with support, and are always willing to provide help when it comes to taking care of Dobermans they adopt. They are also partnered with many other organizations, including PetCo Foundation, Google for Nonprofits, and Best Friends Animal Society.
Their list of requirements is fairly long, and some of the conditions include that the adopter is legally able to enter a binding contract in the state of Arizona, that there are no kids younger than eight in the household, and that all of the pets you own are microchipped and licensed.
10. Last Hope Doberman Rescue (LHDR) – Texas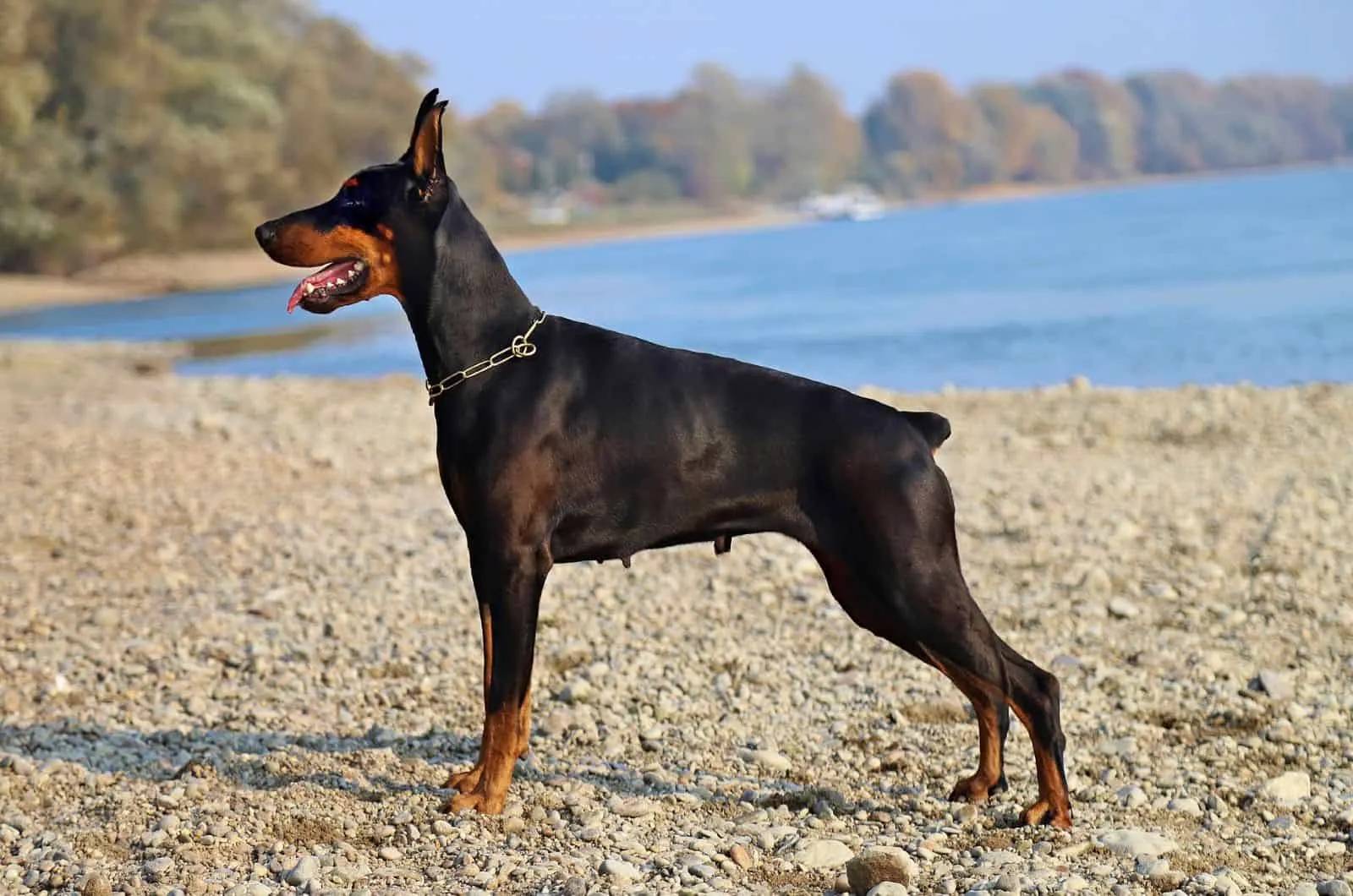 LHDR is an organization rescuing Dobermans from shelters all across the state of Texas, as well as in some parts of Michigan. Their goal is to help Dobermans that other rescues don't want to help. By doing this, they provide accommodation to dogs that would otherwise be left on the street or at a kill shelter.
This is a non-profit organization that works with volunteers and cooperates with many other rescues all across Texas and Michigan. They do all they can to find foster homes for all of their Dobermans, and they do so all over the state.
The adoption process starts when you fill out the online application. After that, they'll check your background and your references and conduct many phone interviews, and this will even include a phone visit from one of their volunteers.
Most of their adoption fees range between $300 and $450, which is pretty standard for best Doberman rescues for adoption. You may check their website or Facebook page for testimonials and Doberman-related news.
Other Doberman Adoption Sources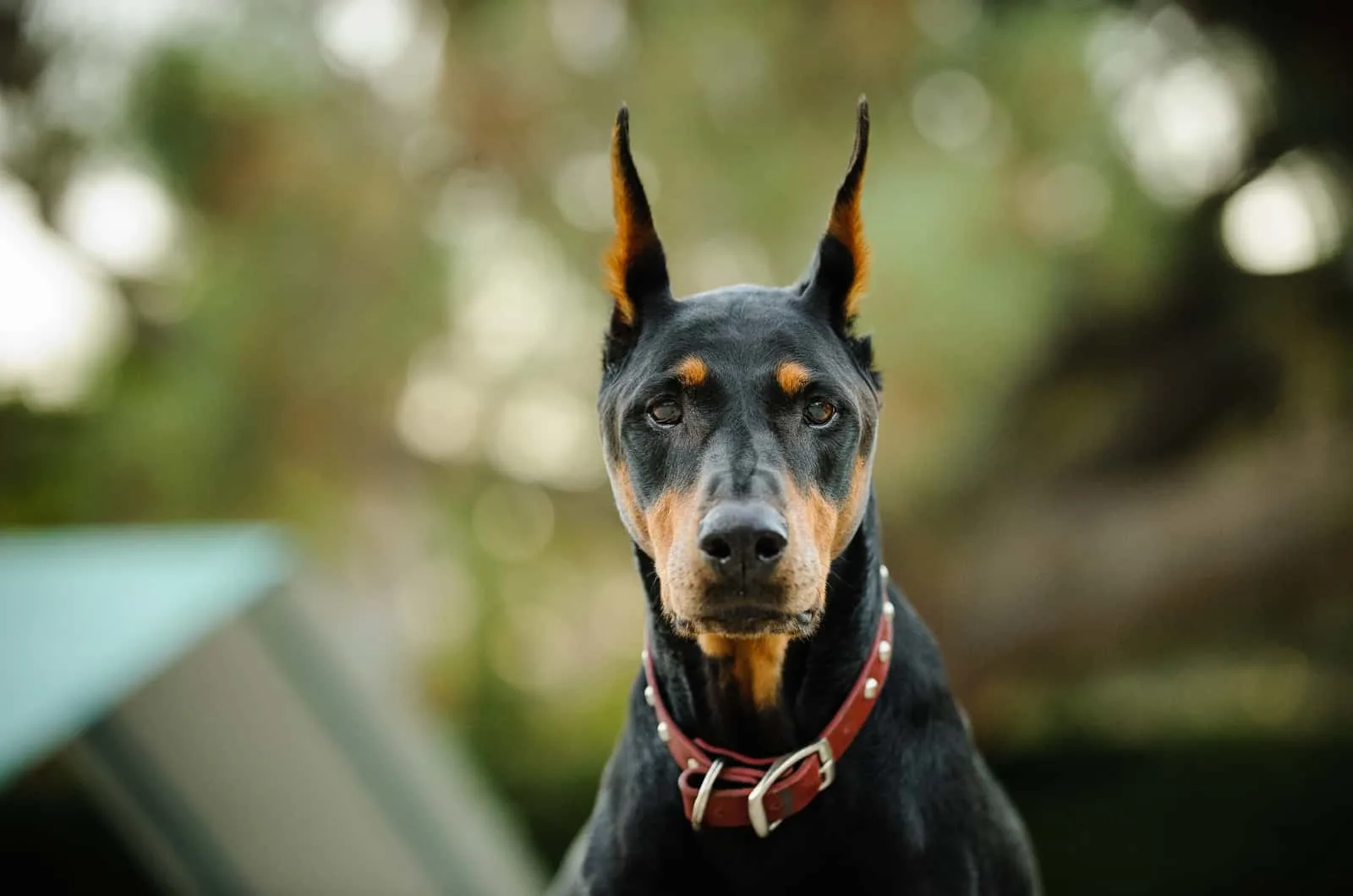 For whatever reason, the Doberman rescues we've listed might not be adequate for you. Whether you live too far away or you cannot get an agreement with them, you might want to look for some other locations to adopt your Dobe.
Fortunately, there are a few other places you can look. This includes:
• Adopt-a-Pet: This service has helped more than 21,000 shelters, rescue agencies, and SPCA's all over the states. They have a server that is straightforward to use. All you need to do is register on their website and look for adoptable dogs – or, in this case, Dobermans.
• Petfinder: This is a well-known site that is, in fact, a catalog of thousands of dogs and other pets put up for adoption. Petfinder works with more than 11,000 adoption organizations not just in the US, but Canada and Mexico as well. You can also narrow down your search based on your location or general area.
• Petango: Petango is another great website that matches aspiring owners with rescue dogs and other pets. It can even help you find a canine with a specific personality! This is a huge help for all future dog owners. In just a little over a decade since its founding, Petango helped more than 9 million pets get adopted.
• Local Rescue Organizations and Animal Shelters: Another great place to look at are your local animal shelters and organizations. No matter if you're looking to provide a forever home or just provide foster care, this is always a good place to start.
Should You Adopt or Purchase Your Doberman?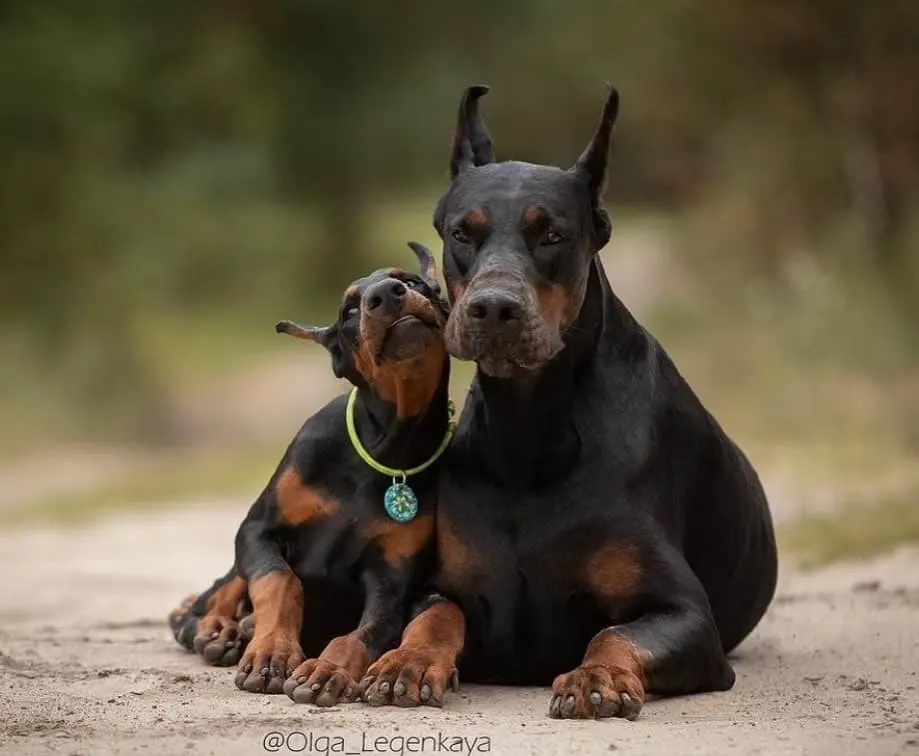 Photo from: @doberman_loveteams
As with all dog breeds, there is an ongoing debate as to whether you should adopt or purchase your Doberman Pinscher. There are good arguments on both sides of the conversation, and we'll quickly go over both of them.
First off, when you purchase a dog from a reliable Doberman breeder, you'll know where the dog is coming from. There are many reasons why this is important.
By meeting a dog's parents, you'll know what to expect once your Doberman puppy grows older. Also, you'll get a health guarantee, and you'll know that your dog will be free of most health problems. When you adopt a dog or purchase one from an unreliable breeder, there is no way of knowing whether your pup is prone to some genetic conditions.
Also, adopted dogs might not be able to participate in dog shows. While this isn't important for most people looking to give a rescued dog a forever home, a few of them might want to get a dog that can compete. Without knowing the bloodline, this will be challenging.
Finally, if you want to get a purebred Doberman puppy, you likely won't be able to get it at a dog rescue. Instead, puppies are bought from breeders, while adoptions usually keep adult dogs.
However, by adopting, you'll be doing the morally and ethically best thing possible. You'll give a forever home to an animal in need instead of supporting intentional breeding.
Also, adoption is a cheaper process. You'll only be liable for some adoption fees. Adoptions are also tax-deductible. You'll usually only end up paying $50 to $500 depending on your location and the type of rescue.
In the end, it all comes down to what you want and expect from your future pup. If you're inexperienced, however, we'd advise you to purchase your Doberman, as this way, you'll have some idea about the pup's temperament. If you know how to deal with strong and large dog breeds, then adoption is amazing for you.
When you adopt a dog, you'll be changing his life forever. Dobermans are followed by a bad reputation, which means that many abandoned Dobes will end up euthanized. Whether you choose to foster or adopt, you are likely saving the dog from certain death.
None of the Doberman rescues we've listed would ever kill their dogs, but sadly, many other shelters would. While this isn't a reason to adopt a Doberman if you're inexperienced or don't have conditions to keep such a large dog, it's certainly something to consider.
Why Do People Put Dobermans Up for Adoption?
If you're a dog lover, it's probably unimaginable why anyone would ever give up on their dog. Dobermans are known as loyal and witty dogs that would die protecting their owners. Many people don't know why anyone would decide that they no longer want to own their pets.
Most of the best Doberman rescues for adoption keep track of the reasons why people give up their dogs. When it comes to Dobermans, this is what they've found:
The number one reason is that the owner is no longer capable of taking care of their pet. While the cause behind this is usually financial, some people fall ill or are forced to move to a place that isn't fit for a large dog such as a Doberman.
Sometimes, the owner simply doesn't have more time to dedicate to their dog, so they decide it would be better to give him up for adoption, so that he could find a better home. The same can happen with sick dogs that owners no longer want.
Unfortunately, some Dobermans are simply violent and uncontrollable, and the owner gives them away because they are scared or don't know how to manage an aggressive Doberman.
Keep in mind that rescued Dobermans rarely end up abandoned, so these reasons apply only to Dobermans that people bought from breeders.
Can Anyone Adopt from a Doberman Rescue?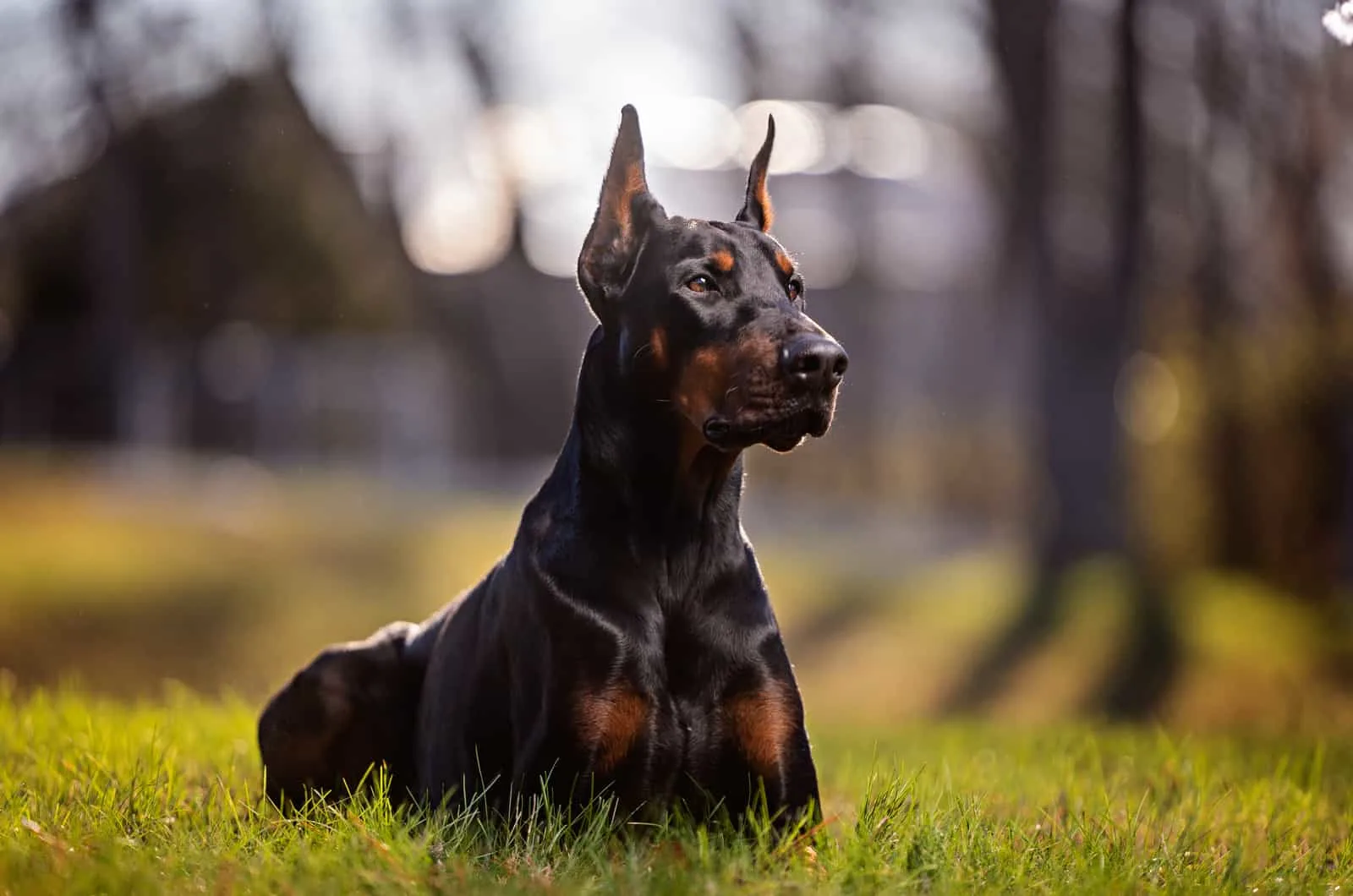 While there are many different Doberman rescues, this isn't a guarantee that you'll find your new family member the moment you apply. Most of these organizations are very strict when it comes to deciding who they'll give their dogs to.
This shouldn't be a surprise. Dobermans have a bad reputation that can seem justified in the hands of the wrong owner. It is in the Doberman rescues' best interest to give their dogs to people who know how to deal with this large dog breed.
Overall, when you apply to get a Doberman, the approval depends on three things:
1. Are you prepared to have a new pet, and will you be committed to it?
2. Is your lifestyle fit for this dog breed?
3. Is your living place adequate for such a dog?
To determine this, most of the best Doberman rescues for adoption will conduct interviews via phone, call references, and even perform home visits. While this might seem too much for you, this is the best way for professionals working at the rescues to determine whether Dobermans are a good fit for you.
Also, if they discover that you have a bad track record with not just dogs but any pets at all, your application will surely be rejected. If your lifestyle isn't fit for a Doberman (you work away from home a lot, for example), this might also slim your chances of adoption.
Not just that, but your house has to be adequately prepared for these pups. You should have a fenced back yard or, if you live in an apartment, it should be large enough and with a space that your Dobe can run around in.
Also, since Dobermans are large and strong dogs, most rescues don't allow adoptions if there are small kids in the household. Many dogs that are put up for adoption have been abused and might have some hidden behavioral issues. Kids might trigger bad behaviors, and Doberman rescue management doesn't want to risk accidents.
How Do You Get Approved by the Best Doberman Rescues for Adoption?
If you plan on adopting a Doberman Pinscher, but are afraid you won't get approved, don't despair! There are some things you can do to make your chances higher.
The first thing you can do is educate yourself on the breed. We live in the age of modern technology, so there are lots of resources available to you. Read a few books or magazines on Dobermans, and watch a couple of videos on YouTube.
If someone you know has a Doberman, ask them about their experiences. It might also be a good idea to join some online forum or a Facebook group for Doberman enthusiasts. The more you know, the more serious you'll look about owning a Doberman Pinscher.
Next, you should prepare your home. This is a good thing to do if you plan on adopting any large dog breed. Fence your back yard and make sure that your dog cannot break through or dig under it. Do this before someone schedules a home visit. Try to find the best materials and the right height for the fence.
When you get the chance to talk to the staff of the best Doberman rescues for adoption for you, ask many questions and keep the conversation running. This will make you seem as if you're really eager to learn new things and pick up a few care tips.
Finally, make sure every member of your household is in on this. Every family member or roommate needs to be prepared for a new pet and to adjust their lifestyle a bit.
This is especially important as the staff won't interview you only, but other household members as well. Everyone must be eager to become a dog owner and to participate in raising a new pet.
Of course, even all of these tips aren't a guarantee that your application will get approved. Each rescue organization has its own rules and policies. However, these tips will certainly help you with your application and increase your chances of adoption.
Are Dobermans Expensive to Own?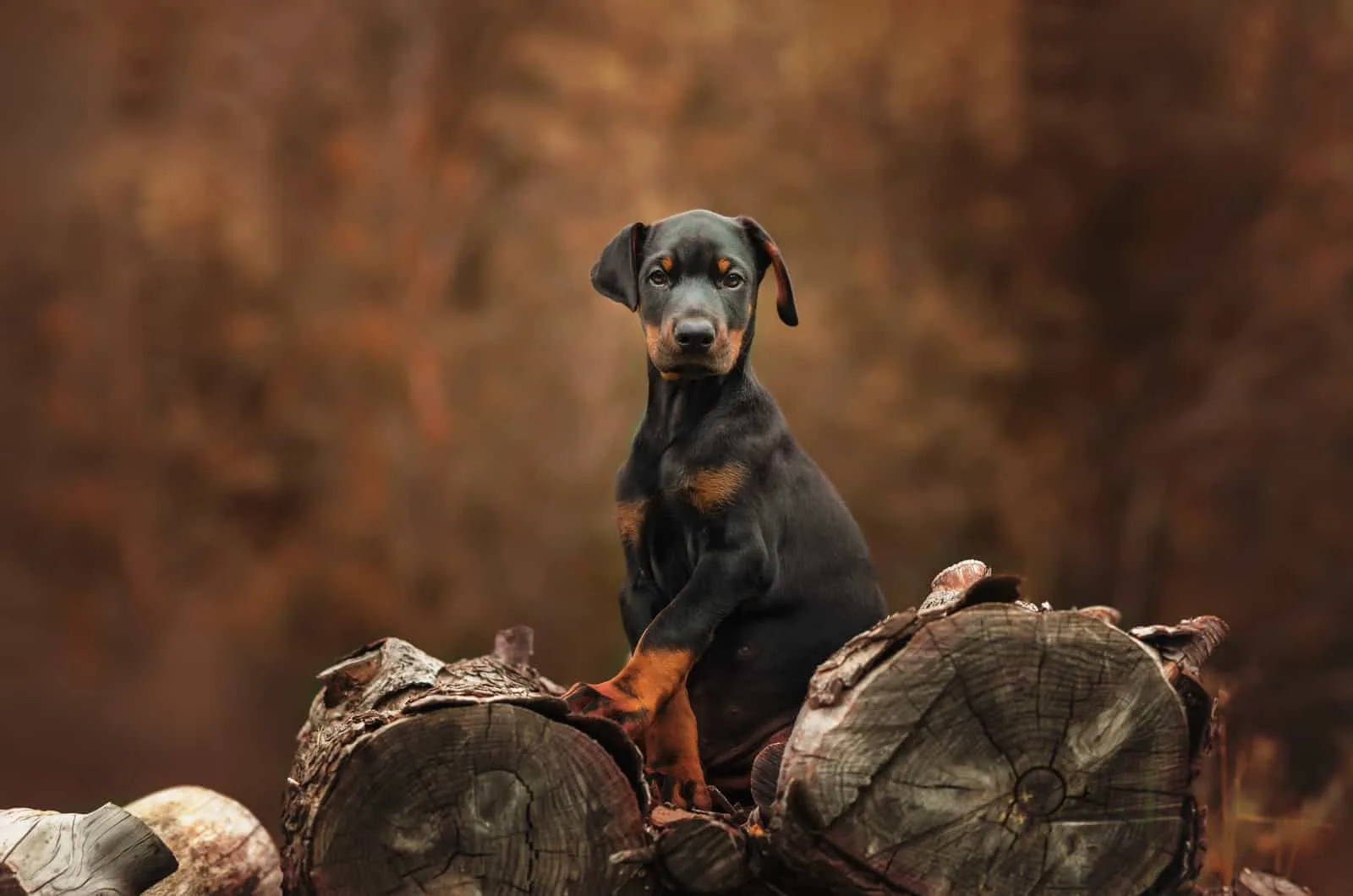 As you can see, adopting a Doberman is a fairly affordable option – especially when compared to buying a purebred Dobie. These dogs can cost more than $3,000 if they come from reputable breeders who sell dogs with amazing bloodlines!
However, chances are that what you don't pay in the initial cost, you'll end up paying in medical bills. As mentioned before, you can never know the genetic background of the dog you're adopting. This means that your new pet might have many health problems caused by bad genetics.
Most rescues will adopt only spayed and neutered dogs, as well as puppies that have already been vaccinated. This is good news as this means one less expense for you.
Still, if your dog falls ill, medical bills can skyrocket. Some conditions, such as mitral valve prolapse or hip dysplasia, require expensive surgeries. Even after adequate treatment, chances are your Doberman's lifespan will be shortened.
Fortunately, Dobermans aren't dogs that require severe management other than that. They require regular things for large dogs such as large beds, crates, and lots of food. However, they have a short coat so you won't have to take them to the groomers or spend lots of money on combs and grooming essentials.
The Bottom Line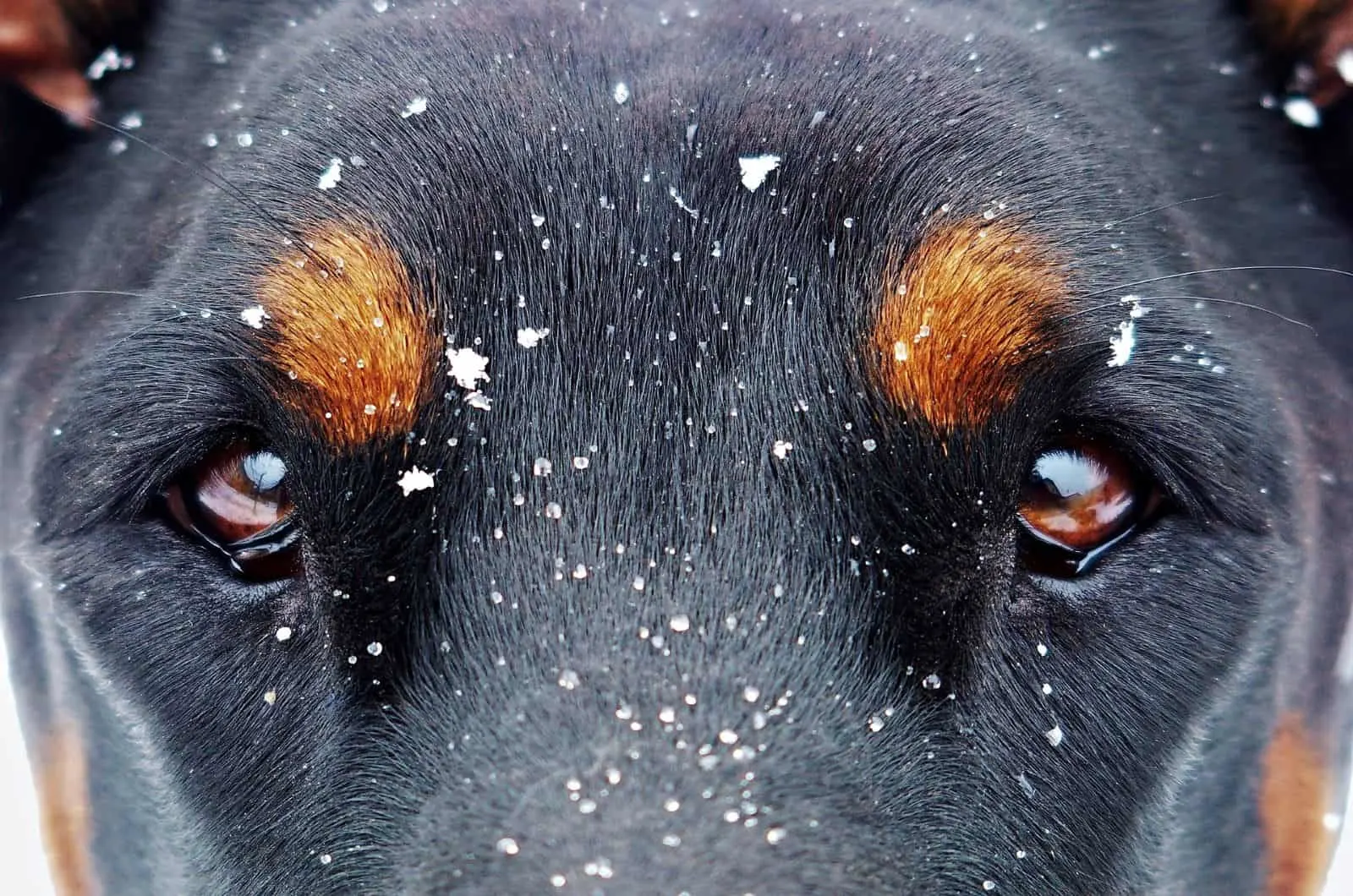 Adopting a dog is a noble thing that not everyone is ready for. If you are one of the people who wants to become a Doberman owner by means of adoption – you should be aware that you are doing the most ethical thing you possibly can.
Of course, adoption is not for everyone, and this isn't to shame people who prefer to buy their pet. There are many reasons why someone wouldn't want to risk bringing a dog of an unknown background inside their house, especially if there are little children involved.
If you do decide to adopt a Doberman, we've given you a list of ten best Doberman rescues for adoption that you won't go wrong with. All of these rescues are certified, with professionals who are eager to help all dogs and educate future owners.
Sure, some adoption organizations have strict rules about who can and who cannot adopt, but this shouldn't discourage you. Talk to as many Doberman rescues as you can, and contact local animal shelters. If you are keen on your desires, you are sure to succeed.
We hope our list has helped give you a starting point. And remember – Dobermans are strong, protective dogs that might not be for everyone. Make sure you are as good of a fit for this dog as the dog is for you.
Read Next:
• Top 8 Dog Rescues In New York: Instead Of Shop, Adopt!
• Best Dog Rescues In Michigan: How Many Are There?