This post contains affiliate links, and I will be compensated if you make a purchase after clicking on my links.
Corgis are definitely one of the most popular dog breeds among dog lovers since there is hardly anyone who does not like these adorable pups.
Being Queen Elizabeth's dog breed of choice made them even more popular than they were before, and if anyone did not know about these adorable pooches, they surely know now, thanks to Muick and Sandy.
There are two different types of Corgis — Pembroke Welsh Corgi, and Cardigan Welsh Corgi, and although there are several differences between these two breeds, one thing is similar, and that is their unique "dwarf" body shape.
Truth be told, we all love this unique shape because there is something about those little legs that makes them even more adorable; however, this also means that finding the perfect harness for them is not easy at all.
But, don't get stressed now – we are here to provide you with everything that you need for your Corgi pup. Keep reading to find the best harness for a Corgi that both you and your dog will adore.
Best Harness For A Corgi: Our Top 3 Picks
What Is The Best Harness For A Corgi?
Whether you have welcomed a new furry family member or you are simply looking for a good-quality dog harness for your beloved pooch, you have come to the right place.
We have searched the market (popular shopping sites like Amazon and Chewy), reviewed, and highlighted eleven best harnesses for Corgi dogs that you simply must check out. Your next outdoor adventure or training session is about to get a lot better…
So, let's get started with our top picks!
We are starting our list with a mighty example. Let us present to you one of the best highly-rated dog harnesses on Amazon, which is also our premium pick — RUFFWEAR Front Range Dog Harness.
This harness has everything that you should be looking for in a dog harness. First of all, it is very versatile, which means that it can be used both for training and everyday walking.
It is lightweight, and easy to put on and take off, but at the same time, it is made from a very high-quality and durable material, which means that you don't have to worry about it breaking quickly.
The Ruffwear dog harness has two leash attachment points, four adjustment points, aluminum V-rings, reinforced webbing, and a soft-padded chest for extra comfort.
Not only that, but it also comes in a variety of bright colors, with reflective trims which will make your Corgi stand out. This is very important if you like to take your dog outside in the evening when it is already too dark or early in the morning when the visibility is not perfect.
With this kind of harness, your dog will surely be visible to everyone, no matter the time of the day. There is hardly anything bad that we can say about this harness, but we do have to mention that it is more expensive than some other regular dog harness; however, it is well worth the price.
Did you ever wonder what Corgis were bred for? Learn more about the history of Corgi dogs, and find out the answer to this and a lot of other questions with our article here.
Continuing with equally great but a little less expensive harness option, we have Downtown Pet Supply's dog harness for small dogs.
The first thing that caught our attention is the wide variety of colorful designs that this dog harness comes in. From some regular standard colors to interesting patterns and designs, this harness has it all.
You will surely find one that you will like and that will make your Corgi's coat colors pop even more. They also come in various sizes besides small, so you can find one that will perfectly fit your dog.
If your dog likes to pull, this no-pull harness with triple security measures is definitely something that you need. It is made from a sport mesh material that is breathable, fast-drying, and excellent for all weather conditions, but especially for hot summer days and the fluffy coat of Corgis.
Velcro straps are a great addition for customizing the harness and making it fit snug on your pup. Some reviews state that the sizing runs a bit small, so make sure that you check their sizing chart carefully before purchasing. Other than that, it is a good-quality harness for a great price.
Next on our best harness for a Corgi list is Voyager's Step-In Pet Air Harness, which also doubles as our budget pick. It is the most affordable one from all that we are going to mention today, but it has amazing characteristics so it can easily compare to some more high-end products.
It comes in seven different sizes, ranging from xxxs to xl, which is great for finding the right fit, but they do advise that you always measure your pup, and use their product's size guide and not the dog's actual size.
Their whole philosophy behind this product is simplicity and easy use – after all, their motto is step in, clip, and go!
This Rabbitgoo No-Pull Harness is Amazon's number one bestseller when it comes to dog vest harnesses. For Corgi dogs, they recommend the size, small, which is suitable for small dog breeds such as Corgis, Pugs, Chihuahuas, Terriers, etc.
This harness is very easy to use, and it offers a great design for dogs that tend to pull. It has two metal leash rings – one on the chest that is great for training and stopping your dog from pulling, and the other one on the back, which is perfect for casual walks and hikes.
RELATED: How Often Do You Walk Your Dog? Learn The Desirable Frequency
With its four adjusting straps, you can easily create the perfect fit for your doggie without worries of him slipping out or choking. The harness also features soft and breathable padding, which helps give your dog a snug fit around its body, and makes it more comfortable for everyday wear.
All in all, it is a very durable and efficient harness that seems to work even for heavy pullers.
Next on our list of the best harnesses for Corgi dogs, we have the BARKBAY No Pull Dog Harness. This is a great everyday adventure dog harness that can be used for a variety of things such as walking, hiking, trail running, camping, and much more.
Like most no-pull dog harnesses, it features two sturdy metal leash attachment points. The front leading halt ring is a great no-pull feature that will effectively teach your dog that pulling is not a good behavior.
The outer layer of the harness is made from a durable and scratch-resistant Oxford material, the hooks and clips are made from alloy metal, and overall, it has a nice waterproof nylon material that is perfect for all-season use and various activities.
Not only will your pup be safe and comfortable, but it will look adorable in this beautiful harness that comes in a variety of amazing colors for you to choose from. Stylish, soft, and strong… What more can you ask for?!
RELATED: Is Your Dog Refusing To Walk? Here's What You Can Do To Help
Well, well, what do we have next?
It is our best-value product, and what other than Chai's Choice Premium Outdoor Adventure dog harness. First, we will tell you something about this small business because we think it is worth mentioning.
Chai's Choice company is a result of combining the extensive experience and expertise of a U.S. Navy veteran with his immense love for dogs. All of Chai's Choice products are strong, resilient, military-grade, and suitable for extreme weather conditions.
This harness comes in 11 colors and five sizes. You can find a harness size chart on Amazon, so you only need to measure your dog and match the sizes. Adjustable belly straps offer you an even more custom fit.
To adjust the straps, you only need to push, then pull them through the buckle. A sturdy handle on the harness is great for securing the seat belt of your car and ensuring maximum safety while driving.
The handle can also be used to help your pet in case of any emergency or needed assistance. Chai's Choice is known for having great products for injured or handicapped dogs, so if your dog is also having similar problems, this is the product you must have.
Kurgo Tru-Fit Enhanced Strength dog harness is exactly what its name says. This harness provides strength and comfort all in one. Steel nesting buckles are there for strength and durability, whereas a padded chest plate provides the much needed comfort.
The Kurgo dog harness will keep your doggie safe in the car as it is crash tested for dogs up to 75 lbs — crash tested by using the U.S. Federal Motor Vehicle Safety Standard (FMVSS) for child-restraint systems by Calspan, at the University of Buffalo (2018).
If you would like to read the whole report, check it out here.
Additionally, the harness features five adjustment points, and front and back leash attachment points, so it is able to provide a more custom fit for various Corgi sizes, and also for other small-breed dogs.
If you want a well-made and sturdy harness that will give you peace of mind while driving with your dog, this is definitely the one that you should try. You might find it a little bit difficult to put on and take off; however, it keeps your pooch safe, and that is all that matters.
READ ALSO: Why Do Dogs Pant In The Car: 10 Common Causes
Gooby Comfort X Step In Harness is a no-pull, choke-free dog harness made specifically for small-breed dogs (the largest size fits up to 30 lbs).
If you usually experience problems with putting a harness on your pup, this easy step-in design will make your life easier. You only have to put your dog's front paws into the appropriate holes of the harness, and pull it up to fasten it with the plastic buckles at the back. It is that easy.
The choke-free X frame design of the harness distributes the pressure evenly around the dog's body. This design makes it more comfortable for your small pup.
The only negative side of this dog harness seems to be the sizing, which does not always fit all dogs perfectly; however, it features four adjustment points to make it fit better. The harness is easy to clean because you can simply wash it in the washing machine.
Next on our list is a soft vest harness made by PUPPIA International to make walks easier and more comfortable for you and your furry friend.
It is made from 100% polyester fabric that is soft, easy to clean, comfortable, and won't rub or irritate your dog's skin. Breathable mesh material is great for hot summer days and cold winter walks.
D-ring leash attachments are located at the back of the harness, which evenly distributes the pressure without choking your dog. There is no way your dog can escape in this harness because it is completely safe and secure. First, it fastens with velcro, then you buckle it.
The harness is available in seven different sizes and eleven vibrant colors… a good-quality harness for a great price.
Are you searching for your next Corgi puppy? If yes, we've got you! Check out our list of 11 best Corgi rescues for adoption.
We are slowly but surely coming to the end of our list, but fear not – we still have two more pawsome products for you. The next harness that we have tried and reviewed is the PetSafe Easy Walk dog harness.
This harness was made 15 years ago by a veterinary behaviorist, and ever since then, they have sold over nine million harnesses all over the world. PetSafe harnesses are recommended by veterinarians and trainers.
This harness is best suited for light to moderate pullers. It has a patented Martingale loop and front leash attachment to effectively stop your dog from pulling, but without a gagging or choking effect because it is designed to sit on the dog's chest, and not put pressure on its throat.
A lot of dog owners claim that this harness has been a lifesaver for them because of how well and fast it worked. You can see great results even from the first walking session. Dog walking does not have to be an ordeal, but a nice outside activity for both you and your furry friend.
Don't leave the harness on the floor because the dog might try to chew it – instead, check out our list of the best toys for Corgis, which will keep your pup entertained and happy.
Once again, we have come to the end of our reviews. We have only one Corgi harness to mention, so let us say something about the KOOLTAIL Soft Mesh Plaid puppy harness. This is a harness made for puppies and small dog breeds, which is great for dogs like Corgis.
It comes in four different sizes (from XS to L), and two colors (beige and pink). However, what makes this harness interesting is its plaid pattern. Although this pattern is not anything new and not seen before, it is a classic that never goes out of fashion.
Just imagine your adorable puppy wearing this cute harness. Perfect combination, right?
The harness is made from high-quality, breathable material that is comfortable and safe. It also features a reflective design, which is great for keeping your puppy safe and visible in the dark.
With more than six years of experience, the brand has managed to provide high-quality products to dog owners, and therefore, create a harmonious lifestyle between owners and their beloved pets.
Don't hesitate to check it out, and let us know what you think about this and other Corgi harnesses that we have mentioned above.
Good boys deserve only the best treats, so we have found seven best ones just for you.
Buyer's Guide: What To Look For Before Buying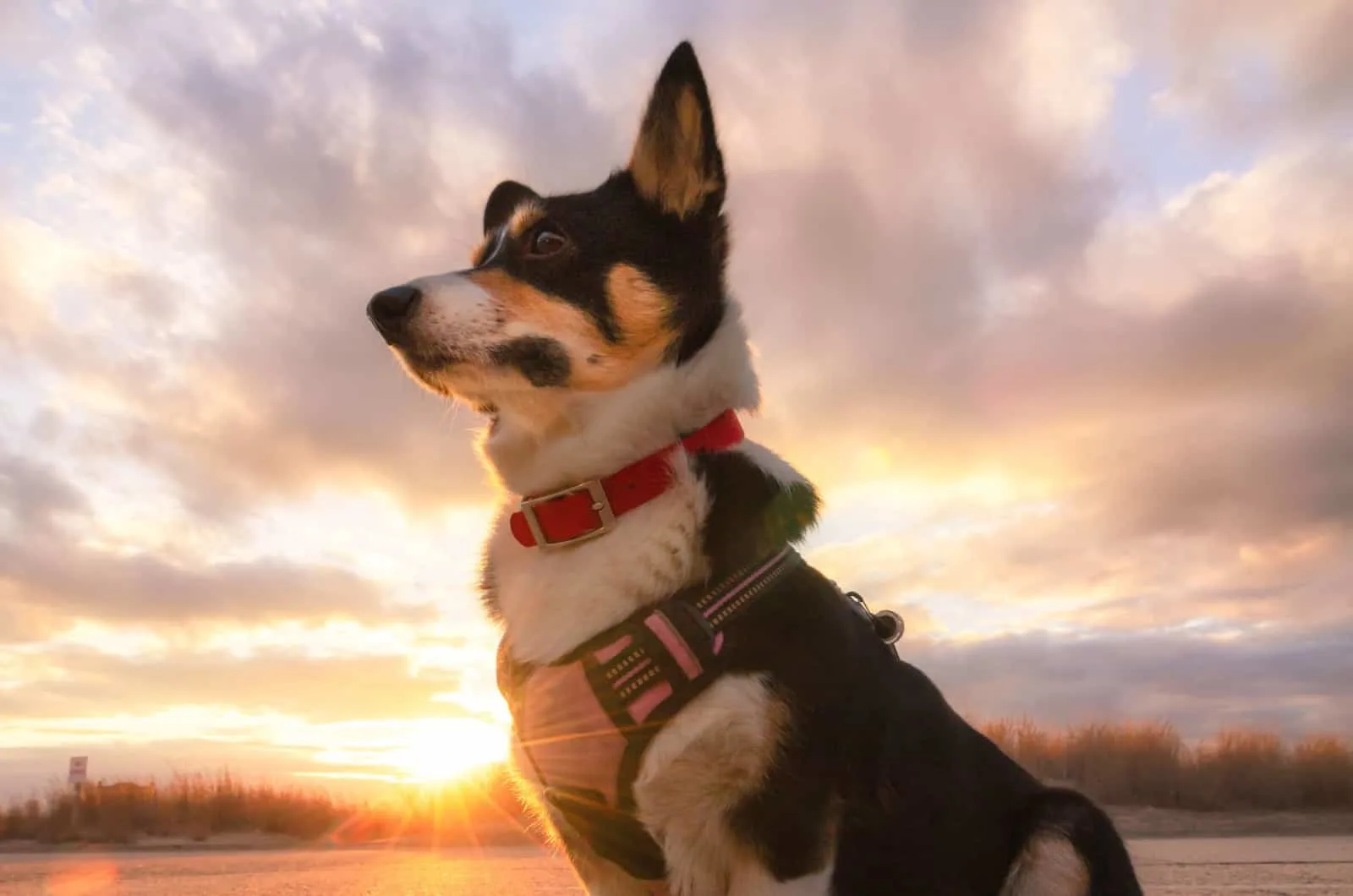 In this time and age, there are so many types of dog harnesses at most pet stores and online shops, so it is highly essential that you know what you need and what you should be looking for.
Luckily, we are here to discuss everything that you need to know about harnesses for Corgi pups. So, let's start our buyer's guide with the first lesson – what types of harnesses are there?
Type Of Harness
Generally, there are four types of dog harness that are all somewhat similar, but still have their pros and cons.
Back Clip Dog Harness
The most common type of dog harness is the back clip harness. These harnesses are simple and easy to use, and you'll often find a wide variety of them at all pet shops. They are called back clip harnesses because of the D-ring attachment that is located on the dog's back.
In most cases, they are suitable to use with a wide variety of dog leashes, so the one that you already own should be completely fine; however, you can also find matching leashes to purchase that go with your harness.
Back clip dog harnesses are more suitable for calmer dogs that enjoy a nice walk, and that don't have a habit of pulling their owner.
Front Clip Dog Harness
As opposed to a back clip dog harness, the front clip has a D-ring feature located on the front of the dog's body, or better said… on his chest. While the back clip dog harness is more suitable for calmer dogs, the front clip dog harness is made for dogs that are known to be pullers.
This dog harness works in a way that when the dog starts to pull, it tightens the leash and pivots the dog towards the owner; thus, discouraging the pup from pulling.
They are a great tool for improving control during walks, and for training pups that get a bit too excited and start pulling.
Dual Clip Dog Harness
As the name suggests, the dual clip dog harness features both front and back clip leash attachments.
They are a great solution for when you want to have a versatile walking tool that can be used both for normal chill walking, or just in case something happens and you need a little bit more control.
These harnesses are great for distributing the pressure evenly across the dog's body, but they are often a little bit bulkier and require some time to get used to. It is recommended to use them more as a training tool.
Vest Harness
The Vest harness is considered to be the most comfortable one out of all types of harnesses because it comes with a soft padded surface that should provide a comfortable and snug fit.
However, due to the unique shape of Corgi dogs, these vest harnesses often don't fit them well, so this is something that you should keep in mind before you purchase.
Step-In Dog Harness
The step-in dog harness is a great solution for dog owners whose dogs don't exactly enjoy having their harness on, especially over their head.
Putting it on is really simple and easy – you just lay the harness flat on the ground and have your dog step into the straps with his front paws. The next step is to simply fasten the straps at your dog's back.
RELATED: Best Dog Bed For A Corgi: Ratings, Reviews, And A Buyer's Guide!
The Use
Now that you know what types of harnesses there are and what they are used for, you need to think of your dog's personality and your walking situation. Does your dog like to pull and break loose? Or, is your Corgi well-trained and calm?
If your Corgi is more on the naughty side, you will need a harness that doubles as a great training tool. As we have mentioned above, front clip dog harnesses are better for dogs that like to pull, so you should maybe try with this one first.
If your dog starts to pull, the harness will provide a slight tightening sensation, which will discourage your pup from pulling and provide extra control. Don't worry – this harness and the other types are completely safe to use, and they will not harm your dog.
There are also dog harnesses that provide great support for older dogs that have some health issues. Corgis are prone to various health problems that can influence their walking abilities; for example, hip dysplasia, Degenerative Myelopathy, and Intervertebral Disc Disease.
Take all of this into consideration before you start looking for the best harness for a Corgi.
Material & Durability
High-quality material, good craftsmanship, and durability should be at the top of your checklist for choosing a good harness. Often, these harnesses will be a little bit more expensive, but this doesn't have to be the case. The price is not always the measure of quality.
RELATED: How Much Do Corgis Cost? Prices And Expenses Calculated
Some materials are lightweight and breathable, and at the same time, strong and easy to clean, such as nylon, which is the most common material, and usually the top choice for dog harnesses.
The Right Fit
We all love Corgis because of their unique body shape; however, their short legs and long body are exactly the reason why it is hard to find the right harness that will fit them perfectly.
A good harness needs to be comfortable in the first place, so that it makes the walkies a pleasurable experience. If you want a harness that will fit your Corgi perfectly, you need to look for one with multiple adjustment points that can offer you a custom fit and even weight distribution.
Design & Safety
Let's not forget the design of the harness because not only does it need to look good, but it also needs to provide safety for your pet. A good-quality harness will have several safety features integrated in its design.
Reflective dog harnesses with bright coloring and reflective strips and stitching are great for improving the visibility of your pooch, especially if you like to take your pup out early in the morning or in the evening when it is darker.
RELATED: Best Dog Food For A Corgi: 9 Brands Your Pooch Will Love
FAQs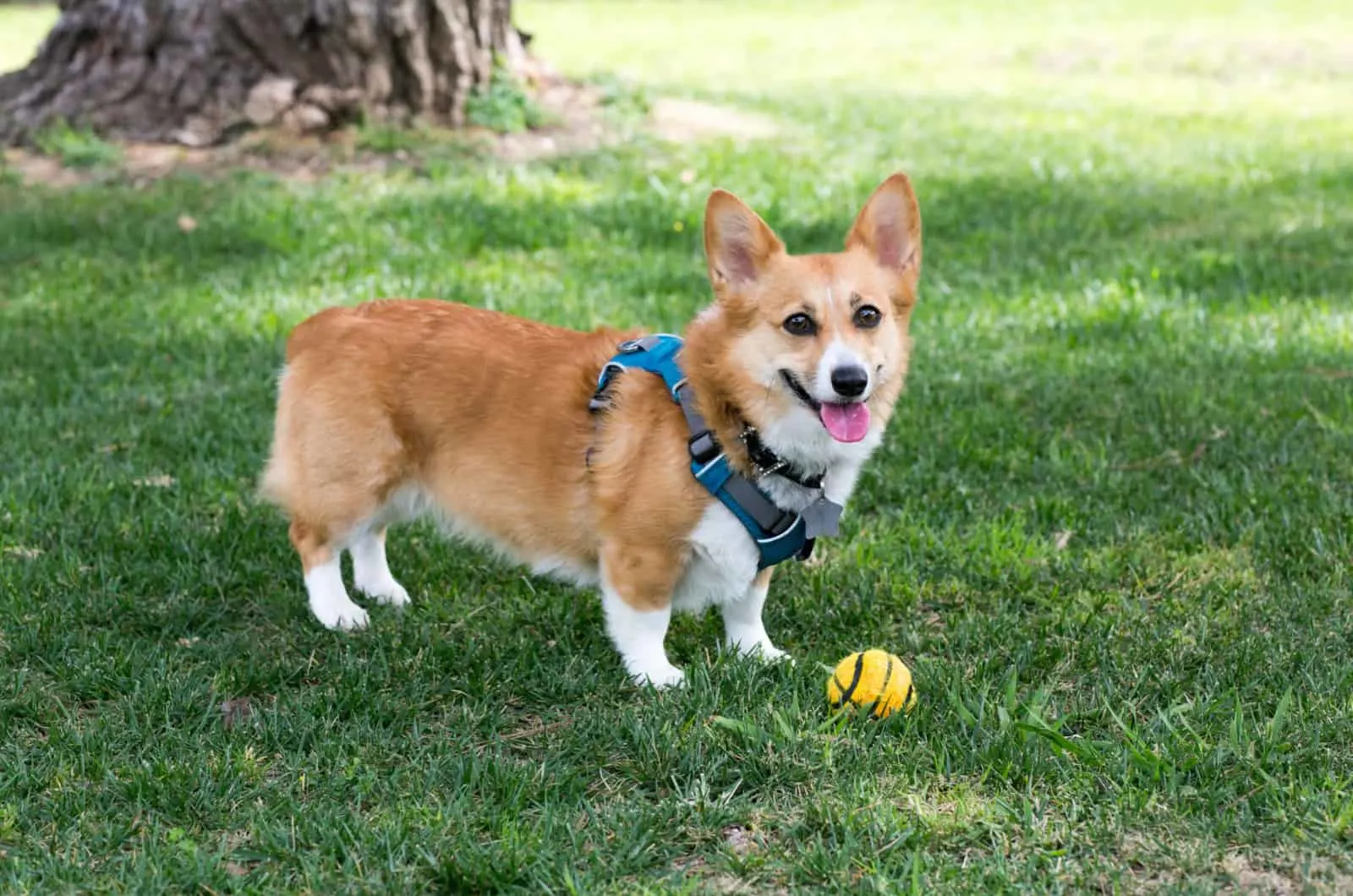 READ ALSO: 1000+ Dog Names That Will Make You The Envy Of The Dog Park
In Conclusion
Aaaand… here we are at the end of our article. First of all, we would like to thank you for reading. We truly hope that you found it interesting, and even more importantly, that it was helpful to you.
If you follow our buyer's guide and consider our reviews of 11 best harnesses for Corgi pups, we are certain that you will find one that your pooch will like, and that will suit all of your Corgi owner needs.
Having your dog wear a harness is not absolutely necessary; however, it is very helpful, especially if you have a very hyperactive Corgi pup that gets a little bit too excited on his walkies. If your dog is a puller, then a high-quality harness might be just what you need.
Even if your pup is timid and calm, a harness can serve as extra protection. If you haven't already, you should definitely try it. All those colorful and bright designs can only make your pup even more adorable, so you certainly don't have anything to lose.
Related Content
9 Best Harnesses For American Bully Dogs On The Market
Best Harness For A Shiba Inu: Our Top 10 Products
Best Harness For Beagle Dogs: Top 12 Products Reviewed
The 10 Best Harnesses For Pugs in 2022: The Top Safest Products
Yorkie Harness: Choosing The Best Pet Harness For Your Yorkie Dog