Disclosure: This post contains affiliate links, and I will be compensated if you make a purchase after clicking on my links.
The Welsh Corgi is an easy-going and fun-loving herding dog breed that looks like a large dog on short, cute legs. They have a larger-than-life personality and absolutely enjoy roaming around in the yard or wherever it is safe for them to run off-leash.
Corgis are known as the unofficial queens and kings of the dog park, which may be due to the fact that the breed is loved by Queen Elizabeth II. These pups are usually fearless, active, and social dogs that get along great with doggos of all breeds and sizes.
With all that energy, both Pembroke and Cardigan Welsh Corgis need a high-quality diet to keep them active and healthy. So, if you own one of these majestic creatures but are overwhelmed with the hundreds of different dog food brands on the market and are unsure of which is the best dog food for your Corgi, don't worry, we've got you covered!
In this article, we will list out our eight favorite picks and give you all the information you need about each one. Additionally, you will find a buyer's guide and answers to frequently asked questions about the breed in later sections. For now, let's just focus on the best dog food for Corgis money can buy!
Best dog food for Corgis
Best dog food for a Corgi: product reviews
Editor's Choice
Orijen Original Formula
Key Benefits:
Contains fresh meat, cartilage, and organs

Top-rated dry dog food for adult corgis

Rich in vitamins, minerals, and antioxidants

Well-balanced dog food that includes eggs, fruits, vegetables, and berries

Contains freeze-dried liver for extra flavor

Top 5 ingredients: Deboned Chicken, Atlantic Flounder, Deboned Turkey, Whole Eggs, Whole Atlantic Mackerel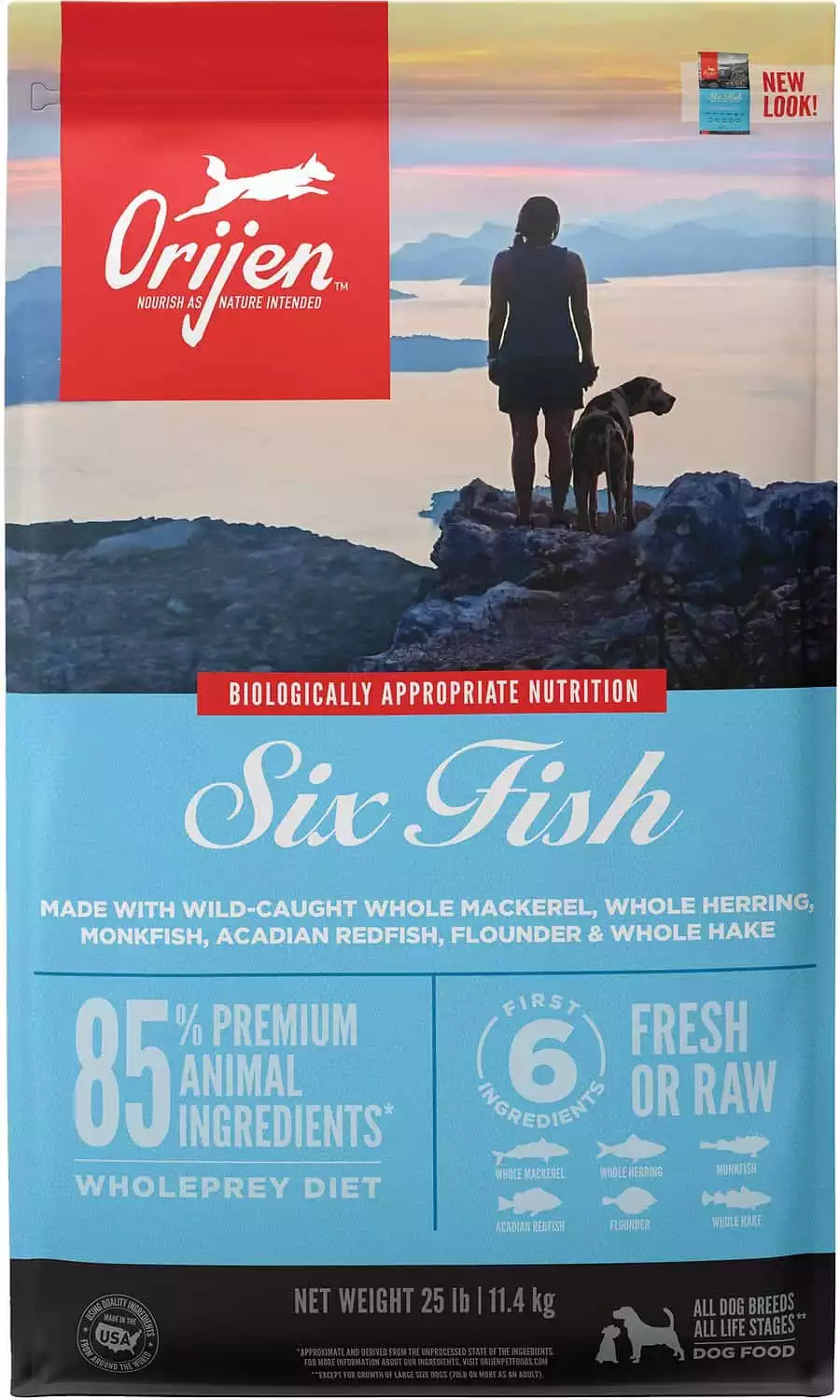 Orijen is a well-known brand for its grain-free recipes and high-quality dog food formulas, and the first product on our list is one of their top-rated dog foods!
The Orijen Original Grain-Free Dry Dog Food is made with nest-laid eggs, free-run chicken, and wild-caught fish and turkey meal and comes with zero grains whatsoever.
This grain-free formula from Orijen also doesn't contain any rendered poultry meats. Instead, at least a third of the meat content found in this dog food is carefully dehydrated to preserve its nutritional benefits.
Corgis are small but highly active dogs, so the ideal food for them will give them enough fuel to last throughout their daily activities.
Fortunately, this recipe from Orijen has everything an adult Corgi needs to stay energized. Apart from the great nutritional value, the natural ingredients, and abundance of vitamins and minerals, the flavor explosion in every bite-sized chunk puts this food at the top of our best dog food for Corgi list!
Why we like it – This fish-based dry dog food is both nutritious and tasty and is the best dog food for Corgis you can come across, thanks to the highest quality ingredients used in the manufacturing process. Although this pet food for Corgis is a bit more expensive than most other high-quality Corgi foods, it is worth it if you want the best for your pup and can afford it. With all of that said, it is easy to understand why this recipe from Orijen is our top pick for the Corgi breed!
Natural Balance Sweet Potato & Fish
Key Benefits:
Healthy fats from salmon oil

Limited ingredient formula

No preservatives or fillers

Smaller kibble size

Salmon and sweet potato formula

Top 5 ingredients: Salmon, Fish Meal, Sweet Potatoes, Potato Protein, Canola Oil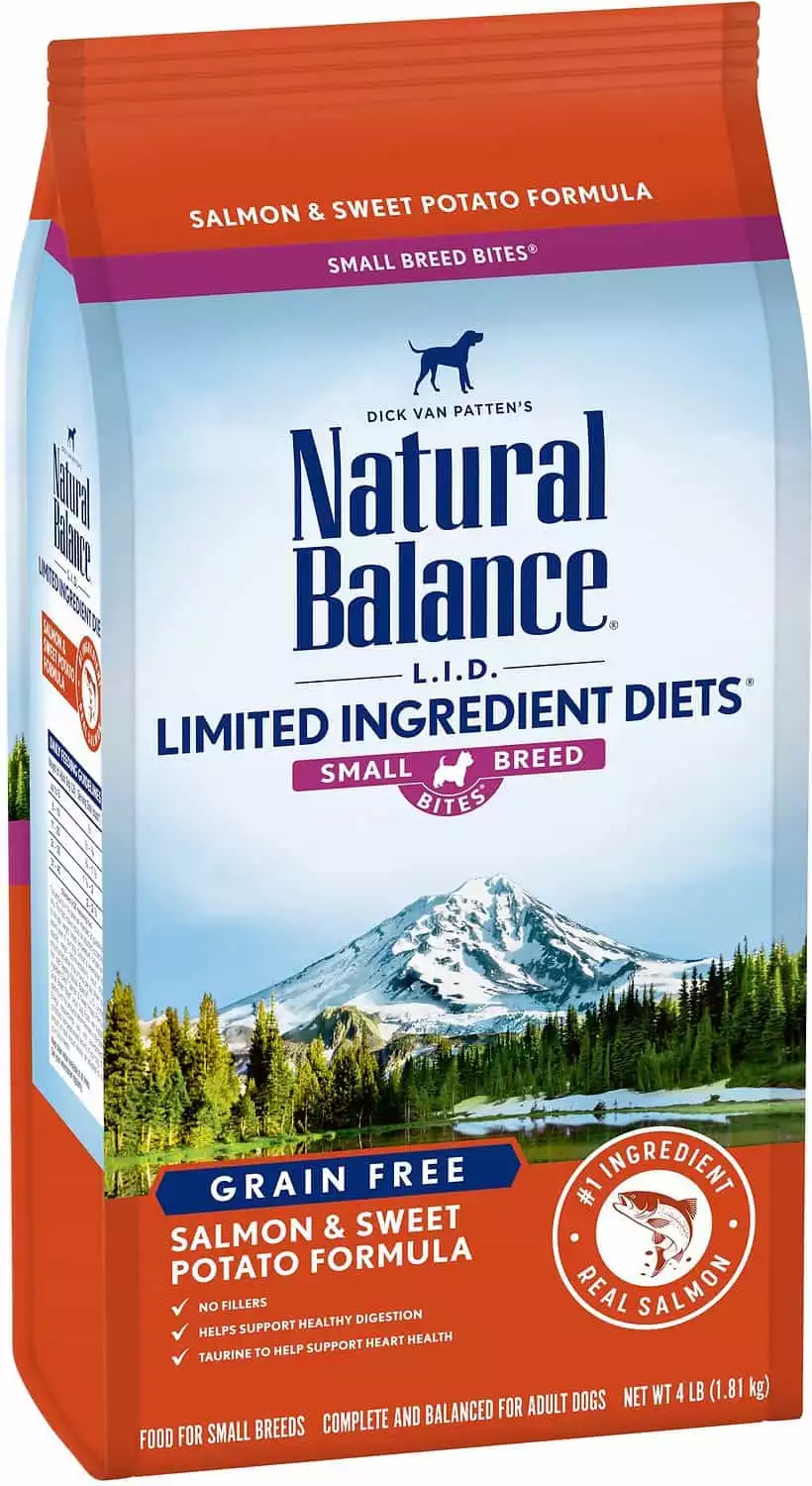 How great would it be to feed your canine companion a high-quality, well-balanced dog food that is wallet-friendly? The Natural Balance L.I.D. Small Breed Bites Grain-Free Salmon & Sweet Potato Formula Dry Dog Food is everything we hoped it would be.
This recipe from Natural Balance is ideal for short-legged Corgis and is made with sweet potato as a source of carbohydrates and fresh fish for protein. The well-known food brand has chosen to skip ingredients like white potato and fillers such as wheat, soy, and corn. This ensures that the dog food has the best possible nutritional value with zero artificial flavors, colors, or unhealthy preservatives.
Furthermore, this is also a limited ingredient recipe, meaning fewer ingredients are used in making it compared to regular dog food. This makes it an excellent choice for Corgis with allergies to certain foods or with sensitive stomachs.
Why we like this product – The size of the kibble is small enough to fit your Corgi's mouth, meaning it will have no problem chewing it. The limited ingredient formula is great for Corgis with allergies and other sensitivities, but it can also help your pooch maintain its body weight or lose a few pounds if necessary. It doesn't really matter if your Corgi is a puppy, middle-aged, or a senior, as this dog food is suitable for dogs of all life stages.
Hill's Science Diet Dry Dog Food
Key Benefits:
Made with small dog breeds in mind

Contains lots of fiber for improved digestion

Leaves a long-lasting feeling of fullness

Contains meat-based protein for lean muscles

Perfect addition to your Corgi's diet

Top 5 ingredients: Brown Rice, Brewers Rice, Whole Grain Wheat, Lamb Meal, Whole Grain Sorghum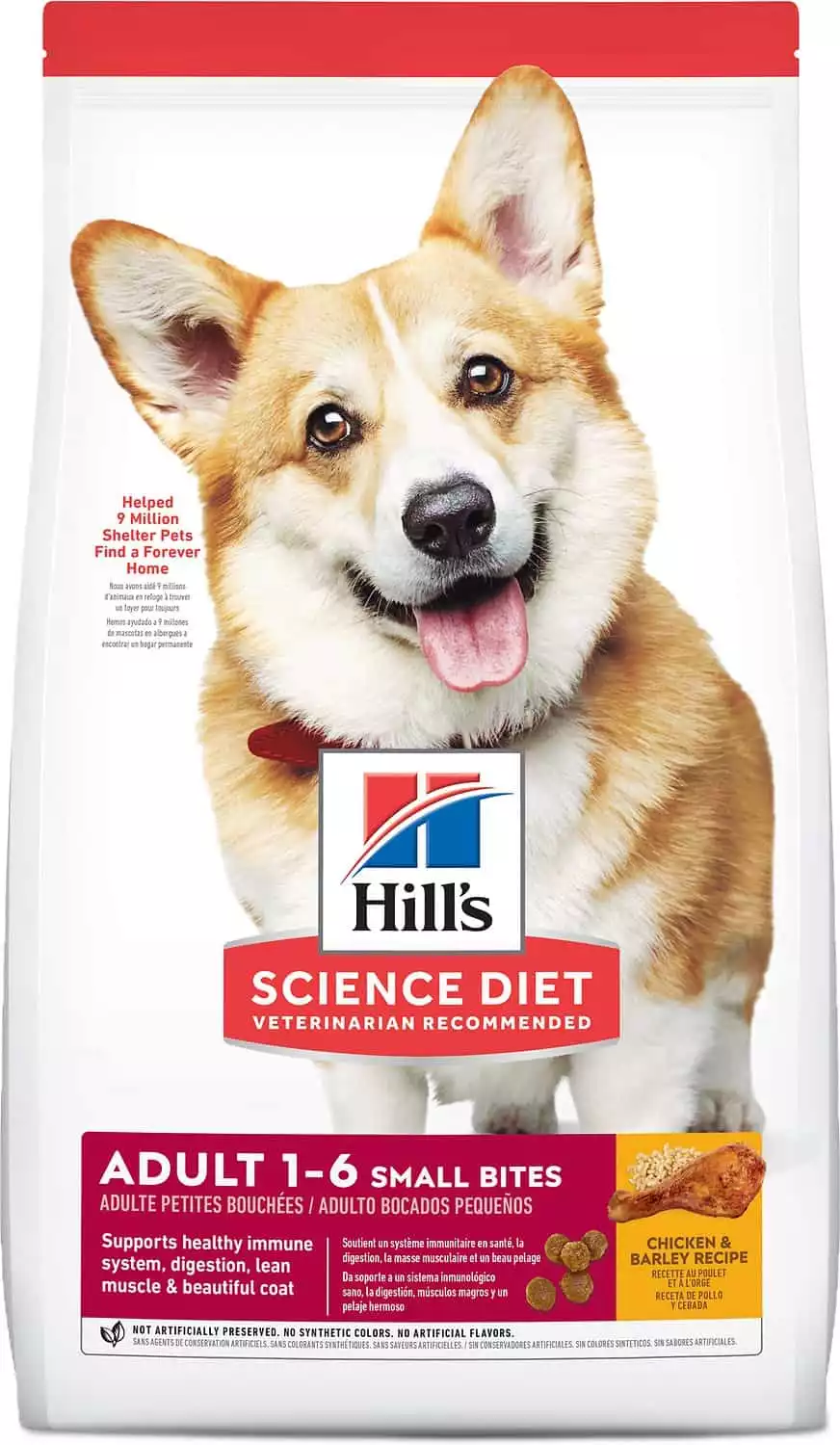 A Corgi dog needs specifically designed dog nutrition, and Hill's Science Diet Adult Small Bites Chicken & Barley Recipe Dry Dog Food has Corgi written all over it (there is actually a picture of a Corgi on the packaging, but nevertheless)!
In all honesty, this formula from Hill's Science Diet isn't exactly breed-specific Corgi dog food, but it is made with small dog breeds in mind in terms of both nutritional composition and kibble size.
This recipe for adult dogs contains animal protein that ensures proper development of lean muscle mass, fatty acids for smooth skin and a shiny coat, fiber for normal functioning of the digestive system, and the perfect balance between soft and crunchy!
This makes it ideal for small Corgi pups with sensitive jaws, and some vets consider it the best dry dog food for Corgis and other small breeds, so your pooch is bound to love it!
Why we like it – Keeping any dog, especially a Corgi, at a healthy body weight can be a tricky task. However, since these pups love to eat and this is a weight loss dog food for adult small breeds, they are a perfect match! The formula contains extra fiber to make your pooch feel satisfied with less and leave a long-lasting feeling of fullness!
Merrick Grain-Free Dry Food
Key Benefits:
Real bison meat

Rich in minerals and antioxidants

Contains glucosamine and chondroitin

Improves brain function

Top 5 ingredients: Salmon Meal, Lamb Meal, Deboned Beef, Peas, Sweet Potatoes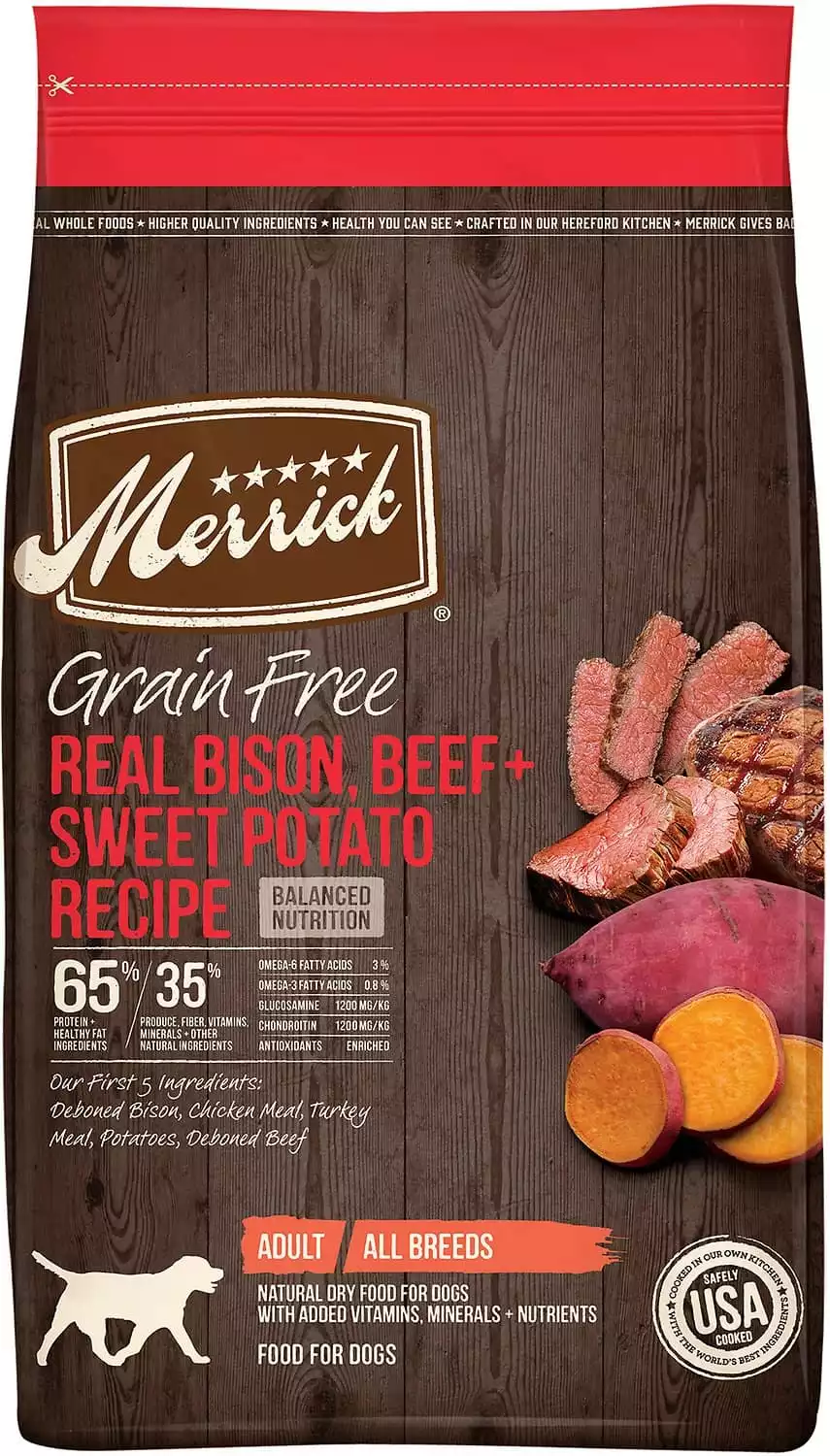 Although it might seem unreal that some Corgis can be fussy eaters, not even the fussiest of eaters would turn down this delicious formula made with deboned bison, sweet potato, beef, and chicken meal!
Merrick Grain-Free Dry Dog Real Bison, Beef & Sweet Potato Recipe has been enriched with chondroitin and glucosamine to help repair and maintain your Corgi's bones and joints while having zero grains, corn, or other fillers. This is priceless when it comes to dogs with such long and sensitive backs.
This limited ingredient diet grain-free dog food from Merrick has been enhanced with antioxidants, and there are natural sources of omega 6 and omega 3 fatty acids that boost brain function, coat and skin health, and more.With grain-free dry dog food like this one, your Corgi will feel great on the inside while looking its best on the outside!
Why we like it – Getting a Corgi excited for its food is usually not that big of a challenge, but if one of your dogs is sometimes a picky eater, this limited ingredient formula from Merrick might be the solution. The grain-free dry dog food is packed with flavor and is smaller in size, which helps clean your pooch's teeth!
Blue Buffalo Basics Limited Ingredients
Key Benefits:
Made for dogs with skin allergies in mind

Made with mild turkey meal

Contains zero animal by-products

Comes with no chicken or chicken meal

Top 5 ingredients: Deboned Salmon, Potatoes, Pea Starch, Salmon Meal, Peas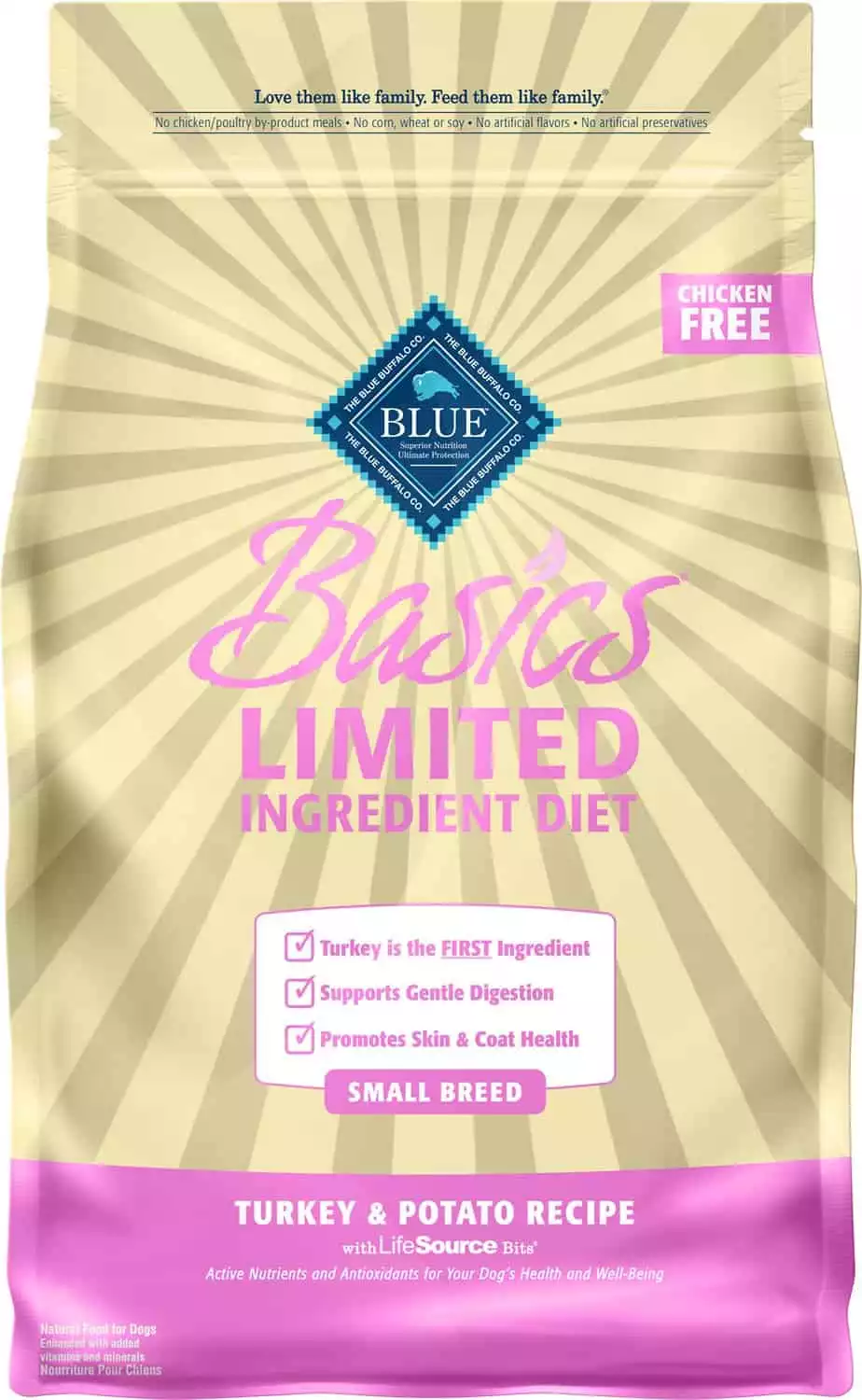 The easily digestible peas and potatoes in the Blue Buffalo Basics Limited Ingredients Diet Turkey & Potato Recipe Small Breed Adult Dry Dog Food will help a pooch that struggles with stomach problems and food allergies.
The first ingredient and main source of crucial amino acids in this dry dog food is turkey meal due to it being milder than other types of meat.
Blue Buffalo has been known as a premium dog food brand, and they constantly bring out new products that cater to every breed's individual needs. This natural corgi dog food is made with small dog breeds in mind, like the Pembroke and Cardigan Welsh Corgi.
The recipe has no chicken, chicken meal, or animal by-products. It comes with plenty of vitamins, minerals, and antioxidants, which help boost your dog's immune system and maintain healthy skin.
This Blue Buffalo formula can be used for one-year-old Corgis as well as senior dogs. If you are unsure of how much dry dog food your Corgi should eat, you will find a Corgi feeding table on the back of the bag!
The reduced number of ingredients does not mean a loss in nutritional value. Quite the opposite, in fact. This Corgi dog food has everything a pooch might need to maintain a high activity level and overall health.
Why we like it – The Basics Limited Ingredient Diet is a new addition to Blue Buffalo's product line, and it is the perfect dog food for Corgis. This breed is known to suffer from allergies and other food sensitivities, so rest assured that the mild protein combined with limited ingredients will keep your pooch's tummy healthy and happy!
Blue Buffalo Wilderness High Protein
Key Benefits:
One of the best-rated dog foods

Delicious natural flavor

Only high-quality ingredients

Enriched with taurine for weight loss

Top 5 ingredients: Real Chicken, Chicken Meal, Peas, Pea Protein, Menhaden Fish Meal
If the grain-free tag is important to you when you're browsing for the best food for the Corgi in your household, the Blue Buffalo Wilderness Small Breed Chicken Recipe Grain-Free Dry Dog Food might be just the thing you are looking for!
This ultra-premium dog food uses real chicken as its main protein source and is one of the top-ranked dry dog food products in the world! It is grain-free, has added taurine for cardiac health and weight loss, is free from artificial flavors and animal by-products, and uses only the highest quality ingredients to ensure maximum nutritional value for your canine companion.
This amazing product from Blue Buffalo will also help your Corgi maintain a healthy weight and keep them feeling full until their next meal. Corgis suffering from joint issues such as elbow or hip dysplasia will greatly appreciate the weight loss!
So, if you want what is best for your furry friend, you should at least consider this premium-quality dry adult or puppy food option.
Why we like it – It is quite difficult to find any cons to this premium Corgi dog food as it has everything your dog needs to remain active and healthy throughout the day. It comes with a Corgi weight chart printed on the back, so you can easily determine how much food your Corgi should eat!
Wellness CORE Grain-Free
Key Benefits:
The reduced-fat formula guarantees weight loss

Comes with no soy, wheat, or corn

Has an increased amount of fiber to promote satiety

The main source of protein is turkey meat

Top 5 ingredients: Deboned Turkey, Turkey Meal, Chicken Meal, Potatoes, Chickpeas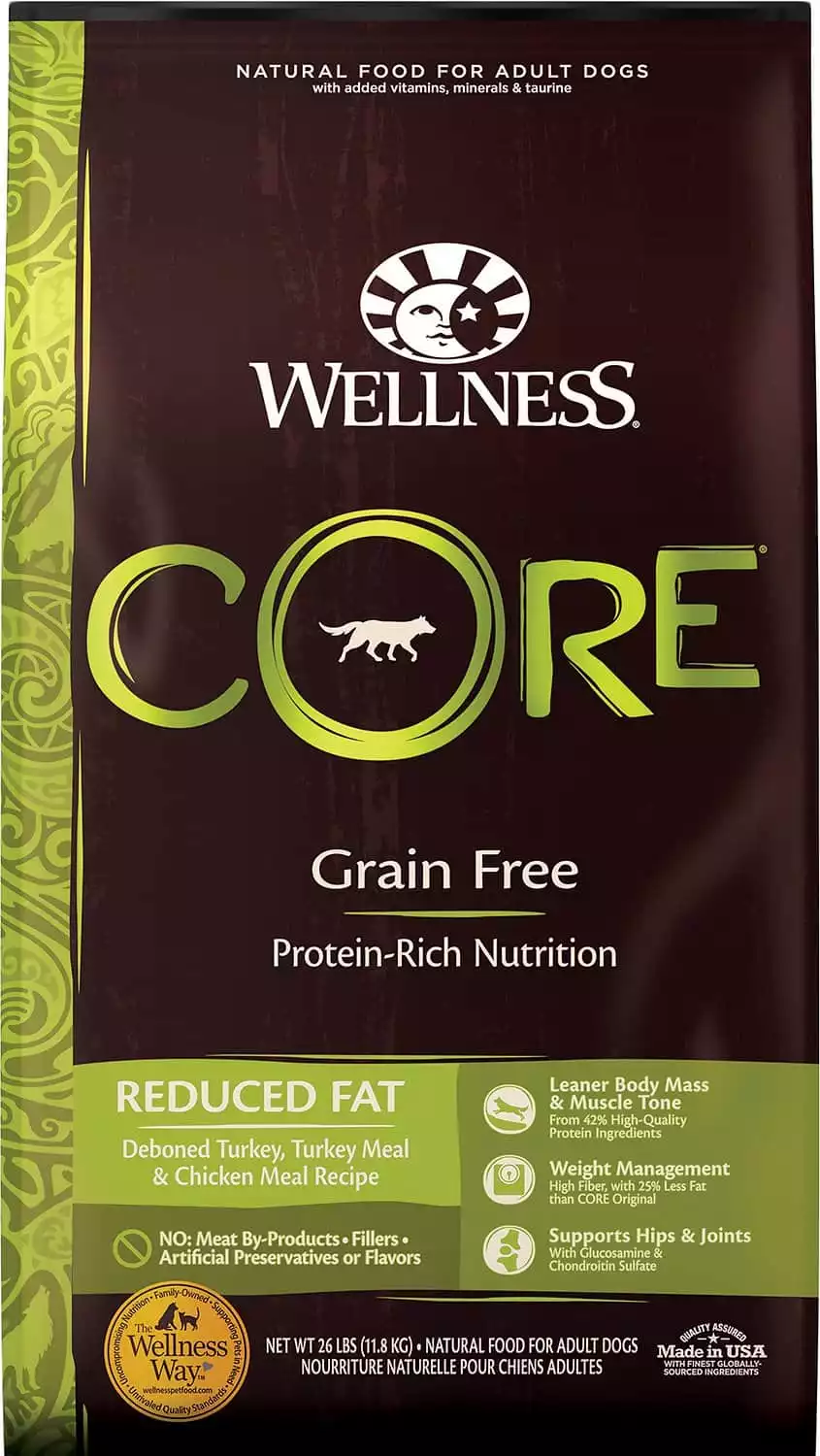 If your pooch has gained a couple of extra pounds, your goal should be to get it back to an optimal weight. In that case, you should give Wellness CORE Natural Grain-Free Dry Dog Food a try!
The ingredient list for this grain-free formula is the same as in the original recipe from the same manufacturer, but the fat percentage has been reduced by a whopping 25%!
The main ingredients in this diet dog food are deboned turkey, turkey meal, and chicken meal. Although these are primary ingredients and are rich in amino acids, the product also contains broccoli, apples, potatoes, chickpeas, and some other fruits and veggies that should secure the necessary carbs, vitamins, and minerals necessary for your dog's well-being.
On top of all of this, the increased dose of fiber promotes satiety and easier digestion. Even though the essential fatty acids are sourced from flaxseed while others come from salmon oil, which is not the healthiest choice, fortunately, they are not included in large quantities.
Why we like it – This dry dog food from Wellness CORE is one of the best for weight loss and comes with glucosamine to promote bone and joint health. It contains vitamin-boosting supplements such as lentils, flaxseed, and peas to help promote a healthy coat and skin as your pup grows up.
Canidae Grain-Free Limited Ingredient
Key Benefits:
12% healthy fat and 30% crude protein

Excellent choice for Corgi puppies with a sensitive stomach

Added probiotics and prebiotics for better digestion

Made with nine real food ingredients to provide good nutritional value without any fillers

Top 5 ingredients: Chicken, Menhaden Fish Meal, Lentils, Potatoes, Peas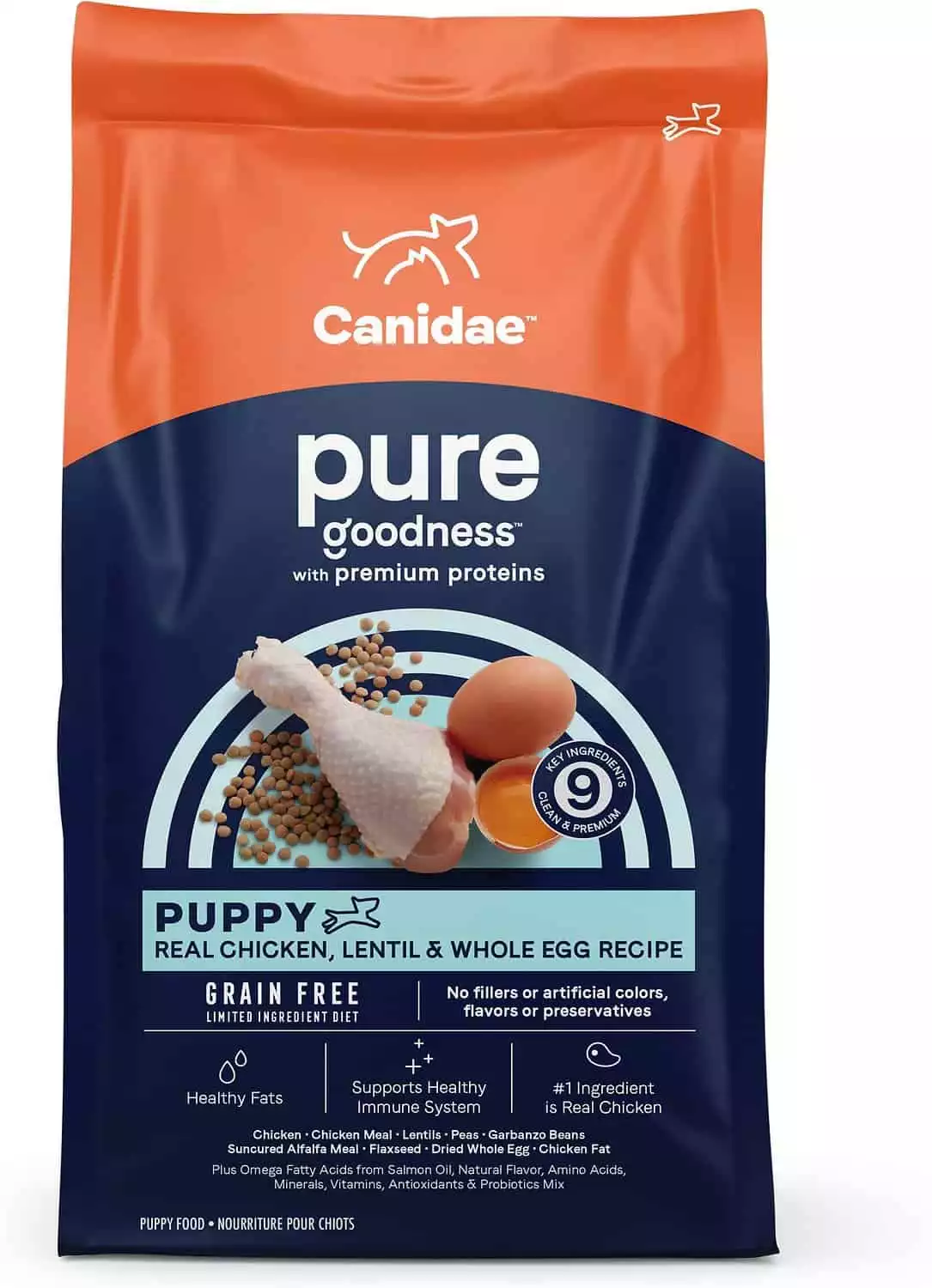 This particular grain-free puppy food includes chicken as its main ingredient as well as some other foods such as potatoes, eggs, and peas. If your Corgi has a sensitive stomach, there is a good chance that the Canidae Grain-Free PURE Puppy Limited Ingredient Chicken, Lentil &Whole Egg Recipe Dry Dog Food will be beneficial to its digestive system.
This Canidae formula guarantees a minimum of 12% healthy fats and 30% crude protein from a chicken source. Note that it doesn't contain any chicken fat or gluten.
There are moderate levels of fiber in this dog food to ensure that it doesn't cause bloating. Also, a probiotics mix has been added to keep your Corgi puppy from having any constipation problems.
When it comes to flavor, this Corgi puppy food has a natural taste that all dogs seem to adore! However, the product does come with a distinctive smell, which is why it would be a good idea to keep it in an airtight container.
Why we like it – This formula from Canidae is one of the best dry dog food formulas for Corgi puppies. It has all of the necessary nutrients for your Corgi to grow up healthy and happy, including probiotics and prebiotics to ensure your pooch has no problems with digestion.
Rachael Ray Nutrish Limited Ingredient
Key Benefits:
Limited ingredient formula is suitable for dogs with food allergies or other sensitivities

The six natural ingredients provide a balanced diet

No poultry by-products

The formula is grain-free

Top 5 ingredients: Brown Rice, Ground Rice, Dried Plain Beet Pulp, Chicken Fat, Lamb Meal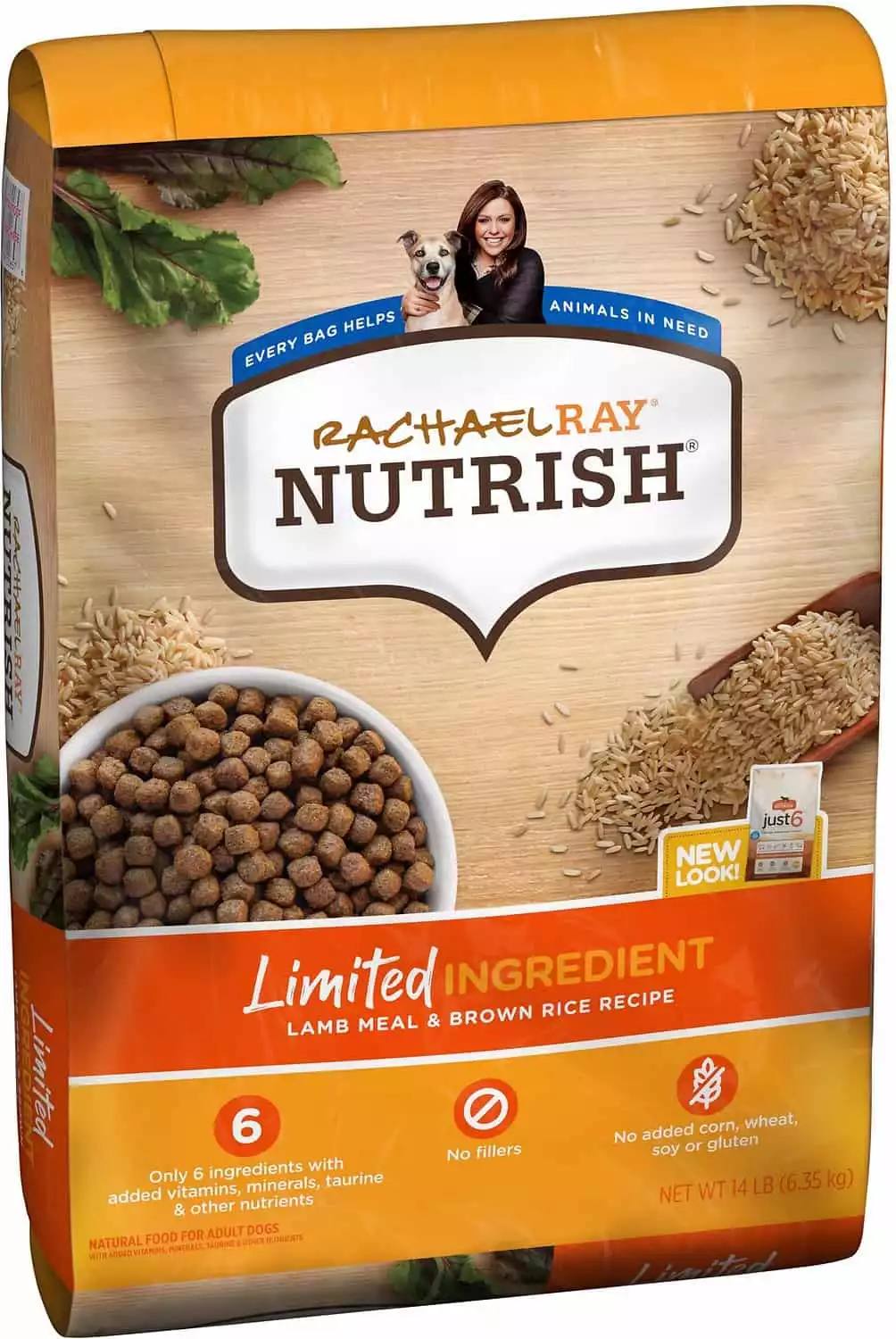 If one dog food truly abides by the limited ingredients "rule," it is Rachael Ray Nutrish Limited Ingredient Lamb Meal & Brown Rice Recipe Dry Dog Food!
The entire formula consists of just six natural ingredients: ground rice, beet pulp, lamb meal, brown rice, poultry fat, and natural chicken flavor. Additionally, this dog food is also packed with minerals, vitamins, and DHA to provide a complete and well-balanced diet.
This dry dog food recipe from Rachael Ray contains zero wheat, corn, poultry by-product meals, gluten, artificial flavors, preservatives, and colors to keep the ingredients to a minimum.
Since Rachael Ray Nutrish's main protein source is lamb, it provides a decent amount of highly digestible amino acids that help support muscle growth and nourishment.
Why we like it – The limited ingredient formula provides all the necessary nutrients your Corgi needs without containing by-products, grains, and artificial additives.
What dog food is best for allergies?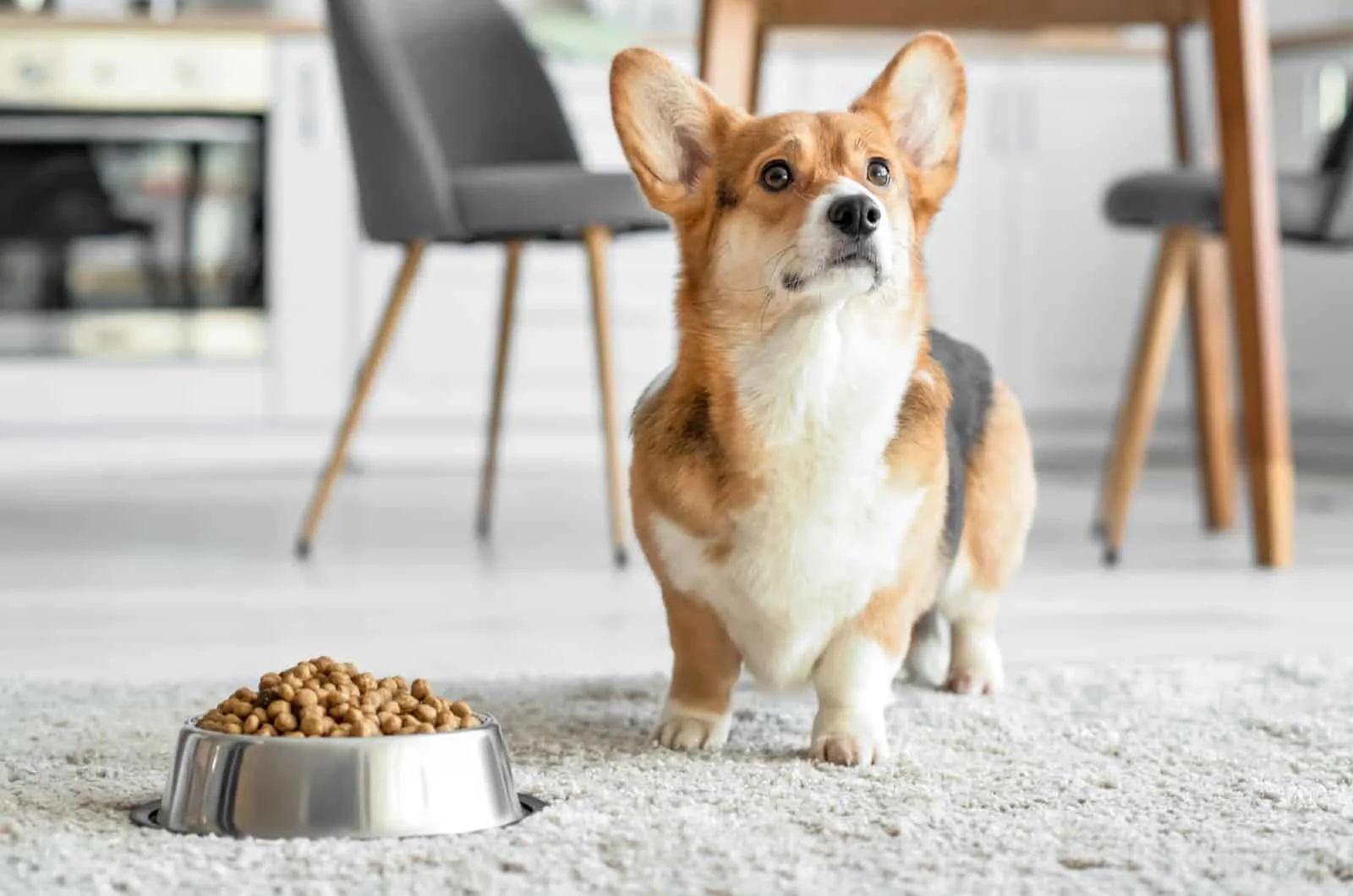 If your Corgi suffers from food-related allergies, you should provide it with dog food that doesn't contain allergy-inducing ingredients.
As a responsible owner, you shouldn't neglect your dog's needs as that could lead to much bigger health issues in the long run.
To help you tackle your dog's food allergies, we recommend buying the Rachael Ray Nutrish Limited Ingredient Dry Dog Food.
Dog food for Corgi: Buyer's guide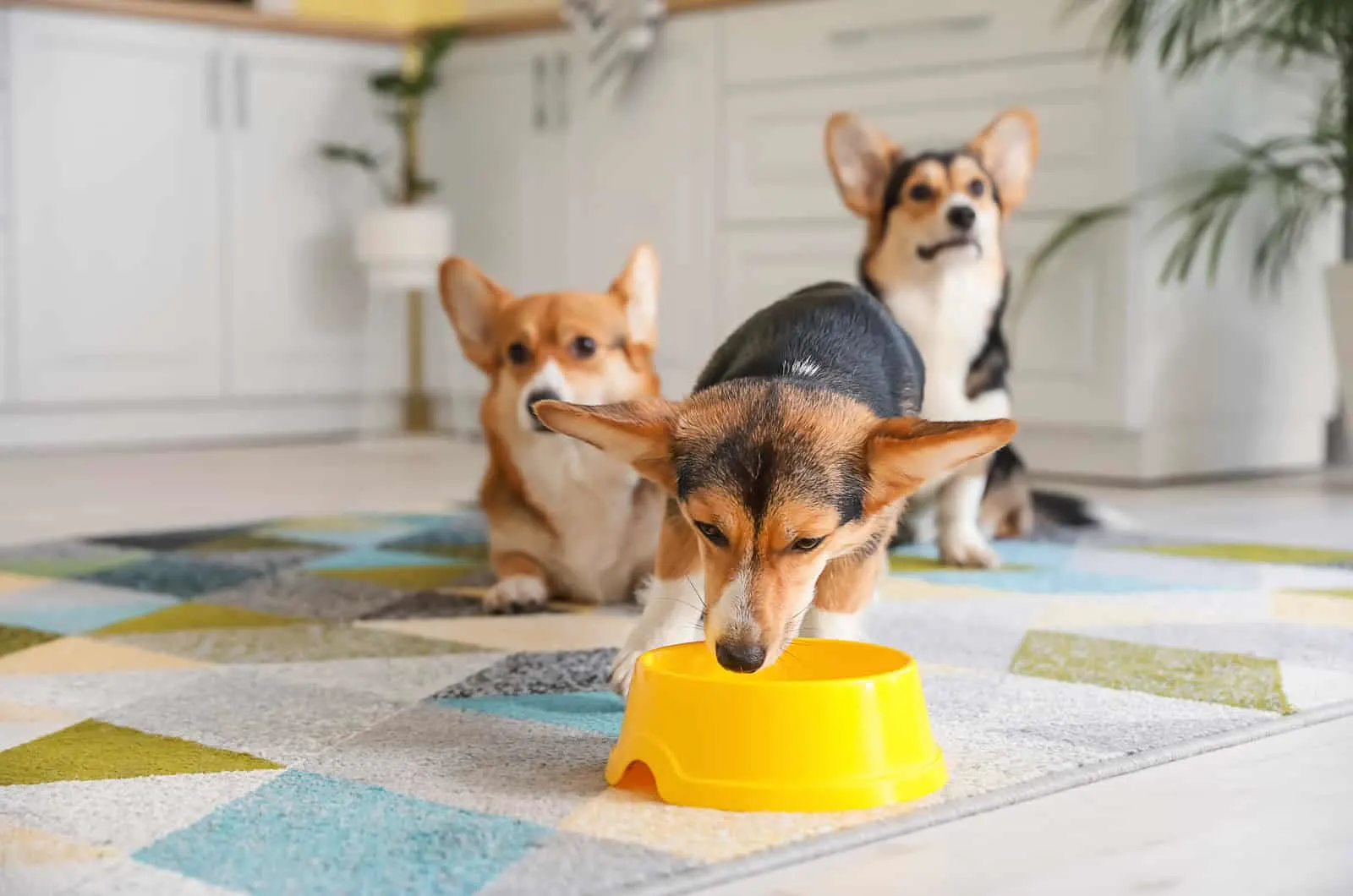 Both the Cardigan and Pembroke Welsh Corgi are adorable fluffy creatures, and it is not hard to see why they've gained popularity all around the globe. But, before you decide to get one for yourself, you need to be sure you know how to take care of it.
Corgis may be small dogs in size, but they have certain nutritional needs that need to be met by providing the right dog food. The best dog food for a Corgi will help your pooch grow up healthy and strong and prolong its life significantly.
Our furry friends do so much for us, and the very least we can do is provide them with the right adult dog or puppy dog food they deserve.
To accomplish this, you need to know the key things to look for when browsing dog food for your Corgi; things that are usually found in the best dog food brands for Corgi puppies and adult Corgi dogs. So, let's get into it!
Skin & Coat
Dogs of this breed are known to have skin conditions. These conditions are usually caused by itching and allergies, sp Corgis need a diet that is rich in omega 3 and omega 6 fatty acids.
These fatty acids are crucial for your dog's skin and make it look smoother, softer, and less likely to crack. They also improve your dog's coat by making it healthier and shinier overall.
Omega fatty acids are found naturally in fish oil, salmon oil, and flaxseed, to name a few. Aim to purchase dog food with omega 6 and omega 3 fatty acids as it will help your pooch look great on the outside and feel great on the inside!
Energy
Every proud Corgi owner knows how active these dogs can be. This means that they need a lot of dry dog food to keep them fueled and give them the energy they need throughout their daily activities.
Carbohydrates are important, but they only give your doggo "sugar highs" or temporary spikes of energy. That is why it is important to focus on providing protein instead.
High-quality protein will support your Corgi's energy level, so you should always opt for wet food or kibble with plenty of wholesome and healthy protein.
How do you know whether or not a dog food is rich in protein? Well, always check the label and ingredients to make sure it contains real meat listed as the first and preferably second ingredient. Also, remember to feed your Corgi optimal protein levels since you don't want it to lack energy or become overweight.
Make sure that the food you purchase for your pooch is made from human-grade ingredients if possible. Yes, this will come at a bit steeper price, but the best dog food for Corgi doesn't come cheap.
After all, as responsible owners, we want what is best for our adult and puppy Corgis, and the first and most important place to start is with a well-balanced diet!
Strong bones
Both varieties of the Welsh Corgi have an interesting build, to say the least. With their long backs and short legs, you need to constantly look out for their joints and bones.
Don't forget to regulate your dog's food intake and feed them a diet that will help them maintain healthy body weight. Because of their unusual build, overweight and obese Corgis have a bigger risk of back, joint, and hip injuries.
Their short legs and long backs are not meant to carry extra weight, so your goal should be to find a dog food product with all-natural ingredients made of lean meat. Also, be on the lookout for dry dog foods that contain chondroitin and glucosamine, as both of these ingredients help strengthen your Corgi's joints and bones.
Frequently asked questions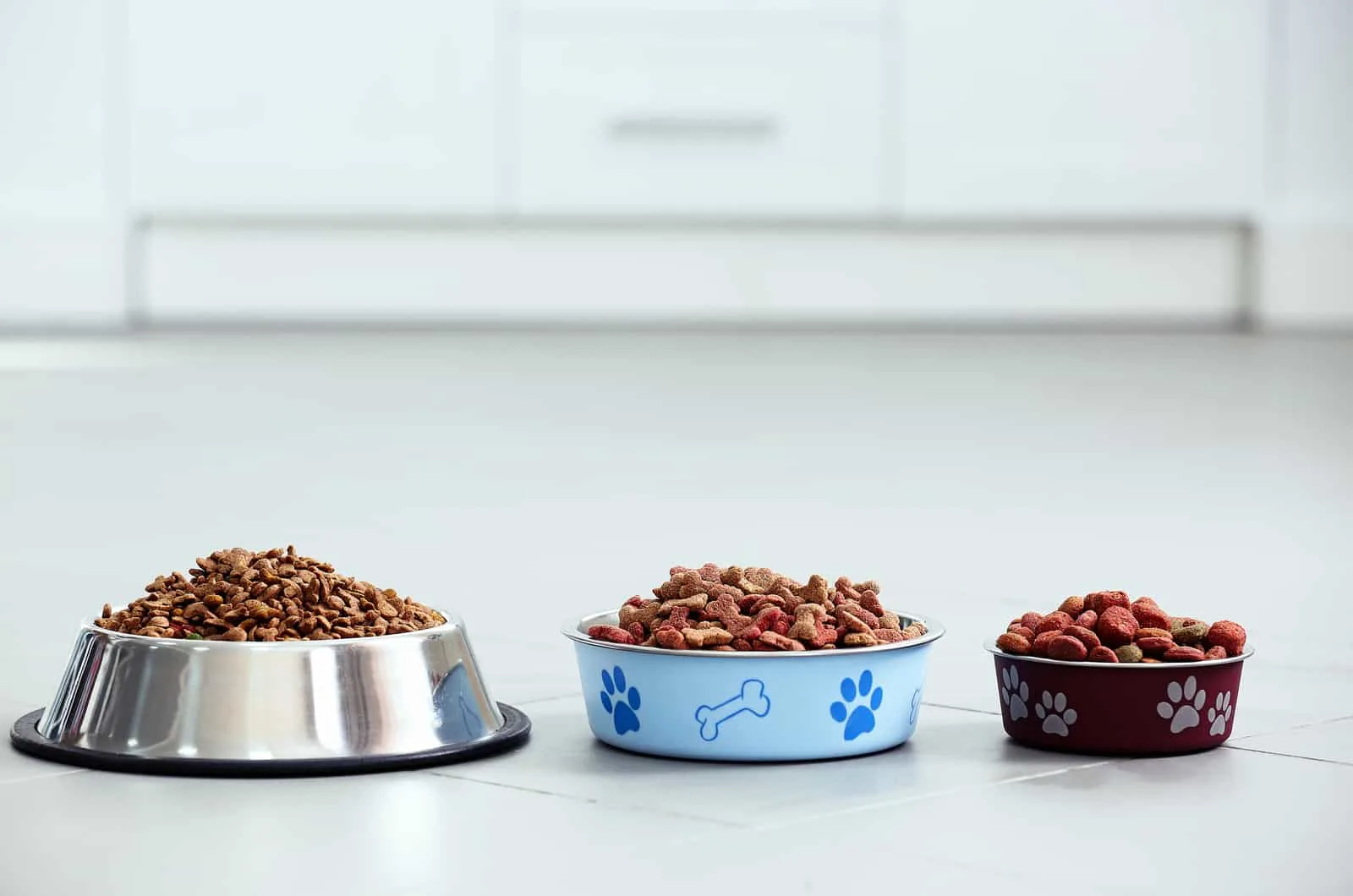 What dog food should I feed my Corgi?
As we mentioned above, both varieties of the Corgi breed are prone to obesity, and you have to feed them responsibly. These four-legged fluffballs love to eat almost anything you give them.
However, it can be a good idea to restrict their calorie intake while maintaining a sufficient protein and carbohydrates supply. Calorie density is why most high-quality dog foods avoid the usage of corn, soy, or wheat in their products and opt for meat proteins as the primary ingredient.
Is cheese bad for my Corgi?
Cheese contains a lot of saturated fats, which can lead to weight gain. But it also contains calcium, which is one of the most important nutrients for the proper development and maintenance of bones and cartilage.
Additionally, dairy products can easily upset your Corgi's gastrointestinal tract and can lead to diarrhea or vomiting in severe cases. So, with all things considered, feeding your Corgi cheese might not be a wise decision.
Are eggs good for Corgis?
Cooked eggs are excellent for dogs because they are rich in animal-based protein. You can safely feed cooked eggs to your four-legged companion in moderation as they contain a lot of vitamins and linoleic acid, which promotes healthy development and the normal functioning of muscles.
Moreover, the consumption of eggs also promotes a healthy coat and skin for your Corgi. But, raw eggs can contain pathogens such as salmonella, so it is best to avoid giving them to your pet.
Should I feed peanut butter to my Corgi?
Xylitol is an artificial additive that is highly toxic to canines. Although most peanut butter brands you come across today don't contain this substance and should be safe for your Corgi, it is always best to carefully read the label.
With that said, peanut butter can be a great source of proteins as well as healthy fats, both of which are necessary for muscle development and joint maintenance. The best option would be to go for natural, unsweetened peanut butter as it is low in calories.
Can my Corgi eat an apple?
Feeding apples to your Corgi can be safe as long as you take the necessary precautions. Dogs can be given apple slices as a healthy and juicy snack, but giving larger amounts of this fruit can lead to an upset stomach.
Also, always make sure you remove the seeds from the apple before giving it to your Corgi since apple seeds are toxic to canines.
How often should I feed my Corgi?
An adult Corgi should be fed between 1/3 and 1/2 cups of dog food every day, which should be divided into two meals. Corgi puppies, however, will require more since their energy levels are much higher. You can expect a Corgi puppy to eat three to four meals of the same serving size per day.
Can I feed yogurt to my Corgi?
Plain or non-fat yogurt can be a great source of calcium for your Corgi pooch. In addition, yogurt provides probiotic benefits, contributing to a healthy digestive system and healthy bones and joints.
In general, it is completely safe to add a spoonful of yogurt to your Corig's regular dish to provide digestive benefits.
Are vegetables good for my Corgi?
Veggies are a great source of nutrients as well as a natural flavor as they offer vitamins, minerals, and dietary fiber, all of which are necessary to provide enough energy for a healthy and happy Corgi. This means that vegetables, in general, can be a valuable tool in providing your pooch with a well-balanced diet.
Will my Corgi eat carrots?
Carrots, whether cooked or raw, are always a healthy treat option for your furry friend. These awesome veggies are not only safe for our dogs to munch on but are very beneficial as well!
However, make sure you cut the carrots into bite-sized bits before serving them to your pooch to prevent them from being a choking hazard.
Which fruits and veggies are poisonous for my Corgi?
Needless to say, some fruits and vegetables can be harmful and even toxic to dogs. Some of these are mushrooms, cherries, raisins, onions, and grapes.
Giving these fruits and veggies to your pooch, even in small amounts, can lead to tremors, organ failure, seizures, and even result in death in severe cases.
Is broccoli a good snack for Corgis?
Broccoli is a tasty and healthy treat for puppy and adult Corgis because it is packed with vitamin C and fiber. It is also very low in fat.
So, broccoli is safe for our four-legged besties, both cooked and raw! However, you should carefully portion the serving size as overeating this veggie can result in an upset stomach.
Are Corgis picky eaters?
Generally speaking, Corgis are not considered picky eaters. In fact, like most other dog breeds, Corgis love to eat! Because of this, we wouldn't recommend leaving food out for your Corgi.
Because most dogs love to eat more than they probably love doing anything else, free-feeding (leaving food in the feeding bowl all the time), your pooch can quickly get out of hand. To prevent your dog from becoming overweight or obese, you should maintain portion control of your dog's diet at all times.
Summary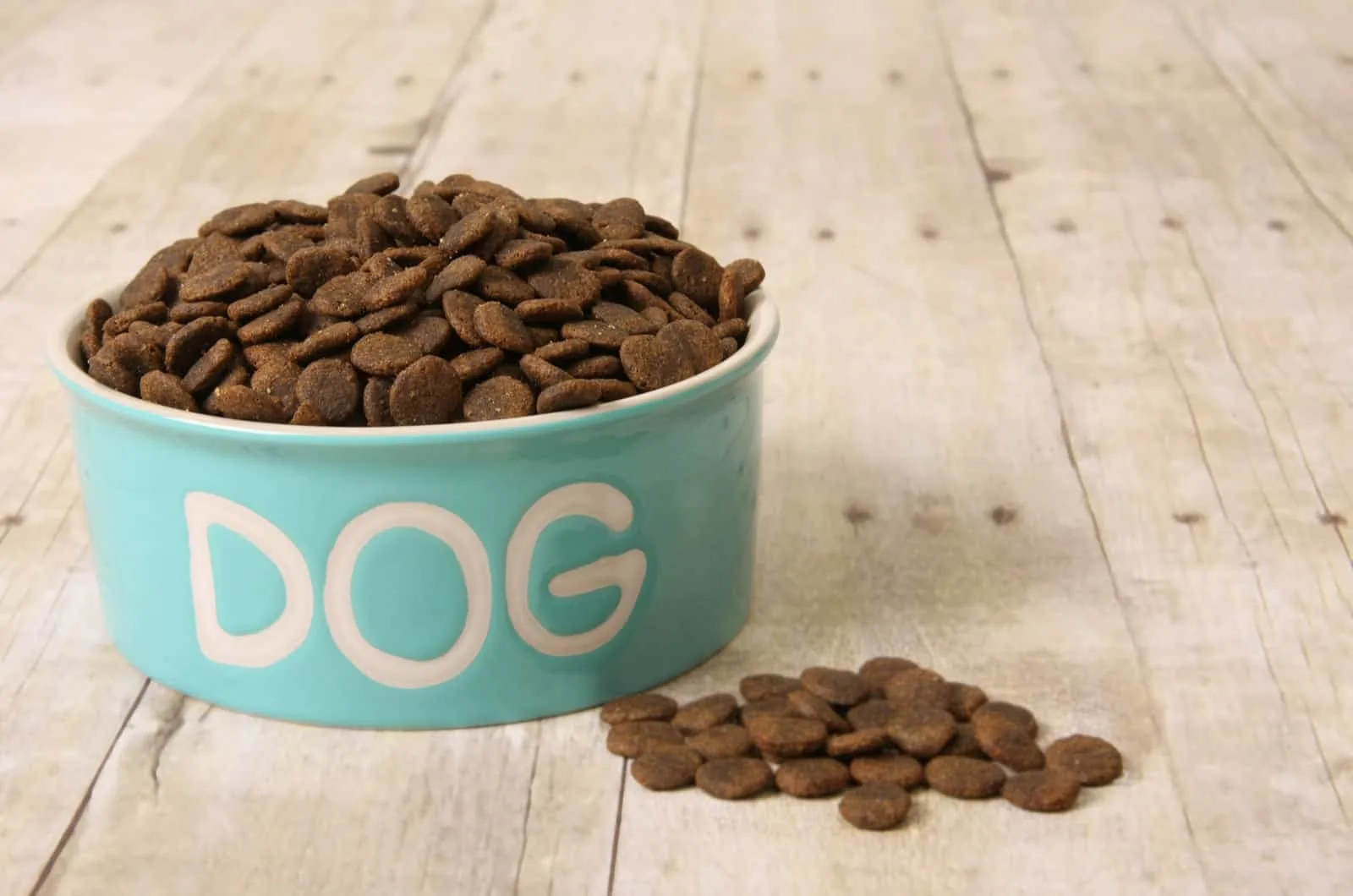 What is the best dog food for a Corgi, how much should you feed your pooch, and when are all questions you need to find the answers to. The sooner you do, the better for both you and your fluffy companion, as it will provide your pet with much-needed nutrients and give you peace of mind.
We all know that the dog food aisle at a pet store, mall, or online shop can feel like a maze for those who throw themselves in without researching and knowing what they are looking for.
So, the purpose of this article is to give you a clear picture of the brands and dog foods that best suit the Corgi breed and to provide you with knowledge so that you can continue your search on your own.
Hopefully, you are ready to go out and find the ideal dog food for your Corgi. If, however, you still don't know where to start, we suggest you try with our favorite pick and go from there.