This post contains affiliate links, and I will be compensated if you make a purchase after clicking on my links.
A Pembroke Welsh Corgi is arguably one of the cutest and most playful dog breeds out there.
They may be known as the dogs of the British royal family, but they like to play as much as the 'common ones' do, though that begs the question of what the best toys for Corgi dogs are.
Much like any other large or small dog, Corgis love a variety of activities, so choosing the best dog toys for a Corgi may not be as hard as initially believed.
They're down for plush dog toys they can chew on – ones that challenge them whether in a physical sense like tug-of-war, or fetch toys like frisbees, or mentally (in a sense) with some puzzle toys that reward them with a treat at the end.
Outside of their royal ties, these little guys were known as herding dogs, after all, so they were always on their feet and doing something. They're also known to be notoriously aggressive chewers, so getting them a good toy should definitely be on your radar.
But, to cut down on the time required for finding your little outward hound's favorite toys, I've made sure to go through both Amazon and Chewy to find you the best options on offer and condense them all in this article in order to give you an easier time.
Let's see what they are together.
12 Best Toys For Corgis
First on our list is a well known favorite for many dogs, the Kong toy.
While it appears to be a simple chew toy, its shape makes it entertaining for any dog to toy around with, and the hollow inside means you can put a few treats or some peanut butter inside of it as a surprise for your doggo when he goes to play with his favorite toy.
While the standard KONG variants are tailored more toward dogs with more powerful jaws, the puppy variant is made from soft, all-natural rubber that's ideal for puppy teething or for small dog jaws to mess around with.
If anything, it'll keep your Corgi from tearing up a pillow or something else, and it will occupy his attention for hours. It's a fantastic aid for preventing separation anxiety. too.
The rubber material has a little bit of bounciness to it as well, which makes the toy a source of entertainment as your dog will end up chasing it around the house when it slips out of its mouth.
Given how the toy was meant for all dog breeds, it does come in a variety of different sizes, so find the one that fits your pupper the best and stick with it.
You don't want it to be too large to the point where his jaws can't even grasp it, nor do you want it too small for it to be a choking hazard.
The KONG toy comes in a variety of different colors for you to choose from. Pick the one that your dog is likely to enjoy the best, or one you're the most likely to find when he hides it away so you can resume your playtime.
Another interesting tidbit to those with a patriotic spirit may be the fact that the toy is entirely made in the USA, meaning that the purchase of a KONG puppy toy helps keep our own economy going.
The price itself is rather affordable, too, for a dog of this size, though do avoid any "extreme" versions as those are claimed to be too hard for dogs to chew through.
One thing that's worth being wary of, though, is that given how this is a chew toy, wear and tear is inevitable. Make sure you're present when your dog is playing around with it in case any small part comes off. You can pick them up before your dog gets to them.
They would present a choking hazard that you wouldn't want your dog exposed to after all.
This delightful little plastic doodad is a great way to help with mental stimulation in dogs, especially ones driven by the promise of their favorite treats for a job well done.
The treat-dispensing toy offers adjustable difficulty levels for attaining the said treats, allowing you to either make your dog really work for it, or just give him the option to tap into a nice reserve of his favorite kibble whenever he feels like it.
It's covered in vibrant colors, which will both make it easy to find for you, and will seem quite appealing to your dog when he approaches it. I'm sure the rumble of the kibble inside will only add to that.
The bottom offers an anti-slip base so the toy doesn't go flying when your dog starts to fiddle around with it, giving him room to work in order to get the kibble out and prevent the kibble from ending up all over the house.
The price is relatively affordable considering its quality, though the lack of color variation does sting a little bit.
Also, do be aware that this toy may not be ideal for those of you who have very aggressive chewers. While it may be branded as long-lasting, it will buckle and break eventually.
This is a simple, but fun toy to make the game of fetch a lot more engaging.
Made from lightweight and flexible plastic, this neat little tennis ball launcher helps you launch balls further than you normally would – a neat extension for your arm and a great workout for your little buddy.
This is a great option for any dog owner out there with a large back yard, field, or other open area where you can take your Corgi to and give him the freedom to run after the ball with no hindrance whatsoever.
That's not where the fun ends, though, as you can even get a number of different balls, whether they're rubber balls that have a bigger and more unpredictable bounce, or if they glow in the dark, adding a new element into the mix with each one.
This way, fetch will never get boring for you or your furry friend.
Speaking of options, there are different sizing options depending on the dog breed and your personal preferences.
It's not just the ball, but the size of the handle itself that helps balance out the pitching power.
It's worth noting that this is also an entirely U.S.-made product, and buying local always beats going international if we can help it.
Of course, given that information, the product is also very budget-friendly, meaning you won't have to break the bank over it; however, do note that the toy is still best for more active dogs.
So, if your dog isn't the most outdoorsy Corgi puppy around, you may wanna look at another option.
A set of simple, plush dog toys shaped in the style of cutesy animal pelts – something sure to put a smile on your darling doggo's face when he lays his eyes on their colorful selves.
Made primarily from fleece and synthetic fabric for a more durable toy, with no stuffing to prevent messes, the ZippyPaws makes for a delightful chew toy for small to medium dogs.
Outside of the designs, the main draws are the two squeakers located in each of the toys that produce a sound your pup would definitely get curious about, and will get his attention for hours on end.
There are three animals in total, with no other options, though these three alone should be enough to keep your dog interested.
The price is crazy cheap, too, so if you want to get your Corgi a set of friends, you can do so with no financial guilt.
The only downside I can really think of is that if your dog tears through the toys, then eventually, the squeaker may become a choking hazard, but that's not that likely to happen if you're supervising him.
Another interesting Corgi chew toy comes in the shape of a bacon-flavored bone chew toy from Nylabone.
Made from durable nylon, this toy is made to last against even the most aggressive of chewers while making sure they all get a good teeth cleaning in.
The bacon taste helps draw them in and continue gnawing. For pups, it's a great way to learn healthy chewing habits in order for them to prevent destructive behavior when they grow older. And, for older dogs, it's a great way to clean their teeth nicely.
This is aided with the ridges and nubs found all over the surface of the toy bone, which helps scrub off plaque and tartar from your furry friend's teeth and keep them as clean as they can be.
The toy was designed in a way that makes it easy to chew on, no matter what end your dog approaches it from; thus, minimizing hassle and maximizing interest in it.
It's even recommended by veterinarians nationwide as a solid option for teething and teeth cleaning at the same time.
While the design doesn't offer much in terms of personalization, it doesn't really need any as the product itself does what it is intended to, and it looks rather nice as it is.
The only problem is that it's a bit pricier than the rest of the competition here, but not by much. This makes sense given its quality, but all of you budget-conscious pet owners should take note of that.
Speaking of bacon, here's yet another quality, bacon-flavored chew toy, this time from Benebone.
Coming in that all-too-familiar shape of a turkey wishbone (albeit a few sizes larger depending on which of the four options you choose from), this treat is a delight for dogs all over the nation.
I'm sure that's mostly the bacon flavor, but thanks to its ergonomic design, the ease of access to every part of it certainly adds some points to it.
Made out of nylon and synthetic fabric, the item makes for quite the durable toy – one that promotes healthy chewing habits and keeps your dog away from your slippers.
The texture on it was made to accommodate dog paws in order to prevent slipping and enhance grip, keeping your darling Corgi interested for hours, and it has several grooves where the bacon flavor is the strongest, encouraging him to dig deep.
Though it's not all about just one dog. Dog lovers would be happy to know that with every purchase of a Benebone product, part of the proceeds are donated to improving animal welfare all over the United States in order to ensure that our furry friends are all safe and sound.
The toy itself is made entirely in the United States of America, much like several others on this list, so do keep that in mind if you're someone who likes to 'shop local'.
The product is quite inexpensive, too, making it a godsend for any dog owner who wants to give his dog the best he can, but doesn't have the spare funds to facilitate it.
Something a little different this time around – a teething toy that also doubles as a tug-of-war toy for you and your Corgi to have fun playing together instead of having him go solo.
Made from 100% natural cotton, this toy ensures your dog can get both playtime and good dental hygiene sorted out in one fell swoop.
While the toy itself is durable, the fibers help floss the dog's teeth and fight plaque and tartar.
It comes in five different sizes, too, though you'd want the smaller ones for your Corgi simply so that he'll be able to wrap his maw around the darn thing.
This is a really cheap pickup for a bit of good-quality knotted rope, and it'll definitely last you longer than some old towel or rag for the purposes of tug of war.
Here's another Starmark toy similar to the earlier concept, except it is in a more active, ball form this time around.
Made of durable, high-quality plastic with openings on each side, this toy allows you to place your Corgi's favorite dog food in it, which will later get pushed out as your dog is playing.
While the recommended kibble is the Interlocking Treats brand, you are free to use any form of food that you see fit as long as it can fit through the slots and come out with ease for your dog to treat himself with.
This treat-dispensing toy is great for helping dogs fight separation anxiety when you're not around, and it can help promote healthy chewing habits, keeping your dog on the ball and off your sofa or your shoes.
If anything, it'll definitely keep him occupied for as long as food remains inside, providing him with a calming experience.
And, don't worry – regardless of what you put inside the toy, it's easy to clean up as it's entirely dishwasher safe, and it does not contain any harmful chemical that might seep into the food and risk your dog's health.
Plus, it's not all that expensive, meaning it's an easy pickup that won't set you back that much.
The toy also comes in three different sizes, though I recommend getting the smaller one for your little buddy.
That said, some people feel as if a hollowed-out ball doesn't really feel all that unique for the price, though I guess you can be the judge of that when it comes to your money and your dog.
Another neat little "work/reward" toy concept, this dispenser ball offers to challenge your doggo on multiple different levels (of your choice) and reward him with a treat for a job well done.
It's great for canine mental stimulation, aiding greatly in improving their problem-solving skills.
The toy will occupy your furry friend for hours on end, and it will remain a fun challenge for him for a while.
The toy is made from high-quality plastic that's easy to take apart and clean with soapy water within a minute or two, so your dog can return to playing with his new favorite toy.
This is a rather unique toy, despite its apparent simplicity.
This little plastic ball produces sounds akin to giggling when it is rolled around, thanks to the three tubes that go through it. The motion itself causes the sounds without the need for any batteries whatsoever.
The noise is apparently lifelike enough that your dog will come running after it and enjoy chasing the ball down, and the vibrant colors are sure to keep his attention on the ball just as well.
Personally, I believe that it is a fun and interesting approach to the classic dog ball, and I'm sure your dog will agree as well.
Your wallet may not, but I think the price for this one is well worth the gimmick that your dog is likely never going to get tired of.
Going back to some more traditional puzzle games for our furry friends that don't stimulate them with the promise of treats, we have the Outward Hound's Hide A Squirrel game.
For those who don't want to end up spoiling their dog with treats too much, this toy should provide a great alternative.
The game is simple – use the stuffed squirrels that come with the game, stuff them down the holes in the trunk, and have your dog go and find them.
The amount of fun to be had is endless, and it's a great way to train your doggo's hunter gatherer instinct.
The toy comes in four different sizes that any dog can play with; however, the squirrels from the latter ones may be a bit much for smaller dog breeds to manage.
And, given the potential fun provided, the price isn't all that bad.
The final entry on this list are Nylabone teething rings, another great teething toy from Nylabone aimed at puppies this time around.
Made from highly durable plastic, the toy's texture is reminiscent of the earlier-mentioned bacon toy, and it is also covered in nubs that help reduce teething irritation and help combat tartar and plaque buildup.
They also help in teaching your little canine buddy healthy chewing habits, and dissuade destructive behavior.
The toy itself is colored in vibrant hues of different colors that will occupy your pup's attention.
The best part is that this chew toy also doubles as a tug toy so that you can engage yourself with your pupper – just make sure not to pull too hard – he's still learning after all.
The toy is veterinarian-approved, meaning it's safe to use by any small dog breed.
It's quite cheap, too!
What Traits Make For The Best Toys For Corgis?
There are a few reasons why we want to get toys for our pets in the first place, and Corgis are no different, so the traits that make for the best toys for Corgis are about the same as they are for any other dog breed out there:
Physical Activity
The main goal is to get your dog to be physically active. Lounging around the house isn't just bad for us, but it is also bad for our canine companions, and cuddling doesn't count!
Mental Development
Many toys are designed with some sort of "work for your reward" system in mind, which work great for training dogs to do specific tasks and to keep their minds sharp. Look for toys that do that.
Dental Hygiene
You'll also notice that a lot of these toys promote good dental hygiene, whether it's fighting plaque and tartar or simply helping to sharpen the teeth in general. Toys like that should be on the list of every dog owner since a dog's teeth are his livelihood.
Promoting Healthy Chewing Behavior
Chew toys help keep dogs away from furniture, shoes, and the like, and they help teach healthier chewing habits. Consider them if this is a problem that you're facing in your household.
Promoting owner-dog interactivity
Tug toys and other multi-person-activity toys are great for building and maintaining a relationship with your doggo.
Combating Separation Anxiety
Time passes differently for dogs and humans as dogs feel it tick by faster. Toys are a great way to keep their mind occupied while you're away, and they will keep them from getting depressed.
FAQs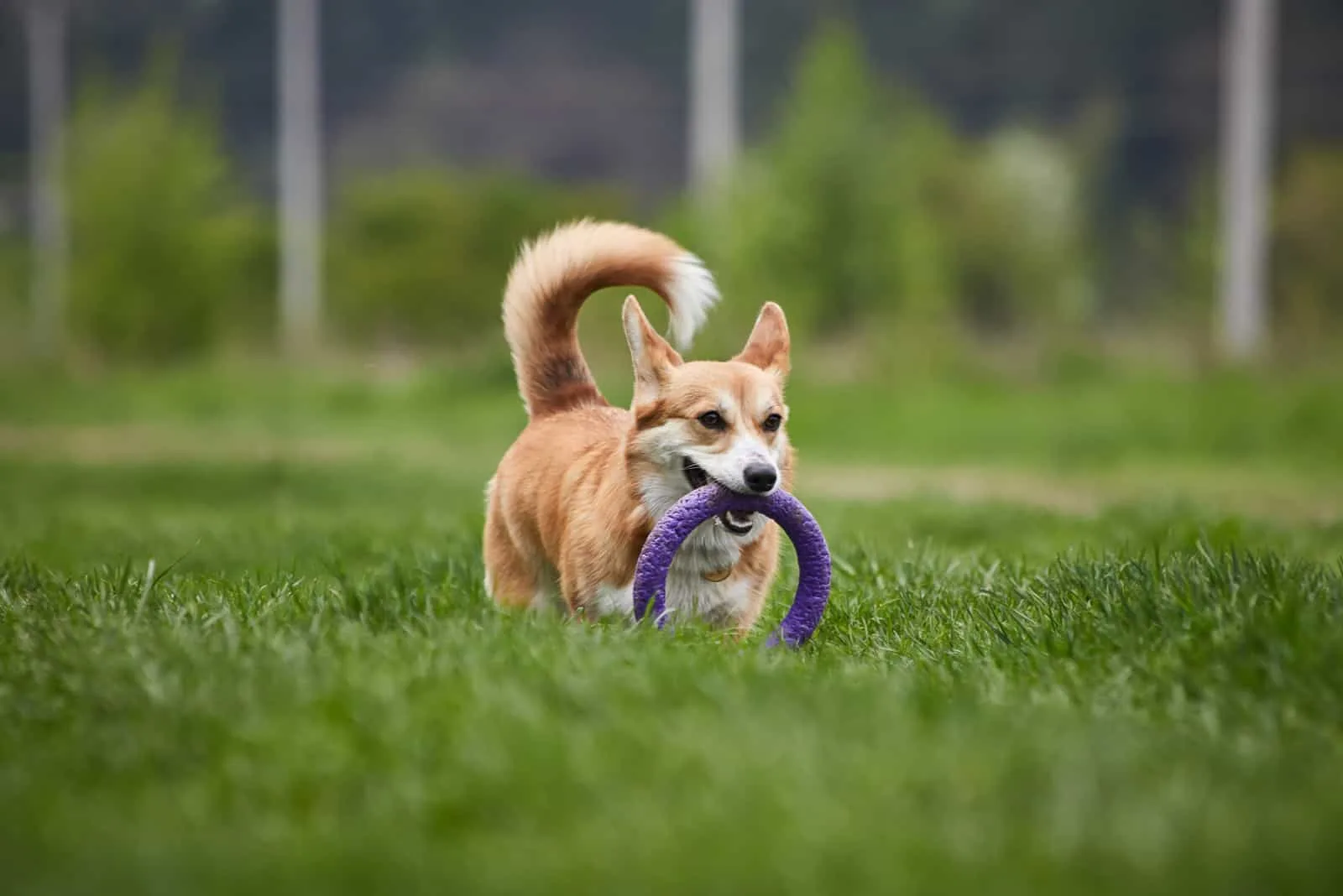 What Types Of Dog Toys Are There?
Finding the right toy for your Corgi can be hard, but learning all the different types can help you make a more informed decision:
Chew toys – Toys that have your dog chew on them, self-explanatory. These are usually soft toys with some sort of gimmick to them like a squeaker.
Tug toys – Toys designed to be used in games like tug of war.
Interactive toys – Toys designed to be like little puzzles that are separated into puzzle toys and treat-dispenser toys.
Fetch toys – Toys designed around promoting physical activity through the game of fetch.
What Does A Corgi Like To Play With?
Given their background, Corgis really like physical activity, so the best toys for a Corgi would be ones aimed at that. Fetch toys fit that bill quite well, so getting something as simple as a ball or a frisbee should be good enough for them.
How Do You Stimulate A Corgi?
Corgis like being physically active and seeing wildlife, so taking them out for frequent walks and getting some toys in the shape of other animals will help stimulate your Corgi easily.
What Is The Best Toy For A Corgi?
As mentioned earlier, any toy that promotes physical activity (meaning fetch toys and tug toys) are always a sure-fire way to go.
What Makes Corgis Happy?
Given their cheerful expressions and cute form, you'd think Corgis would like lazing around, but it's actually quite the opposite.
Corgis love it when you keep them occupied. Give them something to do or challenge them mentally or physically. They love putting effort into something productive.
In Conclusion
The best toys for Corgi dogs are ones that can keep them physically and mentally stimulated for a good while.
Plenty of them cover these bases, which is why it's such a hard choice in the first place, especially if you're getting just one.
While every dog has different preferences, much like we humans do, Corgis love something that gives them a job – something that challenges them. Finding something that helps accomplish that would tick the box for the best toy for a Corgi.
If it were up to me, my personal favorite pick would be the giggle ball since it helps keep your pooch physically active, and it also has a really entertaining gimmick.
However, I suggest going by what your dog likes and trusting your own gut concerning the matter. Nobody knows your dog better than you do after all. Until next time!
RELATED LINKS:
• Are Corgis Good With Kids? Advice To Parents With Corgis
• How Much Do Corgis Cost? Prices And Expenses Calculated
• Male Vs Female Corgi – Is There A Difference? What You Need To Know