This post contains affiliate links, and I will be compensated if you make a purchase after clicking on my links.
Are you on the lookout for the best harness for Pugs for your little four-legged friend? Then you're in the right place!
Pugs are small dogs with some special requirements that can make walks challenging. A standard dog collar might not be suitable for them, due to the way their body is built.
Pugs are likely the most famous breed with a flat face. Their breathing pathways are restricted as it is, which is why a collar might not be a great choice. A high-quality dog harness offers more benefits for such dogs, ensuring their walk goes trouble-free.
But how can you know what is the best harness for Pugs when there are so many good products on the market?
Don't worry – I'm here to help.
I've compiled a list of the best products you can find on websites such as Amazon and Chewy. I've also included a buyer's guide and a few other pieces of information that might interest you.
Here's what I've found!
Best Harness For Pugs
Before I get into detail about each individual product I've listed, here is how all the products are rated online. This can help you make your search for the best Pug harnesses much faster.
Best Harness For Pugs Reviewed
Many Pug owners underestimate the importance of finding the best possible products for their pups. They'll think all harnesses are the same and that this isn't an important dog accessory.
While it's true that most harnesses you can get on the market will do their job, you should always strive to get top-quality products for your pooch.
Here is our list of top picks for the best harnesses for Pugs you currently find: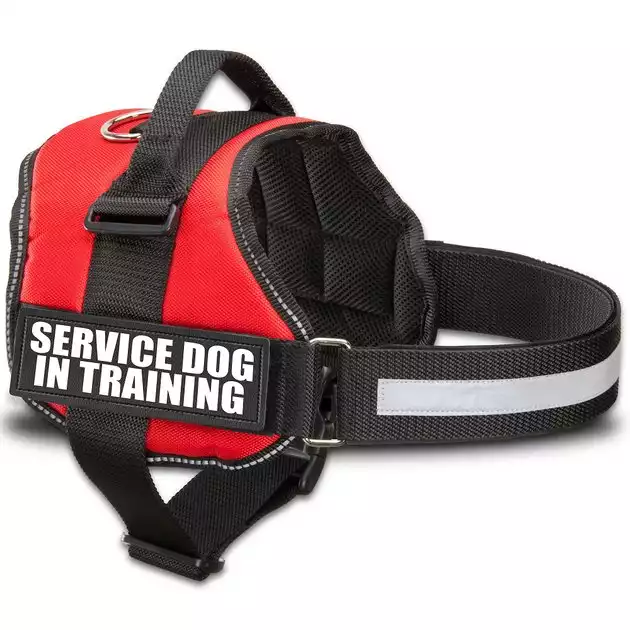 This is an adorable vest harness that will make everyone smile when they see your doggie. While it comes with a Service Dog in Training removable patch, you can buy additional Service Dog or Do Not Pet patches as well – although it is important to note that these might get you in trouble if your little Pug is truly not certified.
The vest has a reflective safety band that helps you see your pooch during the night. The adjustable straps are there to help you ensure a comfortable fit.
It comes with a durable welded D-ring that can withstand much stronger dogs than our cute Pugs, but it can be too heavy-duty for very small dogs.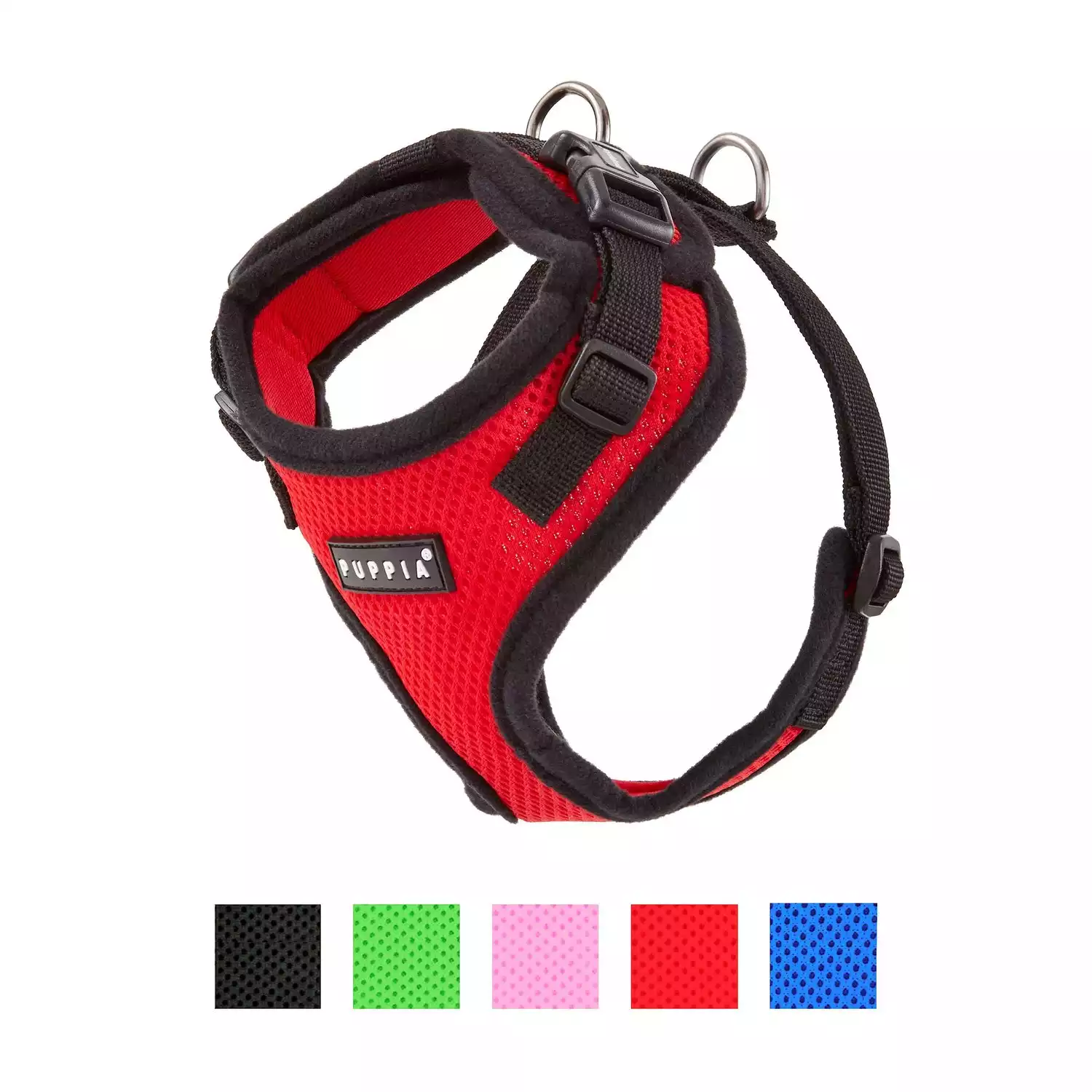 Thanks to its fully-adjustable straps, this is the best harness for Pugs that are in-between sizes. You can adjust both the chest girth and the neck girth, so it'll always be a perfect fit.
The harness is entirely made out of polyester, including breathable mesh that will help your Pug during warm weather.
It comes with two quick-release buckles that make it easy to put on and take off, but with some dogs, the position of the buckles can make this a bit challenging.
The harness has an authentic rubber label that all Puppia products have, giving this harness a chic appearance.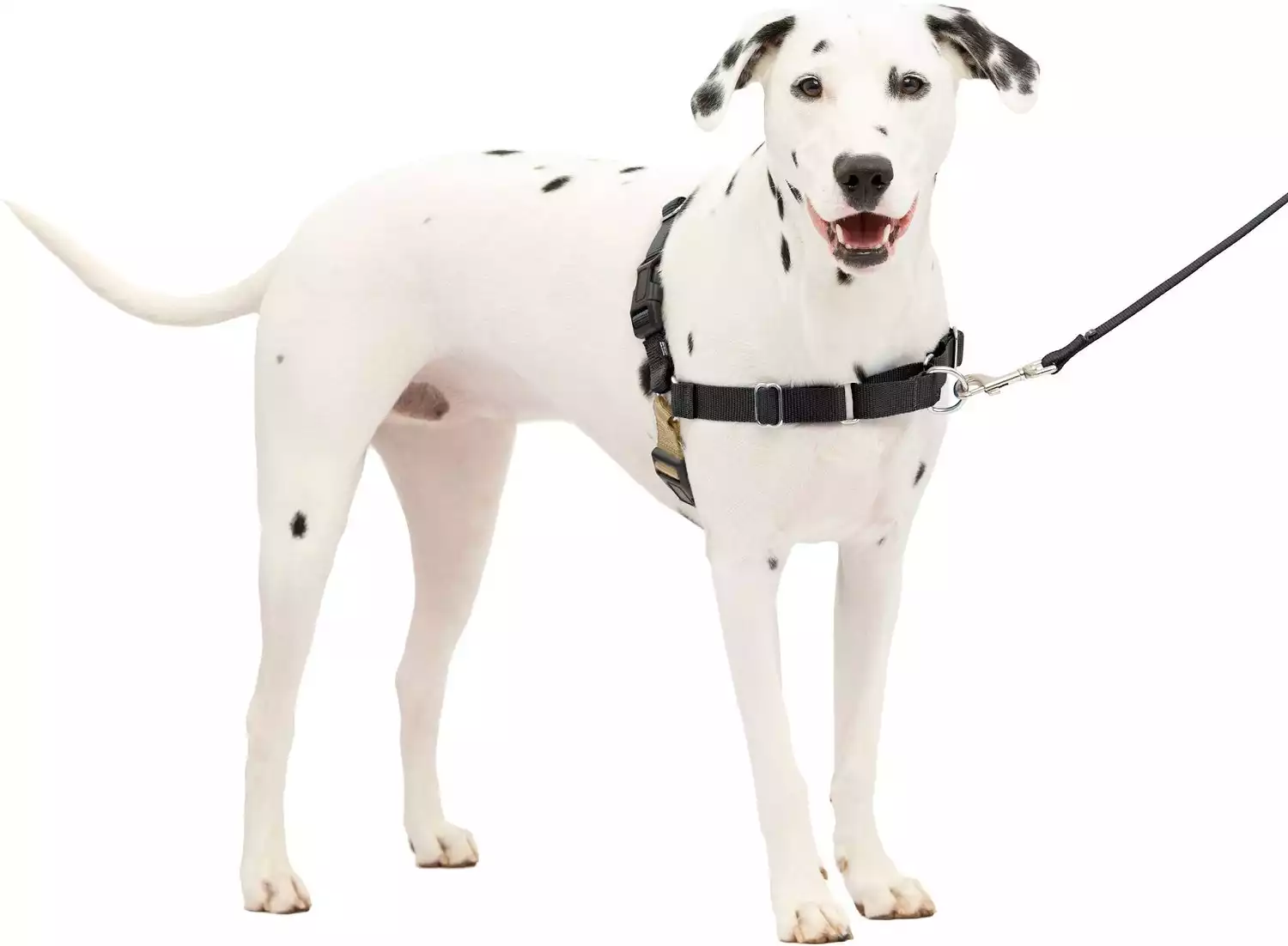 According to many, this might easily be the best harness for Pugs and other flat-faced breeds, such as French Bulldogs.
This harness combines quality and good price, and many professionals and breeders use it for dog training. The no-pull design helps your pup understand that they'll go nowhere by pulling, helping the lessons.
This harness is effortless to take it off and put on thanks to the quick-release buckles on the chest and neck.
At the same time, the harness comes in eight gorgeous colors, so you can pick the one you like the best or the one you think will match your dog's personality the best.
Not just that, but it comes in 11 sizes depending on the chest and girth size. This means you can certainly find the one that fits your pooch!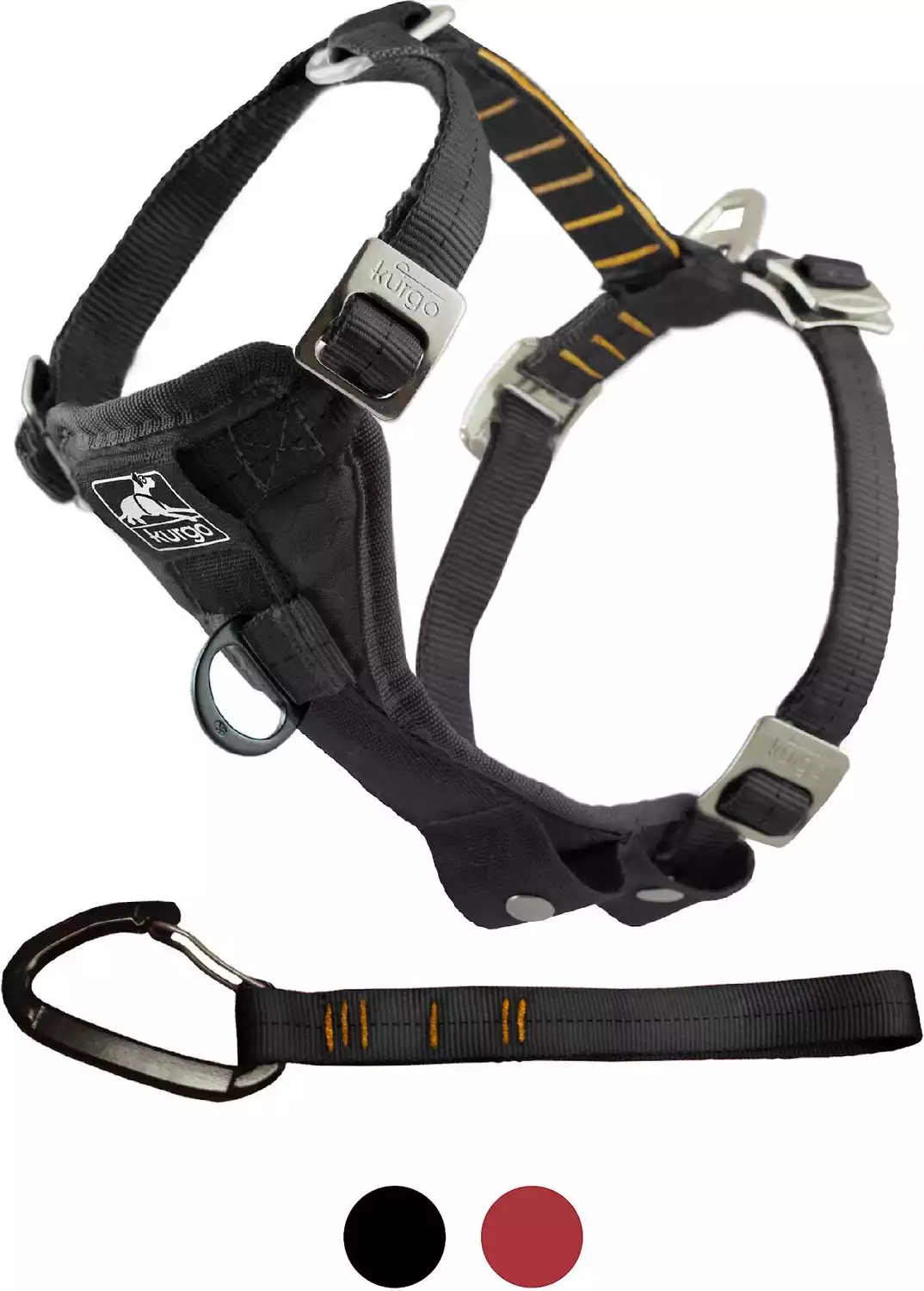 If you have a car, this might be the best dog harness for you. It has all you need to take your pooch on a comfortable ride to the mountainside or on a vacation. In fact, it utilizes the same technology used for professional climbers to ensure your pooch stays safe.
This harness has a padded chest strap that ensures the impact injuries are minimal, so you'll know your pooch is safe and sound.
The chest pad is extremely comfortable, so your pup won't have issues wearing it.
Of course, when you're not using this harness in a car, you're also able to use it during walks like a regular walking harness. This means that one harness is enough for two different tasks, minimizing your expenses.
Just keep in mind that this harness isn't made for dogs that lie down in cars. You can only use it while the dog is sitting. As such, it might not be the best choice for long trips.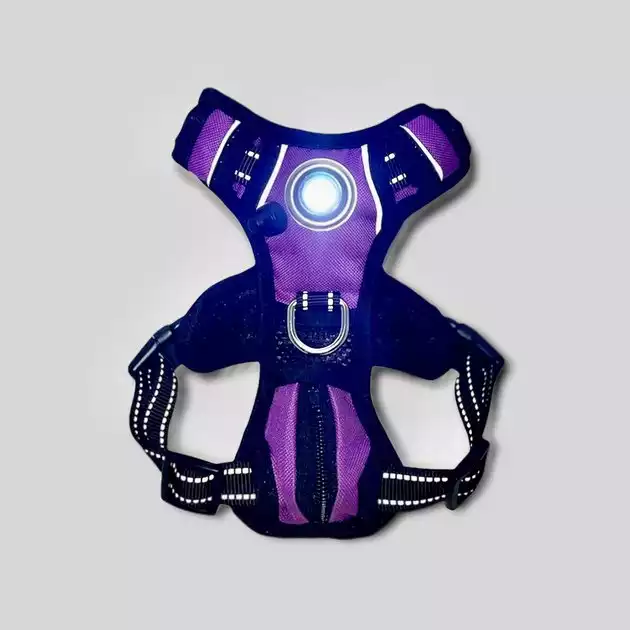 Do you walk your Pug during nighttime? Maybe you have an escape artist? If you do, maybe you should consider getting him a harness that is impossible not to see, and this product might be exactly what you need.
It comes with a LED light on the chest that will not just help you see your dog in the dark but also light your surroundings, helping you get by, as well.
The design is carefully planned to make sure your pooch doesn't choke himself or get hurt, even when he's pulling as strong as he can.
The harness is sturdy and durable, while also being water-resistant and lightweight. Due to the adjustable chest and neck-straps, you can ensure a comfortable fit.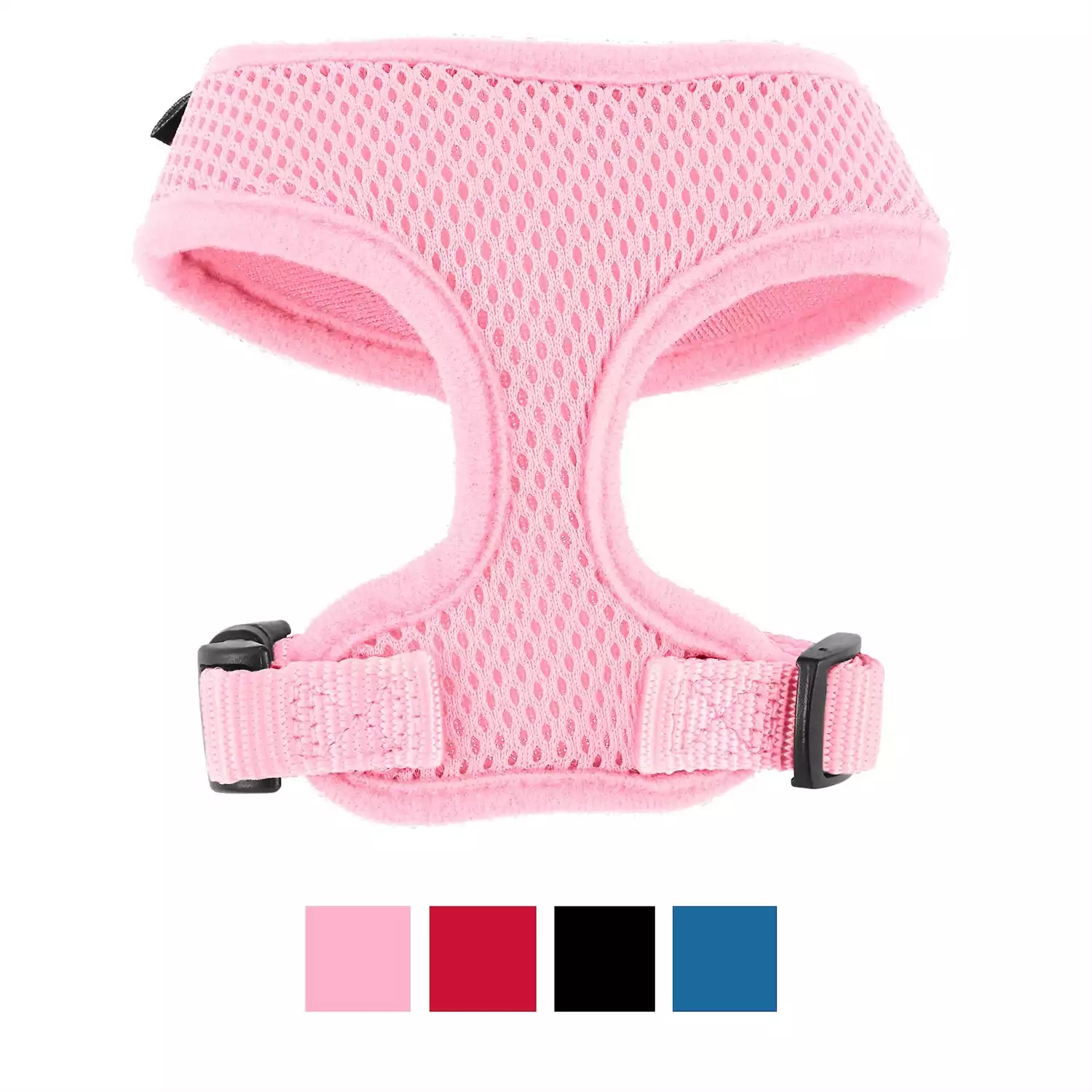 This is a great harness for a Pug dog as it is soft and easy to use. It's strong enough to withstand a dog that lunges but comfortable enough not to cause any harm to your pooch.
It allows your pup to stay cool and comfortable during long, summer walks, and the over-the-head design helps the owner put it on easily, but the adjustable stomach strap slide helps you ensure a comfortable fit even if your pooch isn't entirely fitting the sizing chart.
However, it's important to note that the neck strap isn't adjustable. As such, you want to make sure it fits comfortably on your Pug's neck.
The harness comes in several sizes and four different adorable colors that make it a perfect fit for Pugs of all personalities. Just make sure to pick the proper harness size.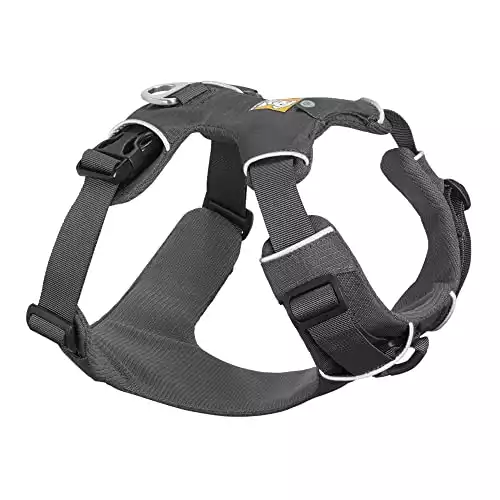 This is a great harness for outdoor adventures, especially if you're used to walking your dog in low light. The product has a reflective trim, so you can see your dog in the dark without too many issues.
The stripes on the front legs, chests, and back are padded, ensuring additional comfort for your dog no matter the activity. The D-ring is located on the back, meaning this harness is also a good option for a dog that gets tangled on the leash easily.
The harness is adjustable, but not as much as some other options. Also, while it doesn't have a place for a standard ID tag, it still has a transparent pocket that you can use to put a written tag with your information, in case your pup gets lost.
Editor's Choice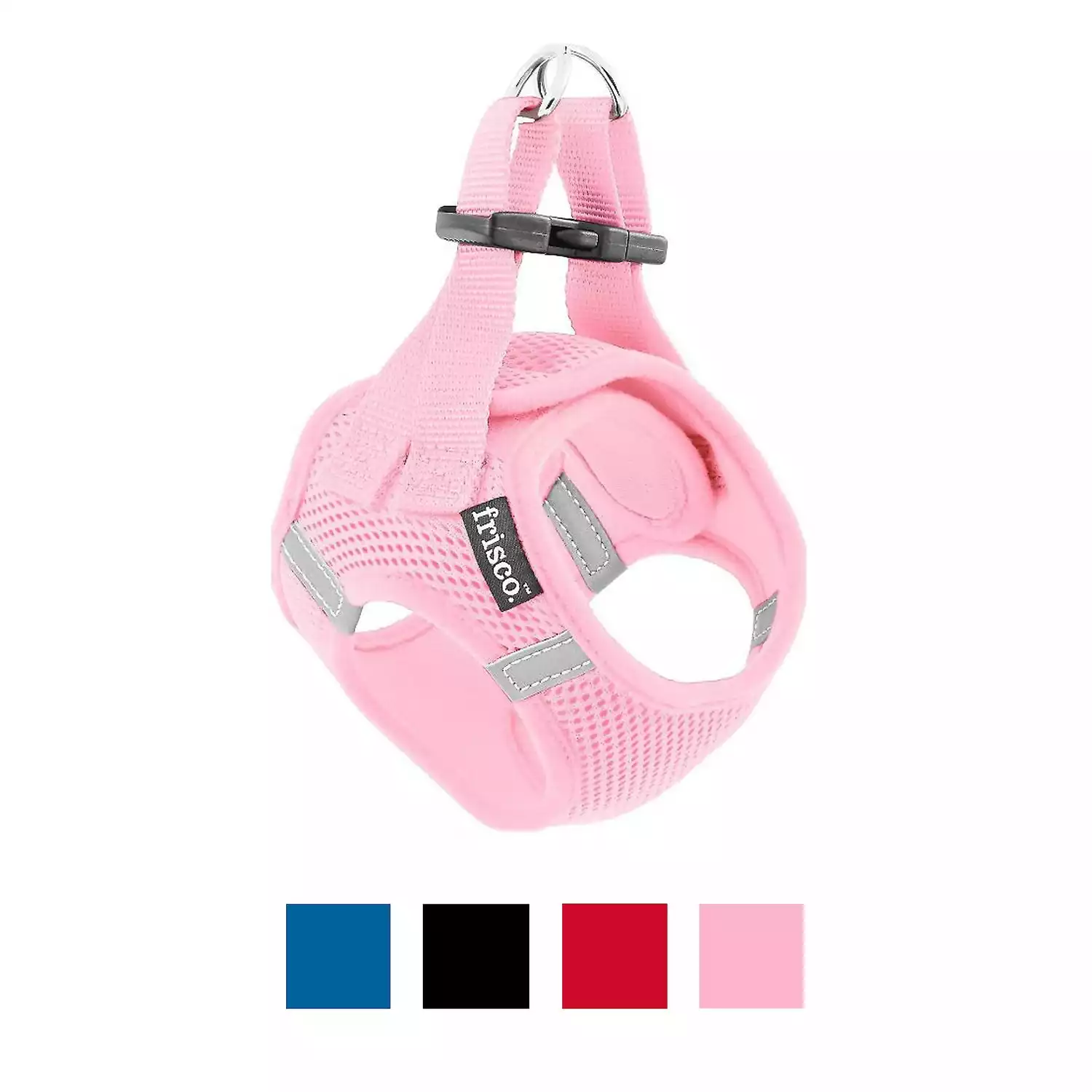 This might easily be the best harness for Pugs you can find, as it's designed specially with small breed's needs in mind.
The harness is made out of soft and breathable material that ensures maximum comfort. Still, it has a fast-release buckle to ensure you can easily remove the harness if you need to.
There are four reflective bands on the front and the side of the harness, so you'll be able to see your doggie without a problem.
Also, the product comes in five sizes and four different colors, so you should easily find the right one for your Pug.
Sporn Mesh No Pull Dog Harness
Key Benefits:
Vet-approved patented system

No-pull dog harness

Easy to put on and get off

High-quality nylon material and breathable mesh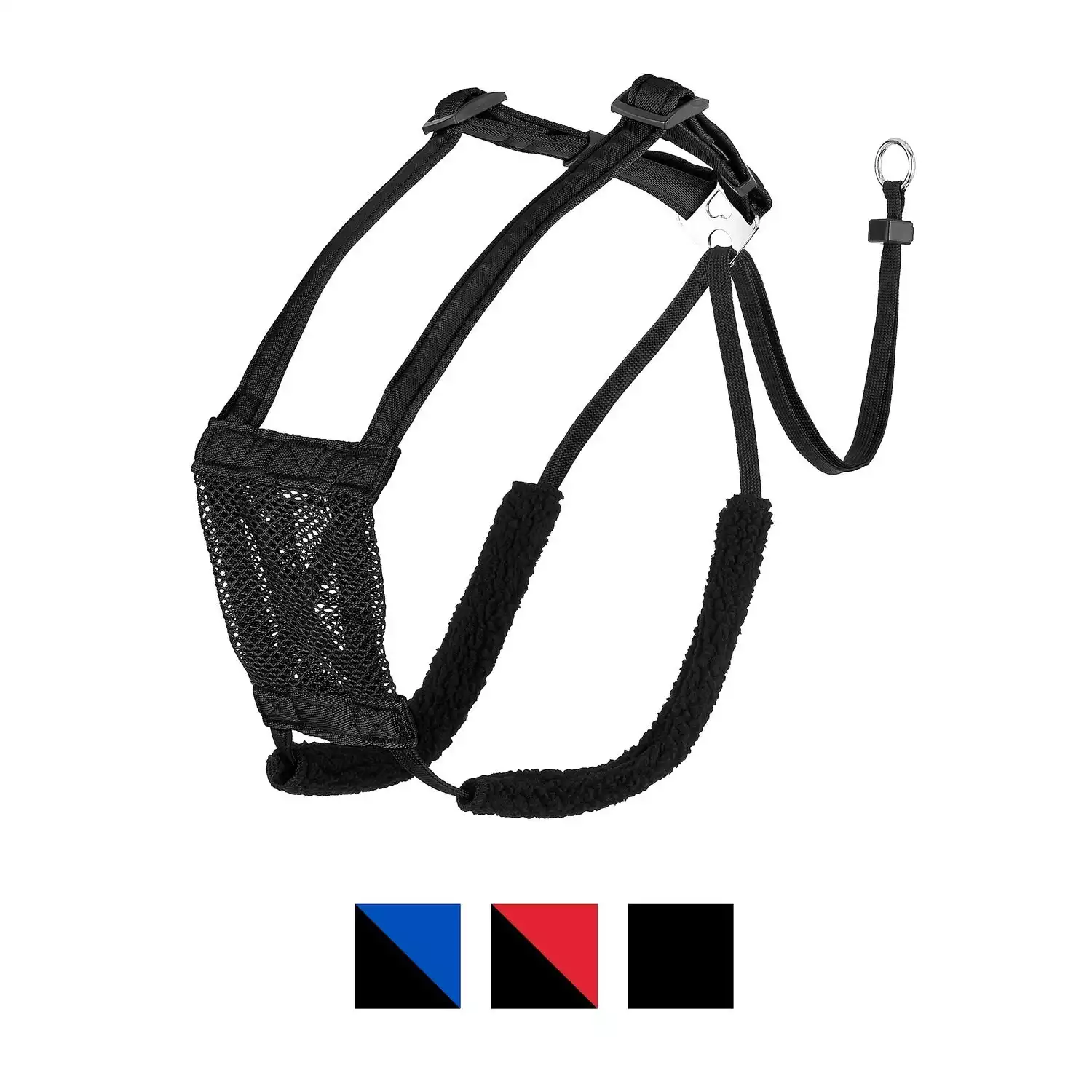 This is an affordable harness with a breathable mesh chest piece that will move together with your dog. This, together with adjustable straps, ensures a comfortable fit, and a proper design stops pulling.
The harness is padded, so your dog won't feel pain even while vigorously pulling. There will be no friction marks and straps won't rub onto the dog's body.
Keep in mind that this harness isn't made for strong dogs, as the straps aren't that durable. Fortunately, they are more than strong enough for little Pugs.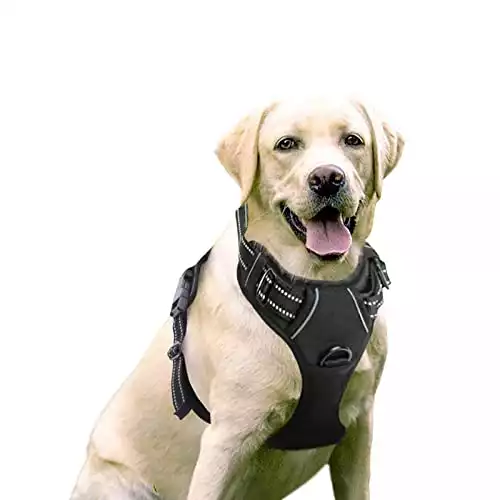 While originally meant for large dog breeds, this harness is also suitable for small yet strong dogs such as Pugs or Frenchies. It has both the back and the front clip, so you can choose which one is better suited for your pup.
This harness allows you to walk your pooch without worsening his breathing problems. If your dog pulls, you can simply switch to the back clip and regain control without placing any strain on your pup's windpipe.
It also has a top handle, allowing you to quickly grab your pooch in case of danger, or if he becomes too challenging to control.
The harness is effortless to clean, which is always a good thing, especially when you have a small dog that loves to get dirty. Reflective strips make sure you can see your pup in low light, and the air mesh helps his skin breathe and ensures your pooch is cool during summer.
Pug Walking Challenges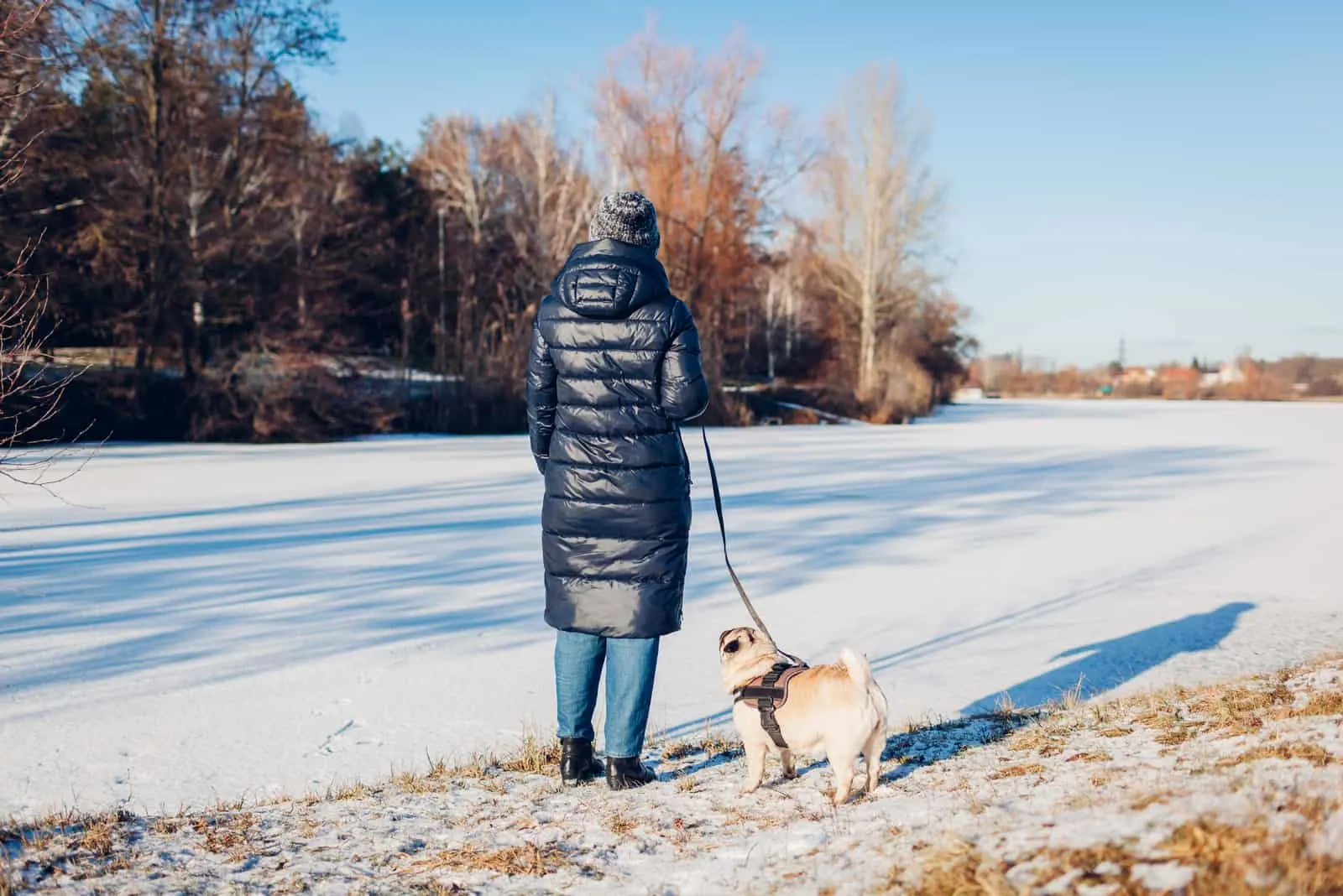 Every dog needs regular walks. This is a great way not just for your pooch to relieve himself, but also to get some essential exercise.
However, there are some considerations you need to have in mind when you need to take your beloved Pug on the walk.
Pugs are brachycephalic dogs. They have flat faces and short muzzles that give them many breathing difficulties. This is also why you might be hearing your Pug wheeze and snore all the time!
As such, your Pug is more prone to overheating in warm weather, especially during long walks.
At the same time, if your Pug gets tired, he might have issues getting as much oxygen as he should for normal functioning. This puts a strain on his heart, which is why Pugs are prone to many cardiac problems.
This is why you might want to avoid taking your Pug on too long walks or giving him too much exercise. Also, don't force him to go on walks when he doesn't feel like going, as this can worsen his issues.
Of course, this doesn't mean that your Pug should be inside your home all day long. Daily walks are just as important for him as they are for most other dog breeds. The only difference is that you need to find a good balance between no walks and too many / too long walks.
At the same time, you should avoid any items and accessories that might worsen the breathing issues of your Pug. This includes dog collars.
No, I am not talking about regular collars with an ID tag your pooch should wear every day. However, using dog collars for walks is not an ideal option for your Pug, especially not if you plan on using them every day.
This is why alternative accessories for dog walks should be used – and harnesses are a great option.
Picking The Best Harness For Pugs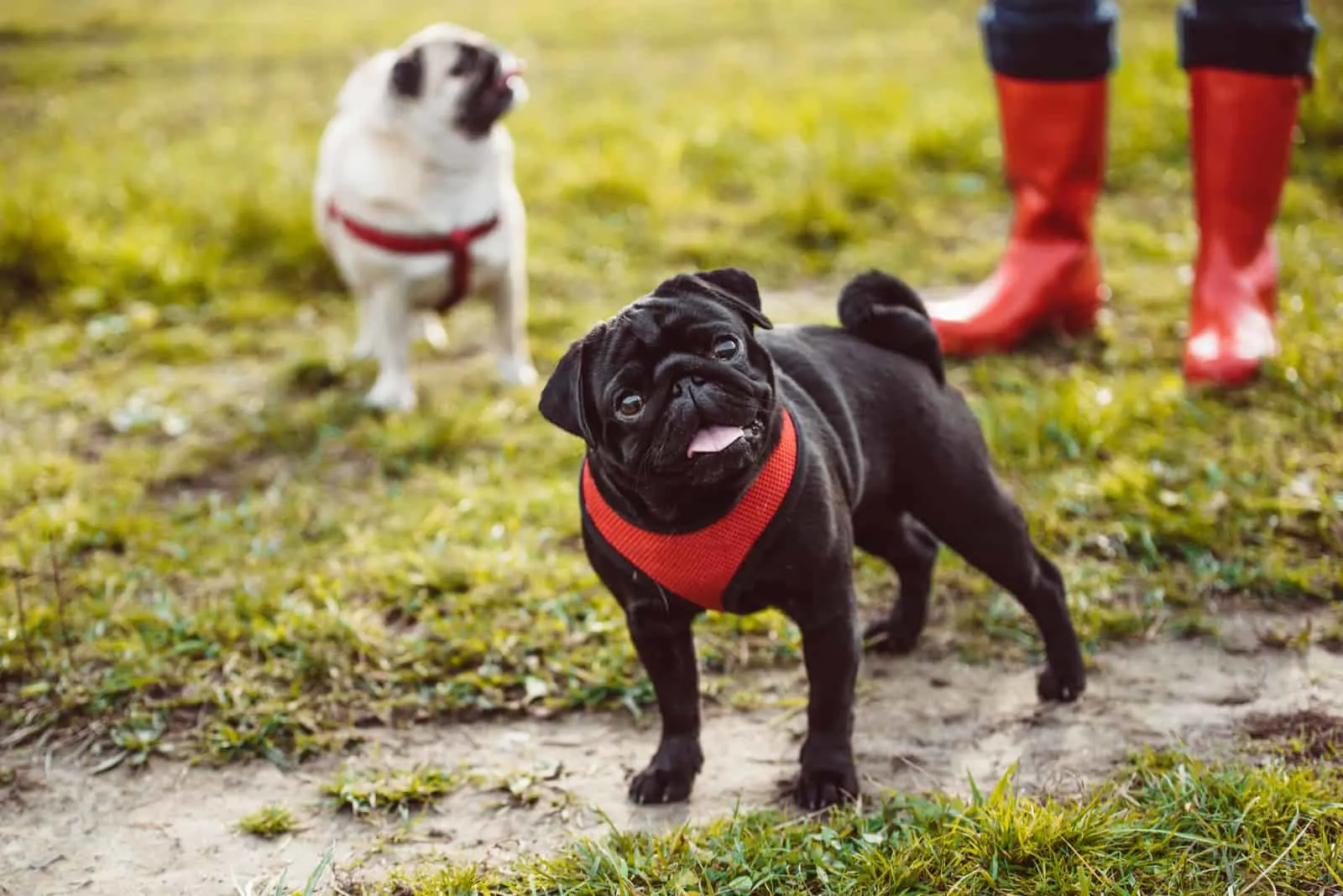 As you can see, Pugs have some special considerations when it comes to walking and how you walk them. This includes the material you'll use, such as collars, leashes, and harnesses.
When buying a harness for a brachycephalic breed dog, there are a few things you need to be mindful of.
Here's what they are:
Comfort
The best harness for Pugs has to be comfortable. This is the number one factor you need to consider before you make a purchase.
An uncomfortable harness can cause various health problems to your Pugs – and I'm not just talking about the skin issues and irritations. A harness that isn't comfortable or doesn't fit properly can worsen your Pug's breathing.
The first step is to make sure the straps are wide enough not to pinch into your pup's skin. It would be ideal for the harness to have padded straps, as these are the best choice for preventing additional pressure and chafing.
If you have a Pug puppy, then you might want to look for a harness with a stretch mesh. These slip easily and they are extremely comfortable. However, they might not be the best choice for adult Pugs, as they aren't strong enough to hold them.
Adjustability
A harness needs to be a proper fit in order to hold your little family companion the right way without being too loose or too tight.
As there are no two dogs alike, your best option would be to find an adjustable harness or at least a product that comes in many sizes.
While all Pugs are considered small pups, this doesn't mean that the small size will always be the right fit. Some Pugs might require M, others might even need extra small.
Not just that, but most dogs will be somewhere between the two sizes. As such, finding a harness with adjustable straps, either with buckles or a velcro, on both the dog's chest and the dog's neck, is the safest option.
Leash Attachments
This one, while important, comes down entirely to your preferences and how your Pug likes to be walked (or how he's behaving during them).
Out of many types of leash attachments, the D-ring is the most important one. If your dog is a puller – something that Pugs are known for being, believe it or not – the D-ring might be the best possible option, especially if it's placed on the front.
Yes, you should also look at the placement of the leash attachment. The standard D-ring attachment can be placed on the back and on the front.
I've already mentioned that a D-ring placed on the front, on the dog's chest, is the best option for a puller. However, your little Pug might get tangled easier, so this is an important downside to consider.
On the other hand, a D-ring placed on the back will keep your pup from getting tangled into the leash. However, this type of leash attachment isn't good for a puller, as it won't discourage the behavior in any way.
As such, you need to look at your pooch and consider his behavior before making a final decision about the best type and placement of the leash attachment.
If you're uncertain which one would work the best, look at a harness with more than one attachment point. Many best dog harnesses have those.
Materials
Another important trait to consider is the material the harness is made out of.
While they are small dogs, Pugs are strong. They can break many leashes made out of weak materials, and the same can be said for harnesses. Pugs are able to break through many harnesses made with plastic or cotton.
My suggestion would be to pick nylon material or polyester, as these are very strong, resistant, and mostly weather resistant.
You can even find some strong leather harnesses, but there are some considerations you need to have if you opt for this material.
First of all, leather requires lots of maintenance. Also, if it isn't high-quality, it isn't as durable and can break easily.
Finally, leather can have a specific odor, and it isn't breathable. While it can look amazing, I think it's better if you choose some other material for this item.
Durability
When buying a harness, you need to know that this is the product you'll use for as long as your Pug goes for walks. As such, you want to find a long-lasting product that will not just be with you for many years, but also one that won't easily break while you're outside.
For a harness to be durable, you want it to be able to resist all the things that come with everyday use. This includes all the snagging, pulling, and rainy weather.
Expensive doesn't necessarily mean high-quality or durable. However, the harness has to be made out of reinforced rings, strong seams and buckles, and weather-proof material.
Ease Of Use
While Pugs are mostly lap dogs, they can surprise us with their immense energy. As such, it's best to pick a harness that you can put on as quickly as possible.
While having an overly active Pug is adorable, this can be a true nuisance when you need to go for a walk and your Pug cannot hold still.
As such, your best option would be to get a harness that has a quick-release buckle, so you can get the harness on and off without too much hassle.
FAQs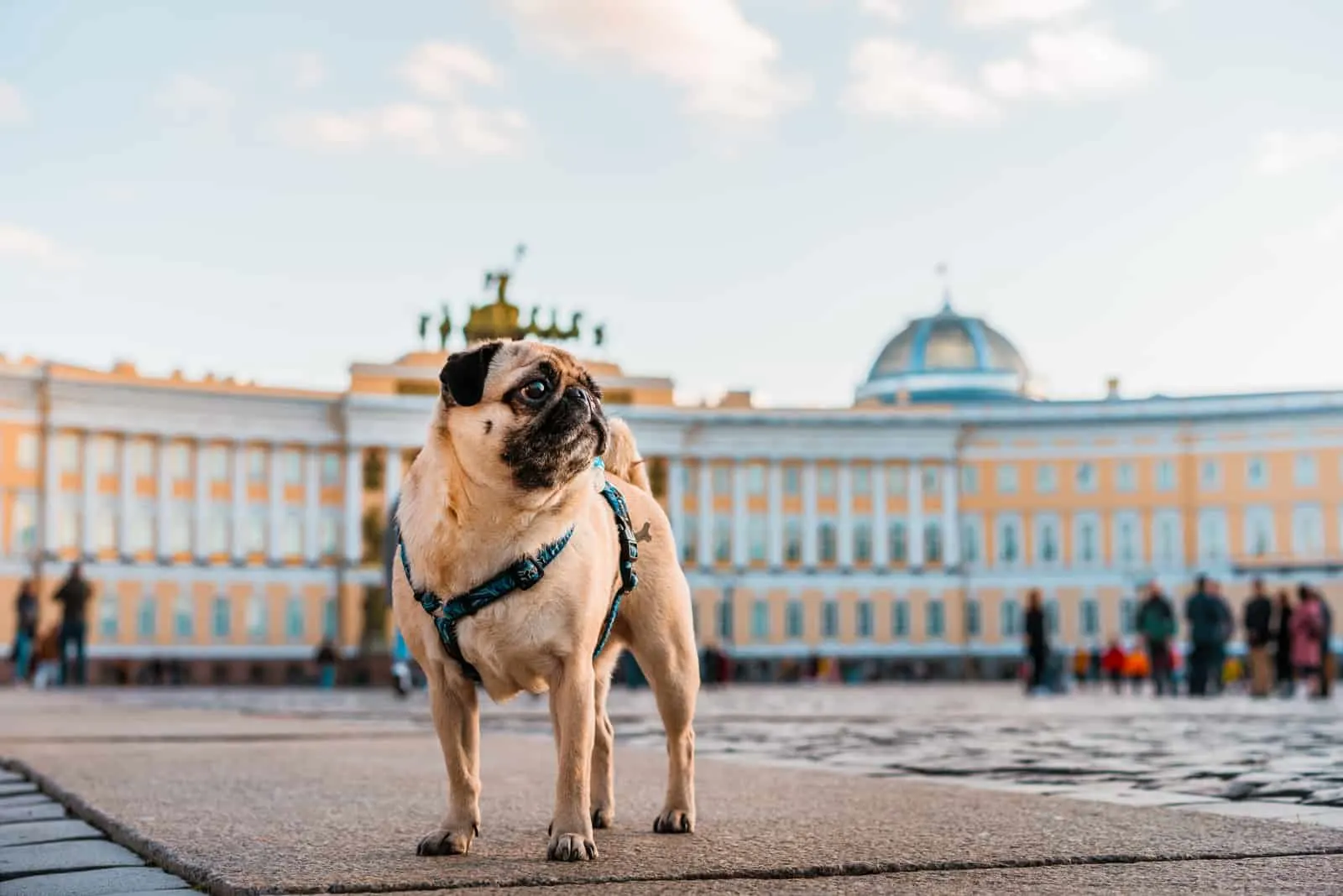 What Is The Difference Between A Collar And A Harness?
Both a dog harness and a dog collar, in combination with a good dog leash, are used for walks. However, this is where the similarities end.
Collars go around your dog's neck. Harnesses, on the other hand, usually cover the dog's chest, upper back, and shoulders. This way, they disperse the pressure over a much larger area compared to collars.
While both can be a good option for certain breeds, these are some of the key differences between the two:
• Harnesses help you have better control over your Pugs. As such, they can be a great choice for dogs that pull, even if you don't choose a no-pull dog harness.
• A dog is less likely to slip out of a harness than of a collar.
• A harness can be more tricky to put on compared to a collar. This is why it's essential to find a harness you can quickly get on and take off.
• A harness doesn't put pressure on the dog's neck. Instead, it puts pressure on the chest, where a dog is much stronger.
• You can put an ID tag on a collar, but not on most harnesses. This is why many dog owners prefer to combine both.
Is Harness Good For Pugs?
Finding the best harness for Pugs is a much better option than choosing a great collar.
This is because of numerous Pug's respiratory issues I've already mentioned. A collar puts strain on the dog's neck, and as such, worsens its breathing.
A harness puts this pressure on the Pug's chest, which isn't as sensitive.
Also, harnesses can help prevent tracheal collapse, something very common for brachycephalic breeds. While a collar worsens the condition or increases the chances of it occurring, a harness remains neutral as it doesn't get in contact with the dog's trachea and neck.
Not just that, but Pugs are prone to some spinal problems. This is another situation where harnesses come in handy, as they also keep the pressure off of the dog's back.
What Size Harness Should I Pick For My Pug?
I cannot name you one size and tell you that this is the size of a collar you should pick for your Pug. Instead, you should choose the size based on the size of your dog's neck.
In general, most Pugs should be able to use the S-sized harness. However, this isn't always the case. Some Pugs might be smaller, others might be medium-sized or simply overweight.
Not to mention that not all brands use uniform sizes. Some might use different measurements than others. This is why it's important to always take your Pug's size into consideration.
If you don't know how to properly measure your dog's neck width, you might want to use an adjustable harness. This will ensure you get a perfect fit.
How Do I Use A Harness For A Pug?
The first thing you need to do is to put a harness on your Pug. How you'll do this will depend on the type of harness you have.
Some harnesses will have buckles and clips you can simply snap on and off. Others might require you to slip the harness over your dog's head before buckling him up.
Then, you should attach the leash to the dog's harness. The leash serves the same purpose as the collar – in fact, you can even use the same leash.
Of course, before you go out for a walk, always ensure that the dog cannot easily slip out of the harness.
Also, if your pup isn't too happy about wearing a harness, use dog food or his favorite treats to lure him in.
Can You Walk A Pug Too Much?
Yes, you can over-walk a Pug. Pugs are very heat sensitive and they shouldn't go on walks when it's too hot outside.
Also, you shouldn't go on too long walks, as a tired Pug is prone to heart diseases.
This is also a reason why you should buy proper dog food for your Pug, and why you should make sure he doesn't get obese.
If a Pug is overweight, his exercise options are very limited. It's better to prevent obesity before it happens, especially with such a sensitive breed.