Disclosure: This post contains affiliate links, and I will be compensated if you make a purchase after clicking on my links.
Before you go online on Chewy or Amazon to shop for the best Yorkie harness, you will need to decide what kind of harness you want for your Yorkie puppy. Remember, these are small, almost toy breeds that need the perfectly fitting harness, maybe even a matching leash to go with it.
First, check out the sizing chart and measure your Yorkie. The girth of your puppy should match the girth of the harness, with some free space so it isn't too tight. Then, decide what kind of design you want: step-in, a vest, something with lots of buckles? Lastly, choose a color or pattern: bright colors, plaid pattern, sailor…
Okay? Good! Now, you can go hunt down that adorable harness leash set for your Yorkie. Oh, and don't forget to start with our list of the best Yorkie harnesses online!
The most important thing about dog harnesses is for them to be practical and easy to use. You don't want complicated harnesses that are a pain to put on. In most cases, such harnesses aren't that good at all, and pups end up slipping out of them. Since Yorkies are tiny dogs, they need a tight, but soft harness to keep them in place.
Enter, the Frisco Soft Vest! This vest-type harness is made by using breathable mesh. Your dog will be comfortable, and he won't sweat through the material. Yorkies have no undercoat; they have fine hair that must be treated gently. No harsh materials are allowed.
Only harnesses made by using soft and comfortable materials are allowed in order to avoid skin irritations and allergies. The Frisco Soft Vest is a step-in harness that is easy to put on and off. The dog vest comes with an adjustable strap for the best fit as well as two D-rings for your leash and your pup's ID tag.
The coolest feature of this vest is the reflective bands on the front of the vest, which make the dog visible in low-light conditions. The vest comes in pink, red, blue, and black, and it has five different sizes for all the little ones.
We love when vests and harnesses are not only functional, but stylish, too! This one from Best Pet Supplies is a statement piece that will make your Yorkie the envy of the entire dog park. It's super cute, and it does exactly what it's supposed to do: keep your Yorkie safe and in place.
The Voyager vest from Best Pet Supplies is a high-quality harness that is made by using cozy fabric for the ultimate comfort and coziness, even during short walks in cold weather. The vest features a durable fastener and a quick release button for easy handling.
With multiple adjustments, the Voyager vest will be able to fit all dog sizes, from extra small to extra large ones. It comes in two colors: brown and beige, with a soft suede finish. The BPS brand really thought this design through. Rarely is any harness as soft and as comfy as this one.
What's so amazing about the Voyager vest is that it's machine-washable on the gentle cycle. No more stubborn stains and dirty harnesses. Simply toss it into the machine and watch how the proofs of your latest wild adventure get washed away.
Polyester is one of the most common materials used for making dog harnesses. It's durable and breathable, and it doesn't cause allergies as leather harnesses do. The Puppia Soft Vest Harness is one fine example of excellent polyester harnesses for Yorkies.
This vest comes in eight vibrant colors, including beige, black, green, grey, pink, red, royal blue, and sky blue. It fits all dogs from extra small to extra large ones. Of course, you'll have to buy the X-small size for your tiny Yorkie. The Puppia vest has soft, air-mesh padding made of polyester. It offers the dog superior comfort and good air circulation, so he doesn't get hot while wearing this harness or get his skin chafed.
The Puppia Vest is super functional and perfect for your little diva or dude. Your Yorkie will prance around wearing it, and feel super proud for owning such a great statement piece.
We're not done showing you fancy, fashionable puppy harnesses for your Yorkie. We've got plenty more to come, and one of them is the Doggie Design American River Harness. Now, that's a statement piece we're talking about!
This vest harness comes in 9 incredible color combinations. Sorry, you'll have so much trouble choosing your favorite one because they're all amazing! This vest is one of the rare ones that suits even XXS dogs. Fear not; even your 3XL dog can fit into one of these lovely harnesses.
This vibrant pattern is not only beautiful, but it's made of breathable mesh that can be washed in the machine. Your dog will not only look good, but it will be clean and tidy, too.
Besides the unique vibrant pattern, this vest harness features reflective strips on the chest, so everyone can see you two going for night walkies. We love such harnesses for their choke-free design. Since Yorkies have issues with their tracheas, it's important to keep them safe when pulling.
We really don't have a favorite among all these harness brands, but if we had to choose whose design fits our preferences the most, we'd have to go with Puppia. This is a brand featuring lovely patterns, colors, and designs that Yorkies would love if they could see colors!
The Junior B Harness is for that little gentleman or preppy Yorkie girl you have at home. This vest is made of a durable cotton-polyester blend, while the inside of the vest is 100% cotton. The stitching is detailed and done precisely. The vest features front paw cutouts and a sturdy buckle clip. Your pup can simply put his paws through the cutouts and hop into this harness. This makes the Junior B harness super easy to use.
This harness vest also has sturdy, nickel-plated D-rings for leash and ID tag attachment. The material allows this vest to be cleaned quickly and efficiently. Once your puppy gets it dirty, wash it with warm water and soap, and wait for it to drip dry.
The simplest designs can be the most effective ones. Let's face it: what we need from dog harnesses is for them to be functional and easy to use. Can you name a simpler harness than this Red Dingo Classic Nylon harness?
This evergreen design is made entirely of nylon, and it comes in a variety of colors, including pink, hot pink, black, red, purple, orange, brown, dark blue, green, and medium blue. The Red Dingo harness comes in several sizes, and it covers dogs from extra small to extra large.
The harness is durable, and the nylon webbing is made to last through the toughest adventures. The Red Dingo brand has a trademark Bucklebone clip, which is one of the strongest side-release buckles on the market. Along with stainless steel D-rings, this classic nylon harness is the ultimate favorite.
What's so great about this harness is that it's machine-washable and easy to clean, meaning you can take your Yorkie to muddy dog parks (if he wants to) and you'll still be able to clean your dog and doggy equipment.
Now, here's a Yorkie harness especially designed for toy and small breeds. The Comfort Soft Wrap Harness is a padded harness for your dog's comfort and protection. No more pulling or skin irritations. This harness is gentle to your Yorkie's skin, and it won't cause skin irritations or chafing.
This Wrap Back harness was made by using extra soft, breathable mesh, which is comfortable for both puppies and adult Yorkies. It's a step-in harness that is easy to put on and off. The Comfort Soft Wrap is also equipped with two D-rings made of stainless steel. Whether you want to attach your dog's ID tag or a dog leash to go for a walk, this harness will keep everything in place.
The Comfort Soft Wrap comes in orchid, bright pink, blue, and lime. These lovely color options will suit any preference you may have, and make your Yorkie the star of the dog park.
Hands down, the most unique harness on our list comes from Alfie Pet. Their Vince Sailor harness will help your Yorkie embark on new adventures. Sailing the water of puppyhood and adulthood can be tough. Dogs usually become a lot calmer in their senior years. But, to get there, they have to pass through many obstacles.
With this Vince Sailor Harness, you two can conquer any dog park in the neighborhood. This vest is made by using soft and lightweight material that promotes good airflow and lets the skin breathe. Since Yorkies tend to pull when they walk, putting on this vest will distribute the restraint across the entire chest and won't choke your pup.
This adorable harness is easy to keep clean since it's machine washable and ready to wear again in record time. The harness comes with a sturdy D-ring, ready to clip on your leash, allowing you to go into the world and show off your fancy Yorkie!
The Pawtitas Nylon Reflective Harness is one of the most comfortable harnesses on our list. It's super affordable and adorable. For around $30, you'll get a premium harness your Yorkie will love. And, here's why you'll love this Pawtitas harness.
First of all, the harness is made of durable nylon. It's super comfortable, easy to wear, and secured with lots of padding on the chest. No more pulling, and no more hurting the dog's throat and chest. This is a no-pull dog harness! The step-through design is also adjustable and available in different sizes. The harness comes in nine amazing color options, so there's a choice for everyone! Even though your Yorkie can't see the colors, there's no reason why you shouldn't have some fun.
The harness also features reflective strips that keep the dog visible at night. You won't have to worry about other dogs or drivers not seeing the two of you walking in the dark. This snug design invites you to clip that back buckle and head out for new adventures.
The Kurgo Journey Padded Harness is on the expensive end, but every penny of this doggy equipment is absolutely worth it. Instead of buying cheaper products every few months, why don't you invest in something of excellent quality that will last you a lifetime?
The Kurgo Journey Harness will stay strong through all your adventures, including extreme ones like hiking in the mountains. This harness is made with breathable material, and it's perfectly suitable for active pups. The biggest feature of this harness is the V-shaped neck design and padded chest plate that will reduce the pressure on your dog's neck. Thanks to the back handle, you'll have complete control. To make sure it fits your dog, check out the four adjustment parts. The harness can be easily put on and off with four rust-free buckles. Anytime you need this harness, it will be ready to use and waiting for the two of you.
The Kurgo Journey harness even has a reflective trim to make your pup visible at night. It comes in six color combinations for everyone's taste. The harness comes in several sizes, so it fits all dogs. We recommend the XS size for your Yorkie.
The Li'l Pals Canvas Step-in harness is another great Yorkie harness for your little pal. We have many awesome prints and patterns on our list, and this harness belongs to the same group! Here's why you should buy the Li'l Pals harness, besides its adorableness.
The step-in design was made by using soft and breathable material that won't bug your Yorkie or cause irritations. It was especially designed for small- and toy-sized dogs with its small size and narrow width. The two metal D-rings ensure safe placement of the pup's dog tags, as well as an easy leash attachment. The harness comes in two small sizes and four amazing color patterns that will catch everyone's eye.
The Li'l Pals Canvas harness is quite affordable. For only $18, you get a premium product that not only looks cool, but fits your Yorkie like a glove.
Last, but not least, here, we have a little favorite of ours. The Julius-K9 IDC Powerharness might look like it belongs on a large dog, but the truth is it fits even tiny pups like Chihuahuas, Maltese, Poodles, teacup Yorkies, and Yorkies just great.
The Powerharness comes in eight sizes and seven color combinations. It was designed with a skin-friendly Eco-Tex inner liner, making the harness super comfortable and breathable for everyday adventures. The harness is assembled with a little help from German-made materials that guarantee high quality.
The quick-release buckles are break-resistant, heavy-duty, and freeze-proof. The shell of the harness is water-resistant, and it features a reflective chest strap. With durable D-rings, all you have to do is clip on a leash and head out.
Because of its sturdy design and guaranteed durability, the Julius-K9 IDC Powerharness is our ultimate favorite. Once you put it on your dog, it will become your favorite small dog harness, too!
FAQs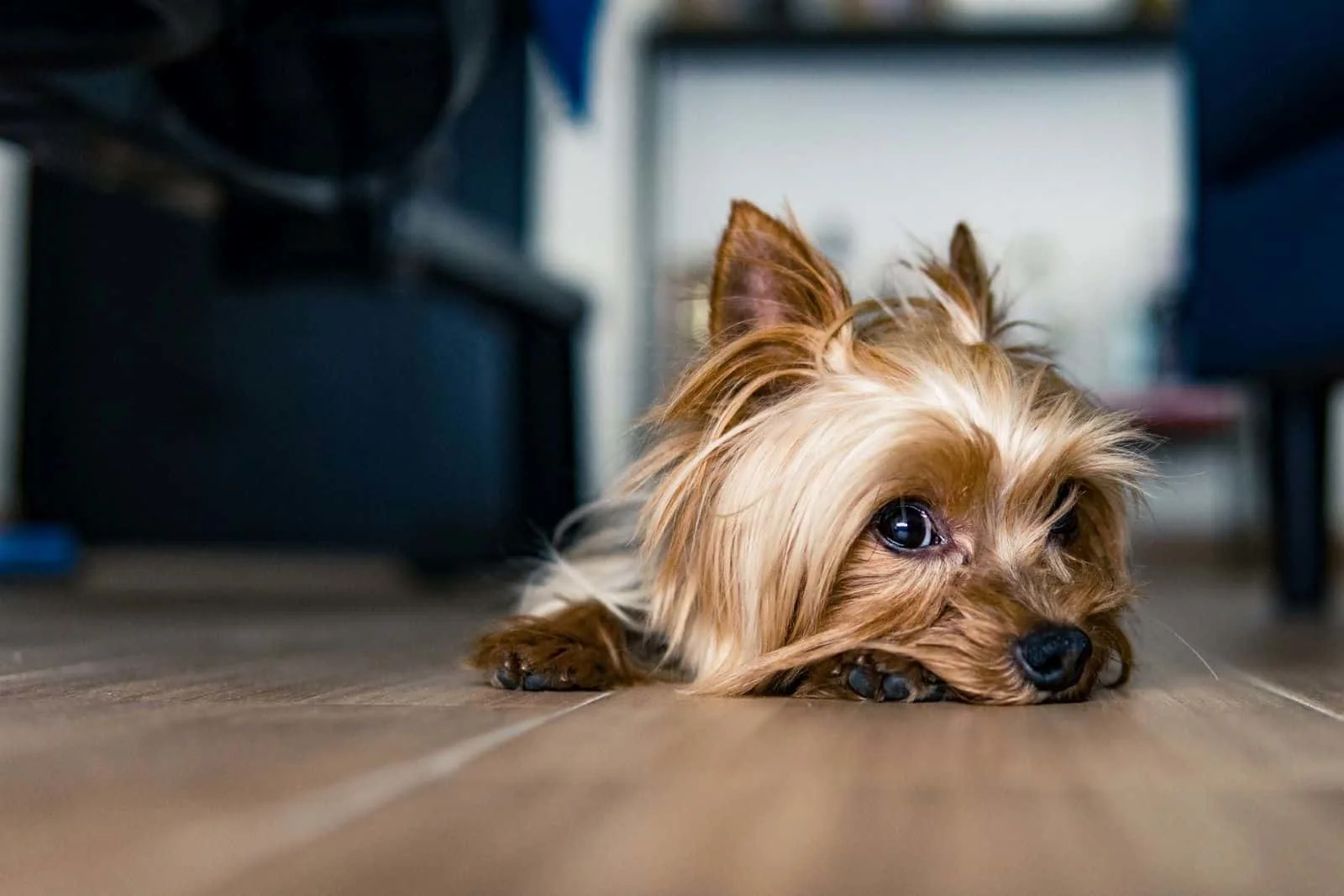 1. How Do You Put A Step-In Harness On A dog?
Putting a step-in harness on a dog is easier than it seems.
First, you lay out the harness on the ground, so it's flat and you see two triangles. Then, hold your dog from behind and place its front legs into the two triangles. Get the two ends of the harness and clip them together. Adjust the harness according to your pup's size, and voila: you've got a step-in harness on your dog!
2. Is A Harness Or A Collar Better?
A harness always offers better control than collars. If you're a fan of collars, maybe you should use them as an accessory. Your dog needs something to hold its dog tags, right?
Since Yorkies have a narrow windpipe, walking them by using only a dog collar and a leash may cause respiratory issues. That's why harnesses make a better choice for Yorkshire Terriers.
3. What Are The Most Popular Harness Types For Yorkies?
There are a few harness types that are suitable for your Yorkie.
The strap harness is the most common choice. It is lightweight, adjustable, and easy to put on over the dog's head or as he steps into it.
Vest harnesses are also quite common for small breed dogs. They're made of polyester or nylon, and they come with either a buckle or velcro that secures on the dog's back. This type of harness fits on like a vest. It's lightweight, and comfortable.
Harness leads wrap around your dog's body. They're usually strong ropes made of nylon or polyester, making them perfectly suitable for Yorkies. No escaping from these babies!
Car harnesses are standard harnesses with a ring, a clip, a loop, or a handle on the back of the vest, so you can attach your Yorkie to a seat belt and keep it safe that way.
Since Yorkies are quite the escape artists, owning an escape-proof harness isn't such a bad idea. Such harnesses are chew-resistant, and they fit snugly around your pup.
4.

Which Material Is The Best?

Nylon is the most common material used for making dog harnesses. This synthetic material has lots of qualities, including traits like waterproofness, strength, and stretchability.

Polyester is almost the same as nylon, but it tends to be a bit softer, which makes it great material for tiny pups like Yorkies.

Mesh is a combo of nylon and polyester. This is a material that provides good air circulation, a bit of stretch, and comfort. Another terrific choice for Yorkies!

Cotton harnesses are good, especially for dogs with skin allergies, but they are not as breathable as the previous materials.

Leather is a material that is more suitable for bigger dogs. It's more expensive, and it tends to expand.

Neoprene is actually a rubber material that is good for padding dog harnesses, and it is usually used along with nylon or polyester.
5.

What Should Every Yorkie Harness Consist Of?

When shopping for the best dog harness, you should make sure that a good one consists of several parts. Those staple parts are:

• Soft, padded nylon straps

• Reflective material

• Adjustability

• A handle

• A seat belt attachment

• A no-pull ring

If you can find a harness consisting of all these components, you're one lucky hooman. If not, then try to find most of them in one harness.

Straps should be padded and soft, so they don't cause skin irritations. Since Yorkies have no undercoat and only soft, silky hair, you're going to need a padded harness.

In case you go out for a walk at night or during low-light conditions, your Yorkie's harness should be made with reflective material, so he is easy to spot.

Yorkies are really tiny dogs, and as such, they have narrow tracheas. This condition can cause numerous respiratory issues, which is why you want an adjustable harness in order to reduce pressure on the Yorkie's neck and chest.

Handles are quite helpful. They let you grab the dog in case he finds himself in a dangerous situation, i.e., if a bigger dog attacks him.

If all harnesses had a seat belt attachment, that would be amazing. You gotta keep those pups safe while driving!

Even though they're tiny and super sweet, Yorkies can be quite curious and protective, and they can pull you away to sniff around and explore. No-pull rings are usually on the front of the harness, and they pull your dog back when he tries to pull and go forward.

Prove you're an excellent dog owner… get your Yorkie only the best of the best.
6. What's The Best Harness For A Teacup Yorkie?
Teacup Yorkies are really, and we mean really tiny pups. They need a tiny but comfortable harness that will keep them safe during your walkies. We recommend the Doggie Design American River Harness since it comes in XXS size and fits like a glove.