This post contains affiliate links, and I will be compensated if you make a purchase after clicking on my links.
What do treats and Corgis have in common? They're small, sweet, and an absolute delight to have around at any time of the day. That's why we're combining these two topics and discussing what the best treats for Corgi dogs are.
Well, the best treats for Corgis tend to be what most carnivorous animals have in their diet: meat, with a mix of other natural ingredients from food groups like veggies and grains.
After all, they were herding and hunting dogs in the past, and are still a particularly physically active breed, meaning they need to get their protein and other daily nutrients in.
That said, treats aren't a replacement for dog food, and thus, they should be given to Corgis in moderation – a few a day for your special little guy, preferably as a dog training treat or for other great achievements.
But, more on that later. The goal is to find the best dog treat for your furry friend, and I've gone through the two biggest marketplaces featuring doggy treats on their sites, Amazon and Chewy, and have compiled a list of the best ones.
Hopefully, this will help shorten your own search for the perfect treat. Now, let's see which ones made the cut.
7 Best Dog Treats For Corgis
Zuke's Mini Naturals Chicken Recipe Training Dog Treats
Key Benefits:
Chicken and rice as main ingredients

A mix of herbs and various berries as extra flavor

A very low-calorie treat, with 2-3 kcal per piece

No common allergens or fillers

A cheap pickup in comparison to the quality

Ideal for smaller dog breeds
Cons:
The treats harden quickly, even when the bag is left unopened

Not well suited for larger dogs as they won't find it remotely as filling as smaller ones would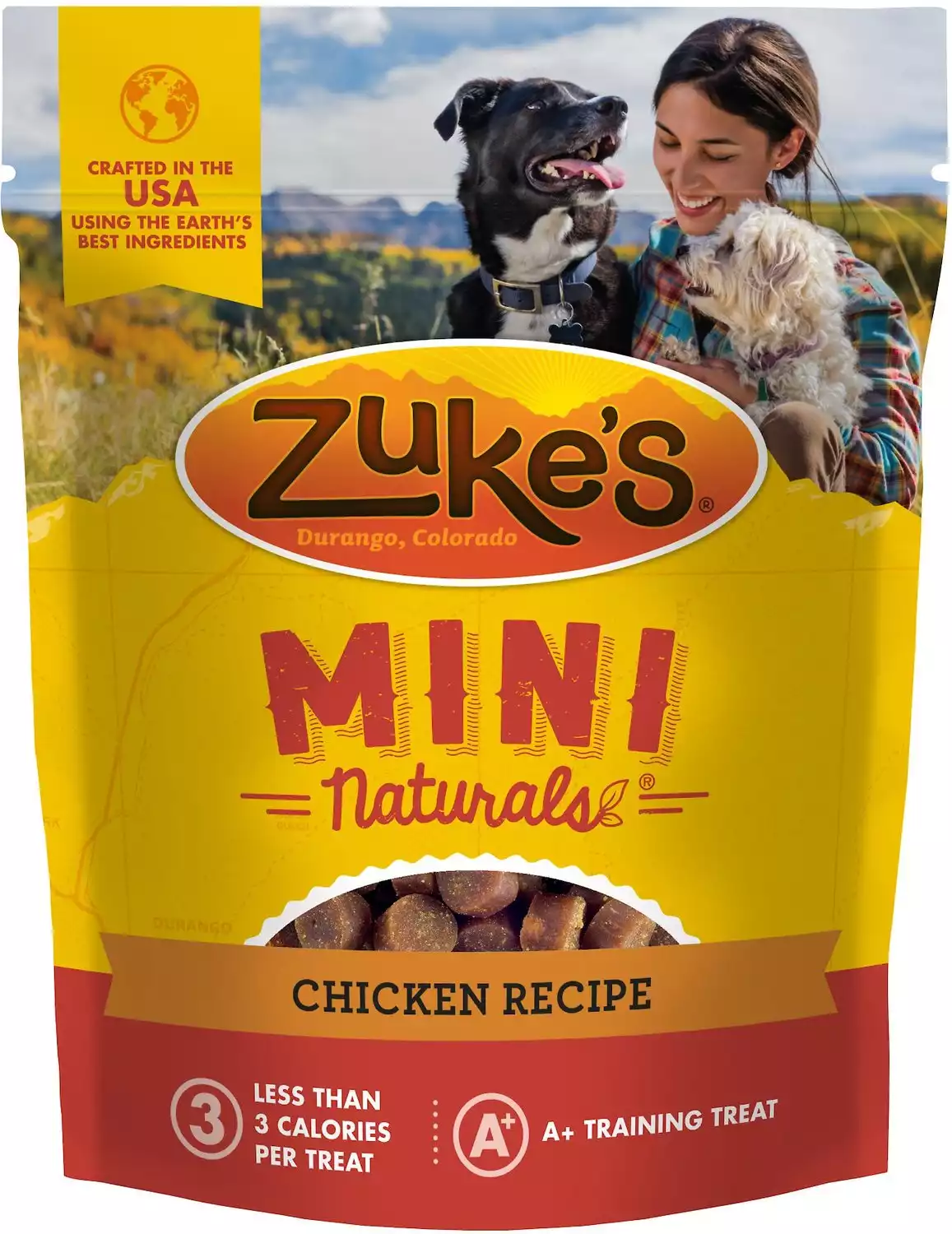 Starting us off strong, we have Zuke's Mini Naturals, a tasty treat that almost every dog loves.
The main protein on the menu is real chicken – a great, neutral meat that mixes well with other ingredients, and it is a common base for some of the best dog food and treat options alike.
The added flavors in this case are a mix of savory herbs and berries, as well as barley to cover the grains.
The things it doesn't have are common allergens like wheat, corn, and soy, or any artificial fillers.
It's intended strictly as a low-calorie treat with barely three calories per treat so you can know exactly how much you're giving your canine companion.
Naturally, it's not all just flavor – there are plenty of vitamins and minerals inside, too, which are things that will give your doggo a little boost.
Given their low-caloric content, they're really popular with smaller dog breeds that can't overstep their weight too far unless they want to risk potential health problems.
The price is relatively affordable, too, considering how much of it you get in a single package.
The only real problem I could notice is that the treats themselves harden quickly.
Pure & Simple Pet Rawhide Chew Flips
Key Benefits:
100% beef hide as the main ingredient

High-protein and low-fat content

Easily digestible

Long-lasting

Helps reduce anxiety and boredom

Supports good dental hygiene in dogs

Relatively affordable
Cons:
The packaging is somewhat bland and basic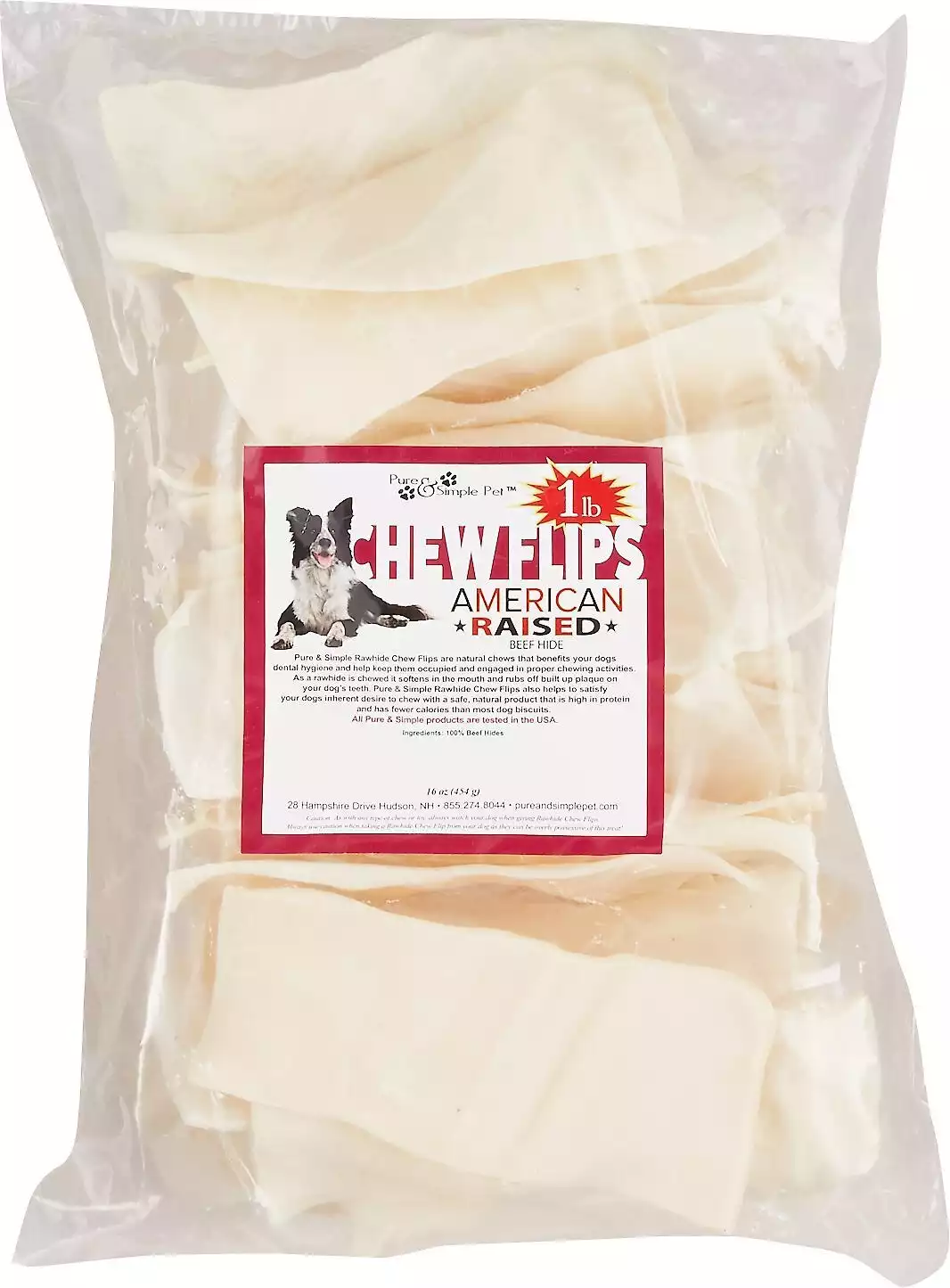 Next up, we have a treat with a bit of a different main ingredient – Pure & Simple pet rawhide chew flips.
The ingredient in this case is all-natural, American-grown beef hide, folded neatly into these small treats for your dog to enjoy.
They're completely and easily digestible as well as high in protein for that kick of energy, and they are extremely low in fat – the perfect dog training treat if you're trying to get your Corgi to lose some weight.
The extra chewing time not only helps deal with tartar and plaque, but it has the same effect as chewing gum in humans by helping reduce anxiety, boredom, and overall, having a relaxing effect on your doggo.
The price isn't that harsh either, making it a nice affordable snack for your canine companion, though they could do with some work on the packaging.
Bones & Chews 4-5" Rawhide Bone Dog Treats
Key Benefits:
Beef as the main ingredient

Low fat content and high in protein

No artificial colors or flavoring

Completely grain free

Helps reduce stress in dogs, and occupies them for a little while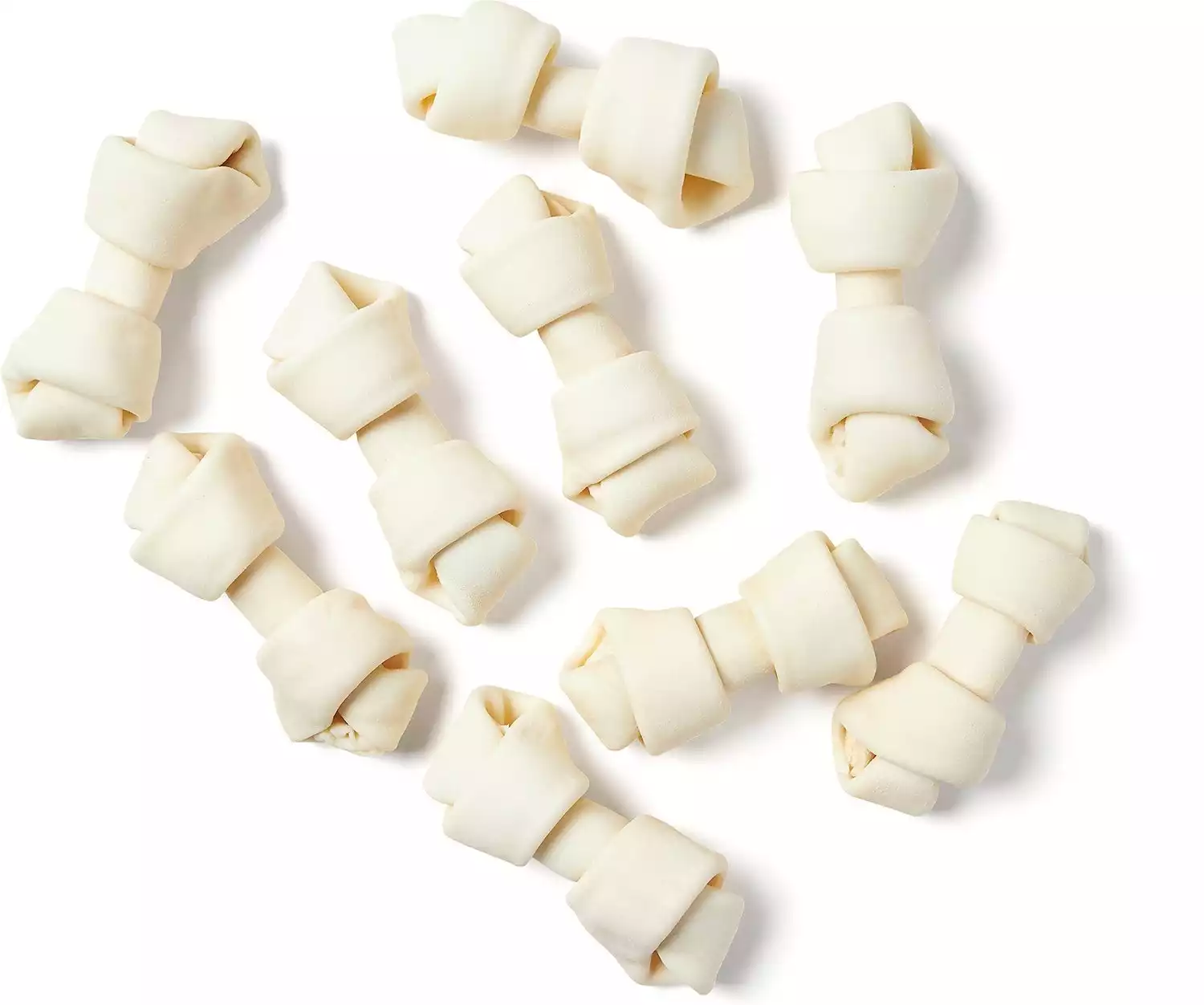 This is a similar product to the one earlier, albeit a little bit cuter given the neat little bone shape, plus a few added benefits.
Once again, the main ingredient in the mix is 100% beef hide, high in protein and low in fat, with no artificial flavors or colors, keeping it as healthy as it can be.
The bone treats are a great way to keep your furry friend's teeth in peak condition by helping battle plaque and tartar.
They also help promote healthy chewing habits, as well as serve as a good distraction for the dog, whether it's to reduce his own anxiety or to keep him from getting too bored. Corgis do like being occupied after all.
Another great thing to note is that it's completely grain free, meaning there's no risk of a potential allergen getting into the mix of things.
That said, the price of these could be a little bit lower, but I'd argue that it's still somewhat worth it.
Natural Balance L.I.T. Limited Ingredient Grain-Free Treats
Key Benefits:
Chicken as the main ingredient, boosted up by sweet potatoes

No trace of any allergy-inducing grains

Contains Canola Oil as a source of healthy fats, as well as mixed Tocopherols, which reduce the risk of eye disease in dogs

Extremely affordable

Colorful packaging
Cons:
Contains preservatives

Higher caloric content per treat than other options on this list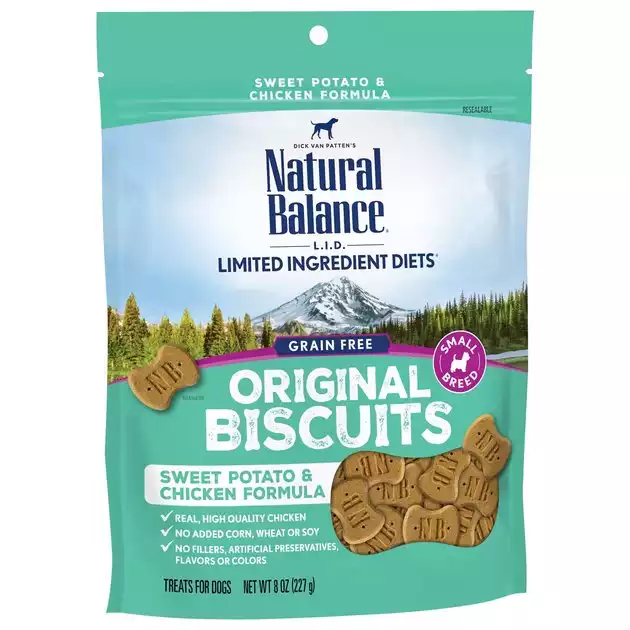 A wonderful and tasty treat option for your little guy that is carefully balanced out ingredient-wise to provide high amounts of nutrients with each treat.
With chicken as the main ingredient, paired with sweet potatoes, this option will make your Corgi puppy feel like you're feeding him a prime lunch.
On top of that, you'll also find Canola Oil in the mix as a source of healthy fats.
Another useful ingredient is mixed tocopherols. While they are a preservative, they also help reduce the risk of eye disease in dogs.
They're free of any grains that double as common allergens like corn, wheat, and soy, making this an excellent choice for dogs with a sensitive stomach.
The pricing is pretty reasonable, too. Thankfully, some brands make food for smaller breeds a lot more affordable than for bigger ones.
While the ingredients are carefully selected, the caloric value per treat is higher than that of the previously mentioned candidates, coming in at 6 kcal per piece. Keep that in mind when figuring out your small dogs' daily treat allowance.
Blue Buffalo Blue Bits Tender Beef Recipe
Key Benefits:
Beef as the main ingredient

Contains Omega-3 and 6 fatty acids for better hair and skin health, as well as DHA for help with cognitive development for puppies

No artificial flavors, colors, or preservatives

Completely free of any common grain allergen like soy, corn, or wheat

Relatively affordable pricing
Cons:
Contains milk, which could be a potential allergy risk for some dogs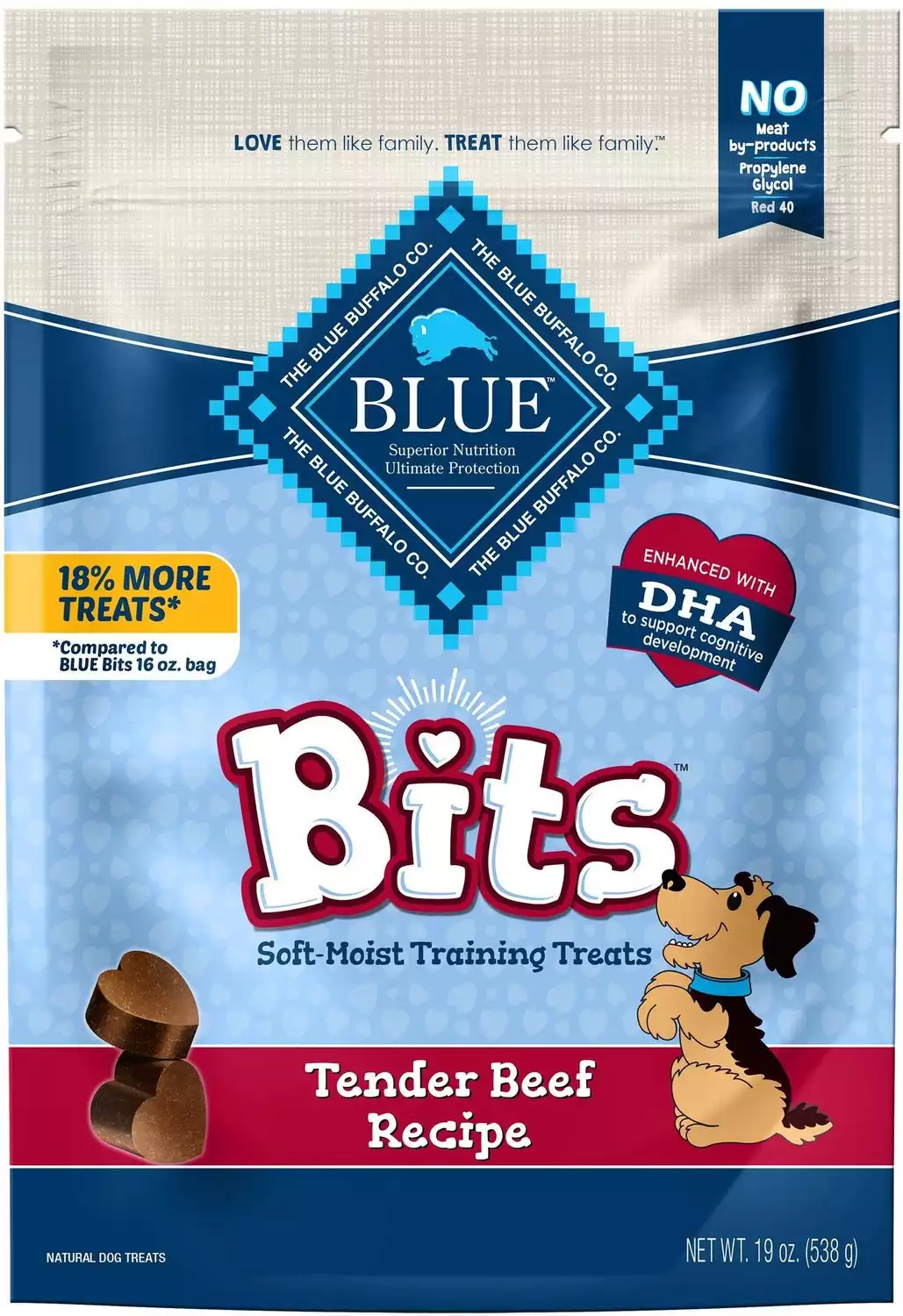 I keep saying chicken is the dominant ingredient, and here I am listing beef once again.
In the case of moist treats, beef wins out because of its natural juiciness that Blue Buffalo emulates well, and the beef used here, which is rich in high-value protein, is locally sourced from U.S. farms.
However, it doesn't just have the flavor which will help entice any breed of dog big or small, it comes chocked full of beneficial ingredients, too.
The first one worthy of mention are the Omega-3 and Omega-6 fatty acids, well known to help reduce skin irritation in dogs and keep their coat shiny and soft.
The other one is DHA, key in helping develop cognitive skills in Corgi puppies as well as any other breed of dog.
They're one of the more popular dog treat options for pet owners in the U.S. for that very reason.
Well, that and the fact that they're completely grain free and irresistible to dogs, making them a great motivator during dog wellness and training sessions, especially since they're only four calories a piece.
This is a bit more than some of the others mentioned here, but it should be easy enough to portion according to a veterinarian's or a pet nutritionist's guidelines.
The pricing is pretty decent, too, not adding too much to the already high costs of maintaining a c Pembroke Welsh Corgi.
It does seem to contain milk, though, for those of you who may have dogs with lactose intolerance.
Zuke's Mini Naturals Peanut Butter & Oats
Key Benefits:
No meat – peanut butter is the main ingredient

Rice, barley, and oats help balance the taste out

Completely grain free

Packed with the necessary minerals and nutrients

Only two calories per treat

Reasonably priced

Attractive packaging
Cons:
Not intended for larger dogs

Some can be a bit smelly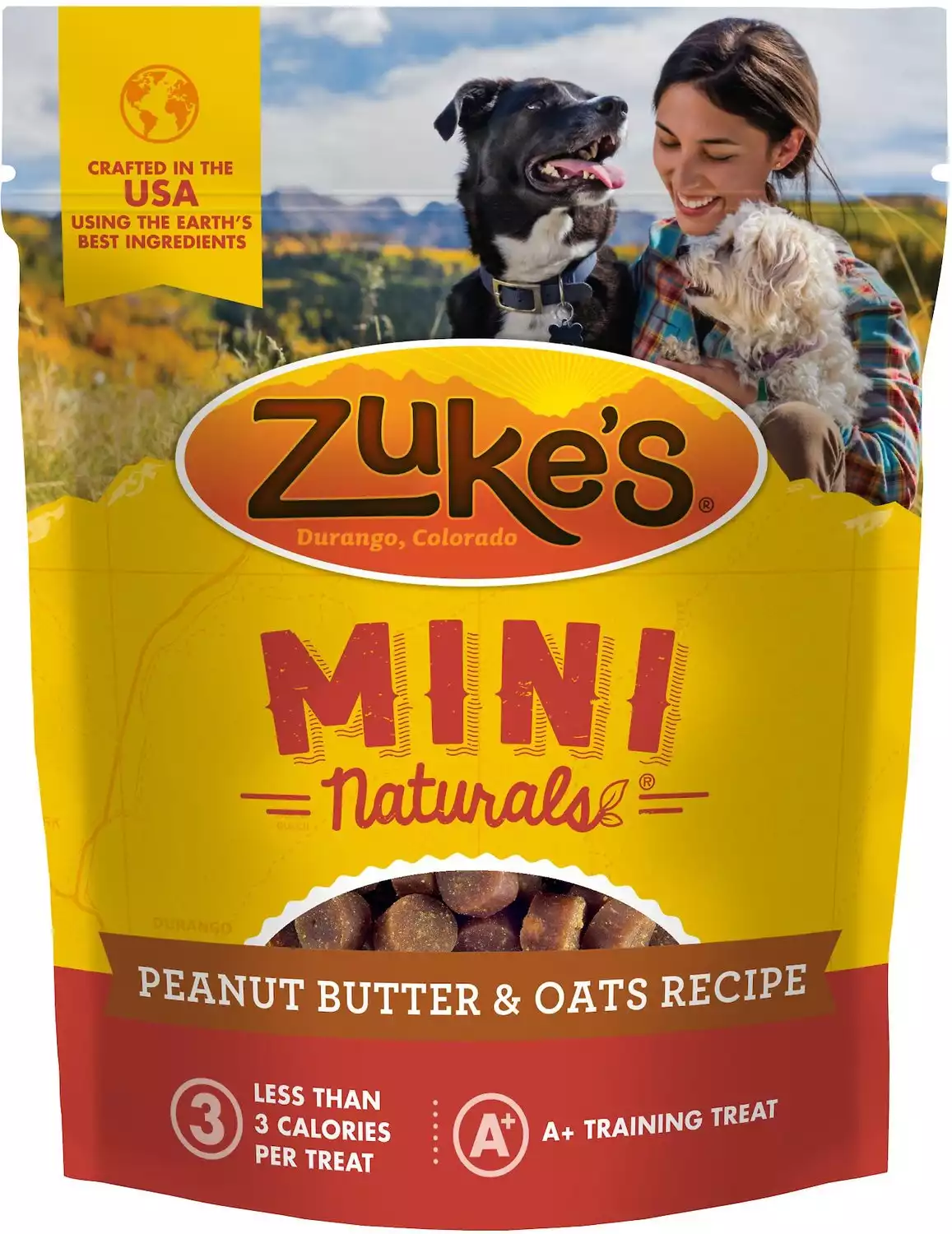 For those of you looking for a meat-free treat, there's always the nuclear option for dogs, peanut butter.
Coming from a returning brand, Zuke's, these dog biscuits can give your doggo that hit of sweetness to help him get his engines revving.
But, don't worry – it barely has three calories in it per treat, meaning that you're not risking making your dog overweight by getting him a pack of these.
Aside from peanut butter, there are a number of minerals and vitamins packed inside to make the treat even more desirable for dog owners to get for their beloved pets.
That, and the fact that it's free of all the common grain allergens like wheat, soy, and corn, much like most of the ones on this list.
Again, the pricing is very reasonable given the amount of treats that you get, and the only flaw I could find is that the treats aren't intended for anything other than smaller dog breeds.
Riley's Organic Pumpkin & Coconut Bone
Key Benefits:
Completely organic

Pumpkin and coconut oil as the main ingredients

No artificial preservatives

Non-GMO

Vegan option

U.S.-made
Cons:
Your Corgi may not like them due to the lack of meat protein

High calorie per treat ratio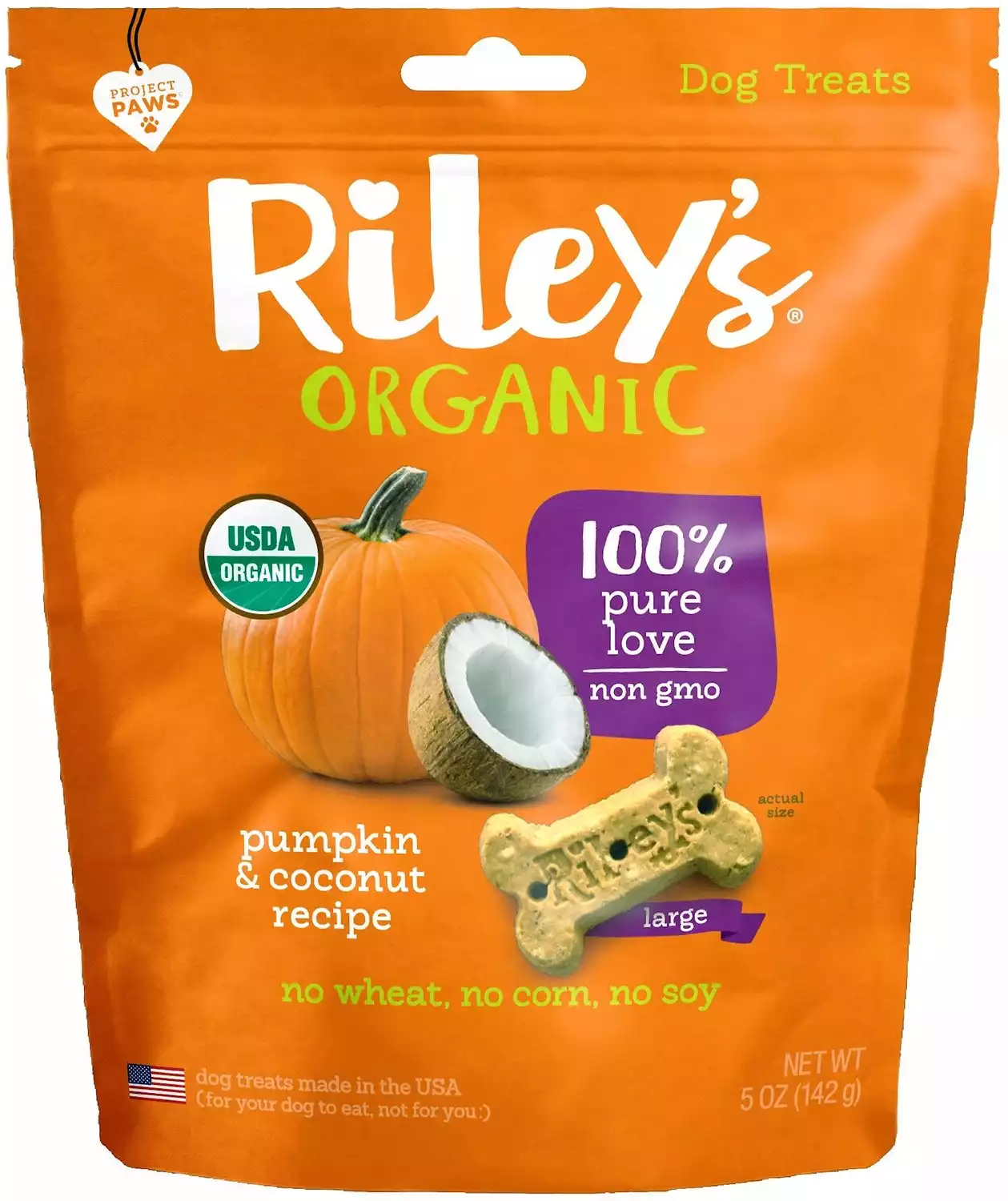 As the final entry, here's a more organic option for all you dog owners out there.
Made to be 100% organic, these treats have pumpkin as the main ingredient, supplemented by coconut oil and coconut bone.
They're completely free of any artificial preservatives and colors, and are entirely non-GMO.
The treats are certified vegan, too, but I will insist that you don't make this your dog's entire diet. They are carnivores at heart, and they need meat protein to sustain them.
However, these treats are a delight to hand out to your pooch every now and then, and they're locally sourced.
The price is affordable, too! They do, however, have the flaw of being rather calorie-intense, with a whopping 59 calories a treat, so treat these like candy and only hand them out in small amounts.
What Traits Should The Best Treats For Corgis Have?
Given the list in question, we can see that there are plenty of options regarding dog treats for Corgis, but what should you be on the lookout for in case none of these strike your fancy?
Well, you'll notice a few common traits between most of these that are the desirable ones:
Meat As The Main Protein
While not as crucial in treats as it is in dog food for Corgis, meat being the main ingredient of a treat will make it a lot more likely that your dog will actually like them in the long run, and not be averse to getting them as a reward.
After all, Corgis are very physically active, and high-quality meat protein is needed in order to give them extra energy to burn during their energetic adventures.
Veggies And Grains As Supplements
Meat is neat, but it becomes even better when mixed with a variety of vegetables, spices, and grains to color in its flavor profile. The more colorful, the more enticing the treat will be for your pupper.
Low Calorie Per Treat Ratio
Corgis can enjoy a diverse diet since they tend to burn up a lot of calories, but portion control is important since a lot of health issues pop up in small dogs if they get overweight.
That's why it's important to get puppy treats that have a low calorie per treat ratio so you can portion them out better.
Either that, or ones that you can cut into smaller pieces. Jerky and Bully sticks are a good example of that.
Are There Any Alternatives To Dog Treats?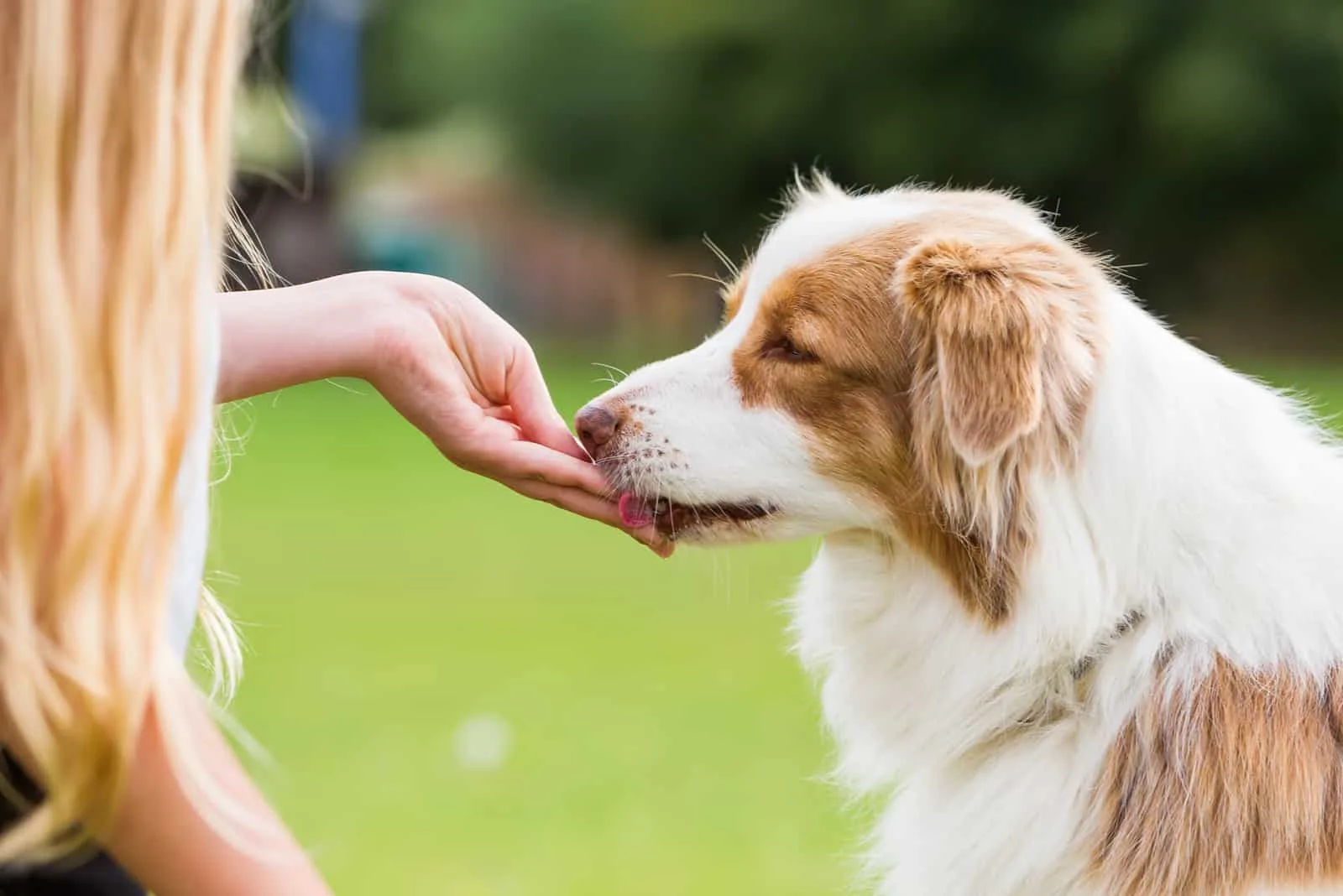 There are.
You can offer your dog bits of regular kibble instead so you don't have to buy anything extra, or even give him some fruits and veggies like blueberries, bananas, carrots, cucumbers, and the like depending on your dog's preferences.
You can also use stuffed dog toys as a somewhat less effective, but beloved treat if it's their favorite stuffed toy.
In Conclusion
The best dog treats for Corgis are often ones that have meat as the main ingredient, with certain outliers pertaining to dog allergies.
That said, treats aren't the main source of a Corgi's diet, or any dog for that matter, so you're a bit free in your choices there.
But, do know that your dog is the ultimate judge of the food you give him whether it is gluten-free, vegan, vegetarian, or meat-based. They're equally likely to reject them if it's not up to their preference.
Whatever the case may be, I'm certain that you'll be able to find one that your canine companion will enjoy greatly. Until next time.
RELATED LINKS:
• Male Vs Female Corgi – Is There A Difference? What You Need To Know
• Can Dogs Eat Spam? The Truth About Salty Foods And Dogs
• Can Dogs Eat Blue Cheese? The Truth About Dairy And Dogs
• Can Dogs Eat Jalapenos? The Effects Of Spicy Foods On Dogs