If you are looking for a small, compact dog with a fabulous personality, we have an idea — the Yorkshire Terrier, or Yorkie, for short.
If you have never heard of these dogs, here's our little run down of the breed: dainty, brave, feisty, long-living, and hypoallergenic.
Yorkshire Terriers are indeed the smallest of the Terrier breed group; however, their toy size definitely does not affect their glorious and often bossy personality.
They have a lot of fans all around the world, but especially in America, which is confirmed by their title of one of the most popular toy breed dogs. With great popularity also comes great demand.
It is not easy to find a good, reputable breeder who you can trust, and who will provide you with an adorable little puppy. This is why we are here.
We have done the exhaustive process of researching every Yorkie breeder and selecting the ones that we consider the best of the best.
In the next couple of paragraphs, you'll find the best Yorkie breeders in North Carolina, so make yourself comfortable and enjoy meeting these wonderful breeders who will knock you off your feet!
Yorkshire Terrier Puppies For Sale In North Carolina
Before you start searching for a breeder of any dog breed, including Yorkshire Terriers, it is important to know what you need to pay attention to, so here are some tips and our little guide on how to find Yorkshire Terrier puppies in North Carolina:
• Look for experienced breeders with lots of knowledge
• Look for breeders registered with the American Kennel Club (AKC) and other reputable breed-related clubs
• Look for breeders who are backed up with multigenerational pedigrees and health guarantees
• Beware of various pet shops and other unethical Yorkie breeders
That being said, let's meet our selected eight best Yorkie breeders in North Carolina.
1. NC Yorkies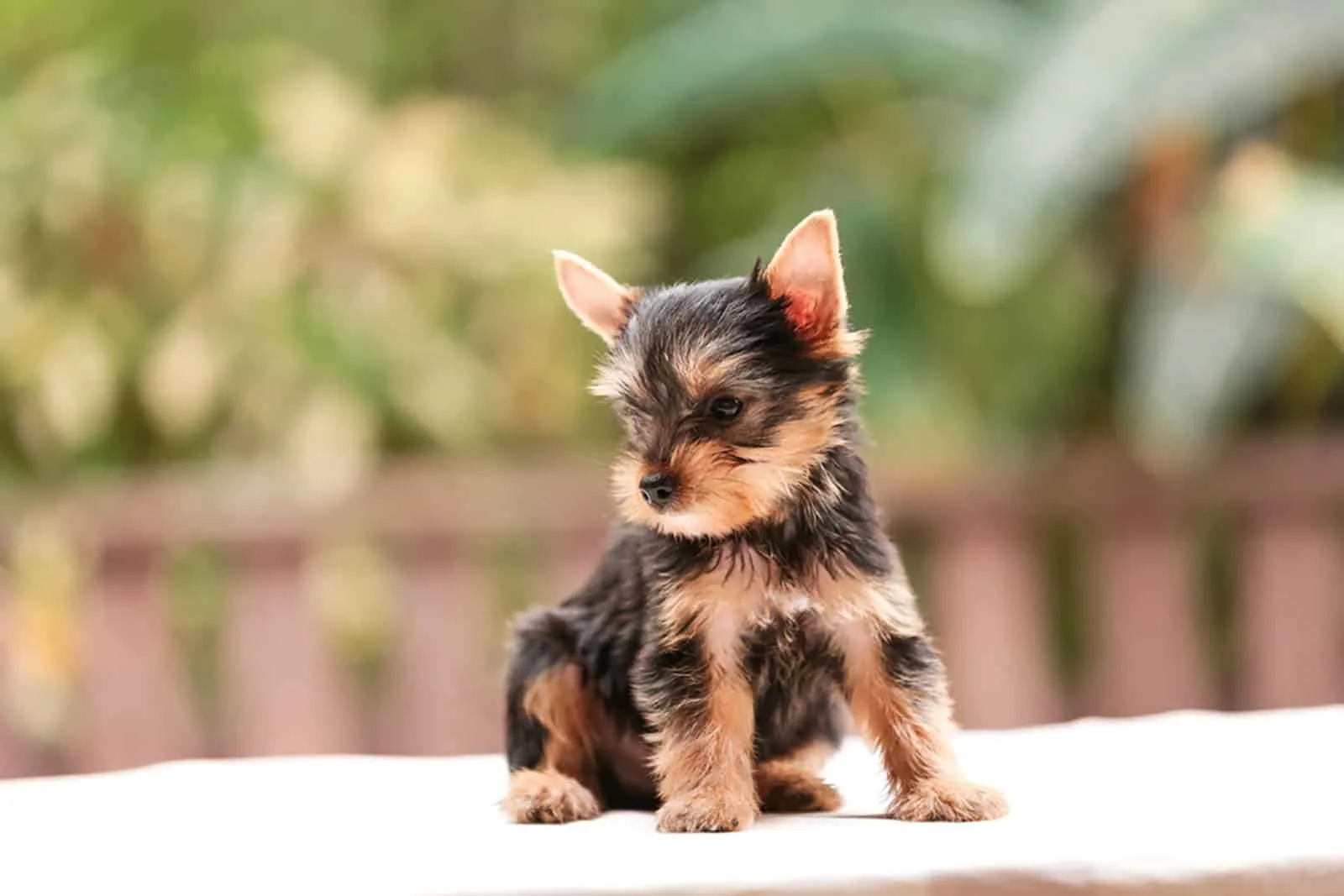 First on our list is a breeding program located in Granite Falls, a town in Caldwell County, of North Carolina — meet NC Yorkies, run by Pamela Payne, who has been an AKC-registered breeder since 1985.
Their main priority is to raise quality-bred Yorkies in a loving home environment. Their dogs are all raised in their home, and are never kept in kennels.
All pups are able to go out daily, explore, run around, play ball, and enjoy the sun, which is wonderful.
They make sure that all NC Yorkie puppies are, first and foremost, happy and healthy.
They are kept up to date on shots, dewormings, and vet checks, and are also fed the highest quality dog food and treats that are made and sourced only in the USA.
Not only are they focused on breeding perfect AKC Yorkie puppies, but they are also extremely dedicated to placing their babies into families that love and educate themselves on the health and well-being of the Yorkshire Terrier breed.
Yorkies bond for life. They are true family members, and therefore, they deserve a loving home that will be theirs forever.
Having a Yorkie at home can drastically improve your life and your lifespan, so it is very important that you don't take this decision lightly.
However, don't worry – this breeder promises to advise and mentor you throughout the dog's life. They will be there for you if anything happens, day or night.
If, by any reason, you are no longer able to take care of the dog, they will happily take it back, no matter the distance they have to travel.
They usually breed one to three litters per year; however, all of their puppies get adopted very quickly, so we advise you to reserve your beautiful puppy as soon as possible. Waiting lists are available, so don't hesitate to reach out!
RELATED: How Many Puppies Can A Yorkie Have? All You Need To Know
Breeder Information
Breeder's name: Pamela Payne
Location: Granite Falls, Hickory, NC 28603, US
Phone number: +1 (828) 238-9524
Email: [email protected]
Website: NC Yorkies
Facebook: NC Yorkies
2. Hunter's Creek Kennel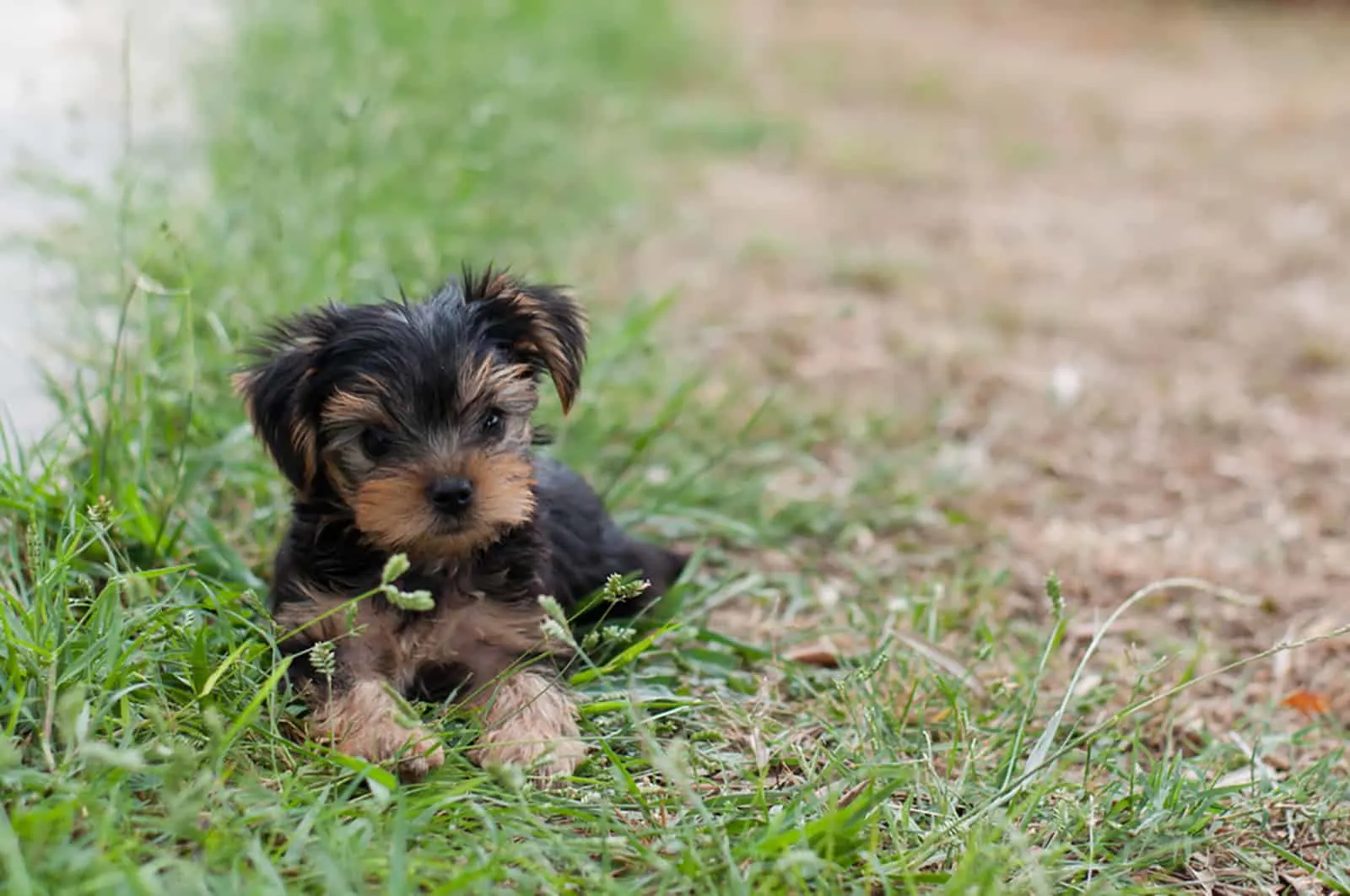 Our next breeder of choice is Hunter's Creek Kennel, located in Roxboro, North Carolina.
At Hunter's Creek Kennel, they have a lot of experience breeding, sharing, and loving all types of animals; however, their story with Yorkies started in 2010.
Unfortunately, this is a sad and beautiful story at the same time. That year, a small Yorkie (which they named Dixie) with many health problems was left on their driveway.
They loved and cared for Dixie as much as they could, but sadly, after a short period, Dixie passed away.
Although her death broke their heart, it also showed them their true path. They decided to breed the highest standard of AKC Yorkshire Terriers in Dixie's honor.
Hunter's Creek puppies begin their life in a peaceful, climate-controlled nursery where they have the opportunity to bond with their mommy and littermates.
As the puppies start to grow, they slowly start to introduce them to new, daily adventures.
They are slowly introduced to various different dog breeds, cats, and other animals in order to socialize them as much as possible.
After the seventh week, new owners are encouraged to come and meet the puppies, so they can slowly start building a connection.
All of the Hunter's Creek puppies are AKC-registered, microchipped, up to date with vaccination and deworming, and come with a one-year health guarantee.
They also have their tail docked, their dew claws removed, and are checked by a licensed veterinarian before they leave for their new home.
Besides adorable little puppies, you will also receive a gift bag with everything that a new dog owner might need such as treats, a bag of puppy food (wet/dry), chew sticks, toys, potty pads, a blanket, and some other additional things of their choice.
Regarding the price, you will pay $1,500 for a Hunter's Creek puppy (both for a male or a female Yorkie). They have a waiting list and a position list.
The position list includes clients for whom they have a matching puppy, and being on this list requires a deposit, which is refundable.
If you have any further questions, feel free to contact the breeder!
Breeder Information
Location: Roxboro, NC 27574
Phone number: +1 (336) 330-0336
Email: [email protected]
Website: Hunter's Creek Kennel
Facebook: Hunter's Creek Kennel
3. Tiny Paws Kennel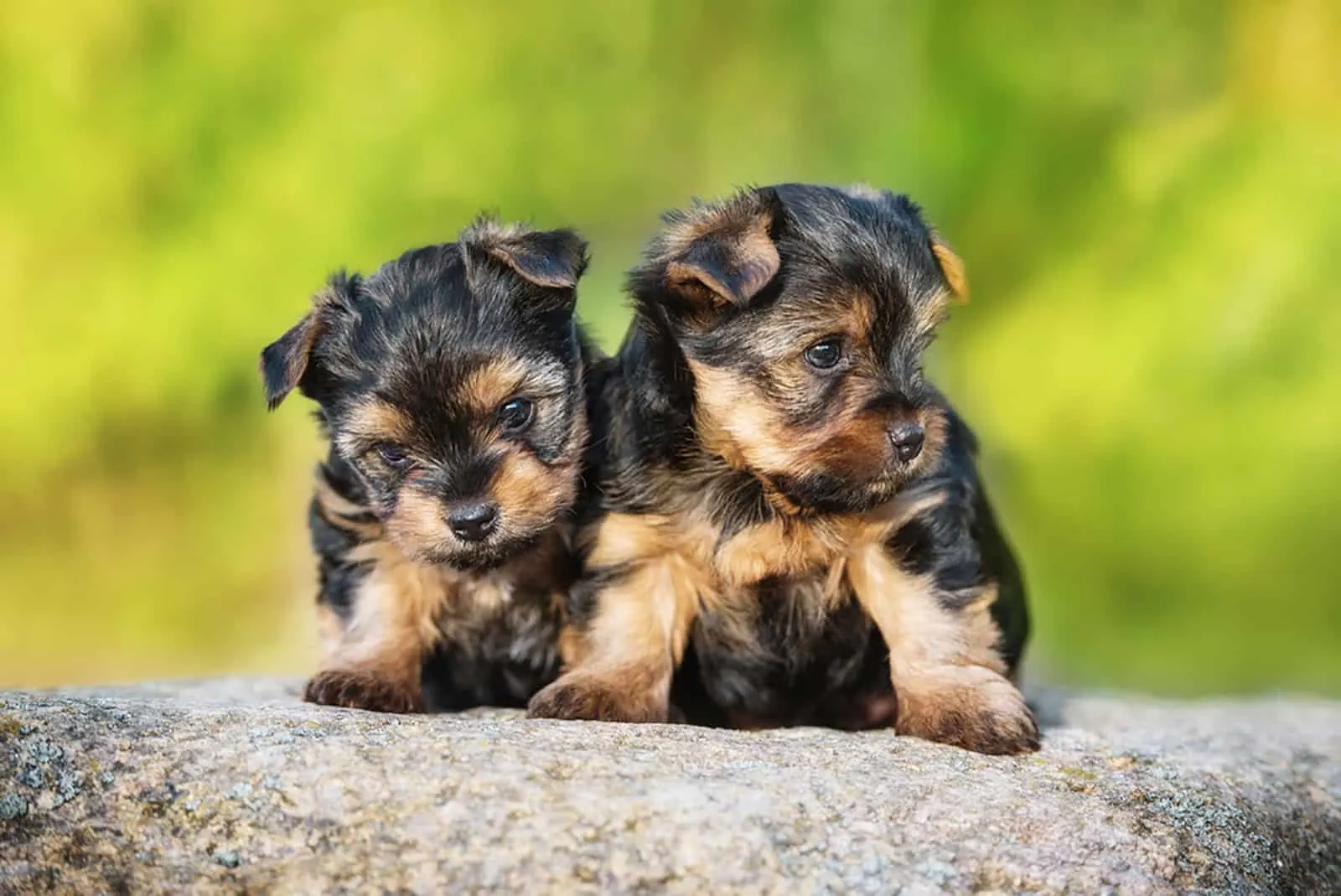 Meet Jennifer Mitchell, a Yorkshire Terrier breeder who stands behind Tiny Paws Kennel. Jennifer is a small home breeder and a very hard-working woman dedicated to breeding perfectly happy and healthy AKC puppies.
She fell in love with the breed, and that inspired her to start breeding her own beautiful little puppies. All of her puppies are raised in her home, and are provided equal care.
Since day one, each one of them is provided with one-on-one care in order to make sure they receive the best of the best.
They are carefully socialized and acclimated to different dogs, animals, sounds, and children, which helps them grow up into perfect furry companion dogs.
All of Tiny Paws' puppies come from AKC-registered and health-tested parents.
They also come with vet health certificates, a one-year health guarantee, 30 days of free pet insurance, a health certificate, and registry through the American Kennel Club.
The price for her puppies (both genders) ranges from $2,500 to $3,500, with a $300 deposit to reserve a puppy and be placed on the waiting list. The deposit will be deducted from the final price of the puppy.
Jennifer also does weekly personalized videos of your new puppy, so you can be a part of the puppy's growing process while it is still at the nursery.
If you are interested in these adorable bundles of joy, make sure to visit the Tiny Paws Kennel website for some cute pictures and more information about the breeder and her dogs.
Breeder Information
Breeder's name: Jennifer Mitchell
Location: Durham, NC 27704
Phone number: +1 (919) 201-0206
Email: [email protected]
Website: Tiny Paws Kennel
Facebook: Tiny Paws Kennel
4. Divine Yorkies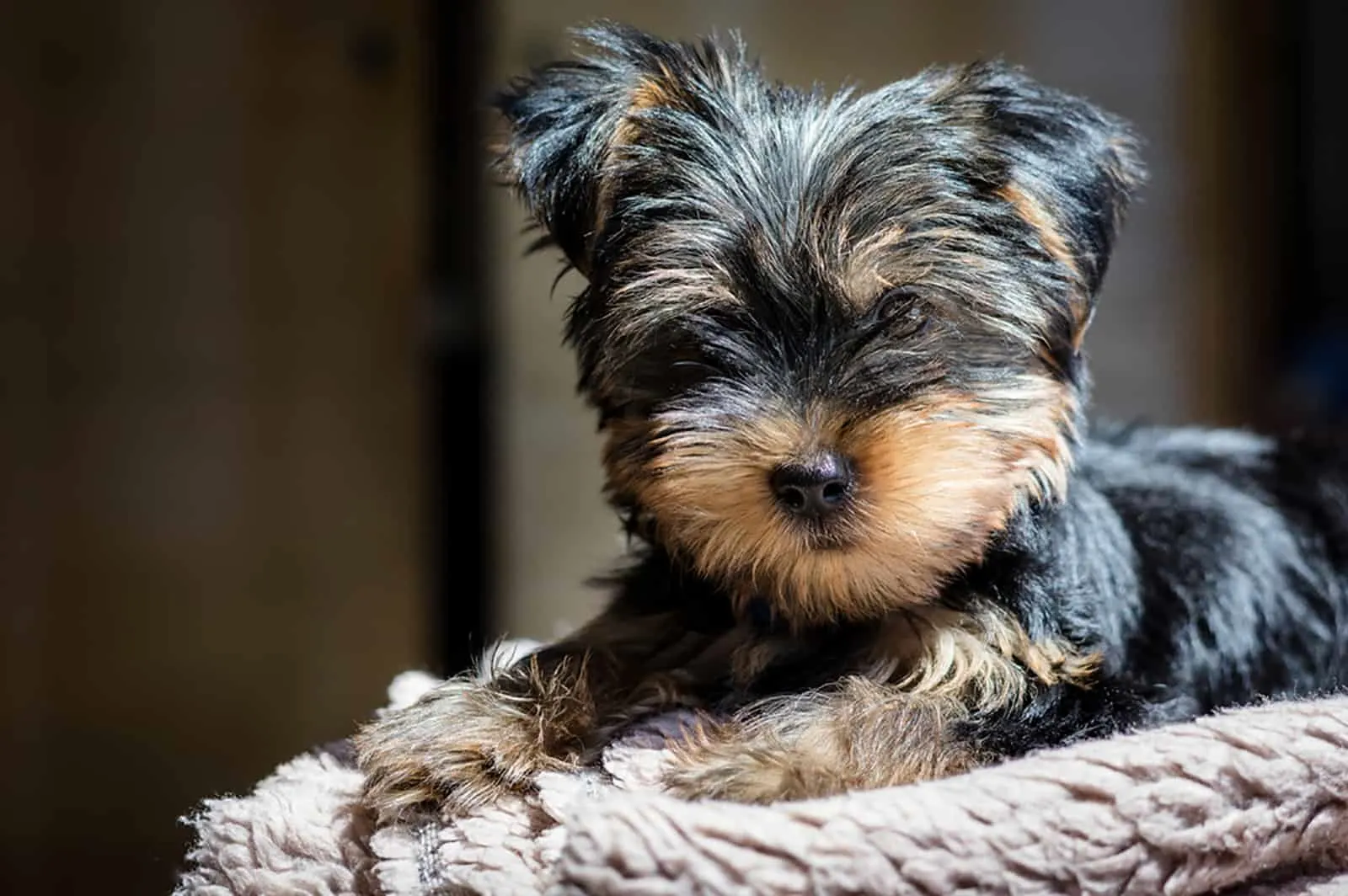 If you are looking for Yorkie puppies for sale, then Divine Yorkies is the place to go. Located in Shelby, North Carolina, the Sperling family is an accredited breeder of purebred AKC Yorkshire Terriers.
They first got their male Yorkie puppy in February of 2003, with whom they fell madly in love with, and shortly after, they also added a female Yorkie puppy to their family.
After long and detailed research, they decided to start breeding because they wanted to share the joy they experience with these wonderful dogs. All of their puppies are raised in their home where they receive lots of love, attention, and care.
They breed for quality, temperament, size, and color. Divine Yorkies does not work with puppy mills and pet shops, nor will they sell their puppies to them under any circumstance.
Their puppies are everything to them, and they are only willing to sell to approved individuals and families that will love their dogs unconditionally.
If you are interested in Divine Yorkies, and would like to make one of their adorable puppies your new family member, then give them a call or send them an email.
They are accepting deposits ($300 non-refundable) to hold your puppy until he or she is able to go home with you, which is approximately when they are around eight weeks of age.
Their puppy prices start at $2,500 for average-sized Yorkies (five to seven pounds) both male and female. Smaller-sized puppies (under five pounds) will cost $3,500 or more.
All puppies come with a one-year health guarantee, AKC-limited registration papers, and no breeding rights.
It is possible to purchase breeding rights for an additional fee.
On their website, you can find a detailed description of everything they do, and why the price of the puppies is as it is, so check it out if you want to know more about their breeding program.
READ ALSO: Are Yorkies Hypoallergenic? The Facts About Pet Allergies
Breeder Information
Breeder's name: Sperling family
Location: 1939 Gaffney Rd, Shelby, NC 28152, United States
Phone number: +1 (704) 692-8729
Email: [email protected]
Website: Divine Yorkies
5. Tiffany's Colorful Yorkies
Tiffany's Colorful Yorkies is a family-run breeding program owned by Chris Davies, who has more than 20 years of breeding experience. They are located in the Great Smokey Mountains, in the town of Old Fort, North Carolina.
Chris' main goal is improving the Yorkie breed standard, which is why he carefully plans all of his breedings.
He has a limited number of breedings each year in order to ensure that all of his dogs and puppies are perfectly healthy and of high quality.
This is not a job for him, but something he truly loves to do. Nothing brings him more joy than seeing new families delighted with their new puppies.
All puppies are raised in their home, where they are handled, bathed, played with, and loved each day until they leave for their forever home.
Chris makes sure that the puppies are potty trained and acclimated to different situations, sounds, animals, and environments.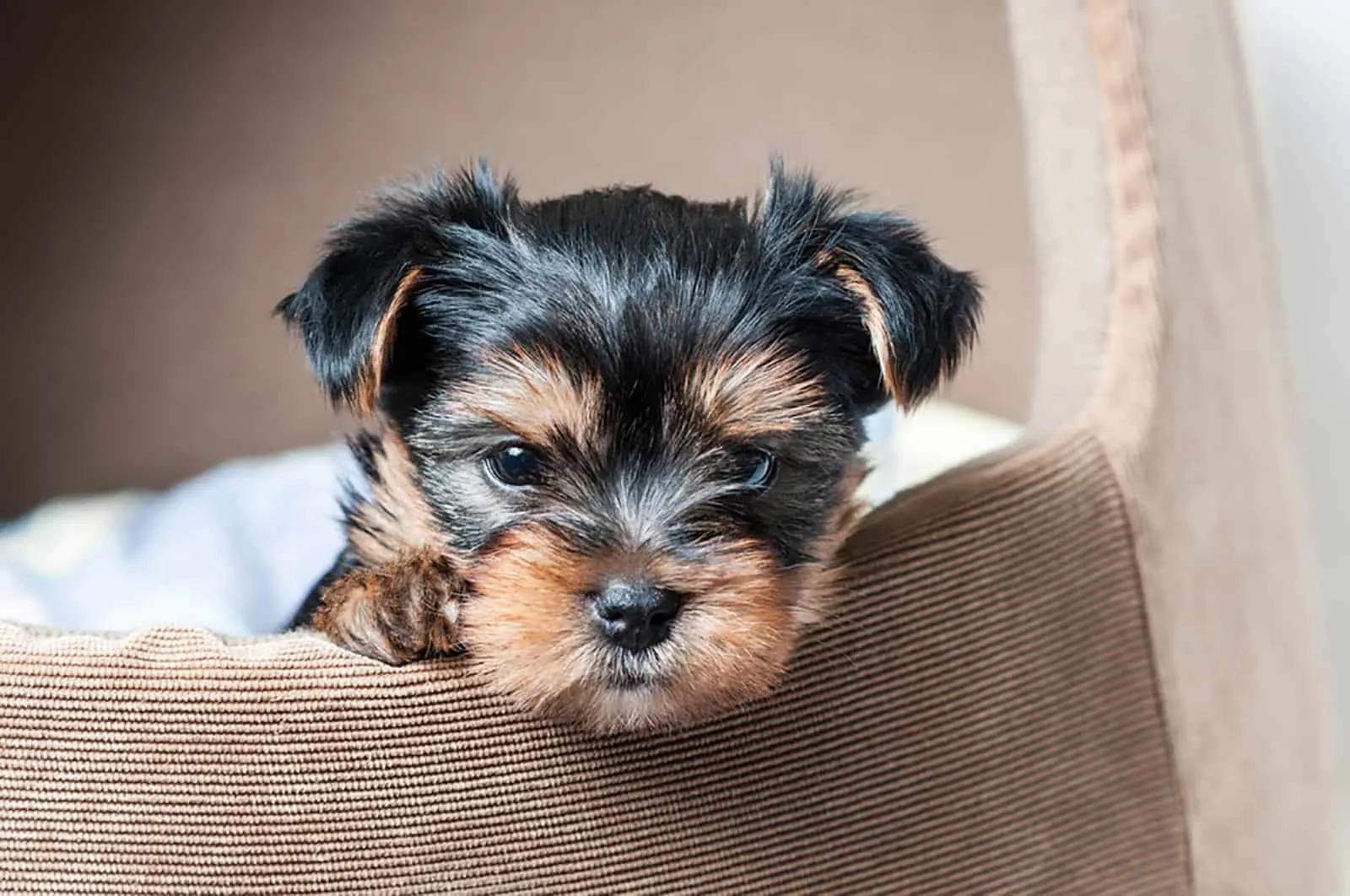 Puppies are regularly dewormed, vaccinated, and vet checked up until they are 10 to 12 weeks of age, when they are ready to go to their new home. With your new puppy, you get:
• a one-year health guarantee for heart, kidney, liver, hip, and eye conditions
• an up-to-date vaccination certificate
• a microchip
• a puppy starter kit
• a health certificate
• a blanket with litemates' scent
• a food starter bag
To get on their waiting list, you first have to fill out their adoption questionnaire, and say a little bit about yourself, your lifestyle, and your wishes. After you apply, Chris will get back to you with information about availability and your next steps.
To hold a puppy for you, you'll have to pay a non-refundable $500 deposit, which will be deducted from the total price of the puppy.
The price of the puppy ranges from $1,500 to $5,000 depending on the size, gender, color, and registration papers.
Breeder Information
Breeder's name: Chris Davies
Location: Old Fort, NC 28762
Phone number: +1 (828) 447-5091 / Fax: (828) 668-4269
Email: [email protected]
Website: Tiffany's Colorful Yorkies
Facebook: Tiffany's Colorful Yorkies
Instagram: Tiffany's Colorful Yorkies
6. B&B Yorkie Kennels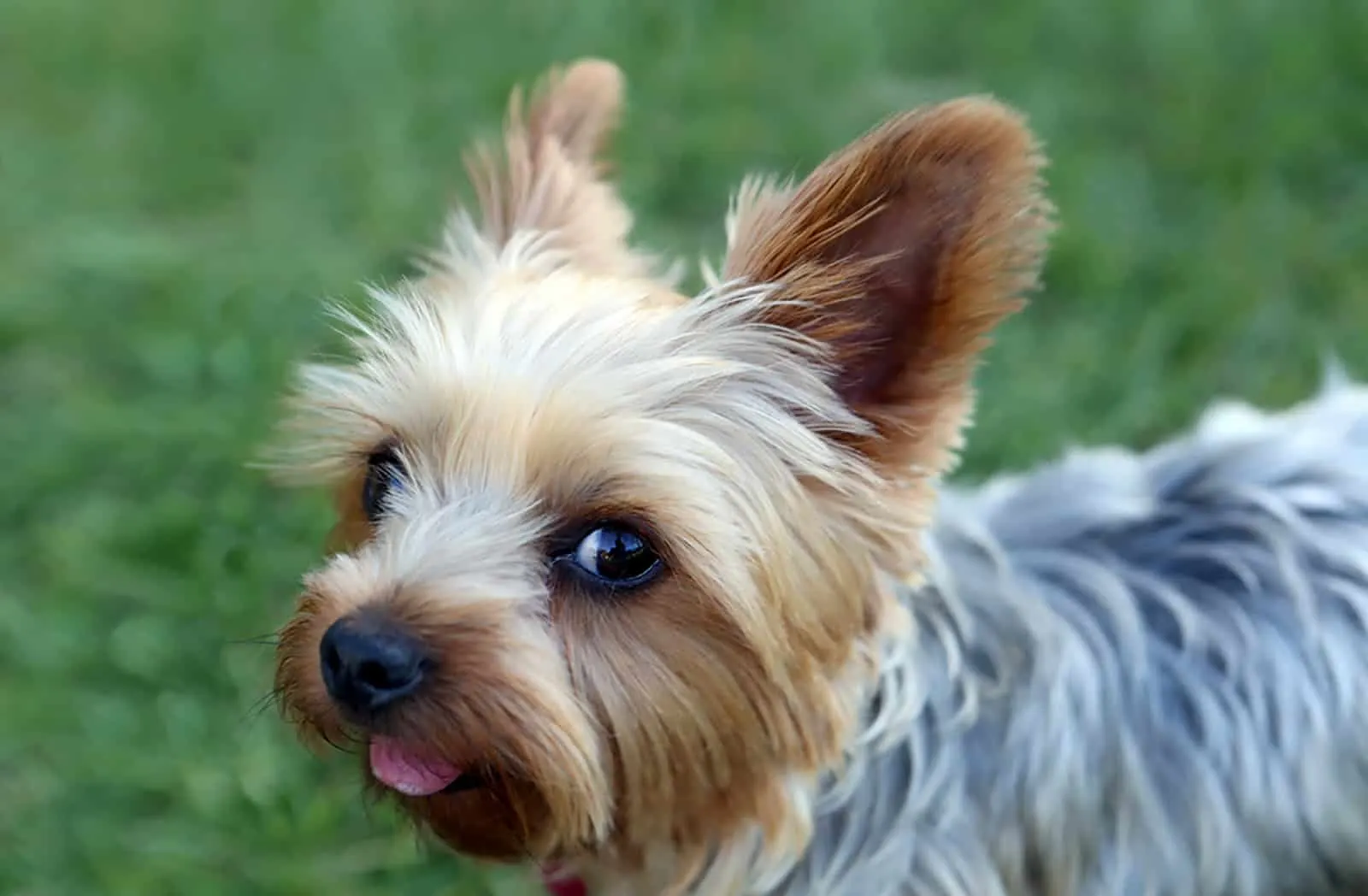 B&B Yorkie Kennels is the premier North Carolina Yorkshire Terrier breeder of traditional and parti-colored Yorkie puppies.
They are located in Mill Spring, in western North Carolina, but they are also easily accessible to clients from South Carolina, Georgia, Tennessee, and Virginia.
They are well-known and skilled Yorkie breeders, with more than 30 years of experience in breeding. All of their puppies are raised in a lovely home with lots of love, attention, and care. They are very well-socialized by using Early Neurological Stimulation (ENS).
Each puppy costs $2,300 regardless of size, gender, or color. The price includes:
• AKC and CKC registration
• a six-month genetic health guarantee
• up-to-date vaccinations and dewormings
• vet checks
• crate training
For more information about this breeder and their beautiful puppies, please visit their website or some of their social media accounts. Adorable Yorkie puppies are waiting for you.
Breeder Information
Location: Hwy 9, Mill Spring, North Carolina, United States
Phone number: +1 (828) 625-8612 / +1 (828) 980-2219
Email: [email protected]
Website: B&B Yorkie Kennels
Facebook: B&B Yorkie Kennels
Instagram: B&B Yorkie Kennels
7. CJ's Kennels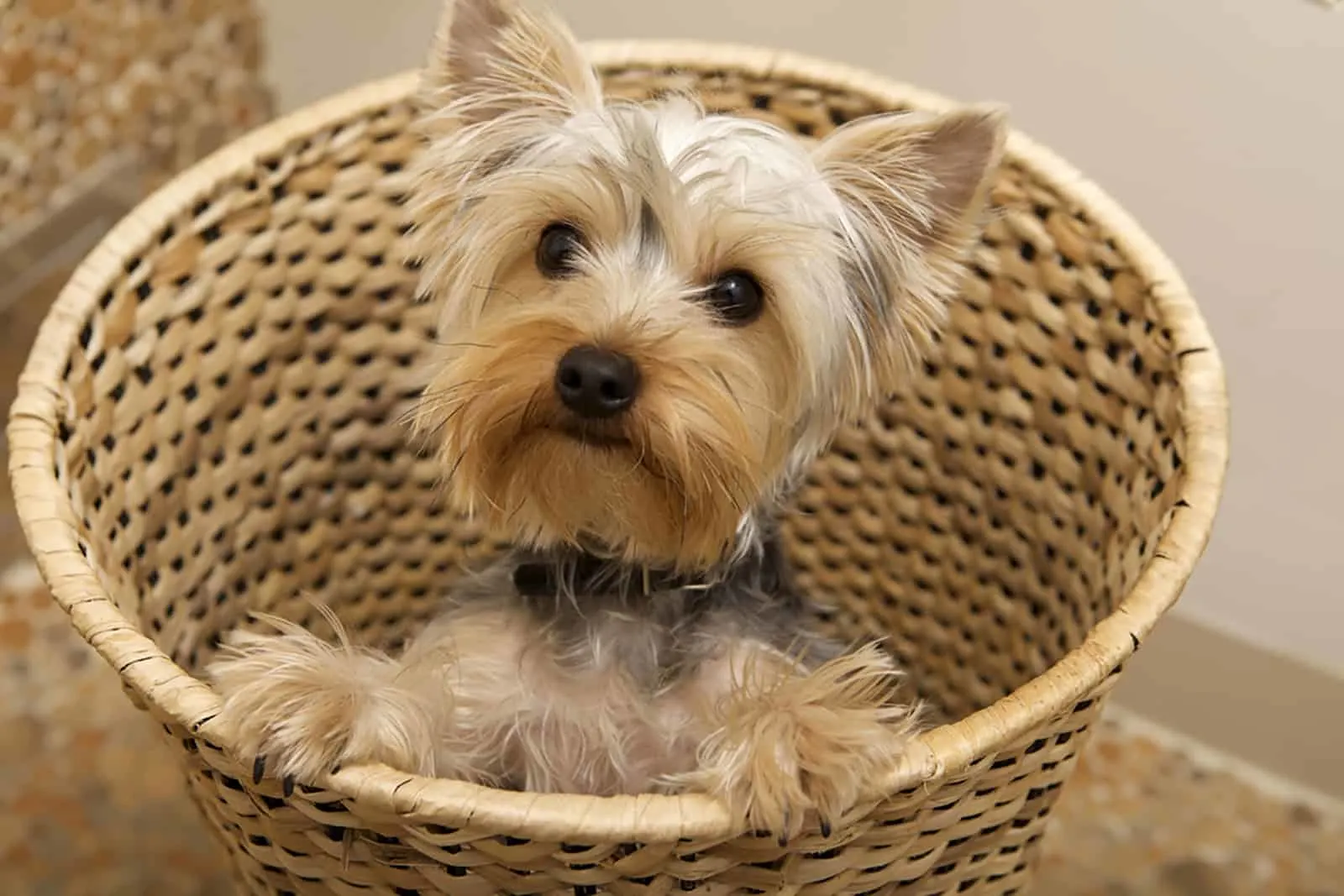 CJ's Kennels is a family-run breeding program, located in Eastern North Carolina. CJ (Chrystal James) is a reputable breeder who has been breeding as a hobby since 2001. Not only is this her hobby, but it is also her long-time passion.
They specialize in Yorkies and Yorkiepoos, but they also have Shihpoos, Toy Poodles, and Teacup Poodles.
Their adorable puppies are just waiting to be adopted, so if you are looking for your next furry companion, then CJ's puppies might be the perfect choice for you.
You can arrange a visit to CJ's Kennels and meet some of their purebred puppies or adorable designer mixes. Unfortunately, they don't have a website, but you can find them on their Facebook page where they post all news about their puppies.
Recently, they opened their second kennel in Pikeville, North Carolina, so you can also find them there. For serious inquiries, please call or text since the breeder sometimes might miss a Facebook message.
RELATED: Yorkie Mixes: 40 Gorgeous Mixed Dog Breeds
Breeder Information
Breeder's name: Chrystal James McCullen
Location: 1116 Stan Ray Rd, Fremont, NC, United States, North Carolina
Phone number: +1 (919) 242-5131
Facebook: CJ's Kennels
8. Yoho's Yorkies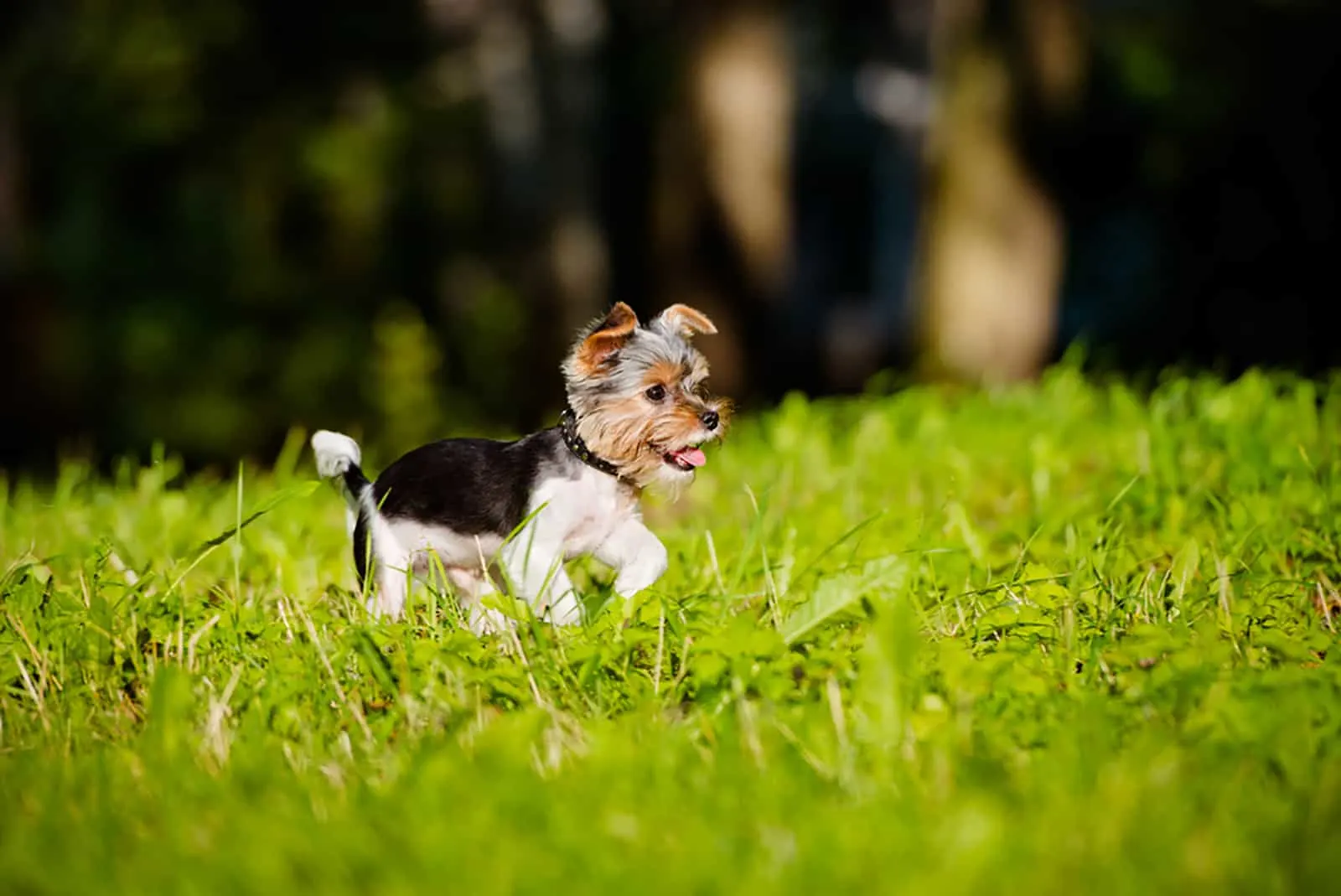 Our last Yorkie breeder of choice is Yoho's Yorkies, a breeder of purebred Yorkshire Terriers, located in Mint Hill, North Carolina – a major suburb on the outskirts of Charlotte, and near the Cabarrus County line.
They had Yorkies as pets for a few years, and they have fallen in love so much with the breed that they immediately knew they wanted to share it with others.
All of their puppies are raised in their home in Mint Hill as a part of their family, with lots of love, pampering, and attention. They don't use crates, so the dogs have full freedom to explore, play, and run around.
All of the parents have their regular health checks with their veterinarian, and females are always checked a few times during their pregnancy in order to ensure healthy whelping. All puppies and adult dogs are fed with appropriate Royal Canin dog food.
During their first couple of weeks, Yoho's puppies learn how to socialize, are completely weaned, and are started on potty training on pads.
When the puppies are at least 10 weeks old (or approximately three months old), you get to bring these fur babies to your home.
With the puppy you also get: AKC limited registration papers, a one-year health guarantee, health records of all visits to the vet, records of updated shots and dewormings, a pet sales contract and agreement signed by both parties (client and breeder), and a very generous puppy pack.
The puppy gift pack includes the following:
• a puppy bed and blankets
• puppy bowls and a food scoop
• 4 to 5 toys
• a small pack of puppy pads
• a small bag of puppy food
• information on how to take care of your new fur baby
They have waiting lists that work on a first come, first serve basis, so if you are interested in their upcoming litters and would like to be placed on a list for reserving a puppy, feel free to contact them.
RELATED: Yorkie Feeding Chart: Everything You Need To Know About A Yorkie Diet
Breeder Information
Breeder's name: Robin Yoho
Location: Mint Hill, North Carolina, United States
Phone number: +1 (704) 573-0642
Email: [email protected]
Website: Yoho's Yorkies
Facebook: Yoho's Yorkies
If, by any chance, you didn't find what you are looking for, check out some of our beautiful Yorkie puppies in Texas and Ontario.
How Much Does A Yorkie Cost In North Carolina?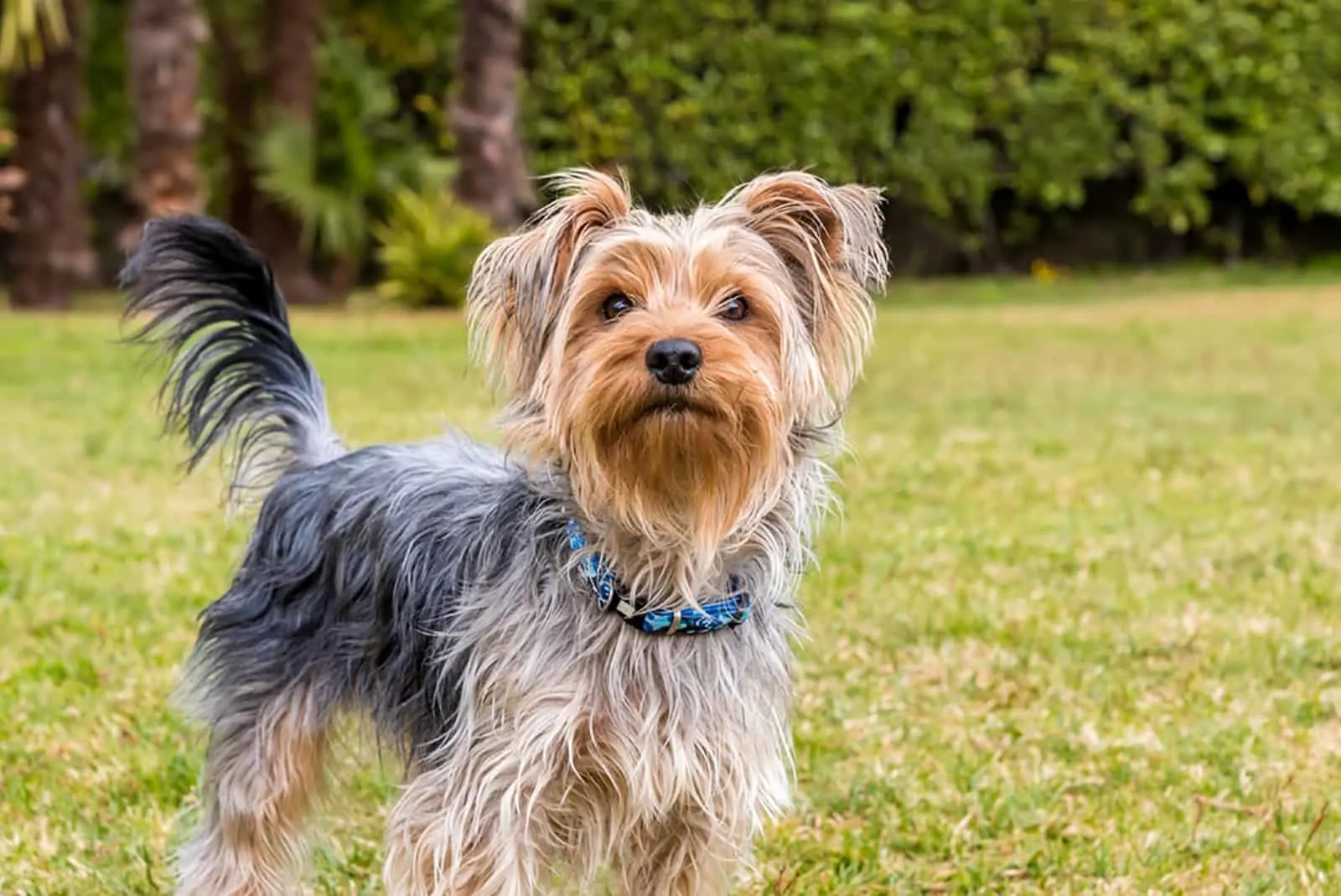 Despite their small size, these pups have a pretty high price point. Usually, Yorkshire Terrier puppies cost from $600 to $2,500; however, depending on certain factors, their price can go up to a shocking $10,000.
As you might have already noticed, in North Carolina, Yorkie puppies are usually priced at around $2,500 to $3,500, or even higher in some cases.
You have to be careful when purchasing Teacup Yorkies, as often, breeders will ask for a much higher price than for standard Yorkshire Terriers; however, these puppies are at a great risk of various health issues, and it takes a pretty experienced breeder to do the breeding process correctly.
There are a lot of factors that affect the price of a Yorkshire Terrier puppy, such as the bloodline, the type of breeder, the dog's gender, the dog's health, color combinations, coat, and size.
When working with a highly reputable breeder who offers puppies of a small size, great health and temperament, and standard coloring and coat type, the price will be higher, of course.
If you are unable to pay that much, but would like to have a wonderful Yorkie puppy as your pet, you may want to look at your local rescue shelter.
They might have available puppies for adoption whose price often starts as little as $50 and can go up to $500.
This way, you can do a good deed and save one puppy's life from euthanasia. In addition to that, it will be much cheaper to get a new puppy.
As always, be very careful of puppy mills, backyard breeders, and pet shops that offer puppies for a very cheap price, however, they certainly have not been bred with the goal of producing healthy and happy puppies.
RELATED: Free Puppies In Your Area For Adoption: 13 Ways To Find A Free Pet
In Conclusion
Yorkie puppies are wonderful little dogs that will steal your heart from the moment you lay your eyes on them. They have so much to offer with their stunning coat and huge personality that will make your everyday life so much more entertaining.
Their small size makes them the perfect choice for many individuals and families who struggle with a lack of space in their home. Even if you have the smallest apartment in the city, a Yorkie will surely be able to fit.
Besides choosing which dog breed would be your perfect family pet, finding a reputable and quality breeder of the said breed is an even more important decision.
Our article is the perfect resource for the best Yorkie breeders in North Carolina, and it has everything you need in order to find your new healthy and happy puppy.
Nevertheless, we still advise you to pay attention to many things such as the reviews, the breeding practices of the breeder, health documents, registration papers, and other important factors.
Don't be afraid to ask questions, and always listen to your intuition.
Related Content
Top 10 Dachshund Breeders In North Carolina In 2022!
9 Golden Retriever Breeders In North Carolina In 2022