There are plenty of ways to find free puppies in your area for adoption if you're on a tight budget or just don't want to spend thousands of dollars on a pet.
Having a pet is a great responsibility that might cost a lot of money on an annual basis, which is why it's not really convenient to spend a lot of money just to get one.
In case you're wondering how to get a free pup without paying for it, keep on reading this article and discover the best ways to find free puppies in your area for adoption!
How Can I Get A Free Puppy?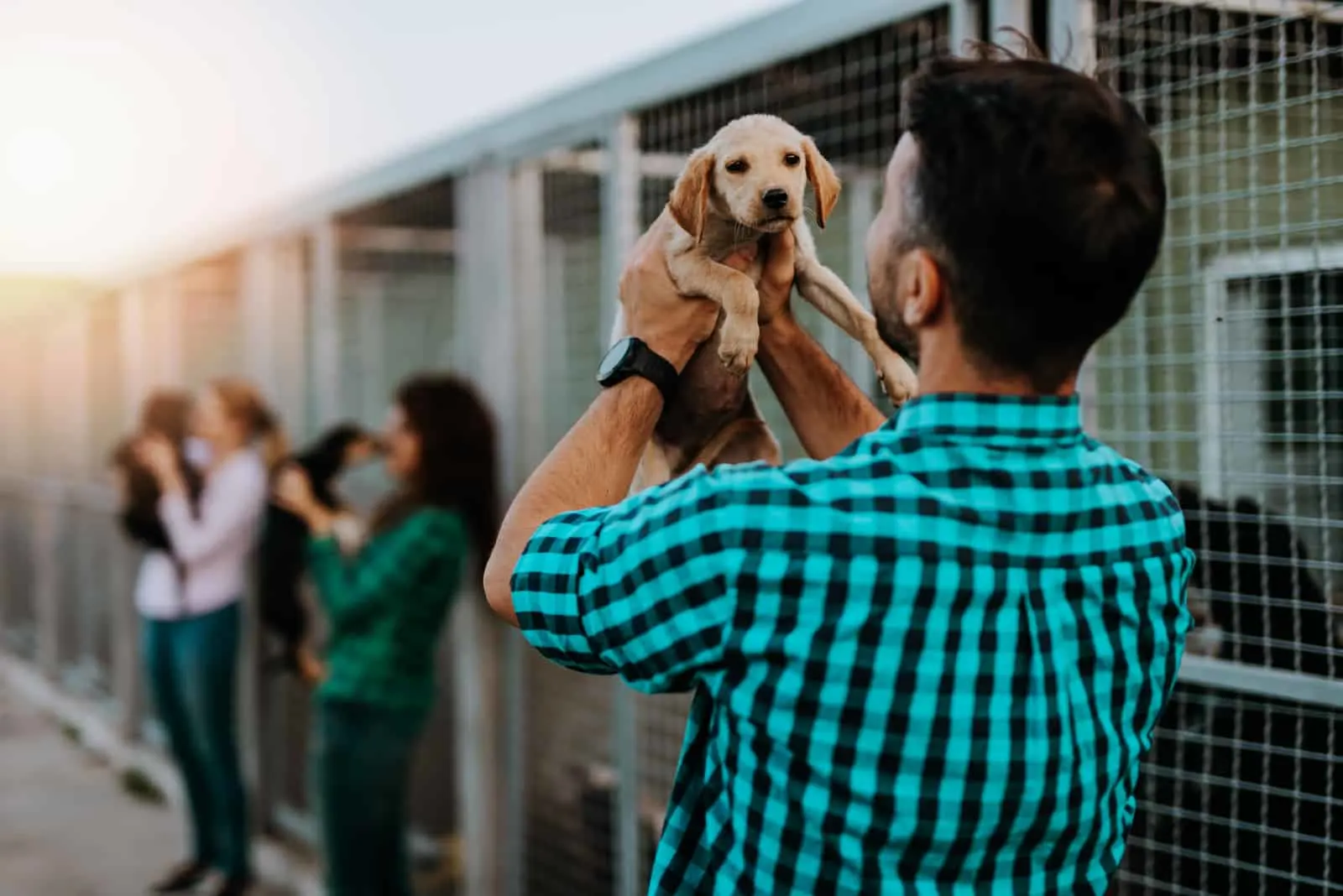 1. Save A Stray
There are plenty of viral videos on the Internet that show adorable puppies and their owners living a happy life together.
Unfortunately, not every canine has the same destiny, and even some of those who were once happy pets are now wandering the streets hungry and sad because there's no one around to offer support.
Homeless pets such as male and female Chihuahuas, Pomeranians, etc. usually struggle to survive in the harsh conditions of the streets because they're not used to searching for food in dumpsters.
Although there are so many great people who volunteer at rescue centers and save these pups from starvation and the cold, not every pup has the chance to be saved.
What Can You Do?
You can make a great change by taking a pup from the streets yourself!
That way, you'll be able to save the pup and provide it with a warm and loving home, and you'll also help those hard-working volunteers who spend all their free time saving animals.
Adopting a pet or buying a new one might seem initially like a better idea in terms of your or your family's safety. However, keep in mind that most of these pups have already belonged to a family and just want to be loved.
If you show a friendly attitude from the beginning, and don't give up easily on the pup, you'll get yourself a fiercely loyal pet that'll never forget everything you did for it!
How Do You Earn Their Trust?
First and foremost, don't push it. Stray canines need to have their own personal space during the time of adaptation to strangers who are trying to approach them.
Remember, these puppies are hurt and frustrated, so don't be surprised if they try to bite you. The best you can do is to:
• Leave dog food at a safe distance
• Move the food bowl nearer to your house every day
• Let the pup approach the food without your guidance
• Avoid eye contact
• Observe the way they behave when you're around for the first few days
• Offer your hand so they can smell it
• Try to pet the dog after a few days of feeding it
• Move them as close to your house as you can (leave the food bowl next to your doors once you get close enough to the house)
Even though it does take time, the stray puppy will eventually get used to you and become the best pet you ever had!
2. Ask People Around You
You might be surprised to discover how many people from your social circle have or know someone who's looking for a new home for their canines or felines.
Your neighbor or your cousin might have a litter of adoptable dogs or cats, or they might know someone who'll have an upcoming litter of the dog breed that suits your wishes and requirements.
Someone's pet might have "accidentally" produced a litter of mixed breed pups and they're planning to give them away without any adoption fee.
This is a great way to get high-quality pooches such as Poodles, Aussies, German Shepherds, etc., or great hybrid breeds like Yorkiepoos, Goldendoodles, Labradoodles, etc.
Essentially, all it takes is to ask a few people around you and wait for their feedback.
I'm sure there's at least one person who has adoptable pets that will fit you and your family.
3. Look At The Local Daily Paper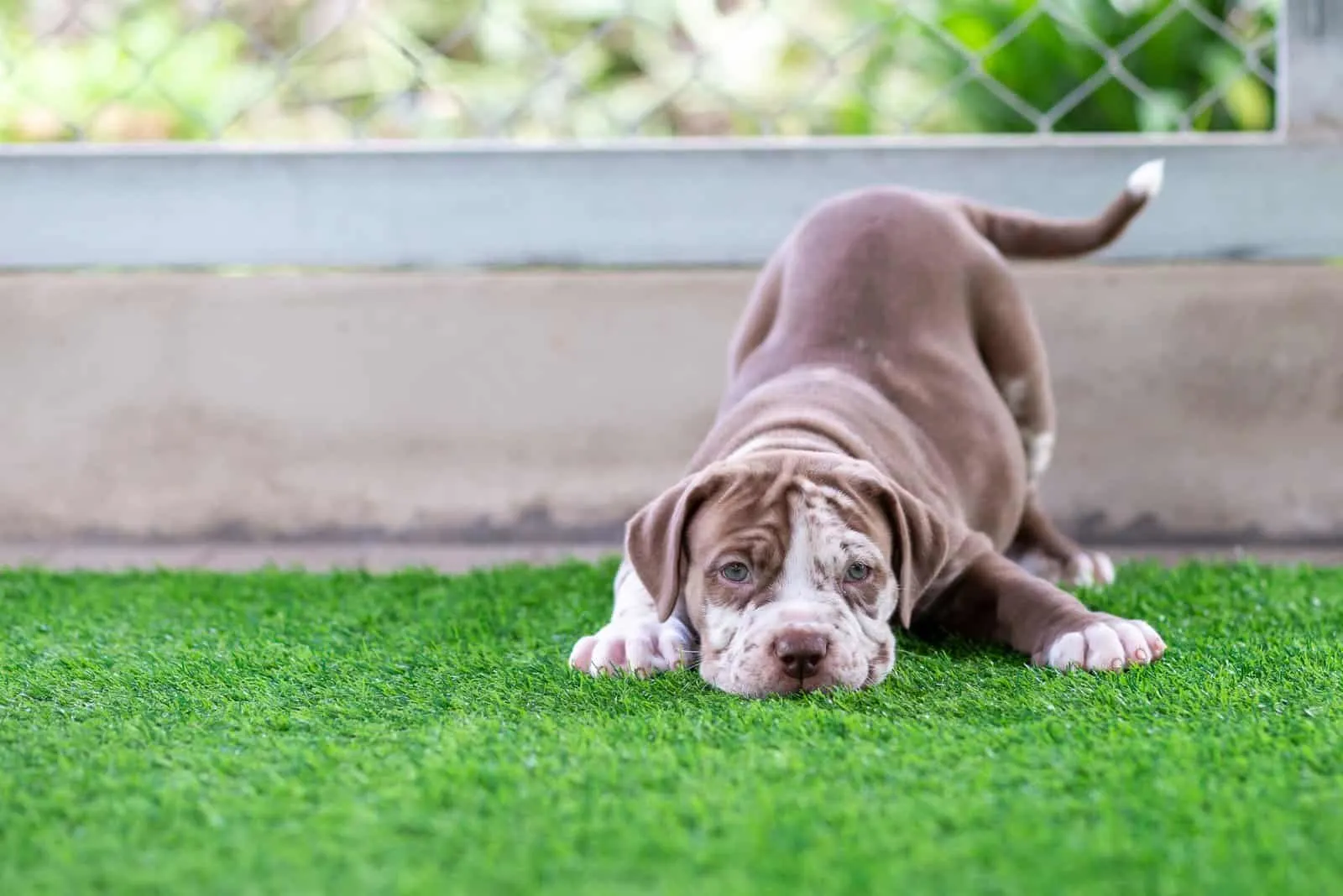 For some people, this is the last place to look for a puppy for adoption.
However, that doesn't mean there aren't any. All you need to do is buy the local newspaper and hunt down the ad that sounds most relevant.
This way, you'll support your local media and find your new pet!
However, make sure to be extremely careful about this type of ad. Unfortunately, there are plenty of frauds out there who'll use all means to fulfill their bad intentions.
How Do You Recognize A Trustworthy Person?
The best way to differentiate between a fraud and someone who really wants to give a pet for adoption is to make a phone interview before meeting in person.
By asking questions about the puppy, its health, its coat color, and other specific details that might make a fraud stumble into their own lies, you'll be able to recognize a reliable person who's willing to share a puppy with you.
I'd still recommend you take a family member or a friend to the meeting just in case anything goes wrong.
4. Check Craigslist For Dog Adoption Listings
I'm sure most of you have already heard of Craigslist – an online marketing website that offers you all kinds of services and items for sale.
However, you may not know that this website contains dog adoption ads.
There can be various online ads that offer all sorts of puppies on Craigslist, including:
• Individuals who are trying to find a home to sweet strays that they found on the street or pups that are the result of accidental breeding
• Breeding kennels that offer puppies for sale
• Pet adoption centers and animal shelters that will require you to pay an adoption fee just so they can cover their expenses
Free puppy ads might appear as well from time to time, so don't rush into paying for a pup if you're on a tight budget until you find an ad that suits your needs.
However, make sure to keep yourself safe from scams that are quite common on online sites such as this one.
The best way to protect yourself is the same as with the local newspaper. By asking numerous questions, you'll be able to see whether the person is acting strangely or not.
5. Visit An Animal Shelter
There's a great number of shelter pets that are patiently waiting for their new owners to take them to forever homes.
The majority of non-gov. organizations, such as Four Paws, are funded by adoption fees and donations, which is why most of them can't really offer a pup without any fee.
The adoption fee is generally used to cover the costs of food, health checkups, spay/neuter surgeries, microchipping, vaccinations, etc.
On the other side, there are government-owned animal shelters that are filled with thousands of stray canines that are waiting to be taken by their new owner.
Unfortunately, many animals, especially adult cats and dogs, don't live up to being adopted. The politics of most animal shelters is that those animals that don't get adopted within a certain time frame are euthanized.
However, the good thing is that most of the animals from governmental shelters are given for free to inspire more people to adopt.
Risks Of Getting A Pup From A Shelter
Of course, getting a pup from a shelter doesn't come without certain risks.
Animals that are a part of both non-profit and government-owned organizations have unknown backgrounds and possible hidden diseases that you might not uncover until you adopt the pet.
Some pups might suffer from quite serious illnesses or have certain behavioral issues that could cause you great financial and security problems.
In some cases, treatments for such diseases might cost more than a puppy from a reputable breeder.
If you're still indecisive about getting a pup from such places, you can try to apply for a foster care program and become a foster parent.
This way, you'll be able to make the final decision based on experience, and at the same time, you'll be of great help to shelters with full capacities.
6. Ask Volunteers From Dog Rescue Groups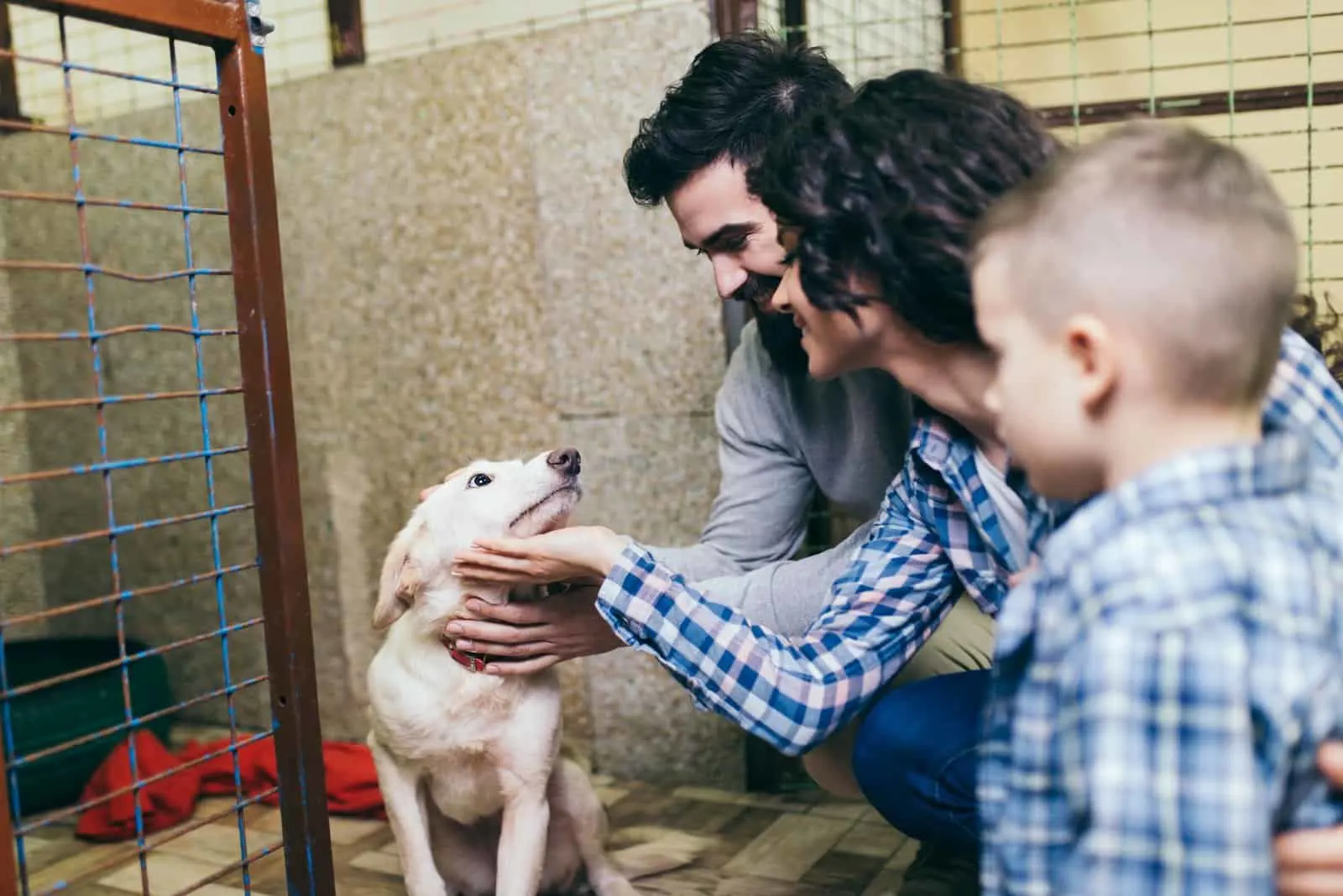 Almost every community has at least one local rescue center or organization that saves puppies and other animals from living in inhumane conditions.
However, as you can already guess, adopting a pup from such places is rarely free (if ever).
Dog rescue organizations are generally just a group of volunteers who love animals and want to help them in any way possible.
However, taking care of animals requires quite a lot of money. Food, medical care, a bed, and other necessities are expenses that are generally covered by adoption fees or contributions.
How Do You Get A Pup For Free?
If you're a dog lover, but you're still not sure whether it's a better option to adopt vs. shop, you can also volunteer and provide a foster home to animals from rescues.
Being a foster parent is an amazing experience, especially when you feel that sense of gratitude coming from animals that probably never had the chance to feel love and care.
Who knows, you might change your mind about owning only one pet and become a foster parent to a bunch of new dogs!
7. Join Social Media Groups For Canine Adoptions
Social media networks, such as Facebook and Twitter, can be great places to find free puppies in your area for adoption.
This is a very successful method of finding your furry new best friend for free, as there are so many groups and posts related to dog or cat adoption.
A simple search of phrases like "free puppies in the area", "free puppy", and "adopt a pooch", can make you become a pet owner in a minute.
Another benefit of social media is that you can see who's posting, even though there are plenty of fake profiles.
However, if you make a public comment on the post of a person looking for a potential pet owner, there's always someone who'll answer you back with their experience regarding that person (positive or negative).
A great number of posts regarding puppy adoption are being updated daily, so make sure to check your social media regularly.
Sometimes, you might not get the best results by simply entering a certain phrase into the search box, especially on social networks such as Instagram and Twitter.
The people on these networks use hashtags on a daily basis for almost every post they make in order to reach more people.
Phrases like #freepuppyadoption or #puppiesforfree will surely offer you a bunch of free adoption options.
But, make sure to protect yourself from scammers who might take advantage of your kindness.
Do thorough research of the name and the profile they're writing from. If you notice anything suspicious, it's better to keep looking for the next person.
9. Speak To Your Local Veterinarian
I guess there's no better place to talk about pets than the vet's office!
Veterinarians work with animals of all ages and sizes every day, and they sure know at least one place where you can get a puppy for free.
Visit a local vet and ask them if there are any people they know that are searching for a pup adopter.
You can rest assured that this is one of the safest ways to adopt a pet because vets won't give you any names that might be a scam.
However, try not to be intrusive in case they don't know anyone at the moment. You can leave your contact and patiently wait to hear from the vet. It's in their interest to make animals happy as well!
One of the benefits of this approach is that you take the pup to the vet immediately and check whether there are any risks of health issues such as hip dysplasia, cataracts, or others.
10. Go To Adoption Clinics And Events
The next time you pay a visit to PetSmart, Petco, or similar online pet stores, make sure to check if there are any interesting adoption clinic events near you.
There are plenty of adoption information events for all potential pet adopters who are interested in the adoption process.
If you want to be among the first to know about the date of these events, you can subscribe to the mailing list of the online pet stores that organize such programs.
This is a great opportunity for people who might not have access to adoption centers or animal shelters due to their place of residence.
11. Become A Pup Rescuer!
There are several ways of becoming a volunteer at a pet rescue. You can choose whether you want to be a foster parent or a volunteer at the rescue center's premisis.
There are multiple benefits of volunteering. First of all, you'll save hundreds of animal's lives, and secondly, you'll actively work on raising awareness about the responsibilities of owning pets and pet care.
Also, you'll have a chance to become an advocate for animal rights, which might give you personal satisfaction as well (all good deeds are a little bit selfish, you know.)
Volunteers who are committed to helping animals at shelters and rescue centers usually don't have to go through the whole process of completing adoption applications, interviews, home visits, etc.
These organizations sometimes let their volunteers adopt pups and adult dogs from their facilities without any fee because of their hard work.
Although this is a great advantage, volunteer work should primarily be based on the love for canines rather than material benefits from it.
12. Fliers And Posters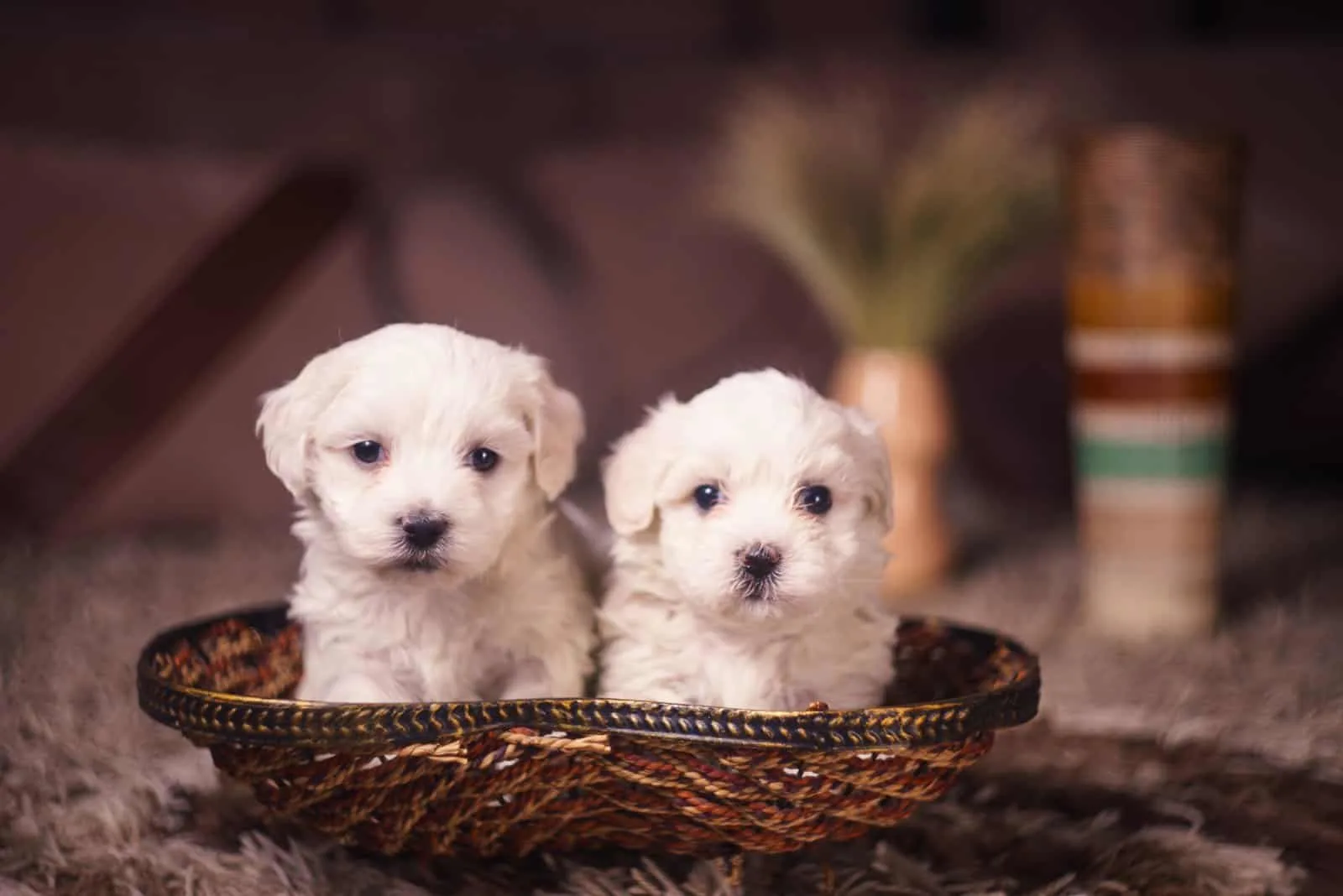 Younger generations might call this the old-fashioned way, but if it works, then why not?
Handing out fliers and putting posters around your area might be just the right way to reach someone who's trying to find a home for a cute puppy or any other animal.
Although it seems almost impossible in today's world, there are still some people who don't have any social media accounts or don't have time to use them actively, so they don't post any ads.
However, they might notice a poster or a flier and actually contact you! This may sound as an absurd idea at first, but you can't lose anything with it.
13. Get In Touch With Local Breeders
I left this for the end because it seems the least plausible for many, but it's definitely not impossible.
Puppies from reputable breeders usually cost a lot of money, which is kind of justified because of the expenses of producing and taking care of purebred pups.
If you're wondering how there could be any chance to get a puppy without any fee from a reputable breeder, the answer is quite simple, actually.
Sometimes, breeders give out puppies that were left unsold in a previous litter for free because there aren't any people interested in it.
Also, if a breeding place is about to close, they'll usually give their puppies and adult canines for a symbolic fee or even for free.
This might not be the most popular method for finding free puppies in your area for adoption, but you can't know unless you try.
FAQs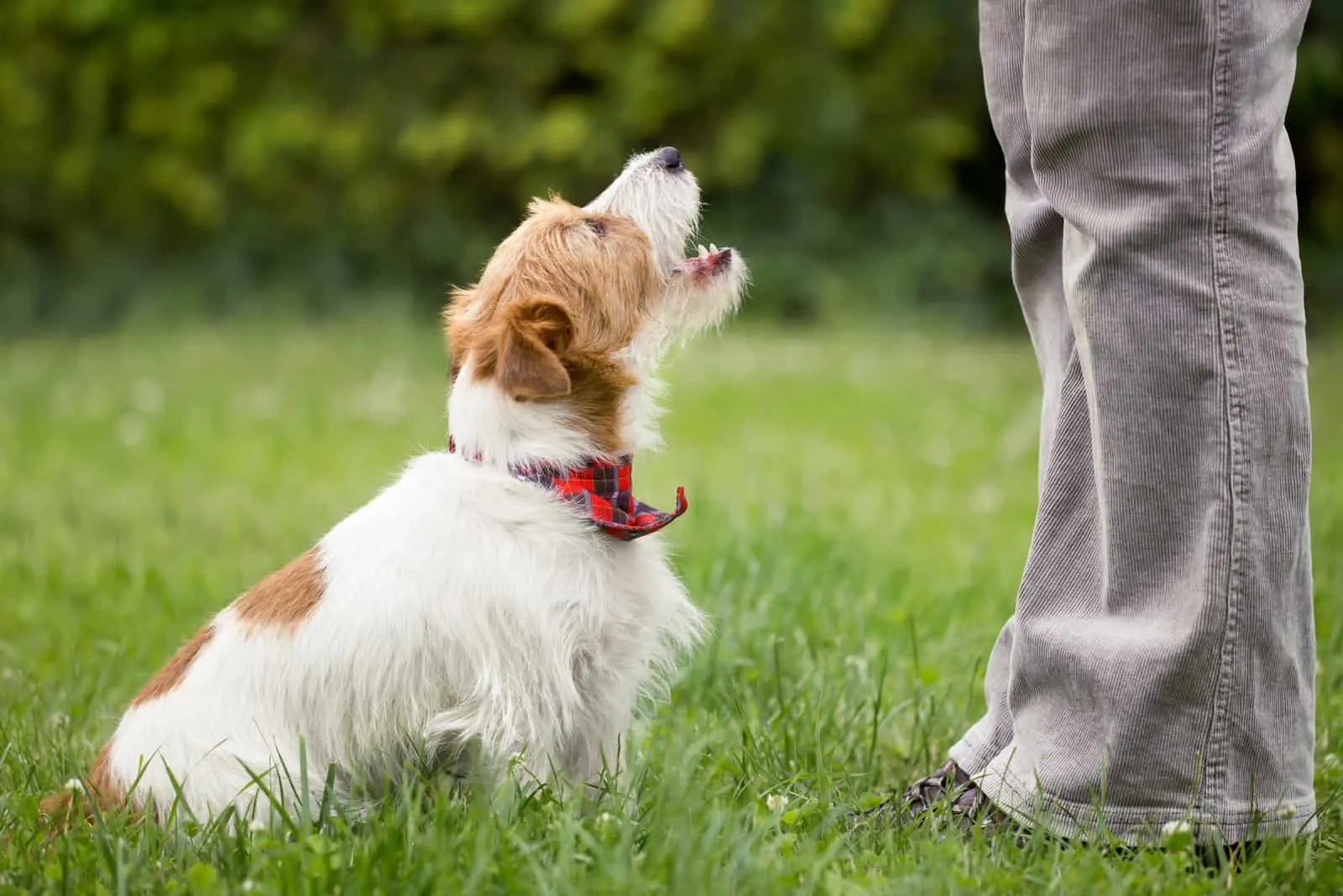 What Are The Benefits Of Adopting A Dog?
There are plenty of reasons why you should adopt a dog instead of buying one. Here are the most interesting reasons why people decide to do such a humane act:
• Saving lives
• Getting a deeply grateful and loyal pup
• A successful way to stop puppy mills
• All pups make us happy, but adoptees provide us with a special boost
• We're rescuing more than one animal by freeing up space in shelters
• Making a complete change in a canine's life
These are just some of the most common reasons why people should adopt puppies rather than buy them.
If you know of any place that offers free puppies in your area for adoption, there's no reason not to try and adopt one!
What Are The Most Common Dog Breeds Found In Shelters And Rescues?
Unfortunately, there are many homeless dogs on the streets and in shelters that are looking for their forever home.
Not every homeless pup is abandoned by its owner; some of them never even had one because they were born on the street. Also, there are different factors that might make people give up their pet.
However, I'm sure you'll be surprised to hear which dog breeds are among the most common ones that are found in rescue centers and shelters:
• Jack Russell Terrier – These are extremely energetic pups that might be quite tough to handle if not trained in time.
RELATED: Are Jack Russell Terriers Hypoallergenic? What Is A Hypoallergenic Dog?
• Johnson American Bulldog – These pups are often discriminated against based on their looks.
• Pit Bull – Unfortunately, no dog breed faces discrimination in the same amount as Pit Bulls. This is the most common canine breed found in rescues because they're labeled as dangerous and a bad choice for families.
READ NEXT: Pitbull Growth Chart: How Big Will Your Pitbull Be?
• Beagles – They might not be tough, but they're still neglected by owners who might find them difficult to deal with because of their stubbornness. It might be challenging to train them, but it's far from impossible. On the other hand, male and female Beagles are great with children, so they make perfect family pups!
• German Shepherds – Although they're known as loyal watchdogs, these pups frequently end up in rescues and shelters. The reason for that could be improper training and the inability to control their energy. GSDs aren't aggressive, but they might have mood swings.
• Labrador Retrievers – This might come as a great surprise, but Lab's are often found homeless as well. They rarely have any behavioral issues, but the reason why they end up in shelters is overbreeding (especially in puppy mills).
As you can see, purebred canines can often be found in shelters and rescues as well! Instead of spending a great amount of money on buying a purebred puppy, you can go to walk-in rescue centers or animal shelters and find out more about their adoption process.
Free Puppies In Your Area For Adoption: Final Thoughts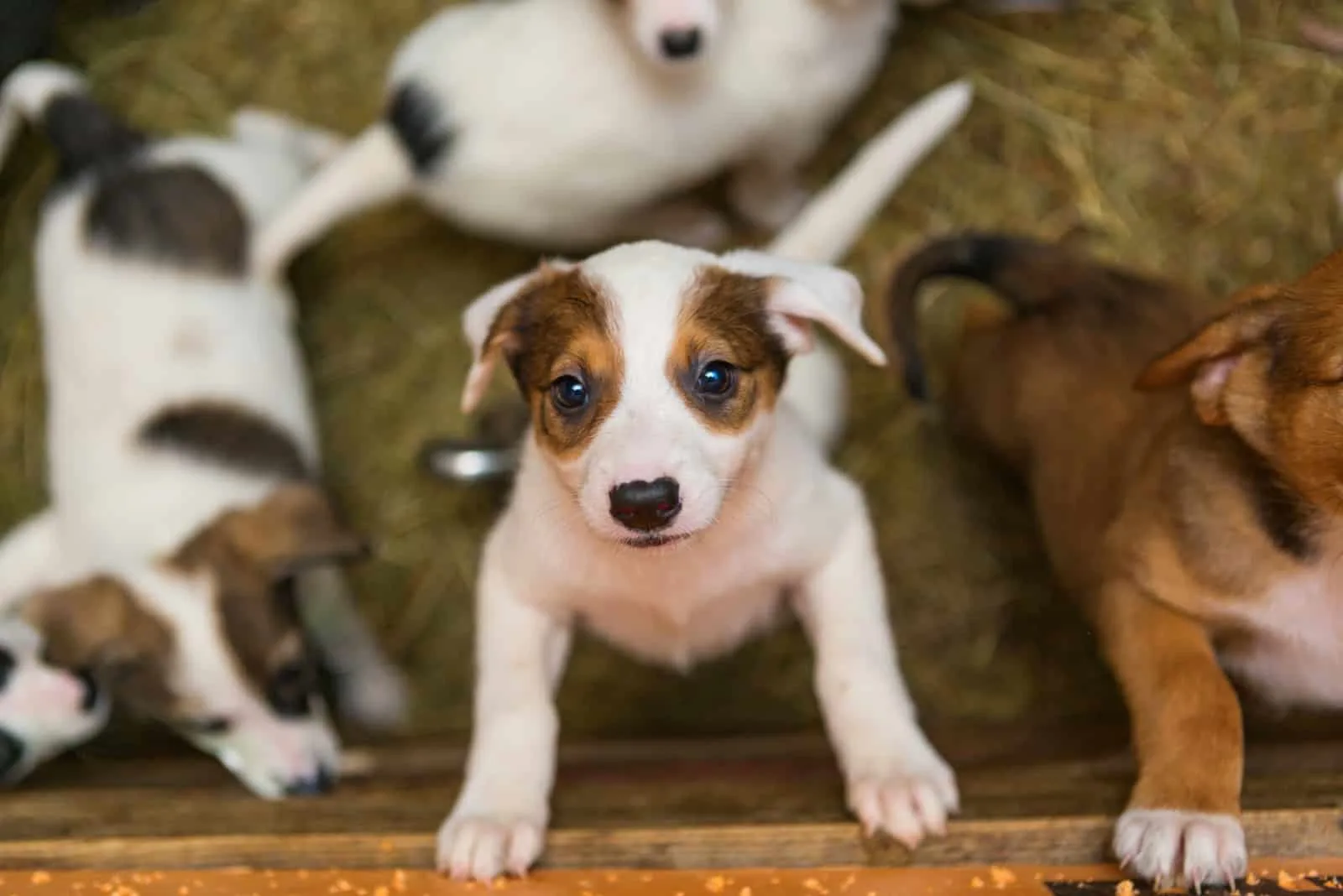 As you can see, there are plenty of ways to find free puppies in your area for adoption. All it takes is a little bit of luck and a lot of research.
Owning a pup isn't just about fun and games; it's a long-term commitment that should be taken seriously from day one.
Unfortunately, a lot of puppies are left or born on the streets because of irresponsible owners or breeders who leave them once they have no use for them.
I hope this article has helped you get a general idea of places and ways to search for free puppies in your area for adoption.
If you know any other way that's not included on our list, feel free to share it with our loving canine community!
RELATED:
Best Bichon Frise Rescues For Adoption: Top 10 Places To Adopt
Best Basset Hound Rescues For Adoption: 26 Organizations From All Over The USA