Disclosure: This post contains affiliate links, and I will be compensated if you make a purchase after clicking on my links.
All dog lovers have heard of Yorkshire Terriers – also known as Yorkies. This is a small dog breed with a big attitude and somewhat challenging nutritional needs.
Yorkies are a small breed of dog with long coats. Just like all Terriers, they are loud barkers and feisty small hunting dogs, determined to make themselves the center of attention no matter where you go.
At the same time, they are amazing family pets as they are loyal and affectionate. They are very protective of their owners, and they might seem borderline aggressive toward strangers if not socialized in time.
Also, they might not be the best choice for families with little children, as they aren't known for being patient and have very high energy levels that can be a challenge to deplete.
However, despite their strong personality, they have a rather delicate digestive system. Because of this, you need to think carefully before picking the best dog food for Yorkies.
Fortunately, we're here to help! We've gathered the top 17 dog food brands for Yorkies that you must try giving to your pooch. We've also explained some details about the Yorkie's dietary needs, so you know exactly what to look for – and what to avoid.
Without further ado, let's get started:
Best Dog Food For Yorkies
Yorkies are known to have digestive issues. You need to carefully pick the right food for them, as it can sometimes seem as if they're allergic to almost everything!
When looking for food for your small breed adult dog, you need to seek high-quality ingredients and a small kibble size that will be easy to eat.
To make things easier, we've checked out sites such as Chewy and Amazon and created a list of the best products for your pooch.
Here is some of the best dog food for Yorkies we've found:
Hill's Science Diet Adult Small Paws dog food is specially formulated to fit the Yorkie's needs – as well as the needs of all other small dog breeds. This is what makes it some of the best dog food for Yorkies.
This food comes with two protein sources that determine the taste – chicken meal and lamb meal. Both contain rice, as well as many other beneficial ingredients, such as omega 6 fatty acids, vitamin E, vitamin C, calcium, as well as many antioxidants that will help your dog's immune system.
The high amount of fatty acids also means this dry kibble food will ensure healthy skin and coat. Your dog will not only feel good, but he'll look good too!
This is great dog food for all life stages for Yorkies. It has a paté texture even the pickiest of eaters will love! It also comes in three different flavors: beef, pork, and chicken, and all are listed as the first ingredient on their package.
This paté is grain-free and pea-free, so the chances of it irritating a sensitive pup's stomach are slim. It is enriched with calcium and vitamin D, making it healthy for your dog's bones and joints.
This dog food comes in convenient trays that are easy to keep. Also, they have a peel-away seal that ensures the food stays fresh for a very long time. All in all, this is food your Yorkie will find hard to resist.
This could be the best dog food for Yorkies who love the taste of meat. It has chicken as the main ingredient and focuses on using real meat proteins, joined with tasty peas many Yorkies love. This way, it ensures the kibble is free of any artificial colors or flavors.
This product comes with kibbles that are just the right size for such small dogs. Your pooch will be able to munch it all day long without causing pain to his jaw or choking on it. This makes it not just a safe option but a tasty one as well. Yorkies love palatable foods!
This food is enriched with calcium and phosphorus, which are really beneficial for healthy bones and strong teeth. It also contains canine probiotics that support healthy digestion. Most Yorkies will love eating it.
It's important to note straight away that not all Yorkies like the taste of fish, which is the main protein source in this dog food. However, if your Yorkie happens to like it, then this might be the best dog food for him due to all of the health benefits it has.
The product lists herring as the first ingredient and the main protein source. This also means that the food is rich in omega 6 and omega 3 fatty acids (DHA), making it a great option for a healthy coat, skin, and bones. Not to mention how this will improve his immune system and keep his blood sugar from dropping!
This food comes in easy-to-chew kibbles that will melt in your dog's mouth, making it perfect for senior dogs or dogs who might have trouble chewing dry food. There is also a satisfaction guarantee, so you can return the remainder of the food and get a refund if your pup won't eat it.
This is likely the best dog food for Yorkies, as it has all you might require from dog food for a delicate toy breed. With this dog food, CANIDAE wants to ensure your pup gets only the necessary ingredients, avoiding using anything that might irritate a sensitive stomach.
As such, this food is grain-free, gluten-free, chicken-free, soy-free, and wheat-free. At the same time, it comes in six different flavors, so you can pick one your Yorkie will prefer. This helps you deal with the Yorkie's picky eating habits.
At the same time, the product is rich in healthy amino acids, antioxidants, as well as probiotics. It doesn't contain any artificial flavors or preservatives, making it an all-natural recipe.
This dog food contains chicken as the first ingredient, but it is also rich in beneficial fruits and veggies, such as organic spinach, carrots, peas, and apples, that can boost your dog's immune system. Everything is sustainably grown without the use of chemical pesticides or synthetic fertilizers.
The recipe doesn't contain corn, wheat, or soy, making it grain-free. It is also gluten-free, and it doesn't contain any artificial colors, flavors, or preservatives. This ensures that the entire recipe is made out of 100% natural ingredients.
This stew food can be used alone as a full meal, but you can also use it as a topper. This is a good idea if your dog has to transition from one food to another.
Taste of the Wild is a brand that wants your dogs to feel as if they've gone back to their wild roots. It promotes giving your dog the most natural food possible, trying to stick close to the nutritional value his ancestors required. This includes high protein levels.
The package lists venison as the first ingredient, followed by lamb meal. With a few other types of meat added in there, this product is a perfect mix of all possible proteins your dog might need.
The food is enriched with vitamins and minerals, such as zinc, selenium, vitamin E, vitamin A, amino acids, and taurine. This will ensure your dog stays in good health and provide him with enough energy to be his active self.
If your Yorkie loves wet dog food, then this might be a great product for him. It comes with everything you need in a dog food designed for healthy digestion, and it will help your dog's tummy stay healthy.
While it contains chicken as the main protein source, it is also rich in ocean fish meal, which helps support overall health, especially muscle and joint health. This also makes it rich in omega 3 and omega 6 fatty acids, so you can be sure your dog's skin and coat will look great.
But, more importantly, this food is formulated with pumpkin, which is a great source of healthy, soluble fiber. This food also contains up to 75% moisture, so it's a great dietary source of water. As dogs can sometimes forget to drink the right amount of water they need, hydrating dog food is always a good option.
Wellness is a well-known pet food brand that has formulated this product specifically for your toy dog's needs. It features small kibbles that are easy to chew and digest, so your pup won't have any issues eating them.
This dog food has real deboned chicken as the first ingredient, followed by chicken meal and turkey meal. It contains many more healthy ingredients, such as brown rice and flaxseed, as well as many fruits and veggies, including sweet potatoes, blueberries, spinach, carrots, and tomatoes.
As a result, this product can help support a strong immune system. It will also ensure optimal energy levels in your dog and give him a healthy coat and healthy skin. Everything is made in the USA, using only the finest ingredients available.
Most dog owners wouldn't think of giving their Yorkies raw food. They consider this is something reserved for large dog breeds that have the wild instincts of their wolf ancestors. The truth is, Yorkies have some of that wolf temperament, which makes them a great candidate for raw feeding.
This canned food is made with real chicken and liver, ensuring high amounts of animal protein, which is key for the strong and lean muscles all dogs should have. Thanks to this, your Yorkie will have the potential to thrive and be the best dog possible.
It is also rich in omega fatty acids that help improve coat health. Thanks to this, your dog will look as good as he feels! Added fruits and veggies ensure a tasty loaf texture. Everything is designed with the balanced nutrition Yorkies need to stay healthy.
If you want to improve your Yorkie's digestive health, this might be a good food to try out. It provides your dog with natural nutrition while remaining designed for small breeds and their special requirements.
The first ingredient is real chicken, followed by brown rice. This helps provide a crunchy texture that your dog will love. Not just that, but it can help reduce plaque buildup – essentially taking care of your dog's teeth and gums. Dental hygiene is something many Yorkie owners forget about, but there is no need for concern when providing them with the right food.
All ingredients are non-GMO, and the food is free of chicken by-product meal, wheat, soy, or corn – although it is not entirely grain-free, which is something to keep in mind. Despite its high level of protein, it isn't recommended for dogs younger than a year.
Another Instinct dog food, this product also tries to implement the principles of raw feeding – but this time in the shape of a kibble. This product is the perfect combination of kibbles and raw food, giving your dog the proper nutrition he requires.
In fact, the product contains freeze-dried raw meat, giving your Yorkie that sense of the wild while he's munching on his kibbles. It helps your pup achieve a balanced diet with just the right amount of protein, carbs, and fats.
Other than that, the product is rich in probiotics, omega fatty acids, as well as lots of antioxidants. All of this will provide your dog with great immune health and lots of strength – something active Yorkies always require.
Blue Buffalo Life Protection is a well-known and tested formula that provides dogs with better health and overall well-being. This specific formula is designed to fit small dog breeds like Yorkies and give them just the right nutrition they need.
The main protein source is deboned chicken, and the carbs are there thanks to a high amount of brown rice. This is a safe combination that helps provide optimal health for your dog, no matter his size.
This dog food is supposed to be suitable for all life stages. However, the manufacturer states that it works best for senior dogs, as they are the ones that could benefit the most from this blend.
This is yet another best dog food for Yorkies with a sensitive tummy. It is grain-free and gluten-free, making it easily digestible, even if your pup has certain food sensitivities.
The product is fortified with vitamins, minerals, probiotics, antioxidants, taurine, omega fatty acids, glucosamine, and chondroitin. In other words – it is one of the most beneficial dog foods out there. It will keep your doggie healthy always and provide him with the optimal calorie content to keep his whole body healthy.
The main protein source in this food is turkey meal, but it also contains chicken, fish oil, fruits, and veggies. The kibbles are small and compact, so they can fit your Yorkie's tiny mouth. Also, everything is made in the USA, ensuring the controlled quality of all ingredients.
Best Dog Food For A Yorkie Puppy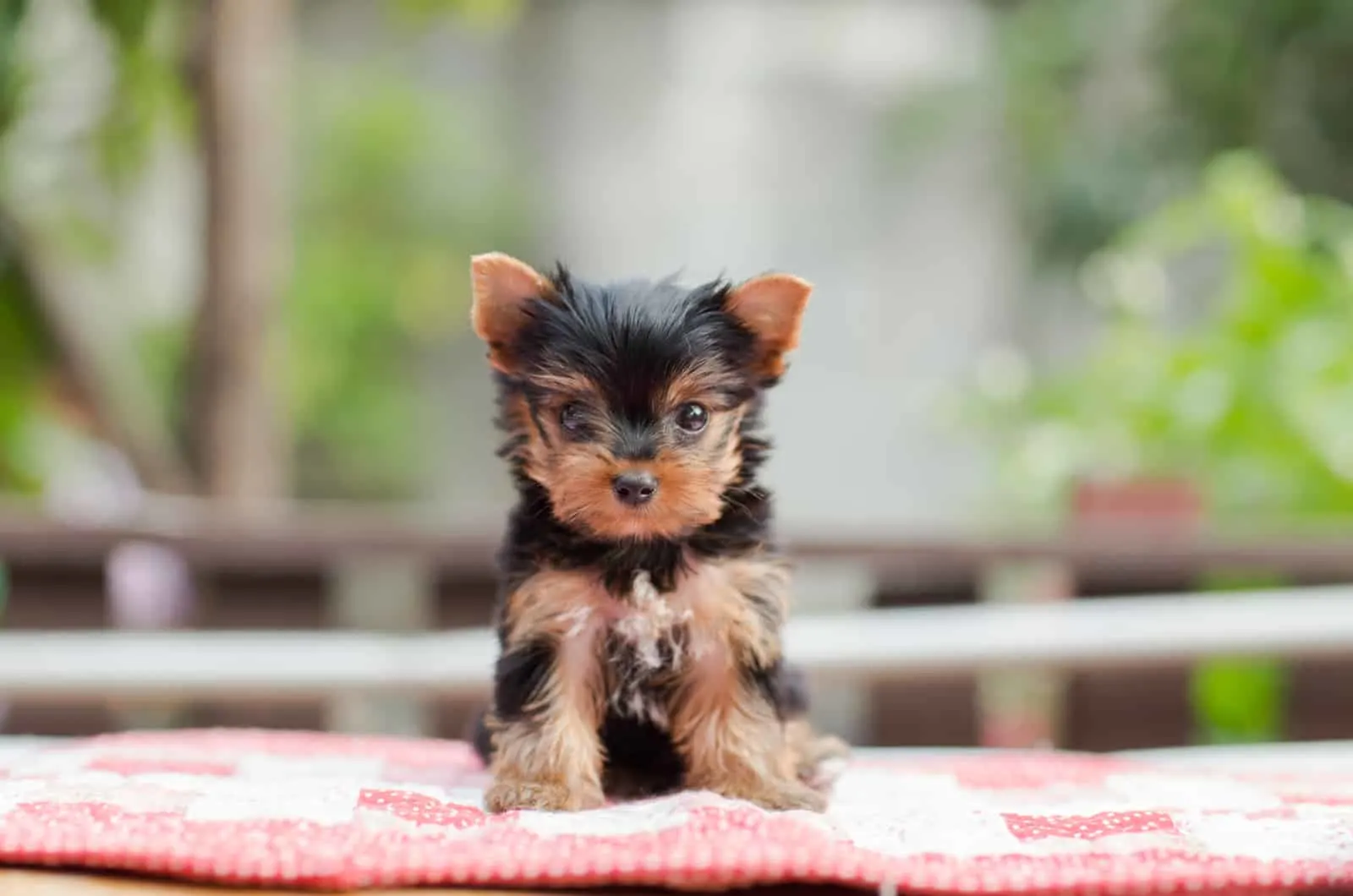 Yorkie puppies have different dietary needs than adult Yorkies. For example, they need to eat more calories – specifically, more protein – as they are still growing and have higher energy requirements.
This is why the best dog food for Yorkie puppies usually isn't the same as adult dog food. While there are some dog foods meant for all life stages, it would always be best to look at the specific dietary needs of each.
Here are some of the best dog food for Yorkie puppies:
If you want to give your puppy a health boost, this might be the best product out there. It is tasty and free of all harmful ingredients, making it perfectly safe for small breed dog puppies and their sensitive tummies.
This puppy food contains real deboned chicken as the main ingredient – something your pup will love. It is also enriched with essential minerals, vitamins, probiotics, and prebiotics that will ensure your puppy stays in great health. This will help your Yorkie puppy grow strong.
Some other beneficial ingredients are glucosamine and chondroitin. Both will help hip and joint health and reduce the chances of your pup developing conditions like hip dysplasia later on in life.
This is the best dog food for Yorkies puppies if you want to give them something close to a raw diet. Orijen created a recipe that is packed with healthy meat protein. Most of the protein is derived from fresh and raw free-run chicken and turkey, as well as wild-caught or sustainably farmed fish. It also contains eggs.
While this doesn't sound like a good recipe for dogs with sensitive stomachs, it is gluten-free and grain-free, so it is unlikely to cause any issues. It is rich in minerals and vitamins, improving your puppy's health and ensuring they grow healthy.
This Yorkie food is made in the USA, which is proof of its quality. Everything is freeze-dried coated, adding a burst of raw flavor that most puppies will love.
If you have a Yorkshire Terrier puppy, then this might be the perfect dog food for him. It was designed to meet all the needs of the Yorkshire Terrier breed and help your dog grow up to be healthy.
This puppy food was designed to lower the chances of certain health problems, such as hypoglycemia or high blood sugar, thanks to dried brewer's yeast.
It is also rich in fatty acids, thanks to the vegetable and fish oils it contains. Your puppy will look his best all the time! The product is rich in antioxidants – most notably, vitamin E and biotin.
To top it all off, the kibble size is very small, so it will fit your Yorkie puppy's tiny muzzle.
What To Look For In The Best Dog Food For Yorkies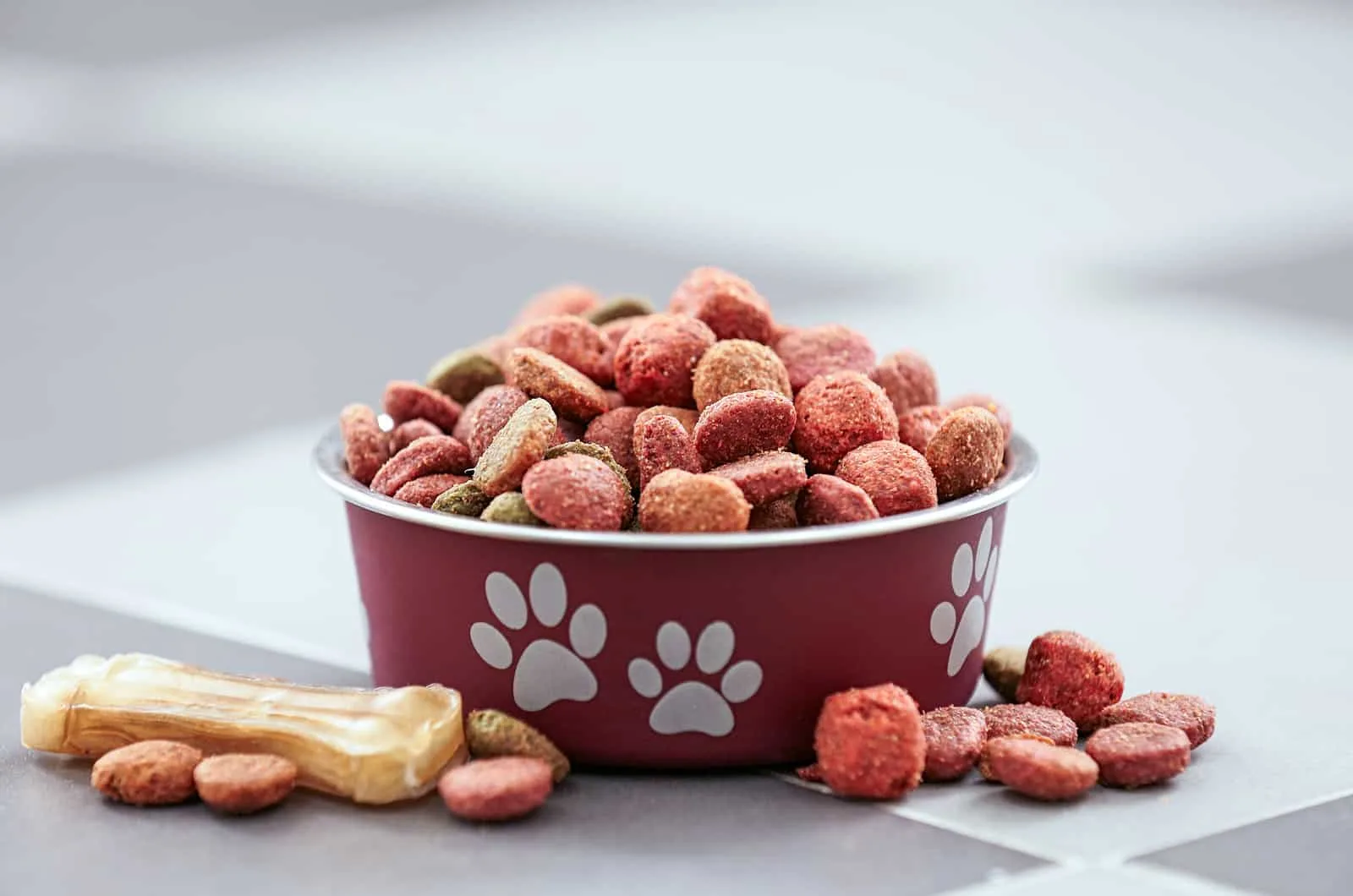 Yorkies are small dogs. Some might even be considered a toy breed! When you're dealing with such dogs, you have to prepare to spend some time finding the best food for them – especially since plenty of Yorkies can be considered picky eaters.
Because of this, the first thing you'd want to look for is tasty food that your dog will love eating. If he doesn't feel like munching on it, all the health benefits just won't matter.
While we're at benefits, you need to look for food with enough protein. Animal-based proteins are usually the best choice, but plant-based proteins will do the job as well. Both will ensure your pups have well-built muscles and that they have enough energy to go about their day.
Carbohydrates are also important to give these highly energetic dogs enough energy to run around all day long. However, carbs have to make up only a small percentage of the dog's diet.
Most small breeds like Yorkies have sensitive stomachs, which can make carbs indigestible. In fact, many of the best dog food for Yorkies entirely avoid using whole grains as they are aware that many dogs won't be able to consume it.
Carbs and grains can also be the source of allergies. Yorkshire Terriers are prone to food allergies, and they might react a certain way to specific foods.
The most common things Yorkies can be allergic to are animal by-products, fillers, artificial flavors, artificial colors, grains, as well as most other artificial ingredients dog food can contain.
Don't forget healthy fats! Healthy fats, such as omega 3 fatty acids and omega 6 fatty acids, are beneficial to the health of the dog's coat. Not just that, but they can help reduce health issues and improve your dog's joint health.
Fiber is also important, as it helps dogs digest food and have a healthy digestive tract. Without the right amount of fiber, your doggie might have problems with diarrhea. On the other hand, if he eats food with too much fiber, he might become constipated.
If you're buying dry dog food, another important thing to consider is the kibble size. Yorkies are small dogs with small jaws. Large kibbles can be an issue for them, not to mention they are a choking hazard. Fortunately, most food brands have already considered this and have included products in the right size for these small pups.
FAQs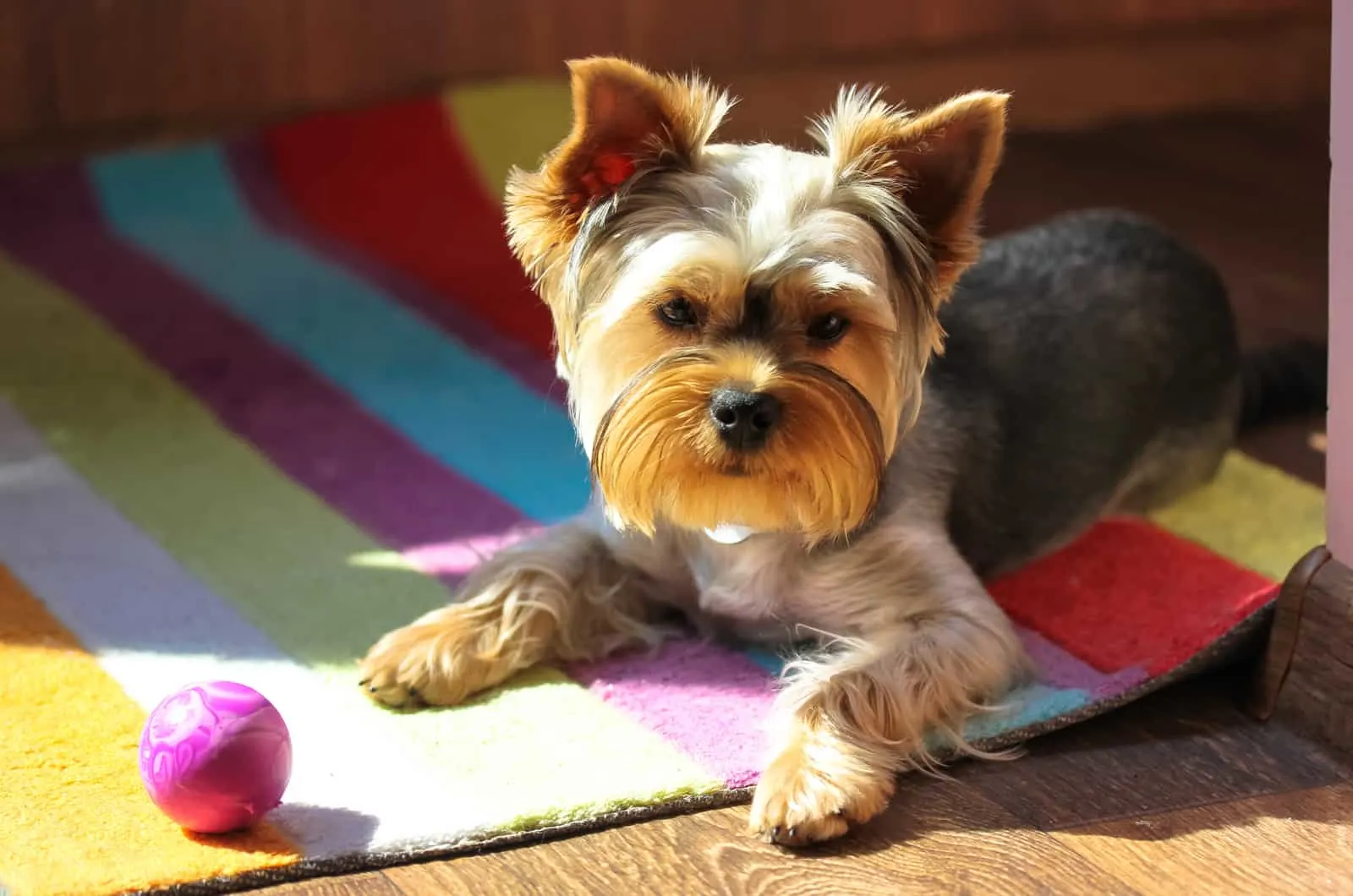 What Is The Best Dog Food For Picky Yorkies?
Yorkies can be very picky about the food they eat. They prefer some tastes over the others, and there is no rule to what your dog will like.
Many Yorkies will dislike the taste of fish and salmon, and they might not even want to come near food with fish meal! However, this isn't a rule, and other dogs will adore anything with salmon in it! The same can be said for poultry or beef meal.
Overall, if your Yorkie is a picky eater, you'll want to try several food brands and food types until you find the one he likes, both taste and texture-wise, then stick to it.
What Is The Best Dog Food For Yorkies With Sensitive Stomach?
Yorkies are dogs with sensitive stomachs. We've mentioned this several times, but what does this mean when it comes to dog food?
Most dogs with food sensitivities have problems with whole grains. This is why grain-free dog food is usually recommended as being easy on the digestive tract.
Gluten is another ingredient that can cause digestive issues. Gluten-free dog foods are a great choice, especially if you notice your pup has issues passing gas or with bloating.
Also, almost all dogs are lactose-intolerant to a certain degree. Fortunately, most dog foods don't contain milk-based ingredients, but this is still something worth noting. This is also why treats such as whipped cream or blue cheese aren't recommended for dogs.
Of course, before you make any changes to your dog's diet, make sure to contact your veterinarian. They might be able to tell you exactly what it is you need to change, as well as what's causing the digestive problems.
What Is The Best Dog Food For Yorkies With Allergies?
When it comes to dog allergies, there isn't a definite answer for this. Dogs can be allergic to different things. Most are allergic to whole grains, so grain-free food is generally recommended for dogs with food allergies.
However, just like humans, dogs can be allergic to almost any ingredient! This includes not just grains but protein sources as well. Some dogs can even be allergic to fish or chicken!
If you suspect your dog has allergies, take him to the vet as soon as possible to confirm. Once you do so, your best option would be to avoid giving him dog food with that specific ingredient.
Is Table Food Safe For Yorkies?
​Table food is, essentially, the same type of food humans eat. Some owners think that giving their dogs table scraps is enough and that dogs can live a healthy life eating the same thing as their owners.
However, dogs don't have the same nutritional needs as humans do. In fact, some human foods can be outright poisonous for your four-legged best friend.
Even if you avoid those dangerous foods, chances are you still won't meet the needs of your delicate Yorkie pup.
What Foods Should Yorkies Never Eat?
We've talked about the best dog food for Yorkies. However, there are some things that are edible for humans that your dog should never eat, even in small amounts. While most will cause stomach issues, some might put your dog's life in danger.
Some of the foods your Yorkie should never eat are:
• Chocolate
• Grapes
• Onion and garlic
• Avocado
• Fatty foods
• Spoiled food
• Nuts
Is Grain-Free Healthy?
Many brands of dog food are advertised as being grain-free. This makes dog owners believe that grain-free dog food is healthier than food with whole grains.
The truth is, unless your dog has problems digesting whole grains, such as corn, oats, rice, wheat, and barley, there really is no reason you should give them grain-free food.
Which One Is Better – Wet Dog Food Or Dry Dog Food?
Just like with many other questions, the answer to this depends on the dog in question.
Overall, many dog owners love giving their dogs wet food. When they have a puppy, this is a good choice. Puppies up to three months of age will prefer wet food, as their teeth aren't developed yet.
With older dogs, however, wet food can cause runny stools or food particles to get stuck in their mouths. This is why dry dog food is preferred for adult Yorkies, as their digestive systems might prefer it.
At the same time, high-quality dry food can help keep your dog's teeth clean. Its texture will ensure all food particles are out of the dog's gums, providing better dental health.