This post contains affiliate links, and I will be compensated if you make a purchase after clicking on my links.
A weighted dog harness is an essential gear for all pups, especially those that work out every day. Weight-pulling training sessions will never be the same after you purchase one of these amazing harnesses.
Most of these dog vest harnesses suit all types of pups, from the smallest to the largest ones – all you have to do is measure your doggie and choose the one that fits the best.
If you're not sure which weighted dog harness will suit your pet the best, check out our article, which includes the best dog vest harnesses for family pets, service dogs, and even military canines!
Best Weighted Dog Harnesses: Meet PupVine's Favorites!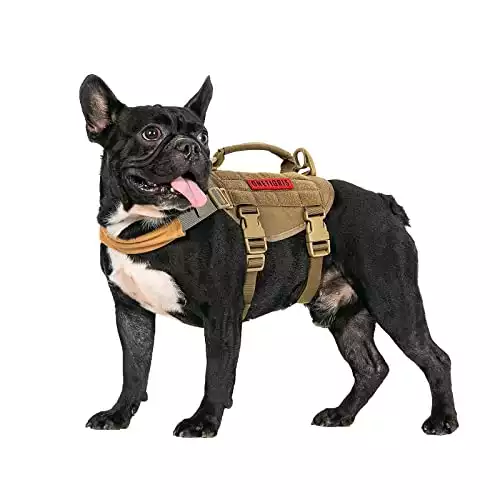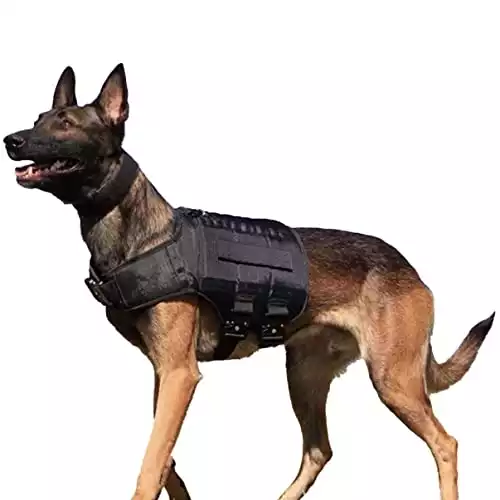 Dog trainers and owners will probably agree that this is a great harness for canines as it's suitable for both family pets and working dogs, as well as pups that are actively involved in dog training programs.
It's a comfortable fit for any type of dog, from Chihuahuas to Pitbulls, but you should be careful enough and measure your pup before you decide to buy the harness.
RELATED: 12 Best Harnesses For Pitbulls – Top Products In 2022
The manufacturer provides a size chart that will tell you exactly which type of dog vest is suitable for your pet.
The aluminum buckles that are placed on this dog vest are durable and able to hold up to 1000 pounds of weight, so you don't have to worry about your dog's security.
The clip that is placed in the front will keep your pet close to you during long walks, and the comfortable strap on their chest will not make any move uncomfortable.
Why Should You Buy It?
This type of harness is a great tool not only for family canines and working pups, but also for service dogs that need to be close to their owner.
There's also a top handle on the back of the canine, which will keep them away from any mishaps or obstacles that might hurt them.
Some customers claim that this handle is suitable even for canines that aren't in the best health, and might lose the ability to walk at times.
The Molle system that is placed on the sides of the dog vest harness is a great addition as well, which will also enable your pup to carry things.
It's safe to say that there's no need to worry about your pet's comfort or security with this weighted dog harness as long as you don't solely rely on the canine's weight, but on their measures while picking the right dog vest.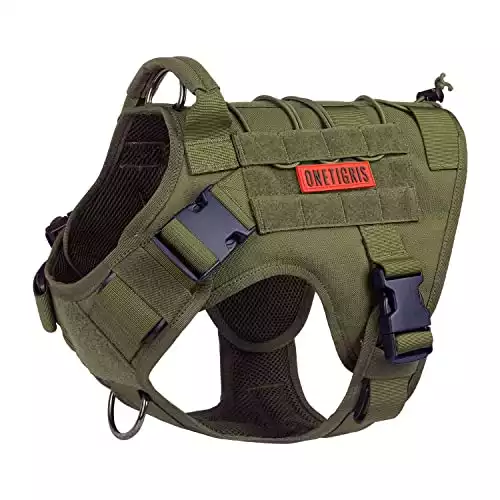 This company has been providing dog owners with high-quality dog equipment for almost eight years. They're focused on the production of military equipment for pets, but all of their products can be used in regular households as well.
The main focus of their manufacturing is to produce gear that is durable, and can be used in different conditions. The main material that is used for this harness is 1000D nylon.
The harness also includes mesh that is used as padding for the canine's comfort.
To make sure that everything stays in its place, the manufacturer added UTX buckles for maximum security.
You can put an identification tag on a military dog as this harness possesses hook and loop panels on both sides of the vest.
Why Should You Buy It?
This harness vest is perfect for almost any occasion, from daily walks to hiking, and also during military service. This harness is a great fit for dog breeds such as German Shepherds, Dobermans, Military Belgian Malinois, and other medium-to-large canines.
RELATED: 16 Dogs That Look Like German Shepherds (Meet The Clones)
This harness might look complicated at first, but it's actually very easy to use. You can adjust it on your pet in a matter of seconds.
I love that this vest is a no-pull model, but it also has a handle and a leash attachment on the front for more control when you need it.
Of course, the manufacturer states only the best features of its product, and the reviews seem to confirm the above-mentioned quality of this weighted dog vest.
Therefore, if you have a big dog in your house, you'll love this vest and find it both practical and durable enough for your powerful canine!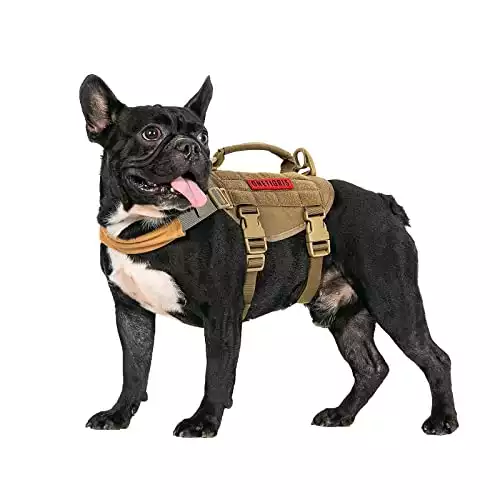 OneTigris really makes some of the best and most budget-friendly dog vests, so it would be a shame not to mention them again.
There are several types of dogs according to their size (small, medium, and large dogs), so this brand came up with two types of harnesses – one for small canines, and the other for medium and large canines.
This small dog harness is made from the same material as the previous one (1000D nylon). It also includes duraflex buckles and a handle that is placed on the top.
However, this dog vest also includes a fleece front strip, which will keep your pup safe and comfortable during walks or play in the park.
Still, I wouldn't recommend you put heavy weight on it, even though there's a possibility to hook something on the buckle that would function better like a leash attachment.
Why Should You Buy It?
There are plenty of benefits of wearing weighted dog harnesses, including the improvement of the dog's muscle tone and strength, relief from anxiety and stress, etc.
I'm sure that your dog's health is your number one priority, which is why you need to understand that small dogs need to be trained just as much as large ones.
Wearing this weighted harness outside is a type of dog training that will help your pup build muscles and keep your pet's health in good condition (especially when it comes to heart and bones).
You might find this rather uncomfortable for your pup the first time you use it, but it's lightweight and suitable for small pups, and it really won't do your pet any harm.
The OneTigris harness provides your pet with total comfort, with fleece padding that it won't even feel on its chest.
Also, a great thing about this harness vest is that it comes with a one-year guarantee; therefore, even if there's something wrong with it, or you just think it's not suitable for your pup, you can contact the manufacturer and make a deal with them.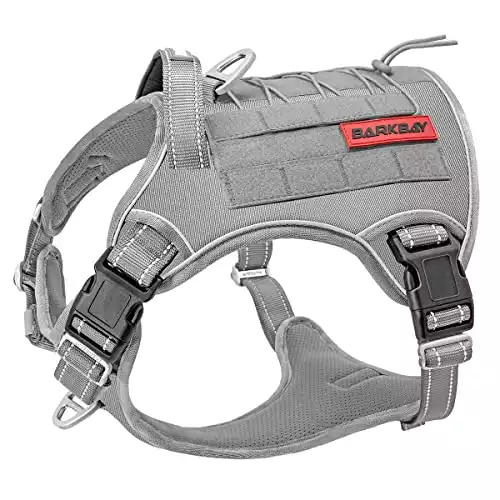 The Barkbay's Molle vest harness is considered the best friend of canines employed in military and police forces as it's made from durable materials that are resistant to water, mud, and abrasion.
Durability is what sets them apart from other dog vests, and it's one of the main reasons why they're popular among military canines.
However, that doesn't mean you can't use it for your large family pet. If you like hiking and spending time outside with your dog, this harness will be the perfect addition to your activities.
It also includes a Molle system, along with hook and loop panels, which enable the dog to carry some food, water, or other important things.
You can also use the elastic band compartment, which is placed on the top of their back in case you need some extra space for a water bottle or something similar.
Why Should You Buy It?
This harness is made for truly active dogs that are dedicated to training and have a high level of physical activity. If you want your dog to have a full-body workout during training sessions, this harness will be just the right thing to use.
Also, the additional compartments that can be used as storage for water, pouches, or other necessities are a great plus for sure.
However, I wouldn't suggest putting too much weight on your canine, as it could impact its mobility or cause early tiredness (this is really not recommendable during hiking trips).
The three buckles that are placed on the vest make it much easier to put on and take off of your pet, so it really won't take up too much of your time (or nerves).
This is also a great tool to combat obesity, especially if your pup loves to eat a bit more than other canines of its size.
One of the things that I love the most about this dog harness is that it's reflective, which means that you'll be able to locate your pup even in low-visibility areas.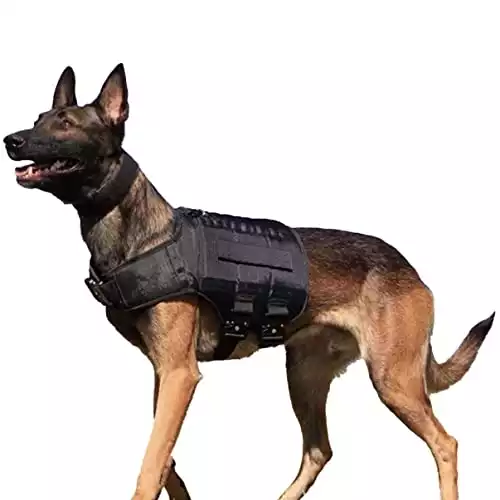 Even though one of the camo designs of this vest reveals what kind of weighted dog harness this is, it's important to say that this is an essential part of dog equipment for canines that are physically active and involved in military service or resistance training sessions.
This harness will improve your dog's performance, cardiovascular health, growth, agility, and overall health.
One of the features that make these vests distinctive from other models is the weight bags, which are usually used to put extra weight on your canine.
This is a great replacement for the weights that are made from metal, which usually cause discomfort in dogs, especially if they wear them for a longer period of time.
The vest is made from durable materials, but it also includes both velcro and clips to ensure that the vest stays in one place.
Why Should You Buy It?
Some customers will say without any doubt that this is one of the best weighted vests on the market, and they wouldn't be wrong.
If you're looking for a durable snug-fit dog vest that doesn't move from side to side during running or practice sessions, search no more as this harness has it all.
It's also a great tool for weight training as it features front-shoulder placement of weight.
You can put sandbags or anything else that comes to your mind in the weight bags that are placed on the front shoulders as well, so your dog can equally strengthen muscles on all four legs at the same time.
This harness will also be great training equipment for overweight dogs, and will help them in their weight loss journey.
Another great thing about this weighted dog harness is the cooling/warming system, which will help your pet recover faster from training or keep it warm if needed.
The warming/cooling gel packs can be removed at any time if you don't find them necessary.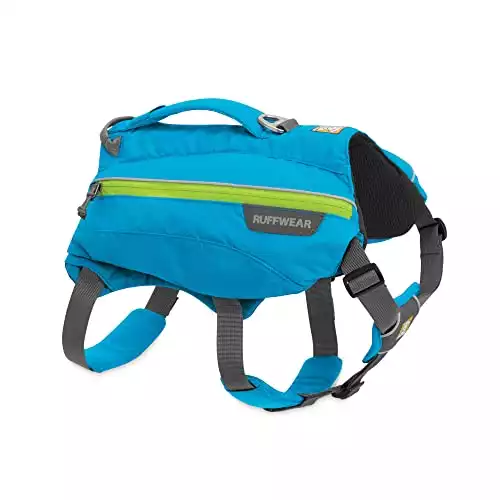 Comfortability isn't just an additional plus in a dog's equipment – it's an essential trait that should be equally important just as much as durability and security.
Ruffwear's weighted harness backpack offers great comfort to canines that often go on long walks or hiking trips as all straps are padded with foam.
This also keeps them warm during winter trips, and it doesn't affect their mobility in any way either.
The less is more is definitely one of the main ideas behind the design of this dog vest as the manufacturer tried to keep it simple and invest more time into practicality, comfortability, and canine safety in this vest rather than an aesthetic look.
That's why it also includes a powerful V-ring made from aluminum, which will keep your pup safe, along with the webbing loop, which enables you to put a dog leash on safely at any time.
Other great features of this dog backpack include two bladders for water that are placed on the sides, which will keep your pet hydrated even during long walking trips.
Also, there's some extra space that can fit some dog food, treats, or other trip essentials.
Why Should You Buy It?
There are plenty of reasons why you should consider buying this dog vest/backpack, especially if you're a hiking enthusiast who doesn't like to leave your pet at home.
This type of weighted harness will be beneficial for both you and your pet as it can help you carry some stuff while it helps them to keep their body strong and muscled.
There's also an extra handle that is placed on the top of the canine's back. This type of handle is very useful if you want to gain quick control of your dog, especially in terrain that isn't suitable for them.
Just pick up your pup and let the journey continue!
Ruffwear backpacks are suitable for all types of canines as they come in several sizes, including small, medium, and X-Large for big pups like Cane Corsos, Dobermans, German Shepherds, and others.
RELATED: 6 Best Harness For Cane Corso Options: Safety And Comfort First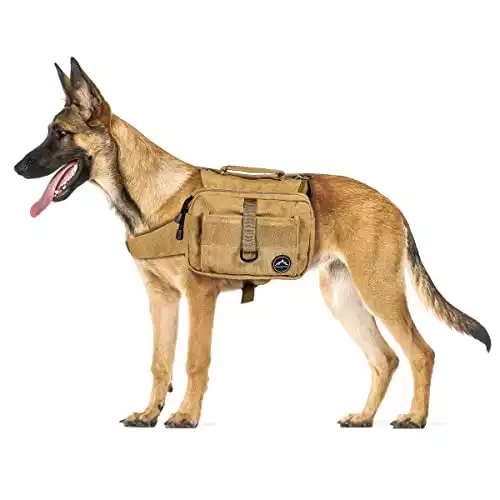 Breathable mesh and durable nylon are the perfect combo for a weighted dog harness as they keep the pet comfortable and safe during any outdoor activity.
This dog vest is made for big pups, but it does allow the dog owners to adjust the straps if needed. They include a wide neck (22 to 31 in), and chest (29 to 35 in) area for maximum comfort.
This harness allows your dog to be in full control of itself during walks, but it also includes a hook for a dog leash in case you need to take over control.
Just like the majority of dog harnesses on this list, the Himal's outdoor vest comes with a top handle as well, which will enable you to help your pet overcome any obstacle in front of him.
Why Should You Buy It?
This harness might be just as good as other harnesses from this article, and might not have any revolutionary design, but what it does have are two zippered compartments that will be of great help, especially if you don't have any extra space in your backpack.
Your pet will be able to help you carry dog food, water, bags for poop, or anything else that you don't have enough space for.
I love the fact that the leash loop isn't placed on the front side of the vest, but rather, on the back, which won't cause any issue if your canine starts to pull once it has the dog vest on (which happens quite often).
Also, there's no need to worry about whether it'll be a good fit, even for dogs that weigh up to 110 lbs. Of course, this depends on the dog's body structure as well, but the adjustable straps should resolve any possible issue.
However, keep in mind that this harness isn't water-resistant, so I wouldn't use it on rainy days.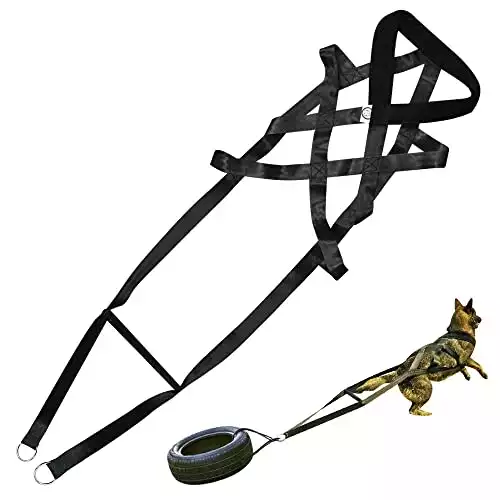 This is a completely different type of weight harness on the list, and it is made from durable nylon, which can support a weight of up to 1,200 pounds.
To make sure that it's durable enough, this dog harness is reinforced with additional stitches and a thick layer of nylon.
This is a harness that is suitable for large dogs such as Siberian Huskies, Rotties, American Pit Bull Terriers, Dobermans, American Bullies, and other canines.
The weight-pulling harness has wider straps that serve as a support for the dog's back and muscles, especially during weight training.
The straps are also quite soft and adjust to your canine's body, but most importantly, they won't tear apart during training sessions, so there's no need to fear for your pet's safety.
Why Should You Buy It?
The manufacturer of this dog harness guarantees the safety of their product, with a high-quality design that includes durable stitching, durable materials, and heavy-duty buckles.
It's sturdy enough not to break if your pet is carrying larger weights, but it's also soft enough to make your pet comfortable while doing so.
Keep in mind that this harness is produced mostly for big dogs, and that some medium-to-large pups might not feel comfortable in it as it might be too wide or too heavy for them.
If you like to keep your pet under control while you're outside, this is the perfect tool that will help you achieve full control while keeping your dog okay with it.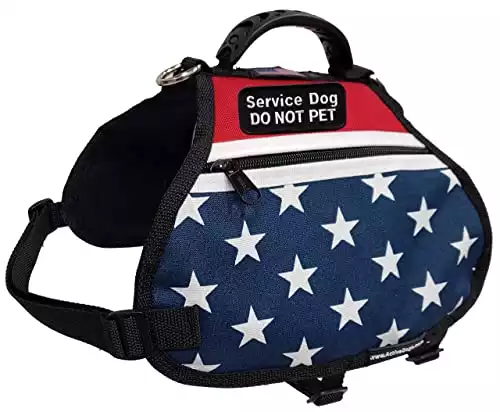 Those who are in search of a good service-dog weighted dog harness will find this dog vest harness a great fit for their pet.
It has a simple design, a practical handle on the top of the dog's back, and zippered pockets, which will keep all of the owner's stuff (phone, keys, etc.) in a safe place.
It's completely comfortable for the canine as it's lightweight and doesn't include any unnecessary straps that might make it tougher to put on.
The leash can be easily added to the harness by hooking it up on the heavy-duty buckle, which is placed on the front side of the dog harness.
The American flag design is a nice addition to the overall look of this dog vest harness as well for those who appreciate aesthetics as much as comfort and practicality.
Why Should You Buy It?
If you own a trained service dog, you will find this type of harness a helpful part of the equipment that is equally beneficial for both you and your pup.
It's budget-friendly, but the price doesn't reflect the quality this product offers to customers according to the reviews of those who have used it on their pups.
Another great addition is the two patches that have "Service dog, do not pet" written on them. This comes in quite handy during walks or outdoor time in the park.
The pockets are also durable, and they're quite spacious, so you can fit everything you need for a walk, including your personal things and a few dog treats for rewards.
The flag is a nice touch to the vest, which will mean a lot to veterans and patriots who are dedicated to their country.
The manufacturer states that this is a harness that every strong dog needs as it helps with the proper development of their body musculature and makes them even more powerful.
Indeed, it's a dog harness that is made from durable materials, which will help you keep your pet in control once you go out for a walk or a hiking trip.
It sits comfortably on the dog's body without any feeling of pain or discomfort.
There's additional padding on the chest as well, which ensures maximum comfortability to your dog (no markings left after usage, or any pain in the chest area).
According to the owner of this brand, this harness can handle a weight of up to 1600 lbs, which sounds impressive and makes it one of the best harnesses for large canines that show great force during training.
Why Should You Buy It?
This is a harness that fits not only big, but medium dogs as well as it goes up to 26 inches around the neck, and up to 39 inches in width around the chest area.
It's not very easy to find a suitable dog harness for medium-sized canines as they usually fit the size, but the shape doesn't seem quite right.
According to the customers who used this harness on their Pitbulls and other powerful medium-sized pups, it fits just right.
Of course, I'd still recommend that you measure your pup, especially in the neck and chest areas, just to be sure that this is the right gear for you.
It's a great tool for training and fighting obesity, especially in pups that like to eat half of a cup more than what's recommended for their size.
If you're not sure how much your dog should weigh at a certain age, you can check out our growth charts for English Bulldogs, Beagles, Border Collies, Dobermans, Pitbulls, German Shepherds, and other dog breeds!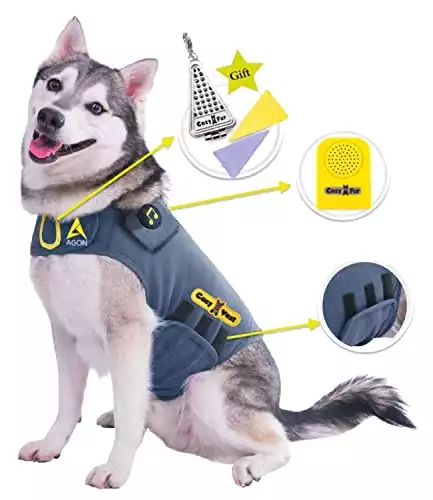 If you own a canine that has anxiety attacks during fireworks, thunderstorms, separation from its owner, or any other occasion where it feels stressed, this dog vest will be the perfect solution for keeping them calm and relaxed.
This anxiety dog vest comes in various sizes that fit almost every canine breed, so you don't have to worry whether there will be a size for your doggie.
This dog harness includes relaxing music, and even a nice scent that will calm any pup during vet visits, long travels, moments when separation anxiety hits the most, or any other situation that your pooch might find stressful.
The speaker with relaxing music is what got me the most as it really works on many dog breeds and calms them down almost immediately.
The slight pressure of the dog vest will also offer comfort and security to the pup, even for those doggies that follow their owner to the bathroom because they're scared to be left alone.
Why Should You Buy It?
I'm sure you can think of a great number of reasons why this dog vest harness is the perfect choice for your pup, especially if they're prone to having anxiety attacks during the above-mentioned occasions.
Unfortunately, dogs often feel under stress, and if they're not comforted in time, their attacks could turn into destructive behavior.
Some canines often show signs of aggression as a response to the anxiety that they feel at certain times. Those dogs are often labeled as aggressive (Chihuahuas, Pitbulls, Border Collies, etc.), even though it might be just their fear forcing them to behave that way.
This dog harness will prevent such occurrences, and will help your pup show its true nature and be the perfect family dog that you knew it had the potential for.
Some customers say that this saved them from sleepless nights, especially during thunderstorms or celebrations nearby, as their pups were finally able to sleep through all of these occasions without ending up sleeping on their owners' head.
Last Thoughts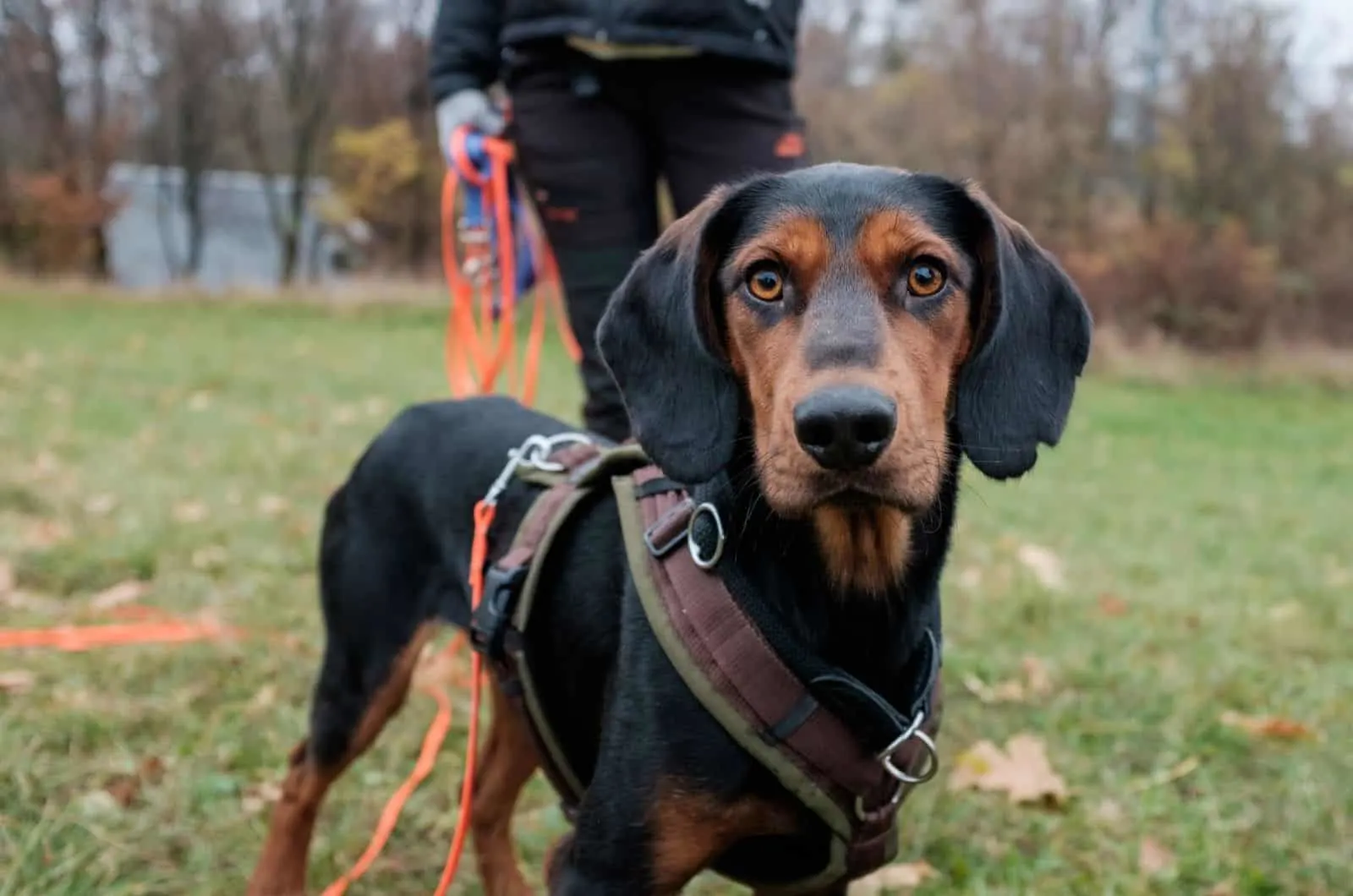 Weighted dog harnesses are often underrated as a part of dog equipment, although they offer plenty of benefits not only for the pups, but for their owners as well.
Dog collars and standard leashes are fine, but these vest harnesses offer much more possibilities and positive sides to the dog's health and development.
If you want to build your dog's muscles, fight obesity, and keep it under your control during outdoor activities, all you need to do is go to Amazon or another shopping site and choose the perfect weighted dog harness for your pup!
It can be a Canine Weight Set, OneTigris, Barkbay, or any other dog harness you find suitable for them.
Just make sure to measure your pet before you decide to buy the harness.
READ NEXT:
9 Best Dog Training Collars In 2022
Best Harness For A Shiba Inu: 10 Top Products Of 2022
Best Harness For Beagle Dogs: PupVine's Top 12
14 Best Harnesses For Dachshunds – Top Products For Your Beloved Sausage Dog
15 Best Harnesses For Basset Hounds in 2022 – Reviews And A Buyer's Guide