Disclosure: This post contains affiliate links, and I will be compensated if you make a purchase after clicking on my links.
All Pitbull owners know that they have to walk their dogs. This is an essential part of dog ownership, and part of a daily ritual.
However, Pitbulls are strong and fairly large dogs that are known to pull on their leash. When you look at the breed's history and background, this shouldn't be surprising.
These pups were first bred from Old English Bulldogs; dogs that look quite similar to today's American Bulldogs, and they were used for a cruel sport known as bull baiting. Once baiting was banned, they were used to hunt rats – and were quite skilled at it.
Unfortunately, the breed was also used for dogfighting; a cruel sport that once again became popular in the 1990s. This is one of the main reasons behind the bad reputation these doggies have.
While deemed aggressive, Pitbulls are lovable and affectionate dogs that make amazing family pets. However, they are strong and sometimes stubborn, making them somewhat difficult to control. They love to pull on their leash, so owners need to get heavy-duty dog harnesses to ensure they have control during dog walking.
Still, choosing among the best harnesses for Pitbulls can be somewhat challenging, especially with such a saturated market.
To help you out, we have created a list of the top 12 best harnesses for Pitbulls, together with a buyer's guide to help you understand what kind of harness is the best for each dog owner and his pooch.
Here's what we've found:
Top 12 Best Harnesses For Pitbulls
If you're looking for the best harnesses for Pitbulls, you might end up being discouraged by such a huge amount of products available not just in pet stores, but on sites such as Amazon or Chewy.
When a market is saturated to that extent, it can be a challenge finding the right product for you, as you will constantly look the other way, thinking that the other product might be better.
To ease you up, here are the 12 best harnesses for Pitbulls that we've found:
This might be one of the best harnesses for Pitbulls no matter what it is that you're looking for. It has almost everything you might need in a Pitbull harness.
This is a non-slip nylon/polyester harness that ensures even the most determined Pitbull won't be able to get away from it. This is ensured with the five different attachment points it has, as they allow a highly customized fit.
The no-pull properties of this harness are enforced with chest padding, ensuring that your pup doesn't get hurt no matter how strong he pulls. This reduces the risk of injury.
The harness also has a car safety attachment that allows you to take your pooch on a trip with you. It is compatible with all vehicle seat belt systems, and it is crash tested for up to 75 lbs, so your Pittie will surely stay safe in case of a minor accident – but we hope you won't have to test that yourself.
This is one of the best dog harnesses if you prefer to (or have to) walk your dog early in the morning or late at night. The reflective trim makes your pup visible no matter the time of day, which can help reduce accidents. In fact, it is just as visible as the famous Ruffwear Front Range harness; one of the pioneers in the field.
Not just that, but this harness offers maximum control and full support, and a large number of different sizes ensures you'll find a comfortable fit for your pup. It can fit dogs with a chest girth from 18 to 42 inches, depending on its size – and this is further enhanced with adjustable straps.
This harness is extremely easy to put on and take off, even if your pooch tends to be a bit on the wiggly side. It comes with a front clip for maximum control, but there is a back ring as well, just in case your pup needs that additional support.
The extra padding and lightweight inner mesh lining ensure your doggie doesn't feel any uncomfortable pressure, and you can choose between two bright and one neutral grey color.
This is a comfortable harness with a padded chest that will still give you better control over your Pitbull compared to some other harnesses that focus on comfort. This product is designed for dog breeds that are strong but gentle – and some Pitties are just that.
The nylon webbing is breathable, and it prevents sweating even during hot summer days. At the same time, the fabric is very durable, so you'll have this big dog harness for a very long time with minimum maintenance.
It comes with an O-ring front leash attachment as well as a D-clip on its back, so you can choose how you want to use it. The entire harness is adjustable despite the over-the-head design that tends to be less flexible with the sizing.
This harness comes in four different colors and sizes, so you have many possible combinations to choose from. You'll certainly find something that suits both you and your Pitbull's style!
This product belongs among the best harnesses for Pitbulls and their owners that love to travel. It can fit all dogs from calm ones that enjoy travel, to others that will fidget around as much as possible.
In fact, this vest harness has undergone several tests in DOT-approved crash facilities, so it can guarantee your dog's safety in case of an accident.
At the same time, it is made out of breathable material, and the vest itself is soft padded for additional comfort – not to mention the added safety.
If you're looking for the right harness for dog walks – don't worry. This unit also has a leash attachment, so you can transition from a car ride to a dog park without any stress.
This is likely one of the best harnesses for Pitbull puppies you can find on the market. It is great for everyday use, thanks to its simple yet very functional features that make it convenient to use.
The harness has a comfortable design and soft padding that ensure it won't harm a gentle Pitbull puppy. A quick-release buckle is another great feature, as it helps you put the harness on and take it off easily.
The unit is adjustable, so you don't have to worry about your pup overgrowing it too fast – although we would recommend using a different one once your new pet grows up.
Do you love the military and everything about it? Then, you need to get one of the best harnesses for Pitbulls that follows this theme!
With this harness, you'll be able to go on long walks in nature in style – all the while ensuring your Pittie is comfortable and safe. The main fabric is a heavy-duty nylon shell, but the soft interior padding is there to provide additional gentleness.
The harness is lightweight and water-resistant, which is another reason why we'd recommend it for pet owners who love hiking in nature.
And, if you love to customize your dog products, then you're going to love this harness as well. The convenient MOLLE webbing located on both sides allows you to stick many attachments onto this harness. This even includes several side pouches, including an ID pocket or pockets for dog supplies and treats.
This is one of the best harnesses for Pitbull owners on a budget, as it comes with many features you'd expect in a product of a much higher price range.
This walking harness was designed to suit every weather occasion, so you don't have to worry about the forecast. It will keep your dog safe and comfortable. The breathable mesh will keep your pooch cool as he walks, and the harness can resist mild rainfalls.
The soft, mesh fabric is breathable, so it will hug your doggie securely while remaining gentle on the skin and reducing chafing. This is great if you own a dog with skin irritations.
There are two metal rings that you can attach a leash on, enabling you to choose how you'll use it. The fastener closure and quick snap buckles will also help you if you have a dog that hates having to put a harness on.
This harness comes in five colors and five sizes, ranging from extra small to extra large. While it's not adjustable as some other models are, you'll surely find one that fits your beloved Pitbull.
This harness is made out of high-quality nylon materials that ensure it can withstand even heavy leash pullers. In fact, it can hold a dog of up to 200 lbs of weight! This is more than enough for even the largest Pitbulls.
The one-piece structure and slip-on features ensure easy application, although the harness itself isn't very adjustable, thanks to this.
However, as you can choose from many different sizes, this isn't a big issue.
The harness is designed to prevent choking while providing control over a dog of any size. The elasticized mesh chest piece moves with your dog, thanks to the patented system that is approved by veterinarians.
The restraint sleeve is padded to prevent chafing under the legs, and the nylon ensures this harness can withstand all weather conditions.
This is a great harness if you walk your dog in low light conditions, whether that is in the early morning, evening, or during the night. While it comes in black color, reflective strips will help you see your Pitbull no matter how far he goes!
The harness was designed with the idea that dog walks should be the greatest pleasure of dog ownership, and that you should make the most out of every moment.
It has two leash attachment points that you can choose from, so it's a good option no matter if you prefer a front or a back buckle. Adjustable straps make sure the harness is the perfect fit for every dog, and quick-release buckles ensure hassle-free use.
The non-restrictive design ensures the movement of your pup stays natural, no matter whether he's walking or running.
This is a great non-pull harness for all large dogs. As the manufacturer says, it is designed to keep your Pitbull walking in the right direction.
The front leash attachment sports a Martingale loop that helps you steer your pooch to the side when he tries to pull. This will also help redirect his attention and make him walk where he should.
Quick-snap buckles help with easy removal and placement, so it's perfect for Pitbulls that aren't huge fans of harnesses. Fortunately, with this product, placement won't be an issue, and you'll be able to do it rather quickly.
High-quality nylon materials ensure that this harness is waterproof. At the same time, the unit has neoprene-lined straps that are reflective.
You can walk your dog at night and be at ease!
This harness also comes with a training guide that can help you teach your Pitbull puppy to walk. While this might not be necessary for people with trained companions, it is still a nice touch, and it shows how much the brand appreciates its customers.
Not many people would think that a plush suede harness can be suitable for mighty dogs such as Pitbulls, but we think that it can make an adorable combination.
The plush suede materials not only look cute, but they are extremely comfortable. Even dogs that hate wearing harnesses might not complain when they have this soft fabric on! Suede also makes everything warm – but this also means that the harness isn't suited for summer.
The harness is adaptable, thanks to several adjustment points all over the body. No matter the size of your dog, you'll find a comfortable fit – and you won't have to purchase a new one whenever your dog grows up.
The durable fastener is joined with a quick-release buckle to provide ultimate safety and protection, even if your dog likes to pull a bit more than he should.
And, likely, the best part of it all is that this harness is machine-washable. Once your Pittie gets dirty, you can simply take off the harness and put it into the washing machine, wait until it's dried – and it's good for a new walk!
Even dogs with movement issues deserve to have some of the best harnesses for Pitbulls. Unfortunately, orthopedic issues are common for many dog breeds, including Pitties, but there is always a way to help with dog walks.
​This harness helps you lift your dog's back legs without causing him pain. It's an excellent choice for disabled dogs, or for dogs recovering from surgery that cannot get up on their paws for a while.
It comes with support handles and a shoulder strap that help you hold your pup without putting any pressure on his joints or back. At the same time, these features ensure your back is free of excess pressure since Pitbulls can be quite heavy dogs.
The harness is fully adjustable, so it can fit your pooch comfortably. While this is important for all dogs, it's essential for pups with mobility problems, as any faulty fit can only further increase its health problems.
The design helps your dog with potty breaks no matter if you have a male or a female Pitbull. It helps dogs walk with dignity.
This harness is machine-washable, so even if an accident happens, you can clean it easily. Everything is designed to provide both you and your pooch with as much comfort as possible.
Why Do You Need Best Harnesses For Pitbulls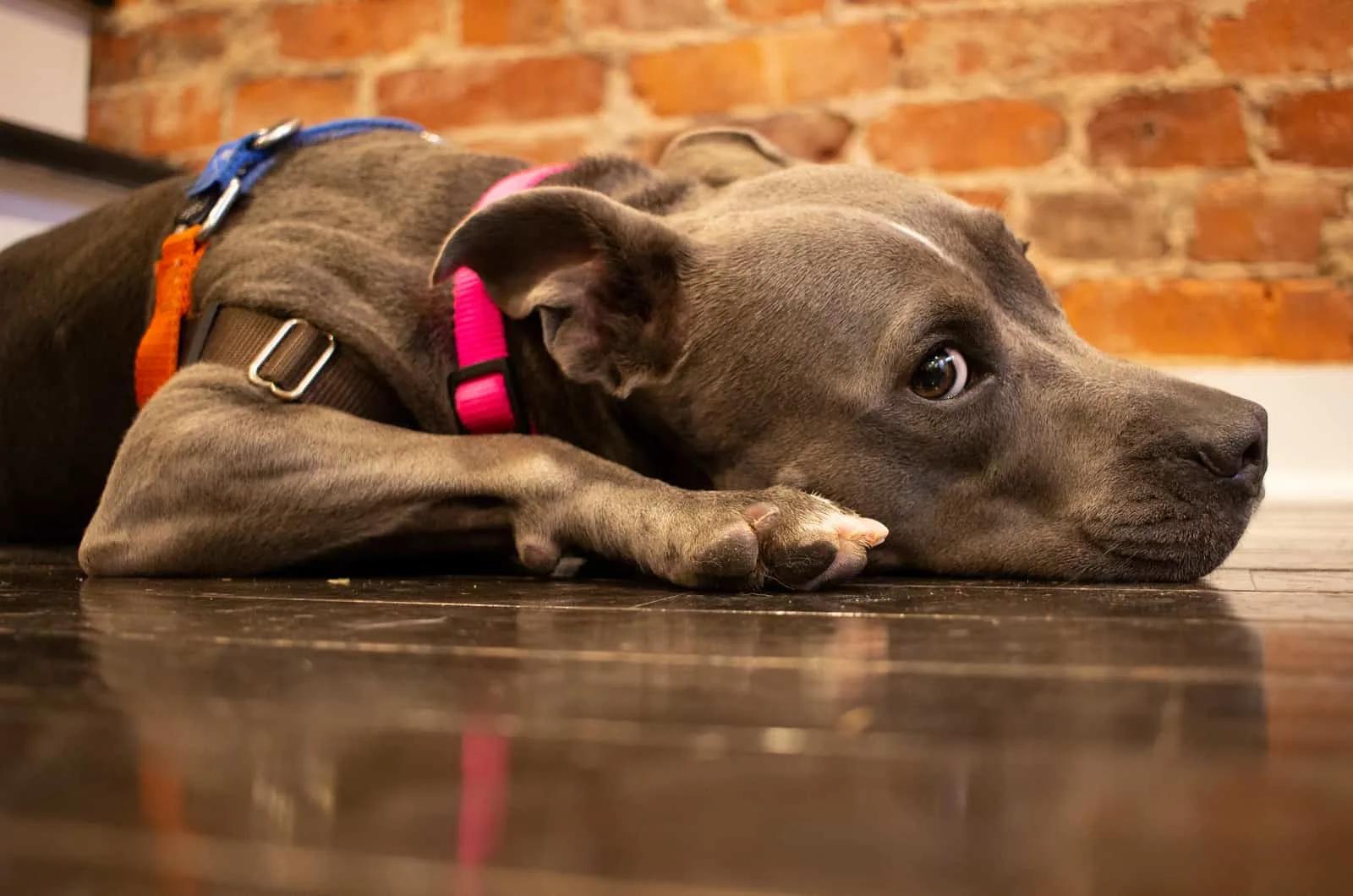 Dog walks are supposed to be enjoyable ways of making sure your pooch gets rid of all that excess energy, as well as getting yourself a bit more active and on the move. However, when you have a large dog such as a Pitbull, this can be a challenge.
When you get yourself a new dog, it's important that you teach him how to walk. When he's not used to the leash, walks can be a tiresome thing for both the dog and the owner. In fact, for your Pitbull, it might even be entirely painful.
Many new Pitbull owners think that a leash is all they need to be able to walk their Pittie from the first day. However, if your pooch is used to pulling a leash or wanting to go his own way during walks, the standard leash puts a lot of pressure on the dog's neck and trachea.
This is not just uncomfortable, but it can cause severe injuries if the pattern keeps repeating.
When you get a good Pitbull harness, it will help distribute some of the pressure away from the dog's neck and place it around the chest instead. This makes the walk more comfortable for your Pittie and, more importantly, prevents long-term injuries and pain.
At the same time, the best harnesses for Pitbulls provide their owners with more security. Pitbulls are intelligent and strong dogs, and wiggling out of a collar is an effortless task for them.
However, harnesses make everything that much harder. A Pitbull will have no way of wiggling out of a harness that is a good fit. With the best harnesses for Pitbulls, you can assure you'll have easy control over your beloved companion without causing him any pain.
Not just that, but Pitbull harnesses are a good choice for dog training. They can help prepare your pooch for walking with a leash, and even help him learn how to behave and calm his excitement.
Are Harnesses Great For Pulling?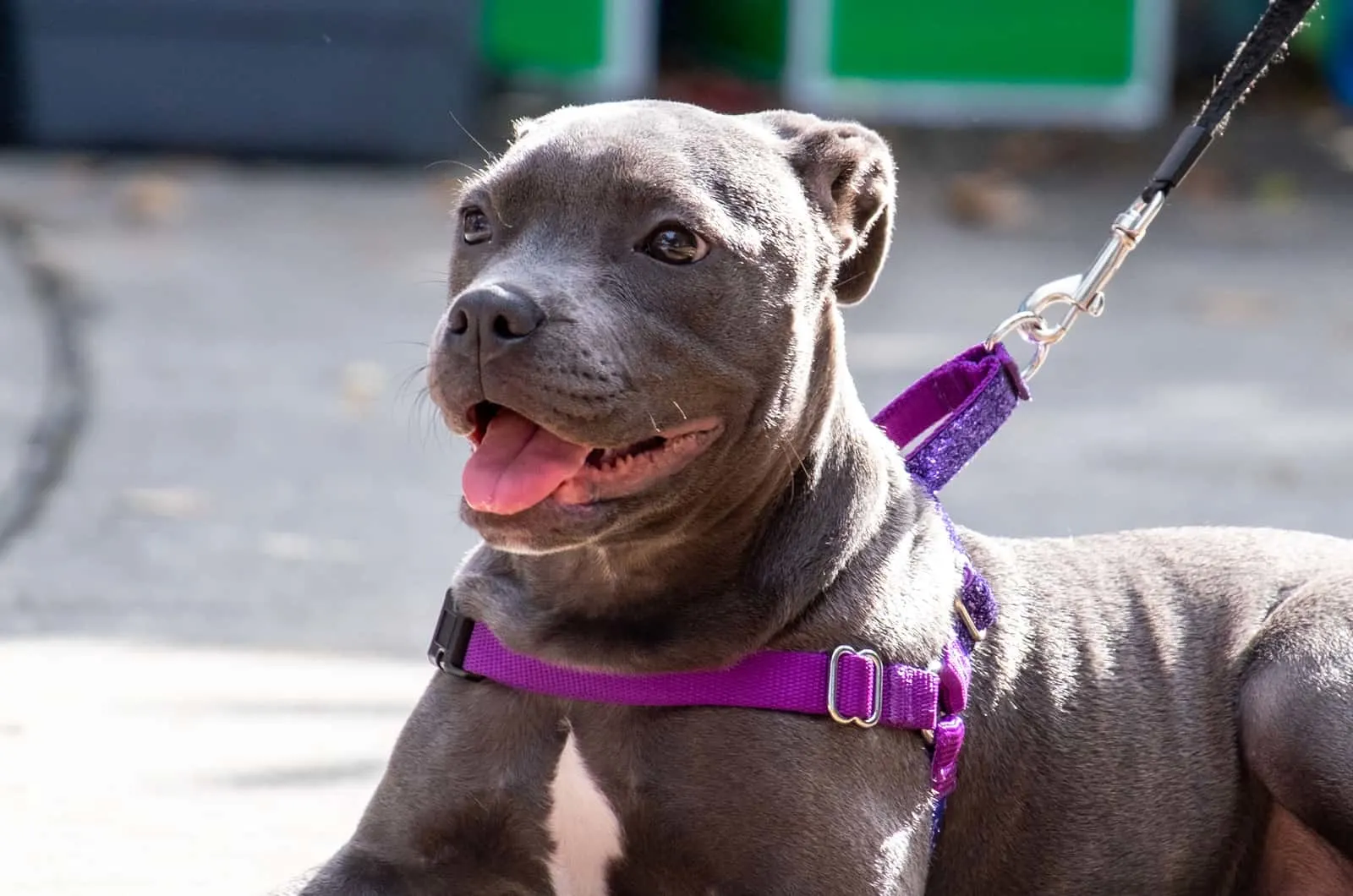 A strong Pitbull can pull on a leash quite harshly. This can make him a challenge to control, particularly if you don't have much upper body strength to control him.
You've probably seen dogs accustomed to dragging their owners down the block when they notice a cat, or into the woods when they chase down a squirrel. However, this behavior isn't fun, and it can endanger both the owner and the dog.
Fortunately, this behavior can be controlled with the best harnesses for Pitbulls.
Harnesses help redistribute pressure from the dog's neck and move it to the pup's upper body. This will help your pooch feel more comfortable, and it will also help provide more control when you're on a walk.
No-pull harnesses are an especially good choice for these strong dogs. Usually, they loop around the Pitbull's two front legs, spanning over the chest and upper back. Most of them have a front-clip ring, but some might also have a ring on the back. This is where you'll place the leash attachment.
When you pull the leash on these harnesses, your dog will be forced to turn back to you. If you do this whenever you pull, this can help train him out of that behavior. At the same time, this will redirect your dog's attention back to you instead of to the thing that he started pulling towards.
What To Look For In Best Harnesses For Pitbulls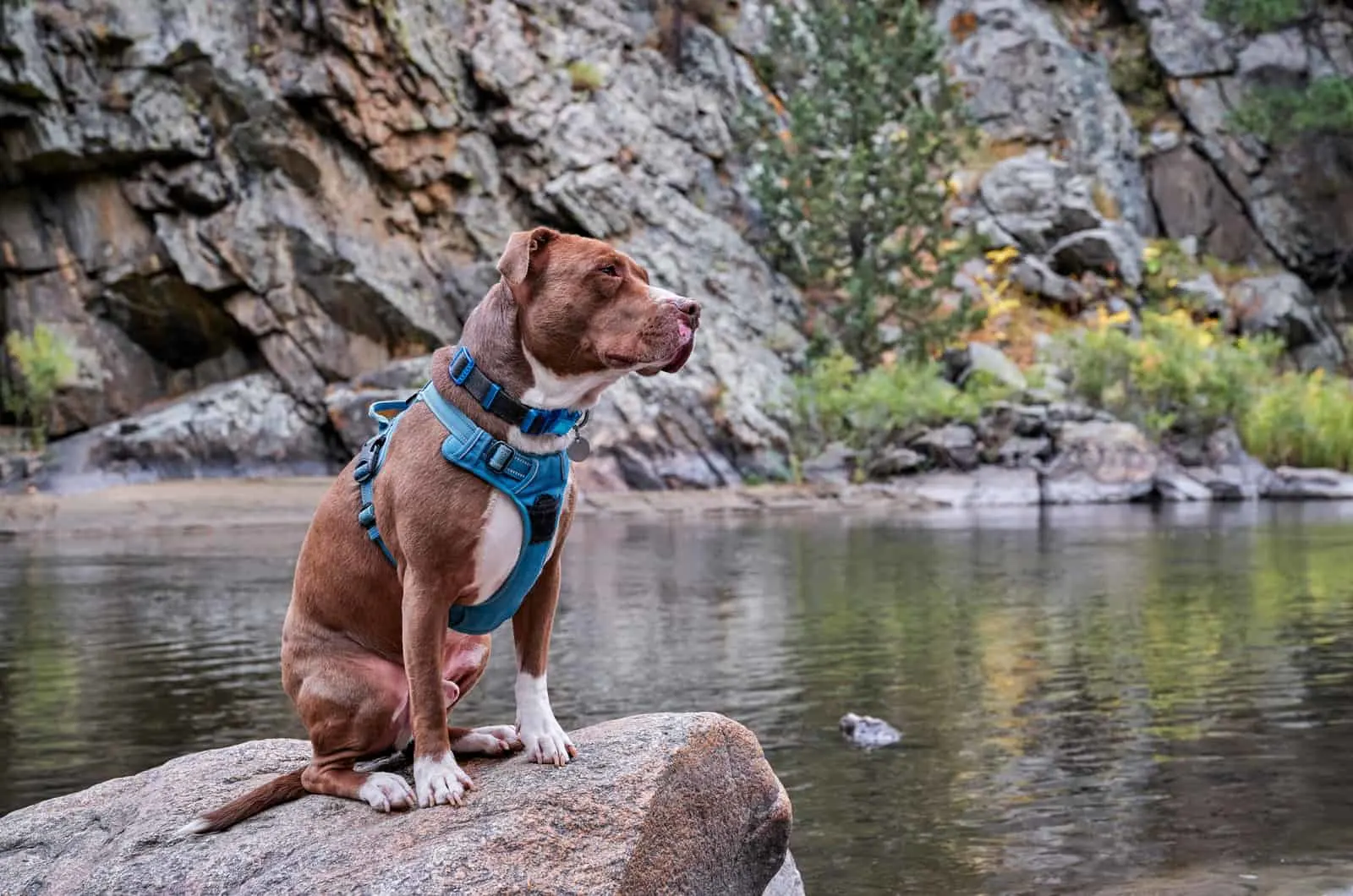 As you can already see, there is a huge variety of Pitbull harnesses, which can make everything much more challenging for people looking for a great product for their pup.
Sure, you might want to pick the best harness for Pitbulls according to color and design, but there is more to this piece of equipment than just the aesthetics.
Here are some features you need to look for in good dog harnesses:
Adjustment Points
Ideally, you'd want to get a harness with multiple adjustment points that can fit your Pitbull perfectly and comfortably. Most of the best harnesses for Pitbulls can be adjusted around the pup's front legs, across the back, and over the chest.
If the harness isn't adjustable, it might not sit comfortably on your Pitbull, which will make him hate wearing it. In fact, he might even fight back when it's time to put it on, which will fully reduce the purpose of a harness.
Fabric
The fabric and the materials that the harness is made of can have a huge impact on the quality of the product. When you have dogs that are strong, such as Pitbulls, this is of crucial importance.
Only high-quality materials can stand up to muscular Pitbulls and control them. You need to look for strong and durable fabrics and harnesses with wide straps that can help distribute the dog's weight.
Type
There are several types of harnesses, and you need to know which one will best suit your needs. While it's challenging to say outright which one is the best, there are a few types that might be better suited for Pitbulls compared to other breeds.
These are:
• Front clip harness: While we'll explain this type of harness a bit more in-depth further on, the most important thing to know is that this harness contains one leash attachment (usually a D-ring) located on the front of the harness.
• Dual clip / multi-clip harness: This type of harness is the best if you want to get the best of both worlds, as it contains a clip both on the dog's chest and on his back.
• Car safety dog harness: If you like to go on travels with your pooch, then you might want to invest in a car safety dog harness. This type of harness contains a seat belt attachment, making sure your Pittie stays safe during travels.
Front-Clip Or Back-Clip Ring
Most harnesses have either a front-clip or a back-clip ring that you can attach the leash on. If your dog is a puller, then front-clip rings are the better choice.
On the other hand, back-clip rings are the better option if you want to evenly distribute the dog's weight. This is a good feature if your pup has back problems or joint pains, or even a condition such as hip dysplasia.
Padding
Pitbulls are strong dogs that aren't overly sensitive, so padding isn't necessary. However, some Pitties will hate wearing uncomfortable harnesses, and without padding, this can be the case.
Padding can also help prevent skin irritations, as they'll serve as an additional layer between harsh materials and the dog's skin. Since Pitbulls have a short coat, there is nothing preventing fabrics such as nylon from lying directly onto their skin, and this can bother them in more ways than one.
Reflective Color
While this isn't something many dog owners think about, reflective color is one of the best safety features you'd want to have in the best harnesses for Pitbulls.
Reflective color on a harness can help you see your pup during night or morning walks. At the same time, it can help others see your Pitbull as well. While this isn't a necessary feature, it can be of great help.
FAQ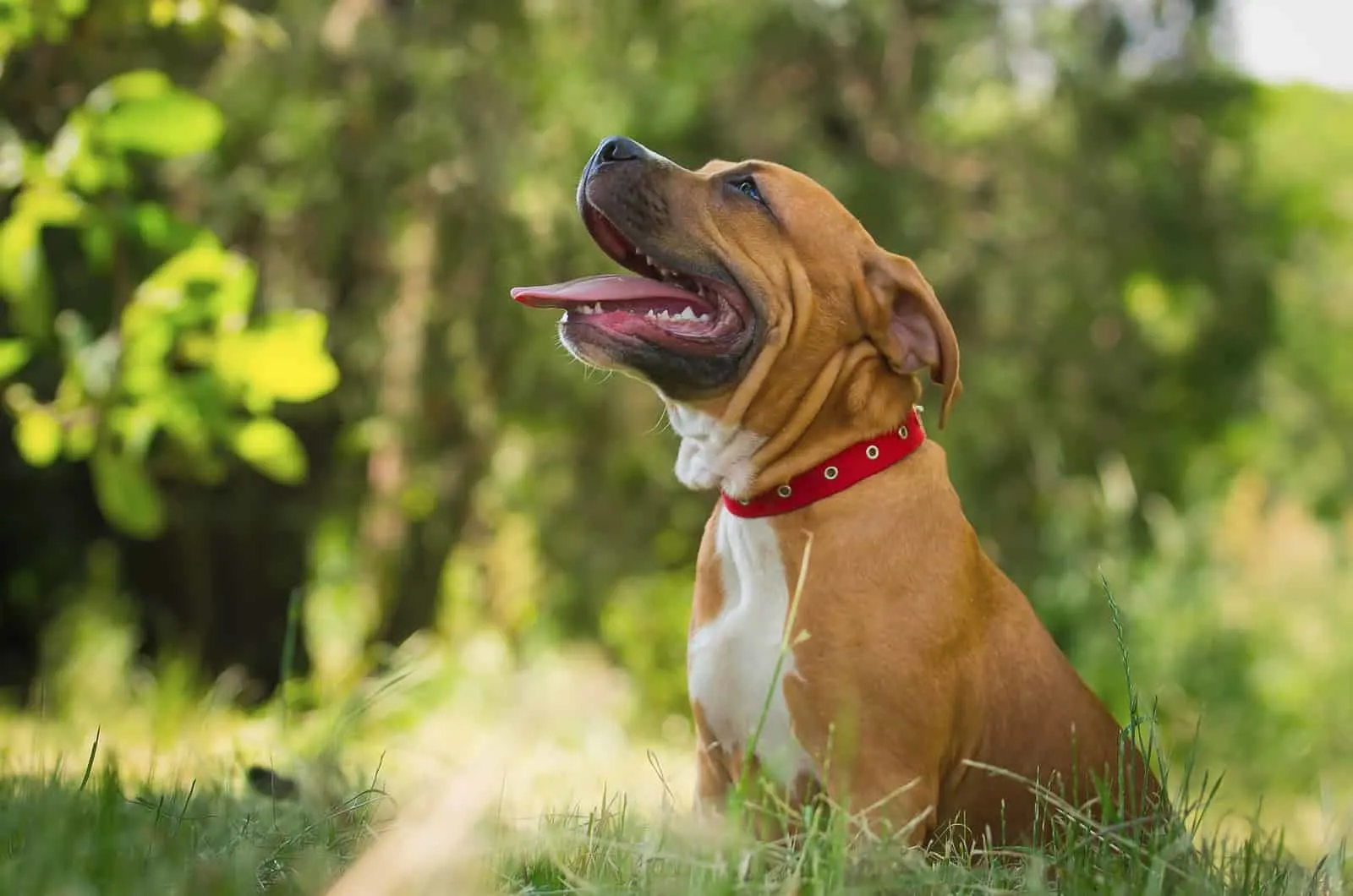 What Is The Best Dog Collar For Sensitive Skin?
Overall, you don't need a dog collar when your pup wears a harness. Still, many harnesses can be used together with a collar, so you don't have to remove it every time you take your dog for a walk. This is especially useful if your collar has a tag on it.
If your Pitbull has sensitive skin, the most important thing you need to make sure of is that the collar isn't sitting too tight on his neck. No matter the material; a sensitive collar can cause irritations.
Of course, the fabric is very important as well. The collar needs to be made out of soft, flexible, and hypoallergenic material that doesn't contain any harmful chemical. The more natural the materials – the better!
What Is The Best Harness For Pitbulls To Stop Pulling?
There are many no-pull dog harnesses for Pitbulls on the market. However, just because a harness is labeled as 'no-pull' doesn't necessarily mean that it actually has no-pull properties.
A proper no-pull harness should have a front-clip buckle that will ensure you have great control over your dog. Also, it should be made of strong and durable materials that can withstand the Pittie's strength, and it should go over both of the dog's legs, the chest, and the back.
How Do You Put A Harness On A Pitbull?
The exact process will depend on the type of harness (and your dog's temperament). Some harnesses can simply be put on the dog by pulling his head and front legs through the holes. Most of the best harnesses for Pitbulls, however, have buckles that you need to close.
A harness can have a buckle on any of its straps, but usually, this will be on his chest or back. Most buckles will be near attachment points as well.
Keep in mind that if your dog isn't used to a harness, he might not like the idea of being put into one. For the first few times, you might even need help from a friend or a family member who will hold your dog in place while you're slipping his legs and head through the adequate holes.