Disclosure: This post contains affiliate links, and I will be compensated if you make a purchase after clicking on my links.
The Dachshund breed is one of the most popular dog breeds in the U.S., and anyone who's familiar with these pups will easily understand why. These small breed dogs have greater-than-life personalities, not to mention a unique appearance!
Unfortunately, their short legs and long bodies can give them a plethora of health problems, especially orthopedic ones. They can have back problems and joint pain, especially senior dogs. This is why you need to think about not putting unnecessary stress on their joints and bones.
Centuries ago, Doxies were bred to hunt badgers. Their small, long bodies would help them burrow, and they are also very prey-driven.
Today, they are companion dogs, yet their strong instincts have remained. They'll likely chase after every bird or squirrel they see!
Because of this, the best harnesses for Dachshunds need to be strong but gentle, so they do not stress out this sensitive breed. In fact, many experts advise dog owners to clip the leash onto a chest harness, especially when they have this breed, which is another reason why you need to pay special attention to this dog item.
If you're on the lookout for the best harnesses for Dachshunds, you've likely noticed how the market is oversaturated. To help you pick out the best harness for the dog collar, we've listed 14 of our favorite items.
We've also included a brief buyer's guide, as well as a lot of other information that Dachshund owners might want to know.
Let's get started!
Top 14 Best Harnesses For Dachshunds
It is impossible to pick one harness that will be the perfect choice for every dog out there. This is because every dog has a different personality and appearance, which will influence the type of harness they need.
Still, there are some products that stand out from the rest, and that you can hardly go wrong with. We've listed 14 of the best harnesses for Dachshunds that will surely fit the needs of most Doxie owners.
Here's what they are: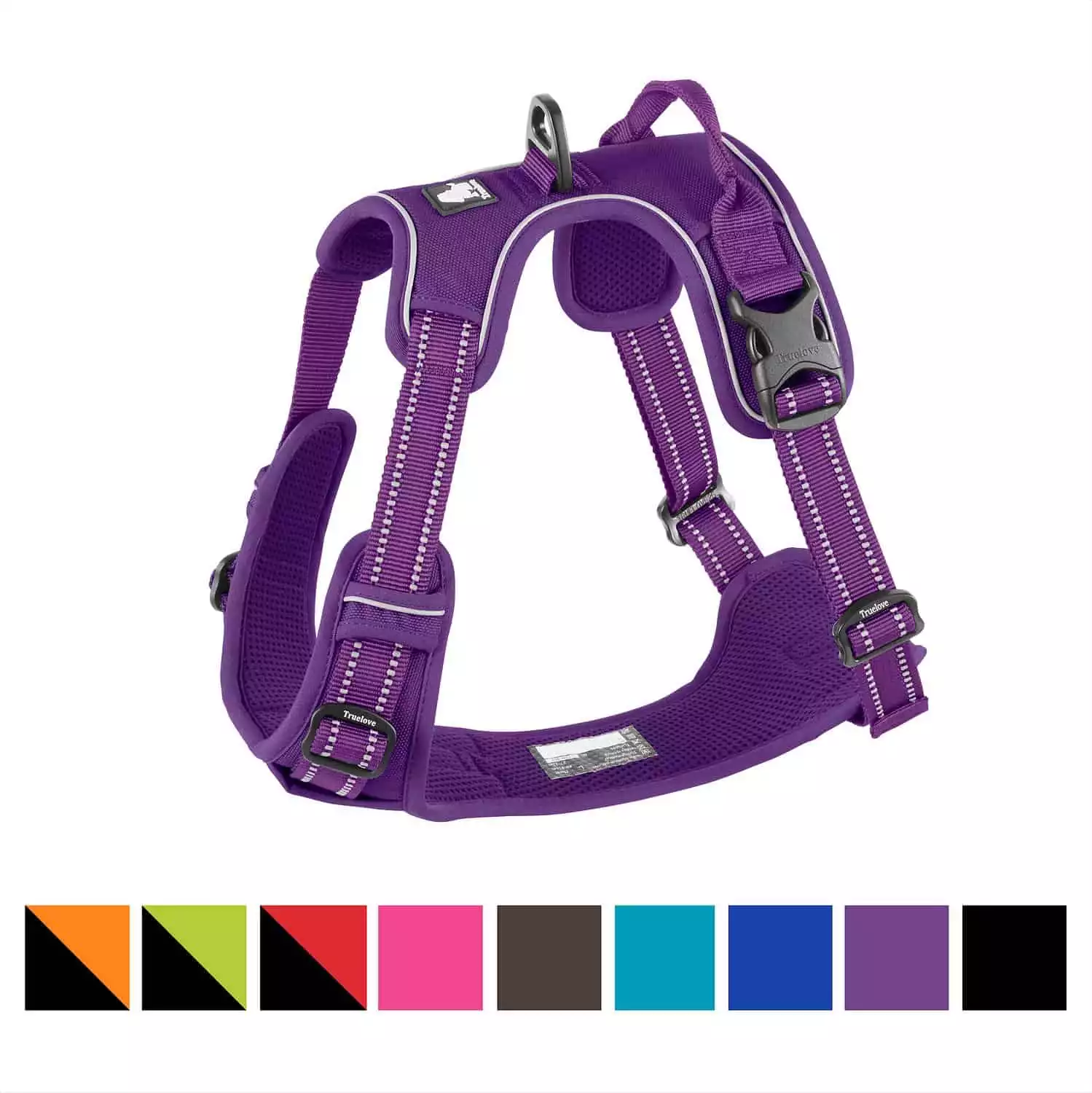 This is a durable harness that is a great choice for active dogs as it is rather strong. It is a bit longer than most regular harnesses, making it seem that it was specially designed for Dachshunds. It will provide coverage all the way down your pup's back.
There are two metal D-rings located on the front and the back. They are intended to be used for both tag attachments and leash fit. The built-in handle helps you pick your dogs up no matter where you're going.
The reflective body is soft and padded to remain comfortable even after all-day wear. If you walk during the night or early in the morning, you will love how easy your dog is to see!
The harness is adjustable, so it can fit most Dachshund sizes. At the same time, secure straps and a front clip ensure that your pup doesn't wiggle out, making this an escape-proof product. Not to mention the large number of color options to choose from!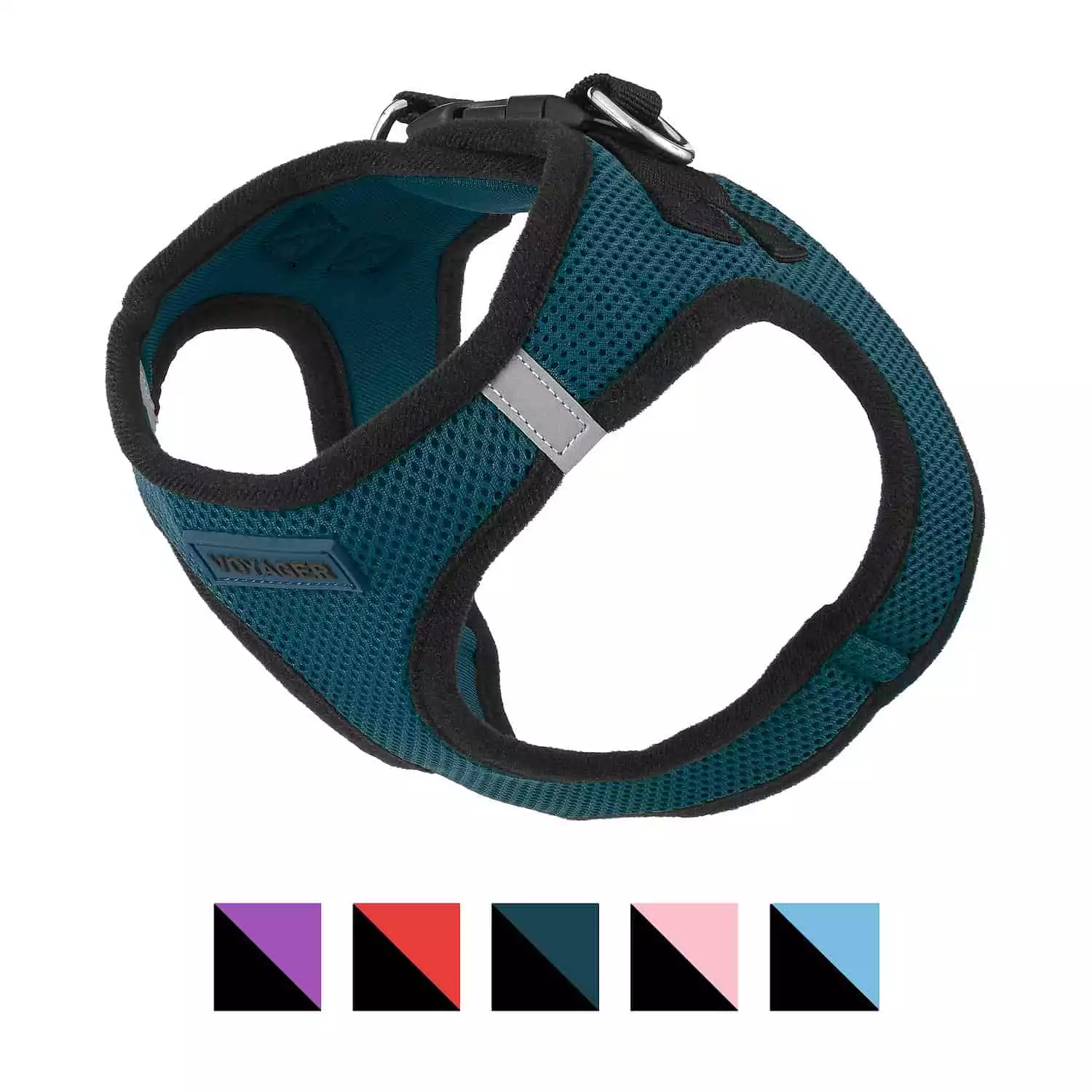 This is a lightweight harness that is good to use no matter the season. Thanks to a big variety of size options, it can fit even mini Dachshunds or Dachshund puppies, ensuring that everyone stays comfortable. However, the adjustable straps don't allow too many modifications.
This is a budget-friendly option with a few options that make it one of the best harnesses for Dachshunds out there. It won't irritate your dog's sensitive skin, and it's a comfortable fit for most Doxies out there.
The harness uses a step-in design that is easy to take on, and double D-rings provide you with additional security.
The biggest issue with this harness is the velcro closure, combined with the buckle overlay. This isn't the most escape-proof harness out there, and some more persistent pups may be able to escape.
Editor's Pick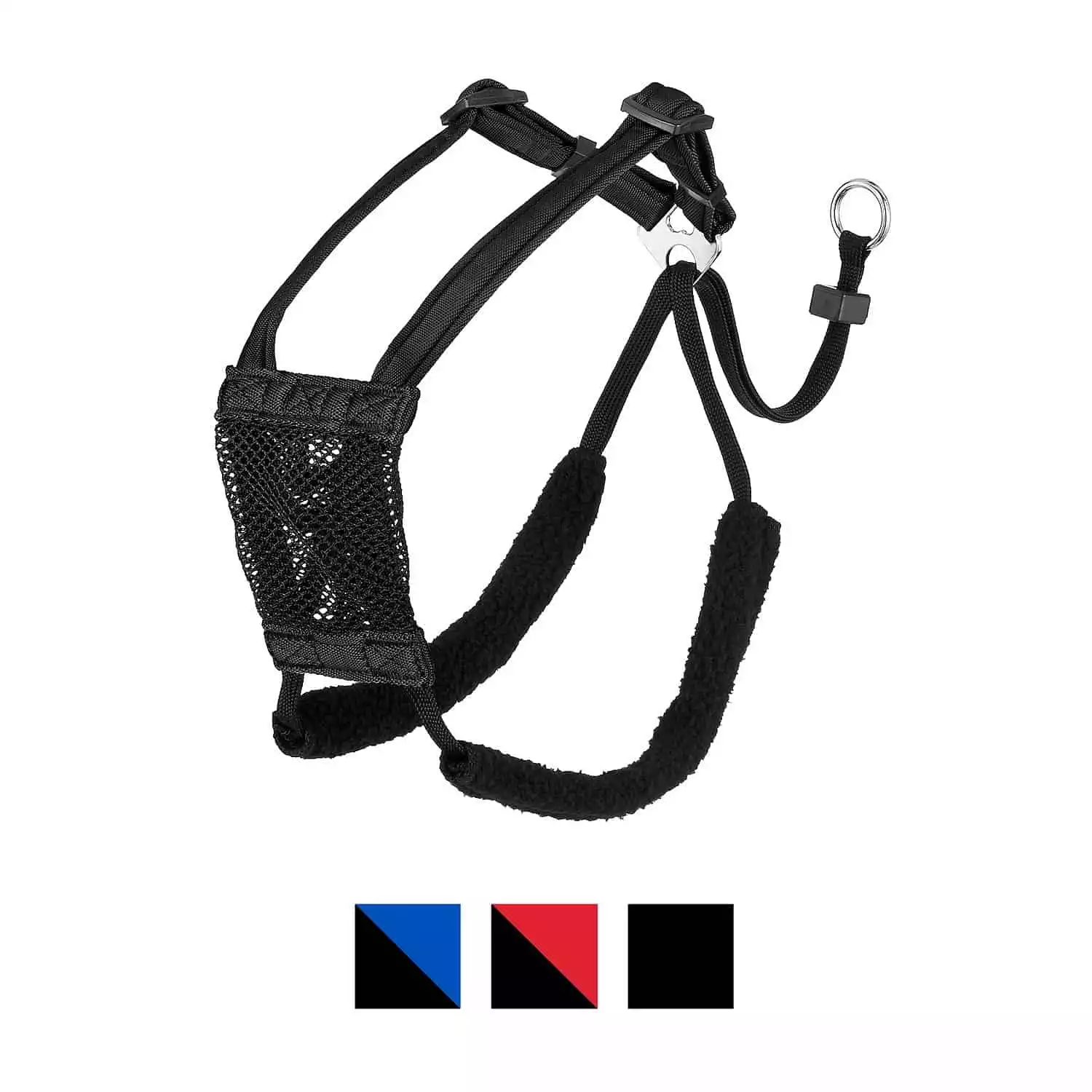 This dog harness has a rather unique design that will discourage even the more stubborn Dachshunds from pulling – without choking him while doing so. The harness tightens around your pup's body, not his neck, making it perfectly safe.
At the same time, padding will prevent rubbing and chafing even after long walks, and the step-in design is effortless to take off and put on. Thanks to the mesh chest piece, the harness stays breathable even in the summer heat.
The product is made from top quality and durable nylon, so it will stay looking like new even after many walks. The product also remains budget-friendly, making it accessible to everyone.
The harness comes in three color options and four sizes, so you will surely find something that will fit your style.
PetSafe Easy Walk
Key Benefits:
No-pull dog harness

Vest harness

Waterproof materials

Quick-snap buckles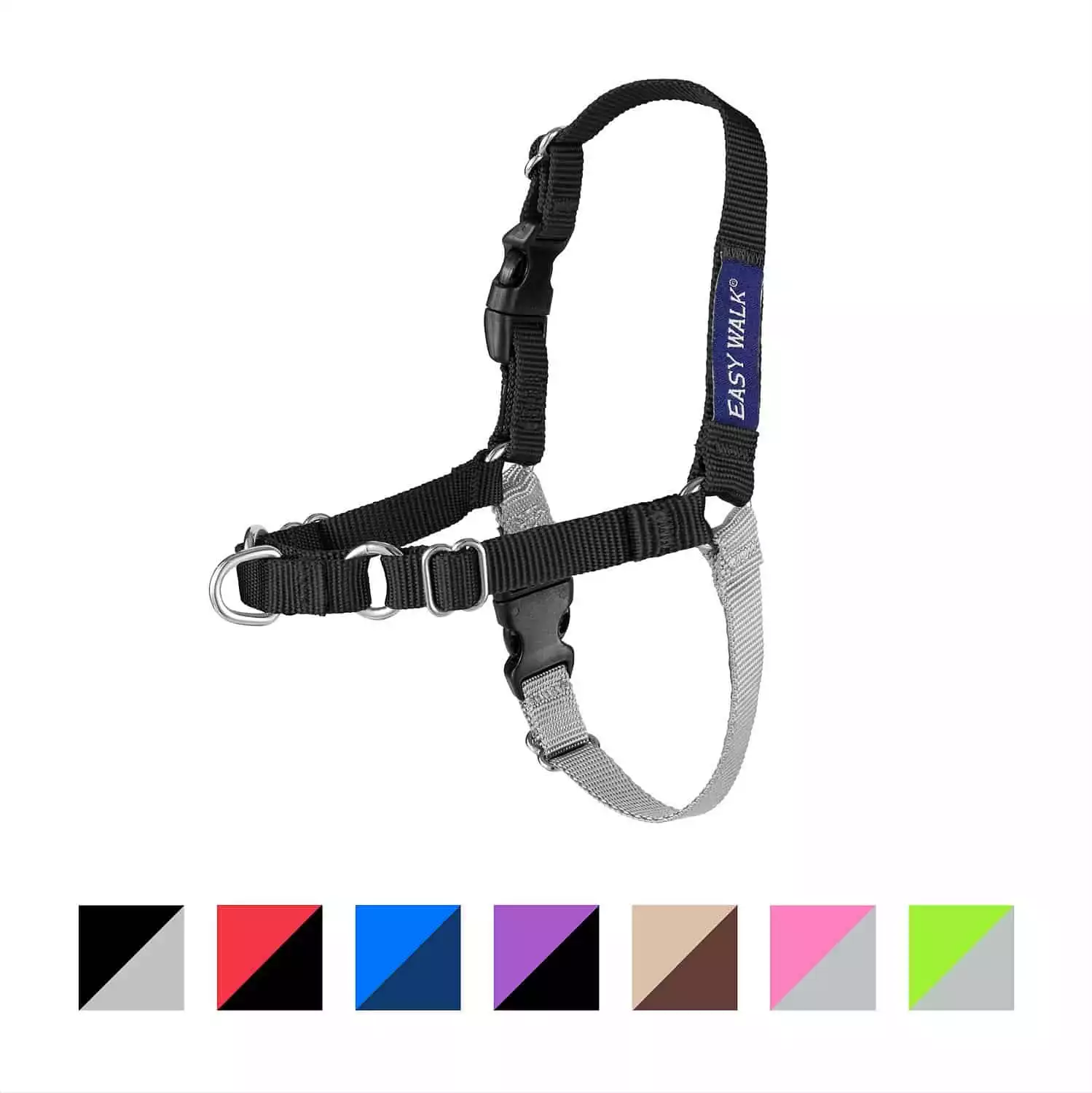 Are you sick of your Doxie pulling on the leash every time you go on a walk? This is a great no-pull vest harness that will keep your pooch from being his mischievous self, at least when outdoors.
This dog harness will discourage your pup from pulling on the leash, making walks much more enjoyable. Quick-snap buckles enable easy on and off, and the belly strap is distinguishably colored, so you'll easily know which strap goes where.
There is a Martingale loop on the chest to prevent twisting of the leash attachment. The entire harness has four adjustment points, so you can fit it according to your pup's needs.
This harness is designed to help train dogs, so you can use it for your new puppy. It won't choke or gag your pup, ensuring a comfortable walk for both parties.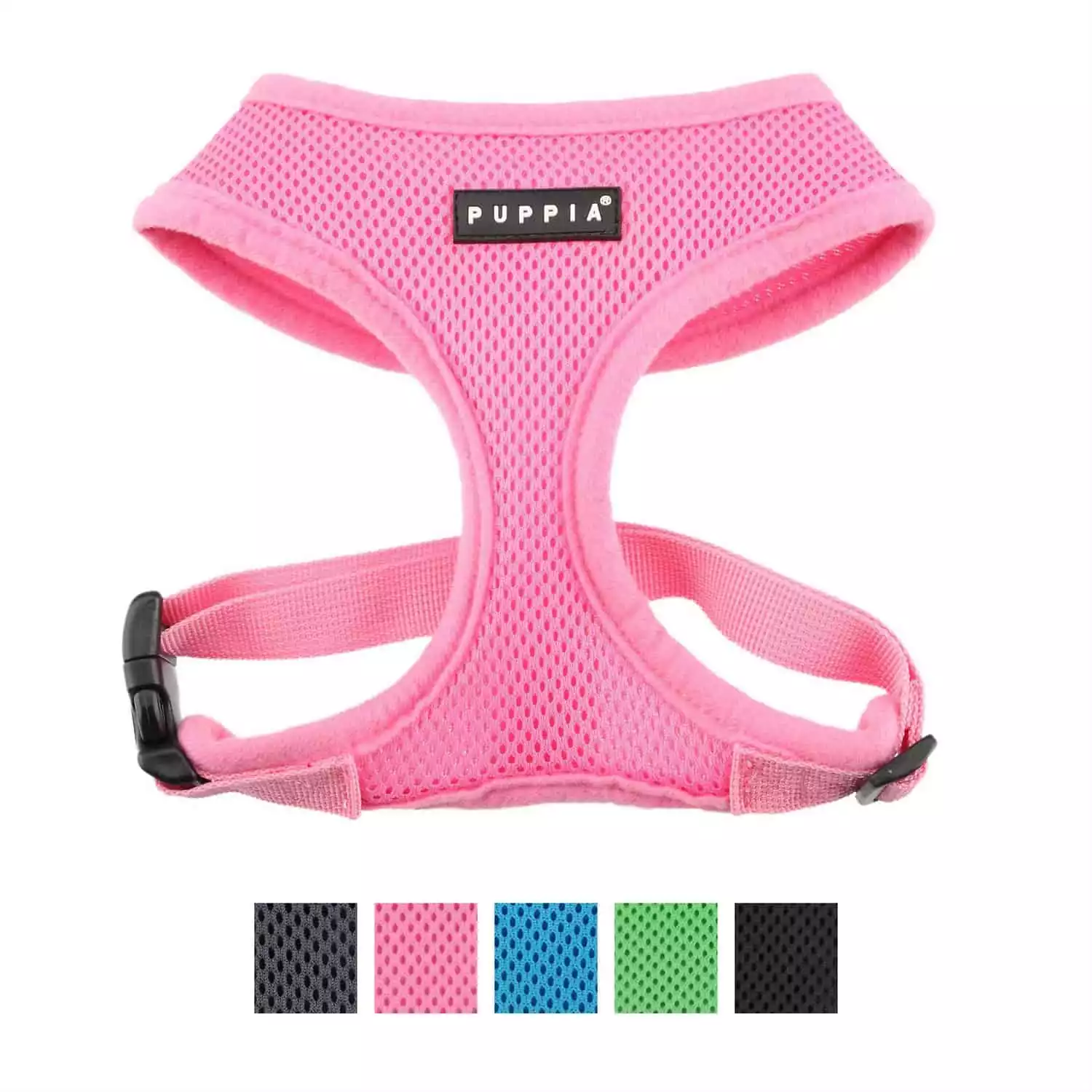 This is a rather comfortable dog harness that is easy for everyday use, thanks to its back clip that helps you put it on your pup without any issue whatsoever. It comes in five colors and five sizes, and it sports an authentic Puppia rubber label.
This is a comfortable harness that is lightweight and padded, providing a superior walking experience. It's made for function and convenience, with a comfortable neck opening that won't press on your pup's neck. At the same time, the quick-release belt is adjustable, so you can fit it according to your pup's size.
It's made of cotton, with polyester webbing, making it breathable and stylish. There is a D-ring for a leash attachment, so the walk can be as safe as possible.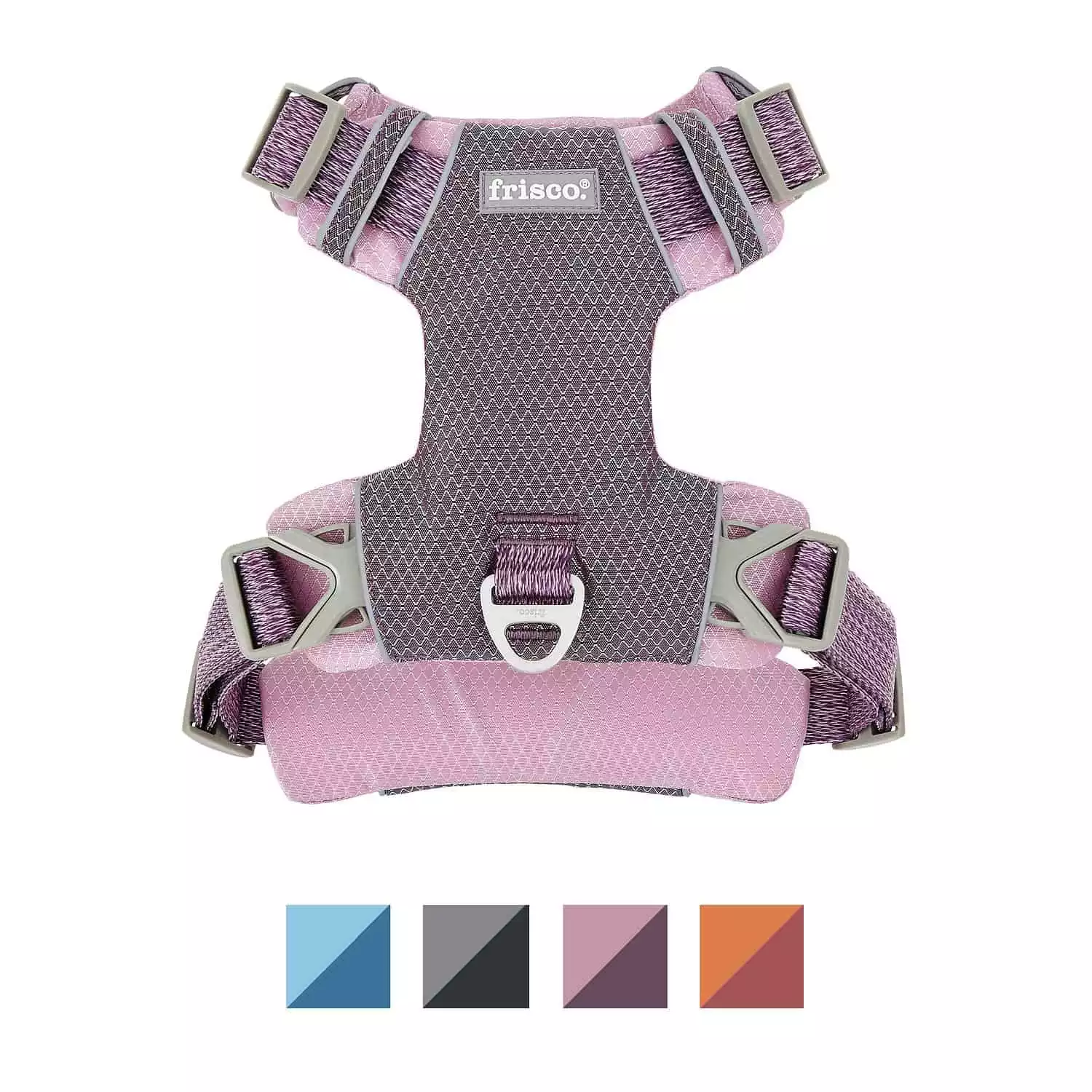 This is a good product if you're looking for the best harnesses for Dachshunds, and it requires an adjustable girth. The nylon webbing straps are adjustable and comfortable, so they will fit Doxies of all sizes!
The reflective nylon ensures that your pup stays visible even during the night, making walks rather safe. The X-style buckles are plastic, ensuring that the entire harness is lightweight and compact.
There are dual D-rings on both the back and the chest, so you can choose where to attach the leash. In fact, this harness has several unique features that you can hardly find on other products in this price range, making it worth every cent.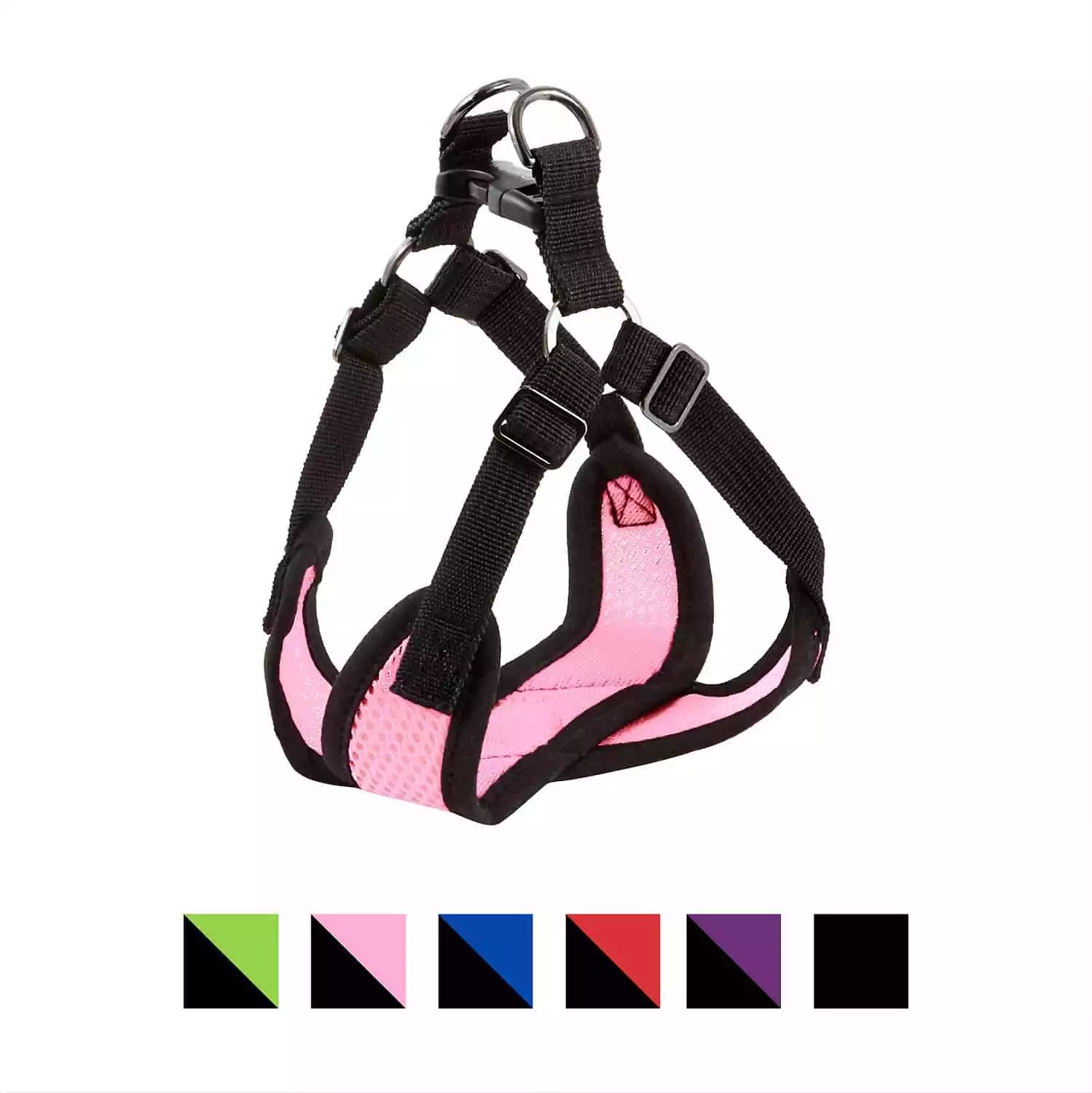 This is one of the best harnesses for Dachshunds, especially if you're looking for a great combination of safety, style, and comfort. It's a unique product, with many great features coming at an affordable price.
It has four size adjustments, so you can make it the perfect fit for your pooch. At the same time, it is really comfortable as it will put all the pressure onto the dog's chest and not his neck, thanks to the patented X-frame design.
The entire harness is made out of a light, breathable fabric. This means it'll stay comfortable even during hot summer walks. You can leave it on your pooch for a prolonged period of time without worrying that he'll overheat or sweat.
At the same time, the shape of the harness will ensure that your pooch is safe from any injury no matter how hard he pulls. A high-quality back clip will provide easy on and off, and will help you put it on even the wiggliest of pups!
Also, the harness comes in five different colors and five different sizes, making it a stylish choice no matter where you're going.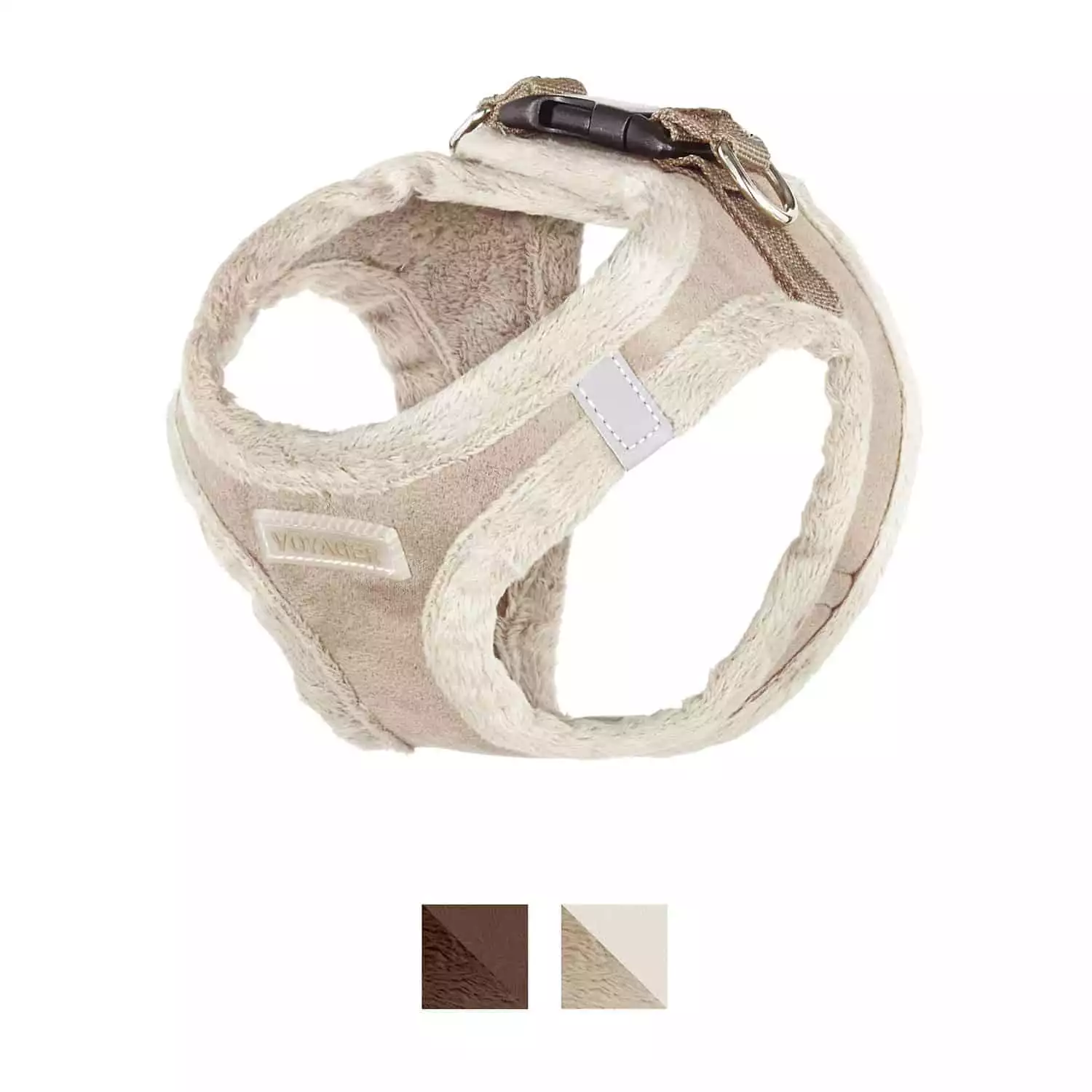 Are you looking for the best harnesses for Dachshunds that are both stylish and effortless to maintain? Then, this might be the perfect product for you. It is soft and comfortable, yet strong enough to endure pushy Doxies that want to have things their way.
The entire harness is rather adjustable, not just the straps, so you can find the right size for your pooch. Ultra-plush luxury panels make it comfortable, even though it doesn't seem like it has lots of padding.
The step-in design makes this harness very easy to put on, even on an active Dachshund that doesn't feel like listening to you.
To top it all off, this harness is machine washable. You don't have to spend lots of time cleaning it – just put it inside the washer and let it do the dirty work!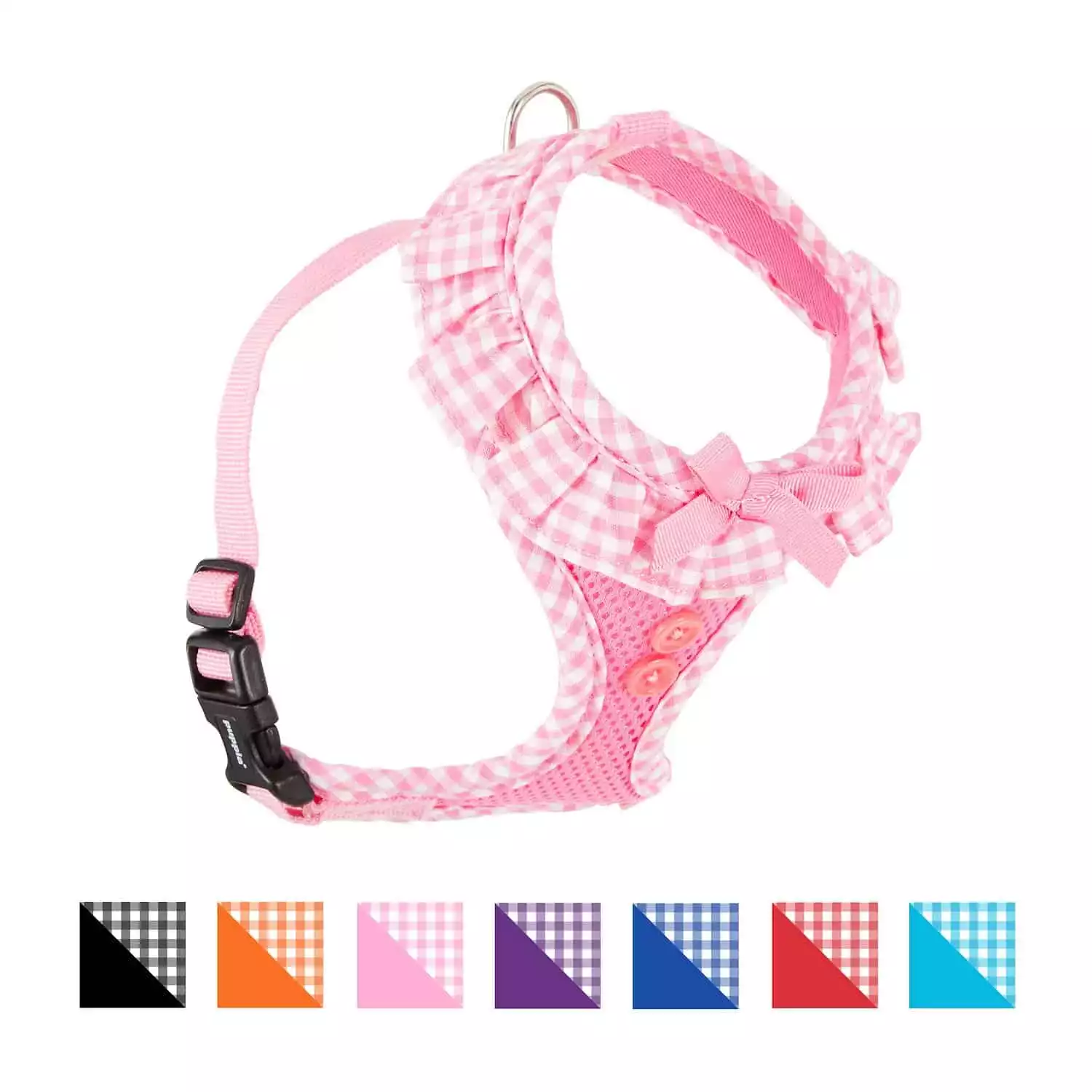 Dachshunds aren't really known for being lady-like or sir-like, but this stylish harness can make every dog look as cute as possible!
The harness has many beautiful details, such as checkered frills, decorative buttons, and even an adorable ribbon that will impress all your neighbors and four-legged friends! At the same time, the design is wearable, and everything is attached via a back clip.
While there is only one leash attachment point in the shape of a nickel-plated D-ring, you can easily use it with any type of leash you have, making it rather versatile.
Of course, this adorable design wouldn't be worth it if it wasn't easy to clean – but, fortunately, it is! Also, it comes in several different sizes and colors, so you can find the one that will go perfectly with your cute doggie.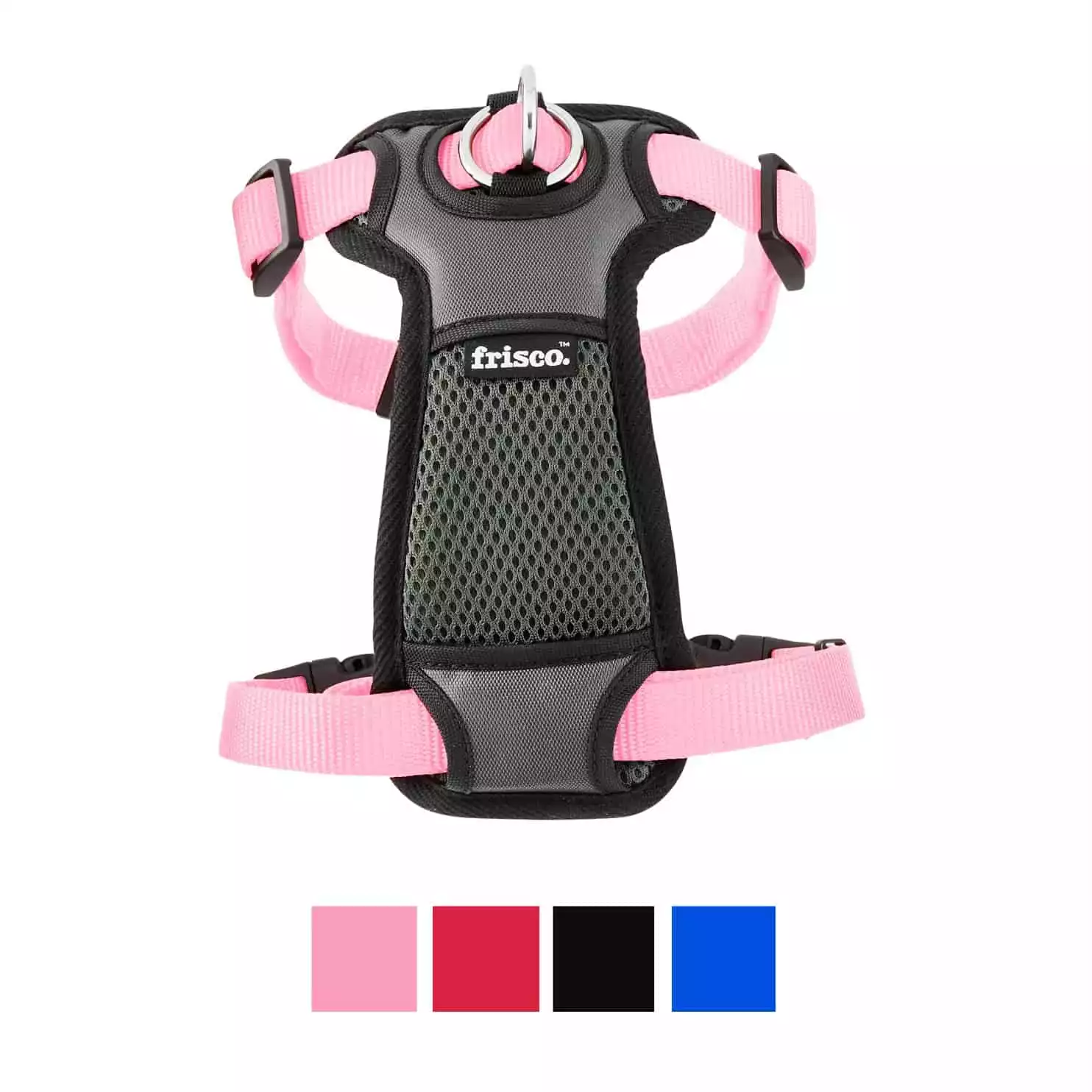 This is a soft-mesh harness that is the perfect choice for anyone looking to get a comfortable harness that will allow them to have additional control over their Dachshunds during walks.
It's made with nylon webbing that makes sure everything is durable, and the O-ring leash attachment is located on the front, ensuring that you can let your pooch know how to behave by redirecting his attention.
The harness is designed to easily go over your dog's head and front legs, and it stays on his body without slipping. You can be certain that your pup is safe while wearing it.
Also, the heavy-duty padding on the chest strap means that your pooch will stay comfortable, while several color and size options can help you find a great fit for him.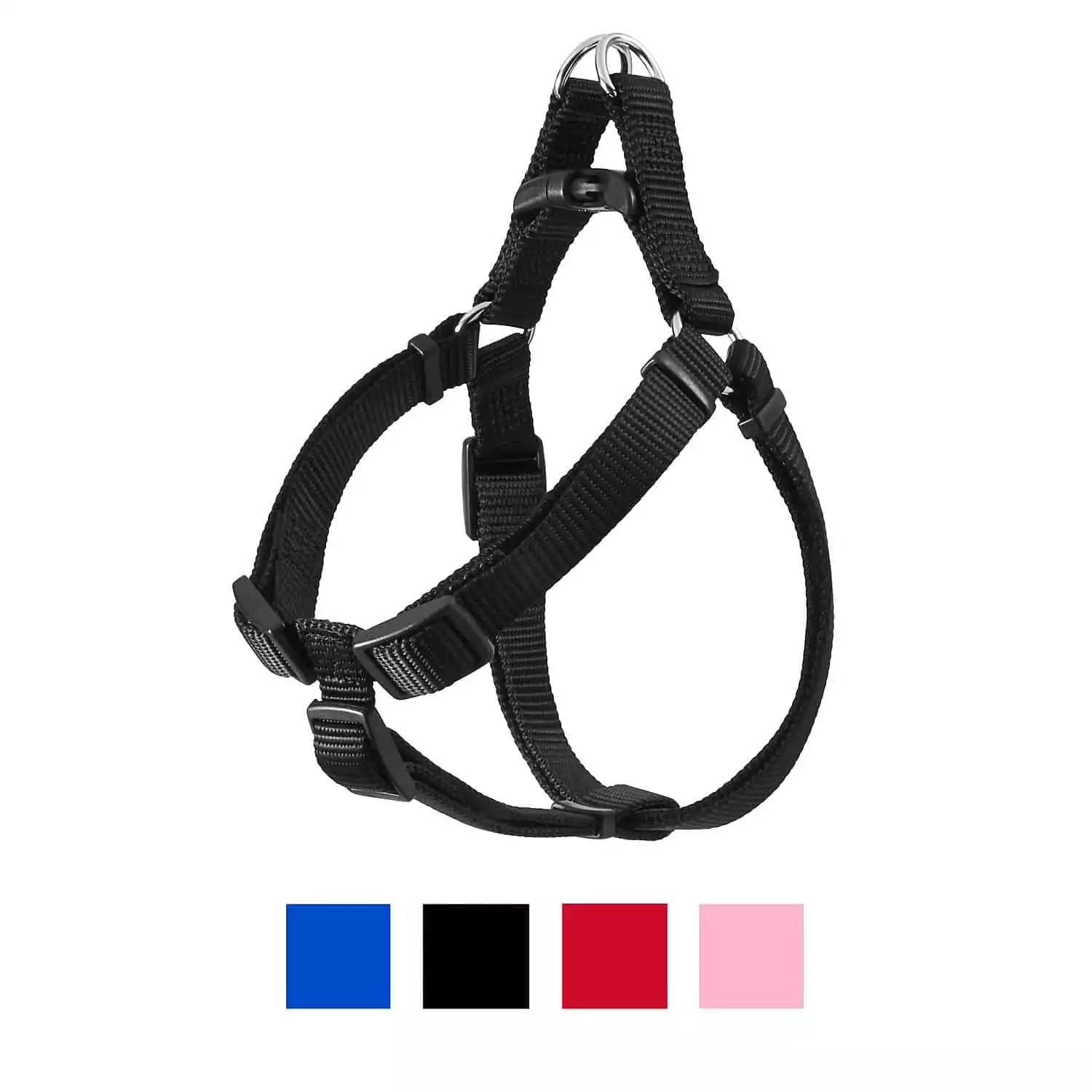 This is one of the best harnesses for Dachshunds for dog owners who like to keep things simple but functional. This harness will make your daily walks a breeze!
It is designed with high-quality nylon that is extremely durable, and it will last you for a very long time. As it's adjustable, it can 'grow' with your puppy, so there is no need to purchase another one if your Doxie gains weight.
The D-rings are located on the back of the harness, making it a good option for pups that might have back or leg pain. It's effortless to put on, thanks to neat back clips, which also make it amazing for more active puppies.
The harness comes in several colors and sizes, ranging from extra small to extra large, so you'll surely find one that fits.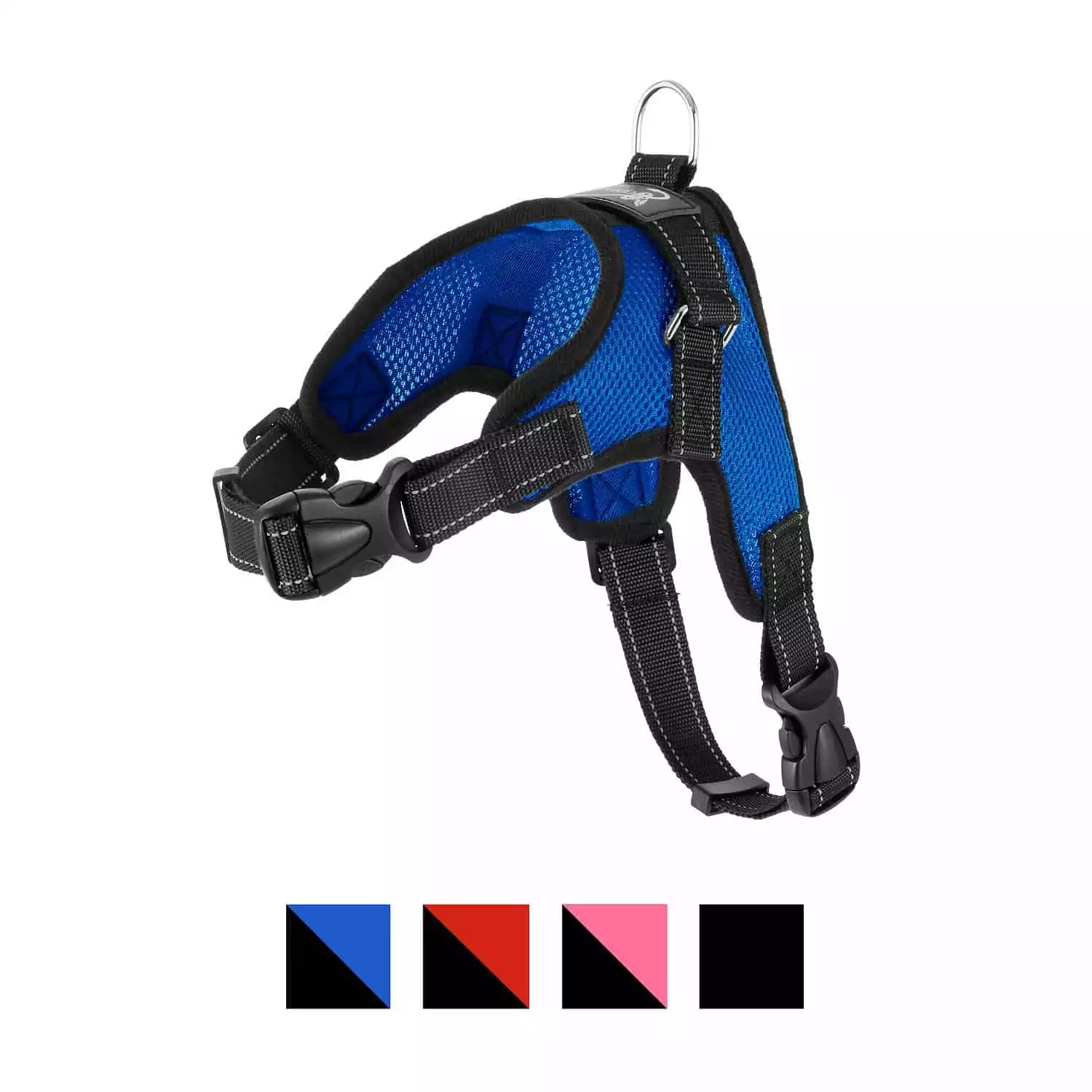 If you're looking for a good no-pull dog harness, it might be a good idea to check this one out. It is one of the best harnesses for keeping your active pup under control out there!
It is made out of a sponge-filled fabric that will ensure comfort as your pup tries to pull away. This type of material means that there will be no pressure on the dog's neck, as everything will be evenly distributed over the front part of his body. A handle located at the top of the harness will only improve the control you have over your pup.
At the same time, the mesh material is breathable, which will help you keep your pooch cool even during walks on warm days. This makes it perfect for any activity, from walking and jogging to dog training.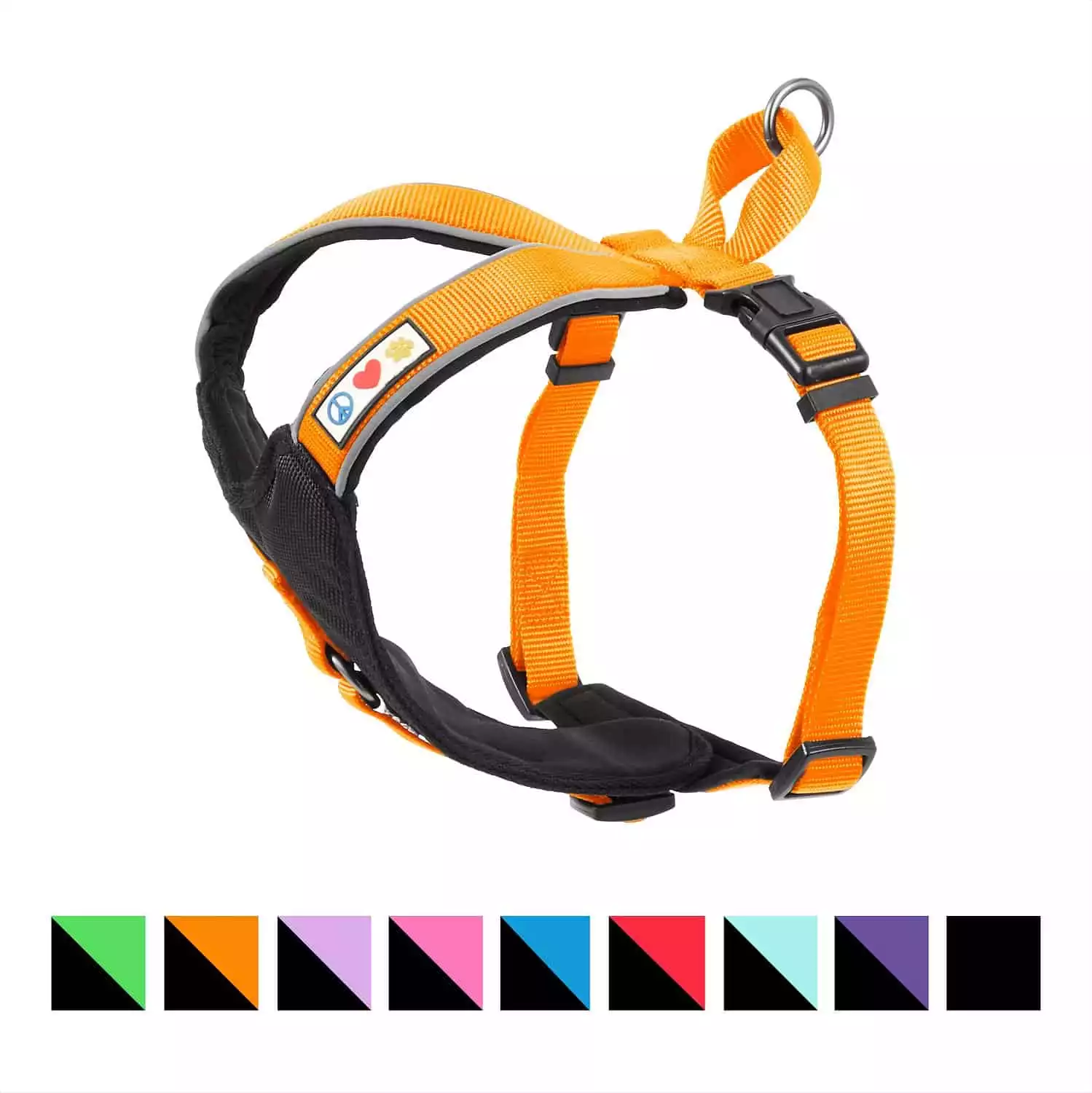 Do you want to have your Doxie visible no matter the time of day? Then, this might be one of the best harnesses for Dachshunds for you!
Not only does it have a reflective strip that will ensure visibility even during the night, but it also comes in several bright neon colors. You'll be able to see your dog from a mile away!
The adjustable design and a metal ring make this an amazing harness no matter the activity. You might even be able to combine it with your seat belt to ensure a safer ride for your pup!
The neoprene padding makes this one of the most comfortable harnesses you can find. Your pooch's back and neck won't feel any pressure no matter how hard your doggie pulls!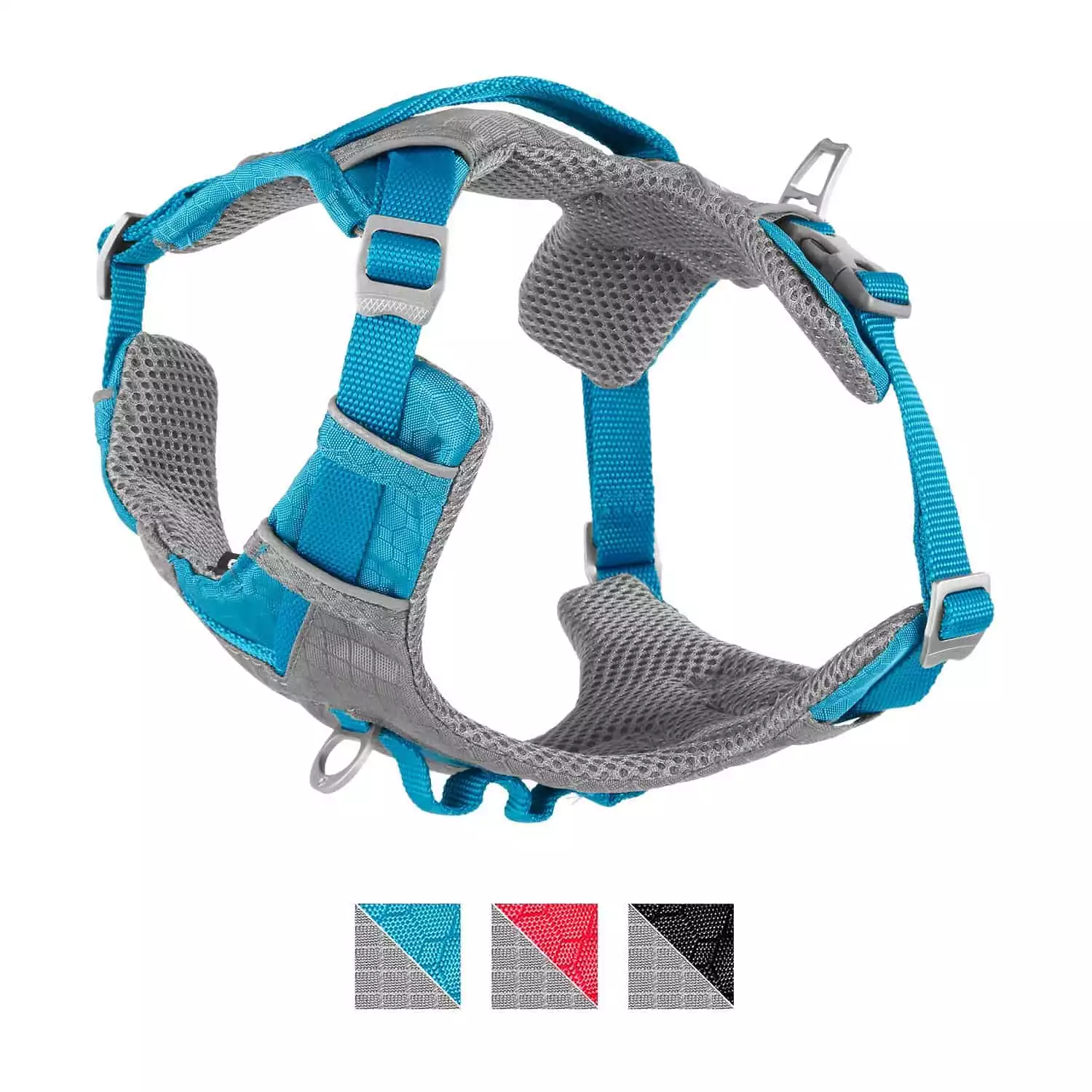 This is yet another dog harness that is suitable for many different activities, including walking, hiking, and running. It is made with breathable materials, making it ideal for active dogs that love to run around all day long.
The harness sports four adjustment points, so you can find the perfect fit for you. Four quick-release buttons ensure that the harness is effortless to put on and take off, but it might take some time to buckle all of them in.
This product has both back and front leash attachments, so you can choose how you'd like to walk your dog. Also, the reflective trim means that you can safely take your Doxie out even during the night, as you'll always know where he is.
What To Look For In Best Dog Harnesses For Dachshunds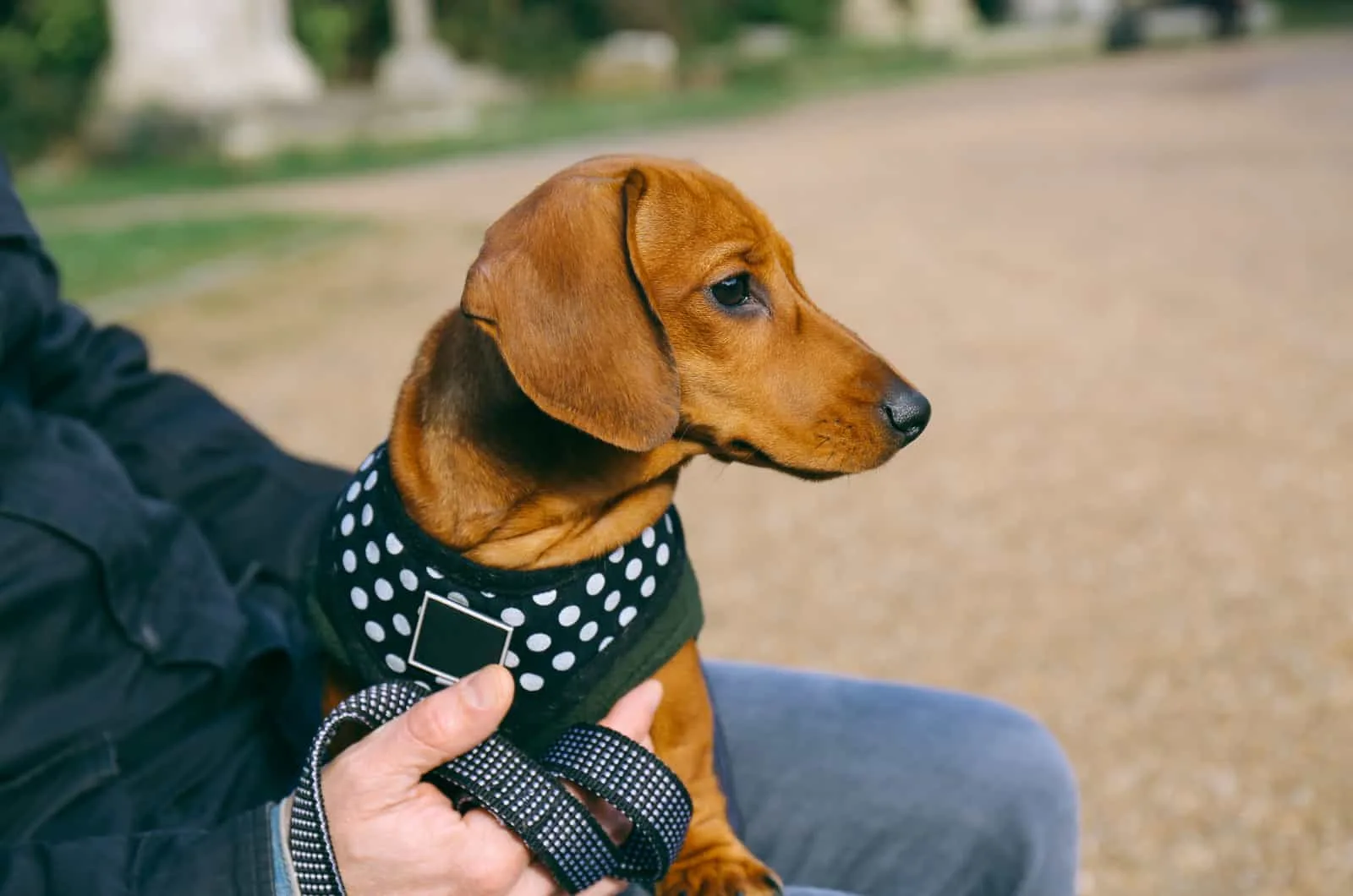 While you've seen some good products above, maybe you still aren't certain as to what features are important and what you can live without. Knowing what traits are necessary in the best harnesses for Dachshunds can highly influence your decision.
Keep in mind that every dog and every owner is individual, and that not all of these features will be equally important for everyone. However, understanding what is essential can help you find the perfect harness for your pooch.
Fit
Just like with every other pet product, you need to find the item that will be the perfect fit. Dachshunds have small bodies, but their chests are rather broad. Because of this, dog weight isn't the only thing you need to consider when purchasing a product.
We'll explain later on how to measure your little dog so you can find the best harness for him.
Also, Dachshunds are escape artists. If the harness doesn't fit it properly, this increases its chances of escaping, and this isn't something any dog owner wants.
Choke-Free
We cannot stress this enough. All best harnesses for Dachshunds need to be choke-free. Harnesses serve to take the pressure off a pup's neck and throat, and if they are putting pressure on your Doxie's trachea, this can cause severe injuries.
Most mass-manufactured harnesses have dealt with this trait already. However, if you're buying from an indie company or a small maker, you need to pay close attention to whether it is good enough to avoid choking and neck damages.
Don't let other owners tell you otherwise – while some harnesses are designed to constrict the dog's neck, they should only be used by professional and experienced dog trainers.
High-Quality Materials
Harnesses can be made out of different materials such as fabric, nylon, leather, and mesh. All have their own benefits and downsides, so you need to consider everything.
For example, fabric harnesses can come in fun prints and colors, but they usually aren't strong enough for dogs that are determined pullers.
Breathable mesh is comfortable and lightweight, making it great for summer, but these harnesses aren't durable.
On the other hand, while leather is strong enough, it is more costly, and it might be too heavy for small dogs.
According to many experts, nylon is usually the best option as it is less expensive than leather, but it is durable and effortless to clean. It is also chew-proof, unlike all other fabrics we've listed.
However, even nylon isn't ideal as it can irritate your pup unless you've found the perfectly fitting harness. Because of this, you might want to find a harness made of a combination of several materials.
Padding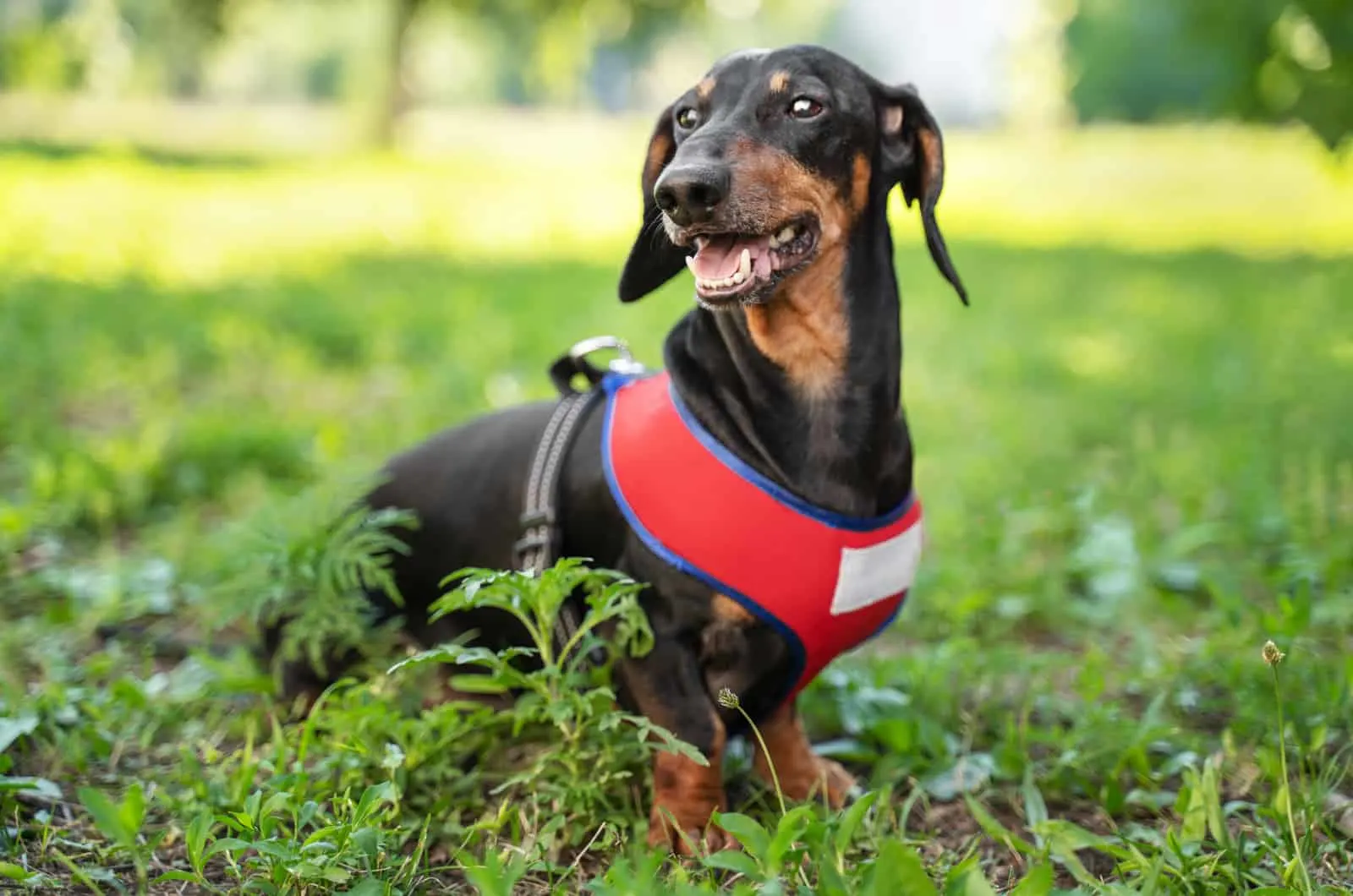 Many best harnesses for Dachshunds have an underlayer of soft padding. While these will make the harness more expensive compared to the ones without padding, they will be much more comfortable, and your pup will be able to carry it for a long while.
While long-haired Dachshunds might not require padding, short-haired, standard Dachshunds are a bit more prone to chafing. This is because they don't have another layer of hair between their skin and the harness.
Still, keep in mind that padding will increase the heat and sweating, which can make the harness uncomfortable during the summer heat.
How Easy Is It to Put On Or Take Off
Dachshunds aren't known for being calm dogs – quite the opposite. They are very active dogs that cannot sit still for a long time, so you'll want a harness that is easy to put on and off.
Many dog owners would recommend a step-in harness – which is also the most common type of harness. They usually have one buckle, but some might have more, which does bother some owners as they have to buckle them up.
On the other hand, slip-on harnesses are much simpler as they only require you to pull them over the dog's body. However, some owners of more active Dachshunds might have a problem with this as you'd have to maneuver your pup's front legs and head through the holes.
In the end, this pick usually depends on your dog's temperament and how long he can stand still.
Adjustability
This is another thing that is usually determined by the type of harness you find. For example, slip-on harnesses are usually made out of just one piece of material, so they aren't adjustable.
Step-in harnesses, however, allow you to adjust them so they can be the perfect fit. This is also why they are more expensive, but as a good fit is very important, it's worth the extra buck.
Not to mention that with an adjustable fit, you won't need to purchase new products once your Doxie grows bigger or gains or loses weight.
Pulling Prevention
Dog harnesses serve to redistribute the force when a dog pulls in order to avoid neck injury or choking. However, some of the best harnesses for Dachshunds are also made to discourage pulling.
One of the ways manufacturers do this is to put the attachment point for the dog leash on the dog's chest instead of on its back. This is so the force will redirect the dog to the side once he pulls forward, which will lower his pulling force.
However, there are a few important things when it comes to no-pull harnesses. For example, a no-pull harness won't train your Doxie not to pull when he isn't wearing it. It will only discourage pulling while the pup is wearing it.
Second, there are many harnesses that are labeled as no-pull, but they don't include any design element that serves this purpose. This is why it's important to do some research and know what you're looking at.
Back Support
Finally, when it comes to the best harnesses for Dachshunds, they have to provide adequate back support for these long-haired pups.
We've mentioned this already, but Doxies are very prone to back problems and orthopedic issues that can be caused by a painful back and joints. This includes hip dysplasia and Intervertebral Disc Disease (IVDD).
Because of this, it's a good idea to look for a harness that comes with additional support pads either on the chest or in the belly area. Many of the harnesses we've mentioned here include this, but you should still double check.
Keep in mind that these harnesses tend to be more expensive – but, once again, we feel like they are worth the price.
How To Measure Your Doxie For A Harness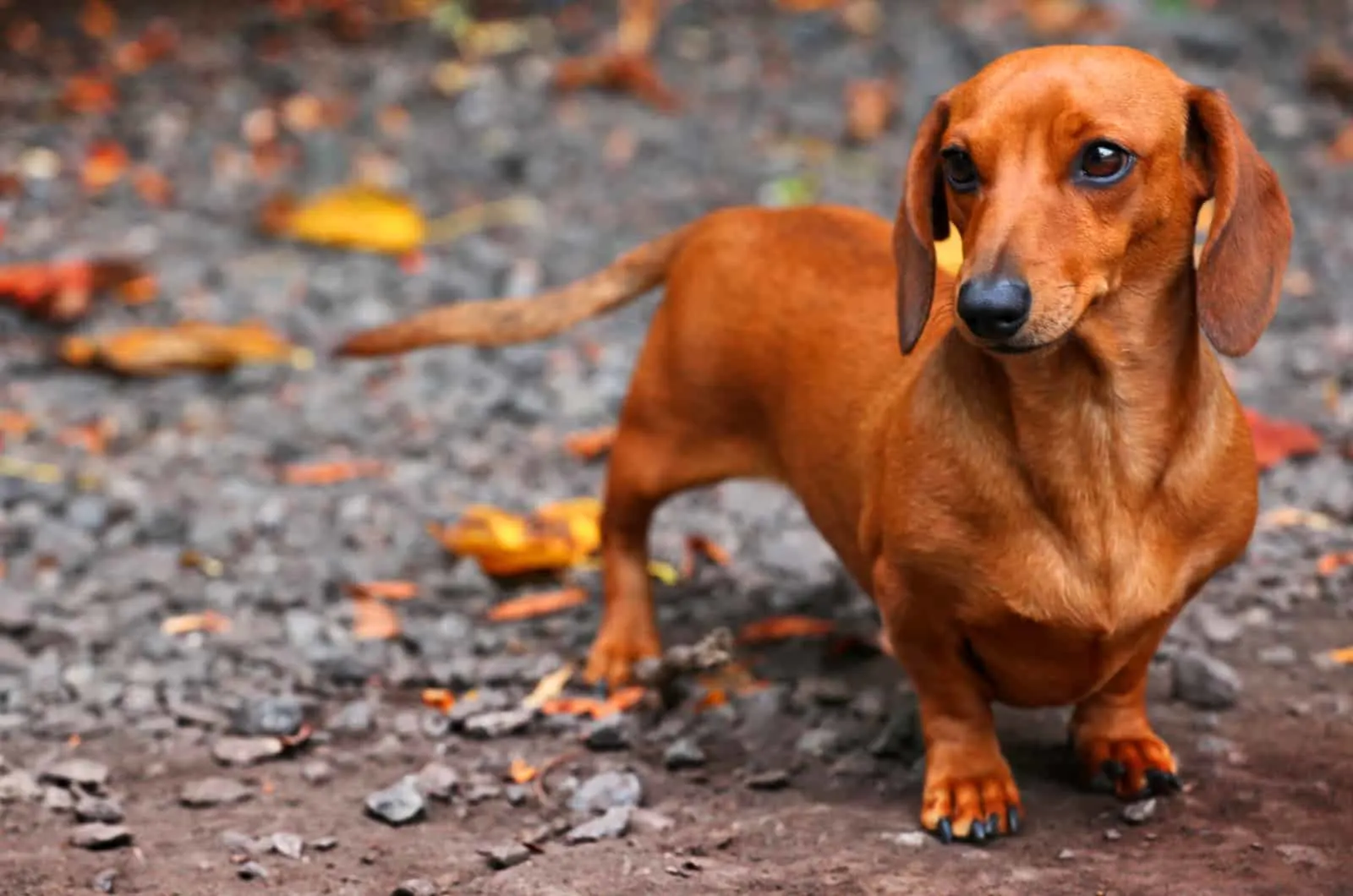 As mentioned, you cannot purchase a harness based on your pup's weight alone. This requires taking some precise measurements beforehand – especially when you own a Dachshund; a dog breed known for having vastly different proportions than many other breeds.
First off, you'd still want to know your Dachshund's weight, as it can give you a brief size overview. Most dog items from Chewy and Amazon are labeled according to the dog's weight, so this is a good start.
Then, you should measure your dog's neck and chest. When it comes to the chest, you'd want to measure it at the widest part. Usually, this is right behind your pup's 'armpits'. To take this measure, you might need a helper, as Doxies can try to wiggle a lot. Measure with a flexible tape measure, and make sure to loop it around this part of the chest.
Measuring your pup's neck should be done similarly. Look at the widest part, which is usually the lowest part of the neck, right above the shoulders. This is lower than a dog collar would normally sit, so don't let this confuse you. The tape should be snug, but not too tight.
When it comes to the length of the harness, you'd want this to be about two inches larger than the measurement from his chest. Most of the time, the seller will be able to calculate this instead of you (but this can be tricky when purchasing online, so it is wise to do the math just in case).
If you want to make sure the harness will be the perfect fit, look for adjustable harnesses. These will ensure that the harness will fit even if the measures are off by a little bit.
You'll know that the harness is fitted correctly by slipping two fingers between each harness strap and your Doxie's body. If you can do this comfortably – congratulations, you have picked a great harness!
FAQ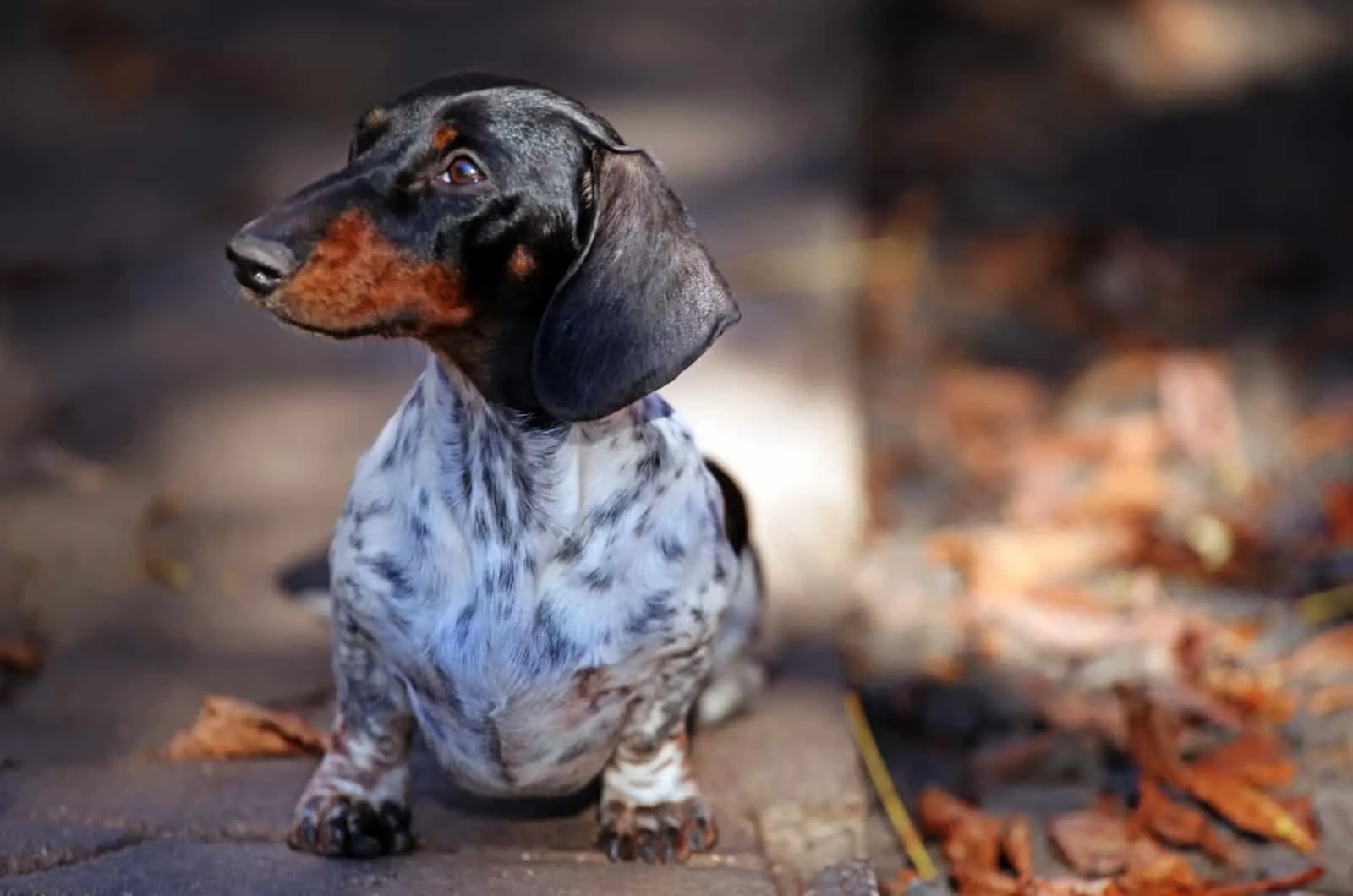 What Are The Best Harnesses For Dogs That Pull?
There are specially designed no-pull harnesses that will keep your dog from pulling. They will ensure that your dog cannot pull as strong as he'd like, and that you will maintain control over him.
Just make sure to ensure that the harness really has no-pull properties, and that this isn't just a label the manufacturer decided to plaster on to increase sales.
What If My Doxie Has Injured Or Weak Back Legs?
If you happen to have a Dachshund with mobility problems, there are special slings and dog lift harnesses designed to help it get around.
Dog slings are actually a special type of harness that goes under the dog's hips or all the way around its back legs. Then, they connect to a long strap that you can hold. By doing this, you will support your Dachshund's rear end, which will take the strain off of his back and legs.
There are also some full-body lift harnesses that come with straps for the chest, tummy, and hips. They usually have one or two lifting handles for you to hold.
Most of the time, these lift harnesses are designed for large dogs that can be challenging to lift. However, even a small dog such as a Dachshund can benefit from a harness that will provide him with full-body support.
This can also help you lift your injured or senior Dachshund if you have to help it go up the stairs or reach certain high places that would normally require it to jump.
Why Are Harnesses Important?
Dachshunds tend to pull during a walk. They are challenging to train, and they will rarely want to walk beside you. Instead, they'd prefer to run around and chase anything that moves.
If you use a regular dog collar, even if you own a Miniature Dachshund that appears to be much weaker, you are risking hurting its neck. A collar can compress the throat, causing potentially long-lasting damage.
Compared to a collar, a harness will help distribute the pulling force all across the Doxie's shoulders and chest. This will keep it from choking.
Harnesses can also help provide its body with additional support, relieving back pressure.
Do I Need To Take Off The Dog Collar To Put On A Harness?
Most of the best harnesses for Dachshunds don't require you to remove the collar to put one on. They fit low enough not to overlap with the collar or cause chafing.
This is great for dog owners who want to keep the collar with all the necessary tags on, and only put the harness on during walks.