This post contains affiliate links, and I will be compensated if you make a purchase after clicking on my links.
Dog training is almost an essential thing in today's world to promote healthier and less destructive or aggressive habits and behavior in our furry friends, and most of them rely on training collars, but what are the best dog training collars out there?
Well, the best dog training collars are ones that don't 'discipline' your dog through painful methods like shocks, spikes, dangerous choking and similar.
Shock collars and their painful cousins are archaic tools that still exist, but there are plenty of alternatives out there that are vastly superior and less harmful to your canine companion.
Nowadays they're either beep, flash lights, vibrate or similar as a signal to your dog that he's doing something wrong rather than issuing physical punishment as a training method.
Many modern training collars also sport rechargeable batteries, work long range and show quite a bit of useful data for doggy training, some even tracking your doggo's vitals so you can know if you're pushing him too hard.
But, much like food and any other product for pets, not every dog will like every collar. Everyone has their own preferences and it's the same for these too.
Not to mention the wide variety of choices on both Chewy and Amazon that can get a little bit disorienting.
But, as is the purpose of these articles, I've gone through a good chunk of the better ones and picked out what I believe are the best ones of the bunch in terms of usefulness and overall quality so you don't have to.
Hopefully one of them ends up being the ideal option for your furry friend.
So read on to find out what some of the best training collars out there are as well as find answers on some frequently asked questions regarding them that you may not have previously known.
9 Best Dog Training Collars
Educator E-Collar Technologies Mini 1/2 Mile Range Remote Waterproof Dog Training Collar
Key Benefits:
Made from BioThane-a, a high quality polyester webbing coated with a polymer which provides higher durability, less fraying when cutting to refit

Easy to clean

Waterproof

Half a mile of effective range

Two types of stimulation, sound or tapping vibrations

Adjustable stimulation with two separate dials

Night light for low visibility conditions

24-72 hour battery life for both collar and remote control

Rechargeable batteries
Cons:
Relatively pricey

Not well suited for dogs with thicker fur coats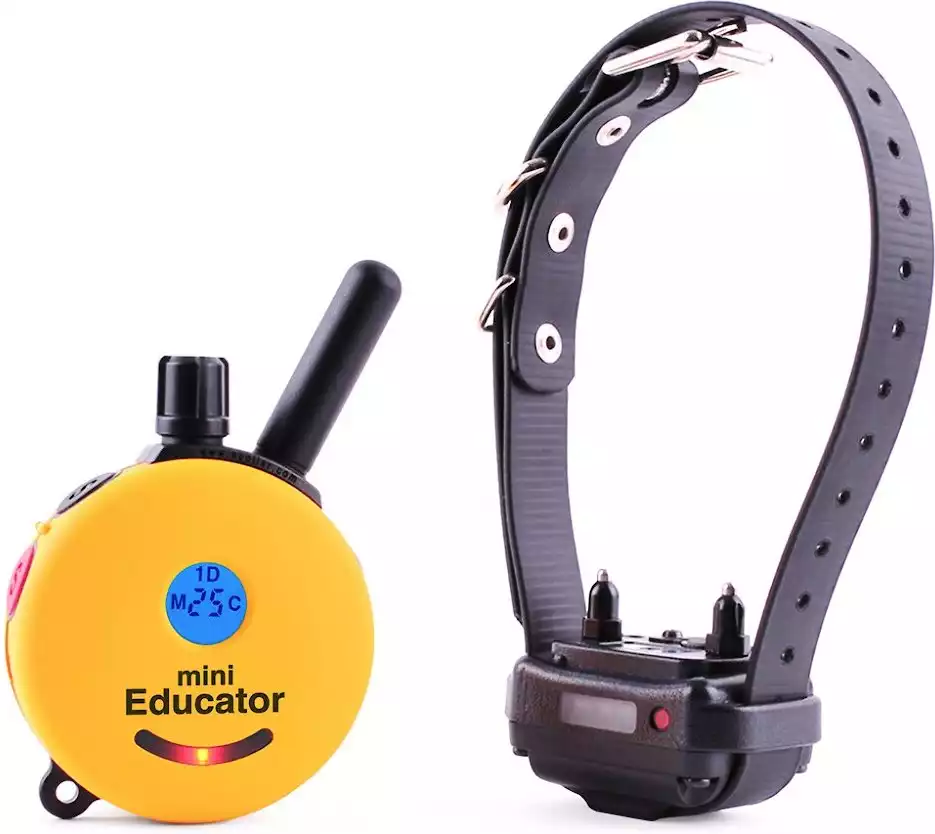 Starting off this list, we have the mini Educator E-collar, a safe way to train your doggo through more humane ways of discipline through either an audio signal or tapping vibrations.
This remote dog training collar works on a rather sizable half a mile, allowing your dog to go a fair distance while still letting you handle the controls. Great if you're looking to train a hunting dog.
It's made out of a special polyester webbing called BioThane-a, highly durable, easy to readjust without any fraying, easy to clean, and most importantly, waterproof.
The provided ways of stimulation can be adjusted for intensity as well on a scale from 1 to 100 for vibration and 1 to 60 for the sound stimulation option, allowing for greater customization in both fields that best fit your dear doggo.
Aside from that, the collar also has a night light to make it easier to find your dog at night or other low-light conditions.
Both the collar and the remote have an estimated battery time of 24-72 hours, thankfully, both of them are rechargeable meaning there are no hidden costs in maintenance of this product.
It's definitely one of the better collars for training a dog's behavior to be more house appropriate and the like, albeit somewhat pricey.
The prongs also have a hard time reaching through thick furred doggos so you may want to look for a different option if your furry friend fits the bill.
PATPET P301 1000ft Remote Dog Bark Control & Training Shock Collar
Key Benefits:
Made from plastic and reflective nylon material for durability and better visibility at night

1000ft operating range

Suitable for dogs with a neck size of up to 25 inches and up to a 120 pound weight

3 different stimulation options between beeping, vibrations and mild shocks

Vibration and shocks are scalable in intensity for added customization

Warning indicator in case the combined stimuli are too intense for the canine

Remote can work with 2 collars at a time

Pretty cheap compared to some of the other products on the list
Cons:
Battery isn't rechargeable

Electric shock mode still doesn't sit well with most dog owners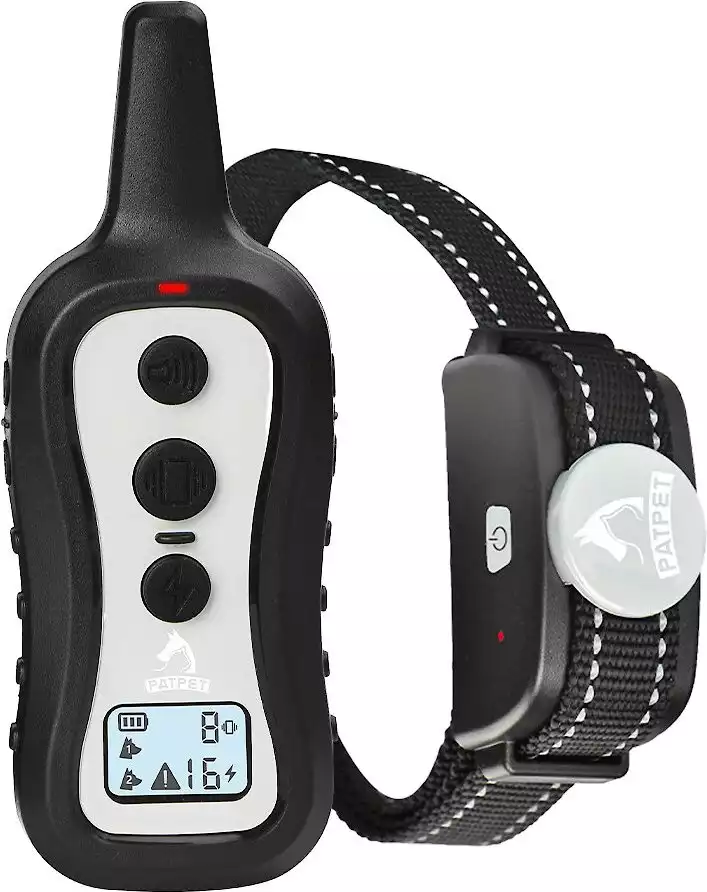 Next up is a collar brand familiar to many dog trainers and pet owners alike, the PATPET collar.
This particular model has a solid 1000 foot operating range, adequate for all but the largest of spaces.
It's made from a mix of high quality nylon and plastic for durability, and it's covered with reflective material to make your doggo more visible in low-light conditions or in case of oncoming traffic at night.
This particular collar can work for any dog with a 25 inch neck size and up to 120 pounds of weight, so do keep that in mind when buying it.
It does have 3 different options for stimulation, and, while one of them does consist of mild electric shocks, it can be skipped in favor of the alternatives, vibration or loud beeps.
The vibration levels are scalable up to 8, while the shocks go up to 16. The collar does have a warning indicator if you reach a total of 8 levels of stimulation or above as that has proven to be a bit too much for some dog breeds.
The remote can handle up to two collars at the same time as well in case you have more than one pooch in your household, which does come at a larger discount.
The price itself is pretty cheap when compared to the earlier product, but it does have the flaw of not having rechargeable batteries, which can incur a higher cost over time.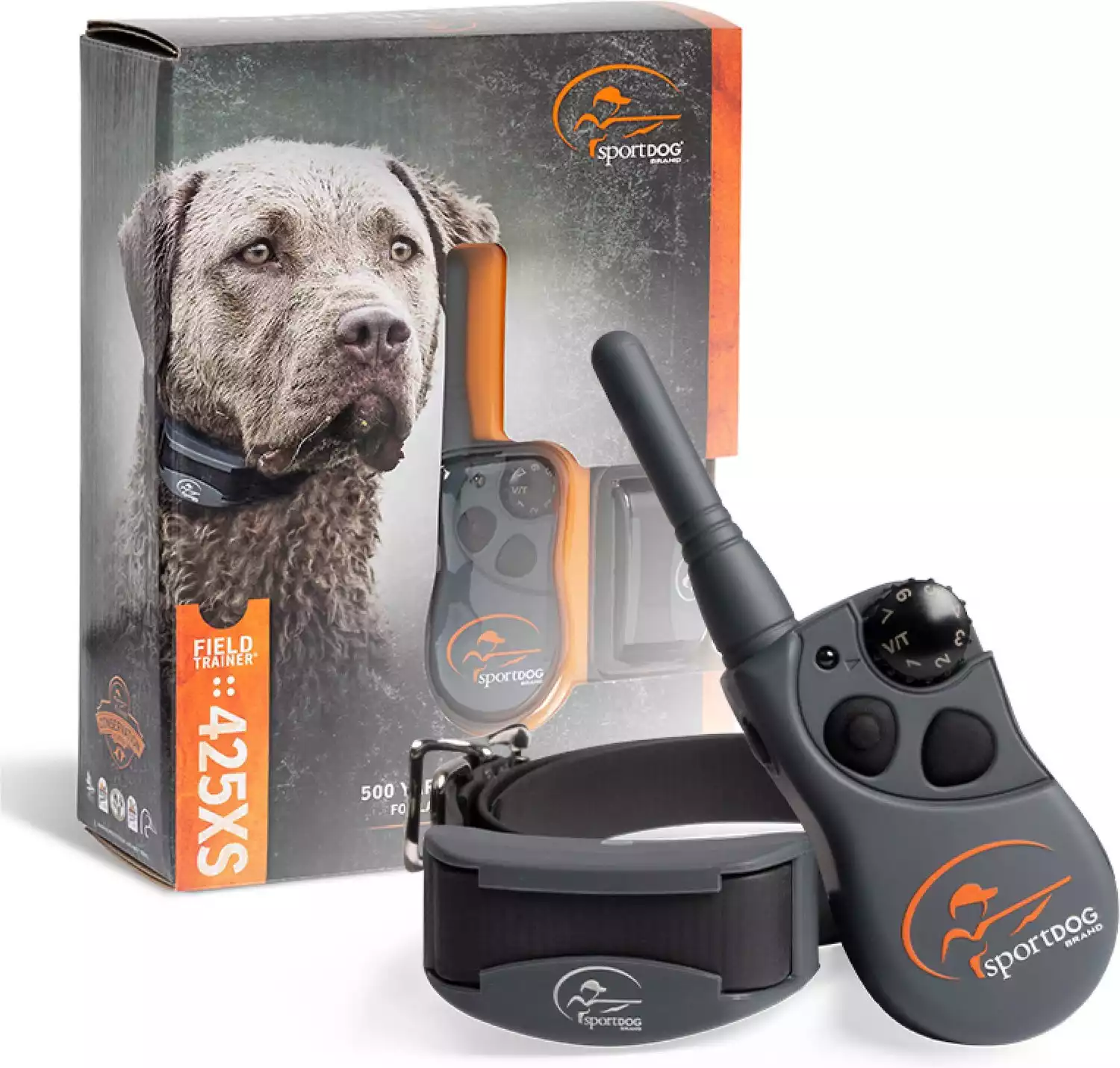 Going back to some of the more luxury options, we have the SportDOG Fieldtrainer, an extremely versatile training collar for dogs.
With an effective range of 500 yards, the collar will function almost anywhere except for the most open of spaces.
It has 3 different stimulation options, static stimulation, tone and vibration for some added diversity for those who don't prefer the static option for obvious reasons.
Said static option has 21 levels of adjustment that allow you to set the desired intensity of shocks for your canine companion.
It's been proven to work on even the most stubborn of dogs, eliminating problematic issues like aggressiveness, excessive barking and overall destructive behavior to your furniture or slippers.
The collar itself is completely waterproof in regular conditions, and water-resistant up to a depth of 25 feet, more than enough for any dog owner, and hopefully you needn't sink any deeper than that.
The batteries in both the collar and the remote are rechargeable thankfully, so you won't need to pay anything extra to keep the device running.
The price, however, is still pretty expensive, but it's at least cheaper than some of the other luxury options out there and is one of the better dog care options.
Dogtra iQ Plus Dog Training Collar
Key Benefits:
Waterproof

Durable

Suitable for 10+ pound dogs

400 yard effective transmitter range

Used by professional dog trainers

3 different vibration options: nick, constant and non-stimulating

All options have 100 adjustable levels

Rechargeable batteries
Cons:
Very expensive in terms of cost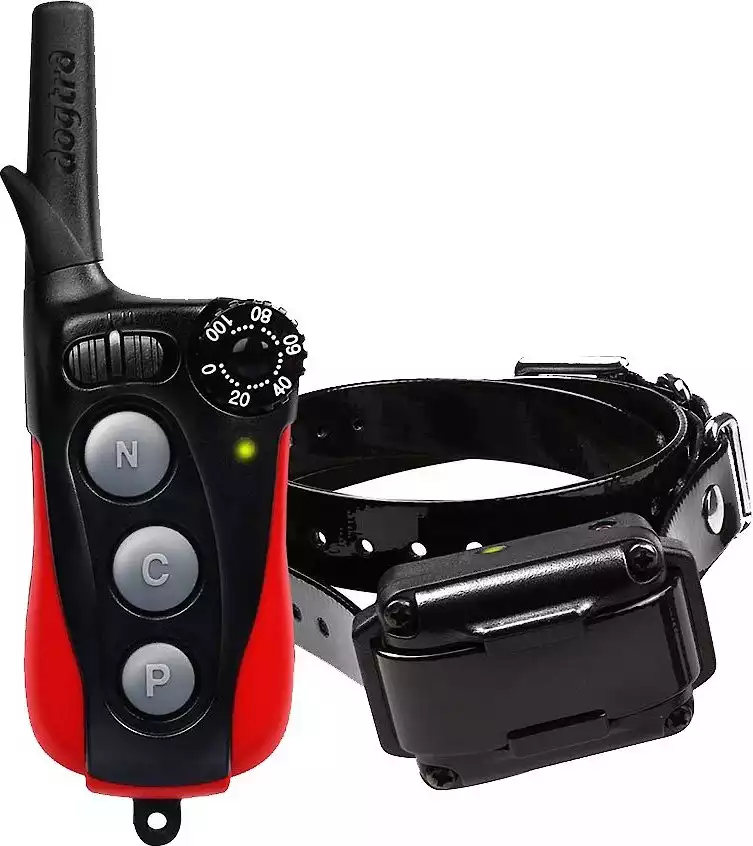 Next up we have Dogtra IQ, another collar for more medium to large breed dogs, or any canine that's over 10 pounds.
It has a decent 400 yard range of operation, that, while not as big as some of the other ones, should still be plenty for any urban areas.
A collar used by many professional dog trainers due to its great control in the customization of the stimulating component, which in this case is a vibration that comes in 3 different training modes: constant, nick and non-stimulating.
All of them have an adjustable intensity on up to 100 levels which are controlled through a front-facing dial.
The collar is also waterproof and quite durable, and comes with batteries included in the purchase, both of which are rechargeable.
But, as always, with any professional grade collar, the matter of price is the biggest issue as this one is also astronomically high, but if you feel like it's worth it, then feel free to go for it.
PetSafe Gentle Leader Padded No Pull Dog Headcollar
Key Benefits:
Made from mix of nylon and synthetic fabric with Neoprene padding on the nose part of the collar

Waterproof

Helps teach dogs how to focus on you as the leader during walks

Neck part has quick release collar, nose part is easily adjustable

Vet approved

Comes in 5 different sizes

Extremely cheap pricing
Cons:
Not made for short-nosed dogs

Some larger dog breeds are known to break the collar if they don't like it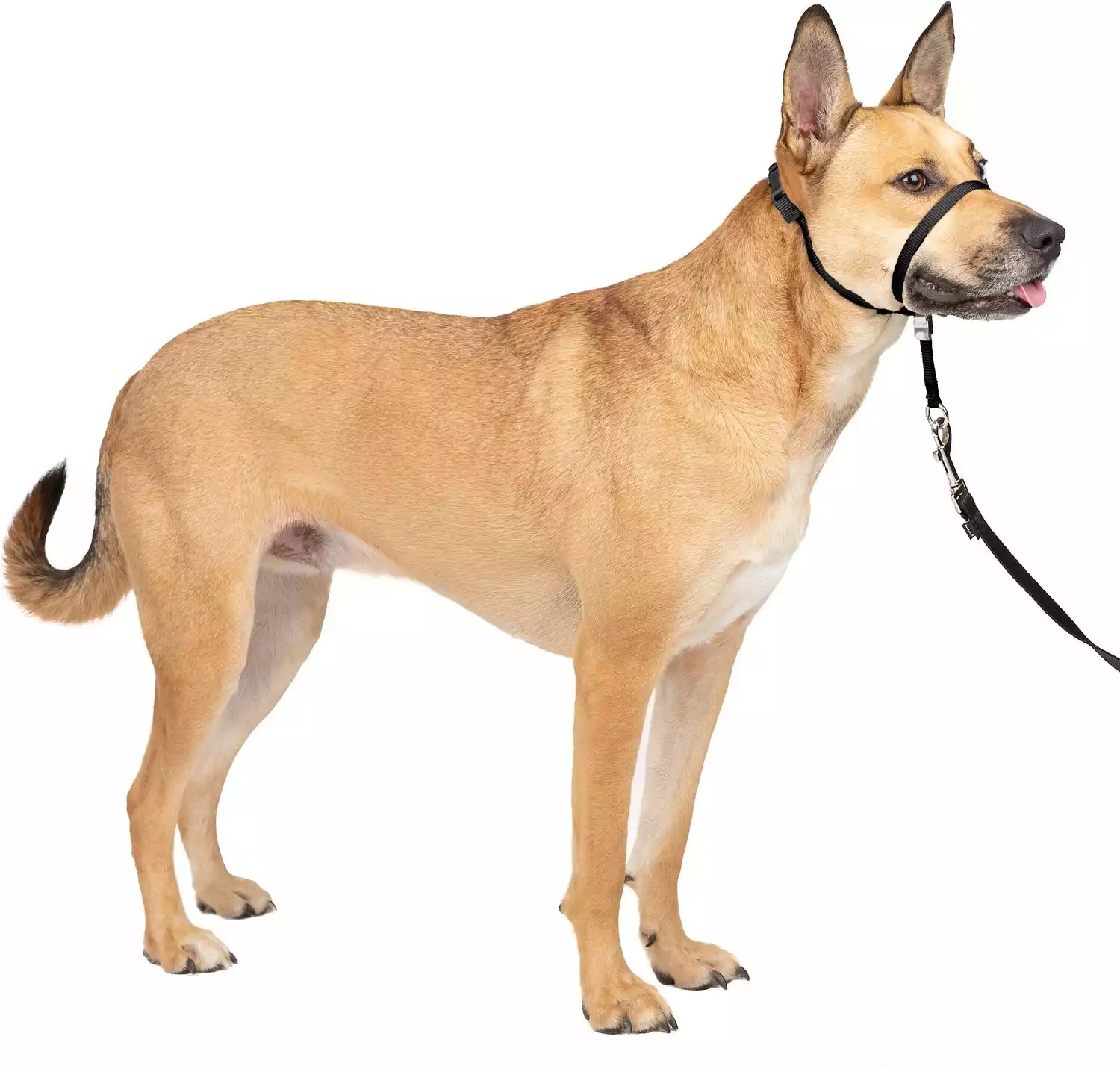 Moving away from the expensive electronics, we have a traditional, albeit unorthodox training collar meant to teach your dog to follow your lead when walking rather than pulling ahead from his own natural instinct.
It's designed in such a way where it covers key parts of the head without disrupting movement, but should your doggo try pulling ahead, it'd gently apply pressure to refocus the dog's attention back to you.
It's a great way to help your dog learn to avoid distractions often found when walking and instead just focus on you as the owner.
The product is made from a mix of nylon and synthetic fabric for added durability while the loop that goes around the nose is further padded with Neoprene so it doesn't dig into your furry friend's snout.
The collar itself is also waterproof, meaning you're safe to take it out on rainy days and similar situations.
While it may look simple, it's worth noting that a certified dog trainer designed it and that this simple contraption is recommended by many veterinarians nationwide.
The neck part of the collar has a quick-release buckle in case of emergency release requirements in case the collar hooks on something, while the nose part is perfectly adjustable so it doesn't end up bothering him during his daily activities.
The price itself is considerably cheap, but it is compared to electric collars here which are practically 2 different categories, one specializing in multiple forms of training while this one focuses more on walking etiquette.
It comes in 5 different sizes to accommodate every size of dog, but unfortunately it doesn't function for short-nosed dog breeds, which is a big detriment for any short-nosed dog owner.
Garmin Sport PRO Training Collar
Key Benefits:
3 quarters of a mile of an operating range

Durable and lightweight construction

Intuitive remote design

Features BarkLimiter to help deal with excess barking

Dial with 10 different intensity levels

Vibrations and lights as main source of disciplinary stimulation

Rechargeable components

Contact points made to be easily replaced, come as short or long, adjusting according to fur thickness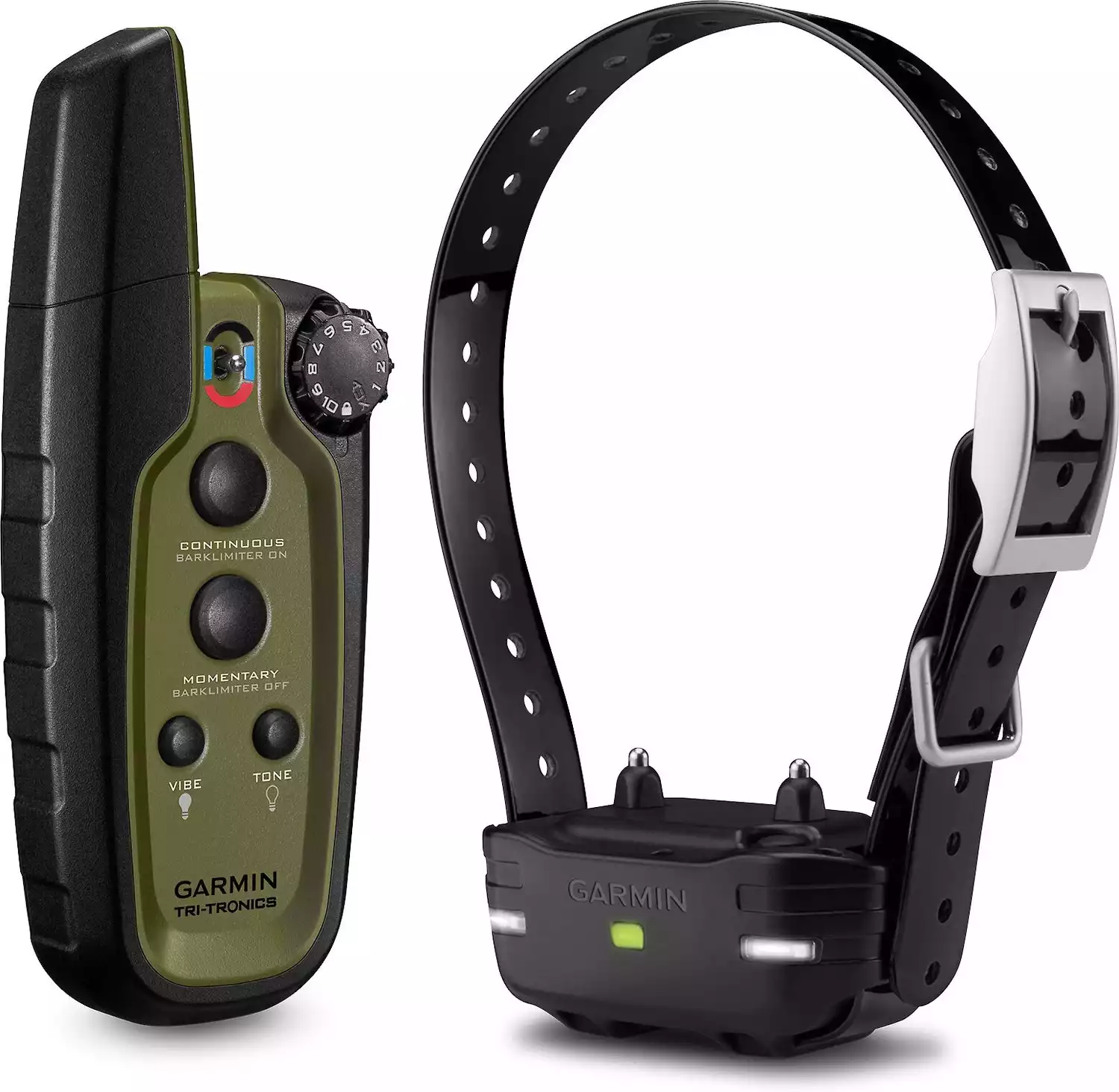 Garmin is another excellent choice when it comes to professional dog training collars
A bark collar that's extremely lightweight compared to the often heavy electric collars from other manufacturers.
It has a functioning range of about 3 quarters of a mile which is a pretty impressive distance all things considered.
They've opted to go for a very concise and simple remote design that indicates everything perfectly without the need for an operating manual to understand.
It comes with a built-in BarkLimiter which helps deal with excessive barking, a dial to adjust the intensity of the vibration used to stimulate your doggo, plus options to adjust lights and vibration pattern.
The contact points on the collar that deliver the vibrations are easily replaceable if they break and they come in both short and long forms to adjust based on your dog's fur thickness and length so it can reach further in if need be.
Both the collar and the remote are rechargeable, meaning you won't have to buy any extra batteries to add to the already insanely high cost.
I'd recommend getting this one only if you can actually afford it without hurting your budget too much, otherwise you should turn to a more budget option.
Petdiary T720 3,000-ft Shock Dog Training Collar
Key Benefits:
3300 feet effective range

Made from durable nylon webbing

Woven in reflective material for easier spotting in low light conditions

LED lighting

Waterproof

Made for dogs that are up to 110 pounds in weight and have up to 22 inches in neck size

Remote can support up to 3 dogs at a time

4 different stimulation options between LED, vibrations, electric shocks or sound cues

Rechargeable batteries

Collar has an extremely long battery life that can last up to 180 days while the remote's can go up to 40

Good budget option
Cons:
Contains electric shocks as a means of dog discipline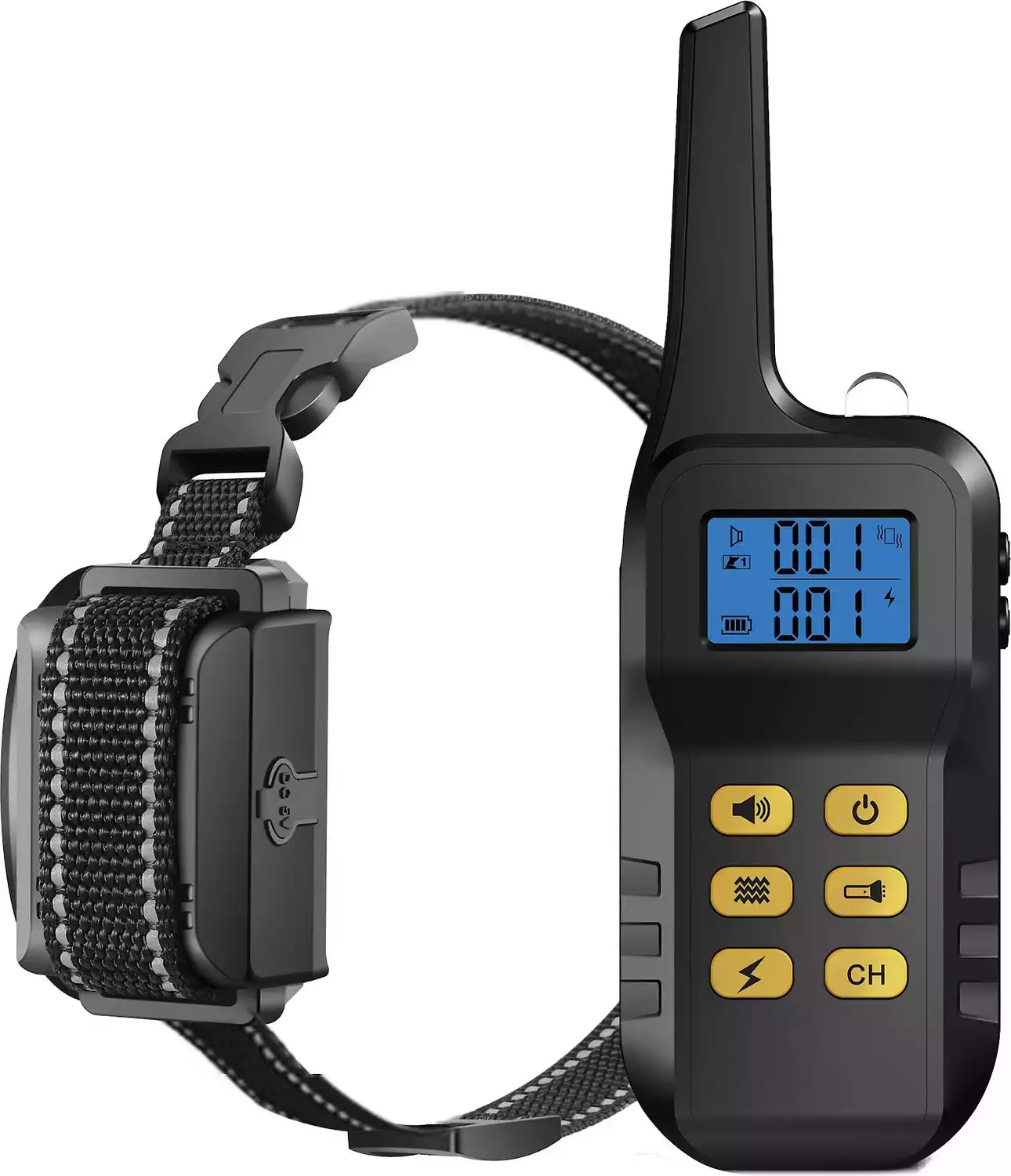 With so many expensive entries, I feel like it's time to return to a more affordable electric training collar option with PetDiary.
With a staggering 3300 feet effective range, this bad boy works almost everywhere, certainly anywhere in the city.
It's made out of extremely durable nylon webbing that also features a reflective property, making it good in low-visibility conditions too, should your furry friend end up getting lost, or to simply be easier to spot if you two are out at night.
This is further supported by the LED lighting found on the collar which further improves your dog's visibility.
The collar is intended for use with breeds that have up to a 22 inch neck size and a weight of up to 110 pounds.
The remote has a clear LCD screen and an intuitive button setup for adjusting which of the 4 modes you want to be using for training your dog ranging from LED, vibrations, sound cues or mild electric shocks.
If you have multiple dogs, it's worth noting that the remote can support control for up to 3 collars.
The batteries are long lasting too with the collar's battery able to hold a charge for up to 180 days according to the manufacturer and the remote itself lasting up to 40.
The whole contraption is waterproof too, meaning it shouldn't break from a little drizzle of rain or a splash of water.
The best part is that it's a solid budget contender against the more expensive necklaces, providing affordable electric training collars into the hands of the more budget savvy dog owner.
PetSpy Easy & Effective Waterproof Remote Dog Training Collar
Key Benefits:
650 yard operating range

Rechargeable batteries with a charge lasting up to 3 days

3 different training modes to choose from: beeps, vibrations or static shocks

Intuitive button layout on remote

Comes with operating guide

A solid, averagely priced training collar option
Cons:
Some packages have allegedly had the remote become unresponsive a few months in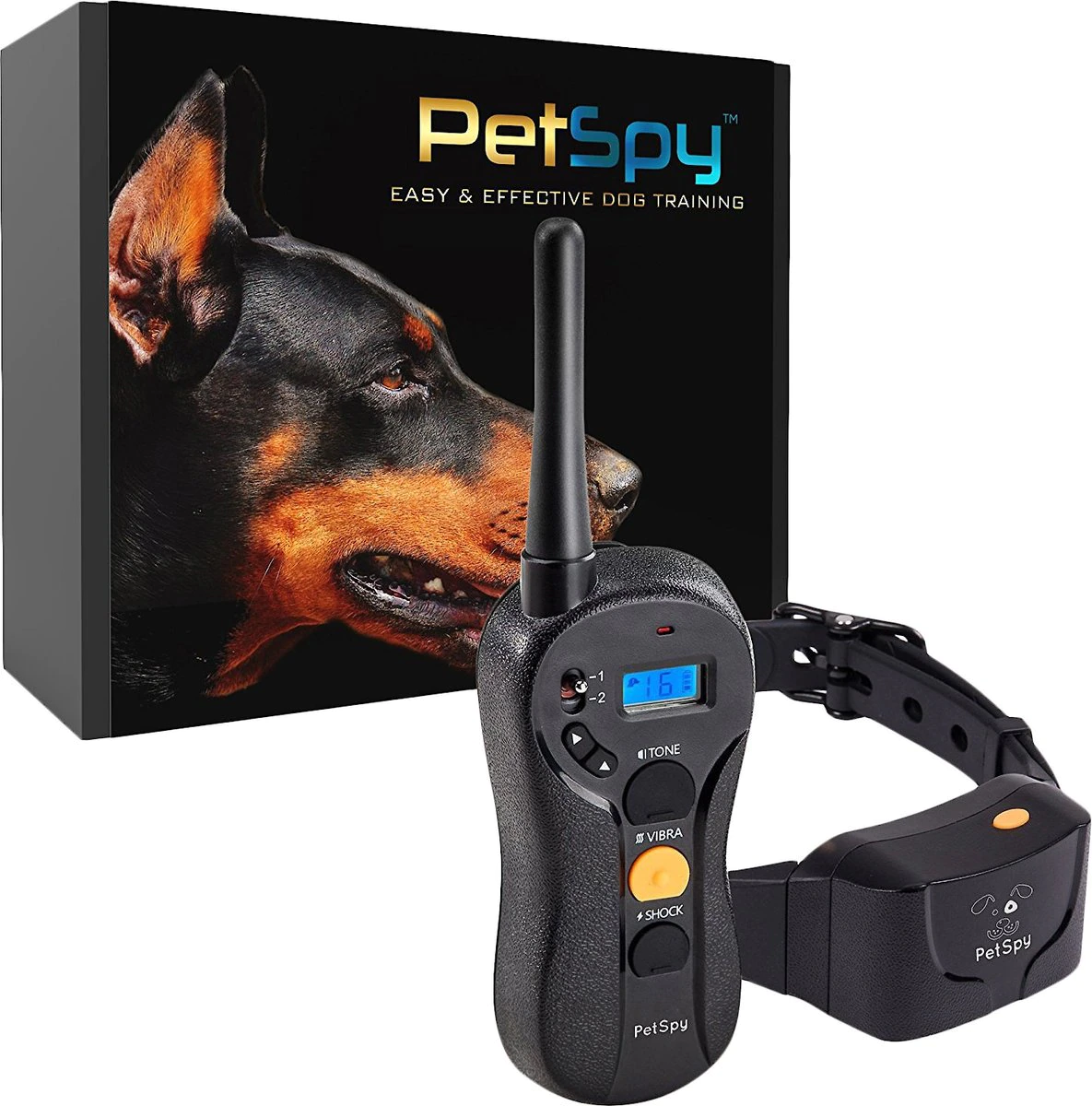 Next is another cheap-ish option, certainly more than the budget picks that came before, but comparatively cheaper than the triple digit entries on this list, and this time it comes from PetSpy.
With an effective range of 650 yards, the collars will function in almost any given space.
Both the collar receiver and collar transmitter are battery powered with a charge that can last them up to 3 days each. Thankfully, they're rechargeable so you needn't worry about having to get new ones every time.
The remote's controls and display are easy to read and understand, and allow for three different training modes to choose from for your dear doggo, from beeping and vibrations, to static shocks, each having 16 levels of intensity adjustment.
However, if you do end up finding yourself lost about the button layout, the collar does come with a training guide to get you better acquainted with your new tools.
The collar works for large and small dog sizes alike, though the shock mode will need some toning down if you have a smaller canine in your household.
There have been several reports about the remote suddenly becoming unresponsive, and the fact that the batteries can't be changed once they die.
But, thankfully, should this happen, Chewy seems to be more than happy to offer you a pseudo warranty on their end.
Petrainer Waterproof 330-ft Rechargeable Dog Training Collar
Key Benefits:
330 foot range of operation

3 different training settings: a shock mode, sound cues and a vibration mode

100 levels of adjustment

Intuitive remote layout

Rechargeable batteries

Average pricing
Cons:
Remote can only operate 1 collar at a time yet company offers a 2 collar purchase option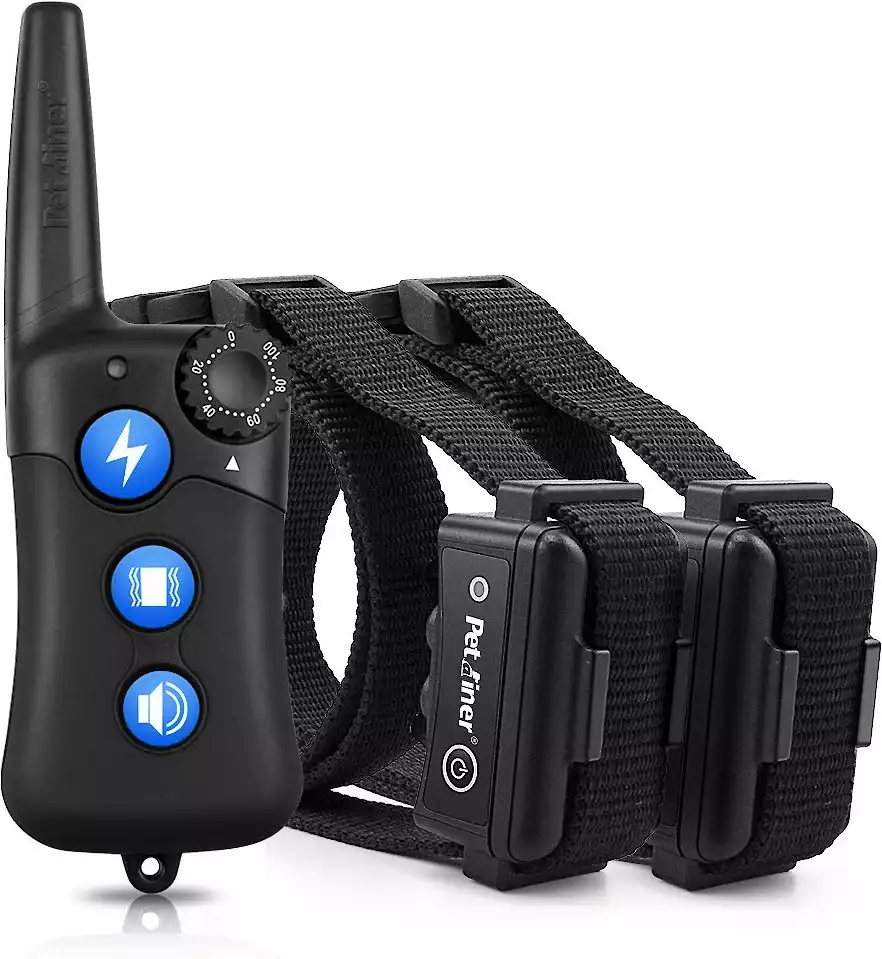 The final entry for our top picks for the best dog training collars out there is the Petrainer.
Sporting a solid 330 foot operating range, that may be smaller than some other entrants here, but it should still prove to be a solid training tool in the hands of any pet parent.
The remote trainer collar features 3 different training modes to use to correct your pooch's behavior: sound assistance, static shocks and a vibration setting, all of which have 100 levels of adjustability to fine tune it for your own canine companion.
Because of such a wide range of adjustability, the collar is suitable to use on small and large dogs alike for their training sessions, just make sure to adjust accordingly as some levels may be a bit too much for the smaller breeds.
The batteries on the collar and the remote are rechargeable too, eliminating any potential extra costs of maintenance.
The remote's layout is simple and intuitive too with clearly defined buttons and dials.
And, as far as price goes, it's about average, but certainly more affordable than the luxury picks.
The downside of this product is that it can only pilot one collar at a time which feels somewhat counter-intuitive considering they offer a 2 collar deal, making the purchase somewhat pointless.
Things To Note Before You Buy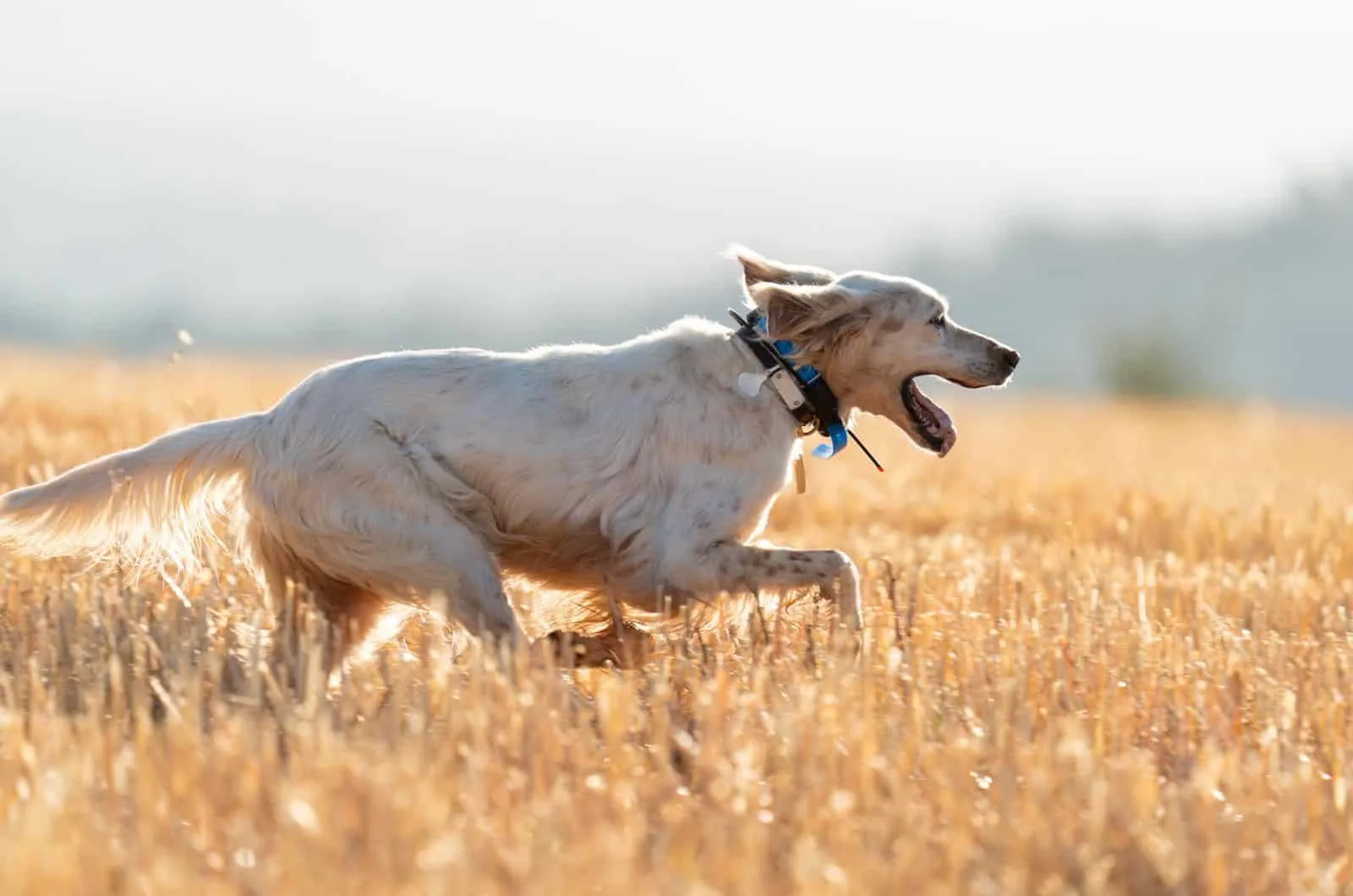 Now, every collar has its charms, but there are many factors to consider when buying one, price being one of the major factors as well as the quality of the product in question.
Then there are the various preferences from each pet parent and even their dog, as well as your desired training method.
That's why, if none of the collars offered here are to your liking and you want to find one that is, here are a few things you should always be on the lookout for when buying one to at least assure that it's of good quality.
Effective Range
While most collars on offer tend to have a decent operating range, it's always worth it to look up exactly how far it reaches. Find the one that works for your needs or is at least the size of your backyard otherwise you won't end up satisfied.
The Material
While dog training collars won't exactly be made from as varied a set of materials as regular collars would be, they still offer some sort of selection.
It's important that the collar material is comfortable for your dog's neck and that it won't cause any sort of irritation on your dog's skin. Bonus if it's waterproof.
Collar Size
Not all collars are meant for every dog size. Look up what range a collar covers and if that range fits your loyal canine. If not, then it's not worth forcing it and it's better to look for an alternative.
Adjustable Settings
Certain settings work for some dogs while they may be a bit too powerful for others. If you have a small dog, make sure that anything with any form of shocks as a training method isn't too strong for them.
In general, being able to tune the power of the training method is helpful in showing progress in your canine's training in general.
Different Types Of Training Stimulation
As I've mentioned earlier, using shocks to teach your doggo right from wrong should be the absolute last resort in your doggy training book, if at all, so finding ones that have alternate options to that is desirable.
Hence why some shock collars are listed here as they also have the options of using things such as beeping, vibration or blinking lights as a stimulation alternative.
FAQs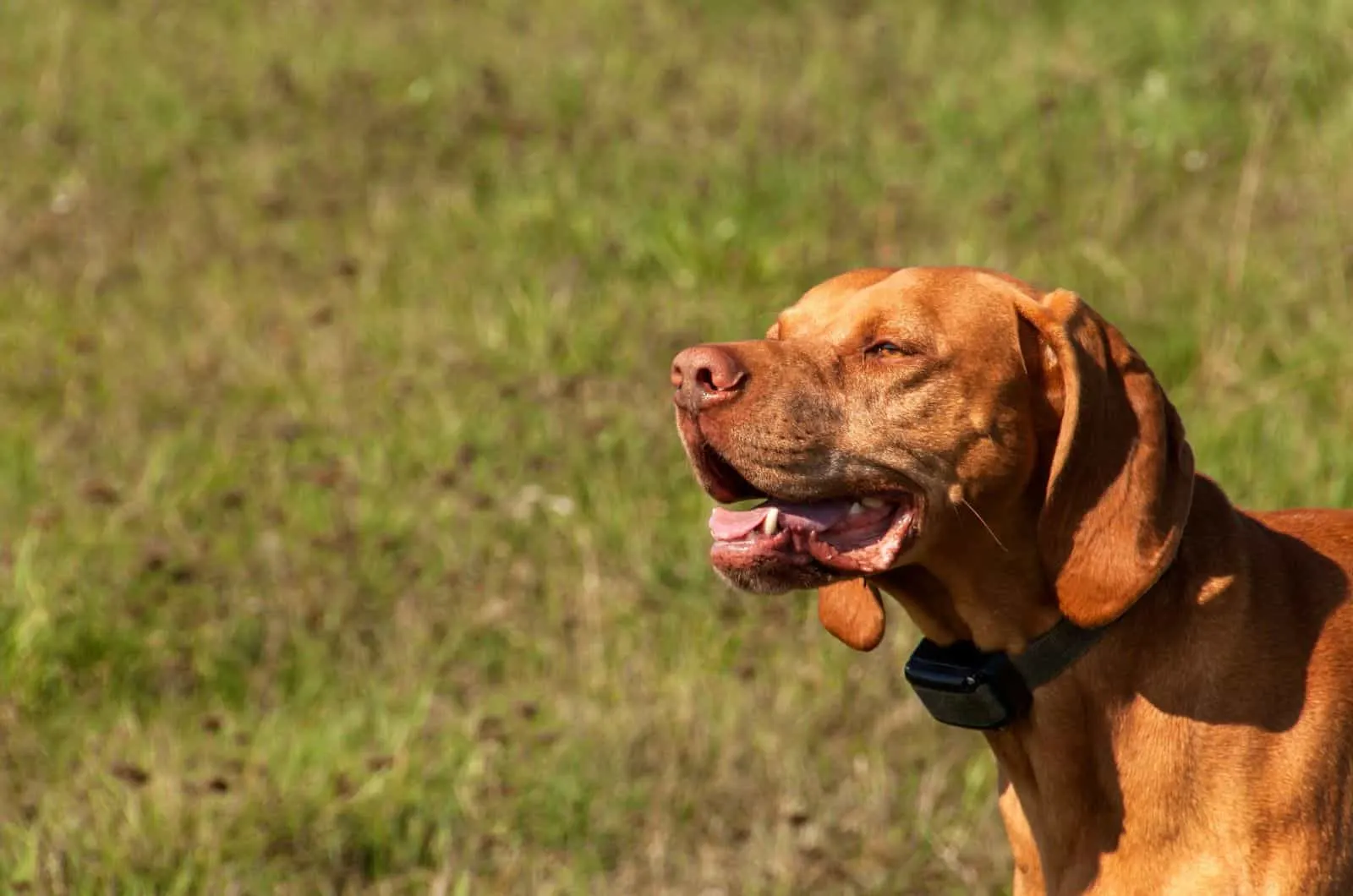 Is It Cruel To Use A Training Collar?
It depends, trying to adjust a pet's behavior to adhere to our norms can be considered cruel in some way, but it's our responsibility as pet owners to help them adapt in as humane a way as possible.
Otherwise, your dog may end up attacking someone on the street which could end up causing serious trouble.
In less serious offenses, you may come back home to destroyed shoes, furniture and the like if you have an untrained canine, causing you unnecessary property damage.
For these reasons, training is a necessity, for better or worse.
Are Dog Training Collars Any Good?
They are, but they're certainly no miracle workers. They won't solve the problem you're trying to get rid of on their own.
They require your input and guidance to be applied alongside their corrective training method to teach your dog right from wrong.
Additionally, some positive reinforcement like praise or treats alongside these methods go a long way if your dog does something correctly while the collar serves to 'punish' doing something wrong.
You can use a clicker as an alternative or as an added measure of showing your doggo that what he's doing is wrong, just something that he'll repetitively hear or experience when doing the wrong thing so it's wired in his brain that it's not the right thing to do.
What Is The Best Dog Training Collar Then?
Again, it mostly depends on what you're trying to accomplish, but personally, I'd say the PetDiary one is one of the better options for the average dog owner.
In Conclusion
All dogs need training in some form or another, and a training collar helps facilitate said training.
The best dog training collars out there do this through humane means and without acting as a hindrance to your canine companion when not providing the disciplinary stimulation.
What the best one for your furry friend is, I cannot say, but I fully believe that you are the best judge when it comes to that decision. I trust that you'll be able to find the right fitting one for your darling doggo. Until next time.
RELATED LINKS:
• 13 Best Shock Collars For German Shepherd: Training Your GSD Like A Pro
• 12 Best Collars For Belgian Malinois Dogs In 2022
• Top 10 Best Collars For Rottweilers: Here Are Our Picks!
• 12 Best Great Dane Collars – Top Collars for Your Gentle Giant
• 12 Best Shock Collar For Pitbulls: Turning Disobedient Pups Into Good Boys