This post contains affiliate links, and I will be compensated if you make a purchase after clicking on my links.
The Belgian Malinois is a wonderful, but powerful dog breed, often considered to be the action movie star of the dog world. Naturally, a star needs to have a matching collar, but what are the best collars for Belgian Malinois?
Well, the best collars for Belgian Malinois need to be durable, comfortable, adjustable, and irritation-free among other things. The same goes for dog harnesses.
The aesthetics don't matter as much – that's more of a personal matter. Oh, and none of those inverted spiked collars either – those are a 'no' for any dog, no matter how tough they're presented as. They will only cause them trouble down the line.
The prime aspect is durability, though, given their highly energetic nature as you don't want the collar breaking off if he tugs a little too hard.
While this does eliminate a good number of collars and harnesses off the market, there are still several out there that tick these boxes.
That's why I've made sure to round up the best of the best from both Chewy and Amazon (the two biggest marketplaces) and list them in this article here.
Hopefully, one of those is exactly what you're looking for in a collar, and that it will fit within the scope of your budget.
Read on to find out what they are, and to see some of the most frequently asked questions regarding collars, and the Mal in general.
12 Best Collars For Belgian Malinois Dogs
First up, we have the CollarDirect collar – a simple one with a rather neat Aztec pattern on it.
It's made out of durable and soft nylon fiber that flexes along with your doggo's neck so that it does not choke him if you end up tugging on him or if he turns a specific way.
It's coupled with a side-release buckle in case your Mal gets tangled up in a bad place or in case of an emergency, and also a D-ring made out of carbon-plated metal for leash attachment.
The ring is quite sturdy, too, and it won't break outside of the most extreme forces.
The collar is hypoallergenic, and it shouldn't cause any irritation due to friction or otherwise.
The nylon makes the collar real easy to clean, without the pattern washing out or anything.
While it may be simple, it works well and looks real fancy.
There are three different patterns to choose from, and the pricing of it is relatively cheap compared to some of the leather dog collar options on the market, or the more complicated, techy ones.
It comes in five different sizes as well, but go for the larger ones if you're getting it for a Belgian Shepherd since the first three sizes are intended for small dogs, and likely won't fit him unless he's just a puppy.
Next up is something more utilitarian – an anti tick & flea collar.
While you won't have your doggy wearing this around all the time, these pesky pests are bound to surface at some point given how often Mals go outside and roll in the grass.
That said, this collar is a dog-owner favorite due to how effective it is, having an effective duration of up to a whopping seven months.
Made to fit medium and large dog breeds with an adjustable collar size, the Hartz collar offers head-to-tail body protection, and it continues to work even when in contact with water as it's water resistant to a degree.
It's great at killing all sorts of pests and their eggs, and it will ensure your doggo can walk around infestation- and irritation-free.
The collar is made entirely in the U.S., so by buying it, you're supporting the local businesses and economy.
Price-wise, it's a steal for how long the protection lasts.
The only complaint I have about it is that the design feels a bit too simplistic, but hey… I won't argue with something this affordable.
For a fancier and more luxurious product, you may want to give the Soft Touch leather collar a look.
Each one is hand stitched and handmade, tailored perfectly for the finest canines out there, with full-grain leather as the main material.
Just because it looks good, though, doesn't mean that the comfort is compromised as the inside is lined with nice, soft sheepskin leather that prevents friction irritation, chafing, and loss of fur around the neck area.
The leather is quite durable, and it will withstand even the most aggressive chewers while still maintaining its luster and quality.
The same goes for the brass buckles and the D-ring – all top-quality pieces that are lacquered to avoid rusting with exposure to air.
It comes in four different sizes depending on the size of the dog, but large and extra large should be more than adequate for your Mal.
For those of you looking for something more fashionable, don't fret… the collar comes in five different colors for all your personalization needs.
All of these fine details do mean that the collar is more expensive than your average one.
But, if you feel like treating your Mal to something nice or if you just want to make a great fashion statement while retaining the quality of a great collar, then I'd consider this a worthy purchase.
Next up is a collar from a well-known brand for dog gear, Frisco – one of Chewy's best sellers.
Their collar is made from durable Jacquard Webbing nylon that won't chafe or irritate your dog's neck in any way, making for an ideal Belgian Malinois collar.
It comes in four different sizes, with adjustable sliders on the side to allow it to grow alongside your canine companion (to an extent).
It also features a D-ring, so you can attach a leash on it when it's time for walkies, as well as a traditional buckle for quick-release in case of emergencies.
And, for all you dog lovers out there who want to show off your furry friend's sense of style, the collar also comes in four different, vibrant colors, which'll make him stand out and be easier to spot if need be.
Price-wise, it's on the lower end (all things considered) and for something of this quality, I'd argue that it's an amazing deal.
That said, some dog owners feel like the bright neon colors may be a bit too much for a dog like the Belgian Malinois, but you can be the judge of that.
A somewhat unorthodox entry with a rustic looking collar – the Merry Jane & Thor.
An aesthetic that you don't see in collars every day, MJ & T certainly knows how to make a collar look unique and appealing in their own way.
The main material is a mix of synthetic fabric and polyester, with soft webbing to provide the maximum of both comfort and durability, with a neat floral pattern on it.
Meanwhile, the buckle, the straps, the rivet, and the D-ring are made from bronze, with an added finish to make them look a bit more old-timey.
All of this is combinedl into something you're likely to see at your grandparents house, radiating a homely aura of some sort.
As mentioned above, it has a quick-release buckle in case of emergencies, a D-ring for leashes, ID tags, and adjustable straps on the side to make sure the collar fits your doggo perfectly.
It comes in four different sizes, too, so it works for breeds of all sizes and ages, though, as always, you'd want the larger ones for your darling doggo.
Fashion does have a cost, and in MJ & T's case, it's higher than the standard collars usually are, so if you like the aesthetic and are willing to treat your dog with a premiere item, I'm not going to stop you.
In case you're looking to train your doggo yourself, you may want to look into an E-collar like the Patpet 300M.
While I'm not a proponent of using shock collars for dog training or any sort of education, the Patpet at least offers some alternatives to shocks like loud beeping sounds or various vibration options.
They're meant to be used as a way to signal your doggo if he's doing something right or wrong.
The collar is a mix of synthetic fabric and nylon, highly durable, and aesthetically pleasing with the Patpet logo on the front and a silicone cover on the inside to keep it comfy and eliminate any friction that may ruin your dog's coat or cause irritation.
It's entirely water resistant, too, with the mechanisms remaining intact, as long as the dog doesn't undergo prolonged exposure to water.
The collar strap itself is reflective, so you can find your dog easily during nighttime as well as keep him safe during nightly walks in general.
There are adjustable straps, too, so you can get the perfect fit for your canine companion with ease.
A quick-release buckle is also there in case the collar malfunctions or if the collar gets snagged on something dangerous.
As for the transmitter itself, it's rainproof, and uses lithium polymer batteries as does the collar. It can cover up to two dogs at the same time in case you're training two at the same time, though each would need their own individual collar.
The transmitter has an effective range of about 300 meters, so it should function in most areas you find yourself in.
While aesthetically pleasing, the collar is quite pricey given the technology that goes into it, so only buy it if you're serious about giving obedience training to your pooch yourself instead of hiring a professional dog trainer.
RELATED: Belgian Malinois Training: The Do's And Don'ts Of Training
Another durable, yet fashionable option for your dear Belgian Malinois puppy (or adult) – the Harry Barker collar.
It gives your Mal a more country-esque look, or maybe hipster-esque, depending on how you look at it.
The latter may be more appropriate since the collar is actually made from recycled plastic bottles with no hazardous chemicals included in the process, which makes it really eco-friendly.
And, don't worry – it's still really comfortable on the dog's end, too.
It has everything a good-quality collar does: a durable quick-release buckle, a D-ring to attach a leash to, and an adjustable strap on the side to fit the collar perfectly.
The metal parts are made from nickel-plated steel, and they are double-coated to prevent accumulation of rust over time.
While not entirely waterproof, the collar does dry quickly, and it is easy to clean since it is machine washable.
The collars come in three different sizes to accommodate all the various dog breeds, and they also have three different color variations, so you can pick the one that best suits your darling doggo.
The price is steep, though, considering it's made out of recycled material and there isn't really much innovation, but if you're not one to put a stopper on style, then feel free to invest a bit more into your Mal's looks.
There's even a matching leash to go with it if you're willing to shell out a few extra bucks.
Going back to the more budget options, here's a leather collar that looks good, and is durable enough to withstand the strength of a powerful dog like the Belgian Malinois.
The Digby & Fox collar is a relatively simple and elegant design made from quality leather and brass plate fittings.
The leather is quite flexible and comfortable, too – your dog won't even feel it unless you're giving it a tug or two during walks.
The buckle lets you adjust the neck size to your dog's measurements while the D-ring lets you attach the leash or put on some ID tags in case your doggo ever gets lost.
There are three different color designs to choose from, so you can further personalize the collar to match your dog's personal style.
It also comes in eight different sizes, so you can find the one that fits your Mal with ease.
The price is on the cheaper side despite the decent quality, though the lack of a buckle for quick-release is slightly concerning.
For those of you concerned about choking your dog with the use of regular collars, maybe a Martingale collar would be something more up your alley.
The PetSafe one is made from extremely durable nylon fabric, made in five different sizes to fit every type of dog out there, from Poodles, Schnauzers, and Corgis to Rottweilers, Pitbulls and Dobermans alike.
The benefit of a Martingale collar is that it feels loose for the doggo unless he starts tugging or trying to get out of it, in which case, it tightens up as a warning, thanks to the Martingale loop that the leash is often attached to.
The benefit of this is that it's never tight around the neck, and it won't ruin your dog's aesthetic through loss of fur due to friction, like most other collars do.
It's also ideal if you have a crafty canine in your household that loves slipping out of every collar you've ever tried. Believe me – I've been there multiple times, so I know the pain.
It even features a quick-release snap buckle in case you need to undo the collar in an emergency.
That said, the collars aren't intended for longer, unsupervised uses as they can end up being more of a hazard than they need to be, especially if you leave your dog tied out in the yard.
Only use them for walks as that's what they're intended for.
For those of you who like personalizing your Mal's looks, the collar has five different color options to choose from. Hopefully, one of them matches his style.
With all the benefits, it's honestly surprising that the collar is this cheap, but understandable given some of the downsides of a collar of this type.
Do be aware that their sizing is a bit off as many users recommend sizing down in order to get the right fit for your canine companion.
For those of you who are concerned about your dog's safety when going out at night, or other potentially hazardous conditions, the Blueberry Pet collar may be your choice of the best collars for Belgian Malinois dogs.
Made from a mix of polyester and synthetic fabric on the outside, the collar is pretty durable – an ideal trait when looking at strong dogs like the Mal.
The inside is lined with neoprene, which provides some extra padding to keep your dog's neck away from any sources of irritation, and to make tugging a lot less painful.
But, not only that – the main part of this collar is the 3M reflective thread that keeps your doggy visible during nighttime, fog, or similar conditions.
This helps keep him out of harm's way regarding cars and the like, and makes him easier to find should he ever get lost.
The D-ring is made out of chrome-coated metal in order to prevent rusting and maintain durability as it's the main stress point during walks.
The rest of the buckles found on the collar, including the quick-release buckle, are made from eco-friendly plastic, which looks stylish and is eco-conscious.
As far as the fashion aspect goes, the collar comes in four color variations at no extra cost, so find the one that fits your Mal the best.
There's a small loop hanging from the logo as well that you can put ID tags on or any extra fashion accessory for further personalization.
The three standard size options are there, too, though do measure your pet's neck beforehand, so you don't end up buying a size larger or smaller by accident.
Price-wise, it sits on the average mark, so it won't take too much out of your Malinois maintenance budget, and it's a good investment if you take lots of nightly walks, or the area where you reside gets foggy often.
Next on the list is a more affordable, but still stylish luxury pick – the Celtic Sport Style leather dog collar.
Despite the Euro-dog in the title, the collar is U.S.-made, but the pattern used is that of old Celtic runes of water and fire to give it a very impactful visual style.
The material used is full-grain leather, with no stitching whatsoever – it is instead reinforced with European steel, together with polyacetal YKK buckles.
The leather is soft and comfortable, leaving your Mal's neck unirritated and friction-free.
It features a D-ring for leash and tag attachment, as well as an adjustable strap and a quick-release snap buckle – the standard of any good dog collar.
It comes in five different size variations for you to choose from, as well as a massive seven color variation options in order for you to customize till your heart's content.
You'd think that a product like this would cost a pretty penny like some of the other examples out there and even on this list, and it does, but not as much as the others.
It goes a few bucks over the average, and if you like the design and you feel like it fits with your Mal's style and your own, I'd say it's worth the pickup as the collar will likely last you a long time, and runes always make anything look more powerful and cool.
And, for the final entry on this list, we have something for all you outdoorsy types who take your dogs out to some of the wilder places like hiking in the mountains or camping in the woods – the OneTigris tactical dog collar.
Made out of high-quality nylon for added durability, and some added padding on the inside to prevent friction-based neck irritation, this collar was made to persevere through even the harshest of conditions.
It has a heavy-duty D-ring on it that can withstand any pull pressure you may be able to exert, as well as five points of adjustment in a more standard, belt-style with two parallel holes on either side of each point for extra reinforcement.
The added points add an extra imposing flair to the collar and your pooch as well, and they make him look real cool.
It comes in only two sizes, though, but both of them can fit the Mal at different stages of its growth, so you should be safe in getting one.
The collar even offers three different color options for you to choose from. While they're not the most varied, any option is a good option.
As far as costs are concerned, even this heavy-duty collar costs about as much as an average collar would – maybe a dollar or two higher, but that's not too much extra if you can afford it.
That said, do be wary that the sizing seems to be a bit off, so double check your shipment when it arrives to see if you've received the correct size.
FAQs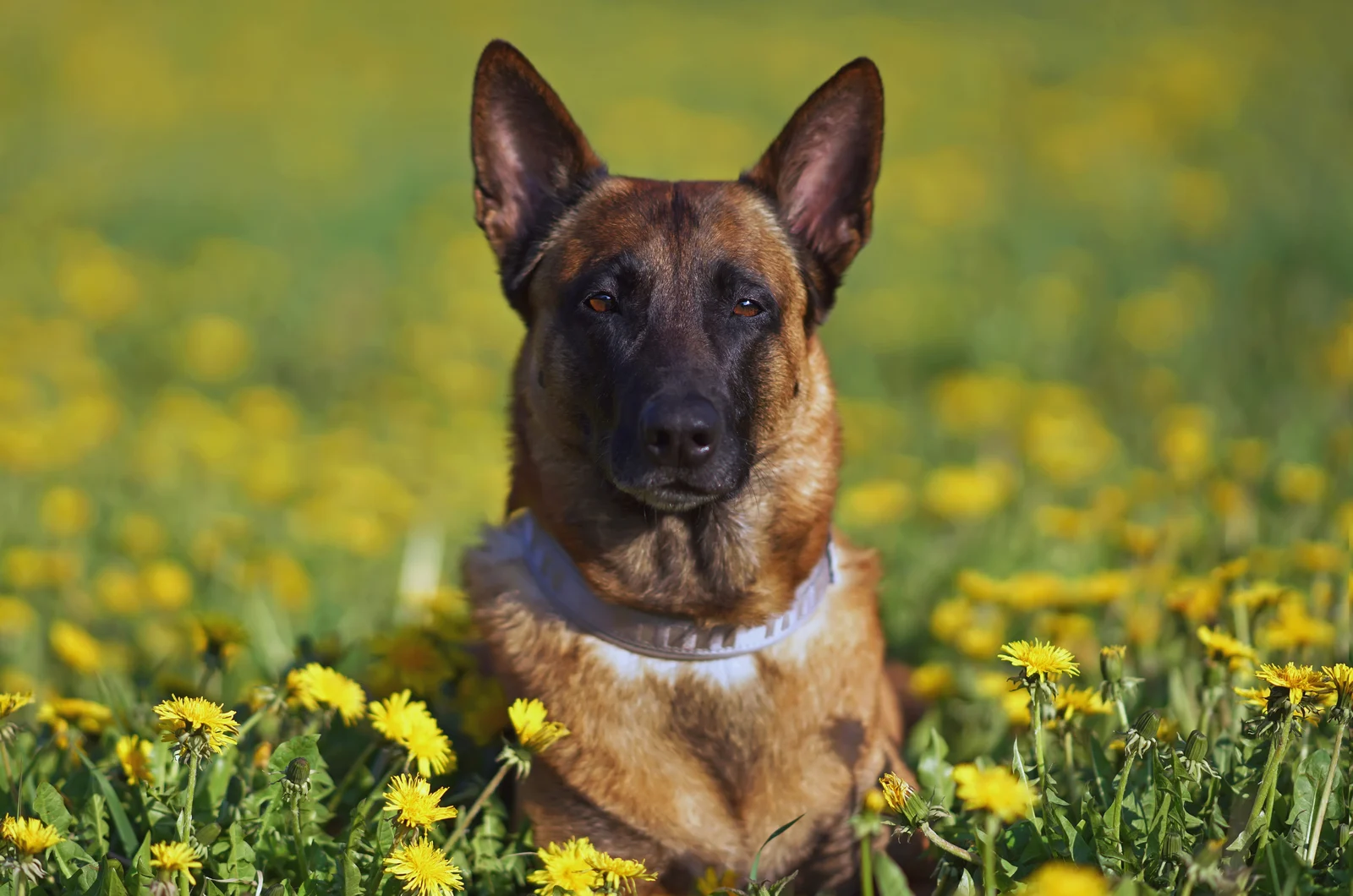 What Are The Best Collars For Belgian Malinois Dogs?
Well, that depends on what you need them for, and how well behaved your Mal is.
For standard use, the best dog collar is one that's durable and that won't irritate his neck, potentially leading to a loss of fur in that area and general discomfort.
A quick-release snap buckle is a must in case of emergencies, along with an adjustable strap, while the rest is somewhat optional.
The rest mostly comes down to style and their purpose and preference. Anti-flea collars are great when they're needed – not so much otherwise, and the heavier duty and luxury ones aren't really needed unless you feel like you'll get good use out of them.
What Are Some Collar Types That Should Be Avoided?
As I've said before, I'm not the biggest fan of collars that can actively hurt a dog or cause him permanent damage.
That's why any shock collar that isn't strictly intended for some form of training, like obedience training for standard Mals or attack training for law enforcement or the military, shouldn't be used.
Collars with prongs, studs, or bronze, iron, or nickel spikes, etc… should also be avoided, especially if these things are on the inside of the collar.
Those are used by people who believe that pain is the only way to make a dog listen, but all they'll do is end up hurting him in the long run, and make an otherwise gentle dog breed unnecessarily aggressive.
Leather choke collars should be avoided, too, as they're vastly inferior to the Martingale ones, and they only risk causing some serious damage to your dog with how unsafe they are.
Are There Any Alternatives To Dog Collars?
There are – dog harnesses. Instead of focusing on the neck, the harness instead spreads the pressure from tugging around the whole torso in a safe way, but harnesses usually end up being more expensive, and a good number of dogs dislike them.
The most common are nylon harnesses, much like dog collars, and they're alright, but wholly unnecessary as they'll only add to the already sizable costs of doggy maintenance.
What Other Costs Are There For A Belgian Shepherd?
There are plenty of things that eat away at your Mal maintenance budget when you introduce a new dog to your family. They may be hard to notice given how separate they all are, but they rack up the cost quite quickly.
The main culprits are usually dog food and grooming supplies, as well as dog toys and medical expenses.
Then, there are dog muzzles and the like to consider if your doggo turns out to be one of the more aggressive ones.
In Conclusion
The best collars for Belgian Malinois differ based on your needs, but most of the ones listed here should cover those various niches.
They're all very durable, and they can contend with the strength of the great herding and working dog that is the Belgian Shepherd, and most can even be styled even further.
My recommendation is to get the one that looks the most visually appealing to you, or that solves any problem that you may face when taking your canine companion out for a walk.
Hopefully, at least one or two have caught your eye. I do hope that I've managed to help you in your decision, at least a little bit, and that both you and your furry friend will be all the happier for it! Until next time.
RELATED LINKS:
Male Vs. Female Belgian Malinois: The Key Differences
Belgian Malinois Growth Chart – When Do Belgian Malinois Stop Growing?
Are Belgian Malinois Aggressive? 11 Temperament Questions Answered
Belgian Malinois Breeders – Best Places To Find Belgian Malinois Puppies
Belgian Malinois Names: Find The Best Name For Your Mal
All Belgian Malinois Colors Explained – What Colors Are Up To The Breed Standard?