Disclosure: This post contains affiliate links, and I will be compensated if you make a purchase after clicking on my links.
Great Danes are among the largest dogs out there. In fact, they might easily be some of the largest pets we keep in our house. However, such large dogs also need strong, heavy-duty collars that will be able to withstand their pulling force.
Fortunately, Great Danes are polite dogs that aren't pullers. They'll learn how to walk on a leash rather quickly, and they'll listen to their owners. With just a little bit of dog training, Great Danes will always be on their best behavior.
However, this doesn't mean that you won't require the best Great Dane collars you can find.
Different collars serve different purposes. You might need a specific dog collar for pulling, another one for leash training, and an entirely different one for everyday use!
Today, there are dozens, if not hundreds, of good products both in pet stores and on websites, such as Chewy or Amazon. When a market is very saturated, picking up the right Great Dane collar might be a problem.
To help you out, we have created a list of the top 12 best Great Dane collars that can withstand your pooch's enormous strength, while also being stylish enough for you to showcase them to all other dog owners at the park!
Here's what we've found:
Best Great Dane Collars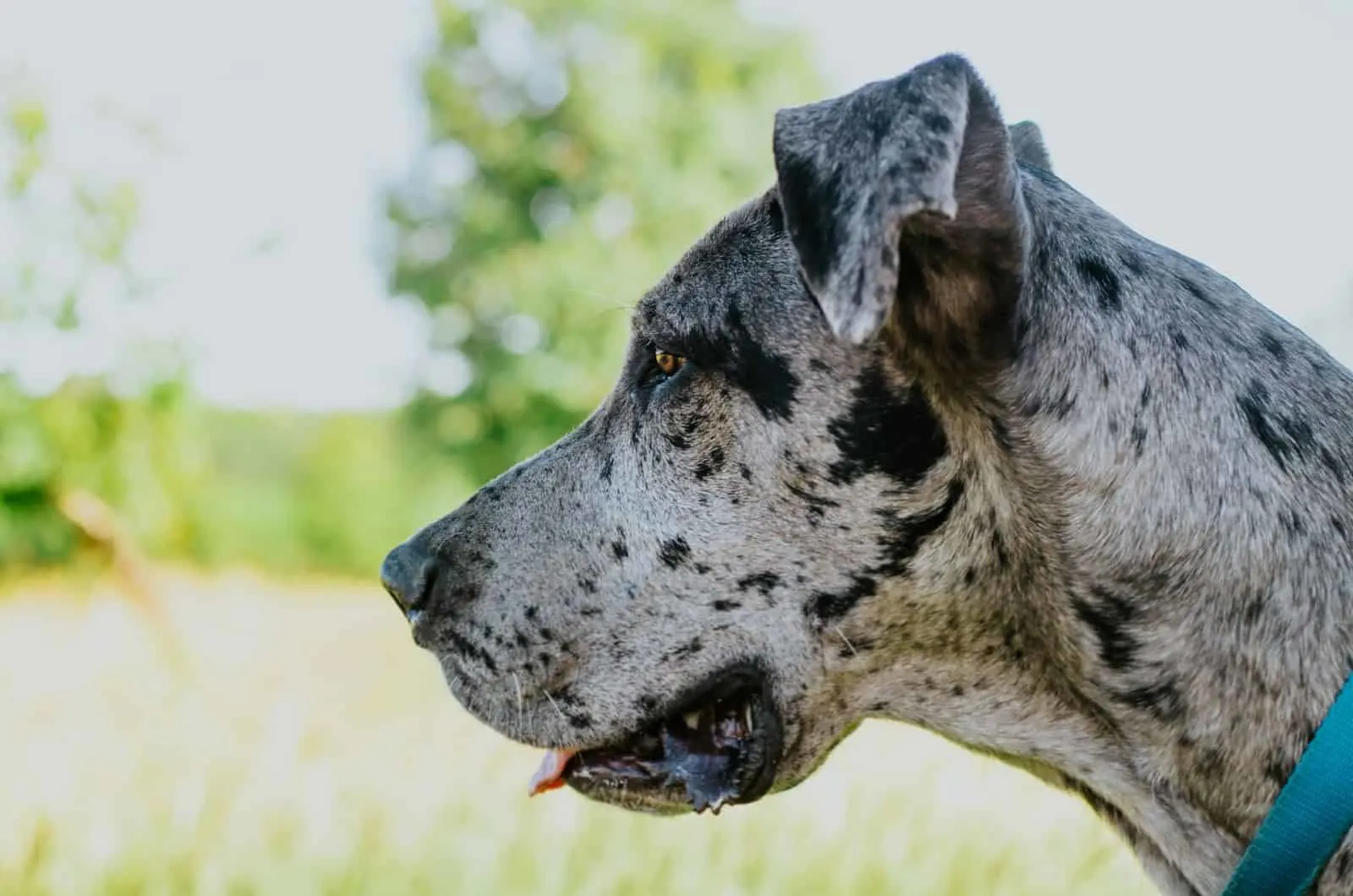 Despite their name, Great Dane dogs don't come from Denmark. Instead, they originate from Germany, where they were bred to be hunting dogs and working dogs.
Today, these mighty dogs are bred to be family companions, but they still make some of the finest watch dogs out there – despite their overall gentle personality. These dogs will be everyone's best friend in a matter of hours!
Loyal and protective, these dogs still need high-quality collars that will sit comfortably on their large necks. Also, these collars should be sturdy to ensure you still have control in the case of an accident during a walk.
Here are some of the best Great Dane collars we've found:
Editor's Pick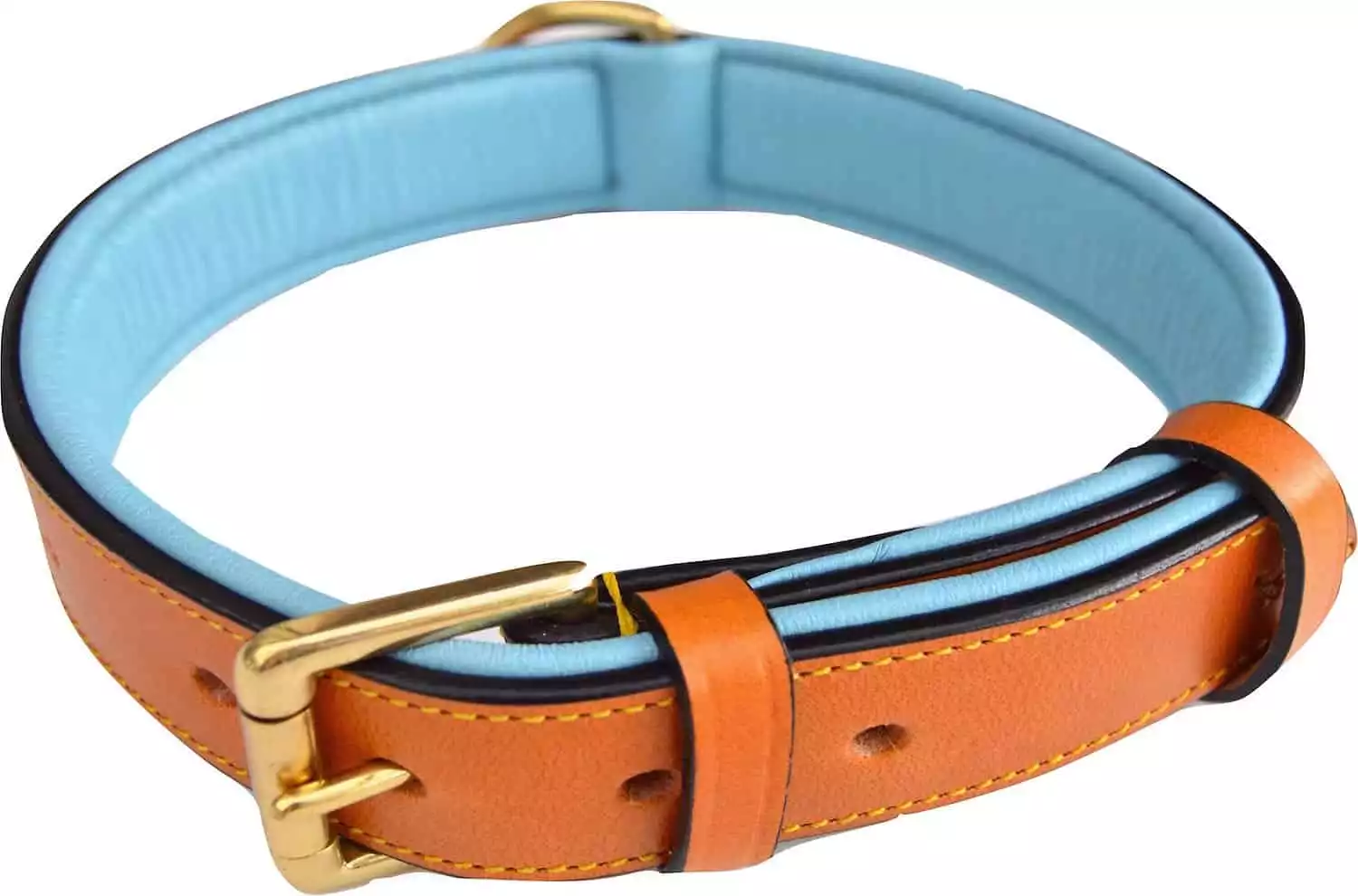 If you love purchasing handmade items, then this might be a great collar for you. In fact, it might be considered one of the best Great Dane collars on the market!
It is made out of leather, so it's rather durable. It can last you much longer than many other models, so its somewhat higher price truly pays off. While many other leather collars tend to be harsh on the skin, this one has soft padding made out of sheepskin leather, providing comfort for your pooch.
The solid brass hardware is lacquered, so it won't rust. It comes with a mini brass ring for ID tags, and a D-ring for the leash attachment.
This Great Dane collar comes in a variety of colors, so you can pick the one that will fit your furry friend's appearance and personality. It also comes in both large and extra large sizes, so you'll certainly find the one that fits your pup.
If you love having personalized items made especially for your dog, this might be the best Great Dane collar for you. You can choose up to 25 characters that will be embroidered onto the collar. This makes it the perfect choice for dogs that don't like wearing ID tags.
There are 14 thread and 5 collar-base colors you can choose from, so you'll surely be rather unique in the dog park!
The collar has an easy-to-use, side-release buckle that will make putting it on and taking it off an effortless task. Also, the stainless steel D-ring is resistant to corrosion, so it will last you for a very long time. You can put a leash attachment on it – or also a tag attachment if the writing isn't enough for you.
Nylon is a strong and durable material. Even though this collar might look thin, it will certainly withstand most of your pup's pulling. While the biggest size is large, it will fit most Great Dane's necks.

Do you spend a lot of time walking your dog at night or early in the morning? If your answer is 'Yes', you might want to check this collar out. It has reflective stitching that will keep your Great Dane visible in low light. Believe it or not, even such large dogs can get lost if out of sight!
The collar comes in seven vibrant colors, so your dog will stay visible no matter where he goes. Not just that, but you'll certainly find one that will fit your desired style.
While the collar is made out of sturdy nylon, it comes with cushy neoprene padding. This will ensure that your pup feels comfortable even after many hours of wearing it. Also, neoprene is a gentle material that usually won't irritate a Great Dane's skin.
The sturdy buckle is easy to release, and it helps you adjust the color according to your dog's size. It will ensure that your pup doesn't escape, and it will keep him safe enough no matter how hard he pulls.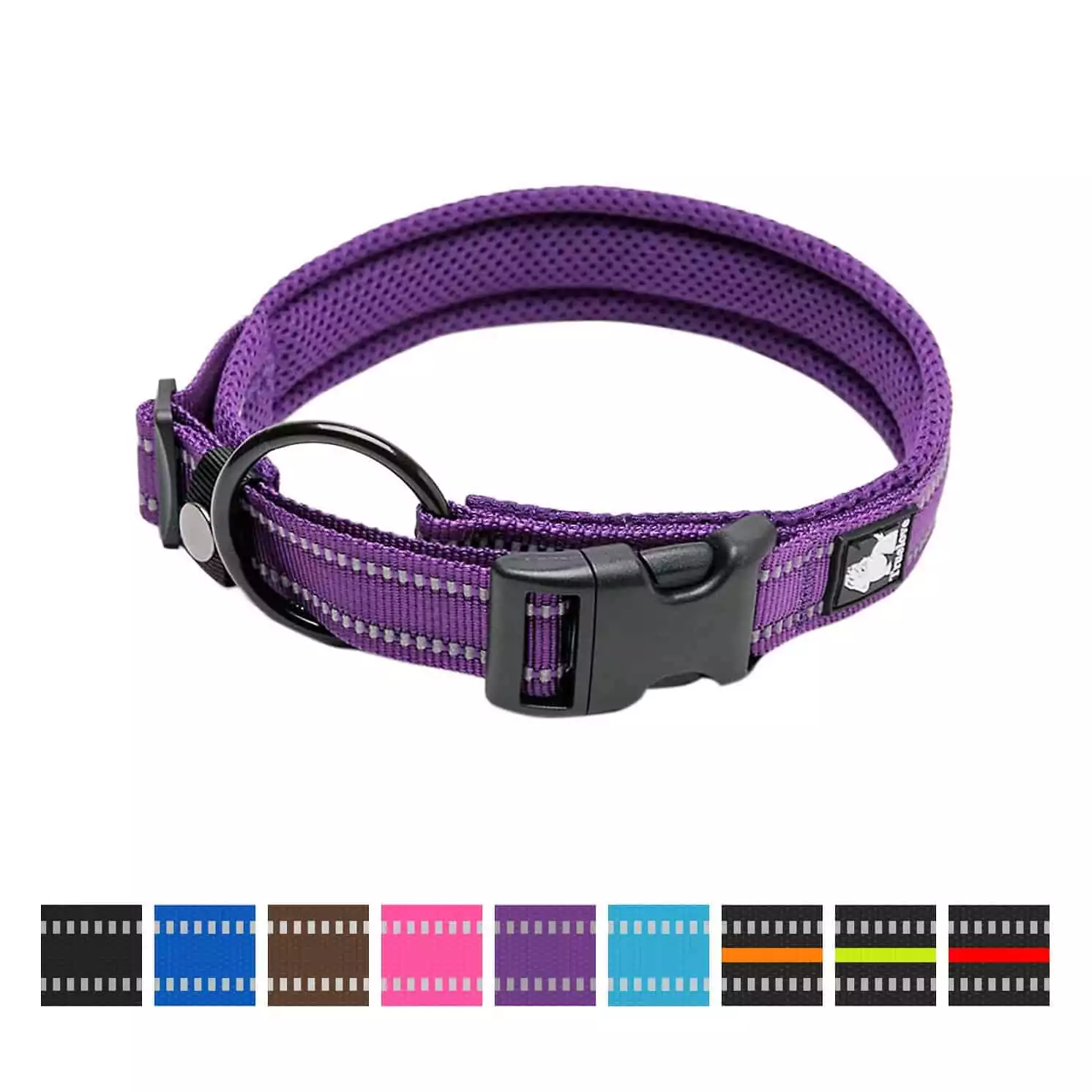 This is one of the more affordable Great Dane dog collars, but it's still a high-quality product that will likely last you for a very long time. It has some premium features that many much more expensive collars lack, making it a good choice for most people.
The collar features 3M reflective material that will ensure your pup is visible even in low light. Bright colors will also help you with this as they will help you see your dog even if he goes far away.
The mesh padding is breathable and soft, adding comfort to this product. They'll also reduce rubbing, so your dog can wear it for a very long time without developing irritations. This is a great choice for gentle-skinned dogs, such as Great Danes.
The collar sports a durable stainless steel ring suitable for leash attachments. Also, it comes in nine different colors and six different sizes. It even has an XXL size that can fit the largest of dogs!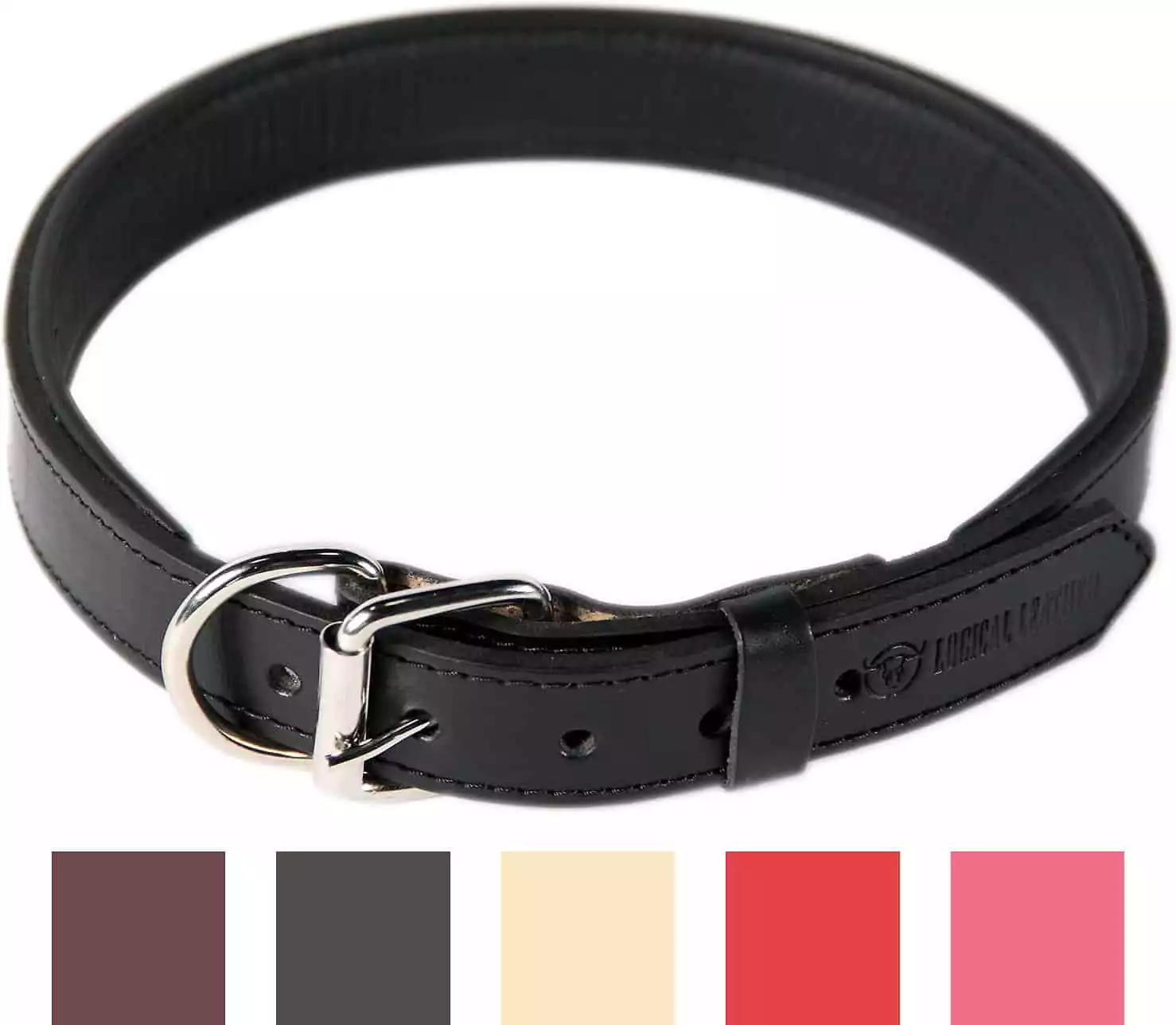 This is a stylish collar for large dogs, and it is perfect for dog owners who want to make a statement – and to have a durable accessory that will last for a long time.
It is made out of 100% genuine full-grain leather that is stitched to a padded leather lining. As it's made out of real leather, it is water-resistant, with that beautiful shine that luxurious items have. Luckily, it's easy to clean, so keeping its beauty will be effortless.
The metal hardware is durable, and it will last you for a long time. There is no need to worry about it breaking as it's sturdy enough to hold even tough pullers, such as Pitbulls or Dobermans.
The brand offers a matching leather dog training leash, so you can walk your dog in style while staying safe. Also, everything comes in five sizes, including extra-large, so it will fit a Great Dane nicely.

Yet another personalizable option, this dog collar is a good fit for any strong dog. It is crafted to be strong and durable, thanks to the woven nylon fabric, so it can hold even tough pullers in place.
The collar has a simple, yet pretty design, making it cute no matter which color you choose. While we're at colors, you can pick between a standard black and three neon colors. This is enough to fit most people's styles.
However, what makes this collar truly stand out is its customizable tag. You can choose what you want it to say and the manufacturer will laser engrave it. This is a good replacement for a standard ID tag, and it can help dogs that are afraid of jingling things.
The seat of the ID tag is made out of molded silicone that will hold the ID firmly in place, while also ensuring the engraving stays safe and brand new.
This dog collar comes in only three sizes, but it does have an extra-large option that can fit most Great Danes.

If you're a fan of European-style accessories, this might be the best Great Dane collar for your pup. It has a traditional, simple design that will never get out of style!
Despite it keeping the Old World's design, this collar is crafted in the USA from genuine American leather. The polyester stitching enforces everything, and the studs and the buckle are crafted from European steel.
The collar is rather comfortable, and it won't hurt your dog. The stainless-steel link is located on the back, providing easy leash attachment.
The extra-large size has a length of 23 inches, while the entire collar is 1 and 1/4 inches wide. This makes it large enough for most dogs while remaining thin enough to look elegant. It comes in five classic colors, so you will certainly be able to find one according to your preferences.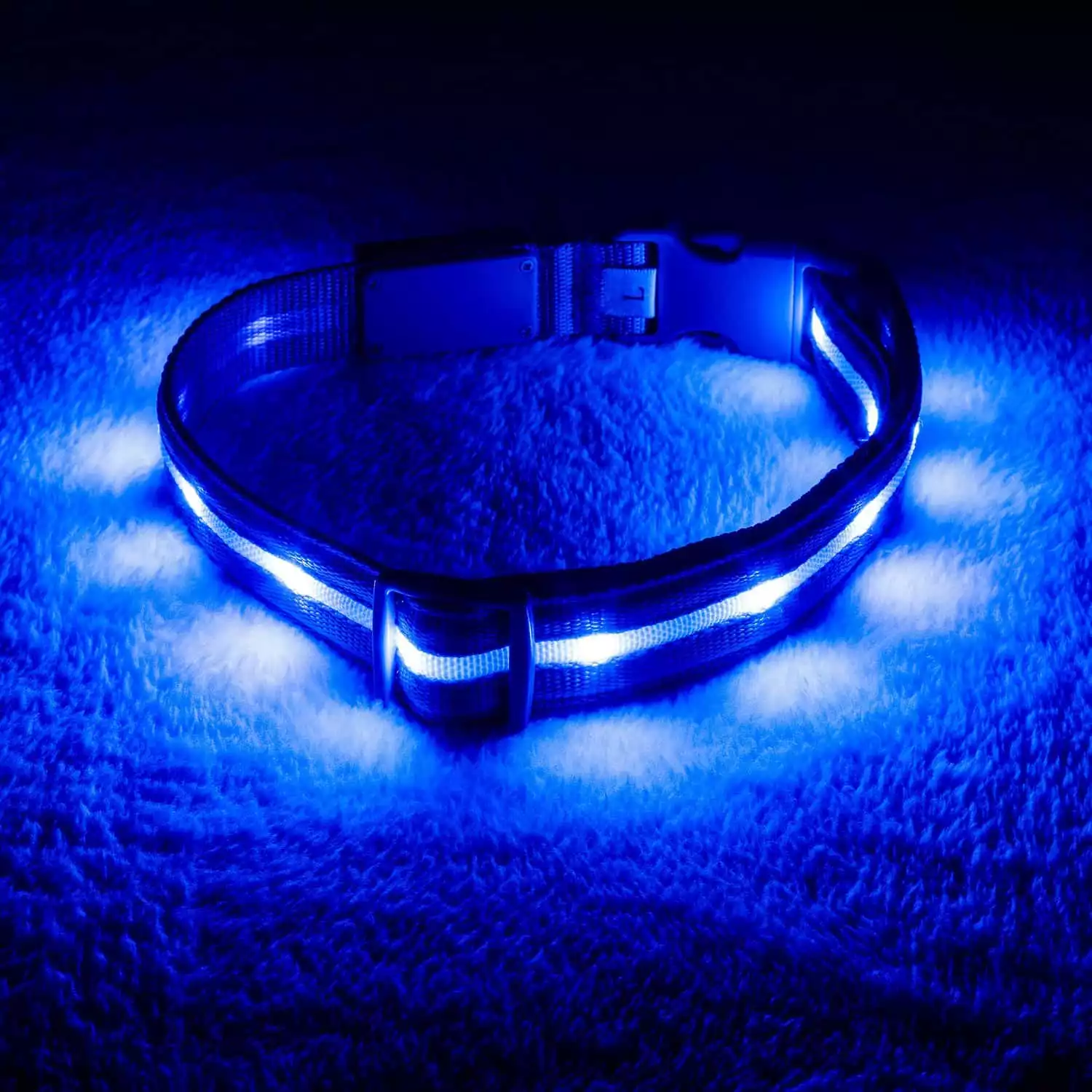 If you want to keep an eye out on your dog all the time, you might want to consider getting this Great Dane collar. It is lightweight, yet strong, with an LED light strip that can keep your Dane visible for up to 350 yards.
The on/off box is small and discrete, and it is perfectly safe even in rainy weather. This prevents it from becoming a safety hazard in case of a storm. You can charge it using any USB port, and once fully charged, it will run for at least 8 hours!
The collar itself is made out of durable nylon that will withstand even persistent pullers. While it comes in only three sizes, it is highly adjustable, and you can resize it to 40% of its total length.
The product comes with a 100% lifetime guarantee, which only shows how confident the brand feels about this product. And, if you truly want to be stylish, you can get the matching dog leash!
While this isn't technically a dog collar, it does serve a unique purpose, so we've decided to list it as well. This is a smart necklace that your dog should wear, combined with his regular collar, to allow you to see him in the dark.
The slide-on design means you can simply slide this over your dog's head and it will stay on his neck. It is made out of a flexible polymer tube that has two battery-operated LED lights.
To turn it on, you should press the button on the housing. You can choose from five different colors, and all of them work the same way and ensure that your dog is visible even in the bleak night.
The packaging also comes with replaceable batteries, so it is ready to be used the moment it arrives at your door.
Best Collars For A Great Dane Puppy
Great Dane puppies aren't as strong as adult dogs, but they are fast growers and have somewhat wilder temperaments. This can make them more difficult to control. Finding the best Great Dane collars for puppies can be a daunting task.
Here are a few great products we've found:
Editor's Pick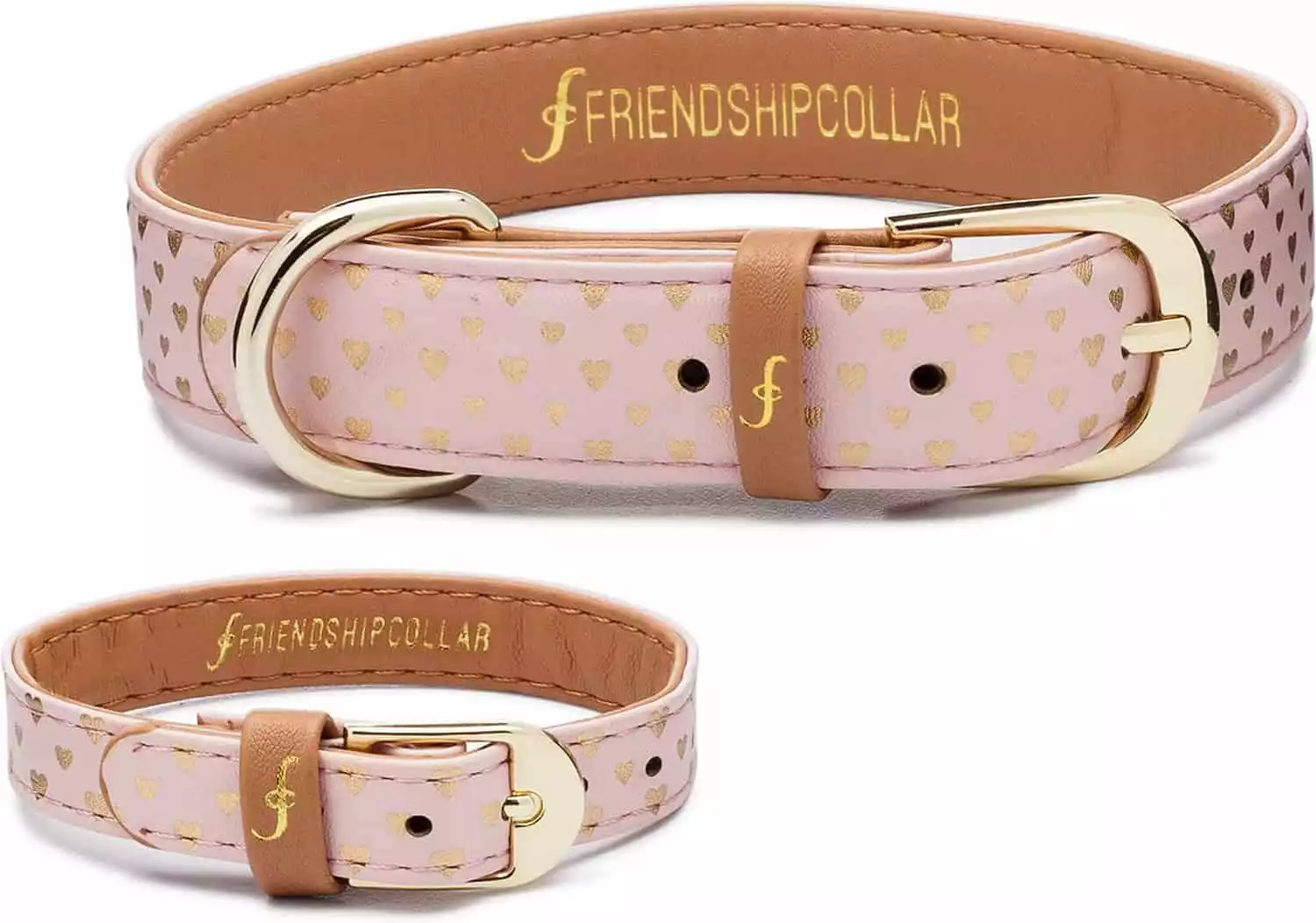 This is an adorable, yet high-end collar for your Great Dane puppy. With it, you'll get not just a dog collar, but also a friendship bracelet that you can wear! This way, you or your child can match your new pet.
The collar and the bracelet come with a chic pattern, and everything is made out of vegan leather that is PETA-approved. The hardware is gold-plated, adding a luxury finish to the product.
The collar is adjustable, so it can accommodate a growing pup. Just keep in mind that even the largest size will hardly fit an adult Great Dane, so you'll want to replace it once your puppy grows up.
To top it all off, both the collar and the bracelet come in soft, drawstring pouch bags. Everything about this dog collar screams cuteness and luxury!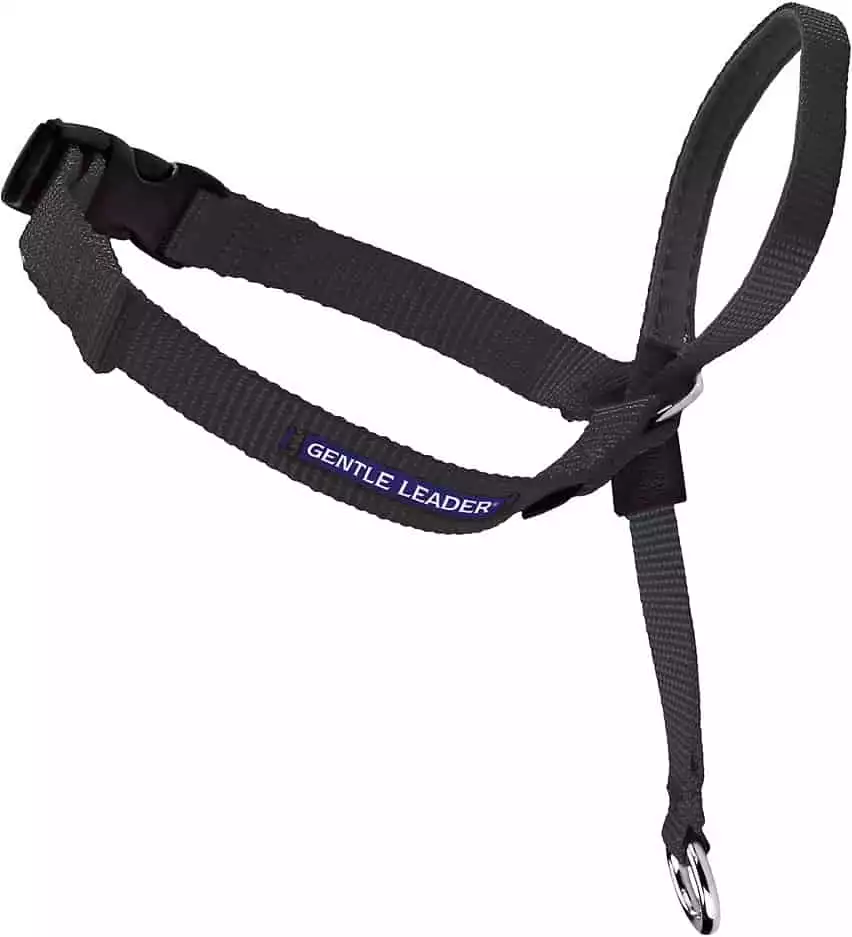 If you have just gotten a Great Dane puppy that you have to train, then you might consider getting him a head collar. This accessory is a great training tool that won't hurt a growing pup, but it can help teach him how to go on a walk.
The PetSafe's head collar can help you teach your pup to stop pulling, jumping, and lunging. This can make dog walks much more comfortable. The design was created more than 30 years ago, and it was deemed very useful by many veterinarians and behaviorists.
The collar comes with a neoprene-padded nose loop that will provide comfort. The entire piece was designed to put the pressure on the back of the dog's neck instead of on his throat, making it a safer option than regular training collars.
The collar comes in eight different colors and four different sizes. It is rather adjustable, so it will most likely fit your dog from puppyhood until they become adult dogs.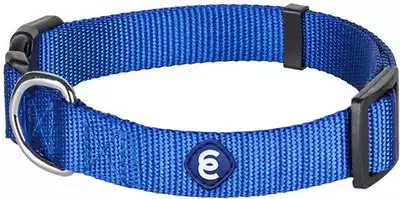 This is a simple, yet stylish dog collar that is perfect for a growing Great Dane puppy. It is extremely adjustable, and the largest size can fit a neck size ranging from 18 to 26 inches.
The classic design means that the collar is easy to put on and remove, making it an amazing everyday collar for your Great Dane. The chrome-coated D-ring only helps this, allowing you to put the leash attachment on effortlessly.
It's made out of durable nylon, with high-density webbing that is water-resistant. This also means that it is machine-washable, so you don't have to worry if your puppy gets it dirty. Cleaning it takes no more than mere minutes!
This is a comfortable collar that won't hurt your dog's neck. It comes in four highly-adjustable sizes and eight bright colors, making it the perfect fit for everyone.
The Purpose Of A Dog Collar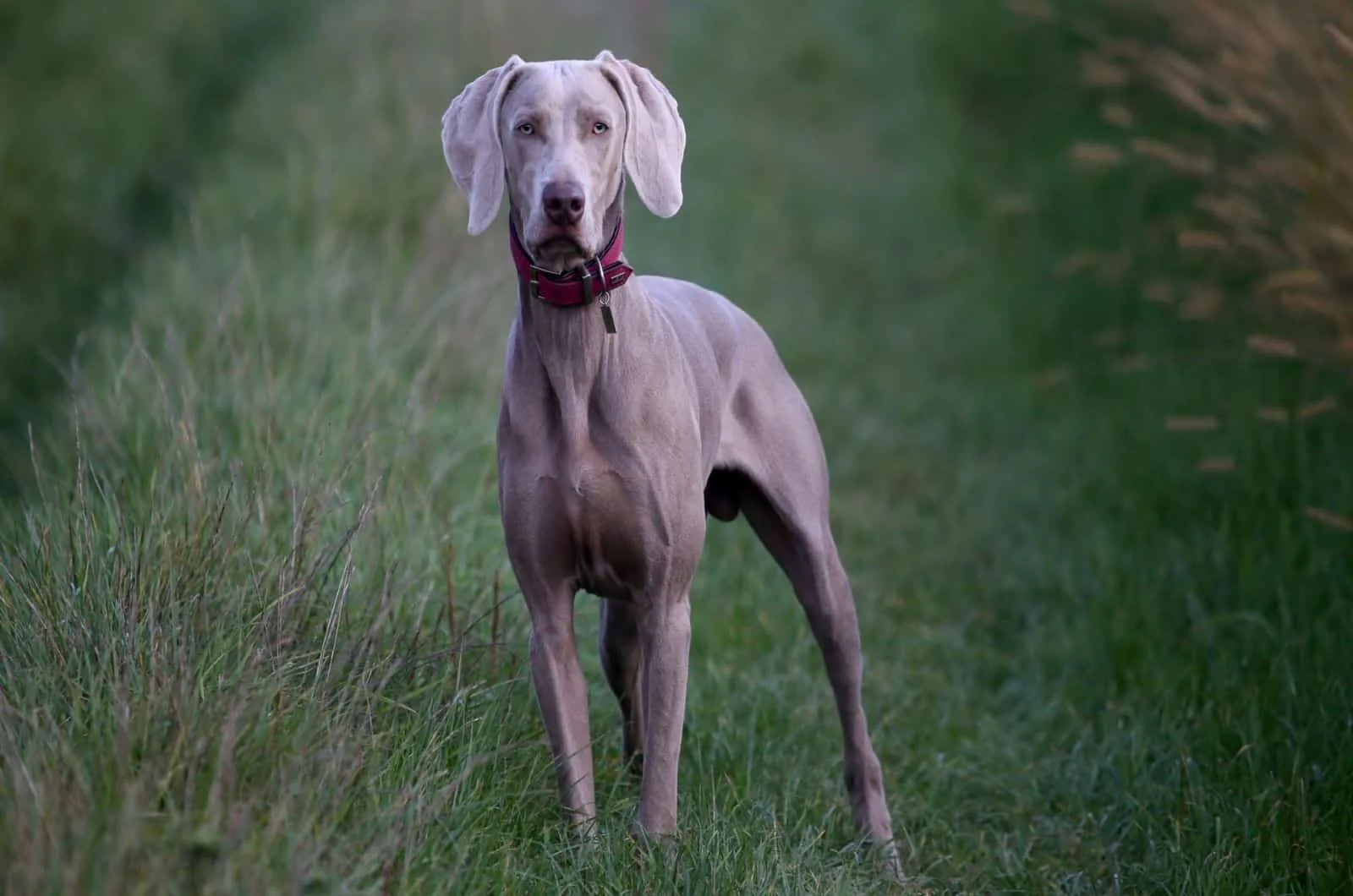 For inexperienced dog owners, a dog collar might be nothing more than an accessory. However, if you've owned a dog for a while, you've probably realized that there's more to it than just good looks.
Best Great Dane collars have to be carefully picked for a reason. They might be the most important Great Dane accessory out there!
Dog collars can make your pup understand that you are the leader. When you pull on a leash that's attached to a collar, a Great Dane will know he has no other option but to obey what you say. They will respect the alpha of the pack, and they'll know you are the one in charge.
Thanks to this, the best Great Dane collars are essential for dog training and disciplining – together with the leash and dog harness.
Of course, many people still want their dogs to have a unique collar that will make a statement. This is why you can find collars in many different colors and sizes.
Still, the main purpose of a collar is to achieve discipline in your dog, and to help you teach your Great Dane how to be on his best behavior.
How To Use A Collar Properly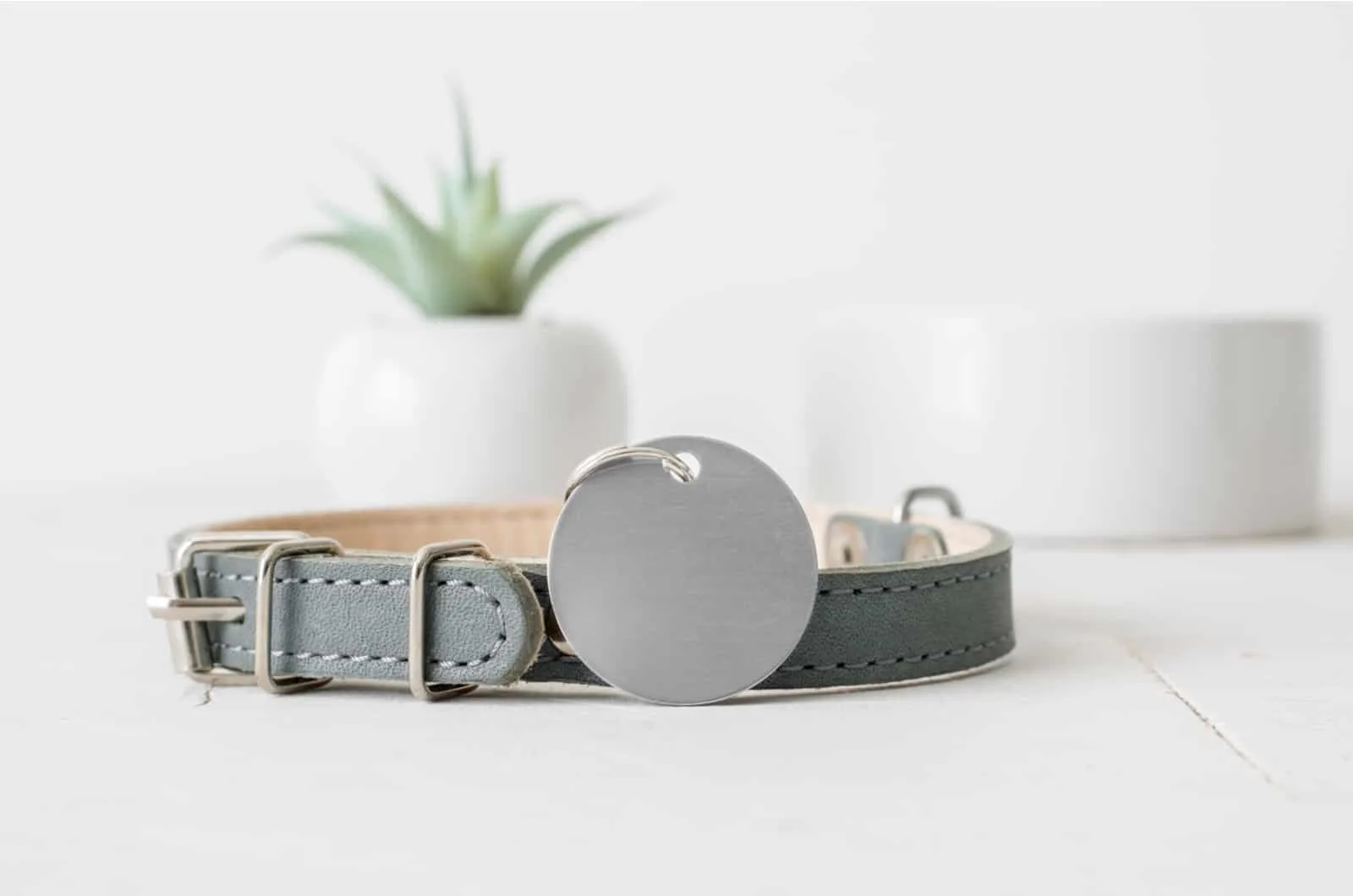 You might think that you can just put a collar on your Great Dane and call it a day. However, this requires some responsibility on your part.
For example, you should never leave your Great Dane wearing a collar unattended. These are large breed dogs, and they might get in trouble as their collar will get stuck onto something. Sadly, this can end very badly for your doggie.
You shouldn't have your Great Dane wear a collar while inside, in general. There is no purpose for him to wear one indoors unless you are afraid of him running away.
When you change a dog collar, you might want to check out your dog's neck from time to time. Dogs can develop allergies to certain materials, and you'll want to prevent this from happening. Great Danes in particular are known for having sensitive skin, and collars can cause irritations if they are made from certain materials.
Not just that, but even top-quality collars can also irritate the skin, especially if they're left on for too long. While breathable fabrics can enable your dog to wear them longer, you still shouldn't risk it. No dog should wear a collar of any kind for more than 12 hours per day.
Also, most collars have an expiry date. They aren't forever – they will wear out in time. If you find out this has started happening, don't wait until its condition gets worse. Buy a new one as soon as possible.
What To Look For In The Best Great Dane Collars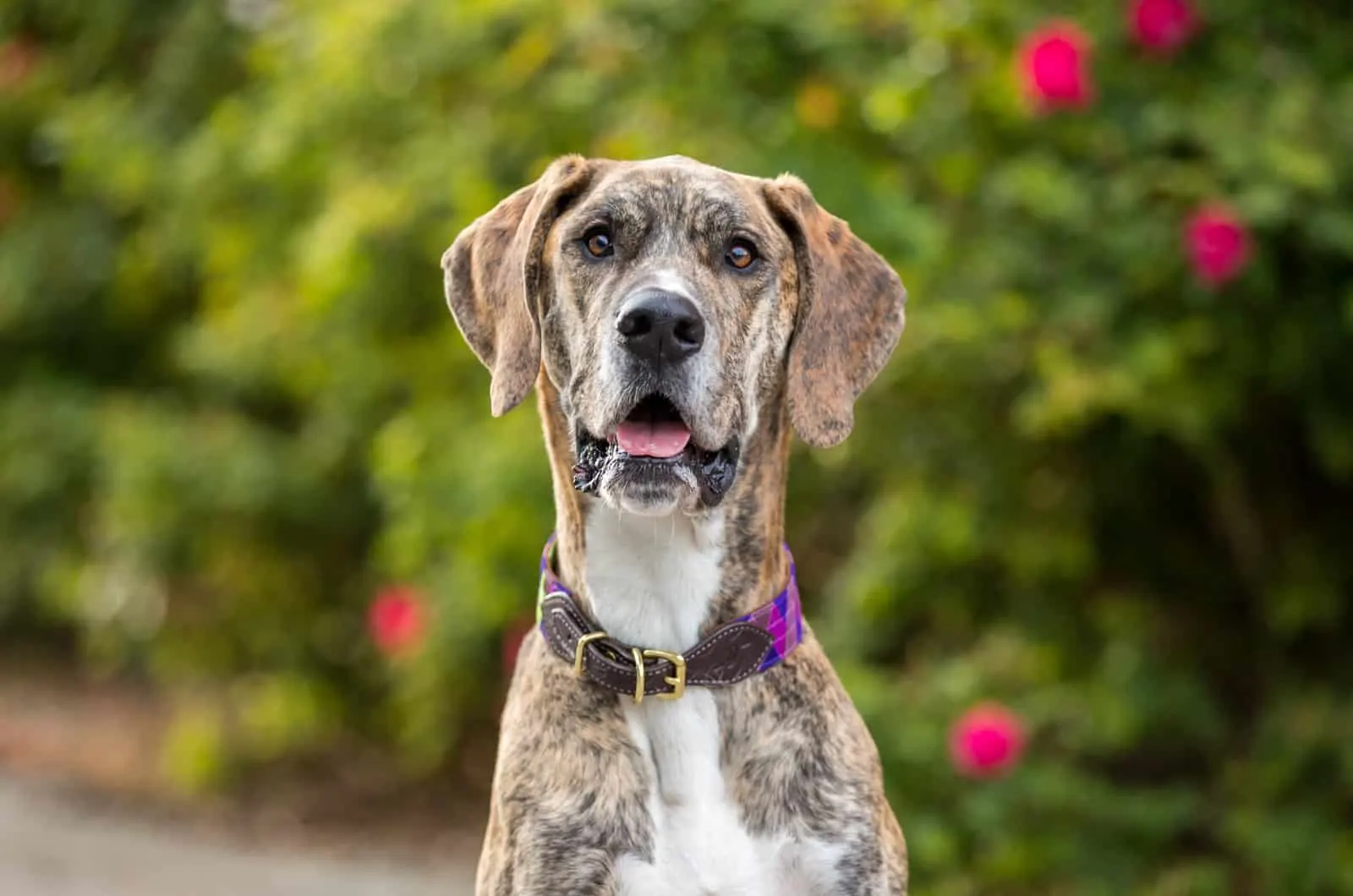 Picking up the right pet collar for your Great Dane might seem like an easy task. However, there are some things you should be mindful of.
Here are some important features you should look for in the best Great Dane collars:
Size
Size is the most important thing when choosing the right collar. Dog collars come in many different sizes, and you should know how to pick the right one.
Great Danes are big dogs, so they require extra-large collars. In fact, sometimes, even this isn't enough, and you should look for the XXL size! This is especially the case if your Great Dane weighs more than 150 lbs.
Strength
Great Danes are gentle giants. They are obedient dogs that will rarely do anything against their owner's will. Still, even the calmest of dogs might pull on its leash from time to time. When you have a strong, 150-lbs heavy dog, this can be an issue.
The best Great Dane collars should be strong enough to withstand their pulling force. Sometimes, they'll even be rugged. A regular dog collar, even if it is designed to counter pulling, might not be strong enough. This is why you'd always want to look for extra sturdy products.
Type
There are many different types of collars, and all have their own purpose. Most of them can be suitable for Great Danes. However, you need to be certain which one you want before you start looking.
Here are some of the most common types of dog collars:
• Everyday collars: These collars are designed for everyday use. They usually come with quick-release buckles or metal buckles, and they can be in many colors and styles. Most will have an O-ring for an ID tag. They are a great everyday choice for a well-behaved dog. Sometimes, people might refer to them as flat collars.
• Chain slip collars: Also known as choke collars, these collars are to be used for dog training only. Overall, they are not recommended to be used by regular dog owners, and should be left for professional trainers only as they might hurt your pet.
• Metal prong collars: These are often considered the best type of collar for big dogs that love to pull on the leash. They are sometimes called pinch collars. Just like chain slip collars, they are supposed to be dog training collars only, and you should never leave them on your dog when you're not around.
• Smart collars: These high-tech collars have various smart attributes, such as a GPS, training assistance, and the ability to notice any change in the dog's behavior. Many will beep or produce other sounds to alarm you that something's wrong. Most are compatible with their designated smartphone apps, and many even have WiFi coverage!
• Martingale collars: These collars are used to prevent your dog from slipping out of its collar. They will tighten when your dog pulls on the leash without choking him. They are usually used on sighthounds, but are suitable for other dog breeds as well.
• Head collars: Also called halters, these collars resemble muzzles, but serve a different purpose. They help you train your dog to walk on a leash and avoid pulling. When you pull on them, your Great Dane will be forced to turn his head around, which will deter bad behaviors.
• Dog show collars: Show collars are usually slip collars made out of leather, metal, or nylon. They are not the same as Martingale collars, although they look similar. They are mostly used for toy breeds in the show ring, but they can be used on larger dogs as well.
• Shock collars: Some of these collars are also known as bark collars. They will produce a mild amount of static, pinching your dog and causing him to stop with unwanted behavior. However, most animal experts are deeming shock collars to be rather cruel, so many areas are banning them entirely.
Materials
Dog collars can be made out of various materials such as nylon, leather, polyester, metal, and so on.
Great Danes have sensitive skin. Their collars must be soft and made out of high-quality hypoallergenic fabrics. Even so, you'll still have to evaluate your dog's neck constantly. All materials might cause irritations.
Color
Finally, for some people, the color of the dog collar is rather significant. They want the collar to go well with their Great Dane's coat color and pattern, and they'll pick a collar with the right design for them.
Most collars come in several color options you can choose from. Feel free to look at the one you like the best.
FAQs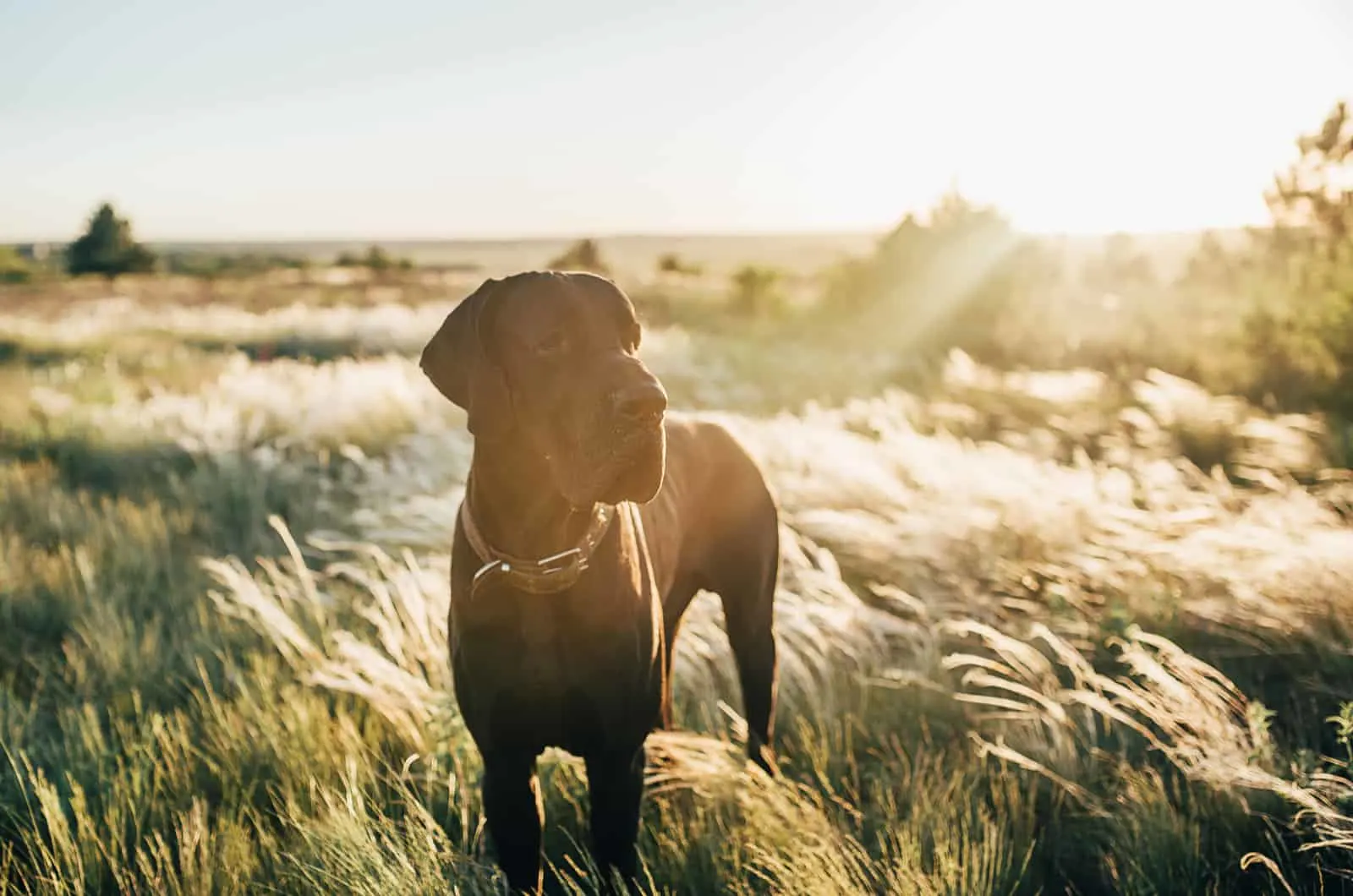 What Is The Best Harness For A Great Dane?
Other than collars, Great Danes might require harnesses. Great Dane harnesses go around their front legs, chest, and back, and they help ensure better control during dog walking.
While the choice as to whether or not you'll have your Great Dane wear a harness (and which one you'll choose), we'd suggest looking for a product that will go with some of the best Great Dane collars we've listed. This way, you'll know your pup will always have his ID tag on, and it can provide you with additional security – and a sense of style!
How Do You Choose The Right Size Of Collar?
Picking the right size of collar is essential, but it's not an easy task. Still, it's not too much of a challenge, especially if you know a few tips and tricks.
The best thing you can do is measure your dog's neck the right way. The best Great Dane collar mustn't be too tight or too loose. The best option would be to slide two fingers between your dog's neck and the measuring tape. This will give you enough space in case your Dane still isn't done with growing.
Even if your Great Dane is an adult or a senior dog, they might still gain some weight. Their neck is usually the first thing that'll become thicker. This is why you should always make sure that there is some space between the collar and the neck.
Overall, most collars for Great Dane adults are between 21 and 27 inches in length, but that can vary depending on the individual dog and his neck size.
When Should I Buy A New Collar?
There are many instances that might require you to buy a new dog collar. For example, if a collar is causing skin irritations, it might be a good idea to find a new one.
Collars intended to be used during dog training should be used only during the training bit. Once your dog is trained, you should purchase a regular collar.
Also, a collar will wear out over time. As soon as you notice signs of age on your Great Dane collar, it's time to replace it. If it breaks during a dog walk, who knows what might happen! It's always better to be safe than sorry.