Disclosure: This post contains affiliate links, and I will be compensated if you make a purchase after clicking on my links.
Doberman Pinschers are a well-known breed with their sleek, shiny bodies and protective personalities. They have a history as police dogs, guard dogs, and working dogs, thanks to their wonderful combination of a tough exterior and loyal nature.
Any Doberman owner will tell you that handling these dogs, let alone training them, isn't an easy task. While Dobermans love to please their human companions, they are extremely protective, which can lead to seemingly aggressive behavior.
There are some dog owners that don't think they need to get one of the best collars for a Doberman. However, this thought pattern can be dangerous, especially if you go out in public.
In fact, it's mandatory for large dogs to wear collars while outdoors in many states and countries. This is especially true with so-called 'aggressive dog breeds,' such as Pitbulls, Bulldogs, Rottweilers, and – you've guessed it – Doberman Pinscher dogs.
Collars serve several purposes. Most importantly, they can help you with dog training. At the same time, if your Dobie gets lost, a collar with an ID tag will help get him back home as fast as possible.
Choosing out of so many supposedly best collars for Dobermans can be a challenge. This is why we've compiled a list of the top 12 products that you can purchase both in pet shops and online from stores like Chewy or Amazon. We've also included a buyer's guide, so you know what to pay attention to.
Let's get right to it!
12 Best Collars For Doberman
The best collars for a Doberman Pinscher need to have several things going on. They need to fit both your and your dog's needs. At the same time, they should look appealing.
Many people consider collars as their dog's clothing, and they want to make a statement out of it. While appearance is secondary, it's still something that can influence people's opinion when it comes to good Doberman collars.
Here are some of the best products we've found: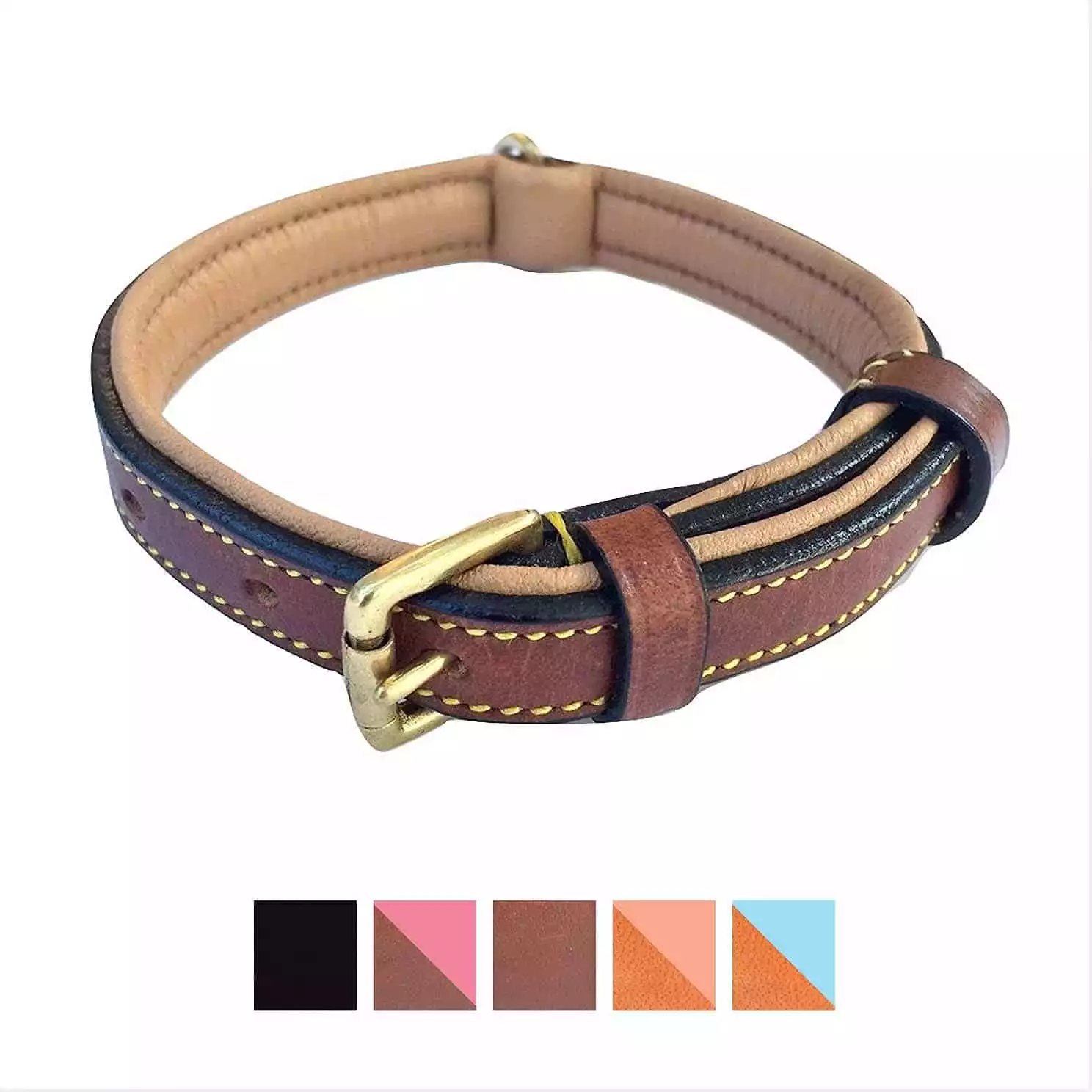 If you love wide leather dog collars, this might be the perfect product for you. It is designed with genuine tanned full-grain leather. There were no chemicals involved in the manufacturing process, so your dog isn't likely to experience any irritations or allergies from using it. As Dobies are known for their sensitive skin, this is always a good thing.
This collar comes in six different color combinations. Each contains two shades–- the neutral one on the inner side and the brighter one on the exterior side.
The collar comes in four sizes, fitting dogs' necks from 11 to 25 inches wide. The large ring is there to attach the leash and a buckle. It also has small rings that you can attach the ID tag to.
Editor's Pick
When buying the best collars for a Doberman, don't miss out on this one. This is a high-quality Doberman collar made of genuine leather that will last a very long time. In fact, it is so durable that the manufacturer offers a lifetime warranty on it.
This dog collar isn't just long-lasting – it's also stylish. It comes in four colors and five sizes, so it can fit all dogs, from toy to large breeds.
It's both water-resistant and stain-resistant, so even if it does get dirty, you can wash it without worrying about fading. Most of the time, a gentle wipe with a soft cloth or leather cleaner will do the job.
This is the perfect product for large, active dogs. Also, it comes with a clasp for an ID tag.
Do you want dog gear that will make you and your dog visible in the dark? Then consider purchasing this dog collar! This heavy-duty product features reflective webbing that will help you walk your active Dobie at night safely.
The collar is closed with lockable nylon clasps that are easy to buckle but won't open when you don't want them to. As the material is extremely durable, this collar is a great option for aggressive walkers or dogs just starting their obedience training.
The D-ring is sturdy and thick, and it's perfect for leashes. The collar features a nonmetal tab that you can attach a pet tag or charms on.
The best part of it all? The brand promised to gift a collar to dogs in need for every collar purchased! By buying this collar, you'll not only get one of the best collars for a Doberman, but you'll also support a good cause.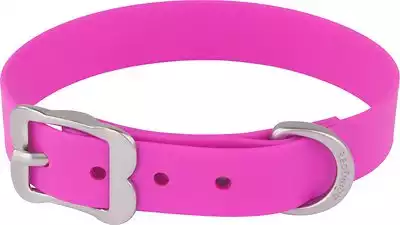 This dog collar was made to withstand any weather, so it is a good choice no matter the season. PVC is known to be a waterproof and dirt-proof material, so cleaning it will be a breeze. Also, don't expect it to retain any odors.
If you're looking for a durable yet lightweight collar, this is a good and affordable alternative to leather. It's strong enough to keep a powerful Doberman in control.
The buckle and D-ring are chrome-plated. They won't rust or make stains on your dog's coat. They come in several bright neon colors that are visible even in the dark. As for the sizes, you need not worry –they come in sizes from XXS to XXL, so you'll certainly find one that fits your pooch!

This is a great everyday collar made out of high-quality polyester webbing. The manufacturer has tested the product in a lab, ensuring it can hold up to seven times the maximum recommended weight per size to make sure it is durable enough to hold your dog in any situation.
The collar sports a quick-release buckle that is easy to set up. The nickel-coated D ring is meant to be used with a leash, while the smaller ring is great for tags and adds to the collar's style.
If you like its American flag design, you'll be happy to know that you can purchase a matching leash separately. This will have you walking your Doberman in style! And the best part? Everything is hand-washable and waterproof!

Do you love personalized dog items? Then this product is right for you! It comes with a rust-free stainless-steel D-ring that can have your dog's name laser engraved onto it. Thanks to the ID tag's silicone seat, it will stay firmly in place and won't jingle or make any noise. The seat also makes sure the engraving is free from damage.
The collar itself is built from strong woven nylon with high-visibility stitching that will ensure your dog is easy to spot during nighttime walks.
It comes in four colors and three sizes: small, medium/large, and extra-large. No matter the size of your Dobie, you'll definitely find a size that fits. Just prepare to pay a somewhat higher price.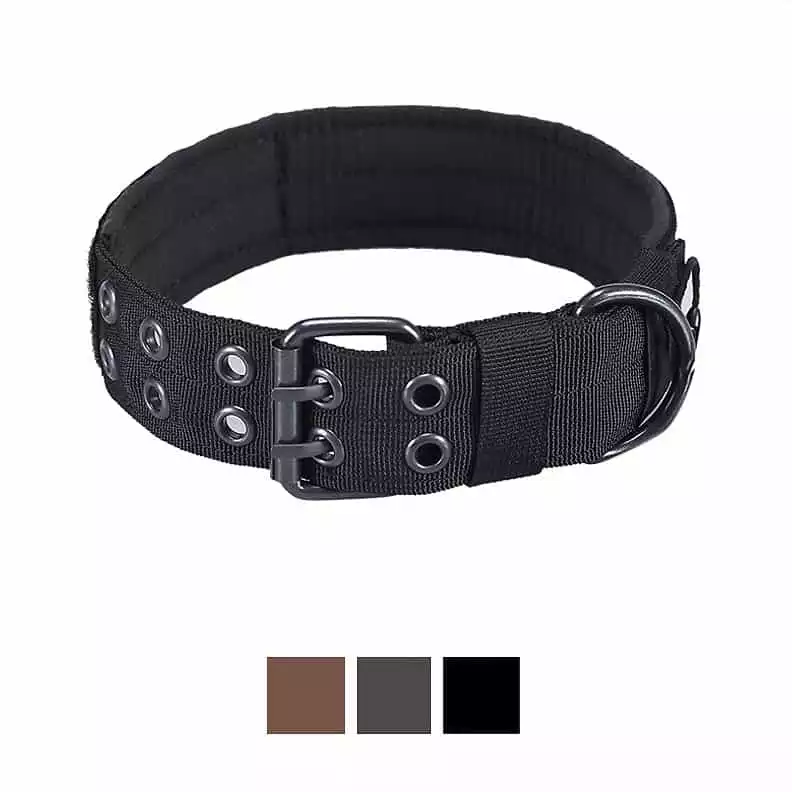 Dobermans were used in the military for years. This is why many owners love buying them military-style supplies, and this nylon dog collar is a perfect example of one of them.
While it's made from durable nylon, the inside of the collar has soft cushion padding to prevent irritations. This will keep your Dobie's skin safe from rashes.
The collar has several holes that keep the size adjustable. Not just that, but you can attach military patches or other accessories to it. The heavy-duty metal D-ring is great for attaching the leash, and it will ensure everything stays in place.
The collar comes in two highly adjustable sizes. It also comes in three colors, and all are true to the military theme of this collar.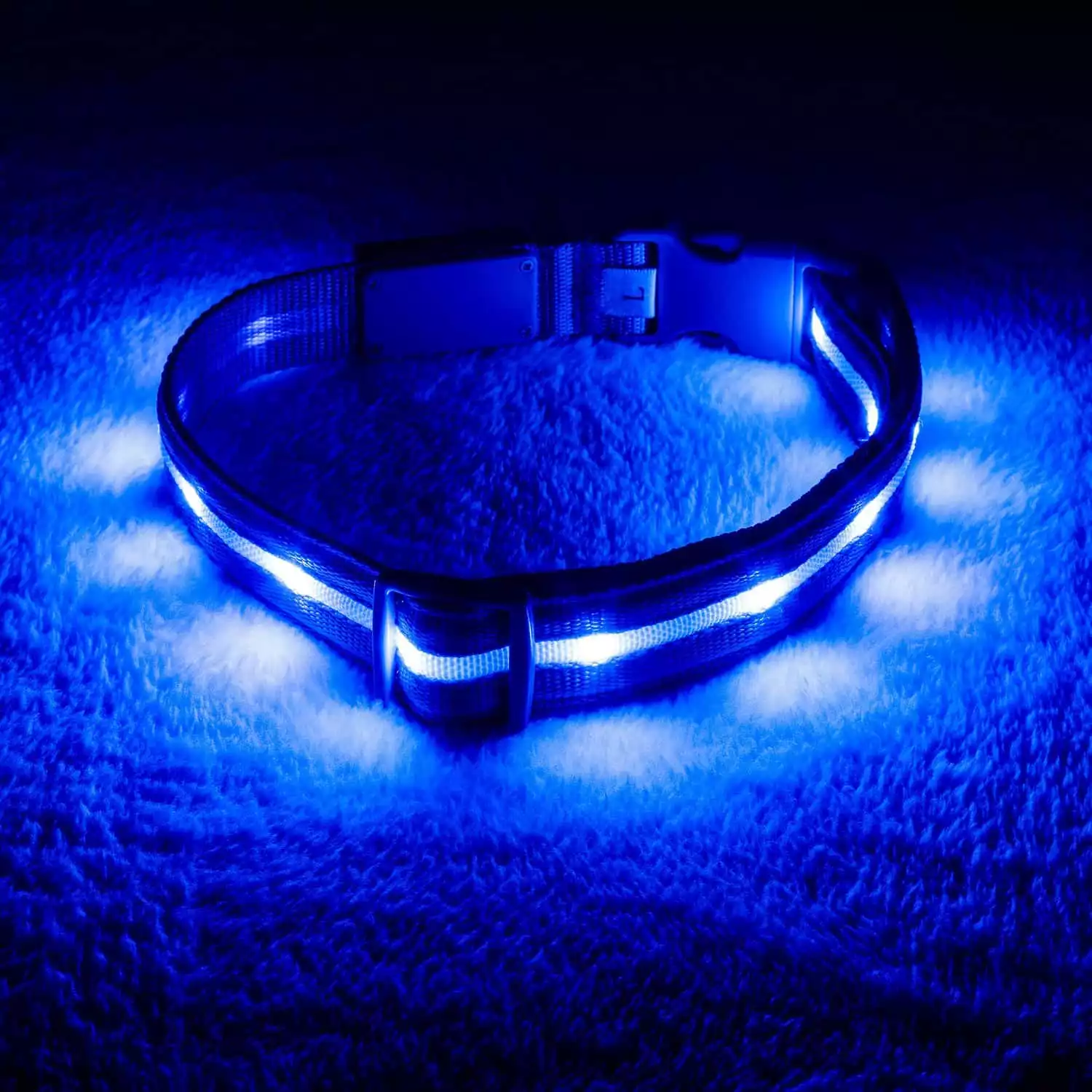 Are you looking for the best collars for Doberman Pinschers that are unique? Maybe something that will make you visible from up to 350 yards? Then this might be the perfect product for you.
This nylon dog collar has LED lights on it that will keep your pup safe in low light. It can stay lit for up to 8 hours. Once this time is out, you can charge it with a USB, and it's ready for another round. There are three light modes, and you can pick which you prefer.
At the same time, this collar is durable but soft and comfortable, despite its appearance. The on/off button is discrete, and your pup won't be able to press it accidentally. It also comes with a lifetime guarantee, which is excellent proof of the owner's confidence in its quality.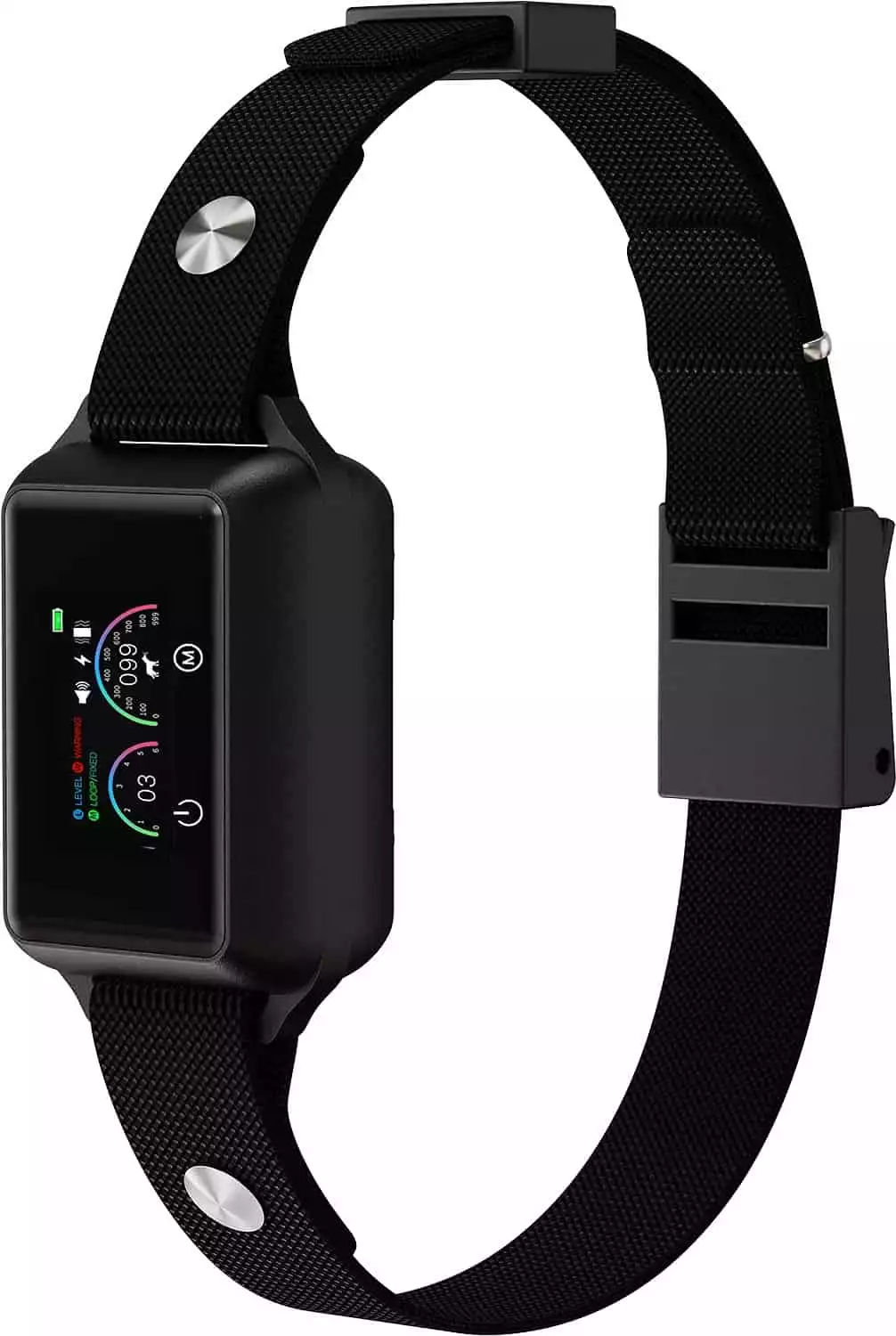 This certainly isn't the dog collar for everyone. It has an extremely high price tag, and someone might confuse it with a smart Apple watch. However, if you're a tech geek, this is certainly one of the best collars for Dobermans.
This is a smart collar that can help you train your pooch not to bark. It has vibration, static, and electric modes that will help with dog training. Smart sensors will distinguish between various sounds and your dog's bark via neck vibrations, so it won't get triggered for no reason.
The collar's body is made of durable nylon that is also waterproof. There is no need to take the collar off while it's raining. The LCD display screen will help you set everything up, providing an additional safety level.
You can recharge this collar with a magnetic USB cable – but there won't be much reason to; the battery can last for up to 18 days.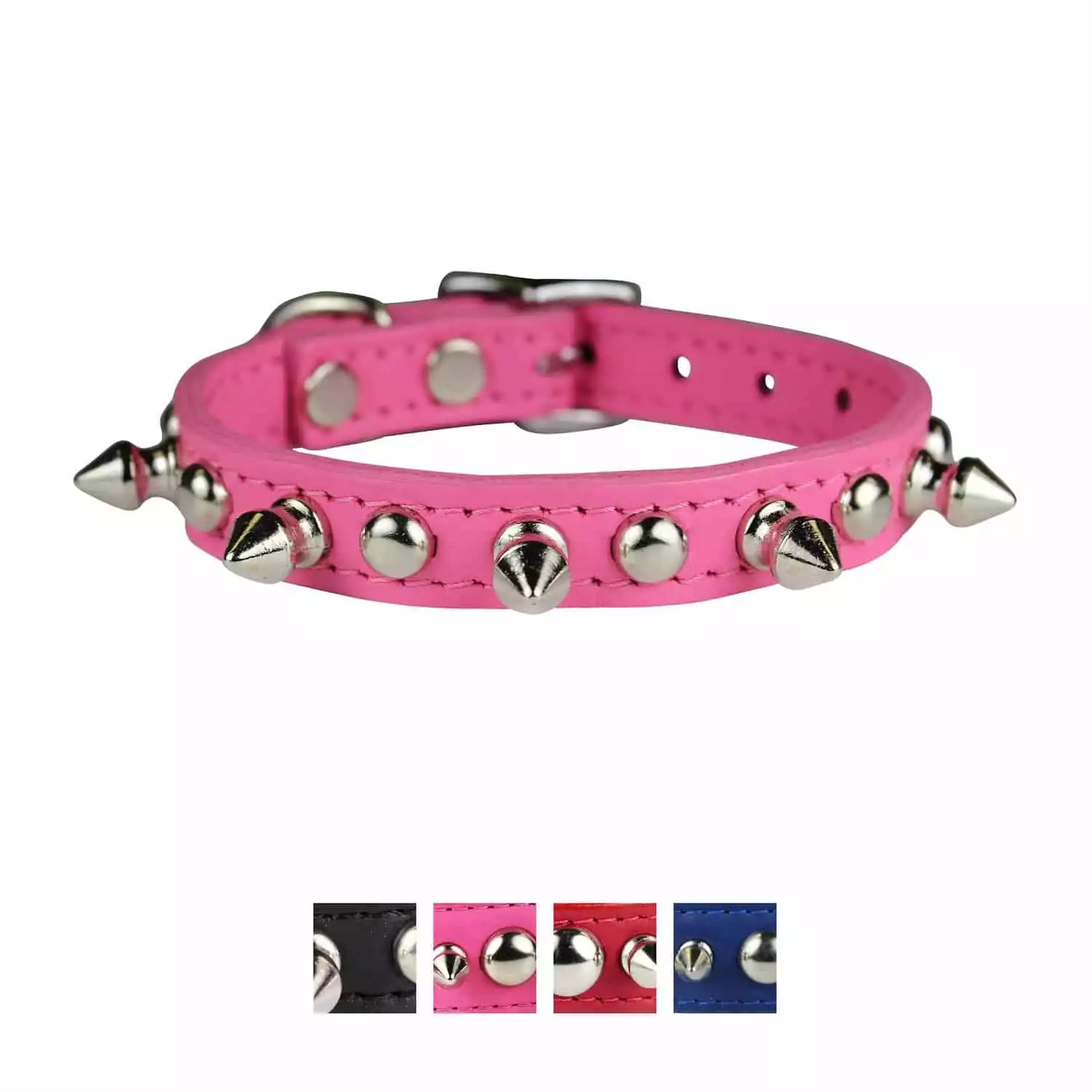 We cannot talk about the best collars for Dobermans without including at least one studded dog collar. Most dog breeds that are stereotypically considered dangerous are often portrayed with stud collars, which is why some dog owners love buying them.
Other than its good looks, this collar offers a quality build as it's made of 100% genuine leather. It's durable, easy to clean, and rather versatile, which is all you need in a dog collar.
Despite it being a studded collar, the studs aren't too large or too noticeable, which will give your pup a dangerous yet elegant appearance – a true representation of the Doberman breed. The D-ring, as well as the hardware, are made of nickel. They are durable and will withstand your Doberman's strength.
The collar comes in four different colors and six sizes, making it a great choice for a variety of dog owners and dogs alike.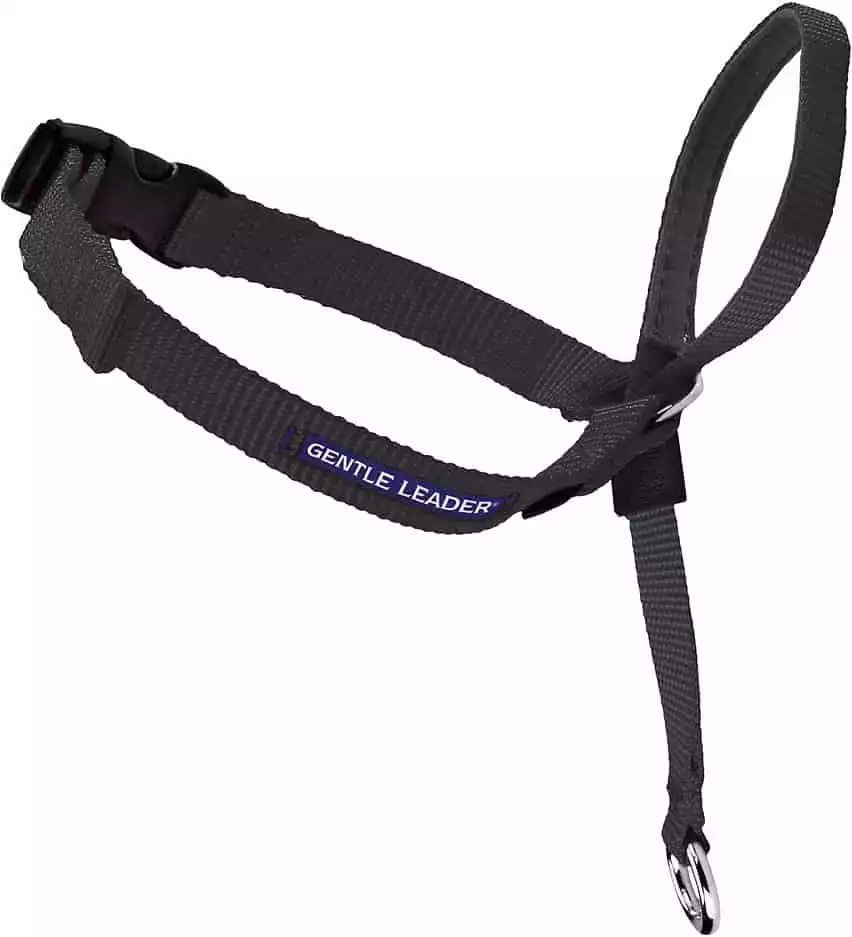 This is one of the best collars for Dobermans that love to pull during walks. It can be of huge help with dog training, as it prevents many undesirable behaviors.
The neoprene padded nose loop is adjustable and comfortable. It will put pressure on the back of the neck and not the pup's throat, so it will help you teach your dog what not to do without choking him or making him cough.
This collar comes in a huge variety of colors, so it can look stylish no matter if you're going to obedience classes or just taking a walk. It also comes in four different sizes, and all are highly adjustable. You likely won't have any issue finding the right size for your Dobie.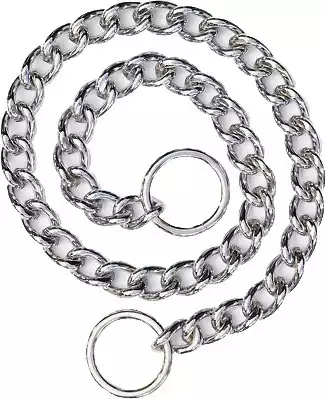 Slip collars are used when you have a large and strong dog that you want to keep under control. This is one of those collars you absolutely need to have during the early stages of dog training.
This slip collar is 4 mm thick, making itstrong and reliable enough to hold even the strongest of dogs. Its chrome-plated design provides durability ,and you can use it for a very long time – although you shouldn't use it every day as it can cause your pooch pain.
At the same time, this product is waterproof and stainproof, and all it takes is a quick wipe with a wet cloth to make it look pristinely clean.
This collar comes in four highly adjustable sizes – but as it's made of chrome, don't expect to see any color options! This type of collar is made to be functional, not fashionable.
What To Look For In Best Collars For A Doberman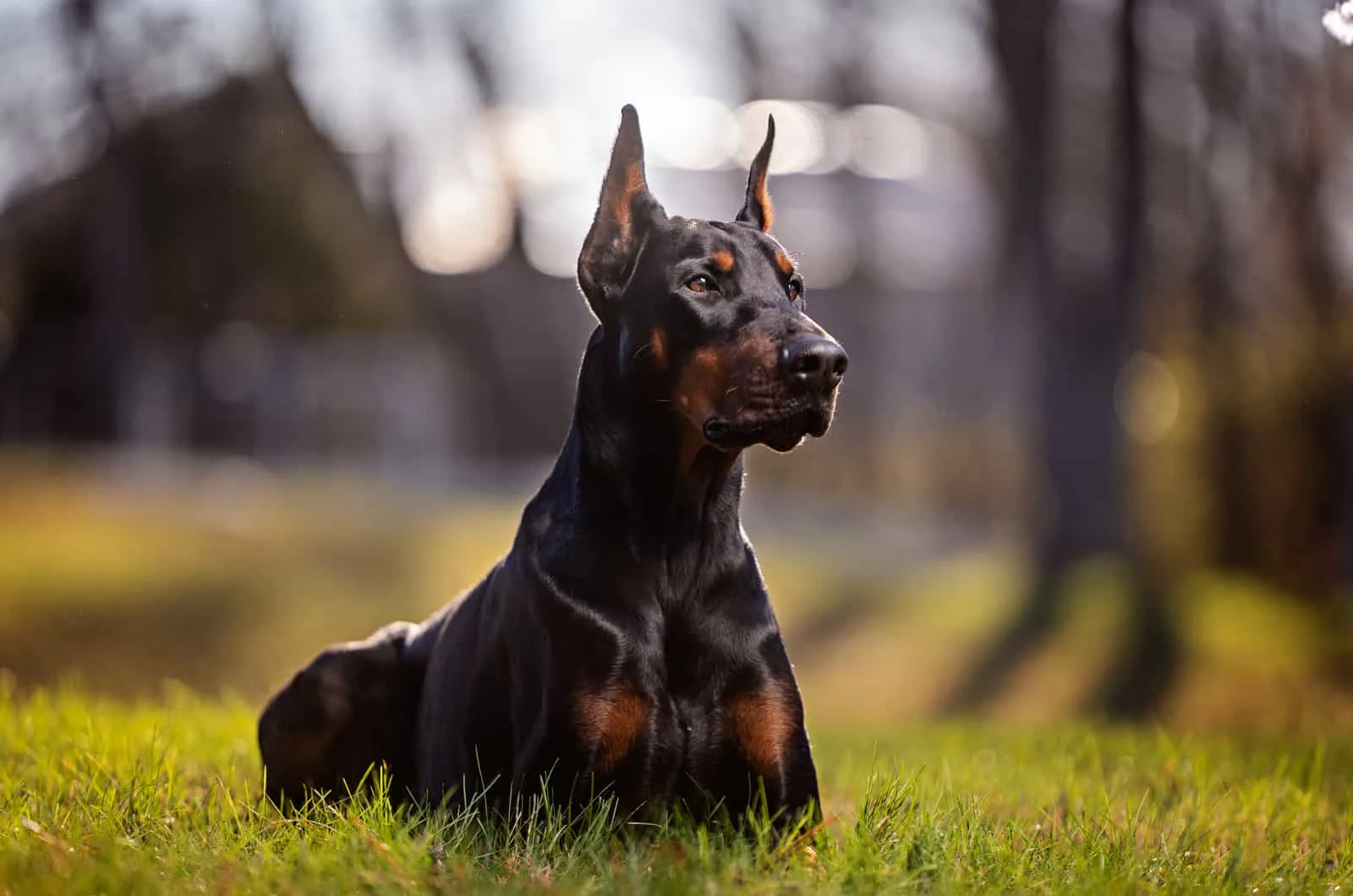 There are some features that make the best collars for a Doberman stand out from similar products. You shouldn't just buy a dog collar because it's a best seller or because you saw someone else use it. All dog supplies should suit you and your dog's needs.
When buying a dog collar, here are some things you need to consider:
Size
Size is the most important thing you need to look into. Keep in mind that this isn't determined by the size of your dog but your dog's neck.
While Doberman Pinschers are a large dog breed, they have slim bodies, and their necks are somewhat smaller than the average for their size. Most will require medium-sized collars.
Still, don't take our word as a rule. You should always measure your Dobie's neck before making a purchase.
The type of the collar will also influence its size. For example, if the collar is sturdy, it shouldn't sit too tight as it could hurt your dog. On the other hand, more flexible collars can be a bit tighter.
A general rule of thumb is that you should be able to fit your finger between the collar and your Dobie's neck.
Material
Material is another important factor that comes into consideration when buying the best collars for a Doberman. There are many good nylon, polyester, or leather Doberman collars to choose from.
It's essential to find a collar made from premium quality materials as these are long-lasting and durable. Dobermans are powerful dogs that can easily tear most regular collars.
Some dog owners prefer to purchase affordable collars no matter their quality. For them, it's easier to replace collars from time to time than to buy an expensive one. Theoretically, there isn't much wrong with this.
However, keep this in mind: A collar made from bad quality materials can tear in the worst possible moment, such as when your Dobie is pulling because an aggressive dog is nearby or while you're crossing the street. We'd never recommend trying to save money on your pet.
Overall, you'd want to get a collar that has the best value for its price.
Type
There is more than one type of dog collars. The flat collar is the most standard one, and it is the desired type. Some dog experts claim that if your dog requires any other type than a flat collar, he needs more training.
Some other types of dog collars include:
A head collar – this type of collar looks similar to a horse's halter as it goes over your pup's snout and attaches not on his neck but behind his ears.
Dog harness – you can find two types of harnesses for dogs: a front-clip harness and a back-clip harness.
A prong collar – also known as a pinch collar, this is a controversial type of dog collar and can hurt a dog if used improperly.
Slip collar – good for the short-term overpowering of a strong dog.
Martingale collar – a mixture of a flat buckle collar and a slip collar.
You can find the best collars for Dobermans of all types above – except a prong collar, which we've excluded because of the controversy surrounding it.
It all comes down to your preferences and requirements.
FAQ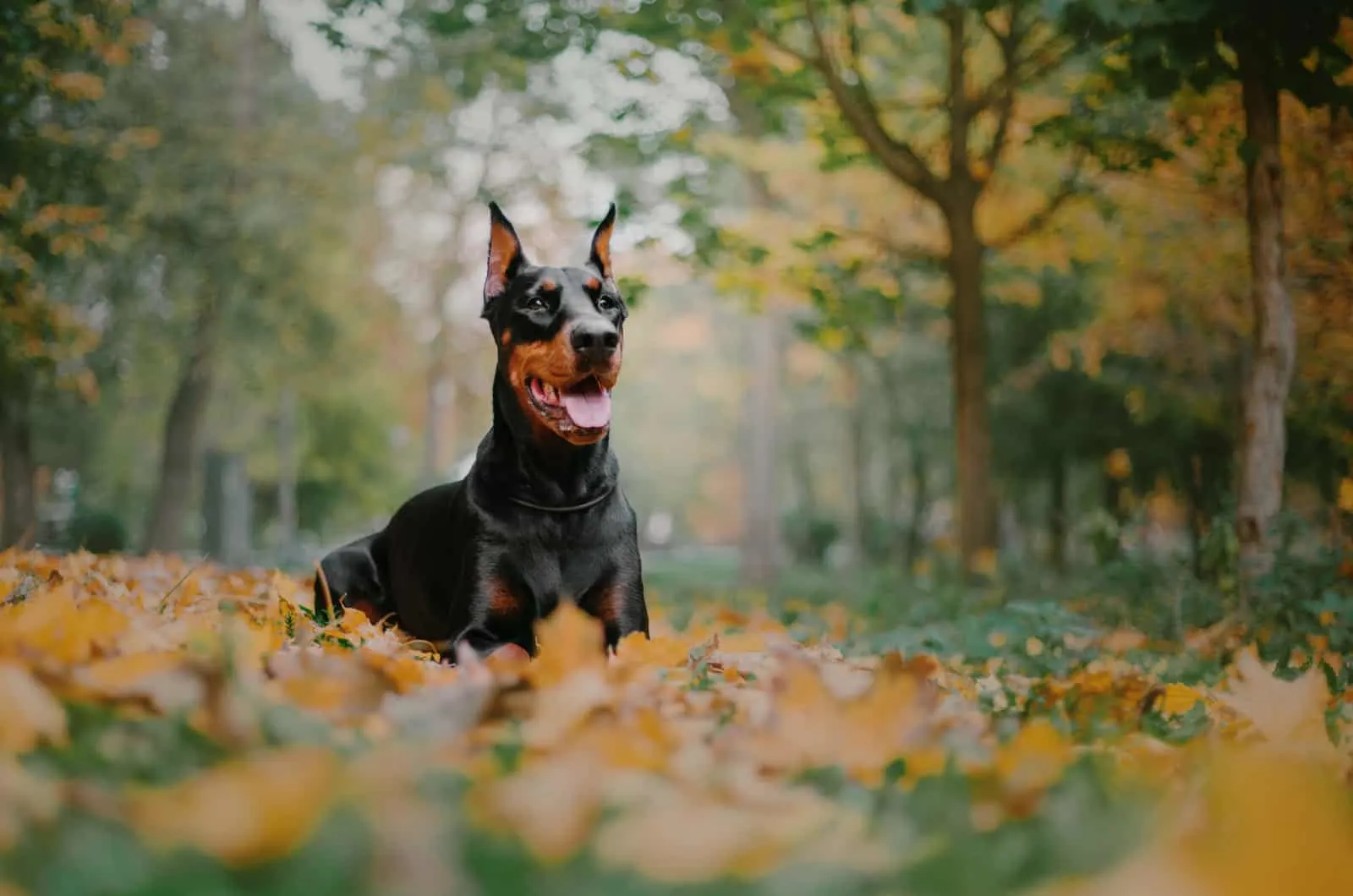 How To Walk A Doberman
Big dogs can be a challenge when it comes to walking, but the best collars for a Doberman can help you with obedience training.
Dobies are sensitive dogs, and they won't respond well to harsh words or rough corrections. When you're starting, don't use dog training collars. Instead, use a head halter or a chest clip harness that won't harm him.
Show your dog lots of positive reinforcement. Encourage training with treats, toys, and affection. Don't let him stray away unless he wants to sniff something near you.
Most importantly, you have to be consistent with training. Don't break if your pup gives you the puppy eyes – he'll know this is your weak spot and that if he is persistent enough, he'll get what he wants.
What Is The Best Bark Collar?
The best bark collar is, of course, a bark collar that will fit your dog well. Make sure your collar fits snuggly around the pup's neck. If the collar is the wrong size, it won't do its job.
Next, we suggest using collars with vibration or ultrasound instead of shock collars. Not only are the shock collars considered inhumane, but they can also frighten and stress out sensitive dogs like Doberman Pinschers.
Keep in mind that not even the best collars for Dobermans can replace positive reinforcements and proper training.
What Is The Best Collar For A Dog That Pulls?
Doberman Pinschers are dogs that tend to pull if you don't train them in time. Once again, no matter how persistent your dog is, avoid using shock collars.
If dog harnesses aren't working, consider using martingale collars or a choke chain/choke collars. These can help you get better control over your Doberman Pinscher without hurting or scaring him.
What Collar Is The Best For A Puppy?
Doberman puppies tend to grow fast, and this is something you need to consider before purchasing any of the best collars for Dobermans. Their collars need to sit loose, especially if you don't remove them while indoors.
Sometimes, getting a proper dog harness is a better option than a standard Doberman dog collar. It can help you keep control over your puppy without causing injuries or risking that your dog will quickly outgrow it.
What Size Harness Is Suitable For A Doberman?
Dobermans aren't small dogs. Instead, they are a fairly large breed that requires a specific sized harness. However, the neck size is more important than the overall size of the dog.
Just like with collars, most Dobermans fall into the medium-size category for harnesses. Of course, you have to consider the size of your dog, as this is just a general rule.