Disclosure: This post contains affiliate links, and I will be compensated if you make a purchase after clicking on my links.
Raise your hand if you want an obedient Pitbull puppy! Of course, you do! Everyone wants a puppy that will listen to their commands, but sometimes, that can't be achieved immediately. Sometimes, dogs need extra training and extra care. This is where shock collars come in handy.
Finding the best shock collar for Pitbulls is so much easier now that you have our list. No more disobedience, no naughty behavior, no barking at 3 AM. Put one of these collars on your dog's neck and teach him some basic lessons.
Now, here are the best shock collars for Pitbulls available on Chewy and Amazon.
PATPET P320 300 M Collar
Key Benefits:
300-meter range

8 levels of vibration and 16 levels of shocks

Waterproof transmitter and comfortable collar

2-hour fast-charging lithium-polymer battery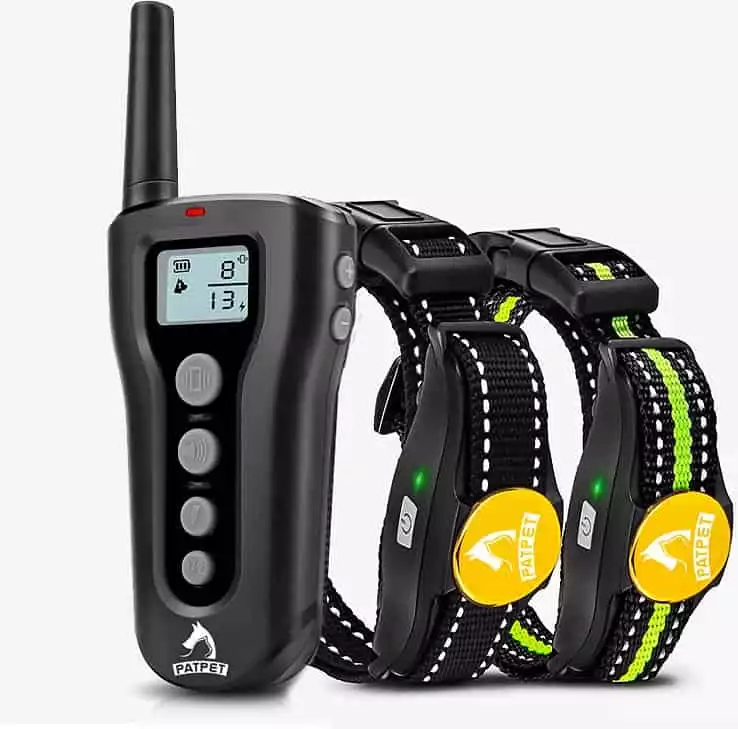 When it comes to great shock collars at an affordable price, PATPET is the best. That's why we decided to include the top five shock collars from PATPET, and then move on to the other collar brands.
All of the shock collars work great to get your dog to be on its best behavior. It's only a matter of which collar suits your budget and your preferences the best.
The PATPET P320 collar works best in small yards since the collar has a range of 300 meters. Don't worry if this is a small range for you. Most dog owners opt for this collar for many other reasons.
First off, the collar is precise and tells your dog a certain behavior must be dropped. It comes with a user-friendly remote that puts you in charge of beeps, vibrations, or electric shocks. But, what are those beeps, vibrations, and shocks?
They're just stimulations that warn your dog to stop doing something because it's not appropriate, e.g., barking or running away.
This model comes with 8 levels of vibrations and 16 levels of mild electric shock. The remote warns you after 8 levels if the sensation is too high for your dog. This way, you can never unintentionally hurt your Pittie. The collar's transmitter is waterproof and packed with a 2-hour fast-charging lithium-polymer battery, and the collar itself is comfortable and discreet.
PATPET 1000 M Collar
Key Benefits:
Up to 1000 m range

16 levels of vibrations and electric shocks

Simple remote design with a durable battery

Comes in 600 m range too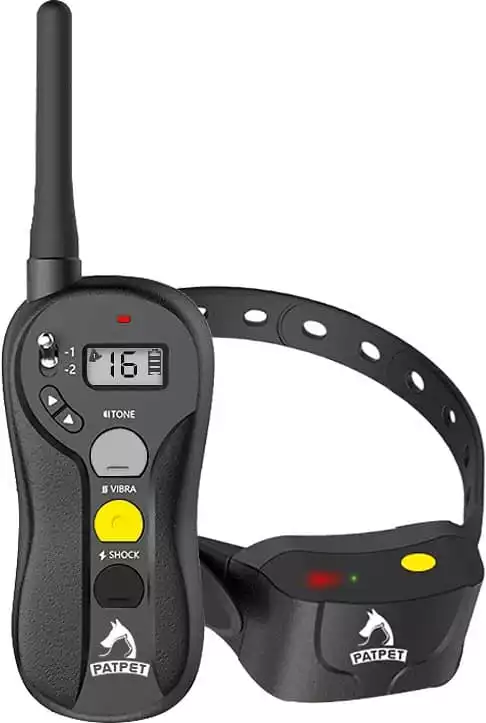 A training collar with a significantly bigger range; this is one made up to 1000 meters. This PATPET collar is as efficient as the first one on our list, but it comes with a heftier price. Still, for $69.90, you get a training collar that will turn your little rascal into a top-grade student.
This dog training collar also comes with a user-friendly remote. No more fiddling around with buttons. You have a simple design with just three buttons, so mistakes are not possible!
As for these three buttons, they stand for three types of stimulation for your misbehaving pooch: irritating sounds, vibrations, and electric shocks.
Each stimulation has its own levels that can be increased or decreased. It has 16 levels for both vibrations and mild electric shocks. Your dog gets a clear message to drop the attitude and start behaving like a good boy or girl.
Also, you get a warning over 8 levels in case your dog might find the stimulations to be overwhelming.
The collar is comfortable and doesn't irritate the skin. It comes with a waterproof transmitter and fast-charging batteries. Also, Chewy offers two range options for this model, the 600 m range for medium-sized yards and 1000 m for large yards.
PATPET P610 600 M Collar
Key Benefits:
600-meters yard range

16 levels of vibration and 16 levels of static stimulation

Submersible in the water

Fast charging and long-lasting lithium-ion battery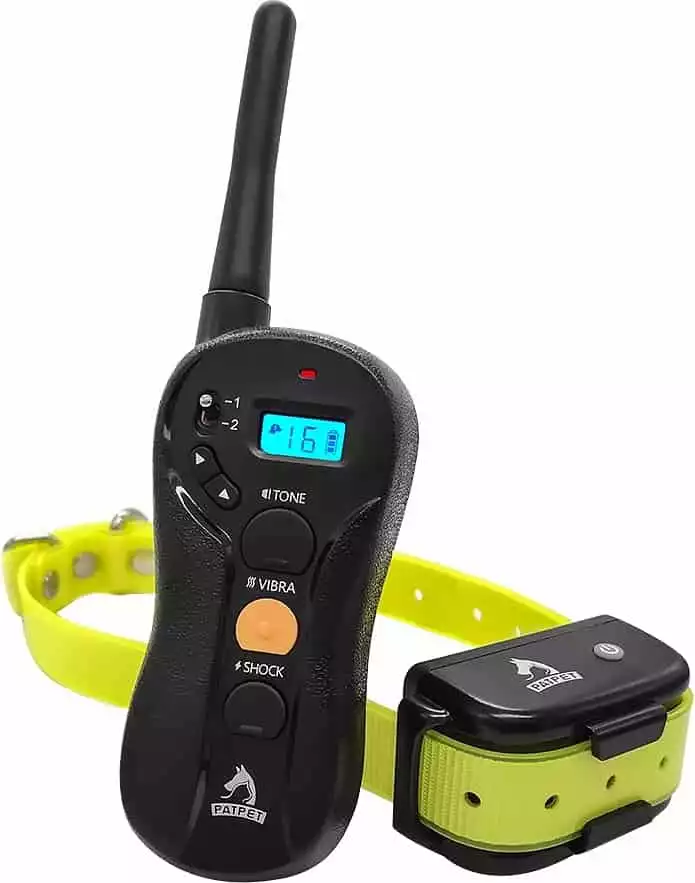 A slightly cheaper training collar from PATPET comes for the range of up to 600 meters. Thi premium collar is worth every penny. The proof? Many well-behaved dogs used the PATPET P610. Your misbehaving Pitbull can be next.
The collar is waterproof and features a rainproof transmitter powered by 2-hour rapid-charging batteries. Batteries in the remote controller are made to last up to 8 days, while those in the collar can last 4 days.
This is still a significant battery life. At least you won't have to be worried about draining the battery during the training. This shock collar comes with a range of 600 meters, which is suitable for medium yards.
The collar has three stimulation options: irritating sounds, 16 levels of vibration, and 16 levels of electric shocks. If you go more than 8 levels, you will hear a warning sound, so you don't harm your dog.
The collar itself is made using thermoplastic polyurethane. It's comfortable, discreet, and won't hurt your dog's neck skin or pull on the hair. Even though the collar is comfortable, it should never replace an everyday flat collar. Take it off after a maximum of 12 hours of use.
PATPET P350 Energy-Saving
Key Benefits:
Energy-saving function

Fast-charging Li-ion battery

Irritating beeps, 8 levels of vibration, and 16 shock modes

Adjustable and comfortable collar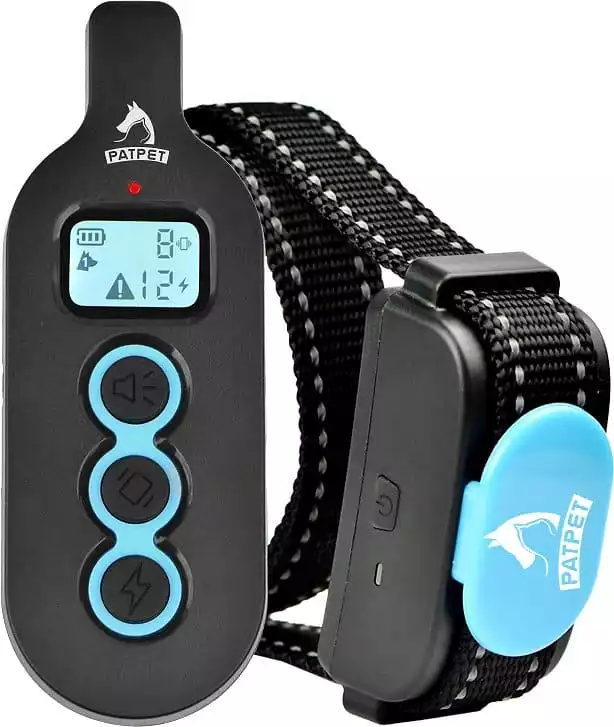 PATPET has innovative designs and technologies hardly any other brand for training collars has. For example, the P350 on our list has some awesome features that will amaze the tech-nerd in you.
The PATPET P350 training collar comes with an energy-saving function. But, that's not all. Let's see what else this cool gadget can do!
The energy-saving function proves its efficiency when you're not using the collar. The remote simply wakes up the collar when it's in sleeping mode, so it's always ready to use. This way, the battery life is prolonged, and you won't waste too much power charging it. It's green too!
In fact, the batteries are even fast-charging. Just plug in the devices, and you're ready to go within two hours! We love PATPET for the water and rainproof features of this collar and the transmitter.
Aside from this, the collar is adjustable and fits all neck sizes. It's comfortable and doesn't choke the dog as most prong collars do.
As for the functionality, the P350 comes with three levels of stimulation, including irritating beeps, 8 vibration intensity levels, and 16 shock levels. They all discourage bad behavior; you just need to find out which one works the best for your dog.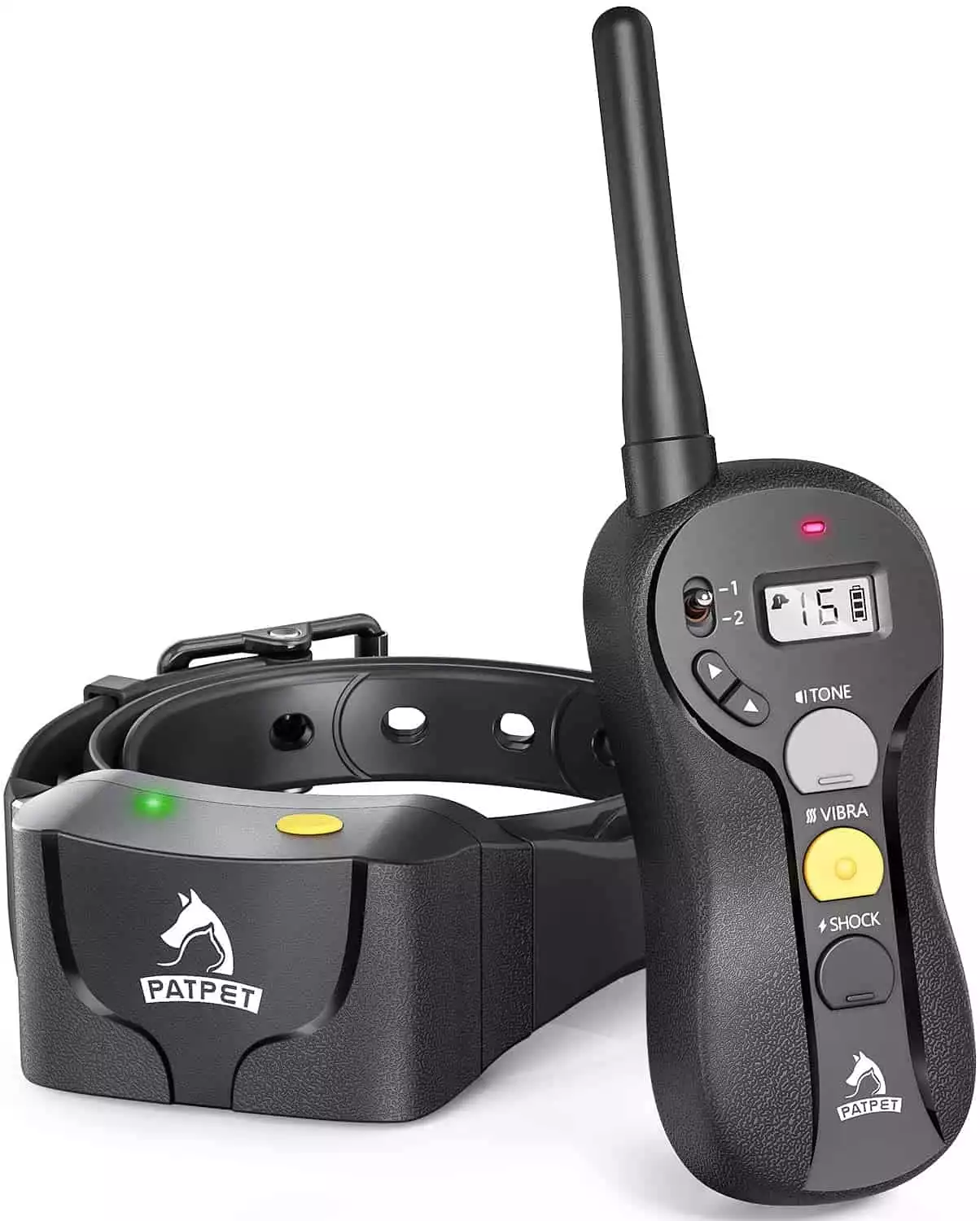 Every dog trainer or pet owner wants his dogs to pay attention and listen to his commands. Well, with the PATPET dog training collar, those wishes may actually come true. Your dog's attention is something that can be corrected with the use of the right tools.
Last of the PATPET collars is this rechargeable remote dog training collar with lots of cool functions. This collar has 3 training modes, including irritating sounds, 16 vibrations, and 16 static shock levels. Since the collar is wireless, it offers a remote range of up to 1/2 mile range.
The PATPET remote trainer has an IPX7 water-resistant receiver and IPX5 waterproof remote. The remote control comes with a rechargeable battery that can be used blindly, making the training process easier.
The collar doesn't irritate the skin and comes with double-protected contact points, so your dog won't get hurt in any way. The collar fits all dog sizes, from small dogs to large dogs. Your Pitbull may be the perfect candidate for this shock collar for dogs.
Educator By E-Collar 3/4 Mile
Key Benefits:
3/4-mile range

1 to 60 boost level, 1 to 100 level range

Bio-Thane polyester webbing

Waterproof and durable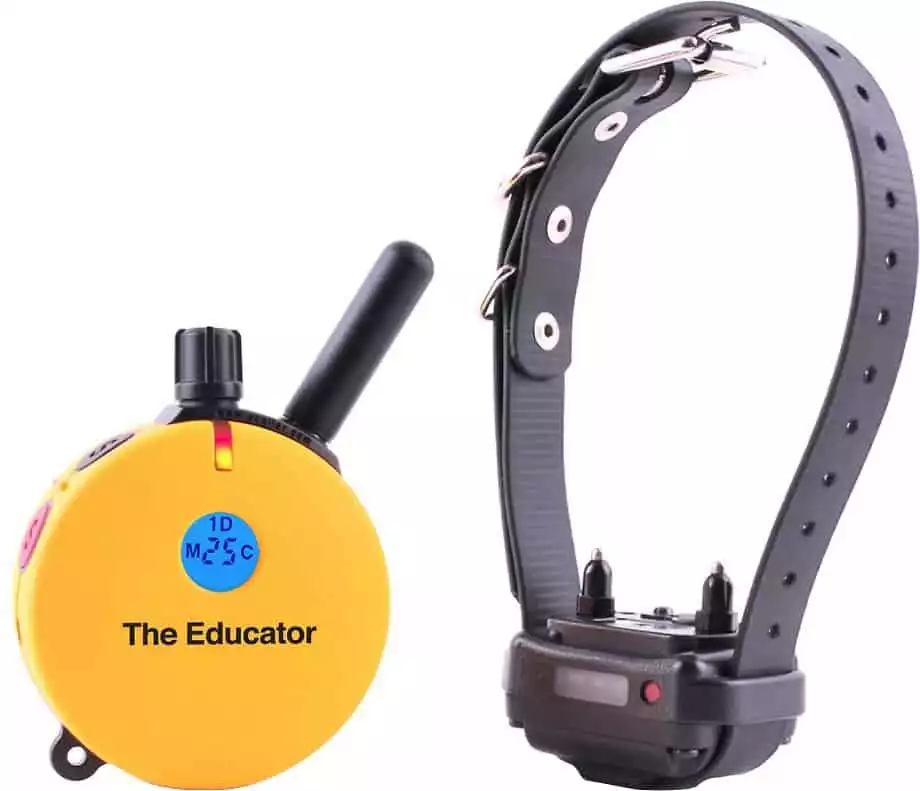 Dog training shock collars can be a bit pricey, but if they work, they're worth every penny. We present you one of the best shock collars for Pitbulls. The Educator By E-Collar is one of the best training collars that turns stubborn dogs into exemplary pooches.
The collar fits all dog breeds and sizes, including your Bully, and comes with a "lock and set" stimulation level from 1 to 100.
The collar sends tapping vibrations and annoying sounds to your dog, with a boost level from 1 to 60 according to your dog's temperament. The low-level blunt stimulation will work within the 3/4 mile range and help turn any aggressive dog into a calm doggo.
The collar itself is made of BioThane. BioThane is a unique polyester webbing covered with a polymer coating. It makes any collar durable and waterproof. You'll find it's easy to clean and stay that way. Your dog won't have issues with the collar itching or causing allergic reactions.
Editor's Pick
Educator By E-Collar Micro
Key Benefits:
1/3-mile range

The package comes with two collars

Sound, light, and vibration shocks from 1 to 100

20% lighter than standard models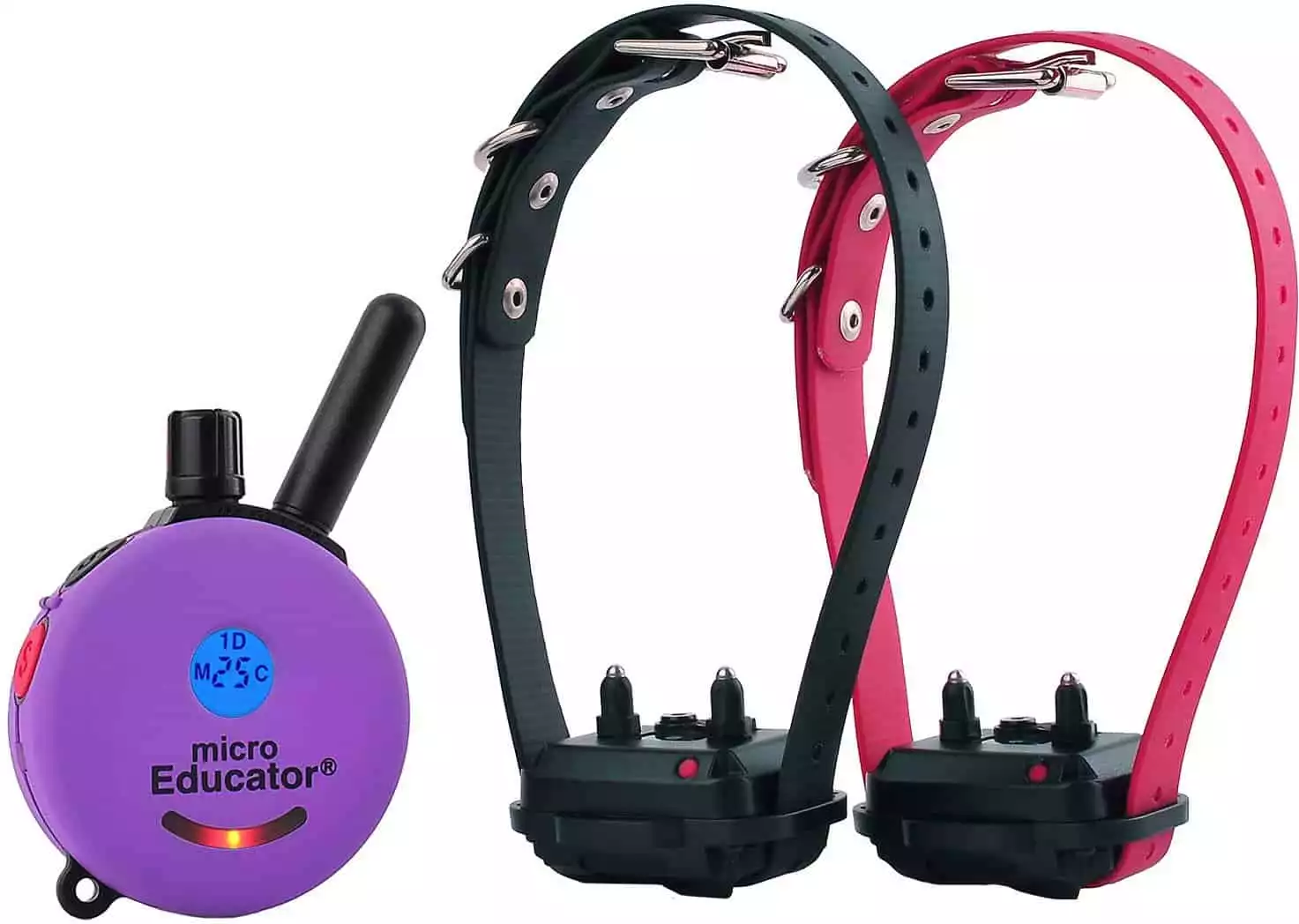 Educator By E-Collars is an excellent brand of high-quality training collars, but even they come with a sort of a downside. It's their hefty price. When they're not on sale, their price can go as high as $329.99! Sure, that is expensive. But, is the collar worth several hundred dollars?
Let's put it this way: if you have a disobedient, slightly aggressive dog that just won't listen to you, but you love him to bits, would you do anything it takes to win him over? Of course, you would! And if your budget is not tight, you should buy the Educator By E-Collar.
This version comes with a 1/3 mile range, and it comes with two collars in the package. If you own multiple dogs, you're gonna love this training collar! Besides the stimulation, the collar offers sound, light, and vibration shocks from 1 to 100.
The transmitter has a little LED light, so you can see your dog even in low-visibility situations. Also, the remote controller comes with an LCD display, so typing in the desired level can be done quickly and efficiently.
The micro model is 20% lighter than standard Educator By e-collars, which makes this model fit for even small dogs.
PetSafe No Bark Collar
Key Benefits:
15 levels of automatically adjusting correction

Recognizes only your dog barking

Shuts down for 3 minutes after 15+ barks within 80 seconds period

Ergonomic design and premium-coated nylon material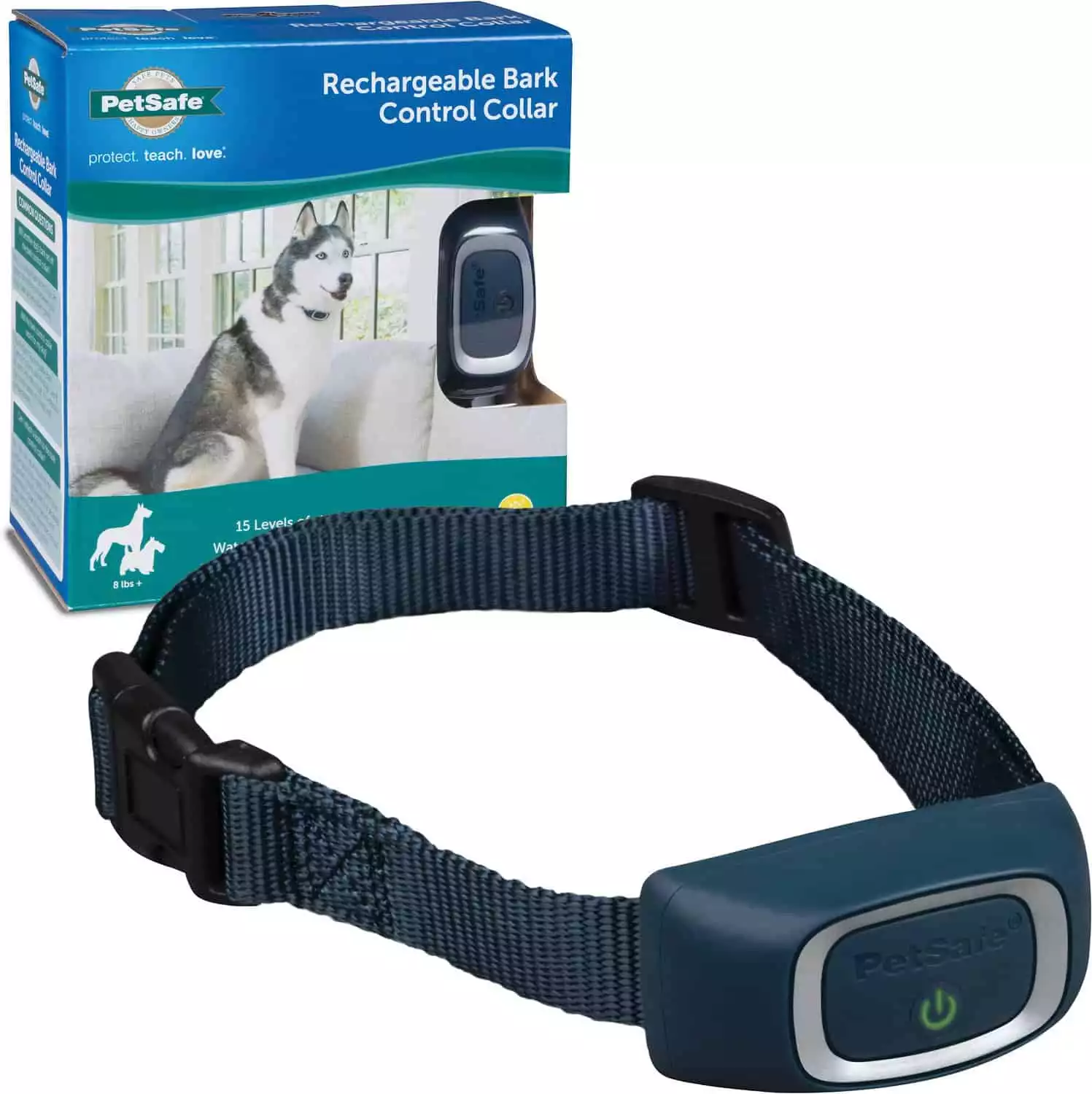 All dogs can become noisy at certain points in life. Usually, puppies are the ones who need training and anti-bark collars. You will need to teach your little Pittie that barking isn't appropriate sometimes, especially not at 3 AM! That's where no-bark collars come to help.
This anti-bark collar from PetSafe features 15 levels of automatically adjusting static correction. The temperament learning technology adjusts depending how often your dog barks. The biggest advantage of this collar is that it won't be triggered if another dog barks.
The PetSafe no-bark collar activates only when your dog is loud. When your dog starts barking, the collar will start with low-level corrections and begin to increase the intensity until the dog stops barking.
The good thing is that the collar will shut down automatically after barking 15+ times within an 80-second period. After three minutes, it will be ready to use again.
The collar's ergonomic design makes it suitable for different sizes and different dog breeds. Since Pitbulls are big dogs, you won't have to worry about the collar being too tight on its neck. It was designed using premium-coated nylon for neck sizes from 6 to 27 inches.
Petdiary T502 Collar
Key Benefits:
Beeps, vibration, shock, and LED

Three levels of LED lighting

Waterproof collar

Can support up to three dogs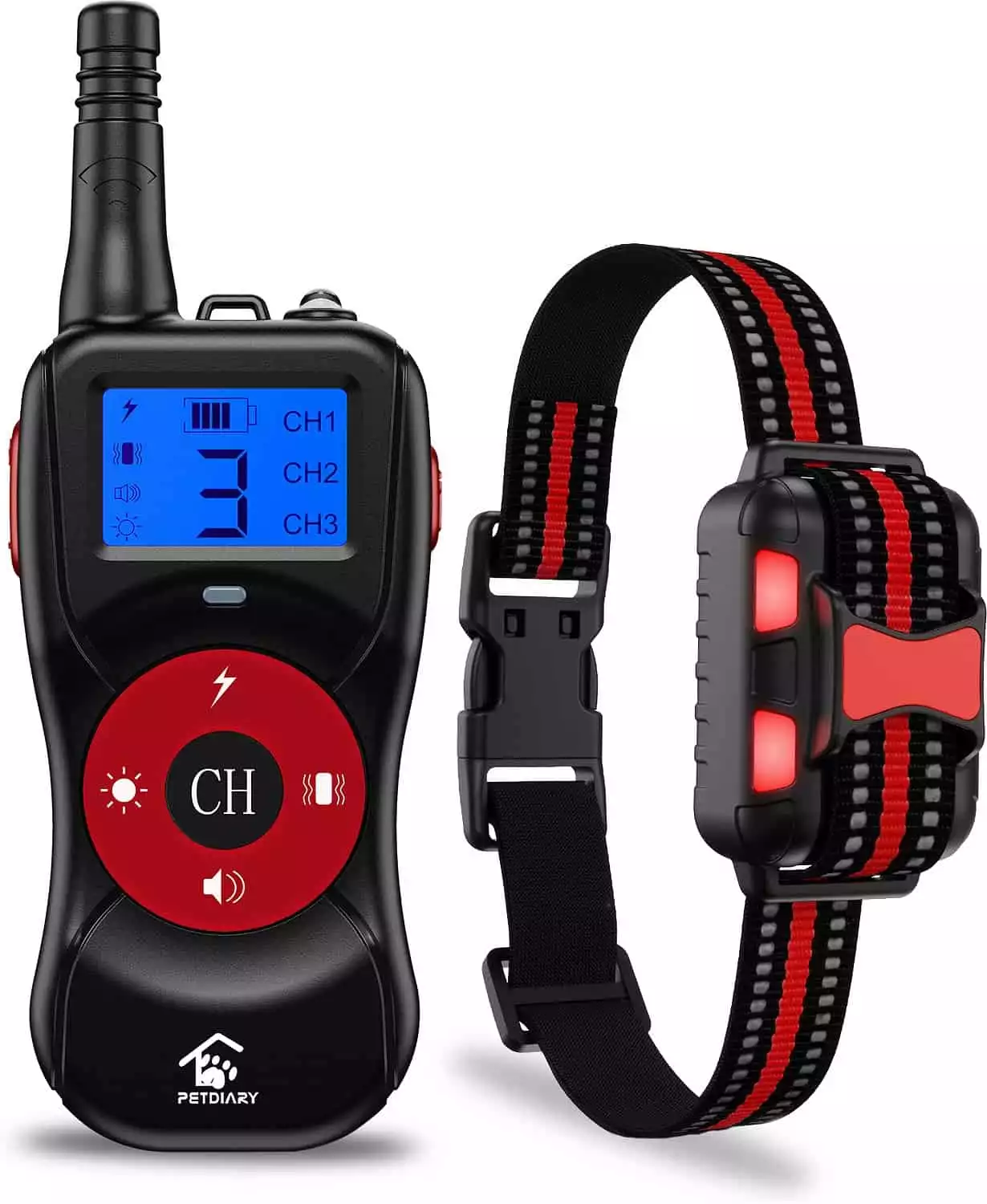 First time owners will probably have some issues getting used to shock collars. Well, it's the only way to get the most out of your dog. Shock collars are designed for limited use only. So, the moment your Pitbull starts behaving like he's supposed to, you should stop using the shock collar.
To encourage good and stop bad dog's behavior, we suggest you try the Petdiary T502 collar. It was specially designed to support up to three dogs and help you out with your canine gang.
The collar comes with four stimulation modes, including beep, vibration, shock, and LED. Try them all to see to which one your dog responds the best.
The best part of this collar is that it has three levels of LED lighting, so your dog is visible in low-light settings. The collar easily adjusts to your dog's neck size. It's waterproof and can be used under all weather conditions. Rain won't stop your Pittie from becoming obedient.
Editor's Pick
Dogtra 1900s Collar
Key Benefits:
3/4-mile range

Ergonomically designed remote control

Three modes, electric shocks, sustained stimulus, and vibration

2-hour fast-charging batteries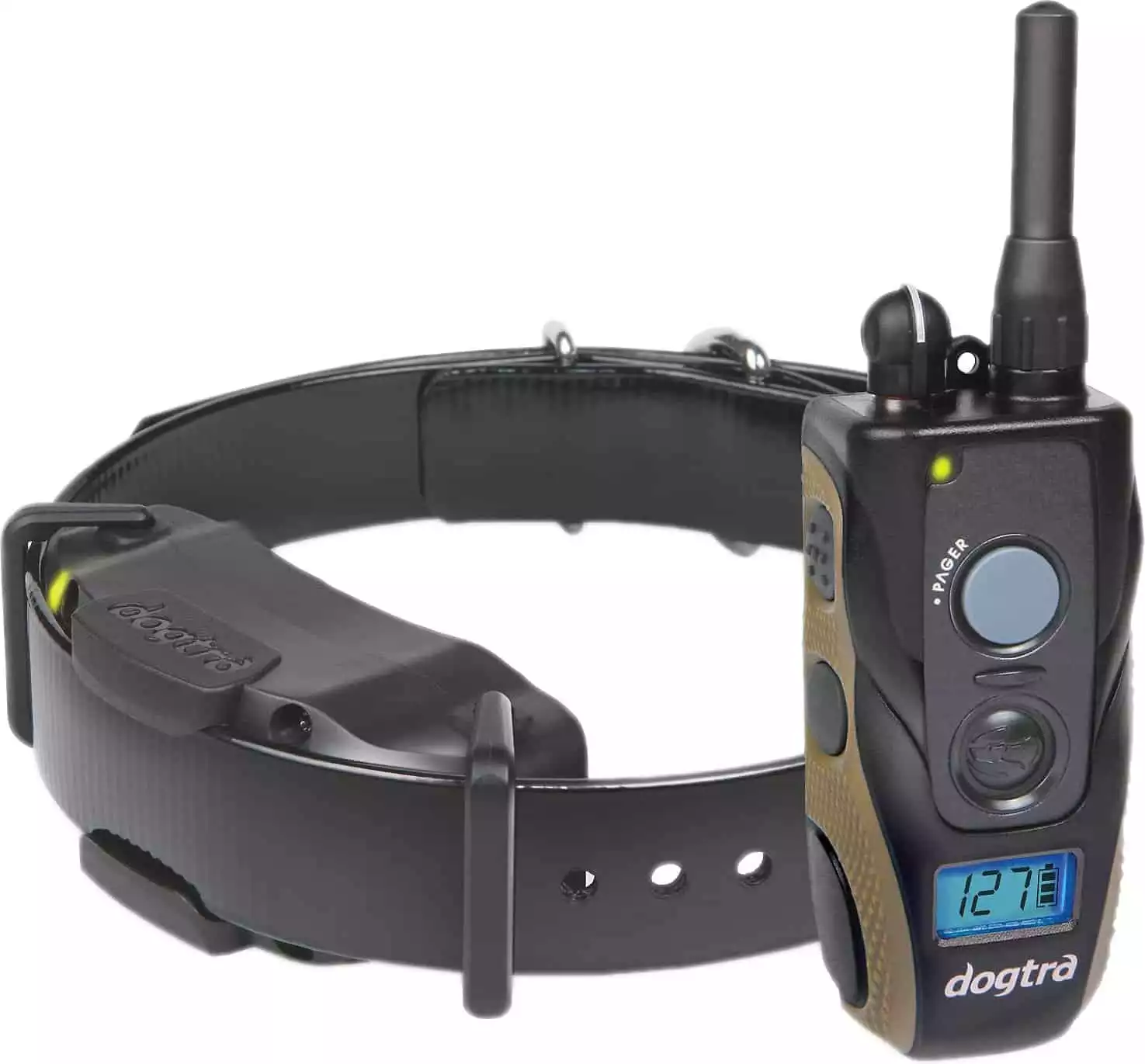 So far, we've figured out that expensive training collars actually work. So, what about the Dogtra 1900s training collar? Is it efficient like the rest on our list? Is this collar worth $259.99?
The Dogtra 1900s offers you ultimate control over your disobedient Pitbull. This collar features a lightweight, slim-profile collar that acts as an invisible leash and doesn't allow your dog to wander off further than 3/4 miles away.
In case he wants to get away, you just use that ergonomically-designed remote controller and choose one of the three modes: one push for electric shocks, constant hold for a sustained stimulus, and page mode for shock-free vibration.
Thanks to the 2-hour rapid charging batteries, your Pittie will be ready for any sort of training, including obedience, hunting, competitions, K-9, and detection training. All you've gotta do is to yell a command.
DogCare EC11 Collar
Key Benefits:
0.2-miles range

Sound, vibration, and electric stimulation

Can support up to 9 dogs

99 levels of intensity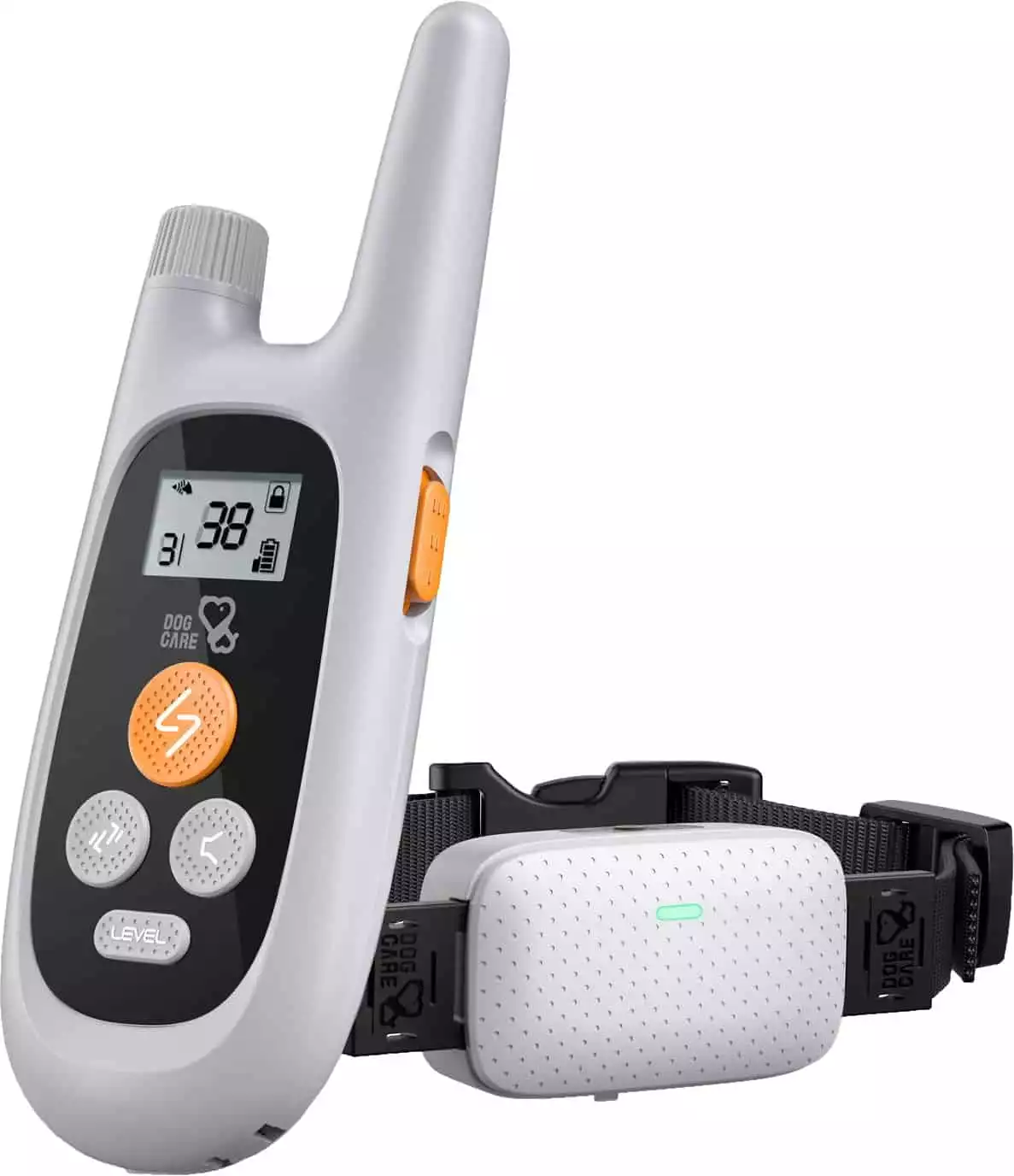 We all want safe shock collars for our dogs. Many of the available collars on the market aren't safe or efficient. In fact, some of them may seriously harm your dog. That's why we recommend only using trusted collars like those made by DogCare.
The DogCare EC11 training collar has three different training modes, sound, vibration, and electric shocks, all safe for your four-legged buddy. All of the modes can be controlled by the remote.
In fact, the remote range is up to 330 yards and contains a battery that can last up to 15 days. When you add that this transmitter can support up to 9 dogs, you'll see why the EC11 is so amazing!
As for the training modes, they're covered with 99 levels of intensity, so you can gradually choose which one fits your dog the best. Besides the static levels, the collar's size is also adjustable and will fit most dogs, including your Pittie. You're gonna love the EC11 for its efficiency and reduced chance of accidental shocks.
SportDOG Yard Trainer
Key Benefits:
8 levels of static stimulation

100-yards range

Submersible up to 25 feet

Easy-to-operate remote controller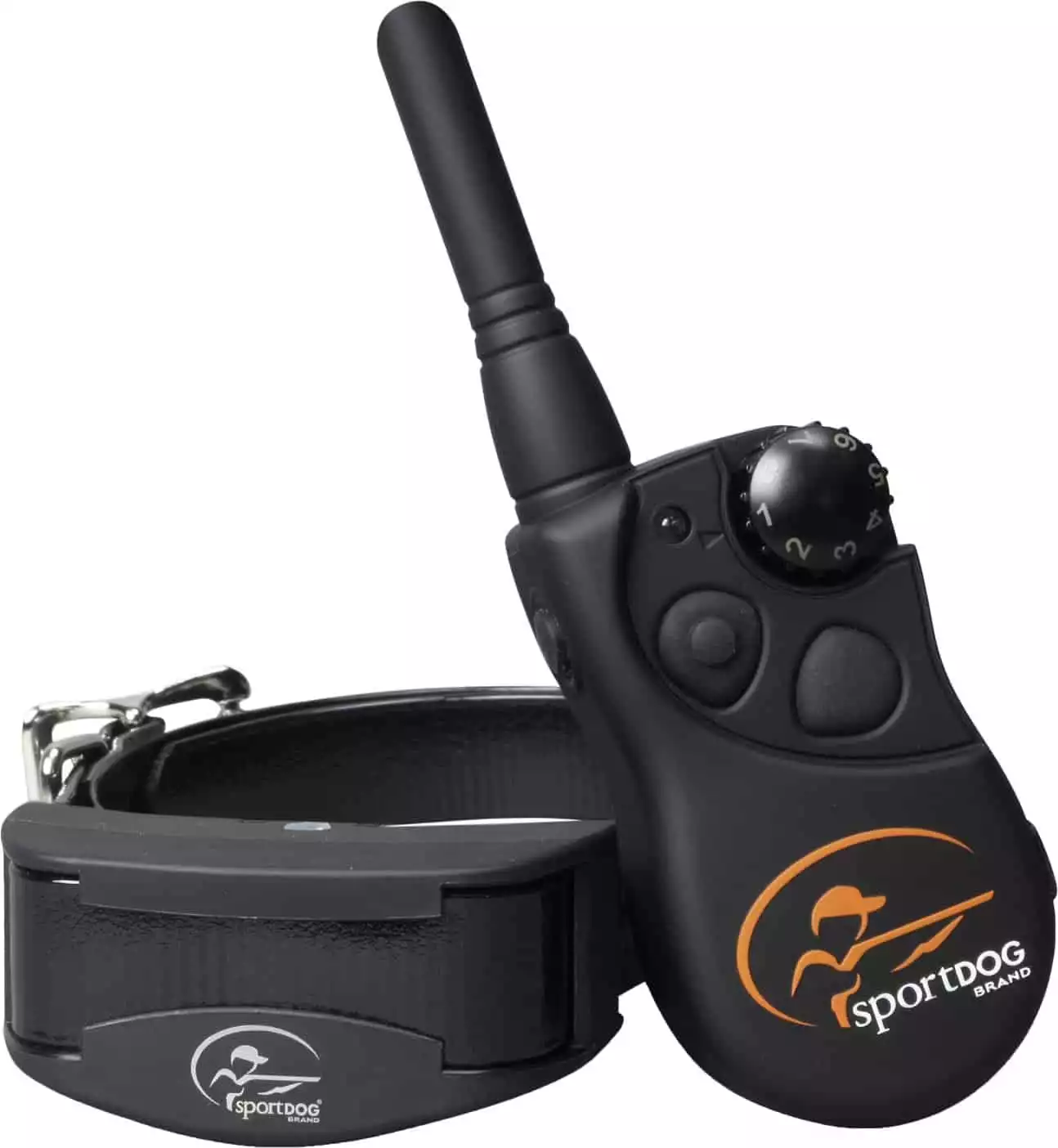 Sometimes, teaching your Pitbull to be obedient and reliable is tougher than it seems. Luckily, there are products like the SportDOG training collar that will give you a helping hand. With this yard trainer, your Pitbull will be a good boy everywhere, not only in your backyard.
This collar features 8 levels of static stimulation that tells your dog he's doing something wrong. Also, you can choose between sound and vibration options. The collar responds quickly to your requests and operates within a 100-yards range. It's even submersible up to 25 feet!
You're safe in case your Fido wants to take a dip while wearing this collar. The good thing about this system is the easy-to-use remote control can be operated without looking at it. The system comes with Li-ion batteries that have an extended life.
The SportDOG Yard Trainer is a reliable buddy that will never leave you hanging. Such high-quality collars are definitely worth the price.
FAQs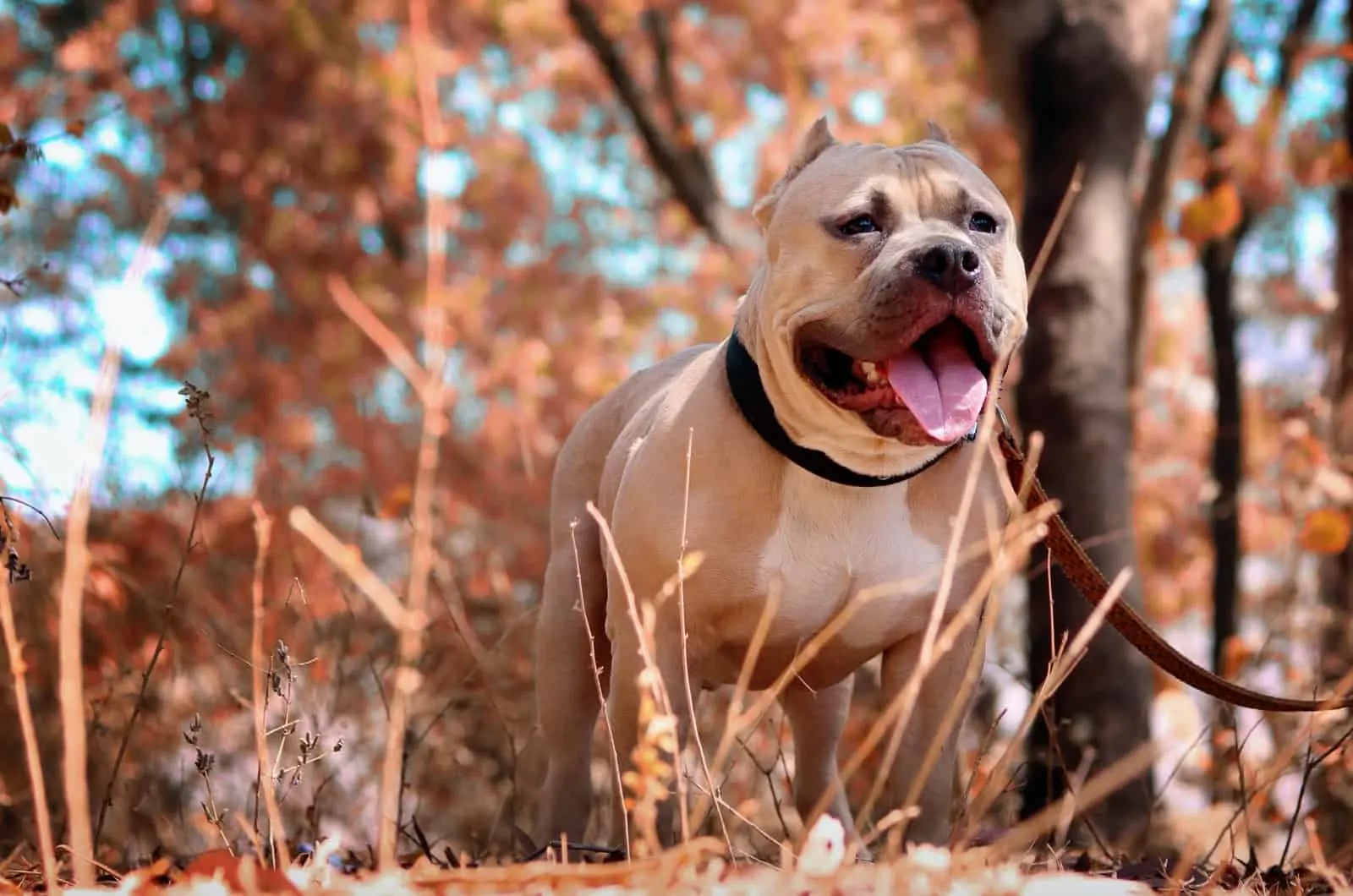 1. Is There A Buying Guide For Purchasing A Shock Collar?
When purchasing a shock collar, you should not make a hasty decision. Do your research and figure out what kind of temperament your Pitbull has.
Finding the best shock collar for Pitbulls requires some research on the collars on the market, but whichever you choose, make sure it satisfies the following criteria.
First, pick a collar with multiple stimulation options. You never know which option will work the best on your dog. Your Pitbull may respond to irritating sounds, or it may not even respond to electric shocks.
Also, if a collar has adjustable levels of stimulation, that's even better!
Choose a collar appropriate to your dog's weight and neck size. Also, pick according to your preferences. Do you want a collar with a big range? Small range? What do you think of fast-charging batteries? Of course, they're great, but are you willing to pay so much money for a collar with them?
2. What Kind Of Stimulations Do Shock Collars Use?
Most shock collars use three stimulation modes. Some even have a fourth option, stimulation with LED lights. However, the standard stimulation options include beeps, vibrations, and electric shocks.
Beeps or irritating sounds are the weakest options, good for correcting small mistakes.
The vibration mode sends vibrating stimulations through prongs and sends a clear message to your dog that he's doing something bad.
Shock stimulation sends electric impulses to your dog and tells him he's wrong for doing something. However, these impulses aren't that high, and most collars have adjustable levels to suit each dog's temperament.
3. Does My Pitbull Really Need A Shock Collar?
Not every dog is the same. Some Pitbulls might not even need a shock collar, while others will respond to only sound or vibration stimulation.
The first thing you have to do is to get to know your dog's nature. If your dog is a bit aggressive, he'll need a more strict approach. However, the sole purpose of shock collars is to train the dog, not to harm it.
4. Are Shock Collars Dangerous For My Dog?
Shock collars aren't dangerous by default, but they can be in the wrong hands. Experienced owners and professional trainers know how to handle shock collars.
If you're a first-time owner and not too sure about using a shock collar, you might want to consult a professional first and read the manual. Electric collars, if not used correctly, can harm your relationship with your dog.
5. Can Aggressive Behavior Be Treated With Shock Collars?
You will need to be extra careful when training aggressive dogs. Aggressive behavior has to be corrected. So, yes, you can use shock collars for training aggressive Pitbulls. However, you need to know how to handle shock collars.
Some dogs express a higher level of aggression, so they'll need more static stimulation to show them they're wrong. If you overuse the collar and don't train the dog correctly, your Pitbull may show more signs of aggression and even anxiety.