The Cane Corso is a strong and wonderful doggo, and strong dogs tend to put a lot of pressure on dog collars, making them a potential hazard and making dog harnesses the better alternative.
But, what's the best harness for Cane Corso dogs ?
As far as the harness itself is concerned, it needs to be made out of durable material that won't easily tear, and can withstand the jaws of a large dog like a Cane Corso.
But, overall, quality isn't measured in durability alone, the comfort of your furry friend is equally as important.
You wouldn't want him to feel uncomfortable in a harness that's too tight or if the edges are burying themselves deep into his skin, causing rashes, general irritation, or fur loss.
That's why I've made sure to go through the most popular marketplaces on the internet, like Chewy and Amazon, to catalog all the best ones and make it easier for you to pick the one that fits your and your Cane's needs.
Read on to find out what they are.
6 Of The Best Harnesses For Cane Corsos
The first harness on our list is one that comes from an aptly named company, Harness Lead.
The Material
Made out of high-quality polyester , the harness has a soft texture that adheres well to your dog's body without causing any irritation while also providing a durable tool to let your dog out for walks.
The leash itself is made from double-braided nylon, built to withstand forces stronger than a dog could physically exert, and it has a tensile strength of nearly 3700 lbs . The pull is evenly distributed along your pup's torso instead of his neck.
There's an extra dose of safety in the fact that it's all woven in with reflective material so you and your dog can have safe nighttime walks.
The Benefits
It's easy to put on and remove in less than a minute, thanks to the adjustable straps that also help ensure your dog's comfort, and it grows with him if he's still growing.
The harness is easy to clean, and is fully machine washable so you don't have to invest any extra work into your day to maintain it.
The best part is that it's entirely U.S. made, meaning that by buying one of these, you're supporting local buyers and our own economy.
Speaking of which – the price is about the average for harnesses, if not lower.
The only downside that I noticed is a lack of color options.
Next up is yet another aptly named product by Headlight Harness – the… well, headlight harness.
Imagine it as the deluxe harness option, given the addition of the headlight that's not just a gimmick, but helps make nighttime walks a lot easier and saves the battery life on your phone's torch.
The Material
Made out of highly durable and breathable mesh , this dog vest is the ideal companion for your furry friend for any season, preventing sweat and overheating in the summer while still keeping him nice and cozy in the colder seasons.
The Benefits
The design of the harness is made so that the dog feels minimal push and pull when you try to pull him back if he gets too excited, meaning you won't end up causing skin irritation from friction or injuring him on accident if you pull back too hard.
It also features four adjustable straps that help the harness grow with your pooch, from a small dog all the way up to adulthood, within the described size, of course.
The LED light located in the middle of the chest helps light up the immediate area, and it is a good choice for working dogs that are out and about at night, whether doing search and rescue, shepherding, or anything of the sort.
But, don't worry – that's not the only safety measure built in. The harness also has reflective material woven in just in case the battery on the light runs out or malfunctions.
Plus, the harness is water resistant , meaning a little bit of rain won't ruin the light.
For those of you who like to personalize your doggo's apparel completely, the dog vest comes in six different color options so you can find the one that best matches your Cane Corsos beautiful coat color or his personality.
Because of the said options, it does come at a premium, but it is worth the price.
FRISCO is a brand known for quality products with an affordable price, and their dog harness is no different.
With sizing options for dog breeds both big and small, they have almost all of them covered, from small breeds like French Bulldogs and Pitbulls to large breeds like Great Danes and German Shepherds .
However, the focus today is on large-sized dogs and above, like the Cane Corso .
The Material
This nylon dog harness is fitted with a padded mesh chest piece to help minimize the strain on your dog's body if he were to try and break free, no matter how hard you pull.
The fitted O-ring on the chest for the leash aids in that endeavor by shifting the dog's field of vision over to you without hurting his neck.
It helps calm him down a little and divert attention away from the thing that caught his attention in the first place.
This option is normally used for obedience training when trying to get your dog to behave during walks in which only gentle redirection is needed.
And, for those who don't like putting their leash on the front of their dog, and prefer the traditional back attachment, the dog vest also has a D-ring on it that serves that very purpose.
The Benefits
The harness itself has adjustable straps , meaning it'll last your dog for a good while, and grow with him without the need to buy a new one with every growth spurt.
The two quick release buckles on the side help you easily put the harness on and off with little to no fuss.
For those who like adding a bit of color to their Cane Corso , don't fret because this walking harness comes in four different color variations so you can choose your ideal option.
It's on the more affordable side, too , meaning you won't have to break your bank just for one product considering how much maintaining a Cane Corso costs.
RELATED: Cane Corso Vs Great Dane – Is A Cane Corso Bigger Than a Great Dane?
A more traditional option is offered by the people over at PetSafe.
Sure, it may seem a bit simple, but what it sacrifices with simplicity, it makes up for with practicality . Plus, it's a great bargain for what it offers, making it a great choice for all of you budget-savvy dog owners out there .
Much like the other options on this list, this harness comes in a variety of sizes, from X small (petite) to X large , depending on the breed or age of your dog.
You want to focus on the upper levels for your Cane, and even then, one size will likely last you for most of your furry friend's life .
The Benefits
It was designed to be a simple, no-pull harness, with a D ring on the front to attach the leash to , keeping your dog's body safe from harm due to sudden pulls, and keeping his attention focused on you and away from anything that might provoke him.
The ring is part of a Martingale loop, which enables the no-pull effect, and it only really tightens partially to prevent your dog from slipping out of it by accident.
It also keeps the pressure away from the neck and, instead, focuses it around his shoulders so as not to cause potentially dangerous problems for your Cane.
When you first give it a look over, you'd think that it looks too simple, but that's the beauty of it.
It still functions just like any of the more complex harnesses do, but it leaves most of the body unobstructed, allowing your doggo's mobility to be unhindered and his skin and fur open to breathe.
The Material
The belts are made out of durable, high-quality nylon , making them comfier on your pupper's torso and resistant to aggressive chewers.
It comes in eight delightful colors for all of your personalization needs.
The only real downside that I can see is that it might be a bit too simple, but I'd say it's still well worth the price.
Next up is somewhat of a big ticket item – the Aztec harness.
A wonderfully handcrafted harness aimed at all the larger dog breeds like the Rottweiler , the Bullmastiff , the Pitbull , and, of course, the Cane Corso, as well as plenty of others.
The Material
This leather dog harness is crafted out of 100% genuine leather . With German belt leather on the outside, and pig skin on the inside, the former is for looks, and the latter is for comfort and durability.
The Benefits
The inside is also covered with a soft, padded, foam chest plate to minimize the impact of pulling back on your doggo's body, and to prevent the edges from sinking into his skin.
But, the reason for the high price aren't the materials alone, but rather the decoration on this beautiful thing, with its wonderful metal rivets and circle studs that'll make you think it's pulled straight out of a Wild West flick.
It features a more traditional D ring on the back for leash attachment purposes that will let you take your pupper out for comfy walks where he'll be the talk of the town.
Unfortunately, there aren't any real color variations, so what you see is what you get, which may be off-putting to some.
Designed to be a modern, ergonomic, non-pulling dog harness , the Rabbitgoo puts the comfort and safety of your pooch at the forefront of their design. This is why they're one of Amazon's bestsellers .
The Material
Not only is it made from a mix of breathable, air-mesh fabric, with highly durable nylon for the base, and padded out with a soft, cushion chest plate , but the belts themselves are made from polyester webbing, which can withstand the force of even the strongest of dogs.
So, believe me when I say that you're buying a product that'll last you and your furry friend a long time.
The vest also has reflective material woven into the fabric so your dog can stay safe out on the streets, especially at night.
The Benefits
Aside from that, the dog harness features rings on the front and back depending on your preferred walking style.
There are four adjustable straps on each of the ends, which let you size it up as you see fit for any large dog breed , allowing the harness to grow with man's best friend.
While not indicated as machine-washable, the harness itself is rather easy to clean so you won't need to exert too much energy on maintenance.
And, for all you dog owners with an eye for style, the harness comes in 14 different color variations for you to pick from – way more than most other competitors on the market.
This allows you to truly pick the color that best represents the bond between you and your Cane Corso .
The price is shockingly affordable, too, so you won't be breaking your bank just to provide your pooch with a bit of comfort.
Things To Be On The Lookout For Before You Buy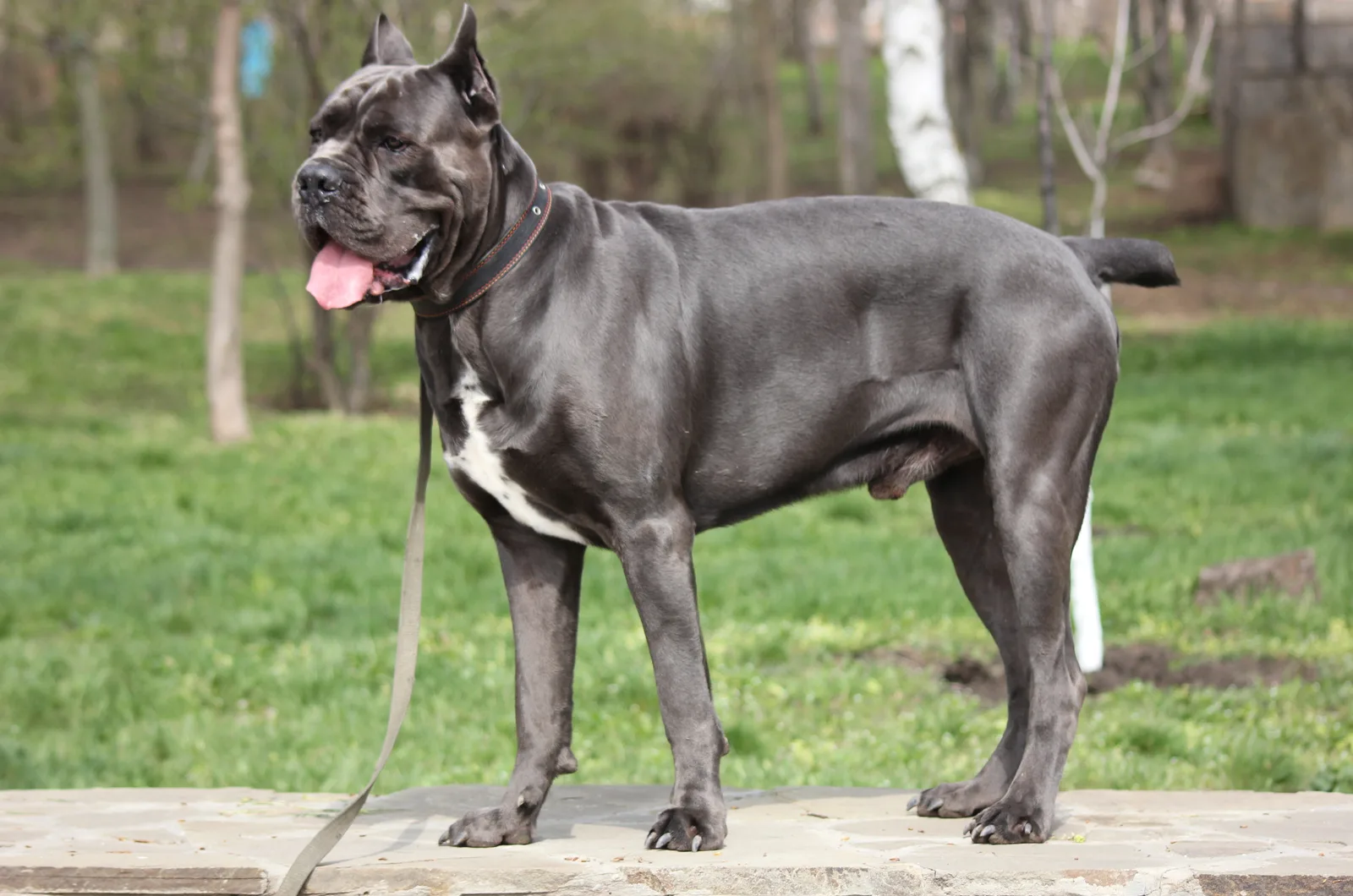 We've seen a number of different harnesses out there, but what makes them good options for the Cane Corso ?
Well, the Cane itself is normally a calm dog so you won't need heavy duty stuff, but ones that aren't trained well or who are particularly hard-headed may need something more durable in case you need to be firmer with your tugs.
Of course, there are outliers since every dog is unique, much like a human is, so take your own furry friend's unique quirks into consideration, but these are the traits that cover a lot of bases, which make for the best harness for Cane Corso dogs :
Durability
You want high-quality materials wherever you can find them. While it's common to want to save where you can, durability and comfort are the two things that can't be skimped on if you want your doggo to have a good time.
And, don't worry – there are plenty of budget options that still offer the level of quality that your dog deserves.
After all, Canes are big and powerful dogs, so you will need something that can match their stubborn nature.
Comfort
As mentioned earlier, comfort is the second key component to a good harness, so look for ones that have padded insides and ones where the belts won't cut into your dog's skin.
If they do, they'll cause him irritation and harm, which could lead to infections, especially considering they're large breeds prone to many health problems as is.
Breathability is also key, which is why I've recommended a few harnesses that are mostly belts and not full-on vests since there are a lot of others out there made from non-breathable material that can make your dog's life a living hell on hot summer days.
Adjustability
The part which many people overlook since they forget that their doggo may still be growing by the time they get him a harness is adjustability .
Even if that's not the case, your Cane will either gain or lose weight throughout his whole life, making the ability to fine tune the tightness of a harness invaluable.
Always look for harnesses that feature adjustable straps for that very reason, so you don't have to buy a new one every few months, and so you can always keep your dog comfortable.
No-Choke And No-Pull Options
Finally, the point of a harness is to be an alternate option for a collar since most dog owners don't like having to tug against their dog's neck and cause them to choke or cause them problems in the future, which is why they opt for a harness in the first place.
But, they also can cause that issue unless they have tags or they specifically state that they put pressure on the torso and the shoulders instead.
This feature also means that the straps of the harness won't be digging into your pupper's skin.
What To Avoid In General
Now that you know what makes for the best harness for Cane Corso canines, there's also one thing that you should avoid at all costs with regard to your canine companion's apparel, which relates to both harnesses and collars alike, and that is spikes and prongs .
While some claim it keeps their dogs more obedient, ultimately, they're designed to hurt.
Sure, some items like conchos spikes are made more to intimidate than anything, but a dog can get hurt on them regardless, especially if they are turned inward just to ' practice obedience'.
Whatever you do, don't subject your dog to that pain and discomfort since it can lead to some serious complications.
FAQs
What Types Of Dog Harnesses Are There?
As you may have seen, there are four different options to choose from depending on your interests:
The Back-Clip
This is the industry standard – simple and effective, with a traditional walking style. The harnesses vary from manufacturer to manufacturer in terms of construction material, but they'll always have the back-clip installed.
The Front-Clip
The alternate option is the front-clip, intended more for dog owners who desire a bit more control during their walks, as the front leash attachment allows you to turn your dog's attention back to you in case he starts becoming aggressive or stubborn.
The Multi Or Dual Clip
This is a combination of the two above – a harness with both options that adds to the flexibility, often recommended by breeders for new owners to help them with dog training .
Dog Vests
This is the full package, which is most prominent for the padding it provides. When you tug on the leash, it gives the pulling a more even spread in order to prevent harm to your doggo while still asserting yourself.
It's usually the more durable of the options, too, thanks to the said spread of force.
They can have either one or both clips, so pay attention to that detail when buying.
What's The Best Harness For Cane Corso Canines?
The title of "best" varies from dog to dog as they have their various needs, but in my opinion, I'd go with the Rabbitgoo.
It has everything I'd need for my dog while still being affordable.
I'd go with the headlight harness, otherwise, but the place where I take my own dog out to is usually well lit, so I don't have much of a need for it.
Is A Collar Or A Harness Better For A Cane Corso?
I'd argue that it depends on how well your dog behaves. Both can be fine if you don't need to use too much force; otherwise, I'd recommend going for a harness as it's ultimately safer for your pooch, but will require some extra time for him to adjust to it.
In Conclusion
Harnesses are a great alternative to dog collars for owners of large dog breeds . The best harness for Cane Corso puppies and dogs is the one that helps alleviate the negatives of a collar without enforcing its own negatives on your canine companion.
Outside of that, the two are the same – ID patches and all.
However, there are different variants out there, so do be sure to read up on the given information and choose the one that best fits your and your doggo's unique needs. Until next time!
RELATED LINKS:
Are Cane Corsos Aggressive? The Story Behind This Dangerous Dog Breed
Cane Corso Breeders In New Jersey: PupVine's Top Four!
The Cane Corso Lifespan: How Long Will Your Best Friend Be Around