This post contains affiliate links, and I will be compensated if you make a purchase after clicking on my links.
With short legs and long bodies, Basset Hounds can be challenging to walk. Picking up a standard leash might not be a good idea due to their body shape as well as their fairly low energy levels.
Not just that, but the biggest problem that dog owners have with their Basset Hounds is that they love sticking their noses to the ground. A standard leash won't help you prevent this behavior when they are so close to the ground. As such, one thing everyone needs is the best harnesses for Basset Hounds.
Sure, harnesses don't allow you to pull as strongly, but this isn't a problem when you have a dog built like a Basset Hound. Due to their shape, they don't understand pulling the same way taller dogs do. As such, they won't really care about you using a leash to pull them away from something.
At the same time, leashes and collars won't lay on them the same way they lay on taller dogs. If you pull too hard, you can severely damage their windpipe.
All of this is why you should pick the best harnesses for Basset Hounds instead of choosing standard collars.
However, when a market is overly saturated, it can be challenging to determine which harness is truly the best. With so many products advertised everywhere, especially on websites such as Chewy and Amazon, making a decision is extremely difficult.
To help you out, we have decided to list the 15 best products you can use on your Basset Hound. Here is what we've found:
Best Harness For Basset Hound – Editor's Choice
Best Harness For A Basset Hound – Top 15
The best harness for a Basset Hound has to have several features that will make it stand out from the rest. It has to be strong enough to withstand all the pulling, while also gentle enough not to harm their sensitive bodies.
Of course, you likely also want something that will go along with your personal style.
Without further ado, here is our choice for the best harness for a Basset Hound:
This is the best harness for Basset Hound owners looking for a versatile product they can use on puppies and adult dogs alike.
It is a vest-type harness that will properly distribute the force on the dog's chest instead of his neck. As such, it is a safe and comfortable option for dogs of all ages, but especially for senior dogs that are a bit more sensitive and prone to injuries.
It also offers two leash attachments on the front side, so if you have a double-ended leash, you can rest assured that this harness is a good fit.
The material is scratch-resistant and padded, providing comfort to dogs of all ages. It's very easy to put on and off, so even if your dog isn't the calmest canine out there, you'll be able to use this harness with him.
Finally, this is a great harness for nighttime walks thanks to its reflective materials. You and everyone else will be able to see your pooch from miles away!
This is a comfortable and breathable harness for Basset Hounds. It was designed especially with working dogs in mind, so it is great for most occasions and weather conditions.
It is also water-repellent, so if your Basset Hound happens to like getting wet, you'll have no issues with this harness whatsoever.
The harness comes with not only a reflective chest strap, but also removable, glow-in-the-dark labels on the side. This will keep your pooch as visible as possible.
The D-ring attachment is large, sturdy, and freeze-proof, which is another reason why this likely is the best harness for your Basset Hound when you plan on taking him out in various weather conditions.
If you have a puller, this might be the best harness for a Basset Hound. In fact, it might be unbeatable when it comes to its no-pull properties.
It comes with two leash attachment D-rings, as well as side release buckles that enable easy wearing and adjusting. At the same time, it has padded pelly pads and straps, providing the ultimate comfort. It even has cooling panels to help your pup feel good during summer days.
The harness has a pocket that you can place the dog's ID in. Also, reflective trims make nighttime walks as safe as possible.
The biggest issue you might have is that this vest harness isn't as adjustable as some other models. As such, you need to pick the right size.
Make sure you can slip two fingers on the straps when the harness is on your pooch.
Are you looking for a harness that you can use during car rides? This might be the best harness for Basset Hounds for such occasions. It has even been crash tested at up to 75 lbs!
This is an adjustable and versatile harness that can easily transition from a walking harness to a car restraint system. As such, your puppy will always be prepared for a car ride.
The dog harness is made out of durable nylon, with steel nesting buckles on the back. This ensures the product is durable and strong. However, it will give your dog a bit more power during walks – although this shouldn't be a problem with somewhat lazy Basset Hounds.
This is a great no-pull dog harness for dog breeds that are not that easy-going. This doesn't include just big dogs, but also Basset Hounds that might be a bit on the wild side.
As it ensures a comfortable fit, it is the perfect harness for sensitive dogs. Don't expect any pressure to be on the dog's neck as it'll distribute the pressure to its chest.
This harness features a snap-on buckle that helps you put it on your dog much faster than normal. You don't have to put the harness over your dog's head. Instead, you can simply snap everything over the dog's chest.
Everything is made with high-quality waterproof oxford cloth material that won't irritate your pooch's skin. Also, reflective straps help you see your dog in the dark.
While designed for large dog breeds, many dog lovers would still label this as the best harness for Basset Hounds.
It features a no-choke design that lowers the chance of injuries or neck strains. This is a great choice for short-legged dogs, such as Basset Hounds as it ensures their bodies are properly supported.
It's also great for senior dogs that require gentle, comfortable harnesses. It's made out of polyester, and it has additional padding so that it doesn't hurt the dog's sensitive skin.
Similar to a few other models we've mentioned, it comes with easy-click buckles for easier putting on and off, while ensuring a proper fit that dogs won't easily escape from.
It also comes with a D-ring attached to the center ring, reducing tangles and providing an extra spot for a dog leash.
This might be the best harness for Basset Hounds for owners who would like to have some additional control without causing discomfort to their dogs.
It comes with high-quality nylon webbing that is not just durable, but also provides additional comfort to the pup. As such, you'll get a lot of use from this top-quality product.
It has a sturdy O-ring leash attachment on the front that will help you redirect your dog's attention back to you. This can help with dog training, especially if you have a somewhat restless Basset Hound puppy that is not used to walks yet.
It comes with a D-clip attachment on the dog's back, so you can also use this product as a standard harness if this is what you prefer.
Finally, the product comes in four different colors and sizes, so you can certainly find something both you and your pup will enjoy.
This is a secure, well-padded harness that is a great choice for Basset hounds. It's made out of breathable nylon mesh, making it suitable for all types of weather. The outer layer is scratch-resistant, but without any additional weight that might cause discomfort.
The harness has a dual-clip, so you can choose whether you'd like to use the front attachment or the rear attachment. This will entirely depend on your requirements and on your dog's behavior.
The harness also has a sturdy handle that can help you pull or even lift your dog if you notice danger approaching. The reflective strips make sure you can walk your puppy safely even if it's dark outside.
This is a fully-adjustable harness that is a great option for every Basset Hound owner. It is made out of military-standard nylon, making it suitable for every possible outdoor adventure your pup might have.
It's scratch-resistant, and it is enforced with nylon webbing to ensure a lightweight design that is comfortable, yet very durable. It features a V-ring on the back of the harness as well as a front ring. You can connect the dog leash you'll get in the package to both of them.
Not just that, but this harness sports a car seat belt handle, so you can easily go on a ride with your little family companion without changing his equipment.
If you're looking for best dog harnesses for Basset Hound puppies, this might be the right product for you. Keep in mind that despite its adjustable straps, it's fairly small, so we wouldn't suggest using it for adult dogs.
This harness is lightweight, convenient to use, and rather simple. It can fit all sorts of puppies and dog owners alike. It's a great everyday harness as it's comfortable, and it won't cause a strain on your puppy.
It sports a quick-release buckle, soft air mesh, and lightweight materials. This makes it a good harness for all sorts of usage. You can even let your pooch wear a dog collar with an ID tag over it if this is what you prefer.
This is the best harness for Basset Hounds that are a bit on the larger and stronger side. While it is made for medium-sized dogs, it leans more towards larger breeds.
However, Basset Hounds are the type of dogs that rely on their sense of smell. If they sense something, such as dog food or squirrels, they'll start pulling towards it. While they don't look like it, they can be quite strong, which is why a strong harness is a great choice.
Overall, this is a heavy-duty harness that is perfect for dog training or for dogs that love to pull. At the same time, it won't choke your dog or harm his neck.
It features two quick-release buckles and two metal leash rings, so you can choose which one you prefer; not to mention how this is a rather stylish harness. If you love fashion, you're probably going to love its plaid design!
This is another great pet harness for Basset Hound puppies. It sports a no-pull design, making it great for dog training. Unlike the Puppia harness, this one can be used on larger dogs, but it's intended for growing puppies due to its size and features.
This harness will make sure your puppy's neck isn't strained, while also holding him strong enough not to be able to wiggle out.
This is a great everyday harness as it's lightweight and breathable thanks to the mesh design. It has two quick-release buckles, making it effortless to put on and off.
Its dual-clip design is another feature as to why it might be a great choice for puppies in training. You can use the front attachment during training, then switch to the rear attachment later on.
The harness also has a back handle, so you can lift your dog in case of danger.
This might be the best harness for Basset Hounds that don't mind going on walks on colder, rainy days. It's weather-proof and breathable, allowing moisture to escape, and also ensuring your pup is cool during summer.
It's made out of gentle materials that won't irritate your pup's skin while also hugging its torso for a very secure fit. Even the wiggliest of pups won't escape from it.
The harness has a quick-release buckle, a fuzzy fastener closure, as well as two D-rings that you can attach a leash on. It also comes in all sizes, from XS to XL. You are certain to have a dog that will fit it no matter the breed.
If you're looking for a great chest harness, this might be the product for you. While not as comfortable as some other products we've listed due to the lack of padding, this is a great choice for dogs that are not used to head harnesses.
There are two leash attachment clips; one on the front and one on the back. The material used is nylon, which is strong, yet gentle enough not to harm the dog's skin. Five adjustment points make sure the harness has a comfortable fit.
If you sometimes walk your dog during the night, you'll be pleased to know that this harness has a reflective trim that will help you see your dog even from far away.
When it comes to affordable, yet functional products, this might easily be the best harness for Basset Hounds on the market. It sports a similar design to the Julious K model, but a bit more simplified.
Choosing this harness is a great idea when you want to have your Basset Hound used to the harness and don't feel like spending lots of bucks on a product your doggie might not like.
It is made out of robust nylon and nickel-plated hardware materials. The inner layers are padded, providing your pooch with comfort.
Everything is fully adjustable, and the harness has a no-pull, no-choke design.
It even has a handle, so if there is danger approaching, you can quickly lift your dog and carry him.
FAQs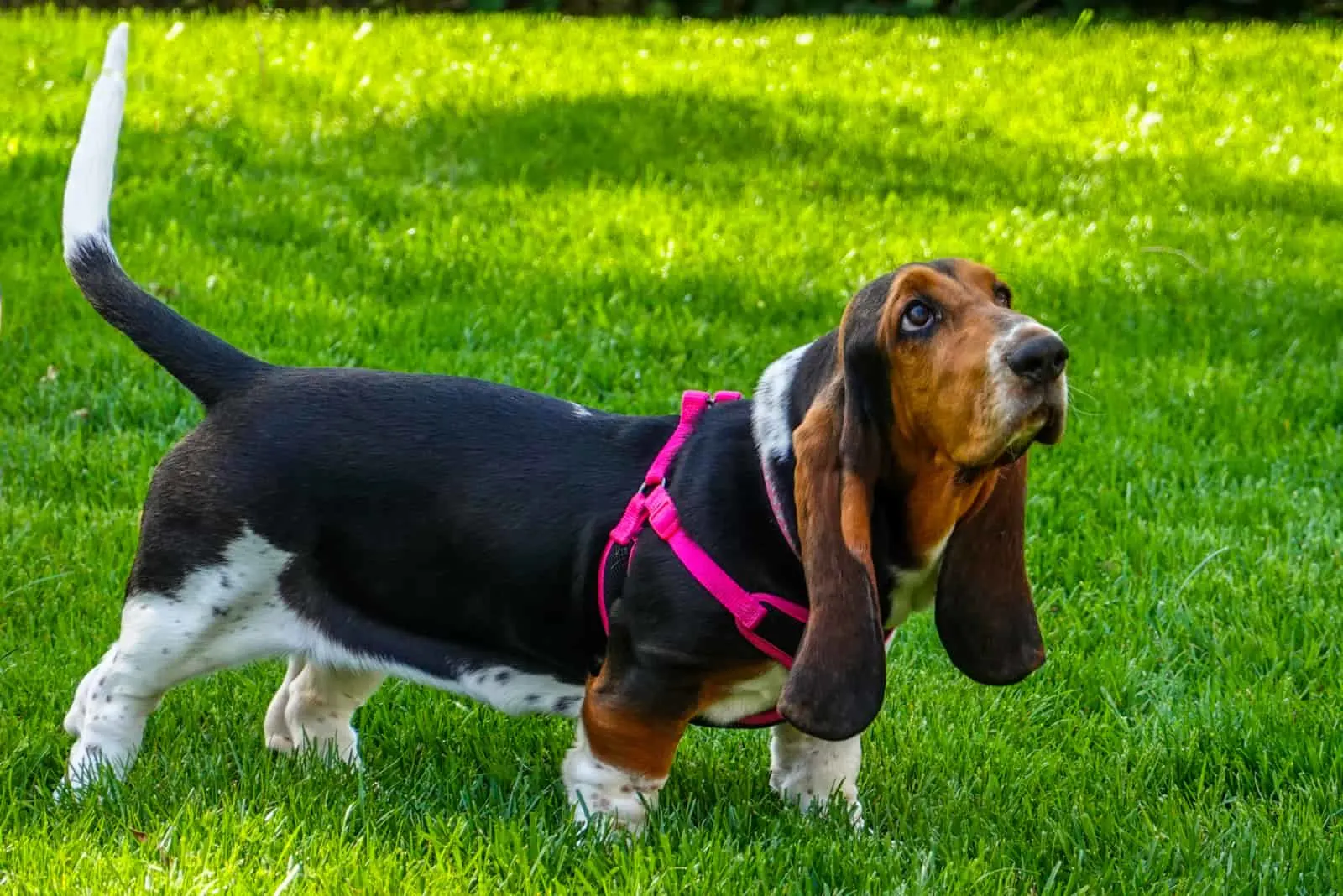 What Is The Best Type Of Harness For A Basset Hound?
Choosing the best type of harness for a Basset Hound will usually vary depending on your dog. Some dogs might require a no-pull harness, while others are good with a standard harness that can hold a leash.
Your best choice might be a dual-clip harness as these provide you with the versatility you might need when you have a growing Basset Hound puppy.
With a dual-clip harness, you can use a rear clip when your dog is easy-going and obedient. However, if he starts pulling for any reason, you can simply attach the leash to the front clip ensuring you are controlling him.
If you have a senior Basset Hound, you might prefer using a vest harness. These are more comfortable, and they provide additional support.
What Is The Best No-Pull Harness For Small Dogs?
All no-pull harnesses we've listed are amazing at keeping your Basset Hound from pulling on the leash. However, one thing you need to make sure of is that the harness is durable enough to withstand your dog's strength and activity levels.
Another important thing is to pick a harness that fits properly. If a no-pull harness doesn't come in the right size, it won't be able to complete its function properly.
Few things are scarier than having your dog wiggle out of a loose-fitting harness. Not just that, but a harness that isn't the right fit won't be comfortable. If it's too tight, it might even cause chafing. On the opposite side, harnesses that hang will impair the dog's leg and shoulder movement instead of just keeping them from pulling.
How Do You Train A Dog With A No-Pull Harness?
No-pull harnesses are not miracle doers that will instantly keep your dog from pulling. Instead, they are a management tool that will help you train your dog in the right way.
For example, if your dog is used to pulling, there isn't a single tool that will magically make him stop doing this. However, the best harness for a Basset Hound can help you control your pup while you're training him to stop this bad behavior.
The best way to use a no-pull harness for teaching your Basset Hound to properly walk is to stop walking when he pulls and wait until he calms down. If you allow him to continue the walk when he is pulling, you are, in fact, reinforcing pulling. This probably isn't something that you want.