Disclosure: This post contains affiliate links, and I will be compensated if you make a purchase after clicking on my links.
Basset Hound dogs are some of the most recognizable scent hounds, thanks to their short legs, droopy eyes, and long, floppy ears. Despite their seemingly short stature, they are considered large breed dogs as they can grow to more than 75 lbs.
For your family companion to reach and maintain his ideal weight, you need to ensure that he is getting the best dog food for Basset Hounds possible.
Initially, Basset Hounds were bred to be hunting dogs. They have a sharp sense of smell that helps them locate prey from miles away. Also, their short legs mean they are fairly slow walkers, which is, in fact, ideal for hunters who couldn't afford to ride a horse.
Because of this, Basset Hounds have developed their elongated bodies, slim figure, and strong legs and joints – even though, now, they are kept as family companions instead of being used for hunting.
Unfortunately, because of this change in their nature, Basset Hounds have had to adjust to a more sedentary lifestyle. This makes them rather prone to obesity, especially as they grow older.
One of the best ways to ensure that your Basset Hound is happy and healthy is to give it the best possible dog food available. Fortunately, there are many different food brands that sell not just in pet stores, but on online locations, such as Amazon or Chewy.
To help you make your quest for the perfect product at least a bit easier, we have listed the top 15 best dog foods for Basset Hounds that you should check out.
Here's what we've found:
Best Dog Food for a Basset Hound
The best dog food for a Basset Hound should be rich in natural ingredients that will help your pooch stay as healthy as possible. They should have the optimal amount of proteins, carbs, amino acids, fats, vitamins, minerals, and other great content.
Here are some of the best dog foods you might want to give to your Basset Hound if you want to give him a balanced diet:
This is likely the best dog food for Basset Hounds, especially if you're looking for a product that won't break your budget. It offers great value for the price, and it could easily be one of the best foods in that price range.
It is rich in protein, providing your pup with enough energy to keep up with his high activity levels. It uses deboned beef as the first ingredient, but it also contains chicken meal. This ensures that it has lots of animal protein and taurine, both of which are essential for your pup's wellbeing.
While the recipe isn't entirely grain-free, brown rice is the source of most of the carbs, making it easily digestible and healthy without losing any of its value or taste. It also contains healthy veggies, such as carrots and sweet potatoes.
The food is free of any artificial flavors or colors, making this an excellent, natural blend that will suit all of your dog's nutritional needs.
As the brand's name suggests, Taste of the Wild wants to bring back the nutrition of wolves and canine ancestors to our family pets. They think that only food that is high in animal proteins can give dogs what they need in order to achieve their full potential.
The recipe lists duck meal as the main ingredient, followed by chicken, roasted duck, roasted quail, and smoked turkey. This alone sounds like a yummy meal – and according to how much dogs like it, it certainly is.
This food also contains a high amount of animal fat, as it comes with chicken fat. This makes it great for growing dogs that are trying to gain weight – although it isn't intended for Basset Hound puppies, as it lacks some ingredients that puppies need.
The high fat content also means that this food has a bit more calories than some other recipes, so be careful not to give it to dogs that are trying to lose weight.
While most Basset Hounds will eat anything you give them, others are picky eaters that might not like the taste of fish or even poultry. If this is the case with your pup, then this food by Merrick might be the perfect choice, as it's free of any poultry.
This dog food is rich in animal-derived ingredients – most notably, beef, which is also its main ingredient. It uses sweet potato as the main carb source, ensuring a grain-free and gluten-free recipe that is perfect for dogs with sensitive stomachs.
Many dog owners would consider this to be the best dog food for Basset Hounds due to a large amount of chondroitin and glucosamine, both of which are great for your dog's joints. The kibble also contains plenty of omega 6 and omega 3 fatty acids, ensuring healthy skin and coat.
It is also rich in fruits and veggies, providing an optimal amount of vitamins and minerals that will keep your dog's immune system strong enough to fight off most infections, and ensuring that your dog is in the best health possible.
The food doesn't contain any artificial color or flavor, nor preservatives. This makes it the perfect choice for your Basset Hound.
This might be the best dog food for Basset Hounds that are struggling to lose weight. It comes with amazing ingredients that are great for weight control and overall canine health.
This dry dog food comes with real meat, garden veggies, whole grains, as well as Blue Buffalo's LifeSource Bits that provide antioxidants and nutrients. All ingredients are natural, and the food doesn't contain any fillers, such as meat by-products.
This food is rich with not just omega 3 and omega 6 fatty acids, but also with glucosamine, chondroitin, calcium, and L-Carnitine. This ensures that your pup's bones and joints are in the best health possible while giving your dog enough strength for exercise.
As this dog food is made without excess fat, it can help your pup maintain a healthy weight. As Basset Hounds tend to be overweight, this type of food is a great choice.
While it is a bit on the expensive side, this dog food comes with everything you might be looking for in a well-balanced, protein-packed diet.
It uses lamb meal as the main protein source, making it a tasty food even for the pickiest of eaters.
Next to lamb, it contains organic kale, squash, carrots, broccoli, cranberries, apples, blueberries, and other fruits and veggies that fill this dog food with all the beneficial vitamins and minerals.
At the same time, the food is free of any filler ingredients, meaning that every taste will bring many benefits to your beloved pet. It is grain-free and gluten-free, and it doesn't contain any wheat, corn, soy, or by-product meals.
It also doesn't contain any artificial colors, flavors, or preservatives, making it the perfectly healthy choice for dogs with food sensitivities.
This is likely the best dog food for Basset Hound seniors that you can find on the market. It is designed with elderly dog needs in mind, and it's tasty enough for dogs that tend to be picky with their food – something that many senior pups are.
It contains real chicken, whitefish, and lamb as the main protein sources, ensuring that everything is natural and healthy for your elderly dog. It doesn't contain any fillers, such as soy or corn, and it is free of artificial colors and flavors. In fact, it's free of most allergens, so your dogs can eat it in peace.
This dog food is easy to digest, so elderly dogs will have no problem munching on it. Forget about smelly gasses – your dog will have none from this food!
This is wet dog food, meaning it's very palatable. As it's easy to chew, your pooch won't have too many issues eating it, even if his teeth or gums aren't in the best condition. This product can help your dog live the rest of his days healthily and happily.
This might be one of the oldest recipes we've covered. The formula used in this dog food was founded back in 1999, and it was designed specifically with active hunting breeds in mind.
It uses deboned turkey as its main source of protein. The manufacturer ensured to remove all bones before processing this meat, which is great as this means the kibbles aren't a choking hazard.
It also contains many other beneficial ingredients, such as potatoes, whole dried eggs, and coconut oil. It is enriched with glucosamine, chondroitin, and L-Carnitine, meaning it's also a good choice for dogs trying to lose weight, as it can help burn excess fat during any activity.
Thanks to its low-calorie content, this product is great for sedentary Basset Hounds as well.
This is yet another amazing grain-free dog food for your sensitive pooch. If you look at its ingredients list, you'll notice that there are no whole grains. Instead, sweet potatoes are the main source of carbs, making this a rather healthy option.
It uses menhaden (a type of ocean fish) meal as a protein source. Menhaden is a fish that isn't exposed to mercury; a dangerous liquid metal that can contaminate more commonly used fish, such as tuna. In other words, this is one of the healthiest protein sources out there.
At the same time, this product is rich in probiotics and prebiotics, which help make everything easy to digest. They'll promote gut health, ensuring that your pup has healthy stool and toilet habits.
Also, antioxidants and vitamins ensure that this food will help improve the immune system of your pup no matter his life stage. Omega 3 and omega 6 fatty acids will improve not just the look of the dog's skin and coat, but they'll do good for his joint health as well.
If you have the money to spend on a premium product, then this might be the best dog food for Basset Hounds. It contains everything your pup might need, from natural animal protein sources to healthy fats.
The main protein source is poultry, including chicken, turkey, and chicken giblets. While giblets can be considered as chicken by-products, ACANA prides itself in their way of processing meat, guaranteeing that their methods make the food so safe and healthy that they call it 'human-grade'.
The formula is grain-free, and it contains many beneficial ingredients such as whole chickpeas, lentil fiber, eggs, fish oil, pumpkin, squash, carrots, apples, and pears. This makes it rich in omega 3 and omega 6 fatty acids, vitamins, and minerals.
Overall, this is high-quality dog food that might be a bit more expensive than some other sources, but it will ensure that your pup stays healthy and active, and it will provide him with the gut care he deserves.
This is a nutrient-rich superfood that will give your pup everything he needs in a meal. The turkey meal this recipe has listed as the first ingredient makes it a tasty food even for dogs that usually aren't fans of poultry. It also uses deboned turkey, making sure all the kibbles are easy to digest.
The high protein content is great for dogs that are still building muscles and body mass, and the optimal fat content won't make your dog overweight – as long as you feed him the right number of servings.
The product is rich with omega fatty acids, thanks to salmon oil and flaxseed, and it is fortified with antioxidants, taurine, probiotics, and glucosamine that also ensure a healthy heart and overall body health.
Everything is created from natural, non-GMO ingredients, and it doesn't contain any fillers or artificial colors or flavors.
Best Dog Food for Basset Hound Puppies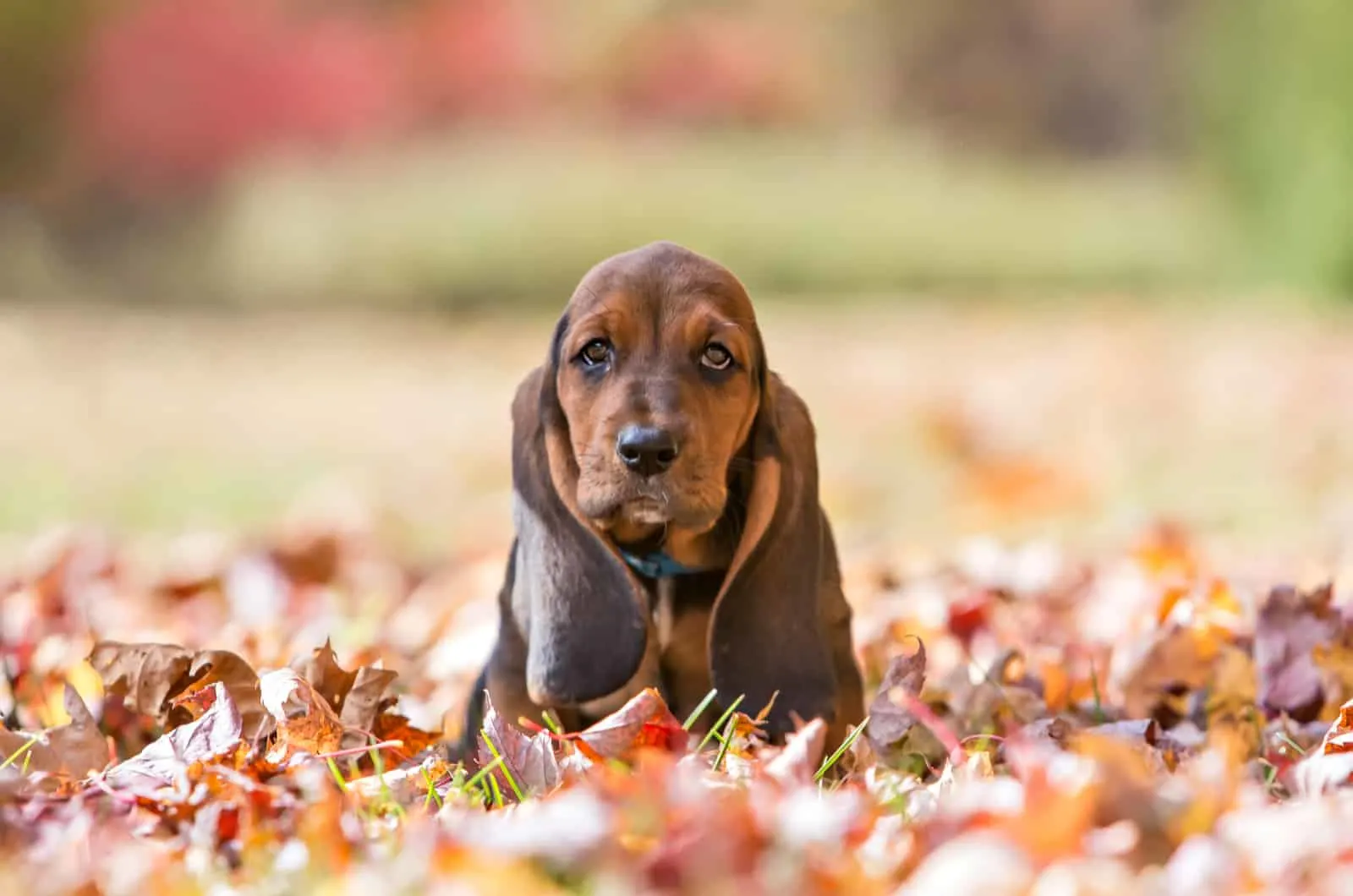 Basset Hound puppies don't have the same nutritional needs as adult or senior dogs. As they are still growing, they require a higher protein and fat amount since they need all the energy they can get to become big and strong dogs.
Here are some of the best foods for your puppy:
While this dog food is being advertised as food for small dogs, it makes a great meal for puppies of any size as long as you adjust the amount of food based on your dog's weight.
This pet food recipe provides your Basset Hound puppy with 100% fresh turkey, duck, and salmon. This also makes it rich in omega 3 and 6 fatty acids. It is great for not just physical, but cognitive development alike.
Other than meat, this dog food comes with fruits and veggies such as cranberries, peas, spinach, blackberries, pumpkin, kelp, alfalfa sprouts, lentils, and carrots. These will provide your puppy with the right amount of vitamins and minerals that will keep him healthy during this sensitive stage.
And, the best part of it all is: This food is grain-free and gluten-free! For Basset Hound puppies, this is very important. Young dogs have a sensitive stomach, as their guts haven't yet developed properly. Not a single one of the best dog food for Basset Hound puppies should contain hard-to-digest ingredients.
This is an amazing puppy food, with a limited ingredient list. In other words, it contains no more than 9 ingredients, so you'll know precisely what your Basset Hound puppy is eating.
It uses chicken as the main protein source, and it has it in just the right amount in order to ensure healthy weight gain. With it, your puppy will grow up to be big and strong, like he should be. At the same time, the fish meal helps add omega 3 fatty acids to the mix, ensuring a healthy coat and skin.
As a source of carbs, this product has lentils. Lentils are also rich in fiber, improving your dog's gut health and ensuring smooth bowel movements. This is especially useful if you're still potty training your pup, as it'll lower the chances of accidents.
The entire ingredient list is hypoallergenic, making it an excellent choice for growing puppies that tend to be more sensitive than adult dogs.
This puppy food uses lamb meal and chicken meal as high-quality protein sources, making it tasty and rich with animal-based protein that is amazing for a puppy that is still growing. It isn't grain-free, but it includes several ingredients that will help with a puppy's gut health, including fibers, Vitamin B, and probiotics.
It has large kibble pieces that are perfect for large-breed puppies, such as Basset Hounds. Salmon oil is a great source of healthy fatty acids, so your puppy will grow to be beautiful and strong.
This dog food is also great for a dog's heart, thanks to the high amount of antioxidants, probiotics, taurine, and glucosamine. If you later transfer your dog to an adult dog food that is also rich in these ingredients, you can be certain that the chances of your pup developing some heart condition are slim.
And, if this isn't enough – the entire recipe is made in the USA by using globally-sourced ingredients.
Fromm has recently upgraded its puppy food formula, fixing some faults they noticed in the previous recipe. This is enough to prove how much they care about their customer's opinions and the health of dogs worldwide.
This new recipe contains duck meat and chicken meal as main protein sources. If your puppy loves poultry, he's going to love this dog food as well. It even contains chicken broth that can help improve the flavor, making it tasty for picky eaters.
Salmon oil, which this formula is rich in, contributes to the fat content while also improving the quality and health of your dog's skin and coat.
Unfortunately, the recipe isn't grain-free, so it might cause issues for puppies with sensitive stomachs. However, everything is rich in probiotics, so it will enhance the health of the digestive system.
Purina is a well-known brand that also makes the best dog food for Basset Hounds and their puppies. This formula contains chicken as the main ingredient, making it a great protein source that is also an amazing choice for a growing puppy.
It contains rice and other highly digestible carb sources, so while it isn't grain-free, it should be rather easy to digest, even for puppies with delicate stomachs.
The formula contains what the brand calls a 'dual-defense blend' that is made with antioxidants such as vitamins A and E, selenium, and zinc. This ensures that your puppy's immune system is up and running.
The crunchy kibbles are made in just the right size for a large puppy's muzzle, and they are highly palatable so all puppies can enjoy it. All ingredients are natural, and the entire formula is veterinarian recommended.
Basset Hound Health Challenges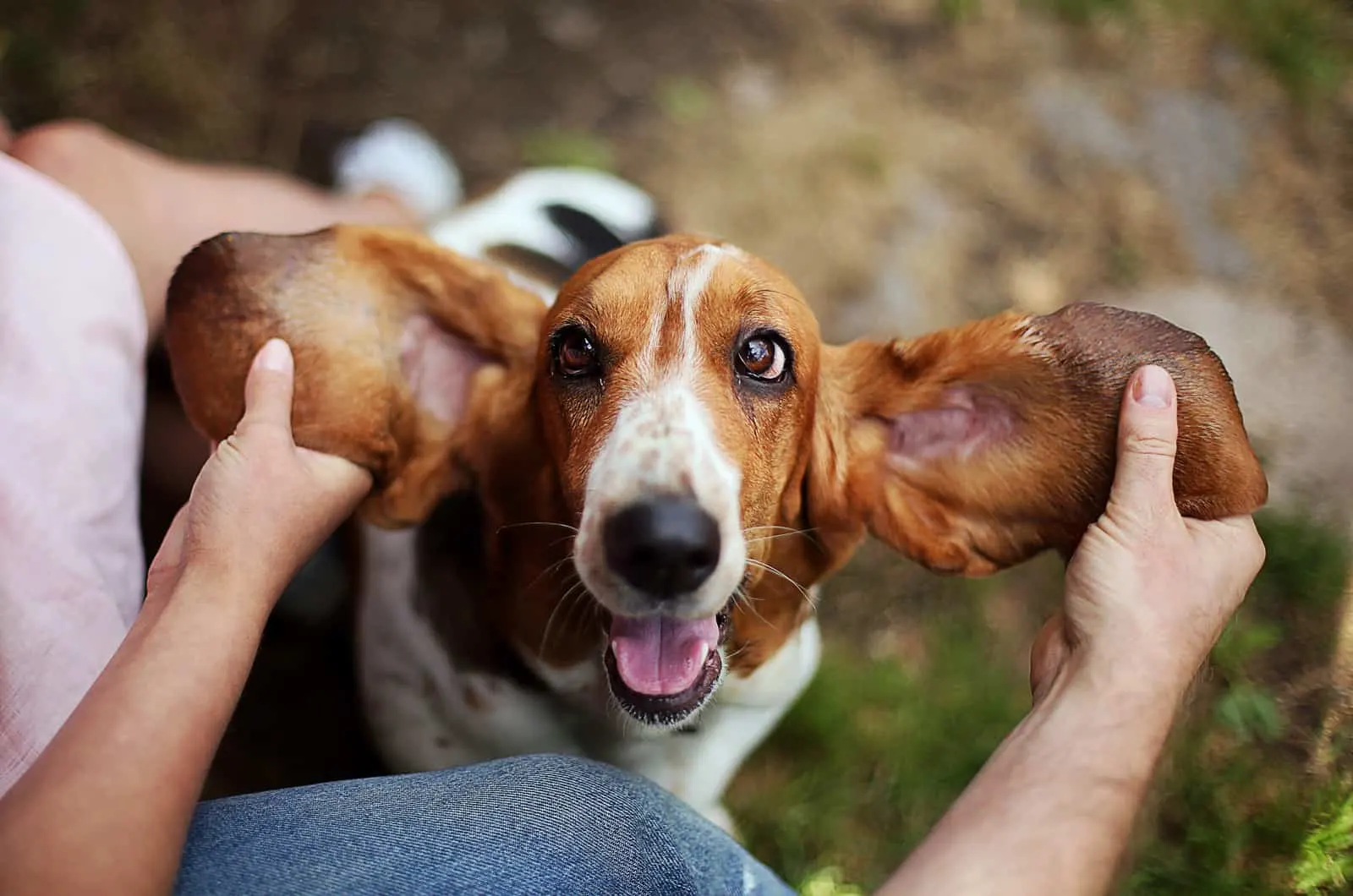 As we've mentioned before, Basset Hounds are known for their unique body shape, which includes their short legs. This shortness in stature is actually caused by a form of dwarfism. This specific type of dwarfism is called achondroplasia, and it is a genetic disease that can be found in other short-legged dog breeds, such as Dachshunds or Corgis.
Unfortunately, achondroplasia also means that these dogs are prone to many orthopedic problems. Basset Hounds, in particular, are prone to patellar luxation; a condition that causes kneecaps to be improperly aligned with the thigh and the calf bone. Another bone illness that Basset Hounds can get is hip dysplasia.
Both of these genetic health problems are really painful, although they won't directly influence a Basset Hound's lifespan.
Fortunately, if you keep your doggie at an ideal weight, the chances of him developing any of these two health issues are very slim. In fact, obesity is the main cause of most orthopedic problems. If you make sure that your dog isn't overweight, you'll likely prevent many harmful health conditions.
Another health condition that Basset Hounds, just like any other large breed, can develop is gastric torsion – also known as bloat. Unlike orthopedic issues, bloat can kill a dog in a matter of hours. Bloat can be caused by many things, including a bad diet.
The best dog food for Basset Hounds should not just help you keep your dog healthy by providing the right nutrients; it should also keep the additional pounds from piling up.
Nutritional Needs of Basset Hounds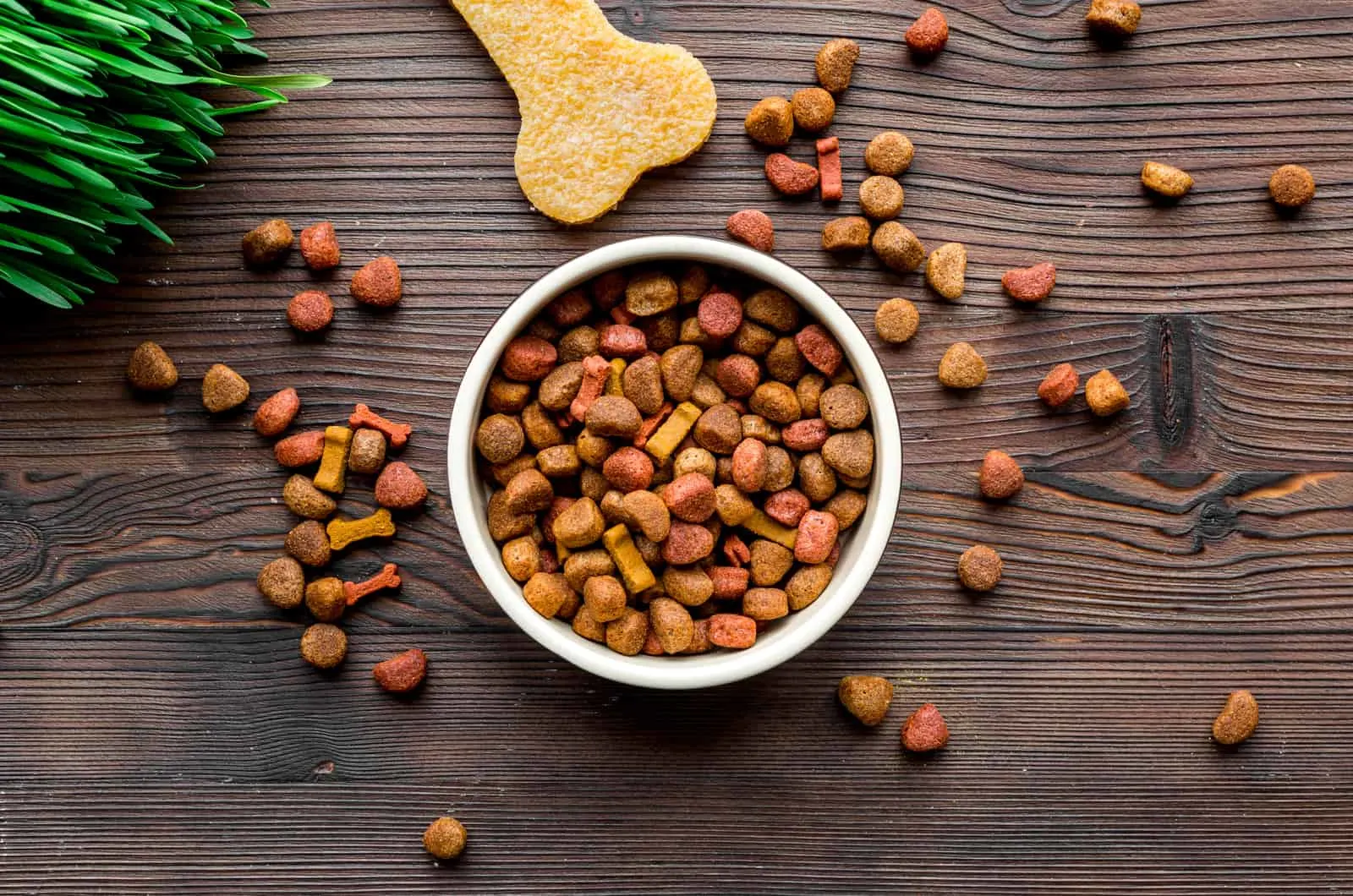 To help prevent most health problems of Basset Hounds, you need to meet their nutritional needs and give them food with high-quality ingredients.
Everything we'll talk about below is requirements and information from the Association of American Feed Control Official (AAFCO) for the food for a healthy adult dog – unless stated otherwise.
Of course, you should always consult with your vet, especially if you plan on making changes to your pup's diet.
Protein
Protein is one of the three most important ingredients that the best dog food for a Basset Hound has to have. It is the main source of strength, and it helps bulk them up and gain the right amount of muscles that will support a Basset Hound's fairly sensitive bones.
Proper dog food should have 18% of protein or more. If you have a Basset Hound puppy, this number should be higher – at least 22%.
Of course, the amount of protein isn't the only thing you should look at. The protein source is just as important, if not even more so. It should come from real meat sources such as poultry, beef, pork, or venison. Fish is fine as well.
However, you should avoid dog foods that contain meat by-products. These ingredients could come from any meat part. For example, chicken by-products could be made from the head, beak, tail, internal organs, feet, and feathers. According to experts, this is a no-no.
Fat
Humans use carbohydrates as a primary energy source. In dogs, however, energy comes from fats. Because of this, fat is an important ingredient in the best dog food for Basset Hounds.
Overall, puppy food should have at least 8% of fat. For adults, this amount should be around 5%. However, just like with protein, the source of this fat is important as well.
Dog food should have omega-3 (also known as DHA) and omega-6 fatty acids. These two substances are very healthy, and they ensure that your dog's fur and skin are lustrous and in good condition. Not to mention they'll give flavor to the Basset Hound's food!
Carbohydrates
The amount of carbohydrates isn't as important as with the other two main ingredients we've mentioned. The main thing to pay attention to is the source of carbs.
Fiber and grains are common carb sources. However, they can be hard to digest, which is why they aren't a good choice for dogs with sensitive stomachs or food allergies. Not to mention they can cause really smelly gases!
If your pooch cannot eat whole grains, a good source of carbs are ingredients such as brown rice, oats, and potatoes.
Glucosamine and Chondroitin
Best dog food for Basset Hounds should contain glucosamine and chondroitin. These two supplements help prevent all bone problems that Basset Hounds might struggle with. This is because they help improve the cartilage in your dog's joints.
They also have anti-inflammatory effects, so they can help dogs that struggle with joint pain. Overall, they are a must-have for ingredients for Basset Hounds.
Vitamins and Minerals
Finally, the best dog food for Basset Hounds should also contain a decent amount of vitamins and minerals. These ingredients help maintain good health as they help the body fight diseases. They can also increase the dog's energy level.
Important vitamins in a dog's diet are:
• Vitamin A
• Vitamin D
• Vitamin C
• Vitamin E
• Vitamin K
• All forms of Vitamin B
• Choline
As for minerals, you should look for dog food rich in:
• Calcium
• Phosphorus
• Potassium
• Sodium
• Magnesium
• Chloride
• Sulfur
They will help improve your pup's immune system and ensure that your pooch is healthy and strong.
FAQs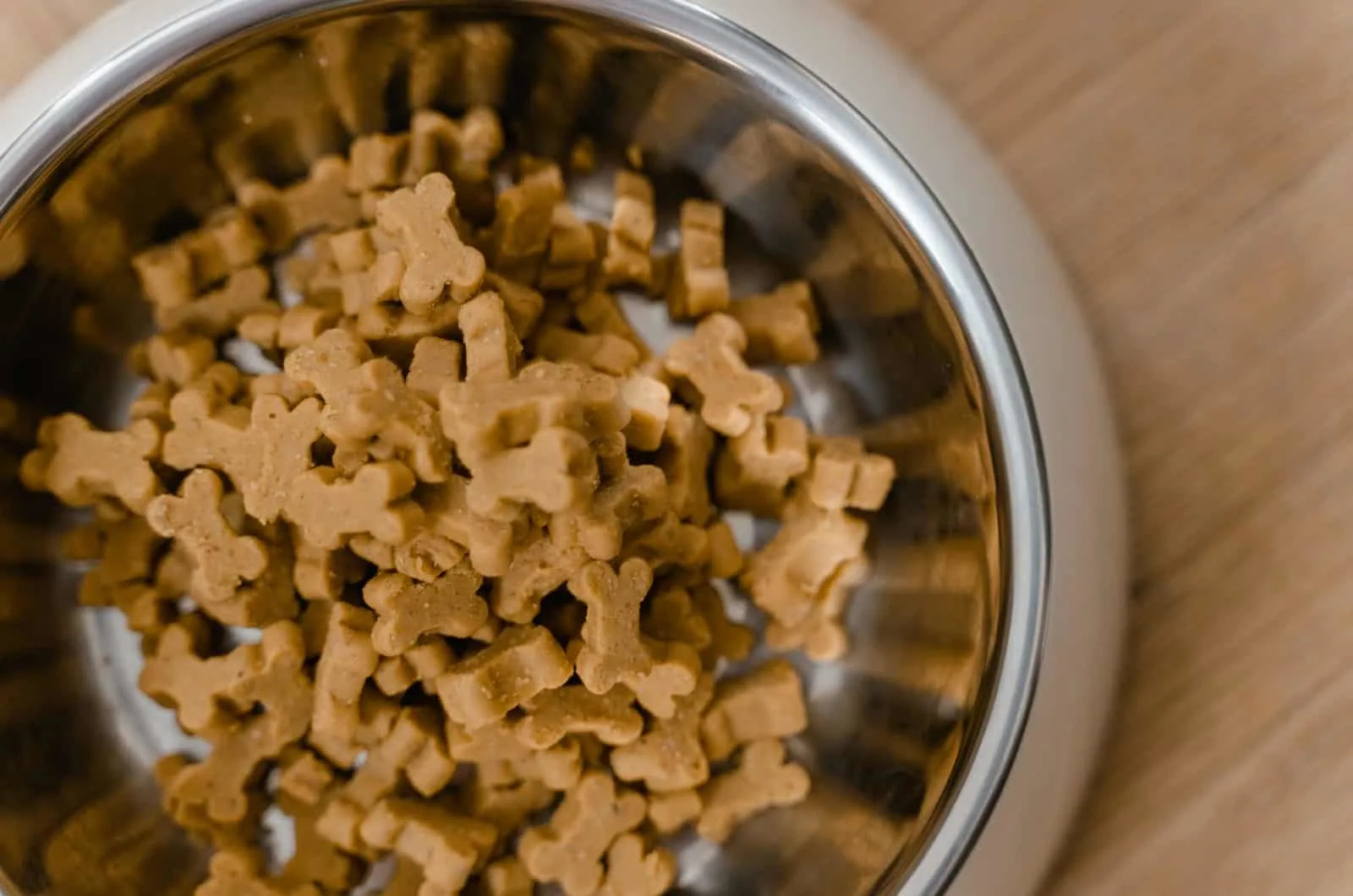 What's the best dog food for Basset Hounds with allergies?
Fortunately, Basset Hounds aren't as prone to food allergies as some other dog breeds. However, they can still happen, and when they do, your pup might experience some uncomfortable symptoms.
Most of the time, the culprit behind the allergies is whole grains. However, your dog might develop allergies to almost any ingredient that a dog food contains.
If you suspect your dog has food allergies, the best option would be to visit your vet who will conduct necessary tests and find the exact ingredient that your pup is allergic to. The next thing to do is avoid foods with this ingredient.
Is grain-free better?
Many dog foods have 'grain-free' written on them. Some dog owners think this food is more healthy for their four-legged companions. However, this isn't that simple.
Overall, there is nothing essentially wrong with whole grains. They are a good source of carbohydrates, and they can give your dog the energy it needs to complete their daily activities.
However, if your Basset Hound has stomach sensitivities, grains can worsen the symptoms of an upset tummy. Food that is grain-free is easier to digest, making it a more suitable choice.
If your pup's guts don't have any problem digesting grains, feel free to give your pup food with them.
Which one is better – dry dog food or wet dog food?
While this essentially comes down to your preferences, there are a few things you need to know about both dry and wet dog food.
Wet dog food has a more natural texture, so many Basset Hound owners think that feeding their dogs with it is a healthier choice. If you own a Basset Hound puppy, this is the case. Puppies don't have strong teeth, and wet dog food is easier to eat.
However, in adult dogs, wet dog food can cause diarrhea if it's given every day. Because of this, it isn't a good choice as the main meal – unless there is a specific reason why your pup cannot eat dry food.
Still, wet food can help hydrate your dog, and it can be a good idea to give it every now and then. This way, you'll bring versatility into your dog's diet, and ensure that he's getting all the nutrients he needs.
Can I give my Basset Hound fruits or veggies?
Fruits and vegetables are a great source of vitamins and minerals for we humans. They can also be rather beneficial for our dogs, especially when they are given instead of store-bought snacks.
However, some fruits and vegetables can upset our dogs' stomachs, and others are outright poisonous. You need to be very careful about what you're giving to your dog.
Some healthy fruits and veggies for dogs are:
• Apples
• Carrots
• Bananas
• Blueberries
• Green beans
• Sweet potatoes
• Pumpkin
• Watermelon
On the other hand, dogs should never eat these:
• Avocados
• Onions and garlic
• Grapes
• Plums
• Persimmons
• Grapefruit
• Lemons
• Tomatoes
If you decide to give your dog fruits and veggies, always remove the skin, stem, and seeds. Even when they're not poisonous, they pose a choking hazard, and they should never be given to your pet.