Want to become the master of hiding easter eggs from your doggo? You're in the right place!
An Easter hunt game can be a great way to bond with your pet and have lots of fun, but it can also help you train your pup and practice both obedience and socialization if you include pets from your family or neighborhood.
If you're new to dog Easter hunts or don't find yourself overly creative, let me help you find out how to hide Easter eggs from dogs.
#1 Egg In A Flower
Flowers from your garden can be a great hiding place. The Easter egg might easily blend in with the flowers, which will encourage your doggie to use his scent skills to find it.
However, I wouldn't recommend this place if you or your family members are sensitive about plants and don't want any traces of the doggo on them.
Also, I'd avoid rose bushes in order to prevent any scratches on your dog's face or paws from thorns.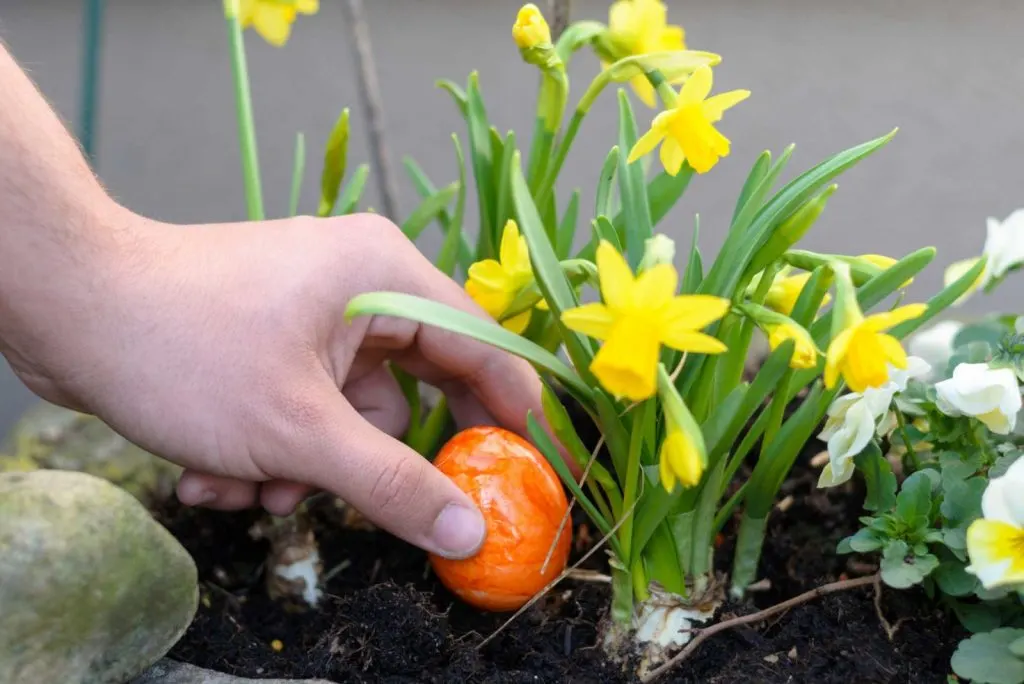 #2 Something's Hiding Behind The Tree
If you have trees in your back yard, why not use them as hiding places for Easter eggs?
This spot is perfect because it won't be too complicated for the dog to get to the egg, but it's still not too obvious, so he'll have to use his hunting skills while searching.
You can also practice basic commands with your pup during the search by navigating him through the yard until he reaches the tree.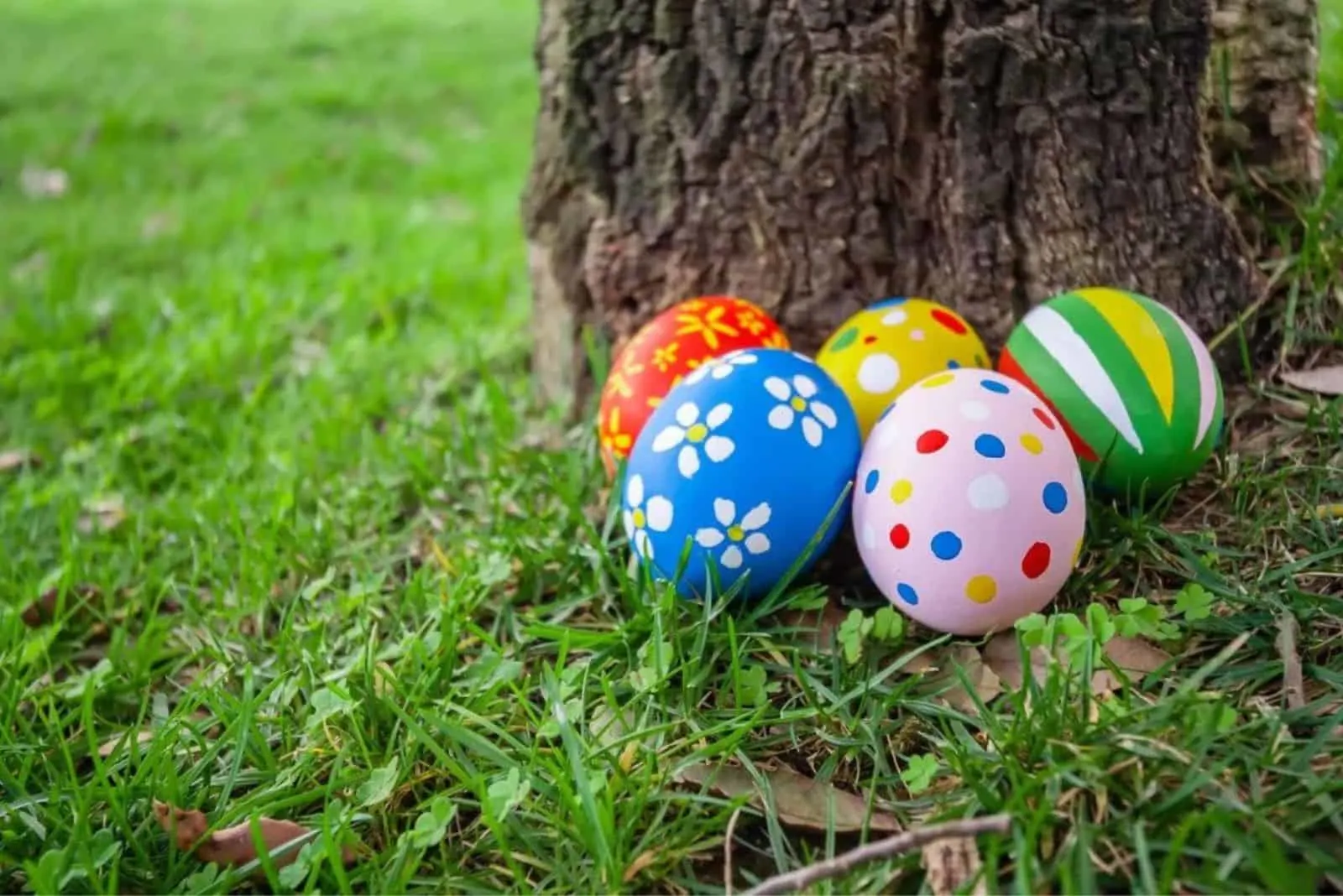 #3 Is It A Flower Or An Egg In The Bush?
Bushes are great for hiding easter eggs, but it will take your dog more time to find it, especially if you don't navigate him to the right bush.
Make sure that you stay near your pup during the bush search so it doesn't swallow any branches or leaves, as some plants might be poisonous for dogs. [1]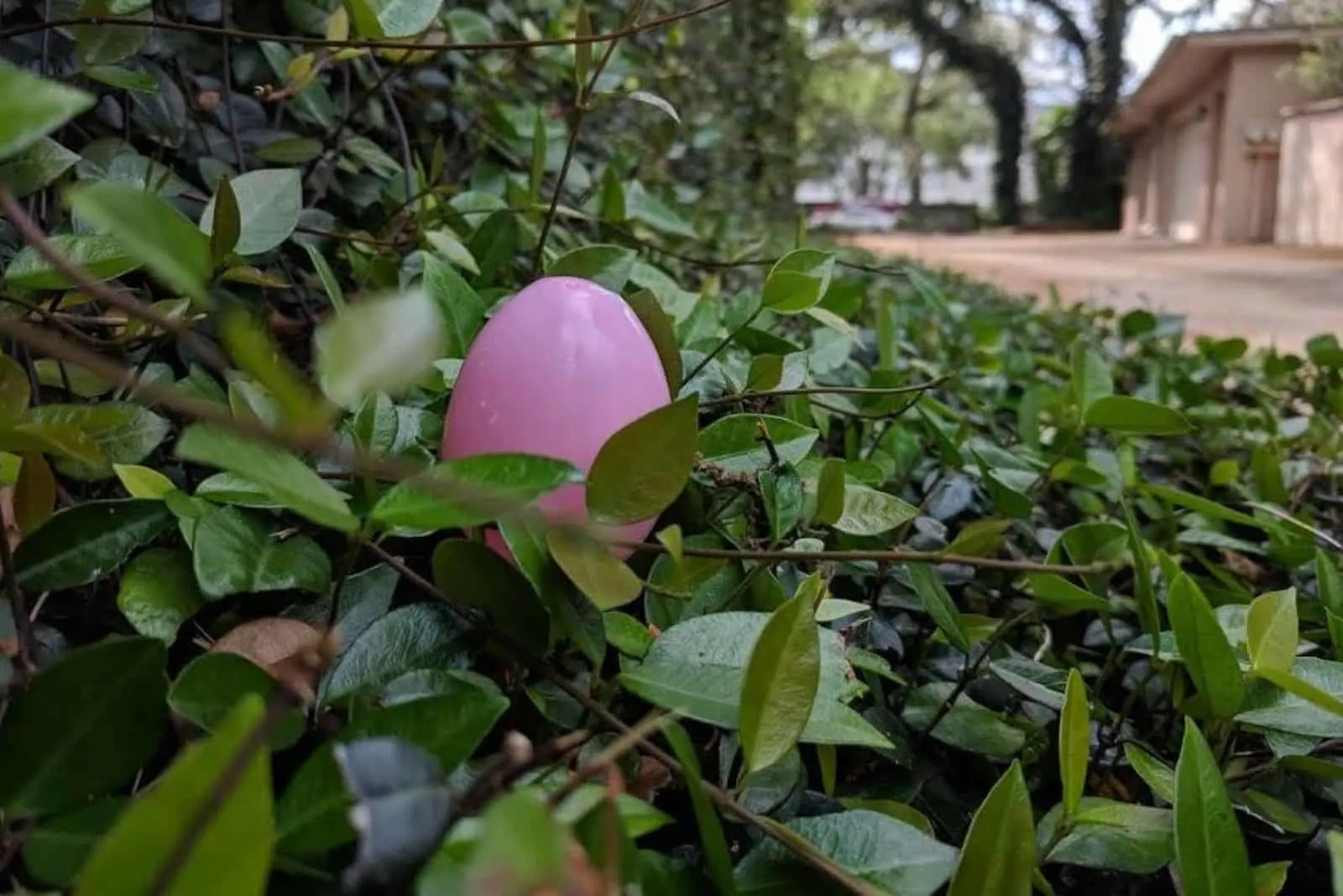 #4 Hiding The Egg In Plain Sight
Dog trainer, Jenny, came with brilliant ideas for hiding spots in this video, such as leaving an Easter egg on the porch, wrapped in some sort of green rubber band.
If you have any green ribbons or rubber bands (long ones so your pooch can't swallow them), you can place them on your porch, terrace, or grass and put the egg inside it.
Just make sure that you don't tangle the egg too much so your doggo can reach it easily.
#5 Stuff A Toy Or A Harness
To be honest, I'm not really sure whether this is a toy or an Easter dog costume in the picture, but I think it's a great hiding spot either way.
You can go with the costume if you have one or choose your dog's harness instead.
The latter one might even be a better option, especially if your pooch is still not completely used to the harness.
By finding Easter eggs (treats) within the harness, he'll relate this piece of equipment to a fun and positive experience, which might make it easier for him to wear it later.
#6 A Fence Is Always An Option…
But, only if it's well secured.
Kira, a Siberian Husky, found one of the eggs near the fence during her first Easter egg hunt without much trouble, so I'm sure your pup will find it quickly as well.
However, if you have an escape artist that you can't stop from jumping the fence, I'd suggest you rather skip this place completely.
#7 The Egg That Climbed A Tree
A tree might just be the right place to hide more than one Easter egg, especially if you own a big doggie such as a Husky, a Cane Corso, or German Shepherds that love celebrating Easter and other holidays.
Kira's owner used the lower branch on the tree to put an egg on it, and it didn't take long for their dogs to notice it.
But, if your dog isn't able to find it on his own, you can navigate him to it by using commands.
#8 Easter Egg Enjoying The Playground
If you have a dog playground in the yard, the first thing your doggie probably does is go and play as soon as he gets out.
That's why this can be an excellent hiding spot for Easter eggs, which won't take a long time for the doggie to find them.
#9 Secret Spot In The Yard
Kira's owner has firewood in the back yard, which they decided to use as a spot for Easter eggs.
I think it can be a great hiding place as well, but just make sure that the egg is positioned in such a way that your pooch can't get hurt.
If you don't have firewood in the yard, you can find another secret spot near the house (next to a wall or in a small hole in the ground).
#10 An Egg In A Flowerpot
If you don't want your doggie to dig around the flowers, you can simply use a flowerpot filled with soil, like Kira's owner did.
Put an Easter egg in it, place the soil wherever you want, and watch your pooch have fun looking for it.
#11 A Basket Filled With Treats
I think it's a great idea to let your pup have a feast at the end of the Easter hunt. He'll probably already be a bit tired of running around and the basket will come as a great reward for a good boy.
However, don't make it too simple to find either. Let your doggie make the final effort to get the basket full of treats. But, don't exaggerate with the number of eggs inside the basket, so your pup doesn't end up with a full meal instead of a few treats.
Wrapping Up
Your back yard is filled with places that can be perfect hiding spots for Easter eggs that you prepared for your doggie.
I'm sure this article will help you become the best Easter hunt host for doggies, so don't be surprised if more people want to join with their pets.
I hope that you'll have a great time with your pooch on Easter Sunday!
READ NEXT:
Can Dogs Eat Easter Grass? These 5 Alternatives Are Safer Options
15 Funny Dog Memes To Wish You A Happy And Joyful Easter
23 Cute Dogs Celebrating Easter In The Most Adorable Way
References:
1. Agriculture Victoria. "Toxic Plants For Dogs". Retrieved 26 March, 2023 from https://agriculture.vic.gov.au/livestock-and-animals/animal-welfare-victoria/dogs/health/toxic-plants-for-dogs