With Easter coming in a few weeks, dog-proofing the eggs, decorations, and tonnes of food is a must. We all know dogs can grow a giant appetite overnight, but some items that are exclusive to Easter holidays are not created with dogs in mind.
There are a couple of types of Easter grass, carrying bigger or smaller risks if your dog ingests them. Pooping out prepacked straws of decoration might sound convenient, but it's not. Trust me, I've been there.
Easter Grass Dangers In A Nutshell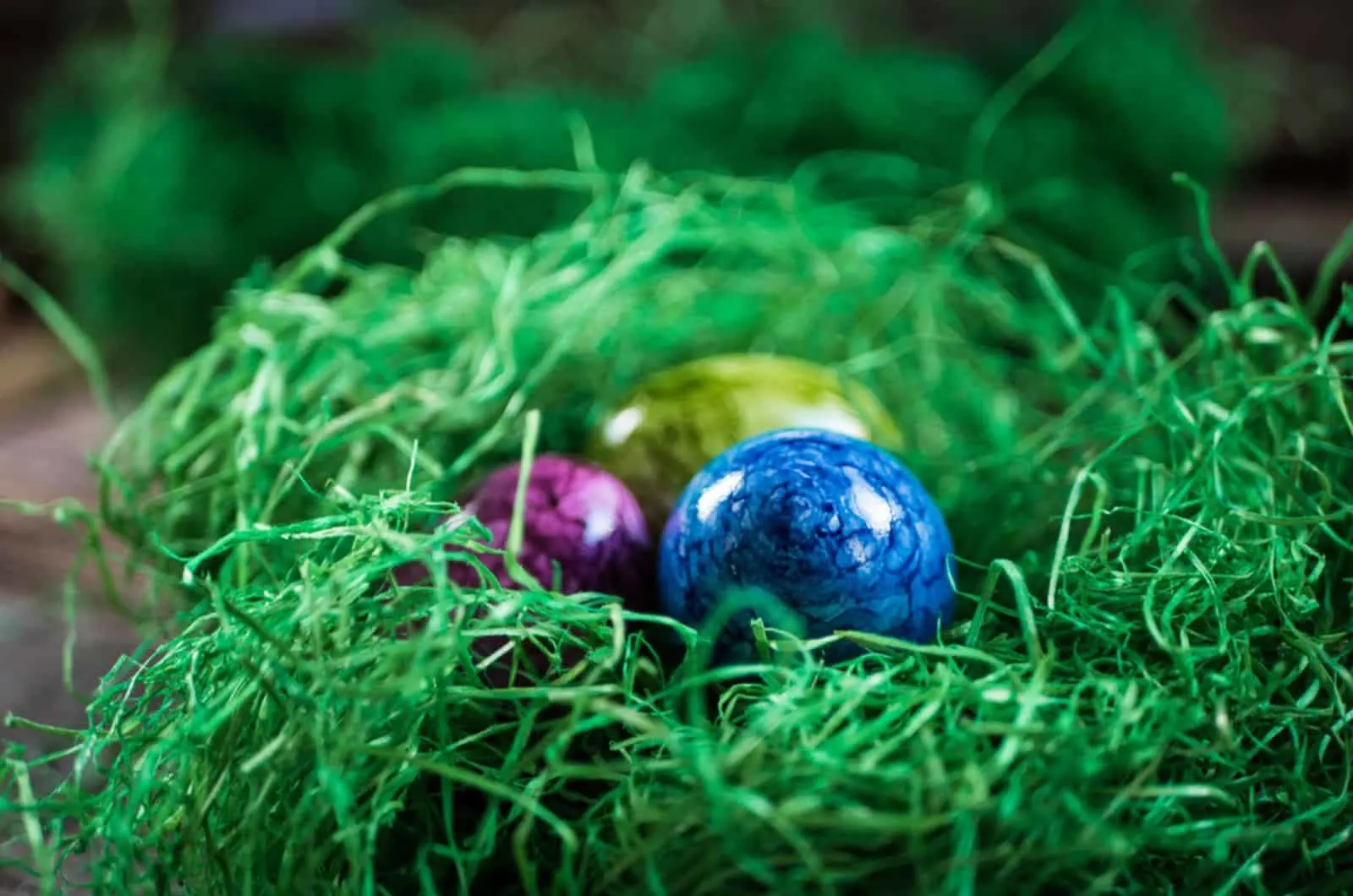 In most scenarios where a dog eats something it shouldn't, the end result is waiting for it to poop it out or going to the vet if it's a solid object. Easter grass is not hard, but it's built to last and survive for as long as possible.
The tensile strength of the most widely available Easter grass made out of cellophane is high, which means it can tangle up with food in the stomach. If eaten in large quantities, it can create obstructions, leading to GDV and intestinal blockage, says Tammy Hunter of VCA.
Paper Easter grass is much less dangerous, but still a nasty thing to eat in bulk. Although both cellophane and paper are derivates of cellulose (wood fiber), the former is semisynthetic and impossible to naturally digest.
For this reason, you should not leave open access to it. Prevention is great and all, but sometimes your dogster will use your absence to munch on an entire basket of Easter grass. Luckily, there are alternatives that take a dog's affinity for eating random stuff into consideration.
Easter Grass That Is Safe(r) For Dogs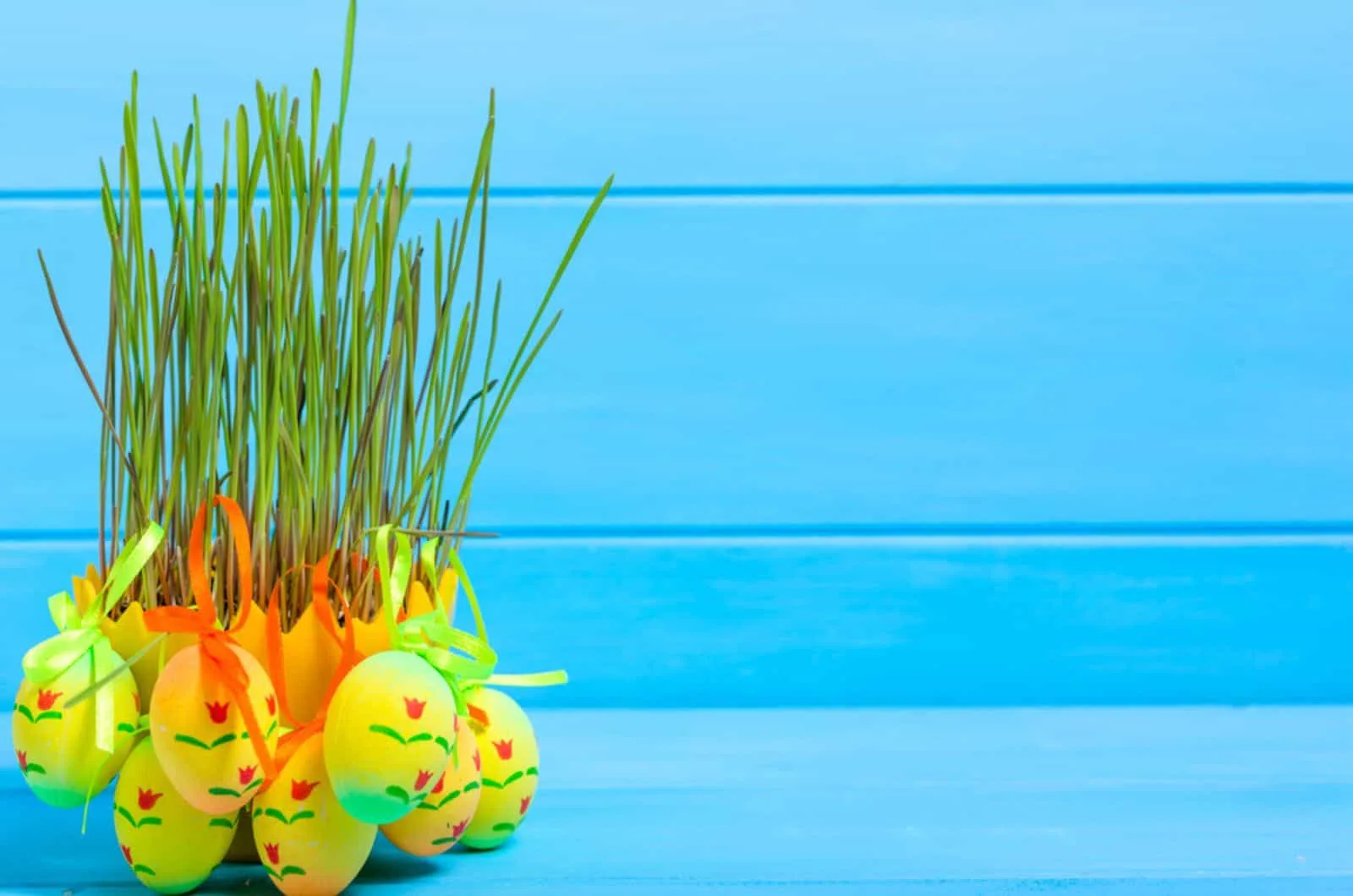 The main component in most Easter grass products is either cellophane or paper. While both are based on wood fibers (cellulose), they are processed in rather different ways.
Paper can also be made from recycled paper, while cellophane falls into the non-recyclable category. To avoid even thinking about what could happen if your canine ate it, there are natural materials Easter grass can be made of.
All the following options are viable substitutes, but shouldn't be left out for your dog to eat as soon as you take your eyes off it.
1. Biodegradable Easter Grass
The effort of manufacturers to reduce the carbon footprint and focus on biodegradable materials for packaging, dispensable materials, etc., unavoidably lead to Easter grass composed of materials that decompose quickly.
However, biodegradable does not mean edible. The two are not synonymous, and eco-friendly does not necessarily mean edible. Sustainable and recyclable biodegradable materials can be sourced from waste materials as well, which means they are definitely not good for eating.
However, the recycled types are usually the lesser evil in these situations. If Easter grass is not the only forbidden food your dog eats, it might be time to learn more about the pica disorder and what might be causing it [1].
2. When In Doubt, Use Moss
Perhaps the most notable substitute to the most commercial Easter grass is moss. Dogs shouldn't eat a lot of moss, and they most likely won't, but it's obviously natural and can go through the digestive tract more easily than paper and cellophane.
One thing to be aware of is that moss can contain insects, bacteria, viruses, or fungi that can create a completely different set of problems for you and your dog. If your dog drools at the sight of forbidden "chewables", it is best you source the moss from your own yard.
Despite the fact that most kinds of moss are safe, you should avoid the types that grow in odd locations. Similarly, plants that have the same aesthetic as grass can be used, but make sure you check whether they are toxic to your dog.
Different animals can leave traces of feces or urine in the moss at parks, popular picnic sites, or outdoors in general. Although safer than cellophane or paper, it still poses a risk to use. So, are there even safer substitutes? Yup.
3. Edible Easter Grass
Yummy in my tummy is something dog owners are well accustomed to. If you say no and put it away, it will become the single most desired item for chewing and eating in the entire galaxy. Thank goodness for edible Easter grass.
Based on corn starch, sugarcane, or cassava, polylactic acid (PLA) commercial, edible Easter grass is digestible, and safer for dogs than other synthetic materials [2]. However, that doesn't mean you should add it as a salad to your dog's meals.
If you are the DIY type of person, you can try making your own edible Easter grass. There are quite a few recipes on the internet that use different ingredients. Some like to use coconut for the taste, and coconut is good for dogs, according to the AKC.
The only thing that matters is that it is plant-based, and that your dog is not allergic to any of the ingredients in it. You can even go ultra-crazy by making an edible egg basket as well. Your dog might appreciate more edible things around Easter time.
Edible Easter grass is clearly tasty, but it sticks to the face like a post-it note.
4. Natural Grass
If you have naturally grown grass in your backyard or garden, this is the safest option. Firstly, it is something always available to dogs, so they will not consider it a tasty treat since it is not a "no zone" item.
Secondly, there is nothing harmful about it even if it is eaten. Dogs that have a lack of fiber in their diets will eat grass of their own accord to supplement what is missing. Despite it being harmless for canines, grass should not be a permanent menu entry.
Pet health giants, VCA Animal Hospitals, warn of intestinal parasites, herbicide, and pesticide presence on natural grass, so make sure the grass you are using for your Easter basket is free of those.
5. The Classic Option – Wheatgrass
Also known as Pet Grass, wheatgrass is a staple source of fiber for different animals. Dogs can benefit from its nutrients, and growing it in a shallow container for Easter basket and pet purposes is very convenient.
Its benefits are plentiful, and your dog's digestion and general body health can be improved by adding it to meals from time to time. Wheatgrass also has medicinal properties, so this might be the option to switch to from this year forward [3].
All you need is a shallow container, moisture, and you should be on your way to growing an impressive indoors crop safe for your dog to munch on, even if its purpose is decorative. By the way, If you are into indoors houseplants, these 10 are safe and good-looking.
References:
[1] Trott, K., & Snell , T. (n.d.). Unusual Eating Habits in Dogs and Cats.
https://www.vetmed.ucdavis.edu/sites/g/files/dgvnsk491/files/inline-files/Unusual_eating_habits.pdf
[2] 13, R. C. |D., Cho, R., Rlk, Fecht, S., M, D., James, Anderson, J., ken, K., Rick, Tom, Nazareth, B. of, Bethleham, J. of, Rrs, Hack, S., Towe, D. K., Sarah, Zylstra, Pestano, S., Brieske, D., … Trayes, E. (2022, October 18). The truth about bioplastics. State of the Planet. Retrieved March 24, 2023, from https://news.climate.columbia.edu/2017/12/13/the-truth-about-bioplastics
[3] Moshawih, S., Abdullah Juperi, R. N. A., Paneerselvam, G. S., Ming, L. C., Liew, K. B., Goh, B. H., Al-Worafi, Y. M., Choo, C.-Y., Thuraisingam, S., Goh, H. P., & Kifli, N. (2022, March 17). General health benefits and pharmacological activities of triticum aestivum l. Molecules (Basel, Switzerland). Retrieved March 24, 2023, from https://www.ncbi.nlm.nih.gov/pmc/articles/PMC8953994/