Do you live in California, and are you trying to find German Shepherd puppies for sale? Don't worry – we've got you covered!
German Shepherd dogs are among the most popular working dogs and family companions in the US (and the rest of the world alike). They are brave, loyal, and intelligent dogs that will stay with their owners no matter what.
These pups are commonly used as service dogs and police dogs, as well, because of their perfect combination of brains and strength. Their working abilities and adorable personalities make them a dog breed impossible not to love.
When people want to buy a new puppy, they'll likely spend hours researching the breed. However, researching German Shepherd breeders in California or any other state isn't as fun, and many aspiring GSD owners don't think of it as an important task.
Still, finding reputable breeders is essential to getting a perfect German Shepherd that will be healthy and well-behaved. This is why we've made a list of top-quality German Shepherd breeders in California that you can check out.
Even if you don't live in California, many of these breeders and kennels will gladly help you transport your new dog anywhere in the US, especially if they consider you an appropriate new owner for their litter.
7 Best German Shepherd Breeders In California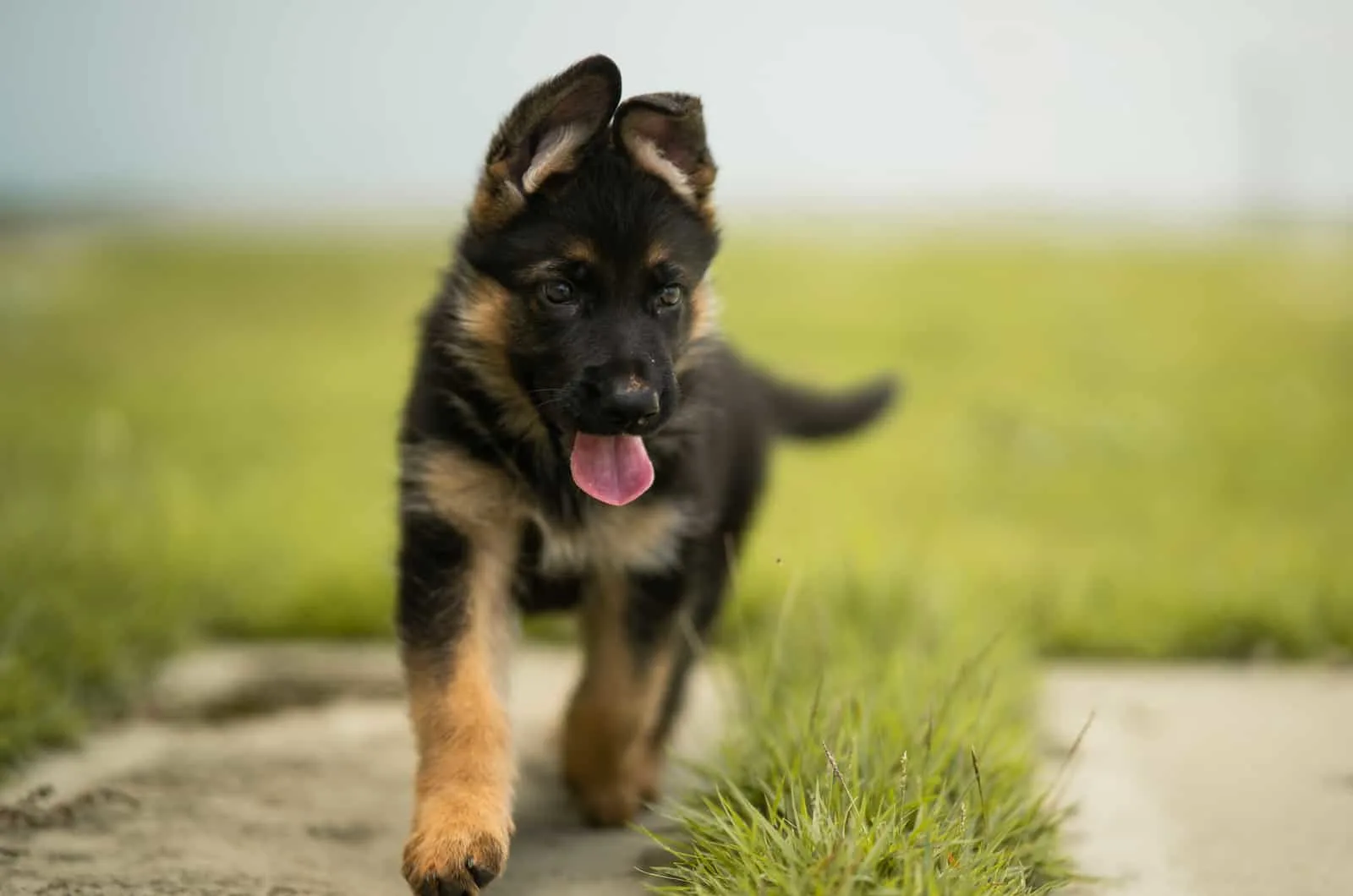 To help you find a perfect German Shepherd breeder in California, we have compiled a list of the top 7 kennels (according to testimonials and reviews).
To make everything more truthful, we've also included some members of the German Shepherd Association, as well as the German Shepherd Dog Club of America (GSDCA).
Here's what they are:
German Shepherd Breeders in Northern California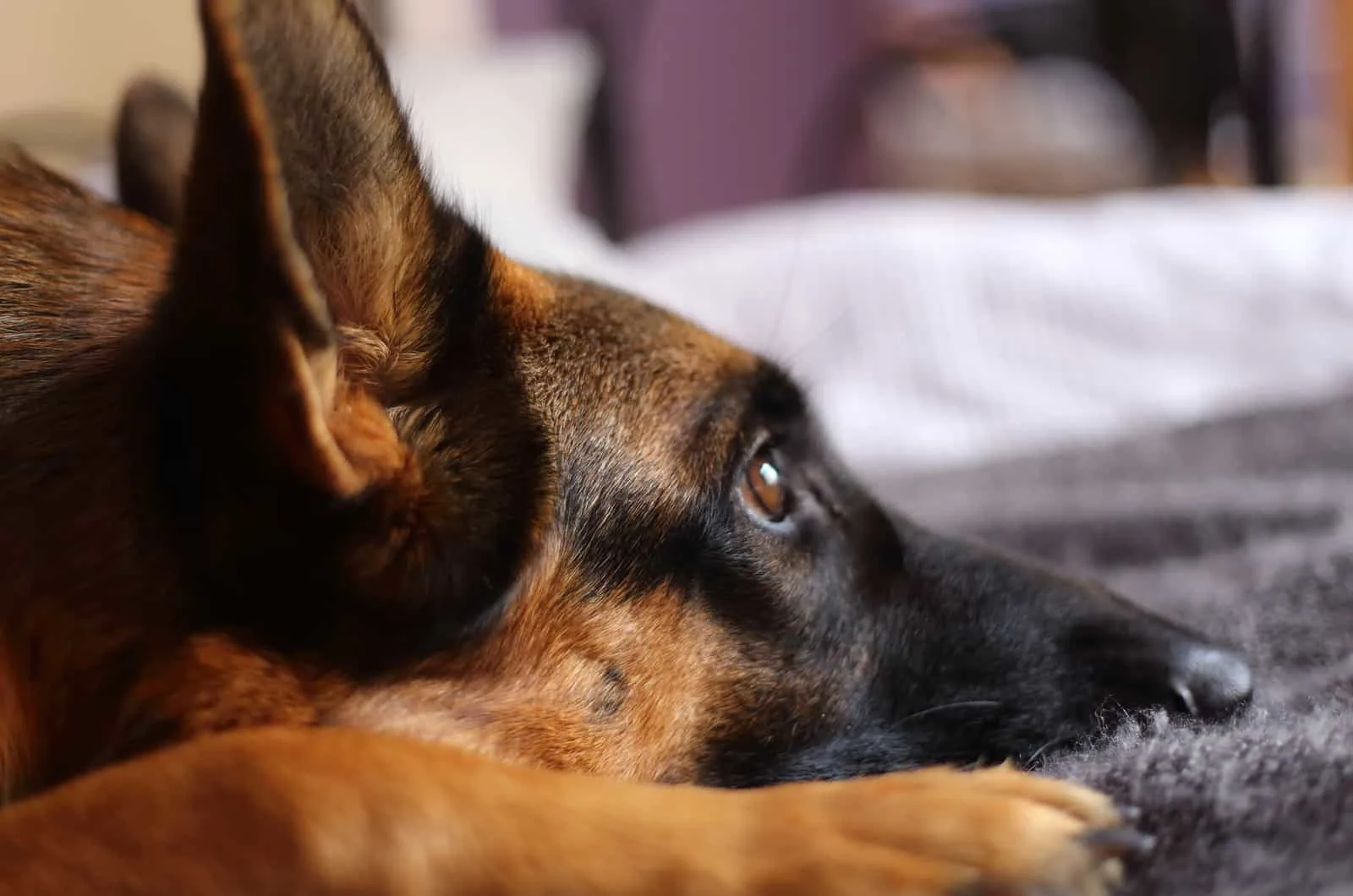 1. Dakonic German Shepherds
Dakonic German Shepherds are located in Anderson, and they believe that GSDs are dogs that can do everything. They breed dogs that can be amazing companion dogs, guard dogs, and working dogs alike. All of their breeding lines can participate in sports while also being amazing family companions.
Their first dog was Dakota, a trained diabetic alert GSD who won the Splash Dog's National Championships, Pro division Super Vertical in 2012 and 2013.
Most of their puppies come from West German and Czech lines. They try to preserve the breed while creating some of the most versatile dogs you can find.
Dakonic GSDs believe that dogs of all sizes and environments should be trustworthy with people and that German Shepherds should know how to read various situations and react appropriately.
This is why all of their dogs are eager to please, with strong work ethics. They are loyal dogs willing to do every task their owner asks of them.
You can find all the information about their dogs and the adoption process on their website, as well as plenty of useful resources for future GSD owners.
Website: Dakonic German Shepherds
Facebook: Dakonic German Shepherds
2. Nadelhaus German Shepherd
This is a GSD breeder from Corning City, Northern California. It was founded almost three decades ago by Tracy Needles. The breeder's goal is to offer dogs created through high-quality breeding programs that focus on the GSD's working abilities.
All of their dogs come from 100% German Shepherd bloodlines, creating purebred dogs that follow all the standards set by the American Kennel Club (AKC). They also breed dogs for conformation shows and Schutzhund titles.
This is one of few German Shepherd breeders in California to be a member of not just the GSDCA but also the SV of Germany. All of their adoption applicants go through a thorough screening process, as Nadelhaus will sell only to those they see fit to be German Shepherd owners.
All of their puppies are checked by veterinarians, vaccinated, and trained before the sale. However, Nadelhaus will provide services even afterward. They'll help with dog training, dog boarding, and the importation of GSDs.
Website: Nadelhaus
Email: [email protected]
Facebook: Nadelhaus
3. Velknerhaus German Shepherds
Velknerhaus GSDs are among the newest German Shepherd breeders in California, as they have only been operating since 2017. However, in the few years of their existence, they have bred many high-quality puppies that took part in several dog shows.
They work on a small scale, which gives them room to dedicate as much time as possible to each of their litters and the parent dogs. By doing this, they'll provide everyone with extra care, producing healthy, well-behaved pups.
This is one of those breeders that try to form personal bonds with every family they adopt their dogs to. They have a thorough screening process to ensure their puppies go into good hands.
While they don't have an online application form, they do take reservations via phone that can be found on the kennel's website.
Website: Velknerhaus German Shepherds
Facebook: Velknerhaus German Shepherds
German Shepherd Breeders in Southern California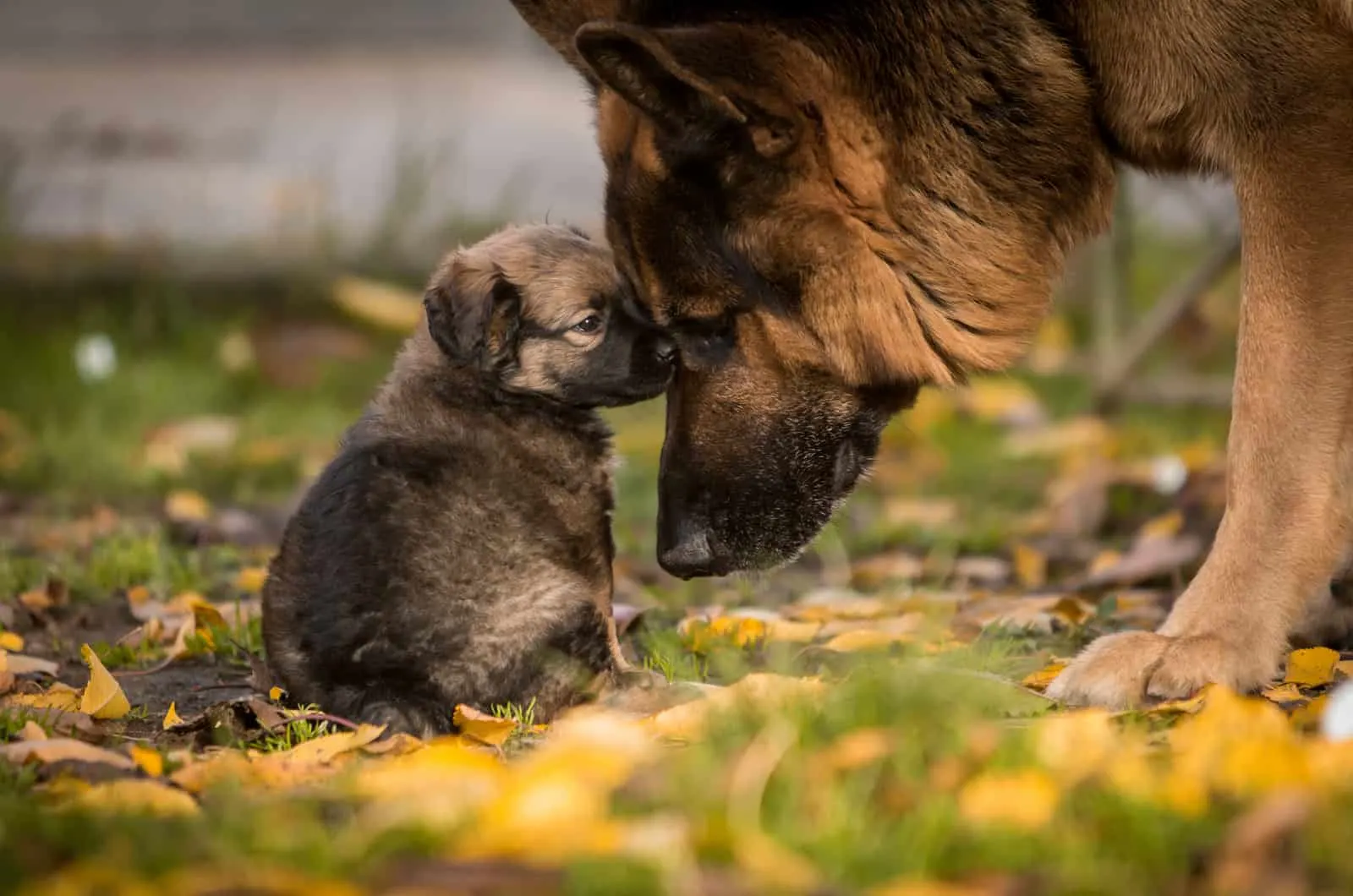 1. Lundborg-Land German Shepherds
This is a German Shepherd breeder from San Bernardino County, Southern California, with more than 30 years of experience. All of their Shepherds come from Schutzhund titles, and they are bred to be family companions and working dogs alike.
They have unique breeding programs that include only the finest of breeding dogs. One of their studs is Ken, who has produced many show dog and work dog puppies and won many awards and conformation shows. His puppies are of top-notch quality and are sold for high amounts.
They have large, spacious kennels, providing their dogs with lots of room to exercise and run around. If you decide to adopt from them – which you can apply for via their website – you can expect to see these kennels in person. Your guide will likely be the kennel's owner, Linda Lundborg herself.
They produce dogs that come from the finest German bloodlines. Just like with many other reputable German Shepherd breeders in California, not everyone can buy from them, as they have a thorough selection process.
Website: Lundborg-Land GSDs
Facebook: Lundborg-Land GSDs
2. Rotterbarental German Shepherds
If you live in Southern California (Los Angeles, to be precise), this might be a GSD breeder you should check out. They specialize in breeding dogs in exceptional red and black coats, but they also offer more traditional tan colors.
Rotterbarental German Shepherds come from the highest Schutzhund and IPO titled bloodlines with the highest V ratings. They are so certain of the quality of their dogs that all of their puppies come with a five-year health guarantee.
The breeder specializes in creating amazing working dogs. No matter if they are service dogs, rescue dogs, or therapy dogs, their German Shepherds can do it all. In fact, many of their pups work as therapy dogs for cancer patients in local hospitals or for victims of violent crimes.
Rotterbarental donated many of their GSD puppies to the Guide Dogs of the Desert for the Blind, further proving that their goal is to help humanity with their high-quality dogs.
As you can see, all of their dogs are not just healthy but intelligent, properly socialized, and versatile. You can go visit their website for more information.
Website: Rotterbarental German Shepherds
Email: [email protected]
Facebook: Rotterbarental German Shepherds
3. Lane's House of Shepherds
This is a dog breeder from Long Beach that specializes in old-fashioned German Shepherds. They don't experiment much but rather focus on creating the best GSDs they possibly can.
As you can see on their website, they have been in the business for more than three decades, producing dogs with the best possible temperaments. This makes them amazing family dogs and show dogs alike.
All of their German Shepherds are socialized before they go to their new homes. They come with vaccinations, AKC papers, as well as a two-year health guarantee as proof of their adequate health status.
Website: Lane's House of Shepherds
German Shepherd Breeders in Central Coast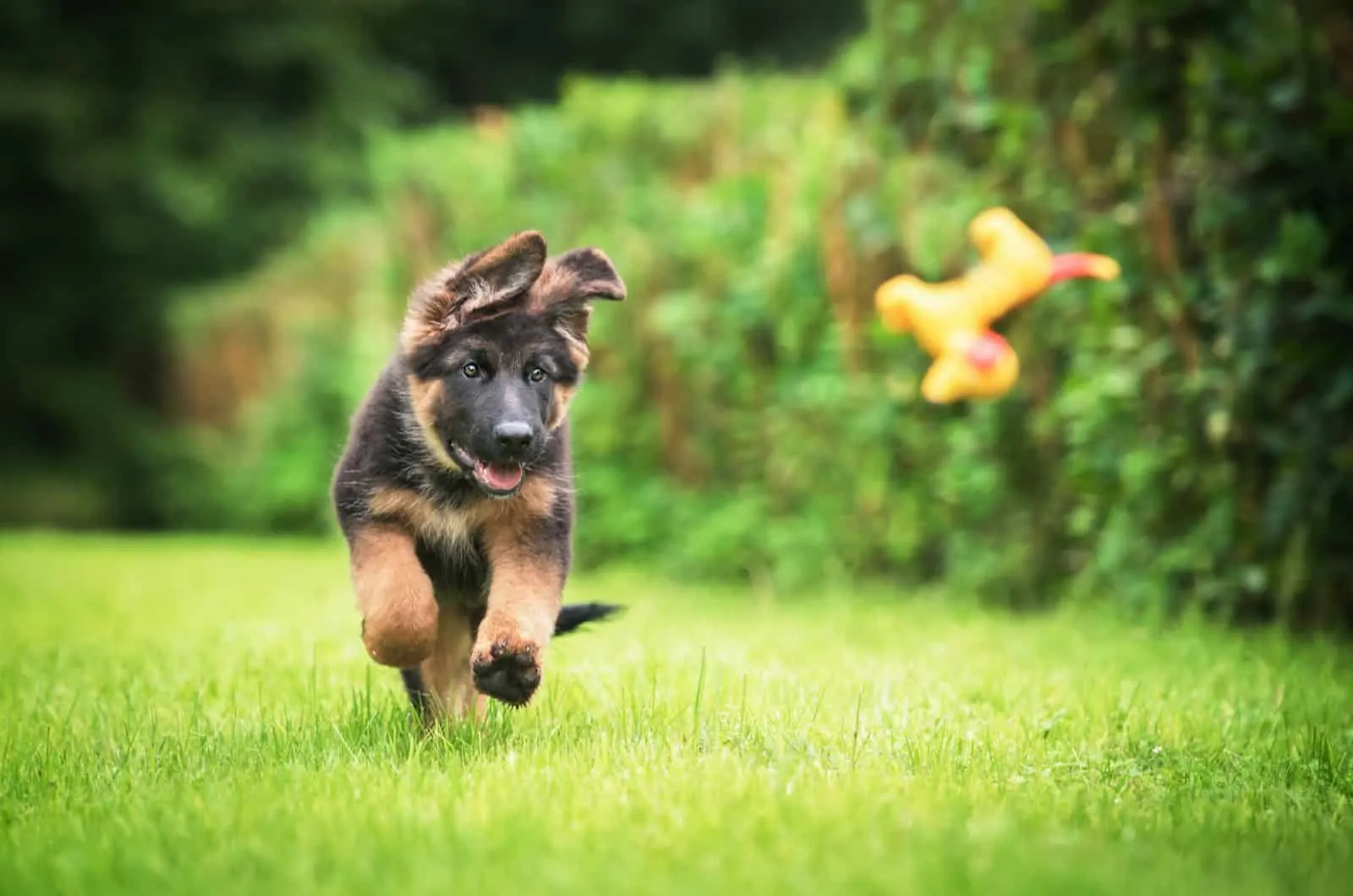 1. Central Coast German Shepherds
This dog breeder is located in Paso Robles, Central Coast. They are small-scale breeders, meaning they don't have many litters, and everyone who'd like to adopt from them has to be prepared for a very selective screening process. In fact, they are among the more selective German Shepherd breeders in California.
They have a business and cooperative relationship with some of the finest GSD breeders from Europe, creating joint champion working lines for all of their customers.
They breed dogs from the West German bloodline and choose only the finest of sires and dames. They pay so much attention to each and every one of their dogs that they breed no more than two litters per year.
Central Coast GSD aims to provide dogs and puppies of high quality that are highly adaptable and great for family settings. In fact, they sell some of the finest German Shepherds in the world, at least according to IPO or Schutzhund titles.
Many ancestors of their breeding dogs reached V and VA ratings before being socialized and trained to adjust family settings.
This breeder conducts all the necessary genetic screenings of their pups. Not just that, but they provide their puppies with Early Scent Introduction (ESI) and Early Neurological Stimulation (ENS) when they are as young as three days old. This helps their nose awareness and overall confidence.
Some of their dogs are used for diabetic alert or seizures once they grow old. These pups undergo early scent training, giving them a head start.
If you are interested in learning more about Central Coast German Shepherds, you can check out their website, as they update it regularly.
Website: Central Coast GSD
Where Else To Find German Shepherd Puppies In California For Sale
We've listed seven reputable German Shepherd breeders in California. However, we are aware that the waiting lists for the upcoming litters can be long, and maybe you want to get a new puppy faster than that.
Don't worry, you can buy your new family member at many more registered, high-quality places. Some of them can even be found online. This is also a great choice for people who don't have a GSD breeder near them.
Here are a few reputable places to look at:
• AKC Marketplace: This is likely the first online place you should check. It is where the AKC keeps the list of most registered breeders and the puppies available, so you can search for the one closest to you. The website also has a blog with useful information to help you take care of your new pet.
• Adopt a Pet: This is the largest Non-Profit Pet Adoption Website in North America. On it, you can find many German Shepherd puppies, as well as adult dogs. Their search filter allows you to choose dogs by sex and age, helping you find the right dog for you.
• Puppies for Sale Today: This is a website that has dogs of all breeds listed for sale. You can find many German Shepherd puppies on it, no matter your location.
You can also check the local white pages and find other German Shepherd breeders in California that might be closer to you or that might have conditions that are more suited to you. Just make sure to stick to reputable kennels and not backyard breeders.
You might want to join local Facebook groups for German Shepherd owners. There are many people sharing their experiences, and you will even have a place to ask for advice and additional information when needed.
Why Do Breeders Matter?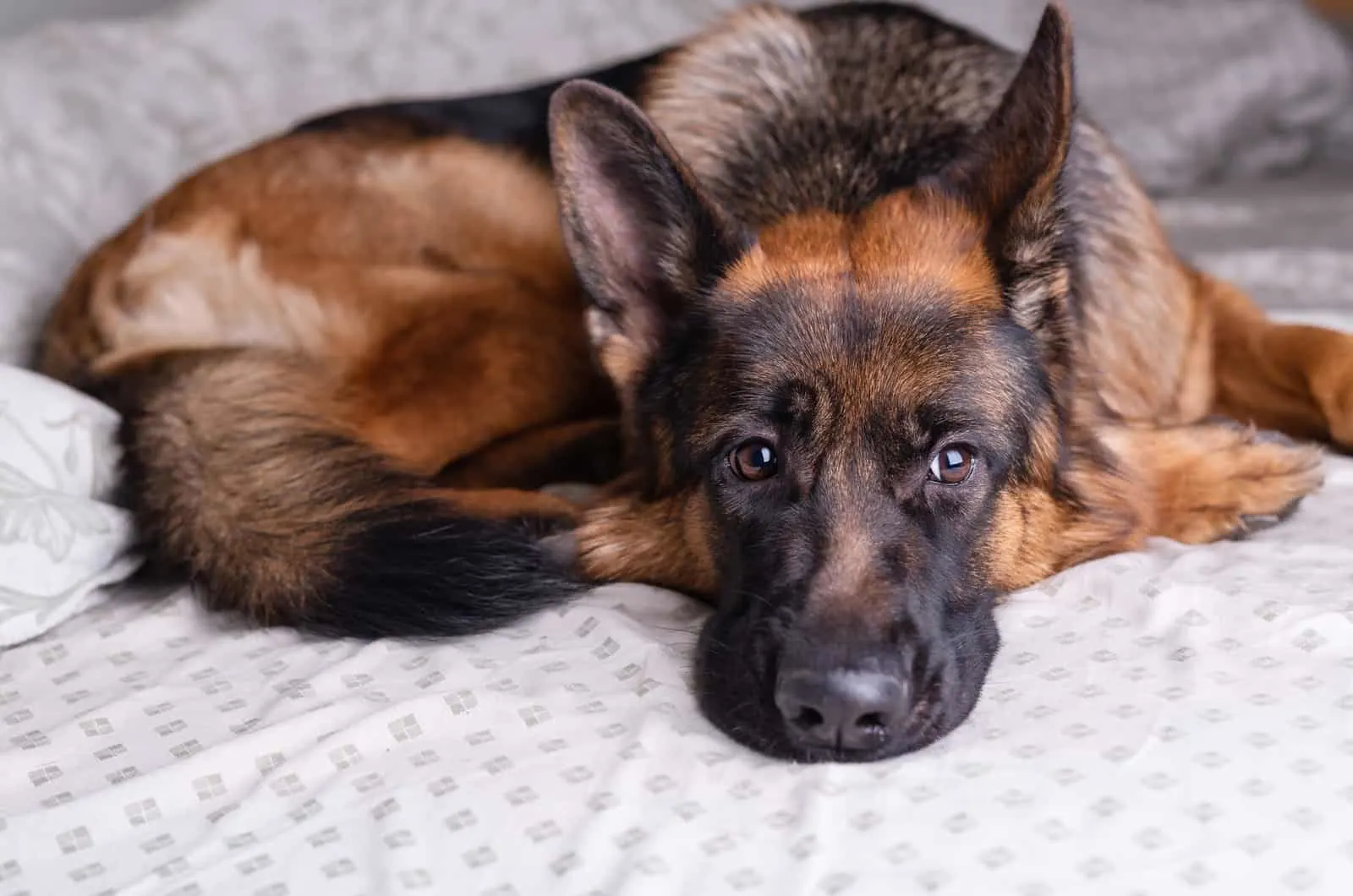 A huge number of future dog owners don't think that breeders matter that much. They'll simply look for a place where they can buy a puppy, and many of them will think that the cheaper – the better.
However, choosing good German Shepherd breeders in California can help both the breed and dog owners in many ways. We'll explain.
Professional dog breeders invest a lot of time in producing pups of the highest quality. This means they'll pay for extensive genetic testing to ensure your dogs are perfectly healthy and free of many genetic conditions that plague that specific dog breed.
If you purchase from a backyard breeder or a pet mill, you'll be buying a dog with an unknown medical history. Without knowing whether the ancestors are healthy, you can never know if your GSD is at risk of developing some severe health condition.
But the best German Shepherd breeders in California will always give you a background of their dogs. They keep health records so they can prove that their GSDs are healthy and thriving, helping you sleep soundly knowing your pooch will get the most of his lifespan.
Not just that, but most breeders will only sell dogs that have undergone their first vet visits, as well as all necessary vaccinations and flea and parasite treatments.
When you purchase from reputable German Shepherd breeders in California, you'll also get the chance to meet the parents, or at least the mother dog. This way, you'll know what to expect once your pooch grows up – both physically and temperamentally.
Good breeders will provide their puppies with some early dog training and socialization, ensuring they are well-behaved when they go to their new homes. As the first few weeks are essential for the development of a dog's personality, it's easy to see why you don't want to miss this.
All breeders care about the well-being of their dogs, even after they are sold. In other words, they'll be a constant source of information and help in case you need it. Whatever you are worried about when it comes to your beloved pet, you will be able to contact them and get words of advice.
In fact, most reputable breeders will be there if you no longer can care for the dog you've bought. They'll help you find a new home for your GSD, and many will even agree to foster your pup until they can find a new owner.
Because of this, you should never underestimate the value of working with the best German Shepherd breeders in California.
How To Recognize A Good German Shepherd Breeder In California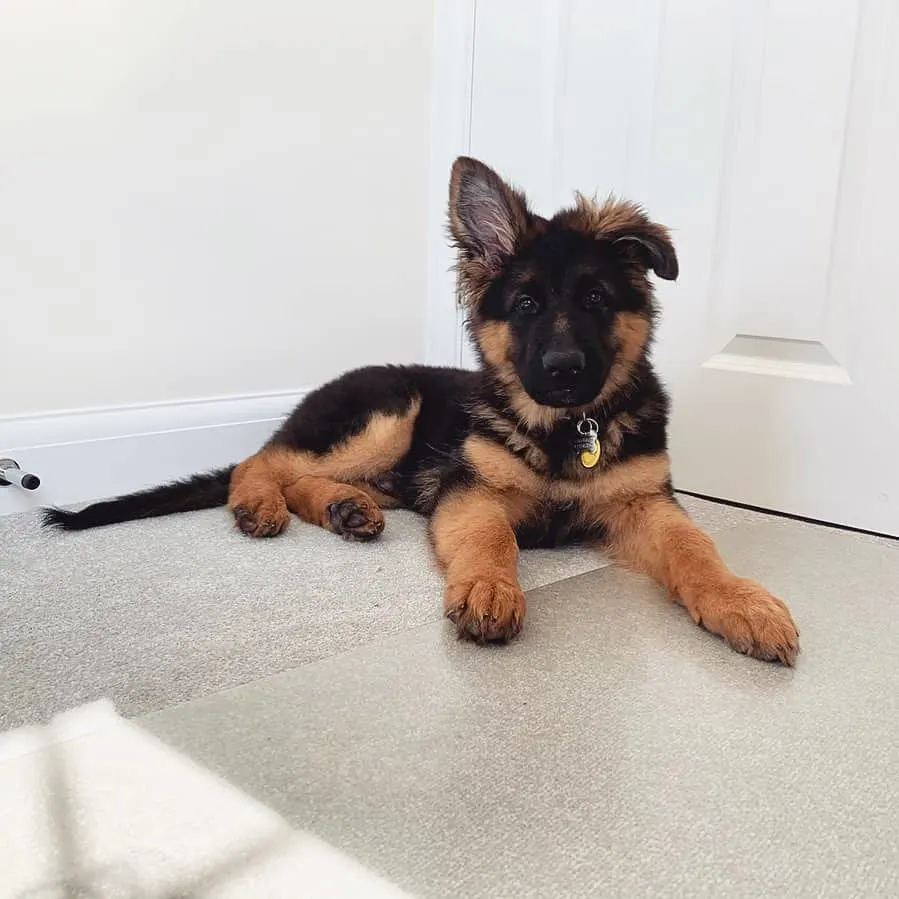 Photo from: @tankthegs
When choosing a good GSD breeder, there are a few things you need to pay close attention to. Sometimes it can be challenging to differentiate a good breeder from an irresponsible one, so it's important to know some tips and tricks.
• A responsible breeder will always want to know where they're sending their puppy. Even if they don't insist on seeing your home, they will ask you for a video call so they can see their GSD's future home. This will also help them address any possible problems they might anticipate.
• Good breeders will provide you with all the necessary paperwork, including pedigree, health clearances, and sometimes even a health guarantee and registration papers!
• They will inform you if any of their dogs have a chance of developing any genetic condition.
• They'll ask you a lot of questions, and they'll gladly answer all of yours.
• No good breeder will sell puppies that are too young, and they won't insist on you taking the pup right away. If they do, it means they're working for the money only.
• All good German Shepherd breeders in California will gladly show you past customers' records and references. They'll also provide you with information about the veterinarians or other breeders they might be working with.
• They'll provide you with a contract that shows not just what is expected of you but also of everything you can expect from the breeder in return.
• Most good GSD breeders will have long waiting lists as they don't breed too many puppies or stress out mother dogs by going through too many pregnancies.
• They'll always have a responsible person that will help transport the puppy to you.
• All good breeders have to at least have one dog that participated in conformation shows, even if they breed working lines instead of show lines.
• Responsible breeders don't work with too many dog breeds. Instead, they'll focus on two or three breeds at most.
German Shepherd Puppies for Adoption California
Some people don't want to purchase their dog. Instead, they'd like to adopt them, as they consider this to be the more ethical (and cheaper) option.
One of the first places you might want to look at is the aforementioned Adopt a Pet website. There are dozens of dogs listed on it every single day, and many of them are GSDs. It's a great place to start.
You might also want to check with your local dog shelters and humane societies. Unfortunately, many dogs end up abandoned, and this is especially the case with large dogs such as GSDs. Chances are, you'll find one at a local shelter.
Keep in mind that when you adopt, there is no way of knowing the full extent of the dog's history, both medical and temperamental. You won't know whether he is at risk of developing certain health problems or if some specific situations trigger bad behaviors.
Why Support Responsible German Shepherd Breeders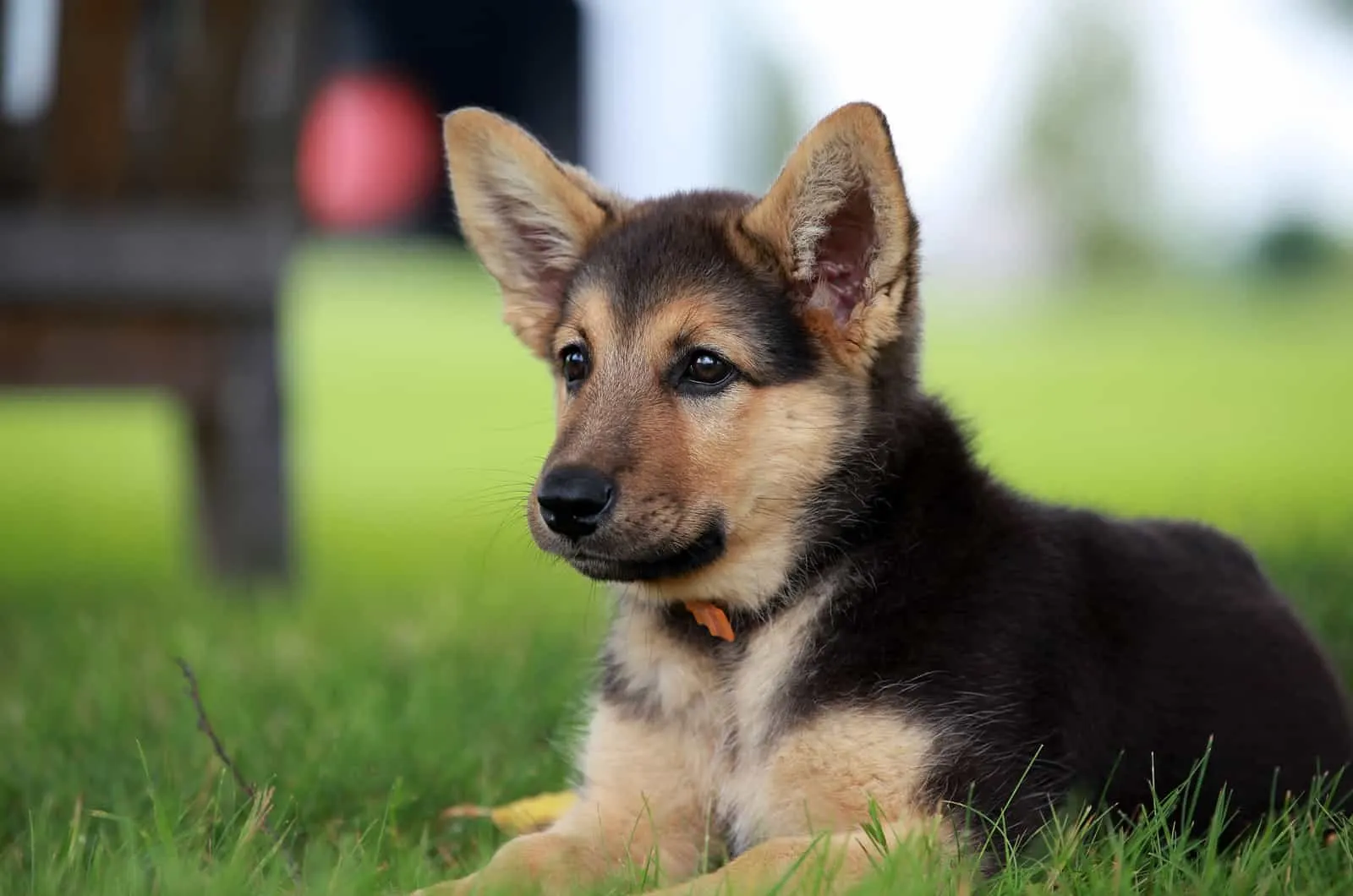 Some people feel like German Shepherd breeders in California are too expensive. They don't see why they would give hundreds or even thousands of dollars just to get a dog.
Some dog lovers even think that breeders are the reason behind so many dogs ending up on the street, as they don't understand why someone would intentionally breed dogs with so many pups at dog shelters.
The truth is, responsible breeders are helping preserve a dog breed and all canines alike. They participate in many charitable events, and some will even take abandoned dogs and find them new homes.
Breeders are also helping create healthy dogs free of certain genetic defects that can plague the breed. It is in their interest to eradicate most health issues so they can sell high-quality dogs that will live their full lifespans.
All of these activities cost a lot of money, so the breeder has to put a high price tag on their dogs. By purchasing from them, you'll actually support a good cause and ensure the breed stays as healthy as possible.
Of course, everyone has the right to choose, and you're free to do whatever you feel is the right thing. If you opt to buy your new GSD puppy, you won't go wrong with any of the German Shepherd breeders in California we've listed. Just remember to buy great beds for GSDs, as well as other supplies such as collars and brushes, before your new pet arrives.
Related Articles:
German Shepherd Breeders in Washington
German Shepherd Breeders in Illinois