West Coast Dachshund puppies are top tier.
Dachshund breeders in California adhere to high standards in both selective breeding and in puppy rearing and distribution.
After all, their American Kennel Club credentials speak for themselves!
Dachshunds are a funny lot and always make for an entertaining sight.
Also commonly called 'Weiner' or 'Sausage' dogs, Dachshunds are a small German hound breed.
They can be either Miniature or Standard (also called 'Tweeny' by some breeders), and their coat can be either wiry, smooth or long. They have consistently ranked as one of the USA's most popular dog breeds. Historically, the Dachshund was a working dog used for badger hunting.
They have a distinct hunting dog temperament , tend to be wary of strangers, and have a high prey drive, unlike most small dogs.
This feistiness and big dog attitude is what some people find endearing about doxies. They are usually very fearless, energetic, and extroverted, and they may even become unruly if not taken care of right!
But, which Dachshund breeders in California would cater to your needs the best?
Without further ado, let us get to know the west side's bona-fide breeders!
1. Dachshund Breeders In Northern California: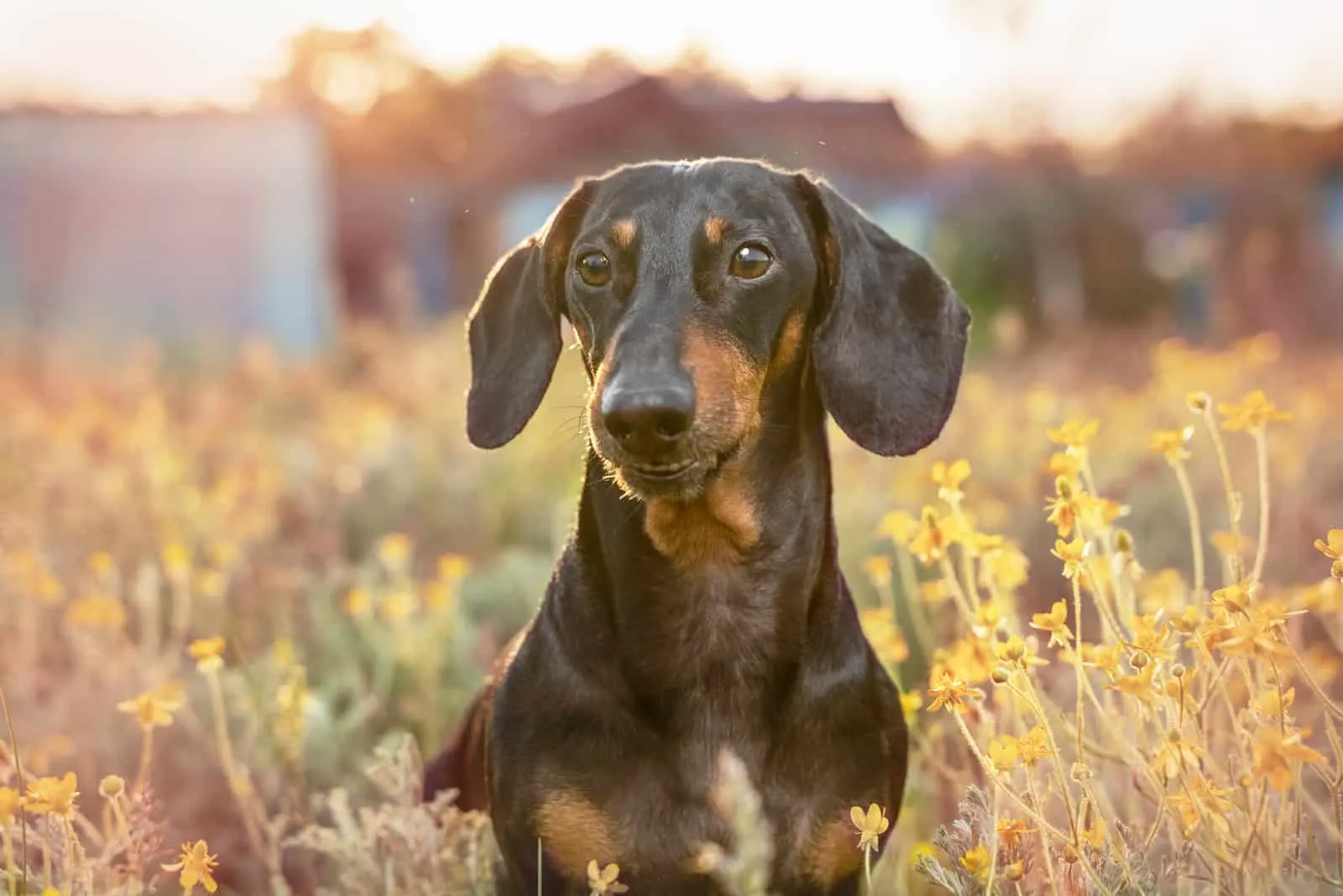 It's only right that we start from the top!
There are a number of reputable dachshund breeders in NorCal, and we compiled the most prominent of them. Most of them are located in peaceful, remote estates, and have a loving and dedicated staff of breeders caring for them.
Dachshund puppies all over North Cali are looking for loving homes.
If you have your sights set on a doxie, maybe you'll want to check out one of the following kennels and reach out via one of the contacts we provided?
1.1. Songcatcher Dachshunds, California
This quality kennel is located in Nevada City, CA, not far from Sacramento. They have been in business since the 80s, and breed both Miniature and Tweeny (Standard) dachshunds in smooth-coat or long-hair variants in many patterns and colors, including English Cream!
These dedicated and passionate dachshund breeders also raise livestock and breed horses on their large estate.
What's The Secret To Songcatcher's Dachshund Pups?
They feed their Dachshunds with raw food as well as regular dog food, and claim it does wonders for their dog's health. This is what dogs were meant to eat, after all.
The clean air and wide open fields of the ranch help as well, I'm sure.
They strive for perfection in their pups, and are part of a small community of extraordinary breeders with whom they cooperate on this mission.
Contact Info:
• Website: www.songcatcherdachshunds.com
• E-mail: [email protected]
• Phone number: 530-265-4356
1.2. Wee Waddles Dachshunds
This charming kennel, whose site says it is located at the 'foothills of Northern California', has only Smooth Standard Dachshund puppies for sale.
They are a family kennel, and love their pups very much, so they are very specific about who gets to buy them, but this is common with reputable breeders.
They just want to provide a quality new home for their canine family members even at the cost of turning away impatient customers!
So, Does Wee Waddles Have A Long Waitlist?
They claim not to have a waitlist for their puppies… they choose who gets to adopt one of their pups by getting to know them personally. They don't want their puppies being used in illicit breeding processes, so they are probably going to question you about it.
They also require a $75 deposit for every arranged adoption.
You can see some of the available pups' photos on their website, and also read their details on the adoption procedure.
They have been in the breeding business for over a quarter of a century, and are very well versed in all things Dachshund. If you have any questions, you should visit the Wee Waddles website or contact them directly.
Contact Info:
• Website: www.weewaddlesdachshunds.com
• E-mail: [email protected]
• Phone number: 209-897-0336
• IG: @wee_waddles_ doxies
1.3. Dandydox Dachshunds
This AKC Breeder Of Merit is located in Redding, Northern Cali, and is owned by a lady who simply introduces herself as 'Nancy'.
At Dandydox, they are focused solely on longhaired Miniature Dachshunds, which are bred carefully and exhibit desirable traits in every aspect.
This Kennel has broad breeding practices, and boasts many, many different colors and varieties on its website.
What are the best colors for a Dachshund?
English Cream colored, long-haired doxies are especially esteemed, but more on that later!
Dachshunds and Mini Dachshunds come in a variety of colors, but most commonly red, black, brown, cream, and tan, with patterns such as brindle, piebald, and sometimes even dapple!
All of these varieties are available at the Dandydox kennel.
Dark eyes are preferred in these sausage dogs, and are the marking of champion heritage in Dachshund dogs.
Well-known among Miniature Dachshund breeders in California, this kennel is a proud member of the Dachshund Club Of America, the Northern California Dachshund Club, and the Shasta Kennel Club as showcased on their website, and their pups are regulars at AKC dog shows.
Contact Info:
• Website: www.dandydoxdachshunds.com
• E-mail: [email protected]
• Phone number: N/A
2. L.A. Region Dachshund Breeders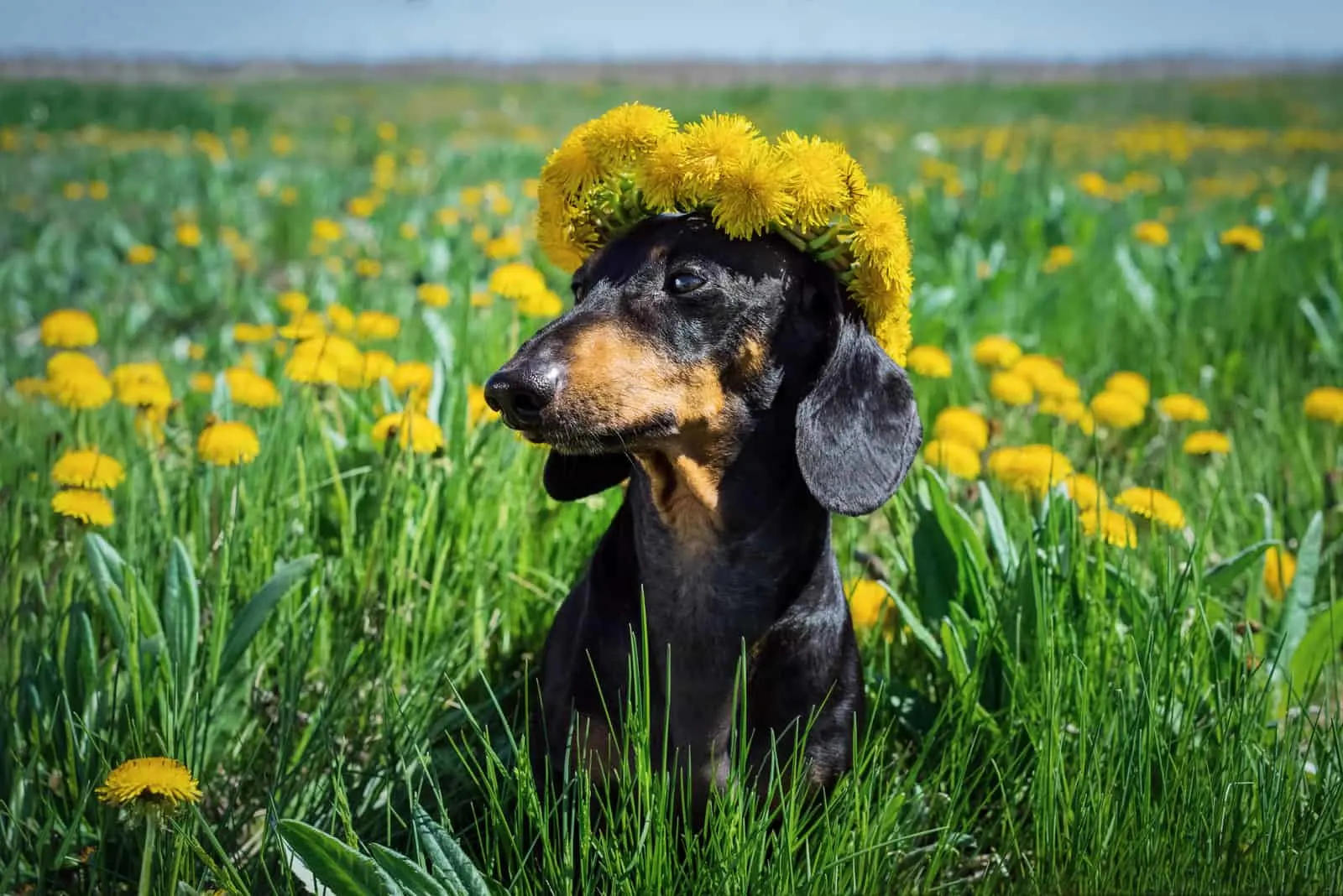 Moving into the SoCal region, we bring you four amazing kennels located in L.A. Both of these deal in champion and AKC stock, and will examine any candidate thoroughly before letting a pup be picked up or sending it to a new home.
Dachshund breeders in California's remote areas really have everything a dog could wish for: wide open ranches, quality care, supplies available, and a year-round sunny weather climate, which is liable to make their personalities more vibrant and positive.
The ones in Los Angeles, though, are as cool and prestigious as the City of Angels itself!
2.1. Full Circle Dachshunds
Full Circle Dachshunds are miniature dachshund breeders located in Leona Valley, California. The Full Circle Ranch is an idyllic estate located in northern Los Angeles county.
This AKC-certified family kennel has dedicated 17 years to developing its breeding practices in order to create some of the finest Mini Dachshund pups on the West Coast.
The adoption of a puppy requires a $300 deposit, but this applies only when you have already picked your puppy.
Miniature vs. Regular Dachshund… What's The Difference?
Miniature Doxies are two to three inches shorter at the shoulder, and are of a smaller frame than regular Dachshunds. Their coat is either smooth, wired, or long just like the standard's.
This version of the Dachshund is recognized by the AKC, so you should make sure your kennel is, too! Some "Mini Dachshunds" are actually Dachshunds bred with Chihuahuas, and as such, they are unable to hold a pedigree or enter shows.
The deposit on the Full Circle puppies is non-refundable. They include the puppy's AKC papers as well as vaccination and worming certificates with the pup.
They post most updates on their Facebook page that they use to advertise their business.
Judging by the comments there, Full Circle puppies are in very, very high demand.
You can contact them by other means as well, which are listed below.
Contact Info:
• Website: www.fullcircledachshunds.com
• E-mail: [email protected]
• Phone number: +1 661-816-5614
• IG: @fullcircledoxies
2.2. Desi's Mini Dachshunds
This quality-focused kennel is located in Menifee, Riverside County.
Having started off as a stud dog service only, it now boasts four bitches and three stud dogs.
Karen and her husband have seven grandchildren who help them tend to their numerous canine family members.
They sell both smooth-coat and long-hair Dachshunds in various patterns and colors.
All of their puppies are either AKC or CKC certified, and there is an application form to fill out on their website. The website says they are out of puppies for the moment, but I'd send them a message just in case because the statement might be outdated.
They also rear their pups, and give them proper care for the first eight months of their life.
They accept online payment methods like Venmo and PayPal, and they only take cash at pick ups.
Contact Info:
• Website: www.desisminidoxie.com
• E-mail: [email protected]
• Phone number: 951-288-5909
2.3. Tudorglen Dachshunds
Tudorglen Dachshunds is a Los Angeles-based kennel that has seen great success at dog shows, and strives to create the most presentable pup they can. They spent years raising, grooming, and training Dachshunds for club show purposes, and they are one of the most show-oriented Dachshund breeders in California.
Every dachshund pup at Tudorglen is bred using at least one AKC champion parent.
If you prefer a small breeder who is wholeheartedly dedicated to producing champion Dachshunds, then Tudorglen might be the one for you!
They take special pride in their prized stud dog, Lincoln, to whom many of their puppies bear relation. Lincoln is a Russian-born Miniature Smooth Dachshund that has seen numerous victories at club shows, and you can read his story on the kennel's website.
As avid dog show lovers, they also coach handling to first-time show participants.
If you'd like to see your puppy in a show ring, give them a call!
Contact Info:
• Website: www.tudorglen.com
• E-mail: [email protected]
• Phone number: N/A
2.4. Crown Dachshunds
If you are a fan of English Cream Dachshunds and Miniature Dachshunds, you should check this prestigious kennel out.
They are a family-run, small kennel who put all their effort into this one Dachshund breed color and variant; they only offer English Cream Mini Doxies!
This is an exquisite kind of mini Dachshund, with a golden cream color reminiscent of the Golden Retriever.
The Crown Dachshunds kennel takes care of vaccination and deworming, and makes the puppy available to their new owners at eight weeks of age, along with a kit including a blanket that smells like the pup's mom, a package of food, vitamins, a new toy, and even a new bed!
Where is Crown Dachshunds located?
The kennel's home address is in Loma Linda, California, in the San Bernardino county in L.A.
While not on some faraway ranch like many of these listed kennels, the pups are taken care of by breeders with close family ties, and that makes for a loving home nonetheless.
Contact Info:
• Website: www.crowndachshunds.com
• E-mail: [email protected]
• Phone number: 951-223-1184
Read More: Dachshund Rescues in California
3. Dachshund Puppies For Sale In Southern California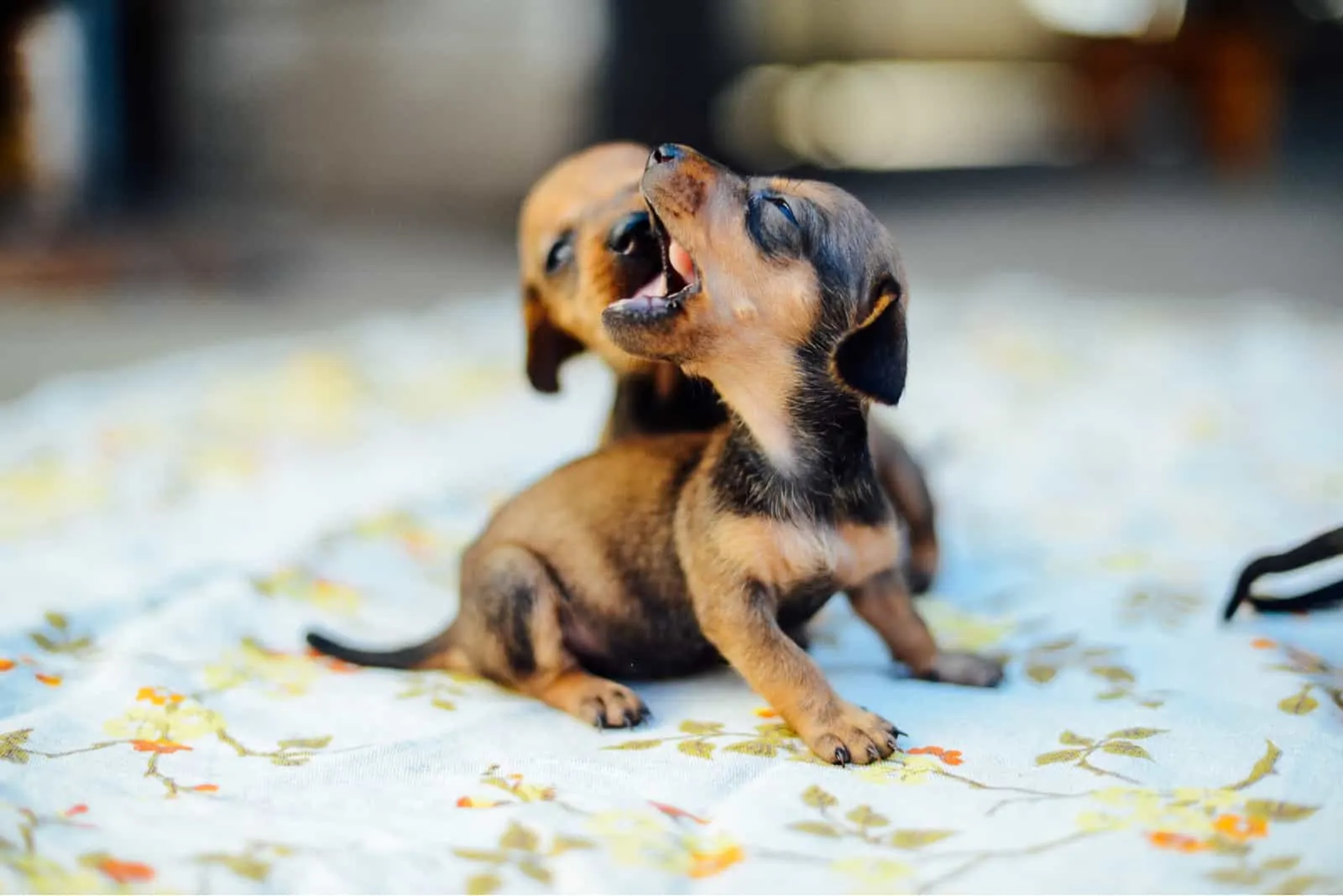 A good deal of breeders on this list hail from the dry and sunny valleys of Southern California, past the metropolitan area of Los Angeles.
These kennels tend to be family-operated and located far away from the hustle and bustle of urban living.
These breeders adhere to some strict breeding programs, and the results are marvelous Doxie pups of every possible variant!
Some are even highly specialized in breeding a specific color or size.
3.1. High Desert Doxies
Located in peaceful Acton, California, in the Mojave Desert, High Desert Doxies is a kennel that offers both long- and short-hair Dachshunds of both sizes, but more commonly, Miniature Doxies.
Their breeding program includes all kinds of colors and patterns, 'Chocolate & Cream, chocolate and tan, red, black & tan, and Isabellas in solids, piebalds, brendles, and dapples' as stated on their website. The site also includes a puppy contract, which includes a no cash refund policy, so be mindful when choosing your High Desert pup.
You can, however, exchange the pup for another if you're not satisfied. Keep in mind, though, dachshunds are clingy and easily attached. You might just break the poor pup's heart if you do this.
The High Desert Kennel also has an adoption program going for adult Dachshunds.
All High Desert puppies are:
• American Kennel Club certified
• Vaccinated
• Dewormed and given special parasite protection
• Microchipped free of additional charge (only if the buyer requests it)
Contact Info:
• Website: www.highdesertdoxies.com
• E-mail: highdesertdoxies @yahoo.com
• Phone Number: 661-750-9211
3.2. DeLorenzo Dachshunds
These highly acclaimed Dachshund dog breeders are located in Moreno Valley, CA.
Their website states that they are 'A small, family-owned, licensed, AKC Dachshund breeder located in Southern California.'
They are a very busy kennel, so there is a 12-month wait for a DeLorenzo puppy. It's worth it, though, as these pups are of such high quality!
The proof is in the pudding so you can check out all their puppies' and parents' pics, along with some very satisfied customers, on their website.
They maintain a fixed price for their puppies, and require a $300 deposit as well!
How Much Does A Dachshund Cost In California, On Average?
Dachshund puppy prices may vary between different Dachshund breeders in California, and depend on the specific puppy and the reason why you are getting one (as a pet, for breeding, etc.), but they range from $300 up to $3000 on average!
Mind you, the American Kennel Club-certified pedigree puppies tend to be in the upper echelon of that price range.
Due to the current situation with the COVID pandemic, they do not allow home visits for the time being, but feel free to contact them.
Contact Info:
• Website: www. delorenzodachshund .com
• E-mail: [email protected]
• Phone number: N/A
• IG: @ delorenzo_dachshunds
3.3. Nuforest Dachshund Kennel
Nuforest Dachshund is a kennel located in Ramona, South Cali, and is run by Bill and Susan Buck. Since retirement, the two have devoted their lives to Dachshund breeding and have had a great deal of success with their Doxie pups.
Nuforest Dachshund specializes in Miniature Dachshunds.
They breed all versions: long-haired, smooth, and wire-haired Miniature Dachshund puppies are available at this kennel. The kennel is not only AKC certified, but holds special merit with the kennel club as well!
Nuforest Dachshund Guarantee:
• 14 days to replace your puppy if you simply don't like it and want another
• Have a one-year health guarantee for genetic health problems. If one is found, the dog can be replaced
• $500 back if the dog is shown at an AKC Championship
They do, however, have their own set of terms as well. To see the specifics of the contract, you can visit their website.
The Ramona Kennel also helps rescues.
Contact Info:
• Website: www. nuforestdachshunds .com
• E-mail: [email protected]
• Phone number: (760) 789-0592
4. Central Valley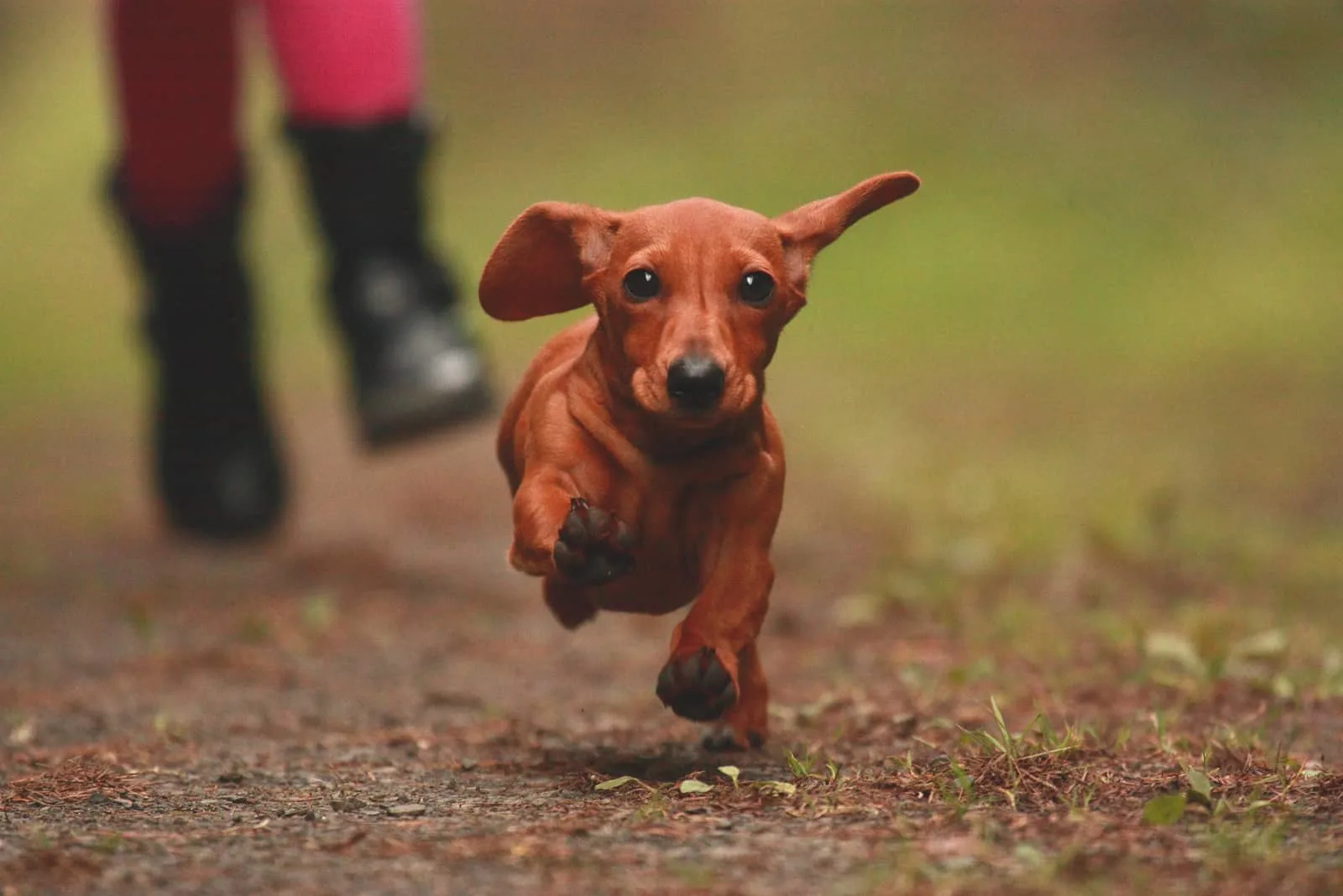 This final batch of breeders is located in the breezy plains of Central California.
Last, but certainly not the least, the great valley is home to two reputable dachshund breeders who have Miniature Dachshund puppies available.
4.1. Groundhound Dachshunds
These miniature Dachshund breeders hail from Montega, Ca.
This family kennel makes it their mission to breed pups with the most desirable temperaments in order to make an ideal pet and a loving addition to your family.
However adorable the Dachshund might be, there are still some undesirable characteristics that savvy breeders recognize and breed out in order to create the perfect pup. Most of them are related to its temperament and behavior.
Their pups come vaccinated, socialized, and with an amazing eight-year health guarantee.
They might be moving all the way to Berry, Alabama anytime, so you should contact them post-haste if you are interested in one of their pups!
Contact Info:
• Website: www.groundhounds.webs.com /
• E-mail: [email protected]
• Phone number: 209-275-0313
• Facebook: groundhounds
4.2. Colorful Dachshunds – Central Ca, Monterey
This Monterey, CA kennel also specializes in breeding and rearing AKC-certified Miniature Dachshund pups. They have all kinds of coat varieties, coat colors, and patterns of Miniature Dachshund puppies for sale.
Their pups come with a one-year health guarantee, but only in regard to life-threatening congenital defects. The kennel is involved in an AKC-sponsored breeding program, which seeks to improve the cardiovascular health of newborn puppies by responsible breeding.
The one-year health guarantee is received in written form when purchasing a puppy, as are the American Kennel Club pedigree papers and the vaccination and health certificates.
Their website has pictures of their beloved pups on display as well as some guidelines and even a poem about dachshunds!
Feel free to contact them using the info we provided.
Contact Info:
• Website: www.colorful- dachshunds .com /
• E-mail: [email protected]
• Phone number: 1-408-840-1842
• IG: @colorfuldachshunds
The Best Dachshund Breeders: What Sets Them Apart?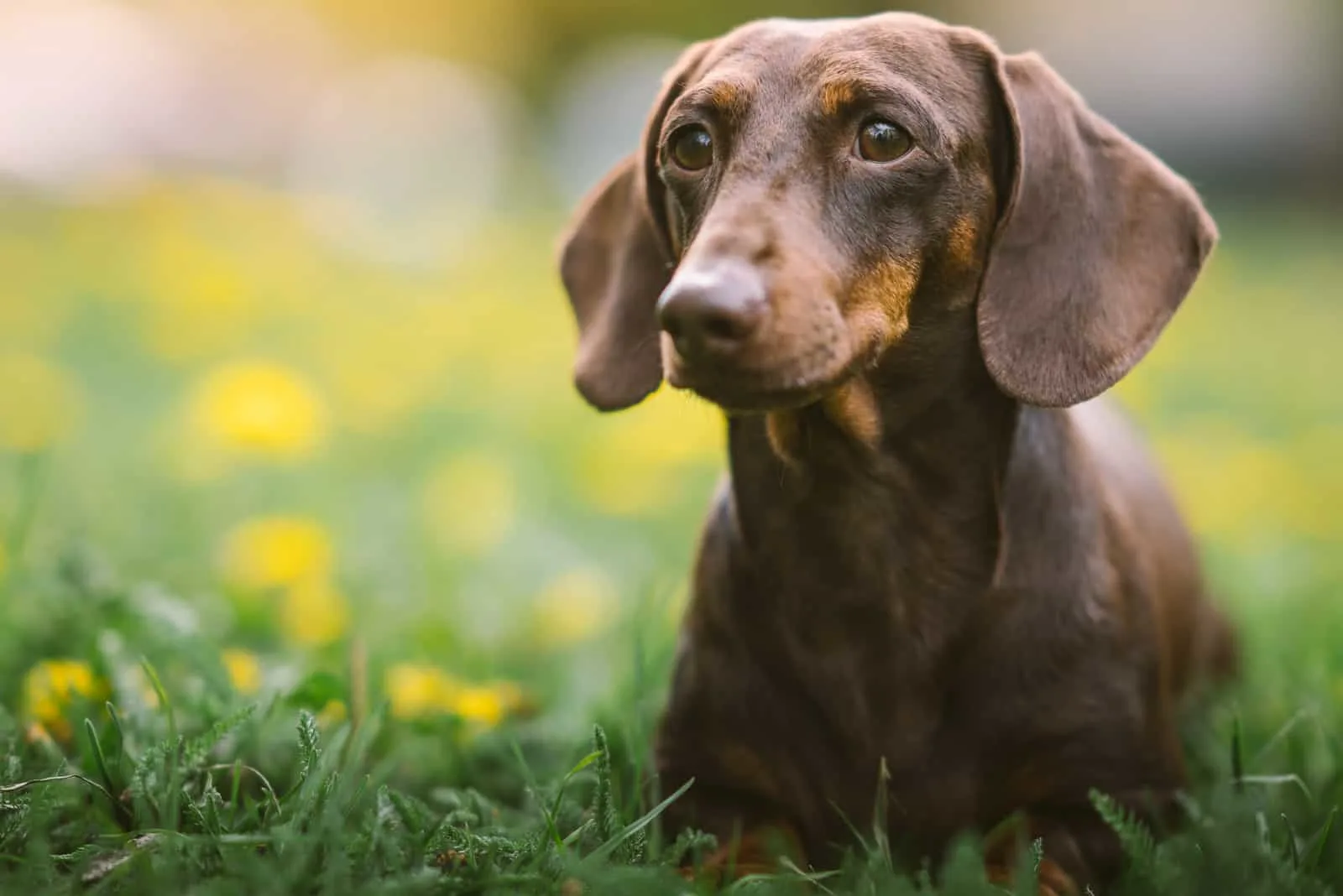 The best Dachshund breeders are transparent, reliable, and AKC-certified!
Sure, there are puppies available all over sales sites, and you might come upon a lot of ads for breeders in your area when you first decide to do some research, but with non-certified breeders, you never know what you're getting!
Apart from not having a pedigree, and therefore, being barred from kennel club shows altogether, your dog might have an issue that your breeder failed to tell you about, which could even be serious, or even be a mixed-breed dog!
It's not uncommon at all! Some people are just unscrupulous breeders with ill breeding practices.
AKC registration is especially important if you have breeding ambitions yourself. A non-pedigree pup just won't do!
Before making a life-impacting decision like buying a dog, you should always get to know the dog breeder you are dealing with.
In Conclusion:
These are some of the creme of the crop Dachshund breeders in California.
When buying a pup from any one of them, AKC registration is a given, and so are vaccination, worming, early rearing, and the ability to strike another deal if something pans out wrong.
Some of them require specific terms like filling out a questionnaire or making a deposit when picking a pup, while some of them don't.
No matter what part of Cali you are in, there are Dachshund pups galore waiting for a new friend and a loving home, and they come in every size, color, and gender!
Be it Standard or Miniature, be it a short-hair or a long-hair Dachshund, or any color or pattern known to man and dog alike, this breed makes for an amazing pet through and through.
Between its short size and adorable looks and its fearlessness and proud stature, it isn't hard to see why the Dachshund is one of the most popular dog breeds out there, and is likely to remain so for a long, looong time (pun intended).
Read Next:
15 Reliable Dachshund Breeders In Georgia (2022)
9 Greatest Dachshund Breeders In The UK: The Best Of 2022!