Disclosure: This post contains affiliate links, and I will be compensated if you make a purchase after clicking on my links.
Choosing the right type of dog food is one of the essential parts of dog ownership. Proper nutrition can be the crucial difference between good health and sickness. This is why it's important to always choose the best dog food for Dachshund dogs.
All dogs are loyal and affectionate, but Dachshunds could easily make the top of the list. They are among the most faithful companions humans could ever have. It's important that we repay them by providing them with the best care possible. One of the things essential for good care is proper nutrition.
The Dachshund breed is known for its unique appearance. They have an elongated spine, placing them at high risk for intervertebral disc disease. Also, they are dogs with sensitive stomachs, so you need to think about the food you give them.
At the same time, they are prone to obesity. All of this means they require special food that needs to be palatable, easily digestible while also being nutritionally complete to provide them with the necessary support and nourishment.
Luckily, there are many different brands and types of dog food, so there is something for everyone. However, this also makes it extremely overwhelming to pick the best dog food for a Dachshund.
This is why we're here to help. We have compiled a list of the top 12 best dog food for Dachshunds, as well as gathered some important information about the proper nutrition this breed requires, so you know what you're looking for.
Here's what we've found out:
Best Dog Food For Dachshunds – Top 12 Picks
The best dog food for Dachshunds should contain just the right amount of protein, carbs, fats, and vitamins and minerals. It should also avoid any artificial ingredients that can be harmful to your dog.
Dachshunds are voracious eaters that will easily become overweight if you let them. This is why many great brands also make sure their foods are fairly low in calories to prevent weight gain. Monitor your Dachshund's body weight carefully, so you know just how many calories he needs.
Also, just like a lot of smaller dogs, they are prone to some breed-specific health problems and orthopedic issues, such as joint pain, arthritis, and hip dysplasia. Good pet food will take care of your dog's complete health by adding plenty of healthy ingredients.
Fortunately, many dog food brands exist in today's market, both in pet shops and online on sites such as Amazon and Chewy.
Without further ado, here are our picks for great food for small breed dogs like Dachshunds:
This dog food is specifically formulated for smaller dog breeds, which is why it's also a great choice for Dachshunds.
This dog food recipe is grain-free, so it is good for dogs with sensitive stomachs. At the same time, it has a high content of healthy fiber, so it's still easily digestible. To further help proper digestive functions, this food also contains beneficial bacteria (probiotics), as well as food for that bacteria (prebiotics).
The first ingredient is deboned turkey, which is also the main source of protein. While some dogs might have an issue with the taste of turkey, Dachshunds will usually eat anything, so this shouldn't be a problem.
Other protein sources are also made from real meat, such as chicken. At the same time, it has a high amount of salmon oil, veggies, and fruit.
Overall, Wellness CORE made sure to include good ingredients in this kibble, making it on par with some premium dog food brands.
If you're looking for the best dog food for Dachshunds, Royal Canin has created a product specifically designed for this small dog breed. It comes in the form of fairly large kibbles that are easy to chew and highly palatable, and the brand claims all ingredients are scientifically proven to help your dog's overall health.
This dog food contains an optimal amount of protein, carbohydrates, and fat an adult Dachshund (aged 10 months or older) might require. It also comes with calcium and phosphorus for better bone health. This will also help your pup's muscles and joints.
While the protein source is a chicken by-product, the food also contains brewers rice, and it's enriched with vitamins and minerals. The energy content is adapted to not encourage weight gain – even when you can't resist giving your dog some treats here and there.
Blue Buffalo is a well-known brand that produces high-quality dog food for any occasion and dog breed. It is no surprise that they also produce the best dog food for the Dachshund.
This dog food is formulated with whole grains and real chicken to ensure your pup doesn't end up eating any animal by-products. Not just that, but there are no fillers or preservatives, so this food is as natural as it gets.
The kibbles contain a perfect blend of antioxidants, minerals, and vitamins that will support your pooch's immune system and overall health. They also contain a good balance of omega 3 and omega 6 fatty acids. This will help with healthy muscle development, healthy skin, and a shiny coat.
Added veggies, such as sweet potatoes, peas, and carrots, ensure that your pup gets that boost of health he needs. This will also help sustain his high energy levels.
This dog food is suitable for any dog breed that might need a bit more protein in their diet–- and for highly energetic Dachshunds, this is certainly the case. This top-quality freeze-dried food contains everything you might look for in the best dog food for a Dachshund.
First off, Orijen produced its recipe based on the fact that dogs used to be carnivores. Because of this, 85% of this food contains animal ingredients. In fact, the first five ingredients are poultry, such as chicken and turkey, as well as sustainably farmed fish.
Other ingredients include eggs, bones, organs, but also veggies and fruit such as spinach, carrots, blackberries, cranberries, etc.
The unique ingredient list also makes this dog food rich in healthy fats, making it great for active adult Dachshunds or dogs that might benefit from a little bit of weight gain. The freeze-dried coating also helps add flavor, making this the food that even the pickiest of dogs can hardly resist.
If you're on a budget but still want to get the best dog food for a Dachshund, you might want to take a look at this pet food. The recipe was designed specifically with smaller dog breeds in mind, making it perfect for your Dachshund!
The kibbles have a crunchy texture, so they are not only palatable, but they'll help prevent plaque buildup. Chicken is a good protein source, which helps with optimal nutrient levels.
The brand ensured this formula has natural sources of chondroitin and glucosamine, which are amazing for your dog's immune system – especially for his sensitive joint health. It also contains many essential antioxidants, making sure your pooch is in top-notch health.
Not just that, but this entire food is natural and non-GMO. It doesn't contain any chicken by-product meals while also being free of wheat, soy, and corn, making it amazing for dogs with sensitive stomachs.
Some people love giving their dogs nothing but premium options, and for them, Taste of the Wild Appalachian is likely the best dog food for Dachshunds.
Just like most other food from the same brand, this specific dog food is meat-based, based on the fact that canine ancestors were carnivores.
If you want to awaken the little wolf that lives in your Dachshunds, this might be a great option.
The main source of protein and the first listed ingredient is highly nutritious venison. In fact, this dog food has more than 30% protein, which is amazing for not just your pup's energy, but also his bones, joints, and all lean muscles.
The high amount of real fruit and veggies also means that the food is rich in necessary vitamins and minerals. Also, the formula contains omega fatty acids, which are great for the health of your Dachshund's coat and skin.
Finally, the small kibble size is there to suit the Dachshund's tiny jaws and teeth, so it's easier to eat and digest later on.
This Wellness Complete Health dog food is formulated specifically with the needs of small dog breeds in mind. The first listed ingredient is real turkey, but oatmeal is another key ingredient.
The kibbles are small in size, suitable for the small jaws and teeth of tiny dog breeds like Dachshunds. It contains whole grains, but it's free of corn, soy, and wheat, so it shouldn't irritate most dogs with a sensitive stomach.
The recipe is supported by omega fatty acids, taurine, antioxidants, probiotics, and glucosamine. This makes sure your dog is provided with the optimal nutrients he needs for healthy development.
Not just that, but this dog food doesn't contain any meat by-products, GMO, fillers, or artificial preservatives. This way, you'll know exactly what your dog is ingesting, and you'll rest assured knowing his diet is healthy and complete.
Farmina is a dog food brand known for including quality ingredients in their dog food. This small breed dog food is no different, and it can work great even if you have a senior Dachshund, thanks to its low glycemic formula.
This specific dog food is protein-rich, with deboned chicken listed as the main protein source. Deboned chicken is one of the most common animal proteins, and most dogs will love its taste.
In fact, 92% of protein sources in this kibble come from animal sources. None of the ingredients are ever frozen, so they are fresh and nutritious, as freezing can lower the benefits of any type of ingredient.
The formula is non-GMO, and it doesn't contain chickpeas, lentils, or any plant oils. It also doesn't contain any grains or gluten, making it a great choice for dogs with most food allergies.
This dry dog food is crafted to fit the needs of our small breed dogs. Merrick uses its tested chicken-based formula to produce these tasty kibbles no dogs will be able to resist.
This is a grain-inclusive recipe that contains ancient grains, such as quinoa. It also has brown rice, which is a good source of carbs that will provide your pups with enough energy to last them all day long!
The high levels of omega fatty acids will ensure your pup's coat, skin, and bones are healthy and that he always looks his best. It's also rich in vitamins and minerals, improving your Dachshund's immune system and keeping him healthy.
The recipe doesn't contain any ingredients that might be hard on a dog's tummy, such as potatoes, peas, or lentils. While not grain or gluten-free, this should prevent most food allergies.
Lil' Bites is freeze-dried raw dog food. It is uncooked and minimally processed, so all the naturally occurring nutrients are preserved. It is a great choice for dog owners who want to begin feeding their dogs raw food – or are already doing this but want to find a new brand fit for their Dachshunds.
The ingredients are 95% cage-free chicken, including organs and bones. It is enriched with certified organic vegetables and fruit, such as spinach, broccoli, beets, squash, carrots, blueberries, and cranberries. It also contains coconut flour and chia seeds to help promote coat and skin health.
This food doesn't contain any gluten, grains, corn, soy, or wheat. This makes it the best dog food for Dachshunds with stomach sensitivities, as there are very few things your puppy might be allergic to.
It is also rich in protein to provide Dachshunds with the energy they need to do all their activities and playtime. The food's texture is designed to support healthy gums and teeth.
If you're looking for good wet dog food, then this might be the right product for you. Nulo designed this small breed formula to help preserve the health of all tiny dogs, including Dachshunds.
​The portions are small to fit small breed dogs who require less amounts of food than larger breeds. The main protein source is real turkey and turkey liver, but the food is enriched with sweet potatoes and wholesome lentils.
The entire recipe is made without grain, gluten, corn, soy, wheat, or chicken, making it perfect for pups with food intolerances. It also has low glycemic levels, so it's great for dogs who need to be careful about their blood sugar levels.
The food also contains l-carnitine to help keep the metabolism fast and maintain a healthy weight. And for digestive system health, Nulo included inulin and pea fiber.
Instinct is another well-known dog food brand from our list that is focused on preserving natural canine eating habits. This is a wet dog food for people who prefer feeding raw but are not yet ready to make the move.
It's high in animal protein and uses real chicken and liver that can help build your pup's muscles and bones. Calories are adapted to the needs of small dogs and will help them thrive without becoming overweight.
It contains just the right amount of fruit and veggies, as well, to make sure the food is rich in antioxidants, vitamins, and minerals. This will improve your dog's immune system and add to the tasty texture of the food.
At the same time, this food is free of grain, corn, wheat, soy, potatoes, by-product meals, as well as any artificial colors, flavors, or preservatives.
Before You Buy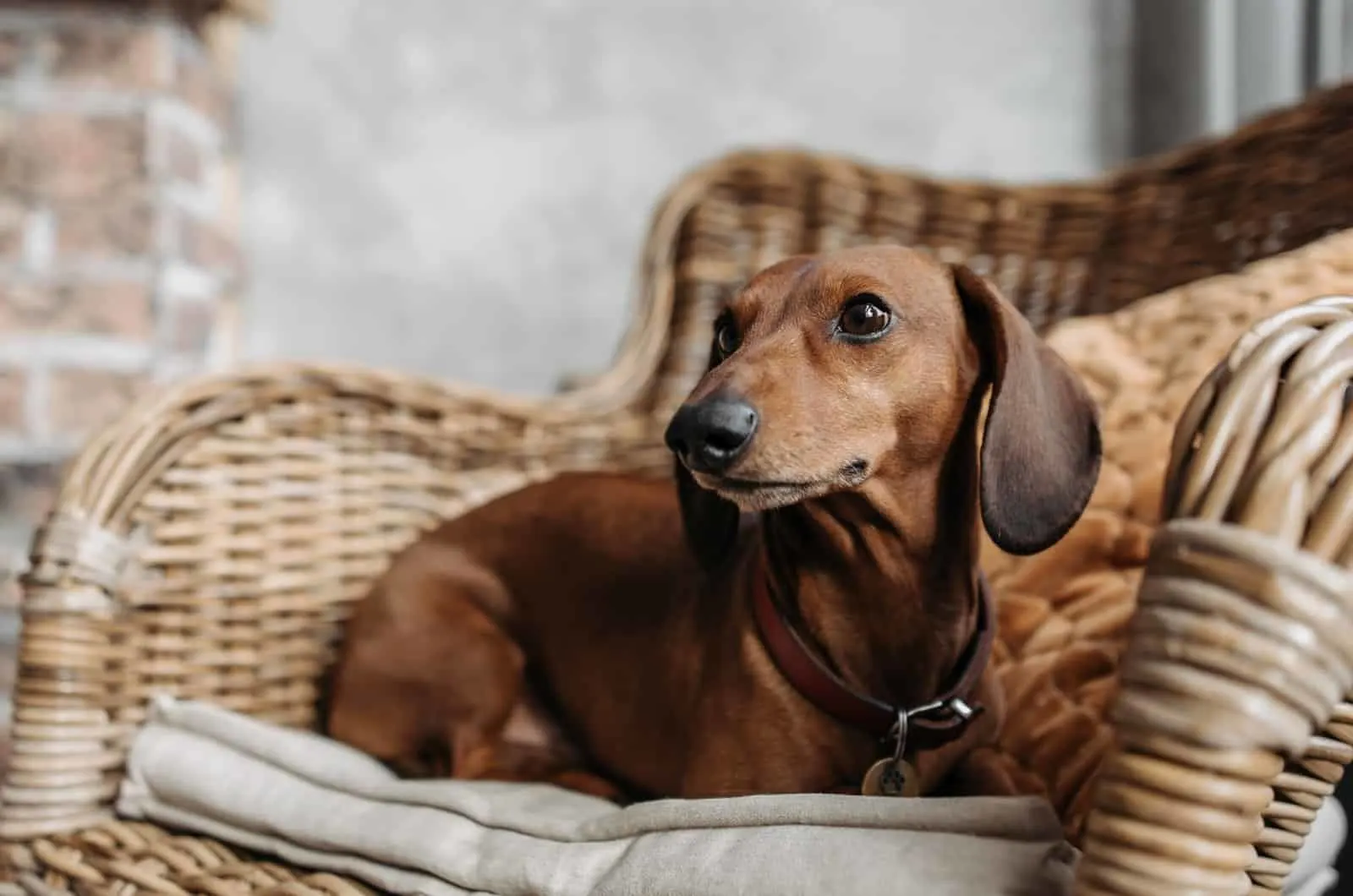 As one would guess, the most important thing to look for in the best dog food for Dachshunds is the ingredients. You should always look at the label on the packaging. If your pooch has food allergies, make sure that the specific dog food you choose is free of these ingredients.
If you aren't certain what type of food is adequate for your Dachshund pup, you can always consult your vet and ask for advice. They might even conduct an allergy test.
Also, make sure the formula is free of any harmful ingredients, such as preservatives, additives, meat by-products, and other forms of fillers.
The final thing you need to find out is what type of food your Dachshund dog loves to eat. Sometimes, no matter how healthy a specific brand of food is, a dog will refuse to eat it simply because he dislikes the taste.
Experimenting is important, especially if you've only just got your new Dachshund puppy. Be patient and keep on trying various products until you've found the one that's right for your dog.
Dachshund's Nutritional Requirements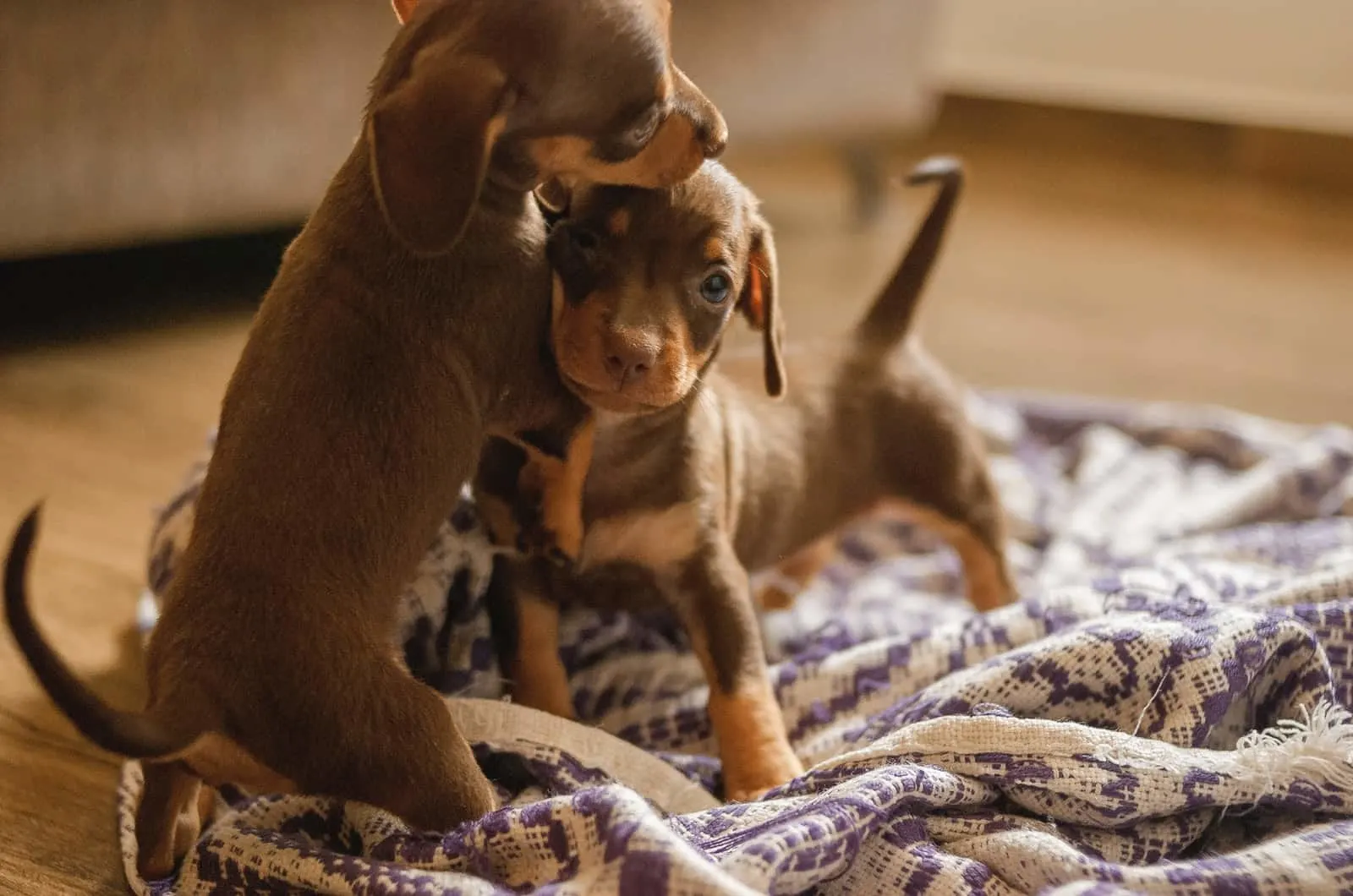 Understanding calories and nutritional value is challenging even when we're talking about human food, let alone about the food for your Dachshund. However, knowing what your Dachshund needs when it comes to food is essential to ensure your pup is in perfect health.
Only when you know how to maintain a balanced and healthy nutritional intake will you be able to choose the best dog food for Dachshunds.
Here's what all high-quality dog foods need to contain (and in what amount):
• Protein – Protein is great for muscle mass and proper energy levels. However, the source of protein is just as important as the amount. You should always aim for food that has pure meat, such as beef, chicken, turkey, or lamb, listed as the first ingredient. These ingredients also have high phosphorus levels.
• Fat – While fat has a negative connotation, it's actually essential for your dog's coat and skin health. Just keep in mind that a high concentration of fat will do more harm than good. Also, always aim for healthy fatty acids.
• Carbohydrates – Carbs are the main source of energy and can be found in almost all Dachshund foods. However, carbs from wheat, soy, and corn should be avoided because they break down quickly. In other words, they only provide your Dachshund with short-lasting energy. On the other hand, flaxseed is a good energy source.
When it comes to the amount of these nutrients, you need to keep in mind that this depends on your pup's lifestage. For example, Dachshund puppies require food that is at least 22% protein and 8% fat for healthy development and good growth.
Adult dogs require less protein and fat, and they should get at least 18% healthy protein and 5% fats.
Senior dogs have a slow metabolism, so their nutritional needs are lower than those of puppies and adult dogs. They cannot digest food the way they used to, especially when it comes to fat. Due to the Dachshund's small size, they shouldn't eat more than 600 calories a day (no matter the percentage of various nutrients).
What You Need To Look For In The Best Dog Food For Dachshund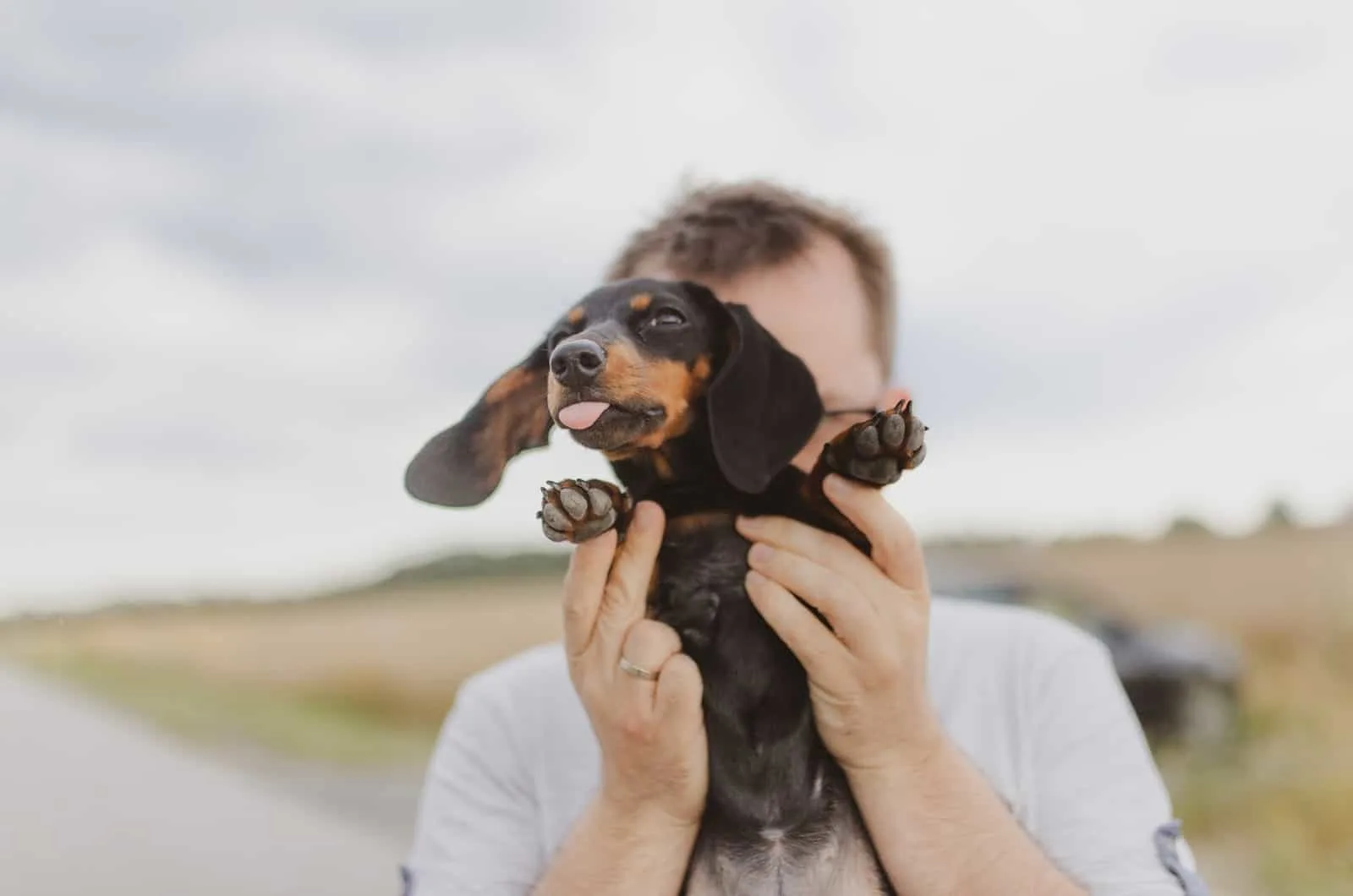 The best dog food for Dachshunds should contain lots of calcium, as well as at least two sources of high-quality natural protein. Also, it should be free of artificial colors and flavors, additives, and preservatives such as BHA, BHT, and ethoxyquin.
All the ingredients should be globally sourced, with a rather limited use of synthetic supplements. Carbs should be easily digestible, such as whole grains, and the food should contain only low starch veggies.
The natural fat content should be fairly high, and there shouldn't be any animal by-products. On the other hand, good Dachshund food will benefit from vitamins, minerals, and antioxidants.
If you look at low-quality dog foods, you'll notice that they are filled with ingredients that aren't beneficial to your pooch. In fact, many ingredients can be outright dangerous.
Also, with just a bit of research, you'll see that good food is usually made in countries with high safety standards. Ideally, that would be the US, but many good brands produce their food in Western Europe, Canada, Australia, or New Zealand as well.
Fruit And Veggies That Are (Not) Safe For Dachshunds​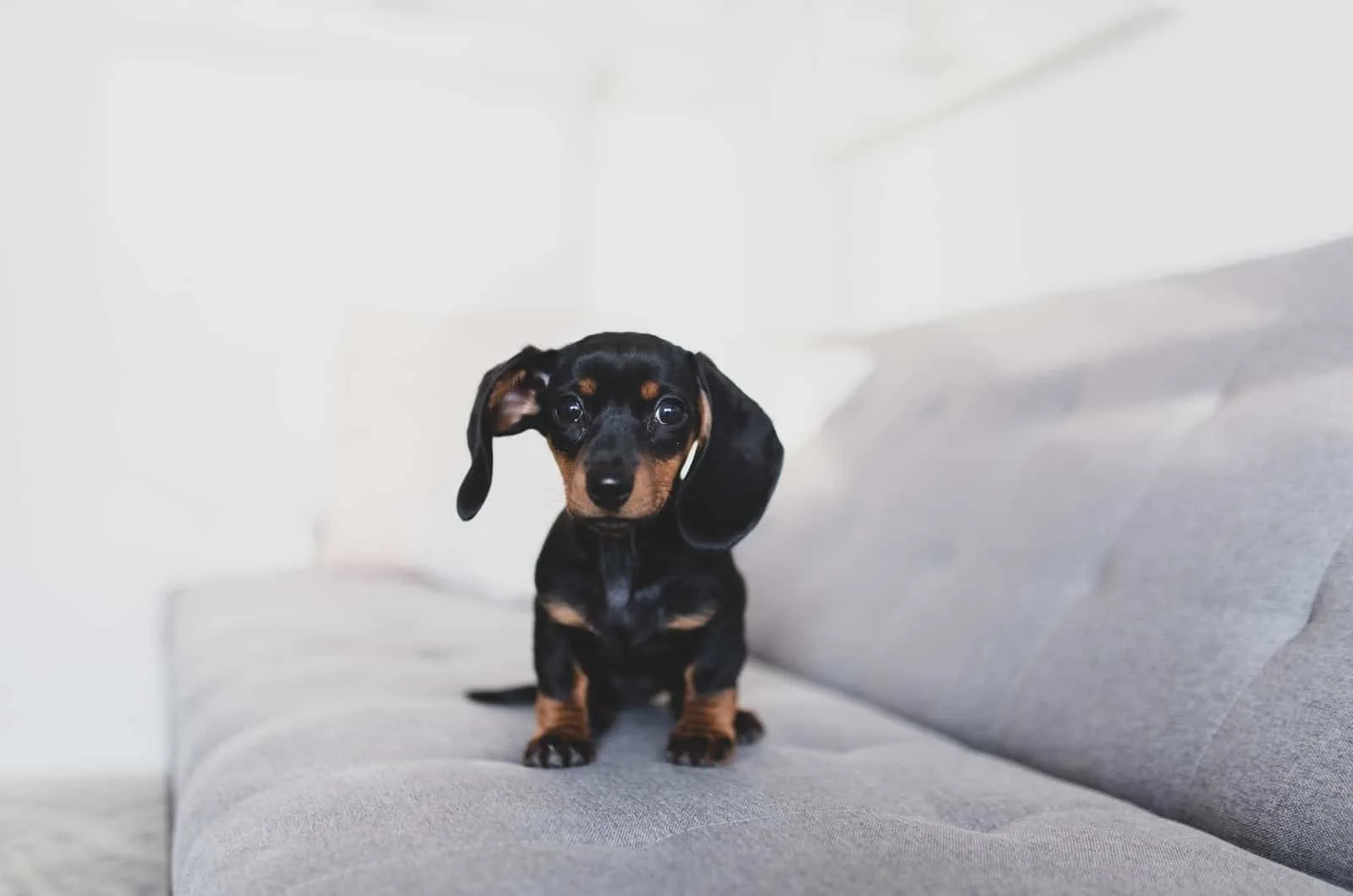 Just like in humans, fruit and veggies are rich sources of essential minerals, vitamins, and antioxidants. Some even contain sources of protein or fat that are necessary for your Dachshund's health.
Including fruit and vegetables in your dog's diet is a great way to ensure that he gets just the right amount of vitamins and minerals.
Here are some fruit and veggies that are safe (and healthy!) for Dachshunds:
• Asparagus
• Bananas
• Blueberries
• Broccoli
• Brussels sprouts
• Carrots
• Celery
• Cucumber
• Mango
• Oranges
• Peaches
• Pears
• Plantains
• Spinach
• Sweet potato
• Zucchini
On the other hand, some fruit and veggies can be quite toxic to dogs and should be avoided even as snacks. These are:
• Avocados
• Cherries
• Grapes and raisins
• Mushrooms
• Nutmeg
• Nuts
• Onions and garlic
• Persimmon
• Prunes
• Rhubarb
• Unripe tomatoes
You should also avoid giving your dogs seeds, fruit stones, and pips. While not all are poisonous, they can be a choking hazard. It is best to avoid them altogether.
Dachshund Health Problems​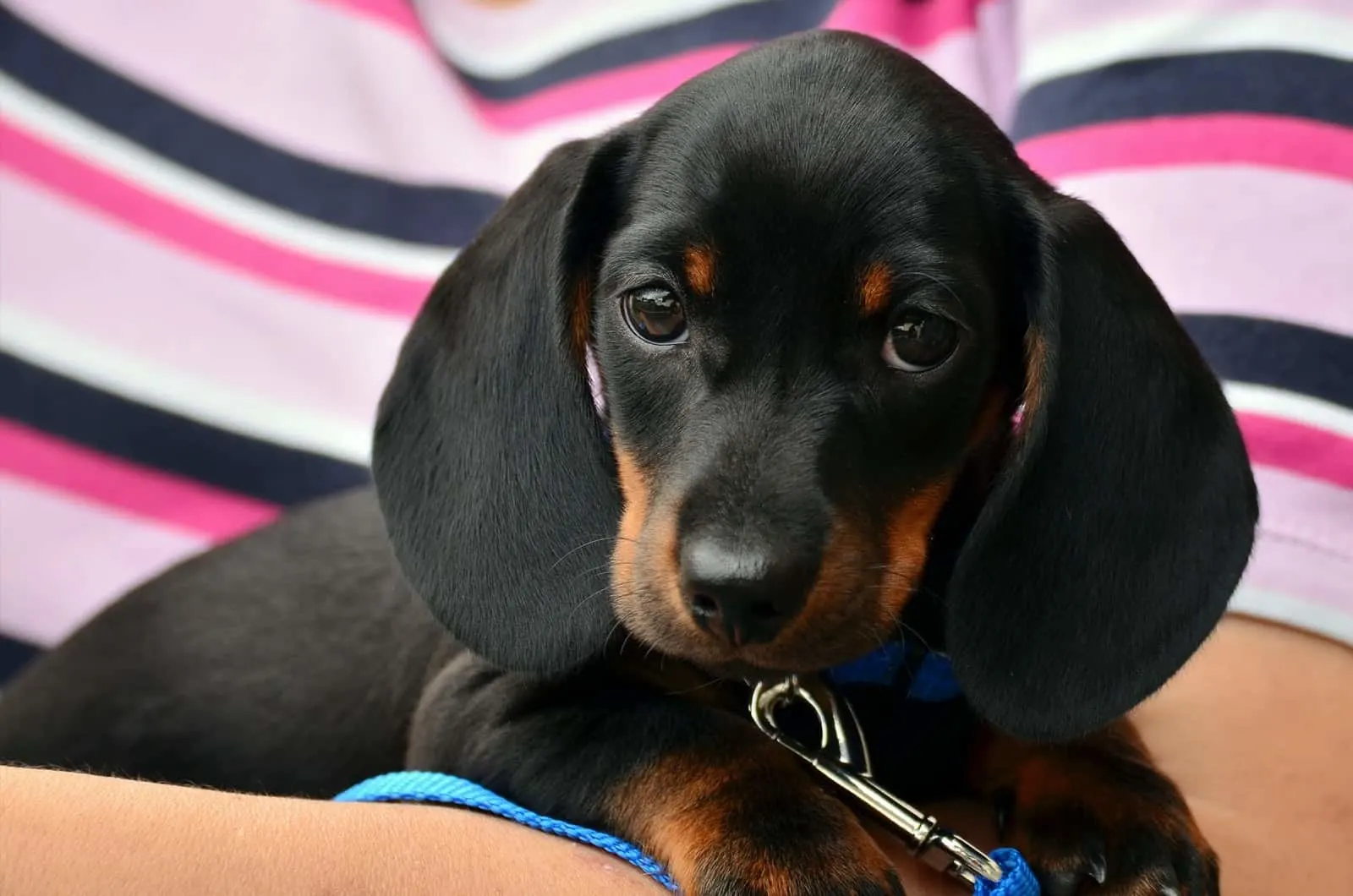 Dachshunds come in several sizes and colors. You might even find miniature Dachshunds or long-haired ones! Unfortunately, no matter their appearance, all are prone to some specific health concerns. Good dog food should be able to help with that.
Sure, not even the best dog food for Dachshunds will perform miracles when it comes to dog health, but some are specifically designed to help with certain issues.
Here are some of the most common problems Dachshunds might face –- all of which may be treatable or at least kept at bay with a balanced diet:
Obesity
We cannot stress this enough – Dachshunds are voracious eaters that will eat even when they are not hungry. Because they are small dogs, it doesn't take too many extra calories to make them obese.
Because of this, you have to ensure you don't overfeed your pups. Also, you shouldn't go overboard with treats, as these are usually high in sugar and empty calories. You might also want to give them food formulated for overweight dogs, as this will ensure they stay at a healthy weight.
Bone Issues
Dachshunds' unique body shape is the result of a specific form of dwarfism called chondrodysplasia. Because of this, their bones, especially joints, are prone to a large number of problems.
Other than giving them food rich in ingredients that help with joint health – such as glucosamine and chondroitin – you shouldn't encourage your Dachshund to do tricks that involve him standing on his hind legs.
Skin And Coat Issues
Dachshunds are prone to a variety of skin issues – most of which are genetic. While any genetic problem cannot be solved via food, you can help your pooch by giving him food that will improve his skin and coat health.
A good choice is a food rich in fish oil, which contains healthy omega 3 and omega 6 fatty acids.
Kidney Stones And Urinary Issues
Many pups suffer from urinary problems or even kidney and bladder stones. If your pooch happens to be one of these dogs, make sure to give him proper food that will help eliminate these issues.
Consult your vet, as they will likely be able to formulate the right type of diet your dog will require. Usually, these diets are only temporary, but some food restrictions might have to stay for life.
Anal Gland Problems
No matter the gender, dogs have two anal glands located on both sides of their anus. Dogs use them to mark the territory. When working properly, these glands will empty when your dog defecates.
Sometimes, however, these glands won't empty properly. This is usually the case after your dog has experienced constipation or diarrhea.
Best dog food for a Dachshund should always be easily digestible, and it shouldn't cause either of these problems. This means it should contain several sources of fiber, easily digestible proteins, and even probiotics.
FAQ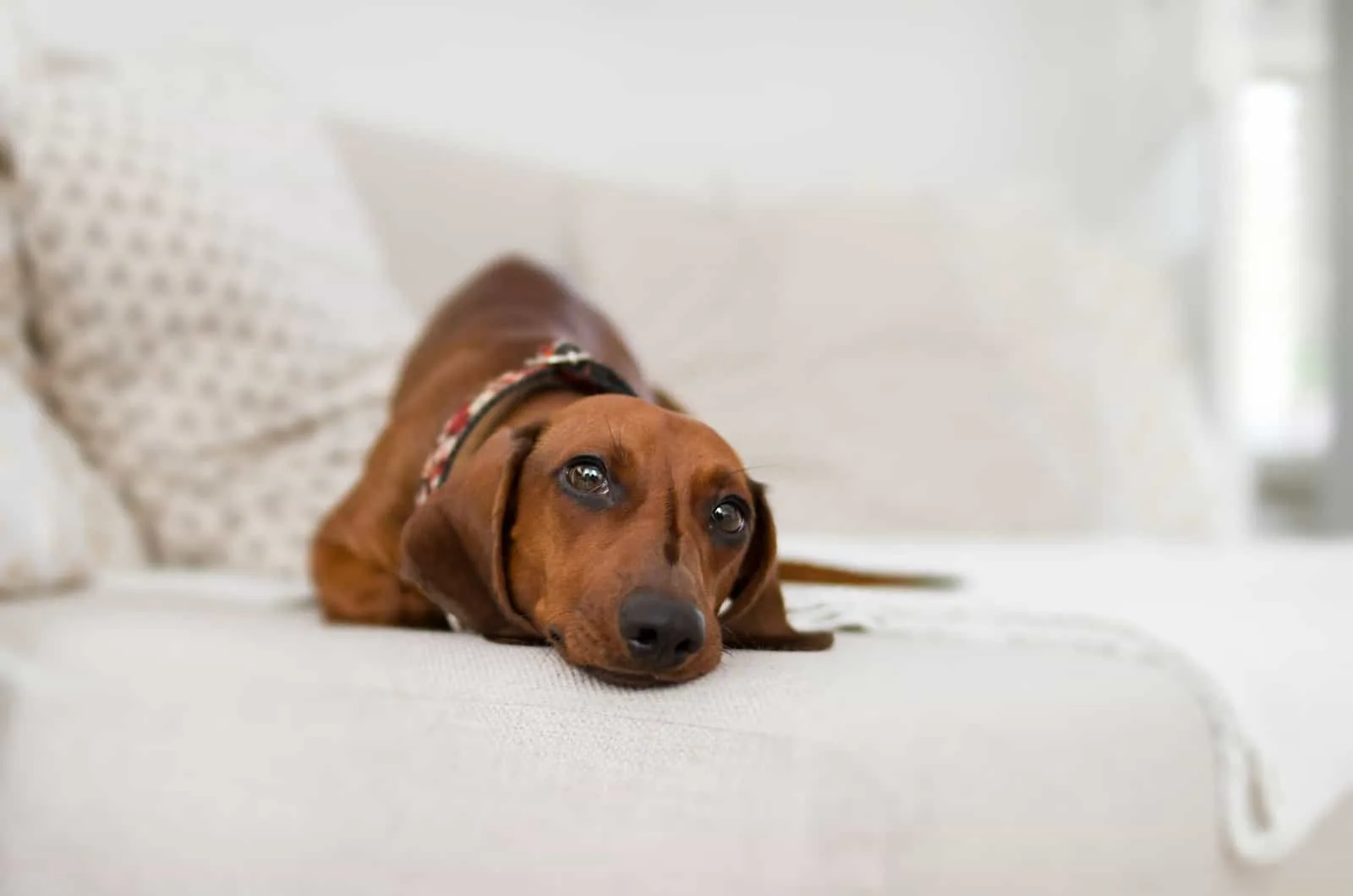 What Dog Food Is Best For Dachshunds?
While we've listed 12 of our top chosen dog foods, which one will be the best dog food for Dachshund in your case is entirely up to you and your dog. All dogs have individual needs regardless of them belonging to the same breed.
As stated, all best dog foods should contain the optimum amount of protein, healthy fats, and carbs. If your pooch has food sensitivities, you should avoid these ingredients.
What Dog Food Is Good For A Sensitive Stomach?
Unfortunately, many Dachshunds can have a rather sensitive stomach, which is why some ingredients shouldn't be a part of their diet.
Usually, ingredients you'd like to avoid are grains, lactose, gluten, additives, and any form of artificial fillers. Instead, stick to real meat, brown rice, flaxseed, and natural products.
What Is The Best Dog Food For Dachshund Puppies?
Dachshund younglings cannot eat the same food as adult dogs. In fact, the best dog food for small breed puppies should contain docosahexaenoic acid (DHA). DHA is normally present in a mother dog's milk, eggs, and fish oils. It helps promote the development of eyes and brain.
It might also be a good idea to consider giving them dog food with the same ingredients as food for a sensitive stomach. Puppies' digestive system doesn't work the same way as the digestive system of adult dogs, and they can have problems with some ingredients.
Also, as mentioned before, puppies require a higher amount of protein and fat in their food. They are very active, and their bodies need additional strength to develop properly.
How To Switch From Puppy To Adult Dog Food
There isn't a specific age when you should immediately stop with puppy food and go on to an adult one. Instead, the transition should be done moderately and slowly.
The rule of thumb is to mix 25% of new dog food with your Dachshund's current diet and keep doing this for 2–3 days. Then, mix 50% of the new food with the old one. After a few days, you should be able to switch to the new dog food entirely.
The same should be done whenever transitioning to a new diet. Otherwise, your pup's tummy might become upset.
Is Grain-Free Healthier?
Grains can be an excellent source of carbohydrates, and they give your dogs lots of energy. However, some dogs cannot properly digest grains and might develop stomach issues after eating food with grains.
In fact, grains can even cause food allergies in some dogs.
The best option would be to consult your vet, who can test your pup for any possible allergies. If your dog does end up having an allergy to grains, then grain-free is the better option for him.
However, if your dog doesn't have any issues with grains, it's entirely up to you whether you want to feed him regular dog food or opt for a grain-free diet. Both have their good sides, so it all comes down to your dog and his body.
Which Is Better – Wet Food, Kibbles, Raw Food, Or Homemade?
Once again, it all comes down to your dog's preferences and needs – but also your budget. Still, you should always aim to provide your pup with the healthiest food possible and all the necessary nutrients.
All dog foods have their pros and cons. It might be best to mix it up a bit and switch up the food type from time to time. If you worry that dry dog food will dehydrate your pup, add some water to it. This will make kibbles munchier and help your dog stay hydrated.
Some dog owners prefer to make their own dog food. While there isn't anything wrong with this, it's important to understand what your dog needs to eat. If you add the proper nutrients to your homemade dog food – go for it.
Are Dachshunds Picky Eaters?
While every individual dog is different, Dachshunds aren't known for being picky eaters. Quite the opposite, they are known for eating anything that can get close to their muzzles.
Most of the time, you won't have an issue making your Dachshund eat any type of food. They'll love the taste of anything, as long as they can devour it. Unfortunately, this also makes them prone to eating inedible or toxic objects.