Disclosure: This post contains affiliate links, and I will be compensated if you make a purchase after clicking on my links.
We all know wiener dogs. Dachshunds are those adorable pups with short legs and long bodies that are considered some of the cutest pets out there. However, all Dachshund owners know that these dogs have great personalities that put them on par with some much larger dog breeds.
Brave, loud, and sometimes mischievous, Dachshunds are one of the most popular family pets. This dog breed originated in Germany, and they were originally bred to get into badger dens and lure these animals out.
Others were using Doxies as guard dogs, as their loud and commanding barks would alert everyone that an intruder was nearby.
Today, Dachshunds are common family dogs that spend most of their time indoors, cuddling with their owners. However, this doesn't mean that they didn't keep their high energy levels and don't require a great amount of daily activity.
These small dogs enjoy dealing with challenges and solving problems. If you don't have the best toys for Dachshunds lying around your home, they might get bored, which can lead to some destructive behaviors after a while.
Fortunately, finding the right toy to occupy your pooch's time isn't as challenging as it seems, but with a market that is so saturated, you might get lost in all the possibilities. This is why we're here to help!
We've gathered a list of the top 16 best toys for Dachshunds after thorough research of products available on sites such as Amazon and Chewy.
Here's what we've found:
Top 16 Best Toys For Dachshunds
Dachshunds love interactive toys that will keep their natural instincts and curious personality satisfied. They are intelligent dogs that get bored easily, so you have to find a toy that will ensure they are occupied.
Here are 16 great products for when you're looking to get a new toy for your best friend:
If you have a Dachshund that loves cuddling with plush toys, but also tends to chew on things, this might be the best dog toy for him.
While many multi-purpose toys can be overwhelming for gentle Dachshunds, this toy isn't it. It is designed in the shape of cute animals, made with ultra-soft fabric that isn't likely to irritate the Doxie's sensitive skin while serving as a cuddle buddy.
At the same time, the toy has built-in squeakers, so your Dachshund can also play with it and chew on it when he feels like he's had enough cuddling.
This dog toy is quite durable, and it can withstand most chewing. If your persistent pup does manage to chew through it, don't panic. There is nothing in this toy that can create a mess.
Dachshunds can be very aggressive chewers when they feel like it, despite them being overall gentle dogs. They love to chew on their toys, which is why many won't last long.
If you already know your Doxie is a chewer, you might want to consider getting them this toy. It is made out of extra-durable latex, so it can withstand anything but the heaviest chewers.
This Dachshund toy isn't only durable, but it squeaks when chewed. This will keep most dogs entertained for quite a while.
The toy comes in two sizes: mini and large. The mini one might be more suitable for Dachshunds, although this entirely depends on the dog.
However, you cannot choose the color, and it will come at random.
This is yet another multi-functional toy that can serve many purposes. Many dogs love rubber toys, and this includes Dachshunds. What's even better is that this toy can keep your pooch entertained for months without them ever getting bored of it.
This non-toxic rubber tire toy is made with an elastic barrier, so it will rebound when compressed. This will give your pooch the ultimate chewing experience, especially when compared to many other options.
This toy is strong enough for you to use during a game of fetch. It is lightweight enough to be safe for throwing around, and it will bounce once it hits the ground.
To make things even more fun, you can fill this dog toy with treats to provide additional excitement for playtime.
Dachshunds love a challenge. They'll enjoy good interactive toys more than most other types of products – and the ZippyPaws Burrow Squeaky Hide and Seek Hedgehog Den Toy is a great option for them.
The toy consists of a soft den and three hedgehogs. You can place one or all three hedgehogs into the den for your Doxie to sniff them out.
This is great for Dachshunds and their hunting instincts, as they can feel like they're fulfilling their ancestor's duties.
If you feel like your dog could benefit from more than three hedgehogs, you can purchase additional ones separately. This is also a good thing to know in case your playful Dachshund tears one apart.
Don't worry if this toy gets dirty. It's machine-washable, so maintaining it and keeping it clean is effortless.
While tennis balls are too large for some small dogs like Chihuahuas, Dachshunds will love them! However, not all owners like to deal with the slobbery mess that remains after your pup munches on a ball. This is what this dog toy is for.
The Nerf Tennis Ball Blaster helps you launch tennis balls up to fifty feet away! This is more than many people can throw. The end of the launcher has an attachment that you can use to pick the balls up.
The blaster comes with a ball on its own, but it's designed to fit standard tennis balls, so you don't have to worry about constantly purchasing expensive replacements.
Many Dachshunds enjoy playing tug of war, and this rope toy can help them enrich the experience. While advertised as a tog for big dogs, it is actually a great fit for feisty Dachshunds.
The rope has five knots on it, so it's easy to grip for both you and your pup. It's made of a non-toxic cotton-poly blend, so it's durable. As it's designed for larger dog breeds, Dachshunds aren't likely to tear it apart.
You can use this toy to play fetch if this is what your Dachshund prefers. While not the lightest option out there, it is soft enough not to cause too much damage if it falls where it shouldn't.
This toy is adequate for both indoor and outdoor play, and it can provide your Dachshund with the right amount of daily exercise.
Dachshunds love interactive, treat-dispensing toys. However, finding such a toy small enough for Doxies can be a challenge as they are small dogs with small jaws. Fortunately, this Starmark dog puzzle is just the right size.
It is made of durable rubber and is free of phthalates, vinyl, and latex. This makes it non-toxic and perfectly safe for your dogs.
At the same time, it's even great for more aggressive chewers, and it can withstand so much pressure that it is advertised as being indestructible. Despite this, it is soft and won't hurt your pup's teeth.
All you need to do is to place your dog's favorite treat in it (peanut butter is a great choice!) and let him play for hours upon hours trying to retrieve it!
If your dog chews on things, you might want to try giving him this toy. It can keep him from biting many other items, such as your shoes.
Sure, all dogs have their own preferences. However, many Dachshunds love the noise stimulation that they get from squeaky toys like this one. This can encourage them to chew on it whenever they feel like they want to destroy something.
The toy is made from textured latex durable enough to withstand the Dachshund's chewing while providing a fun sensation he'll enjoy.
At the same time, you can throw this toy around if your Doxie feels like it's time for a game of fetch.
Most dog lovers prefer giving their dogs toys shaped like food, and the chicken drum is one of the most recognizable food-inspired shapes.
This is what the manufacturer counted on when it designed this plush toy.
Many Doxies love noise stimulation, so this toy will give your doggie just the right amount of fun and entertainment thanks to the giggle stick located inside of it. He'll love playing with it all day long!
It's handcrafted with a double-layer exterior, enforced with double-stitched edges. This will provide extra durability, so your pooch can play with it all day long.
The toy is designed in the USA using only AZO-free dyes, so it is non-toxic and won't harm your dog or the environment.
If you're looking for the best toys for Dachshund puppies, this might be a great product for them. It can help them get through the uncomfortable teething period a bit easier, providing them with support and entertainment.
This toy gives your pup two chews they can choose from, and both have raised nubs that can stimulate teeth and gums. This will help them grow healthy and strong teeth and encourage healthy chewing habits.
At the same time, the toy will help keep their teeth clean by reducing tartar and plaque. By doing this, you'll promote proper oral hygiene.
Keep in mind that this is a puppy dog toy, and it isn't intended for adult dogs or any dogs that have already grown their permanent teeth.
When puzzle toys or standard chew toys aren't enough, you might want to give your pooch the real deal, and that is a tasty toy they can play with and enjoy the taste of real bacon at the same time.
The toy is made from durable nylon, as well as real, USA-sourced bacon. This will ensure your pooch will keep on chewing while enjoying a taste of bacon.
The toy comes in several sizes, so you can pick the one suitable for your doggie. Its ergonomic shape helps dogs hold it with their paws, making it easy for them to play with it and chew it for as long as they'd like.
Benebone will donate a portion of all sales to numerous animal support organizations. When you make the purchase, you'll support animal welfares nationwide.
This dog toy will help provide your Dachshunds with all the mental stimulation they need. It will encourage your beloved pooch to use his nose, challenging their mind and senses.
For your Doxie to get a treat, he'll have to learn how to slide and flip several compartments with his nose or paws. This will make them think, fighting boredom and keeping them engaged and entertained.
The game comes in two difficulty levels, so it can keep even more advanced treat hunters occupied. To switch between the levels, simply place or remove white plastic blocks in the nooks located in the middle.
This is one of the best toys for Dachshunds that are known to get bored easily. Also, it comes with a 30-day limited warranty, so you can return it if your pooch manages to break it.
If you're looking for some of the best toys for Dachshunds, you cannot miss this KONG classic. KONG is known for producing many high-quality and luxurious dog toys, and this is one of them. It will provide your Dachshund with hours of playtime.
This is a highly durable toy that can withstand most of your dog's chewing and munching. No matter how hard your pup bites on it, it will withstand it. At the same time, it is made of FDA-approved plastic, so it is perfectly safe to be placed into your dog's mouth.
If your Dachshund is food-driven, you can place his favorite treat inside by unscrewing the bottom, and your pup will have to work to get it out the clever hole located in the middle of the toy – once again providing him with lots of mental stimulation and playtime.
And the most unique feature of it all – this toy wobbles if you put it on the ground, keeping your pooch entertained for hours to come.
If you love multi-purpose toys that are both durable and can be used for many fun games, this might be one of the best toys for Dachshunds for your dog. This is a must-have toy for any active dog – and Doxies sure are one of them.
While this isn't a chew toy, it can withstand a lot of rough play, so your pup can hold it in its mouth during a game of fetch or catching Frisbee. It's easy on your pup's mouth, it bounces, and it can stretch without stretching out.
The disc is made out of 100% recyclable plastic that is BPA-free, phthalate-free, non-toxic, and compliant with all FDA standards. This makes it perfectly safe for your dogs to play with.
At the same time, it's dishwasher safe. You no longer have to worry if your Dachshund toy gets dirty, as the cleaning has never been easier.
If you're looking for cute and cuddly plush toys that can help your pup battle separation anxiety or serve as his bedmate, this might be one you should consider. It is made of faux fur that is soft to the touch, providing warmth and comfort.
The hedgehog squeaks when pressed on – and as it comes in four sizes, two larger ones make a hilarious, loud noise (although we'd advise purchasing a small or medium one for your Dachshund).
This toy is fairly durable, although it isn't intended for chewing, and a Dachshund might be able to tear through it fairly easily.
You can hardly be looking at the best toys for Dachshunds without including at least one rope toy that ensures a perfect and safe tug of war – and this might be it.
Not even the most persistent Dachshunds can chew through this durable rope as it was designed to provide your pooch with hours of endless fun. It will keep your Doxie entertained, no matter if he's playing with you or with his dog mate.
The rope comes with a tug loop, ensuring a strong grip and keeping your fingers safe during rough play. This will provide you and your dog with long-lasting interactive play!
The toy comes in several sizes you can choose from. We recommend getting a small or medium one for your Dachshund pup, so it can remain comfortable. It also comes in many colors, but this will be a surprise, as the color will be shipped to you at random.
Different Types Of Dog Toys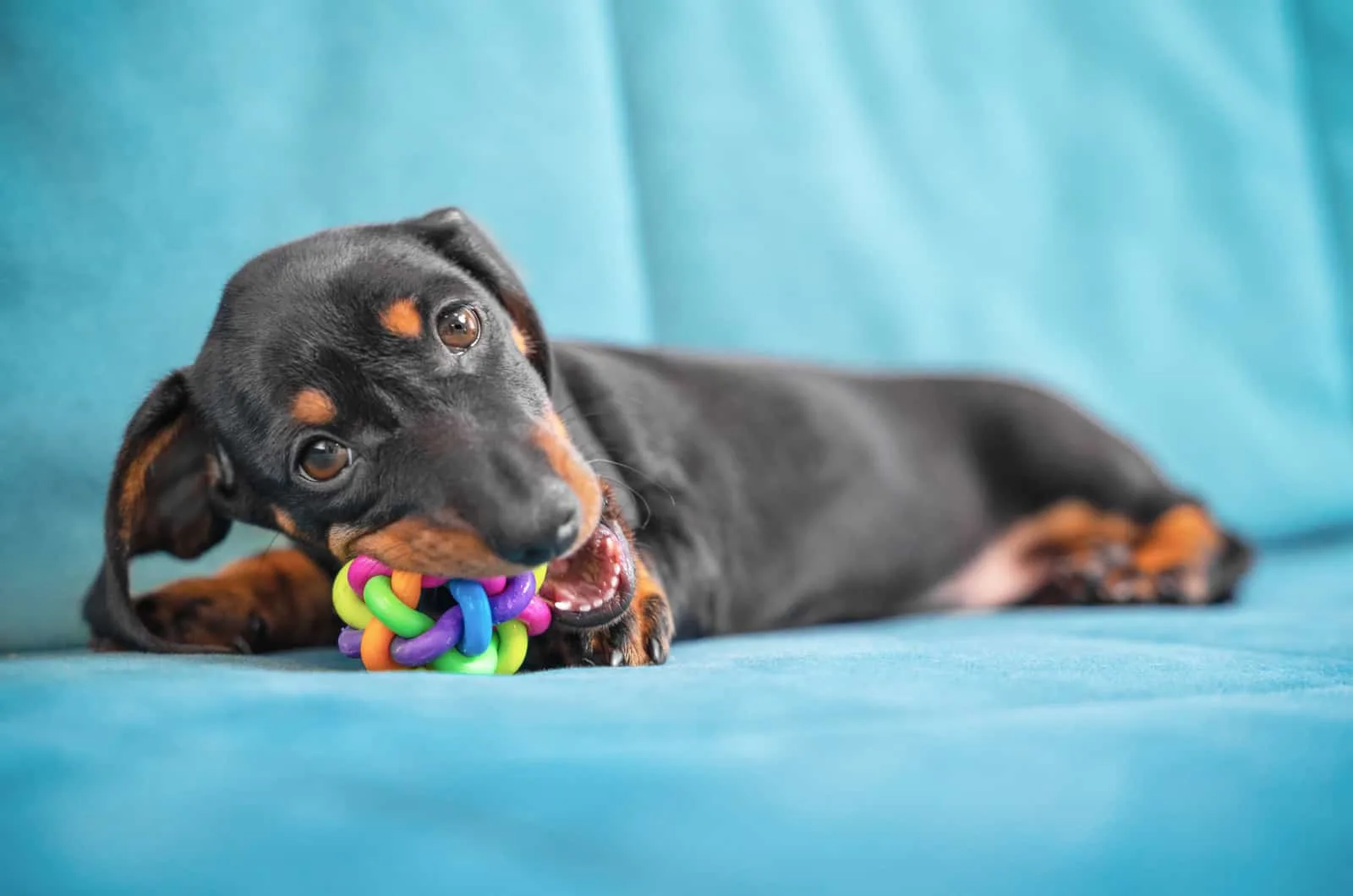 When looking for the best toys for Dachshunds, you might not know where to start. Well, a good idea is to think about the type of toy you think your pooch will adore.
Not only do various toys look different, but they also serve different functions. It's not just about finding the toy with the cutest looks, but you also have to think about how it will enrich your Doxie's everyday life.
Here Are The Four Most Common Types Of Best Toys For Dachshunds:
​
Fetch Toys
Fetch toys are, as their name suggests, a great choice for playing fetch with your dog. They are toys designed to be tossed around, so they can usually withstand a substantial amount of damage.
These toys usually come in the form of a tennis ball or a rubber bone. Sometimes, they might even look like a stick! Despite their simple design, fetch toys can actually help with dog training. Not to mention how they will strengthen the bond between the dog owner and their Dachshund!
Launcher Toys
Launcher toys are usually used in combination with fetch toys. They launch the fetch toy so your dog can chase it.
Launcher toys are there to help your dog play certain games without you around. For example, if the only way your Dachshund can deplete his high energy levels is to play fetch, but you work during most of the day or cannot physically throw the ball, launcher toys are of great help.
Plush Toys
Plush toys are a vital dog toy for Dachshund puppies, but many adult dogs will equally adore them.
Plush toys aren't necessarily there for playing. Instead, they will provide your Doxie with a level of security and warmth, just like a security blanket. Your pooch might cuddle with them at night or even carry them everywhere they go.
Interactive Dog Toys
​Interactive toys serve as puzzles that your dog has to solve to get a reward – which will usually be a treat or a piece of their favorite dog food hidden inside. This is why they are also known as treat-dispensing toys.
To get your Dachshund to play with this toy, you need to place the treat or kibble inside of it, then let him spend hours trying to figure out how to retrieve it. This is a great toy for providing your pup with the mental stimulation they need on a day-to-day basis.
Teething Toys
Teething toys are among the best dog toys for Dachshund puppies. In fact, they might be necessary to help your pooch get relief when his teeth are growing.
Most of the time, these toys are made from firm materials, and they have ridges that your pooch can nibble on.
By giving your pup a teething toy, you'll not only help their development, but you might save your furniture and shoes from getting damaged in the teething process.
What To Look For In Best Toys For Dachshunds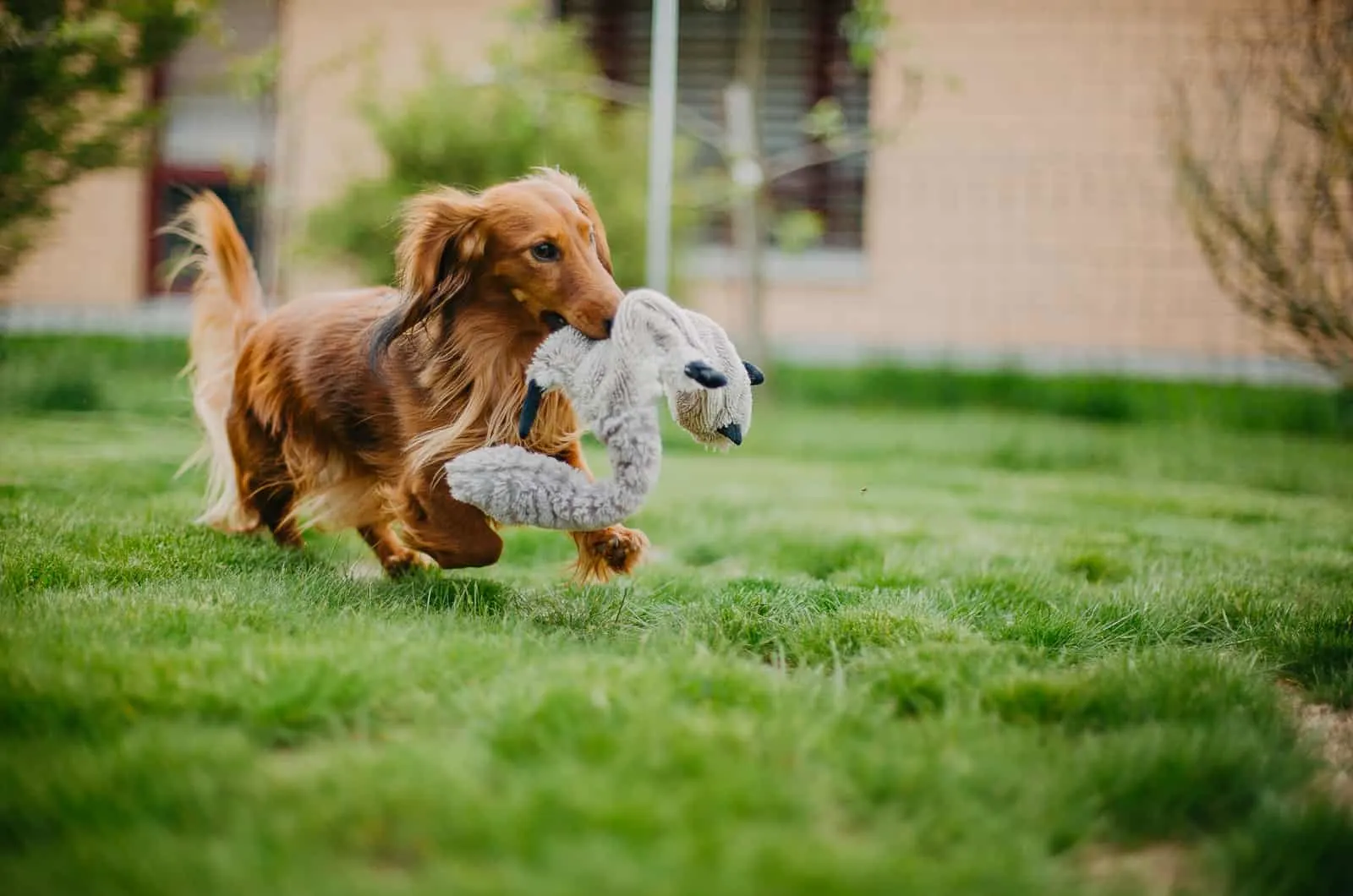 Understanding the types of dog toys is very important, but there are more things you need to look at. In the end, you want only high-quality products for your four-legged companion.
There are two main things you want to look for in the best toys for Dachshunds: functionality and durability.
Functionality
As we've explained, each type of dog toy has its own function. When you pick the one you like, you need to consider whether they do the job they're supposed to.
For example, if you purchase a launcher toy, you want it to be able to throw the ball far enough so your pooch can run after it. If it cannot throw the ball that far, you will have no use for it.
This is why it's important to read the description or the manual, so you can understand how well a toy performs.
Of course, sometimes the manual is vague, or they give false information. This is why you should take reviews into consideration as well.
However, most of the time, if the brand promises certain capabilities, there is a high chance that it's true.
Durability
Durability is just as important as functionality. Sometimes, a toy will do its job well, but that isn't worth much if your pup can tear it apart after just a few days of playing with it.
Many toys will claim to be long-lasting or durable. However, this isn't always the case, so you should always check the materials out.
Most heavy-duty products will be made out of thick, high-quality rubber or some form of tear-resistant fabric. On the other hand, flimsy toys usually opt for cheaper materials that aren't as sturdy.
If a toy has a good warranty, this might also be a sign that it is of good quality. Most brands won't risk selling toys that will break apart before the warranty is out.
FAQ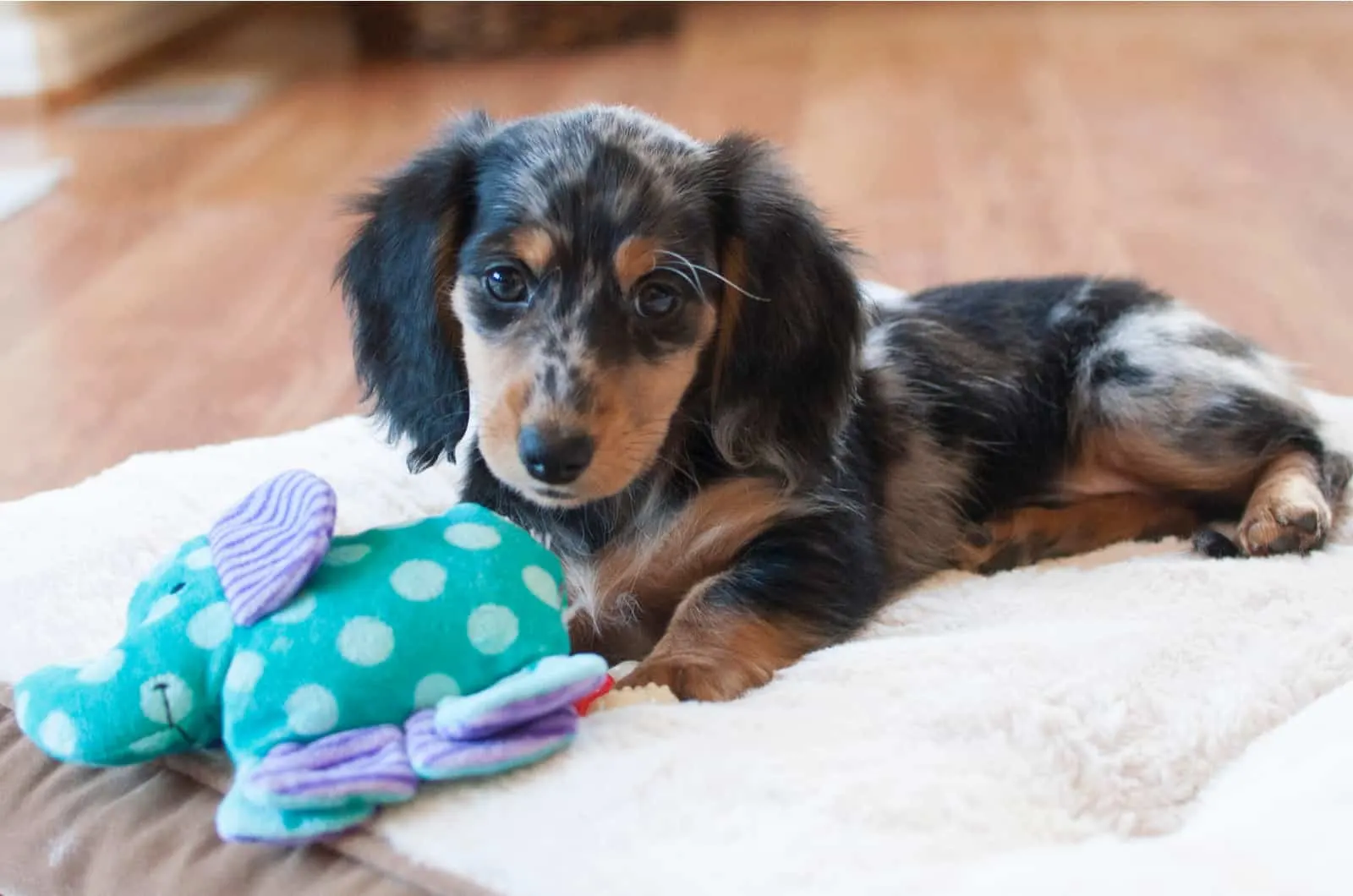 What Are The Best Dog Toys For Aggressive Chewers?
​Dachshunds can be aggressive chewers, and they'll love to munch on everything they can reach. If you don't give them a good toy they can chew on, they will take it out on your furniture.
Overall, any dog toy that is durable can help your pup satisfy his chewing needs. Rubber toys are an exceptional choice, as they can withstand most of the force your Doxie will put them through.
Some Dachshunds will love chewing on squeaky toys, and they will spend a great portion of the day playing with it – no matter how much that might annoy their owners.
What Are The Best Toys For A Dachshund Puppy?
No matter the breed, puppies love to use teething toys. All pups will go through the teething phase, and giving them adequate toys to help them get through it is one of the best things you can do for your new pet.
Plush toys are another great choice. Puppies can often feel alone once you've separated them from the litter. A plush toy can keep them from feeling separation anxiety and fear, providing them with comfort.
How Do I Keep Dachshunds From Chewing On Things They Shouldn't?
As mentioned before, Dachshunds are chewers. They will chew on your furniture, your shoes, and even your clothes.
The best way to keep this from happening is to keep all of your prized belongings out of your pup's reach. If he can't reach them, he can't destroy them.
If you have a puppy, you might want to give them a teething toy they can use for chewing. In fact, even some older dogs might love to spend their time chewing on it.
How Many Toys Should My Dachshund Have?
There isn't an exact number of best toys for Dachshunds you should purchase for your pet. However, we would advise buying at least one dog toy of every type, at least until you can determine which toy he prefers.
This isn't to say you should hoard toys. Once you've found your pup's favorite, stick to that type. There is no point in buying dozens of toys your Dachshund won't play with.
Why Doesn't My Dachshund Want To Play With Toys?
Sometimes, even if you've picked the best toy you possibly can, your Dachshund simply won't like to play with it. There are several reasons this might be happening.
If your pooch used to love playing with toys but has now suddenly stopped, it might be a good idea to take him to the vet. This will help you rule out any medical causes behind it. Once the vet lets you know everything is fine, it's time to think about changing the toy type.
Dachshunds are food-driven. They will rarely resist treat-dispensing toys, and these seem to be their favorite type of toy. Most Doxies' hunting instincts can't resist chasing down their favorite treat.
Keep in mind that every dog is an individual with its own personality. Some dogs will simply hate the toys other pups love. You should experiment until you've found a toy they'll adore.