Disclosure: This post contains affiliate links, and I will be compensated if you make a purchase after clicking on my links.
Everyone loves Dachshunds! These cute little sausage dogs (also known as hotdogs!) are among the most adorable pups out there.
Dachshunds were bred to be hunting dogs that dug inside badger dens to lure them out. In fact, this is the main reason behind their short legs and small bodies – traits that make them so cute today!
Thanks to their unique appearance, Dachshunds became extremely popular worldwide. They stopped spending time underground, but instead, became our beloved companions. Still, they remained dogs with high energy levels, so be prepared to spend many hours on playtime.
Their high energy is a big reason why you need to consider getting them the best dog beds for Dachshunds possible. These pups have some breed-specific requirements that you need to consider when making a purchase.
The Best dog beds for Dachshunds need to be able to accommodate their small size, while also being durable enough to withstand their playfulness and high levels of activity.
With so many great products currently on the market, both in stores and online on sites such as Amazon and Chewy, finding the best Dachshund dog bed can be a challenge. That's why we're here to help!
We'll list you the 14 best dog beds for Dachshunds we've found, while also giving you some other information that might be of use to you.
Here's what you need to know:
Best Dog Beds For Small Dogs
We'll talk in greater detail about what is required for the best dog beds for Dachshunds a bit later. However, a few things are necessary to understand before you can go on any further.
Dachshunds have long bodies and short legs. They are prone to many back and bone problems, which is why they shouldn't jump around or climb stairs on an everyday basis. All of these activities can damage their already sensitive bodies and cause a lot of health problems.
This is why the best dog beds for Dachshunds should be easy to access. They have to be able to get inside and out of them without too much struggle. If they are required to jump in and out several times a day, they might hurt themselves.
But, this is not all. All dogs should have beds that are orthopedic to prevent joint pain, and yet comfortable enough for Dachshunds to choose them over your bed. They should also be durable enough to withstand their mischievous habits.
Here are the 14 best dog beds for Dachshunds we've found: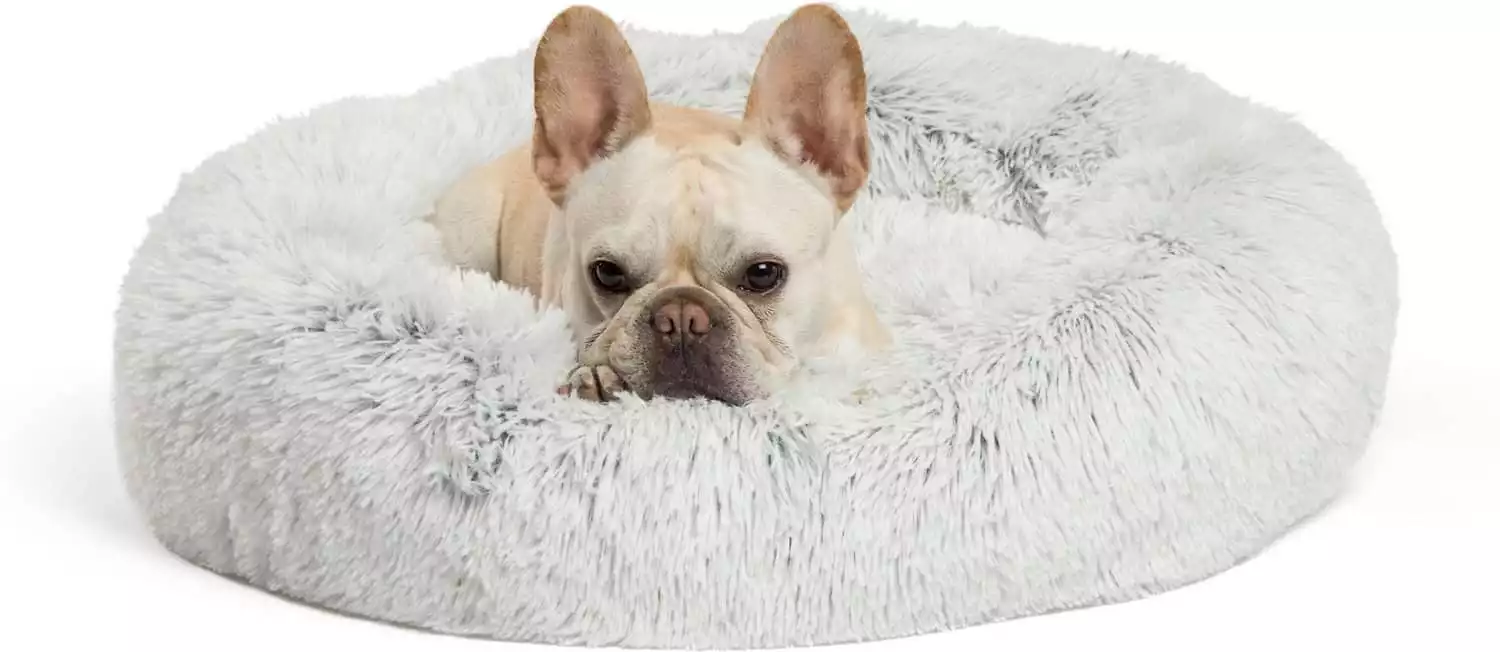 This is a soft and fluffy bed for those Dachshunds that love to burrow and feel cozy and warm no matter the season. It has a faux shag fur covering that will not only look luxurious, but will also feel amazing to the touch.
The bed comes with a water-resistant nylon bottom that will take good care of your flooring while ensuring everything is machine-washable.
It sports an insulation layer that will radiate warmth using your pup's body heat.
This product also has an additional filling that will keep your pup's joints healthy, while raised edges provide additional orthopedic support and serve as a headrest.
This dog bed comes in two colors and four sizes, so you can pick the right one for your needs. For most Doxies, small or medium size would suffice.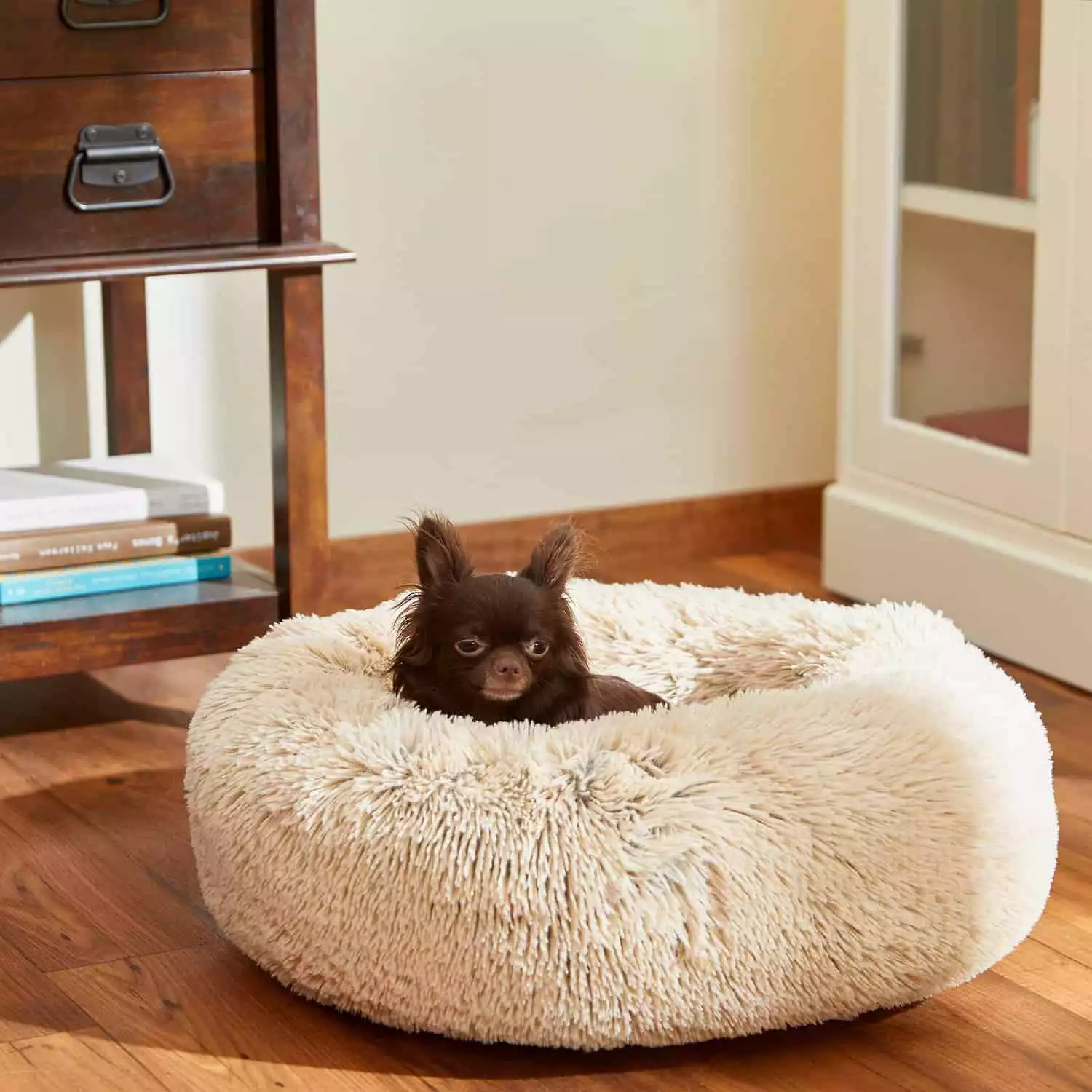 This is yet another round donut bed that's perfect for your pooch that loves to snuggle. It comes with bolstered edges that provide the perfect headrest, and the faux fur makes this a warm, cozy dog bed.
This is one of the best dog beds for Dachshunds that love to curl in a ball when they're sleeping. Unfortunately, its shape isn't suitable for many other sleeping positions due to its fairly small size, but most dogs have a preferred way of sleeping in any case.
The bed is machine-washable, so cleaning is effortless. You can just put the entire bed into the machine (provided it's large enough) and let it do the work instead of you. Also, it's made of recycled materials, so you'll support sustainability.
This stylish dog bed comes in two neutral colors and four sizes. Thanks to its timeless design, it can complement most home decor with ease.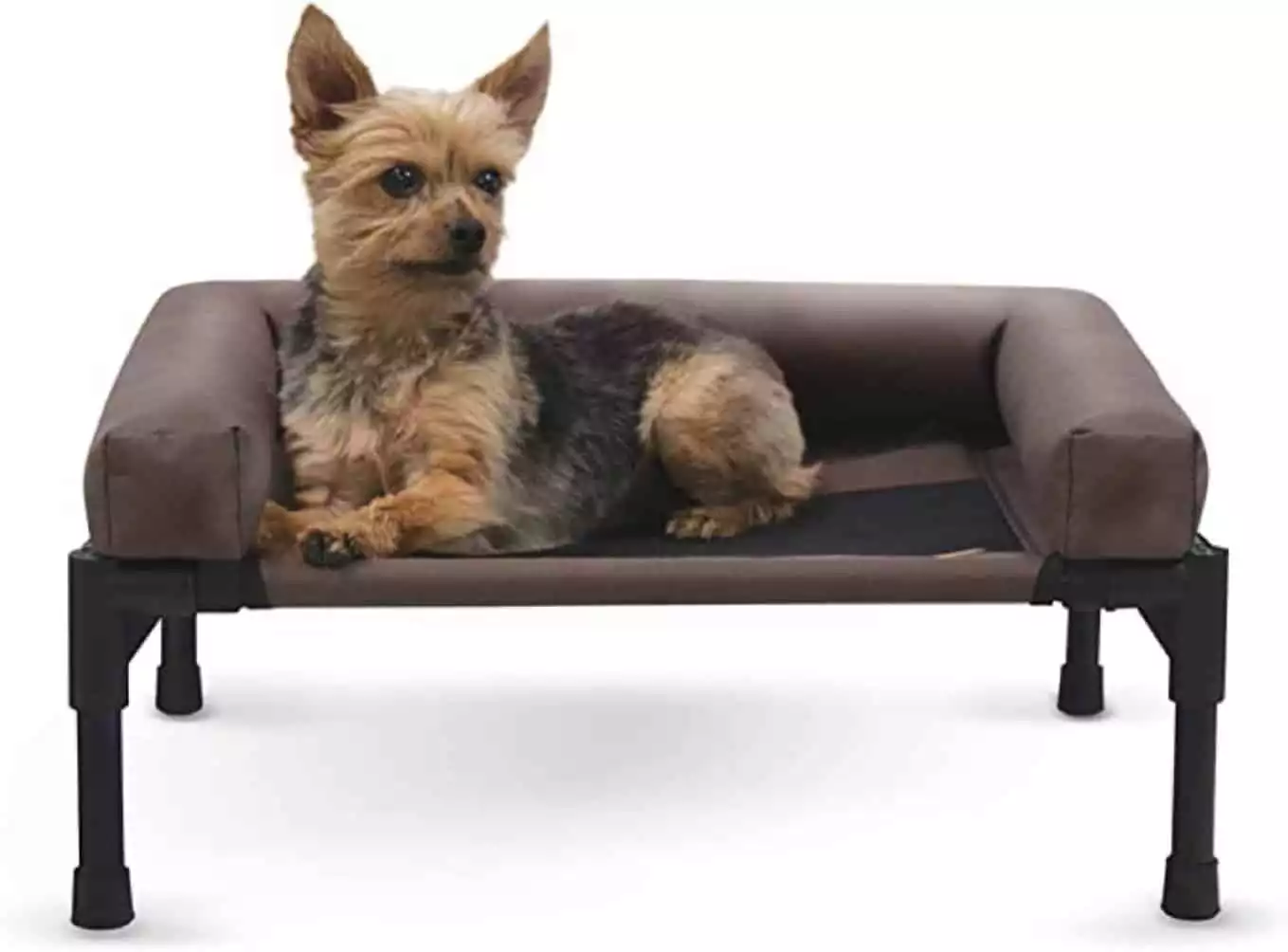 Does your Doxie love to sleep outdoors, or do you prefer your pet to sleep on the porch? Then, you need to get him a good elevated dog bed that he'll feel comfortable in. In fact, this is one of the coziest outdoor dog beds out there!
The K&H combined the classic look of a sofa bed with an elevated dog bed design, creating this innovative solution your Dachshunds will enjoy. It has a mesh center for excellent air circulation, while the long legs with non-slip bottoms keep this bed away from the floor in order to keep your pooch safe from getting wet or dirty.
On the other hand, it has a soft bolster that serves as an excellent headrest and helps your pup nest comfortably inside of his bed. This design also means that the bed isn't entirely made for outdoors, as it can be used inside your house as well.
This bed is waterproof and transportable, and you can move it around with ease. Also, there are no tools required for this assembly.
Editor's Pick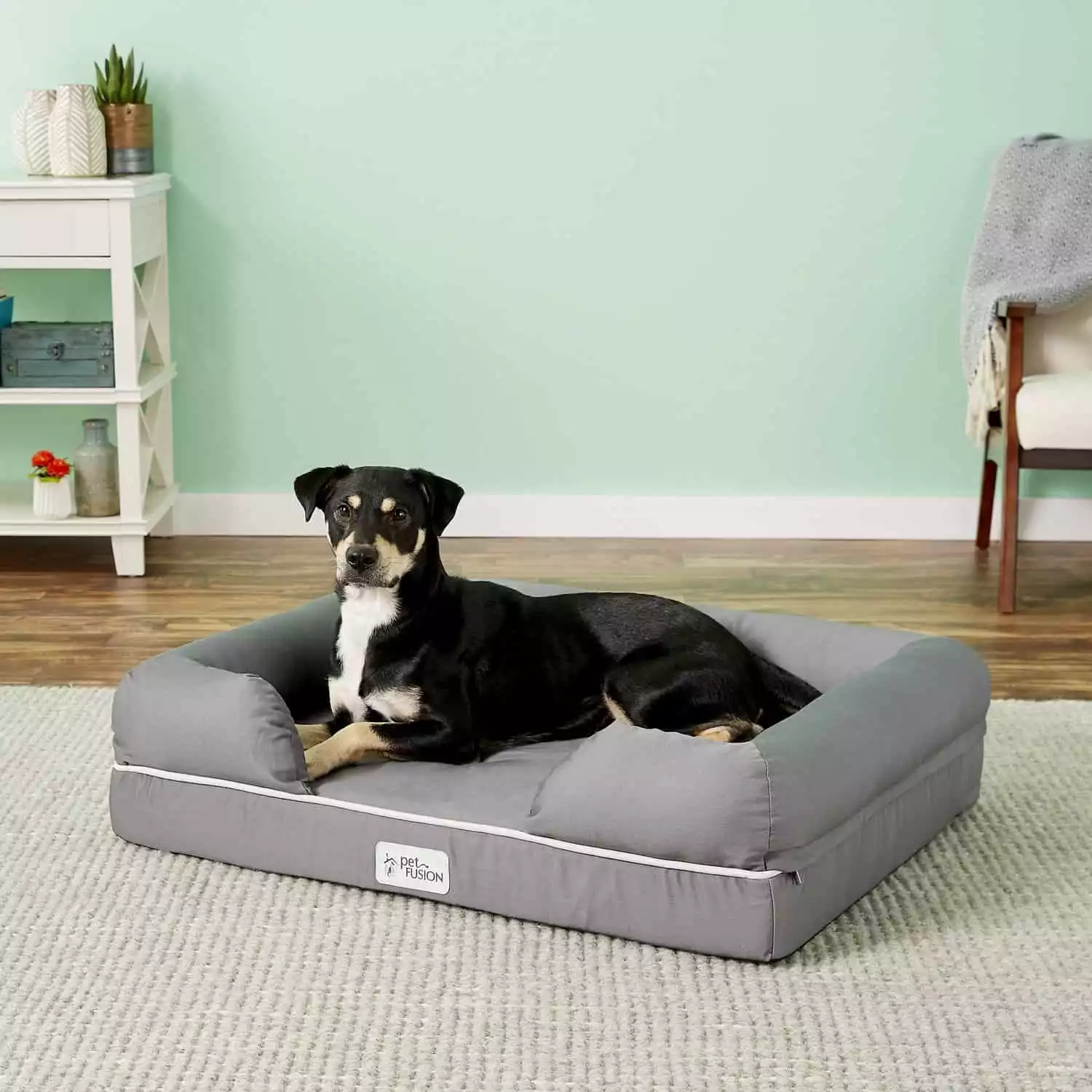 If you're looking for the best dog beds for Dachshunds and aren't afraid of spending that extra buck for the deluxe pick, then this is the product for you. It has all you need in an orthopedic dog bed, and more!
The high-density memory foam base is one of the thickest you can find, and it can provide maximum comfort for your puppy. It's also amazing for dogs with joint pain or conditions, such as arthritis, as the bed itself is very easy to get into.
It comes with a waterproof liner that will protect your floors in case any accidents happen. This makes it the perfect choice for older Dachshunds with bladder issues.
The high-quality materials also mean that this bed is chew-proof, so you don't have to worry if your Doxie is a chewer. The bed is designed with strong, large dogs in mind, so one Dachshund will hardly be able to tear it.
The bed is made out of durable cotton and polyester twill cover. All materials are gentle to the skin, and they won't irritate even the more sensitive Dachshund's skin.
The bed comes in four sizes. While it doesn't have a medium, a small one should be large enough for even larger Doxies that love to stretch around.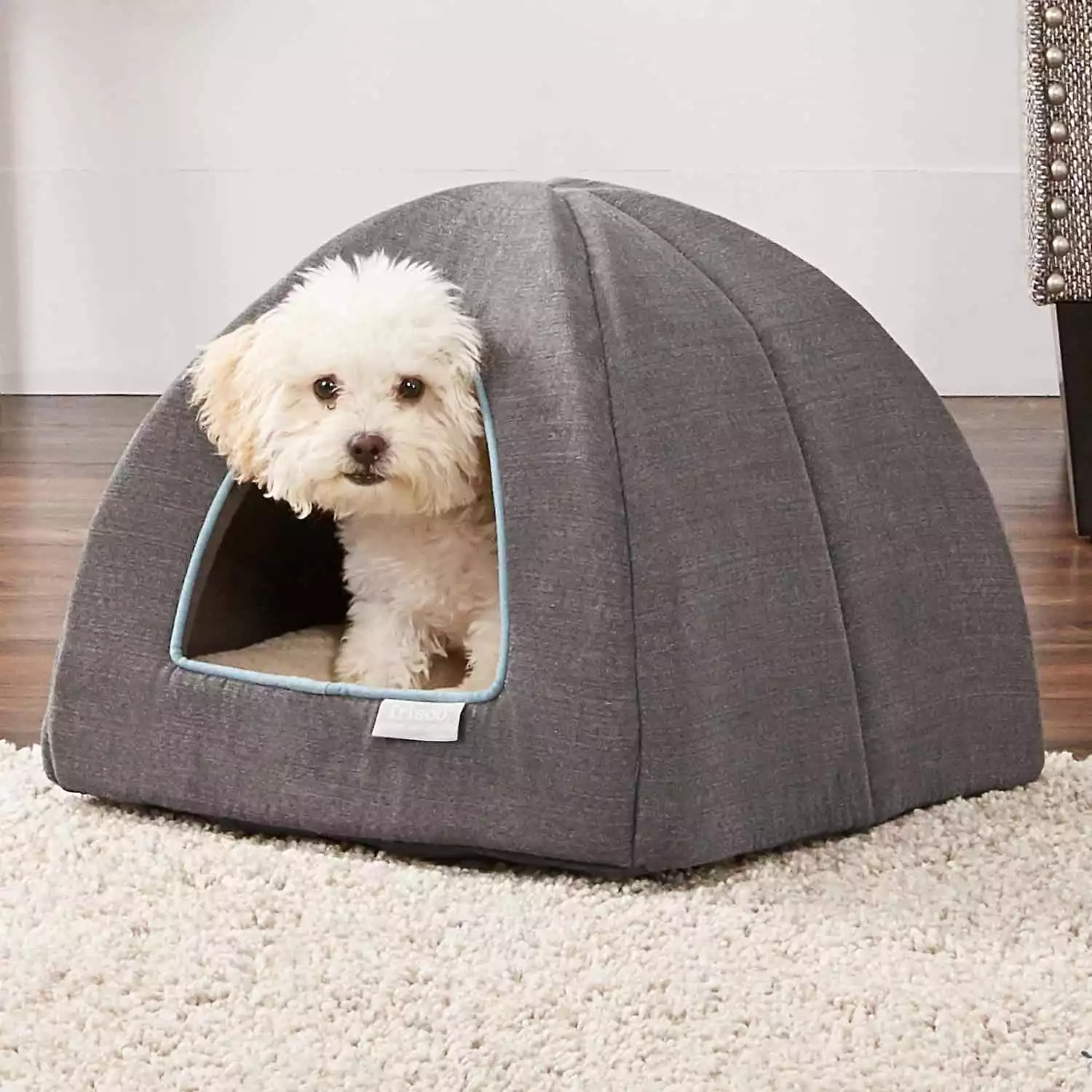 This dog bed is great for those anxious dogs that love to have some space for themselves. It is shaped like a cozy cave, but with fully padded sides that create a den-like hideout. If you want a great bed for snoozing or chilling, this is the one you might want to look at.
The bed can provide your dog with comfortable sleep without him being disturbed by the outside world. The ultra-plush fabric lining is soft, and there is a fluffy cushion that provides additional comfort.
The bed is machine-washable, so it's effortless to clean. Not just that, but you can flatten it down so it's easy to store or put inside the washing machine. This also makes it a great option for travel.
While there are no color or size options, this dog bed comes in earthy colors that will surely fit most home decor – and the size is perfect for a Dachshund!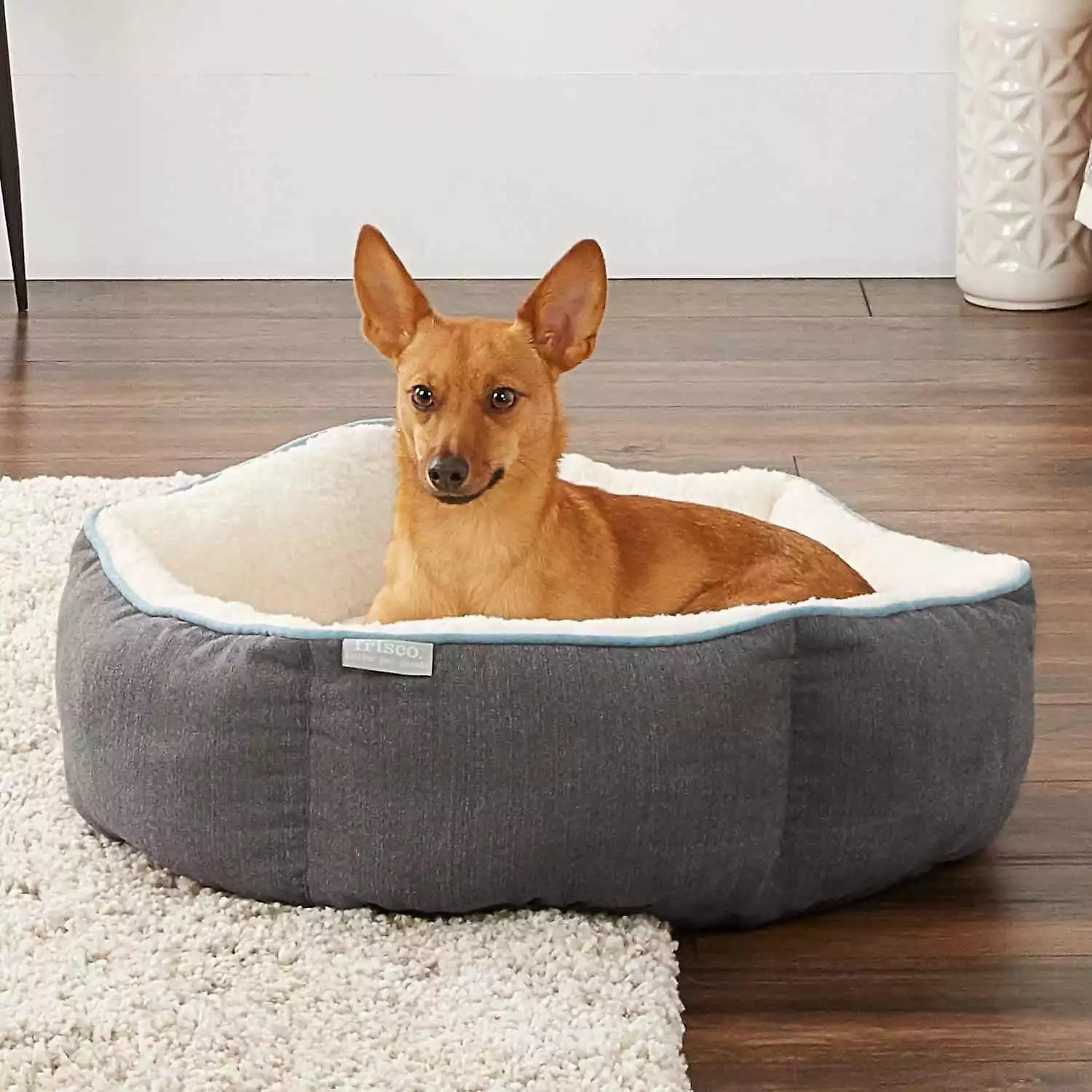 This is one of the best dog beds for small dogs that love to snuggle up no matter the time of the day. It looks fashionable while remaining comfortable enough for your Doxie to lay inside of it all day long, thanks to the cushioned insides.
This product has polyester fiber filling that stays sterile and comfy, and it's lined with a cloud Sherpa. As you can see, your pup will have a luxurious sleeping experience!
The sides are cozy, stuffed, and deep enough to provide an amazing headrest and give your pup a place to nestle up in. This can also give him orthopedic support, while relieving his pressure points from stress.
This bed is also machine washable, so you can take care of it in a matter of minutes. This will keep it perfectly clean and ready for snoozing and cuddling no matter how dirty your pup makes it.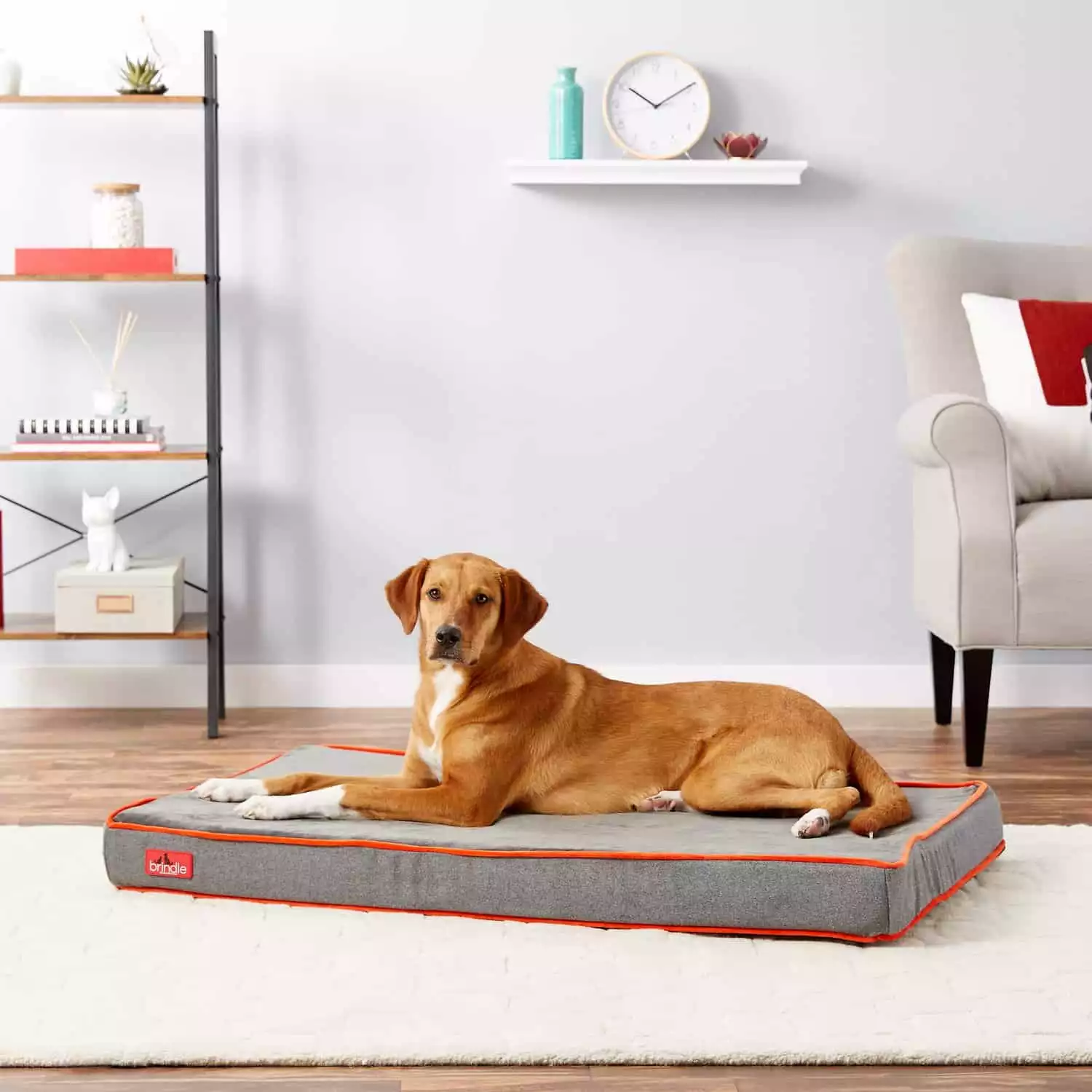 This is an amazing memory foam dog bed that can help your older dog get some comfortable rest no matter his joint pains. While this is another deluxe bed, it's worth every penny, at least according to the numerous great reviews it has.
The bed comes with two inches of support foam on the bottom, while the top is covered with orthopedic memory foam. This is the perfect combination for pain relief, as the bed base will conform to the dog's body, ensuring optimum experience.
The removable cover can be taken off by using a high-quality zipper. Then, you can put everything in the washing machine and clean it up without any hassle. The non-skid bottom will also make sure that the bed stays in place, even if your Doxie runs and jumps inside of it.
The bed comes in three standard sizes and three beautiful colors. No matter what your interior looks like, you'll be certain to find a model that fits!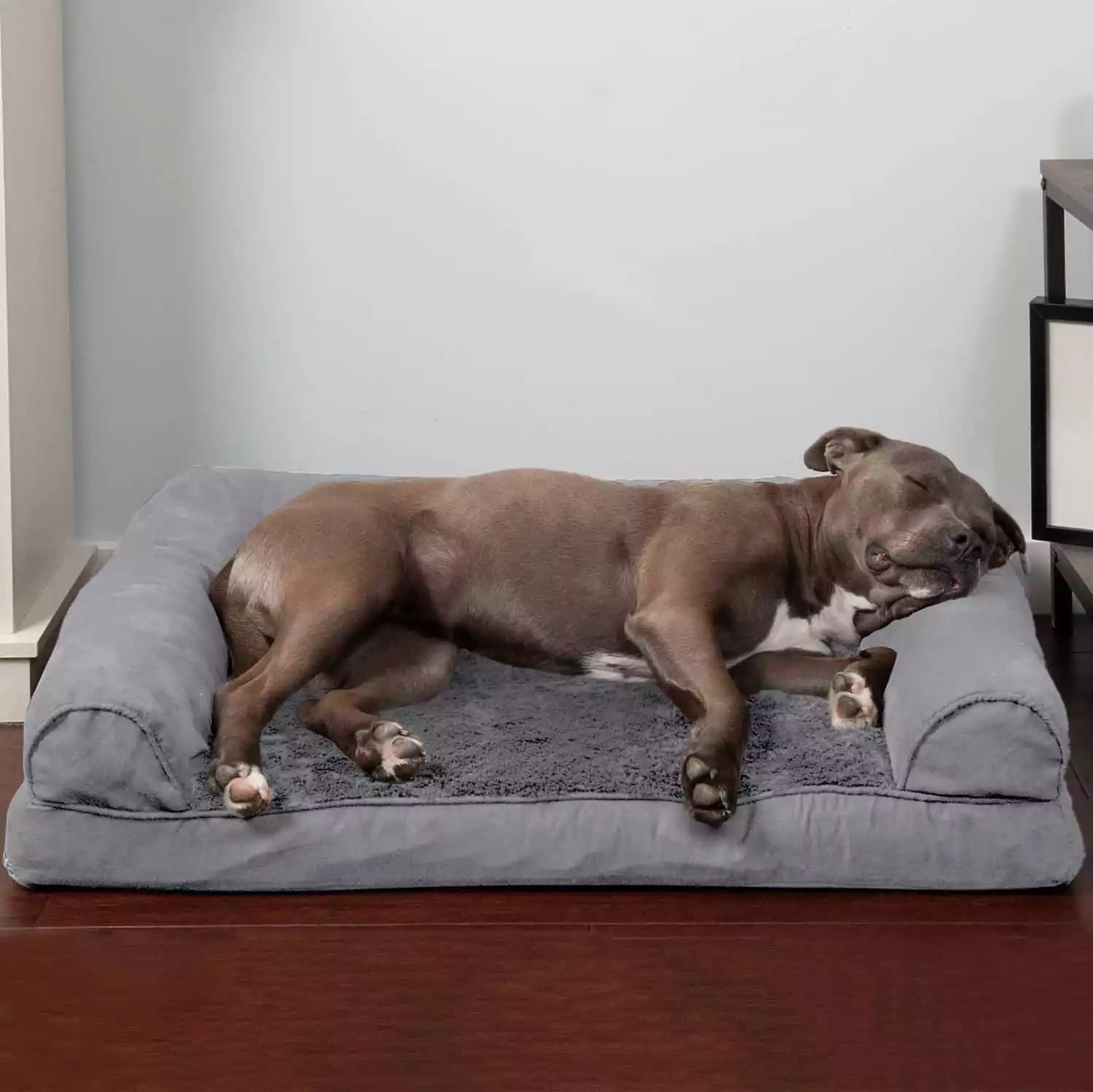 This is a comfortable, faux suede orthopedic dog bed designed to provide your dog with maximum comfort. It sports a medical-grade orthopedic and egg-crate foam base that ensures breathability and support.
The bed comes with three suede side bolsters, giving your pup a comfortable spot to rest his head. It can also provide your pooch with a backrest; something not many beds have.
If you pick the small or medium size, they are short enough for Dachshunds to climb on it without any hassle, even if they have arthritis or some other orthopedic issue. Also, the bed is comfortable no matter the preferred sleeping position.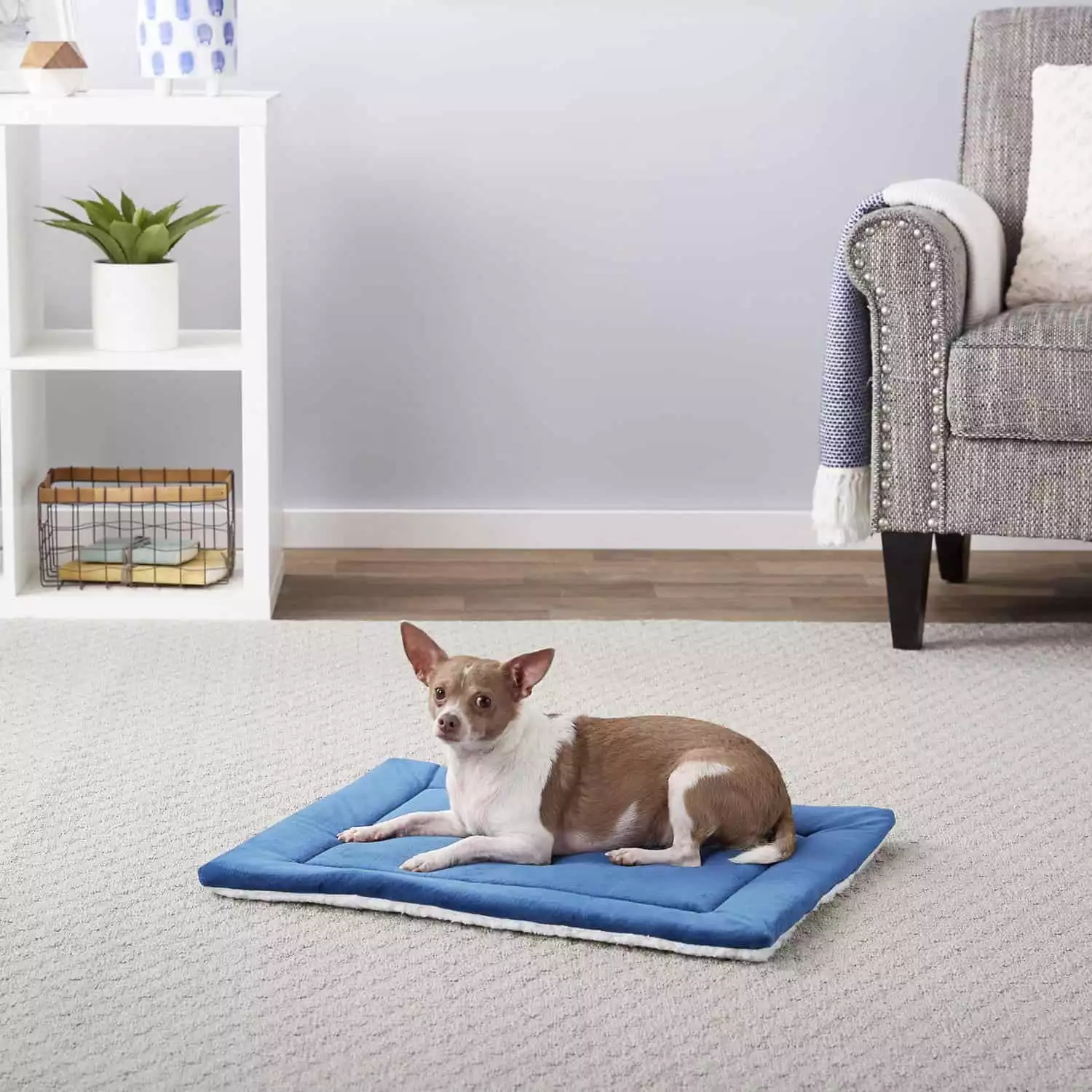 If you want to get your Doxie its own bed, but you feel like it can't sleep on a cold spot, this might be a great bed for you. While it is thin, it comes with some options your dog might love!
This dog bed is made from materials that radiate your dog's body heat and distribute it back at him. No, it doesn't work on electricity, so it is perfectly safe for your little snoozer. All it takes is for a Doxie to lie on it, and his own body temperature will heat the bed up, which will then reflect the heat back at your pooch.
The bed is small enough to be used inside a kennel, which is a good option if you're still training your dog or if he prefers to sleep inside one.
At the same time, the bed is available in neutral colors. It will fit inside any house without standing out.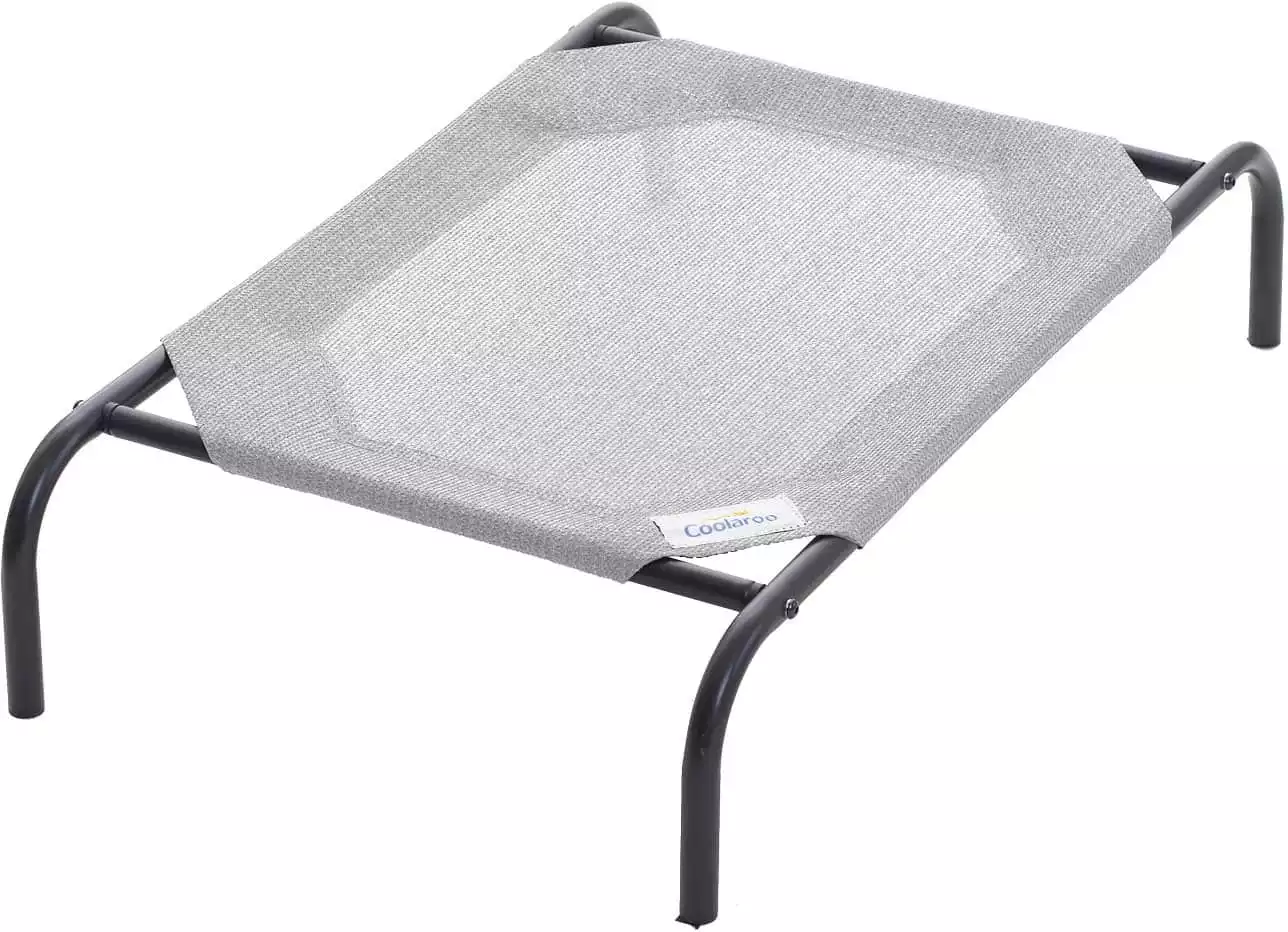 If you're looking for the best dog beds for Dachshunds that can be used both indoors and outdoors, then this is the bed you should look at.
The bed comes with a steel frame that keeps it elevated from the ground. This will keep your pup safe from mildew, mold, and insects. It can also help keep your Doxie cool, as the legs will offer airflow. In fact, this design will be rather supportive of your dog's joints, so even older dogs can use it – although keep in mind that it is a bit taller than most beds we've reviewed.
The cover fabric is made out of recyclable plastic that is certified by Greenguard and free of lead and phthalate. This also means that it's effortless to clean – you can simply hose it with water and the bed is as good as new!
The bed comes in numerous colors, and in four sizes. Also, the covers are replaceable, so don't worry if something happens to them.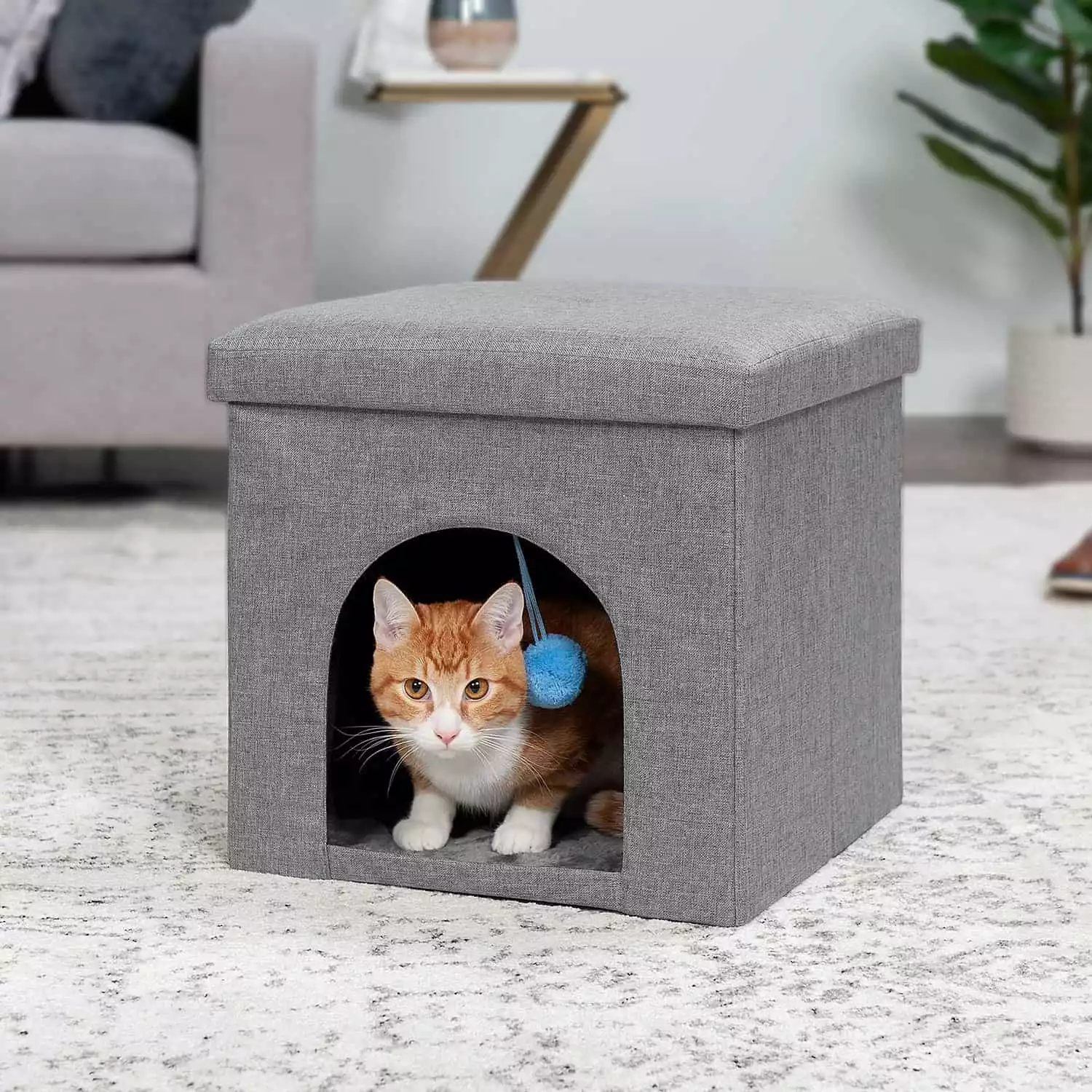 While many people will use this bed for cats, it is proven that dogs also love it. In fact, FurHaven advertises it as one of the best beds for canines and felines alike.
It is shaped like a box, but with doors on the side. This shape can provide your small dog with just the right amount of comfort. The soft fleece base makes it comfortable and warm, so your Dachshund can enjoy it all night long.
The bed also comes with an optional ball toy that you can hang on top of the bed to keep your pup entertained. This is a great feature, especially for intelligent breeds that are known to get bored quickly, such as Dachshunds.
This dog bed can also be used as a footstool, and it will fit inside your house. Just keep in mind that it is a bit smaller than most, so we would recommend getting a large size, unless you have a miniature Dachshund that doesn't like large spaces.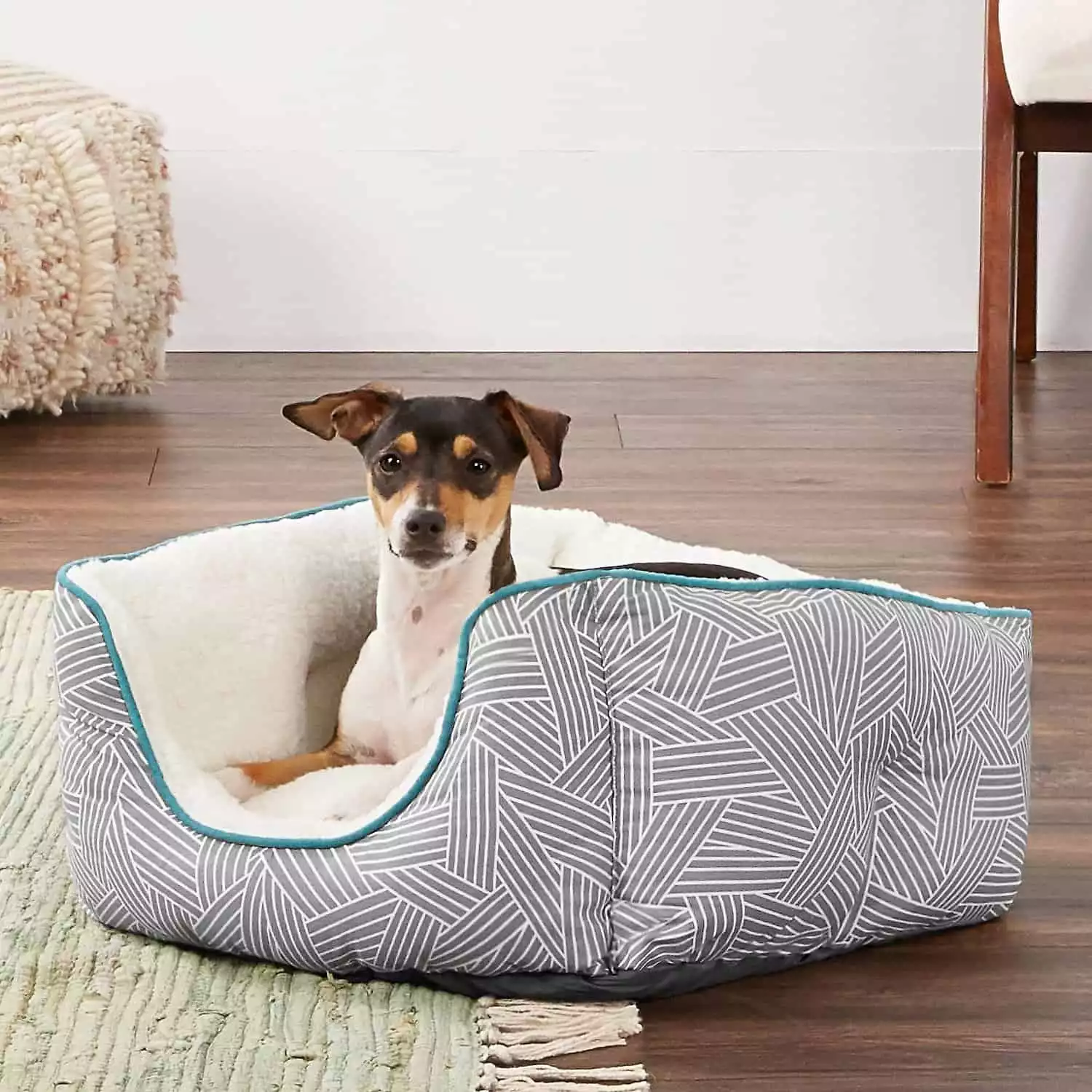 This is one of the best dog beds for Dachshunds with joint pains, as it has a built-in entry dip that helps your dog climb into it without any problem. It offers the perfect combination of comfort and support, making it ideal for senior dogs.
The bed is a great choice for dogs that like to sleep curled up, and the high walls provide a sense of security, while also serving as a headrest. While not fully enclosed, it will provide additional safety to more anxious puppies.
The entire bed is machine-washable, so you shouldn't worry too much about maintaining it. However, it is not chew-resistant, so more playful Doxies might get the best of it.
The bed comes in just one size, but you can choose from four stylish prints that will make your dog bed stand out. No matter what your personal style is, you'll likely find a combination that you like.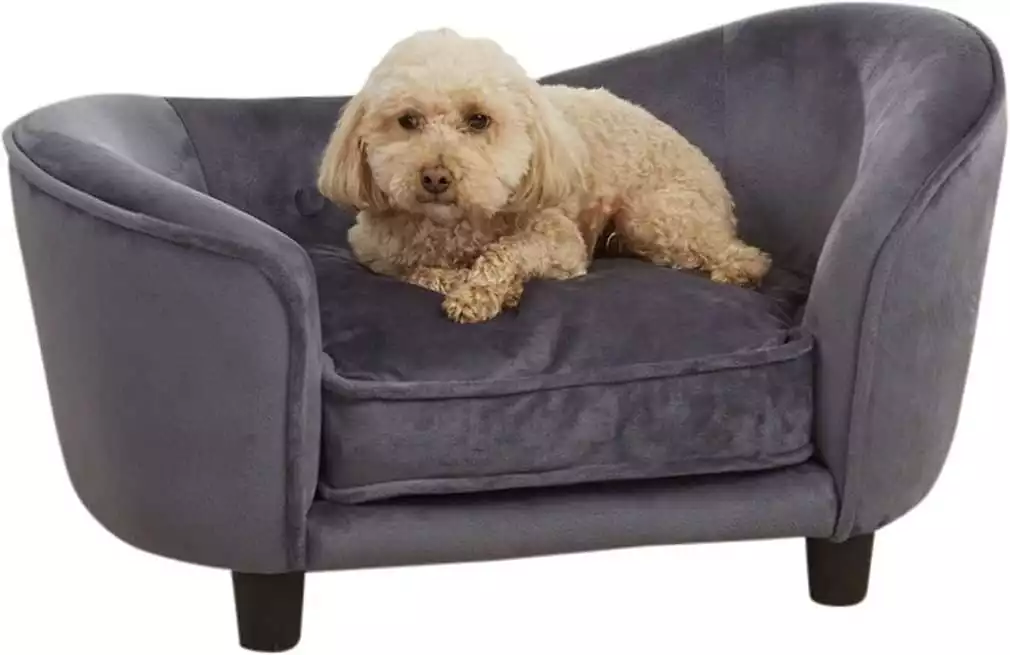 Does your Dachshund love to sleep on sofas, and you don't know how to teach him out of that bad habit? Try getting him the Enchanted Dog Bed!
This sofa-shaped bed will cheat even the most intelligent Dachshunds into thinking they have finally made their way onto your furniture. The upholstery is made from a plush material that humans would love to sit on, and it is enriched with soft and lofty cushions.
The dog bed is shaped for Doxies that love to sleep curled – although miniature Dachshunds might also be able to stretch on it without too many issues. The cushion covers can be removed and then washed inside the machine, so don't worry if something bad happens as you'll clean it in no time.
The elevated legs make this a breathable bed that is ideal for warmer climates, while the entire design will make people think you own a luxurious furniture piece.
Frisco Bolster Dog Bed
Key Benefits:
Bolster bed

One side is lower for comfortable stepping in and out

Machine-washable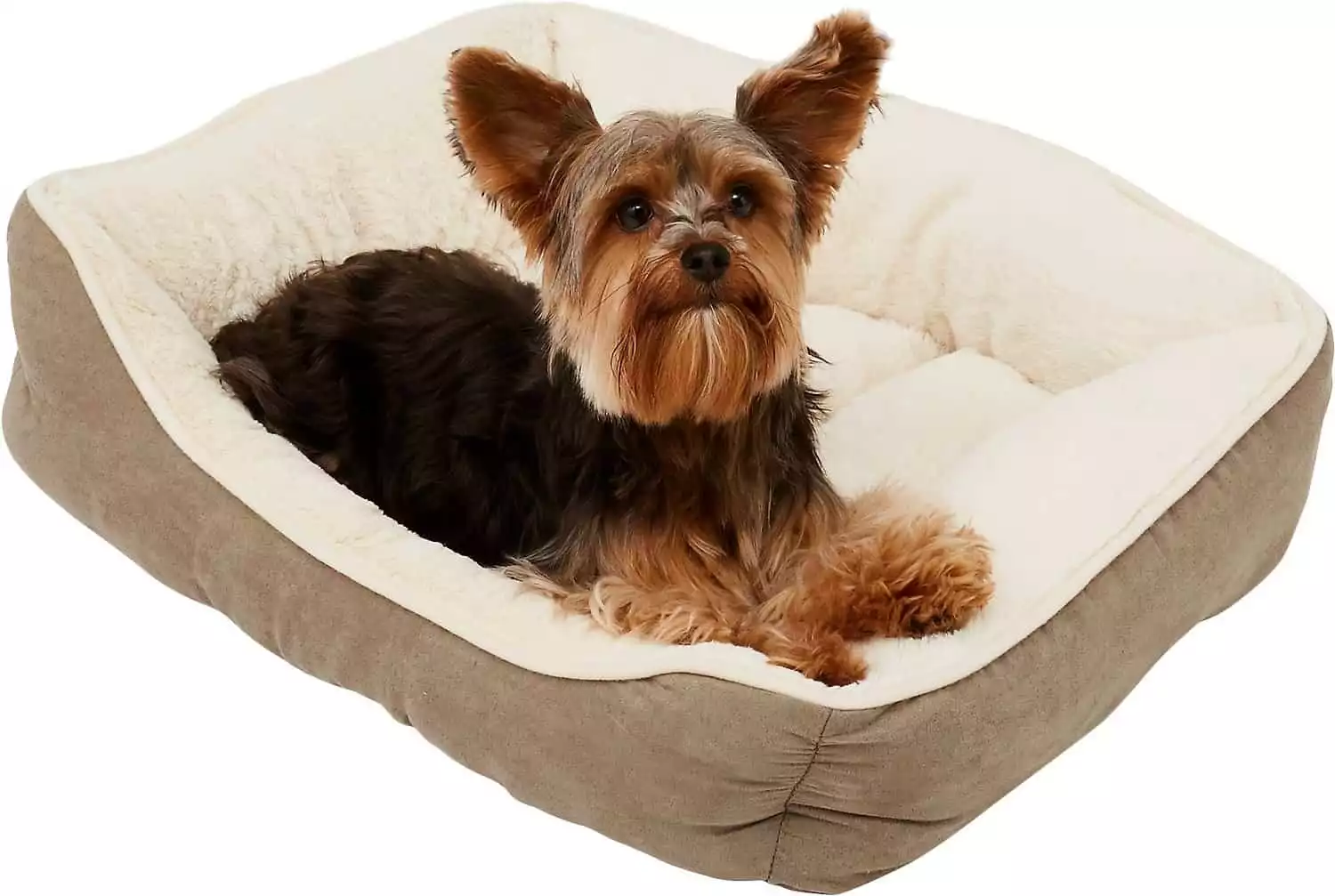 We'll end with one of the more popular dog beds, Frisco's rectangular bolster bed. This dog bed is designed to fit your senior dog (but also adults and puppies alike!)
The product comes with cushioned bolsters that go around the edges, giving your dog a feeling of safety, and providing a comfortable headrest. One side of the bed is lowered, so even pups with joint problems will be able to climb into the bed without any pain.
The bed is made out of faux suede that stays soft to the touch, but also provides comfort and softness. The shape is specially designed to fit all small dogs no matter their preferred sleeping position.
Finally, the bed comes in three sizes and two gorgeous neutral colors. It might even be a stylish piece of the room!
Why Do You Need The Best Dog Beds For Dachshunds?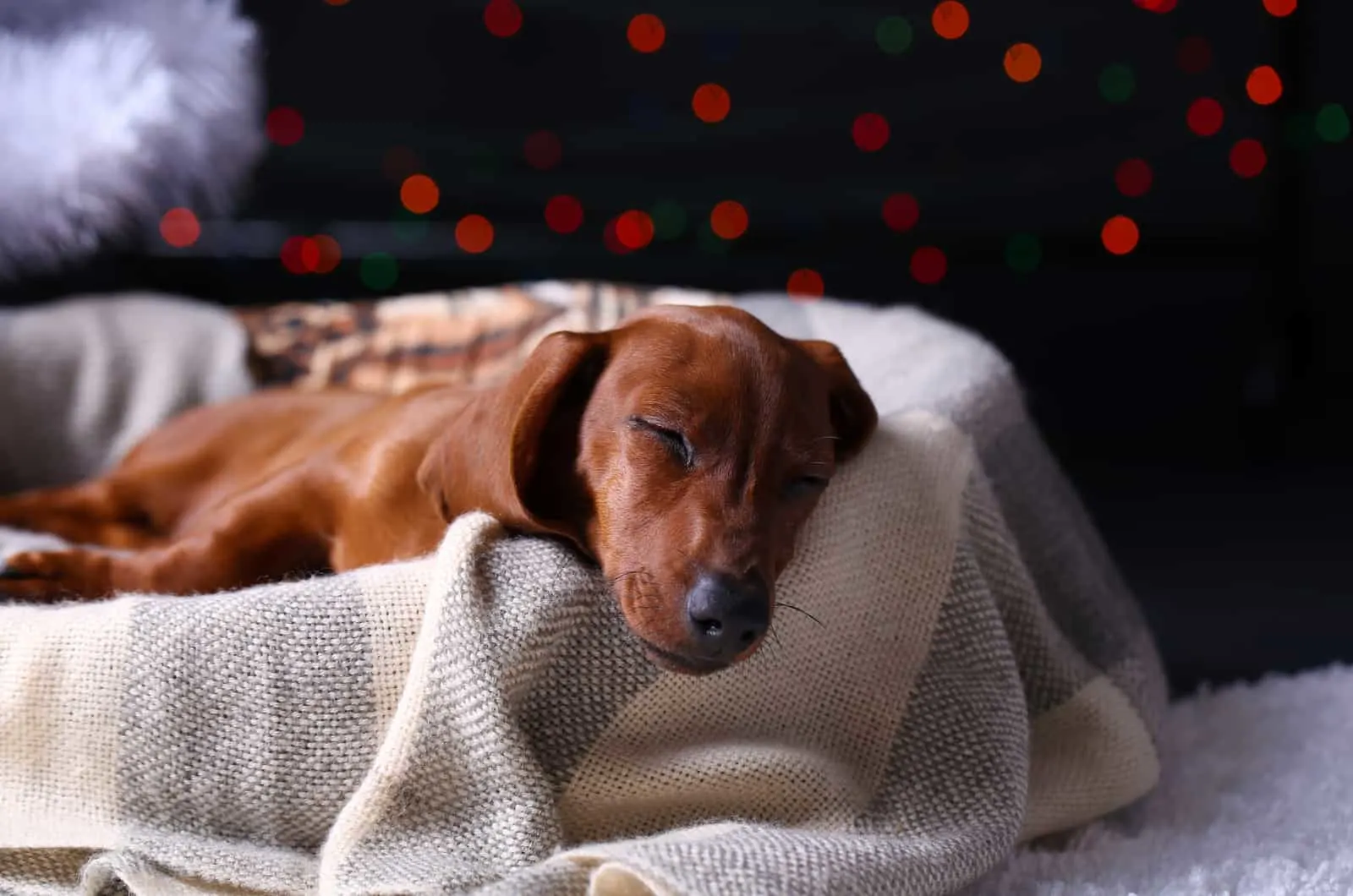 There are plenty of benefits in finding good pet beds for Dachshunds. Sure, the bed's purpose is for your four-legged best friend to sleep in, but there is more to it.
For example, the best dog beds for Dachshunds can also help your pup stay in good health!
Here are a few reasons why you absolutely need to find an adequate bed for your pooch:
It Gives Your Dachshund A Good Place To Rest
This one is really obvious, but we just have to mention it: A good dog bed will make sure that your doggie has a place to sleep all the time. In fact, the best dog bed will almost be like a second home for your Doxie!
This is very useful if you don't want to share your bed with your pup, or if you don't want him sleeping on the couch. Not just that, but sleeping on the couch can be a bad thing for your Dachshund's health, as he'll always have to jump on and off of furniture.
It Helps Avoid Health Problems
As we've already mentioned, Dachshunds are prone to some back problems due to their long spine. In fact, most Dachshunds will have some orthopedic issues during their lifespan. 1 in 4 Doxies will experience intervertebral disc disease that can be rather painful.
This disease is caused by the compression or protrusion of spinal discs. In more severe cases, it might even paralyze your dog.
Not just that, but these small-breed dogs are prone to hip and elbow dysplasia as well as knee, eye, skin, and joint problems. While a good bed cannot do anything about some of these issues, it can help your dog be free of joint- and knee-related conditions.
It Is A Clean And Calm Safe Space
Dachshunds are active dogs that love to get dirty, especially if they have lots of outdoor exercises. Even if you're just taking them out for a walk, they'll still track up a lot of dirt, mud, and debris. Not to mention how these challenges only increase if you have a long-haired Dachshund!
Shedding can also be a problem for Doxies, and you might be required to run around and clean after them several times a day.
Fortunately, if you get one of the best dog beds for Dachshunds, you will have a clean place for your pooch to sleep in. Not to mention that a good bed can keep him warm during cold, winter nights.
There are even some outdoor beds that come with heating pads to keep your pup warm if it is sleeping outdoors! None of this can be achieved by simply using a pillow or a bed that isn't of high quality.
What To Look For In Best Dog Beds For Dachshunds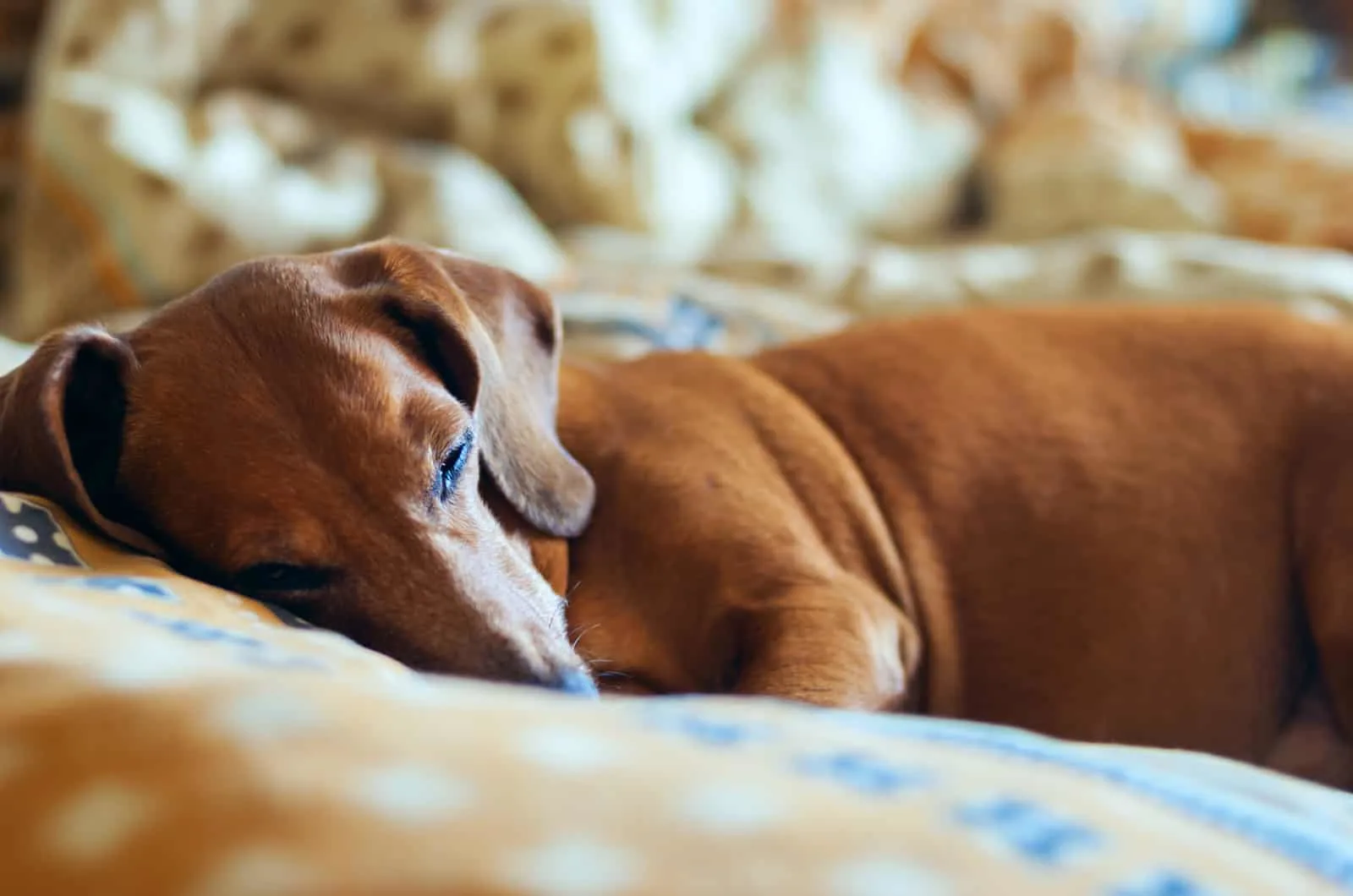 Not all dogs are the same. Similarly, not all dog owners are the same. The best dog bed needs to accommodate the needs of both sides. This is why there are many products with many features, and you need to find the appropriate one for you.
Here are some things you need to pay attention to if you are looking to buy your puppy a new place to sleep:
Size
Size is the most important thing when looking for an adequate bed. Your dog's sleeping surface has to be large enough to accommodate him even when he is stretched out.
According to the AKC and the Dachshund Club of America, adult Doxies can have a height of 14 to 19 inches, but they can have a length of up to 25 inches. However, they can be bred in several sizes. There are even miniature Dachshunds that weigh less than 11 pounds as adult dogs!
To choose an appropriately sized bed, you should look for a product that isn't too large nor too cramped. Depending on your pup's size, these beds will range from small to medium in size.
Non-Slip Bottom
Usually, non-slip bottoms are just an additional feature that isn't mandatory. However, when you have an active dog such as a Dachshund, this feature is fairly important.
Dachshunds are really energetic, and they are among the more active dog breeds. Most of the time, their bed will slip, especially if you place it on tile or hardwood flooring. This can even lead to injuries if the bed slips when the pup is jumping in or out of it.
A non-slip bottom can truly make a difference and protect your pup when it's time for bedtime. It can prevent back injuries, and it might even save your floor from scratches or dirt!
Bed Type
There are many types of dog beds to choose from, such as a pillow or a platform bed. Your dog will have his own preferences, but the best dog beds for Dachshunds are cave beds.
Dachshunds were bred to go down burrows, so they love to go underground. A cave bed will soothe your dog's natural instincts and make him feel like his ancestors did when they were still working dogs.
Also, Doxies tend to be a bit anxious, and a cave bed can provide them with the necessary level of privacy they need. Not to mention how this bed will always help them feel warm!
Looking for orthopedic beds is also a good idea. Look for materials, such as orthopedic memory foam, that will provide your dog with the support he needs.
High-Quality, Adequate Construction
We've already mentioned several times that Dachshunds have problems with their backs, especially when it comes to climbing on furniture.
These are some things that you'll have to keep in mind when picking the right dog bed for your pooch.
You'd want to look at dog beds that are low to the ground and easily accessible. This will help your pooch get in and out of it without any issue.
At the same time, you'd want to look at non-toxic materials that are easy to clean. Dachshunds aren't the cleanest of dogs, and you'd probably want something that is effortless to maintain.
Some fabrics that you might want to check out are polyester, cotton, microfiber, microsuede, memory foam, latex, nylon, and cotton/poly blends. You might also find dog beds made of cedar and sherpa, although these aren't as popular.
Good Insulation
Insulation is especially important for Dachshund owners who live in areas with cold and long winters. These short-haired dogs can get cold easily, and keeping them warm should be a priority.
While heated beds are a good option, they aren't an adequate long-term solution. If a Doxie sleeps in it for prolonged periods of time, his health might be negatively affected.
On the other hand, if you live in warm climates, the bed can quickly become too hot for your Dachshund. On such occasions, getting a raised bed might be a good idea. You might even want to let your pooch sleep outside!
FAQs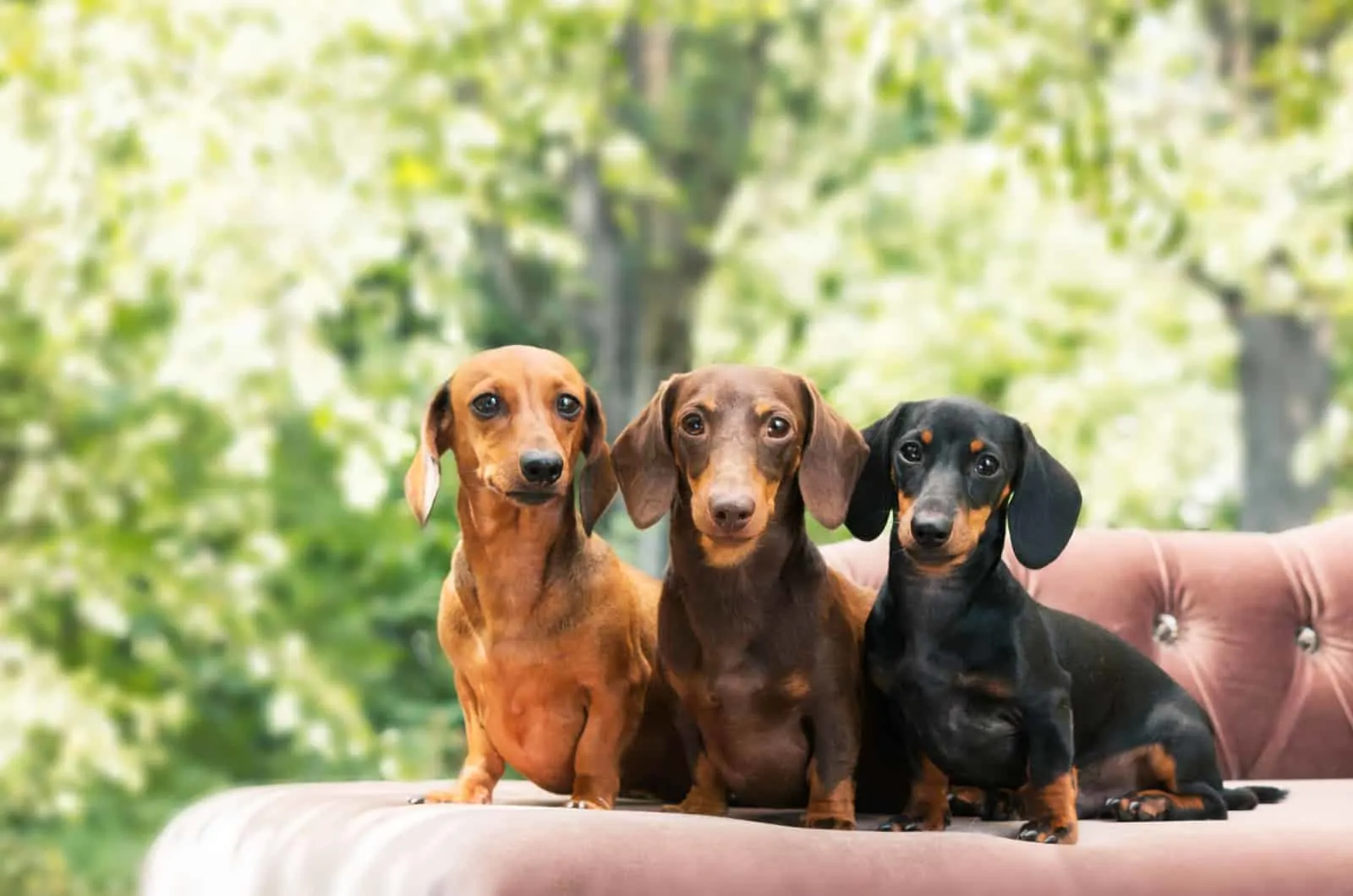 Can Dachshunds Also Use The Best Dog Beds For Large Dogs?
Large dogs, such as German Shepherds or Dobermans, require larger beds with different features than the ones you can find in the best dog beds for Dachshunds.
While there is nothing inherently wrong with dogs using larger sleeping spaces than that which is intended for them, larger beds are usually taller, which can be a problem for delicate Dachshunds. They might have problems getting in and out of these beds, so we would not recommend it.
What About The Best Dog Beds For Medium Dogs?
Some larger Dachshunds might even benefit from medium-sized beds as compared to small ones. These beds would give them more space to stretch and sleep in positions they like.
Once again, the most important thing that you need to look at is the bed's height. As long as the bed is short enough for Doxies to climb in without any issue, you're good to go.
What Are The Best Beds For Dogs With Hip Dysplasia?
Hip dysplasia is a painful genetic condition that occurs when the hip joint isn't properly formed. While it is caused by genetics, there are some things you can do to prevent it, such as keeping your dog from becoming obese, making sure he is active, and getting him the best dog bed for Dachshunds.
Orthopedic beds are the best choice when you have dogs with any kind of orthopedic issue, including hip dysplasia. They will provide your pups' joints with enough support so that there is no pressure on the already weakened bones and muscles.
What Are The Best Dog Beds For Older Dogs?
Similar to dogs with joint pain, senior Dachshunds require orthopedic beds that will provide them with enough support. You should be especially mindful that the beds are easy to climb in, as many older dogs will have issues with climbing into things.
Senior dogs might also have problems with incontinence. Because of this, you might want to consider waterproof materials that are easy to clean. They will make sure that everything is mess-free, even if accidents happen.