This post contains affiliate links, and I will be compensated if you make a purchase after clicking on my links.
Poodle mixes are one of the most popular dog breed options out there, so it's no surprise that people often ask what the best treats for Cavapoo puppies are, which is what we're here to answer today.
The best treats for Cavapoo puppies will help provide them with an extra boost of energy and ultimately, is something delicious that would serve as an incentive for their training and otherwise.
It's by no means a replacement for actual dog food, but it's favorable if it contains nutrients and minerals that a puppy would normally need to help further facilitate his growth.
For any hybrid dogs with a Poodle parent, finding ones that give a little bit of Vitamin A or E would be beneficial, or anything that can help improve eye health as Poodles are notorious for having health issues regarding them.
Their mixes aren't exempt from it either.
You'll also want the treats to be easy to chew on or consume, something your dog can enjoy without finding it too tedious, but this is going to vary based on your dog's preference.
And, for better or worse, there are many treats out there to choose from for your Cavapoo to enjoy, too many to count.
That may make the selection process a little bit harder, but that's why I've done the work for you and have scoured online marketplaces such as Amazon and Chewy in order to find the best treats possible. In my opinion anyway.
Read on to find out what they are as well as discover answers to some of the most common questions regarding dog treats that may give you some more insight into dog training and nutrition.
The 7 Healthiest And Best Treats For Cavapoo Puppies
N-Bone Puppy Teething Treats
Key Benefits:
Tasty chicken flavor that'll attract any dog's attention

Naturally flexible without any added rubber or plastic

Calorie lite option and a great budget pickup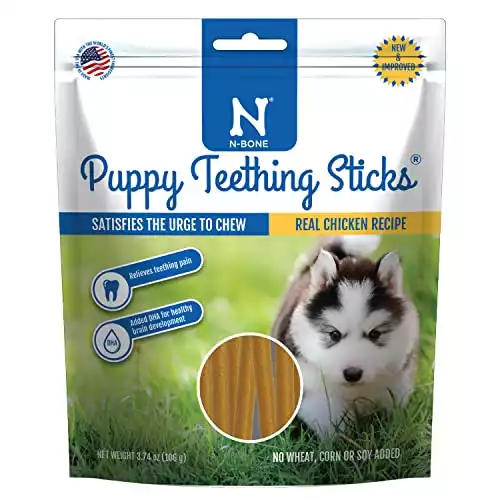 First up on the list are the N-bone puppy teething treats, a real delight for any pupper.
They're a fantastic, chewable treat, perfect to help out with soothing pain from early teething and to serve as something to occupy their time with.
They're fully US made, using local ingredients too, in case you're looking to support a local business.
The treats have a wonderful chicken flavor that keeps your little pupper coming back for more, though one is sure to keep him busy for hours.
The teething stick also helps fight plaque and tartar forming on existing teeth to better improve on your Cavapoo's dental hygiene.
They're a perfect option for small dogs due to their size and shouldn't be used on medium or large dogs as they'll prove ineffective against their jaw strength.
You'll find no rubber or plastic within these treats either, they're naturally flexible.
The calories are relatively standard for something of its size, 14 calories per stick and you won't usually need more than one, maybe two a day, if even that.
These can also be a great way to start teaching your dog healthier chewing habits to eliminate some of the more destructive ones from forming when you're not around.
And all of this comes in an extremely affordable package too.
The only reported downsides seem to be regarding the freshness and the actual duration if the treats haven't been properly stored as they lose their flexibility, other than that it's a decently cheap pickup.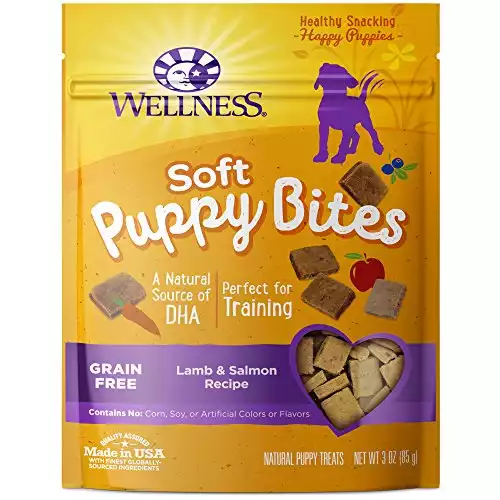 Next up, we have something from a more popular brand, Wellness, with their very own entry in the treat business, their Soft Puppy Bites.
These ones are more oriented for training or general use rather than teething and they're reported to be absolutely delicious.
It's fully US made with fish and lamb as the main protein in these little treats, paired with ground potatoes for better consistency and as a source of healthy fiber to balance things out.
Each bite is like a mini meal all on its own.
They contain DHA, vital for puppy growth, as well as Omega 3 fatty acids that help keep your Cavapoo puppy's skin and coat healthy, all coming from healthy veggies mixed into the treat.
What these puppy treats don't have, however, are any artificial flavors, colors or any other potentially harmful ingredients or chemicals that lower quality brands use.
It's also completely grain-free, containing no wheat, corn or soy whatsoever.
Calorie-wise, they're relatively light with only 6 calories per treat.
As far as their price is concerned, they're on the more affordable side of things, considering how much you get for the price.
Aside from this specific flavor, you have plenty of other options if the Cavapoo puppy in your household prefers something else.
You can even choose different textures for the treats too to perfectly customize your doggo's treat experience.
It's not without its flaws though as the treats seem to be a bit too big for smaller dog breeds, but that may not be the case for your precious pooch.
Zuke's Puppy Naturals Puppy Treats With Salmon and Chickpea
Key Benefits:
3 Flavor options between pork, lamb or salmon, each of the protein paired with chickpea as a solid source of fiber

Contains DHA and EPA, two important nutrients for healthy cognitive development of puppies

Guilt-free option with only 3.5 calories per treat, ideal for dog training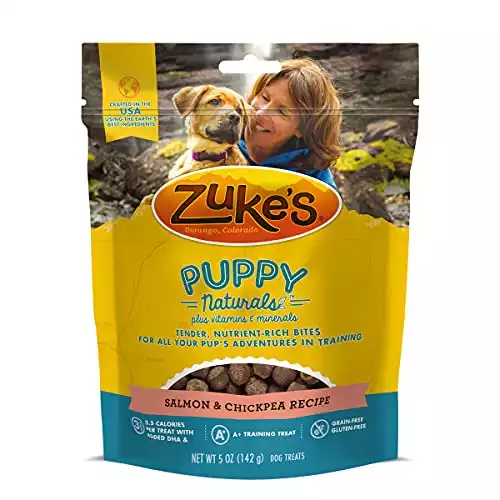 Zuke's is yet another familiar brand that makes good quality dog treats.
This US based brand ensures dogs of all ages can enjoy a tasty treat every now and then to break away from the monotony of kibble when you can't afford the wet dog food.
This specific blend utilizes salmon as the main protein, though there are options for lamb and pork if your new puppy prefers that one instead.
The treats are further enriched with chickpea to act as a source of fiber to make digestion of the treat easier.
You'll find that they have a good amount of vitamins and minerals within, but the most important ones are DHA and EPA, core ingredients in cognitive development in pups.
Aside from that, the treats are extremely soft and easy to chew.
They're held in a resealable pouch so their softness and freshness lingers for a long time.
And, they have a calorie count of only 3.5 calories per treat, making it a nice, guilt-free option when training your Cavapoo, or just giving one to him because you feel like it.
The dog treats have even earned the "Amazon's Choice" award, meaning they're of better quality than a lot of other products sold on the marketplace, at least in Amazon's metrics.
Cost-wise, it's a bit more expensive than the two previous candidates, but that shouldn't pose much of a problem as it's still within a respectable price range.
The only real problem that these treats have depends from dog to dog, as some simply don't like the smell or the flavor combination of the treats.
You can always try swapping to a different set of flavors, or skipping it altogether if your Cavapoo puppy doesn't seem to be enjoying himself.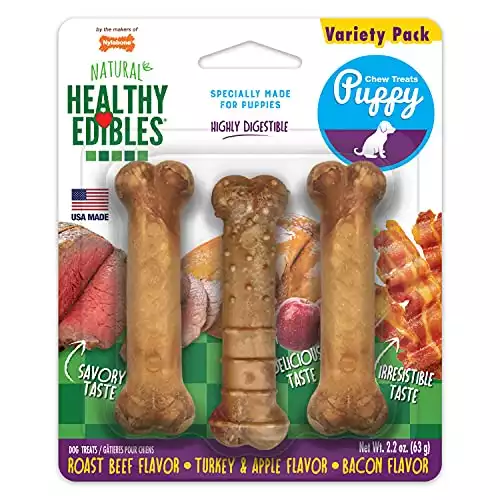 Nylabone is famous for its bacon flavored dog chew toy, but here's one of their amazing dog treats as well.
Once again, a company from the USA, they pride themselves on making top quality products for your canine companion to enjoy himself with.
They use a mix of ground beef, turkey and apple, and bacon as the main protein for the three treats presented here.
Each of them is made from high quality, all-natural ingredients without the use of any artificial flavors, preservatives or colors, or any other potentially hazardous chemicals.
Each of them will last your doggo a while and can be good to alternate between them to keep his interest in them fresh.
The ground beef and bacon bones each contain 70 calories per treat, while the turkey and apple one are around 60.
As you can see, higher than other treats, but this is a lot bigger than a regular treat would be.
Even with that, they're not meant to be used as supplements and are just there to be treats for your favorite furry friend every now and again.
As far as costs are concerned, it's not the most expensive thing out there, so you won't exactly have to break into your piggy bank to get some of them. Consider them a literal treat to give your Cavapoo every now and then on top of his puppy food.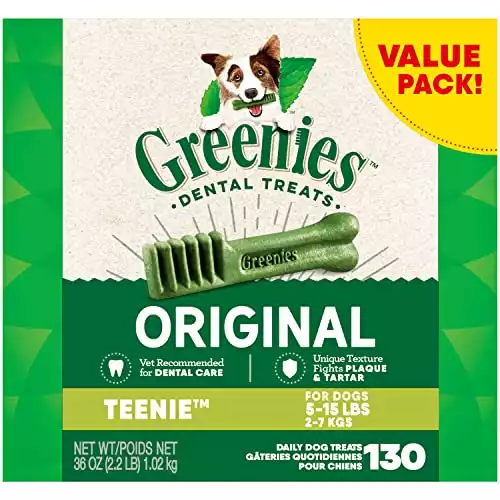 If you need a tasty treat that also helps clean your dog's teeth in the process, you may want to give Greenies a go.
Shaped like bony little toothbrushes, these chewy treats help fight plaque and tartar while still being relatively soft and gentle on your furry friend's teeth.
They're US made and recommended by veterinarians nationwide for their effectiveness.
Though that's only their primary use, the people over at Greenies made sure they also provided essential nutrients and vitamins to your precious pooch so he can get some enjoyment out of them and benefit other than being a glorified toothbrush.
And you better believe that they haven't used any harmful chemicals in the creation of these wonderfully useful treats either as they care about the safety of all dogs, including yours.
Some users report that even picky eaters will find delight in these and they seem to be pretty positively accepted.
They are, however, pretty chunky on the calorie count with 56 calories per treat, though they're big enough to justify that and you won't really be giving your doggo these multiple times a day.
The price is slightly hard to gauge given the abundance of options in treat count that you can order, but it seems to be on the averagely priced side of things, though you can be the judge of that.
However, feel free to pick out one of the many different size options that you can order from them.
The one other thing that I can comment on is that they grow stale quickly if left out in the open air, so don't go ordering too many at once.
Blue Buffalo BLUE Bits Natural Soft-Moist Training Dog Treats
Key Benefits:
Chicken as main ingredient paired with brown rice, oatmeal and flaxseed

Healthy source of fiber, protein, omega 3 and 6 fatty acids as well as essential minerals and nutrients

All natural ingredients free of any common grain allergens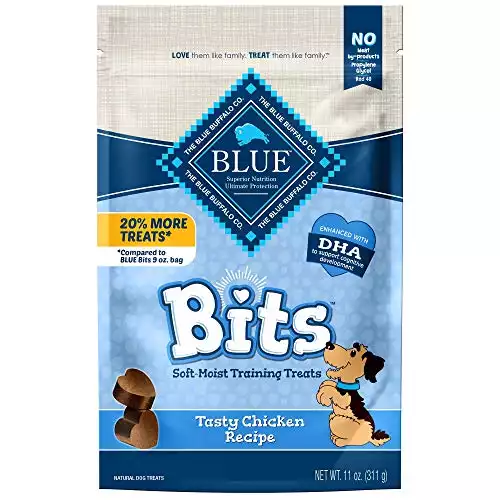 Blue Buffalo is well known to be an all-rounder brand that caters to every dog breed, including the Cavapoo and these treats are no different.
These treats are incredibly soft and moist in their texture, practically melting in your furry friend's mouth.
These treats are made as relatively small pieces to make consuming them easier and to better separate the calories.
Speaking of which, one of these small dog biscuits is a mere 4 calories per treat, making them a proper guilt-free option.
Chicken is the main ingredient, further supplemented by oatmeal and brown rice to provide a healthy source of digestible fiber to help smooth things along in your dog's gut.
Though, if your dog isn't a big fan of chicken, they do have other flavor options available with salmon, turkey or beef on the menu.
Aside from all that, you can also find flaxseed, a natural source of omega 3 and 6 fatty acids that help prevent skin irritation or any problems regarding the dog's fur.
The ingredients are all natural and grain free with no traces of wheat, corn or soy anywhere.
There's no meat by product which is why the treat is so calorie-lite, nor does it contain any artificial colors, flavors or preservatives, or any other harmful chemicals.
The Blue Buffalo treats are yet another one carrying the "Amazon's Choice" award, one which they rightfully deserve.
The worrisome thing though is the price which is definitely up there for the amount of treats that you get.
It's by no means astronomical, but every penny counts if you're trying to budget canine maintenance expenses.
You can, however, choose which size you get, and they give you 7 different options to choose from each with one or more packs included.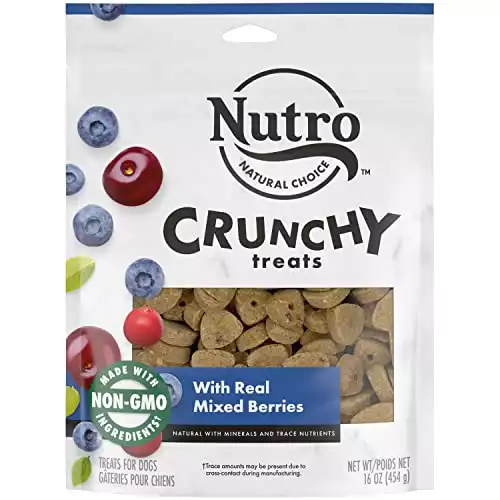 Our final entry comes from NUTRO with their interesting treat option.
Chicken meal is the main protein, though it's sharing the spotlight of the most important ingredient with a variety of different berries this time around.
Ones like cherries, blueberries and cranberries, all equally healthy for a pup as much as it would be for an adult dog.
All of the ingredients used are fully natural with no artificial preservatives, flavors or colors added at all.
They're fully grain free too with no soy, wheat or corn to be found in there at all except in slight trace amounts due to cross-pollination with other products, so do be wary when feeding it to your dog if he has an allergy to any of these.
Due to mostly including berries, the treats are pretty light on calories with only 5 calories per treat, making them an excellent option for training your Cavoodle.
They're also included in the "Amazon's Choice" section. I know it may seem like a lot so far, but I did say that I only included the best of the best, so that title should come as no surprise.
That said, you can choose something other than berries as they offer 4 other flavor options with apple, peanut butter, banana or chicken and carrots as some of them.
The amount also has 2 purchase options with either the 10 ounce or 1 pound option.
They are leaning a bit on the pricey side, but nothing too drastic though.
One of the more recurring problems seems to be that the treats get delivered all smashed up and crumbly. While not the biggest tragedy, it could put a damper on training. I hope your Amazon drivers are more careful than those of some of the other users.
Before You Buy: What To Be On The Lookout For
As with every product, there are certain desirable qualities you need to keep an eye out. Those indicate a good product.
They are:
Calcium And Phosphorus Rich
Food necessary for healthy puppy growth and that can be properly considered nutritious for them will contain a good amount of calcium and phosphorus to facilitate proper bone growth.
No Meat Filler Or By Product Meal
While pups need a lot of calories, using fillers and by-product meals should be avoided if possible as they're nothing but empty calories without any benefit to them. It's always better to have an all-natural product.
Allergen-free
Many puppy owners forget that, even when young, their pups have really sensitive stomachs and that you want healthy treats without some common allergens like wheat, corn or soy
Smaller size
Seeing as the Cavapoo is a smaller dog, go for smaller treats so your pet doesn't have to struggle to bite into them.
Affordability
Set yourself a budget, you don't want to pay a ridiculous price for a product that has a cheaper version available from another brand that does practically the same stuff.
FAQs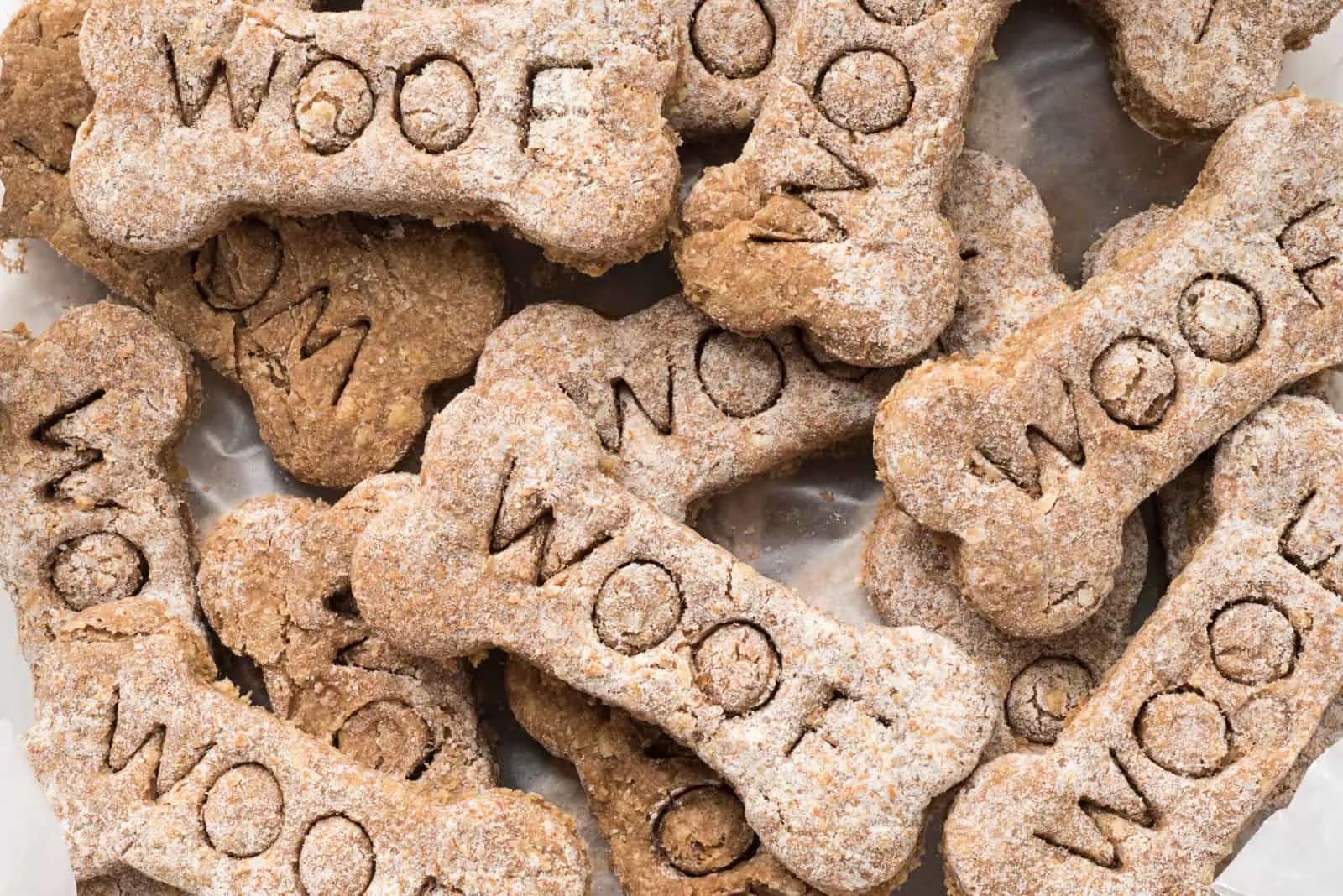 So, What Are The Best Treats For Cavapoo Puppies?
The definition of best is a pretty subjective term, but, in my opinion, I'd say that either Blue Buffalo or the Wellness option are the best as they contain all of the essential nutrients and vitamins while ensuring a high quality product with very little downsides.
The others feel a bit too specialized for my tastes and are great in their respective niches, but these two, I feel, are great all rounders and should meet almost every dog owner's treat standards.
What Else Can I Give My Puppy As A Treat?
If you're not really delighted by any of the options on offer, you can always resort to some homemade options with various fruits and veg and a few other items:
• Peanut Butter
• Cranberries
• Carrots
• Bananas
• Blueberries
• Sweet Potatoes
• Apples
• Pears
• Green Beans
All of these are great options that you can get at your local grocery store, though I'd advise testing out to see which ones your dog likes and can stomach before going all in on them.
What Other Types Of Treats Are There?
Of course, you have some other options regarding dog treats for Cavapoos, though they aren't really the best option for a small dog breed.
Nevertheless, once he grows up you can try giving him some of these, but I'd suggest talking with your vet to see if they're a solid enough option for your pooch:
• Jerky
• Pig ears
• Rawhide
• Bones (mostly antlers)
• Bully sticks
• Hooves
These aren't exactly the healthiest options either, so you may want to steer clear of them in general, especially as a training treat option or if your canine companion has a problem maintaining his current weight.
In Conclusion
Cavapoos are a lovely mixed breed that comes from the Cavalier King Charles Spaniel and the ever popular Poodle. Though, as prestigious as they might be, getting treats for them isn't that selective of a process.
Sure there are some traits you should always try to find as they indicate a good product, but overall, they're not picky eaters.
This makes the job of many breeders a lot easier as well as makes training them less of a chore, be it potty training or general puppy training.
Though, while the traits can help you pick out what you believe is best, your dog's preference will ultimately be the deciding factor, regardless of quality or cost.
Whatever you end up choosing, I'm sure your little Cavapoo puppy will love it. Until next time.
RELATED LINKS:
• Are Cavapoos Hypoallergenic? – To Sneeze Or Not To Sneeze?
• Reasons Why You Must Own A Mini Cavapoo
• 11 Best Shampoos For A Cavapoo: Pawsome Choices You'll Love
• 9 Best Brushes For A Cavapoo For Grooming Like A Pro
• Best Dog Food For Cavapoo: 11 Meals This Crossbreed Will Love!
• 8 Best Cavapoo Haircuts For Your Dog + The Grooming Tips
• Cavapoo Feeding Chart: A Complete Guide For A Healthy Pup
• Cavapoo Growth Chart: A Complete Guide To The Cavapoo Dog Size