This post contains affiliate links, and I will be compensated if you make a purchase after clicking on my links.
A Cavapoo puppy (or a Cavoodle puppy) as some call it is for sure one of the cutest hybrid dogs out there. The parent breeds of this mixed dog are the Poodle and the Cavalier King Charles Spaniel.
Poodles are known as one of the smartest dogs in existence, while Cavalier King Charles Spaniels are gentle and affectionate dogs that anyone would love. So, what did the crossbred of these two lovely dogs inherit from its parents?
This hybrid dog turned out to be an adorable, adaptable, and playful small dog that can make a wonderful family member for people of all ages. This dog is, in general, a pretty healthy dog, but just like any other pooch, it requires proper care.
This care includes physical and mental exercise, socialization, grooming, and taking care of this dog's nutrition. To raise a dog with desirable body weight, it is necessary to follow the feeding schedule and, of course, to choose adequate dog food.
This is exactly what is to be explained in the rest of this article: the best dog food for Cavapoo dogs.
If you decide on any of the dog food we will mention in this article, you can find all of them on the online store, Chewy, as well as on Amazon.
Best Dog Food For Cavapoo: PupVine's Top Three
First, we will list our top three picks for the best dog food for Cavapoo dogs. This includes:
• The premium pick
• The budget pick
• The pick that brings the best value for the price
After that, the following is the list of 11 best options for dog foods for your Cavapoo.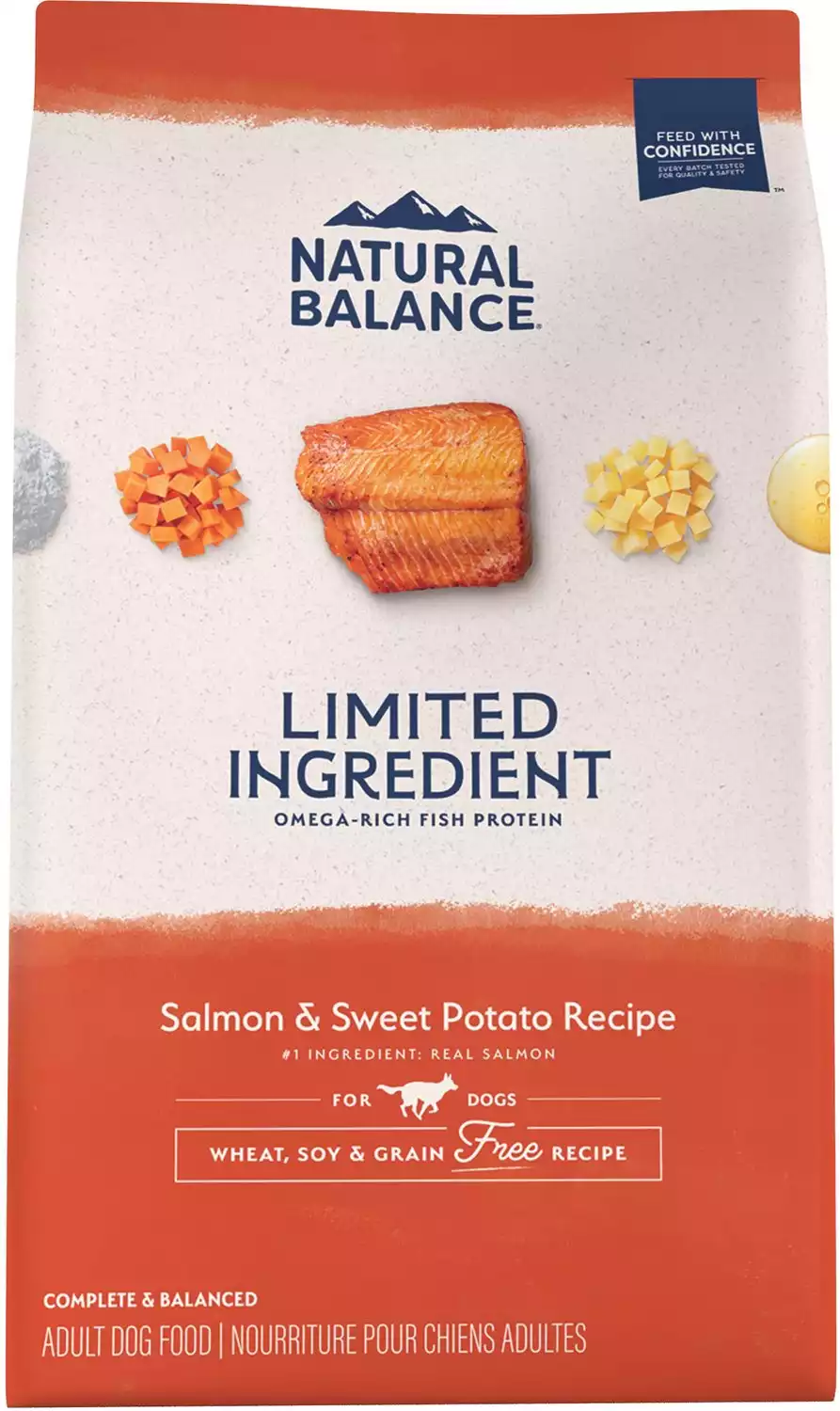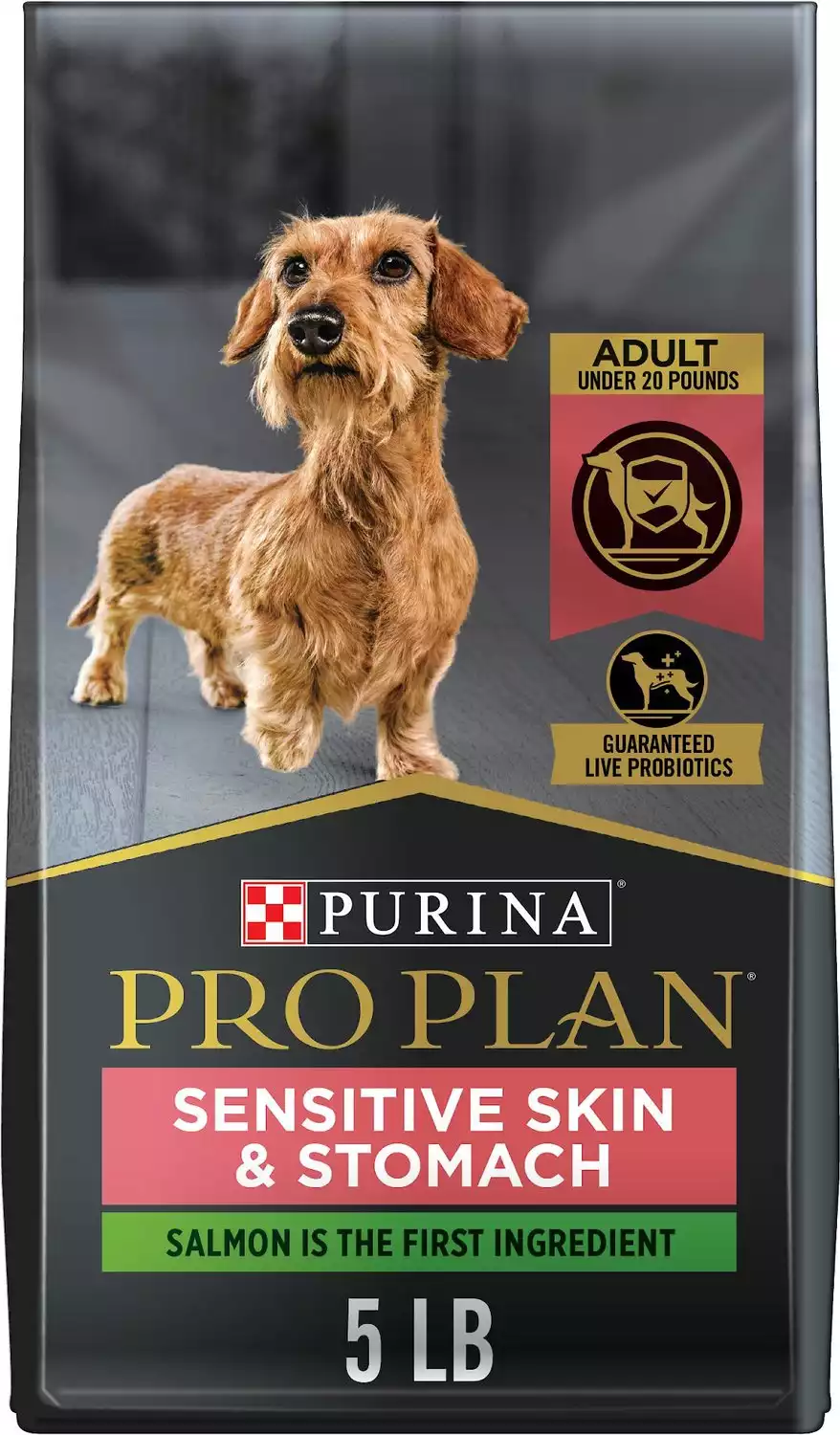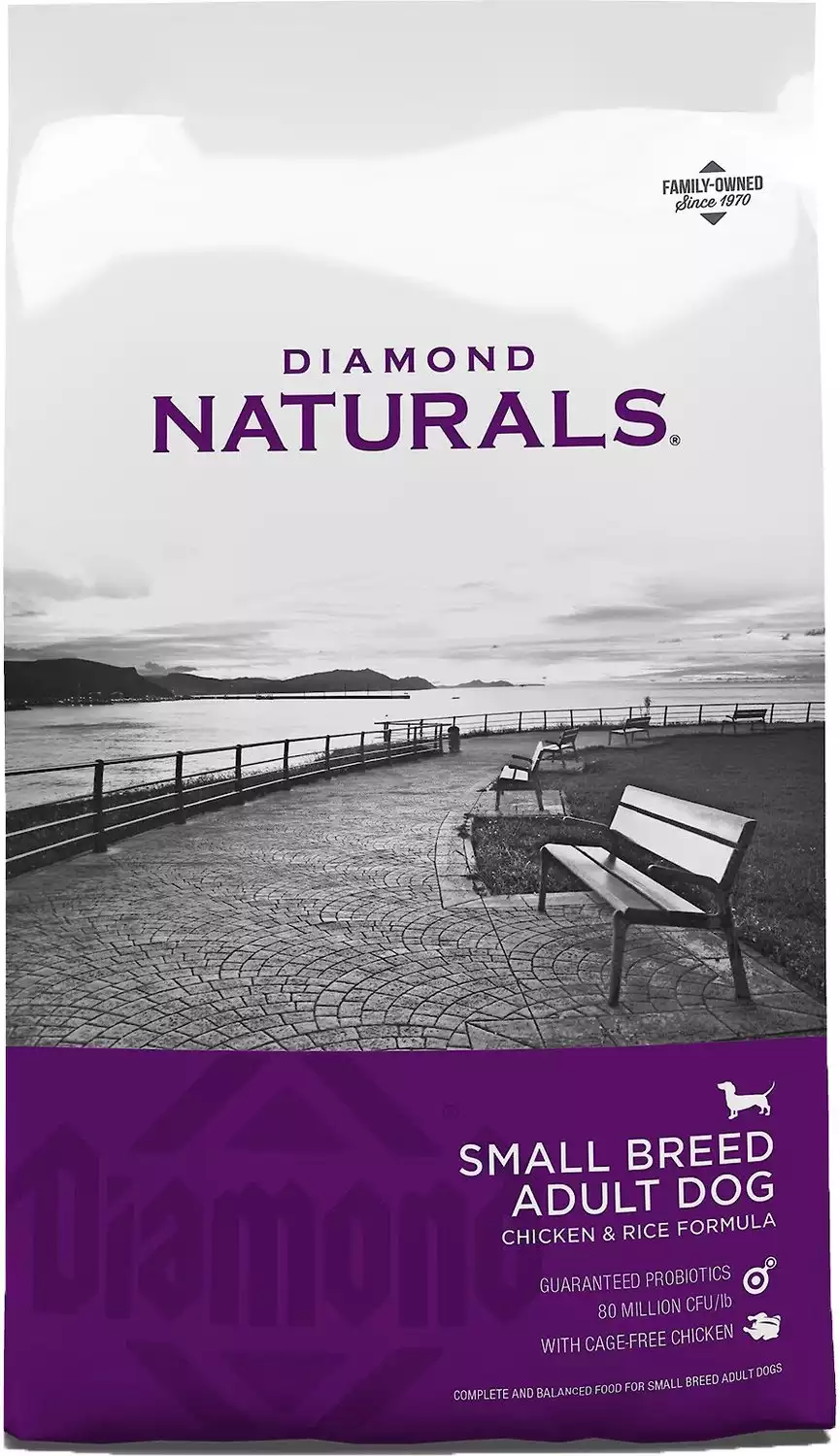 What Is The Best Food To Feed A Cavapoo?
With so many dog food options out there, how can you be sure that you are choosing the right dog food that will be healthy and nutritious enough for your Cavapoo?
I am sure you have many questions… the first of them being the type of dog food that will best suit your Cavapoo.
The choice will depend on your dog's preferences, age, weight, and energy level. Also, you can always ask your vet for advice on quality dog food.
But, we are here for you, too!
Read the following list and find your favorite among these dog foods for Cavapoo dogs.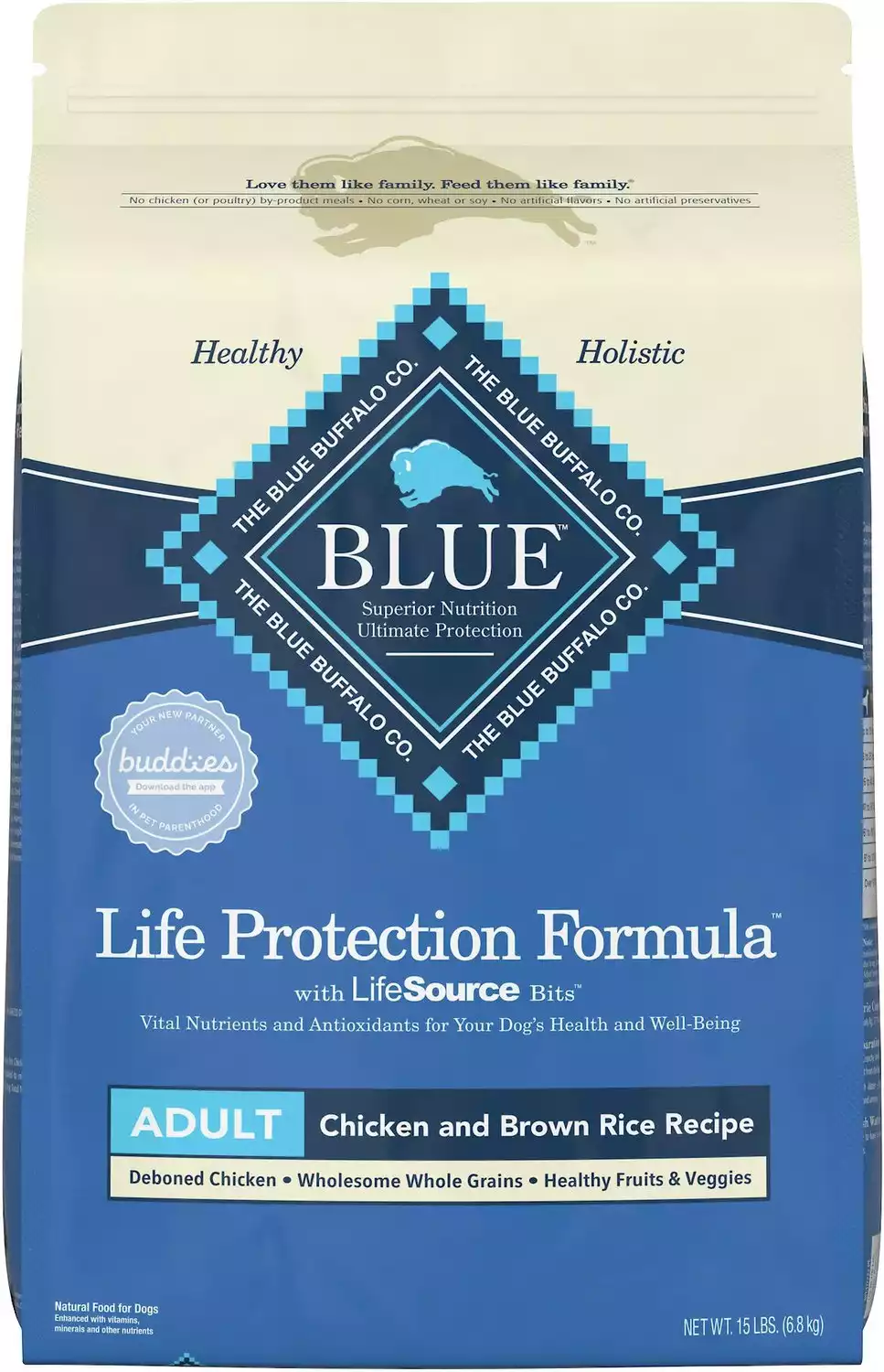 Blue Buffalo dog food is an option that is equally good for small dogs as well as large dogs. It contains whole grains, meat, vegetables, and fruits. It does not contain wheat, soy, or corn. This dog food is not only tasty, but it will also be very beneficial for your Cavapoo's health.
One kilogram of this dog food contains 3,618 calories. The recommended daily intake of Blue Buffalo dog food is divided on the basis of the dog's weight. For small dogs that weigh up to 15 pounds, it is recommended to have ½ cup of this dog food per day.
Dogs that weigh between 16 and 25 pounds should have a daily amount of 1 ¼ cups, while dogs whose weight is in the range of 80 to 100 pounds can eat 4 ¼ cups of this dog food per day.
According to the Cavapoo growth chart, these puppies usually weigh from 12 to 25 pounds. So, the daily intake of Blue Buffalo dog food should be determined in accordance with this dog's weight.
One of the natural ingredients of this dog food is apple, which is a great source of vitamins A and C. Also, it contains spinach, which is an antioxidant.
Furthermore, blueberries found in this dog food are great for the dog's urinary tract, while pumpkin makes miracles for your dog's digestion.
Additionally, omega-3 and omega-6 fatty acids are very beneficial for your dog's coat health and appearance. These dogs usually do not shed much, especially if they inherited the Poodle coat traits. However, they still need adequate nutrition to show off their beautiful coat!
CESAR Small Breed Dry Dog Food
Key Benefits:
Made of real beef as the most important ingredient

Kibble especially made for small dog breeds

Contains a resealable zipper

Helps to strengthen the dog's teeth and gums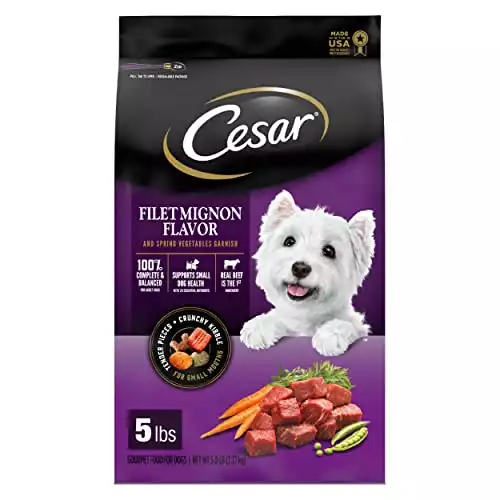 Real beef is the number one ingredient of this dog food formula. The first thing that you will be thrilled about is that your Cavapoo will love the taste of this food formula!
Some of the other ingredients include wheat, whole-grain corn, rice, and chicken.
There are a total of 26 top-quality nutrients in CESAR dog food that are beneficial for small dogs. So, the nutritional needs of smaller dogs, such as a Cavapoo will be satisfied by using CESAR dog food.
If you are usually having problems storing your dog's food and keeping it fresh, this might be the real thing for you! CESAR dog food has a resealable zipper on every package. This is how your pooch will be able to enjoy fresh food at all times.
This food formula is proudly made only in the United States.
It is especially good for keeping your Cavapoo's teeth healthy and clean. Also, it helps prevent tartar in your dog's teeth.
If your Cavapoo does not like the food you are currently feeding him, you may consider this dog food as a substitute.
The food transition should be introduced gradually – you should increase the amount of CESAR dog food in your dog's meal each day a little bit, over four or five days.
This is dry dog food, and if your pooch prefers wet dog food, you can find some advice in our article on how to soften dog food.
Hill's Science Diet Wet Dog Food
Key Benefits:
Easy to digest

Great for muscle strengthening

Veterinary recommended

Especially beneficial and nutritious for small dog breeds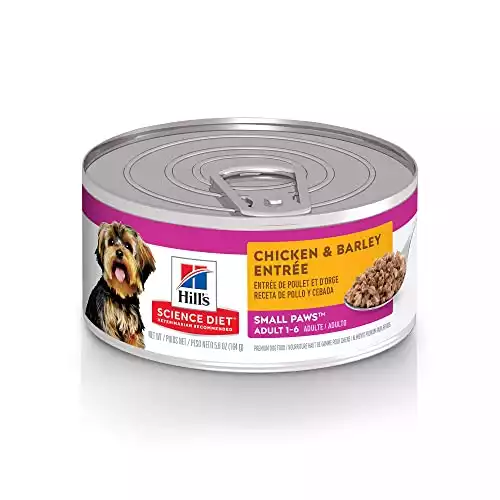 Hill's Science Diet Wet Dog Food is dog food that is rich in high-quality protein that is good for a dog's muscles. Your Cavapoo will love this food primarily because it is very easy to digest.
There is no better combination of quality dog food than what is approved and recommended by nutritionists, veterinarians, and professional breeders. Well, this is the case with Hill's Science Diet dog food!
Some of the basic ingredients of this food are salmon protein, real chicken, and lamb. The quality protein in this dog food has proven antioxidant benefits for smaller dogs. Hill's Science Diet dog food does not contain additional flavors, preservatives, or artificial colors.
What else is this dog food good for when it comes to your Cavapoo's health? This wet food will have a positive effect on your dog's heart, kidneys, bones, and teeth.
One interesting fact is that this company donates food to dog shelters across the United States. So, by buying this dog food, you will also be helping homeless dogs!
Young Cavapoo puppies should avoid eating this dog food. Also, if your dog is pregnant or nursing, it should skip consuming Hill's Science Diet dog food.
One customer review we find important to mention is the experience of a dog owner whose dog did not want to eat this food until the moment he started feeding him with a spoon.
Many Cavapoo dogs might be picky when it comes to their food, so it is good to take care of this fact. Otherwise, you, too, might use cutlery in order to get your Cavapoo to eat something!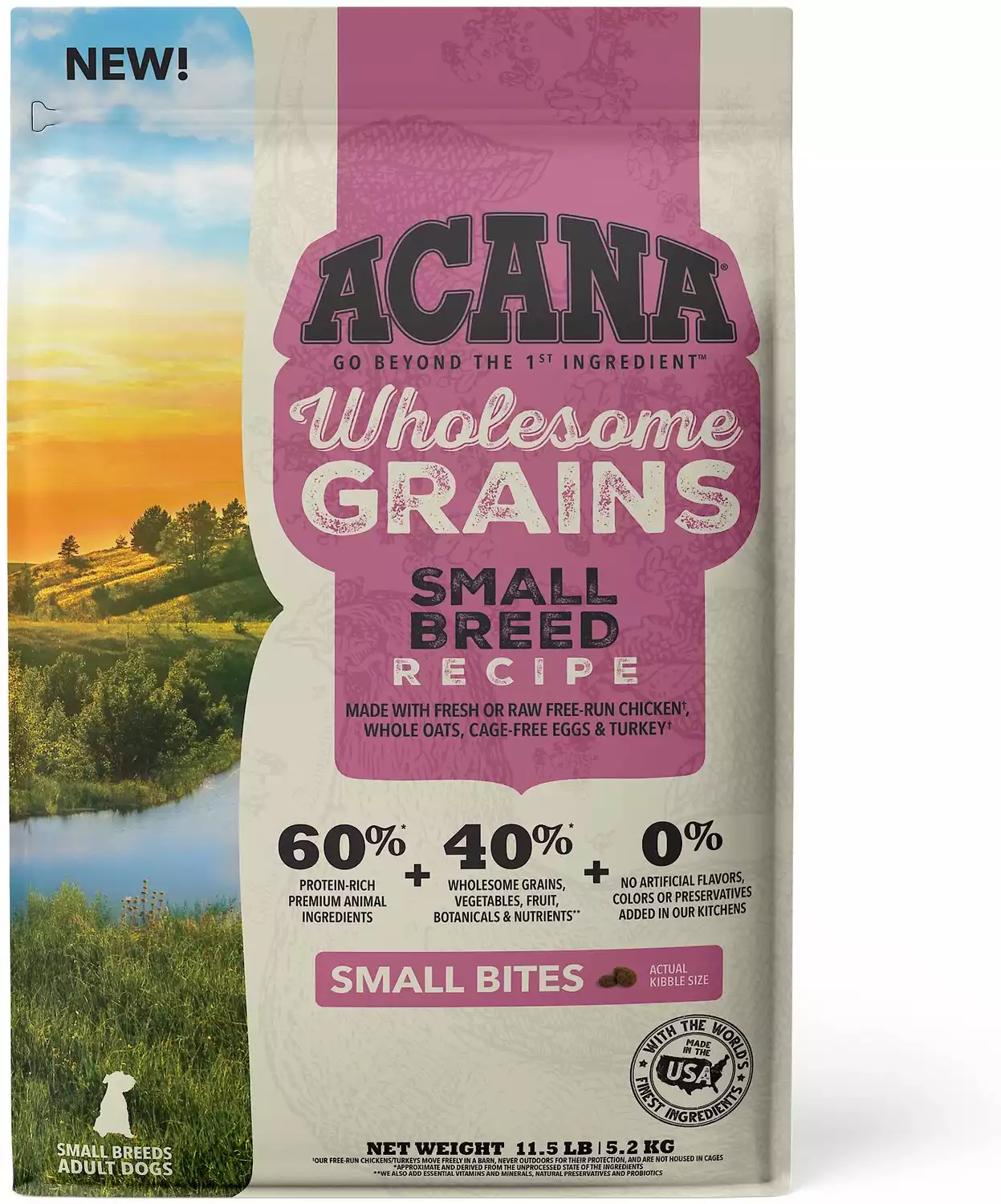 ACANA dog food is made of wholesome grains that are rich in fiber. There are no ingredients such as potatoes, gluten, or legumes in this food formula. Thanks to the omega-3 and 6 fatty acids in this dog food, your Cavapoo's coat will be healthy and shiny.
The ingredients in this dog food are gluten free, which is helpful for your dog's healthy digestion.
ACANA dog food is convenient for small dogs and for toy dogs. Some of the quality proteins found in this dog food are freshwater fish and raw poultry.
This dog food will help you introduce a balanced diet and maintain a desirable dog weight in your Cavapoo. For more information on your dog's ideal weight, read our article on how heavy dogs should be.
According to one customer review, after his dog started eating ACANA dog food, his scooting decreased significantly. If you are having problems with dog scooting yourself, learn more about home remedies for dog scooting.
One customer commented on how this kibble is still not the best option for dogs with a really tiny mouth. Maybe some readers will find this information helpful.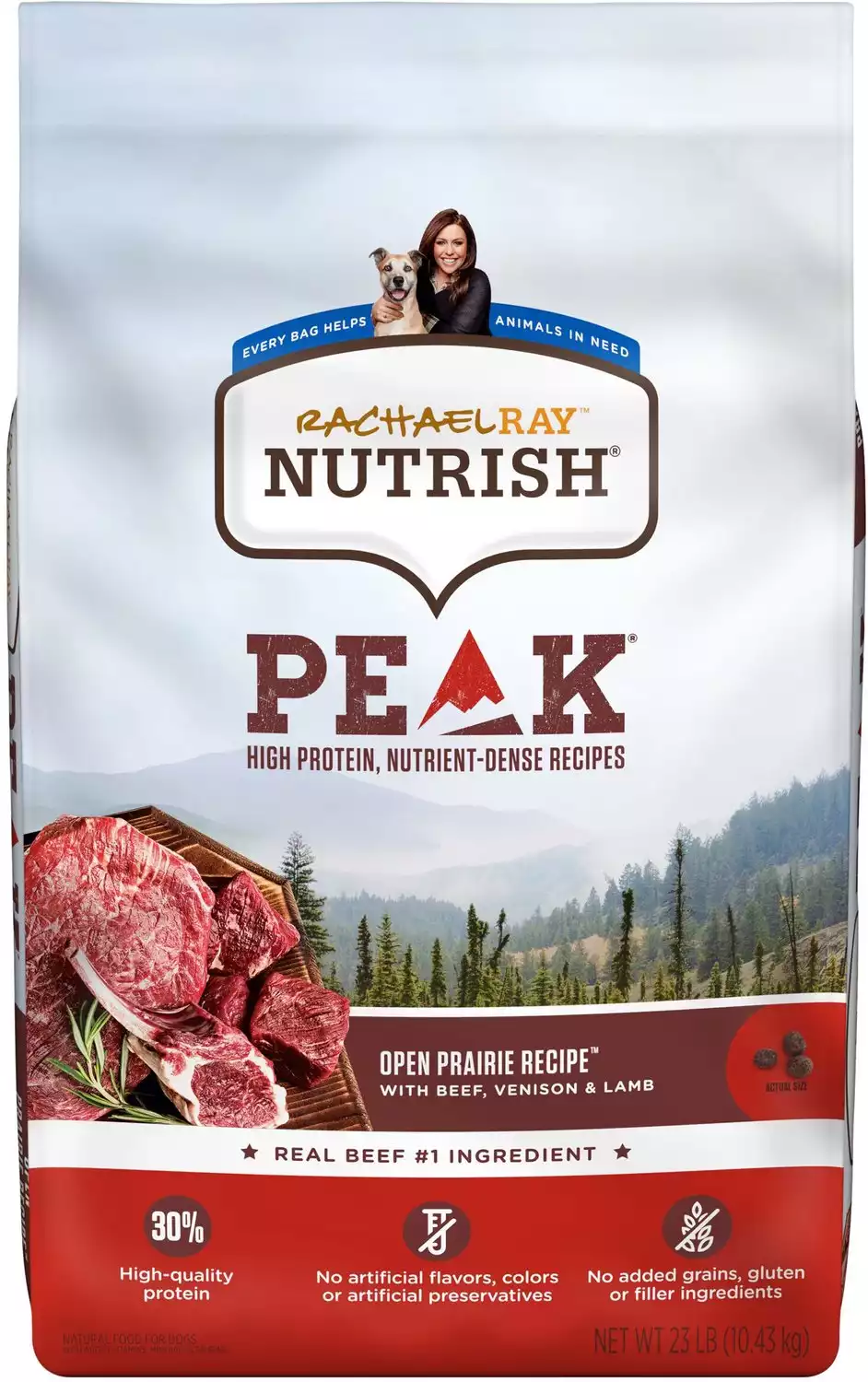 The first and the most important ingredient of this dog food is real beef. This dog food is filler, gluten, and added grain free.
Your Cavapoo will love the meaty taste of this food! Besides the meat, this dog food also contains minerals and vitamins that are beneficial for your puppy's nutrition.
Rachael Ray dog food is convenient for small dog breeds, and also for medium-sized and large ones. The amount of dog food your Cavapoo should eat will depend on its body weight.
For dogs that weigh from three to 12 pounds, it is recommended to give them ¼ cup of Rachael Ray dog food once a day. Dogs weighing from 13 up to 25 pounds can enjoy 1 cup once or twice a day.
Rachael Ray can also be used as puppy food from the moment Cavapoo puppies start to chew on solid food, which usually happens when they are three to four weeks of age.
If this dog food is too dry for your puppy, you can make puppy mush by mixing ¼ cup of water with two cups of this dog food.
If you decide to replace the current dog food you are using for your Cavapoo with this Rachael Ray dog food, be prepared to wait up to 10 days for your pooch to get used to the new dog food.
The reason for this is that this dog food might have different ingredients from other dog food you have been using.
One additional positive side of the Rachael Ray organization is the fact that since 2008, they have been donating a part of their profit to help provide food and medical treatments to dogs in need.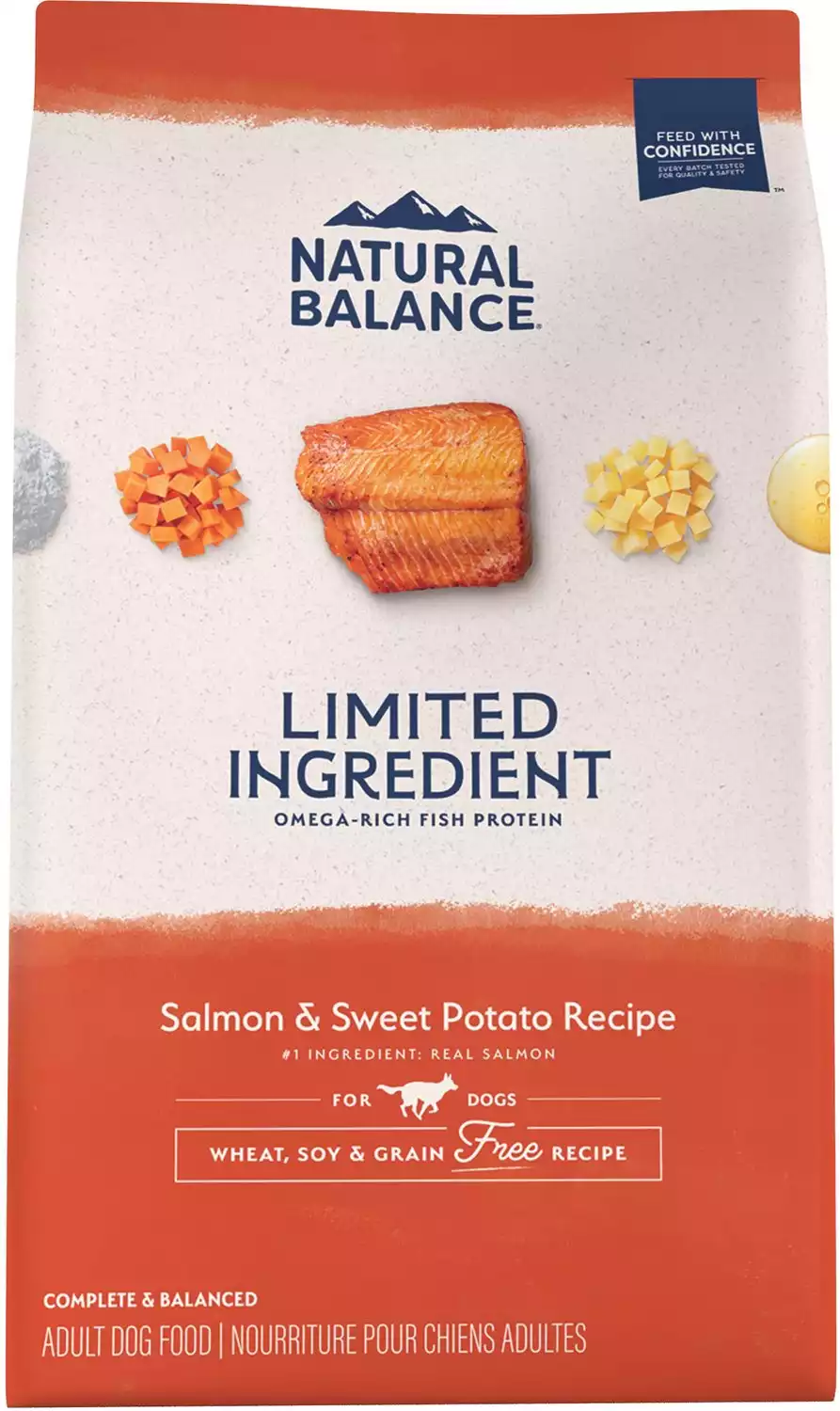 This dog food for Cavapoos is our premium pick, which means it might be pricey compared to some other pet foods on this list. However, the quality of this product cannot be disputed!
Natural Balance dog food has salmon as the first and most important ingredient. Salmon is a good ingredient for keeping your Cavapoo's muscles strong.
The other important ingredient, sweet potato, is a grain-free source of carbohydrates, great for your dog's digestive health.
There is no soy, gluten, or grains in this pet food. The daily intake of this dog food should be introduced in accordance with your Cavapoo's weight, age, and activity level. An adult Cavapoo should eat this dog food once or twice a day.
Older dogs and less-active dogs will need less of this dog food on a daily basis.
While going through customer reviews, we noticed one important piece of information repeating several times: many dogs with sensitive stomach problems are enjoying the Natural Balance dog food and their digestion got better!
Also, it helps a lot in dealing with dog allergies, so if some of the allergens such as corn, oats, sunflowers, pumpkins, etc. are causing trouble to your dog, our advice will be to try this dog food!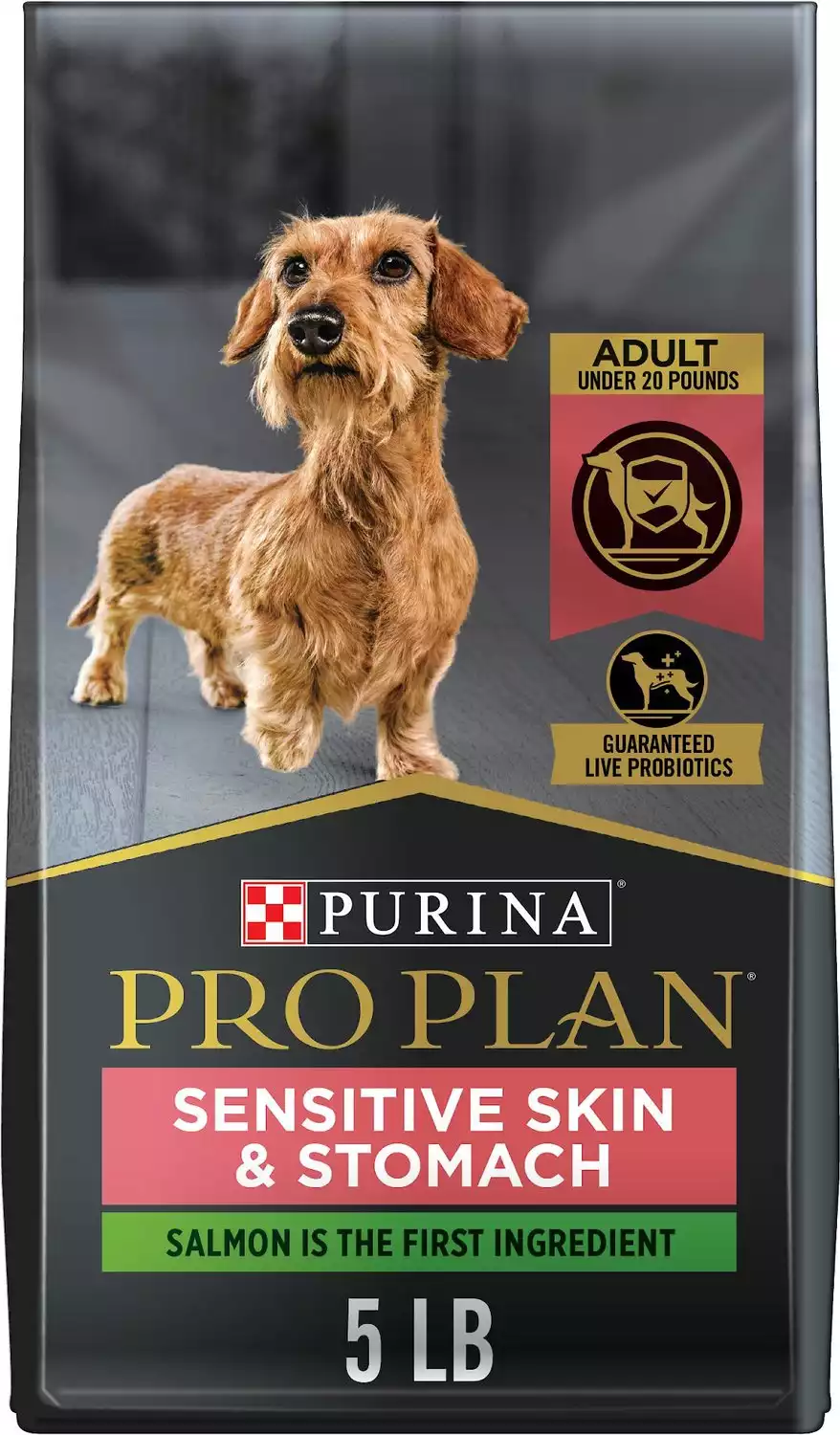 Purina Pro Plan dog food is our budget pick, which means it is an affordable dog food for all pet parents. At the same time, this dog food meets the nutritional needs of your Cavapoo.
This dog food is a wonderful choice for Cavapoo puppies with a sensitive stomach and sensitive skin problems. Also, Purina Pro Plan is rich in proteins, which makes it a good choice for highly active dogs. The first and most important ingredient of this dog food is salmon.
Also, this food contains probiotics that are very useful for maintaining a healthy digestive system and developing your dog's overall immune system. Additionally, sunflower oil in this food helps you keep your Cavapoo's coat and skin healthy.
Purina is easily digestible dog food, even for puppies with a sensitive stomach. There are no soy, wheat, corn, or poultry by-products in this pet food.
Pay attention to the feeding instructions on this dog food in order to make sure your Cavapoo is of ideal weight, and that he will not develop problems with obesity. Obesity is dangerous by itself, but it can also lead to more severe health issues in dogs.
With this guide, you will be able to feed your Cavapoo in accordance with its weight and activity level. Also, you can use our Cavapoo feeding chart to introduce the perfect feeding schedule for your Cavapoo.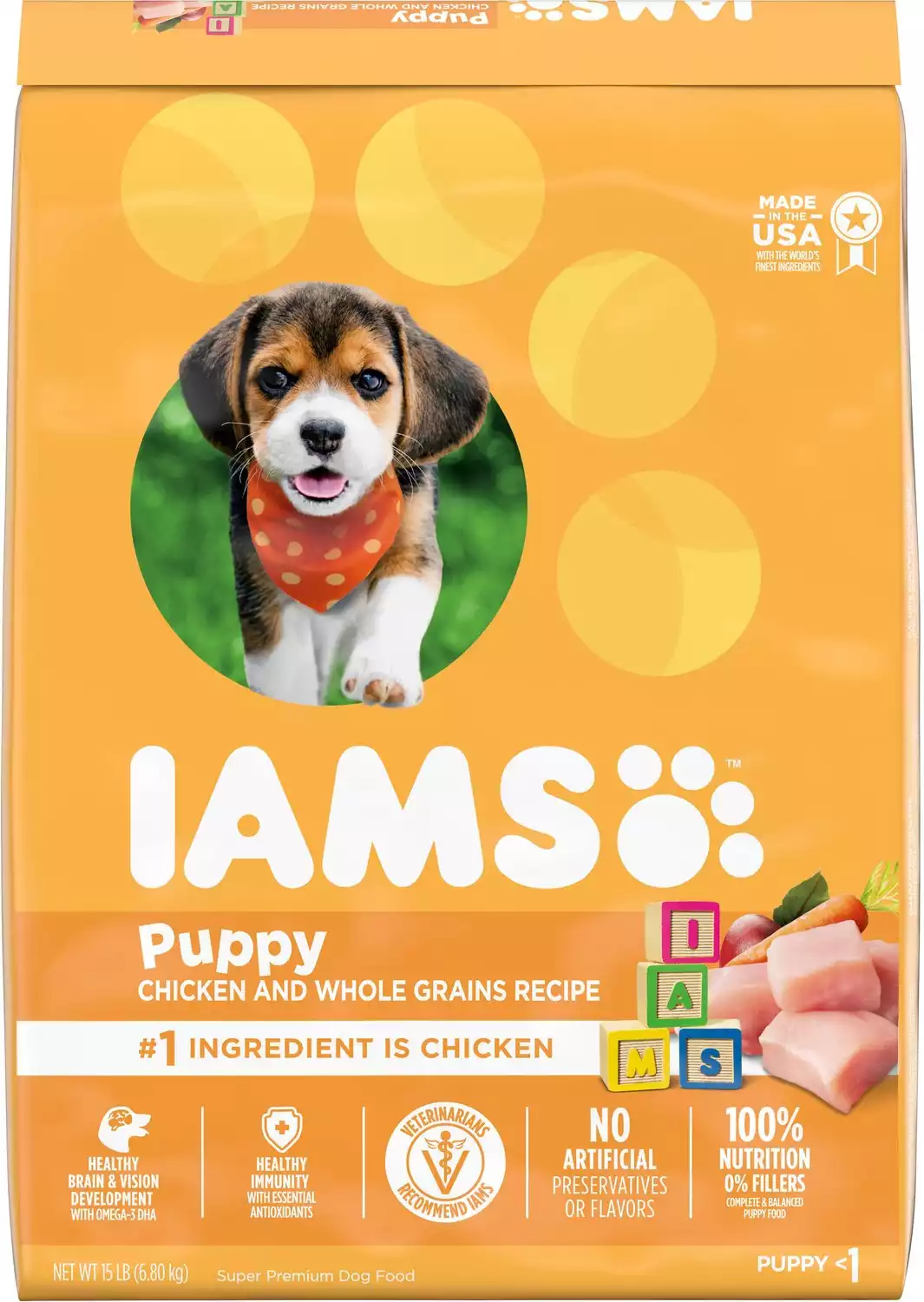 If your Cavapoo is still in the growth phase, then Iams ProActive dog food will be a great choice for him! This puppy food is especially made to meet the nutritional needs of puppies that are still growing.
The first and most important ingredient of this dog food is chicken, raised on farms in the United States.
Proteins found in this dog food support the development of your dog's muscles. Also, Iams ProActive food contains a total of 22 nutrients, similar to those that your puppy was getting from his mother's milk.
Furthermore, this dog food contains omega 3 DHA, which are the essential fatty acids in fish oil that have a great impact on your dog's brain development. So, feeding your Cavapoo with this type of food might help you a lot in the dog training process!
If you are just about to make changes in your dog's diet and want to introduce him to Iams ProActive food, you should take this process gradually. For starters, try mixing 25% of Iams ProActive dog food, while the rest of the dog's meal should be the formula you are currently using.
In a couple of days, increase the amount of the new food, while decreasing the amount of the old food. Every day, more of the new food should be introduced. It will usually take foiur to five days for the dog to get used to the change, and for them to enjoy their mealtime to the fullest!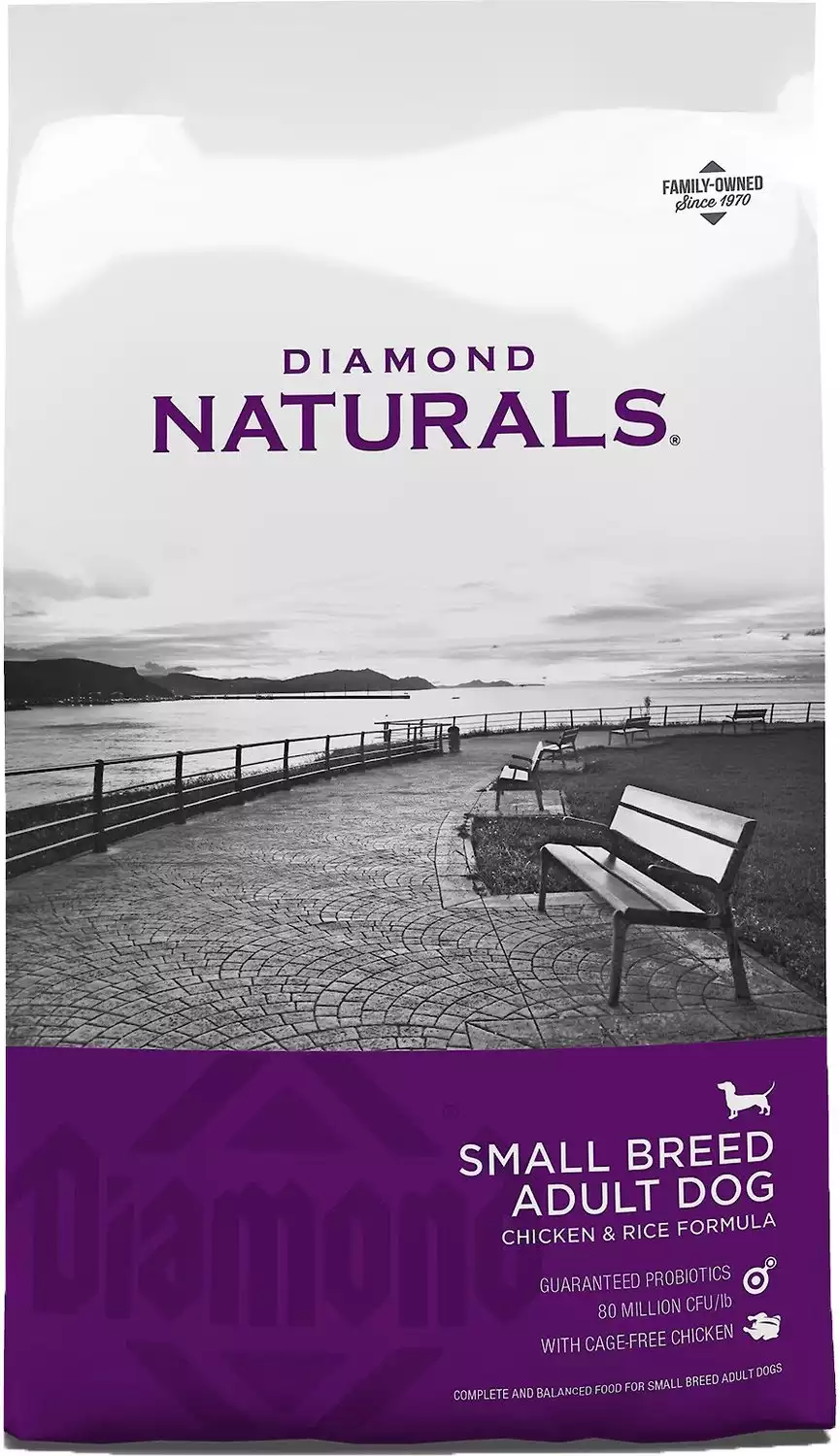 Diamond Naturals dog food is our pick for the product that brings the best value for the price.
Diamond Naturals Small Breed Adult Chicken & Rice Formula Dry Dog Food is dog food made in the United States. The company producing this dog food is a family-owned company that uses ingredients of top quality from trusted domestic sources.
This family-owned company has been in the dog food producing business since 1970. The key to success for these manufacturers is delivering the perfectly-balanced diet of fats, proteins, and essential nutrients for our adored pets.
The main ingredient of Diamond Naturals dog food is real chicken. This food formula is convenient for smaller dog breeds, and it has kibble of smaller size for our Cavapoo puppies to be able to chew it and digest it more easily!
Diamond Naturals food formula contains omega fatty acids, which are helpful in maintaining your dog's coat, and keeping his skin healthy.
Additionally, it contains fruits, such as oranges and blueberries, and vegetables such as papaya, spinach, and carrots, which are beneficial for your dog's overall health.
Also, some of the additional ingredients are antioxidants, prebiotics, and probiotics, which are helpful for the dog's digestion.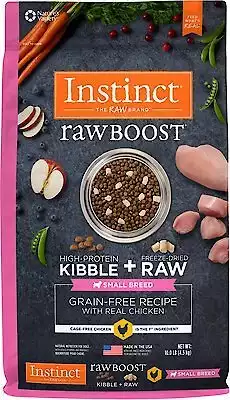 Instinct Raw Boost Small Breed Grain-Free Recipe with Real Chicken & Freeze-Dried Raw Pieces Dry Dog Food is a dog food that brings the perfect balance of calories, fats, and proteins for your Cavapoo.
The main ingredient of this food formula is cage-free chicken. By consuming this dog food, the Cavapoo's muscles will become stronger. Instinct dog food also contains phosphorus and calcium for a dog's bone and tooth health.
Also, there are ingredients, such as chondroitin, that is beneficial for the joint health of your Cavapoo. Instinct Raw Boost food does not contain soy, wheat, corn, grains, or by-product meal.
This food formula is especially made for smaller dog breeds. It also contains fruits and vegetables that are important for a dog's immune health. With this dog food, your Cavapoo will enjoy tasty, minimally-processed real meat.
According to these manufacturers, there are many benefits of feeding our dogs raw food. Some of them are our puppies having more energy, better digestion, improved coat and skin, and the fact that your dog will be more energetic.
If you are thinking about a raw diet for your Cavapoo, our article on how much raw food to feed a puppy might be helpful.
Halo Senior Wet Dog Food
Key Benefits:
Contains whole meat protein

Easily digested dog food

Contains non-GMO fruits and vegetables
Last on our list today is the food that is the best choice for older dogs. We all know that our dogs are especially sensitive when they are at an advanced age, and in this period, they need our constant care more than ever.
This especially applies to food consumption as many older dogs have a significantly reduced appetite, and will often refuse foods they once adored. If you have a senior Cavapoo, we suggest you try Halo Senior wet dog food!
Halo Senior dog food is a food formula especially made for older dogs. This dog food contains whole meat and non-GMO vegetables and fruits.
There are no preservatives or artificial ingredients in this wet dog food. This food is easily digestible, and it has fewer fats and calories, which is something that older dogs don't need.
See… it is normal that your senior Cavapoo is far less active than he used to be when he was a young dog. So, his nutritional needs have also changed.
Also, this dog food contains glucosamine and chondroitin, which are beneficial for the joint health of your older dog. This wet dog food will be tasty even for your picky senior Cavapoo. The additional water in this dog food will be good to keep your old best friend hydrated.
FAQs
Are Cavapoos Picky Eaters?
We don't have good news for you here since our simple answer to this question is 'Yes'.
Cavapoos might be very picky eaters, and this can get pretty serious.
This means you might have trouble coaxing your dog to eat his meal. Also, you might deal with the fact that your dog will eat treats, but will refuse to eat dog food.
Life with a Cavapoo dog might mean that you will even have to feed this puppy like a small child! Why does this happen? Well, many Cavapoo dogs are sensitive to different food and they do not digest all kinds of food in the way other dogs do.
So, there is a high possibility that you will spend a long time searching for the food that will best suit your Cavapoo. Fortunately, there is this list of the best dog food for Cavapoo dogs that will make your search significantly easier!
What Are The Benefits Of Wet Food?
If you are asking if wet dog food is a better option than dry dog food for your Cavapoo, let us inform you about some of the advantages of wet food.
Wet food will be a good choice for Cavapoos that are picky eaters. In some ways, wet food is even healthier than dry food. It has fewer carbohydrates, and it is richer in fats and proteins.
So, wet food will be a better option for Cavapoos with weight gain problems. Also, wet food is richer in water content, so, by consuming this type of food, your Cavapoo dog will be hydrated.
If you are interested in other pros and cons of wet dog food, you should consult your veterinarian for additional information.
Is It Safe To Give A Cavapoo Human Food?
I am sure that everyone has asked at least once: Should I feed My Cavapoo human food?
The truth is that human food should never be a replacement for dog food. Cavapoos are not an exception. Dogs and humans have different digestive systems, and dog food provides our pooches with nutrients that are crucial for their health.
However, this does not mean that all human food is bad for our Cavapoos. Of course, they should be given human food only occasionally, and in smaller portions.
For example, Cavapoos can sometimes eat cooked rice. Also, fruits like strawberries and blueberries will not harm your Cavapoo puppy. Some vegetables like berries and broccoli are also desirable.
Furthermore, consuming tuna in moderate amounts will not have a negative impact on your Cavapoo's health.
Summary
We hope our list of the best dog food for Cavapoo dogs will be helpful in your choice of the perfect type of food for your pooch.
Some Cavapoo dogs might be picky eaters, and this for sure is not easy for pet parents. All you want is to see your dog happy while eating, and for him to have an adequate body weight. We can assure you that all the dog food on our list is of top quality.
The most important thing is that the dog food you choose is rich in proteins, minerals, and vitamins that are essential for your Cavapoo to be happy and healthy.
In any case, your choice should be made in accordance with your budget and your previous experiences. Also, some dog food might have perfect reviews, but your Cavapoo might not like it at all!
All dogs are different, and this will sometimes mean that you will have to change more than two types of dog food in order to find the perfect one for your dog.
This might be annoying, but one thing is sure: quality nutrition is one of the most important steps for keeping your dog healthy and satisfied.