This post contains affiliate links, and I will be compensated if you make a purchase after clicking on my links.
Cavapoo dogs are a wonderful cross between an intelligent Poodle and a lovely Cavalier King Charles Spaniel breed, which make adorable dogs with a gorgeous coat. Depending on the amount of genes they inherit from each parent, their coat can be either straight, wavy, or curly.
Although they are mostly low-shedding dogs due to the hypoallergenic Poodle breed, they are surprisingly high-maintenance when it comes to grooming.
It is very important to choose high-quality and overall good grooming products because otherwise, their coat will quickly become matted and lose its lustrous sheen.
Here is the list of the 11 very best shampoos for Cavapoos that both you and your furry friends will love. Let's see what pawsome choices there are.
Best Shampoos For A Cavapoo: Our Top 3 Picks
VetOne KetoHex Shampoo
Key Benefits:
Specifically designed for management of skin infections

Helps prevent dry, itchy skin, and quickly removes bacterial and fungal conditions

Formulated with active ingredients: Chlorhexidine 2%, Ketoconazole 1%

Designed for antiseptic use

Suitable for dogs, cats, and horses

Burt's Bees 2 In 1 Shampoo And Conditioner
Key Benefits:
Made from high-quality, natural ingredients

pH balanced for dogs and puppies

100% vet-recommended formula

Four main benefits: cleans, conditions, soothes, and softens

Formulated without any added fragrances, harsh chemicals, or coloring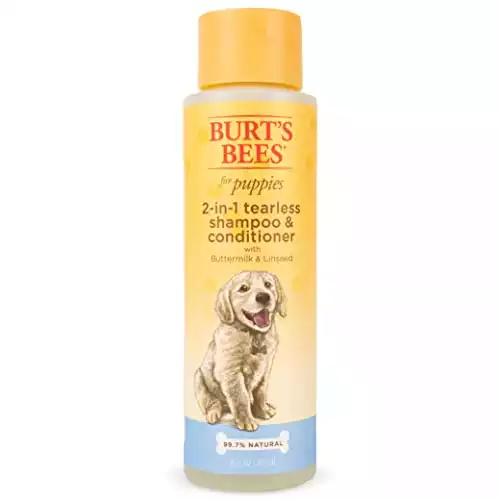 Wahl Dry Skin & Itch Relief Pet Shampoo for Dogs
Key Benefits:
Great option to help deal with itchy skin thanks to the oatmeal and Aloe Vera mix

Wonderful post-bath scent thanks to the addition of coconut lime verbena

Contains no parabens, phthalates and similarly hazardous ingredients to your dog's health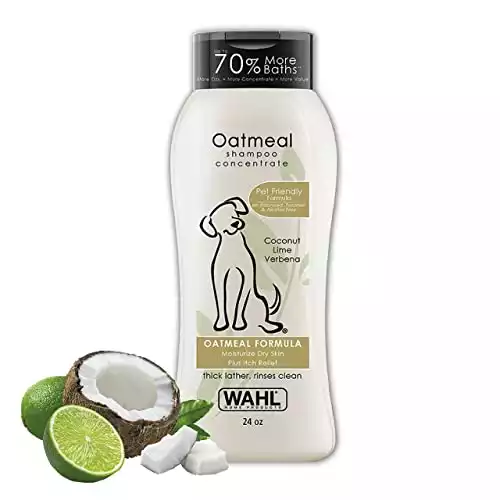 What Are The Best Shampoos For A Cavapoo?
Healthy Breeds Cavapoo Bright Whitening Shampoo
Key Benefits:
Specifically made for the Cavapoo dog breed

Brings back the bright, lustrous sheen to any light-colored coat

Nice, tropical Pina Colada scent

Formulated with natural colloidal oatmeal that conditions and nourishes the skin and fur

Helps prevent matted and tangled hair, as well as fly-aways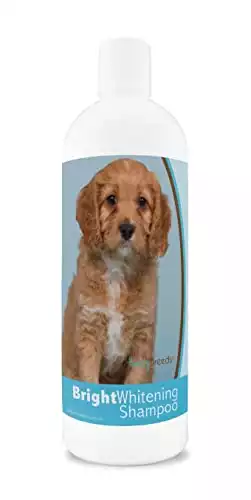 Let's start this review with one brand that specifically makes shampoos catered for the needs of certain dog breeds.
The Healthy Breeds brand is a small business brand that offers you grooming products and treats for more than 200 different breeds, so you can always find the perfect one that will suit you.
So, what are the main benefits of this specific shampoo? Let's see together…
This is a tearless and protein-enriched shampoo that is great at cleansing, as well as preventing matted and tangled hair and those annoying flyaways. This formula will bring back the healthy and lustrous shine to your light-colored pup, and make his hair more manageable and smoother.
The delicious and fresh scent of Pina Colada will last long after bath time, so your beloved puppy will not only be perfectly clean, but will also smell great for some amazing cuddle time.
This formula is as safe to use as much as it is needed as it will not strip your dog's hair from natural oils or damage his skin texture. Simply lather it well into the coat, and rinse thoroughly. Don't forget to dry your pup afterward completely.
It may take several treatments to see a difference, especially if your dog was "browning" a lot, but it is definitely worth a try.
Vet's Best Hypo-Allergenic Shampoo For Dogs
Key Benefits:
Formulated with aloe vera, vitamin E, and allantoin

Contains no parabens, dyes, or sulfates

Can be used as often as necessary and with other topical treatments

Perfect for sensitive skin

Relieves problems without drying out your dog's skin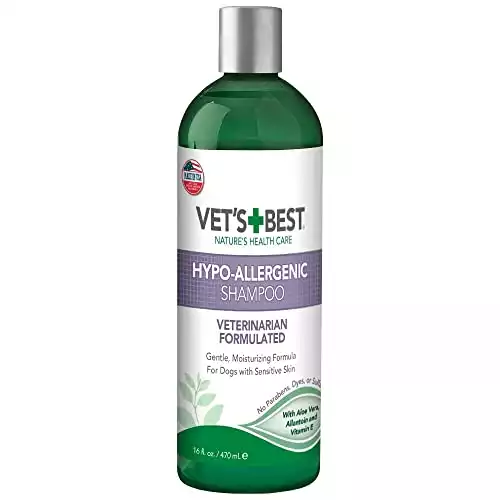 If you are looking for a veterinarian-formulated, natural remedy for sensitive and allergy-prone skin, then this dog shampoo is definitely something you should check out.
For more than 30 years, Vet's Best nature's health care has been offering premium dog grooming and quality natural ingredients that help protect your little pooch and provide him with the maximum comfort possible.
This shampoo will not only clean your pup's coat, but will also help relieve any itching, redness, or hot spots without actually drying out your dog's skin. With this product, your doggy will definitely find long-awaited relief for his coat problems.
It is safe enough to use as often as necessary. Even if you are using other topical treatments (such as anti-flea or tick products), you don't have to worry because it will not affect them at all.
For the best results, you might like to combine this hypoallergenic dog shampoo with Vet's Moisture Mist and Vet's Best Ear Relief; however, it is not necessary.
This product does not have a scent, though, so if your dog smells really bad, this will not help a lot, but you can always add a couple of drops of your favorite essential oils in order to make him smell better.
For dog shampoos that smell delicious, we recommend checking this article here.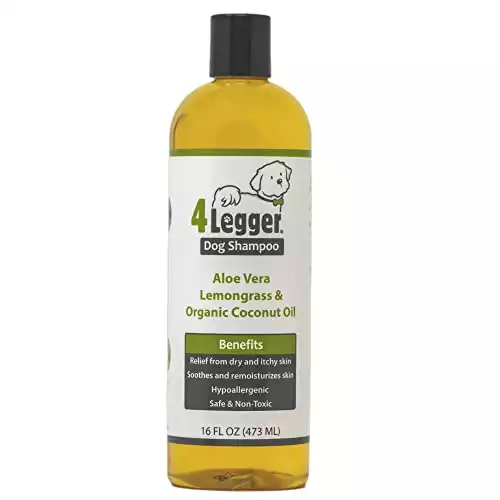 4Legger is one of the very well-recognized and sought-after names in the pet grooming products industry. Since 2015, this small business brand has been providing high-quality products that a lot of dog owners and groomers simply adore.
Their quality has been recognized by different organizations, which is also confirmed by numerous awards and certifications they have received. We will highlight here the USDA certification that they received from the National Organic Program.
What is great about this 4Legger organic shampoo?
First of all, this dog shampoo is not only good for dogs, but it can be used on cats also, and it is completely safe for you. It contains only good, natural ingredients that will not harm your pet nor you, and will provide benefits such as cleansing, moisturization, and soothing.
If your dog is dealing with problems such as itching, dandruff, or dry and flaky skin, this shampoo formulated with lemongrass and aloe vera will make him feel better, while at the same time, making his coat look and feel healthier.
It provides you with a very concentrated formula, which means that you don't need to use a lot of product to achieve a wonderful effect, which, in the long runm is very cost-effective.
Earthbath Pet HypoAllergenic Fragrance-Free Shampoo
Key Benefits:
Formulated especially for pets with allergies and skin problems

Made from effective, gentle, and non-toxic ingredients

It is cruelty-free, and made in the USA

Committed to reducing carbon footprint

Grooming products designed to cater to specific needs of pets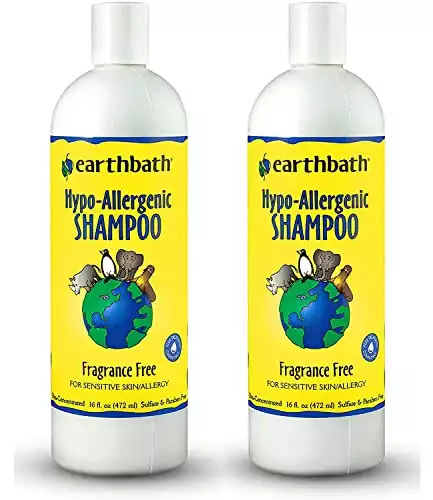 Grooming products designed to cater to specific needs of pets
Certain breeds such as Cavapoos, Bulldogs, Pugs, Labrador Retrievers, Golden Retrievers, their mixes, and other Doodle breeds are more prone to developing various skin allergies that can cause itching and scratching. Not every Cavapoo puppy will have these issues, but it can definitely happen.
So, if your doggy is dealing with some skin issues, then you need to find a hypoallergenic and fragrance-free shampoo that is gentle enough, but also effective.
This Earthbath Hypoallergenic shampoo is a perfect example of a gentle and natural formulation that deals with those issues effectively.
It contains all the ingredients that you want to have in one shampoo; soothing aloe vera, plant-based cleansers, important vitamins, and glycerin for extra moisturization.
To get the best results, apply a good amount of shampoo to a wet coat and lather it well. Leave it on for at least 90 seconds to allow the ingredients to work their magic and have an effect. Avoid eye contact, and if that occurs, rinse thoroughly.
If you want to achieve extra sheen and smoothness of the fur, use this shampoo in combination with the conditioner from the same line for the best detangling effect.
Burt's Bees 2 In 1 Shampoo And Conditioner
Key Benefits:
Made from high-quality, natural ingredients

pH balanced for dogs and puppies

100% vet-recommended formula

Four main benefits: cleans, conditions, soothes, and softens

Formulated without any added fragrances, harsh chemicals, or coloring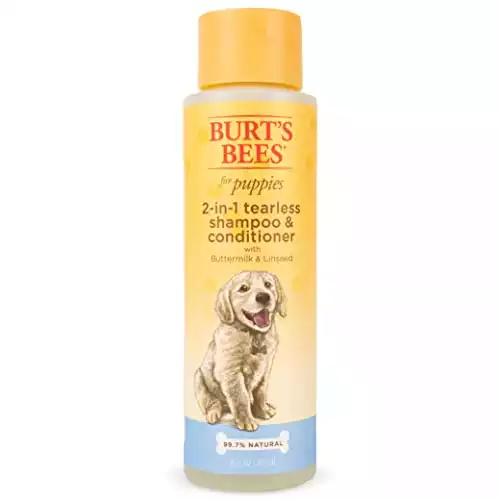 Many dog owners are very busy, and although they love their pets to the moon and back, sometimes they just don't have the time for a detailed grooming process.
We have all been in the situation when you just have a lot on your plate, but then your dog rolls in something dirty and he absolutely needs a bath. You have to do it very quickly, but you still want to do a good job.
Well, in this kind of situation, two-in-one shampoo and conditioner works the best. You get a great cleanser and moisturizer all in one that will leave your dog's coat fresh and soft.
Burt's Bees 2-In-1 Shampoo And Conditioner is a great example of a grooming product that provides you with all the benefits that one owner would want in a product: cleansing, conditioning, soothing, and softening.
This formula is specifically formulated for puppies, with natural ingredients like buttermilk and linseed oil, which take good care of your puppy's coat. It contains no harsh chemicals or anything that could cause harm to your Cavapoo puppy.
It is a great 2-in-1 puppy shampoo that will not break your bank, but provide you with great results.
VetOne KetoHex Shampoo
Key Benefits:
Specifically designed for management of skin infections

Helps prevent dry, itchy skin, and quickly removes bacterial and fungal conditions

Formulated with active ingredients: Chlorhexidine 2%, Ketoconazole 1%

Designed for antiseptic use

Suitable for dogs, cats, and horses

Next on our list, we have a veterinary shampoo that is suitable for dogs, cats, and horses. What makes VetOne KetoHex Shampoo special is that it is specifically formulated to deal with skin infections, and to reduce any irritations, such as dry and itchy skin.
This formula contains two active ingredients, called chlorhexidine and ketoconazole, which are antifungal and antibacterial ingredients that help with skin infections and disorders, as well as cleaning wounds, abrasions, and lacerations.
It can be used for cleaning wounded or injured pets, or in situations when you have already visited your veterinarian, but you still want to properly take care of them.
For the best results, let this shampoo sit on your dog's coat for around five minutes, but if it is possible, you can leave it on for up to 10 minutes. Rinse with warm water thoroughly.
Depending on the situation and your vet's recommendation, in the beginning, this shampoo can be used two to three times a week, and then after one month, reduce the use to once a month.
However, please consult your veterinarian first, especially if your dog is suffering from serious skin issues that may need medical care.
Pet Oatmeal Anti-Itch Shampoo and Conditioner In One
Key Benefits:
Main ingredients: coconut, oatmeal, baking soda, and aloe vera

Stops itching immediately

Light, but effective scent that eliminates odor

Safe for puppies and kittens

Tear-free and cruelty-free formula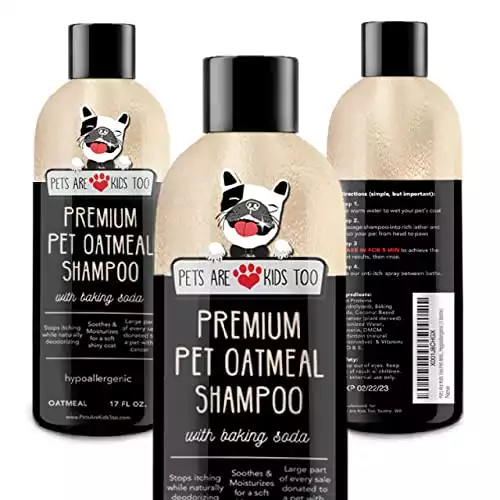 Pets Are Kids Too is also one of the very admirable, small brands that is fully made in the USA. Not only do they offer great grooming products for dogs, but they also help poor dogs in need.
With every purchase that you and others make, a portion of the profit is donated to organizations that help dogs in need, and fund the costs of medical procedures that those pups desperately need.
They currently have a mission of helping 200 pets by the end of 2022, so your every purchase makes a difference.
Other than that, this shampoo is a great hypoallergenic and pet-friendly product that is made from only plant-based natural ingredients.
A Cavapoo's coat can get matted very quickly, which can also cause pain to your pet. If your don't cleanse and condition your dog's coat regularly, this situation can get even more painful. This shampoo helps deal with coarse and brittle hair, and restores a lustrous coat.
The scent is not overpowering. It is light, but effective enough to deodorize well and help deal with dog odor.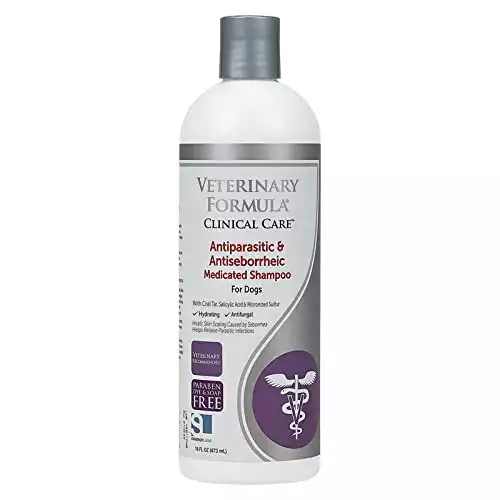 Having a dog that suffers from different skin issues is not easy. You see your puppy suffering and in pain, and the only thing you want is to help him feel better. Well, choosing the right shampoo might just be the thing that you need.
This Veterinary Formula Clinical-Care Medicated Shampoo for dogs is the perfect grooming product that helps soothe irritated, flaky, and scaling skin caused by different skin diseases such as seborrhea, mange, and other parasitic infections.
It is a pH balanced, paraben, and soap-free dog shampoo that is safe to use on dogs over 12 weeks of age. It will not wash away any other topical treatment such as those for fleas and ticks.
If your dog's skin condition is pretty bad, you can use this shampoo twice a week until you see improvement or until those conditions clear. Only then can you start using it less regularly.
For the best results, let the shampoo sit for about 10 to 15 minutes on your dog's coat, and then rinse.
The only downside that we have noticed about this shampoo is that it has a very strong, somewhat medical scent that is not too pleasant, but this formulation does miracles for poor dogs, so we can ignore the unpleasant scent.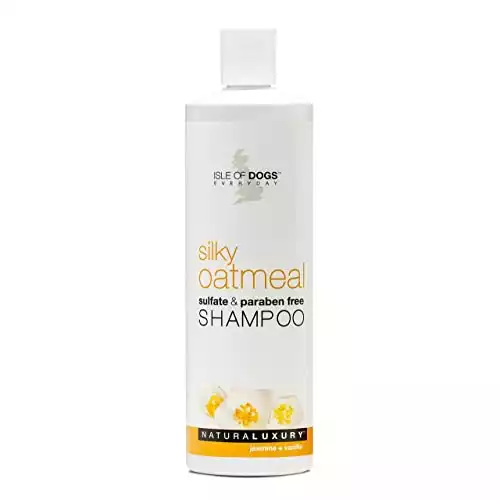 We all want our pets to have a silky-soft coat that is perfect for cuddling, right? Well, with Isle Of Dogs Silky Oatmeal Shampoo, this might just be possible.
How does this shampoo achieve the silkiness that we all desire?
It is very easy as this gentle and mild formulation does not contain any parabens, sulfates, or other harsh chemicals – only high-quality natural ingredients. Jojoba oils and oatmeal help nourish the dog's skin and coat, and therefore, give the fur the silkiness that we all love.
After using this jasmine- and vanilla-fragranced shampoo, your pup will not only smell great for days, but will also look much healthier and fresher.
When we used this shampoo, we noticed that it lathers up really well, it does not irritate the skin, the scent is nice and not overpowering, and it rinses well. Always make sure to rinse the shampoo well since if some residue is left, it could cause itching or even dandruff.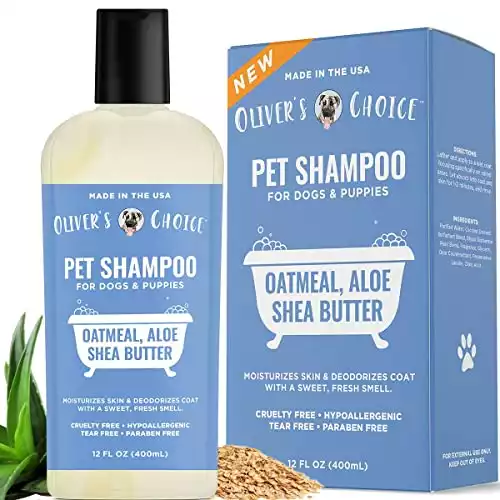 Our next Cavapoo shampoo on the list is Oliver's Choice Puppy Shampoo. It is also one of Amazon's top choices when it comes to dog shampoos that offer you a great product for a reasonable price.
The perfect blend of aloe vera, shea butter, and oatmeal not only deeply moisturizes the skin and hair follicles, but also deodorizes and leaves your dog smelling great for days.
This cruelty-free and biodegradable formula that is made from strictly natural ingredients is perfect for puppies, and is also safe to use on adult dogs. It can also be used on a senior dogs' sensitive skin.
As soon as you try this shampoo, you will be blown away by the wonderful smell, which can only be described as vanilla, oatmeal cookie, shea butter, and honey all in one.
It will also soothe and moisturize itchy and sensitive skin due to allergies. The great thing about this company is that they offer you a money-back guarantee.
If you or your pup, by any chance, are not completely satisfied with the product, or if you think it does not do what it is supposed to do, they will refund you – no questions asked.
Wahl Dry Skin & Itch Relief Pet Shampoo for Dogs
Key Benefits:
Great option to help deal with itchy skin thanks to the oatmeal and Aloe Vera mix

Wonderful post-bath scent thanks to the addition of coconut lime verbena

Contains no parabens, phthalates and similarly hazardous ingredients to your dog's health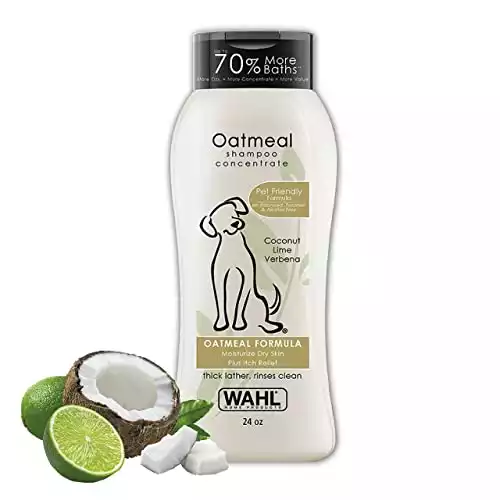 For the end of our list, we saved our best-value product — Wahl Dry Skin & Itch Relief Pet Shampoo For Dogs. This is also among the highest rated and most reviewed products in this specific company, which just confirms how much other dog owners love it.
It is not hard to see why. This product offers you a high-quality formula for an amazing price that brings salon-worthy results to your home. It is so good that many veterinarians and professional groomers recommended it.
This formulation is very concentrated, which means that a little goes a long way. A little bit of Wahl's shampoo will provide the same rich lather that would require a lot more from other products. In the long run, this is far more cost-effective.
It was specifically made with the goal of helping dogs with severe allergies because they had a Goldendoodle with the same problem. This shampoo is the only thing that eventually helped him, so you can rest assured that it will also be perfect for your Cavapoo.
Don't hesitate to try this amazing product and see why it is the favorite of so many dog owners all over the world.
READ ALSO: 150+ Cute Cavapoo Names For Your Cavalier Poodle Mix (With Science!)
How To Choose The Best Shampoo For A Cavapoo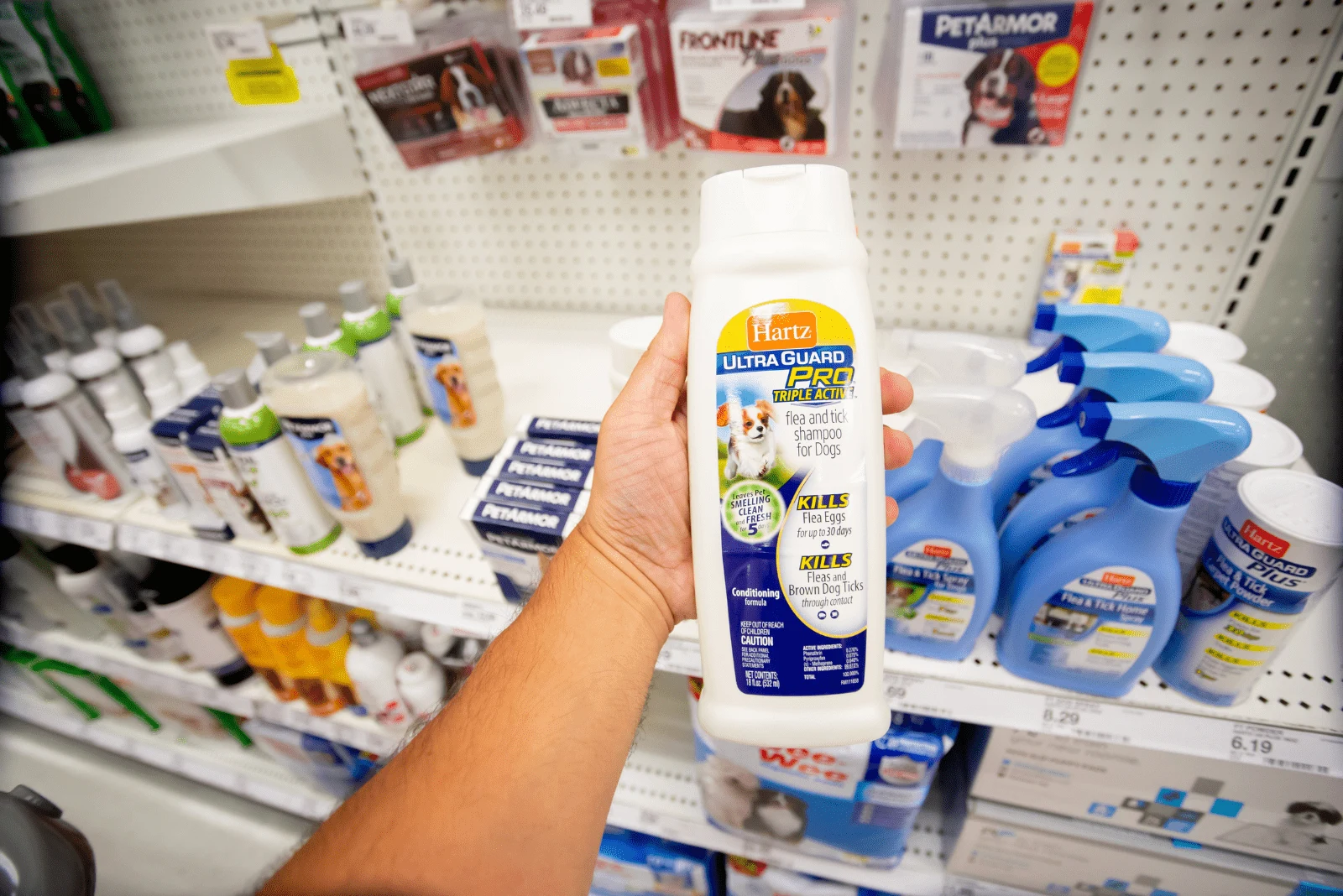 There are a lot of different shampoo brands on the market (good and bad ones), but choosing the perfect one that will benefit your Cavapoo is not that easy. You need to know what to look for in a good shampoo, and especially be aware of your pet's personal needs.
We have given you a list of our top choices, but now we will also give you some tips and tricks that will help you choose the best shampoo for Cavapoo dogs. Let's get started.
Natural Ingredients
Ingredients are always most important when it comes to any product, and there is no difference with shampoos for Cavapoos. Our first bit of advice for you is to always read the ingredient list and choose the product that has the most natural ones in its formulation.
Make sure that there are no parabens, sulfates, or any other harsh chemical that could cause further irritation for your pets.
Natural Fragrances
Although it shouldn't be like this, we know that most people (we included) always first check the scent of the shampoo and make our decision based on it. Scent is, of course, also important because we all want our pets to have a nice scent that is going to last for days.
Sometimes, it is better to choose fragrance-free shampoos, but if you don't like those, or if you are dealing with a smelly dog, make sure that the fragrance comes from natural sources like lavender, lemongrass, or some other essential oils.
pH Balance
Dog shampoos should be pH balanced in order to match their pH levels. Humans and dogs, for example, don't have the same skin pH levels, so you should never use your own shampoo on your pup because it could actually cause more harm than you could imagine.
Read "Can you use Head & Shoulders on dogs?" for more information about this subject.
A canine skin's pH level should be around 7, which if you compare that to human skin, it has more alkaline, and therefore, requires different things to keep it healthy.
Conditioning Benefits
Although Cavapoos are not high-shedding dogs, they are definitely high-maintenance dogs when it comes to grooming needs. If not properly taken care of, their coat will quickly become very matted and tangled.
Therefore, you need to choose shampoos that have conditioning, moisturizing, and smoothing benefits that will help keep your pup's coat in order and easier to take care of.
Coconut oil, shea butter, and oatmeal are some of the great natural ingredients that will deeply condition both your dog's skin and coat.
Cavapoo Needs
Cavapoos, as many other dog breeds, are prone to allergies and skin sensitivities. If your dog is dealing with itching, hot spots, redness, flaky skin, or dandruff, you will have to look for shampoos that are specifically catered to help soothe those problems.
Aloe vera, chamomile, and vitamin E are just some of the good ingredients that you need to look for in order to relieve your dog from discomfort and pain.
RELATED CONTENT: Cavapoo Colors: 11 Coat Colors You'll Fall For
FAQs
How Often Should You Bathe A Cavapoo?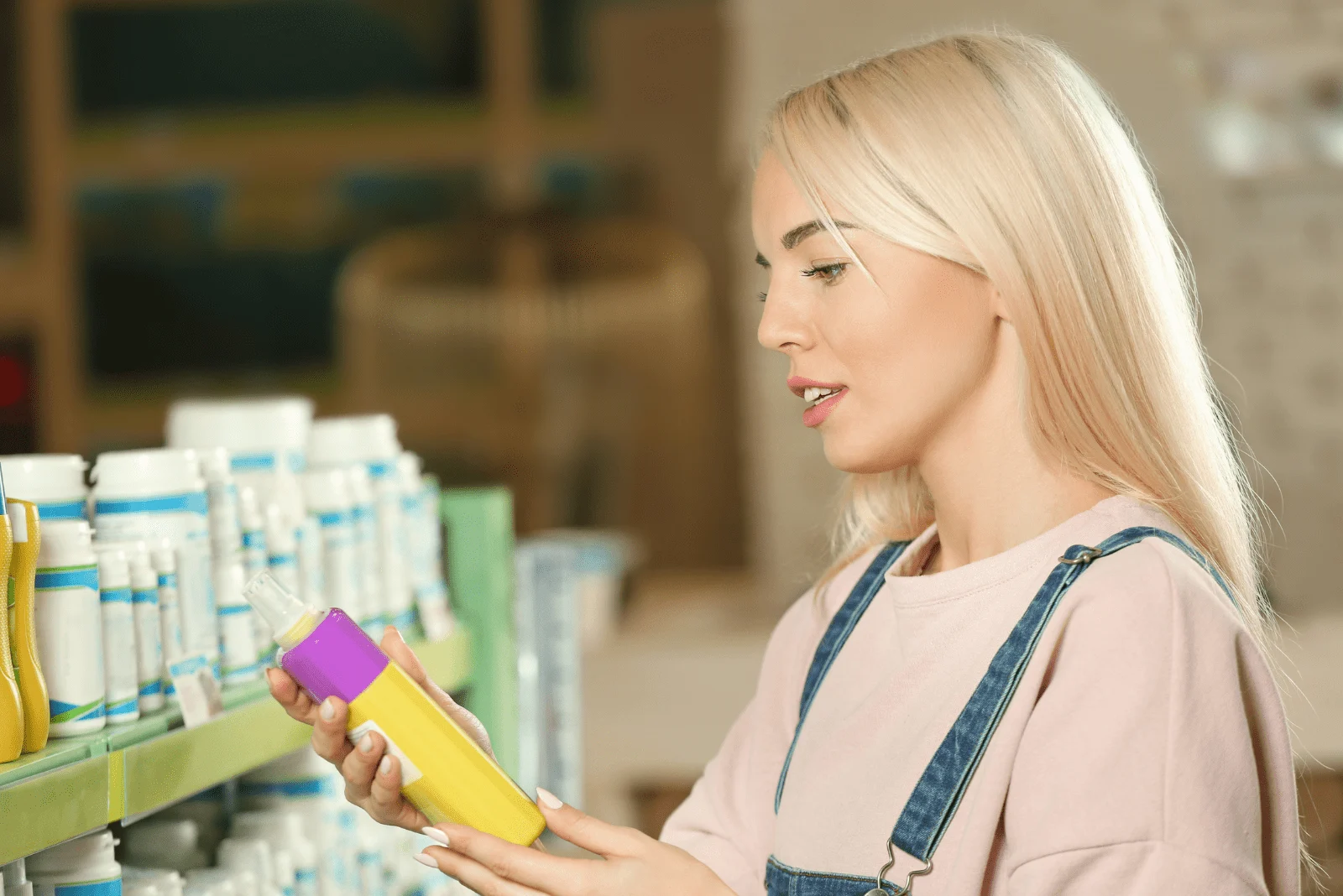 Now that you know what some of the best shampoos for Cavapoo dogs are, choosing your favorite shampoo is only the first step in grooming your dog. The next important step is knowing how often you should bathe, and how often it is necessary to bathe your Cavapoo.
So, let's dive into this.
Bathing frequency is determined by several factors. First, as your Cavapoo is one of the Poodle mixes, he can have various coat types and textures depending on the genes he inherited. Therefore, a straight, a wavy, and an extremely curly coat is all possible.
Too much bathing is not good for your dog as it can strip the natural oils from his hair; however, if your dog has very curly and long hair, he will need more frequent baths in order to maintain his hygiene and help his coat and skin be healthier.
Skin conditions and disorders also influence how often your Cavapoo should be bathed. A coat that gets matted and tangled easily and quickly does not help the situation.
Because of this and many other reasons, some Cavapoo owners decide to bathe their dog as often as every two weeks; however, if you are not dealing with any serious skin and coat conditions, every four to six weeks is recommended.
Of course, if your dog gets dirty or starts to smell bad, you will need to bathe him when it is necessary.
Do Cavapoos Need A Conditioner?
A coat that gets matted and tangled very easily can soon become coarse and brittle, and lose the beautiful shine that many well-kept dogs have.
So, while it is not strictly defined, using a conditioner is well advised. The conditioner will help to condition and moisturize your dog's coat even more, bring back its lustrous shine, and make it smoother to the touch.
Eventually, your dog will look healthier and even more adorable, and you will want to cuddle him all the time.
How Do You Clean A Cavapoo's Face?
When shampooing your dog, you have to be careful with his face and eyes. Even if they are made from completely natural ingredients, most shampoos are not to be used around the eyes because of the cleansing agents.
Most shampoo brands advise avoiding eye contact at all costs, and if it happens accidentally, rinse thoroughly and contact the veterinarian if needed. When cleaning your dog's face and eyes, it is best to only use water or a cotton ball/cloth soaked in warm water.
READ ALSO: Cavapoo vs Cockapoo: Which Poodle Mix is the Better Choice For You
That's A Wrap
…and that's a wrap! We have come to the end of the article, and now you know everything that you need to know about the best shampoos for a Cavapoo, along with grooming your pet.
We have no doubt that you'll choose the perfect shampoo for your furry friend. Remember to take your dog's needs into consideration when choosing, and feel free to use our list for inspiration or as a guiding point. Maybe the perfect dog shampoo for you is right here.
P.S. To keep your dog's coat looking healthy and shiny at all times, you'll need a little bit more than just a good shampoo. A healthy diet focused on Omega-3 fatty acids is equally important for keeping your dog's skin and coat healthy.
Related Content
8 Safest And Best Dog Shampoos For Maltese
The 7 Best Shampoos For Goldendoodles In 2022