This post contains affiliate links, and I will be compensated if you make a purchase after clicking on my links.
Despite being a teacup dog breed, the Maltese is a grooming monster with how much care needs to be put into them. Finding the best dog shampoo for Maltese is one of the many challenges you're going to face, and it's time to solve that problem.
The best dog shampoo for Maltese helps cover a few lingering problems for the breed, calming their nerves and nourishing their skin.
There's also the problem of keeping their white coats as pristine as they can be, but that's minor compared to the former.
A few others exist too, but they fall under the umbrella of the ones already mentioned, and we'll go into more detail about them later. First, let's see what shampoos there are on offer.
As always, I've gone through the trouble of going through the most popular doggy supply marketplaces like Chewy and Amazon and have compiled a list of some of the best options out there, price and quality-wise.
Read on to find out what they are as well as other things you should be wary of when buying a shampoo for your Maltese.
The 8 Best Shampoos For Maltese Dogs
Healthy Breeds Maltese Bright Whitening Dog Shampoo
Key Benefits:
Oatmeal base

Gentle shampoo that won't irritate skin

Mixed in proteins and vitamins help in detangling fur and deal with its matting

Naturally whitens your Maltese's fur

No bleaching involved

US made product

Relatively affordable
Cons:
The packaging is a bit too bland and needs to be worked on

First on our list is a whitening shampoo that helps keep your Maltese's coat's color intact.
With colloidal oatmeal as its base, the shampoo is gentle on your dog's skin, conditioning it by reducing skin irritation and keeping the dog's hair rich and lustrous.
It's further supplemented by vitamins and proteins that help get rid of tangles and matted fur, making it easier to handle your Maltese's fur without hurting him on accident, making the bathing process all the quicker and more enjoyable for your doggo.
It's even followed by a nice, fruity, tropical scent to get rid of any unwanted smells.
While it may seem a bit simple at first glance, Healthy Breeds has made sure that it meets the health standards needed to provide your doggo with the best of care.
One more thing worth noting is that the product is entirely made in the USA, meaning you'd be supporting the local economy should you choose to purchase from this brand.
The pricing itself isn't half bad either, certainly cheaper than a few others, but the packaging could certainly use some work.
Burt's Bees Tearless Puppy Shampoo with Buttermilk for Dogs
Key Benefits:
99.7% natural ingredients

Oatmeal and honey as base help in reducing skin irritation and keeping the fur of your Maltese soft and appealing.

Made completely cruelty-free

pH balanced

No artificial fragrances, sulfates, phthalates, petrolatum, parabens or any other potential harmful chemicals

Bottles used are 80% recycled material

Reasonable pricing
Cons:
Bottle design feels a bit dated

The next option on our list are Burt's Bees, well known for separate products that care for babies and dogs alike.
Both have skin that's prone to all sorts of issues and the brand strives to make skin health a priority in any product they create, the shampoo is no exception.
With buttermilk as a base, it acts as a cleanser for any problematic skin conditions and helps reduce their occurrence, while the honey improves hair follicle strength and serves as natural moisture retention.
The all natural dog-shampoo is gentle and pH balanced, meaning your dog won't end up feeling irritated from it during bath time.
It also means that it's tear-free too, so no eye irritation either.
Speaking of free, the shampoo is also cruelty-free as Burt's Bees would never dare test products on innocent animals.
Being gentle usually means that your product doesn't carry any potentially harmful chemicals, artificial additives, fragrances, sulfates, phthalates, parabens, petrolatum and the like; something Burt's Bees pride themselves on.
Not only is this pet shampoo gentle toward dogs, it's gentle to nature as well since it's made out of 80% recycled material, making it a great eco-friendly option.
Not to mention that all of these merits have earned it approval and recommendations from veterinarians nationwide.
The pricing on it is certainly a positive too, coming in at less than half of a lot of the other products while providing nearly the same service for your Maltese, if not better.
The one blemish I could find on all of this isn't with the products functionality, but the visual appeal since their branding feels like it's not up to modern standards.
Buddy Wash Original Lavender & Mint Dog Shampoo & Conditioner
Key Benefits:
2-in-1 shampoo and conditioner

Coconut base with Aloe Vera mixed in as conditioner alongside a few essential oils and botanical extracts

Alcohol and soap-free

Cruelty-free shampoo

Affordable pricing
Cons:
Contains wheat protein which might be an allergen to some dogs

Next up on the list is a 2-in-1 shampoo and conditioner mix scented with lavender and mint, ideal for a doggy spa day.
Aloe Vera is one of the key ingredients in the shampoo that helps reduce the chances of skin irritation while hydrating the skin and keeping it moisturized.
The lavender and mint serve as relaxants which make this a quality soothing shampoo, but they're not the only ones doing so.
You'll also find various botanical extracts and essential oils like green tea, sage, chamomile and rosemary which help condition your dog's skin and help him relax during bath time.
The base on which all these ingredients mix is made of coconut, helping provide the soft texture that always feels good to lather onto, regardless if it's fur or skin.
As far as other benefits go, the shampoo is alcohol and soap free, retaining its gentleness. In fact, it can even be used by humans if you follow the instructions, but best to save it for your doggo.
It's also cruelty-free as the best shampoo brands shouldn't rely on animal testing to get their product out purely for ethical reasons.
The price itself is fair, cheaper than a lot of its competitors but not lacking in quality for it.
The product does have a potential downside depending on your furry friend's allergies since it has wheat protein in the ingredient list, so do be wary of that while purchasing.
Earthbath Oatmeal & Aloe Fragrance Free Dog & Cat Shampoo
Key Benefits:
Oatmeal and Aloe base

Greatly helps in moisturizing dry skin

Soap and fragrance free to minimize chances of irritation

Phosphate and paraben free
Cons:
Somewhat outdated label design

Pricier than some other options on the list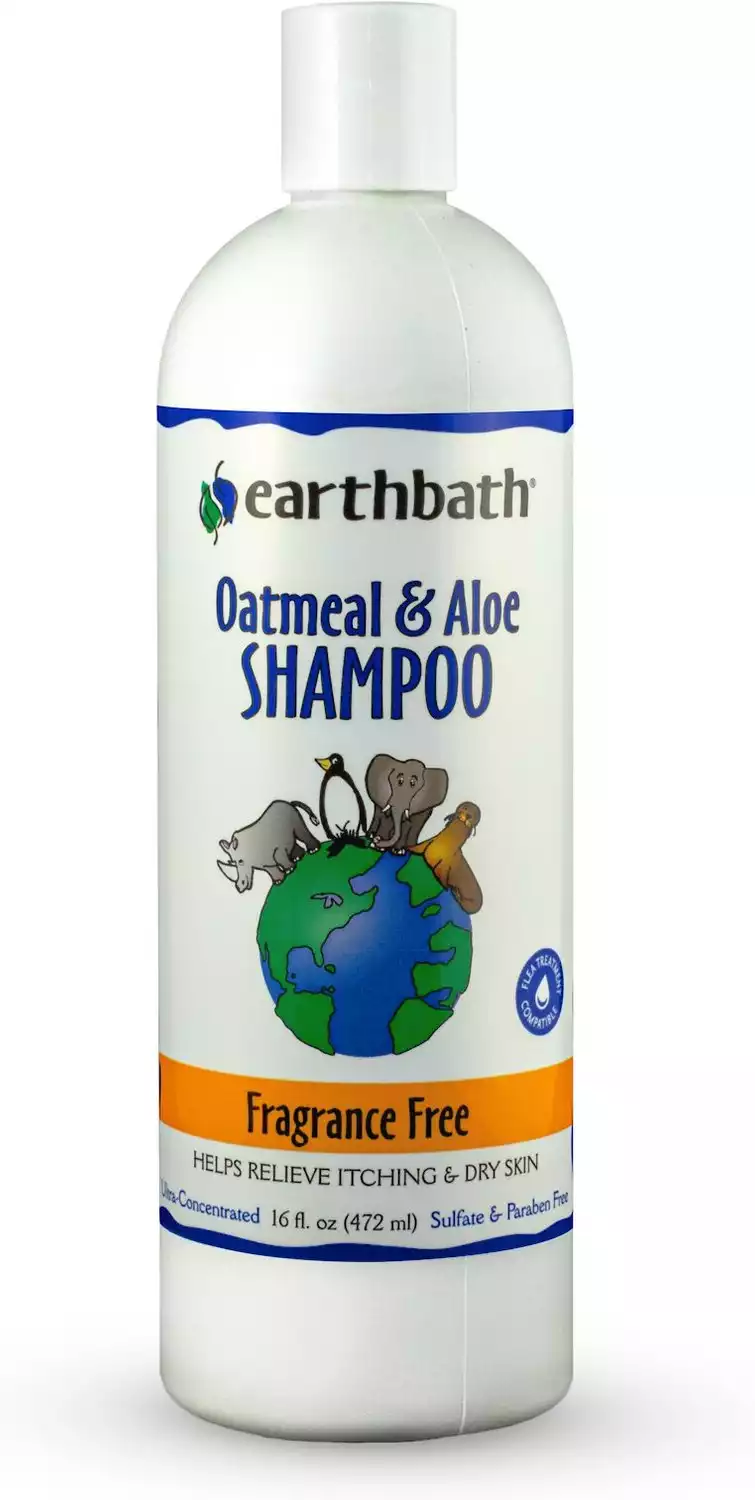 This time we have an Earthbath product as the next contender for the best dog shampoo for Maltese, and while it may look standard with the usual Oatmeal and Aloe package, it's still one of the better ones on the market.
While the ingredients are best suited for hydrating dry skin and returning luster and bright white color back to your dog's coat, it also serves as a good deshedding option and a nice soothing shampoo.
It's gentle and soap-free which should be expected from a shampoo marketed as soothing, however, it's still not suitable for any cat or dog who is younger than 6 weeks as their skin may be too sensitive.
The shampoo is free of any fragrances so it won't end up irritating the nose of your dear Maltese if he has a particularly sensitive one.
It doesn't have any parabens or phosphates, or any other harmful chemicals for that matter. Not to mention that it's eco-friendly too as the bottle itself is completely biodegradable.
The pricing itself could be a little bit cheaper, but a few dollars won't hurt anyone except the most budget-savvy of you out there.
Aside from that, I'd say that their label, much like some of the other products on this list, could use a modern touch-up.
Veterinary Formula Solutions Snow White Whitening Shampoo
Key Benefits:
Coconut oil base

Gentle and pH balanced shampoo

Doesn't use bleach or peroxide for whitening

Uses a mix of green tea extract, vitamin E and patented optical brighteners instead

Deodorizes fur and provides it with the fresh scent of blue coral and citrus.

Regular use will remove tear stains

Won't wash away topical tick or flea ointments

Reasonably priced

Attractive packaging for the small bottle
Cons:
Largest option container looks unattractive despite being the best bang for your buck

Contains artificial fragrances and dyes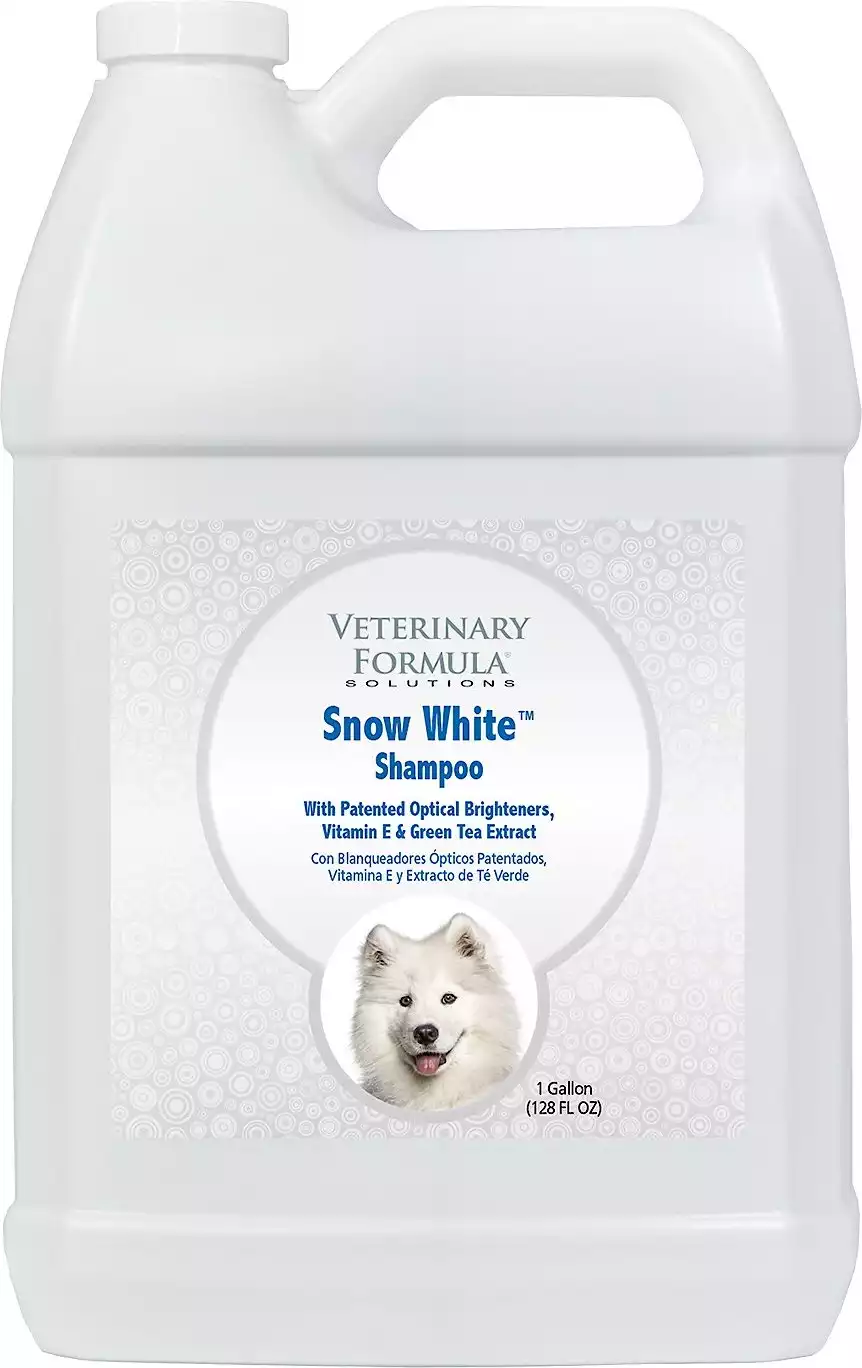 This entry is a bit different than the prior ones as the Snow White shampoo is mainly focused on whitening, the act of maintaining the rich white of your Maltese's beautiful fur.
The Snow White does this in a completely natural way, not relying on unhealthy whitening practices like peroxide or bleach that some of the lower quality brands use to sell their product at the cost of a dog's health.
Instead, they use a mix of green tea extract, vitamin E, and their own, patented optical brighteners on top of a coconut oil base to achieve equal results minus the harmful effects.
The shampoo is gentle to the skin, won't irritate it and will actively deodorize your doggo's fluffy coat while keeping said coat clean, keeping him fresh and cuddly with the scent of fresh citrus and blue coral.
It's also perfectly pH balanced for dogs, further improving on its gentleness.
If used regularly, it even helps remove tear stains which are common in dogs with white fur.
If your dog is currently undergoing a tick or flea treatment and is using ointment, don't worry as the shampoo can be used alongside them given proper instruction and will not wash them away.
The Snow White shampoo isn't too expensive either, finding itself around the lower mid price range without sacrificing too much and the packaging is neat on the smaller bottle, though the bigger bottle may have you mistaken for someone carrying a canister of gasoline.
Its smell feels rather clinical as it does use a few artificial dyes and fragrances which aren't ideal inclusions.
Dermabliss Medicated Anti-Bacterial & Anti-Fungal Medicated Shampoo
Key Benefits:
Antibacterial and antifungal

Contains Chlorhexidine and Ketoconazole which help mitigate the effects of various infections

Soap-free and gentler on the dog's skin than some other shampoos intended for medical use

US-made product
Cons:
Veterinary use only

Pricier than standard shampoos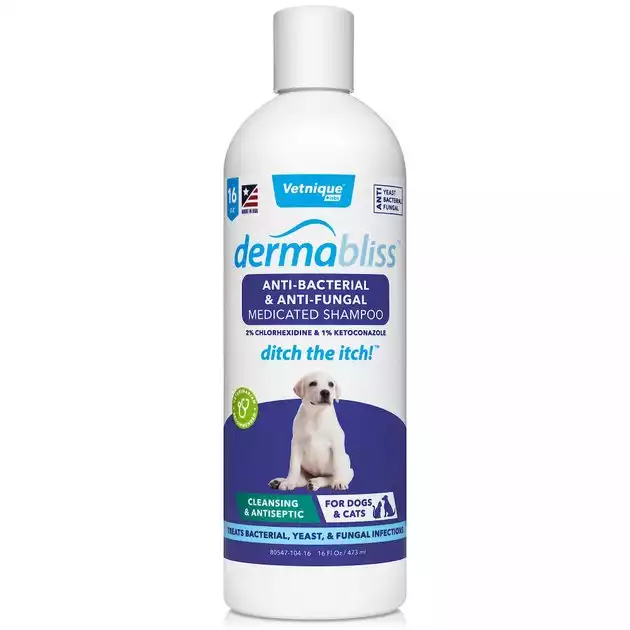 Yet another form of specialized shampoo, this time from Vetnique labs. This time it's an anti-fungal and anti-bacterial shampoo.
It's main focus is clear, a more medically focused brand of shampoo that helps treat various infections and conditions caused by yeast, fungus and bacteria such as rashes, various types of itching and even ringworm.
It doesn't have many fancy benefits like the other ones do, however it is soap-free so it's gentler than most other medicinal shampoo options in the fact that it won't irritate your dog's skin itself.
The main ingredients that facilitate the function of the shampoo are Ketoconazole and Chlorhexidine which help combat the symptoms of the aforementioned conditions.
The product is made in the USA, meaning you'd be supporting the local economy by purchasing it over some of its other competitors.
It is a bit pricier than other brands but, hopefully, you won't need to buy this one as often as the others given its rather specific use.
One final word of warning regarding the shampoo is that it's meant for use on pets alone. It's by no means safe to use on humans as it may cause some unwanted side effects like skin irritation.
TropiClean Hypo-Allergenic Gentle Coconut Puppy & Kitten Shampoo
Key Benefits:
Coconut base

Hypoallergenic

All-natural ingredients

Soap-free

No parabens, phthalates or artificial dyes

Gentle and pH balanced for dogs

Has a lovely, tropical coconut fragrance

Reasonable pricing

Attractive packaging
Cons:
Tends to arrive with a leaky cap

Another product, another unique form of shampoo, this time it's one branded as a hypoallergenic shampoo for dogs.
Many of us have allergies and dogs are no different, especially considering every brand tends to have traces of some sort of allergen in it which is why I wanted to list one without any.
Tropiclean's coconut base works as a gentle natural cleanser for your dog's skin, treating irritated skin with care and getting it back to being soft and re-moisturized while making the fur look fluffy and clean.
That main ingredient translates to its lovely natural fragrance too for all you coconut lovers out there, reminiscent of the scent of the tropics.
The shampoo consists of all-natural ingredients and it's perfectly pH balanced for dogs.
It's also free of any artificial dyes, soap or parabens, making sure that there's absolutely nothing in there that could serve as an irritant or potential allergen for your precious pupper.
Considering everything that it offers, it's reasonably priced as well, and the packaging is modern and attractive.
The one problem that seems to be recurring is that the top often isn't sealed well and the shampoo ends up leaking.
Zesty Paws Oatmeal Anti-Itch Shampoo with Aloe Vera & Vitamin E
Key Benefits:
Aloe Vera and oatmeal as base ingredients

Contains vitamin E which helps prevent hot spots, rashes and other skin problems

Scented with natural vanilla bean extract

A favorite option for dog grooming experts

Colorful bottle design
Cons:
A bit pricier than the average

The next potential candidate may just be the right shampoo for your dog if he has severe problems with itchy skin.
With oatmeal as the main ingredient together with Aloe Vera and Vitamin E, the Zesty Paws shampoo offers a soft, gentle experience for your darling Maltese, hydrating his dry skin and relieving any itchiness, hot spots, or rashes.
The ingredients also help in bringing the shine and fluff back to his coat, making him look as good as new, in a sense.
The shampoo also contains a pleasantly fragrant vanilla bean extract for some extra benefits to your now clean doggo.
Given its relatively gentle nature and flexibility of use among dog breeds of all sizes, it's a favorite pick for groomers everywhere.
With how well-received it is, it's hard to find a flaw to it outside of maybe a higher price than what's desired, but even that's just barely skirting around the mid-high point which isn't too bad.
The fact that it's somewhat light on ingredients may be considered one, though quantity isn't always better than quality.
What To Be On The Lookout For When Buying Dog Shampoos For Maltese
If none of these fit the description of the best Maltese shampoo, then I'd like to at least give you some idea of what you should look for on top of your dog's current needs.
You've likely noticed the patterns yourself too, but I figured it better to list them all out:
All-Natural Ingredients
The main requirement is the need for all-natural ingredients.
While not mandatory, this clause will guarantee your dog is going to have a much more enjoyable time bathing than he would've otherwise with an activity that's usually not dear to him.
But what does all-natural really mean? Well, it usually means being free of harmful chemicals and consisting of ingredients that are beneficial to your dog's skin rather than detrimental.
While the shampoos are usually weaker in strength because of it, they're more pH balanced for your furry friend's skin and will do him a lot less harm in the long run.
A good sign that you've found one that fits this description is if it contains Aloe Vera or oats in any form.
Soothing Properties
Bathing outside of their own self-grooming sessions isn't a favorite for a Maltese or most other dogs, barring exceptions so a shampoo that contains natural relaxants to relieve tension can help get them better acclimated to bath time.
Whitening Properties
While not a must-have property, a whitening shampoo will help keep your canine companion's coat as snowy white as it was when you got him.
Do try to avoid those containing bleach, peroxide or any other similar artificial whitening chemical that'll harm your dog for a simple aesthetic reason and stick to more natural whiteners if you have to.
This property goes up in priority if you're looking for something to get the tear stains out that form in Maltese over time.
Soap-Free
Given different pH balances between dogs and humans, soap is usually best avoided even if it's branded as soap for dogs.
That's because soap tends to cause skin irritation and is a nightmare if it gets into your doggo's eyes.
Thankfully some of the best shampoo options are always labeled as soap-free, so make sure to keep an eye out for it so you know you're on the right track.
FAQs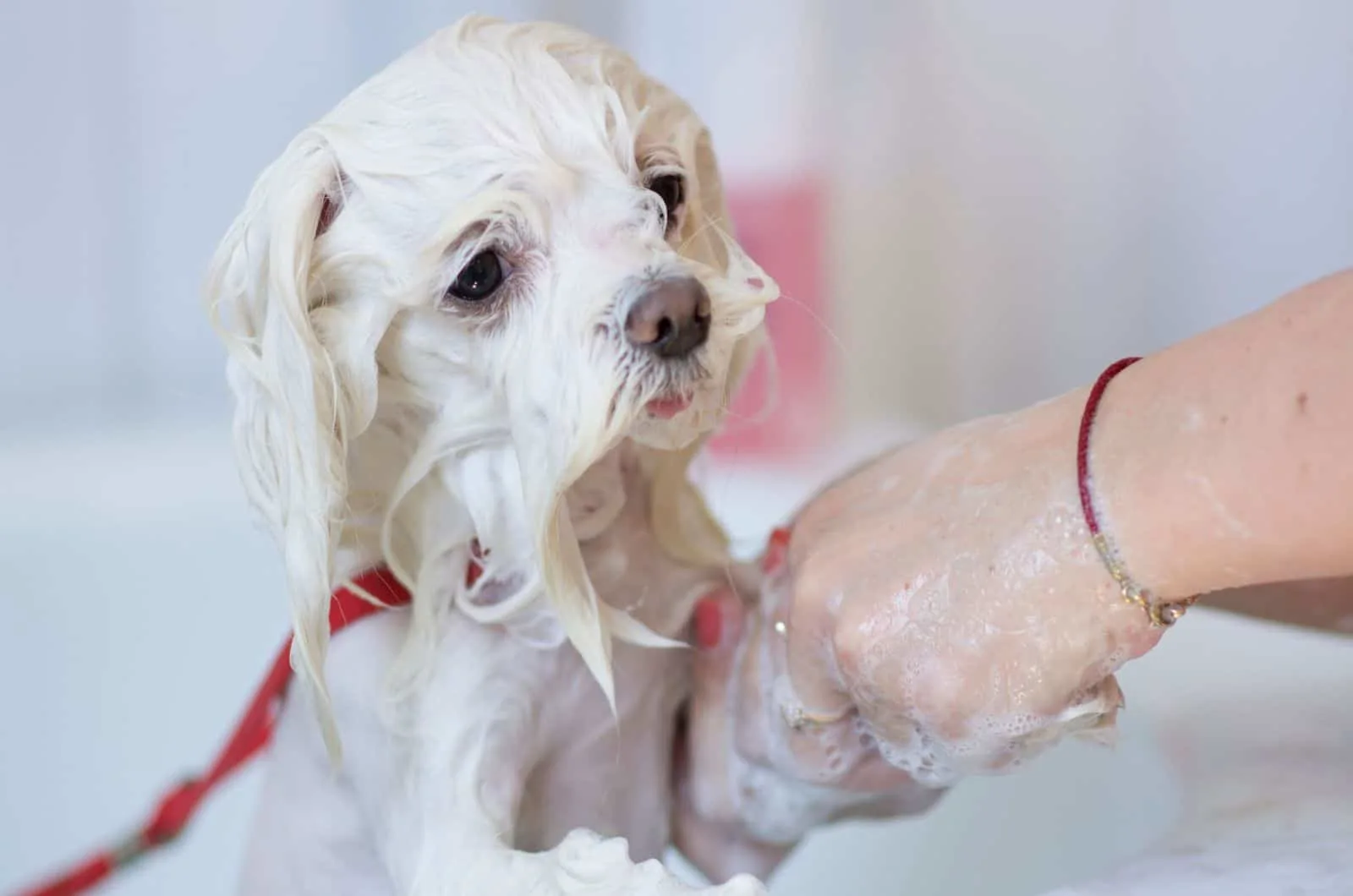 What Is The Best Dog Shampoo For Maltese Then?
Well, that's a pretty subjective opinion, I'd say, but, for me personally it would be the Healthy Breeds Maltese bright whitening dog shampoo simply because it was specially tailored for them.
Not only does it have soothing properties, but it also helps deal with mats and tangles, and it has natural whiteners for a Maltese's fur, opting to exclude peroxide and bleach.
It's inexpensive, it has a nice smell and it's a US-made product. When its only flaw is packaging, that would be my shampoo of choice if I had a Maltese.
But again, that's my personal opinion and thinking that it ticks all the boxes a shampoo for a Maltese should. Your dog may have different needs and one of the other options may be better for them.
What Types Of Shampoos For Maltese Are There?
You may have noticed that several of the shampoos on the list above cover a number of different niches, and you would be right in thinking that.
After all, dogs have various needs, as much as we do, that's why there are different shampoos tailored to help in all those things, like:
Soothing Shampoos
Again, most dogs don't really like baths so choosing shampoos with natural relaxants and essential oils that can relieve tension from the muscles and soften their skin to simulate a doggy spa day are one of the options.
Every dog is different though and each one will react to these shampoos differently with varying degrees of success so don't be surprised if one doesn't work, another just might.
Out of all the ones listed above, I'd say that the Buddy Wash shampoo is best suited in that regard given its extensive list of relaxants.
Whitening Shampoos
While not the highest on the priority list, whitening shampoos are often used by dog owners and groomers who look to restore the shiny white coats that Maltese normally have that are lost over time.
The best ones use natural whitening methods while some of the lower quality ones resort to chemical bleaching through the use of peroxide and bleach.
The latter should be avoided as no dog should suffer for looks.
For this category, I'd recommend the HealthyBreeds shampoo as it covers the natural aspect and offers even more.
Deodorizing Shampoos
Nobody likes wet dog smell or the many other unpleasant odors that can come off a dog, especially if he's not groomed often.
That's why many owners look toward shampoos with deodorizing properties which will help eliminate these smells and ideally replace them with new ones.
Do avoid ones that aren't gentle though as the stronger ones may end up removing more of the dog's natural oils than needed which can lead to nasty rashes and other forms of skin irritation.
Most of the ones listed above perform this function well, it's up to you to pick which of the scents you like best, if any, so no recommendation for this one.
Shampoos For Skin And Coat Maintenance
The primary function of all shampoos is to keep your canine companion's sensitive skin soft and irritant free and remove matting and tangles from his fur while keeping it nice and shiny.
The best dog shampoos for Maltese of this kind incorporate natural ingredients like Aloe Vera, vitamin E and oatmeal in the mix to make sure the skin remains moisturized and the fur remains strong.
Others use different methods, but I've found these to be the best, in my opinion which is why I'd recommend ZestyPaws' shampoo as an option.
Antibacterial & Antifungal Shampoos
Finally, the shampoos that you're hopefully going to be needing the least, the antibacterial and antifungal ones.
These shampoos are used when your dog is suffering from a particularly nasty infection that needs to be treated with something a bit stronger, be it a yeast, fungus, bacterial infection or otherwise.
These are usually bought after consulting with your dog's veterinarian and after his diagnosis determines whether the severity of the infection calls for it because these shampoos are stronger and definitely aren't non-toxic.
If you ever find yourself needing one, I'd recommend the Dermabliss option as it's probably the least harmful option out there while still getting the needed results.
How Often Should You Bathe Your Maltese?
Unlike most dogs, Maltese need to be bathed relatively often, somewhere around once every week to week and a half, give or take a few days.
Don't do it too often as even the most gentle of shampoos are going to peel all their natural oils off and cause all sorts of skin irritation, just like how too much soap does to our hands.
Do try to find a natural shampoo as well since they're better for your dog's skin in general.
Is Human Shampoo Safe to Use On Maltese?
Human shampoo isn't safe to use on a Maltese, or poodle, or any other dog for that matter. Our skin is more resistant than theirs so our shampoos often contain harsh chemicals that their skin wouldn't be able to take and would cause all sorts of problems for them.
There are some that double as both dog and human safe shampoos, but it's best to keep them separate.
In Conclusion
Some of the best dog shampoos for Maltese cover a wide number of needs as dog grooming can be quite complex.
The selection is vast and each brand offers a variety of benefits, scents, prices and the like.
While you can control the pricing aspect and the choice to a point, ultimately, the decision will fall to your dog in regards to the rest since it's his body that's in question.
He'll decide whether the shampoo is too strong, too smelly, too irritating or just right.
Hopefully, with the guidelines I've outlined above and the selection listed, you'll be able to find the perfect shampoo for your petite pet. Until next time.
RELATED LINKS:
• Maltese Colors Guide: Do They Appear In Shades Other Than White?
• 9 Best Brush For Maltese Dogs: Take A Look At Our Top Picks
• Male Vs. Female Maltese: Which Makes The Better Pet?
• How Much Does A Maltese Cost? Crunching Some Big Numbers