This post contains affiliate links, and I will be compensated if you make a purchase after clicking on my links.
Shih Tzu are the little lions of the dog world with a mane equally as majestic which is why it shouldn't surprise you that such a mane needs to be kept up properly through proper grooming, but what are the best shampoos for Shih Tzu dogs?
The best shampoos for Shih Tzus are those that help prevent skin irritation and infections as well as keep your dog's coat shiny, fluffy and pristine.
It may sound like a tall order, but nowadays, a lot of shampoos have these traits on offer.
However, there are several other factors to consider when buying a shampoo that relate to your dog's preferences specifically.
Whether it's allergies, a dog's personal preference or simply the fact that most dogs don't really like bathing despite liking water and swimming, so you need to find a soothing shampoo option.
But even this doesn't really narrow it down, however, I did by choosing some of the best options that Amazon and Chewy both have to offer and have listed them below to hopefully make it easier for you to decide.
Read on to see which of them fits your perky pooch and his needs the best as well as discover some potentially previously unknown info regarding Shih Tzu grooming.
8 Best Shampoos For Shih Tzu
First up is a classic, the Buddy Wash 2-in-1 dog shampoo and conditioner.
It comes with a natural mint and lavender scent that will delight the nose of every Shih Tzu owner and any passers by when you take the Shih Tzu out for a walk after a nice, comfy bath.
Made from high quality ingredients including a coconut base that helps provide a soothing factor paired with the Aloe Vera and a variety of essential oils that act as conditioner, helping reduce any existing skin irritation and preventing future skin issues.
The mint and lavender scent are there to enhance the shampoo's soothing effect and help keep your doggy calm and patient during bath time.
Even the conditioner's ingredients of the essential oils and botanical extracts help in that regard too seeing as they're a mix of some well known soothing herbs like sage, rosemary, chamomile and even a little bit of green tea.
To ensure a proper soothing experience, the shampoo is completely soap free, and it doesn't contain any traces of alcohol, meaning it won't bite your darling doggo's eyes nor does it have anything harsh that may end up irritating the skin itself.
The shampoo brand is a friend to all animals and this time it's no different as the shampoo is completely cruelty free, keeping its business practices ethical.
The cost is about what you'd expect for a shampoo of this quality, if not better considering how cheap it actually is, so you won't really regret trying it out for a bit to see if your dog actually enjoys it.
Do be aware though that there are some ingredients that may be potential allergens to some Shih Tzus like wheat protein. If your canine companion has said allergy, it might be best to move down the next option on the list.
If you're looking for a more premiere product, you may want to take a look at Earthbath as an option for your darling Shih Tzu.
It's widely considered as one of the best dog shampoos for a lot of dog breeds because they stick with a rather simple package that works, using a neutral and soft ingredient like colloidal oatmeal as the base.
It helps provide that nice soothing effect that lasts through every lather to get your dog better accustomed to taking baths.
Add some Aloe into that which not only helps rehydrate dry skin, but it further adds to the soothing benefits.
The rest of the ingredients are more tailored for keeping your Shih tzu's hair and the dog's fur in general strong, fluffy and pristine, making for a decent option for a whitening shampoo, in a sense, but also a great deshedding shampoo as well.
As is customary with any high quality soothing shampoo, this one is free of any soaps that may cause eye irritation, skin or otherwise and is incredibly gentle on even the smallest and most sensitive of dog breeds.
That said, keep in mind that this particular brand isn't suitable for dogs that aren't at least six weeks of age.
However, that doesn't mean that it's not a safe option for any other dog, just that very young dogs need to develop a thicker skin in a sense to be able to deal with it.
It's still free of any artificial or otherwise potent fragrances that could irritate the eyes or the nostrils of either you or your doggo.
With that in mind, it also has no potentially harsh chemicals in its ingredients either, especially no phosphates or parabens.
In fact, it comes in a fully biodegradable bottle, making it a great eco-friendly option.
Cost-wise, it's certainly not the worst offender but does fall into that average line, teetering slightly more on the expensive than the cheap side, but only by a buck or two.
The only thing I dislike about it personally though is the labeling because it feels really dated, but given its eco-friendly nature, I'll let it slide.
If you're someone looking for a more allergy free option for your canine companion, especially if he suffers from some of the more common allergens, then TropiClean may be your best option yet.
This hypoallergenic shampoo comes with a coconut base, one of the greats next to oatmeal when it comes to doggy comfort and one that will always help soothe him and keep him still when it's time for a doggy bath.
The coconut does wonders for a dog's skin too, helping soothe and rejuvenate it.
It also carries a lovely fragrance that'll bring you and your doggo over to the tropics, making it feel like a chill island breeze for the two of you.
And, as any good shampoo does, it's made entirely from natural ingredients, with no harmful chemicals present like parabens or phthalates, or anything artificial for that matter like dyes, fragrances and the like.
It also contains no soap either, making this shampoo not only allergen, but irritant free as well.
The pricing is more than reasonable given its specialized niche and its quality.
And, unlike some other products on this list, the packaging is pretty sleek with vibrant colors.
However, every good product has some flaw, and in this shampoo's case, that seems to be faulty packaging at times since a lot of customers have complained that it arrived with a leaky and busted cap.
Zesty paws has always been a leader in making comfy shampoos for all dog breeds, and this time it's no different with its anti-itch shampoo.
With the classic mix of oatmeal and Aloe Vera, the shampoo provides an excellent solution against itchy skin through its amazingly soothing properties.
However, it gets further enhanced through the addition of Vitamin E as it helps relieve not just dry skin and general irritation, but all itchy areas, rashes and hot spots.
All of this, paired up with a few other ingredients helps keep your dog's hair nice and fluffy while retaining that majestic, royal allure.
Another thing it has over the competition is the addition of a lovely vanilla scent. While it may be considered basic, you don't need to go for anything too complex with doggos to prevent irritating their sensitive snouts.
Given just how flexible the use of this shampoo is, especially when paired with the conditioner of the same brand, it is one of the favorite options for dog groomers nationwide.
Sadly, because of its quality and popularity, it is more expensive than some of the other options on this list, but if you're looking for a luxury option that you can splurge a little bit on for your favorite furry friend, then I'd suggest this one.
It is a little bit ingredient-lite which does make a few people doubt it's actual quality, but if there's anything I've learned while raising dogs it's that simple usually works the best for any canine.
A very familiar brand for a lot of you, I'm sure, Burt's Bees has been making products for both dogs and children to great success on both fronts.
Certainly a favorite for moms and dog owners everywhere, not just in the United States.
And for good reason too. Take this shampoo as an example.
It uses buttermilk as a base, a bit different from the coconut and oatmeal that we've been seeing thus far.
Its silken texture and soothing feel against the skin will help cleanse any potential issues that the dog's skin may be facing as well as preventing any in the future through regular use.
The shampoo also contains honey which helps benefit the furry side of things, keeping your dog's hair strong and preserving its moisture by stimulating the natural oils on the skin to keep it shiny.
It's like giving your doggo the Cleopatra bathing treatment, it doesn't get any fancier than that.
Naturally, a gentle shampoo has its pH levels perfectly balanced for dogs to prevent any potential further irritation when it's time to give your dog a bath and to keep him from panicking in the tub and making a mess.
This, of course, also means that it won't cause any tears or eye biting either, making it safe for use on even the most sensitive of dogs.
It also has no artificial fragrances or other additives like parabens, phthalates, sulfates, petrolatum and similar, nor does it have any other hazardous chemicals that could cause harm to your doggo.
Given how Burt's bees is a friend to children and dogs alike, they'd never think of testing any of their products on animals, so you can rest assured that this product is completely cruelty free, keeping all of our animal friends safe and sound once more.
It's also kind to Mother Nature too by making sure its bottles are mostly recyclable, around 80% with the other 20% serving to preserve container quality.
Regardless, it's still an amazing stride toward a more environmentally friendly product, something a lot of companies don't even consider doing.
The shampoo is so popular that it has even earned vet commendations all over the United States.
And with all that said, you may think it's likely expensive, but this all-natural dog shampoo will only cost you a fraction of the price that some of the other ones might, making it a great budget option too.
But, because this is me, I do have to say that I think they should really up their labeling game as the current branding doesn't really look visually appealing in my eyes, but I could be wrong.
Next up is yet another hypoallergenic option for your Shih Tzu with the 4-legger organic variant.
Instead of oatmeal and coconut, this one mixes lemongrass with Aloe Vera to use as the base. Both of them are fantastic for dealing with even the most sensitive skin by helping it retain moisture and prevent all sorts of skin-related issues.
After all, Aloe Vera is known to have great antibacterial, antiviral and antifungal properties, making it a great choice in fighting off yeast infections that are known to plague doggos at times, the same goes for lemongrass too.
But, outside of that, their other purpose is to help keep your Shih Tzu calm during his regularly scheduled bath by helping relax his muscles and get rid of said irritations.
All of these benefits are further enhanced with the use of various organic and essential oils that you can find in this wondrous product.
One such oil is coconut oil, providing what the others do with the coconut base, but in a more liquid and concentrated form, giving your canine companion a well needed and deserved spa day every time you lather him up.
Jojoba oil is another, great for nourishing your Shih Tzu's skin and fur, further benefiting the Aloe Vera and lemongrass mentioned earlier.
While some essential oils are known to be quite strong, all ingredients used in this product are extremely gentle and help nourish the skin rather than scrubbing off the natural oils that keep the skin moisturized or keep your dog's coat lustrous.
With that in mind, it also has no artificial thickeners or preservatives, nor will you find any trace of sulfates, detergents, parabens or any other chemicals hazardous to the health of your darling dog.
The people behind the product are kind folk who detest any form of animal testing meaning that this shampoo is proven to be cruelty-free on top of being a gluten-free, vegan option.
And, as many of the other cruelty-free shampoos are, this one contains a fully biodegradable bottle too paired with no GMO ingredients either. The bottle's visuals are quite lovely too, something more good manufacturers should take into consideration themselves.
It even has a USDA certificate for passing many of its rigorous health and safety tests and regulations with flying colors that prove it's a purely organic product.
The product is completely safe to use with any topical tick or flea ointments, but only if you keep to the given instructions on both products so you can tell how long you need to wait until you can give your canine companion a bath to keep it on.
The downside of the product, however, comes from its price tag. It's definitely up there, albeit not insanely expensive. The quality of the product somewhat justifies it, but if it's not within your Shih Tzu grooming and maintenance budget, then you can still go for a cheaper option if you can.
Here's another great option from Earthbath, this one making for an ideal deshedding shampoo.
While Shih Tzus aren't known to shed a lot aside from the actual bath time and the rare occasion where their hair does fall out, these shampoos always come with ingredients that keep hair follicles strong.
The base ingredients of Awapuhi and green tea are spectacular options when it comes to natural skin moisturizers and treatment options alongside the ever present Aloe Vera, helping dry skin retain the moisture from natural skin oils, keeping it protected and irritation free.
The hair, in the meantime, is supported through omega-6 fatty acids which you normally find in dog food and dog treats as a supplement for that very same purpose, albeit this time it's for a more topical application.
The shampoo itself has neutral pH levels and is free of any soaps that may irritate the eyes, which makes it a great and gentle option regarding your dear doggy, providing only the safest skin care options.
This also means that you won't be finding any phosphates, parabens, sulfates or phthalates in there either or any other hazardous chemical for that matter.
Aside from the green tea, ginseng and shea butter are present as ingredients that help soothe your dog in the tub and have him make the experience be more joyful and relaxing in the long run rather than panic inducing.
As with many other shampoos on this list, it respects every dog by not testing the product on our furry friends, and they even respect the environment by making the packaging entirely biodegradable as well.
The gentleness of these soothing shampoos will also not interfere with any topical flea or tick ointments either.
Just make sure to follow the instructions on both products to determine how long you have to wait after applying the latter to be able to perform doggy bath time.
The cost of the product is around the average so you won't be putting yourself in the red just from buying a few bottles of it.
Packaging wise, however, it suffers from the same issue of feeling dated that many environmentally-friendly shampoos do. Some have managed to circumvent it, but it may just be par for the course.
However, I wouldn't take that against them since it's a small blemish on an otherwise strong shampoo candidate
The final option on this list comes from another well known brand, Healthy Breeds who often create products that are tailored for specific dog breeds, and this one here is made specifically for Shih Tzus.
It's aimed at specifically stinky boy and girl doggos who tend to get into a lot of nooks and crannies they're not supposed to and come out unpleasantly fragrant for it.
Aloe Vera serves as the base in this case to help remove any infections or bacteria that may be causing the smell in the first place while also making sure your dog is kept relaxed and soothed during bath time.
It's further enhanced by a sweet-pea infusion deodorizer to help get rid of existing pesky odors as well as various proteins to serve as conditioners and emollients as moisturizers.
Aside from that you have a mix of omega-3 fatty acids that help add further shine to your dog's fur and take care of its overall health by preventing issues like scaling or flaking of the skin.
The shampoo is perfectly pH balanced for dogs too, ensuring minimal issues with the product itself, however it's not for human use, so don't use it as an alternative for your own shampoo, given how dog and human skin tolerate different pH levels.
The product is fully made in the USA, meaning that by buying from Healthy Breeds, you're helping support the local economy.
Overall, the shampoo itself is gentle to a point where it won't scrub away any of the skin's natural oils but rather stimulate the glands responsible to produce more, helping provide the skin with some natural protection against irritation and potential yeast infections.
It's also gentle enough that any topical tick and flea control products are safe to use prior to a bath, just make sure to read up on how long you have to wait before you subject your dog to a lather of his new shampoo.
This way, the ointment gets to set in and doesn't get washed away.
It's also hypoallergenic in case you were worried that it may affect your furry friend if he has an allergy or two accompanying him.
The pricing is slightly on the cheaper end of things, meaning that it's not a bad pickup should you choose to give it a try. I can assure you that you'll definitely see positive results.
The only downside is that the packaging can be a bit same-y between the different breeds, and that a lot of people complain that the so-called 'breed-specific' bits are just marketing.
They claim that almost all products are the same thing with a different label.
Before You Buy: Things To Keep In Mind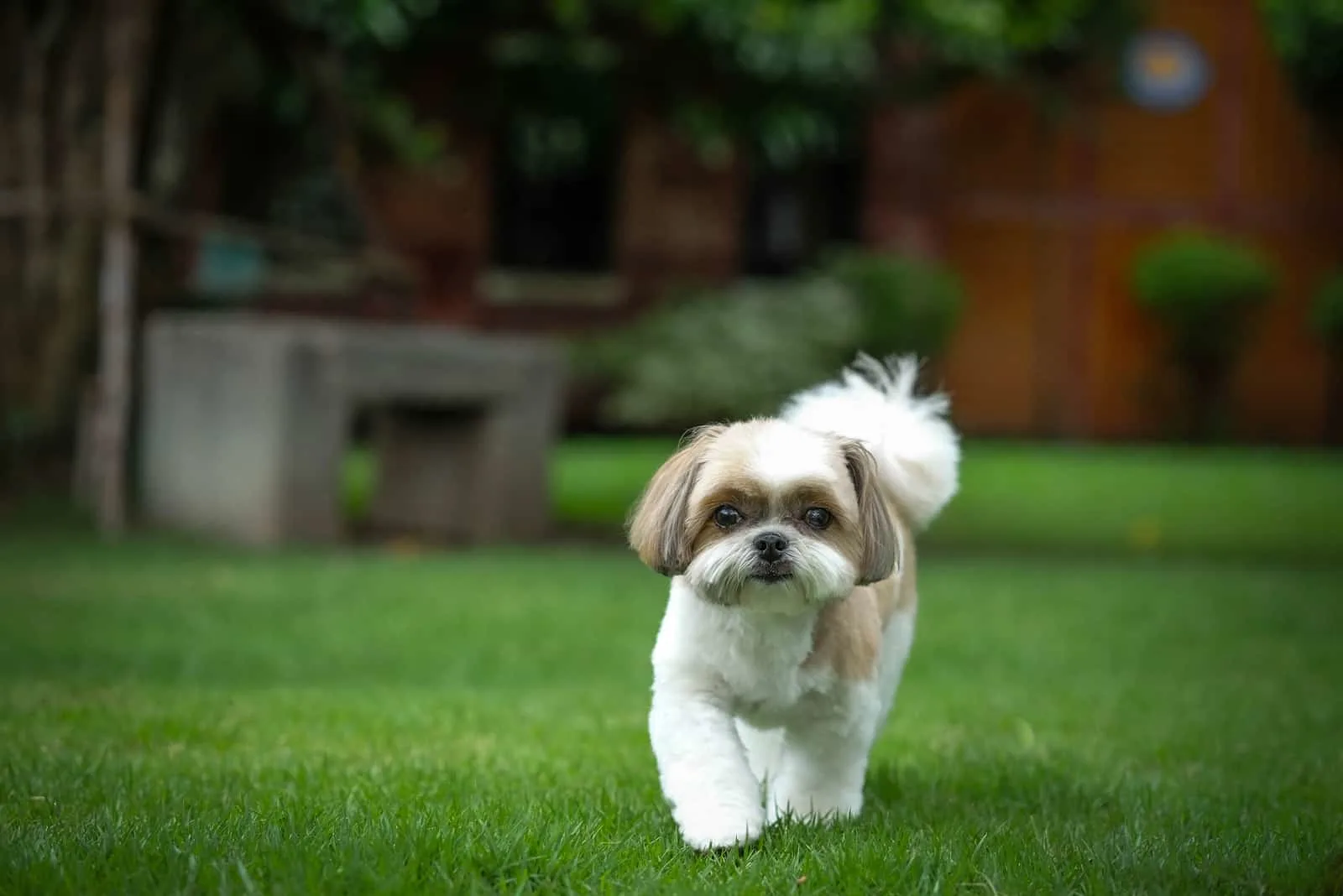 As it was with every product listed on Pupvine thus far, especially considering pet shampoos, there are certain aspects that may seem repeated over several products, usually good ones that are tell-tale signs of a good shampoo.
In case none of the products above fit your idea of the best shampoo for Shih Tzu dogs, then you may want to consider giving some of these pointers a look to help you find your ideal product in case you go looking for one yourself:
Naturally Gentle And Soothing
The problem with almost every dog is that, while they love water, they usually detest taking a bath, barring exceptions.
That's why getting a shampoo with natural soothing and relaxing properties is extremely key to getting a happy little doggo who can enjoy the cleaning ritual every now and then.
Skin And Fur Care
One of the main reasons for giving dogs baths in the first place is to help them deal with the various skin issues like hot spots, flaky skin, dandruff and general irritation.
The same goes for fur. You want a shampoo that'll make it easier to detangle it and keep it nice and pristine to have your doggo maintain his beautiful look.
This is why so many of these shampoos emphasize ingredients like botanical extracts, essential oils, and especially Aloe Vera among other similar products.
Always look for ones that feature these as they cover both the soothing portion and the skin and fur care portion of this guide.
pH Balanced For Dogs
You can't put any kind of shampoo on your dog, regardless of breed.
As mentioned earlier in the article, dogs and humans have different pH level skin with one being more alkaline than the other.
There are some rare occasions where it works for both, but they're not mandatory.
That aside, you should always make sure to find a shampoo that's pH balanced for dogs otherwise you may end up doing more harm to him than good.
Natural Ingredients
Avoid any artificial and chemical nonsense, as much as you can.
While usually cheaper, they're much lower in quality and will cause your dog more problems than they solve, especially irritated skin, among others.
Always go for a more natural formula as it'll make your dog a lot happier on the matter.
Hypoallergenic
While more and more sought after as a trait, most dogs won't always need it.
For those that do, a hypoallergenic product means the shampoos are safe to use for allergy-prone dogs and won't cause your sensitive canine any extra harm or cause any worse skin conditions..
Affordable
Finally, you want a product that you can afford.
There are many products out there offering the same. If you find one that offers the same as another that piqued your interest, but is cheaper, take it over the luxury option if it contains no major downsides.
FAQs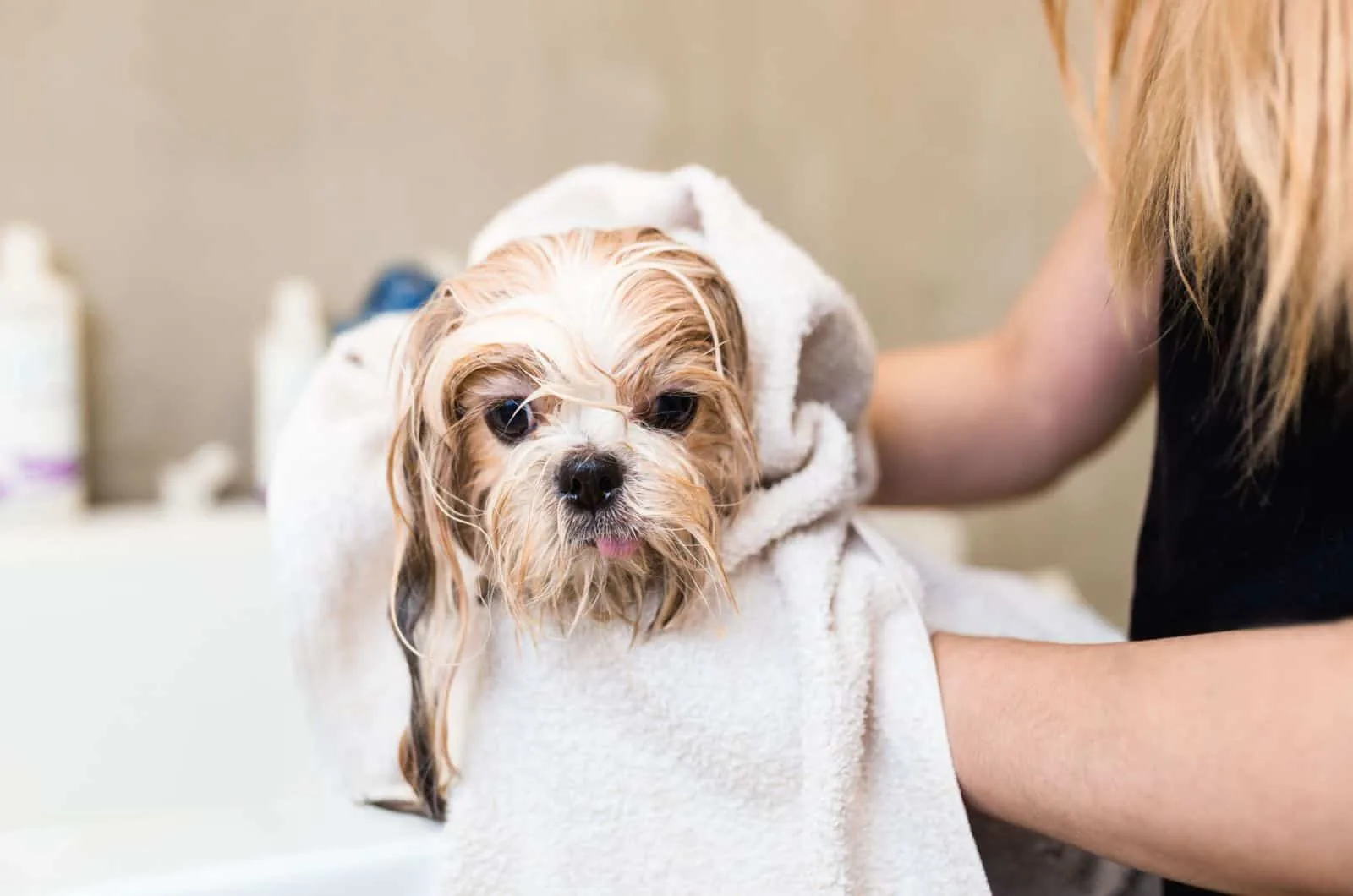 So What Is the Best Shampoo For Shih Tzu Dogs?
Every dog is unique in the fact that they have different needs, so there's no "best" option in that regard.
However, if it were my Shih Tzu puppy and I was making the choice for it, I'd definitely go for Burt's Bees or 4-leggers as an option.
The first one is environmentally as well as canine friendly while also being quite affordable, especially considering the traits it has on offer.
The second one is mentioned because of its hypoallergenic nature as one of my dogs does in fact have harsh allergies and a hypoallergenic shampoo always comes in as a lifesaver.
What Kind Of Shampoo Should I Use On A Shih Tzu?
Go for shampoos that are gentle on the fur and skin to not ruin its quality with regular shampoo use.
One that's affordable and that has soothing properties to keep him still during bath time and helps him enjoy it rather than resent it.
How Often Should A Shih Tzu Be Bathed?
You should bathe a Shih Tzu around every 3 weeks to help remove any filth build up that may have formed over time.
What Are The Benefits Of Using A Shampoo For Dogs With Dry Skin?
One of the main benefits is that they help moisturize the skin through natural means by stimulating the production of natural skin oils that help better retain moisture and prevent drying out, hot spots and general irritation.
Can You Use Human Shampoo On A Shih Tzu?
Most of the time the answer to this question will be no. Scratch that, almost always, barring very few exceptions.
The reason why is, as stated before, that human and dog skin is tailored to specific pH levels and shampoos are built to balance around that to be gentle for the intended public.
Human shampoos are simply too acidic for the alkaline-leaning dog skin to be bathed with and will cause more skin issues down the line if used regularly.
How To Properly Bathe A Shih Tzu?
With everything else mostly dealt with, it's time to teach you the basic steps in bathing a Shih Tzu to minimize messes.
1. Brush Your Dog Down Before A Bath
Your worst enemy in a dog with fur like the Shih Tzu are tangles and matting.
To make it easier to detangle these during a bath, give your dog a pre-bath brushing session to loosen these patches of tangled and matted fur up.
Doing this prior to baths will also help prevent the drain from clogging with loose hairs flowing into it.
2. Place a towel or something similar on the bottom
One of the major problems of giving a doggo a bath without having access to a yard is that the tub material is nigh impossible to get a good grip on for dogs, especially smaller ones.
A neat trick to use is getting a towel or something of similar texture and placing it on the bottom of the tub to give your doggo something to latch on to.
This'll help prevent slipping and reduce overall doggy panic levels by providing them with a sense of security and control during the bath itself.
3. Plug The Drain
To avoid the issue of getting a clogged drain due to a massive hair build-up, even if it's a low shedding dog breed like the Shih Tzu, it's always worth preventing a potentially large repair bill.
Both the actual plug and steel wool work in this case as the wool helps catch the long hairs a lot easier while still allowing water to freely drain itself from the tub to not create a high level of dirty water inside.
4. Bathe The Shih Tzu In The Sink
The sink is a great alternative to a tub since it's somewhat of a more compact, alternative bathing space.
It'll make it easier for your dog to just nest in meaning your dog can't exactly slip around, and it's more elevated so you don't have to constantly bend over at an awkward angle to give your doggo a bath.
In Conclusion
The best shampoo for Shih Tzu dogs is one that makes them love the entire experience while treating both the Shih Tzu's coat and skin with the utmost of care and love.
There are plenty of such products out there on the market, but only one is the best one for your dog.
After all, every dog is different with its own unique needs, ones that you yourself know better than most anyone else.
So trust yourself that you'll end up picking the one that's best for your dog, I do. Until next time.
RELATED LINKS:
• Do Shih Tzus Shed? A Guide To Grooming Low-Shedding Dogs
• Busting The Myth: Male Vs. Female Shih Tzu
• How Much Does A Shih Tzu Cost? Buying And Raising Shih Tzus
• Are Shih Tzu Hypoallergenic? Keeping Dog Allergies At Bay
• Shih Tzu Breeders In Ohio: Top 8 Breeders Of 2022!