This post contains affiliate links, and I will be compensated if you make a purchase after clicking on my links.
Shih Tzus are adorable, small dogs that make great family pets. If you want a dog whose personality is as sweet as its looks, you should not search anymore. With Shih Tzus, you got it all – looks, charms, and affection.
Shih Tzus look even more adorable when they are properly groomed. They have something that is called a double coat, which means that they have a shorter inner layer and a longer outer layer.
It is really important for a Shih Tzu owner to know how to properly brush their pooch, and also which grooming tools to use. With this type of coat, proper care is essential; otherwise, their hair will easily get tangled.
Regular brushing will help smooth any matts and tangles, and keep their long hair silky and shiny. You will need a high-quality brush that can penetrate deep into the undercoat and reach all those stubborn knots.
A good stainless steel comb or even an undercoat rake may be also beneficial if your Shih Tzu is prone to matting. If you want to find out which grooming tools are actually worth purchasing, keep reading.
In this article, I present to you 11 best brushes for Shih Tzu dogs that will make daily brushing a truly enjoyable process.
Best Brushes For Shih Tzus: Top Three Picks
What Are The Best Brushes For A Shih Tzu?
The first product on our list of the best brushes for Shih Tzus is the Hartz Groomer's deshedding slicker dog brush. This is a great pet brush for everyday grooming sessions.
It is made out of extra fine bristles that have a protective coating on the tips. The protective coating on the tips, along with breather holes on the brush head allow a gentler and smoother brushing motion. There are many pins that are tight enough to pull out the loose hair, but at the same time, neither sharp nor dull.
Also, the ergonomic handle gives dog owners maximum control and comfort, so that the brush is easy to hold and maneuver. You will not feel fatigued after brushing your pup, like you may with some other brushes.
When it comes to cleaning the brush, you have to remove the collected hair from the tool, and then wash it in warm, soapy water as needed.
RELATED: Do Shih Tzus Shed? A Guide To Grooming Low-Shedding Dogs
If you want a high-quality product that will do the job perfectly, you can't go wrong with the Andis Steel Comb. They are known for having good quality products for all types of dogs, which can also be seen in their awesome reviews.
I chose this product as our "best value" one because I think that this tool is the perfect balance between performance and price.
It is made out of durable, but lightweight stainless steel blades, so you know that it will last you a long time. One side comes with coarse teeth, and the other one, with fine teeth. You can use it to detangle, remove any loose hair and dirt, or as a finishing touch for fluffing or smoothing out the hair.
The comb is also equipped with an anti-slip handle to make brushing more comfortable and fatigue-free. This is definitely the grooming tool that I recommend to everyone. It is not so expensive, and it does the job perfectly.
Chris Christensen is definitely the luxury brand of the dog grooming world. Yes, I know… it costs a lot; however, I think it is worth mentioning because it has some of the best reviews you can find in one dog brush. It is not called a groomer's miracle brush without a reason.
There is no doubt that the Big G dog slicker brush has the best capability of removing knots and tangles with ease. It comes in three different sizes to fit your dog's size and breed the best. For dogs like Shih Tzus, the baby size might be the perfect one.
This brush allows you to fluff, detangle, and style all in one product. It is made out of super long, soft, and scratch-free pins that are situated on a cushioned pad that retracts.
The handle features a unique rubber coating that prevents the brush from slipping or being uncomfortable in your hand. The only downside of this brush is its price; however, if you are able to afford it, we assure you that you will not regret purchasing it.
READ ALSO: Shih Tzu Lifespan: How Long Do Shih Tzus Live On Average?
The worst part of brushing your dog has to be dealing with all that hair; however, Hertzko has a solution for that. Although Shih Tzus shed less than some other dog breeds, they still lose hair while being brushed.
The Hertzko slicker brush comes with an awesome feature and a very smart design that allows you to collect the hair in a very simple and effective way. The brush has a push button that easily retracts the bristles.
How does this work? Well, it's simple.
When you want to start brushing, you simply press the button to extend the bristles, and when you want to collect the hair, you push it again to retract those bristles, and now you can easily collect the hair.
The brush helps reduce shedding, remove any dirt and debris, improve blood circulation, and keep the thick coat shiny and soft. Just remember to be careful while brushing because the pins are a little bit sharp.
Due to their long coat, Shih Tzus are quite prone to tangles and stubborn matts, so it is very useful to have one good dematting comb in your household. The Coastal Pet Safari comb is a very good example of a product that does wonders when mats are involved.
It easily removes mats and knots on a longer coat while avoiding contact with the dog's skin. The comb is made out of stainless steel, sharp, serrated blades that can remove even the toughest knots out there.
The blades are reversible for left-handed use, which is an awesome feature for left-handed pet parents. The soft rubber handle allows for a very comfortable and easy grip.
Definitely take your time brushing your dog. This tool is great, but it is also very sharp, and if you are not careful enough, some unwanted accidents can happen.
RELATED: Silver Shih Tzu: Is This The Most Unique Shih Tzu Color?
The PETPAWJOY dog brush is designed for gentle grooming of small dogs and puppies. It will gently remove any tangles, loose hair in the undercoat, dirt, and dander, and leave the coat looking shiny and smooth.
This brush comes with a rotatable brush head, which means that you get two grooming actions in one tool — one for grooming, and one for massaging. Massaging is great for improving blood circulation and preventing any skin diseases.
The pins of this brush are very safe, effective, and do not irritate the skin. They come with rounded white tips, so they aren't that sharp, and therefore, protect your pet from getting hurt.
A lot of dogs don't like to be brushed, so it is always good to have that one brush that does the job, but it is also so gentle so that your pup doesn't even notice you are brushing him. The JW Pet Gripsoft dog brush is a soft slicker brush specifically designed for sensitive skin.
It features a rounded head, and 90-degree-angled soft pins that run parallel to the dog's skin; therefore, providing gentler brushing motion. Since this brush will not irritate or scratch your pet, it is perfect for those pups that are not a fan of daily brushing.
Although it is very gentle, it still does the job amazingly, removing dead hair, and all sorts of mats, knots, and tangles, leaving the coat shiny and smooth.
It is called Gripsoft because of the unique technology that provides a non-slip grip for maximum control and comfort while using the brush.
If you are looking for an affordable product, fast shipping, and great results, we definitely recommend you to try this.
RELATED: Busting The Myth: Male Vs. Female Shih Tzu
We all know that pets can be very expensive. You have to provide them with constant care, food, and supplies, and at the same time, you want to give them the best you can. However, all this can sometimes be too much.
Not everyone can afford to buy various types of brushes, so products like the one we are going to mention next are, in most cases, a true lifesaver.
The Hartz Groomer's combo dog brush is a great combination of two different brushes, bristles and pins that allow you to perform two different brushing motions with one product.
On one side, you have a bristle brush that is made out of nylon bristles that remove any dirt and debris, distribute the natural oils throughout the hair, and leave the coat healthy and shiny.
On the other side, there is a stainless steel pin brush with safety tips that efficiently remove any loose hair and tangles.
What I noticed about this brush is that it is a bit hard to remove the dog's hair from it, so you'll have to deal with that, but you can wash it with a bit of water, soap, or shampoo and it should be fine. For the price, it is truly a great grooming product that you should definitely try.
Although Shih Tzus are not exactly great shedders, a good undercoat rake is something you should definitely have in your household.
The ConairPRO Undercoat Rake does exactly what its name suggests — removes the dead undercoat. It does the job perfectly; however, I feel the need to mention that this tool should definitely not be used on a daily basis, especially for breeds like the Shih Tzu.
It is made out of short, stainless steel pins that are able to penetrate deep into the undercoat and remove any dead hair, stubborn knots, and debris. This tool can be used on both a dry and a wet coat; however, make sure that you use it in the direction of the hair growth.
If you use it occasionally and knowingly, this can be a great product to have in case of straightening any burrs and eliminating unwanted knots.
READ ALSO: How Often Should You Bathe A Shih Tzu? Tips And Tricks
The Coastal Pet Li'l Pals dog comb is the perfect grooming tool for small dog breeds, Shih Tzu puppies, and dogs exposed to outside adventures. All dogs need entertainment, and outside activities are the perfect way to achieve that; however, it can also bring some unwanted problems.
While being outside, your pups are exposed to various forms of parasites, such as fleas and ticks. This double-sided comb is the perfect solution for that. It efficiently lifts any fleas or ticks from your pet's hair.
RELATED: What's With That Tick Scab On My Dog? Tick Removal 101
Additionally, it helps detangle, remove any knots, and smooth out the coat. This stainless steel comb can also be used to brush out facial hair because it comes in the perfect small size for small breeds.
On one side, it features 32 closely-spaced teeth, and on the other, 17 more spaced-out stainless steel teeth.
So, if your dog also hates having his face brushed or if he is just too small for other larger dog brushes, this one is definitely something you should check out.
The last product on our list is the double-sided pin and bristle brush, by Hertzko. This brush can be used on both dogs and cats… both short-haired or long-haired.
This is great if you have multiple pets in your household… you can use one product on all your pets, so you don't have to spend extra money.
On one side, you have a pin brush with rounded ends that is great for detangling or brushing out the loose undercoat. On the other side, there is a bristle brush that is great for gently removing any dead hair, dirt, and dander.
Brushing can be a tedious job; however, this brush has an anti-slip handle with a comfort grip that prevents any strain no matter how much you brush your furry friend.
READ NEXT: 13 Best Teacup Shih Tzu Breeders In The US
FAQs – Grooming Tips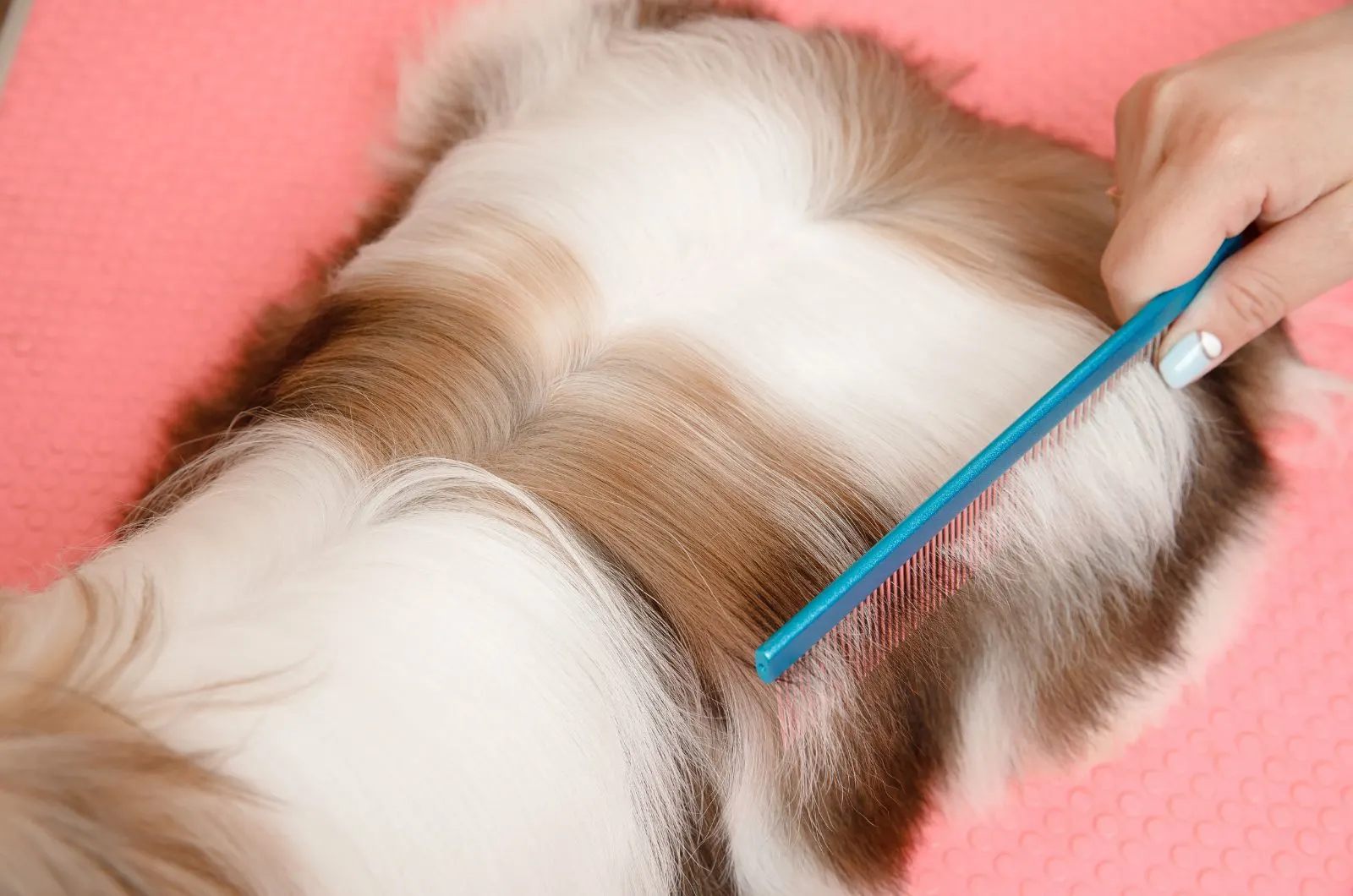 Final Thoughts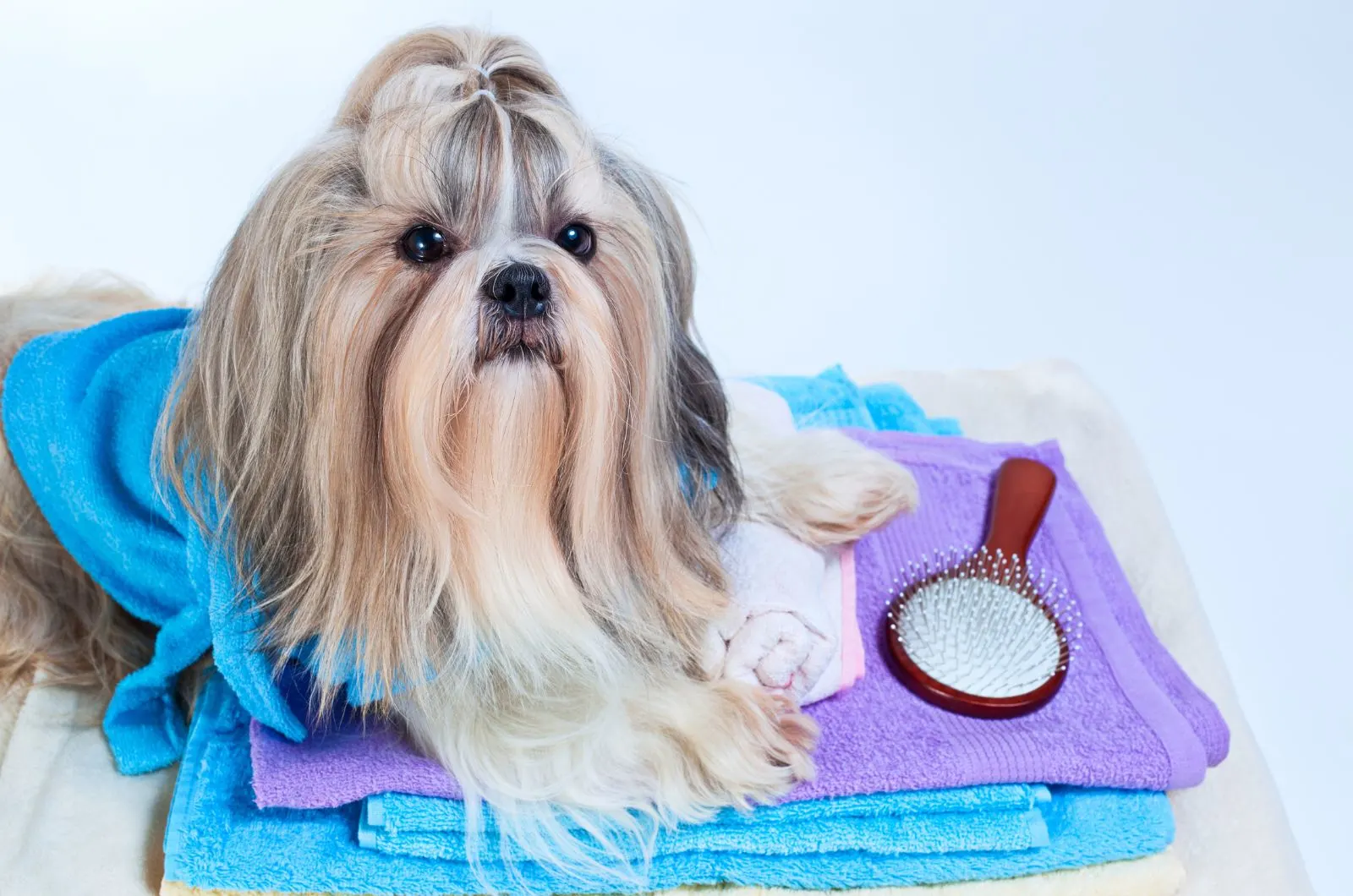 Finding a good brush for your pup is not always an easy job; however, I am sure that our guide on the best brushes for a Shih Tzu will help you find what you are looking for.
Keep in mind that brushing your dog is very important, and that you should be doing it as often as possible. If you have the time, then daily brushing would be ideal, but since we all lead such a busy life, every other day is still okay if you keep up with the schedule.
Whether you choose a more expensive tool or the cheapest one, the most important thing is that you do it regularly. Your dog's coat will start looking much better, shinier, and 100% cuter.
Related Content
Top 6 Best Brushes For Cocker Spaniels
Best Brushes For German Shepherds: 17 PAWesome Choices
12 Best Dog Brushes For Huskies: Keeping That Coat Fluffy
13 Best Brushes For A Havanese That Will Make You A Groomer