Disclosure: This post contains affiliate links, and I will be compensated if you make a purchase after clicking on my links.
Besides howling and barking, shedding is the third biggest problem when owning a Husky. These adorably quirky fluffballs shed all the time.Literally, all the time! To own a Husky, you need to have nerves of steel. Or, you know, a set of extra-quality dog brushes.
First-time dog owners will find themselves confused with all those dog brushes. And, if you go on Chewy, you'd be overwhelmed with so many choices! Lucky for you, we've got your back and a few Husky grooming tips up our sleeves.
Which brush do you choose? Do they all work the same on a Husky's fur? How many brushes do I actually need, and are there any that can do all the work for me? Find out soon if you check out our list of 12 best dog brushes for Huskies!
Combo brushes with a dual purpose are everyone's favorite. Why waste money on two brushes when you simply can have one that will satisfy all your needs. The Hartz Groomer's Best brush has two sides and multiple features you're gonna love.
This Hartz brush comes with soft bristles on one side and stainless steel pins on the other. The soft nylon bristles ensure that the coat stays soft and shiny, while it distributes natural oils throughout the coat.
The pin side is great for removing knots and excess fur. But, you don't have to worry about hurting your dog since the pins have covered tips and are super gentle on your dog's skin.
So, what's it for we dog owners? Well, the Hartz Groomer's Best Brush has an ergonomic handle for your convenience, so your hand won't cramp. Handling the Hartz Groomer's Best dual brush will be like waving a magic wand!
Undercoat rakes are one of the best dog brushes for Huskies. They reach deep into the undercoat and remove tangles. The Safari Single Row Rake has proven that it works like a charm.
As the name says, the single row of precision-tapered pins goes deep into the coat, strips knots, matted coat, and loose hair for the silliest finish ever. Frequent use will reduce the amount of shedding and keep the entire coat looking flawless. Also, your entire home will look flawless and hair-free.
This grooming rake is specially designed for dogs with medium-dense undercoats. The handle is ergonomic and curved, and it even has a non-slip area for easy use.
Handling this Safari rake isn't difficult at all. Most importantly, efficient brushes like this one reduce brushing time in half.
Frisco's Pin Brush is one of the cheapest on Chewy, but that doesn't mean it's not efficient. In fact, this is one of the best pin brushes this website has to offer. Suitable for both dogs and cats, the Frisco pin brush is also ideal for your Siberian Husky, and here's why.
The brush features gentle plastic pins that remove dead hair and knots efficiently, and fluff out the dog's coat. It's gentle for the dog's skin, meaning it will not leave scratch marks accidentally.
Medium- to long-haired dogs will love this brush because it gives extra volume, extra softness, and a lustrous shine. Use it every time you brush your Husky and the difference will be obvious. Your Husky will have a shiny and healthy coat.
The ergonomic handle design will give you better control of the brush. Also, it won't tire your hand or cramp it. Weekly brushing sessions will be a pleasant experience for both you and your dog. For less than $7, you get a premium product worth a few bucks more!
One thing that bothers Husky owners the most is those nasty knots. They're painful, annoying, and can cause more problems. If you neglect dogs with a double coat, they can develop matted coats, which cause more pain. You want to avoid such a situation by using dematting rakes. This one from Pet Republique is simply perfect!
This dematting rake features a 6-tooth side for solving tangles, and an 11-tooth side for thinning fur. All teeth are made using stainless steel. They're super hygienic and quite easy to clean.
Pet Republique's dematting rake is suitable for long-haired dogs and even cats. The size is compact and the design is ergonomic and sturdy. It reaches tough places easily and sinks into the coat without any problem.
What's so great about this brand is that Pet Republique donates 15% of its profit to the American Animal Rescue Society. Every purchase helps a dog or a cat in need, and we think it's wonderful.
Every Husky owner should have one de-shedding tool in the home grooming kit. You don't need many of these tools. Just buy the Paws & Pals de-shedding tool and you're ready to groom.
This brush is suitable for all dog breeds and coat sizes. The brush features a stainless steel blade that goes deep into the coat, removing dead hair and dander. Your Husky's coat remains sparklingly shiny.
If you use this de-shedding tool regularly, it will not only reduce the amount of shedding, but it will also prevent bad odor from forming. Your dog's coat must stay clean at all times. Otherwise, dead hair, dirt, dander, and other debris will cause irritations, or more severe conditions like infections. Both the topcoat and the undercoat must be spotless!
Designed with an ergonomic handle, the Paws & Pals de-shedding tool will not tire your hand or cause cramping. The comfort grip will ensure ultimate control while brushing. You will feel great afterward and so will your pooch.
With a name like this one, the Pet Brush, by WetBrush detangler surely doesn't need much advertising. The sole name invites you to buy it, try it, and love it! Once your pet feels this detangler solving all of those painful knots, he'll love it, too! So, what exactly is there to love?
This brush features ultra-soft IntelliFlex bristles that bend as you brush, and provide comfort. This brush is specifically designed for large-breed dogs, and the Siberian Husky is one of them.
The reason why we love PetBrush, by WetBrush, is that this brush glides smoothly through the coat, doesn't pull, and doesn't damage the hair. Many dog brushes will get rid of the tangles, but at what cost? Hair gets damaged almost always! Not with this detangler.
The brush even has an ergonomic handle with an anti-slip grip for ultimate comfort and control. Another bonus is that this detangler can be used both wet and dry.
With its rounded bristles, no dog will be harmed or scratched. Only a pleasant grooming experience is guaranteed with the PetBrush, by WetBrush!
We've already spoken about how much we love dematting combs and rakes. Well, you're not gonna love this Safari Dematting dog comb. You're gonna adore it! Rarely any grooming tool gets rid of tangles so fast and painless like this one.
Matted hair is bad for your dog for numerous reasons. Besides being painful, it creates a sort of hiding place for bacteria, dirt, dander, and other debris. Also, moisture gets trapped there and may cause severe skin irritations, not to mention skin infections!
Do you realize now why we must prevent such scenarios? With this dematting comb, your Husky will be free of matted hair, loose hair, dander, and dirt. One swoosh of these rust-resistant stainless steel blades and you'll be left with a bunch of hair to throw away.
The blade is sharp enough to get rid of the matted hair without hurting the dog, pulling the hair, or damaging it in any possible way. Also, the blade's rounded tips will prevent scratching and penetration of the skin.
The Safari de-matting comb will groom and massage at the same time without your hand getting tired. Why? Because it was designed with a comfortable grip and an anti-slip handle for ultimate control.
Slicker brushes are also a terrific choice for grooming the Husky breed. With this slicker from ConairPRO, your Husky will absolutely get professional treatment. Every dog can look its best with the use of the right grooming tools, and ConairPRO is one of them.
This slicker brush features a memory grip handle, with a non-slip soft grip for better control and less hand cramping. The tips are reinforced and coated, designed to keep your pet unharmed and with no scratches.
Not every dog brush is suitable for sensitive areas like the face, underarms, and paws. You won't go out and buy tons of different brushes for each body part. But, you will go on Chewy and buy the ConairPRO soft slicker.
This slicker removes all the dirt trapped in the coat, along with dead hair. Your pet stays still during the brushing process, not because he's scared, but because he actually enjoys it. Another use of this brush is to fluff out your pup's coat. Simply brush against the direction of hair growth and you'll see how much volume the coat gets.
Does your Husky have a soft and fluffy double coat? Of course, he does! All Huskies do. And, all Huskies need a finishing comb like this one from the FURminator brand.
The FURminator is a well-known brand for grooming accessories, and their brushes are one of the best brushes for Huskies.
This finishing comb features rounded stainless steel pins that rotate completely, removing knots, dead hair, and mats. While brushing, your dog won't feel any pulling or tugging because this comb simply doesn't do that! What it does is that it leaves the coat spotlessly clean and extends the time between two baths.
If you own a Husky, then you can never have enough undercoat rakes. Make sure your grooming kit contains a high-quality product like the ConairPRO undercoat rake. The unique T shape of this brush allows you to pick up dead hair without causing any damage to the rest of the coat.
The ConairPRO undercoat rake features stainless steel pins that come in two sizes: small (1/2 inch), and medium (3/4 inch). In other words, there's a size choice for all dog breeds.
The medium size will fit Huskies with a medium dense coat the best. This rake will make your dog's coat shiny without making any scratches on the pup's skin.
One of the best things about this rake is that it comes with a non-slip, memory grip handle that actually makes you feel comfortable while brushing your pooch. This gel grip handle is the innovation that all dog groomers, especially those who groom huskies, need.
Husky's fur is high-maintenance. If you plan to get a Husky or a dog with a similar coat type (i.e., a German Shepherd), you will need to gather all your nerves and gather quite an equipment. Dog grooming can be challenging!
The more useful grooming tools you have, the easier it will be. This dog's undercoat cries for a good deshedding brush, some handy dual brushes with wire bristles, and steel combs for a thick coat. Our beloved FURminator Deshedding tool has got some competition.
For daily, regular brushing, your Husky will benefit from the FURminator dual dog brush. This type of brush features a pin brush on one side and wire bristles on the other. Long-coated dogs will find the pin side to be ideal for their coat.
They'll love each grooming session if it features this brush. The other side with nylon bristles comes in handy for all dog coats, especially to give a finishing touch to your Husky's hair.
This grooming brush follows the dog's natural contours, removes excess hair, and leaves the coat silky soft and mess-free. With regular grooming, your furry friend will feel better, and the issue of constant dog shedding will be reduced.
There's not a dog owner out there who hasn't heard of the Hertzko Self-Cleaning Slicker brush. This beloved slicker with a retract button and a self-cleaning option is the favorite for many owners and Husky dogs. Why? Well, you'll see that the answer is quite simple.
The Hertzko Self-Cleaning slicker brush is one of those brushes that professional groomers swear by and recommend for home use.
This brush is great for Husky grooming because the unique bristles penetrate deep into the coat and solve mats and tangles without any pain. But, not only does it brush, the Hertzko slicker also massages your dog, stimulating good blood flow and new hair growth.
This brush is suitable for both small and large dogs, long-haired and short-haired ones, too. With its comfortable and durable anti-slip grip, the Hertzko slicker brush is made to make your grooming session easy.
Just one click of the button and this brush will be as good as new and ready for the next use.
FAQs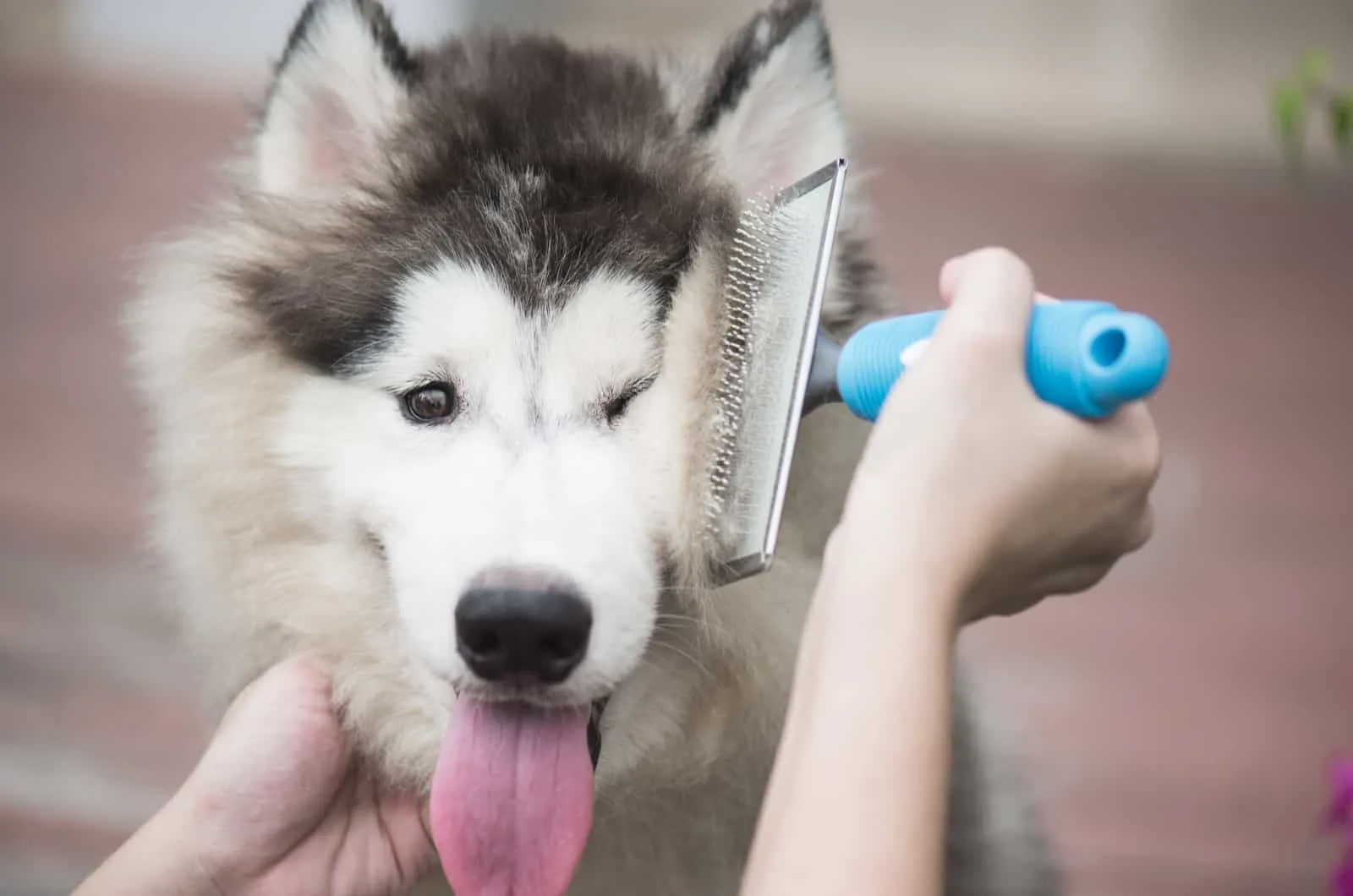 1. What type of coat does a Husky have?
The Siberian Husky is proudly rocking a fluffy double coat with a soft and dense undercoat, and a medium-length guard coat. The purpose of such an undercoat is to keep your dog isolated during harsh weather conditions.
After all, Huskies do come from the great North. The topcoat is there to protect your dog from getting sunburns.
New Husky owners must know that shaving a Husky is not an option… Ever! As you can see, there are reasons why this dog has such coats. If you can't handle all the brushing in the blowout season, then maybe this isn't the right dog for you.
2 How many times a week should you brush a Husky?
Even though they have a fluffy coat with a soft undercoat, Huskies don't require extensive grooming. Sure, the shedding season can be tough for both of you, but if you brush your dog regularly, you will go through it with no major issues.
Ideally, you should brush your Husky twice a week. Weekly brushing will prevent the coat from becoming matted, and will reduce overall shedding. With the use of the right grooming tools, your Husky will have a shiny coat every dog in the park will envy.
3. Do Huskies need frequent bathing?
Depends on what your definition of frequent is. Huskies shouldn't be bathed too often. Regular bathing means washing their coat for no longer than 6 weeks. Of course, if your dog gets dirty between two baths, you should wash him because dirt and debris may end up caught under the coat and cause allergies, infections, or skin irritation.
4. Are Huskies hypoallergenic?
Huskies shed all year round, with coats blown out twice a year. There are funny photos online showing how you can make a whole new Husky out of their loose fur. So, do you really think Huskies are hypoallergenic?
5. What's the best dog brush for Huskies?
Husky's undercoat is what causes so many troubles. The undercoat gets tangled easily, and you will need to remove those knots before they turn into something severe like a matted coat. What better way to do it than with undercoat rakes! Undercoat rakes or dog dematting combs reach deep into the coat and leave it mess-free and tidy. These tools come with a variety of tooth lengths, but it's important to choose the one that won't scratch your dog's skin.
Another great brush for a Husky is a slicker brush. It removes dead hair and dirt trapped in the topcoat and leaves it looking lustrous. If the slicker has a retraction button for easy cleaning, even better!
As for the bristle brushes, they're suitable for all coat types, including a Husky's topcoat. Even though bristle brushes won't penetrate deep into the undercoat, they're still perfectly fine for everyday touch-ups.
In case your pup gets those nasty fleas from another dog in the park, look for the Andis flea comb. Andis is a well-known clipper brand, but their flea comb is as good as any other product from their assortment.
Steer away from grooming gloves and razor-sharp shedding tools. These pet grooming tools won't work on your Husky. In fact, harsh shedding tools may even hurt the dog!
6. What is the best dog brush for shedding?
If you type in a deshedding brush in Chewy's search bar, a dozen great deshedding tools will pop up. Hey, we even have some on our list! The FURminator brand carries the best deshedding tools in the grooming world. You won't make a mistake if you purchase anything from their list.