The Beauceron breeders we are presenting to you today do not come from France, but they do breed and raise high-quality doggies that are just as excellent as the pups from their homeland.
Beauceron is a wonderful dog breed that has an interesting background story. These pups were used as war canines during the period of world wars, but in most cases, they were the function of search dogs and messengers.
They are known under several names, including Bas Rouge (red stocking) and Berger de Beauce (sheepdog from Beauce).
These pups are indeed quite unique. They resemble Rotties and Dobermans, especially with their coat shades and patterns. They even have double coats like Rottweilers, although they're a bit longer than that of the Rotties.
RELATED: Doberman Colors: Explaining 9 Coat Color Options
Without further ado, it's time to present you with some of the most reputable Beauceron breeders in the United States!
Beauceron Puppies For Sale In The United States
1. Von Katzenstein Kennel, North Carolina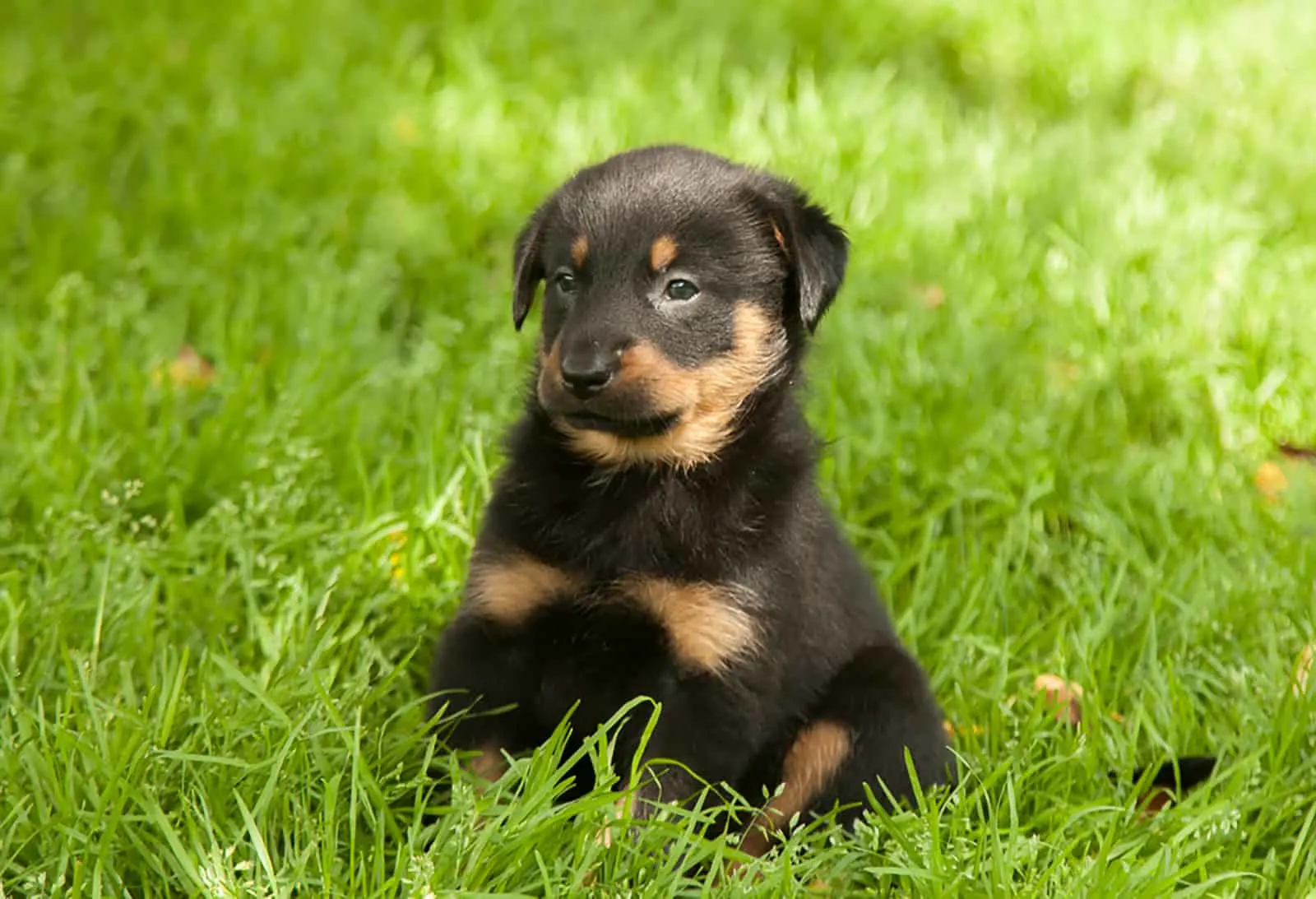 For a decade, this breeder has been producing only the best male and female Doberman puppies of excellent health and good temperament that comply with the breed standard set by the American Kennel Club (AKC).
However, two years ago, they decided to expand their business by breeding and raising Beauceron puppies, which are quite rare, although their popularity has been on the rise in the last few years.
Even though it can be quite challenging to produce and raise different breeds, they decided to add another high-quality breed, German Shepherd pups.
READ NEXT: German Shepherd Breeders: The Finest Ones In America
Puppy Quality
The fact that they expanded their business doesn't have any influence on the quality of puppies, as they're still up to the highest standards.
The adult canines from this kennel are regularly examined, including DNA health tests and OFA hip examinations, to make sure that they're healthy and will produce healthy puppies as well.
The pups aren't bred just for profit, they're produced for their quality and the breeder's love for both Dobermans and Beaucerons. Dobermans are very popular, which is why they're still in high demand in North Carolina.
As a Beauceron and Doberman breeder, their priority is to produce doggies that will be excellent family companions, as well as high-quality show dogs with excellent pedigree.
It's important to mention that this breeder also performs AKC temperament tests on all their canines, including CGC, ATT, and FDC, to make sure that they're up to standard.
All Beaucerons and Dobermans have their ears cropped and their tails docked before they leave the breeder to comply with the breed standards.
READ NEXT: Rottweiler Tail Docking: A Justified Tradition Or A Cruel Practice?
Purchasing Process And Pricing
The owners of this breeding kennel plan each litter and avoid hyperproduction of puppies, so their waiting list might be quite long.
Still, according to all of the qualities their pups possess, they're definitely worth waiting for.
The first step toward getting your pet is filling out the application form that is available on the website of the breeder.
After the application is reviewed, you'll be able to make a non-refundable deposit to reserve the puppy of your choice.
The price of Dobermans and Beaucerons isn't stated on the website, and neither is the amount of money required for the deposit.
However, you can get all those details once you communicate with the breeder, via phone or email. I'd suggest you make contact before you complete the questionnaire.
Breeder Details:
Location: Vale, North Carolina
Official website: Von Katzenstein Kennel
Contact number: 864 704 9164
Email address: vo[email protected]
2. Svajone Kennels, Oregon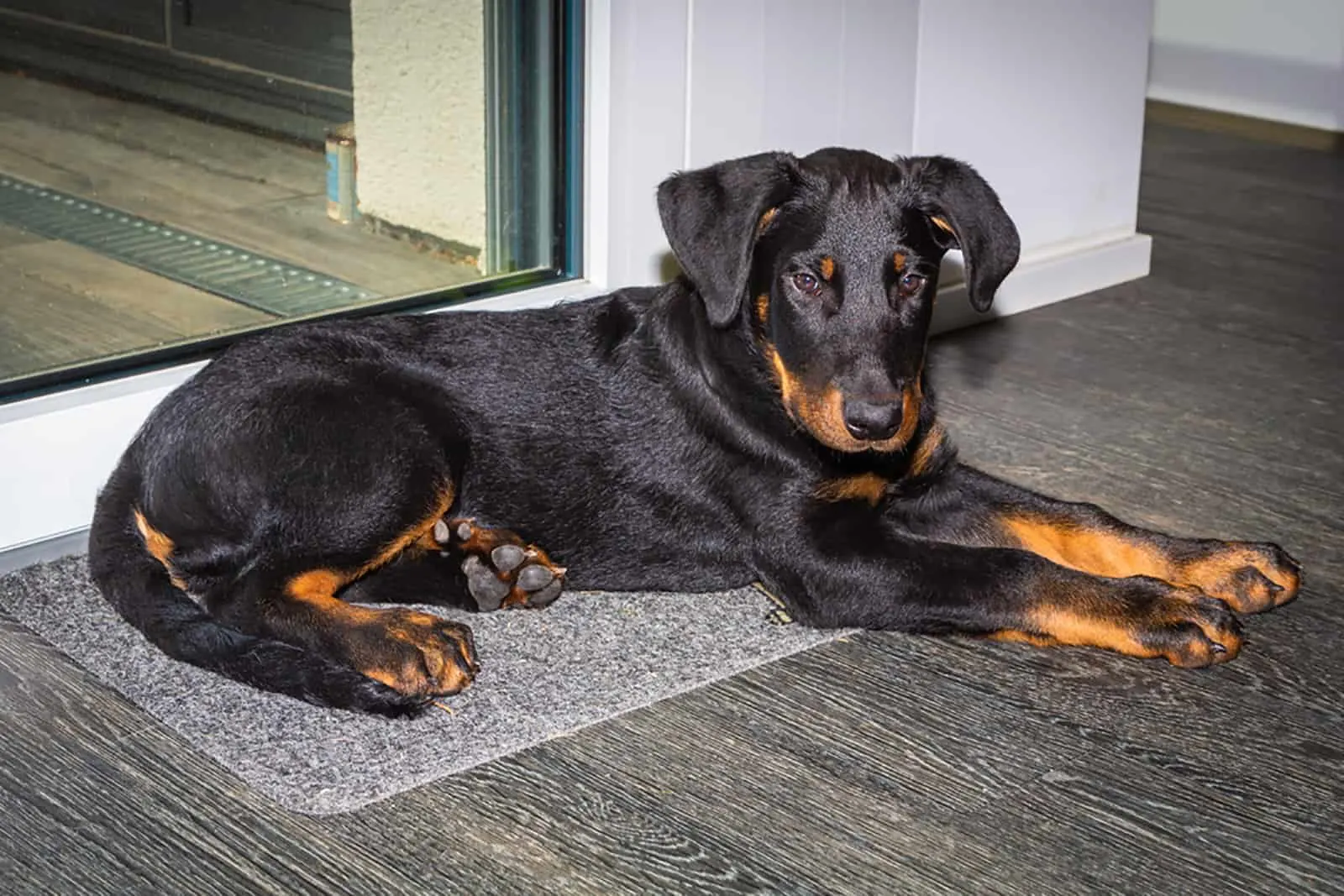 There are plenty of reasons to breed canines, not only for making a profit but also for love towards certain breeds or because of efforts to preserve the traditional looks, temperaments, and behavior in general.
Preservation breeders, such as the Svajone mother-daughter duo, are devoted to preserving the canines in their original state.
Mother and daughter share a great amount of love for canines, so it's no surprise that they decided to start a breeding business together.
For more than five years, they've been producing canines of the utmost quality.
You can choose between Beaucerons and Cane Corsos on their website.
Puppy Quality
As preservation breeders, the owners of the breeding program make sure that all of their puppies are up to their true standards, including their physical features, health, personality, as well as their instincts.
Every breeder does things a little bit differently when it comes to breeding, raising, and placing their puppies.
No matter how it was done, every one of the puppies that come from a single litter will be unique from one another in terms of their appearance, their fur hues, and their personalities.
Preservation of the puppy's features is essentially the preservation of the breed in its purebred form that complies with the breed standards set by organizations such as the AKC, FCI, UKC, etc.
All puppies are vaccinated, dewormed, microchipped, and examined by a vet before they're placed in their new homes.
Purchasing Process And Pricing
The purchasing procedure is fairly easy, but it will require you to complete the application form and make the advanced payment before you're able to take your new pet home.
The deposit for a puppy is $250, while the price may vary between $3000 and $3500, depending on the dog breed you choose, as well as on gender and type of coat.
It's interesting to notice that the owner of the breeding program offers a co-ownership for all puppies, meaning that the dog owner will need to comply with the regulations if they want to continue breeding their pet at home.
Registration is included in this whole story, and it can be either limited or full, depending on whether you'd like to continue breeding pups or would rather keep the Beauceron as a family pet.
Breeder Details:
Location: Portland, Oregon
Official website: Svajone Kennels
Contact number: 503 878 0114
Email address: [email protected]
3. Joie De Vie Beaucerons, Nevada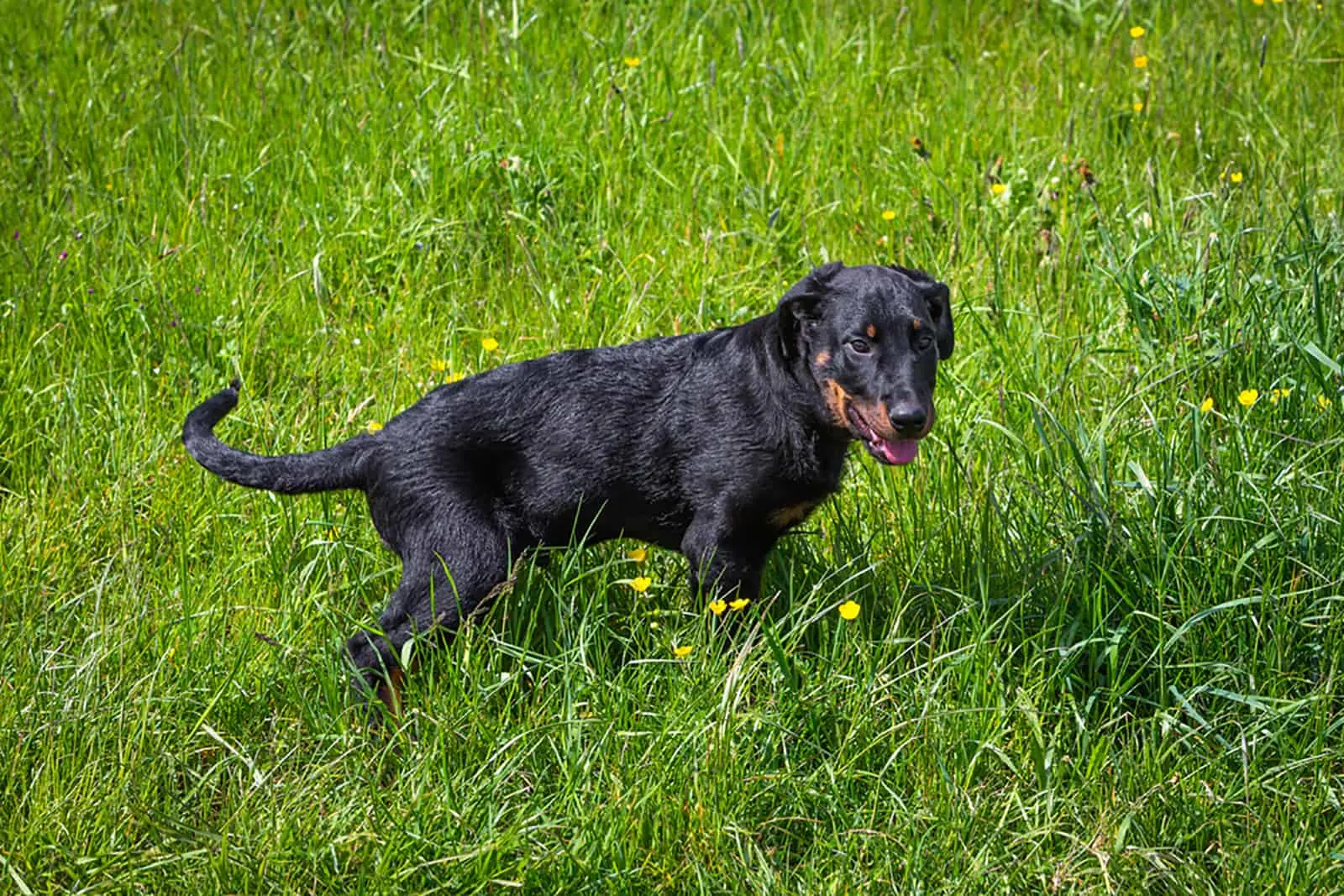 Essentially, almost every reputable breeder of purebred canines can be considered a preservation breeder, although some might combine canines in a way to produce more unique pups.
However, this breeder is the true representation of a preservation breeder, whose primary concern is to breed and raise purebred Beauceron pups that comply with the AKC's breed standard as much as possible.
Instead of placing the pups into separate kennels, the owner raises these adorable pups inside their home, together with their family, in order to start the process of socialization as early as possible.
They're a part of the Breeder of Merit program, as well as H.E.A.R.T. (Health, Education, Accountability, Responsibility, and Tradition), OFA, etc.
Puppy Quality
The Beaucerons from this breeder are used to living inside the house, but they still contain qualities of shepherd dogs, which is why you'll be required to take them outside every day.
These black and tan beauties acquire basic commands and skills during early puppyhood, including potty and leash training, as well as socialization training and the usage of dog doors.
They do this with the goal of boosting the self-assurance of each puppy by introducing them to a broad range of settings, textures, and sounds, as well as humans of varying ages.
At the age of five weeks, the Beauceron canines start going on regular outings to various locations, including schools, elderly homes, fire stations, malls, police stations, and hiking in the woods.
The Beauceron pups are usually found in harlequin and black or bicolor shades (black and tan, black and rust).
Purchasing Process And Pricing
This breeder requires all their potential clients to complete the puppy questionnaire form in order to continue their purchasing procedure.
This way, they're making sure that the pup is going into the right hands. Once your application is revised, the breeder will contact you and give you further instructions.
It's important to say that there's a deposit included, which is $500 for each puppy you choose.
All pooches come with a health guarantee, as well as health records and other necessary documentation.
All other information will be provided by the breeder, including the price of each pup.
Breeder Details:
Location: Las Vegas, Nevada
Official website: Joie De Vie Beaucerons
Contact number: 702 577 8971
Email address: [email protected]
4. Beaucerons du Chateau Rocher, California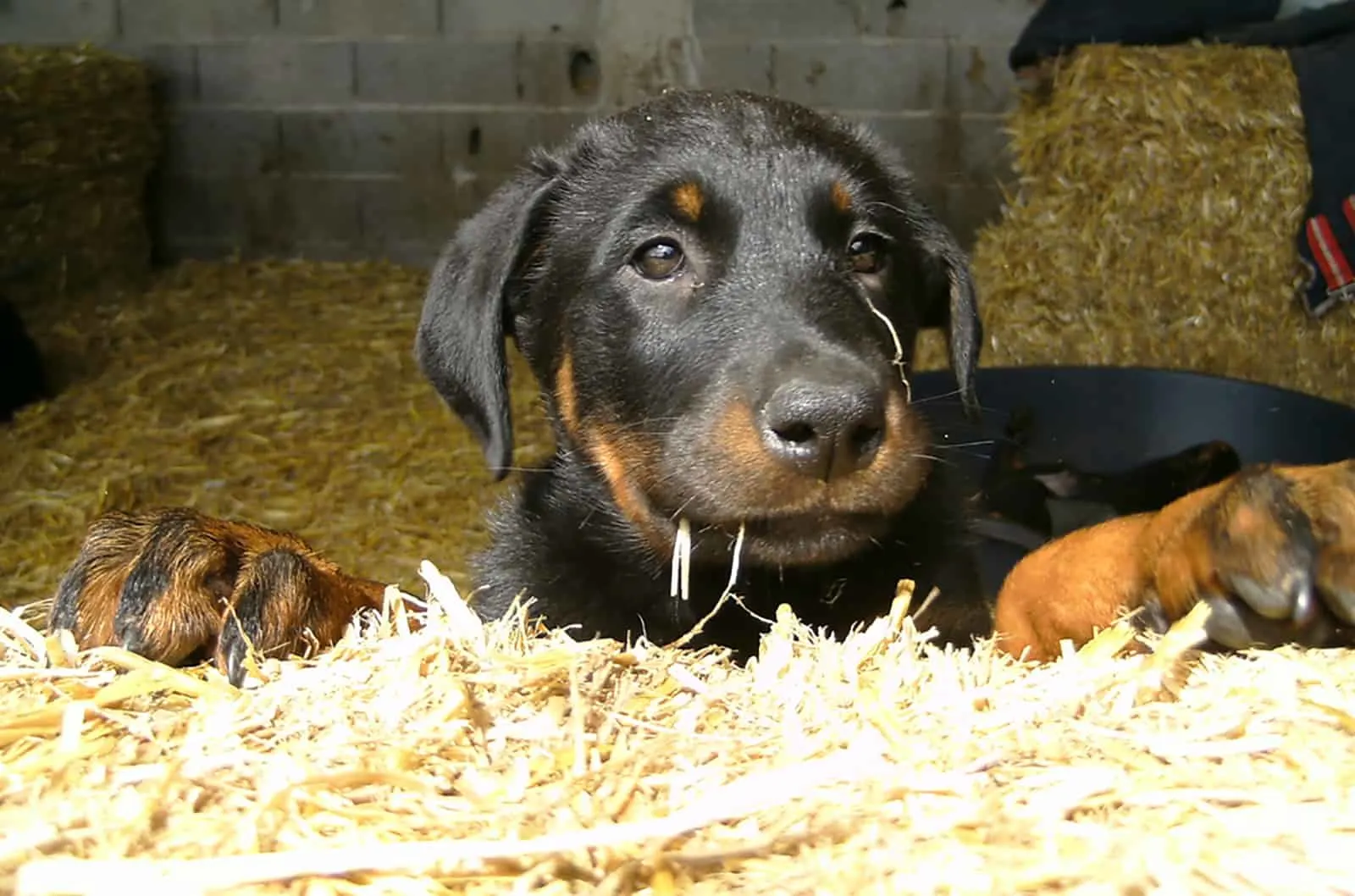 For more than three decades, this breeder has been working hard to produce only the best quality Beaucerons.
Their main mission is to preserve the original qualities and working skills of these amazing pups, as well as their solid temperament.
For them, Berger De Beauce is a great working dog that can be good in the field just as much as in the house. They find these canines reliable and obedient enough to serve as guardians as well.
At this breeding kennel, they recognized the Beauceron's skills of also being excellent therapy and service canines.
Puppy Quality
Recognizing the qualities of a dog breed is essential for the full development of those canines.
Although pups are generally categorized into different types and kinds – depending on their primary reasons for breeding, dogs such as Beaucerons show a great number of "hidden talents" that make them even more valuable.
These pups are shepherd canines, but they're also good as herding dogs. However, these pups can be good hunters, too, as they can smell anything anywhere.
Therefore, it's no surprise that these pups are often involved in police work as well.
All of these traits are recognized at the Beaucerons du Chateau Rocher, where they train their pups in order to enhance each of the skills mentioned above.
Purchasing Process And Pricing
Unfortunately, there isn't a lot of information available on the main website of the breeder regarding the purchasing procedure and prices of Beaucerons.
However, you're more than welcome to contact them in order to get all the details you need, not only regarding the adoption but the breed, in general.
The breeder will be more than happy to assist you in any way they can.
Breeder Details:
Location: Woodlake, California
Official website: Beaucerons du Chateau Rocher
Contact number: 559 786 5013
Email address: [email protected]
5. Mes Yeux Vigilants, Missouri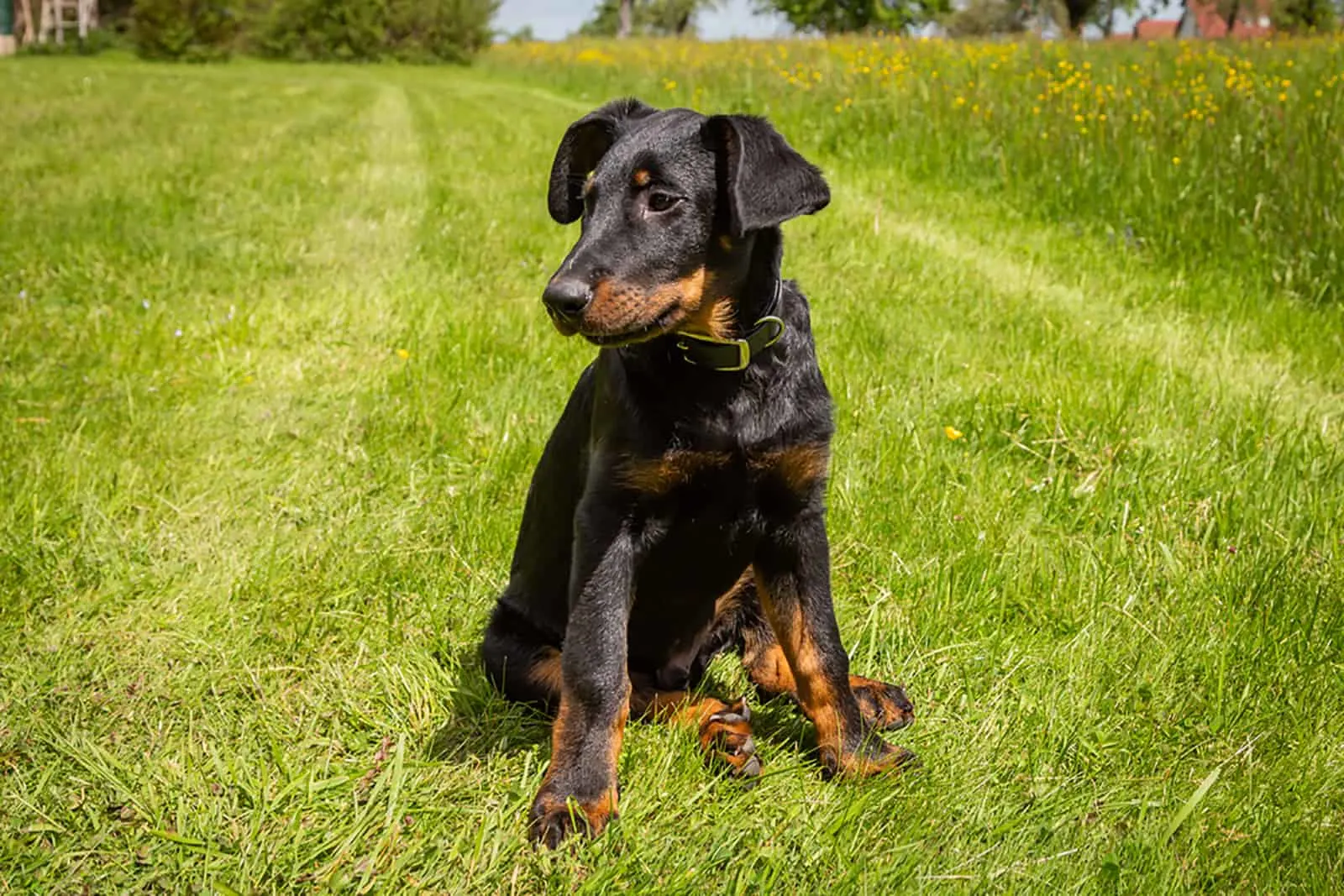 This breeder is iconic for several reasons, so it's no surprise that they're considered to be one of the best Beauceron breeders in the United States.
The first Beauceron of the female gender that has won the American Kennel Club's (AKC) champion title at a conformation event came from this breeding program.
The first dog of this breed that has won the AKC's Grand Champion title also came from this kennel.
Pups from this kennel have won plenty of other prizes as well in dog shows and championships, and the majority of them are parents of new generations of future champs today.
Puppy Quality
The main focus of the breeder is to produce healthy canines that will excel in dog shows and working dogs that will show excellent skills in the field and in their owners' homes.
Their Beaucerons are trained to become good service canines, too, which just shows their versatility and the ability to perform well in different conditions and environments.
All puppies are vaccinated, dewormed, regularly examined, and trained. All of this is backed by health records and other necessary documentation that comes with the pup.
The owner is a certified trainer at the Assistance dog instructor, as well as a member of the American Beauceron Club, MOKAN Pet Partner (therapy dogs and other animals), and other organizations.
Schutzhund, French Ring, agility, obedience, and other competition events are their specialty, but that doesn't mean their pups can't be good family dogs. After you get one of the pups, you'll soon realize how precious they are.
Purchasing Process And Pricing
In order to get a puppy from this breeder, you'll need to either call or email the owner to get further instructions on the adoption procedure.
There are no details regarding the price or the deposit fee available on their website, but the owner of the breeding program will explain everything once you make the initial contact.
Breeder Details:
Location: Independence, Missouri
Official website: Mes Yeux Vigilants
Contact number: 816 256 7765
Email address: [email protected]
6. Wanderlust Beaucerons, Texas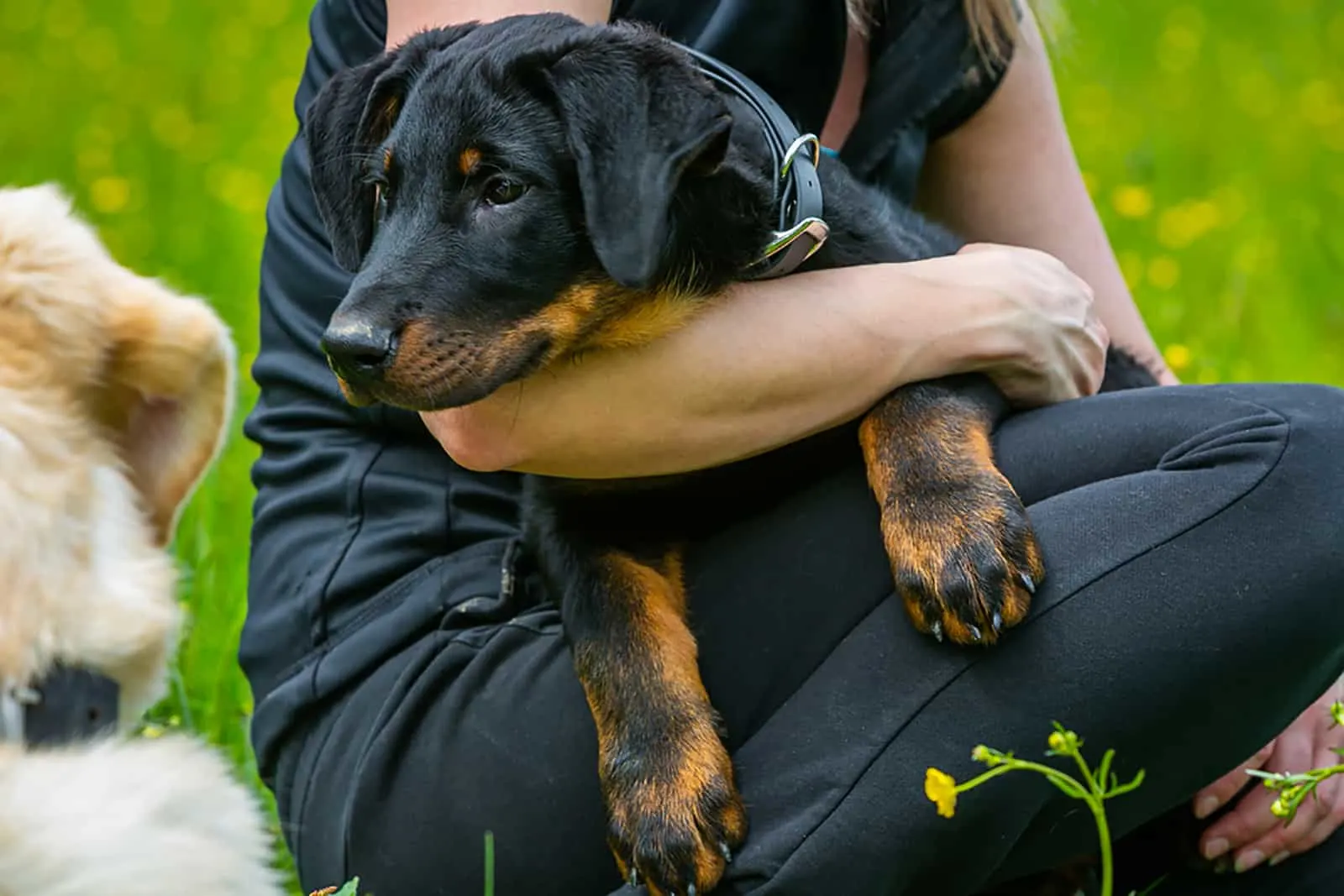 Most people who start breeding businesses have been animal lovers since their childhood, just like Ashley De Noma, the owner of Wanderlust Beaucerons.
She is one of the true examples that some of the most successful breeders are animal enthusiasts. She has a great love for horses but for canines as well, which is why she decided to breed them.
She is mainly focused on the production of healthy and well-tempered Beaucerons that can compete in different sports, including dock diving, conformation, rally, obedience, agility, etc.
She believes that the Beauceron breed can be successful in various fields, but her main priority is to find the one sport which suits each of their canines the best.
Puppy Quality
The pups that come from this breeder aren't just good as show dogs or family pets, but as sheepdogs as well, especially since they've been physically active since early puppyhood.
All of the puppies from this breeder are socialized with people, as well as other animals, including livestock, cats, and other canine breeds.
The breeder states that all of their puppies will go through adaptation to other environments, as well as noise and scent desensitization.
However, in order to get the full potential of this amazing herding breed, socialization and obedience training must be continued once the puppy is placed into its forever home.
To make sure that the pups are healthy, parents are examined for heart diseases (ECG), elbows, hips, and eye conditions.
Purchasing Process And Pricing
There are two types of puppy contracts that you should be familiar with – the contract with the limited AKC registration, which includes obligatory spaying/neutering, or a contract with full registration rights, that enables owners to continue breeding their own pups.
Of course, the difference isn't only in the contracts but in the price as well, which will be revealed by the breeder to all interested clients.
The owner usually leaves at least one pup from almost every litter she produces to enhance the bloodline, especially if there's a more unique Beauceron of different coat patterns or colors, including merle, harlequin, and other, more unusual shades.
Breeder Details:
Location: Fort Worth, Texas
Official website: Wanderlust Beaucerons
Contact number: 817 694 0749
Email address: [email protected]
7. Armored Rose Beaucerons, California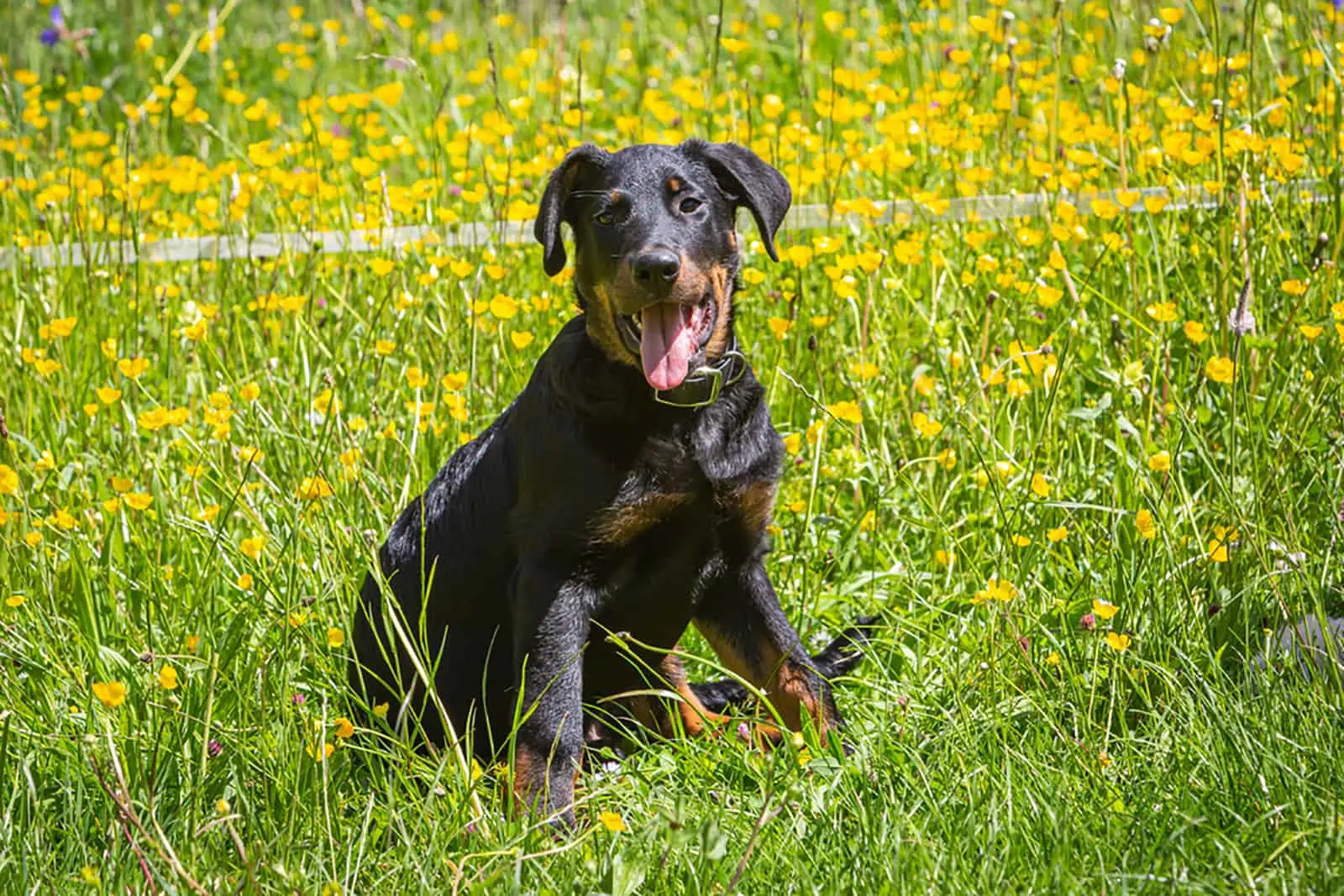 This is one of the oldest Beauceron breeders, not only in California but in the United States as well, that has been active for more than five decades.
The owner of the breeding program has been producing and raising canines since the 1960s.
However, they've been importing Rottweilers, Dobermans, Beaucerons, and German Shepherds from their countries of origin for more than 40 years.
The primary concern of the breeder is to breed canines of excellent health, high-quality bloodline, good temperament, and physical features that are up to the standard.
Puppy Quality
The fact that this breeder has been mentoring other breeders (Ashley from Wanderlust Beaucerons) is enough to tell you that this is a reputable breeder of good quality pups.
Armored Rose Beaucerons are bred as working and sporting canines, which means that they can compete in dog shows but are also great in outdoor activities.
All adult dogs go through health examinations, including genetic illnesses, spondylosis, and even OCD, so the breeder knows that their puppies will have a low risk of inheriting any of the named conditions.
Their puppies are great as family pets, although they prioritize those who are in need of a working dog rather than a family canine.
However, you will be able to get a Beauceron from this place as well, you just might have to wait for a little longer (if there are no available puppies at the moment).
Purchasing Process And Pricing
There is no available information online about the pricing or the purchasing procedure regarding these beautiful doggies.
However, in the paragraph below, you can find their email address and phone number, so you can contact them and ask for more details regarding the price of the puppy and the adoption process.
Breeder Details:
Location: Grass Valley, California
Official website: Armored Rose Beaucerons
Contact number: 530 368 4897
Email address: [email protected]
8. Elitehaus, Texas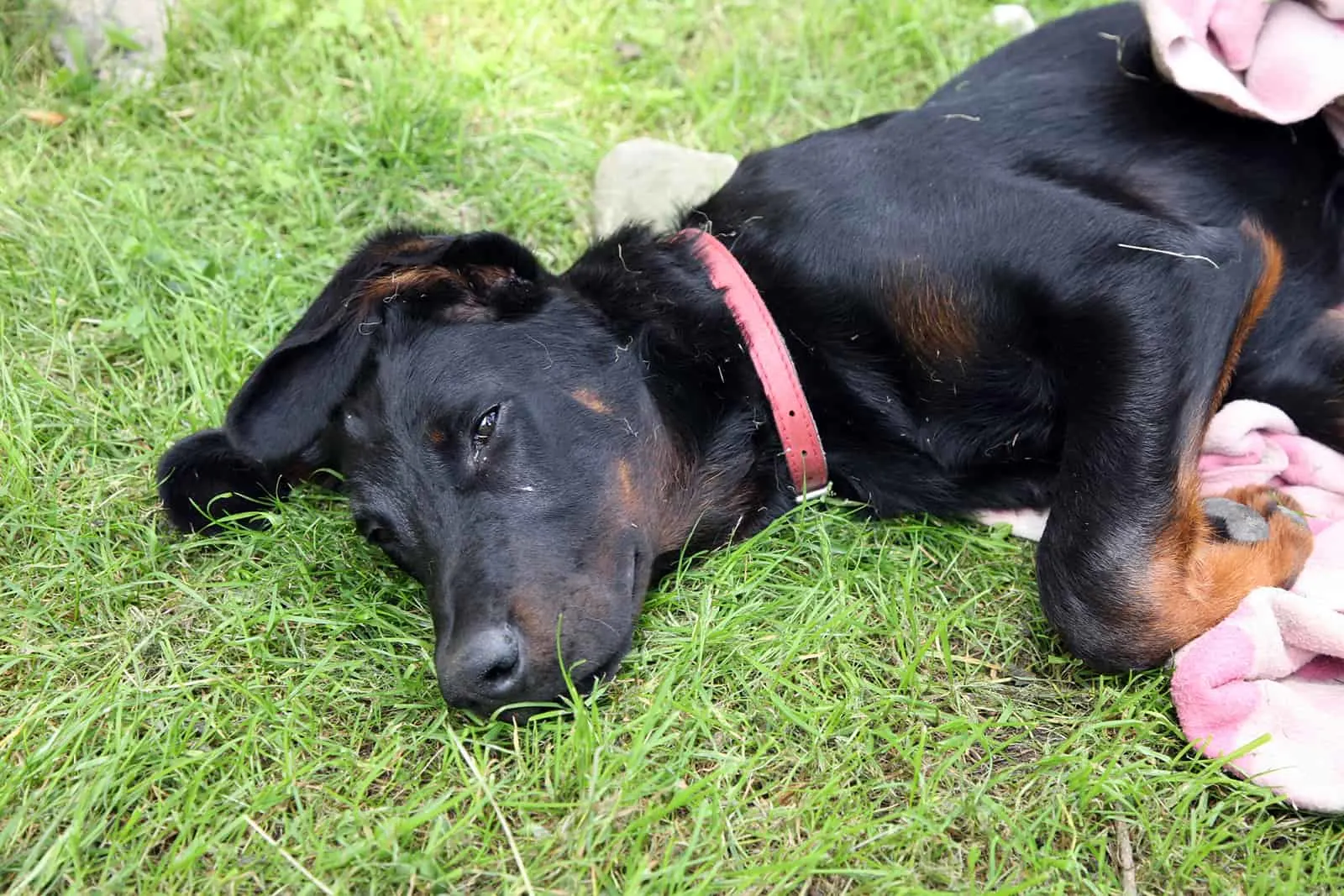 As a Doberman breeder with two decades of experience, it was time to expand their business and find another breed that would be just as good or even better than their primary dog breed.
The breeder puts focus on the production of canines that are in good health and up to the breed standard of AKC and other institutions and organizations.
Although Dobermans remain to be their main priority, they do have Beauceron litters available quite often.
Puppy Quality
All of the parent canines are health tested by OFA standards, which include elbow and hip dysplasia, as well as the genetic examination for inherited diseases.
This type of examination lowers the chances of getting puppies with certain genetic issues that can impact the quality of their lives.
All of the pups are crate trained but will require your further assistance during the next couple of weeks once the pup arrives at your house.
Other training programs and methods that this breeder uses are:
• Avidog Savvy Socialization program
• Basic manners
• Early Neurological Stimulation
• Leash walking
• Badass Breeder Puppy Curriculum
• Touch, grooming, and household desensitization
• Car training
• Socialization with dogs, children, and people
Purchasing Process And Pricing
If you want to adopt a Beauceron puppy from this breeder, you will need to apply for the adoption first and then make the advanced payment of $500.
The deposit fee isn't refundable, but it will be reduced from the final price of the puppy.
A Beauceron pooch will cost you anywhere from $3500 to $9500, depending on the gender, coat shades, and coat type.
The puppies are ready to leave the breeder's home once they turn nine weeks of age. This way, they'll be able to develop in a healthy way.
If you have any other questions, feel free to call or email the owner of the breeding program.
Breeder Details:
Location: Rockwall, Texas
Official website: Elitehaus
Contact number: 573 624 0614
Email address: [email protected]
Final Thoughts
Beauceron breeders are becoming just as popular as this breed in the United States, as more and more people are discovering all of the excellent qualities of this dog.
They can be watchdogs, sheepdogs, family dogs, and even search and rescue canines!
Although these pups have quite a high prey drive, they are still great companions for children. However, I wouldn't leave them unattended with toddlers or small babies.
If you're looking for a good guard dog that can be a loyal family member, a Beauceron is just the dog you need.
READ NEXT:
• Rottweiler Breeders In California: 5+ Trustworthy Choices
• Doberman Breeders In California: Choosing A Good Breeder
• 6 Rough Collie Breeders To Find Your Own Lassie