If you're looking for Doberman breeders in California, we've picked out some of the best to help you in your search. Even if you don't select one of these, you'll be able to identify good dog breeders based on what you've seen here!
9 Best Doberman Breeders In California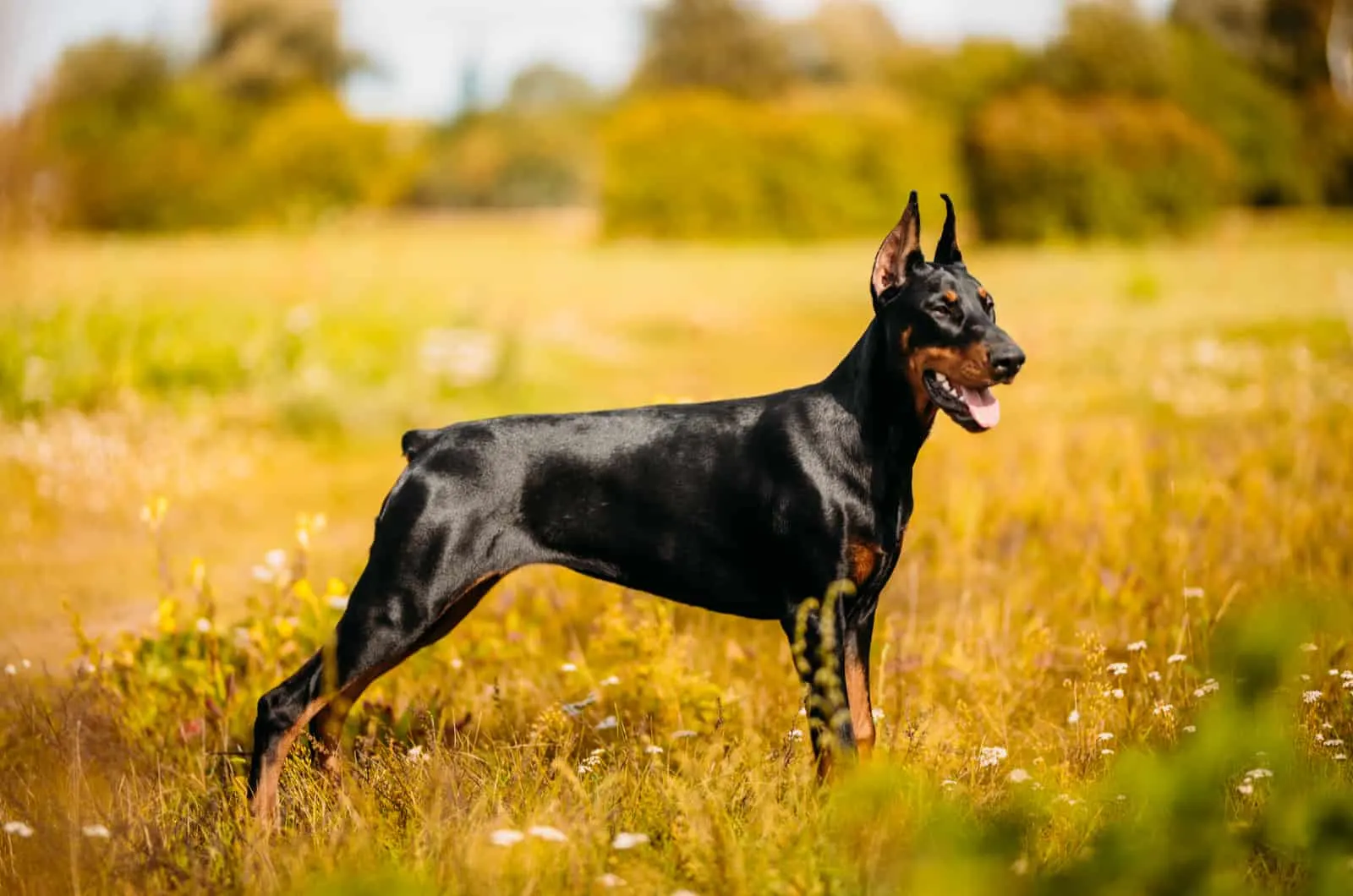 European Doberman Breeders In California
1. Euro Dobermann of California
As the name implies, this small, family breeder focuses on the European Doberman, importing champion bloodline dogs from Eastern and Western Europe for its breeding program.
The European Doberman (or Dobermann) is slightly larger than the American Doberman, but the main difference is in its temperament. The Euro version is geared more towards physical and mental challenges and protection, excelling at police work. These dogs are more likely to attack an intruder as they want to protect you.
The American Dobie makes a better pet and will warn you about an intruder rather than attack them. This is something to bear in mind when choosing between the two.
On their website, they make it clear from the start that they are a hobby breeder and not a business. Their love for the Doberman breed started with the need for a guard dog to give them peace of mind. With a large backyard that was pitch black at night, the family felt that they needed a dog that would protect them if necessary.
So, they chose the Doberman Pinscher because of its potential as a working dog as well as its qualities as a loyal companion.
Their dogs are rarely caged, and they are usually free to roam the grounds. Once in a while, they produce beautiful puppies, and these are sold to carefully selected buyers as pets, working dogs, or show dogs. However, they are not to be used for breeding.
Pups are dewormed and vaccinated before they go to their new homes and come with a health guarantee.
One major point in their favor is that this breeder has a policy of keeping all pups in their natural state. This means that their tails are not docked, their ears are not cropped, and their dewclaws are not removed.
Legislation on these cosmetic procedures varies from state to state and is frequently changing. The overall consensus is that they are unnecessary and cruel, causing a great deal of pain and suffering. Many countries have already outlawed these procedures, and more will surely follow as people begin to fully understand the cruelty involved.
Euro Dobermann of California leaves this choice to the new owner, but it's wise to check local laws.
For further information on this and to find out about prices, contact them here:
Website: Euro Dobermann of California
Email: [email protected]
Phone: 209-204-3439
Doberman Breeders in Northern California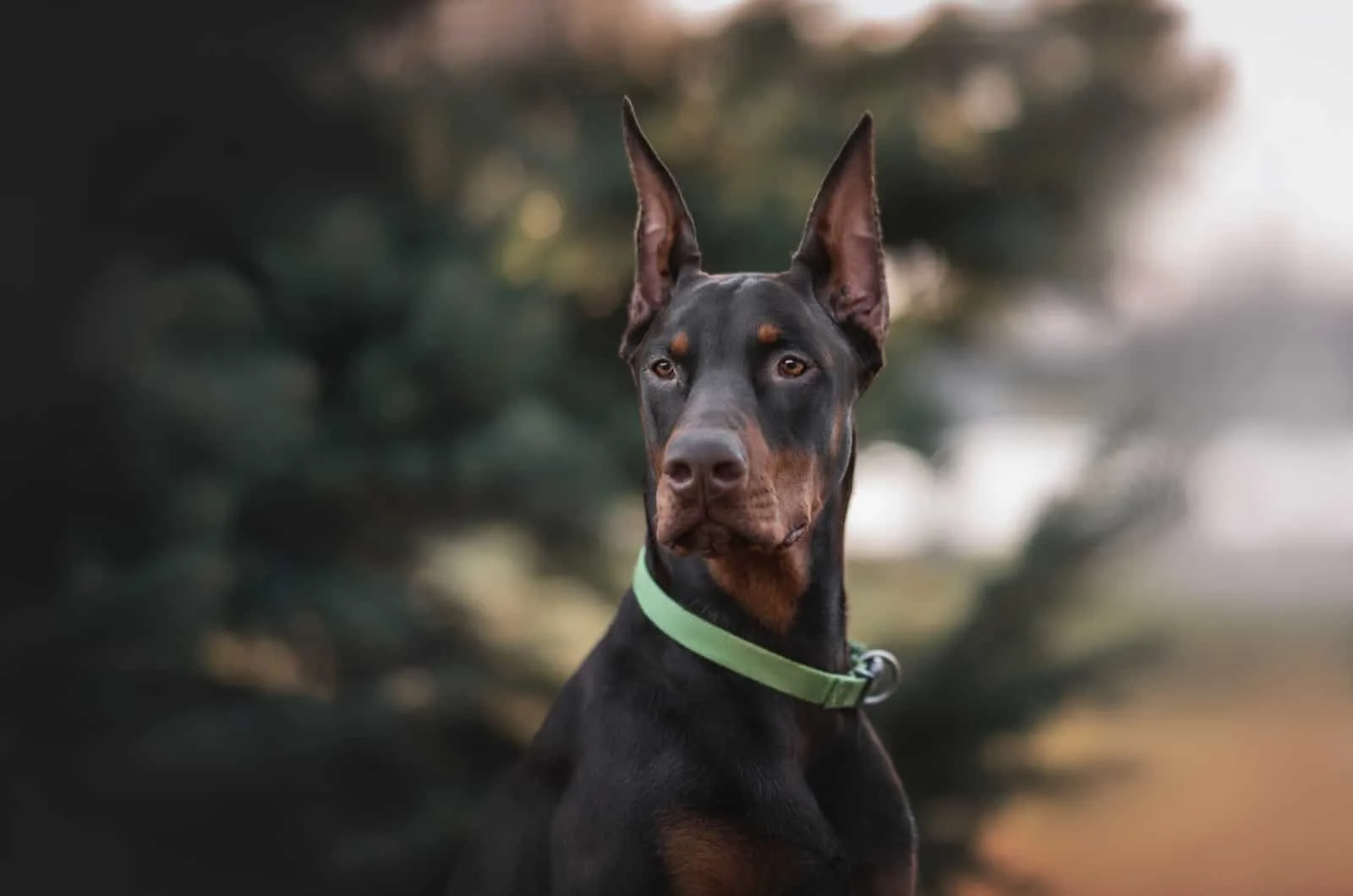 1. West Coast Dobermann
West Coast Doberman, based in San Jose, Northern California, also produces European Dobies, so it could fit into the previous category as well.
All of the pups produced here are well-socialized by the time they leave. Their first few weeks are spent on the West Coast Doberman Ranch, where they are exposed to all the associated sights, sounds, and smells.
Each adult dog is health tested for von Willebrand's disease (VWD) and dilated cardiomyopathy, as well as undergoing the OFA (Orthopedic Foundation for Animals) tests.
Tony Alves, who runs West Coast Doberman, gained his love of the breed from a stray that his family adopted when he was a kid. It's something that stayed with him all his life, and he proudly breeds good-quality dogs from his ranch in San Jose.
You can tell that Tony has become very attached to his dogs, and those that have since been retired from the breeding program will greet any visitors to the ranch!
You can contact Tony for more information, including puppy prices, here:
Website: West Coast Doberman
Phone: 408-781-3467
Email: [email protected]
Facebook: @westcoastdoberman
Doberman Rescue In Northern California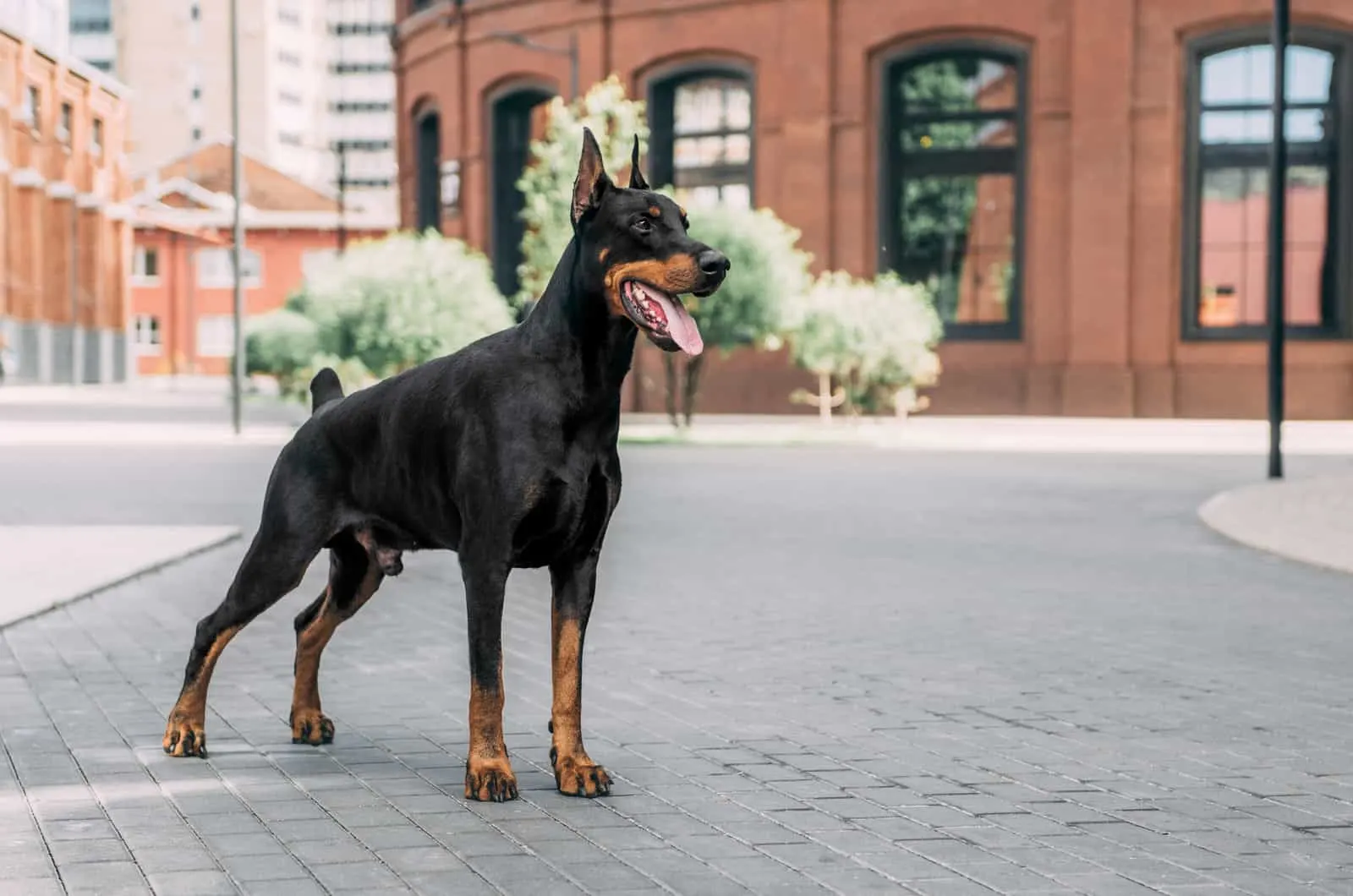 While we are looking at Doberman breeders in California, it's worth considering a rescue dog. Most ethical breeders will recommend this over buying, even if it means that they miss out on a sale. Realistically, they rarely do miss out as most have a waiting list for their pups.
The sad truth is that there are thousands of dogs of all breeds currently being held in shelters or at rescue centers. In fact, it's estimated that there are approximately 3 million dogs in shelters each year. Of those, around 1 million will be euthanized. Some will be destroyed due to severe sickness and disease, others because they are dangerously aggressive. But a large percentage will be 'put to sleep' simply because these shelters don't have the resources to care for them.
So, here's a rescue group that you might want to check out:
1. Dog Mountain Rescue
Dog Mountain Rescue was established to provide dogs in need with support, love, medical care, and the home that they deserve! DMR accepts all dog breeds but mostly focuses on rescuing Dobermans.
It's clear from the website that the team behind DMR takes a lot of time to get to know the dogs in their care. Each pooch has its own short profile with details about its likes, favorite toy, and a little joke at the end.
The adoption fee is $500, and the contract includes a spay/neuter agreement (if the dog has not already been fixed).
You can find DMR in the foothills of California's coastal mountain region, and you can contact them here:
Website: ​Dog Mountain Rescue​​​
Email: [email protected]
Phone: 530-529-5261
Doberman Breeders In Southern California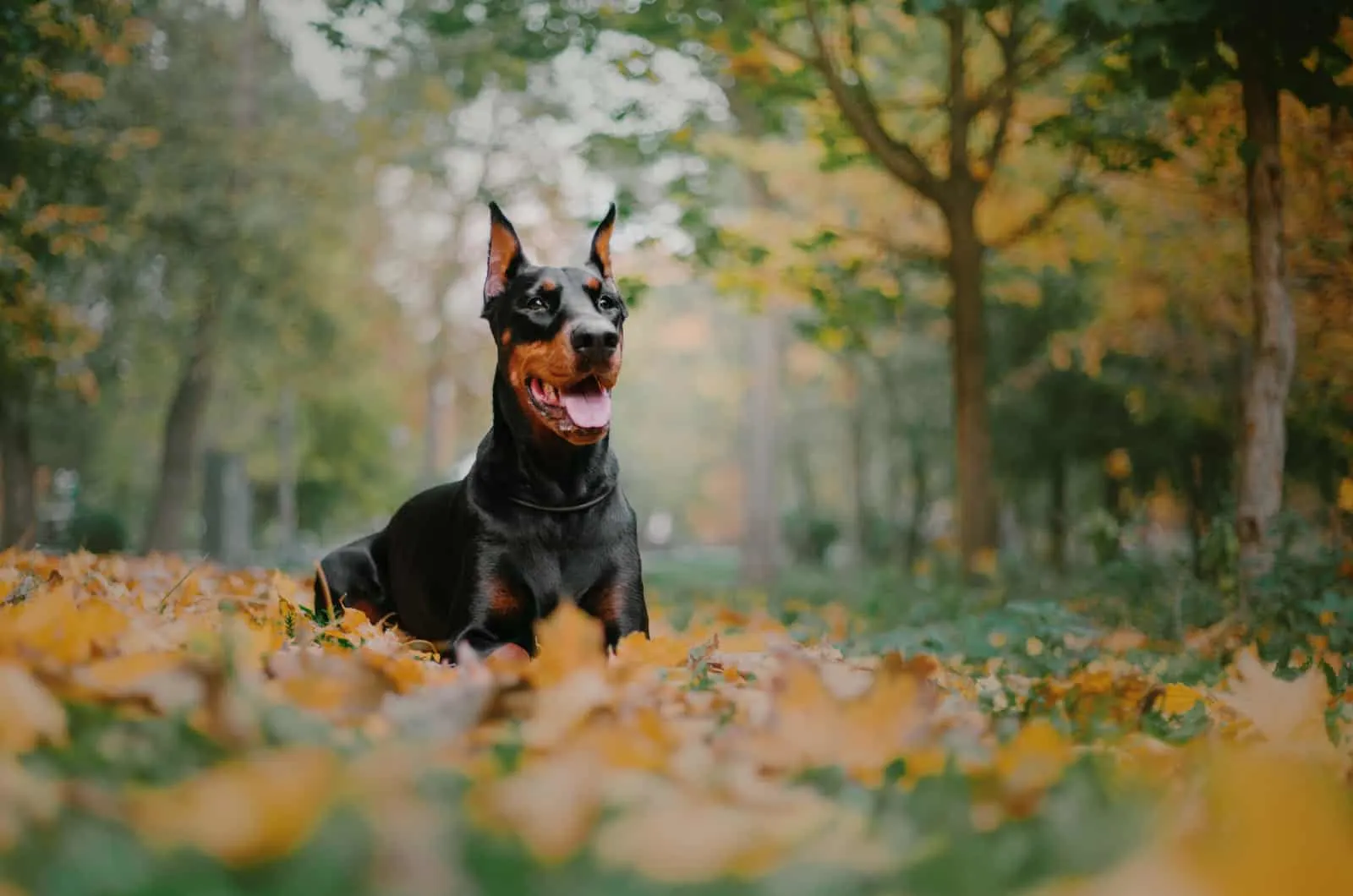 1. Mont Blanc European Dobermans
Mont Blanc European Dobermans is based in El Monte, Los Angeles County, CA.
This experienced, family-oriented breeder prioritizes the health and preservation of the Doberman breed, using extensive health testing to reduce instances of diseases such as dilated cardiomyopathy.
All of their dogs are raised in a loving family home environment that includes children. Constant interaction with the pups ensures a well-rounded and even temperament.
You can view the health certificates of each of the dogs in the breeding program, as these are proudly displayed on the breeder's website.
Contact them here for more details:
Website: Mont Blanc Dobermans
Email: [email protected]
Facebook: @MontBlancDobermans
2. All In Kennels
All In Kennels is located in North Hollywood, producing pet quality Doberman Pinschers for about 20 years. Although they're based in SoCal, they do ship their pups anywhere in the country for an additional fee.
This breeder knows Dobermans very well and firmly believes that they are the number one dog breed, although they admit that they aren't for everyone. Early socialization is essential, as is training. Owners should also be firm with their Dobies and always be sure to assume the role of pack leader, or the dog will soon make it clear that they are in charge!
Most Dobermans will put themselves between you and danger. Some seem to sense danger before it's even happened, and they'll do their best to protect you and your family.
All In Kennels also points out the need for regular, vigorous exercise and mental stimulation for your Dobie. Without it, you might find that the dog becomes destructive and possibly aggressive.
Prices for All In Kennel's pups start from $2,000.
Here's how to get in touch with this breeder:
Website: All In Kennels
Phone: 818-675-1080
Facebook: @allinkennels
Doberman Rescue In Southern California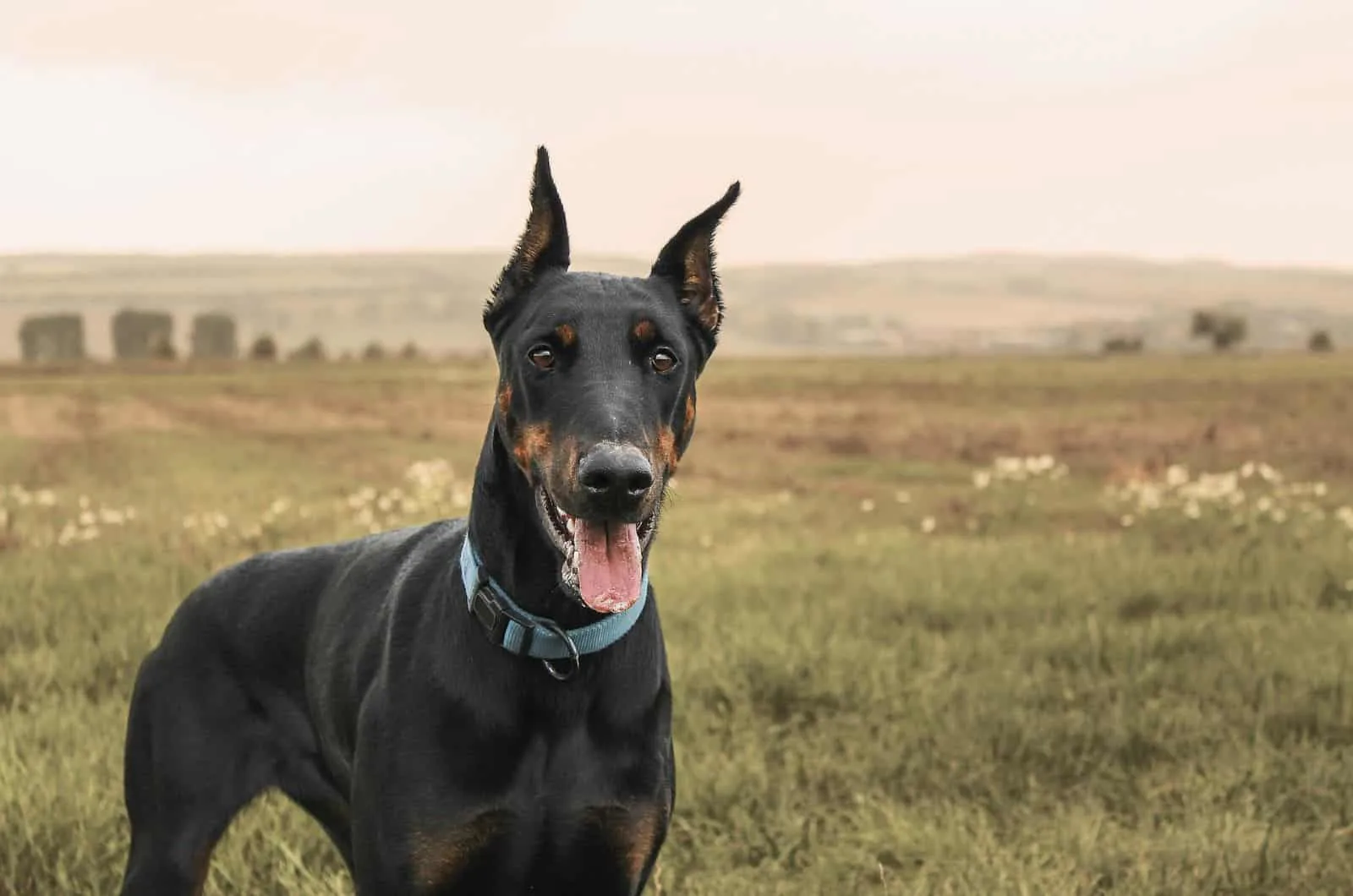 As we did for Northern California, here is a Doberman rescue for the SoCal area.
1. Dobies and Little Paws Rescue
Dobies and Little Paws Rescue specializes in Dobermans but helps small dogs too. Situated on a small ranch in rural Fillmore, CA, this group is run by a dedicated team of volunteers under the expert direction of Ardis Braun. Since being established in 1987, Dobies and Little Paws Rescue has saved the lives of more than 9,000 dogs!
This is a strictly no-kill shelter. If an adoption doesn't work out for any reason, they take the dog back, without question. You probably won't find a puppy here, but they have around 90 Dobermans of different ages at any one time.
It's definitely worth a look if you want a natural Dobie, as most will not have cropped ears or docked tails.
Check them out here:
Website: Dobies and Little Paws Rescue
Email: [email protected]
Facebook: @DobiesandLittlePawsRescue
Phone: 805-524-5102
AKC Doberman Breeders In California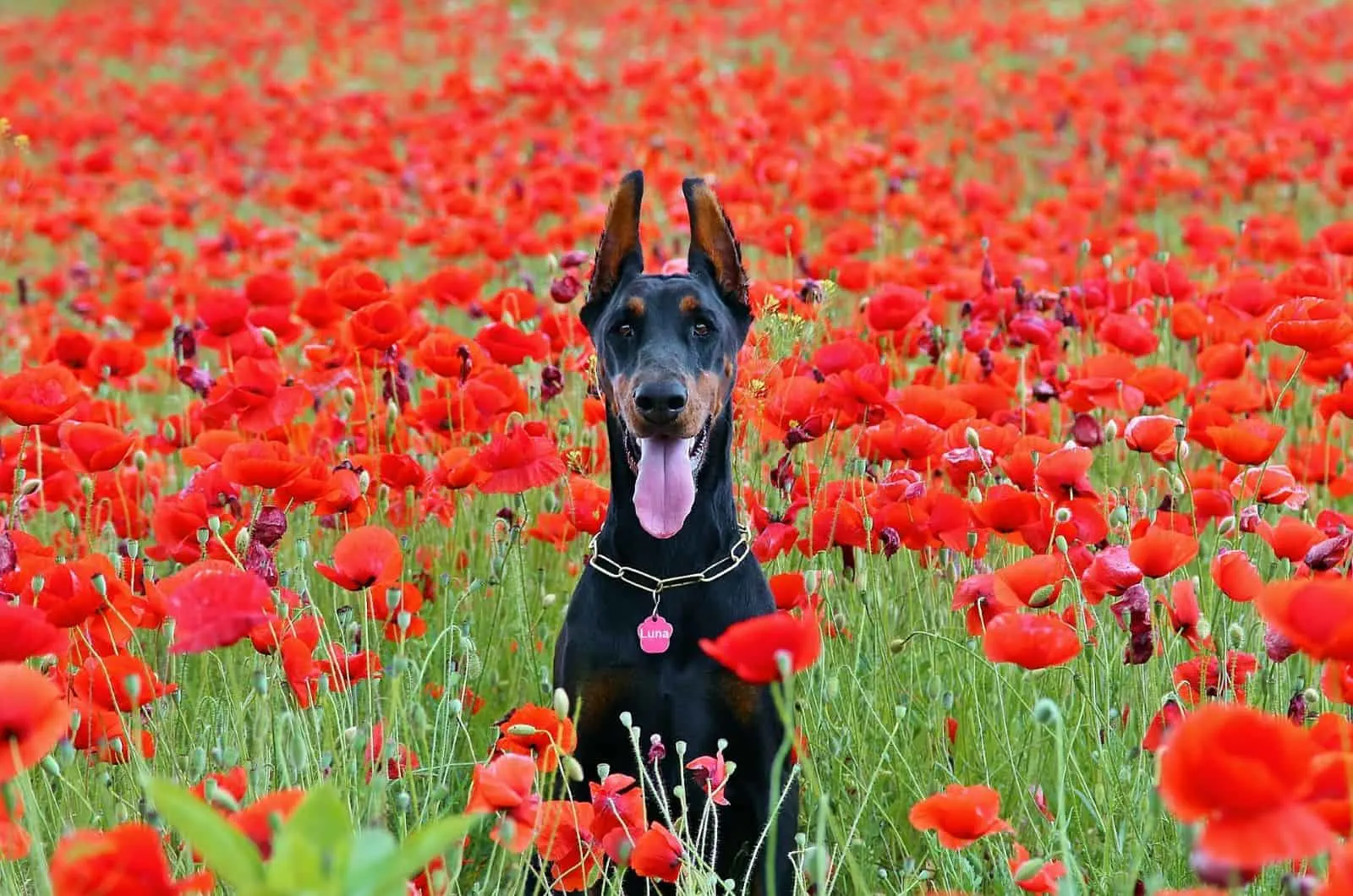 1. Circle M Dobermans
Circle M Dobermans has 15 years of experience in the business, breeding 100% European Doberman dogs for health, temperament, intelligence, longevity, agility, and conformation.
All pups are registered with the American Kennel Club from birth. They are socialized on the owner's 5-acre farm in the Yucca Valley, and they also spend a lot of time in the puppy playpen with their siblings. At 5 weeks of age, they are transferred to the puppy kennels until it's time for them to go to their new homes at 8 weeks old.
Circle M Doberman pups come with a health guarantee, vaccinations, and an AKC puppy starter pack. You will also get a lifetime of support from the breeder.
To find out more, check them out online:
Website: Circle M Dobermans
2. Black Bart Dobermans
Black Bart Dobermans, based in San Diego, CA, is owned and run by Sandra Boyas. Sandra is an AKC Breeder of Merit, and many of her dogs have an enviable record in the show ring.
It's not all about winning awards, though. Black Bart Dobermans is geared towards producing dogs with the perfect temperament in line with DPCA guidelines. The aim is to create a dog that is an ideal balance of protector and companion.
To this end, a lot of time and energy goes into the breeding process. It isn't a question of finding conveniently local dogs for the breeding program. It is essential to find the best dogs with excellent health records, and this can take a while.
Sandra is a seasoned expert at this game, with 30 years of experience in breeding Dobermans, so she knows what she is doing. All of her dogs are kept and raised in the home and never in kennels, providing a safe, loving environment in which they can thrive.
As you can imagine, her pups are snapped up pretty quickly, so it's best to make regular inquiries or try to reserve one.
You can use the online contact form to get in touch:
Website: Black Bart Dobermans
Phone: 619-464-1639
American Doberman Breeders In California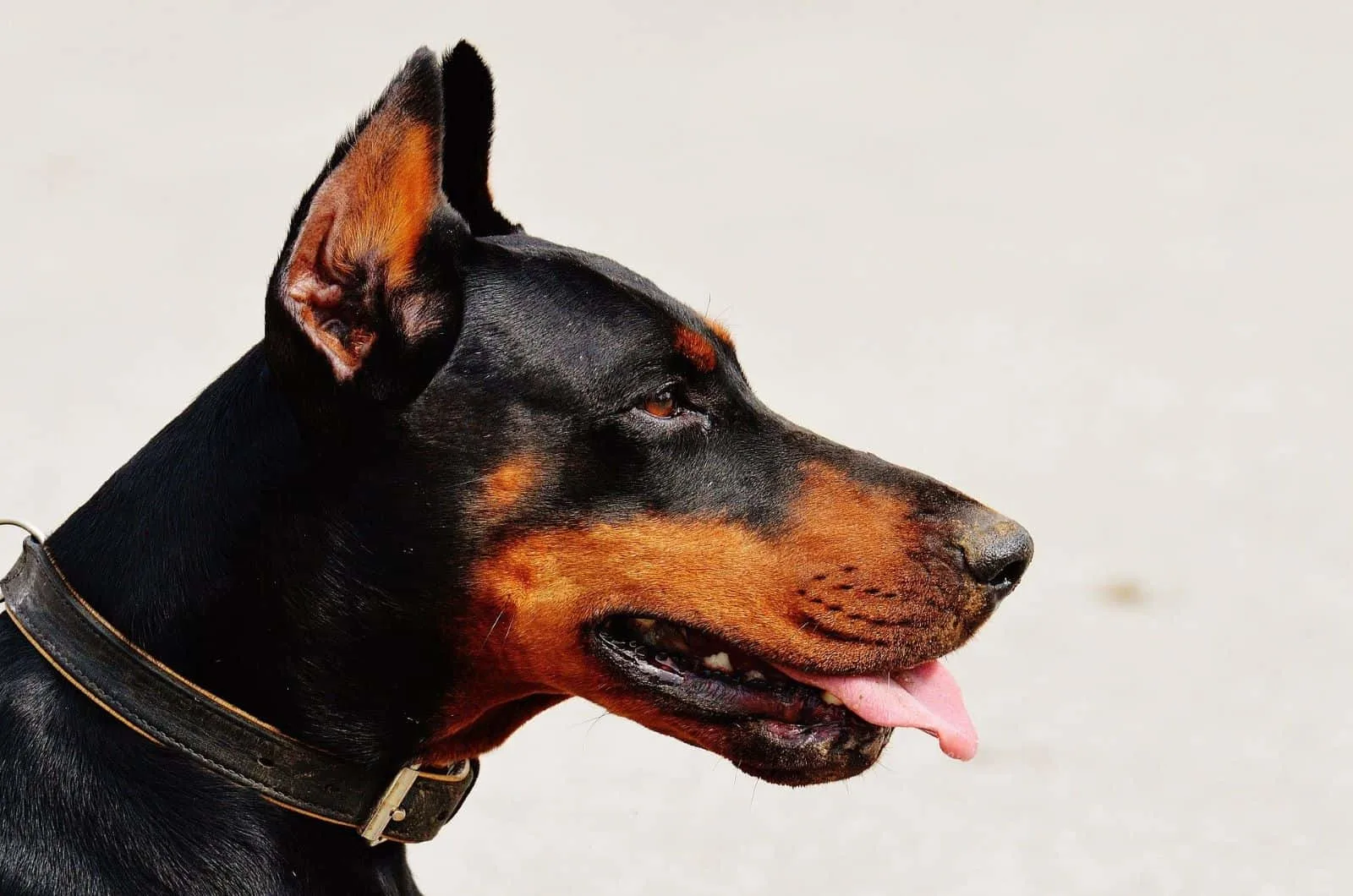 1. Holder Park Dobermans
Holder Park Dobermans has over 20 years of experience, producing top-quality Dobermans with champion bloodlines.
Kennel owner, Sue Holder, has been a proud member of the Doberman Pinscher Club of America (DPCA) since 1987. Under her direction, Holder Park Kennel has poured its expertise and energy into breeding exceptional quality Dobies with the ideal temperament for families. These are by no means attack dogs, although they all possess the Doberman's innate instinct to protect its family.
Puppies are socialized early and kept until they are 9 weeks of age. By the time they leave, they are confident around children and adults, as well as a range of different animals. All of the training that the pups receive before going to their new homes is aimed at making them suitable for family life.
Holder Park Dobermans strives to find the right home for each pup. Their main goal is happy dogs and happy people!
You can contact Sue and the team to see if they have Doberman puppies for sale at the moment:
Website: Holder Park Dobermans
Email: [email protected]
Phone: 805-929-4667
2. Soquel Dobermans
Soquel Dobermans have been breeding these amazing dogs since 1974, so they have plenty of experience!
Situated on a 3-acre site in North Monterey County, Soquel Dobermans puts this experience to good use, producing some of the best dogs around. Each one conforms to the standards set by the DPCA, and the pups are raised in the home to get the best results.
The pups are socialized very early on, and they are handled consistently. As the breeder is heavily involved in dog shows across California, many of the pups are taken along for the ride to broaden their experiences.
As the owner is a conformation instructor, you can rely on them for a wealth of advice about your pup with regards to the show ring or obedience classes.
One thing to note is that litters are not produced here very frequently. However, Soquel is happy to recommend other ethical breeders or help you get an older dog or a rescue Dobie if that's your preference.
Feel free to use the contact form for any questions or queries:
Website: Soquel Dobermans
How Much Are Dobermans In California?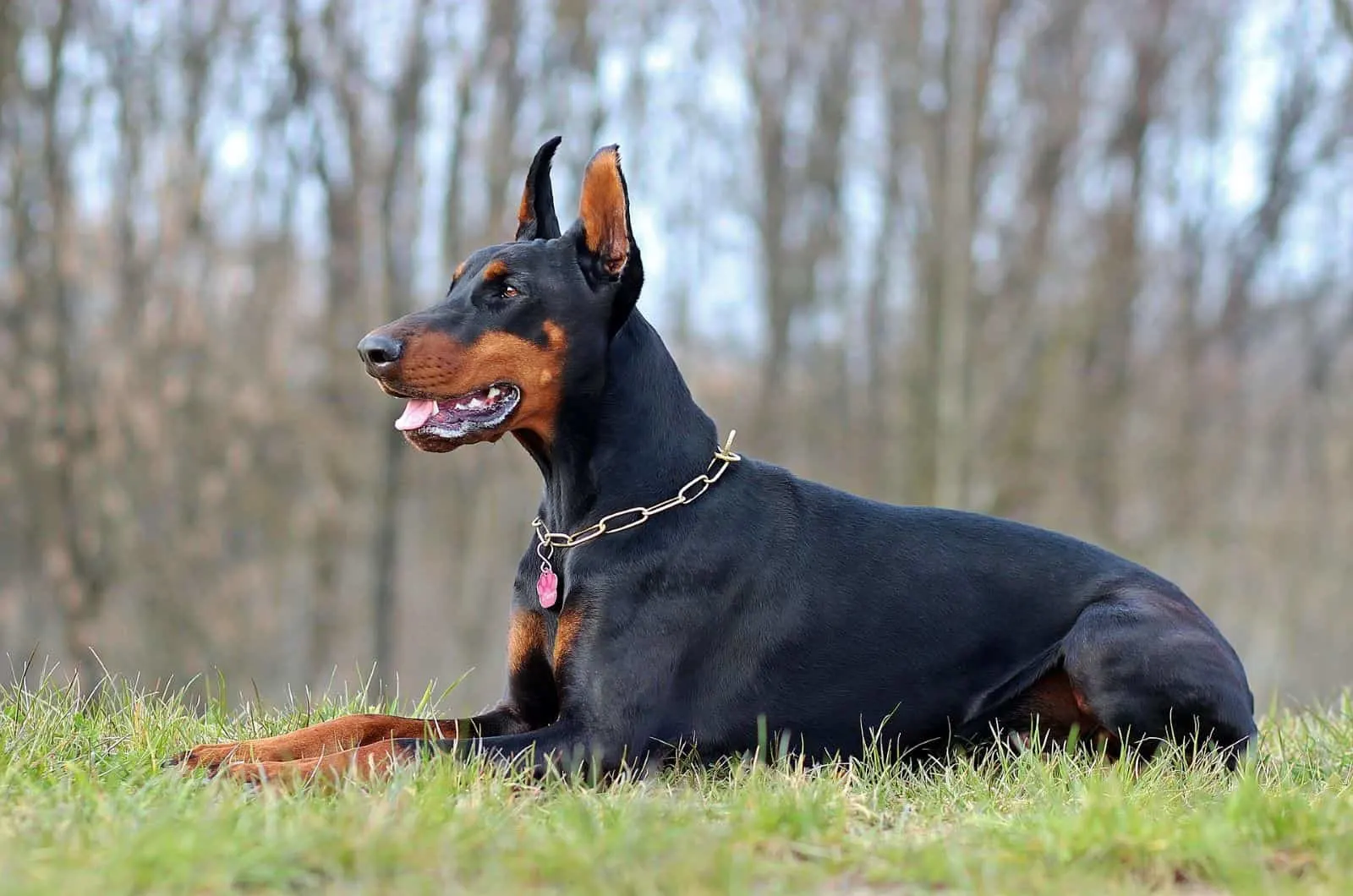 You should expect to pay at least $1,000 if you buy directly from Doberman breeders in California. For Doberman Pinscher puppies with a good pedigree, you can add another thousand dollars and even up to around $3,500.
It really depends on your reasons for buying a Dobie. Pet quality dogs are always cheaper than those that are bred specifically for conformation. Many good breeders will aim high, producing extremely healthy dogs that will do well in the show ring but will also make great family pets.
To achieve this, some breeders invest heavily in genetic testing and health screening, which costs money. This is the main reason for the wide variation in prices, although it is by no means the only factor.
A dog's color may have a bearing on its price, as some are sold as 'rare colors.' Also, in areas where there are several breeders, the prices may be more competitive.
In the end, it's up to you to decide a budget and make sure you check each breeder thoroughly before going ahead.
What Is The Rarest Color Of Doberman?
Albino Dobermans are the rarest, though this is often confused with white and cream. A true albino will have a pink nose and colorless eyes.
Other rare colors include fawn (or isabella), blue, red, and pure back. Some of these colors are due to genetic mutations, but unethical breeders often use inbreeding as a means of trying to create rare colors. This leads to an increased risk of severe health conditions and may even affect the dog's behavior and intelligence, as it lacks certain neural receptors.
This information is vital when choosing a reputable breeder, as the best Doberman breeders in California would never use color as an excuse for boosting their prices.
Conclusion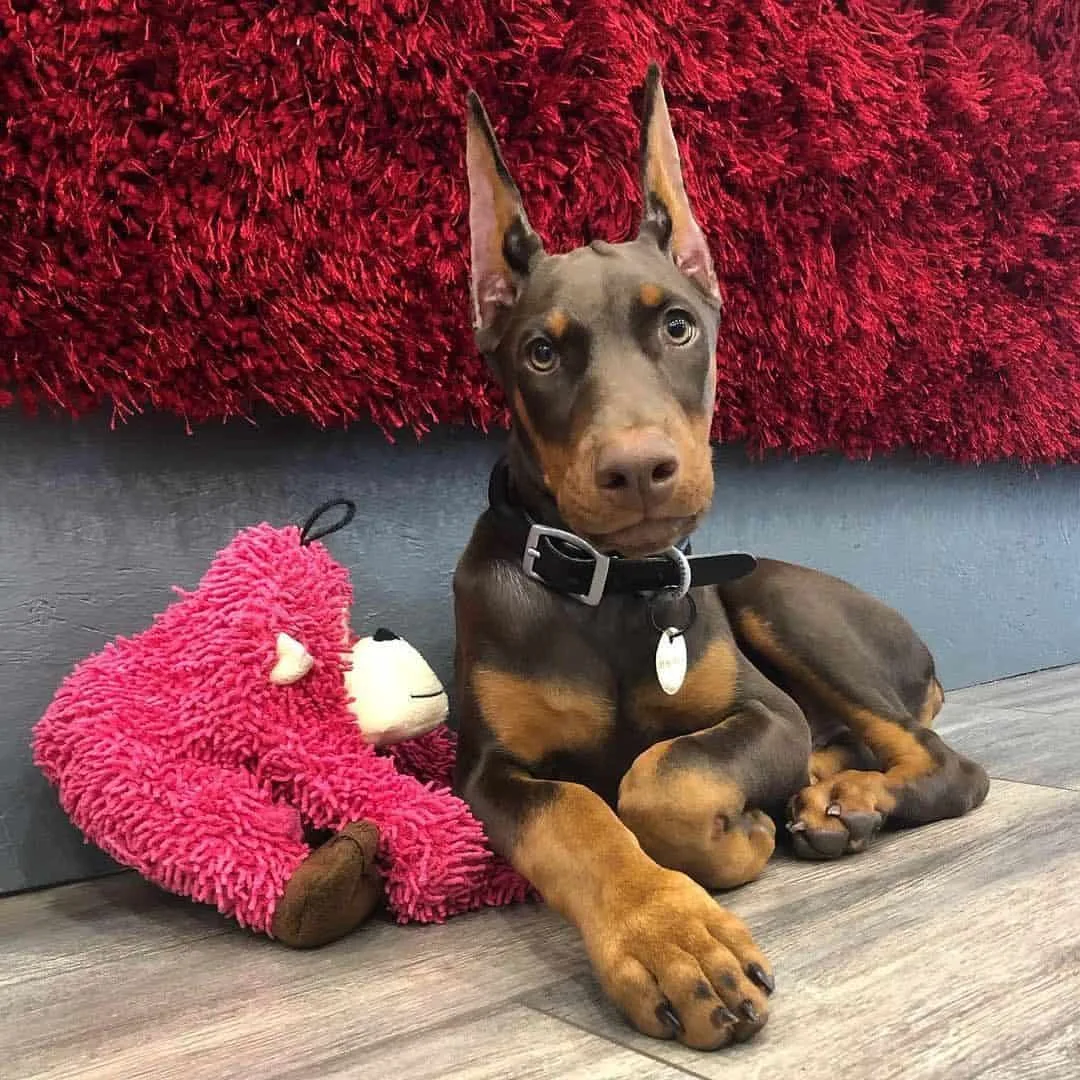 Photo from: @doberman_worldwide
Confident, fearless, intelligent, alert, and energetic, the Doberman Pinscher is all of these things and more!
These dogs inspire fear in some people, and they can indeed be very intimidating, which is why they're often used as guard dogs. They have a reputation for being mean, scary, and aggressive.
To others, Dobies are playful, loyal, and affectionate dogs. They make great family pets, and they are ever-alert and ready to protect you. These are just big softies that love to be around you.
So, who is right? In truth, both groups are! The Doberman breed can be very aggressive, but these dogs really can be loving, family companions. The trick is to find a good, reputable breeder that focuses on temperament as well as the dog's physical attributes. A well-bred, well-trained, and properly socialized Dobie is a pleasure to meet. But how do you know which breeder to choose?
When looking for Doberman breeders in California, you need to choose wisely. The ones listed here have mostly been in operation for many years and have built a name for themselves.
Even so, always be sure to check each one out carefully for yourself. Read through any contracts or purchase agreements and always ask questions if you are not sure of anything!
Good breeders will be happy to help you.
One of the main things to remember is that your search for a Doberman might take some time. While this might be frustrating, it's a good sign! Reputable breeders will only produce a handful of pups every once in a while. Those that constantly have litters on offer are likely to be puppy mills and should be avoided.
If you feel that you can't wait, why not consider getting your Doberman from a rescue? Sadly, they always have them ready and waiting, and you could even find a puppy. Some rescue centers have a policy of being non-judgemental and will always accept pups from pet stores and puppy mills that have either been closed down or that simply can't cope with the number of dogs on the premises.
The most important thing to remember is that we are dealing with living creatures. Each pup is an individual with a personality and character of its own. It's not simply a case of getting a pup to make you happy. This is a relationship that should always benefit you and the dog.
Good breeders and rescue groups take time to match their dogs to the family. This sometimes causes problems, as people take exception to any perceived criticism of their homes and lifestyles. Bear in mind, however, that this is done for the protection and welfare of the dog. And if that's something you object to, then you don't have the dog's welfare at heart. It's in your best interests to cooperate with the breeder (or rescue group) and build a good relationship, as this will help reassure them that you will provide a safe, loving, and caring home for the pup.
Hopefully, the examples of Doberman breeders in California that we've provided here will give you a good idea of what to look for in your search. You'll see that they have much in common, though some may offer more than others. Overall, they present an idea of what you should look out for.
To help you out further, here are a few tips on how to spot the best Doberman breeders in California (or anywhere else, for that matter!):
• The breeder wants to meet you in person.
• They invite you to visit the premises (there may be restrictions due to Covid-19).
• You get to meet the parent dogs and see how happy and healthy they are.
• The breeder has lots of questions for you and is happy to answer yours.
• They only focus on one breed (or possibly two or three at most, although these will be similar).
• All parent dogs are health screened for common genetic problems.
• You may have to wait for your pup (as mentioned above) because the mother dog needs to be rested.
• Puppies will be at least 8 weeks of age before being released. Some will be kept until they are 10 or 12 weeks old.
• You get the pup's full medical record and a health guarantee.
• The pups will be dewormed, vaccinated, and treated for heartworm and parasites. They may even have a puppy starter pack with a variety of goodies to make the transition into your home easier.
Now you have all the information you need, so all that's left to say is good luck in the search for your adorable Dobie!
Related articles:
•4 Great Doberman Breeders In The UK: Where To Buy Your Dobe
• Top 10 Doberman Breeders In Texas: Best Pups In Texas!
• 11 Doberman Breeders In Washington To Make You Wait