There are plenty of Rottweiler breeders in California, and it might not be easy to choose the breeder that fulfills all your requests and wishes.
That's why we created a list of the best Rottweiler breeders in CA to make your search for the perfect puppy at least a little bit easier.
Owning a Rottweiler will enrich your life in many ways! Those tough-looking, dark-coated canines can turn into adorable pups that'll often ask for another cuddly session.
Unfortunately, one of the most common misconceptions about this breed is that Rotts are dangerous for families and other animals.
These animals can become perfect family pets with the proper training and care!
Without further ado, it's time to reveal some of the best Rottweiler breeders in California you can come across!
Rottweiler Puppies For Sale In California
The majority of California Rottweiler breeders from this list are code of ethics breeders, which means that one of their main tasks is to produce high-quality Rotts and improve the breed.
1. Vom HochKlasse Rottweilers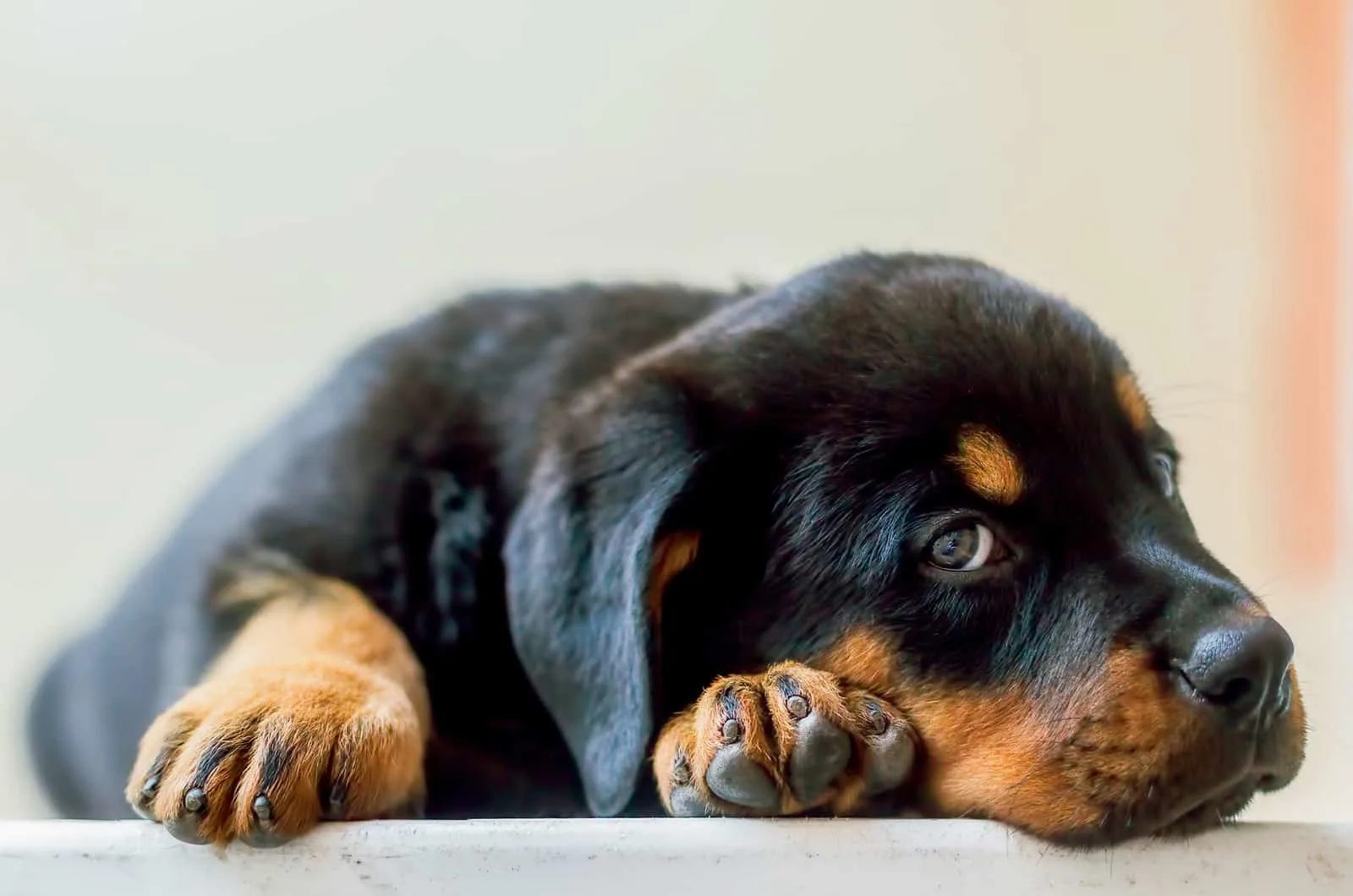 This breeder has been in the top ten of the best Rottweiler breeders in California for the past twenty years.
Top-quality Rottweilers are the main focus of this breeder, which is why they make a thorough selection of male adult canines that can mate with their female Rottweilers.
It's important to mention that the Vom HochKlasse owners managed to produce a couple of Rottweiler puppy generations without the common congenital diseases, such as elbow and hip dysplasia.
The majority of puppies produced in this kennel have the classic Rottweiler look, which includes a square-shaped head and a wide, almost flat muzzle.
Their Rottweilers have a unique physique as they look both robust and adorable at the same time. However, don't let their puppy eyes fool you because they can be very protective of their owners!
Pricing
The cost of the puppies from this Rottweiler kennel depends on whether you're looking for a canine with show qualities or a family pet.
Therefore, those who'd like to get a canine for dog shows will pay $4500.
However, if you're looking for a furry friend and don't mind some minor details that deviate from the breed standards, the puppy will cost you around $3500.
But, if you decide to get a pup from this breeder, you'll first have to pay an additional fee of $500 as a deposit.
Upon the purchase, you'll receive health clearances about your pup, including its deworming and vaccination records.
Once you purchase the Rott, you should register it at the American Kennel Club (AKC). The breeder will gladly share all information about the whole process and help you with anything you need.
There's a limited number of litters every year, so I'd advise you to act immediately and get yourself this fantastic pooch!
If you want to find out more about the whole purchasing process, and the breeding program in general, feel free to contact the breeder via email or phone.
Breeder Details:
Address: Moreno Valley, California
Email address: [email protected]
Official Website: Vom HochKlasse Rottweilers
Contact number : 951 452 5050
2. Marlo's Rottweilers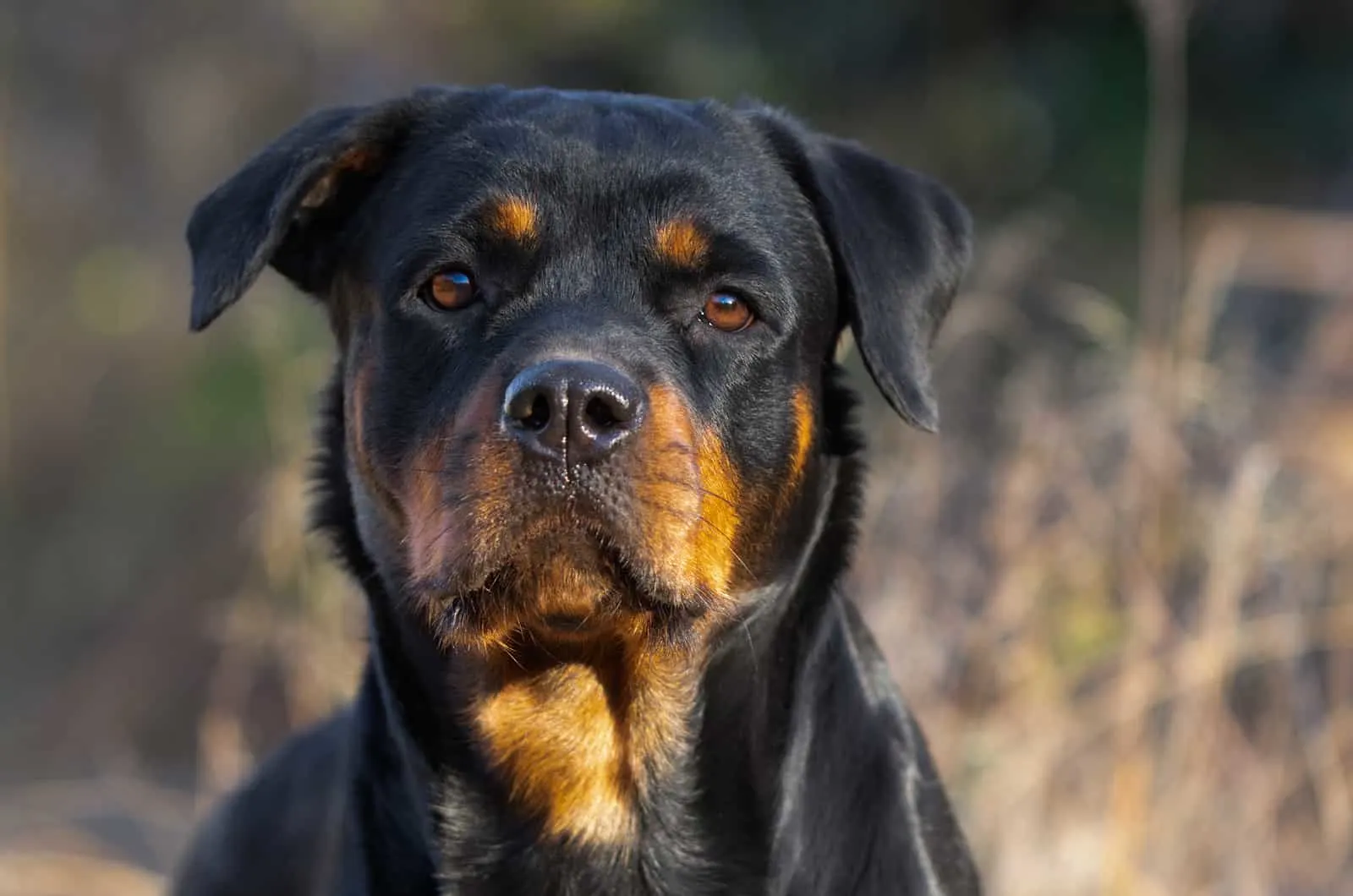 Marlo's is probably one of the oldest Rottweiler kennels in the Western part of the U.S. The owner of this breeding program, Marlene Keene, has been in the business for more than forty years.
The experience and knowledge she has gained during these years have helped her to become one of the best Rottweiler breeders in California and beyond.
It's no surprise that this code-of-ethics breeder is the acknowledged judge of the breed standard at one of the greatest Rott clubs – the American Rottweiler Club. According to her impressive career, she is also a part of the American Temperament Test Society and at the A.R.F. and A.R.C.
Family Pets Or Show Dogs?
The best answer to this question would be both. Marlene isn't one of the top-quality breeders just because of her age and the number of years she has spent breeding her Rotts.
All the effort she made to create high-quality canines paid off when her pups won a great number of winning places in dog conformation shows in the United States and Canada.
Producing and raising purebred Rottweiler puppies that are up to the American Kennel Club's (AKC) standards has been one of the main focuses of this kennel.
The breeding program is based on raising strong, but calm German Rottweiler puppies with excellent social skills.
To make sure that each pup has a sound temperament and good social skills, Keene raises each litter in her own home rather than in a separate facility.
Pricing
The price of these beautiful canines isn't available on the website, but the owner of the breeding program is more than welcome to answer any questions you might have, including the initial cost of getting a pup.
There are certain differences in genetics, health, and the overall appearance between the champion Rottweiler bloodline and the regular Rottweiler breed. Therefore, the price of the pups depends heavily on these factors.
A Rottweiler canine can be up to $4,000, although the average price varies between $1,500 and $2,700.
The kennel owner is ready to provide you with all necessary documentation regarding the health of the puppy and its parents in order to prove their worth.
If you'd like to purchase one of the puppies from this facility, all you need to do is contact the owner (or personnel) to get all the information you need.
After that, you're required to write down all necessary information in the online form. Although this breeder is based in California, they accept orders from other states (however, the shipping cost is not included in the price of the puppy).
Breeder Details:
Address: Sacramento, California
Official website: Marlo's Rottweilers Northern California
Email address: [email protected]
Contact number: 415 609 2874
3. Von Ruelmann Rottweilers Inc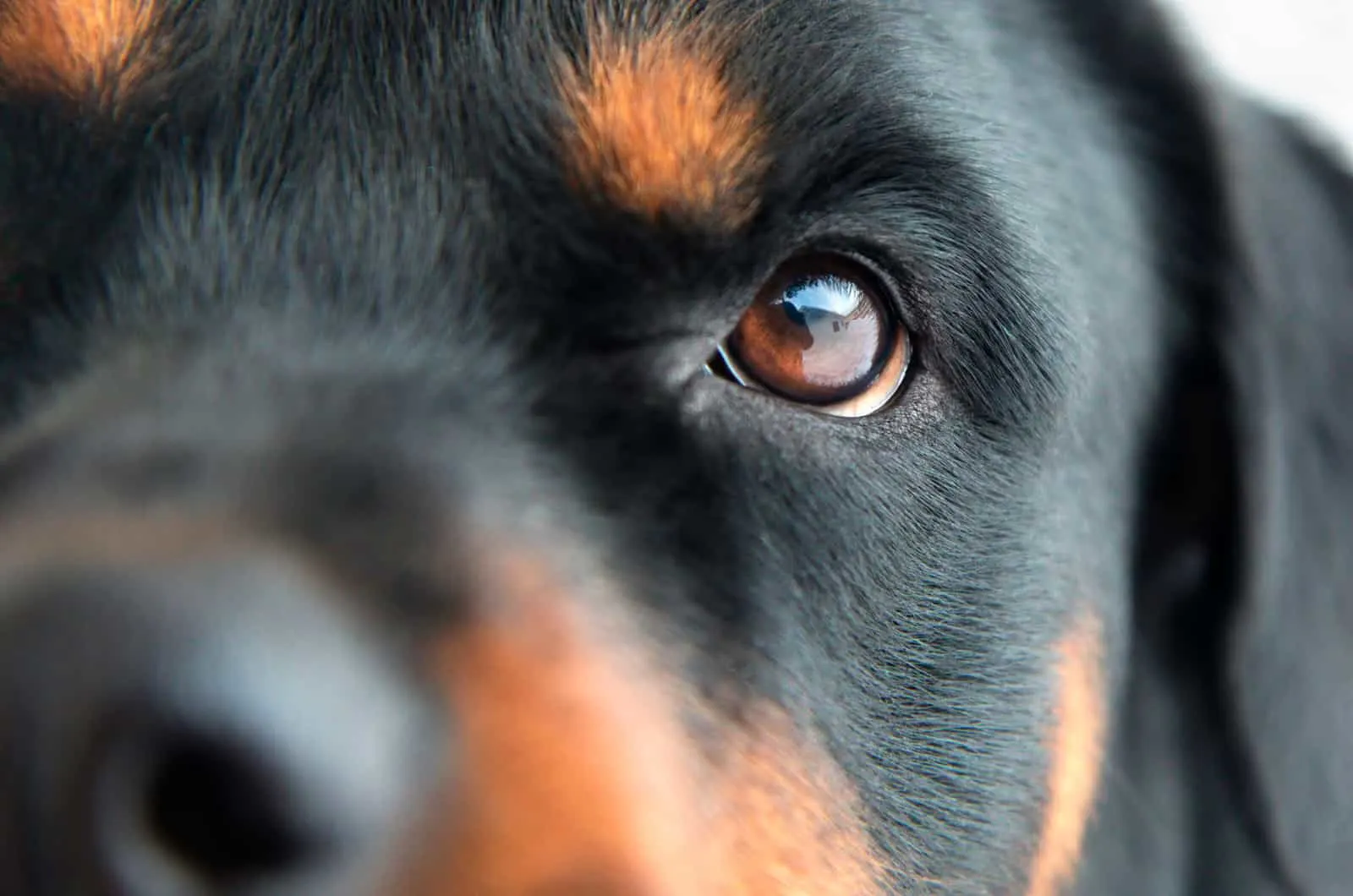 One of the first things you can see on Von Ruelmann Rottweilers' website is "Home of the top producing Rottweilers in the world." This might seem like a bold statement at first, but the majority of their customers will agree with it, according to the online reviews and testimonials.
The owners of the kennel, which is located on Alessandro Blvd., are also known as one of the best California Rottweiler breeders because no other Rott breeder has managed to win the ADRK Seiger competition except Von Ruelmann's Rottweilers.
How Did It All Start?
This breeder has been in the business for forty-two years. They gained an immense amount of knowledge and experience over these years, which has helped them become top-quality Rottweiler breeders.
The main objective of this kennel is to produce champion puppies that are up to the AKC Rottweiler breed standards.
According to the data from the official website, Von Ruelmann uses a specific breeding strategy to produce the best pups for their future owners.
Essentially, they're importing top-line Rottweiler females in order to breed the best Rott puppies in the country. Each of their canines has show quality, but they can also be great family pets.
Related: Are Rottweilers Good With Kids? Everything You Need To Know
Health
This breeding facility provides the highest-quality canines from the most significant breeding stock available anywhere in the world.
The breeder leaves nothing to chance; therefore, each parent is thoroughly tested for different kinds of congenital diseases. All information about the health and overall condition of adult Rotties is available on Von Ruelmann's website.
An average dog owner looking for a family dog rather than a champ won't find this information crucial, but if you're looking for a canine that is ready for conformation shows, every detail will be of great importance to you.
Of course, the same amount of attention is dedicated to each of the puppies produced in this kennel. The breeder makes sure that each Rottie available for purchase goes through thorough health tests, including OFA tests, cardiovascular examinations, etc.
All health records are available upon request before you buy the dog, and they are included in the purchase and other necessary documentation.
The majority of Rotties from this kennel receive only the highest scores on OFA tests, which is a guarantee that you'll get the perfect pup for a solid price.
Pricing
The exact price of Rotts isn't displayed publicly by this breeder either, but what we do know is that they require a $1,000 non-refundable deposit to let you enter the waitlist.
Due to the high demand for their Rott puppies, there are high chances that your deposit might be transferred to the next litter if you don't act fast enough.
However, the whole purchasing process is a pretty easy task to complete. The best way to get all the details about your future pet is via phone as they don't have enough time to reply in great detail in emails.
Due to the quality of their pups, Von Ruelmann is one of the most popular CA Rottweiler breeders with high demand, which is why they kindly ask all their potential customers for serious inquiries only.
After paying the deposit, all you need to do is wait until your puppy is eight weeks old. The breeder will notify you when it's time to bring your new pet home.
Von Ruelmann's Rotts are available not only in CA, but also in other states! However, if you wish to get a Rott puppy from this breeder outside California, the total purchase price should be paid up until the sixth week of the pup's life.
Those who are still skeptical about this breeder can find the list of celebrity names who collaborated with Von Ruelmann Rottweilers Inc.
Breeder Details:
Address: Riverside, California
Official website: Von Ruelmann Rottweilers California
Email address: [email protected]
Contact number: 951 780 7922
4. Vom Aztlan Rottweilers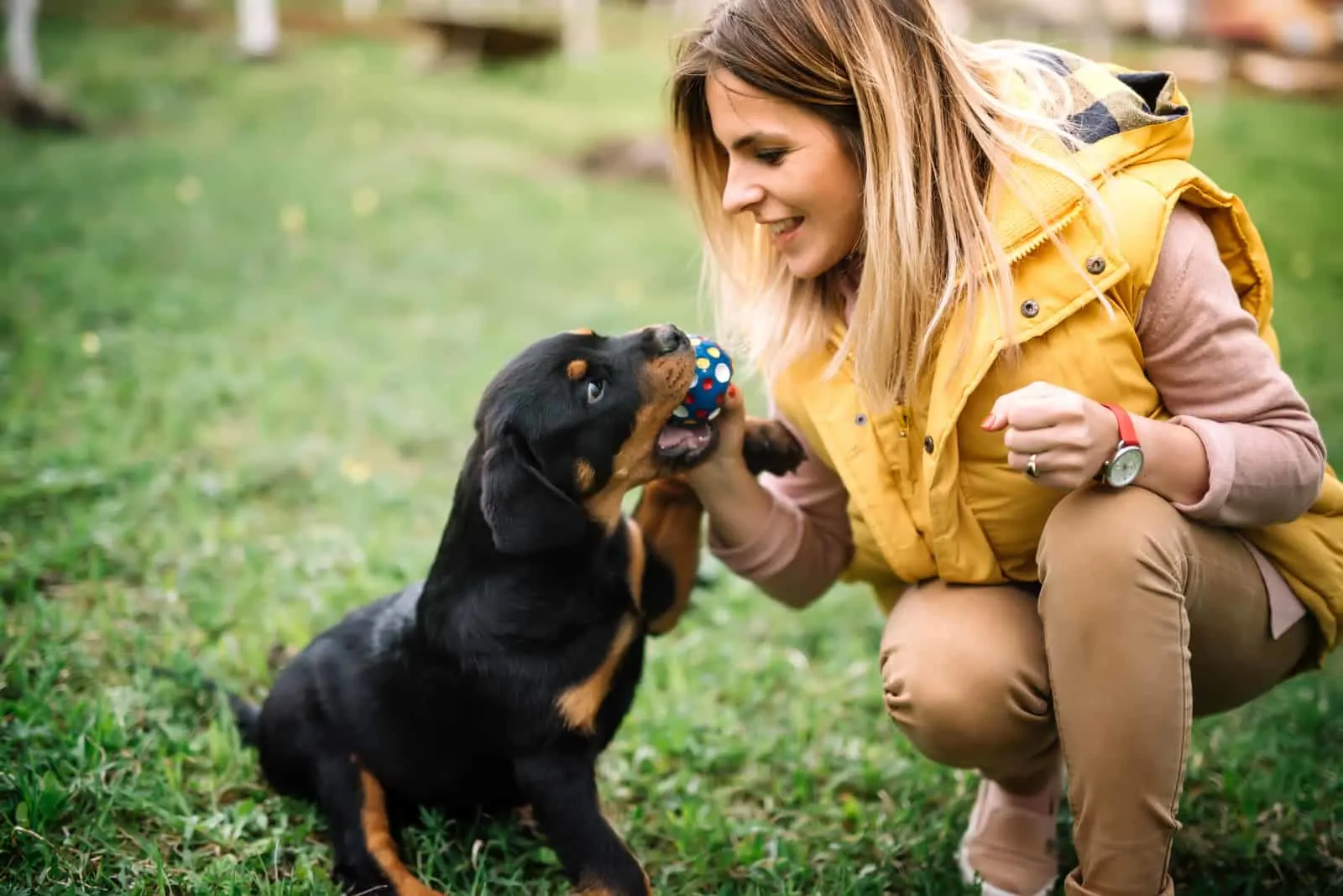 Every reputable breeder takes excellent care of their pups and their well-being, and Vom Aztlan is no exception for sure.
They are one of the best examples of code-of-ethics breeders because they put their main focus on the health and general improvement of the Rottweiler breed.
The breeding policy of this facility is to step up their game in producing and raising breed-standard pups by carefully selecting only the best and healthiest parents of their remarkable Rotties.
Vom Aztlan proves each of the statements mentioned above with a great number of certificates, memberships, and titles in prestigious organizations and competitions.
The Allgemiener Deutscher Rottweiler Klub (ADRK), the United Schutzhund Clubs of America (USCA), and the United States Rottweiler Club (USRC) are just some of the names of essential organizations this breeder is a part of.
Vom Aztlan also complies with the Federation Cynologique Internationale (FCI) standards.
Puppy Quality
Since this dog breed comes from Germany, it's important to mention that each of the Rotts from this facility is German-titled.
To make sure that they're getting top-of-the-line German Rotties, this breeder imports its female canines directly from Germany, where they are already bred with their male counterparts.
Essentially, this is one of the best ways to ensure that each Rott is a hundred percent purebred and of the top-quality bloodline.
Of course, health is the number one priority of every ethical breeder, but looks and style also play an important role in defining the pedigree of the canine.
Vom Aztlan takes great care in representing each of their pups as a purebred champ among Rottweilers with early training and thorough health tests.
Every pup from this kennel possesses honors that are crucial for every Rott, such as the Schutzhund, and the ZTP/BST certificates.
These titles are confirmation that the Rottweilers that pass these tests are suitable to be bred for the next generations.
Essentially, the tests that are performed serve as a deep examination of the canine in order to check whether it complies with the breed standard in all aspects.
If you wish to know more about their canines or if you'd like to get your pet from this place, you can contact the owners by email or by phone.
Breeder Details:
Address: Whittier, CA
Email address: [email protected]
Official website: N/A
Contact number: 562 577 4447
5. Scotty's California Rottweilers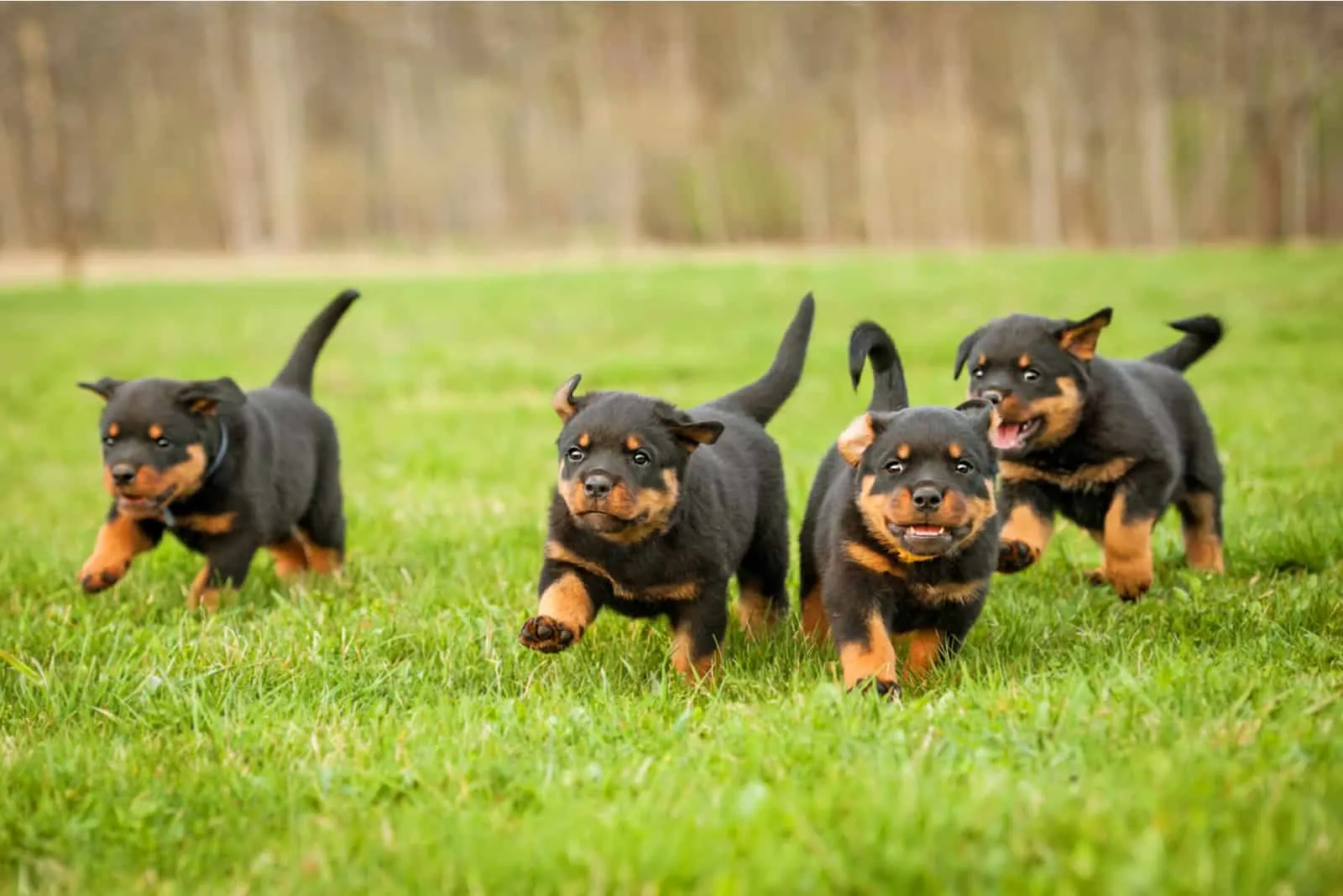 Some dog owners prefer to get a pup from a small-scale family business rather than from an upscale breeder. The latter might offer the same quality canines when it comes to health and physical condition, but in slight nuances when it comes to temperament.
A home-based kennel is able to produce championship-bloodline canines as well, and this breeder is living proof of such a statement.
Every Rott from Scotty's kennel has a European (in most cases, German) ancestry, be it a champ or a family pet.
They've been considered as one of the best Rottweiler breeders in California and beyond because the owner finds quality much more important than quantity.
Therefore, instead of the hyperproduction of litters, this kennel is focused on the health of the adult female Rotts and their descendants.
Pricing
I have to admit I was a bit surprised when I saw the amount of the deposit fee this breeder requires because most breeders ask for $500 to $1000. However, at Scotty's, you'll need to only pay $361 in advance just so the owner can confirm the deal.
The purchase price itself isn't on the expensive side either – you'll pay $2,500 to close the deal and take the puppy home.
Each pup is healthy, even-tempered, purebred, and of high show quality, and the health information can prove this on their official website.
The purchase of the Rottweiler puppy includes:
• A health guarantee
• Microchipping (AKC reunite model)
• AKC registration
• Basic training (Puppy Culture)
• Declawing
• A docked tail (if you wish differently, make sure to mention it in time)
The owner of this kennel offers a one-year health guarantee, which can be extended to a five-year plan if you use the NuVet Immune System Builder dog food for your Rott.
If you have any doubts or if you'd like to get more information, you're more than welcome to use their phone number or email address that is written below.
Breeder Details:
Address: Oroville, California
Email address: [email protected]
Official website: Scotty's California Rottweilers
Contact number: 844 687 6887
6. Vom Hognadottirs Rottweilers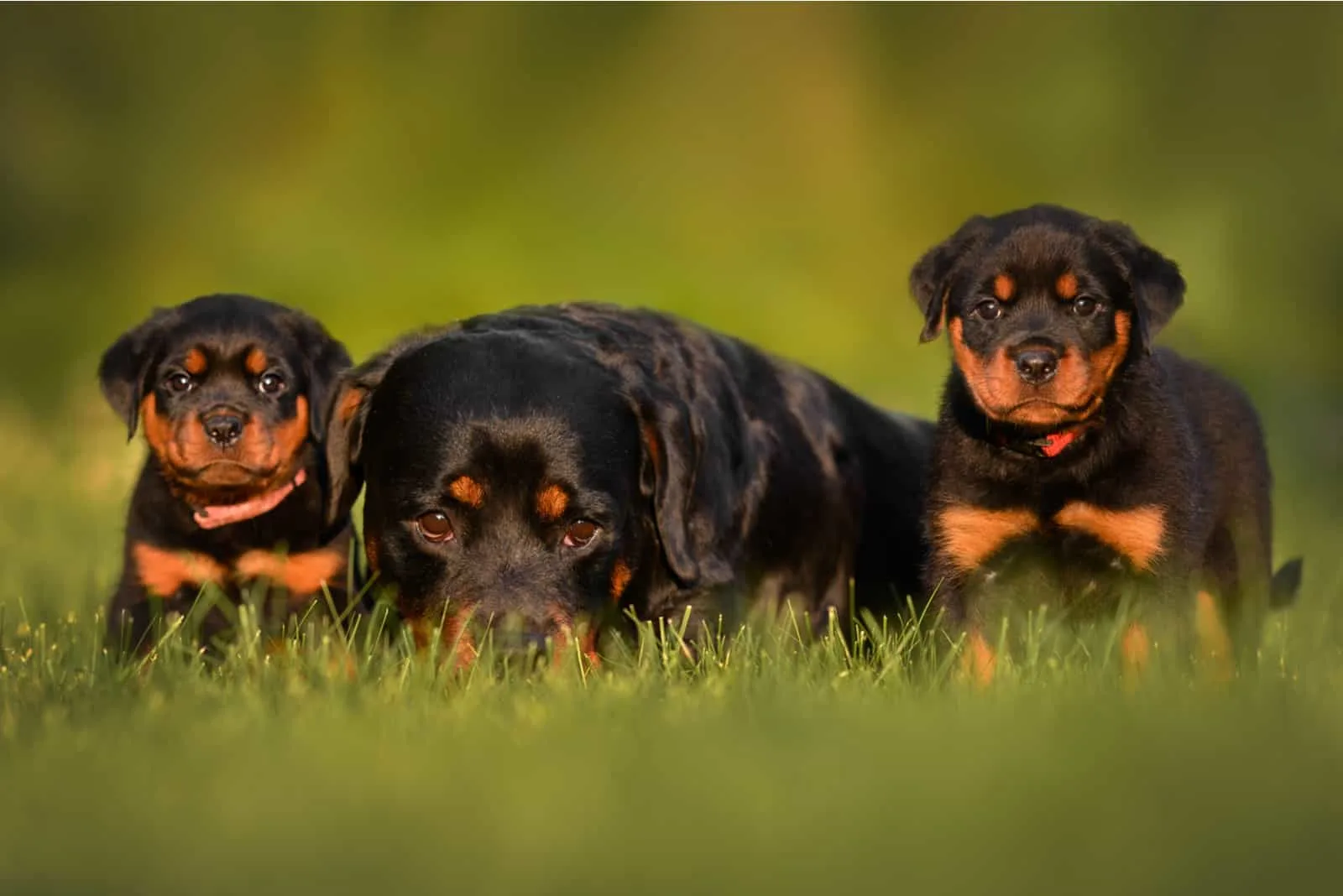 This place is the home of the two magnificent dog breeds: Rottweilers and German Shepherds. Most people would agree these two breeds are genuinely gracious and lovely, although they might seem overprotective from time to time.
The owner of this kennel developed a great interest in these two breeds years ago, which is why they decided to produce and raise both.
It's no surprise that they're considered one of the most trustworthy breeders in California as they produce only high-quality AKC Rottweilers and Shepherds.
The owner of this breeding outfit, Betty Burden, finds her 30 years of experience and love for canines crucial for every success. She has been a part of several important organizations and clubs, including the Dog Club of Germany (for Shepherds), Schutzhund USA, and the American Rottweiler Verein (ARV).
Health And Temperament
Burden gives her best in order to produce top-notch canines that are ready for conformation shows and family life.
Just like any other reliable breeder, she takes great care of health when it comes to each puppy, including regular checkups, vaccination, microchipping, health examinations, etc.
Every female Rott is carefully picked to match her male counterpart, including bone structure, strength, and other physical characteristics.
A "perfect" match usually results in Rotties that are up to the breed standards that are acknowledged by all of the significant Rottweiler organizations, including the AKC and the ADRK.
The health of each canine is always the number one priority, and Burden's pups are in an excellent state.
Purchasing Process
The owner and the staff of the Vom Hognadottirs breeding outfit keep the official website up to date when it comes to the offer of available puppies.
You'll be able to see photos of available litters and pups individually, so you can choose the one that seems perfect for you.
However, I'd still recommend calling and asking for all information about the available breeds and pups – the owner will gladly respond to any questions you might have.
The price is also available upon request. You can contact the breeder via email as well, but the owner states that they prefer phone calls rather than emails.
After the initial contact with the breeder, you will have to fill out their application form.
By this time, you'll already know the price and the full process of purchasing a Rott puppy. After the purchase is concluded, you'll also receive all necessary documentation, including health guarantees and records.
Breeder Details:
Address: Pilot Hill, California
Email address: [email protected]
Official website: Vom Hognadottirs Rottweilers
Contact number: 916 933 3861
7. Chancellor Rottweilers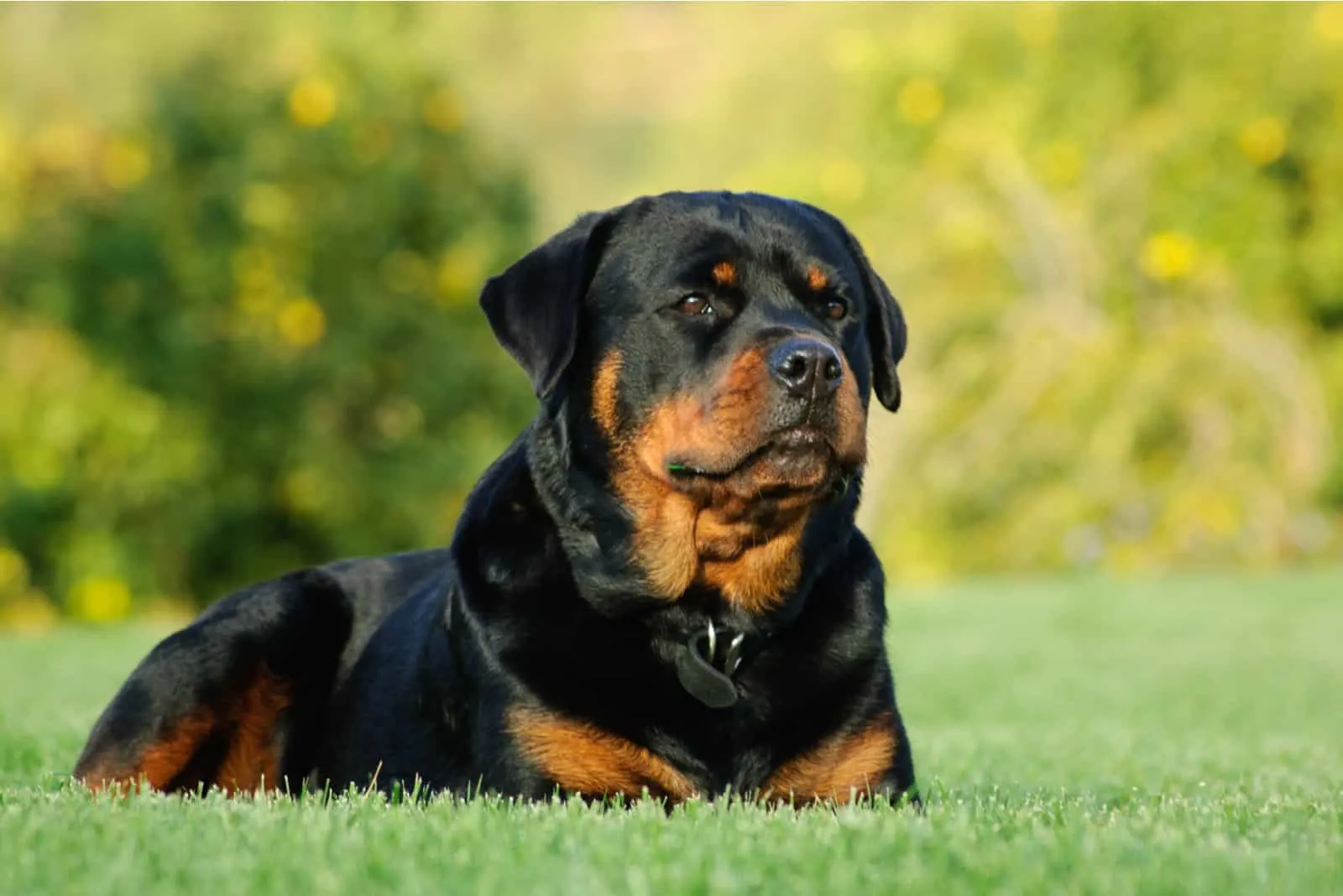 Small-scale breeding programs are founded due to the lavish love and interest in a specific canine breed, like the Chancellor Rottweilers breeder.
This might be a family business, but that doesn't mean they produce only family pets.
Each of the Rott pups from this place has an incredible temperament and is in excellent health.
The breeding process is completely different from the standard procedure in puppy farms or mills (which aren't recommended).
Breeding Procedure
The parents of all Rotties from Chancellor are carefully picked and matched in order to produce the best-quality canines that are healthy and up to the standards of their breed.
Temperament also depends heavily on the parent match, which is why Chancellor relies on popular European-pedigree canines in most cases.
This breeder cooperates with some of the best European importers to provide only the highest quality bloodline, especially to those who are looking for a show-quality canine.
The breeder takes great pride in producing and importing more champion Rottweilers than the majority of other kennels in the country.
But, if you decide to get a Rottie pup from this kennel, the first thing you need to do is make the initial contact with the breeder to get all the details regarding the price and the purchase process in general.
Breeder Details:
Address: Auburn, California
Email address: [email protected]
Official website: Chancellor Rottweilers
Contact number: 530 537 9912
8. Van Dooren Rottweilers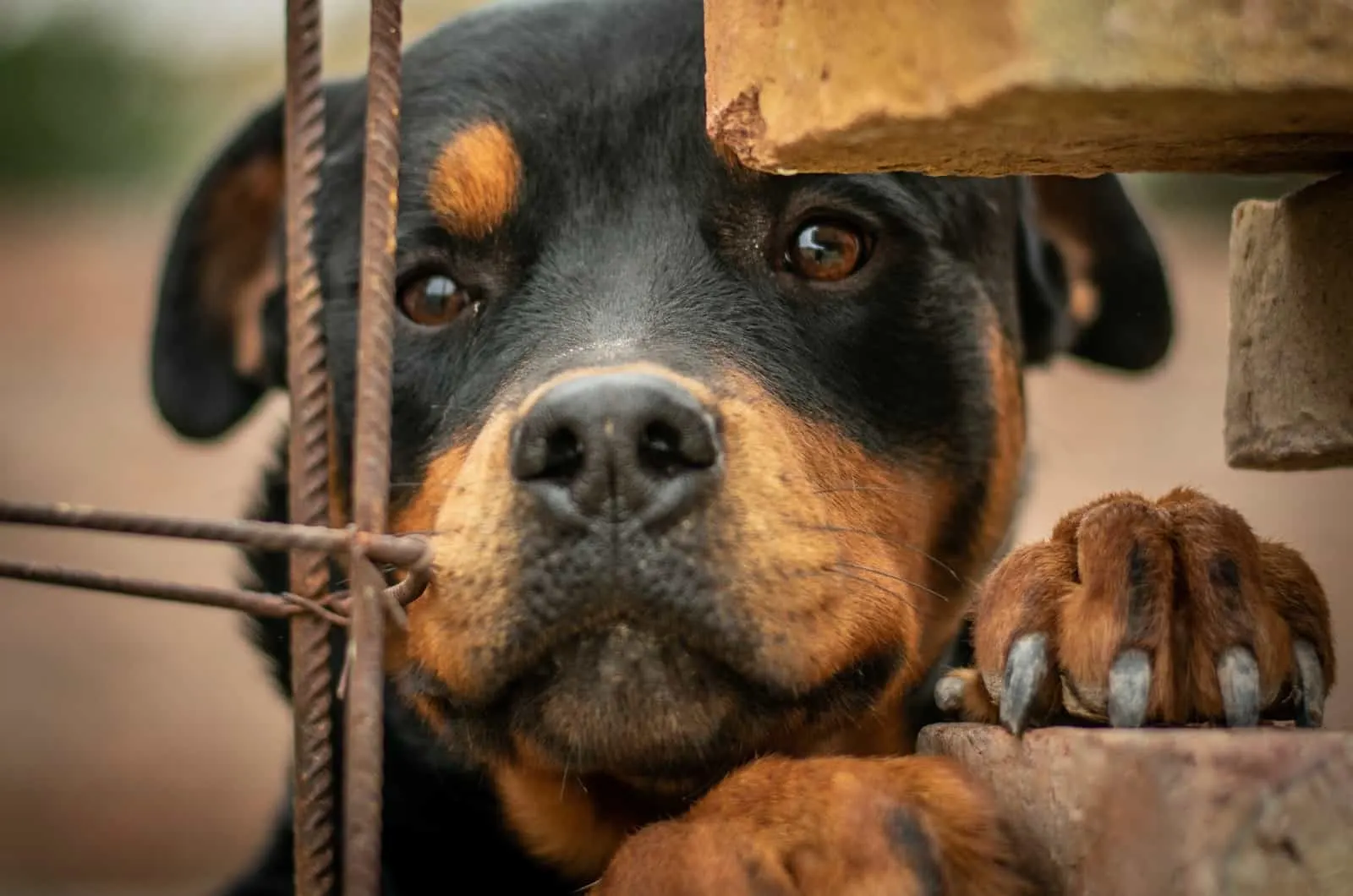 You came to the right place if you're looking for an ethical breeder with a great reputation. Each breeder from our list treats Rotties with as much respect as they deserve.
The main focus of this breeder is to produce the best Rotts they can in the sense of temperament, health, and physical construction.
This breeder doesn't aim for profit only, and they also devote a significant amount of time and attention to examining the lineage of every Rottweiler canine from their place.
Purchasing Process
Essentially, the breeder/owner enables you to ask for as much information as you might need in order to determine which pup is the perfect fit for you.
Van Dooren requires you to pay a deposit in advance if you're ready to wait on their waiting list. This is standard practice that almost every breeder uses, and Van Dooren is no exception.
Once you enter the waiting list, you can expect a call from the breeder as soon as the first litter is available.
The price is available at your request, so make sure you ask about it before you agree to get a dog from this kennel.
The pup you choose will be microchipped, vaccinated, and dewormed before you get to take it home, and you'll be provided with all necessary documentation.
The breeder also offers a two-year health warranty and AKC limited registration rights.
You're more than welcome to contact the owner for any inquiries via phone or email.
Breeder Details:
Address: Vacaville, California
Email address: [email protected]
Official website: N/A
Contact number: 707 330 7757
Online Rottweiler Breeders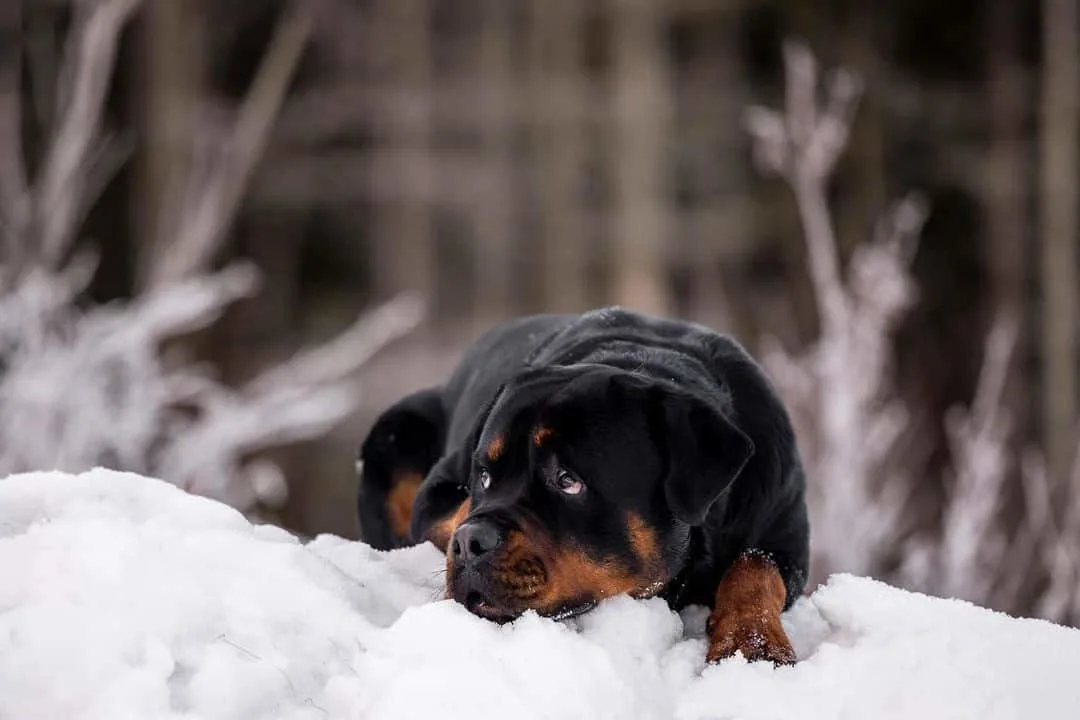 Photo from: @lisphotography1
Essentially, almost all California Rottweiler breeders are partly online businesses as well as you can finish up most things via email or online application forms.
However, there are certain places that gather a great number of reputable breeders and make it easier for you to find the one that fits your needs and wishes.
If you're looking for a pet online, the AKC Marketplace is the number one online source of the best Rottweiler breeders in California and the U.S., in general.
Aside from trustworthy breeders, this online site is also beneficial for new Rott owners who might have a lot of questions about their new pets.
A great number of experts update their information about different dog breeds every few days, so you can be sure that the information you're getting is completely safe and valid.
This is an online platform that helps you find your next puppy in no time.
The search for the perfect canine can be done by filtering the most important information, such as the breed, the type, and the dog group.
This is another non-profit online organization that enables you to find your perfect pet. This place is considered one of the biggest online websites for pet adoption in North America.
This website offers great features, such as different filters, which will make your search for the pup much shorter.
How Much Do Rottweiler Puppies Cost?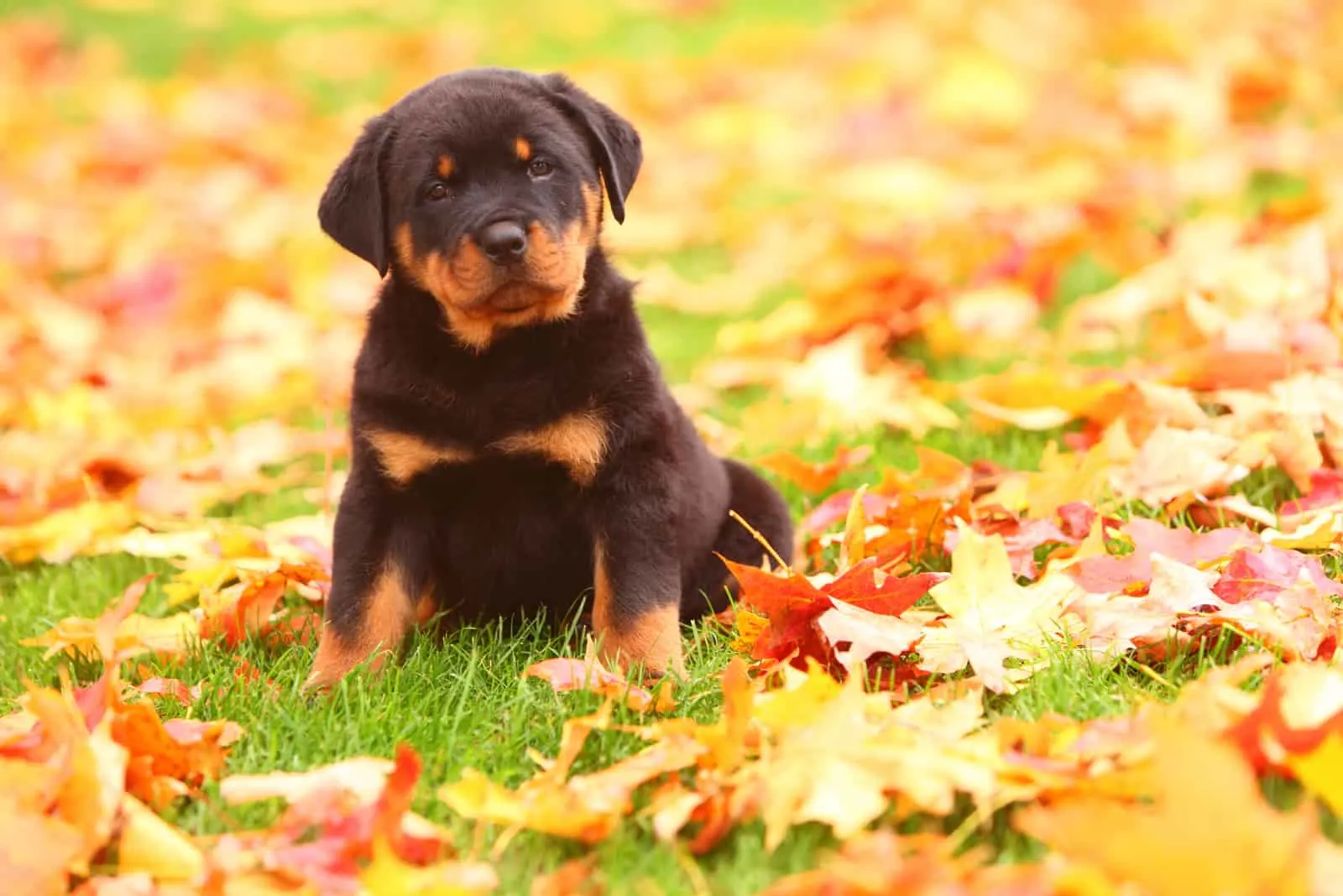 The price range of this dog breed is quite wide, and it can be anywhere between $800 and $4000 depending on the class, health, and temperament.
The average price would be around $1500 for a regular Rott from a reputable breeder. But, if you prefer a Rottie of German lineage, you'll have to pay from $2700 to $4000.
The puppy's price isn't just the owner's profit; it's also a price that has to cover all expenses regarding the pup, including health tests, vaccinations, spaying/neutering, etc.
Cheaper options might seem tempting at first, especially if you're on a tight budget, but that might end up as a big mistake rather than a wise choice.
Places like puppy mills and farms do offer Rottweiler pups at much lower prices than the reliable breeders, but they also care about their own profit more than about the canine's health or ancestry.
What Is The Best Way To Find A Rottweiler Breeder?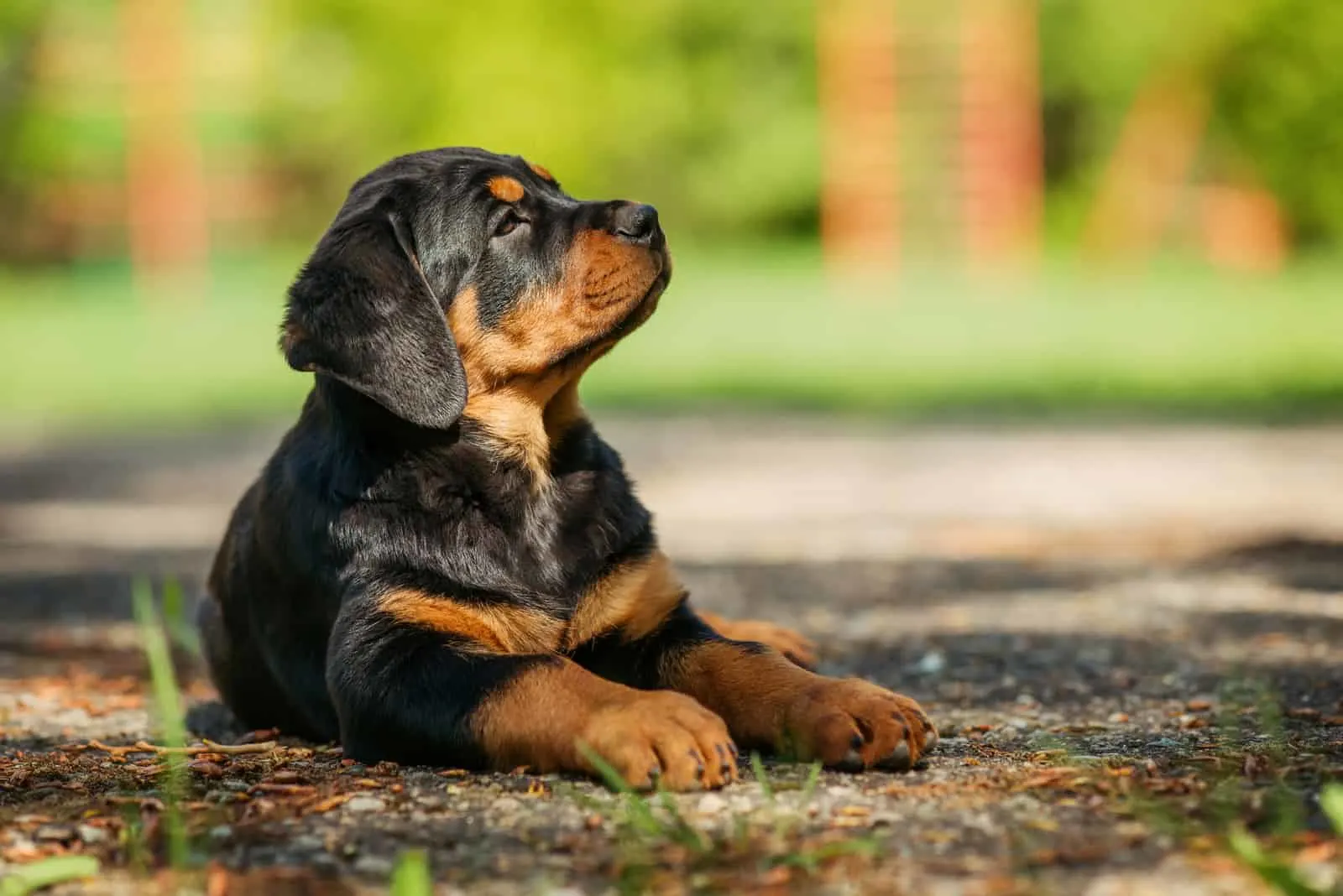 If you're searching for reputable Rottweiler breeders in California, it's crucial to divide the task into several steps.
The first step is to find several breeders who seem to suit your needs and requests.
The next step is to do additional research. Now that you have a list of potential breeders, it's time to investigate a bit. You can search for testimonials outside their official website or contact local kennel clubs to check whether they're members of a local KC (most trustworthy breeders are).
Suppose the breeder seems legit at this stage. In that case, it's time to make initial contact and find out details about the puppies and the whole purchasing process (including the price, documentation, and warranty).
If the price isn't too low and the breeder has no problem letting you visit the kennel, there are high chances that you have come across an excellent Rott breeder.
Rottweiler Puppies In California For Sale: Final Thoughts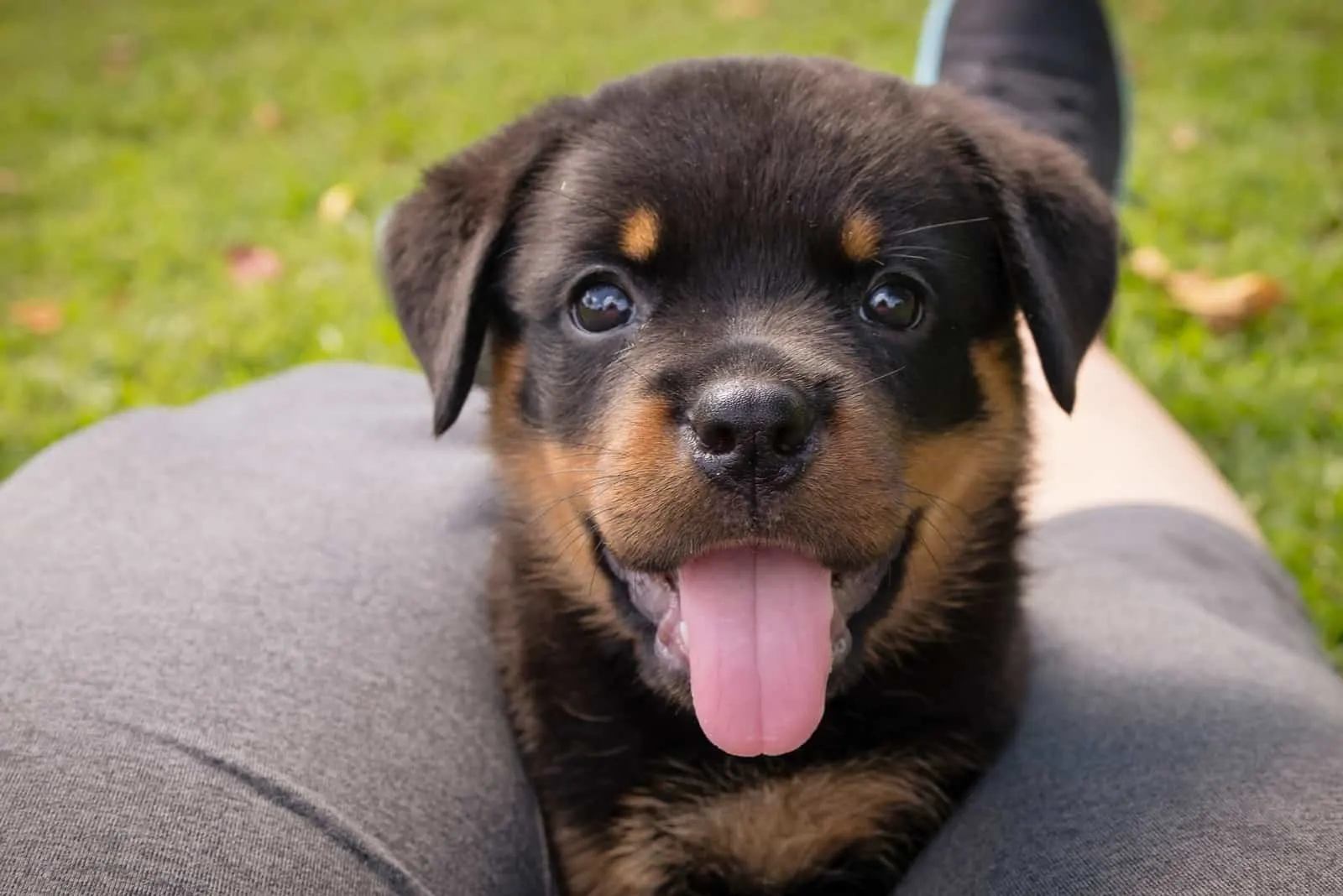 I hope you've found at least a few reliable Rottweiler breeders in California that you might consider while searching for your next pet.
Rottweilers are indeed magnificent and versatile canines that'll protect you at all costs, and will be the best family dog you have ever had.
The list from this article includes some of the major Rottweiler breeders in Northern and Southern California that produce high-quality, purebred Rotts for dog shows and for families who take care of their dog's history and parent breeds.
If you'd like to do some research on your own concerning Rottweiler breeders in California, you are free to follow the guide we provided you above.
Read Next:
American Rottweiler vs German Rottweiler: What's the difference?
Rottweiler Cropped Ears: Is It Really Necessary?