Captivating, fierce, and powerful, Rottweilers are amazing dogs that can fulfill the role of both companion and service dog. Those who truly know the Rottweiler breed can't help but fall in love with them, and their love is returned a hundredfold.
Even though this breed gets a lot of negative press, bringing a Rottie into your home will be a positive, rewarding, and life-changing experience. In fact, according to the American Kennel Club (AKC), Rotts are the eighth most popular dog in the United States!
Because of this, you are bound to come across many different Rottweiler puppies for sale in California. Luckily, there are tons of high-quality, reputable Rottweiler breeders in California that have years of experience producing healthy and happy Rottie puppies.
On the other hand, there are also many backyard breeders and puppy mills selling cheap Rottweiler puppies of suboptimal quality that aren't genetically tested or health-checked before they are sold.
Always keep in mind that if you buy from unethical breeding facilities like puppy mills or backyard breeders' homes, your new furry friend might have a genetic disease that will cost you a lot of money in the long run.
Rottweiler puppies in California for sale
1. PuppySpot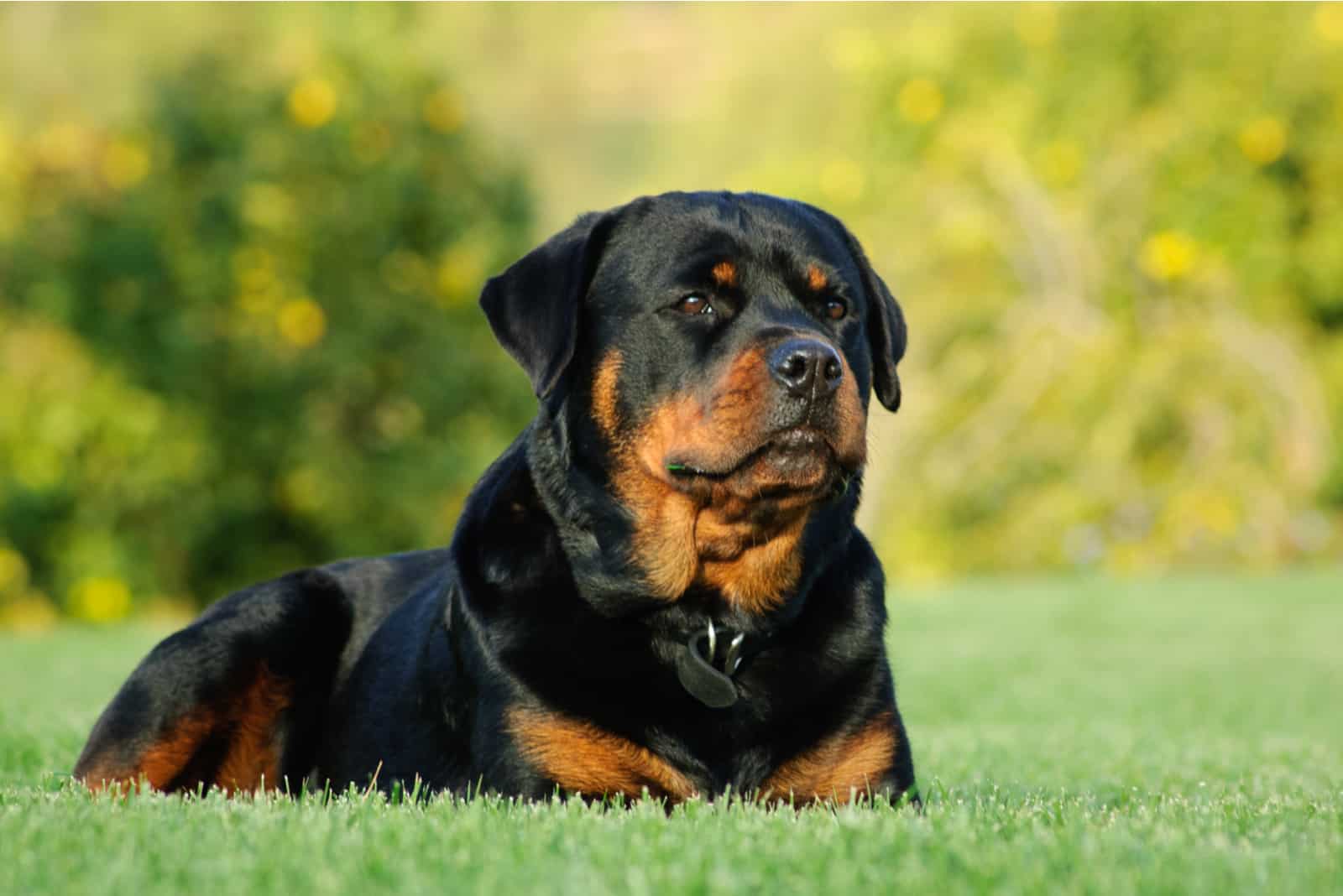 PuppySpot takes the number one spot on our list of best Rottweiler breeders in California for several reasons.
Firstly, PuppySpot is a network of highly-reputable dog breeders across the United States. This means that each breeder you find on this platform is licensed, screened, and state registered, so you can rest assured that you are getting an ethically sourced Rottweiler puppy.
Secondly, as you will see below, most of the reputable Rottweiler breeders in California have a long wait time for a litter. This means you can end up waiting several months or even a year for a puppy.
It also means you won't be able to get the first or second pick for the litter unless you reserve a spot early with a particular breeder. You will also need to spend some time reaching out to several Rottweiler breeders in California to find the exact puppy you are looking for.
With PuppySpot, all of these issues go away as you can get a Rottweiler puppy as early as today, and you can choose by age, coat color, coat type, size, gender, or any other preference you might have.
Lastly, if the puppy you've got your eyes on is not located in California, the website can easily fly it out to you and hand-deliver it to your doorstep. Only a handful of breeder networks actually operate their own airline for the safe transportation of their puppies. Other breeders use third-party airlines or carriers that they don't actually run and can't vouch for.
There are thousands of satisfied PuppySpot customers, and we strongly recommend checking out their website if you are looking for high-quality Rottweiler breeders in your area.
Rottweiler breeder information:
• Website: PuppySpot Rottweilers California
2. Vom HochKlasse Rottweilers California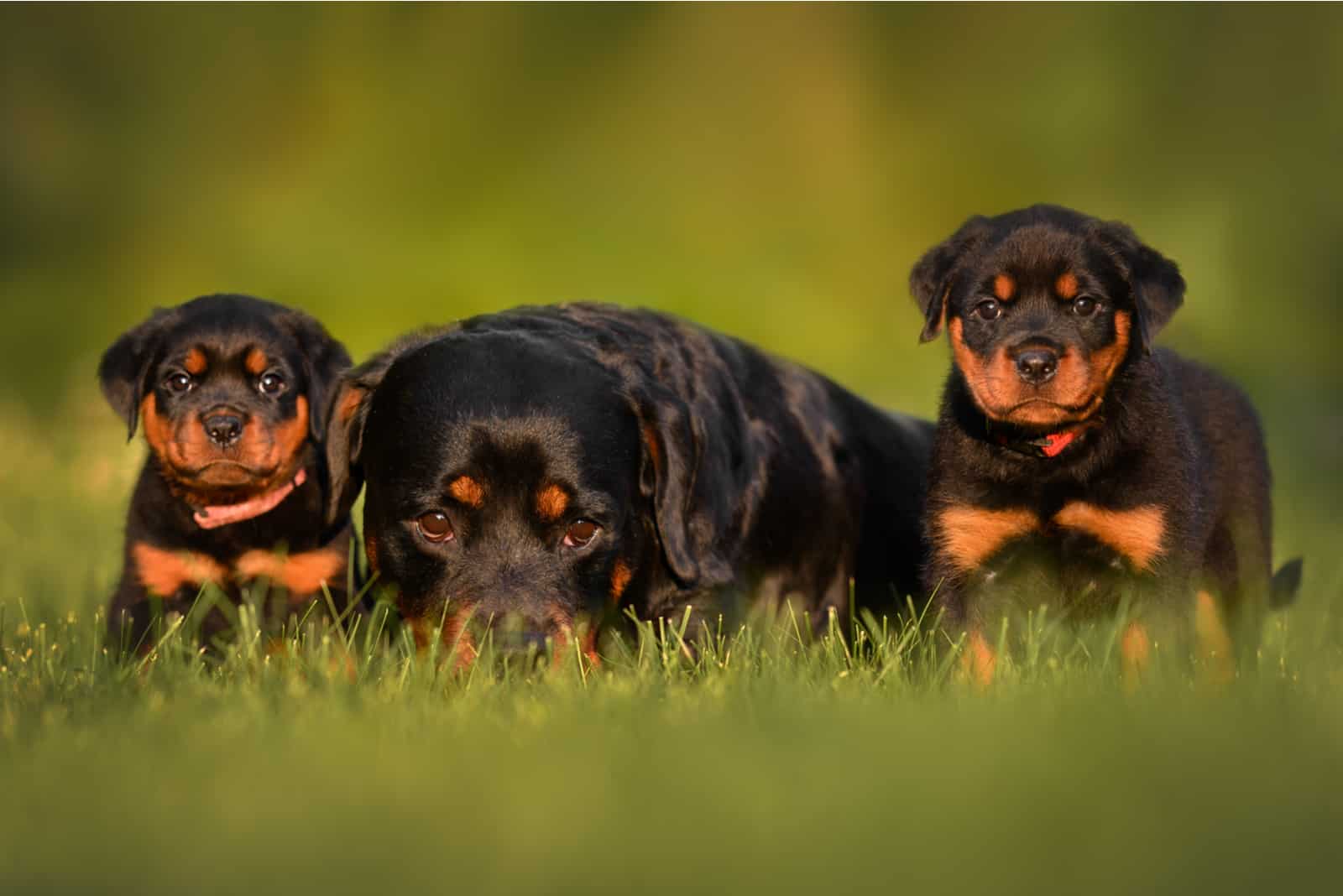 In the past two decades, the Vom HochKlasse breeding program has built a stellar reputation for producing and raising Rottweilers of the highest quality with square heads and wide, short muzzles.
This Rottweiler kennel handpicks and breeds only the finest studs of this breed with their top-quality females. Aside from having excellent genetic health, their female breeding dogs also come with robust beauty and character.
All of their Rotts have health records that trace back several generations of dogs that were free from genetic ailments and hip dysplasia. The litters they produce speak for their excellence, and whether you are looking for a show, companion, work, or breeding pup, you will not be disappointed.
You can check out the health certificates and records of the breeding dogs and past litters on their website. Just keep in mind that the Vom HochKlasse produces only a few litters of Rotties per year that are booked well in advance.
To reserve a spot on their waiting list, you will need to make a $500 non-refundable deposit. For a companionship Rottweiler, expect to pay anywhere between $2,800 and $3,000, while a show or breed quality pooch will set you back between $3,000 and $4,000.
Rottweiler breeder information:
• Location: Moreno Valley, CA
• Website: Vom HochKlasse
• Phone: 951 452 5050 or 951 2699 9797
• Email: [email protected]
3. Vom Aztlan Rottweilers – Southern California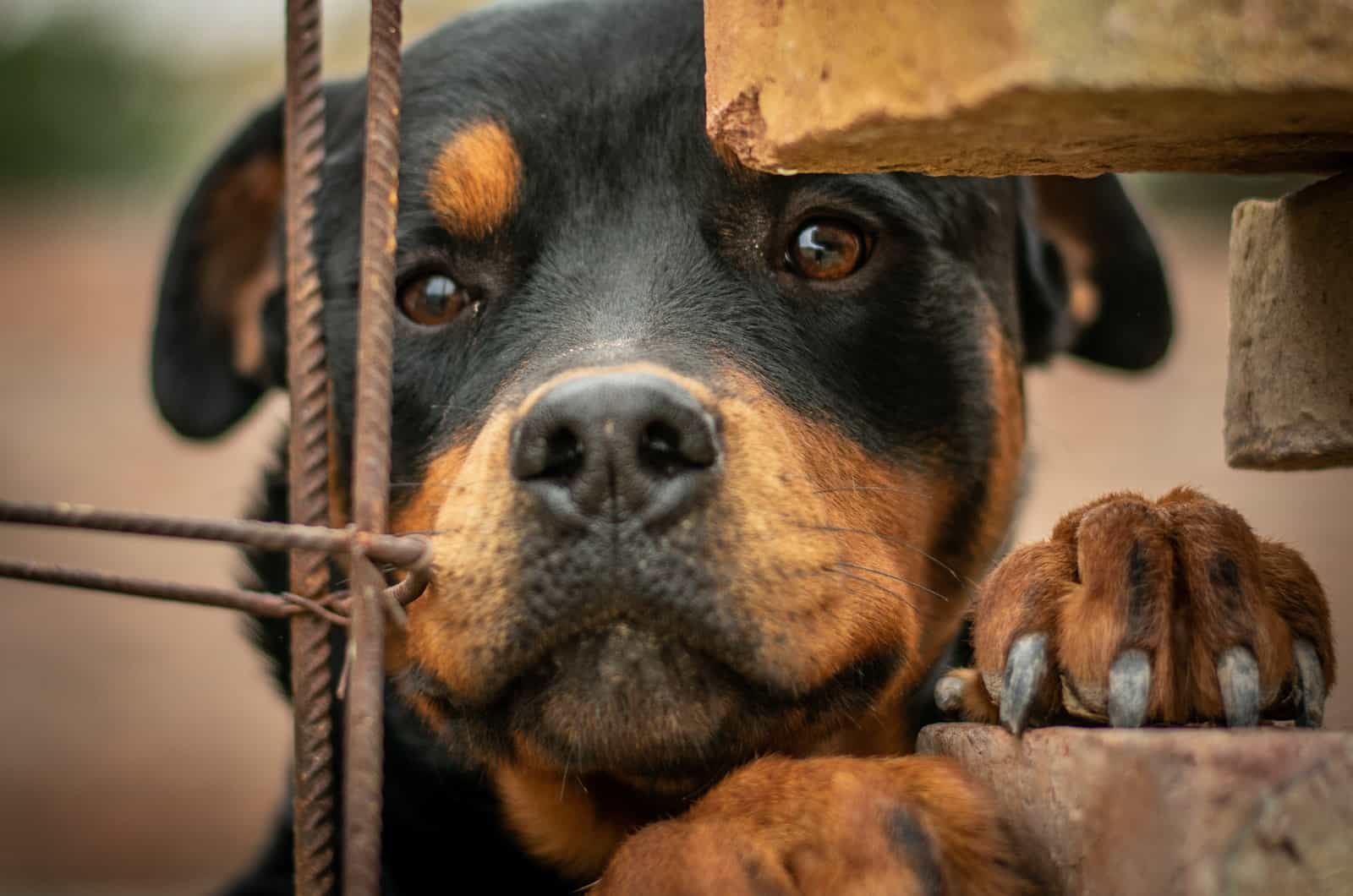 At the Vom Aztlan breeding outfit, raising the bar is not just a statement – it is their breeding policy. At Vom Aztlan, the breeding team believes in breeding for the current and next generations of Rottie puppies with remarkable health.
Their breeding practices and program improves and transcends the ideal breed standards of a purebred Rottweiler.
Aside from their impeccable health, Vom Aztlan's dogs are top pedigree in beauty and style. The breeding dogs are also German-titled and trained. Furthermore, all of their dogs have Schutzhund and ZTP/BST titles, which are vital in a young Rottweiler's life.
Almost all of their females breed in Germany and deliver in their main facility in Whittier, California. Their website is up to date with planned Rottweiler litters, and under each litter, you can see the health records and lineage of the parent dogs.
Vom Aztlan is one of the most transparent Rottweiler breeders in California. They follow the FCI and ADRK breed standards and welcome any questions or concerns you might have as a potential owner of one of their dogs. For additional information, such as puppy price and shipping policies, feel free to contact the breeder via the information below.
Rottweiler breeder information:
• Location: Whittier, CA
• Website: Von Aztlan Rottweilers
• Phone: 562 577 4447
• Email: [email protected]
4. Scotty's California Rottweilers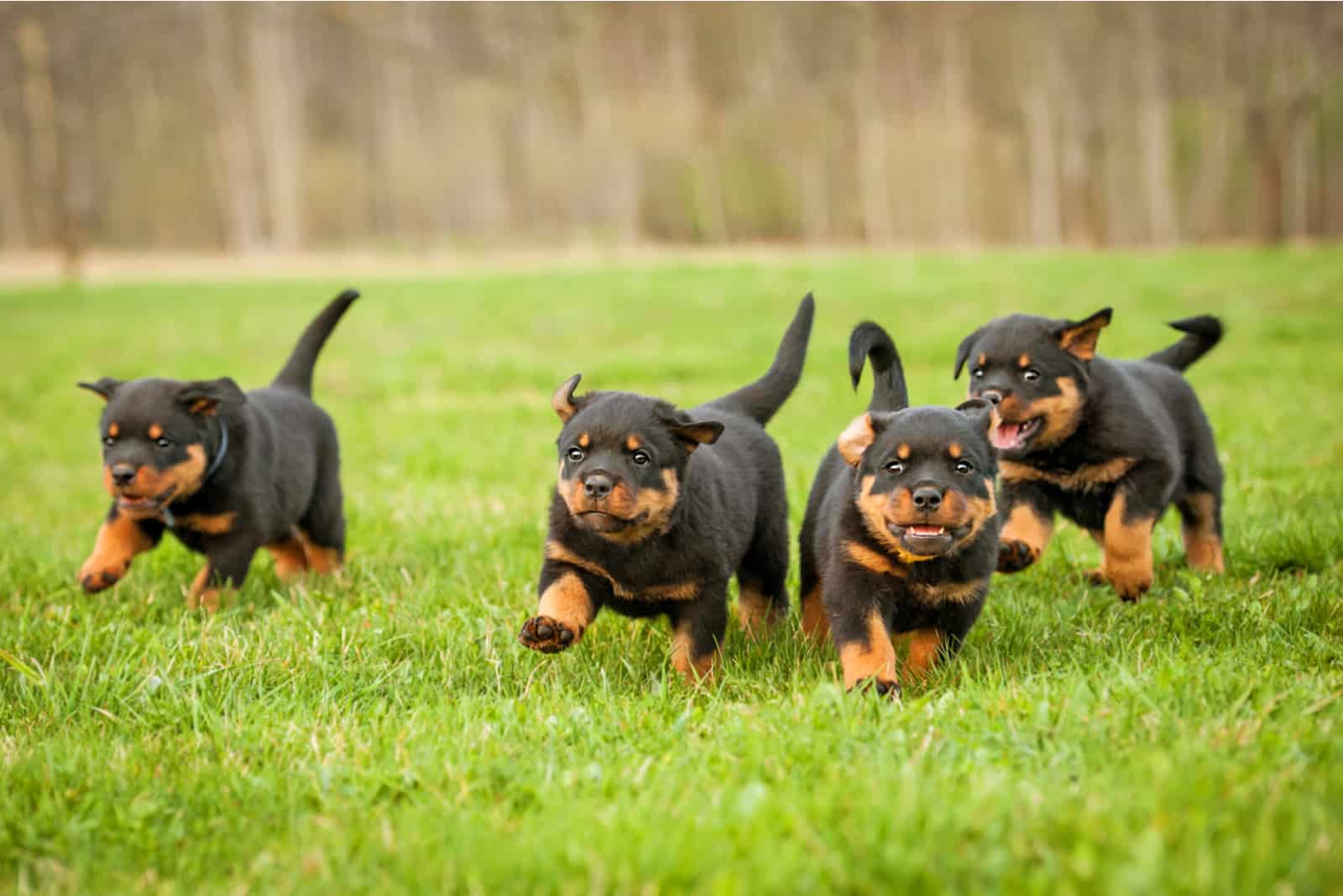 Scotty's California Rottweilers is a small-scale, home-based, ethical, responsible breeder of AKC registered Rottweiler puppies with championship pedigrees. The breeder produces Rottweiler puppies from German and European bloodlines.
The breeding program at this breeding outfit focuses primarily on breeding show-quality Rotts that are structurally correct, even-tempered, genetically healthy, highly intelligent, and proven in pedigree.
The breeder posts each breeding dog's health information as well as past litters on their website. They only produce a few litters every year to ensure the safety and well-being of their female Rottweilers.
To book a spot on one of California's best Rottweiler breeder's waiting list, you will have to make a $361 non-refundable deposit. Before you do that, though, you should make sure you are prepared to spend another $2,500 for a Rottweiler puppy from this breeder.
Each puppy from Scotty's California Rottweilers comes with limited non-breeding registration rights and a two-year health guarantee. At eight weeks of age, your furry friend will have their dew claws removed, tail docked, be microchipped, and fully vaccinated before leaving for its new home.
Rottweiler Breeder Details:
• Location: Oroville, California
• Website: Scotty's California Rottweilers
• Phone number: 844 687 6887
• Email: [email protected]
5. Vom Hognadottir Rottweilers California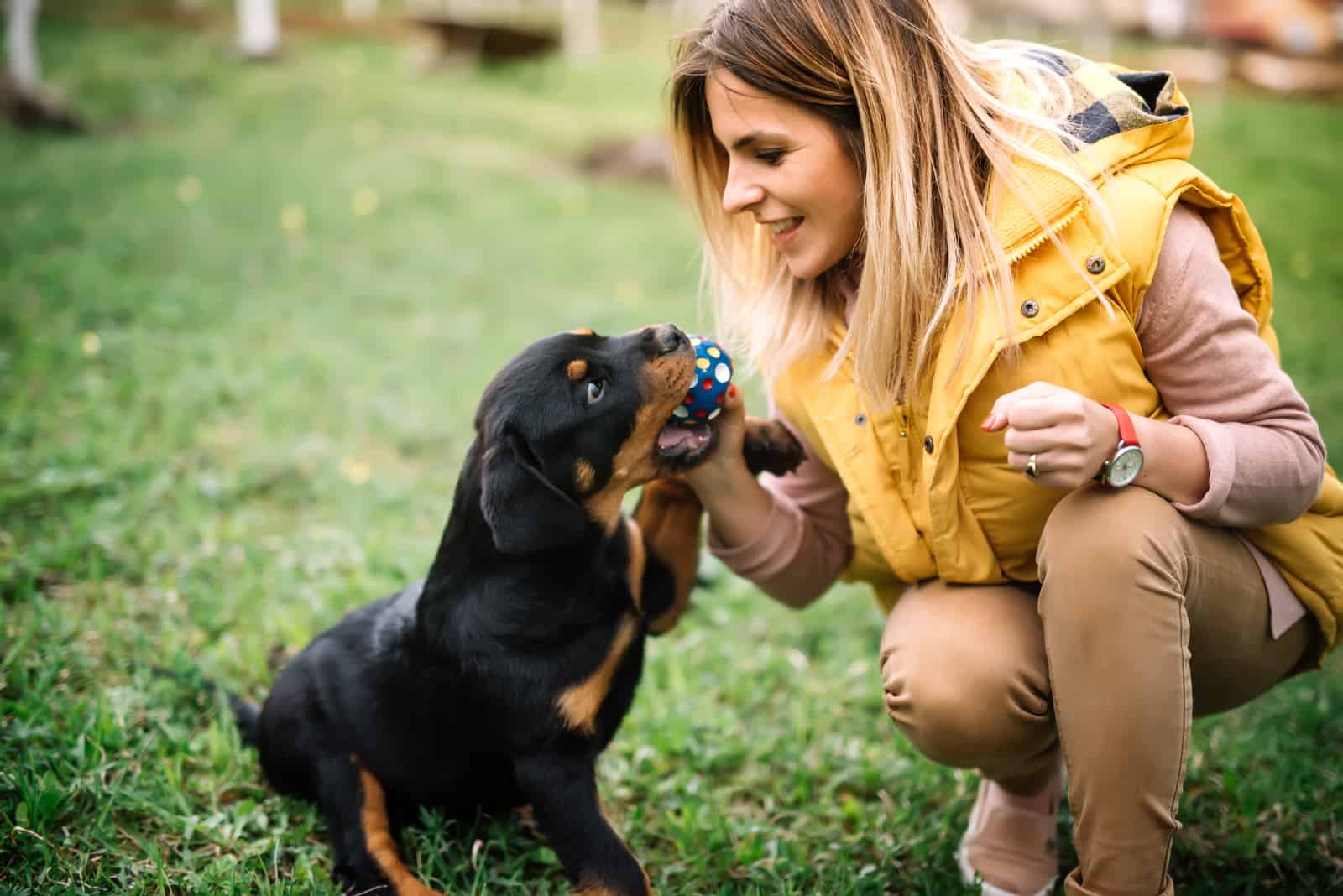 Vom Hognadottir is in the business of producing top-notch AKC Rottweilers and German Shepherds with stable temperaments, high intelligence, and sound structure. The facility is operated by Betty Burden, who has been in the dog breeding business for over thirty years.
Betty's Rottweiler studs are from 100% ADRK champion Rottweilers and have impressive temperaments and impeccable health. Her female Rottweilers match her studs and are selected for their large bones, substance, and strength.
Currently available puppies and planned litters are updated regularly on the Vom Hognadottir website. If you are interested in owning a Rottie from this breeding outfit, we recommend checking out their website and contacting the breeder.
To start the process, you will need to fill out a puppy application form. The breeder will provide all of the additional information surrounding the price, health certificates, and guarantees.
Rottweiler Breeder information:
• Location: Pilot Hill, CA
• Website: Vom Hognadottir Rottweilers California
• Phone number: 916 933 3861 or 916 205 3861
• Email: [email protected]
6. Marlo's Rottweilers – Northern California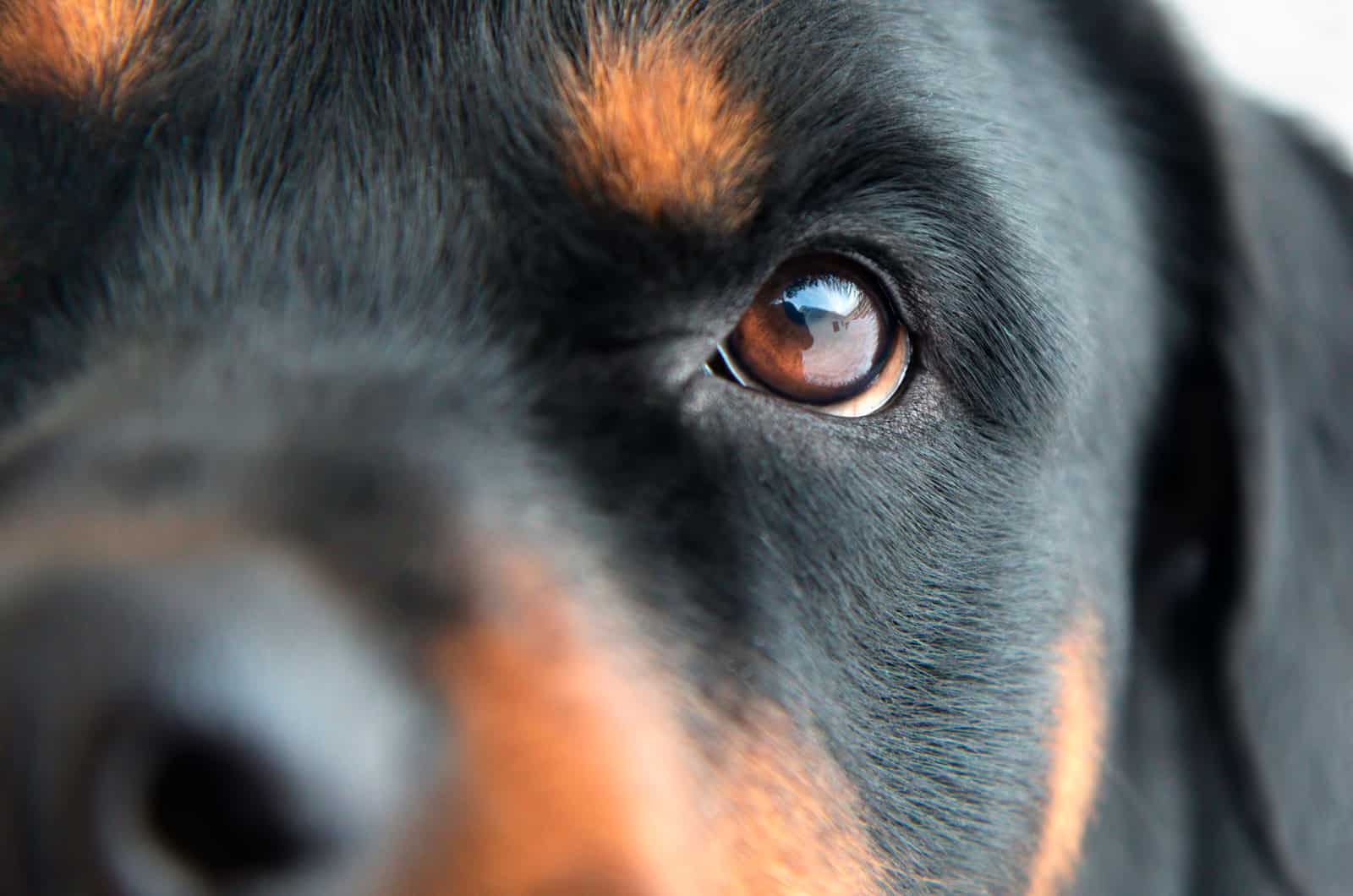 The Marlo's Rottweilers breeding kennel is owned by Marlene Keene, a code of ethics breeder and the former president and education coordinator of the Associated Rottweiler Fanciers of North California.
She has been involved with the Rottweiler breed and various Rottweiler clubs since 1976. With over forty years of experience, Marlene has had over 100 titles in Canadian and American conformation shows. In addition, she is one of the oldest Rottweiler breeders in California that we know of.
Her breeding program adheres to the purebred American Kennel Club Rottweiler standard, and she puts extra effort into improving her breeding practices with each breeding cycle.
The pillars of her breeding program are strong German Rottweiler puppies with sound temperaments. Marlene is completely transparent when it comes to the information regarding her breeding dogs and puppies. You can always check out her dams and sires' excellent health records on her web page.
Marlene's definition of success is placing the right Rottweiler puppy in the right home. All of the puppies she produces are raised at her home in Sacramento, CA. In addition, Marlene personally socializes the puppies by exposing them to all sorts of sights, smells, and sounds. This way, she ensures that each of her puppies will thrive in any new environment and have no problem adjusting to their new forever homes.
To purchase one of her high-quality Rotties, you will need to contact Marlene or a member of her staff to get a puppy application form. Once you fill out the form, you can check out the available puppies or expected litters on their website.
As of the writing of this article, the current pricing information is not available. But, feel free to contact the breeder for any information you might need, including the price of their Rottweiler puppies. Marlo's Rottweilers also offers a shipping option for people living outside California.
Rottweiler breeder information:
• Location: Sacramento, California
• Website: Marlo's Rottweilers Northern California
• Phone: 415 609 2874
• Email: [email protected]
7. Von Ruelmann Rottweilers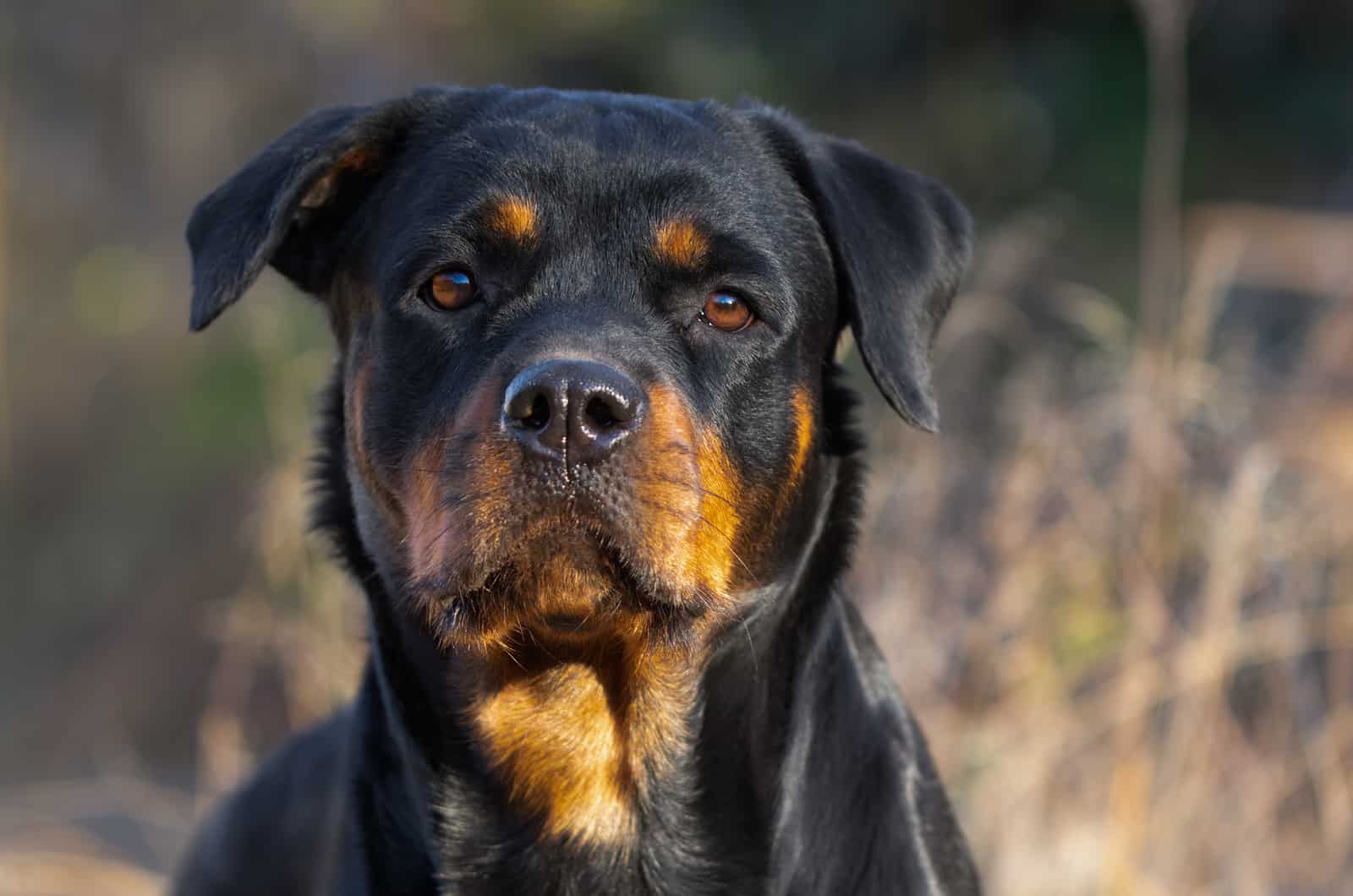 The Von Ruelmann Rottweilers breeding facility is home to the top three Rottweilers dogs in the world! They are the only kennel in America to compete and win the highest rating in the Seiger class at the ADRK Klub Seiger show.
They started breeding dogs of the Rottweiler breed back in 1980, and over the course of four decades, they have achieved breeding excellence. With this said, you can already feel confident that you are dealing with one of the most reputable Rottweilers breeders in California.
The Von Ruelmann breeding program offers top-quality purebred AKC Rottie puppies from the best worldwide breeding stock. They put their trust in tried and tested breeding practices that date over a hundred years.
Furthermore, each of their female dogs and Rottweiler studs is in top condition and in excellent health. You can find all of their studs' and females' lineages and health records on their website.
All of the puppies they breed and raise are top-quality Rottweilers whose temperament, health, and structure are of an OFA average of 9/10. These are remarkable ratings and some of the highest from the OFA, which almost guarantee that your new furry bestie will be healthy for many years to come.
The process of buying a Rottweiler puppy from this breeder is a walk in the park. The first thing you need to do is check if there are any available puppies or upcoming litters via a phone call. Although their website is regularly updated, availability may change before they get a chance to update their website due to high demand.
The next step is to make a non-refundable deposit of $1,000. This may seem like a lot of money for a deposit, but it is transferable if the puppy is unsuitable for you and your family, and the breeder is quite flexible on this subject.
And that is it! If everything goes according to plan, you will pick up your new Rottweiler puppy when it reaches eight weeks of age. If you are unable to pick up the puppy in person for whatever reason, the breeder can ship it to your doorstep!
If you are not a local to California or its neighboring states, Von Ruelmann can ship the puppy to your location inside the territory of the United States. They have partnered with Delta and United Airlines to ensure that your Rottie arrives safe and sound. For any questions or concerns you might have, including information on current pricing, feel free to contact the breeder via the information below.
Rottweiler Breeder information:
• Location: 231 E Alessandro Blvd #A191, Riverside, CA
• Website: Von Ruelmann Rottweilers California
• Phone number: 951 780 7922
• Email: [email protected]
8. Van Dooren Rottweilers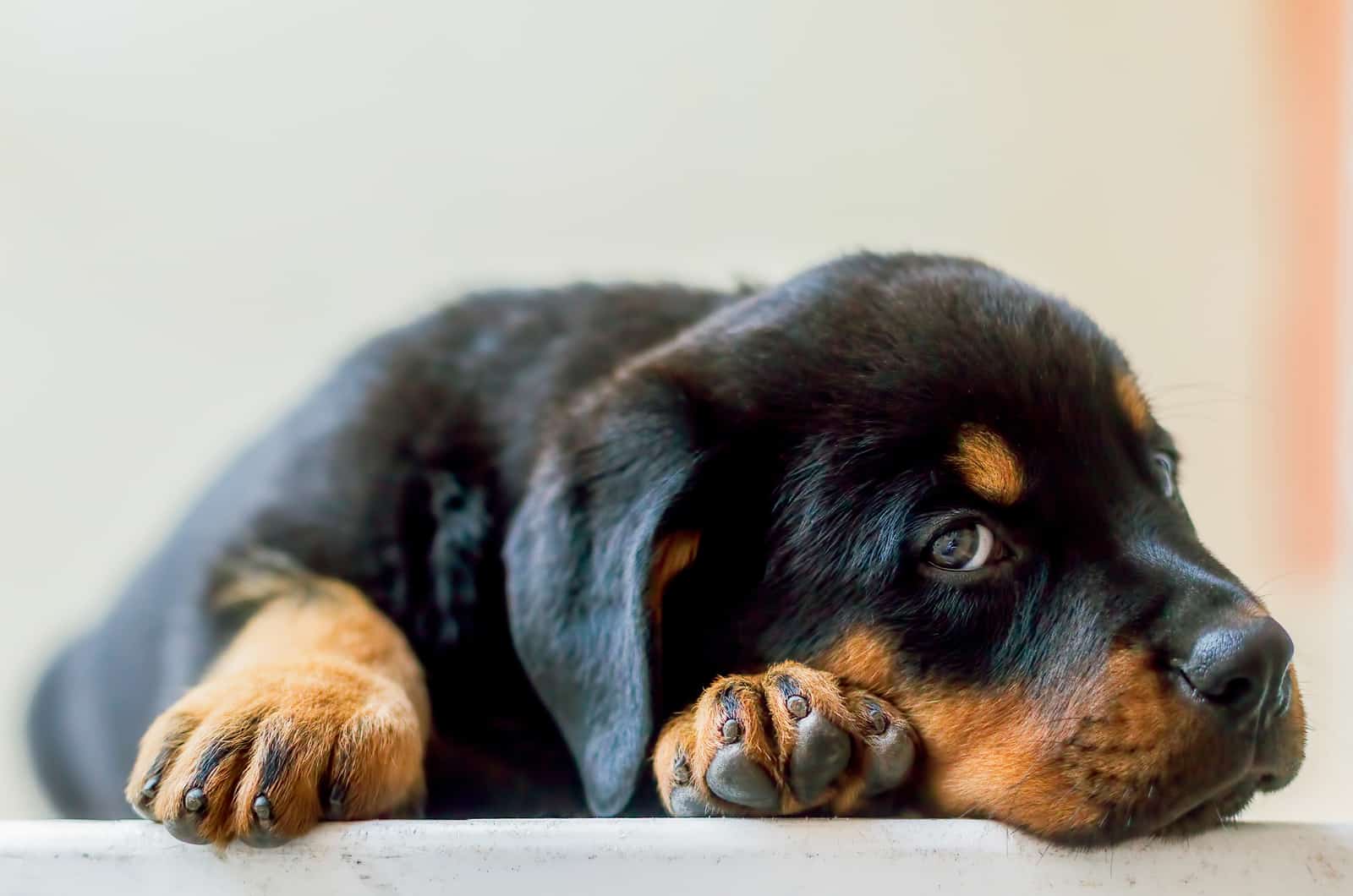 Van Dooren Rottweilers are highly reputable, ethical breeders of the European Rottweiler variety situated in Vacaville, California. Their breeding program aims to produce high-quality Rottweiler puppies for their customers that are correct in structure and have a sound temperament.
The breeders at Van Dooren invest a lot of time and effort into researching the pedigree of each and every breeding dog in their program. They require their customers to inquire about certain things to determine whether one of their doggos is the right match for them.
Once you pass the initial interview, you will be required to pay a non-refundable deposit of $500 to reserve a spot on their waitlist. Once your puppy is ready to be picked up, it will be vaccinated, dewormed, and come with AKC registration rights and a two-year health guarantee.
Rottweiler Breeder information:
• Location: Vacaville, CA
• Website: Van Dooren Rottweilers
• Phone number: 707 330 7757
• Email: [email protected]
Rottweiler breed highlights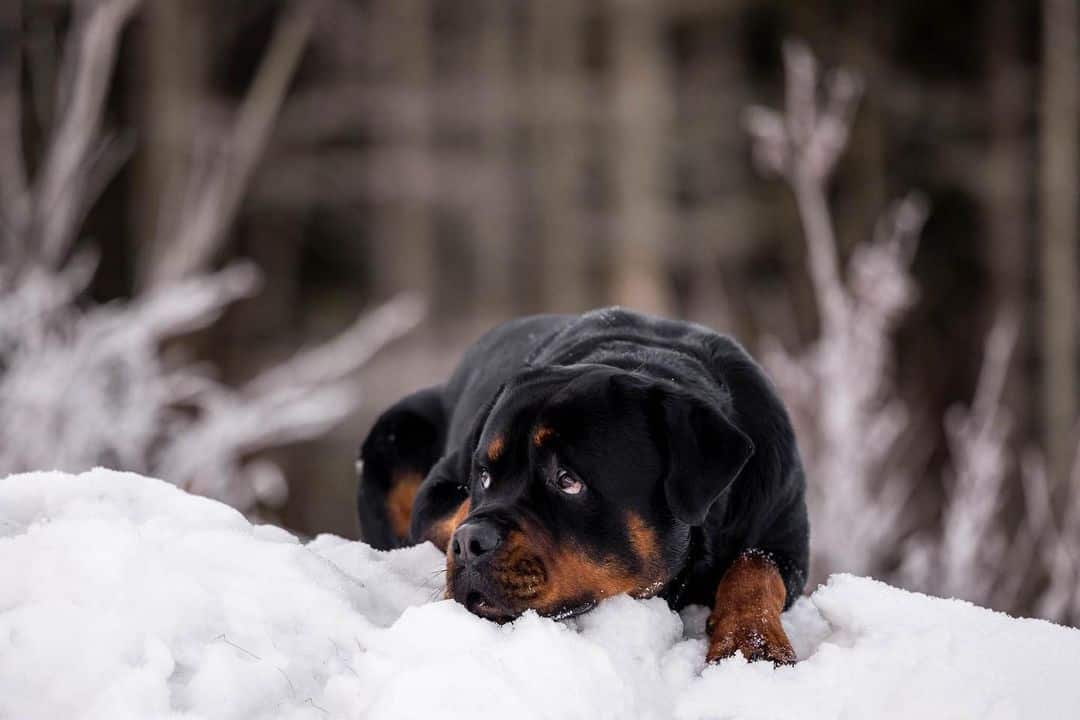 Photo from: @lisphotography1
• Rotties are large, muscular, and powerful canines that need extensive socialization and training from an early age.
• Even if your Rott has the sweetest temperament, you should be prepared for unfair judgments about your pup. You might even face untrue allegations about your dog and its activities by those who fear it.
• Rotties love people and enjoy spending time with their families. If you leave your dog alone for long periods or fail to provide it with adequate exercise, it may become destructive.
• If raised alongside children, well-bred Rotties get along great with them. With that said, these dogs need to be taught acceptable behavior around children. After all, they have a strong herding background and a want to nip or bump small children to herd them. Also, these pups come with a very strong prey drive and may get overly excited when kids run and play. Never leave your children unsupervised when playing with a Rottweiler.
• Rottweilers are smart and highly trainable dogs. If you are firm, consistent, and patient in your training, your Rott will learn how to coexist peacefully with any furry friend in the household.
• Rotties come with a double coat that sheds heavily during the spring and fall shedding seasons.
California Rottweiler breeders: final thoughts
These robust and powerful canines date back to Roman times as herding and cart pulling dogs. Today, the Rottweiler breed finds its purpose by being given a job to do.
The best Rottweiler breeders in California aim to produce Rotties of abundant strength, power, and noble appearance. They strive for their Rottweilers to come with black coats, rich tan markings, and suitability for being companion, service, working, and rescue dogs.
If your heart is set on purchasing a Rottweiler puppy in California, don't let the negative press get to you. In the majority of cases, destructive Rottweiler behavior is usually attributed to poor training and handling.
As you bring your new four-legged bundle of joy home, we suggest that you enroll it in a puppy training program. Remember, how you socialize and train your Rottie from an early age will determine how it turns out in adulthood!