Deciding which new puppy is ideal as your new family pet is not easy, but if you ever saw a Samoyed puppy in person, you must have immediately fallen in love with these adorable dogs.
Samoyeds are one of the cutest dog breeds ever, and are widely popular because of their Sammy smile that steals the heart of every dog lover. Not only are their upturned mouths a cute feature, but they are also very functional.
Why is that so, you might ask? Well, the reason lies in the breed's impressive history.
Samoyed breed comes from the Arctic region of Siberia where they used to work, as – what else – sled dogs. These dogs are very powerful and hardy, and used to living and working in the world's coldest climates. We are talking about the usual being minus 60 degrees!
So, actually, the upturned corners of their mouths kept them from drooling and forming icicles on their face. Pretty amazing, isn't it?
There is a lot more to this breed, so stay tuned to learn more interesting facts about beautiful Samoyed dogs, as well as who the best five Samoyed breeders in the UK are!
Samoyed Puppies For Sale In The UK
Samoyeds, being of the oldest Spitz-type dogs, are definitely beautiful dogs with many wonderful characteristics but, of course, they are not for everyone.
Samoyed owners need to be able to give lots of love and attention to these dogs and, above all, provide them with lots of exercise and activities. If you think you are the right person for this type of dog, then you'll definitely need a good list of reputable Samoyed breeders in the UK.
P.S. A beautiful Samoyed puppy definitely deserves an appropriately cute name. For inspiration, read our list of popular and adorable Sammie names.
1. Annecy Samoyeds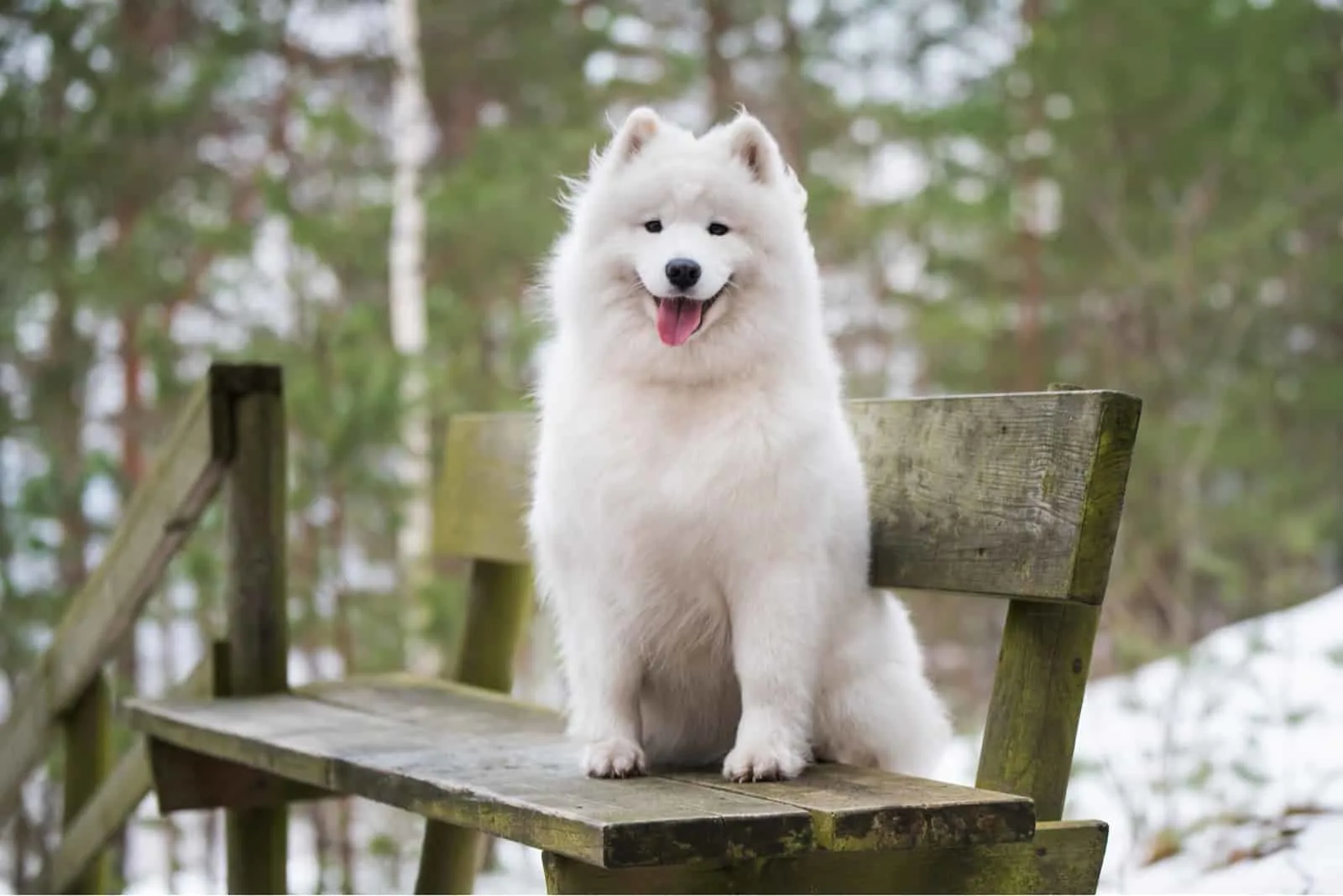 Our first Samoyed breeder of choice is a very well-known name in the United Kingdom when it comes to Sammie puppies. With more than 30 Champion awards, Annecy Samoyeds is one of the top winning Samoyed breeders in the whole of the United Kingdom.
Margaret Wilcock founded Annecy Samoyeds in 1952 with her first Samoyed called Ch. Snowpack Storm, which came from some of the best UK bloodlines. Later on, this dog became the first of many awarded Annecy Champion dogs.
The main priority of Annecy Samoyeds has always been breeding perfectly healthy and beautiful Samoyed dogs. In their long history of breeding dogs, they never sacrificed the build, looks, or temperament of the dogs for the sake of profit.
To stay true to the breed standard, they only produce a limited number of puppies a year, breeding only when the Annecy lines truly need it. This practice and knowledge are why they are one of the most reputable breeders in the United Kingdom.
Unfortunately, after having been associated with the Samoyed breed for more than 53 years, Margaret is no longer with us, but her Annecy legacy is continued by her partner Robin Newhouse who tries to continue producing some of the best Sammie puppies you can find.
If this has piqued your interest, you definitely need to go check their website for some extremely adorable puppy pictures that will melt your heart.
For more information, you can reach the breeder through email, phone, or by post.
Do you know the difference between Japanese Spitz and Samoyed dogs? Check this article to learn all the differences and find out which dog is the best for you!
Breeder Information
Breeder's name: Margaret Wilcock and Robin Newhouse
Location: Claytonfields, Clayton-le-Woods, Chorley, Lancashire, UK
Phone: +44 1257 263926
Email: [email protected]
Website: Annecy Samoyeds
2. Svetllen Samoyeds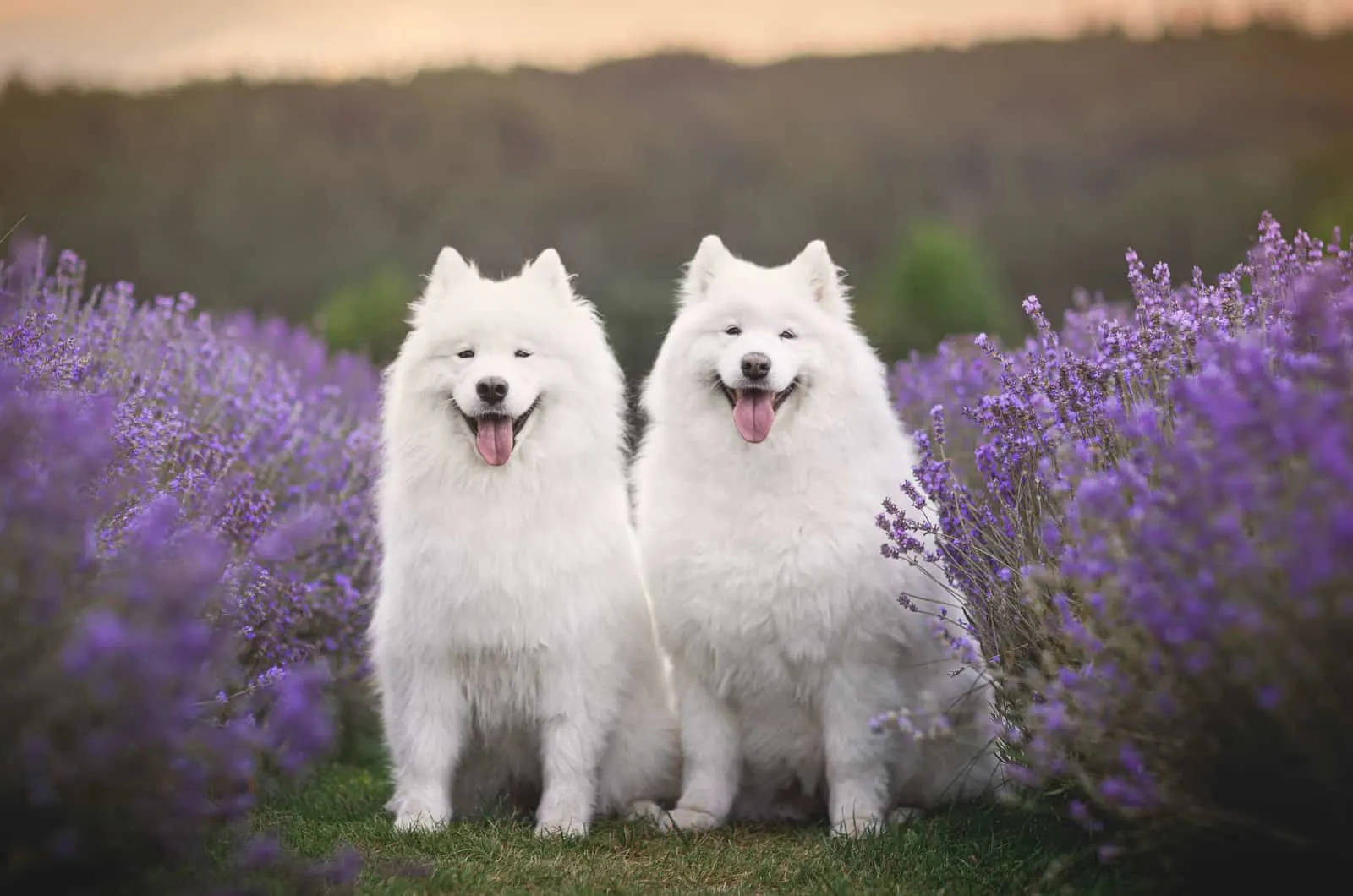 Next on our list, we have Svetllen Samoyeds, the Kennel Club registered and approved breeder that has some of the cutest puppies that you are going to love.
Svetllen Samoyeds is a small, family-based kennel located in East Lancashire between Bronte country and Pendle Hill. If you are wondering what this unique name means and where it comes from… well, the answer is, of course, what other than Samoyeds.
Svetlana and Dillen were the first two Samoyeds that Mr & Mrs Owen had owned and loved, so they decided to name the kennel in their honor. Their dogs are everything to them and they truly dedicate their whole life to them.
In the decade of owning and breeding Samoyed dogs, they have achieved and learned a lot, which they are extremely proud of. Svetllen dogs compete in rally obedience, weight pull, and dog shows, but they are also great therapy dogs, hoopers, herding dogs, and much more.
The main goal of their breeding program is to breed dogs that are a great representation of everything that the Samoyed breed stands for (wonderful temperament and exceptional beauty), but also dogs that will do great in various working roles known to this breed.
All of their dogs are DNA and health tested, raised in a loving home with full care and attention, and perfectly socialized following the Puppy Culture socialization/rearing program.
With every Svetllen puppy, you get a comprehensive puppy pack that includes:
• The Kennel Club registration
• Four weeks of free pet insurance
• Puppy food starter pack, toys, and bedding
• A guide on feeding, grooming, socialization, and training
• Lifetime breeder support
In order to be added to the waiting list, you have to pass a careful screening by the breeder that includes the meeting of all potential owners.
For this reason, no last-minute applications are considered, so hurry up and apply to get the puppy of your dreams.
Breeder Information
Breeder's name: Mr H and Mrs M Owen
Location: Colne, East Lancashire
Email: [email protected]
Website: Svetllen Samoyeds
Instagram: Svetllen Samoyeds
3. Kynoch Samoyeds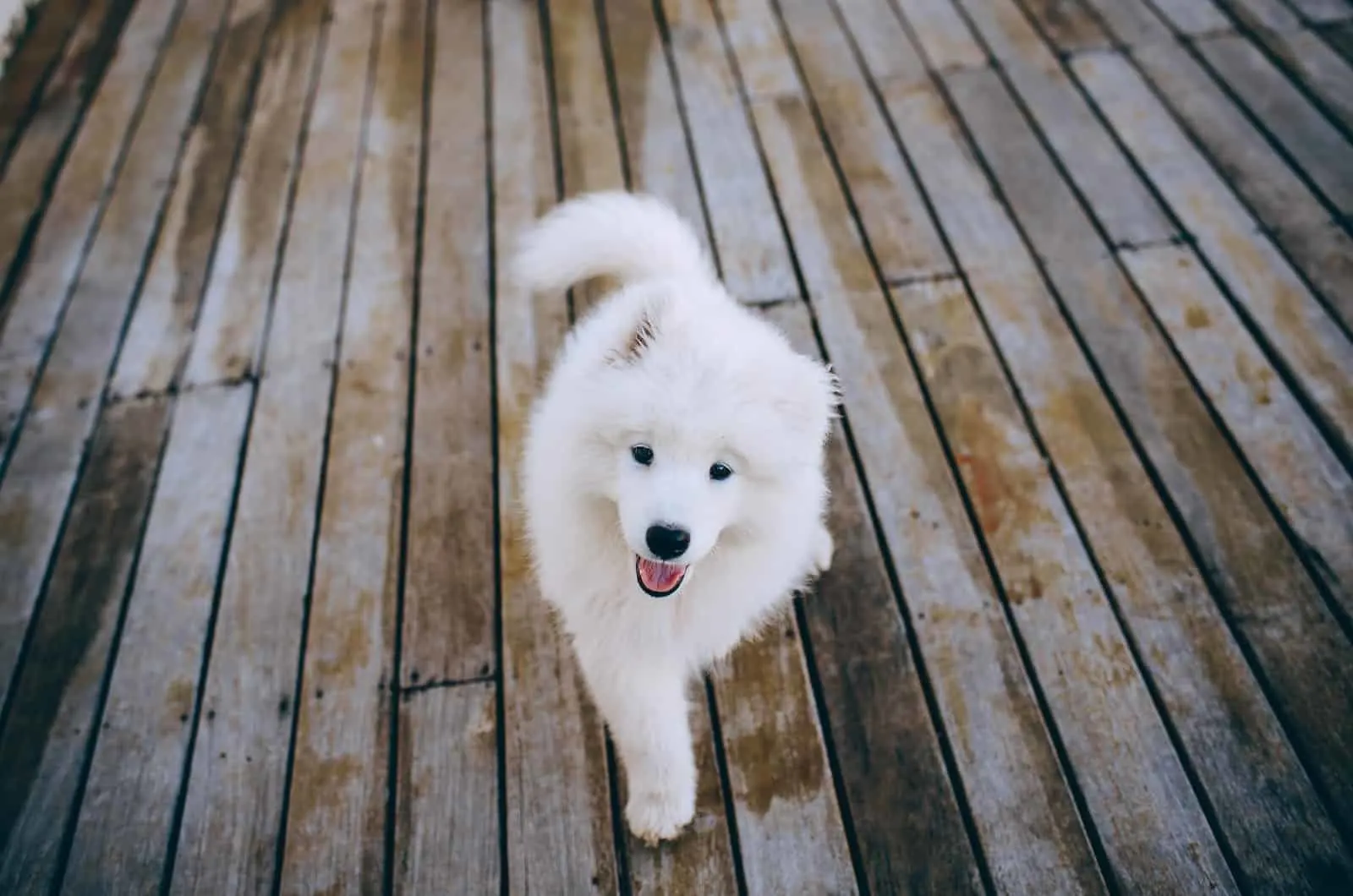 Kynoch Samoyeds is a small kennel located in Dollingstown, a village in Northern Ireland. Their connection with the Samoyed breed began in 1994 when, after many years of researching the breed, they decided it was the right time to get their first Samoyed puppy.
Dilroth Princess Sutska was the name of their first puppy that stole their hearts forever. Although they bought Sutska purely as a pet, encouraged by the advice of a friend, they started showing her. Eventually, she became their first champion in 2002.
Her first and only litter is what started Kynoch Samoyeds, and after they had unfortunately lost her, they continued breeding in her honor. All their dogs are, first and foremost, family pets that are loved unconditionally and successful show dogs after.
They have very selective and limited breeding to ensure that all their dogs are healthy and happy. If you would like to learn more about their dogs and their achievements, visit their website. There, you'll also find some beautiful photos of Sutska and Kynoch puppies.
RELATED: Are Samoyeds Aggressive? Unpacking The Samoyed Character
Breeder Information
Breeder's name: Joan & John Duffus
Location: Dollingstown, Orchard County of Armagh, Northern Ireland
Phone: +44 2838 321336
Email: [email protected]
Website: Kynoch Samoyeds
4. Wintertide Samoyeds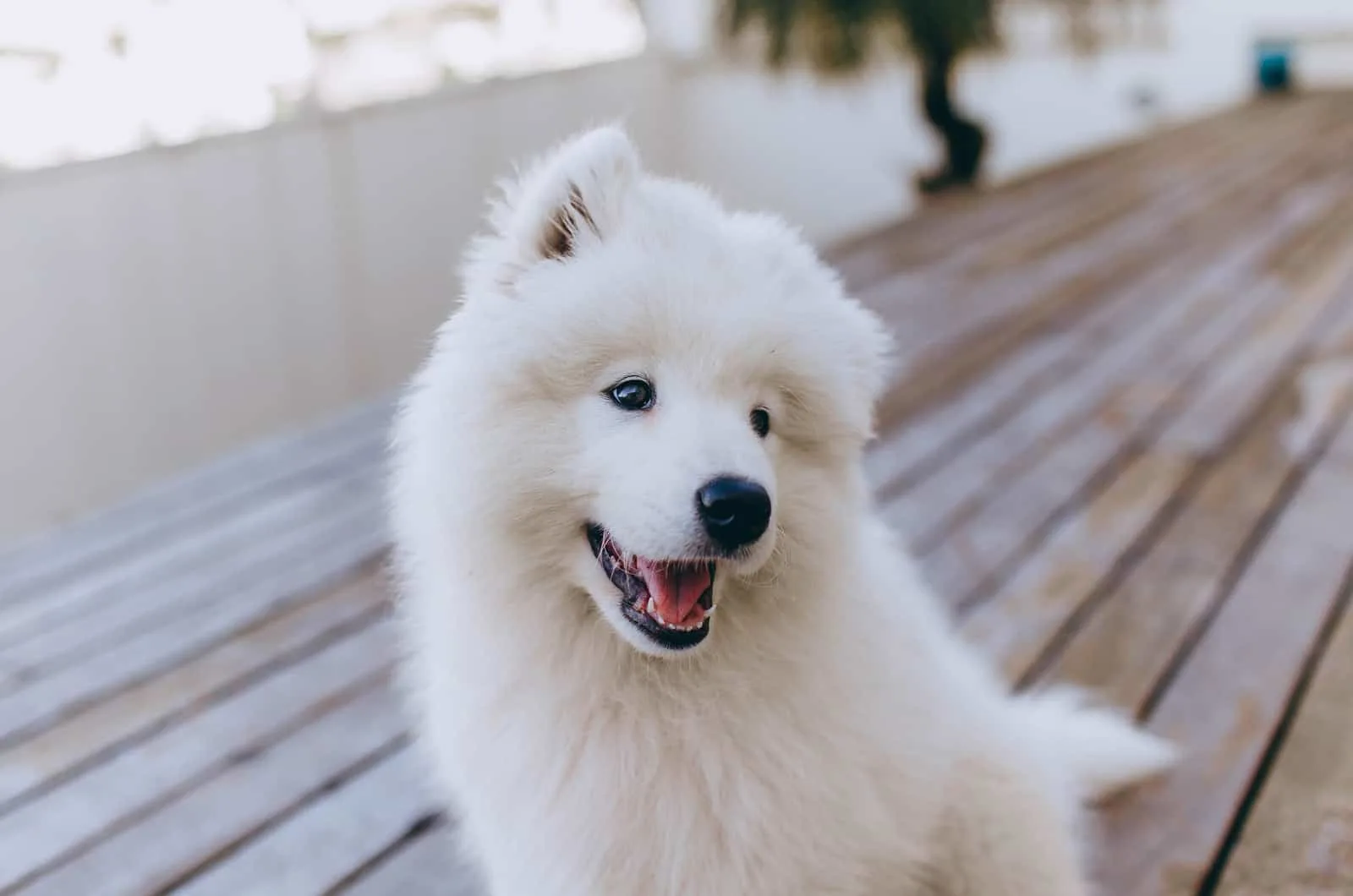 Wintertide Samoyeds is a Samoyed-loving family located in Rotherham, South Yorkshire. They fell in love with the Samoyed breed a long time ago, and after having one Sammie dog for many years, they decided to expand their Samoyed family and get another dog in 2013.
They started doing research and contacting Kennel Club Assured Breeders to see if anyone had any planned litters. Luckily, they came upon the perfect breeder who had six new puppies born and was willing to give them a male ball of fur called Beau.
Charlotte started showing Beau in 2015, but currently, they have stepped down from the show world to focus more on their dogs rather than on competing. If you are interested in their results and awards, check out their website for a detailed list.
They make sure that all of their dogs pass health tests before breeding, especially for hip dysplasia and eye disorders, as recommended by the Kennel Club.
They also offer home boarding for all dogs, so if you are in need of a loving pet sitter that will take care of your dog as if it was their own, look no further than Wintertide Samoyeds. Dogs are not required to be vaccinated or neutered to be accepted.
If you have any questions about the boarding facility or their future puppies, don't hesitate to contact them. You can either send a message directly through their website or message them on WhatsApp. In any case, they will be happy to assist you and resolve any doubts you may have.
Breeder Information
Breeder's name: Miss Charlotte Baxter
Location: Firth Cres, Maltby, Rotherham, South Yorkshire, S66 7HS, United Kingdom
Phone: +44 7557 058383
Email: [email protected]
Website: Wintertide Samoyeds
Facebook: Wintertide Samoyeds
Instagram: Wintertide Samoyeds
5. Samnouska Samoyeds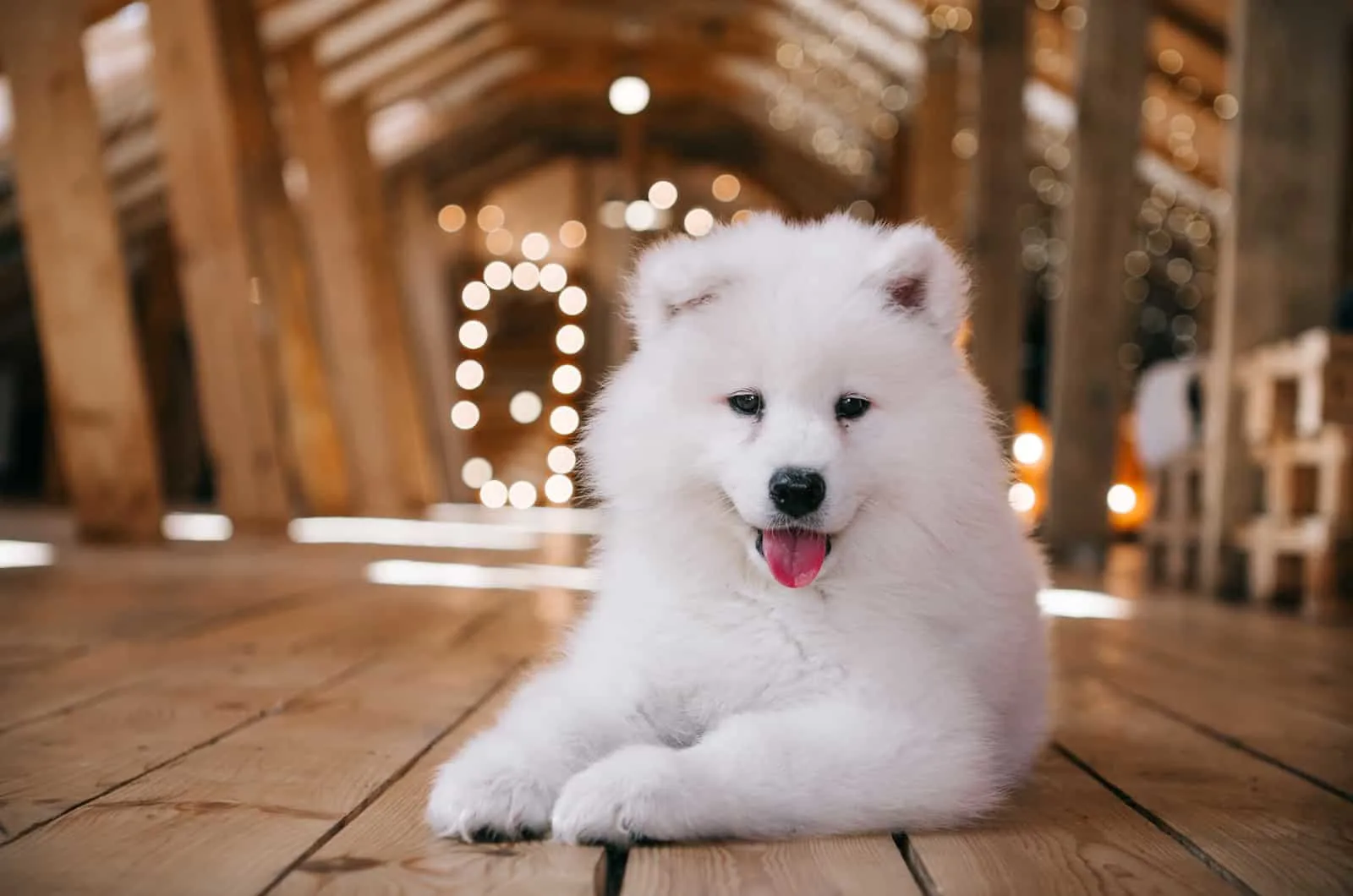 Our last Samoyed breeder on the list is Samnouska Samoyeds. They are a small, family-based kennel that was established in 1979 in Cambridgeshire, England.
All of their dogs are extremely loved and adored by the whole family. They get to be raised and reared in a loving family environment where they receive full attention and everything they need to become loving and devoted family members.
Samnouska Samoyeds is a Kennel Club Accredited Breeder that breeds only high-quality dogs that will be great show dogs or wonderful family pets. They also enjoy showing their dogs and competing in Championship Shows and have had a fair share of success.
The main thing that sets them apart from other breeders is their immense love for this breed. For them, their dogs are a part of their family, and they wouldn't have it any other way. They only produce one or two litters per year in order to achieve the perfect temperament and quality.
Unfortunately, they don't have a website, but they do have a Facebook page where you get news, updates, and photos of their lovely Samoyeds. This is also a place where you can get in contact with other admirers and owners of Samnouska dogs.
If you have any questions or if you are interested in their puppies or stud dogs, feel free to send them an email. You can also message them on Facebook.
READ ALSO: Samoyed Colors & All About That Cloud-Like Coat
Breeder Information
Breeder's name: Mr & Mrs Smurthwaite
Location: Peterborough, Cambridgeshire, England
Phone: +44 1832 273808
Email: [email protected]
Facebook: Samnouska Samoyeds
Honorable Mention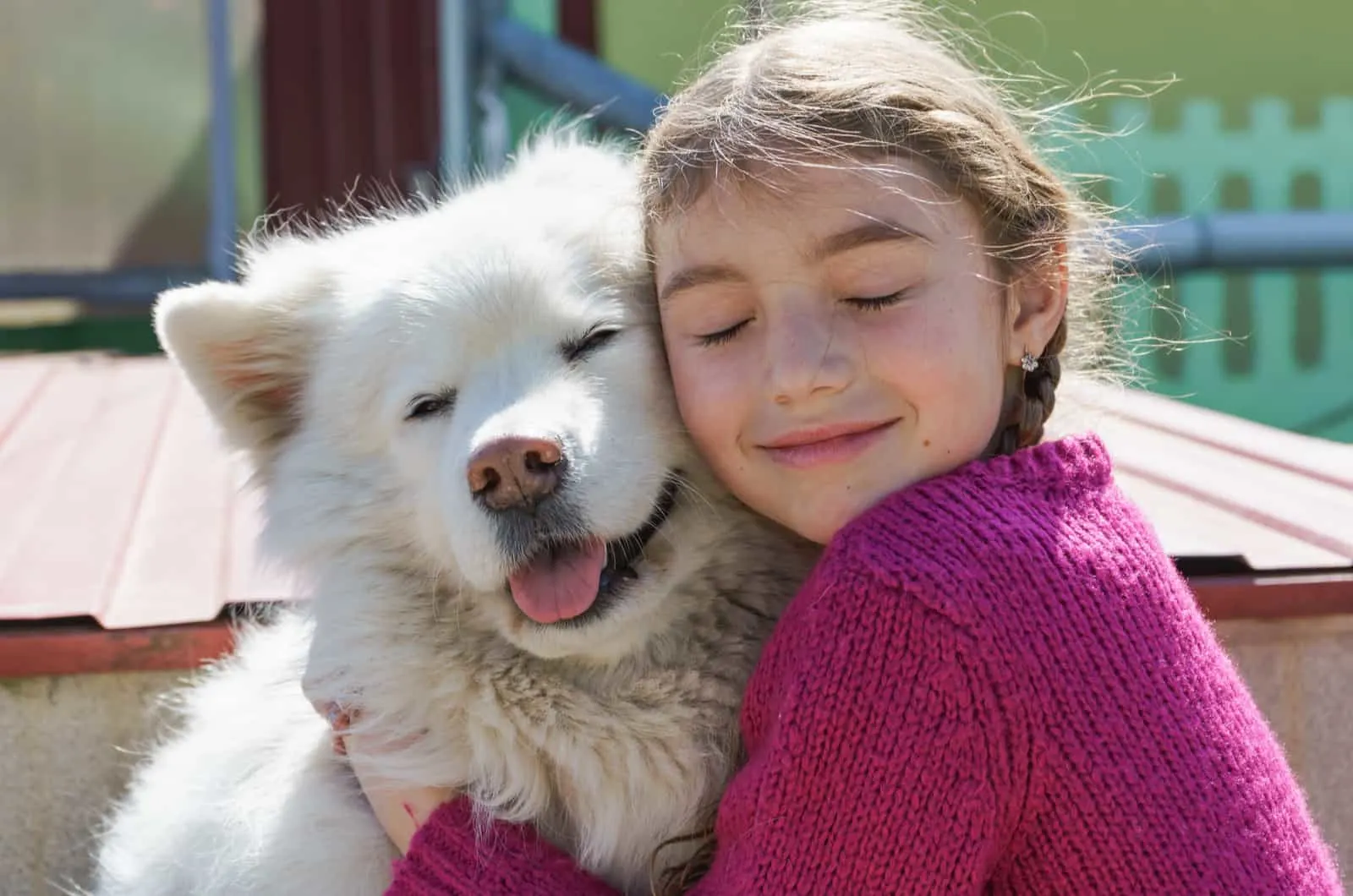 Samoyed Rescue Association (UK)
If you want to adopt a Sammy rather than buy one, the Samoyed Rescue Association (UK) is the perfect place for you to look for rescue dogs. Unfortunately, there are a lot of rescues that are in need of a permanent and loving home.
If you wish to adopt a Samoyed anywhere in the United Kingdom territory, there should be no issues regarding your location since there could be some arrangements made in order to get the dog to its forever home.
Linda is the Chief Rescue Officer and the main contact of the rescue center, so if you think that you are able to dedicate yourself to this lifetime commitment of owning a rescue dog, feel free to contact her.
Linda is available from midday to 9 p.m., however, if it is an emergency, please leave your name and your phone number and she will contact you as soon as possible.
Rescue Information
Chief Rescue Officer: Linda Braiser
Location: Hertfordshire, United Kingdom
Phone: +44 7960 016478
Website: Samoyed Rescue Association (UK)
If you are interested in other Samoyed breeders across the pond, check out our other articles that might interest you:
• Best Samoyed Breeders – Where To Find Samoyed Puppies For Sale
• Top 8 Samoyed Breeders In Ontario Of 2022 – Choose Your Sammy
How Much Does A Samoyed Puppy Cost In The UK?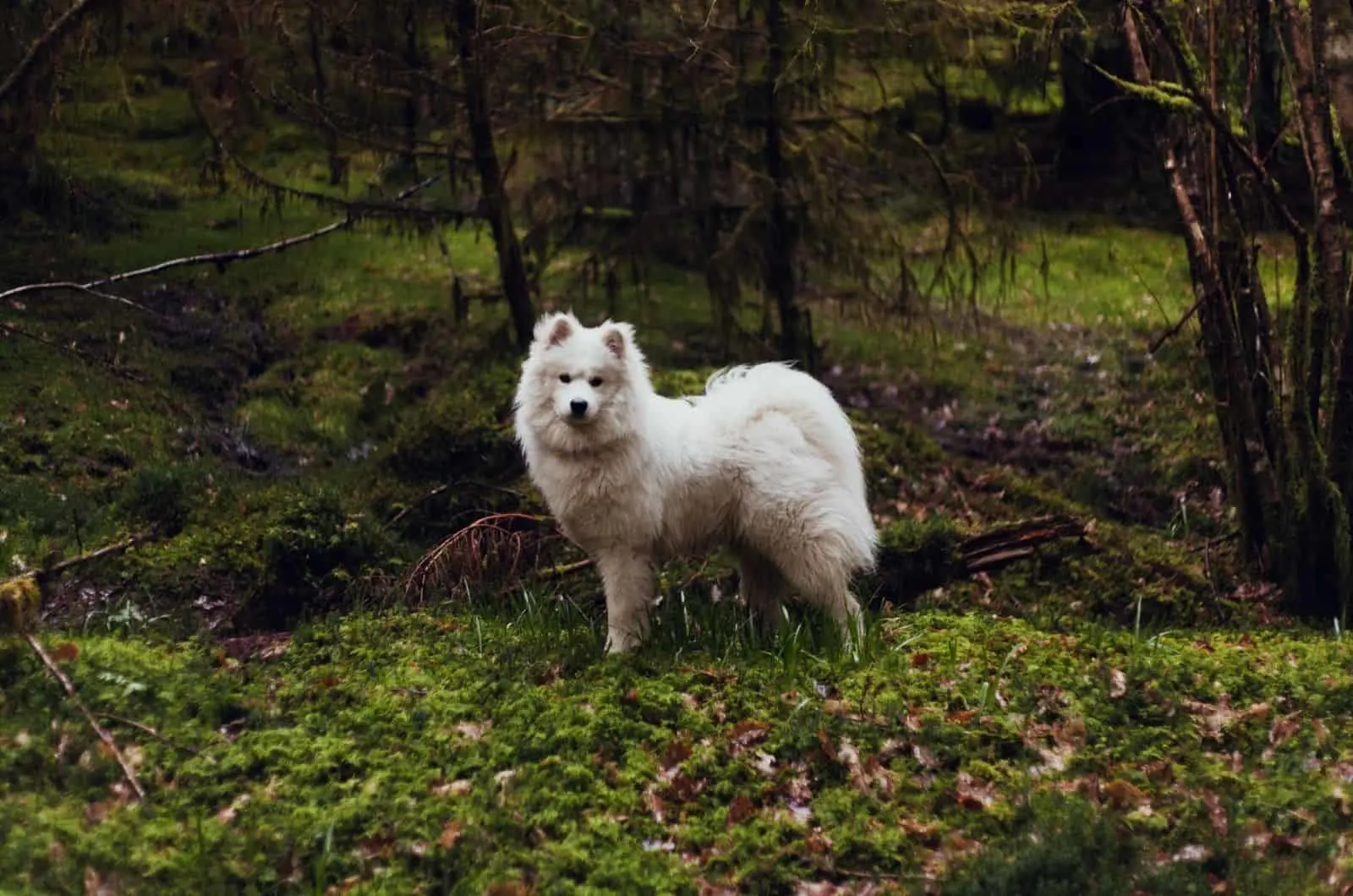 If you are looking to purchase a Samoyed puppy, the first thing on your mind has to be the price of the puppies.
Well, for a well-bred and high-quality Samoyed puppy in the UK from a reputable breeder, you are looking to pay around £1,200-£3,000, which is a lot more than a Samoyed cost in the USA.
The price, of course, is dependent on the breeder, the location, gender of the dog, breeding process, dog's health, age, and a lot more specifications.
It is always advisable to go with breeders that are members of reputable breed clubs, such as the Kennel Club, the British Samoyed Club, or the Samoyed Association because their members have to follow strict breeding codes of ethics and health testing.
However, the initial cost of purchasing a dog is not the end of your expenses. In order to properly own a dog, you firstly have to provide it with high-quality food and then with all other supplies that are necessary for dogs.
When it comes to food, you can expect to spend around £50 to £100 a month, depending on the type of diet you choose for your dog. Bowls, collars, beds, and toys are just some of the supplies that you need to count in the costs for your new puppy.
Taking care of your dog's health is very important if you want to have your puppy live a full life and stay with you for a long time. Vaccinations, routine vet visits, deworming, neutering, or spaying may even round up to £1,000 in the first year.
Although it may seem a lot at first, no money can give you happiness and fulfill your life as one happy little ball of fur can, so take it from us, it is definitely worth it.
READ ALSO: Samoyed Growth Chart: How Big Do Samoyeds Grow?
Final Thoughts
At the end of this article, we can say only one thing – Samoyeds have taken our hearts forever, and we have a great inclination that you are, too, in love with this beautiful dog breed.
Not only are these pups one of the fluffiest, cloud-like dogs that are great for cuddling, but they also have a wonderful temperament that will surprise you each day.
The only thing that separates you from living your dream of being a new Samoyed owner is finding the perfect breeder that will meet all your expectations.
In order to help you find the best Sammies in the United Kingdom, we decided to write this article about the best Samoyed breeders in the UK.
We chose some of the best and most reputable breeders that care about their dogs and their health, and we hope that you are going to do the same thing.
Do your research, and do not let yourself be fooled by many "breeders" who only care about the profit and not the well-being of their dogs. In the end, it is always better to pay a little bit more to have a healthy and happy puppy rather than go through hard times with your pup.
Related Content:
The Top 10 Most Reputable Golden Retriever Breeders In The UK
The 4 Best Border Collie Breeders In The UK For 2022