If you're here, chances are you're looking at the best Samoyed breeders in the US. Samoyeds, also known as Sammies, are snow-white, long-haired, and fluffy. What's not to love about them?! These Siberian dogs are adored worldwide, and after just one glance, it's easy to see why.
Samoyed dogs are known for their upturned mouth that makes them look like they're smiling all the time. While this is a feature we love, the reason behind it is not so romantic.
These dogs originate from the cold Siberian climate, and upturned mouths keep them from drooling. This prevents the formation of icicles, keeping the dogs healthy and safe from freezing.
Still, when we see that adorable smile, it's hard not to smile back – even when we know the reason behind it!
These dogs love humans and will do their best to try to befriend everyone. They are social and affectionate but also hardworking and eager to please. This shouldn't come as a surprise if you know that they were bred to be sled dogs but were also sometimes used for herding reindeer and even keeping their owners warm!
In fact, Samoyeds were a part of many hunting expeditions. They were even the first dogs to reach the South Pole back in 1911!
Because of their fantastic temperament and gorgeous appearance, there are many aspiring Samoyed owners out there. However, not all know where to find the best Samoyed breeders in their area.
To help you out, we've listed several of the best Samoyed breeders (according to numerous reviews and testimonials), and we've also included some other information Samoyed dog owners might be interested in.
Here's everything you need to know:
Samoyed Dog Breeders In California
California might easily be the best place to purchase Samoyeds. Although it's hard to connect the sun of the West Coast with dogs from Siberia, California still has the highest number of Samoyed breeders out there.
In fact, most of the best Samoyed breeders come from California!
While this state has over a dozen great breeders, we'll list two of the best Samoyed breeders in California:
White Spirit Samoyeds
White Spirit Samoyeds were founded in 2001 in Oceanside. They believe that Samoyeds are very intelligent dogs that require plenty of mental stimulation to prevent boredom.
Because of this, the founder of Spirit Samoyeds, June Scott, decided to give her dogs as much activity and playtime as possible to create healthy dogs without behavioral issues. She has been practicing this since her first show dog, Ch. Wolf River's Shogun.
This also means that all of the dogs from White Spirit will come with completed basic training. In fact, the kennel specializes in producing high-quality working dogs with a prestigious lineage that will do well in most situations.
All of their puppies are raised in a family home and are properly socialized and used to family living. The assessment process is lengthy, as they want to ensure all dogs go to loving homes that will be right for them.
Website: White Spirit Samoyeds
Email: [email protected]
Sunfire Samoyeds
Sunfire Samoyeds was founded by Patti and Michael Emmet, who have been working with Samoyeds since 1979. Since then, they have produced dozens of show dogs, becoming one of the best Samoyed breeders out there.
They raise their dogs for all sorts of purposes, such as hiking dogs, therapy dogs for children and adults, sheep herding, even working in the snow as pulling dogs. While it may sound incredible that a breeder from sunny California would go to that length to produce dogs made for snow, this is exactly what the Sunfire Samoyeds do.
Other than reuniting these dogs to their roots, they have a thorough breeding program that ensures all of their dogs are free of health issues. They conduct vigorous health testing to rule out genes for conditions like hip dysplasia, a common orthopedic problem that is known to plague Samoyeds.
​However, this also means that this breeder has long waiting lists, and not everyone will be able to adopt. They don't overbreed their dogs, and they try to produce litters of the highest quality.
Other than breeding, Sunfire Samoyeds also help find homes for adult dogs seeking new homes after they have been abandoned.
As proof of their commitment to bettering the breed, Sunfire Samoyeds are members of many clubs, such as the American Kennel Club (AKC), the Samoyed Club of America, as well as the Barbary Coast Samoyed Club.
Website: Sunfire Samoyeds
Email: [email protected]
Samoyed Dog Breeders In Florida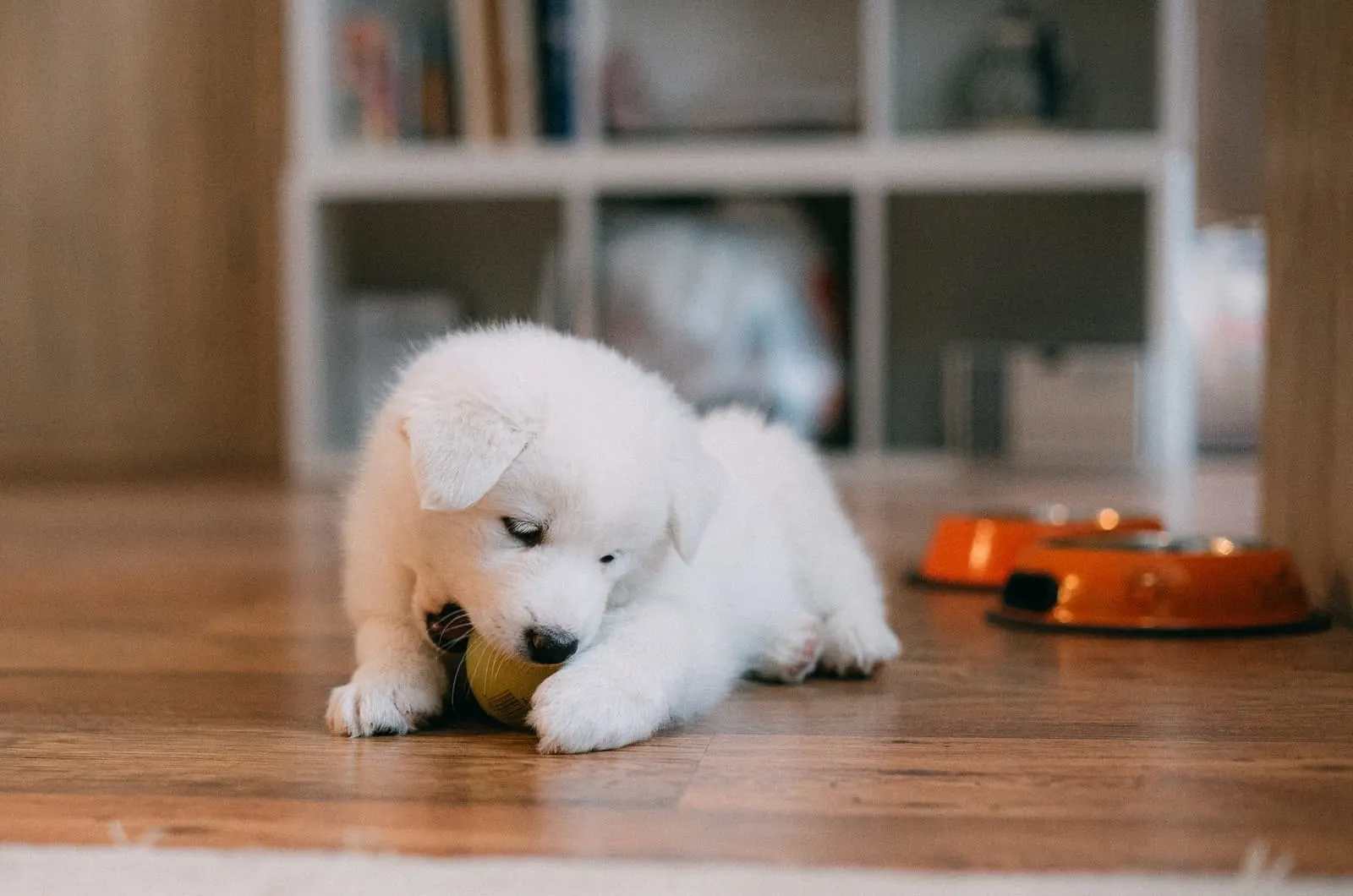 Florida is a warm state, and not many people would associate a warm climate with dogs used for pulling sleds. However, Samoyeds are popular dogs, with more than ten great breeders operating in the area.
Of course, while all specialize in the Samoyed dog breed, some breed similar dogs as well, like Siberian Huskies. We'll mention the kennel many people consider the best local breeder:
White Magic Samoyeds
White Magic Samoyeds was founded by the couple Carrie Parma-Collier and Palmer Collier in Orlando, Florida. Carrie has been a member of the Samoyed Club of America for more than three decades, and she is sharing her love of Samoyeds through bettering the breed.
The kennel is located near the coast of Connecticut's Candlewood Lake, where the puppies can go swimming and playing. This is great for dog training, especially since Samoyeds are dogs with a high energy level that love water!
The kennel has many top-quality bloodlines, including those with ancestors that have won Best in Show, Best in Speciality, even Westminster and Eukanuba Dog Show winners!
They mostly breed Samoyeds as family pets and do their best to raise them in a family environment. Doing this ensures new dog owners won't struggle too much helping their dog get used to their new environment.
Also, the kennel ensures all of their litters have visited the vet, including getting their vaccinations and deworming before they go to their new homes. They'll even help you by educating you on everything you need to know about Samoyed care.
Website: White Magic Samoyeds
Email: [email protected]
Samoyed Dog Breeders In New Jersey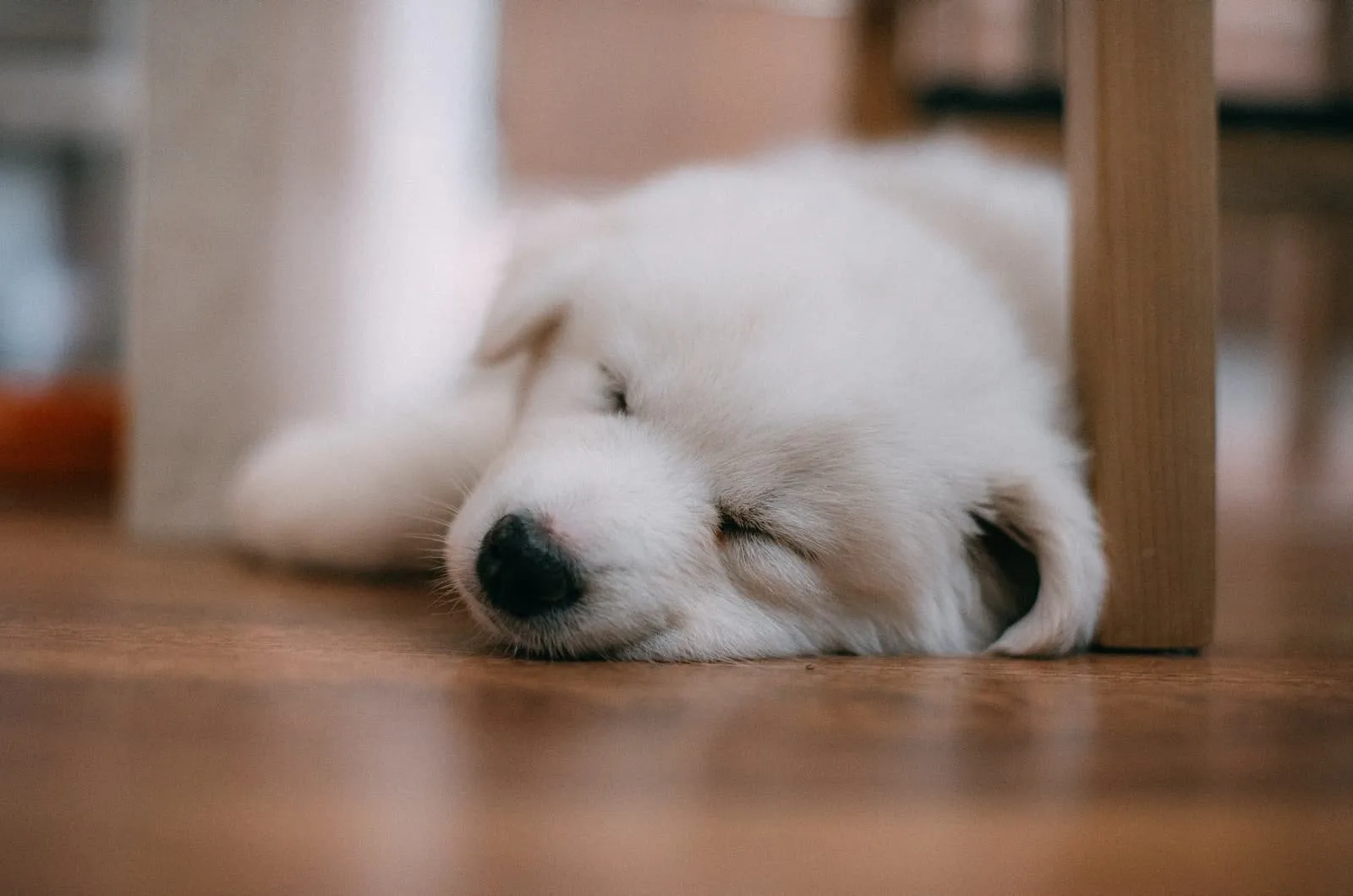 New Jersey is a state with plenty of great Samoyed breeders. In fact, there are at least five kennels registered by the Samoyed Club of America there. These are:
• Alpine Gio Samoyeds
• My-Joy Samoyeds
We'll explain how they breed them in New Jersey using the example of Mystic Oz Samoyeds, one of the best Samoyed breeders in NJ:
Mystic Oz Samoyeds
Mystic Oz Samoyeds was founded by Lois Osmundsen, a breeder experienced in many dog breeds who decided to focus on her favorite breed, the Samoyed.
Mystic Oz kennels ensure all of their dogs are tested for diseases like hip dysplasia. If a dog has genes for this health condition, he or she won't be bred. This ensures all litters are in good health, with fewer chances of developing serious health conditions.
They also make sure all of their puppies are socialized and prepared for their new homes – although that isn't much of a challenge when you have dogs as friendly as Samoyeds. They love being around people, and they do all they can to win their owner's attention!
Because of this, Mystic Oz Samoyeds doesn't encourage you to use their dogs as watchdogs. They are very friendly pups that won't do well as guard dogs – quite the opposite. You can expect them to befriend everyone!
These pups make perfect family dogs, and they are great for families with children and other pets. Of course, there will still be a screening process, as the kennel wants its dogs to end up in the right hands.
Website: Mystic Oz Samoyeds
Email: [email protected]
Samoyed Breeders In Pennsylvania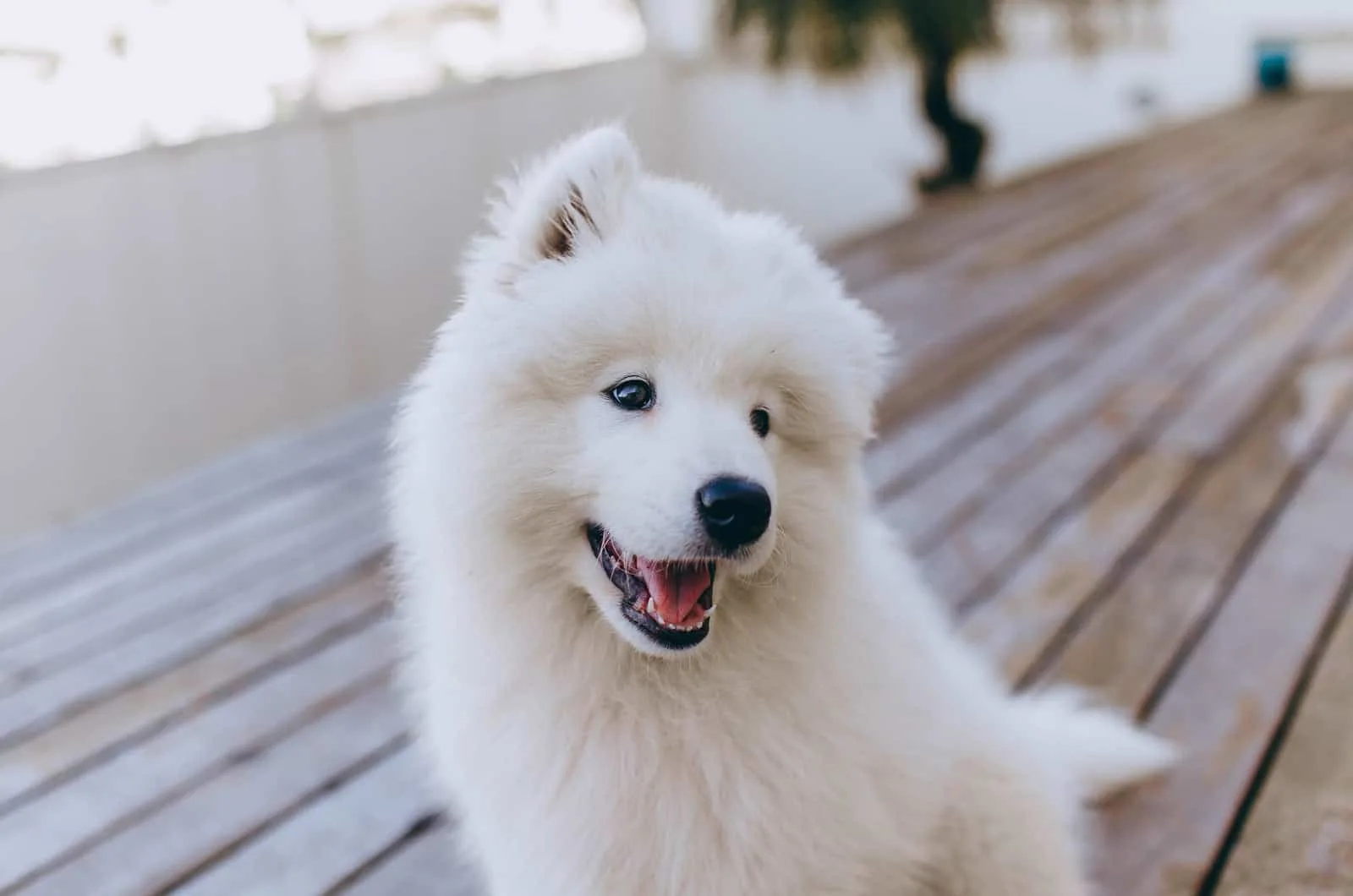 Samoyeds are one of the more popular breeds in Pennsylvania. In fact, there are almost a dozen breeders located in this state alone! This is more than in most other states. Considering that this state is located in the northeast, the popularity of this breed shouldn't come as a shock.
While there are many of the best Samoyed breeders located in Pennsylvania, we'll list the one that truly stands out:
Sweet T's Samoyeds
This Samoyed breeder is owned by Tina Santiaho, a long-time member of the American Samoyed Club. She based her kennel in Lancaster, Pennsylvania, sharing her love for this adorable and fluffy dog breed.
All of Sweet T's Samoyeds are trained before they go to their forever homes. As they are intelligent dogs, the kennel considers early training crucial for proper development and good behavior.
This will also help these Samoyeds get used to training but also living in homes with different floor textures, such as tiles, carpet, or wooden floors. Believe it or not, many large dogs, Samoyeds included, might have an issue if they move to homes with different flooring than the one they're used to.
While the Samoyeds produced at Sweet T's are mostly bred to be family companions, they also make great show dogs. They are a great breeder if you want your Samoyed pup to participate in the conformation ring or any other dog show.
All of their puppies come fully vetted and microchipped. This will help you find your pup if you lose him. Also, your dog will come to you with all necessary vaccines and deworming medications. This way, you'll know your dog is as healthy as can be.
Website: Sweet T's Samoyeds
Social Media: Facebook
Samoyed Breeders In Texas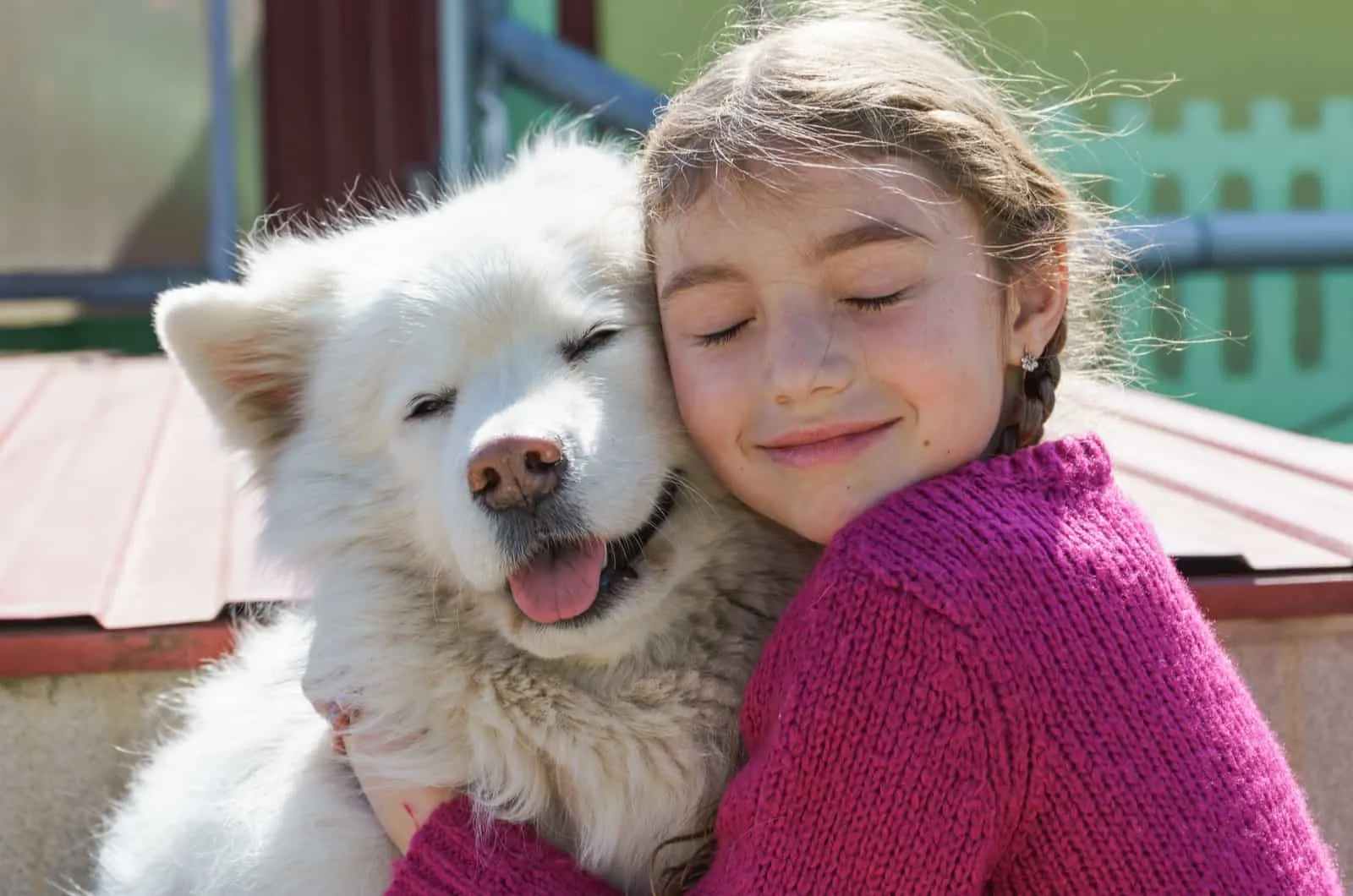 Texas is a large state, and many Texan residents love having guard dogs as their companions of choice. This state is filled with owners of German Shepherds, Pitbulls, and other similar dogs.
However, Samoyeds aren't known as being good guard dogs. Quite the opposite as they'll befriend everyone they meet. They are mostly kept strictly as family companions.
This is probably the reason why there are only five Samoyed breeders in the state of Texas. These are:
• Nenetsia Samoyeds
Samoyed Breeders In Colorado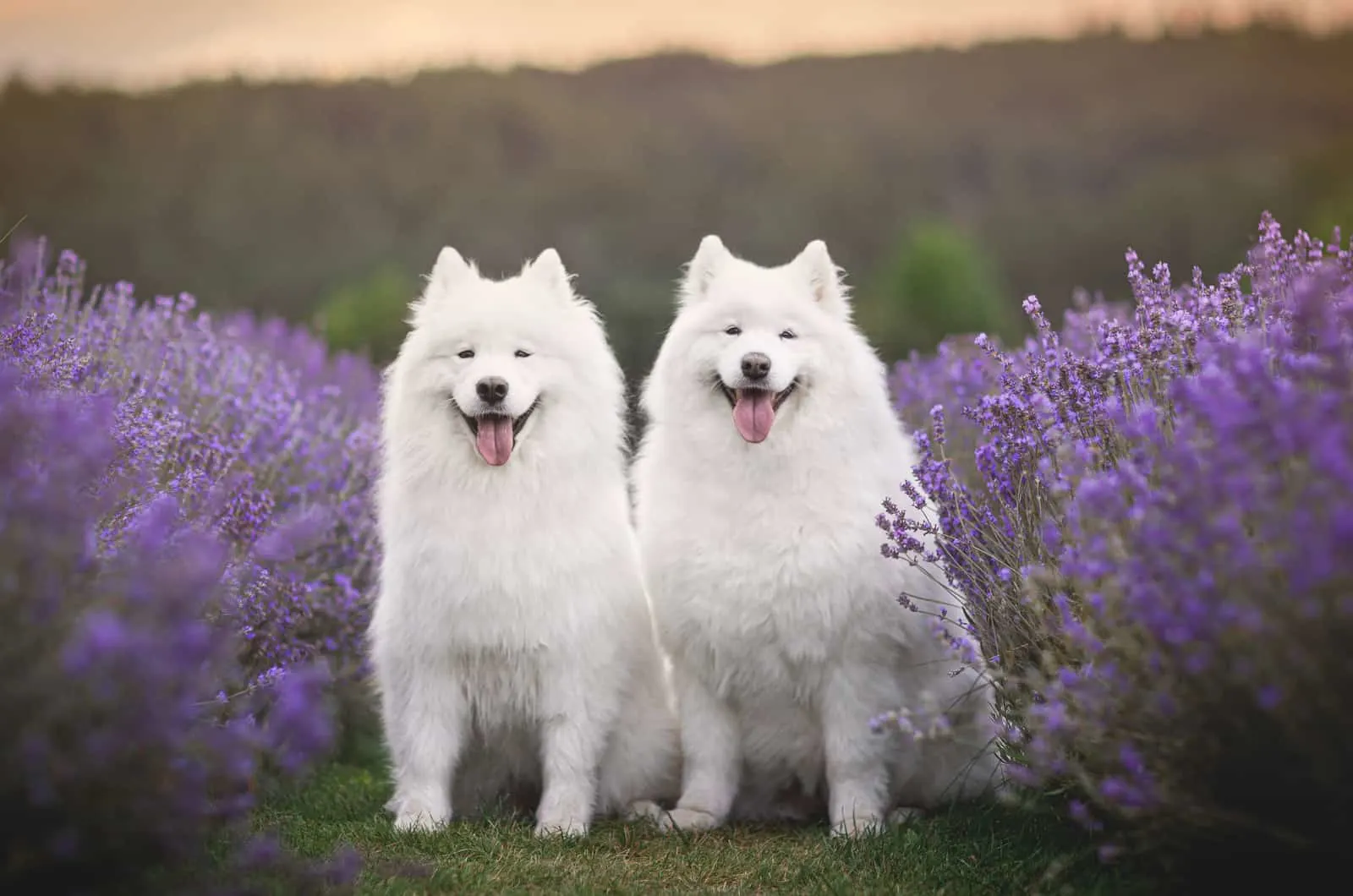 Colorado is one of the states with the highest number of Samoyed breeders. It seems like Colorado residents are in love with these white dogs! Considering the state's natural beauty, it's logical that the residents love to compliment it with gorgeous dogs.
Some of the best Samoyed breeders in Colorado are:
Samoyed Breeders In Wisconsin
Wisconsin is an icy state, and it's easy to see why Samoyeds are among the most popular dogs in the region. Since Wisconsin is snowy, it's only appropriate to have many breeders of these snow dogs.
There are more than ten Samoyed breeders in Wisconsin. We'll name a few:
• Silver Storm Samoyeds
• Mithril Samoyeds
Samoyed Breeders In New York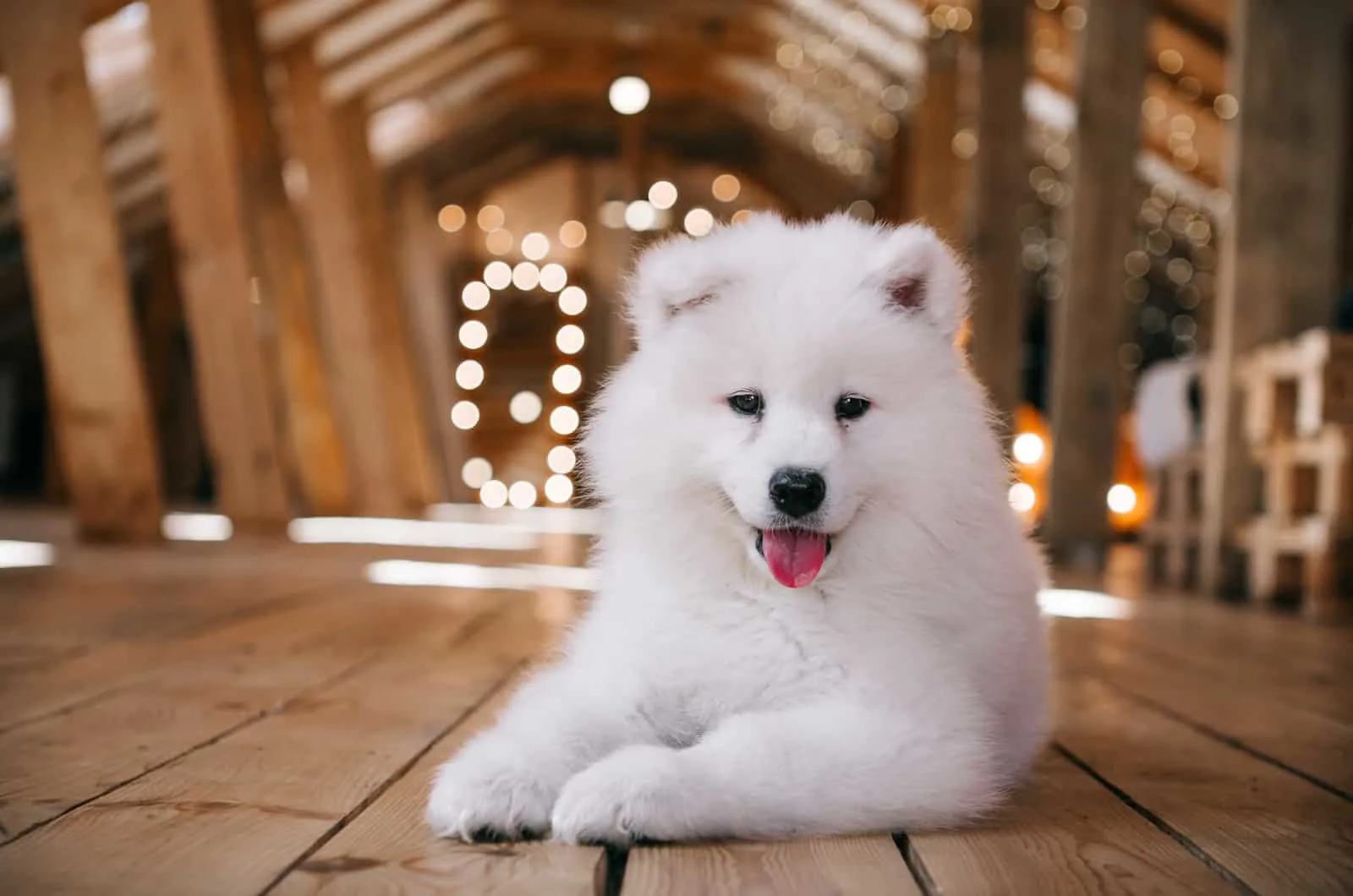 New York is a somewhat crowded state where most people live in apartments and lead rather busy lives. Samoyeds aren't the best dogs for such a lifestyle, and they are a rare dog breed in the area.
Still, a few rather reputable Samoyed breeders reside here, such as:
• Diamond Samoyeds
• Snowbound Samoyeds
​• Dazz-L-Ing Samoyeds
All of these breeders focus on producing high-quality dogs of great bloodlines and adjust them to apartment living. This way, the dogs will be used to the busy New York lifestyle.
Samoyed Breeders In Ohio
Ohio is a large state, and as such, many dog lovers would pick Samoyeds as their breed of choice. These pups love the cold, and Ohio residents are very much used to it.
According to the Samoyed Club of America, there are six registered Samoyed breeders in Ohio as of late 2021. These are:
• Chatanika Samoyeds
• Goldstar Samoyeds
• Arctic Fox Samoyeds
• Snowbaer Samoyeds
Samoyed Breeders In Oregon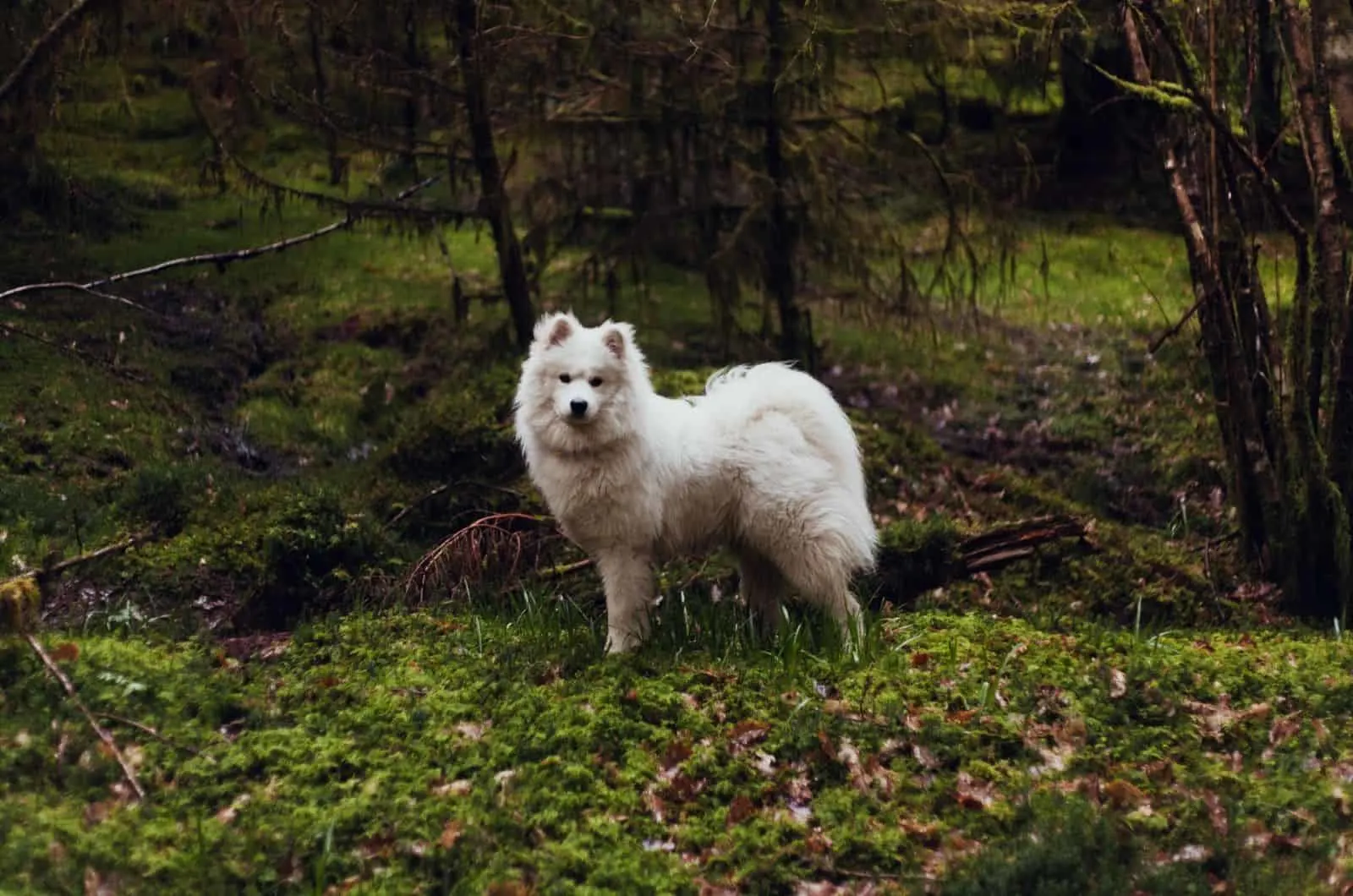 Oregon is a Pacific Northwest state that is cold and snowy, which sounds like a perfect home for Samoyeds. However, most Samoyeds you can find are imported, and they don't come from Oregon breeders.
In fact, there are only two breeders from Oregon registered with the Samoyed Club of America:
• Rogue River Samoyeds
Let's go a bit deeper with one of them:
Polar Mist Samoyeds
Polar Mist Samoyeds are one of the best Samoyed breeders in this area of the US. It was founded by Lynnette Blue in 1971, making this one of the oldest kennels not just in the state but in the entire US.
Polar Mist kennels are located on 20 acres of country land, giving these dogs plenty of space to run. As trainability and socialization are very important to the kennel, these pups learn almost all basic skills while still with their mother.
This is why the breeder has produced many great show dogs, therapy dogs, working dogs, as well as dogs that excel at agility and obedience. Of course, all of these Sammies make amazing family members and companions too.
The kennel also takes great care of their dogs' coats. Samoyeds are known for their long, white, double coat that has a thick undercoat that can shed and tangle. With proper care, the dog's coats will remain gorgeous and fluffy.
Also, Polar Mist doesn't advise adoption to people who tend to spend their working hours away from home. Samoyeds are social creatures who need the company of other dogs. If you don't work from home, they advise buying two dogs – or one if you already have a dog or a cat at home.
Website: Polar Mist Samoyeds
Email: [email protected]
Samoyed Breeders In Washington
Washington isn't a state known for its dogs, but it's still rich with many dog breeders, including Samoyed breeders. While most people wouldn't guess that there are Samoyed breeders in such a busy state, there are still three registered kennels.
​These are:
• Double D Sammy Ranch
Samoyed Breeders In Georgia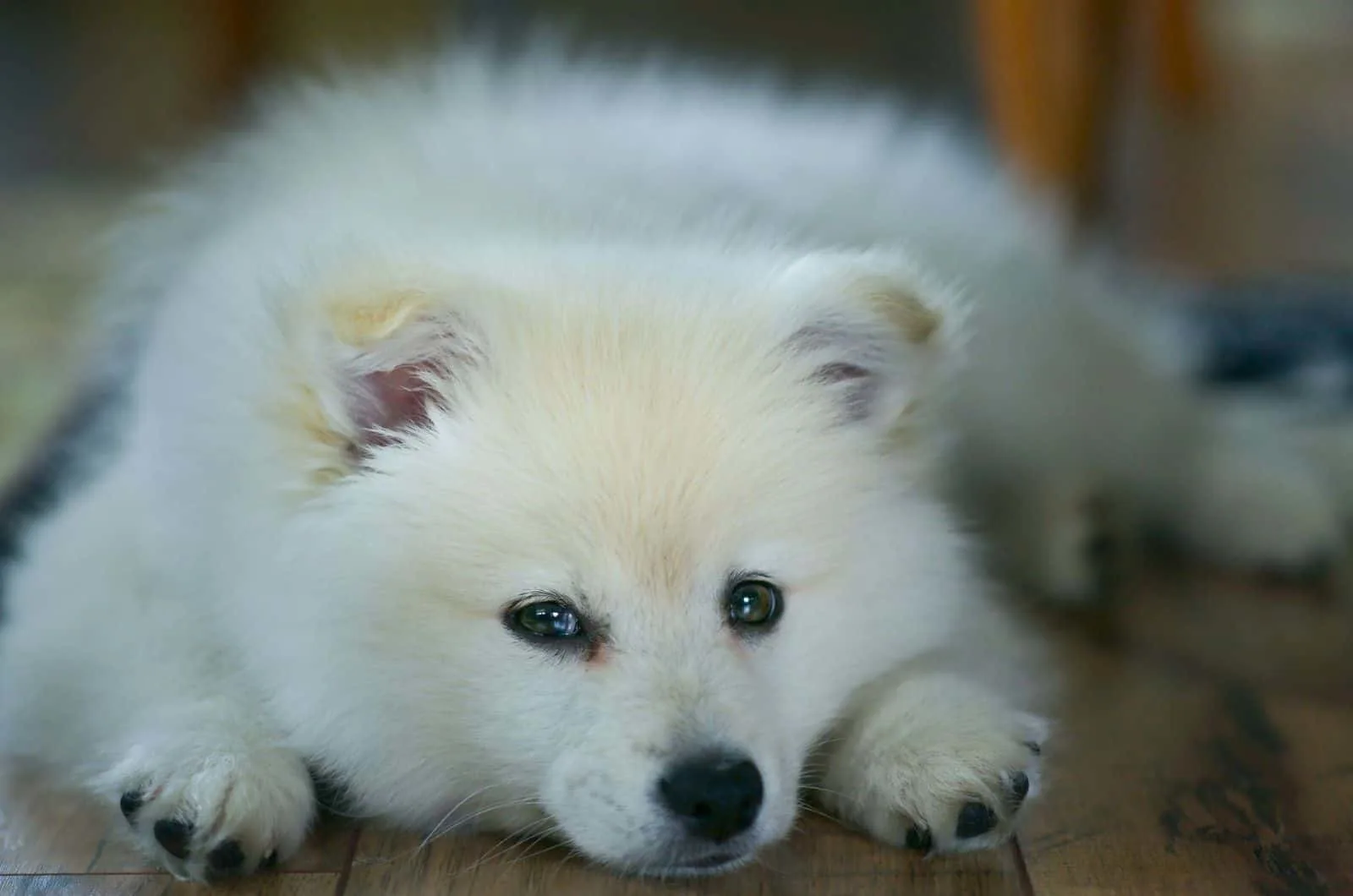 Georgia is a state with plenty of dog lovers. Some of the best breeders are located in that area. Sadly, none of them are Samoyed breeders.
​Yes, you've read that right. According to the American Kennel Club (AKC) and Samoyed breed clubs, there are no registered Samoyed breeders in Georgia.
Samoyed Breeders In North Carolina
While North Carolina might have a name that people associate with snow, it is far from being a cold state – quite the opposite. This might be the reason why Samoyeds don't seem to be so popular.
In fact, there is only one registered Samoyed breeder in North Carolina: Jubillie Samoyeds, from Winston-Salem.
Samoyed Breeders Arizona
While Arizona isn't necessarily a state you'd expect to have lots of Samoyed breeders, it in fact, has five breeders registered with the Samoyed Club of America.
These are:
• Promise Samoyeds
• Desert Son Samoyeds
• Snow Tracks Kennel
• Carefree Samoyeds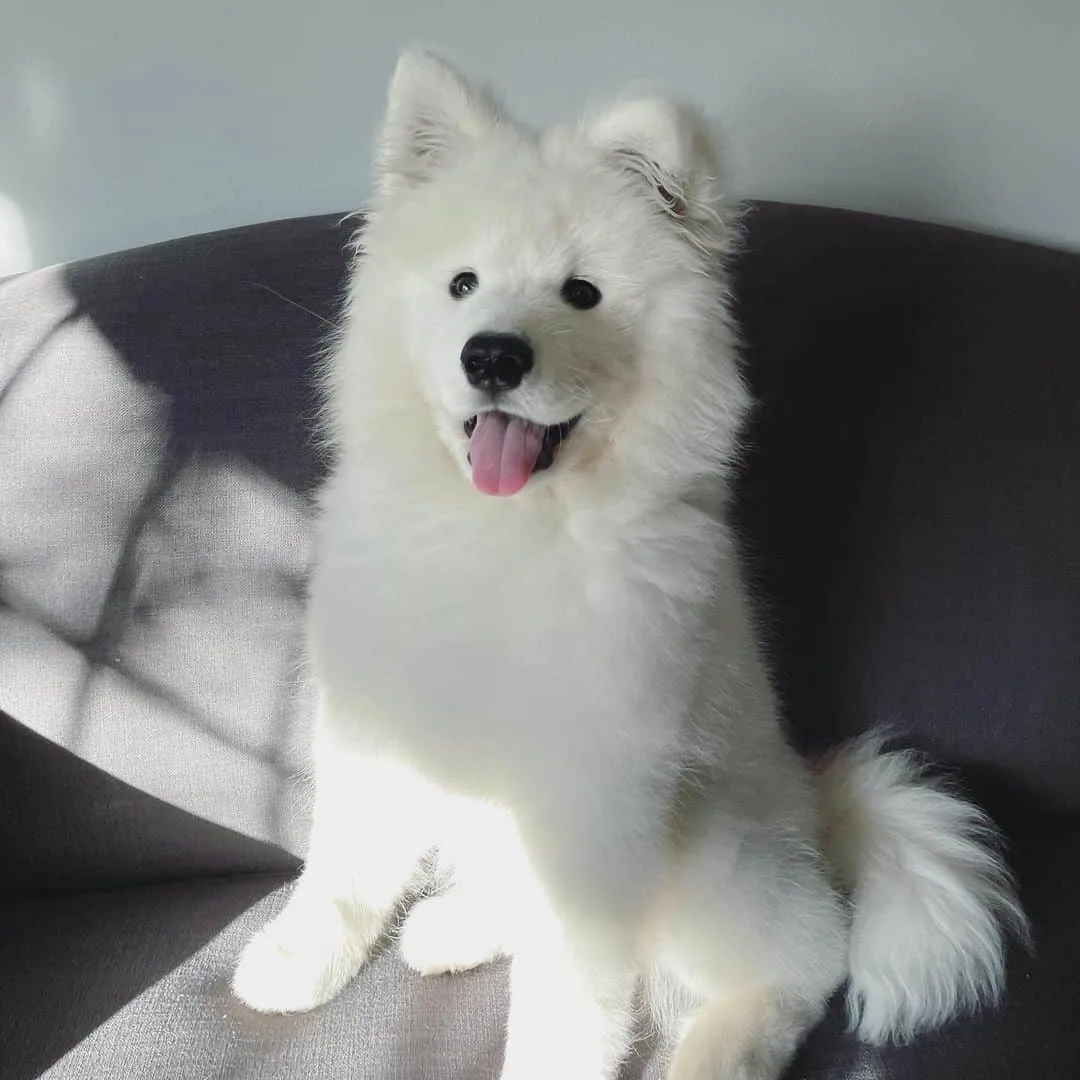 Photo from: @finn.thelandshark
Every breeder will determine the price of their dogs according to their expenses and requirements. However, a general rule of thumb is that Samoyeds are reasonably priced dogs, although they are not cheap.
Most purebred Samoyeds will cost anywhere between $600 and $1,500. However, if you want a dog from good bloodlines – especially from award-winning ones – you should expect to pay more. Many high-quality Samoyeds can cost more than $3,000!
Certain things that can affect the price of a Samoyed puppy are:
• AKC registration papers: If the breeder has their dogs registered by the AKC or some other kennel club, they'll invest money in these papers.
This is why registered dogs cost more. Of course, registration papers aren't mandatory, but they are important for the show ring or if you want to further breed your pup.
• Age: If you want a Samoyed puppy, you'll usually buy one that is between 8 and 12 weeks of age. These puppies tend to cost a lot more than older puppies – and even more so than older dogs.
• Quality: Every dog is a good dog who deserves love. However, some dogs are considered to be of 'higher quality' as they have better genes and purer bloodlines or even award-winning parents. These pups will cost a lot more than 'ordinary' dogs.
• Color: Samoyeds are known as white dogs, but they can come in a few other rare colors, such as cream, biscuit, and white and biscuit. These dogs might cost more than pups with the standard white coat.
• Area: The breeder's location can greatly influence the Samoyed price, no matter where the buyer lives. The cost of doing business varies in different areas, so dog prices vary as well. For example, breeders from Southern California will have greater expenses than breeders from Montana, so a dog's price will be higher.
• Business practices: Every Samoyed breeder has its own breeding practices, and some might be more expensive than others. Certain breeders don't care about the quality and only care about selling as many cheap puppies as they can. Reputable breeders will usually have higher prices because they'll produce a smaller amount of puppies.
Other than the initial purchase costs, all Samoyed owners should also prepare for the owning expenses. They'll continue throughout the dog's life, which, in the case of Samoyeds, can be as long as 12–14 years.
Many people aren't aware of how much money it takes to own a dog. In the case of the Samoyed breed, these are some expenses you can expect:
• Food: Samoyeds are medium-sized dogs. While they don't require as much food as some other dog breeds, they still eat a significant amount.
You'll likely need 15–30 lbs of food per month, which will likely cost you anywhere between $20 and $60 monthly.
• Grooming: Samoyeds are one of the most beautiful dogs, but that beauty comes at a cost. Their long coats can be challenging to groom – not to mention the high amount of shedding – and you'll need frequent visits to a professional groomer. This will cost you $40–$100 per visit.
• Medical care: The cost of veterinary visits will be greater while your dog is a pup, as they'll require shots and spaying or neutering. Even as adult dogs, Samoyeds will still need to have yearly check-ups. These costs will be challenging to predict, depending on your dog's overall health and condition.
You'll also have to buy your pooch some accessories and certain items, such as a dog bed, food bowl, collar, and harness, as well as toys. Fortunately, these are mostly one-time expenses, and they shouldn't be too high.
Should You Purchase From The Best Samoyed Breeders?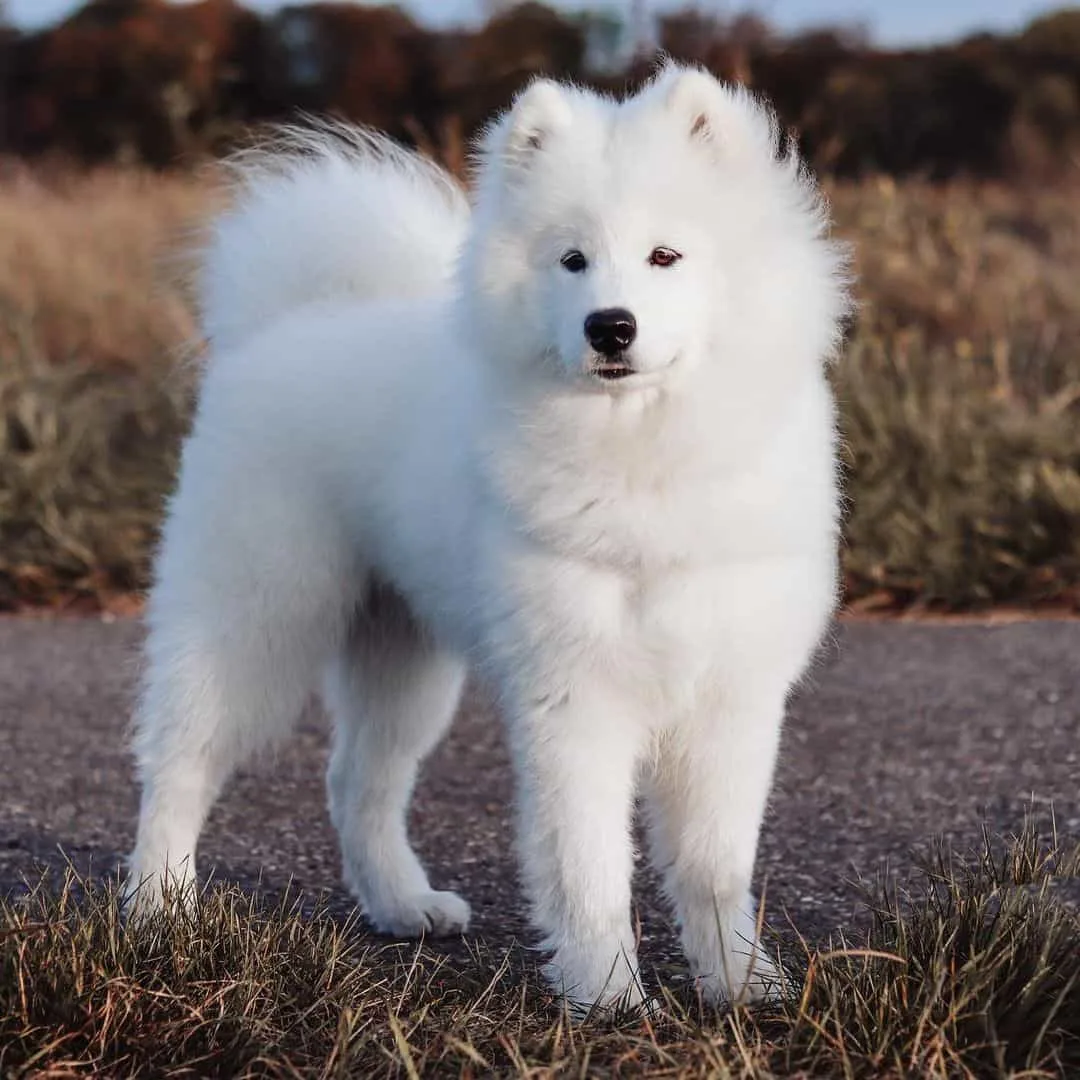 Photo from: @calou.samoyed
Not everyone feels comfortable giving money to the Samoyed breeders. Some people prefer adoption, and we fully agree with them. Adoption is the most ethical option, as you'll be giving an abandoned pup a new home.
However, there are a few possible issues that might be a problem for people with children or to people with certain expectations of the breed.
When you adopt a dog, there is no way of knowing his full temperament and behavior as you don't know what the dog has gone through. He might've been abused, so there might be some triggers for aggressive behavior, even in an otherwise mellow breed like Samoyeds.
Also, you cannot know an adopted dog's full medical history and background. While many tests can be done, you likely won't know whether your puppy is at risk of developing serious genetic conditions as they grow older. Not to mention that you won't know whether you've got yourself a purebred dog or a mixed breed!
Some people who want a purebred Samoyed will try looking for cheap breeders. However, these are usually backyard breeders – people who aren't experienced in breeding Samoyeds but have simply ended up with a litter they now want to sell. Even worse, some of them might intentionally breed dogs with the sole intention of earning money!
The best Samoyed breeders want to profit, sure. However, they are also thinking about the betterment of the breed, which is why their pups are tested, and they won't breed every single dog they have.
Not to mention puppy mills or pet shops! These are among the worst possible locations you can get a dog of any breed from. They don't care about their dogs and only want to produce as many puppies as fast as they can.
Sure, you'll be spending a lot of money when you purchase from the best Samoyed breeders out there, but you can expect very few expenses later on. The most challenging thing the future will bring will likely be picking the best Samoyed name for your pup! That peace of mind cannot have a price tag.
Read Next: Top 8 Samoyed Breeders In Ontario Of 2022 – Choose Your Sammy