If you are in California and you are looking for an interesting dog breed — you are at the right place. If you think it is time to expand your family with another dog or you are a first-time dog owner, how about a good sled dog?
They are playful, gentle, and very active. If you think these traits fit your lifestyle, once again, you are at the right place. I recommend you the smiling dog aka Smiling Sammy — the Siberian Samoyed.
After you decide what kind of dog you want, there is another very important question to answer. Where to find a Samoyed puppy?
There are many places you can check and see if there are available puppies. Some will say they have the best quality dogs, others will say they offer the best show dogs. But, how can you know they are actual dog breeders and not scammers or a puppy mill?
Because it can be risky and because we can unintentionally support puppy mills by buying pups from them, I did the research and gathered the 9 best Samoyed breeders in California to help you find the best doggo. You won't make a mistake if you get a puppy from any of these nine breeders.
They are responsible and reputable, breeding Samoyeds for a long time and with a lot of care and love for the dogs.
Let's meet them.
Samoyed Puppies For Sale In California
The Samoyed is a famous dog from the arctic circle bred by the Samoyedic people. They needed dogs that would pull the sleds, give them protection from wild animals, and even give them and their children warmth on cold Siberian nights.
The first Samoyed dogs were also hunting dogs. They would catch birds or hunt bigger prey with the people. Simply put, the Samoyed breed is a brilliant dog breed that can both be an amazing working dog and an amazing family dog.
So, if you are looking for one, here is a list of 9 Samoyed breeders in California. Don't get disheartened because you're living in a rather warm state, especially if you are in the Southern parts of the state.
There are reputable breeders of Samoyed breed in California, too! There are nine of them, to be precise. So, get ready to check the websites, Facebook, and Instagram profiles, and make a lot of phone calls to find out which one has a perfect Samoyed puppy for you.
1. Lakehill Samoyeds, Santee, CA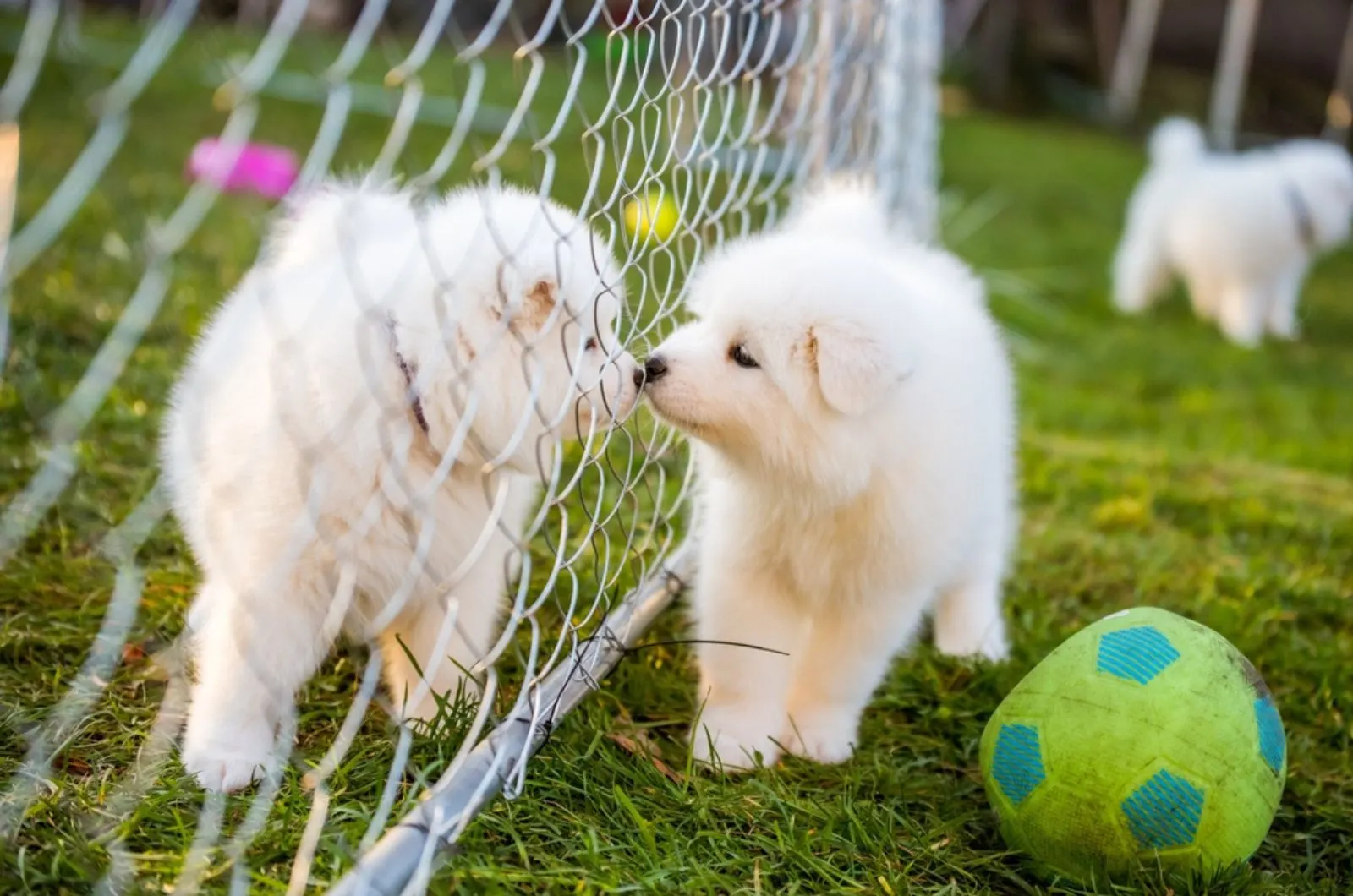 The first on our list of the best Samoyed breeders in California is Cathy Hays, and her Lakehill Samoyeds. She has been in love with this lovely dog breed since 2004. That's when she got her first Samoyed dog.
Since then, she has been doing her best to breed dogs without health problems and of exceptional temperament. Her goal is to have Samoyed dogs that will still have the standard breed conformation and temperament.
She has been in dog shows, and she is a member of the SCA (Samoyed Club of America), the Samoyed Club of Orange County, as well as a member of the Bahia Sur Kennel Club, and the San Diego Obedience club.
That is a lot of clubs, and it further proves she is a good breeder who has a great love for dogs. As a matter of fact, all of her dogs live with her and her family in her home. That's where all the newborn pups are taken care of, too.
Her dogs are AKC registered, and you can see their pedigrees on her website. Besides pedigrees, you can check info about upcoming puppy litters as well.
Address: Santee, CA, United States
Website: Lakehill Samoyeds
Email: [email protected]
2. Silvermist Samoyeds, Salinas, CA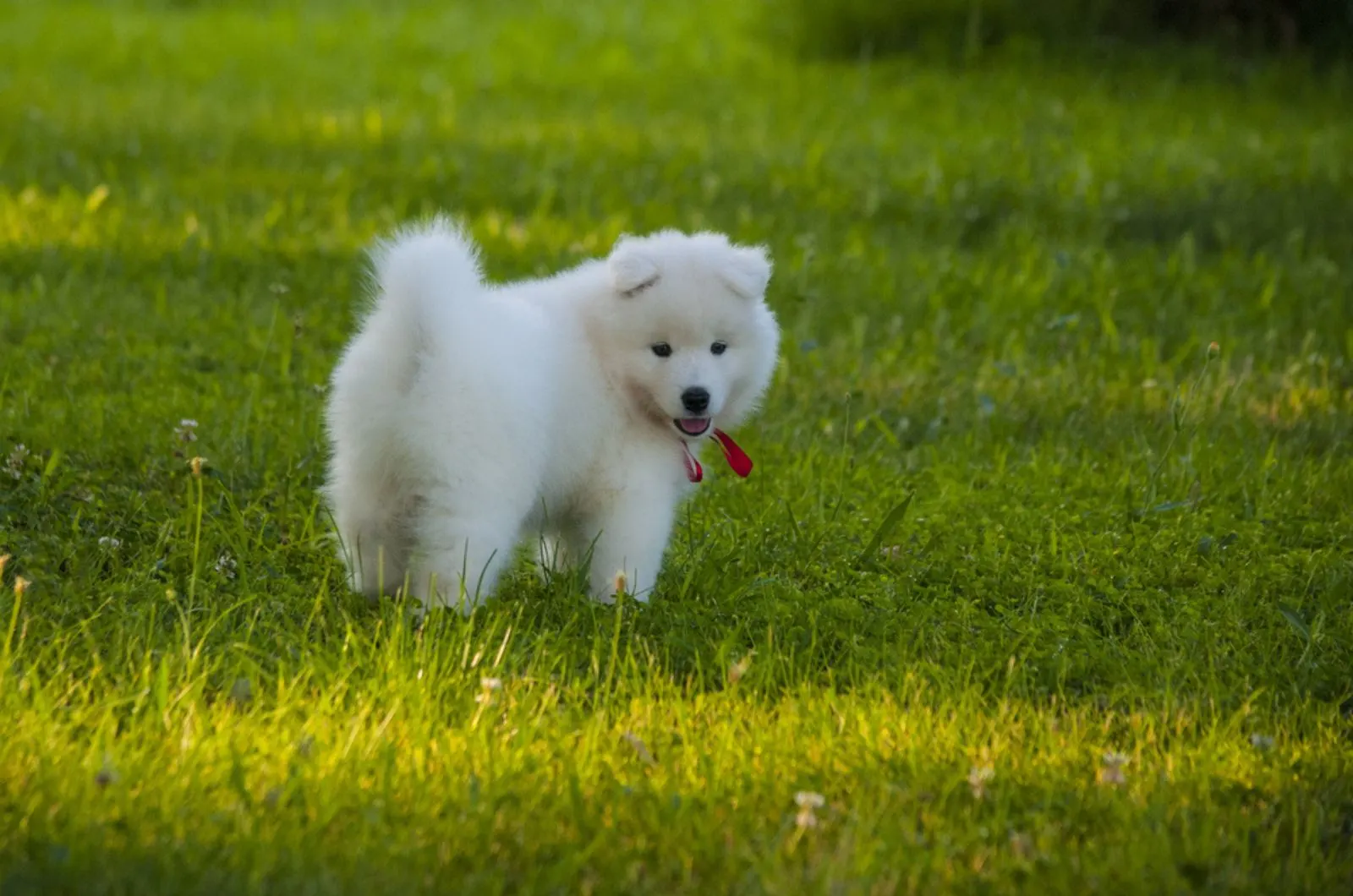 The next on our list is Deborah Fornari, and her Silvermist Samoyeds, located just a couple of hours from San Francisco. Deborah has been breeding Samoyed dogs since 2006.
Deborah and her family are not only breeding, but showing Samoyed dogs as well. Actually, showing their dogs and seeing them in the "show ring" is how they realized just how much they love this dog breed.
Dog Shows made them realize how versatile these dogs are, and how they can shine in all kinds of jobs. The Samoyed dogs can be excellent therapy dogs, sled dogs, and watch dogs — they bark quite a lot.
Silvermist Samoyeds come with a health guarantee and breeding pairs. All of the puppies' parents are health tested for heart, joint, eye diseases, and health conditions.
They have AKC (American Kennel Club) registered dogs, and they have very famous quality bloodlines in their dogs' pedigrees.
If, for any reason, you decide to return the puppy you purchased from Silvermist Samoyeds, Deborah will take it back.
Address: Salinas, CA, United States
Phone: +18316368619
Website: Silvermist Samoyeds
3. Sunfire Samoyeds, Carmel, CA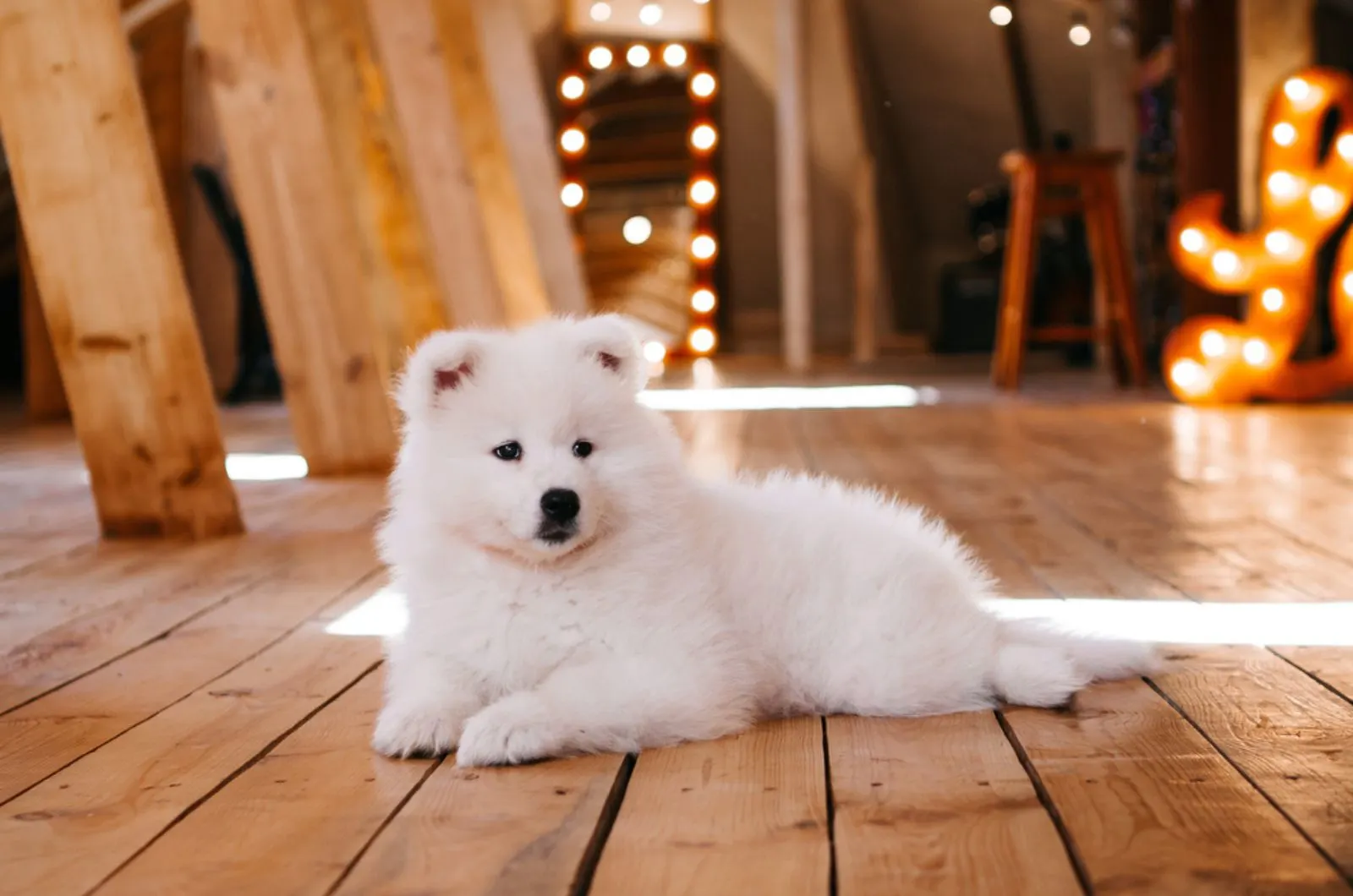 We meet Patti and Michael Emmet, from Carmel California. They have been the owners of Samoyeds since 1978. But, they started to breed and show them in 1993.
And, what a small world it is — their first show dog was from the Firecloud breeder whom we will talk about later on this list.
Patti and Michael understandably fell in love with this amazing dog breed, and they started to fully enjoy the dog shows. From conformation to working events — they have tried it all!
What is interesting and important to know about the Emmets and their Sunfire Samoyeds is that they only breed their dogs occasionally. They are more interested in keeping their dogs healthy for the shows, so only sometimes do they choose to have new pups.
So, if you are interested in a dog from Sunfire Samoyeds, you'll have to get in touch with them to get the right information about their upcoming litter.
But, once you see their dogs and the photos of their previous puppy litters, you will realize it is worth the wait.
Address: Carmel, CA, United States
Website: Sunfire Samoyeds
Email: [email protected]
4. Polar Star Samoyeds, CA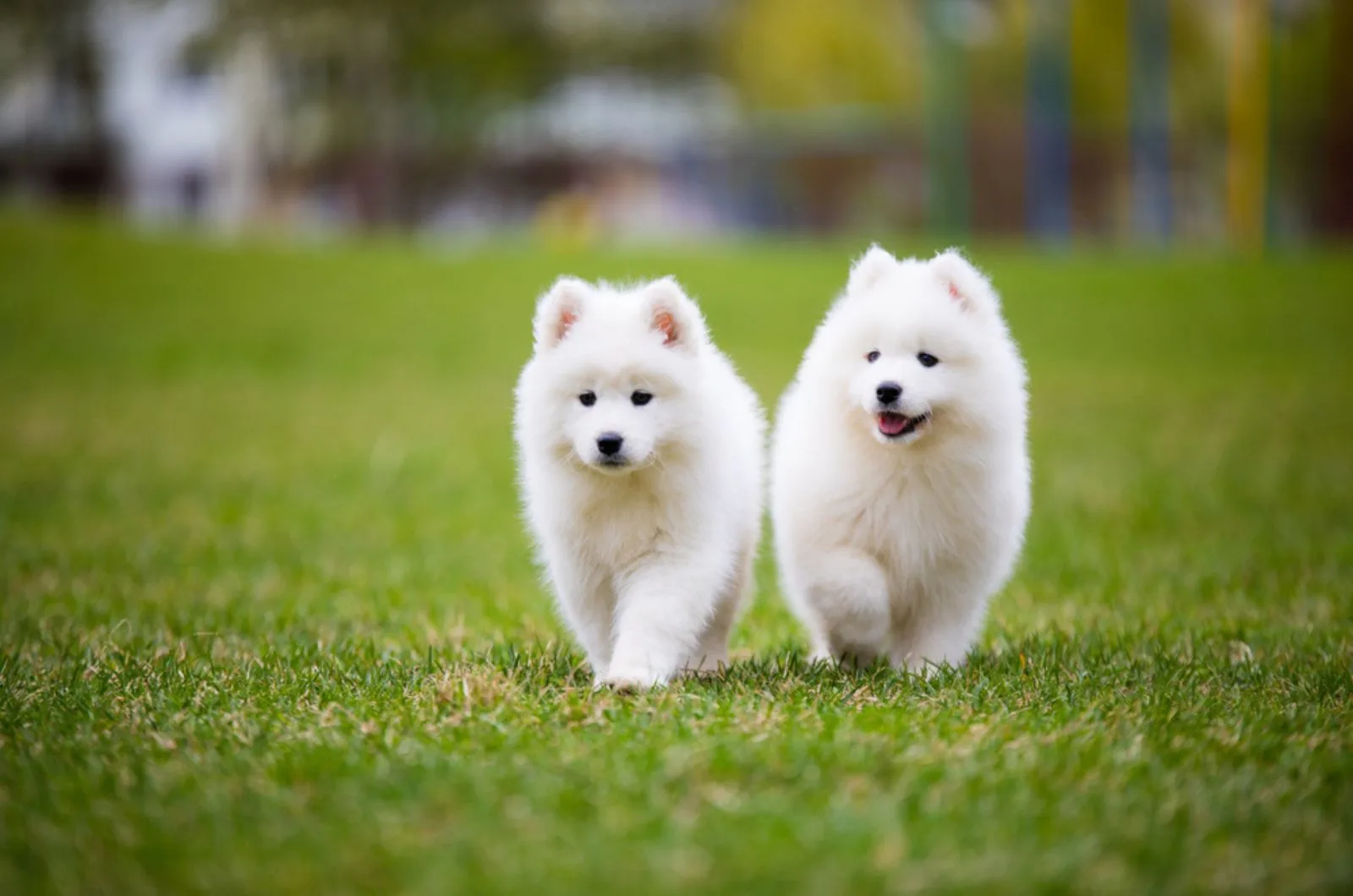 Ken and Elizabeth have been breeding Samoyeds since 2017. That might not be as long as some other Samoyed breeders in California, but that doesn't mean they are not one of the best!
They have bred champion dogs that showed their exceptional qualities in conformation shows and behavior, and they won the Canine Good Citizen certification for their dogs. This certification is yet another answer to the question some might ask: are Samoyed dogs aggressive?
Polar Star Samoyeds perfectly shows what lovely and friendly dogs Samoyeds are. They will be wonderful new family members for you and your family no matter if you have young children or not.
Elizabeth and her husband, Ken, are deeply devoted to making well-tempered pups of excellent health. Of course, their dogs go through health screenings to ensure that all of their future puppies are just as healthy.
If you have any questions for them, you can leave a comment directly on their website, email them ([email protected]), or make a phone call. They will be happy to answer any questions you might have about their breeding program or their dogs.
Address: California, United States
Phone: +15096279550
Website: Polar Star Samoyeds
5. Oakbrook Samoyeds, Thousand Oaks, CA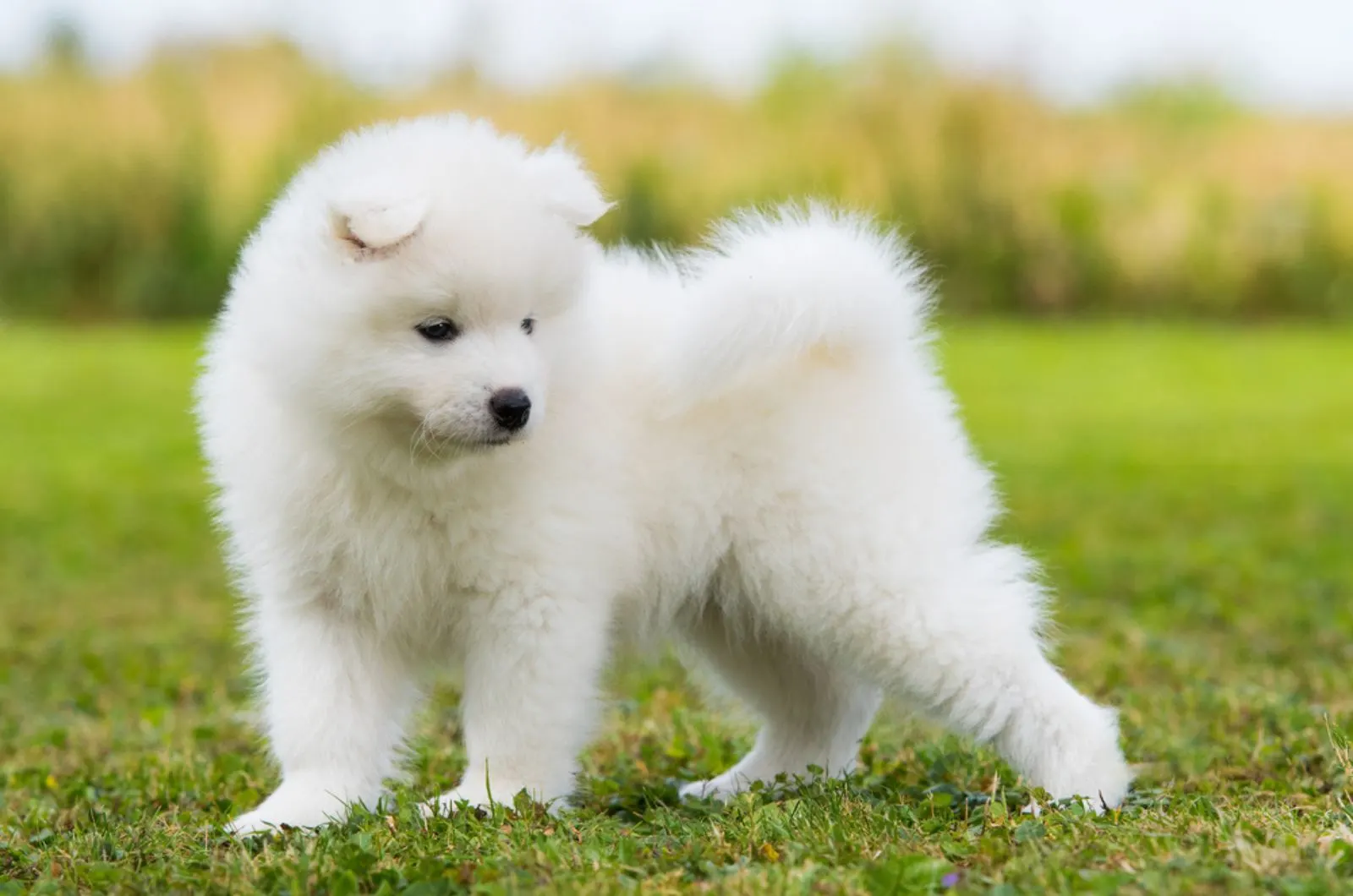 This is a true family business. The whole family has been breeding dogs since 1994. Kathy, Leon, Jane, and Alan are no longer actively breeding because they are retired.
But, the business is in the safe hands of Heather and Brianna, who have mentored and brought Tabitha and Billy into the business as well.
As you can see, this is one big and happy family, and an exceptional Samoyed breeder in California. Their dogs are of the typical Samoyed coat color — pure white. Their dogs are very much loved and taken care of.
All three generations are involved in breeding, showing, and training their dogs. Their Smiling Sammies are not only great show dogs, but Hollywood dogs, too! They have been on the cover of a couple of magazines.
And, on top of that, the dogs from Oakbrook Samoyeds have been excellent therapy dogs. You can see photos of cute Samoyed dogs playing poker or having fun on a ranch with horses.
The photos you can see on their website are not just photos… they are taken from the award-winning photographer, Heather Kelly! You are truly going to enjoy your time looking at the lovely photos of these incredible pups.
Address: Thousand Oaks, CA, United States
Website: Oakbrook Samoyeds
Email: [email protected]
6. White Spirit Samoyeds, Oceanside, CA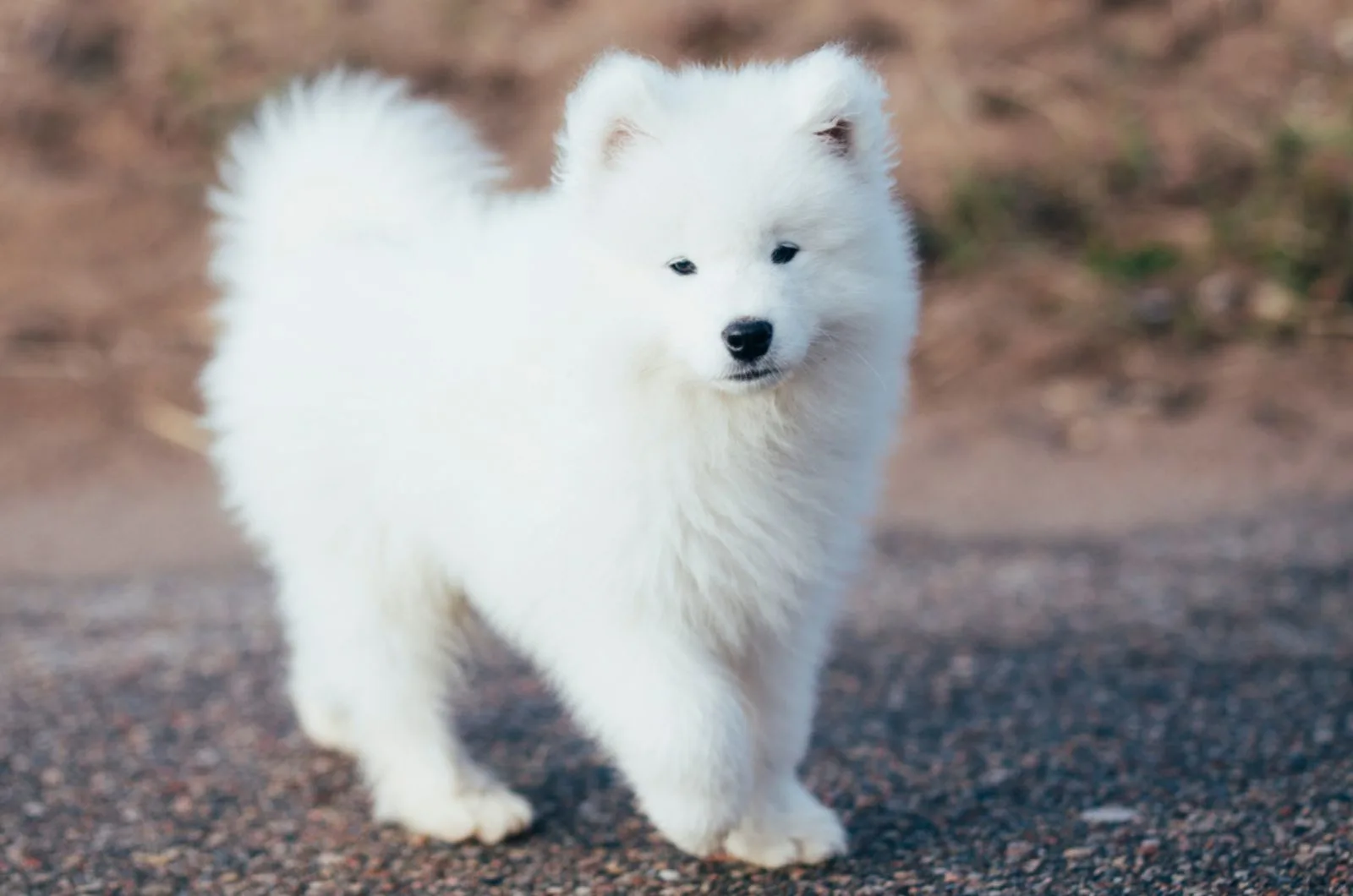 The owner of White Spirit Samoyeds is June Scott. She is not only one of the best Samoyed breeders in California, but she also has a Breeder of Merit certification awarded by the AKC.
This is a breeder who is seriously involved in breeding only the best dogs from the best gene pools. Now, this might sound harsh, but it is not! June takes the best care of her dogs, and she loves them very much!
She just wants to be sure that the dogs are from a strong and healthy bloodline so that she can continue breeding strong and healthy pups that will shine not only in dog shows, but as family pets as well.
And, yes — her dogs are beautiful and of great temper. No matter if you get a female or a male Samoyed puppy from White Spirit Samoyeds, they will be the perfect addition to your home, and the adjustment period will be quick and easy.
All of the dogs from this breeder have been tested for various diseases and health conditions. Some of these tests include hip dysplasia, heart problems, eye problems, etc.
All the puppies are born inside June's home where she can keep a close eye on them and their development. The puppies are well-socialized from the first day. June makes sure that they are used to various noises typical of any home.
White Spirit Samoyeds are truly gorgeous dogs of amazing temperament. You can't go wrong choosing one of June's doggos.
Address: Oceanside, CA, United States
Website: White Spirit Samoyeds
Email: [email protected]
7. Whitecotton Samoyeds, Mission Viejo, CA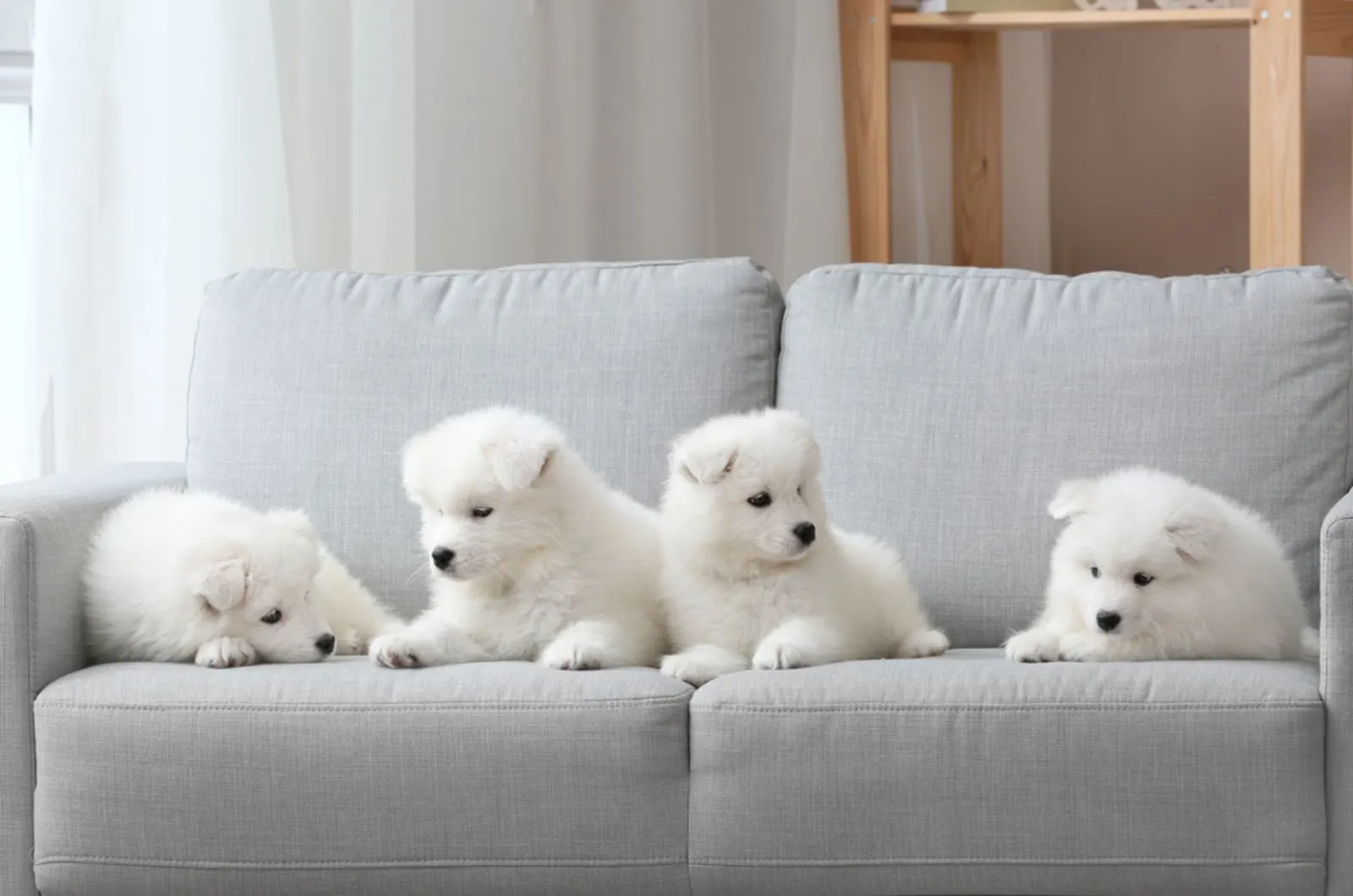 Soft as cotton balls, the pups from Whitecotton Samoyeds are fluffy, smart, friendly, and healthy. This is another Samoyed breeder in California that has a Breeder of Merit certification.
The Whitecotton Samoyeds are not only show dogs, but therapy dogs, hiking dogs, and even herding dogs. Yes, that's right — they trained their Samoyeds to herd sheep.
All of their dogs are great with each other, having no problem being in a pack just like true Samoyed dogs. Also, all of the dogs at Whitecotton Samoyeds that are used in breeding are AKC registered. They are also tested for various health conditions and diseases, and they, of course, tested negative.
You can see their dogs love to swim, hike, herd, and enjoy urban mushing. What is urban mushing? It is an activity involving dogs pulling bikes… not in a hard and cruel way — just for fun. It's the perfect way to physically activate your Samoyed and fulfill all of its exercise needs for the day.
The Whitecotton Samoyeds offer tips and tricks on the grooming techniques necessary to keep the Samoyed's double coat healthy and shiny.
Address: Mission Viejo, CA, United States
Website: Whitecotton Samoyeds
Email: [email protected]
8. Firecloud Samoyeds, Fairfield, CA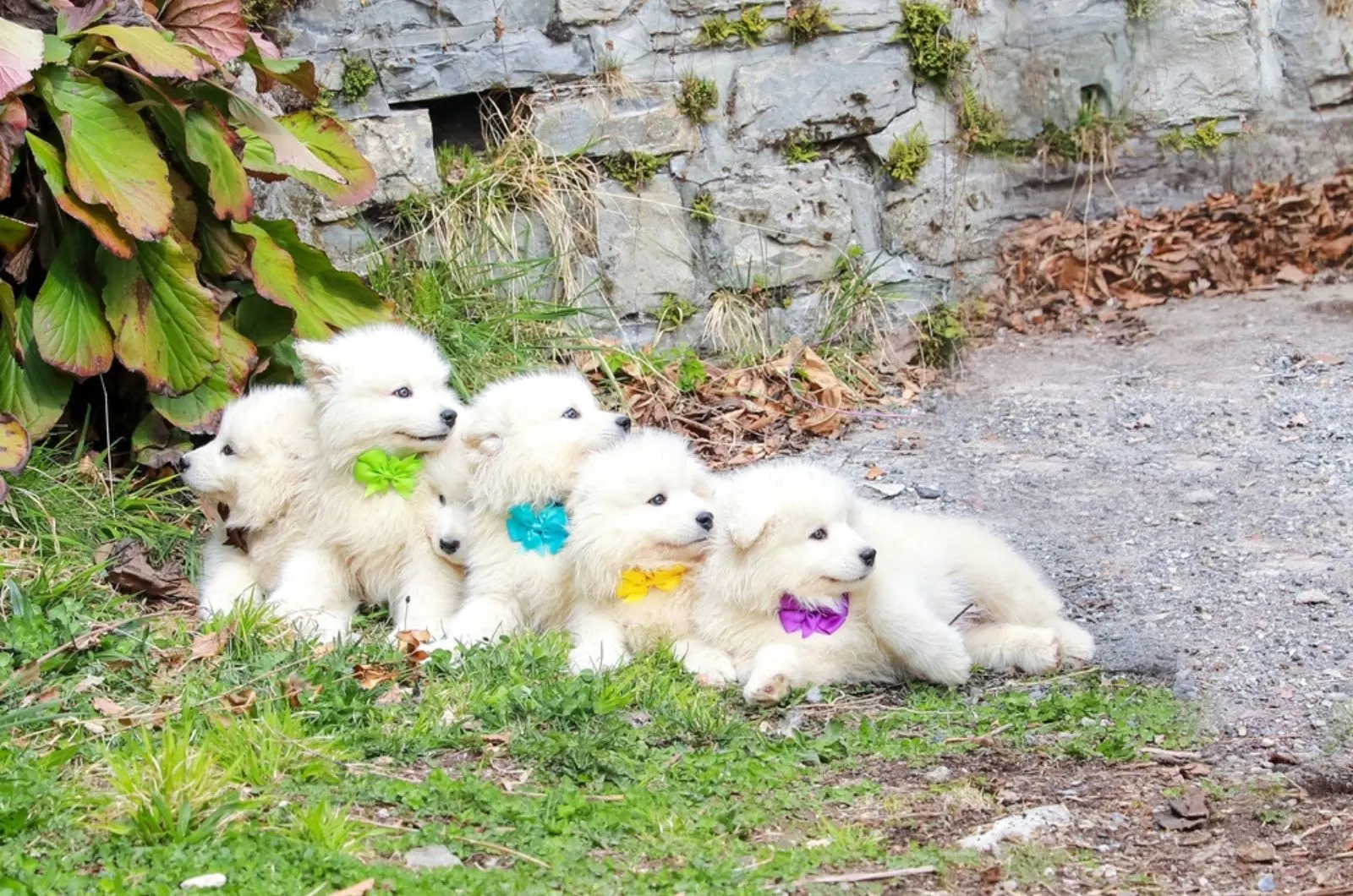 This is one of the oldest Samoyed breeders in California, with more than 40 years of experience owning Samoyed dogs.
The owners of Firecloud Samoyeds are Tami and Jim Lynch. They have bred 40 champion dogs so far, and they are continuing to breed amazing Samoyed dogs. Their dogs are active in conformation shows as well as herding. They have also tried obedience.
They want to make sure that their dogs are up to the standards of the working Samoyed line. They understand and want to preserve the essence of these dogs — working side by side with their owner.
These dogs can weigh more than 65 pounds, and thus, are considered bigger dogs. They need their space and time to run, just as they were once bred for. That's what the goal of Firecloud Samoyeds is — keeping their original purpose and maintaining the good and friendly temper of these dogs at the same time.
And, as I mentioned previously — Sunfire Samoyeds got their first Sammy from this breeder. These dogs have such an amazing gene pool that they continue to thrive in the Sunfire kennel, too.
Address: Fairfield, CA, United States
Website: Firecloud Samoyeds
Email: [email protected]
9. Alta Samoyeds, CA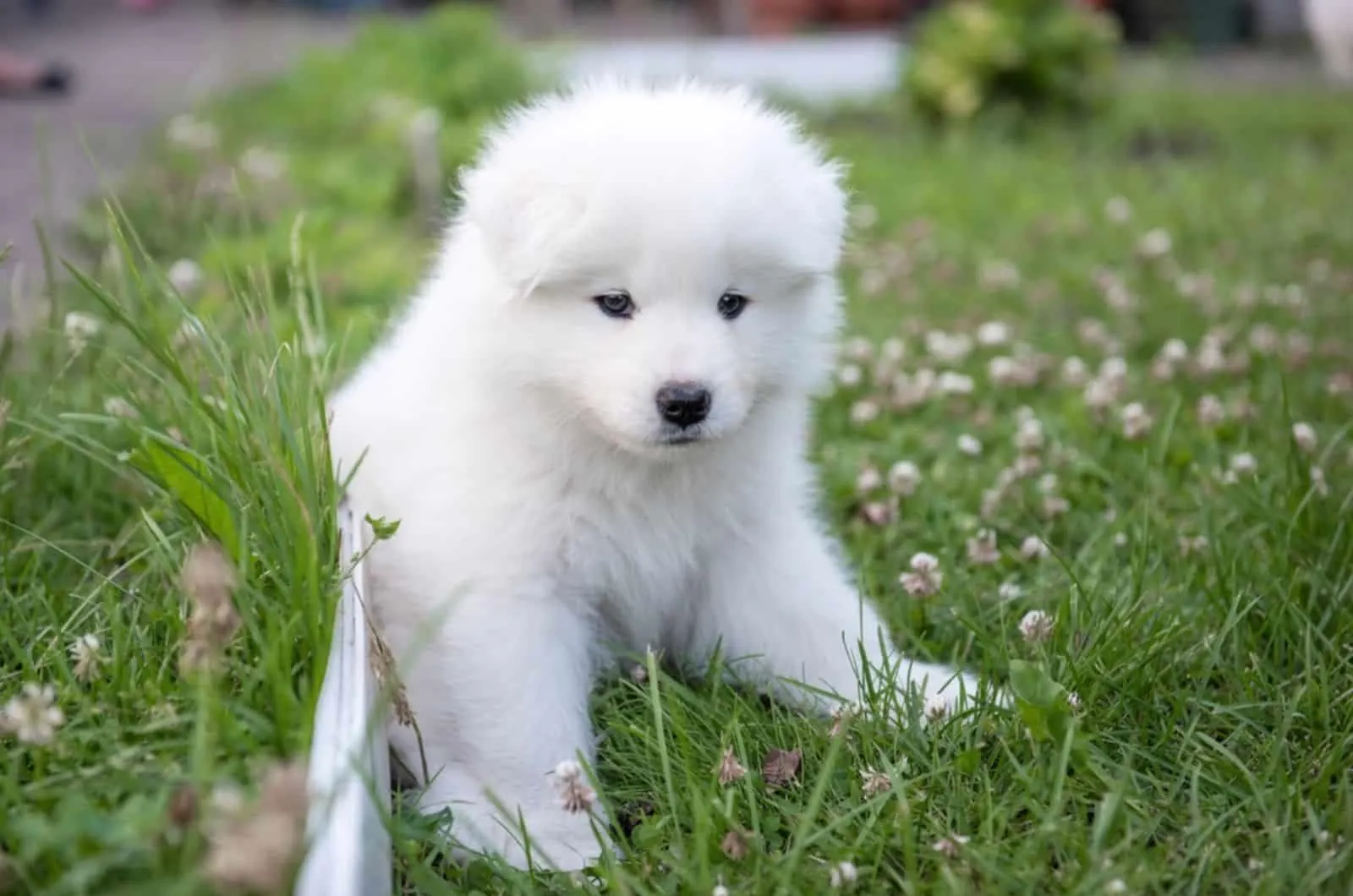 And, last on our list of the best Samoyed breeders in California is Alta Samoyeds. This is a breeder who doesn't breed often.
But, when they do breed them, they certainly have wonderful dogs. Their goal is to breed dogs that are versatile, just like the original Samoyed dogs were. The goal of Alta Samoyeds is to have healthy dogs with an appearance that follows the AKC standards for this breed.
This breeder has a lot of champion dogs, and they proudly display them on their official website. They are also very adamant about taking back the dog you purchased from them if you cannot keep the dog anymore.
They don't want the dog to end up on the street or in a shelter with an uncertain future. Because of their great love for this dog breed, they urge buyers and all other people to help the Samoyed dogs by checking out the Samoyed rescue center — San Francisco Samoyed Rescue.
The owner of Alta Samoyeds is also a member of the Samoyed Club of America.
They are always open to answering any questions you have about them, their premises, their dogs, or this breed in general.
Address: California, United States
Website: Alta Samoyeds
Email: [email protected]
How Much Is A Samoyed Puppy?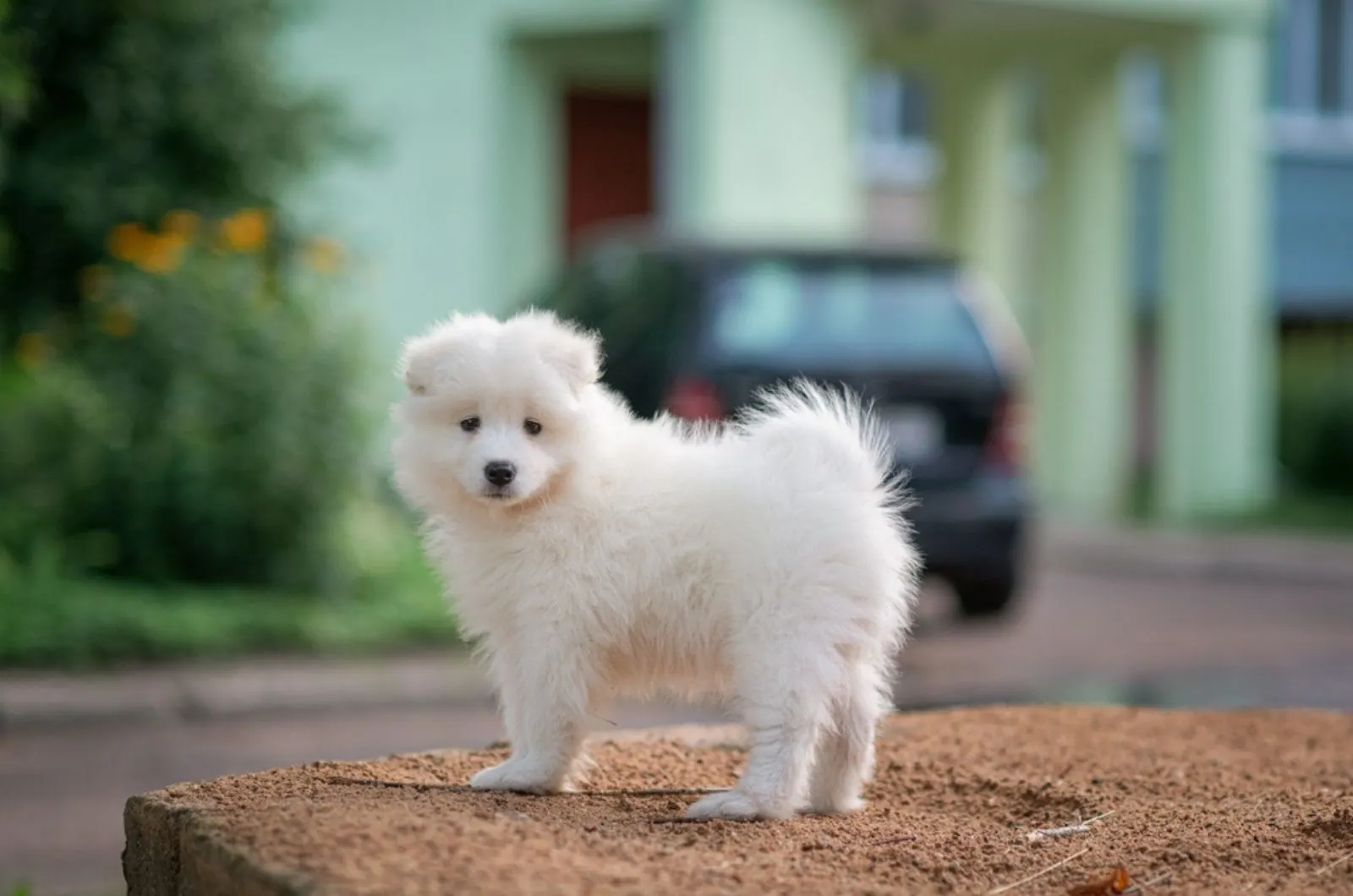 If you were thinking of buying a Samoyed puppy, get ready to pay a bit more than you might have expected. This dog is famous, beautiful, and expensive.
The average price of a Samoyed puppy coming from a reputable and responsible breeder is around $5000. The reason for such a high price is the dog's versatile nature, working habits, friendliness, and adaptability.
Also, they are bigger dogs, which means they need more food, and these Samoyed breeders in California we talked about give the best food to their smiling pups! And, that costs money, too.
You can find these dogs for much less — around $2000, but in most cases, the parents of these dogs were not tested for various hereditary diseases. That means you cannot be sure if your puppy will develop some of the illnesses that this dog breed is prone to.
And, yes — you can check the websites to find out if there is a Samoyed puppy or dog available for adoption. The best source of this information is the mentioned San Francisco Samoyed Rescue.
The Conclusion
Samoyed dogs are popular all around the world, and they are especially becoming more popular in the States. Who knew California would be one of the states with the most requested Samoyed pups?
You can look for other Samoyed breeders in California, but they might not have all the traits of a good breeder. These nine breeders that were mentioned in the text deserved their place here because of the constant excellent care they give to their dogs.
They make sure they are healthy and happy. Dogs coming from any of these breeders will certainly become great family pets — friendly, socialized, and without health problems.
Once you get a dog, no matter if it's a Samoyed or some other dog breed, it is your turn to take excellent care of him and show him all the love for the rest of his doggo life.
I am sure you will find your perfect Samoyed from one of these breeders. Good luck, and remember that owning a dog is forever – not just a temporary fun time.