If you're here, chances are you're interested in becoming a Presa Canario owner. However, to pick the best dog possible, you'd have to buy from the best Presa Canario breeder you can find.
This is a large Mastiff-type dog breed that originates from Spain. They got their name, the Perro de Presa Canario (the Canary Dog of Prey) or the Dogo Canario, from the Spanish Canary Islands, which is where it is believed these dogs originate from. Whether they were originally on the islands or the Spanish Conquistadors brought them there is unknown.
No matter what kennel club breed standard you look at (AKC, UKC, or FCI), all state this is a large and strong dog that was bred for hunting and to serve as a guard dog. As a result, this is a fairly menacing-looking canine that is often misunderstood. Some would even say that this dog looks like a Pitbull!
Like with all dogs deemed temperamental, it's important to find the best Presa Canario breeders out there. We'll explain why and where to find them.
Presa Canario Puppies For Sale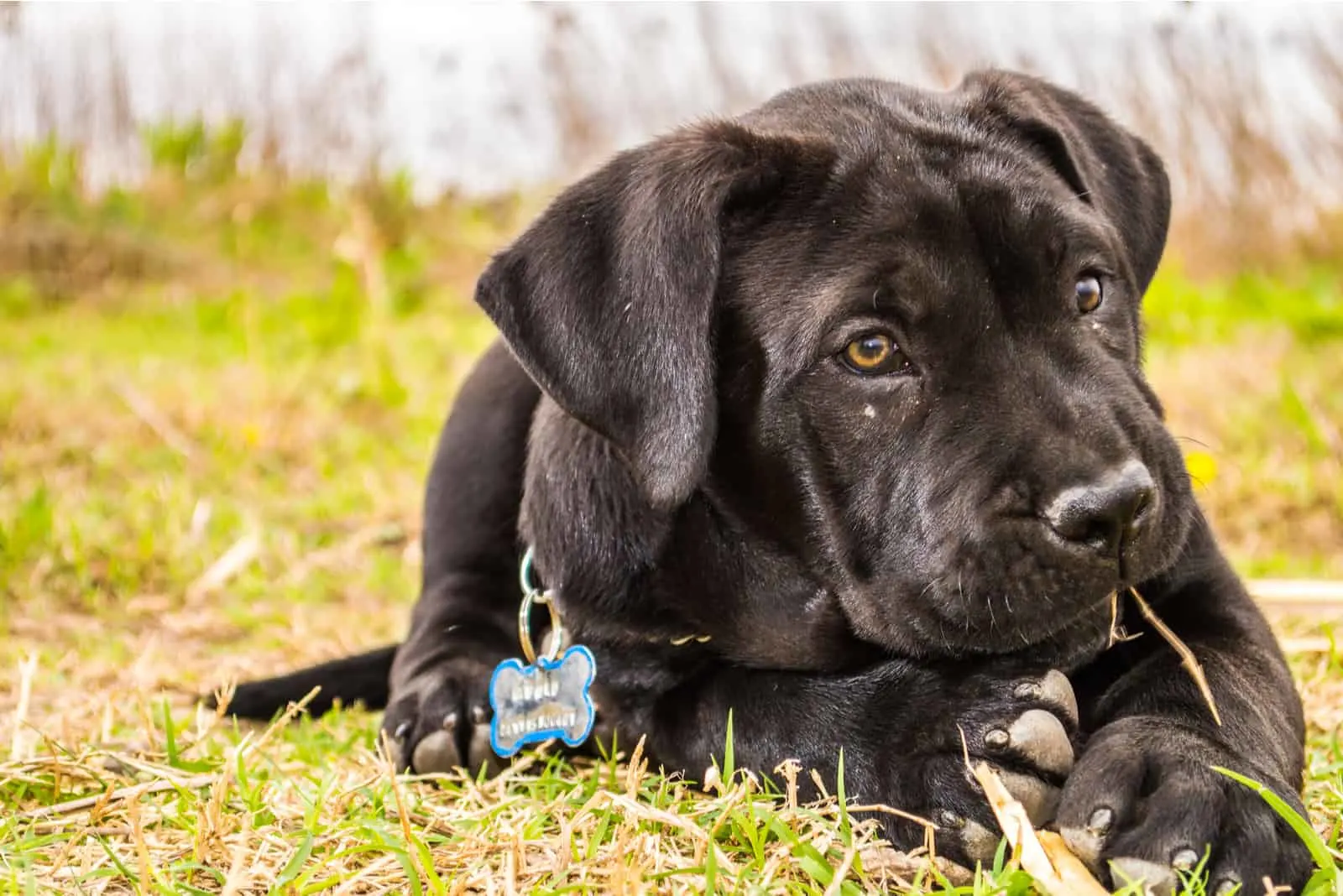 The Presa Canario likely originates from the Iberian Presa (Perro de Ganado Majorero), a cattle dog that was common in Spain. While it isn't certain what other dogs were used to create them, it is certain that they are striking dogs.
As they are now considered purebred dogs, breeders no longer have the heavy task of mixing various dog breeds to get Presa Canario puppies. This has made the breeding process much more straightforward.
When choosing the best Presa Canario puppy, it's important to look at the entire litter and choose a dog based on the entire picture.
For example, you should never pick a pup that is too outgoing or too shy. While this might seem cute, both types of puppies can be the result of behavioral issues that would require professional help.
Also, a dog that is too skinny might have health issues, and a puppy that is overweight can end up having health problems later. If all dogs look unhealthy, with thin or dull coats, you should avoid buying a puppy from that litter, as chances are something is wrong with it.
A healthy puppy will always be thin but muscular without its ribs showing. They should be aware and outgoing, eager to learn about their environment and new people in their lives.
This is why it's important to find the right Presa Canario breeder that will give you the best puppy possible.
Presa Canario Dog Breeders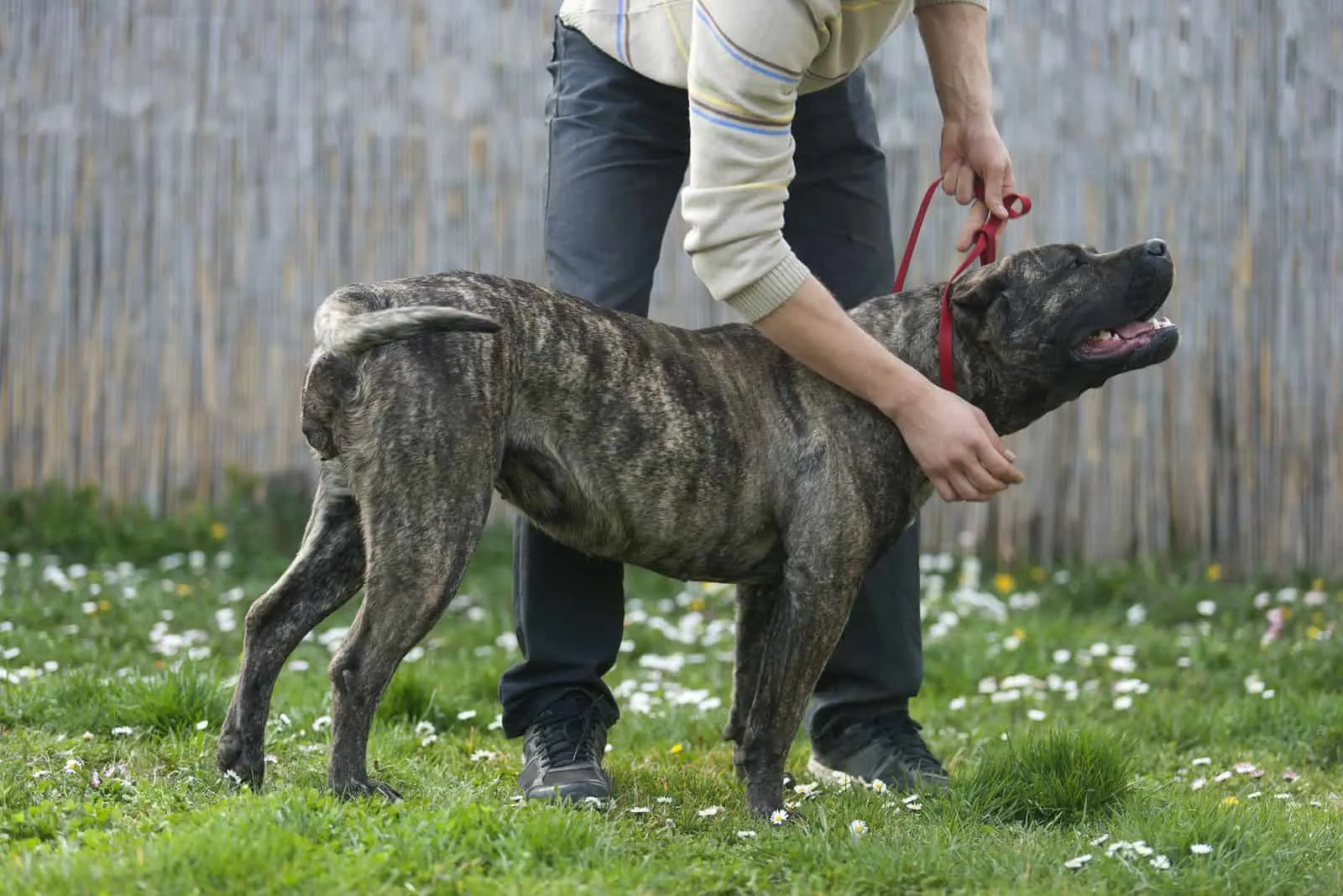 Finding a reputable Presa Canario breeder is an important task in every dog owner's life. Without a good breeder, it's hard to get a good dog.
This is because all reputable breeders care deeply about their dogs. They don't just look for ways to take your money and produce as many puppies as possible. Their goal is the betterment of the entire breed they love and cherish, which is why you can rest assured their dogs are of good quality.
Not just that, but responsible Presa Canario breeders will ensure you get the healthiest dog possible. They'll conduct various health tests to rule out the chances of any health conditions. While no one can guarantee your dog will never get sick in its lifetime, reputable breeders get close to that.
They also take good care of the mother dogs by carefully waiting before breeding them again. This is why many Presa Canario breeders only have a few litters every year, and their waiting lists can be long.
But most importantly, with a good Presa Canario breeder, you'll know your dog will be well-behaved. Sure, you can never miss socialization, especially not when you have such a mighty dog, but the breeder will do the first steps for you.
By taking good care of their dogs, they'll make sure all puppies are socialized, and they'll start potty training and overall obedience training. This way, the dog will already know good manners when they join your household.
The first few weeks of your dog's life are essential for his further development. As you should never adopt a dog before he is 8 weeks old, you'll miss this rather sensitive period. However, a good breeder will start dog training on their own as they know how important this is.
Finally, all good breeders will take care of their dogs even after completing the sale. If you decide you can no longer take care of your pet, you don't have to leave them at a shelter. Instead, you can simply return them to the breeder.
This is great news, as large breed dogs rarely find a new home once they've been abandoned. Most of them end up euthanized or stay in small kennels for the rest of their lives. By giving them back to the breeder, they can have an amazing life and find a new loving home.
So now that you know that, we can go on and list the 8 best Presa Canario breeders you can find in the U.S. Here's who they are:
1. Presa Canario For Sale Georgia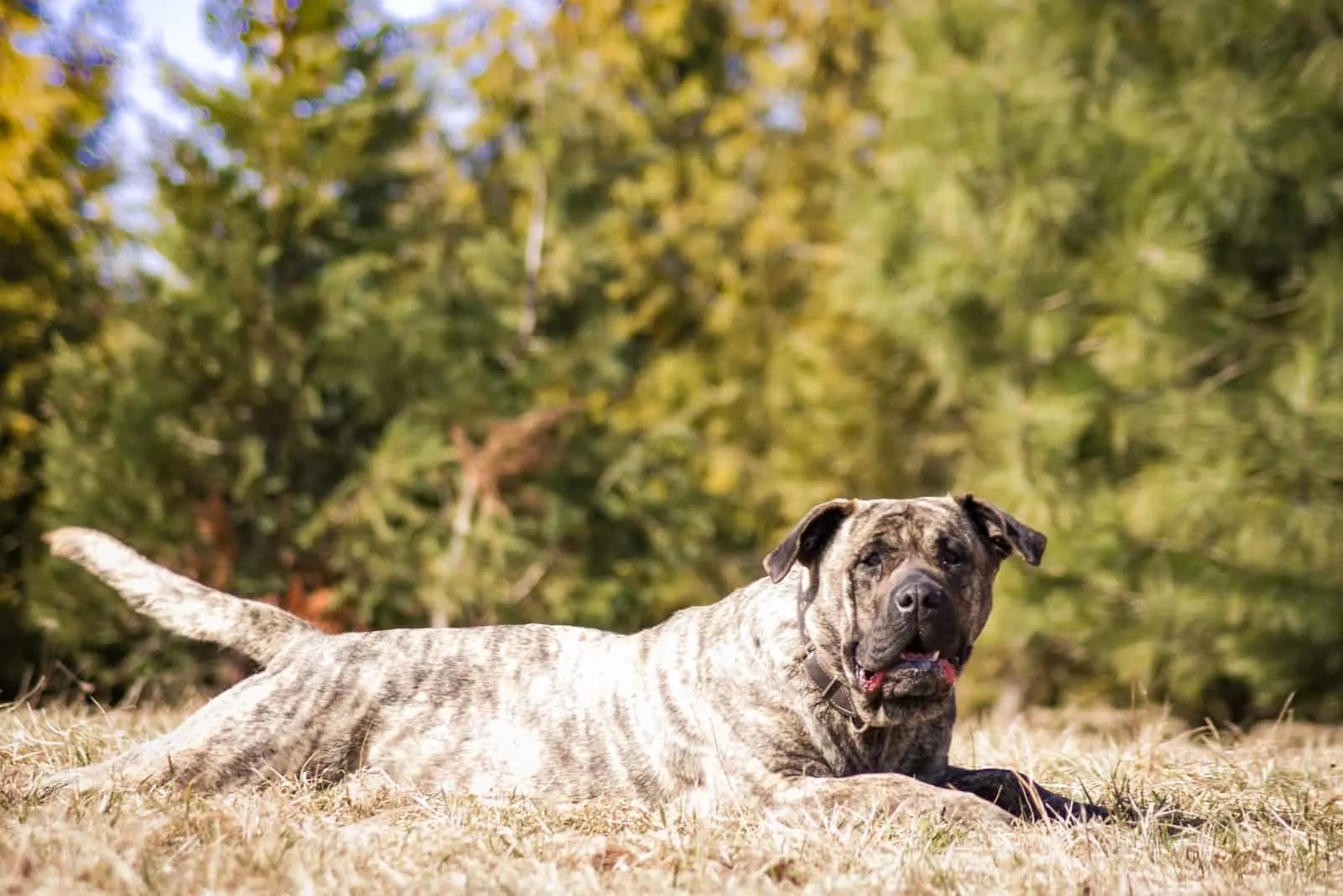 If you live in Georgia and are looking for the top Presa Canario breeders in your area, you might want to check out D&G kennels. This is a family-owned kennel that is one of the best breeders in the U.S.
Owned by Lauren and Randy Green, this is one of the oldest kennels. They have been in the field for more than two decades! During this time, they have bred several award-winning dogs.
In fact, Randy is the former president, vice-president, and advisor for the Board of Directors for one of the Presa Canario kennel clubs of America, and he is also the co-founder of the Working Dogo Canario Alliance (WDCA), one of the top temperament-testing associations for this breed.
The kennel aims to improve all the good sides of Presa Canario dogs. Their breeding stock is imported directly from the Canary Islands, and they select their sires and females based on working ability, conformation, and health.
This kennel produces some of the highest-quality dogs out there. They even sell pups registered by the United Perro de Presa Canario Club (UPPCC) and not just the AKC. You can hardly go wrong if you choose a puppy from them.
Even if you don't live in Georgia, don't worry. They ship their dogs all over the United States.
Website: D&G Kennels
2. Presa Canario For Sale California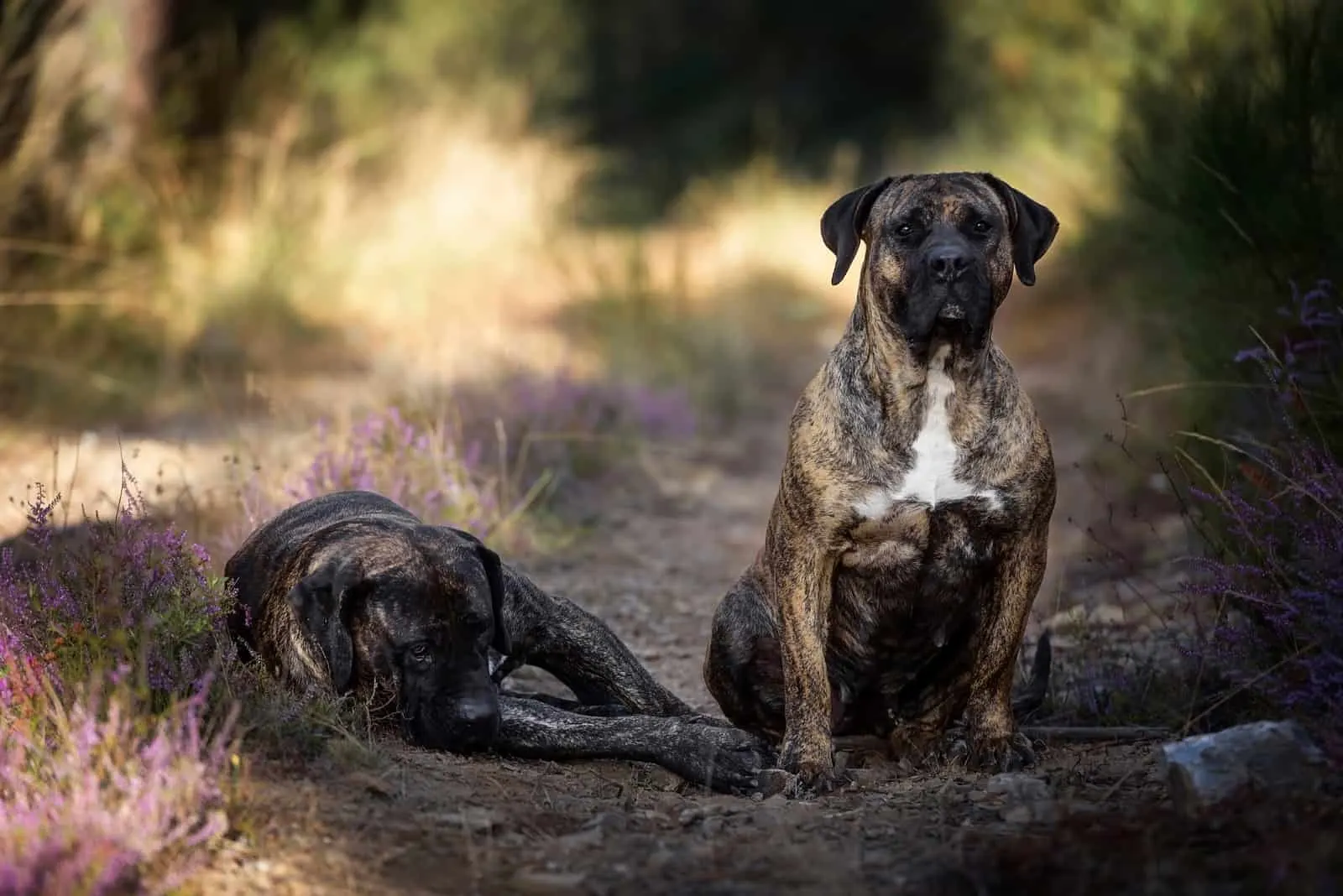 California is the home of SoCalPresa, one of the best Presa Canario breeders in the area. They were founded in 2009 and have perfected their breeding program to produce an XXL version of Presa Canario that makes an outstanding watchdog.
They mostly produce family guardians, but a small percentage of their dogs also serve as service and hunting dogs.
All of their puppies are born and raised in their family home, so they are used to the family environment from the start. This allows them to be exposed to human handling, children, and signs of affection.
They make sure their puppies are trained from day one, so they can have the best temperaments possible. Also, they don't keep their dogs in kennels, as they think this is the best way to give their pups the mental stability they need to be the best dogs possible.
However, they are also among the more expensive Presa Canario breeders you will run into. They ask for a $1,000 deposit, as they want only committed people to buy their dogs. You can check out all of their available puppies on their website.
Keep in mind that SoCalPresa is opposed to ear cropping, and while they cannot forbid you from doing this, they themselves won't offer it.
Their pups come with a one-year limited health guarantee. They don't offer stud services but will ship their dogs anywhere in the U.S.
Website: SoCalPresa
Email: [email protected]
3. Presa Canario Breeders Florida
Florida residents (but also aspiring owners from all over the U.S.) can contact Red Star Kennels if they want to get a new family member and protector.
This well-known kennel produces puppies of several dog breeds, including Bullies and Presa Canario. Their dogs are sought-after no matter your location.
They have a strict set of requirements for all their breeding dogs. The dog has to possess a stable temperament, moderate levels of defense and prey drive, social indifference towards strangers, as well as a small amount of handler sensitivity.
They pay a lot of attention to dog training, and all of their dogs have been obedience-trained from an early age. In fact, the kennel will also provide dog training services to make sure you have a dog that knows how to behave.
The breeder is very eager to talk to anyone interested in buying dogs from them. They are known for being transparent about their breeding practices, and they will provide everyone with plenty of information.
Their puppies come with a health guarantee and are vaccinated and checked by a vet.
Website: Red Star Kennel
Email: [email protected]
4. Presa Canario Breeders In Texas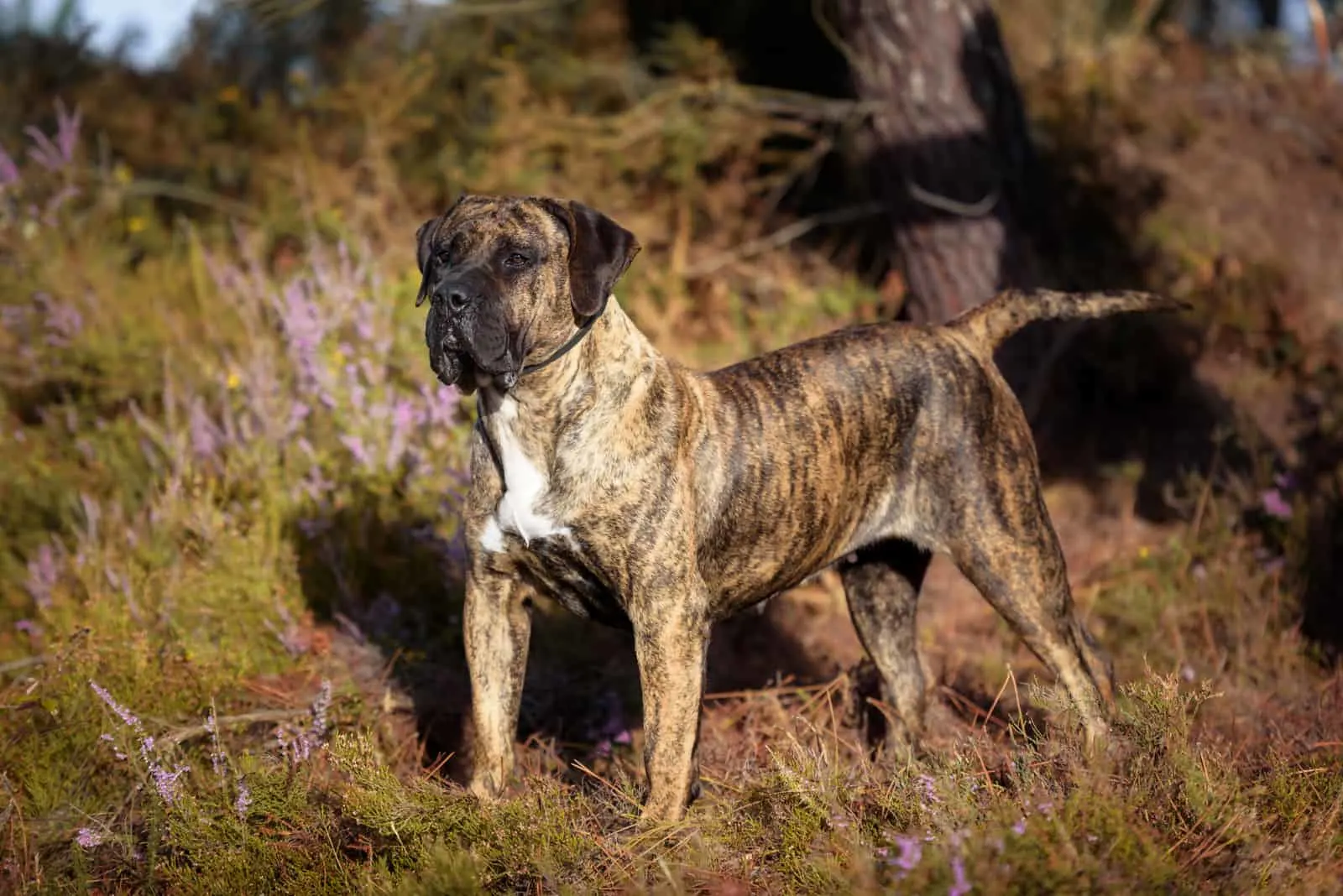 PresaMania is a good Presa Canario breeder in Texas that offers top-quality Presa puppies. Their dogs have won several dog shows since the kennel's founding in 2006, so they mostly focus on show lines but occasionally sell working dogs as well.
While they mostly focus on family companions, all of their dogs with working potential are sold with a working guarantee. This is a type of insurance that the dog will excel in personal protection, agility, weight pulling, and dog shows.
The kennel used to be located in Kansas, but in 2020, they joined forces with Akiva K9 Kennel and moved to the Texas Hill Country.
All of their puppies are bred on their 25-acre property, where they raise their pups. This gives them plenty of space to run around but also helps with their training.
Keep in mind that they have long waiting lists, so it might be a good idea to contact them in advance to make sure you get your dog. They require a $500 deposit to pick a puppy from the litter.
All of their dogs come UKC and/or FCI registered, with their ears cropped, a health guarantee, and lifetime breeder support. Also, they are dewormed and up-to-date on their vaccinations.
Website: PresaMania Kennels LLC
5. Presa Canario For Sale New York
Unfortunately, there aren't many Presa Canario breeders located in New York. However, one kennel in Georgia is known for shipping its dogs to many NY residents: Sanders Kennels.
The kennel is known for having four of its own champion bloodlines. All of their dogs have been bred for a high drive, stable temperament, strong nerves, as well as beauty. This makes them versatile, well-rounded dogs that will do their tasks flawlessly.
While they have won many awards, they don't breed dogs for the show ring but instead, focus on working dogs that will do a great job of protecting their owners and the property.
Sanders Kennels has sold their dogs to many celebrities, including Hank Aaron, Terrance Howard, and Shaquille O'Neal.
Website: Sanders Kennels
Email: [email protected]
6. Presa Canario For Sale North Carolina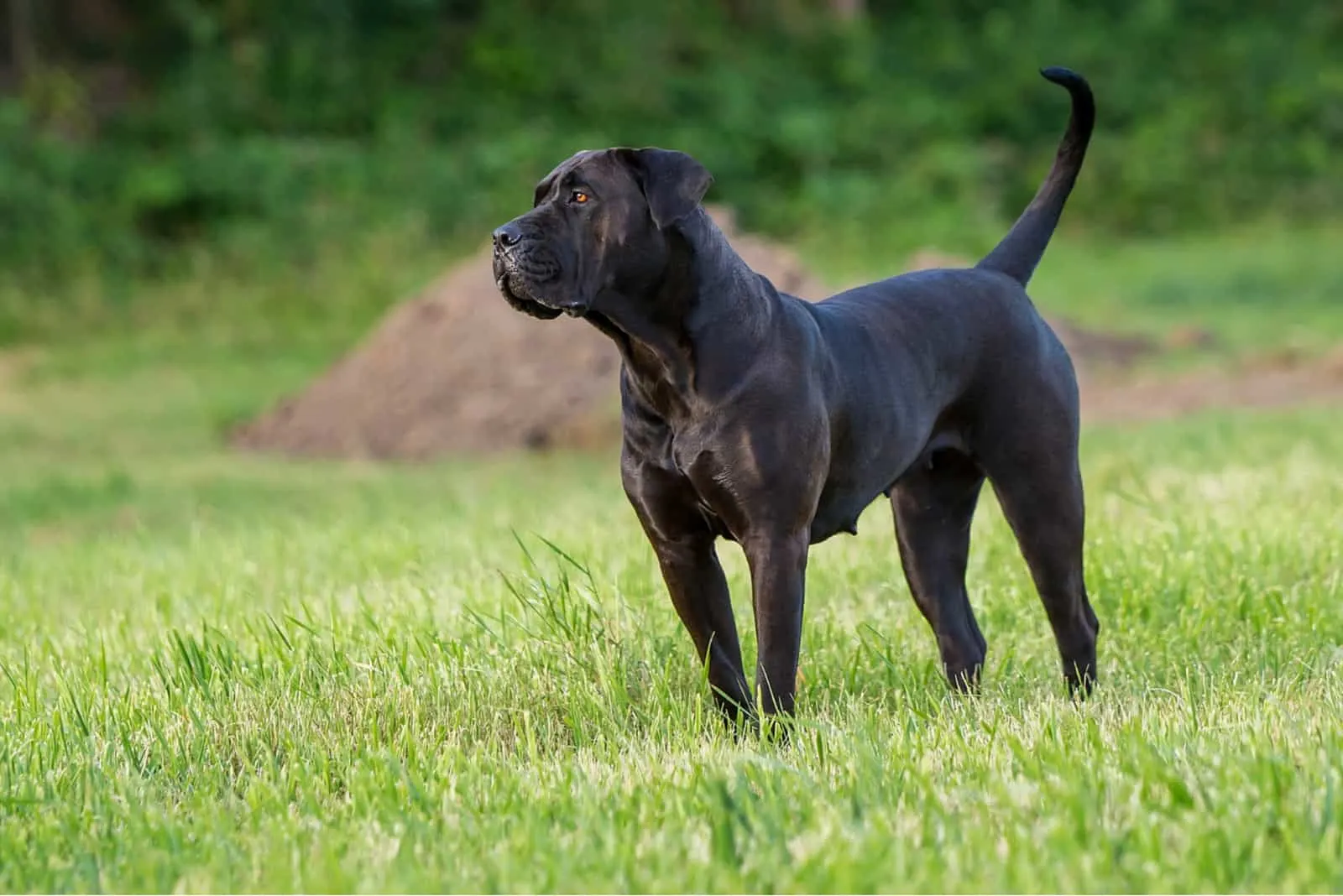 If you're looking for Presa Canario breeders in North Carolina, you don't want to miss checking out Bird Dogs Bullies. Despite the kennel's name, they focus on the Presa Canario breed, but they also sell exotic French Bulldogs.
​This prestigious kennel produces top-quality puppies and focuses on creating the best environment possible for all the dogs they raise. They train all their puppies to meet or even exceed the breed's expectations.
When choosing their breeding dogs, they focus on health, structure, temperament, and conformation that goes above the norm. This is the key to their success.
They are very careful with their breeding process and never leave their males and females together unsupervised. They also conduct stud services, but only for those that can pass their application process.
Occasionally, you will also be able to adopt adult dogs from them. You can see the list of available dogs and puppies on their website.
All of their puppies are tested for genetic disorders and come fully vetted. They come with documentation about all their health check-ups and results from their tests. Also, the breeder provides a two-year health guarantee against any hereditary conditions.
Website: Bird Dogs Bullies
Email: [email protected]
7. Presa Canario For Sale Pennsylvania
Sadly, there are no Presa Canario breeders in Pennsylvania. However, you can look at various online sites to find breeders that will ship their dogs to your location. Here are some of them:
• Petfinder: This is one of the largest websites that offers a huge list of pets for sale or adoption. You can search your area and the dog breed of your liking, and you're likely to find a good match.
• PuppyFind: This is yet another great database of registered breeders offering their puppies for sale. All you need to do is type in your name and location, and you'll get a list of people who will ship their dogs to you.
• PuppySpot: PuppySpot is one of the most well-known websites that list puppies for sale. All of the breeders listed on the website have been thoroughly checked, so you know that you'll get only the best Presa Canario breeders out there.
• AKC Marketplace: This is the official list of AKC-registered breeders. The website connects potential owners with breeders and is likely the most trusted source you can find.
8. Presa Canario Breeders Ohio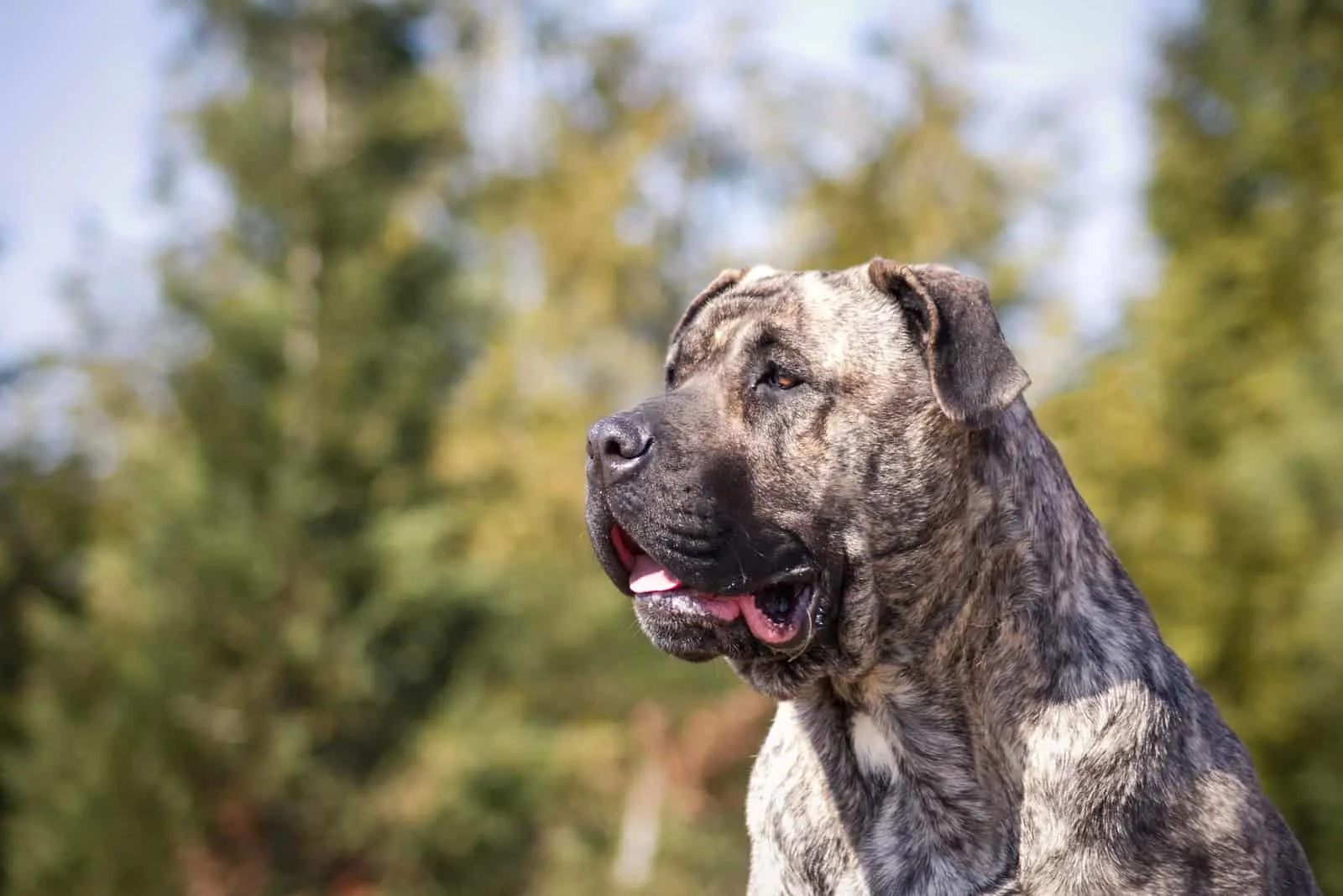 Residents of Ohio might want to look at Bearclaw Kennels if they are interested in getting this amazing guarding dog. They sell high-quality Perro de Presa Canario puppies that will make loyal family members and keep your property safe.
Their dogs come from proven champion lines, but they also sell working dogs that have been involved in Schutzhund, tracking, personal protection, and watchdog activities.
All of their dogs have stable temperaments due to selective breeding. Most come in the recognizable brindle color, but they also have studs and females in a few other colors, such as cream.
Their puppies have been registered by the UPPCC, FCI, or UKC, so they are provenly purebred. Also, all of their parent dogs have been approved by the OFA to make sure they don't have genes for hip dysplasia.
Website: Bearclaw Kennels
Email: [email protected]
Presa Canario Puppies Price
If you're looking to buy from Presa Canario breeders, you should be aware that you'll need to have saved lots of money. This isn't an affordable breed, and there are several good reasons why.
All Molosser type dogs are complicated to breed, mainly because of their size and temperament. They grow up rather fast, and they require lots of dog food. In fact, if you know what the best dog food for a Cane Corso is, this is the same product you want to feed to your Presa Canario.
The guard dog instincts make these canines challenging to tame, and all Presa Canario breeders have lots of work to do to make sure their dogs have good temperaments.
Not just that, but Presa Canarios have a reputation for being a dangerous breed. They are even blacklisted in several U.S. states, which only makes breeding more challenging.
It takes a responsible person to be a Presa Canario owner, and even more so to breed these magnificent dogs. Presa Canario breeders have to be firm and strict, yet not intimidate these dogs that can have a rather gentle soul.
Health tests also influence the price, as the breeder will have to pay for them from their own pocket. Since the Presa Canario is prone to some common diseases seen in big dogs, such as bloat, hip dysplasia, or elbow dysplasia, these screenings can end up being quite expensive.
Overall, you can expect to pay up to $2,000 for a Presa Canario that is a working dog. For champion bloodlines, you might end up paying much more. On the other hand, Presa Canario mixes, such as a crossbreed with a Cane Corso, or with a Pitbull, will usually be more affordable.
Still, this isn't where the prices end. Once you buy your Presa Canario dog, you'll have to count on buying a large dog bed and a lot of dog food. These dogs can end up eating more than 30 lb of dry dog food a month. Take a look at the Presa Canario feeding chart for more information on this dog's nutritional needs.
As you can see, prices can skyrocket. It's important to consider all these expenses before contacting a Presa Canario breeder near you.
Presa Canario Similar Breeds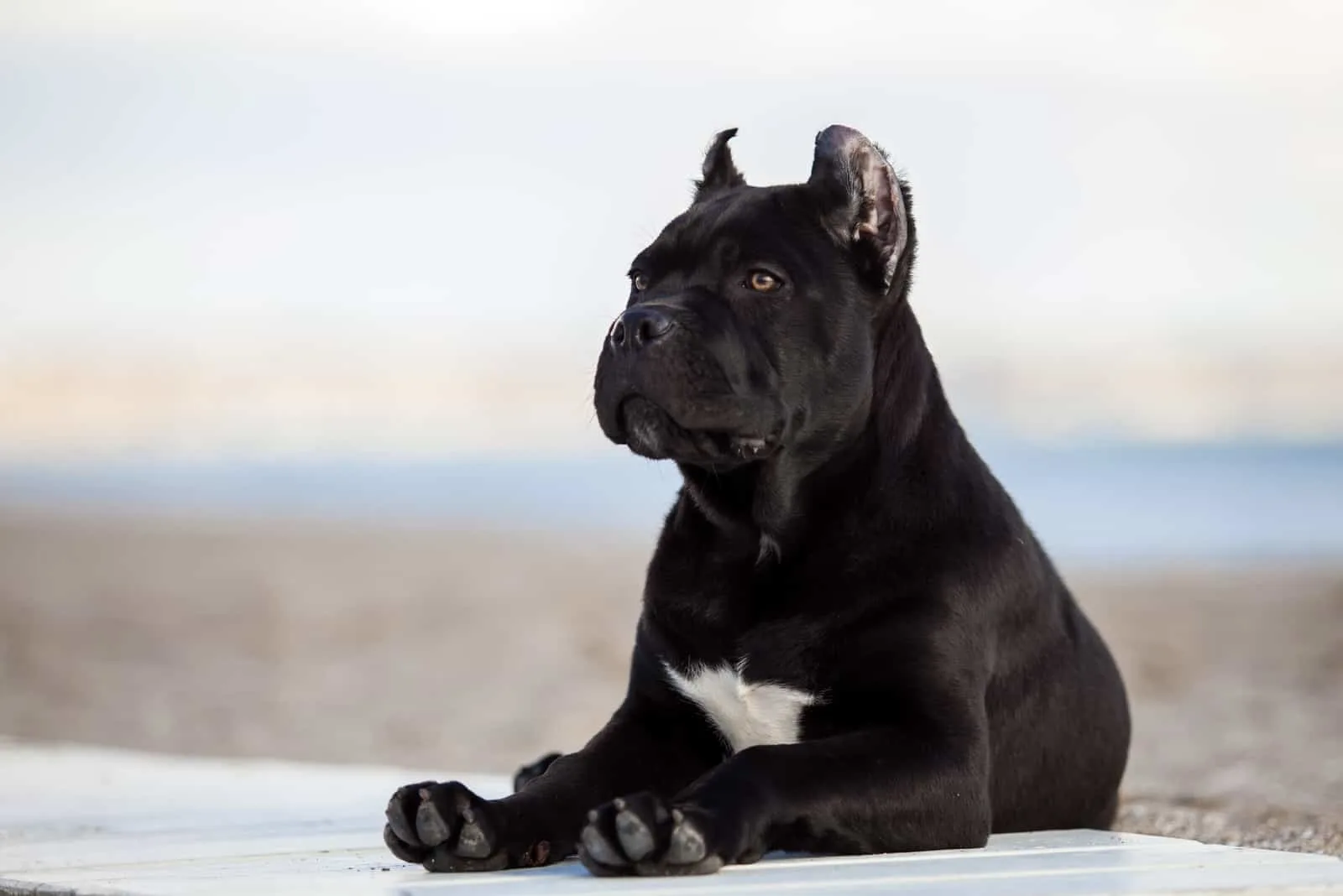 As mentioned before, Presa Canarios are considered Molossus-type dogs that belong to the same family as Mastiffs.
If you're interested in these dogs, here are several more breeds you might want to look into:
•Neapolitan Mastiff
• American Bulldog
• Dogo Argentino
• Bernese Mountain Dog
• Chinese Shar-Pei
• Landseer
• Newfoundland
• Saint Bernard
• Tibetan Mastiff
Are Presa Canario Dogs Dangerous?
The answer to this highly depends on the meaning behind your question.
Presa Canarios are large, powerful dogs. If they attack you, they can be quite dangerous. In fact, they are strong enough to overpower and kill a human. There have been several reported instances of deadly Presa Canario attacks.
However, the truth is that, if trained properly, these dogs are no more dangerous than any other dog breed that is commonly used for personal protection.
They are overly protective, which is the main reason behind their aggressive streak. If you let their temperaments loose, they can wreak havoc. They can be uncomfortable around strangers, and this can have a bad outcome.
Despite their strength, though, they are rather calm dogs that don't want to run around too much. Sure, they have high energy levels that come with their size, but other than that, they'd be perfectly fine just lying around.
They are laid-back, and while a bit introverted, if properly socialized, they won't even think about attacking – unless someone is endangering their owners or property.
In the end, it all comes down to the owner. If you take your time to teach your dog how to behave, they won't be any more dangerous or aggressive than any other dog breed. However, if you spoil your big pooch, you may end up with a huge problem.
Read Next:
• Perro De Presa Canario Colors: Patterns You Will Fall For!
• Presa Canario Growth Chart For Big Dog Lovers