Are you looking to find Pitbull puppies for sale but don't know where to search for them? You're in the right place, as we'll tell you where all the best Pitbull breeders are!
Many people use the word Pitbull as an abbreviation of the American Pit Bull Terrier breed. However, this is actually an umbrella term that houses four Pitbull breeds:
• American Pit Bull Terrier (also found under the abbreviation APBT).
• American Staffordshire Terrier
• Staffordshire Bull Terrier
Sometimes, the American Bulldog is also considered a Pitbull, as well as any dog with so-called Pitbull physical characteristics.
All Pitbull dogs have a bad reputation and are deemed controversial. In fact, some countries have outright banned the breeding and owning of Pitbulls because of their alleged aggressive nature.
Despite this, there are many Pitbull breeders in the US. But how can you know which ones are reputable? We're here to help!
Here are the 10 best Pitbull breeders in the US (according to numerous references and testimonials):
Top 10 Pitbull Breeders In The US
There are dozens of reputable Pitbull breeders in the US. However, not all can be considered the best. This isn't to say that others aren't good – we've simply listed the top 10 most reputable ones!
Without further ado, here are breeders that you can't go wrong with:
Monster Bully Kennels breed confident, protective, but also social and affectionate XXL Pitbulls. In fact, the many XXL Pitbulls you've seen on CD albums, magazine covers, or even national news articles originate from this breeder.
Many celebrities have bought their Pitties from this breeder. This includes numerous NFL players, NBA players, MMA fighters, and even politicians!
MBK is so popular because they conduct DNA health tests on all of their dogs. They undertake many pieces of genetic research so they can plan their breeding programs in advance. All of their puppies are the result of careful planning.
By doing this, they produce high-quality Pitbulls that come in various coat colors, patterns, and sizes.
Related article: Pitbull Growth Chart
Not just that, but MBK is home to many well-known and unique Pitbulls. This includes King Louis, a triple champion, and a dog that many breed experts consider to be an amazing representation of the XL American Bully.
Another one of their dogs is Morpheous – the most popular merle Pitbull. In fact, Morpheous has had several litters, and many of his puppies were sold for $50,000 each! The buyers were many Hollywood stars, musicians, and athletes.
Another one of their dogs is Queen Karma, the 'nicest female American Bully in the world.
Have you heard of Hulk the Pitbull, the largest Pitbull in the world? He reached a weight of 175 lbs when he was just 17 months old!
Dark Dynasty K9s started in the early 2000s, but it wasn't until Hulk was born in 2015 that they reached worldwide popularity. His rapid growth became huge news over many media outlets, and he quickly became an online sensation. He even appeared in several music videos and has his own TV series, and his offspring are sold for tens of thousands of dollars!
DDK9S is a Pitbull breeder who specializes in training services and protection. While they do breed family dogs, they are mostly known for their firm dog training, producing some of the greatest guard dogs ever.
Their goal is to teach their Pitbulls (as well as their future owners!) that humans have to be the pack leader. According to them, this will bring out the best in dogs. They also have their own DDK9S-Gear that contains many pieces of dog training equipment, such as collars, leads, and harnesses. They even have their own apparel!
DDK9S has an excellent website with up-to-date information about their available Pitbull puppies and adult dogs. You can also find pictures of many of their past litters.
Bossy Kennels are among the best Pitbull breeders in California. They breed XXL Pitbulls with tall, short, or medium-sized statures. All of their puppies come from famous bloodlines, which ensures champion litters.
Not only are all of their puppies registered by the American Kennel Club (AKC), but by the United Kennel Club (UKC) as well.
All of their full-grown Pitbulls are provided with the necessary veterinary care and health screenings to ensure they don't come with any genetic conditions or health problems before the sale.
This is one of the more expensive Pitbull breeders out there. While the price of their puppies varies on factors such as the bloodline, coat color, and litter pick, you'll hardly find Pitbull puppies sold for less than $5,000.
The litter pick is also known as the picking order. This is the sequence by which aspiring buyers get to choose their future pup. Puppies from the first pick can cost up to $25,000!
This dog breeder also ships outside of California for an additional shipping fee of $550, so don't worry if you don't live nearby. They also ship internationally.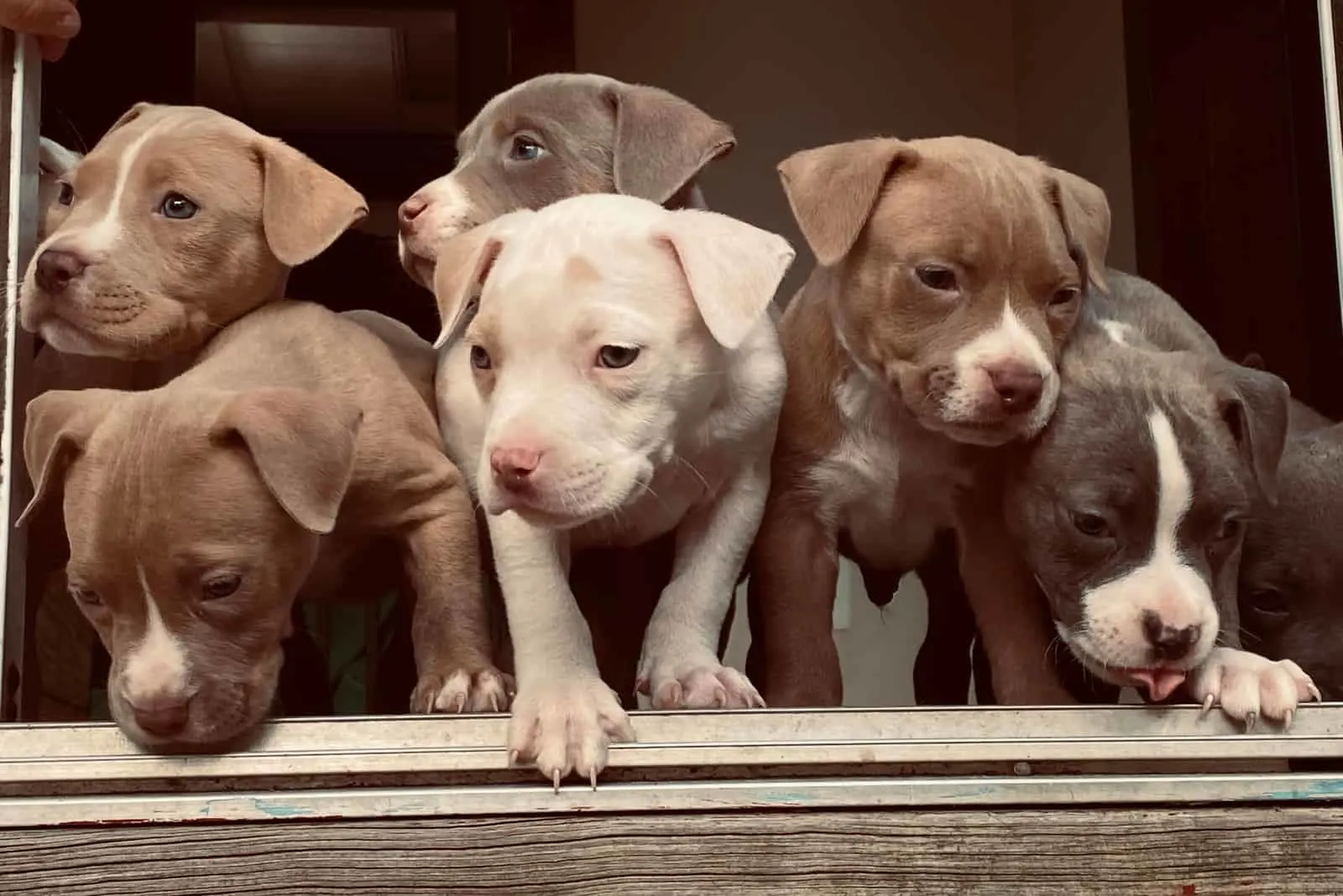 XXL Designer Puppies is where large American Bully puppies are sold. In fact, they are the home of the heaviest Pitbull ever – the amazing Azore who weighs 196 lbs and who might be the only health-tested Bully of that size.
XDP produces large and beautiful Pitbulls that are stable, intelligent, and affectionate. Their dogs can be used as both family pets and even service dogs. They might even conduct ear cropping on some of their dogs.
They conduct health testing on all of their pups, both the parents and the litters. This helps them understand what type of genes will be passed on to further generations. Not just that, but it will decrease the risk of health issues and conditions that can result from incompatible mating.
In fact, they dedicate a large amount of funds to creating top-quality dogs that they introduce their Pitbull puppies to Early Neurological Stimulation (ENS) to improve their socialization skills and adaptability.
On top of that, all of their dogs have daily exercise and undergo obedience and agility training, as well as training for carting, bite-work, and weight pulling.
XDP also provides future owners with 24/7 availability in case there is an emergency, or you need some help in caring for your new pet.
Real Deal Chocolates are based in Florida and have years of experience in training and competing with the high-quality Pitbulls they produce. They conduct all necessary health tests on their puppies, and they achieve great results on confirmation shows.
A unique thing they do is document all their dams and sires, next to taking pictures. They'll also share all of their awards as proof of lineage.
While the RDC does much to preserve the Pitbull bloodline, they are also committed to spreading awareness about ethical breeding practices while also promoting various welfare causes.
One of the causes they fight for is to put an end to Breed-Specific Legislation (BSL). This decree restricts or entirely prohibits specific breeds and/or dog types in certain areas. This can include restrictions in public spaces, but also the complete ban of owning alleged dangerous dog breeds, such as Rottweilers or Pitbulls.
According to RDC, BSL is harmful legislation as it promotes the claim that specific dog breeds are naturally aggressive by existence. This worsens the already bad reputation of Pitbulls, and they also call it a form of animal discrimination.
This Pitbull breeder is also a member of the American Dog Breeders Association, as well as the Endangered Breed Association. They try to help the breed improve its public image by producing well-behaved puppies and educating dog owners.
This large Pitbull breeder also specializes in raising European and American Rottweilers next to Pitbulls. They are dedicated to breeding top-quality XL Pitbulls with their acknowledged breeding practices and professional dog training.
They breed puppies of globally renowned and exceptional bloodlines and in many coat colors. This even includes some rare colors, such as brindle, blue, beard blue, silver, white, black, and champagne.
They have a website filled with updated information about their puppies and adult dogs for sale. They even provide information about their health, origin, and coat color. The kennel ensures all of their dogs are registered, have completed basic training, and have had their mandatory vet visits.
They breed their Pitbulls in a 30-acre lot that even has its own private lake and indoor training facilities. It also has a playing area. This further proves how dedicated they are to producing strong and well-behaved pups.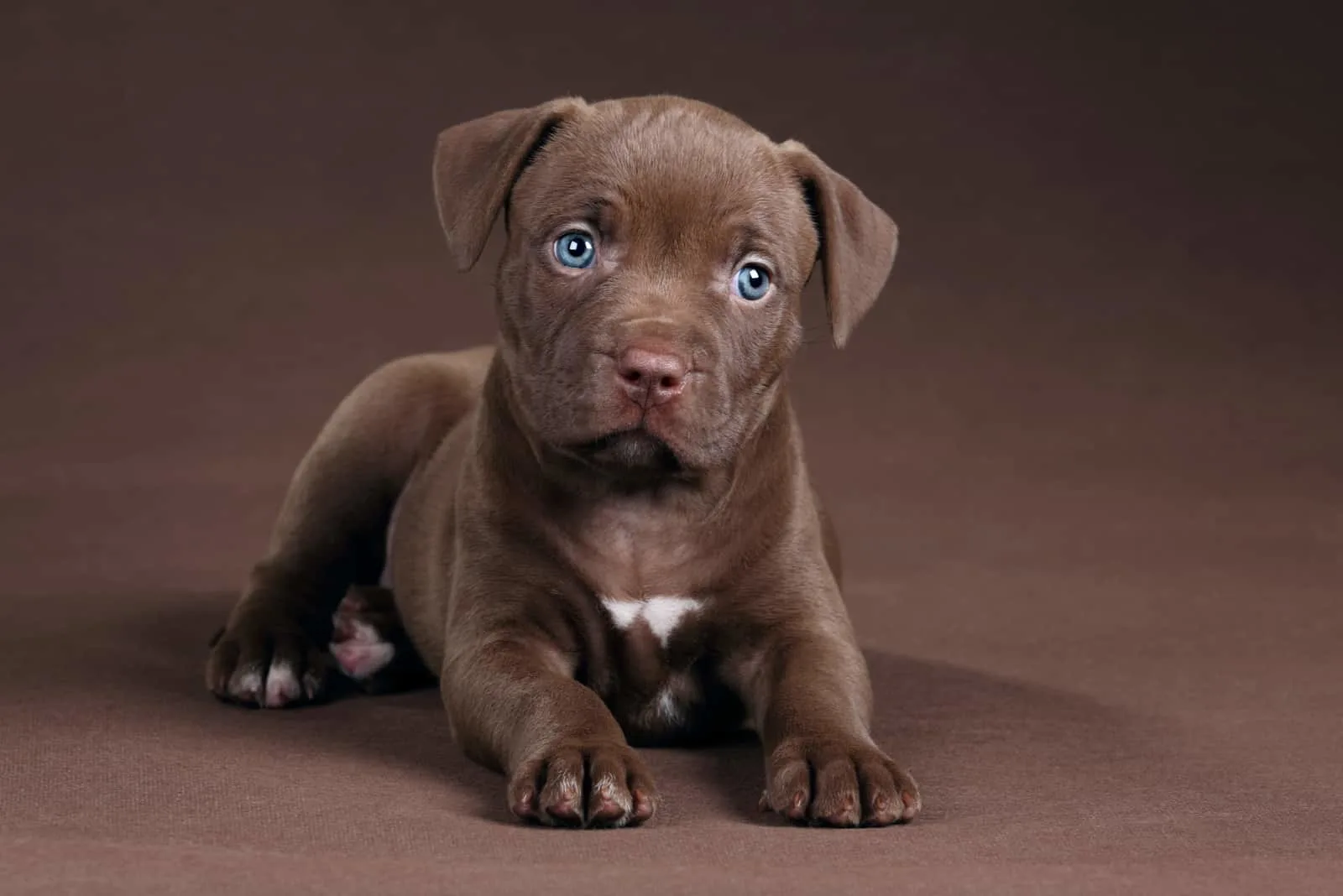 If you're looking for a top-grade Pitbull breeder in Georgia with decades of experience, then the Topdog Bullies might be the right place for you. They have been operating for more than 40 years, and 16 of them are dedicated to Pitbulls.
They specialize in breeding strong Pitbulls with mild and stable temperaments and high intelligence. They sell dogs in several coat colors, and some of them are rather rare. This includes lilac, fawn, and champagne.
If you don't live in Georgia, don't worry, as they ship to all 50 US states and even internationally. Just keep in mind that you'll have to wait until puppies are at least seven weeks old to make pick selections. Most of their Pitbull puppies will cost up to $4,000.
And if you love small dog breeds, you'll be happy to know that Topdog Bullies has a sister kennel – Topdog French Bulldogs. As you have probably guessed, this kennel specializes in producing Frenchies in standard and rare coat colors.
Did you know that there are two types of Pitbulls according to their nose color – the blue nose Pitbulls and the red nose Pitbulls? As their name suggests, DRP breeds the latter.
In fact, if you're a fan of Quentin Tarantino's movie Once Upon a Time in Hollywood, you probably remember Brandy the Pitbull. This red nose Pitbull is, in fact, Sayuri from the DRP. She has also starred in the Blumhouse Productions' Run Sweetheart, Run, and has won the Wamiz Palm Dog Award in the category of Best Canine Performance.
Sayuri's success alone is enough to show you the DRP's amazing temperament standards that this breeder has implemented since 2004 when they started their business.
One of the issues some aspiring dog owners might have with this kennel is that they produce a small number of litters throughout the year, so their waiting list is very long. Also, they don't sell any blue nose Pitbull puppies and only focus on red-colored ones.
DRP also pushes for public education about the Pitbull breed. At the same time, they work together with certain rescues to help find new homes for abandoned dogs.
MVP Kennels are one of the most popular Pitbull breeders on social media. In fact, their Instagram page has more than 460,000 followers.
MVP Kennels breed MVP Bullies, a celebrity staple that makes these pups stand out from the rest. They have sold their puppies to many Hollywood celebrities and athletes. One of the stars that own an MVP Bully is Drake.
This Pitbull breeder sells dogs with a starting price of $4,000, but they can cost more depending on your location and the shipping. Their website provides all the information you need, including relevant details to help you pick a puppy according to your needs.
Other than producing champion XL American Bullies, MVP Kennels also breed English Bulldogs.
This Pitbull breeder has been in business for more than a decade. Throughout this time, they have delivered top-quality puppies worldwide, as ManMade Kennels also operate in the Middle East.
MadeMade Kennels do all they can to ensure their Pitties don't end up in dog fighting. They only sell dogs that will guard your home and provide you company. Because of that, they conduct a thorough screening of their buyers. If you want to buy from them, expect a visit or to have a video interview.
They also have a private Facebook community called ManMade Family Members that you can join and exchange information and your experience in owning Pitbulls.
Are There Other Places To Buy Pitbull Puppies?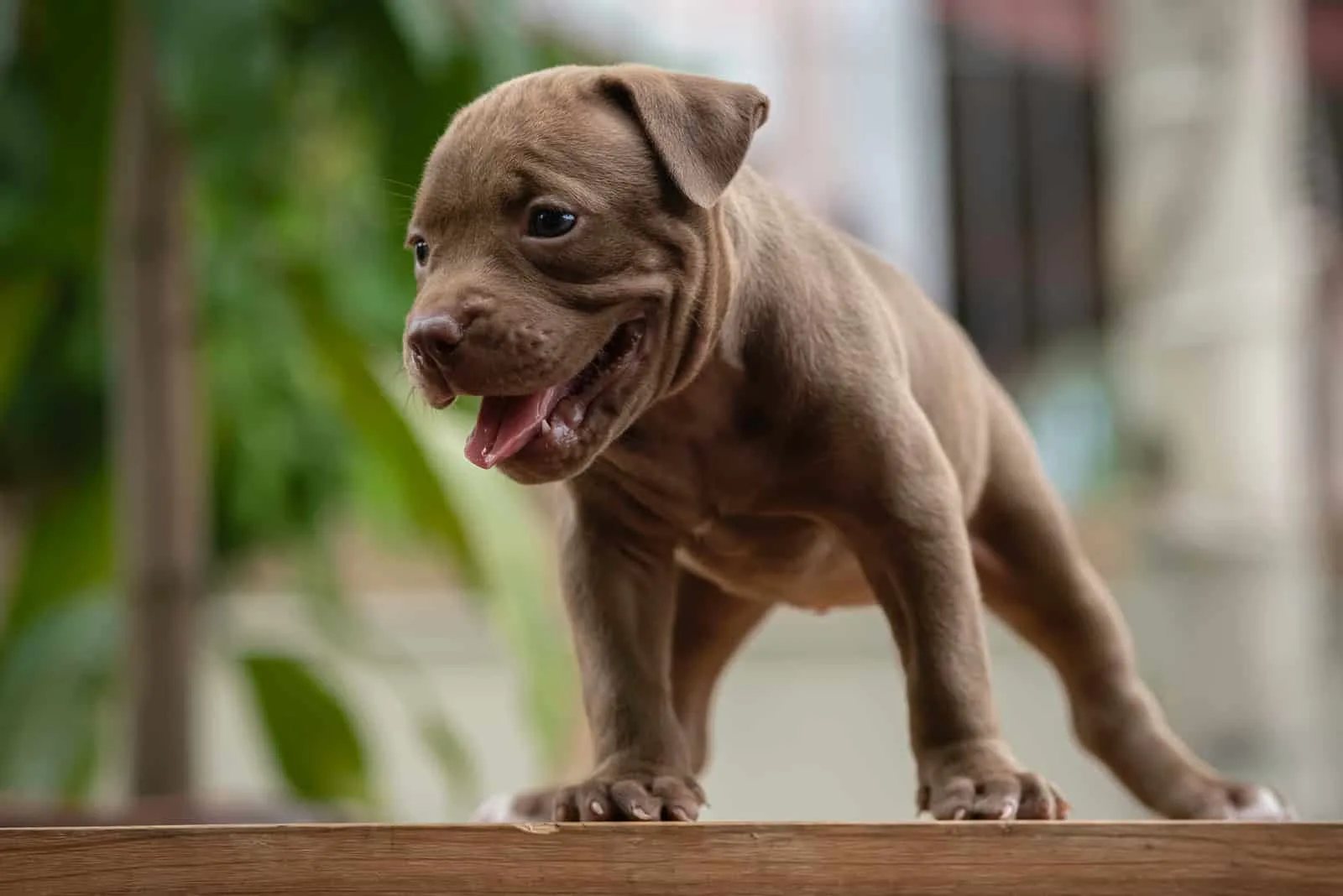 As you might have noticed, most of these Pitbull breeders have long waiting lists. Open spots don't last long, and many Pitbull puppies are reserved in a matter of days or even hours! When this is the case, it might seem like waiting for your new puppy is an impossible task.
Fortunately, this doesn't mean you don't have any backup options. You can still find Pitbull puppies in many other locations – most notably, online.
While plenty of online locations are controversial, there are some legitimate sites out there. Here's what they are:
• AKC Marketplace: This is likely the most trusted website, as it's controlled by the AKC itself. This site brings potential Pitbull owners together with reputable breeders. All dogs you find here are recognized by the AKC, and all the offers are legitimate. While the AKC doesn't recognize Pitbulls as a dog breed, they do have a variety of Pitbull-type dogs, such as the American Staffordshire Terrier.
• PuppyFind: This website has more than 100,000 active breeders listed, with more than 50,000 puppies available at any moment. There you can also find many Pitbull puppies. PuppyFind will offer you the option to search locations in your proximity, and you can also search according to your lifestyle, making this a very detailed and personalized option.
• PuppyFinder: Similarly to PuppyFind, this website is a database with breeders and aspiring dog owners. You can also find advertisements from private sellers and rescue organizations here. The best part about this website is that it verifies the identity of everyone on it, ensuring the ultimate safety of both buyers and sellers.
What Makes A Good Pitbull Breeder?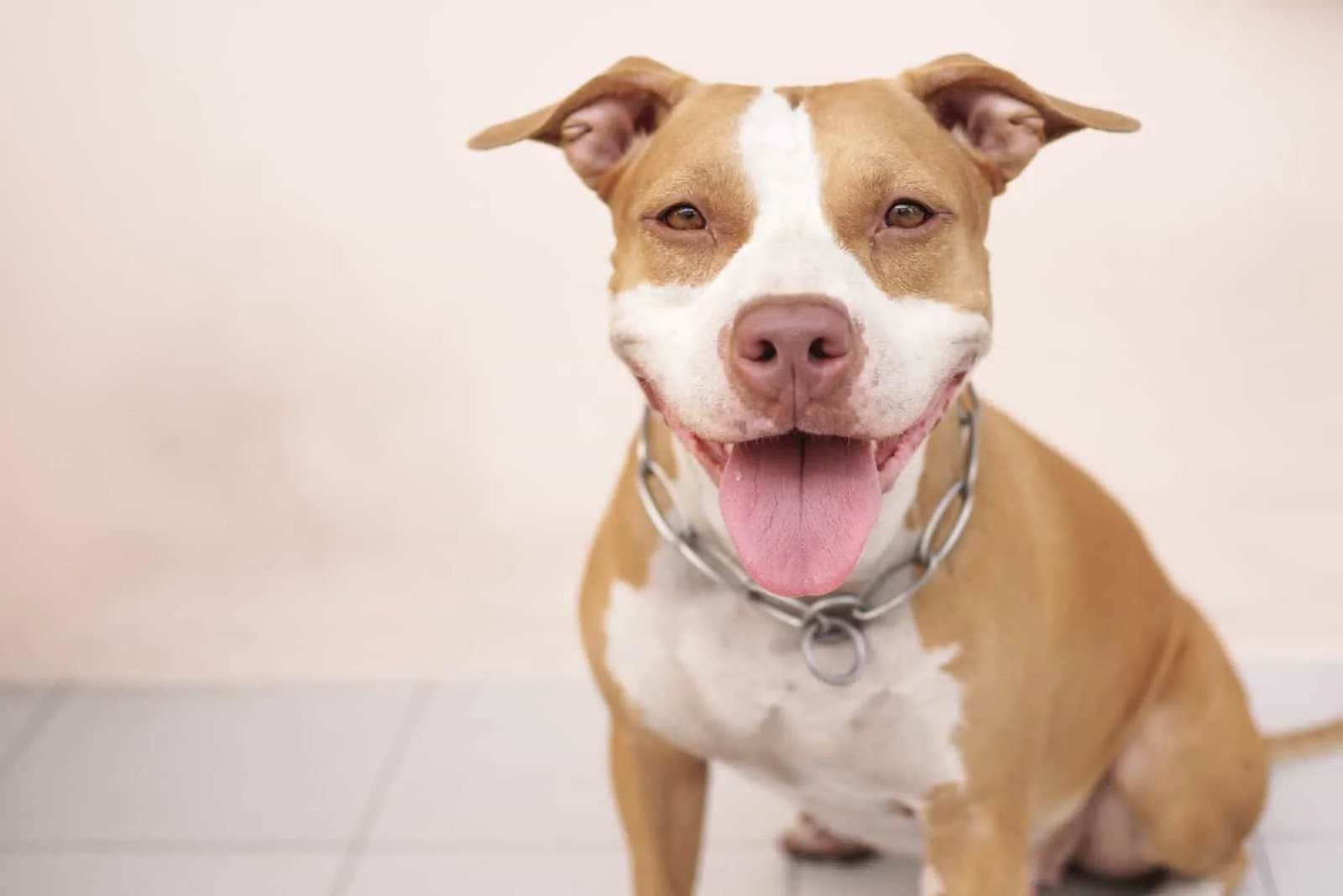 If you aren't an experienced dog owner, it might be challenging to notice the difference between a good Pitbull breeder and an irresponsible one.
No one will advertise that they aren't responsible. This is something you'll have to research on your own. Fortunately, there are a few telltale signs that will let you know whether you're working with a responsible Pitbull breeder or a backyard breeder.
Here's what they are:
1. You'll be required to meet with the breeder in person. All responsible Pitbull breeders want to know who they're giving their dogs to. Not only will they want to speak on the phone with you, but they'll also ask to see you in person at least once. A video call might be sufficient.
2. Once you get in touch, the Pitbull breeder will ask you many questions. This includes information about your lifestyle, your background, and your history as a dog owner.
3. You'll meet the parents. The mother will always be on the premises, as she's nursing the pups or is still pregnant. A lot of the time, the father will be there as well. This will give you an idea of what your new puppy will look like once he's older.
4. They will breed Pitbulls and maybe one or two more dog breeds. Reputable breeders focus on just a few breeds so they can dedicate their time to it. This will let you know the breeder is committed.
5. There will likely be a waiting list. This isn't mandatory, but it's common. Good Pitbull breeders have only a few females they breed, and they never overbreed them. They won't always have puppies available, so you might have to wait a bit for the next litter and your puppy.
6. You will get a health guarantee. All dog breeds are prone to some health problems – many of which are genetic. To ensure the chances of not spreading these conditions, reputable Pitbull breeders will conduct health screenings on their dogs to ensure they are healthy and free of any health issues.
7. You'll be required to wait until the puppies are at least 8 weeks old. Good Pitbull breeders know that separating puppies from the litter and mother too fast could cause severe socialization and behavioral problems. Puppies need ample time with their mother and the rest of their litter to be healthy and prepared for adulthood.
8. The breeder will give you full veterinary records. They'll likely give you the contact of their vet, as well, so you can contact them if anything bad happens. Of course, your puppy has already met this vet, and many initial tests and vaccines will already have been completed by this time.
9. Finally, in case anything happens and you cannot take care of your Pitbull puppy anymore, the breeder will be available to take him back at any point. All decent Pitbull breeders care about their dogs, and they'll always offer to find new homes for puppies that came from their kennel. Many will even offer to foster them until they can find a new owner.
Why Are Reputable Pitbull Breeders Important?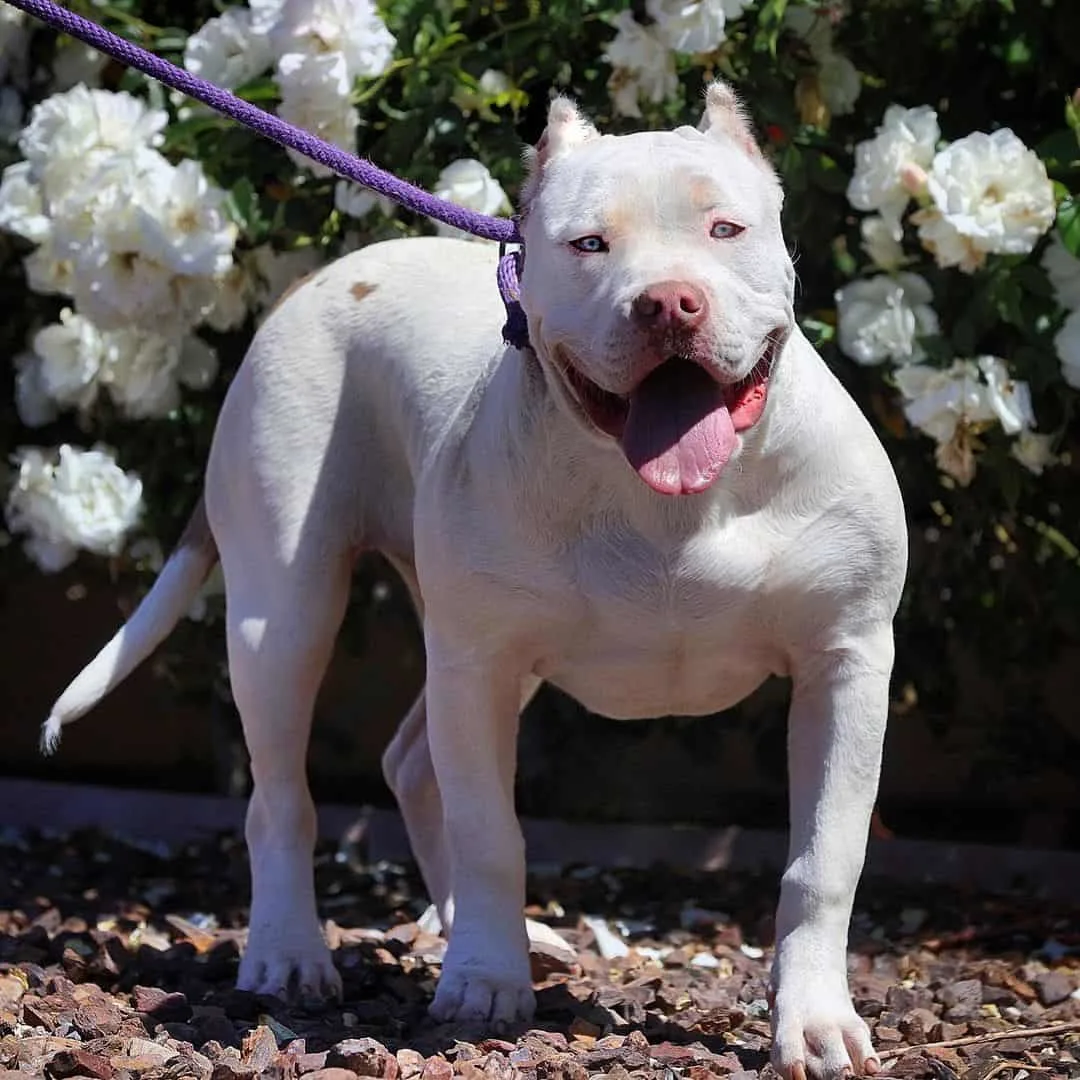 Photo from: @mvp_bullies
Some people don't think that finding a good Pitbull breeder is important. They don't feel like paying a high price for a dog is justified, and they'd prefer to take one from their neighbor or a random online advertisement.
However, there are many good reasons why you'd want to buy your purebred Pitbull from a reputable breeder instead of an unverified source. This is important no matter the breed, but it's even more so when you're dealing with a dog breed like the Pitbull.
Irresponsible breeders and most so-called backyard breeders work for a profit. The same goes for puppy mills and pet shops. While it's true that every breeder will earn money from the sale, responsible breeders prioritize the well-being of their dogs and the breed itself.
Ethical breeders will devote a lot of time to taking care of their puppies. They will provide them with early socialization, and they'll know all of their dogs' personalities. This will help them find the right dog for each of their buyers, as they'll want their pups to go to households fit for their needs and temperament.
Also, they'll help with crate training, housebreaking, teething, chewing, and all the other things that have to be done when the puppy is very small. This will help inexperienced owners or dog owners who simply don't have enough time to deal with these tasks.
While many dog lovers think breeding is bad because it leads to more dogs in rescue shelters, this isn't the case. All responsible Pitbull breeders will require their dogs to be spayed or neutered once they are old enough. This will prevent unwanted puppies later on.
Not just that, but most breeders will participate in rescue programs, either by funding them or by sharing resources. They will help the preservation of the breed and rescue dogs in need.
Most importantly, all good breeders will help make the breed healthier. They will try to eliminate bad genes from bloodlines and increase the number of healthy puppies. By doing this, they will help better the breed and increase the Pitbull lifespan.
By supporting reputable Pitbull breeders, you are actually supporting making the Pitbull breed better.
Are Pitbull Breed Dogs Dangerous?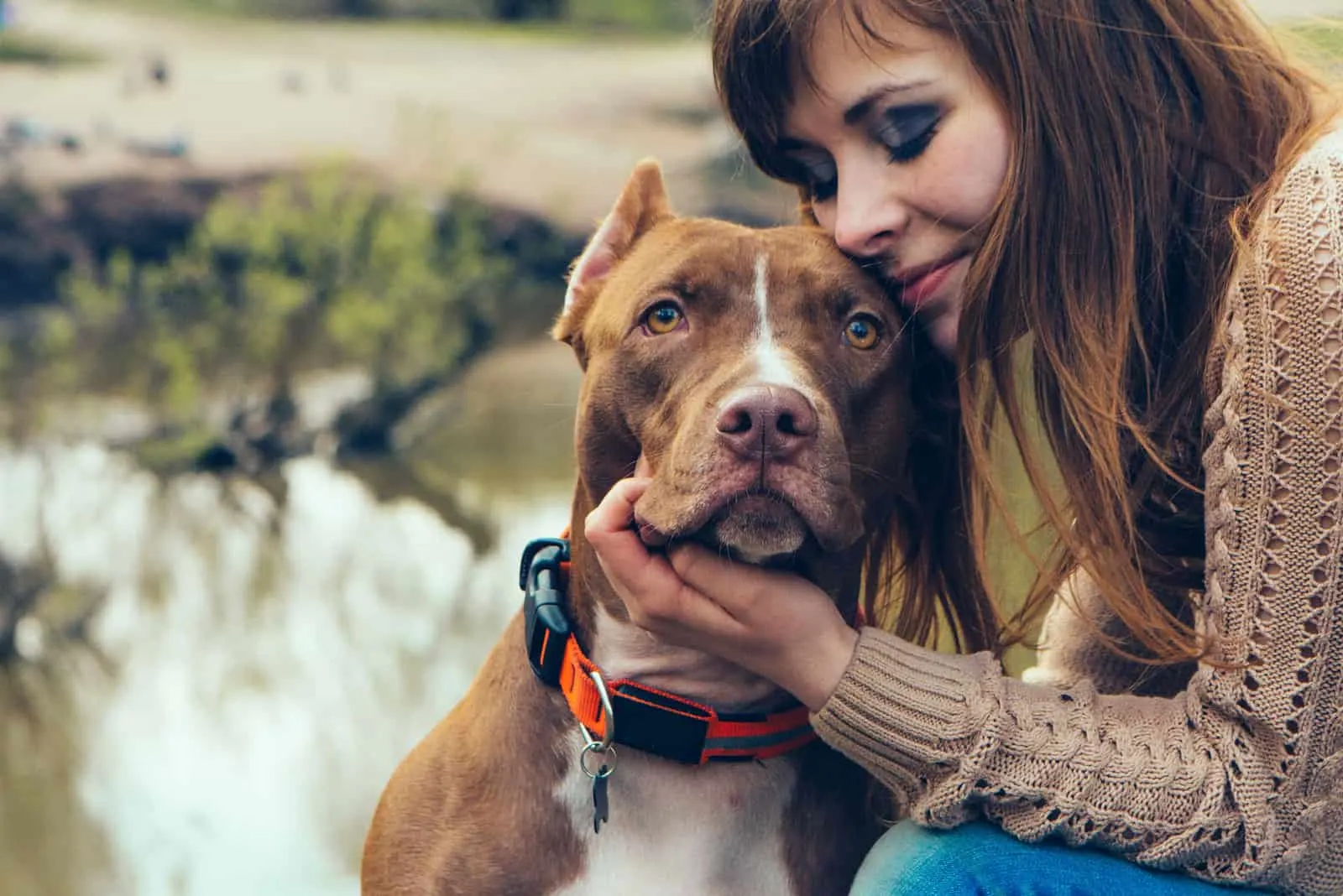 Pitbulls are dogs with perhaps the worst reputation out there. They are deemed dangerous, aggressive dogs that will bite or even kill their owners.
While it's true that their bite can cause severe injuries, Pitbulls are among the most tolerant dogs, especially toward their owners and kids. They are affectionate and attention-seeking and will want constant validation from their owners.
The American Pitbull Terrier was originally developed for fighting, but this practice was quickly abandoned. This became a problem again in the 1990s when gangs started using this breed for dog fighting once again.
Unfortunately, it is true that breeds bred for fighting can have more aggressive tendencies compared to others. However, this doesn't mean that Pitbulls are inherently aggressive.
A dog's temperament mostly depends on its owner. If you've done the right job socializing and training him, he'll be the best pet he can be. This is why it's important to buy from reputable Pitbull breeders, who have already started with socialization in the crucial period of canine development.
Still, some Pitbulls can have problems with other animals, and they'll do best being the only pet in the household. Others are social and love company. It's all up to the individual dog.
Should You Buy From A Pitbull Breeder?
If you plan on getting yourself a Pitbull puppy, then purchasing from a reputable dog breeder is the best option for you.
When you buy directly from a Pitbull breeder, you can be certain that you'll get a best friend for life that will also be safe for other family members and pets alike.
Not just that, but this way, you'll know that your Pitbull will be healthy and that the chances of him getting a health condition that will lower his lifespan are slim.
You'll also get access to excellent vet care and the contact of the breeder who will be able to provide you with all the necessary information. Also, you will know that your Pitbull will have someone to care for him if you can no longer do this.
By purchasing from a reputable Pitbull breeder, you will be helping these dogs get rid of the stigma surrounding them.
With just a little love and care, Pitbulls make amazing family pets and guard dogs alike. They have all the traits that make great companion dogs, and anyone who has had the opportunity to hang out with them will be able to confirm this.
Related:
• Top 10 Staffordshire Bull Terrier Breeders In USA (2022 Edition)
• 5 Excellent Red Nose Pitbull Breeders From The USA (2022)!
• 3 Pitbull Breeders In Ontario