Don't get them confused with American Staffordshire Terriers!
Today, we're talking about Staffordshire Bull Terriers, and where to find finest Staffordshire Bull Terrier breeders in the States.
Even though they were designed to become supreme fighting dogs, Staffies have fortunately left that path.
Today, they're beloved family members, and they are as sweet as any other dog breed. They're another proof that aggression isn't born with dogs. Aggression is taught. And, with Staffies, aggression is almost impossible if the dogs are trained and socialized.
This dog breed is beyond amazing, but I'm pawsitive you already know that.
Instead of me babbling some more on how amazing Staffies are, let's see where you can find their breeders and see their flawless temperament for yourself!
Staffordshire Bull Terrier Puppies For Sale In USA
There aren't that many Staffy breeders in the States. They're all scattered around the country. You'll probably have to drive to get a puppy, but that's totally fine. Here, you have breeders with great lines, usually they are UKC- and AKC-approved. I hope you'll enjoy what I have for you!
1. Camelot Staffords, CA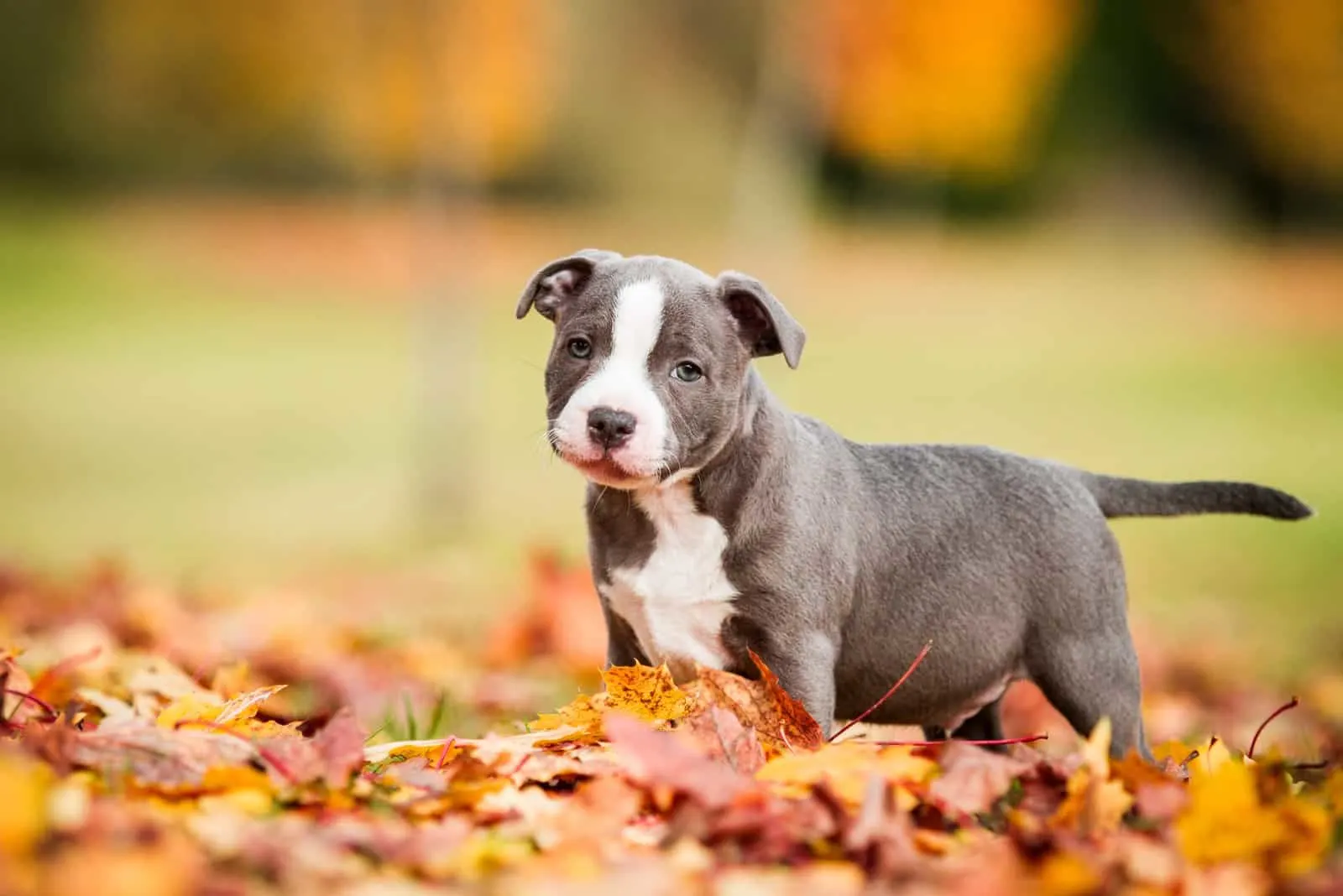 If you're into the Staffordshire Bull Terrier breed, then you must've heard of Camelot Staffordshire Bull Terriers. You haven't? Well then, let me introduce you to probably the best Staffy breeder in the USA… ever!
California's finest, Camelot Staffords is proud of their Staffy lines from the UK.
The Camelot was a legend that survived for many centuries. Camelot Staffords are living this dream, often being called legendary for their excellent approach to breeding these pups.
As AKC's Breeder of Merit, Camelot Staffords breeds to make the breed a lot better than it is. They produce pups of good health, fine temperament, and attractive appearance. Trust me, you'll spot a Camelot Stafford quite easily. They're the ones with a sparkling clean coat and a muscular body.
If you want one of these babies, and I know you do, you will need to put down a deposit of $300. The breeder will contact you once the puppies are available, and you'll get to pick your own. Now, I know that waiting is boring, but every second of the wait is worth it for these spectacular pups!
Breeder's details
Website: Camelot Staffords
Address: Fair Oaks, CA
Phone: +1-916-342-0854
Email: [email protected]
2. Dyna Staffs, UT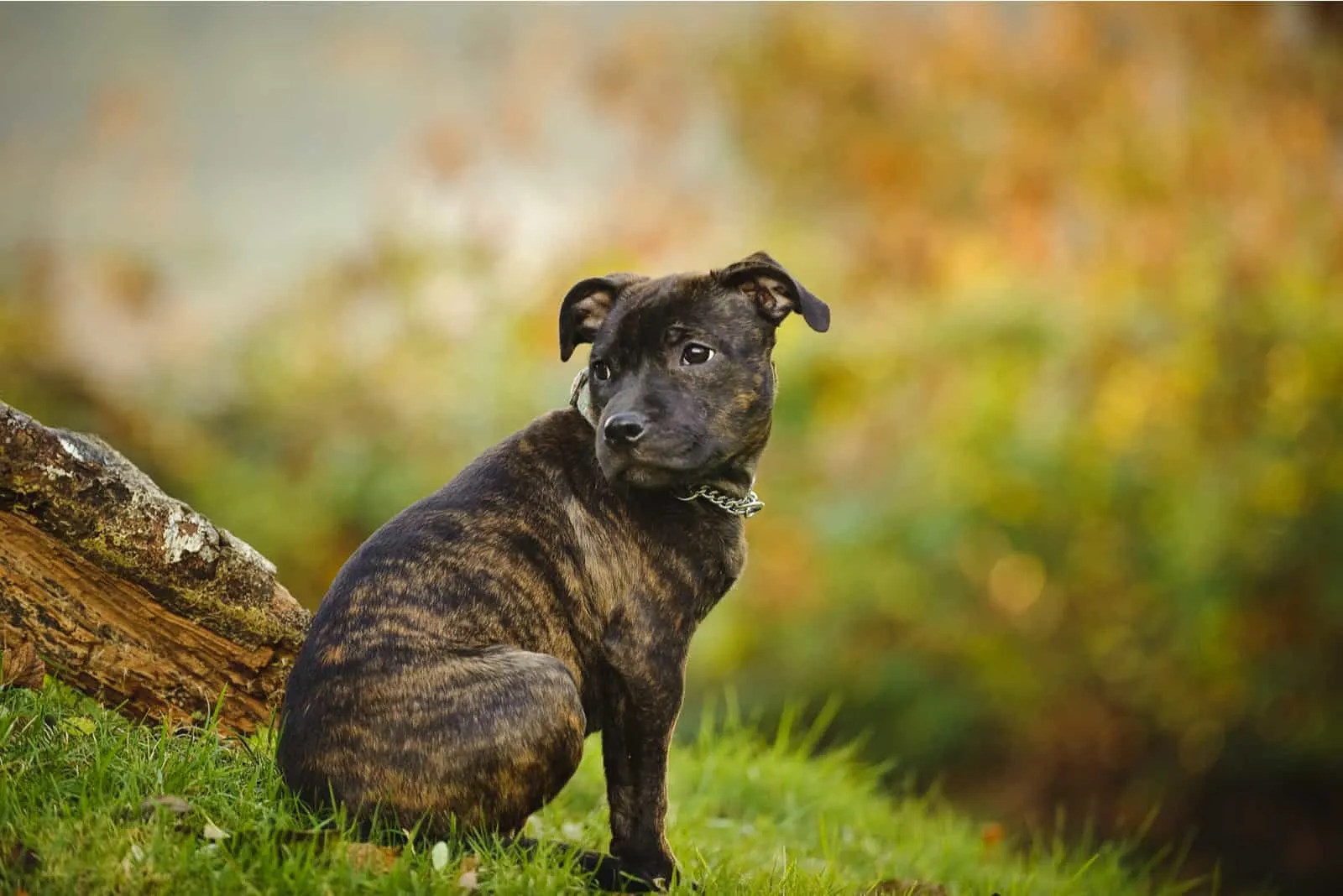 I have to admit something: It was a close run between Camelot Staffords and Dyna Staffs! They both are tremendous breeders. And, if you can, don't mind the ranking in this article. Each of these breeders is worthy of your attention. Otherwise, they wouldn't be here.
Now, as for Dyna Staff…
What really got me hooked on their Staffes due to their professional approach and strict following of the breed standard. Dyna Staffs are all imports from the UK. The breeder wants to make sure they're producing pups of good health, and an even better temperament.
All puppies come with their health tests complete. There are no health conditions like hip dysplasia or cataracts present with these doggos! They're also proven as being great in rings. I can't find one bad thing about this breeder or their puppies!
I want you to know that Dyna Staffs don't breed the blue coat color. It's considered unethical, and it is not accepted by official clubs. You can only find standard Stafford coat colors with this breeder.
Not breeding blue or diluted colors only proves that this breeder puts the pup's health in first place!
Breeder's details
Website: Dyna Staffs
Phone: 801-541-2121
Email: [email protected]
Social media: Facebook
3. Full Throttle Staffords, AK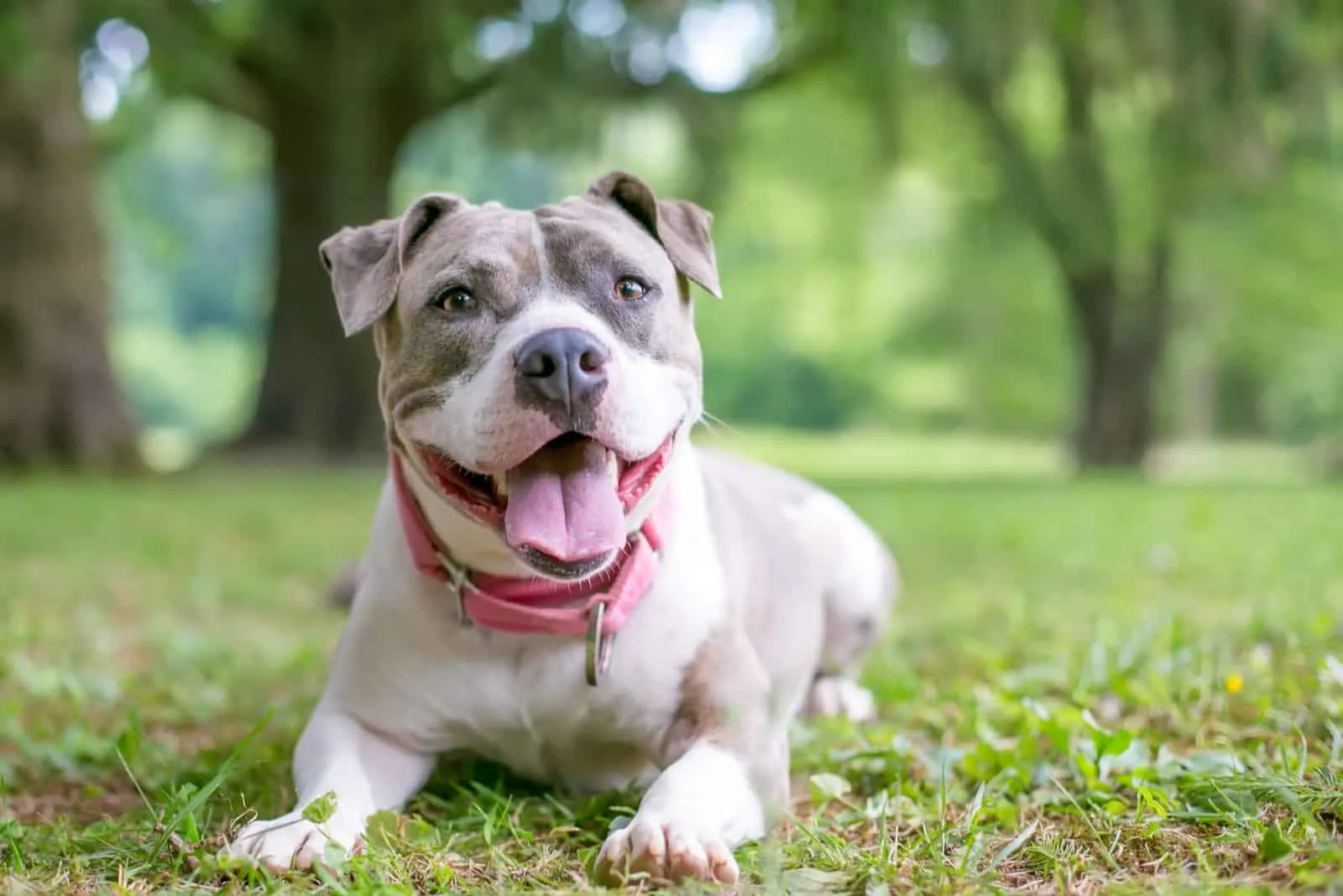 As proud members of the Staffordshire Bull Terrier Club of America, Full Throttle Staffords is dedicated to protecting, preserving, and promoting this dog breed. They're not breeding to make a huge profit, even though they could do so. They breed to make these pups better, and to preserve their fantastic bloodlines!
Full Throttle Staffords have been in the business for almost fifteen years. That's a decade and a half of extremely hard work in order to produce not only the finest family companions, but also spectacular show dogs.
Before getting on their waiting list, you will need to fulfill a detailed puppy inquiry. This helps the breeder decide whether you're a good fit for their puppies.
If you're interested in their health testing and certificates, you will find all the necessary info on their website. Now, I want to tell you something that impressed me about this breeder.
Full Throttle uses a holistic approach in raising Staffordshire puppies. This means they're focused on a natural approach in medicine, in feeding the dogs, as well as in raising them. Their puppies are on a raw diet, and they only use veterinary help when absolutely needed.
Still, they're one of the best examples of this dog breed in the world!
Breeder's details
Website: Full Throttle Staffords
Address: Anchorage, Alaska 99504
Phone: 907-440-2095
Email: [email protected]
4. Rockstaff Kennels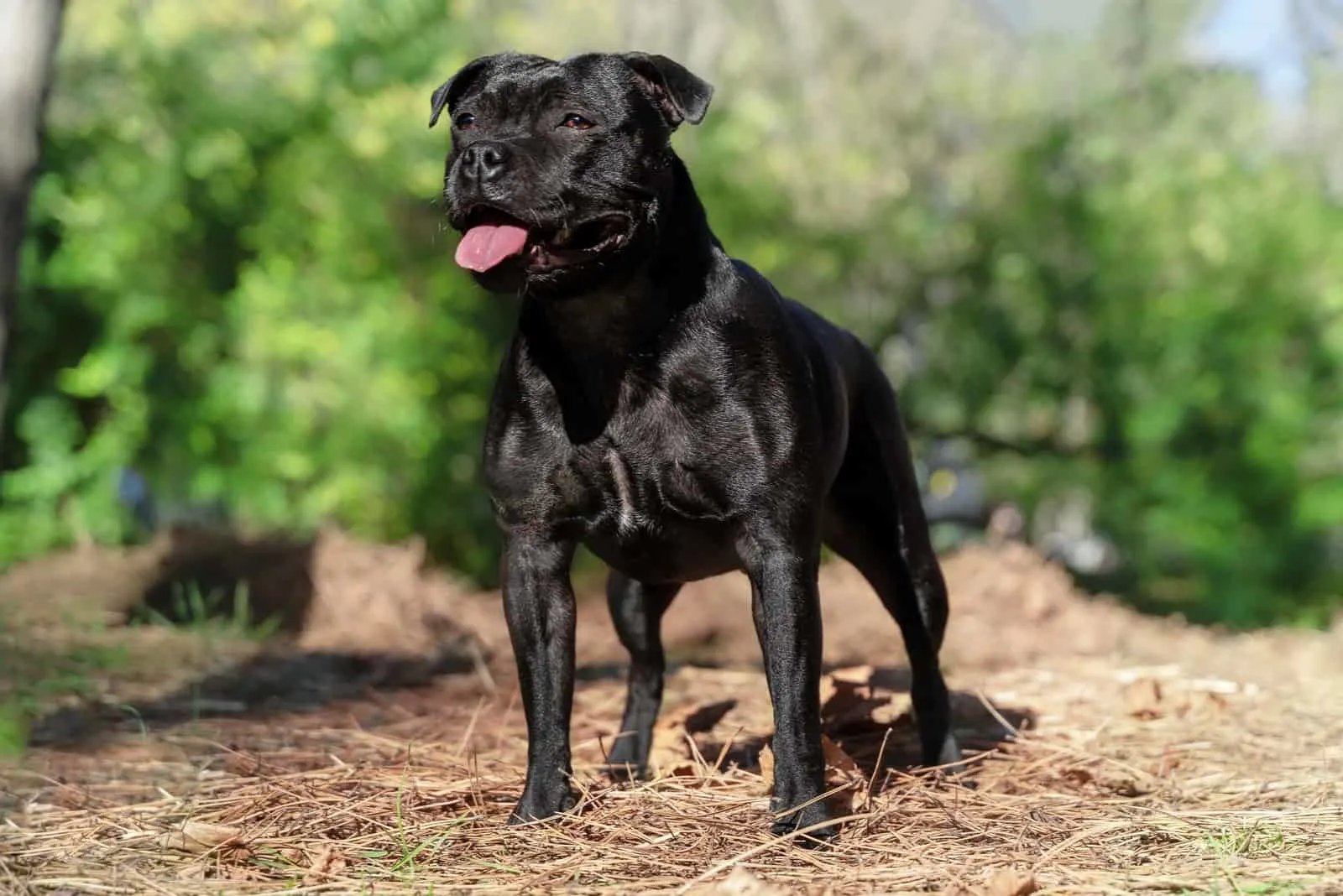 Elizabeth Harris has always been into dogs. While she was growing up, her family had Collies and Aussie Shepherds. They were lovely dogs, but very much tenacious and prone to nipping. Everything went south when the nipping became too much and her sister got hurt.
That's when Elizabeth decided that another dog breed has to win her heart. Enter the scene, Staffies!
Staffords are really sweet and caring despite their tough looks. You'll realize that once you get a Staffy of your own.
Elizabeth realized that a long time ago – back in 1999.
Today, her Staffies are spoiled rotten. She takes great care of all of her dogs, and puts their health even before her own! She's not a serial breeder or so deep into breeding that she must produce puppies all the time.
You can say she breeds dogs for a hobby, but a professional hobby! There are not many litters planned for each year.
Also, Rockstaff Kennels often has dogs put up for adoption because they need to retire from breeding. None of her girls were put through a c-section, and none of her girls were overbred.
This is a family business that wants to do things the right way. And, trust me – their pups are proof they're doing more than just a good job!
Breeder's details
Website: Rockstaff Kennels
Address: near Gainesville, Fl
Phone: (352) 812-5073
Email: [email protected]
5. Passion Staffords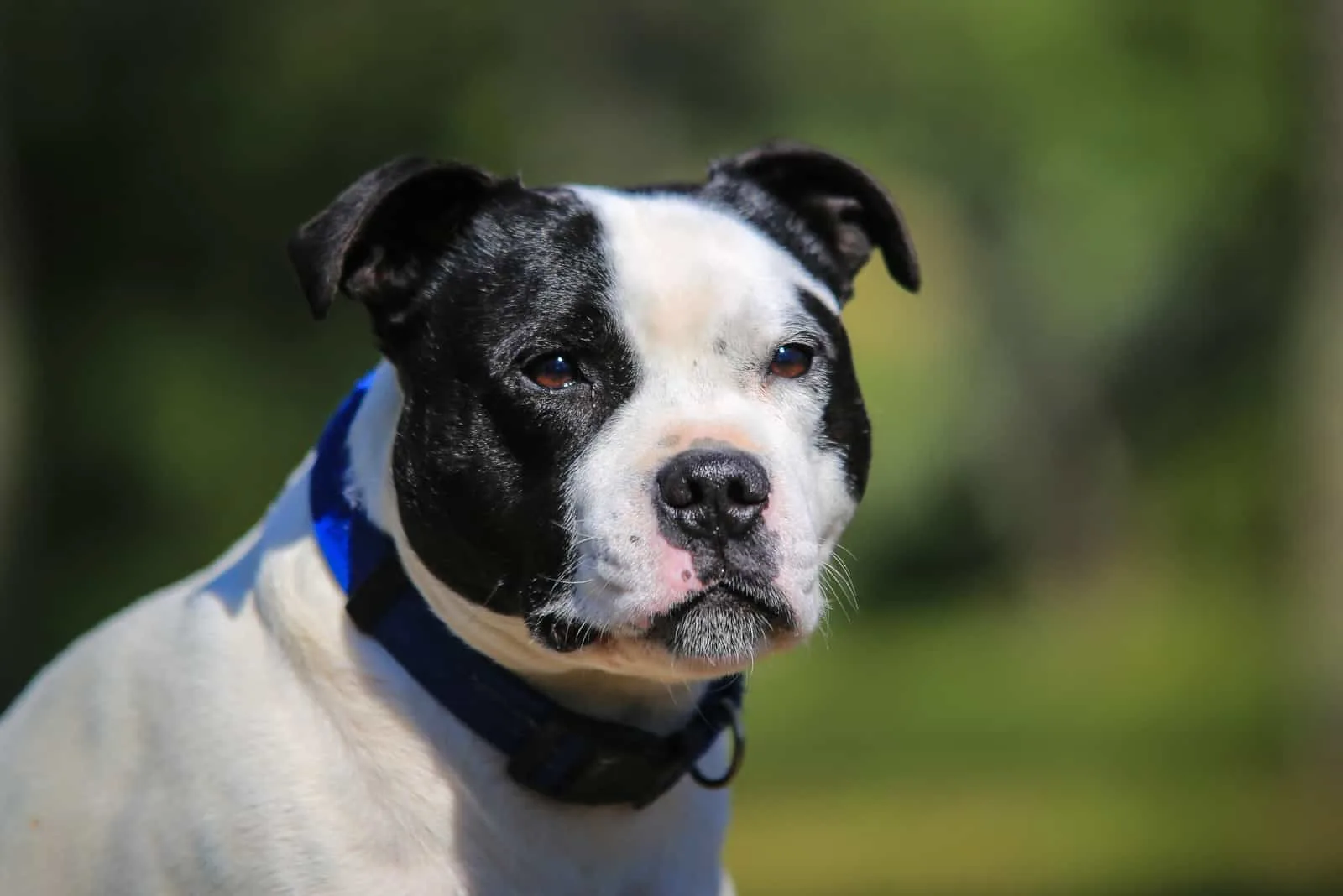 Another fine breeder of the Staffordshire Bull Terrier dog breed is Passion Staffords. They're Virginia-based Staffy lovers, hidden away on a ranch near the Blue Ridge Mountains. This makes a lovely home for Staffies where they can feel as free as birds. Okay, they're pups, but still…
Passion Staffords found their true passion in raising Staffords back in 2007. The story began with a sweet Staffy girl named Onyx. She was a superstar of conformation, and she encouraged the breeder to enter show rings and build a strong foundation for breeding the best dogs ever!
Truly, Staffies are exceptional dogs. I like to call them all-purpose dogs because they can be good watchdogs, as well as nanny dogs with the sweetest temperament. These dogs are absolutely wonderful.
Do you know what else is wonderful?
The fact that Passion Staffords only has a few litters of future family pets a year. Their Staffies are their babies – not their money machines. If you're an honest dog lover, you'll appreciate this family business that is run on passion for Staffords!
Breeder's details
Website: Passion Staffords
Phone: 434-942-2781 or 434-420-2320
Email: [email protected]
Social media: Facebook and Instagram
6. Redwood Coast Staffords, CA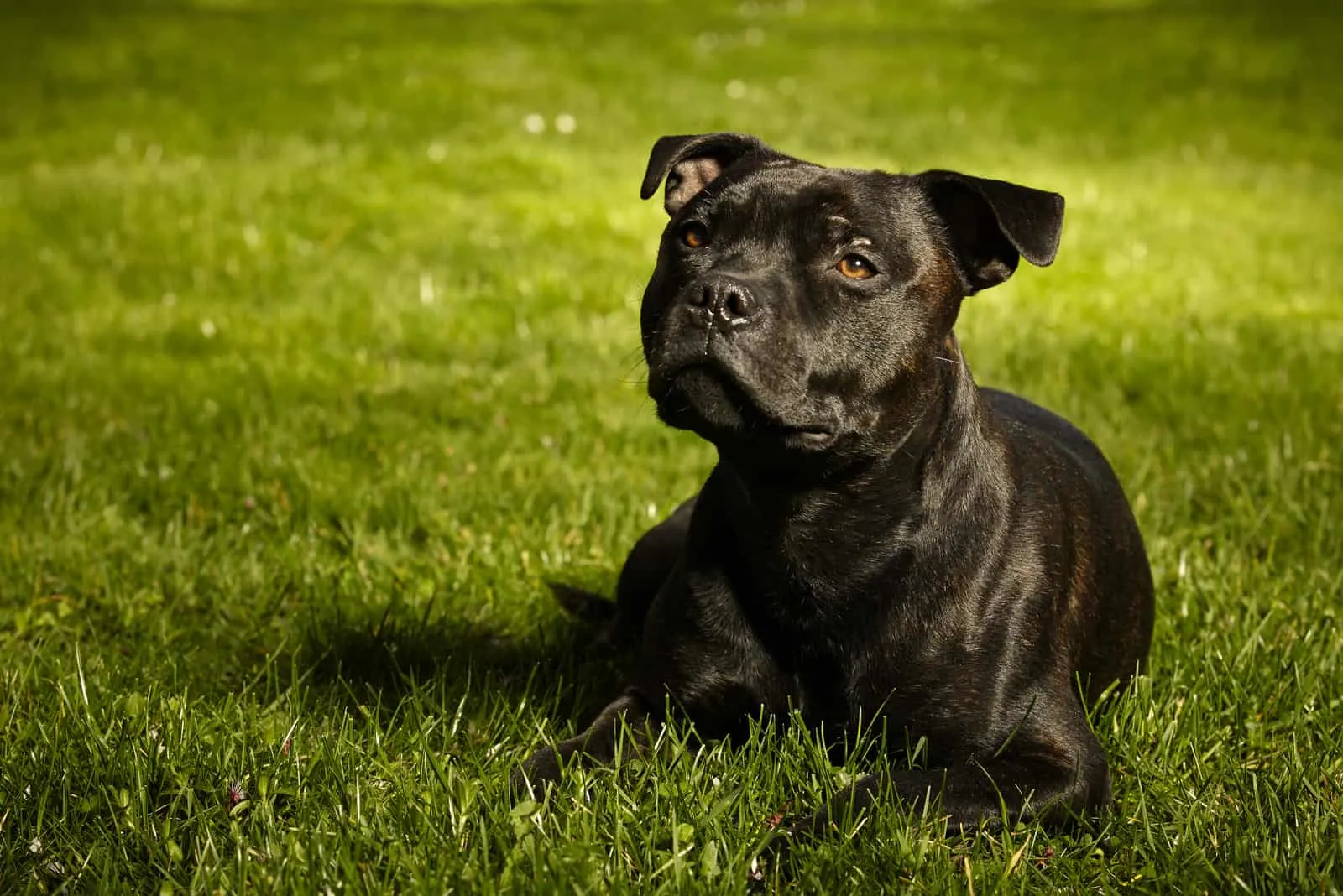 Redwood Coast Staffords are another place where you can find Staffordshire Bull Terrier puppies in California. These people don't only breed Staffies. They also do their fair share of rescuing dogs in need, as well as boarding those with more fortune.
As you can see, Redwood Coast Staffords are so deep into loving dogs that it's not a passion anymore. It's a way of living.
Along with their three boys: Benny, Picasso, and Vinny, and four girls: Imogene, Vida, Charlie, and Maggie – Redwood Coast produces litters of top-notch quality. These are champion parents, and they will bring you future champion pups!
All of their breeding dogs have a spectacular pedigree. They're all perfectly trained and socialized, and their puppies follow their footsteps!
Mommies will spend time with their babies until they're weaned. They all live on a big farm, along with other animals, so you know socialization from an early age is taught, and everyday exercise is implied.
Redwood Coast Staffies sure has a lot to be grateful for in their life! You will be grateful, too, once a Redwood Staffy enters your life.
Breeder's details
Website: Redwood Coast Staffords
Address: Sebastopol, CA
Phone: 707-481-0720
Email: [email protected]
7. Von's Staffords, IA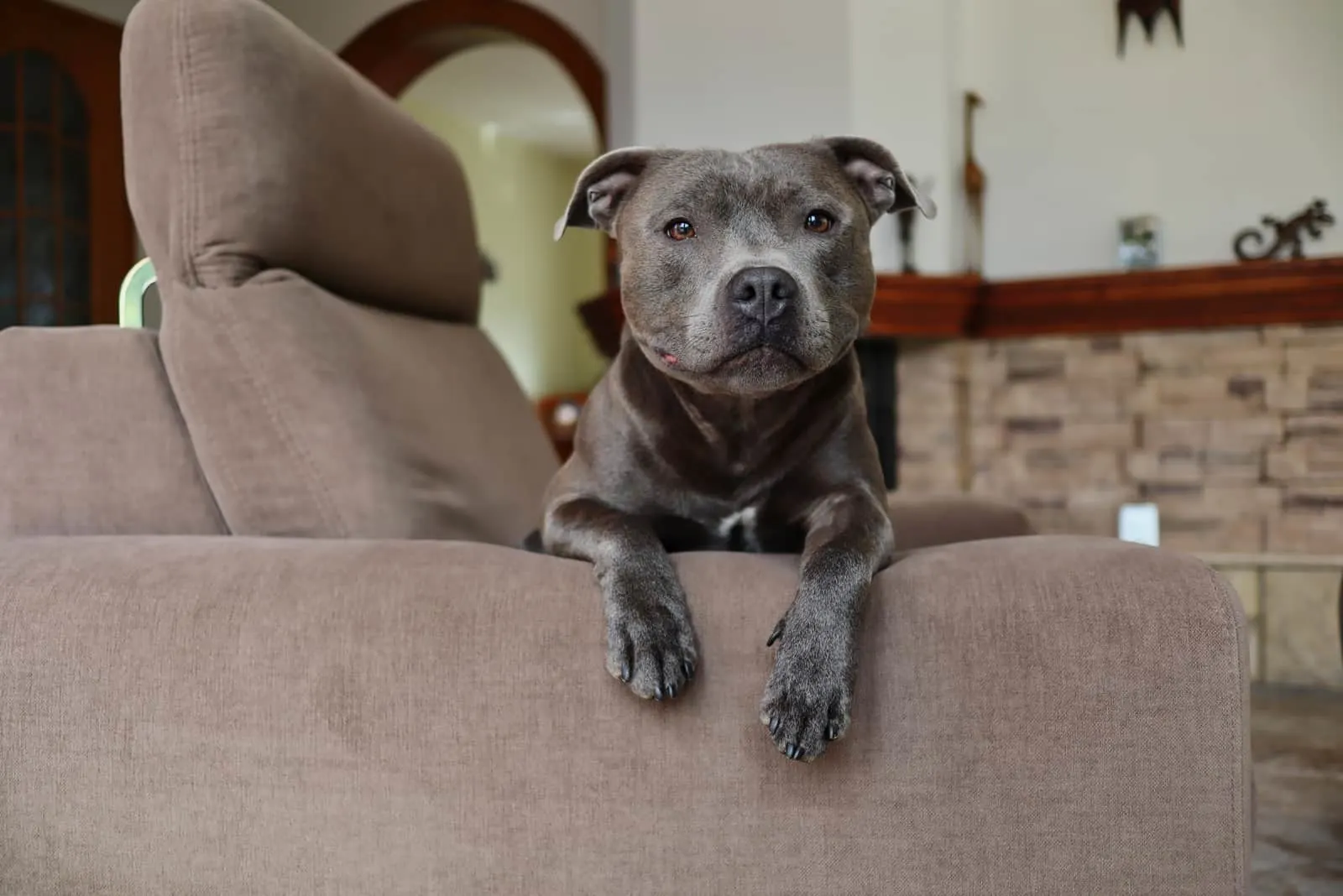 Rarely does anyone have such a rich experience in raising dogs like Von's Staffords!
For over 45 years, this breeder has been on top of the breeding game. Dog breeds came and went bye-bye, but the Vaughan family mastered raising and training them all. Many of their previous pups were AKC champions.
But, the real deal started back in 1994, when the family got their first Staffordshire Bull Terrier!
The Vaughn family doesn't only want to breed dogs. They're way past that and have that mastered already. They want people to know everything about the wonderful breed of Staffords. They want to educate people on how to improve the breed because they can and have the necessary knowledge!
All of Von's Staffords are either family pets or family members. They live inside, share everything with the family, and get treated as their equals.
Still, they're dogs, and I have to point out something that goes in their favor. Von's Staffords have a pedigree that dates back five generations!
Isn't that amazing! Something else that's amazing is their list of dog champions. Make sure you check that out on their website before you call and ask for a puppy!
Breeder's details
Website: Von's Staffords
Address: Danville, Ia 52623
Phone: 319-392-8362
Email: [email protected]
8. Classy Staffys, WA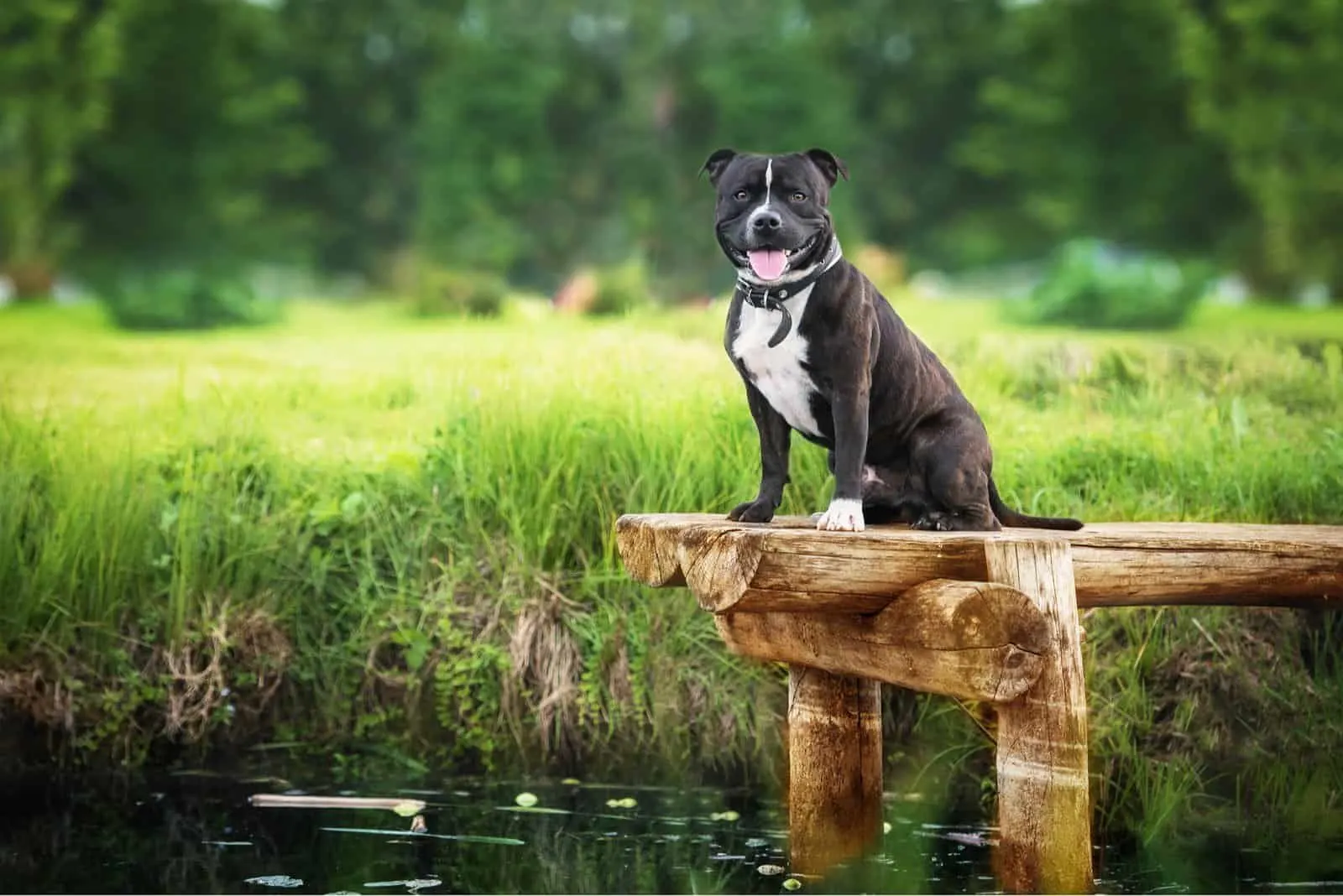 Quality isn't really quantity. The guys at Classy Staffys know that for sure. They breed dogs because they love them – not because they want to be the breeder with the most born puppies in one year. Seriously, nobody wants that!
Classy Staffy is a small, family-run kennel with a breeding stock created out of UK and South African imports. The family has worked hard to implement the two lines into one and create spectacular litters.
Explore their website for a while and you'll find out the number of champions this kennel has produced!
But, they still keep it classy, and only have a couple of litters planned each year. Overbreeding is not a term in their dictionary!
Classy Staffys are cheerful pups. They love spending time with the family's kids, as well as visitors.
I suggest you pay these wonderful people a visit. The owner encourages you to do so, too! Let's grab a coffee and enjoy an afternoon spent with SBTs! You'll wish the day would never end!
Breeder's details
Website: Classy Staffys
Address: 7623 So Montgomery St, Tacoma, WA 98409
Phone: 253 330-6274
Email: [email protected]
9. Manorview Staffords, NY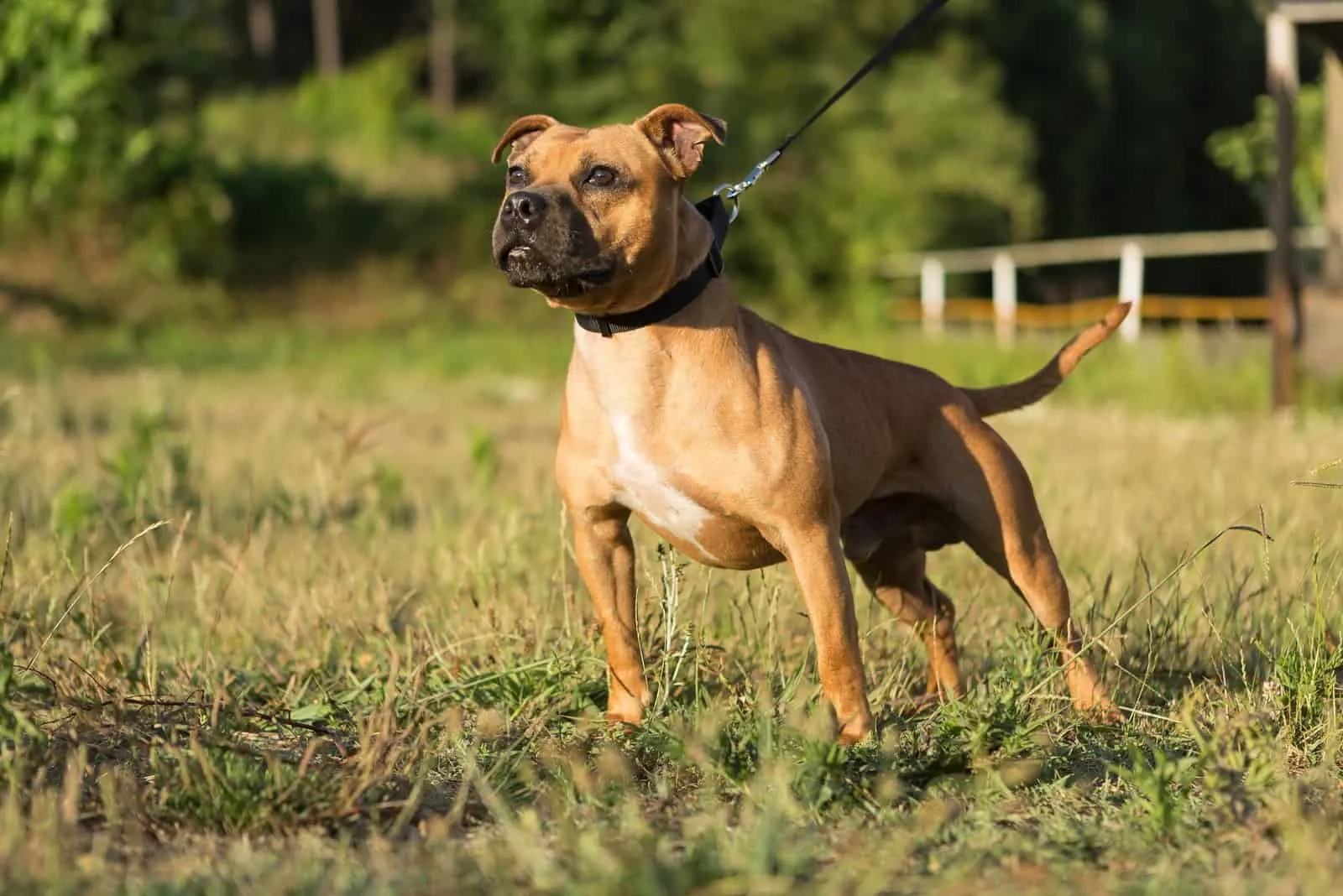 Now, here's a breeder with a lot to brag about!
Meet Manorview Staffords – a place run by Staffords for 25 years now!
Well, I'm just kidding because this place DOES have a human breeder. But, it's the Staffies that really run the place. They're in the center of attention, and they don't know it any differently!
These are super-loved, super-spoiled doggos that produce supreme puppies only a few times a year. So, don't expect available puppies at the moment. Most certainly, there will be a waiting list for you.
At Manorview, quality beats everything. Having such rich knowledge in raising SBTs has made this breeder the best one in New York and on the East Coast.
Manorview Staffords are well-known champions of dog competitions in the States. If a Staffy from this kennel enters a show, he will most certainly win it. Yes, they're THAT good! If you don't believe me, check out their website and see for yourself.
Temperament, besides good health, is a priority. Manorview strives to improve the breed and give their Staffie dogs a premium temperament that everyone will love!
Breeder's details
Website: Manorview Staffords
Phone: 631-905-7993
Email: [email protected]
10. Wilson's Staff, MA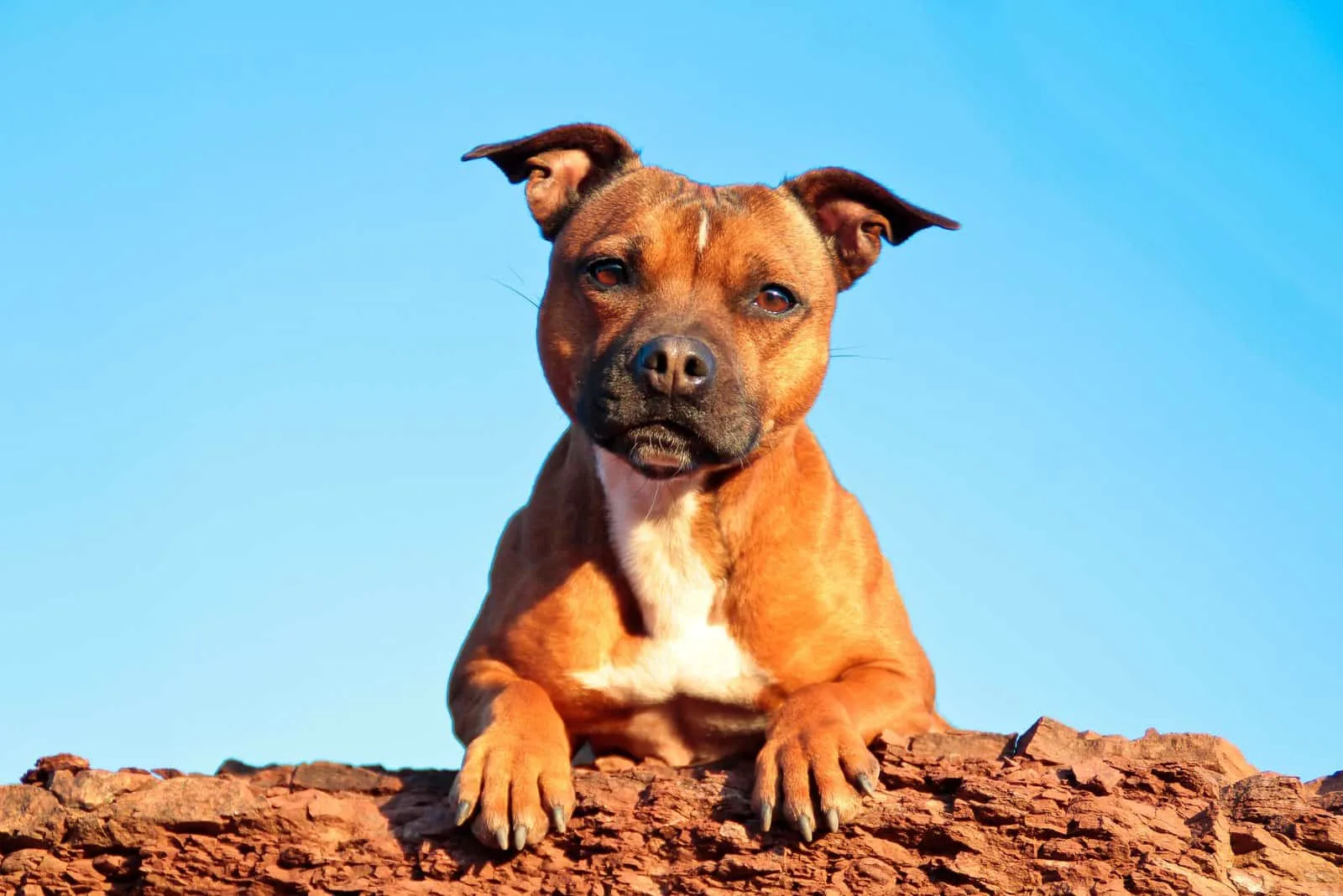 If you live far away from Western Massachusetts, you won't be able to adopt a Staffy puppy from Wilson's Staffordshire kennel. They only sell puppies to trusted people from the area, within four hours driving range.
I know this is specific, but being this exclusive only means they care about where their puppy ends up. If only more breeders would do the same thing. This is to prevent their puppies from ending up in shelters or on the streets.
So, shipping is not an option with this breeder, but I know something that is. You can call in and book an appointment to visit!
At Wilson's Staffordshire Kennel, you will be greeted with the happiest Staffy doggos ever!
These dogs are to blame for having litters that everyone wants to adopt! One of their puppies is around $3,200. The price can go higher depending on if it's a natural birth or via c-section.
All pups will go to their new home already free of parasites, microchipped, and up to date with all their shots. You know – the whole package! You can't ask for anything more than this. That's a standard "farewell present" with all reliable breeders.
Kim Wilson and her team of Staffy lovers is synonymous with an ethical breeder. One visit to their facility and you'll realize you're dealing with one of Massachusetts finest dog breeders since… since Staffies entered America!
Breeder's details
Website: Wilson's Staff
Phone: 813 763 5335
Email: [email protected]
FAQs
How Much Should You Pay For A Staffordshire Bull Terrier Puppy In The USA?
Staffordshire Bull Terriers are one of the most popular choices as pets in the USA. I mean, this is what the American Kennel Club says about them. Being ranked among the top 10 or not is not really that important. The Staffy's popularity is a fact.
It probably has something to do with their looks or their kind temperament. You'll see that they're not what they claim to be.
The price of a Staffordshire Bull Terrier in the USA is usually around $2,000. There can be some difference in the price between breeders of the east and the west coast. However, it's usually nothing THAT significant.
I mean, can you really expect a Staffy to be priced as low as $800 or so?
What Are The Characteristics Of The Staffordshire Bull Terrier?
The Staffordshire Bull Terrier will resemble a little Pitbull, but those are not the same dogs. Think of them as relatives.
Staffies are dogs that deserve a lot of popularity. Lately, I've seen them getting quite a lot of praises for being so kind and well-natured.
Even though they have a tough appearance and they seem to be made of muscles and… more muscles, Staffies are gentle souls. Their character is just like with other breeds, i.e., Bichons or Maltese pups!
Staffies make good house pets for many reasons. Besides being terrific with kids, these dogs are fairly easy to maintain.
Their lovely, short coat, ranging from white, brindle, and red – and their many combinations, is a delight to groom. They don't shed, don't drool, and don't require lots of brushing.
But, what they do require is exercise. Staffies are energetic, and they love to play around. Don't be surprised with occasional zoomies because these dogs tend to have them. Just make sure you find a vent for them, and stick to that exercise regime on a daily basis.
If you're training for the next marathon, make sure you bring your Staffy along. He will be your best exercise buddy ever! In fact, he might even outrun you and win the marathon!
Why The Staffy Might Not Be For you?
All dog breeds have their bad sides, and so do Staffies.
Sadly, it's their bad reputation that makes Staffords so undesirable with many dog owners. People are simply scared of their dominant looks and smirks on their face. Many people even believe they're a personification of a bully in the canine kingdom!
Boy, they couldn't be more wrong!
This has led to something that Staffy owners find unfair. Many U.S. States have special laws and requirements for owning a dog breed like the Stafford. Sometimes, I feel as if those laws were invented while looking at a Staffy's photo only!
That's completely unjust. If only more people knew how amazing Staffies are, they would never want them to wear a muzzle or keep them away from dog parks.
Staffords aren't aggressive by default. You can trigger aggression with this dog breed, but only if they're not socialized the right way. Any socialized dog that went through proper training will act normally.
Besides their poor reputation, I do have to add that Staffies are highly stubborn creatures. You will get them trained because they're super smart. But, they will test your boundaries and choose to do whatever they want because they simply want it that way.
Useful Sources
If you're interested in other Bull Terriers and want to see where to find them in the States, PupVine has got some pretty pawsome content for you.
Enjoy!
Conclusion
Let's get this clear: They're not AmStaffs or Pitbulls. They're Staffordshire Bull Terriers, and today, we've talked about Staffordshire Bull Terrier breeders in the States.
Think of this as the ultimate guide for Staffy lovers. You don't have to dig up breeders from dirt. I've got only the creme de la creme for you, and I know you'll love what these people have to offer!
These are all people you can trust. As you can see, rarely any of them have listed prices online because they don't really care about the money… they care about the well-being of the breed.
Those are the kind of people you should pick!
Grab that phone and start dialing before all Staffy puppies are already spoken for this year!
Read Next:
• Top 8 Portuguese Water Dog Breeders In The USA And Canada
• 9 Reputable Miniature Bull Terrier Breeders In The U.S.
• The Mystery Of Staffordshire Bull Terrier Growth Chart